Newspapers on Saturday covered the landing of a brand new plane Iran had purchased from Airbus, and the end of 39 years of sanctions against Iran's aviation industry. Reformist and pro-government papers described it as a victory for Iran and an achievement of nuclear deal between Tehran and world powers, but conservatives referred to the plane as a second-hand and rented one, and slammed the government for humiliating the Iranian nation through their overexcitement.
Another top story was President Hassan Rouhani and other officials' remarks about the late former president Ayatollah Akbar Hashemi Rafsanjani.
The differing comments made by US President-elect Donald Trump's cabinet members about JCPOA [nuclear deal] also received great coverage.
The above issues, as well as many more, are highlighted in the following headlines:
Abrar:
1- Ayatollah Rafsanjani's Family: Religious Cooperation, National Solidarity, and Moderate Policies Are the Ways to Cross Difficult Paths
2- Hollande: Nuclear Deal Should Be Maintained
3- Iran Leader's Representative: Iran Has No Plan to Stop Sending Pilgrims to Hajj Pilgrimage [forever]
4- US Defence Secretary-Designate: JCPOA Implementation Should Go On
5- Taliban and ISIS Declare War against Each Other
---
Abrar-e Eqtesadi:
1- Japan Outperforms China and Russia in Iran's Oil Industry
2- Iran Signs Oil MoU with Italy and Netherlands
3- Germany and France on Top of the List of Those Interested in Making Investment in Iran
4- Iran Sues Turkmenistan in Int'l Courts over Gas Dispute
---
Afkar:
1- Deputy FM: We Won't Let JCPOA Be Renegotiated
2- Israeli Regime's Jet Fighters Attack Airport near Damascus
---
Aftab-e Yazd:
1- In Honour of JCPOA: Analyst Says New Airbus Plane Is Just One of JCPOA Achievements
2- Ayatollah Hashemi Rafsanjani Was under Unfair Attacks: Rouhani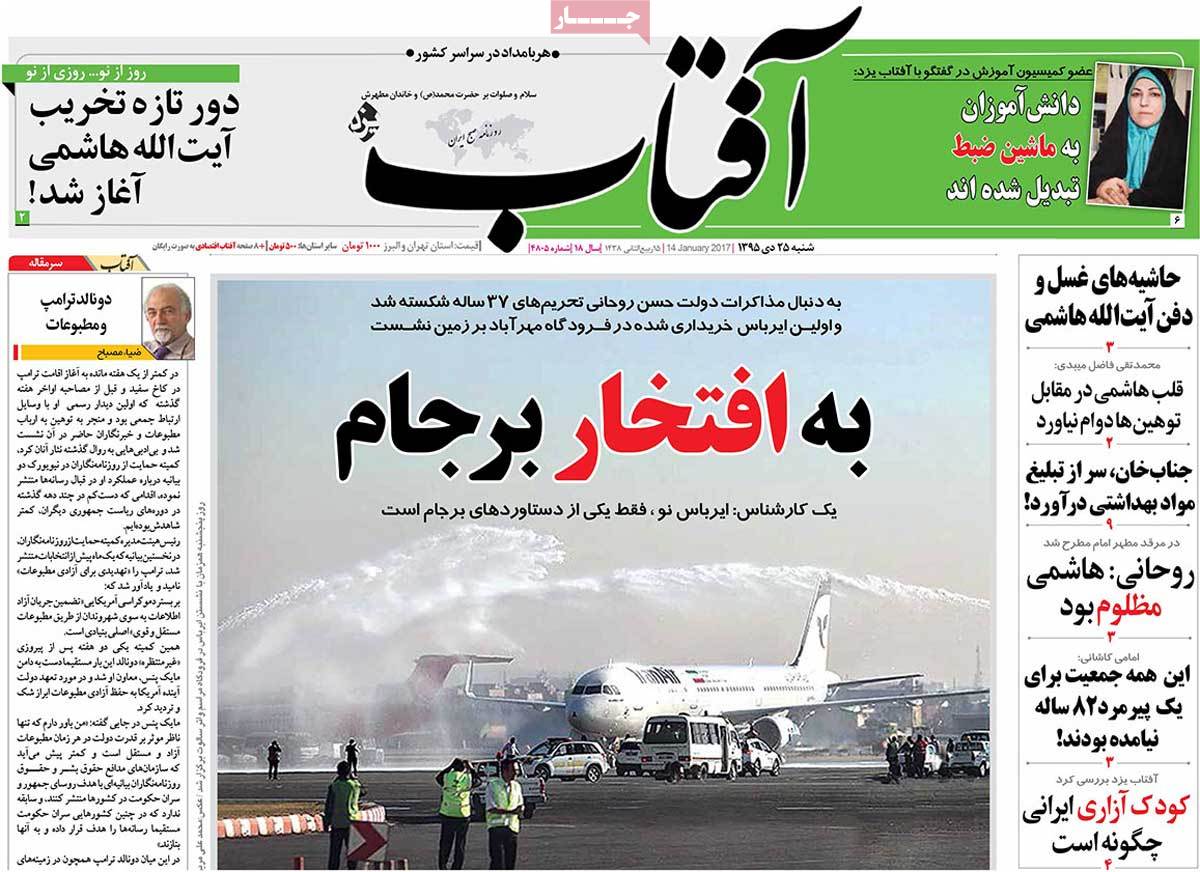 ---
Arman-e Emrooz:
1- Airbus Is Delivered to Iran, but Opponents of Rouhani's Gov't Don't Stop Stonewalling! Hardliners Now Claim Airbus Plane Is Second-Hand
2- President: Ayatollah Hashemi's Innocence Shook People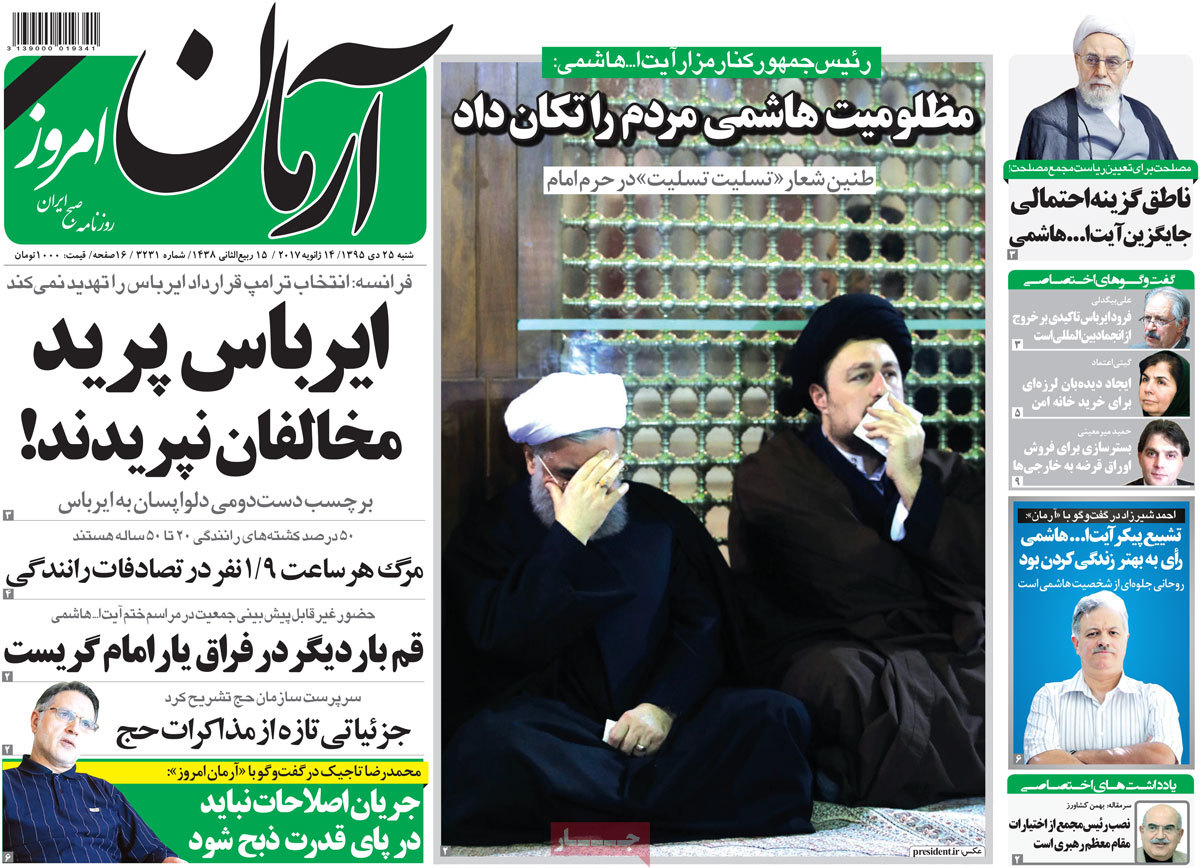 ---
Besharat-e Now:
1- Leader's Advisor Velayati: Ayatollah Hashemi Had a Higher Status than Amirkabir [renowned Iranian PM who was trying to develop Iran through his plans]
2- Former CIA Chief: Scrapping JCPOA Will Have Dire Consequences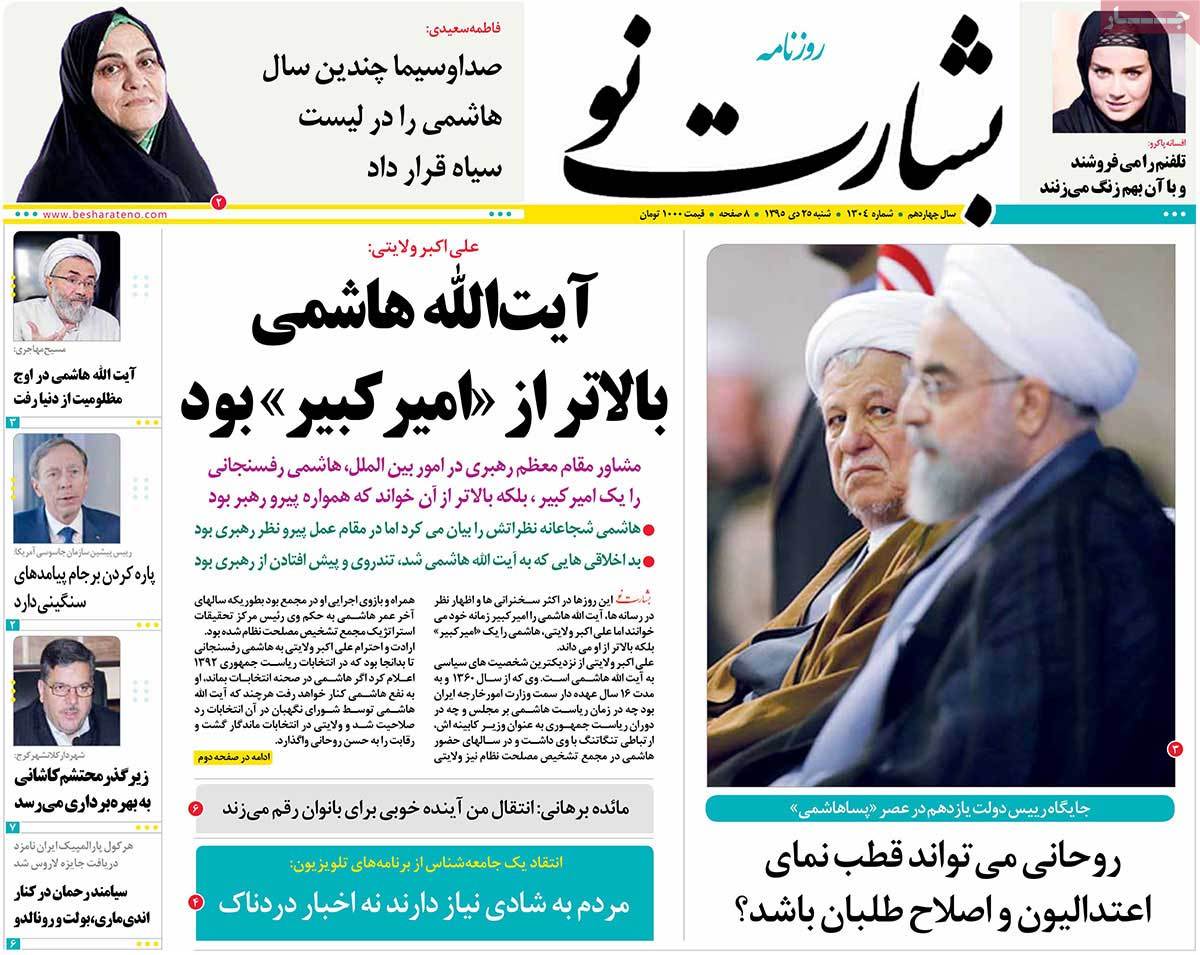 ---
Donya-ye Eqtesad:
1- JCPOA's Guarantee in Iran's Sky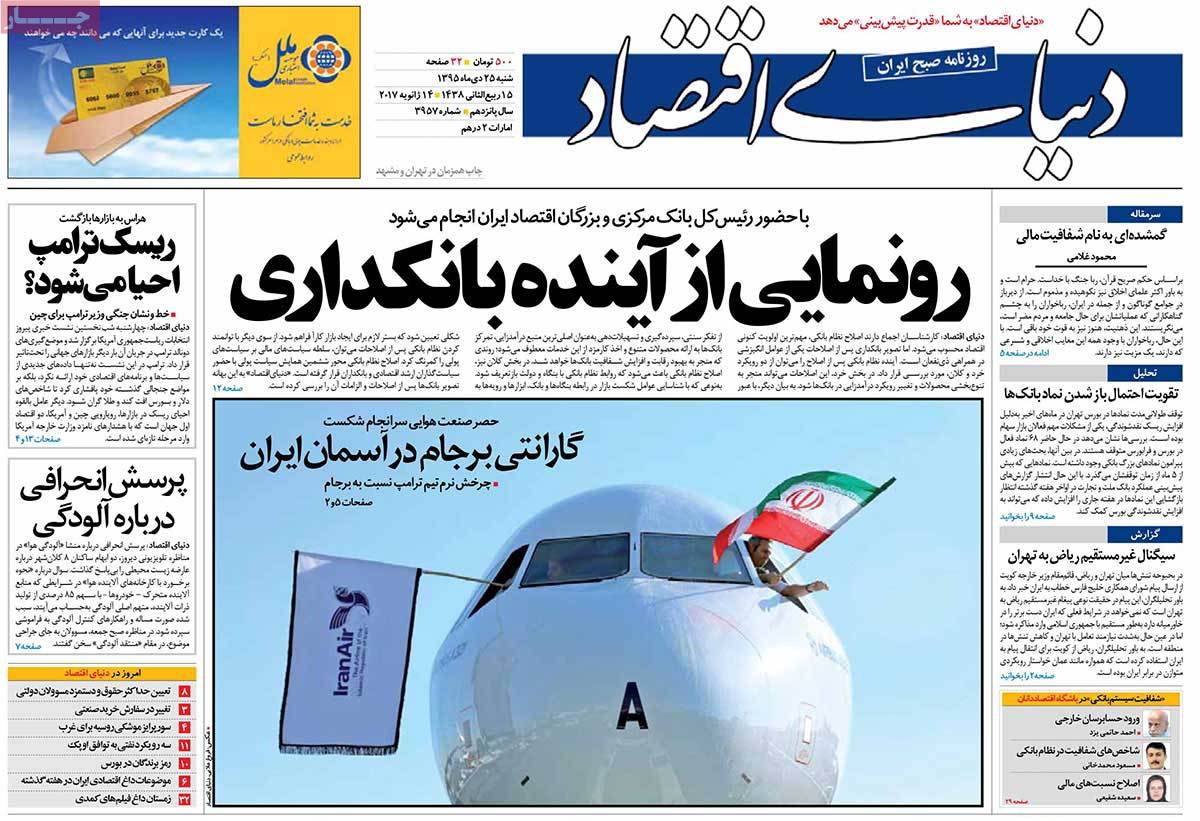 ---
Ebtekar:
1- Trump's Respect for JCPOA: Two Designated Members of US President-Elect's Cabinet Back off from Previous Positions
2- President Rouhani: Ayatollah Hashemi Was People's Shelter in Hard Days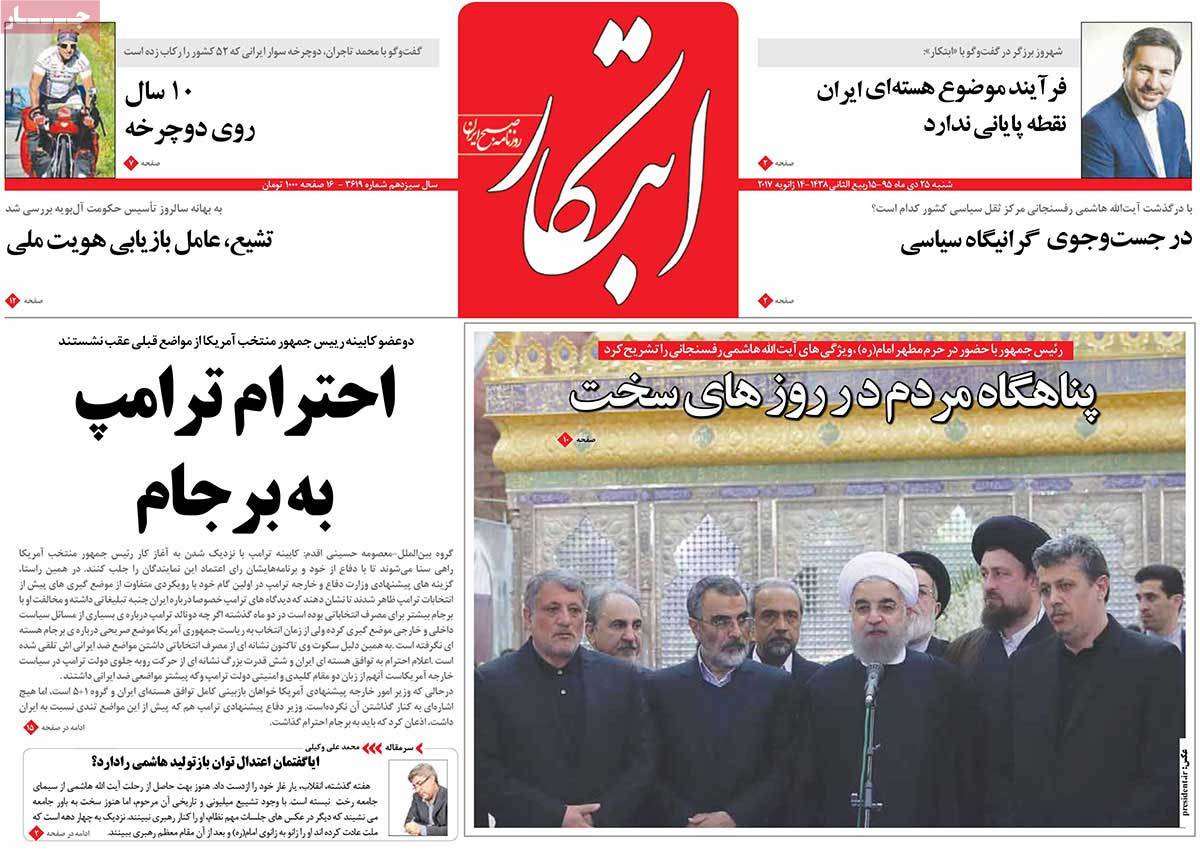 ---
Etemad:
1- Withdrawal from Scrapping JCPOA: A Report on First Nuclear Messages of Trump's Men
2- Airbus Breaks the Spell: First Brand New Plane Lands in Mehrabad Airport after 39 Years, and Was Warmly Received by Public Opinion in Iran
3- Reformist Analyst: It Is Not Easy to Replace Ayatollah Hashemi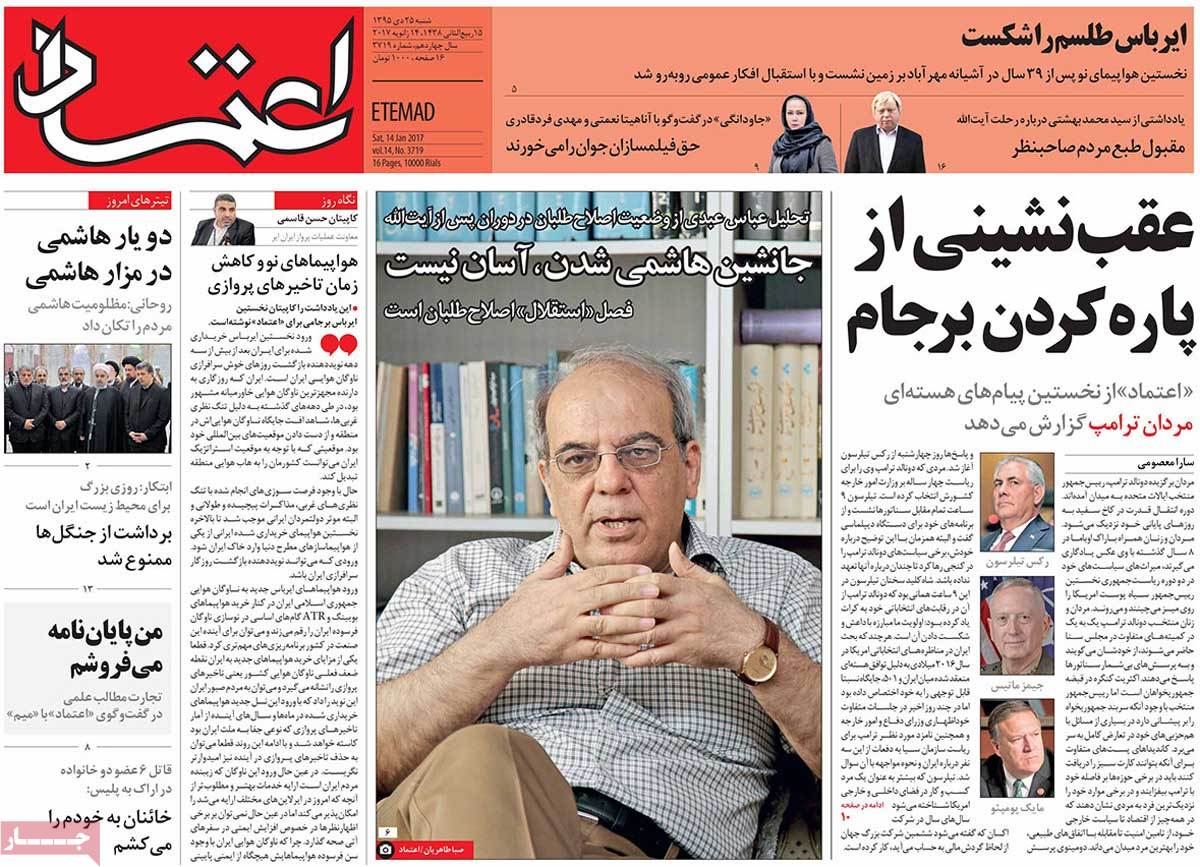 ---
Ettela'at:
1- Head of US Council on Foreign Relations in Reaction to Rex Tillerson's Remarks: JCPOA Is an International Commitment and Cannot Be Renegotiated
2- Kuwait's Deputy FM Will Deliver GCC's Message to Iran
3- Transport Minister: Iran to Take Back Its Share from World's Aviation Industry
4- Rouhani: Sacrifice, Rationality, and Moderation Were among Main Characteristics of Ayatollah Rafsanjani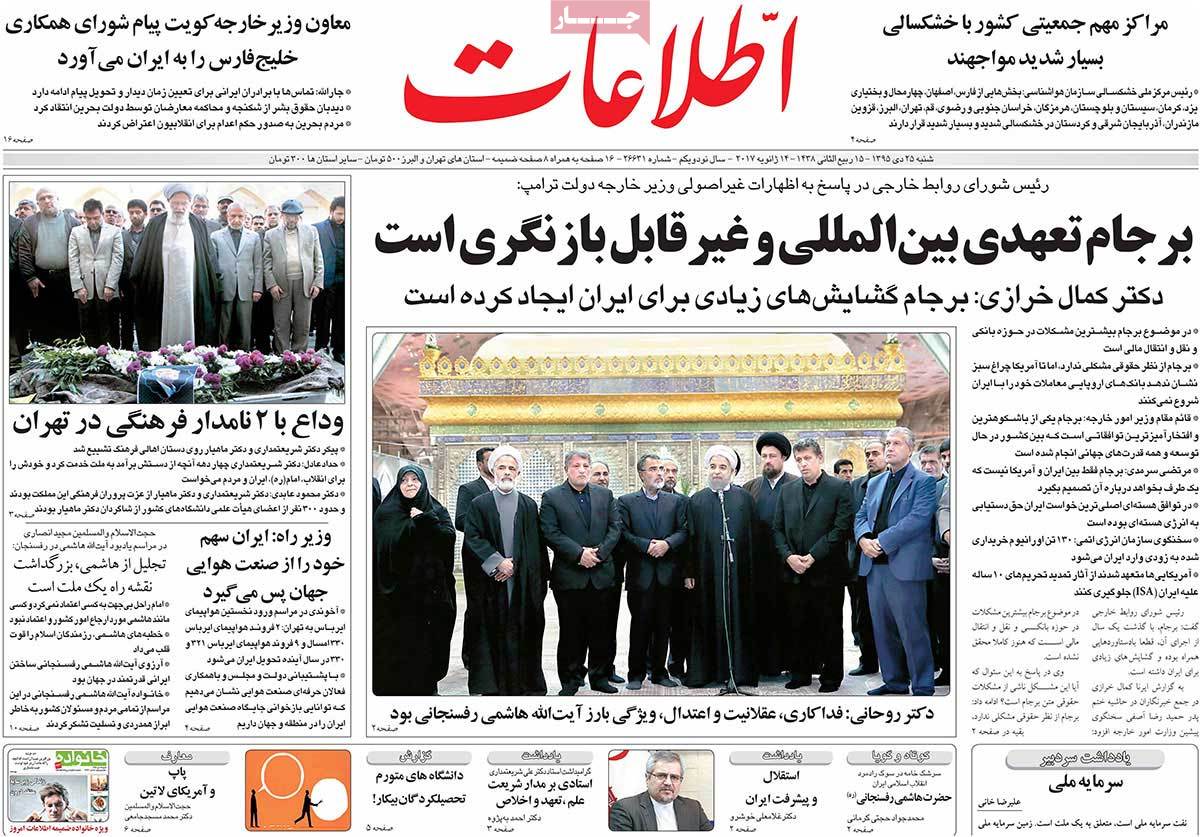 ---
Haft-e Sobh:
1- Post-Airbus Era: One Single Plane Lands in Iran and Quarrel Begins between Proponents and Opponents of Government
---
Hemayat:
1- Iranophobia in US Senate: Tillerson Calls Iran a State-Sponsor of Terrorism in Middle East!
2- Rouhani: Ceremony to Bid Farewell to Ayatollah Hashemi Was a Show of Solidarity
---
Iran:
1- 56 Countries Fly Their Flags at Half-Mast in Memory of Ayatollah Hashemi: World Continues Commemorating Him
2- JCPOA Ends 4 Decades of Aviation Embargos against Iran: Airbus Returns to Iran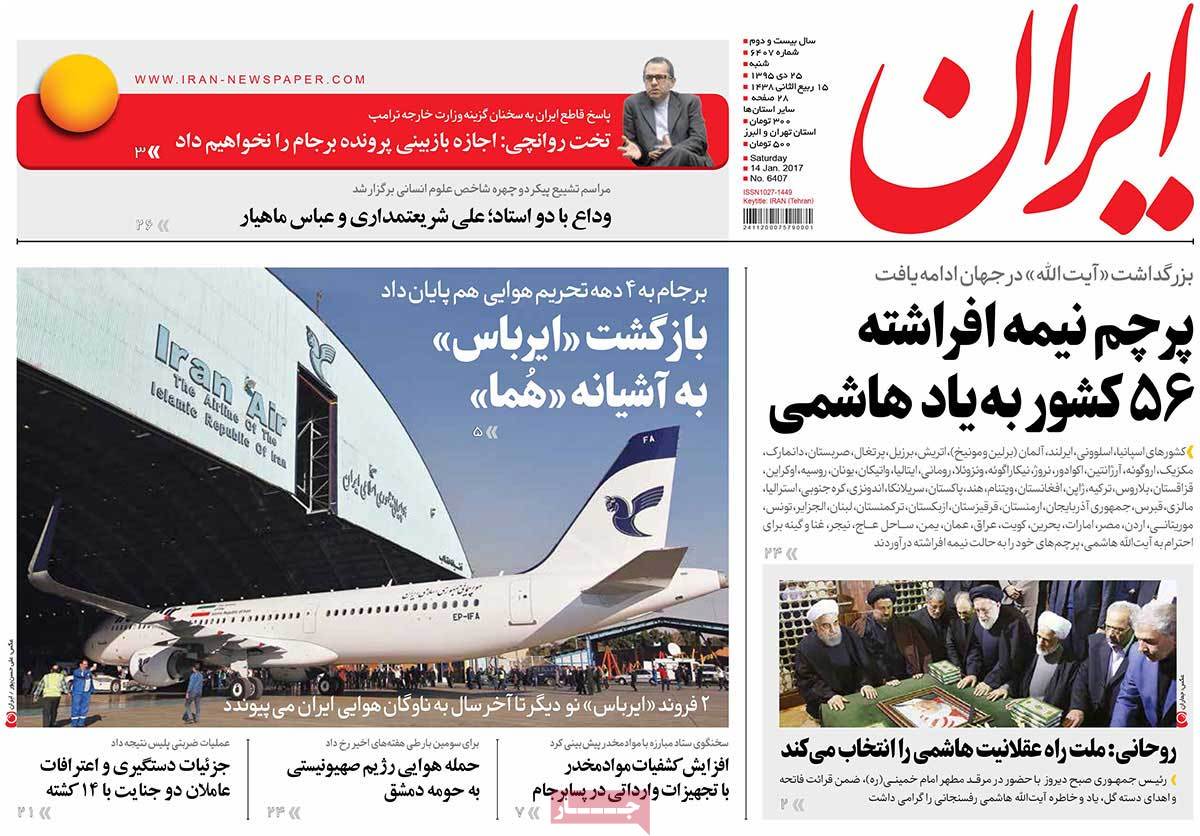 ---
Javan:
1- JCPOA Back to Zero Point: Trump's Secretary of State Says We Should Negotiate Entire JCPOA Once Again
2- Government Extremely Excited about Receiving Planes on Rent!
---
Jomhouri Eslami:
1- Most Glorious Ceremonies Held across Iran to Commemorate Ayatollah Rafsanjani
2- 130 Tons of Purchased Uranium Will Arrive in Iran Soon
3- End of 37-Year-Old Sanctions against Iran's Aviation Industry
---
Ka'enat:
1- Mixed Signals Received from White House: Mattis, Pompeo, and Trump Say Different Things
---
Kayhan:
1- Trusting US Promise: Souvenir of Iran's Nuclear Negotiating Team from Vienna!
2- Humiliation of Iranian Nation in What Price? One Airplane and So Much Fuss?
3- Al Saud Once Again Strikes Yemeni Women and Children
4- ISIS' Breath Taken in Eastern Mosul
---
Khorasan:
1- First Comments by Designated US Secretaries about Nuclear Deal: Mattis Says JCPOA Is Bad, but US Will Remain Committed to It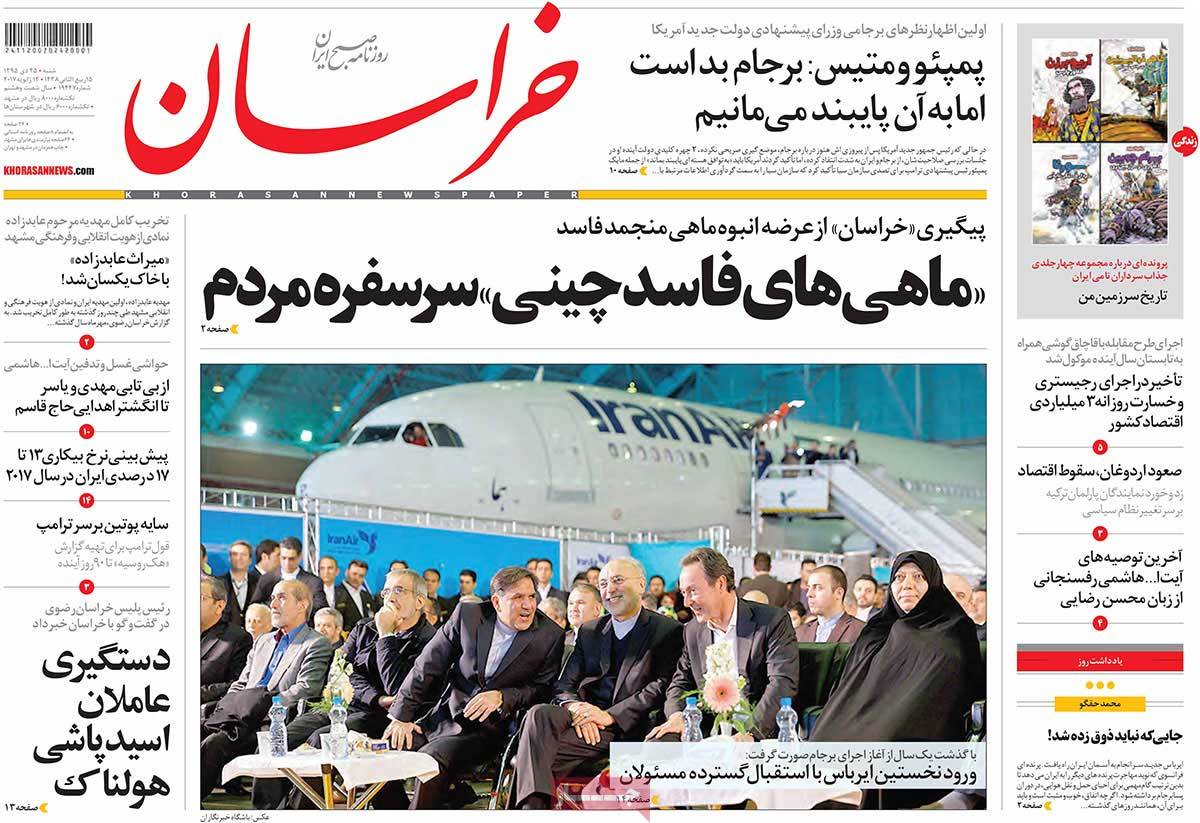 ---
Mardom Salari:
1- JCPOA Cannot Be Scrapped: Latest Positions Held by Westerners about Nuclear Deal
2- Rumours of Dictatorship in Ankara: Turkish MPs Fight Each Other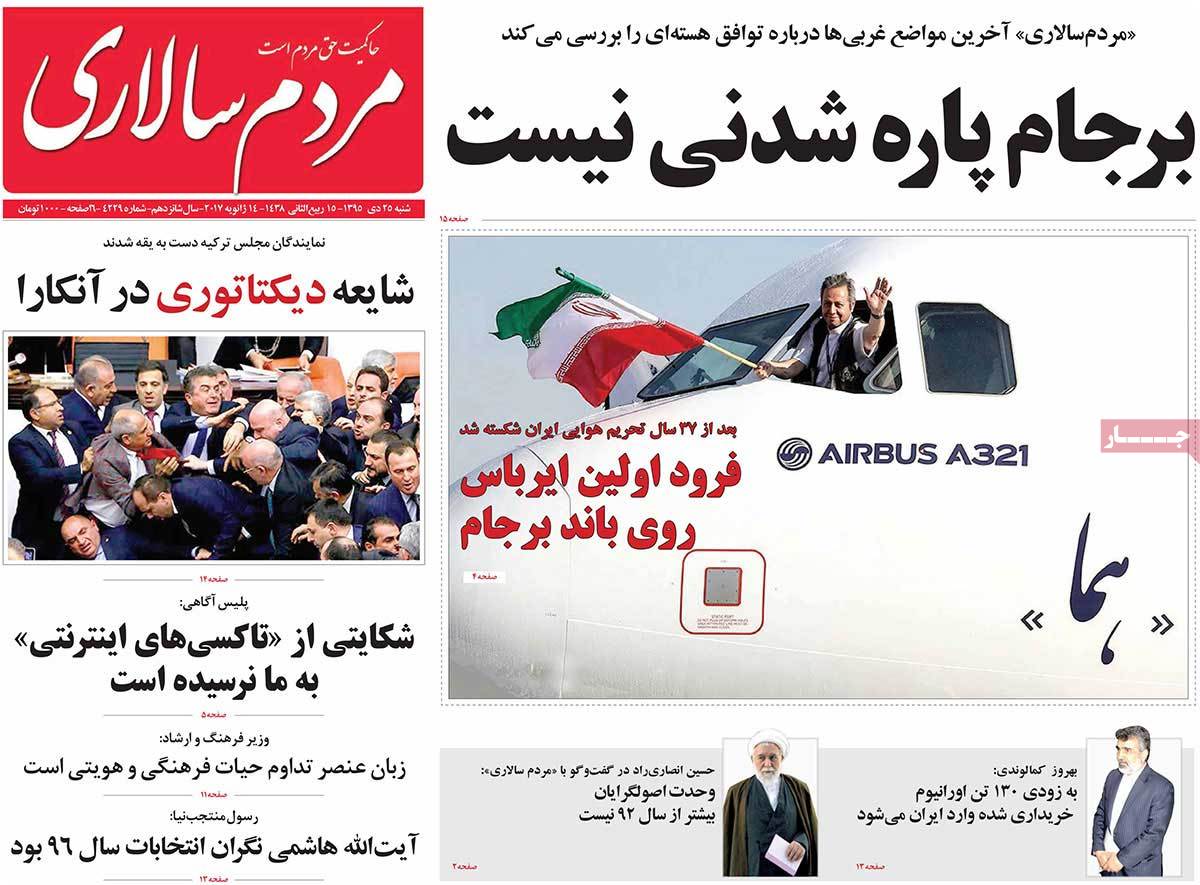 ---
Nasl-e Farda:
1- Analyst: A Bitter End for Saudi Arabia
---
Rooyesh-e Mellat:
1- Air Pollution Increases Death Rates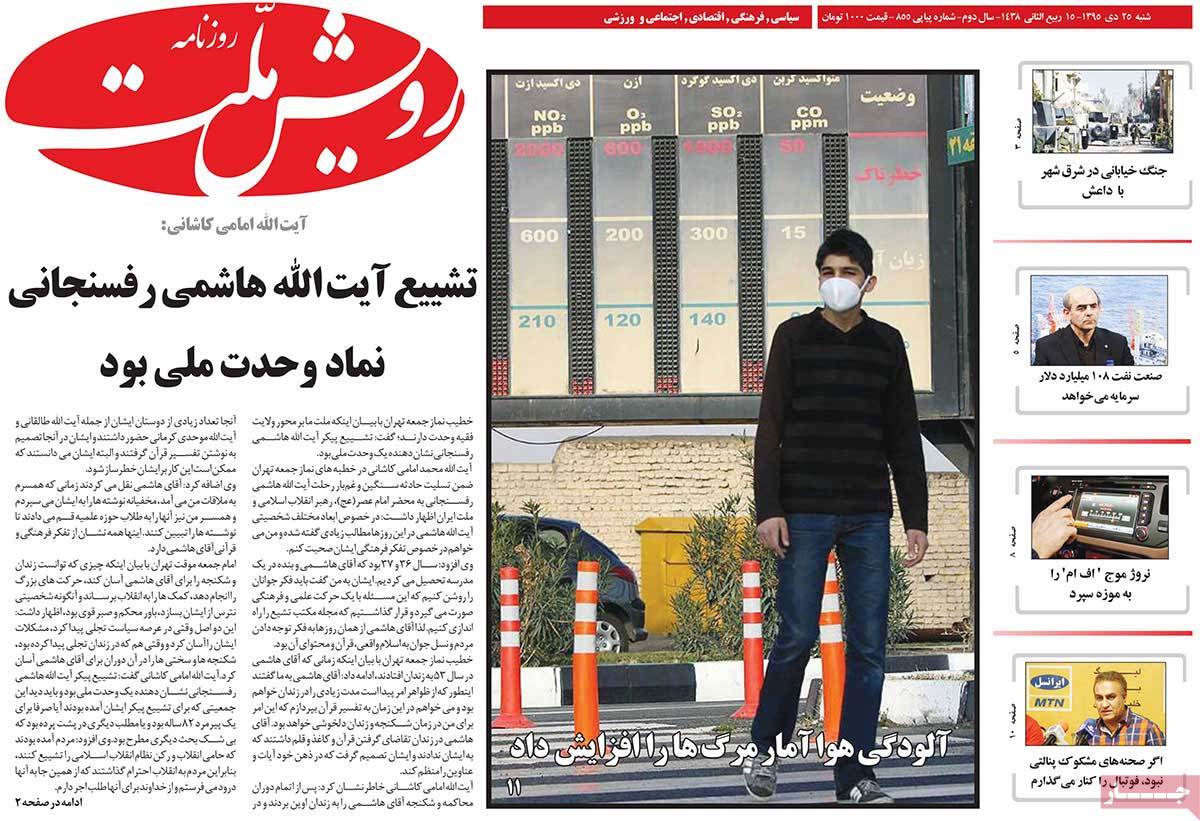 ---
Sayeh:
1- Deputy Power Minister: We Can Even Supply Europe's Electricity If Sufficient Investment Is Made
2- Merkel: Europe Facing Biggest Challenges of Past Decades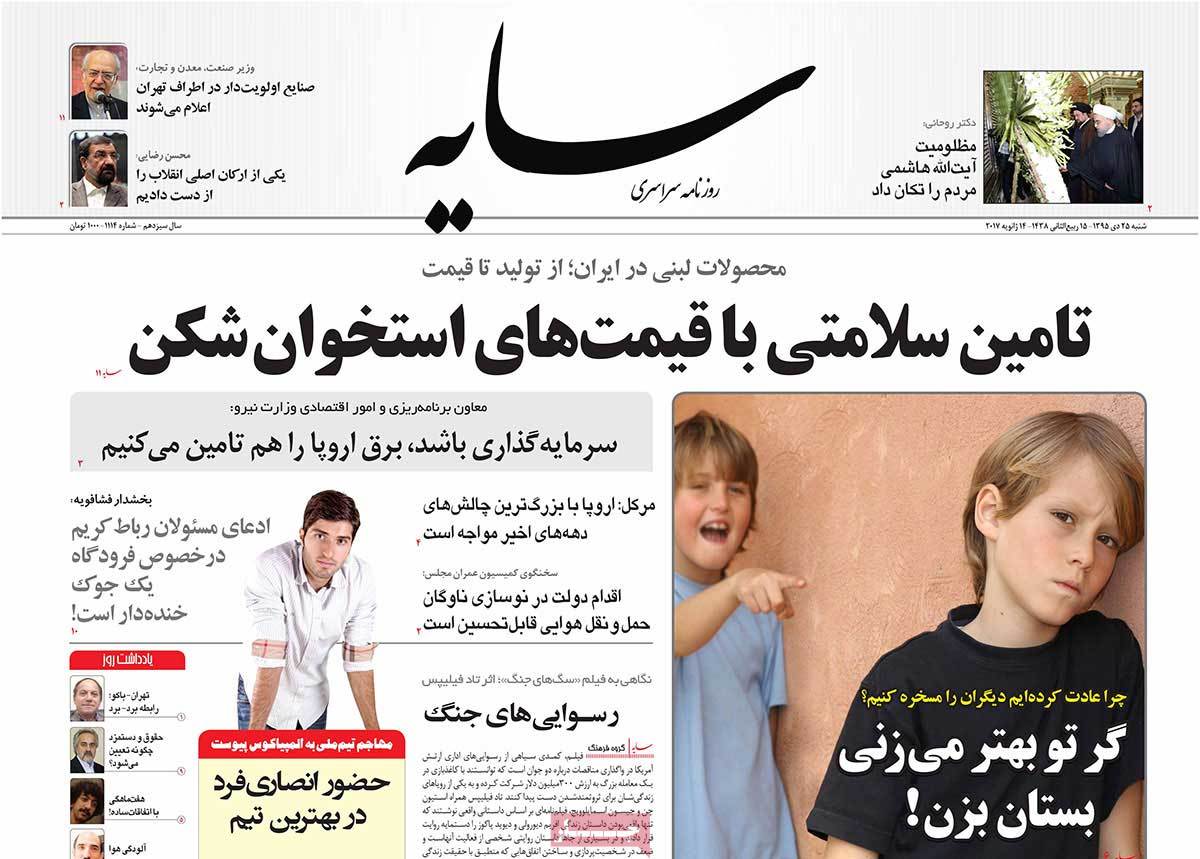 ---
Shahrvand:
1- Official Warns against Extreme Drought in Major Populated Areas of Iran
2- Show of Sanctions Removal: Celebration of Receiving First Brand New Airplane
---
Shargh:
1- Qom Seminary in Grief of Ayatollah Hashemi Rafsanjani
2- Rebirth of Iran Air: First Post-Sanction Plane Lands in Iran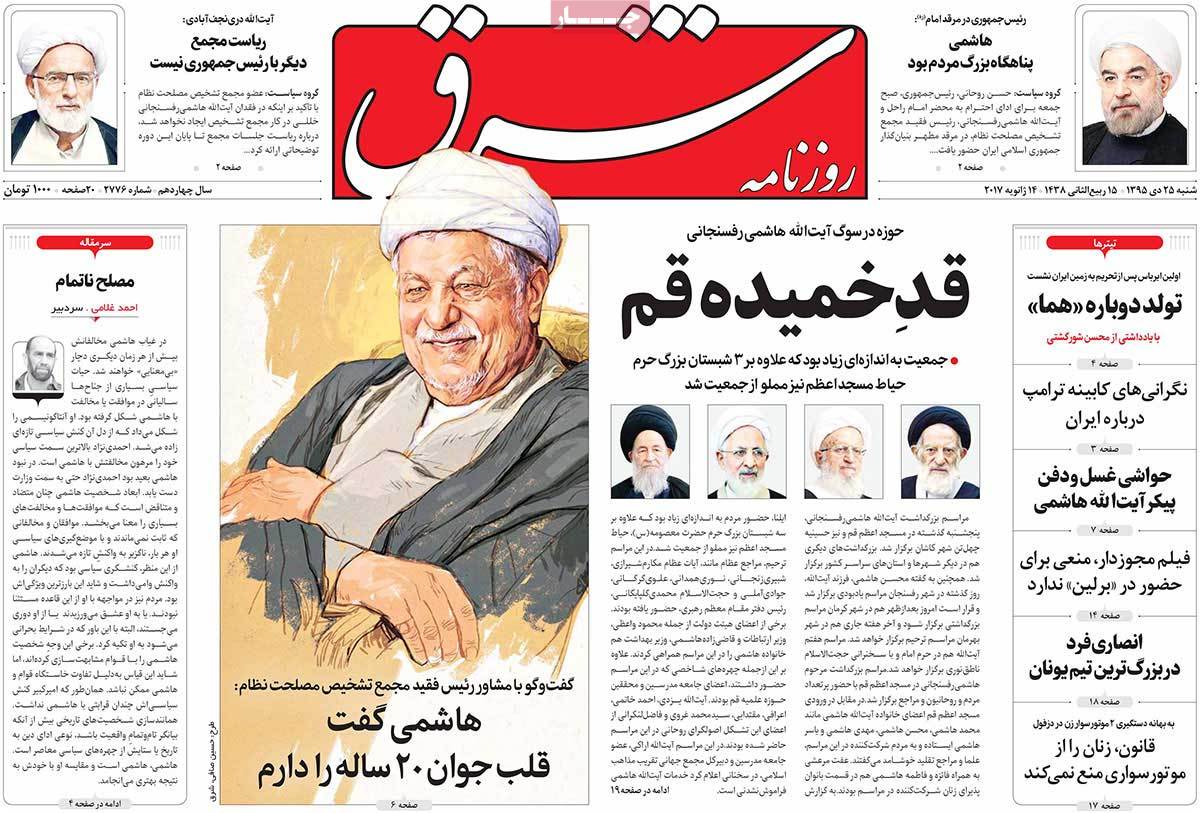 ---
Vaghaye Ettefaghieh:
1- Taking Selfies with What We Were Seeing for First Time: First Airbus Plane Lands in Iran, Government Ends 40 Years of Sanctions
2- Americans Complaining about Their Allies: Washington's Doubts over Keeping Its Traditional Allies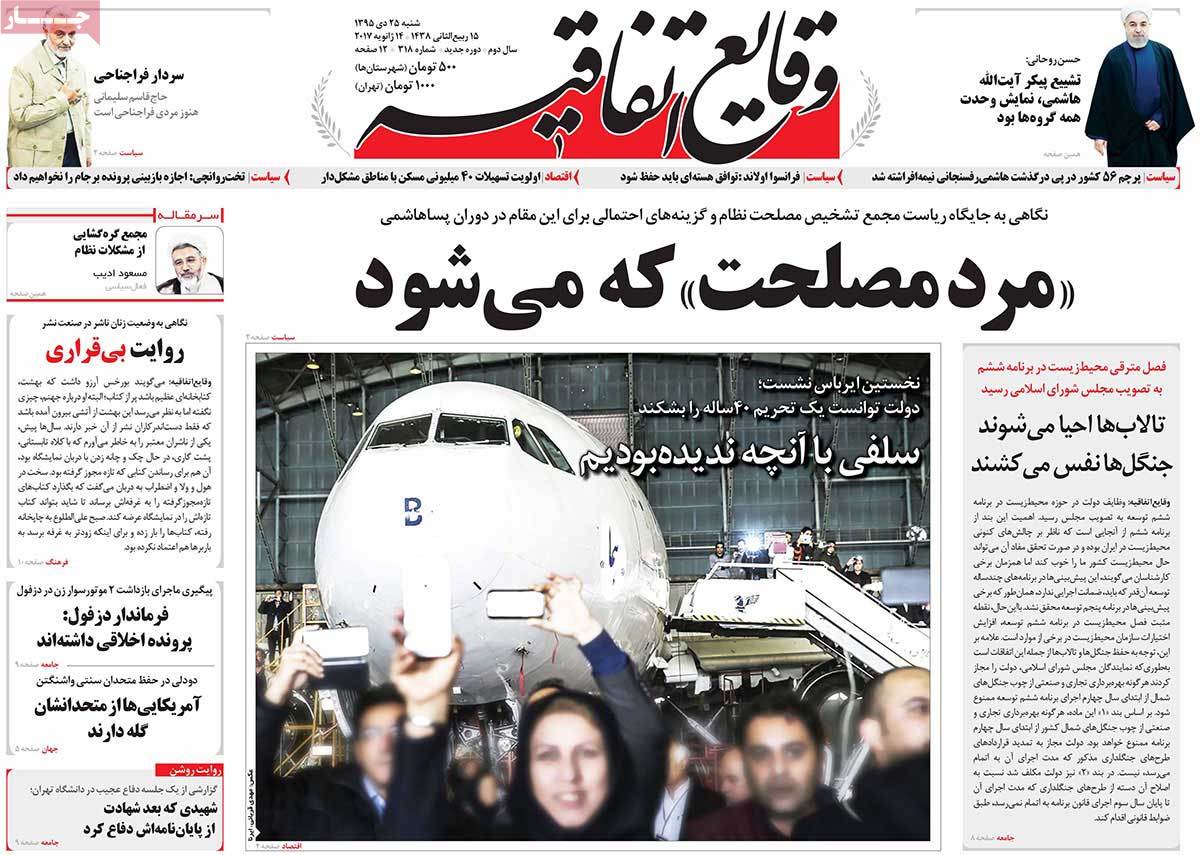 ---
Vatan-e Emrooz:
1- Humiliating Landing: Government Holds Major Ceremony with Transport Minister Having Flowers in His Hand, Showing Extreme Excitement over Arrival of an Airbus Plane; Iranian Nation Was Humiliated