Newspapers today covered the visit of Syrian Foreign Minister Walid al-Muallem to Tehran and his meetings with Iranian President Hassan Rouhani, Foreign Ministr Mohammad Javad Zarif, and Secretary of Iran's Supreme National Security Council (SNSC) Ali Shamkhani.
They also highlighted the phone conservation between President Hassan Rouhani and his Russian counterpart Vladimir Putin on the issue of Syria ahead of the upcoming Astana summit.
The hunger strike of an Iranian political prisoner Arash Sadeqi over the arrest of his wife, and the reactions by a number of MPs and politicians to the campaigns to address his demands were also covered today.
The above issues, as well as many more, are highlighted in the following headlines:
19 Dey:
1- Chinese Official News Agency: Trump Cannot Scrap Nuclear Deal with Iran
2- In a Meeting with Syrian FM Muallem, Rouhani Underlines Unity among Tehran, Moscow, and Damascus
3- Politician: Conservatives Are Denying Positive Results of JCPOA Because of Upcoming Elections
---
Abrar:
1- 7 New Iranian Ambassadors Meet with President Rouhani before Departure
2- American Officials Claim $10 Billion of Iran's Income Has Been Transferred in Form of Cash and Gold
3- 93 Journalists Killed in 2016
---
Abrar-e Eqtesadi:
1- China and Europe's Partnership in Development of Iranian Oilfields Is Welcomed
2- 41% Increase in Japan's Crude Imports from Iran
3- 16.2% Decrease in Cash Possessed by Iranian People
---
Afarinesh:
1- Guardian Council Spokesman: Women Can Run for Upcoming Presidential Elections
---
Aftab-e Yazd:
1- Six Own Goals by Rouhani's Government: In Spite of Opponents' Abuse, Some Ministers Still Publicly Criticize Each Other; Oil Minister on Saturday Talked against Industry Minister in Parliament's Open Session
2- Ayatollah Rafsanjani: We Hope Domestic Devils Would Not Wound Islamic Revolution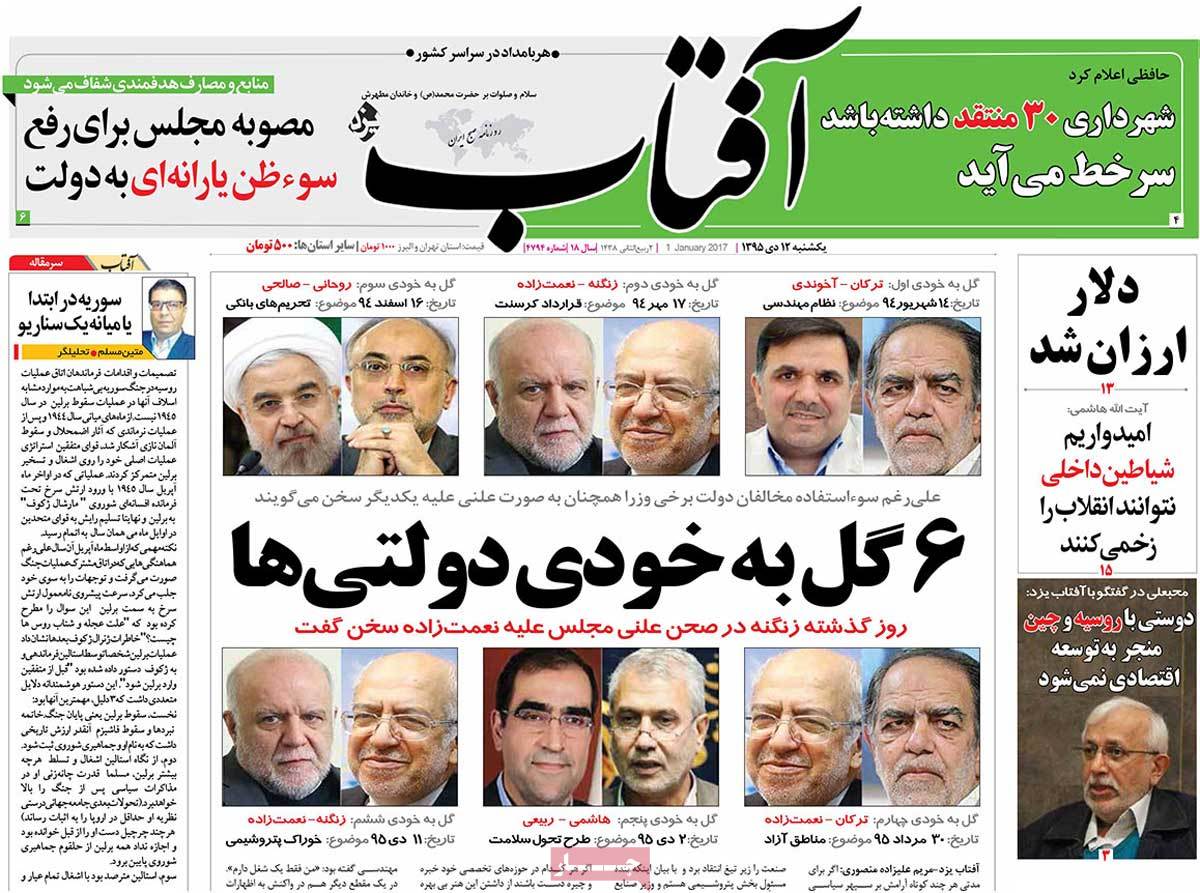 ---
Arman-e Emrooz:
1- Parliament Vice-Speaker Motahari Calls for Reconsideration of Law that Bans Use of Satellite Equipment
2- Analyst: Ceasefire in Syria Was Realization of Iran's Diplomacy; Iran's Infiltration in Syria Is More than That of Russia
---
Asrar:
1- Rouhani Calls for Tehran-Berlin Cooperation in Fight against Terrorism
2- Rouhani to Address Nation on Live TV Program Tonight
3- Politician: Conservatives' Support for Ahmadinejad Was Out of Desperation
---
Besharat-e Now:
1- Iranian Studies on Impact of Radio Jamming on Humans: Radio Jamming Kills People; Results Show that Jamming Both Causes Cancer and Infertility among Men
2- Guardian Council Spokesman: Early Election Campaigns [which is illegal] Will Be Considered in Qualification of Candidates
3- Tehran One of the World's 5 Most Dangerous Cities in Terms of Earthquake
---
Etemad:
1- MP in a Letter to Judiciary Chief Calls for Implementation of Political Crime Law: Addressing Demands of Political Prisoners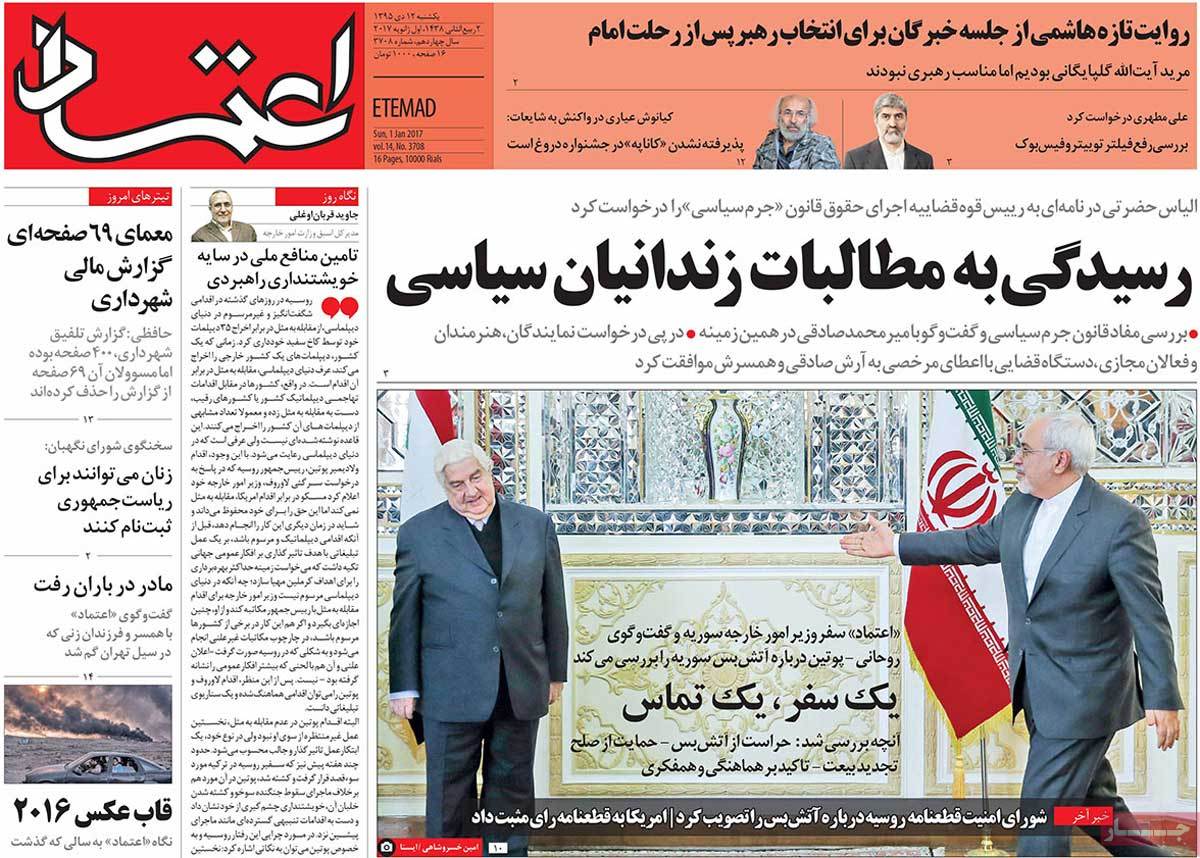 ---
Ettela'at:
1- Rouhani: Peace Talks Should Be Focused on Sovereignty of Damascus over Syria
2- Saudi Arabia Bombards Its Own Villages to Prevent Yemenis' Progress
---
Haft-e Sobh:
1- Public Surprise after Restrictions Imposed on Mobile Game Clash of Clans: Great Profit Earned Each Month by Proxy Service Providers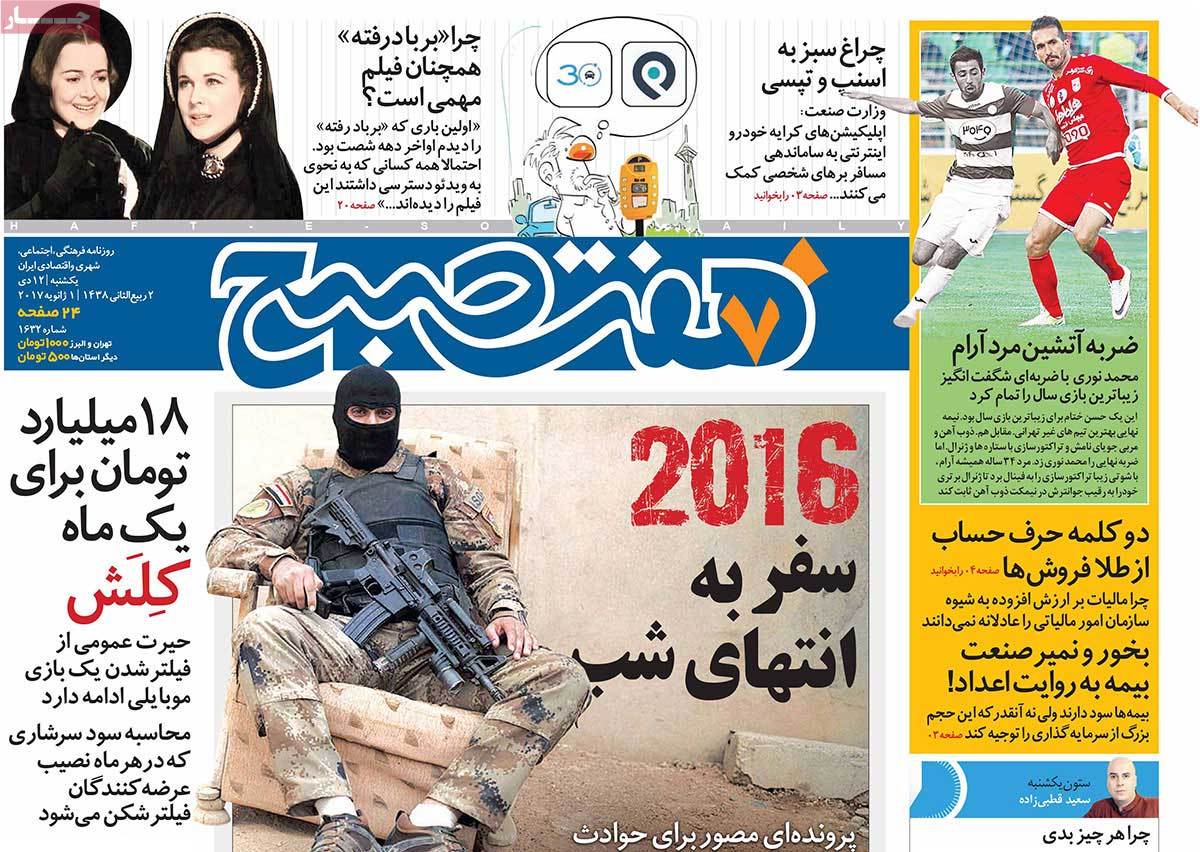 ---
Hemayat:
1- Secretary of Iran's Human Rights Office Underlines the Need for Appointment of Special Rapporteurs for Countries that Claim to Be Advocates of Human Rights
2- Assad in Interview with Italian Newspaper: Westerners Should Stop Supporting Terrorists
3- SNSC Secretary: Syria Has Won Terrorist World War against Its Territory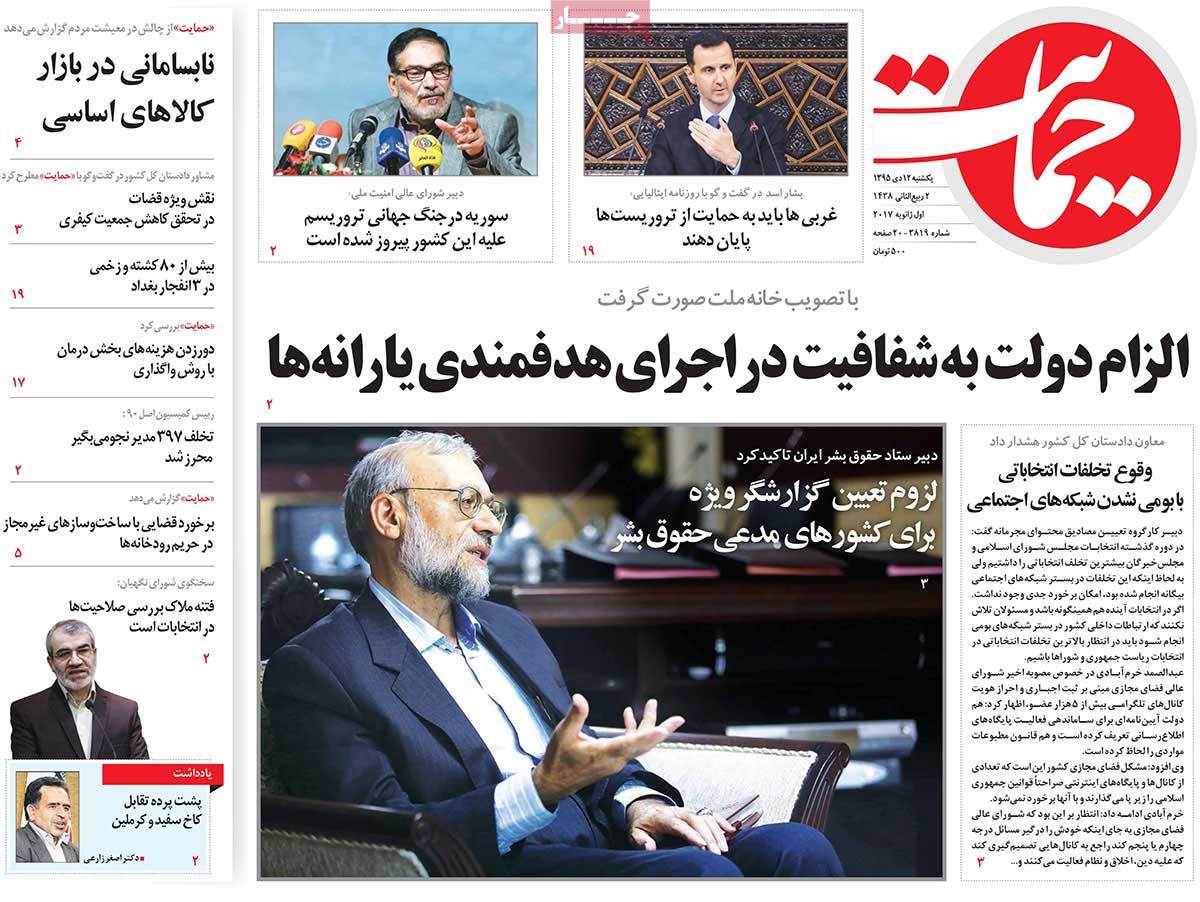 ---
Iran:
1- Rouhani in Meeting with Syrian FM: We Welcome Syria Truce
2- Latest Remarks by Ayatollah Rafsanjani about Appointment of Ayatollah Khamenei as Iran's Leader after Death of Imam Khomeini
3- Establishment of a Centre to Protect 11 to 17-Year-Old Harmed Girls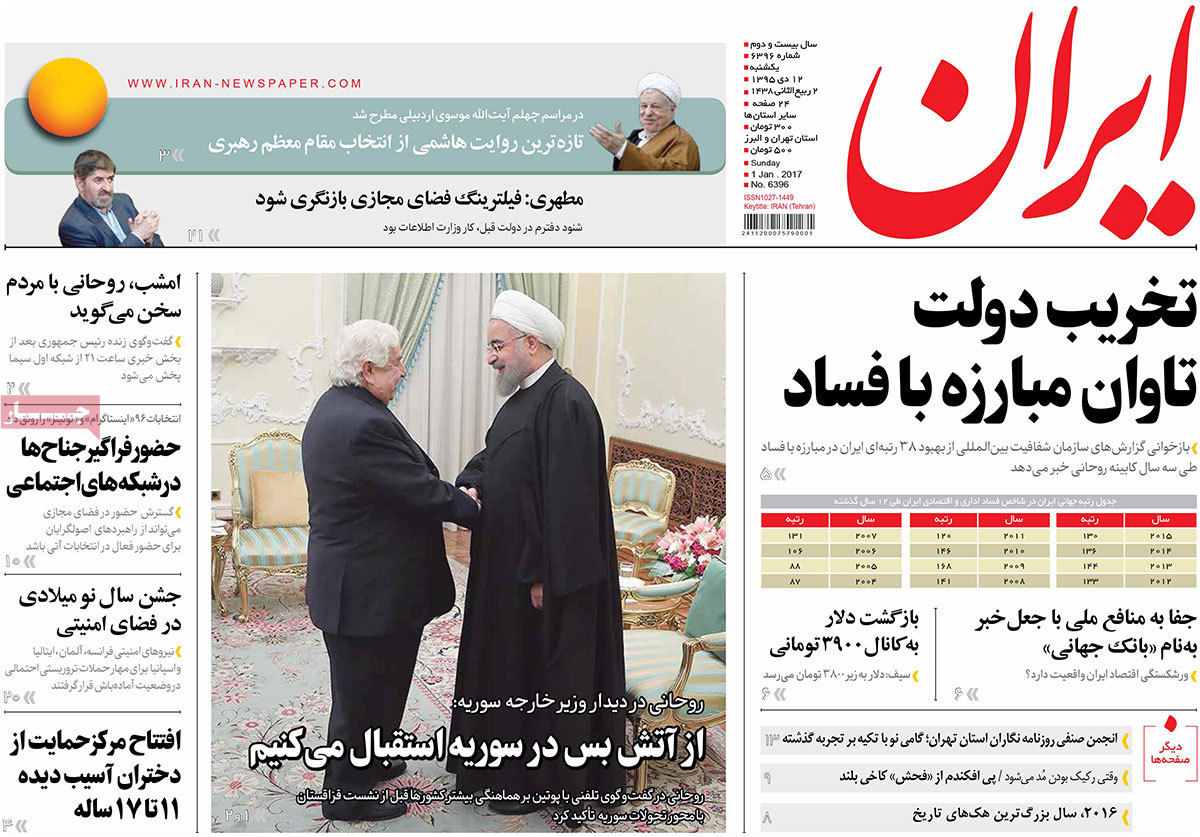 ---
Javan:
1- Ministers Fighting Each Other in Government of Prudence
2- Rouhani in Meeting with Syrian FM Warns against Reinforcement of Terrorists in Time of Truce
---
Jomhouri Eslami:
1- US and Europe Get into New Christian Year under Shadow of Self-Made Terrorism
2- Rouhani Hopes Astana Summit Would Lead to Sustainable Peace in Syria
3- Bahraini King's Daughter Undergoes Surgery in Israel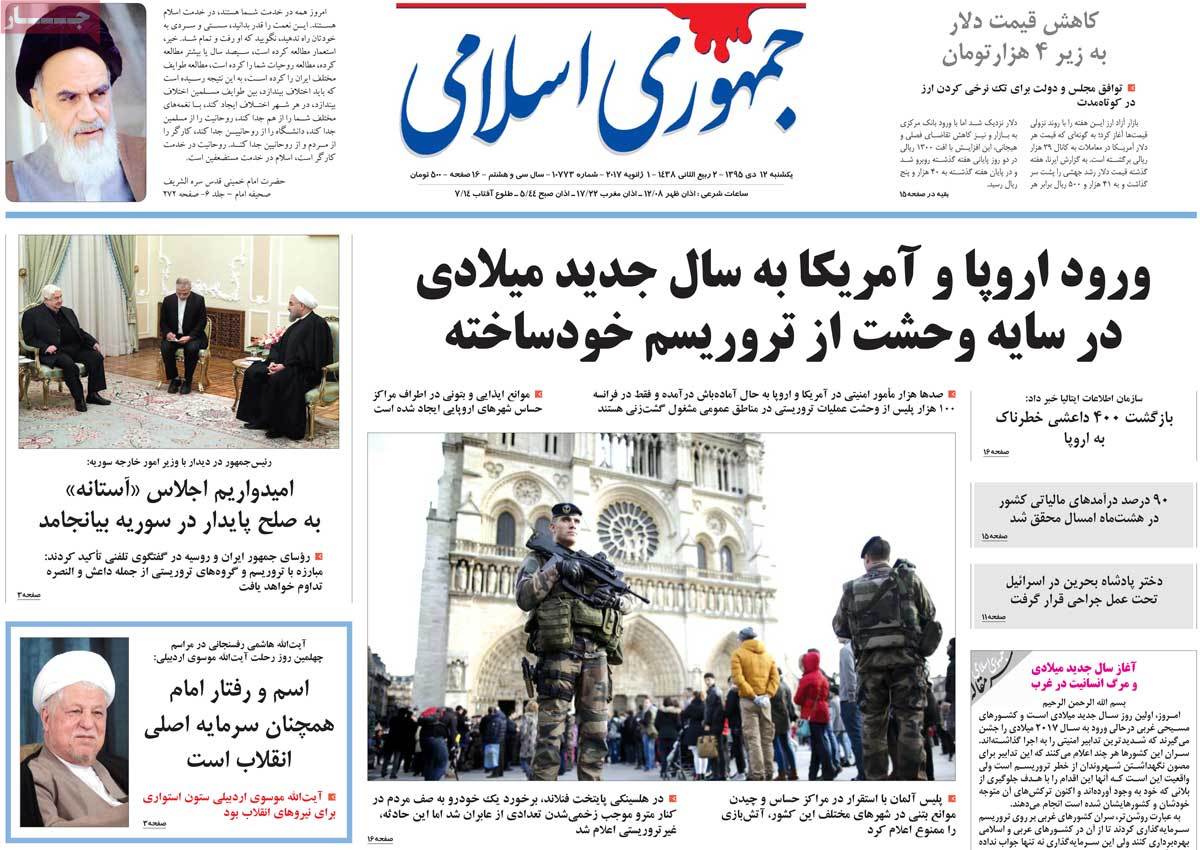 ---
Kayhan:
1- Global Research Analyst: All US Presidential Candidates Have Suffered from Psychological or Sexual Disorders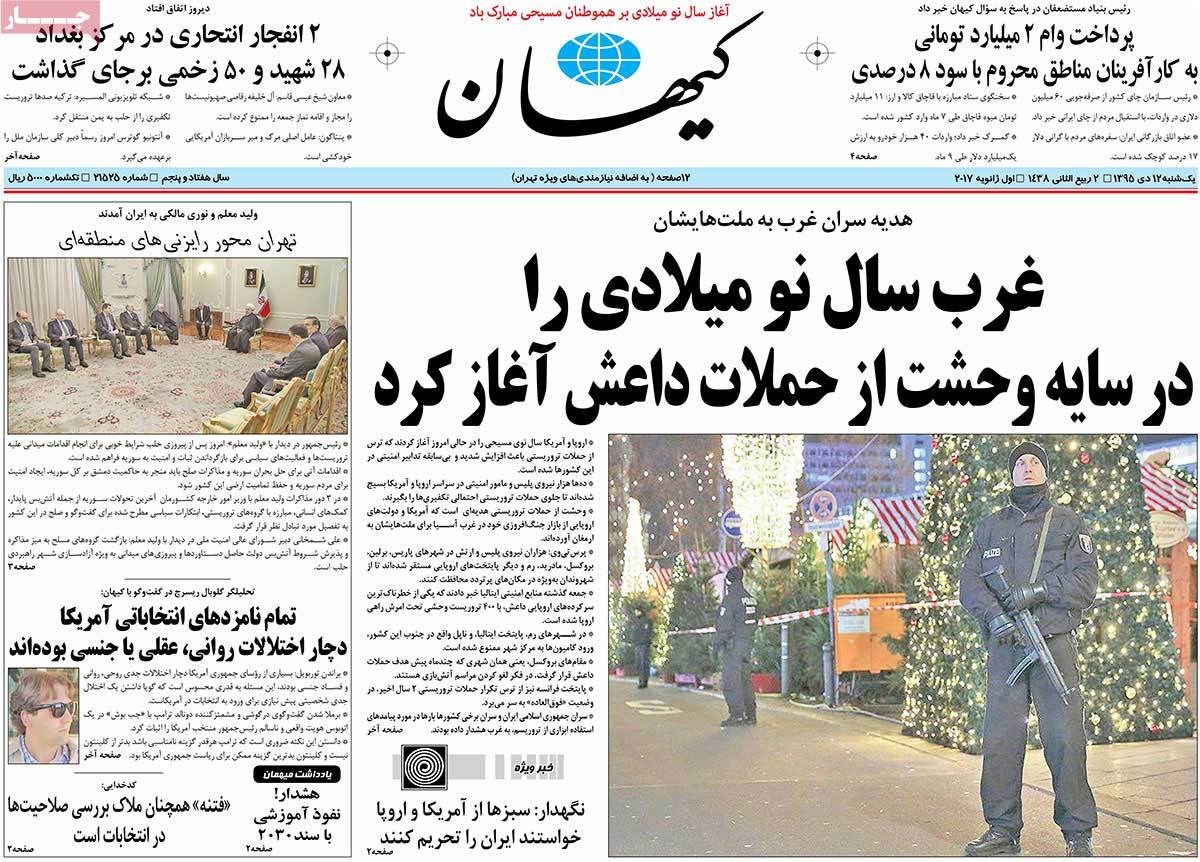 ---
Khorasan:
1- Mashhad Named as Cultural Capital of Muslim World Based on ISESCO's Decision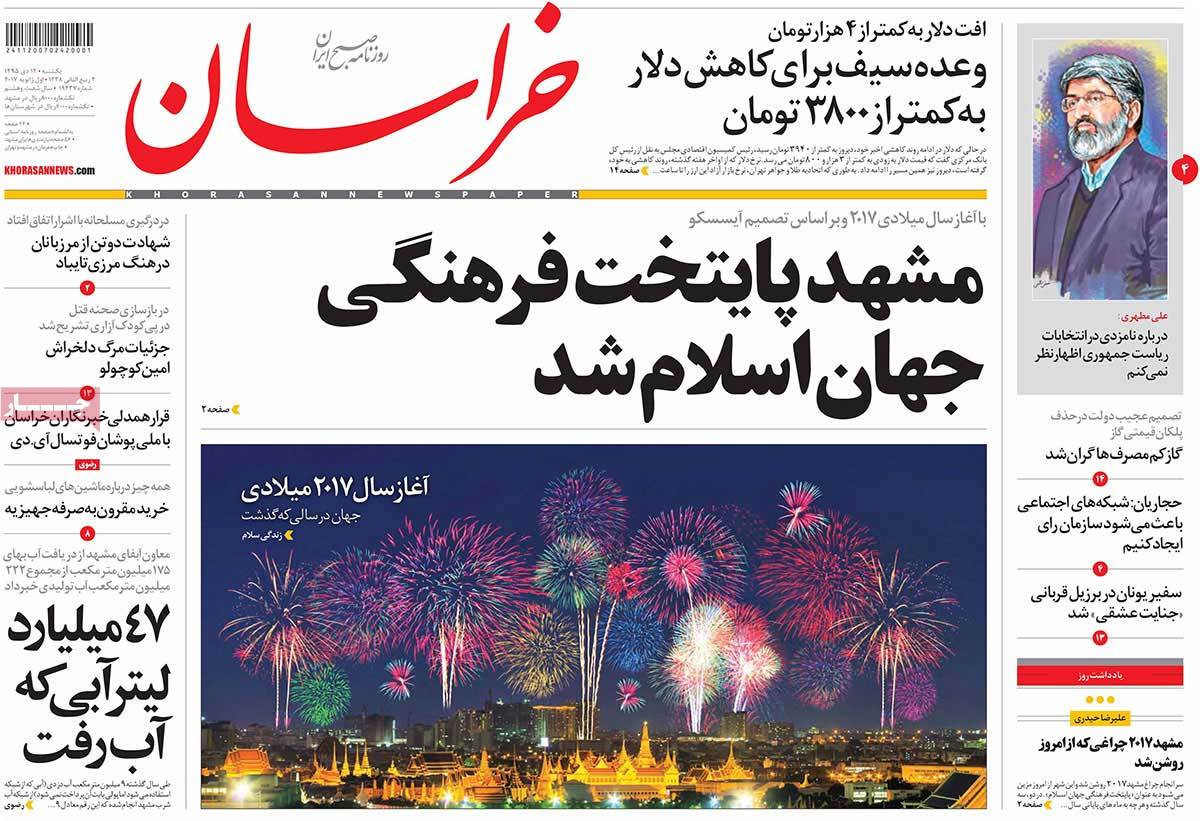 ---
Mardom Salari:
1- Pakistani Parties' Views about Expansion of Islamabad-Tehran Ties
2- Vice-Speaker Motahari: My Office Was Eavesdropped by Ahmadinejad's Ministry of Intelligence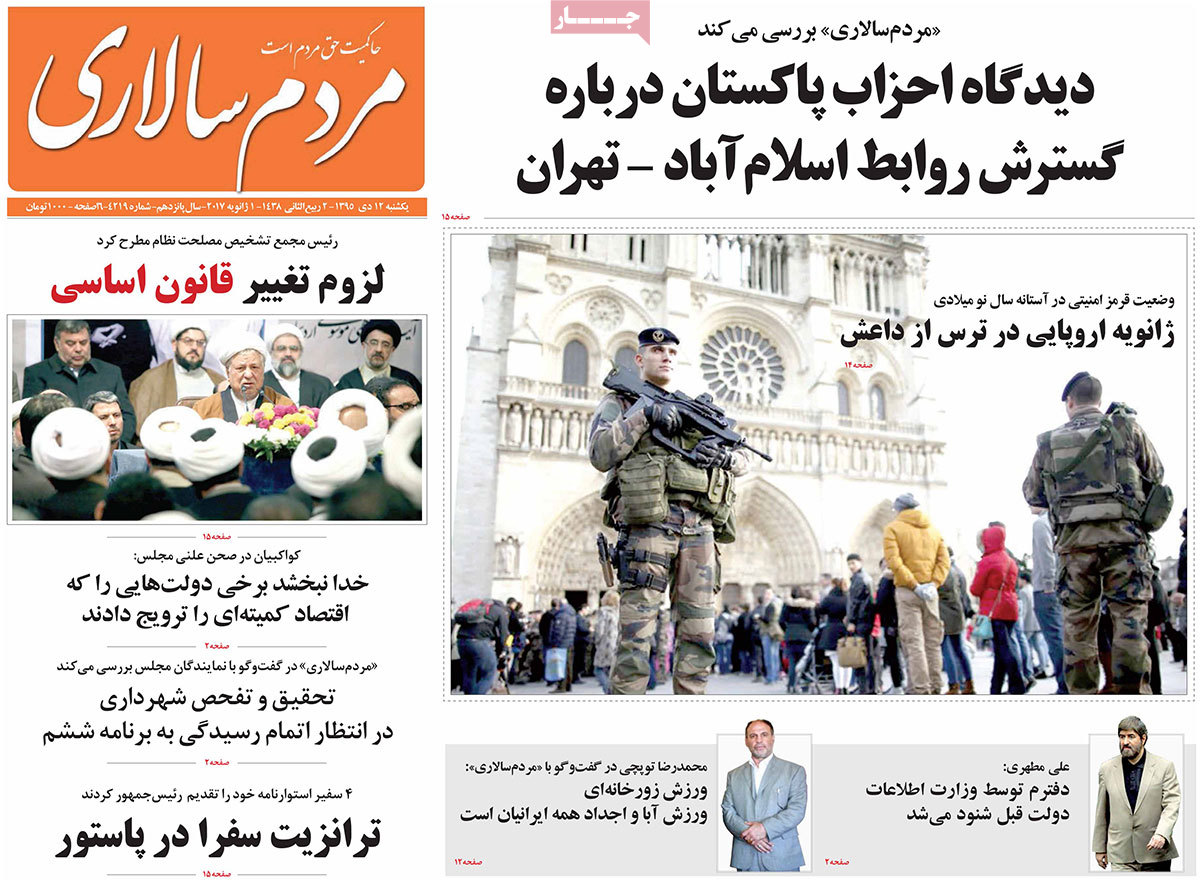 ---
Resalat:
1- Guardian Council Spokesman: 2009 Sedition Is the Criterion for Qualification of Presidential Candidates
2- Mirsalim, the Candidate of a Major Conservative Party for Upcoming Presidential Election: We Should Sacrifice for Integration with Iran's Leader
3- Syria Truce Violated by West-Supported Terrorist Groups; Moscow Says Terrorists Have Violated the Ceasefire at Least for 12 Times
---
Sayeh:
1- Indian FM: I Can't Do Anything on Case of Narges Kalbasi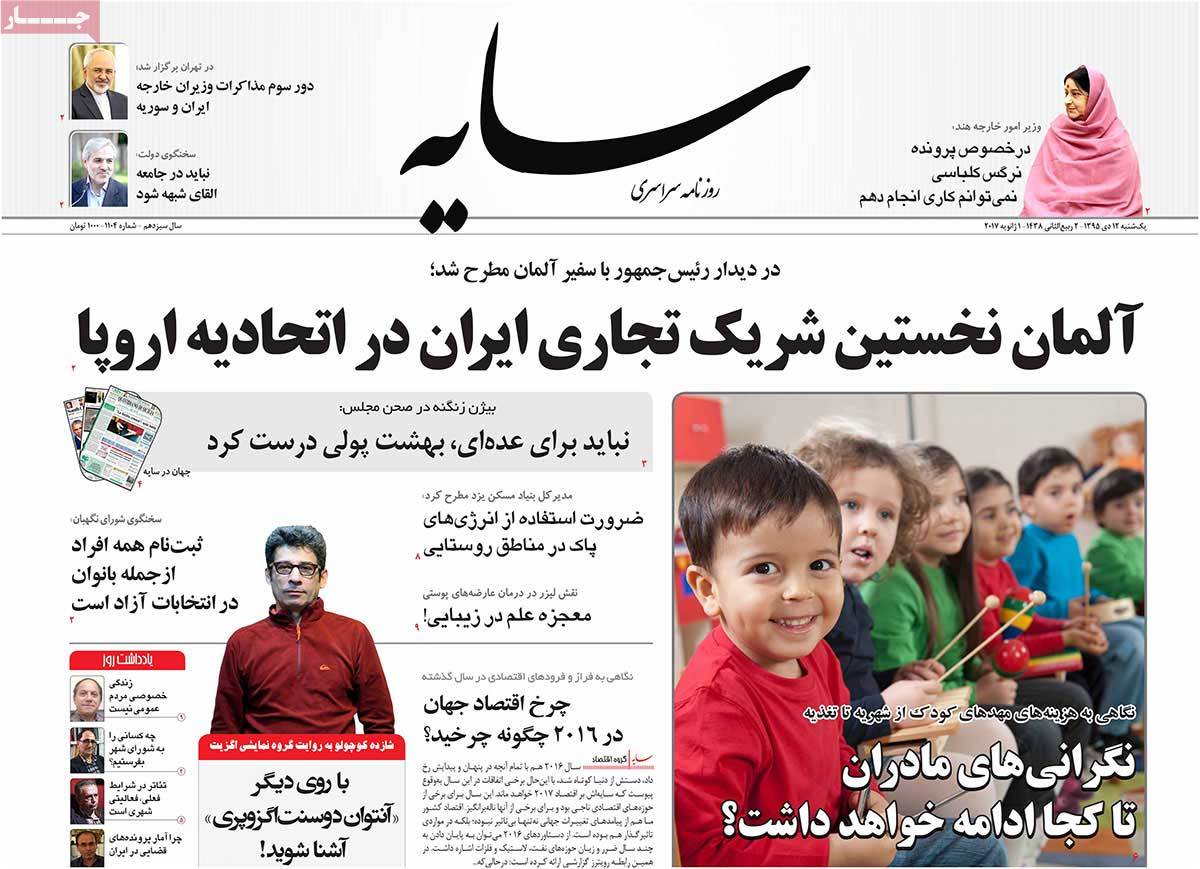 ---
Shahrvand:
1- Interview with Young Soldier Who Lost One of His Legs to Save a Dog: I'm Happy that I Was Not Forgotten; Environment Dept. Chief Gives Order for His Employment in the Department
2- FIFA's Medical Centre in Iran: 20% of Iranian Football Players Smoke Cigarette and 50% Smoke Hookah
---
Shargh:
1- Continued Argument between Two Ministers over Petchem Industry; Oil Minister Says He Is in Charge of Petchem Industry, Not the Industry Minister Nematzadeh
2- Rouhani and Putin in Phone Conversation Hold Consultations ahead of Astana Summit
3- In Post-Election Protests in 2009, They Drew Analogy between Islamic Republic of Iran and Dictatorships of Egypt and Tunisia: IRGC General