All newspapers today covered the remarks made by the Leader of Islamic Revolution Ayatollah Seyyed Ali Khamenei in a meeting with commanders and personnel of Iran's Air Force on Tuesday.
They also covered President Hassan Rouhani's comments about the course of Tehran's talks with world powers over its nuclear energy program, and the contribution of Iran's Leader to the success of nuclear talks.
A meeting between the heads of trio branches of Iranian Establishment, namely President Rouhani, Parliament Speaker Ali Larijani, and Judiciary Chief Ayatollah Sadeq Amoli Larijani, was also a top story today. The meeting, hosted by Rouhani, was significant particularly after the war of words between Rouhani's administration and Amoli Larijani.
The above issues, as well as many more, are highlighted in the following headlines:
19 Dey:
1- Leader: Mr Newcomer Disclosed US Corruption. Thank You! Iranian People Will Respond to Trump in 22 Bahman Rallies
---
Abrar:
1- Iran's Leader No Enemy Can Paralyse Iranian Nation
2- Theresa May's Support of Nuclear Deal in Meeting with Netanyahu
3- Russia Says It Has Received first Payment for Construction of Bushehr Nuclear Power Plant
4- Jordan King: We'll Take Part in Astana Summit as Observer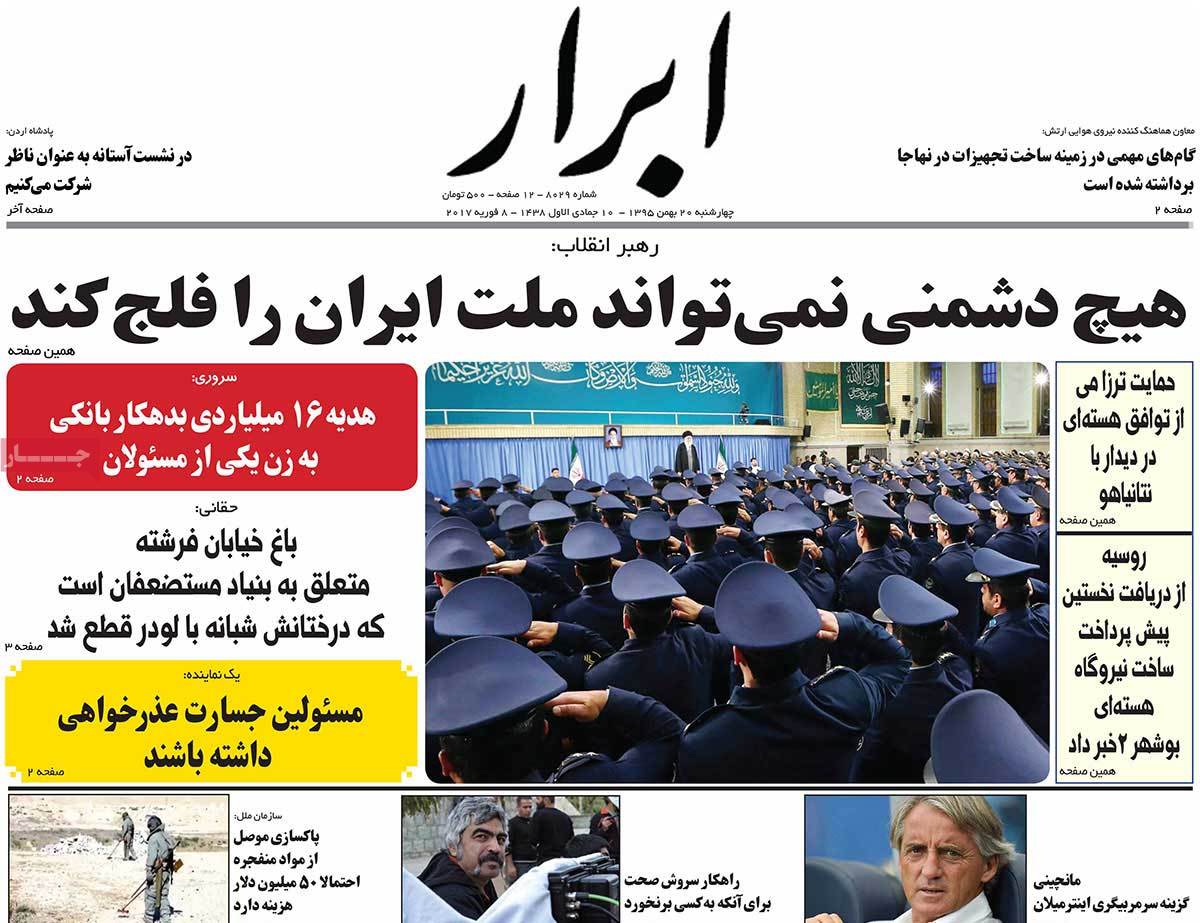 ---
Aftab-e Yazd:
1- End of Rumours about Ayatollah Hashemi Rafsanjani's Aristocracy: In Spite of Numerous Rumours, Latest Photos of His Home Show His Simple Life. His Salary Was Even Lower than That of His Advisor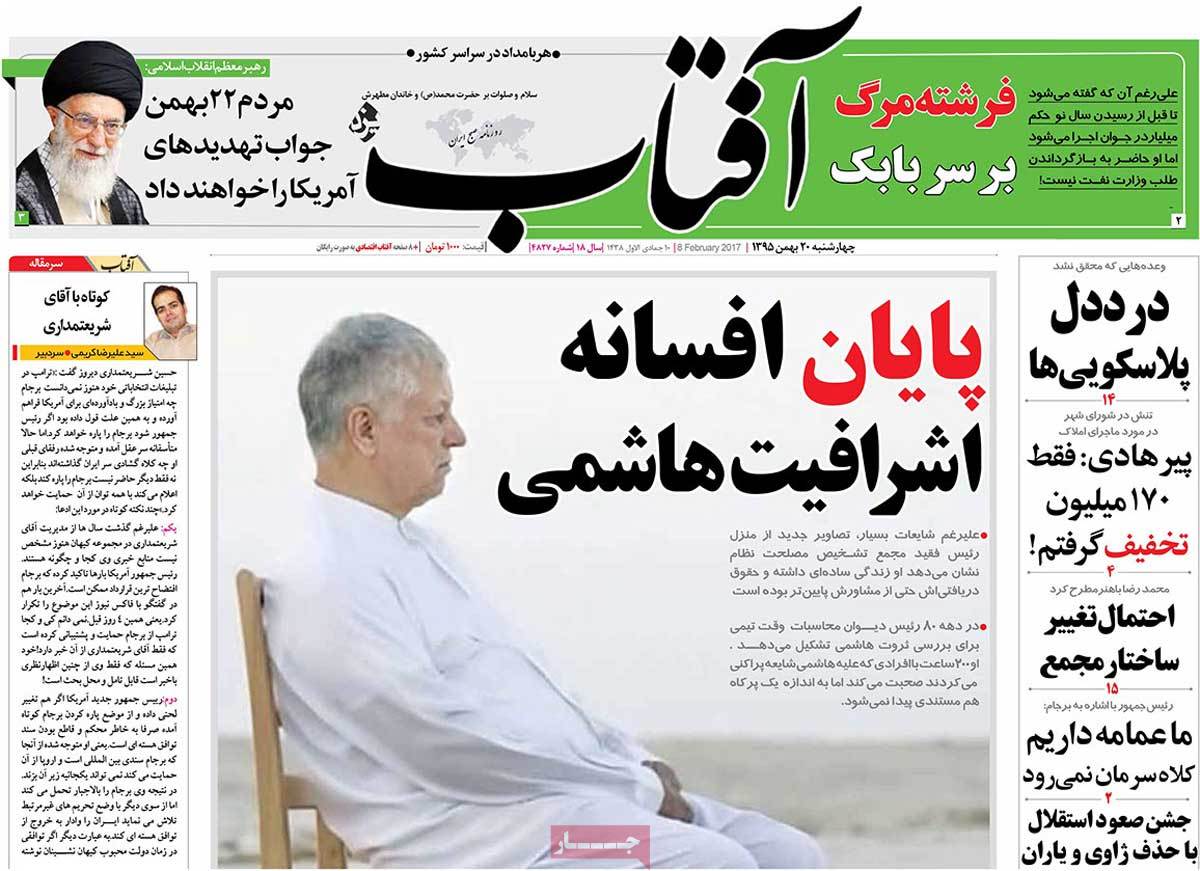 ---
Arman-e Emrooz:
1- In Reaction to Anti-Iran Threats, Iranian President, Judiciary Chief, and Parliament Speaker Underline Wise Behaviour in Foreign Policy
2- Rouhani: We're on the Stage of Economic Growth
3- Purchase of Yellow Cake after 40 Years: 5kg of 20% Enriched Uranium Delivered by Russia to Iran
4- Culture Minister: We Won't Declare Red Lines Anymore. Era of Taking Hard Line Is Over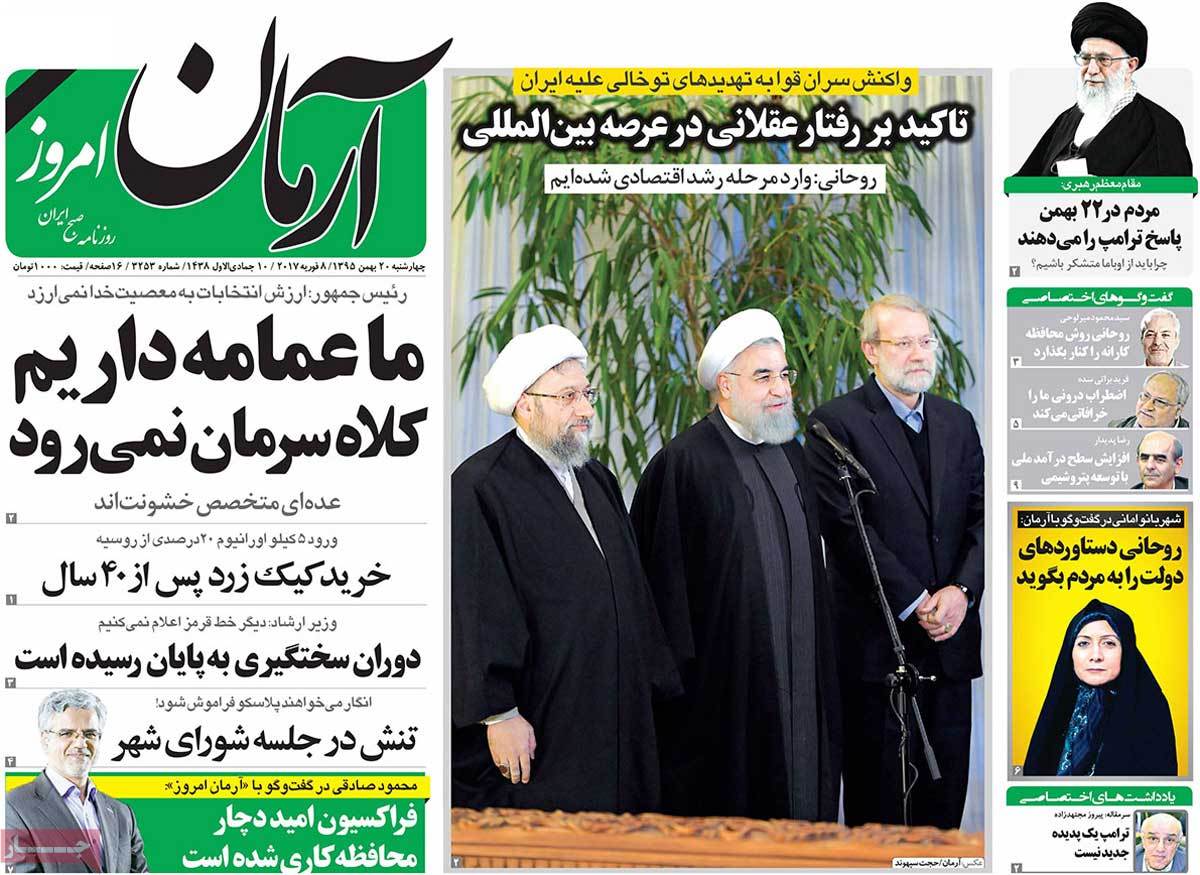 ---
Asr-e Iranian:
1- Iran's Leader: American Human Rights Means Handcuffing a 5-Year-Old Kid; We'll Respond to Trump in Nationwide Rallies on February 10; Iranian People Not Afraid of Threats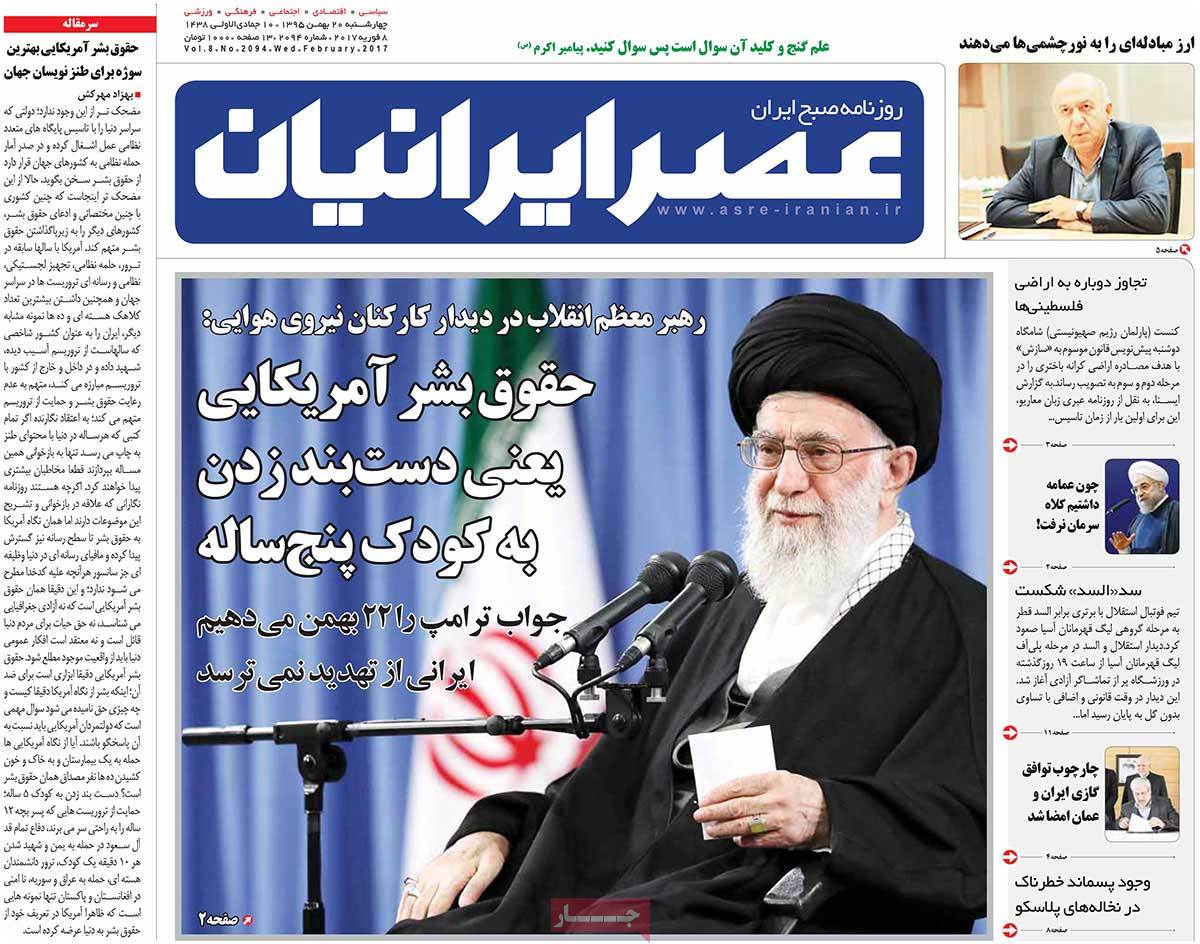 ---
Bahar:
1- Terrorists' Different Situation under Trump: ISIS Terrorists Launch Massacre Campaign
2- Government Spokesman: It Is Illegal to Beat Journalists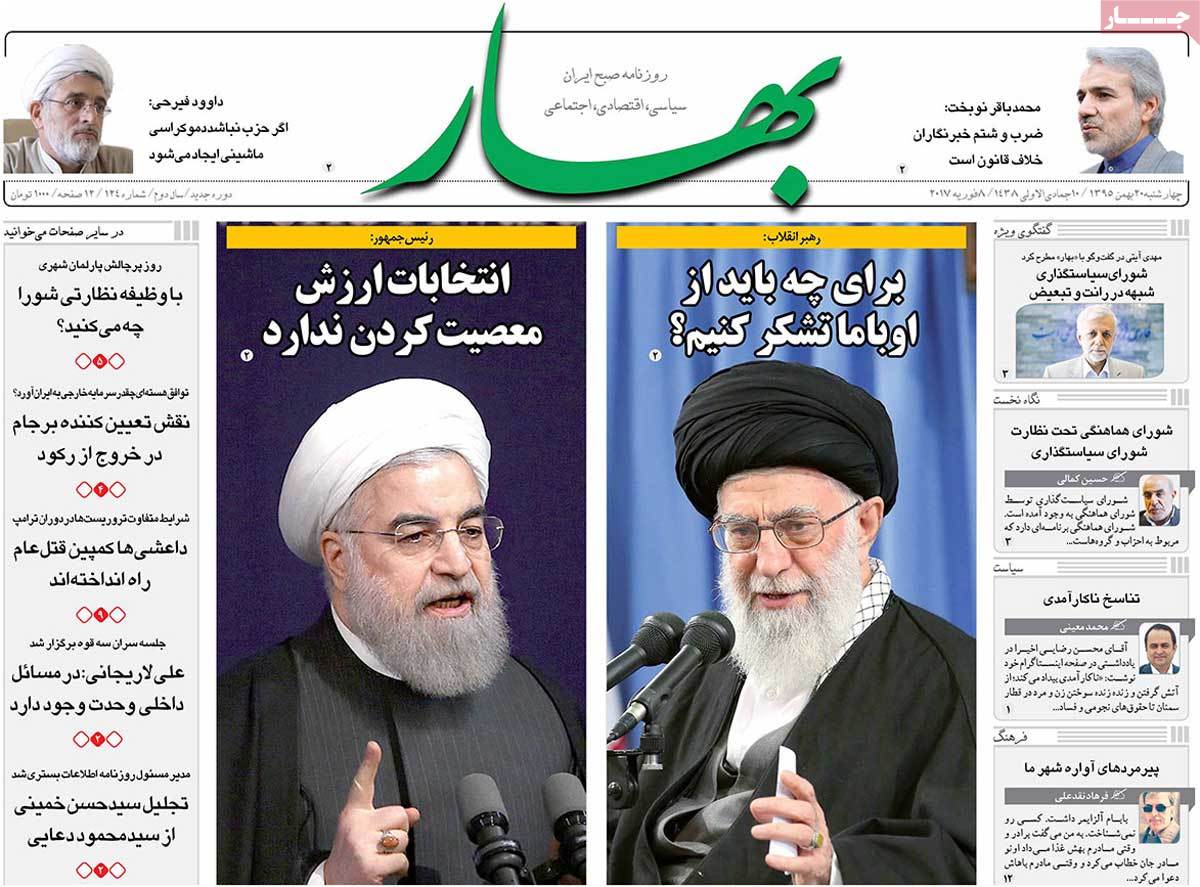 ---
Besharat-e Now:
1- Iranian President Criticizes Spread of Violence and Attacks: Election Is Not So Important that You Commit Sin for It; Thoughts, Essays, and Expressions Were Main Factors Leading to Victory of Islamic Revolution
2- Turkish Tourists Can Visit Iran instead of Europe; Iran Trying to Attract Turkish Tourists
3- Senior MP: Iran Should Be Careful in Cooperation with Russia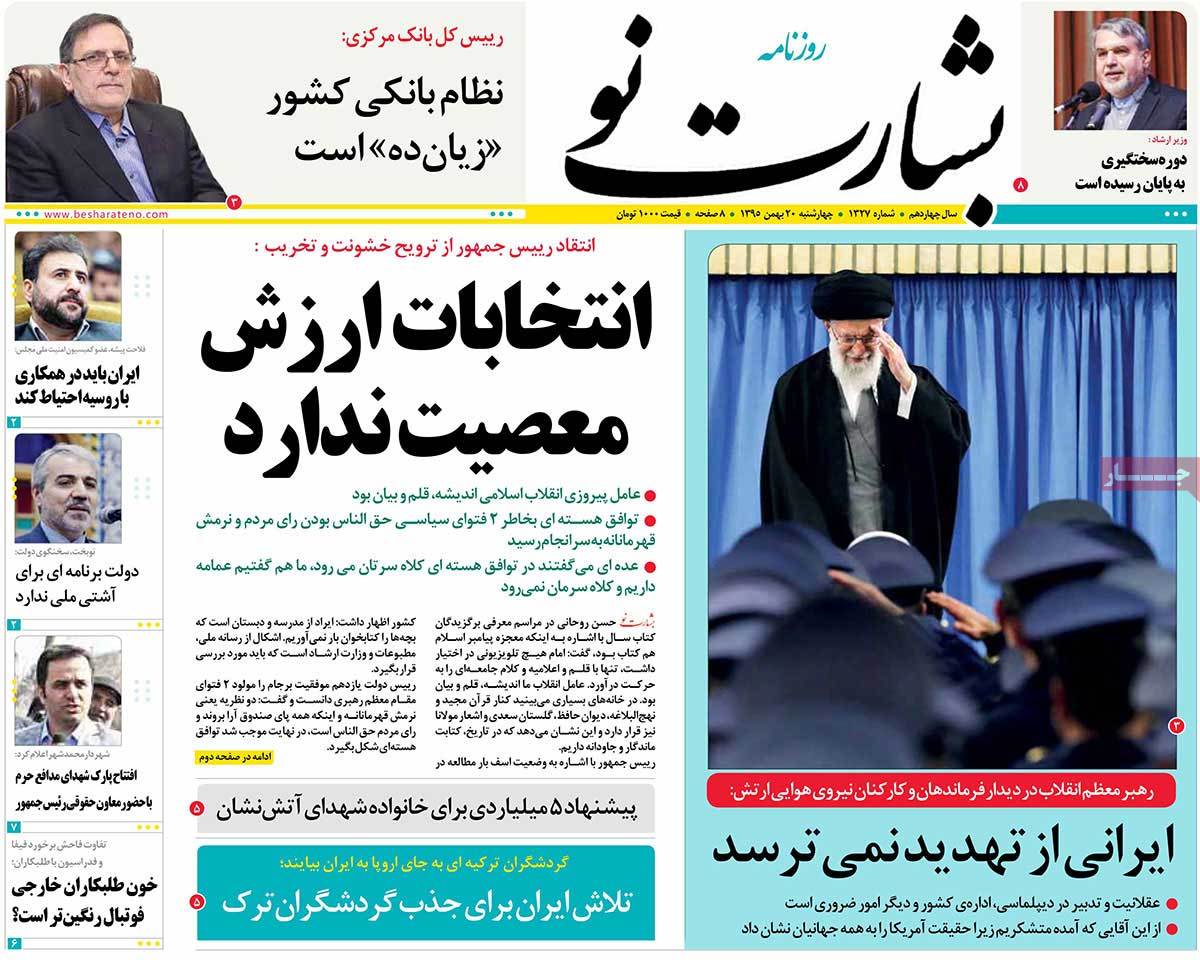 ---
Ebtekar:
1- After Months of Conflict between Rouhani, Larijani, and Amoli Larijani, They Hold Joint Meeting with Message of Unity and Coordination
---
Emtiaz:
1- Young Players of Iran's Esteghlal Outperform Xavi and His Team
2- Opening of Most Equipped Library for Blind People
3- ICT Minister: 2,000 Villages Connected to ADSL
---
Ettela'at:
1- President: We Should Make Our Society Invulnerable through Thoughts and Expression of Truth
2- Putin Urges Russian Air Force to Be on Standby after US Military Movements in Russian Borders
3- First VP: Iran Committed to Int'l Agreement
---
Haft-e Sobh:
1- Directly from Azadi [Street in Tehran] to California: From among 10 Top Students in Iran's Sharif University of Technology, Only One Is Living in Iran! Iranian Universities Seem to Have Turned to US Embassies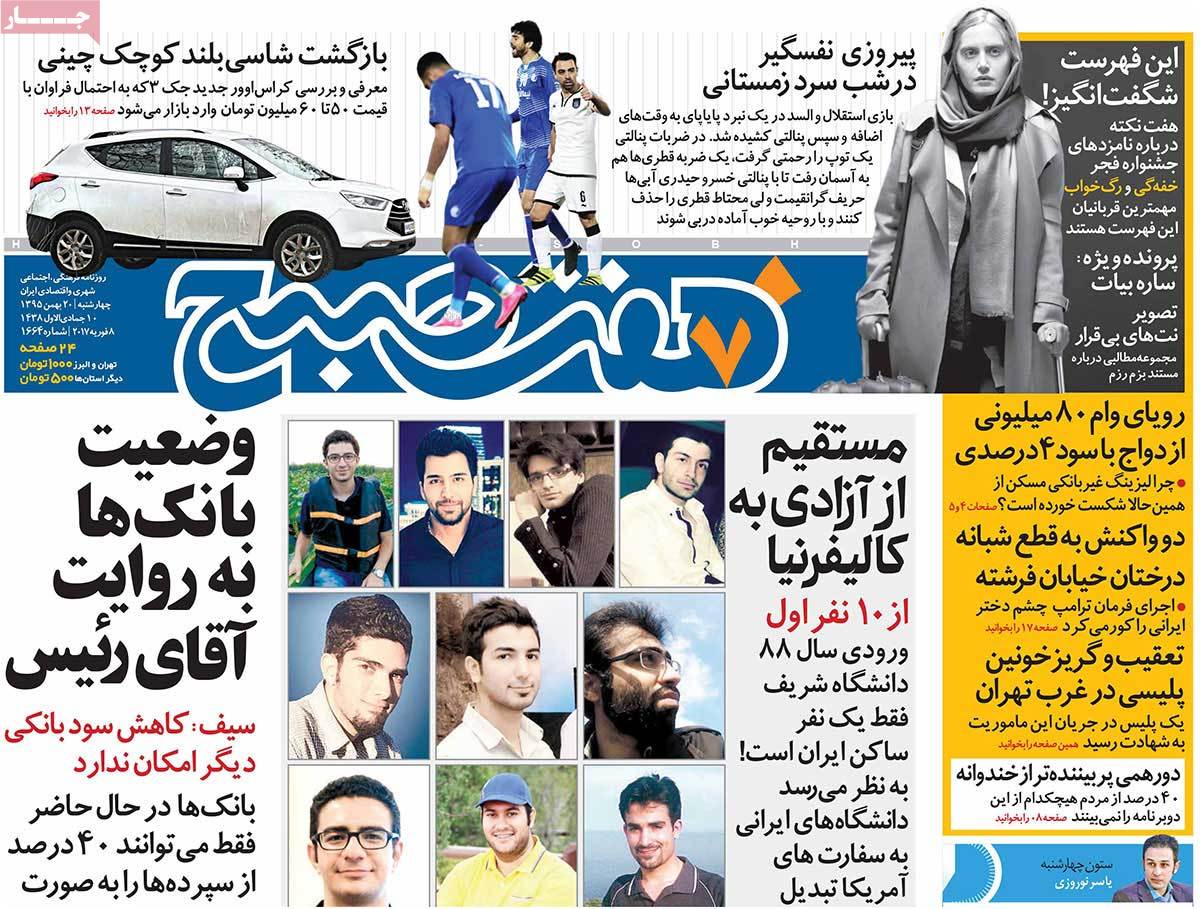 ---
Iran:
1- Rouhani Criticizes Those Who Sow Seeds of Rift: We're One Nation, with One Leader and One Government, Why Do You Divide People?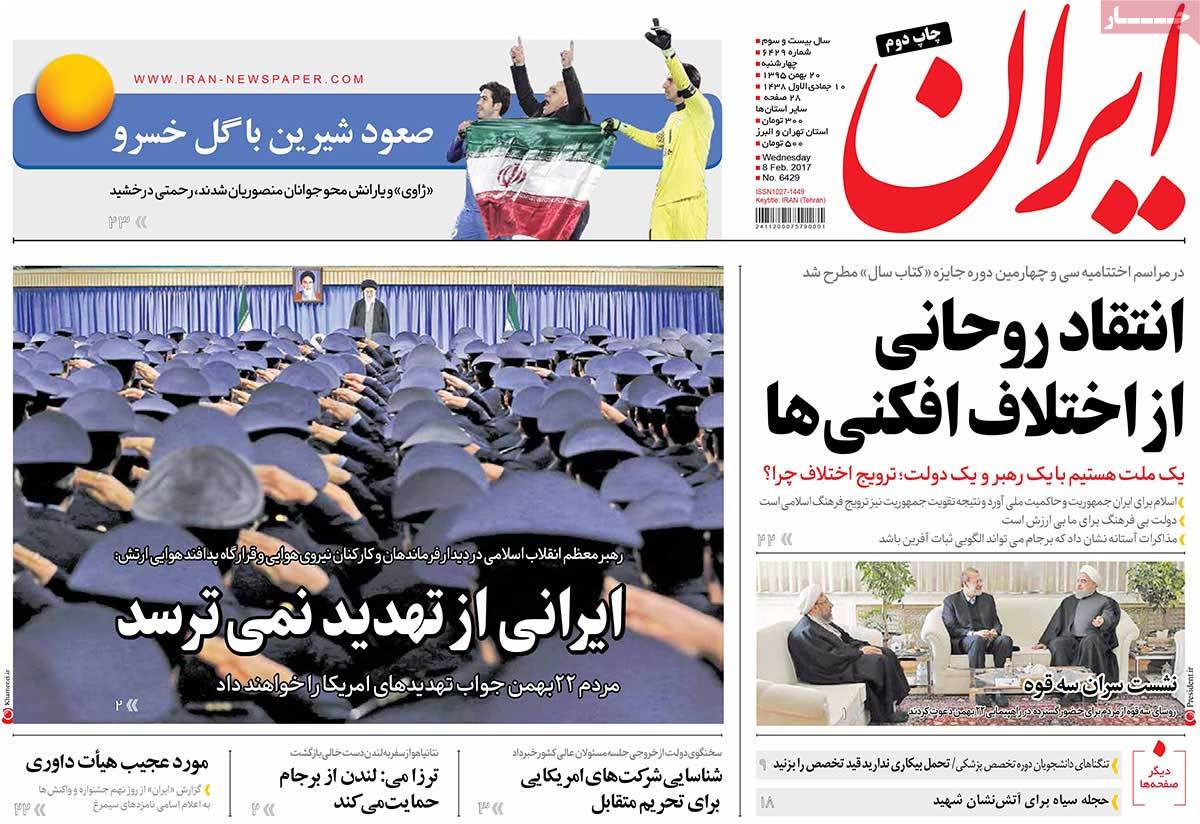 ---
Jame Jam:
1- Iran's Leader: People Will Give Iran's Answer to US in February 10 Rallies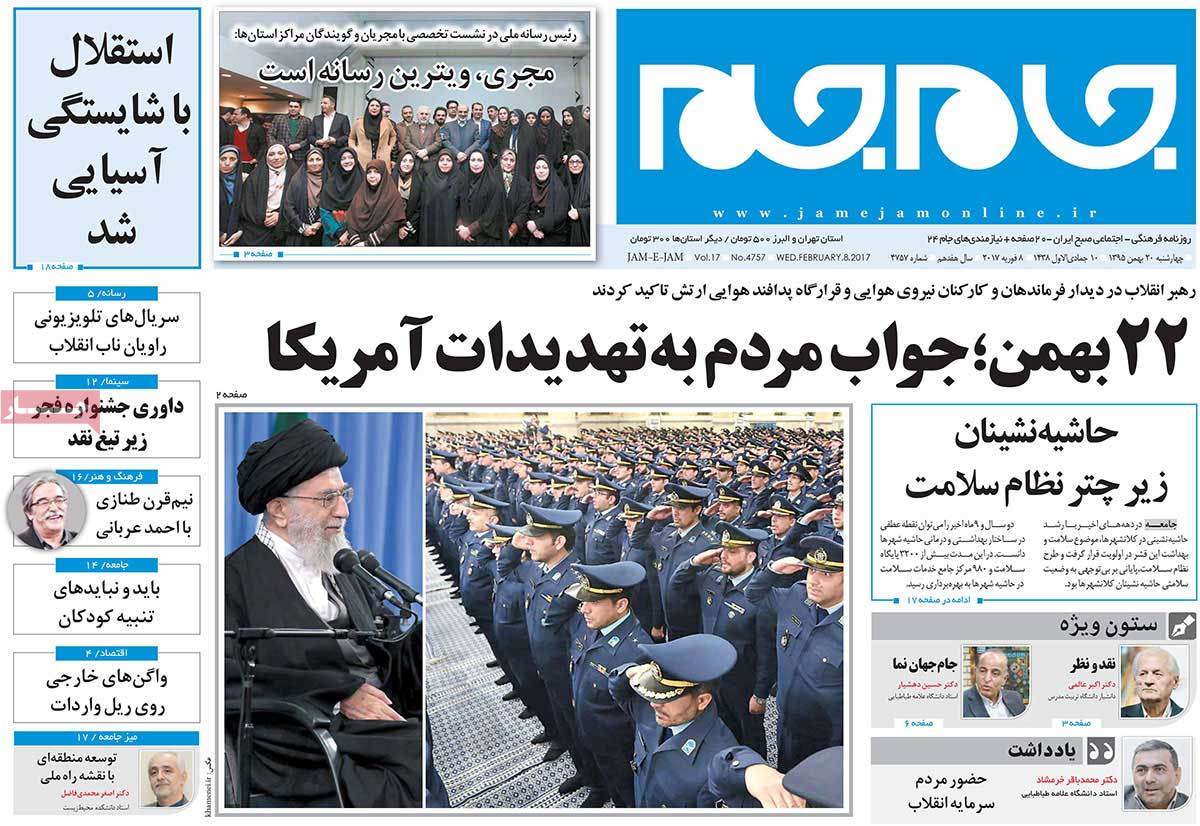 ---
Javan:
1- Iran's Leader: We're Thankful to Trump for Showing Real Face of US
2- Fox News: US President to Reveal Secrets of JCPOA; Trump Trying to Provoke [Iran to] Violation of Nuclear Deal
---
Jomhouri Eslami:
1- Senior Clerics and Top Iranian Officials Call for People's High Turnout in 22 Bahman Rallies
2- 120 Major American Companies and Hawaii State File Lawsuit against Trump
---
Kayhan:
1- Trump Is True Face of United States: Commander of Iran's Armed Forces
2- Trump Couldn't Distinguish between Iraq's Sulaimaniyah and Iran's General Soleimani: Hudson Institute Expert
3- Unfortunately, Trump Has Come to His Senses and Won't Scrap Nuclear Deal: Kayhan's Managing Editor
4- Ansarullah's New Strategy in Fight against Al Saud: City for City, Capital for Capital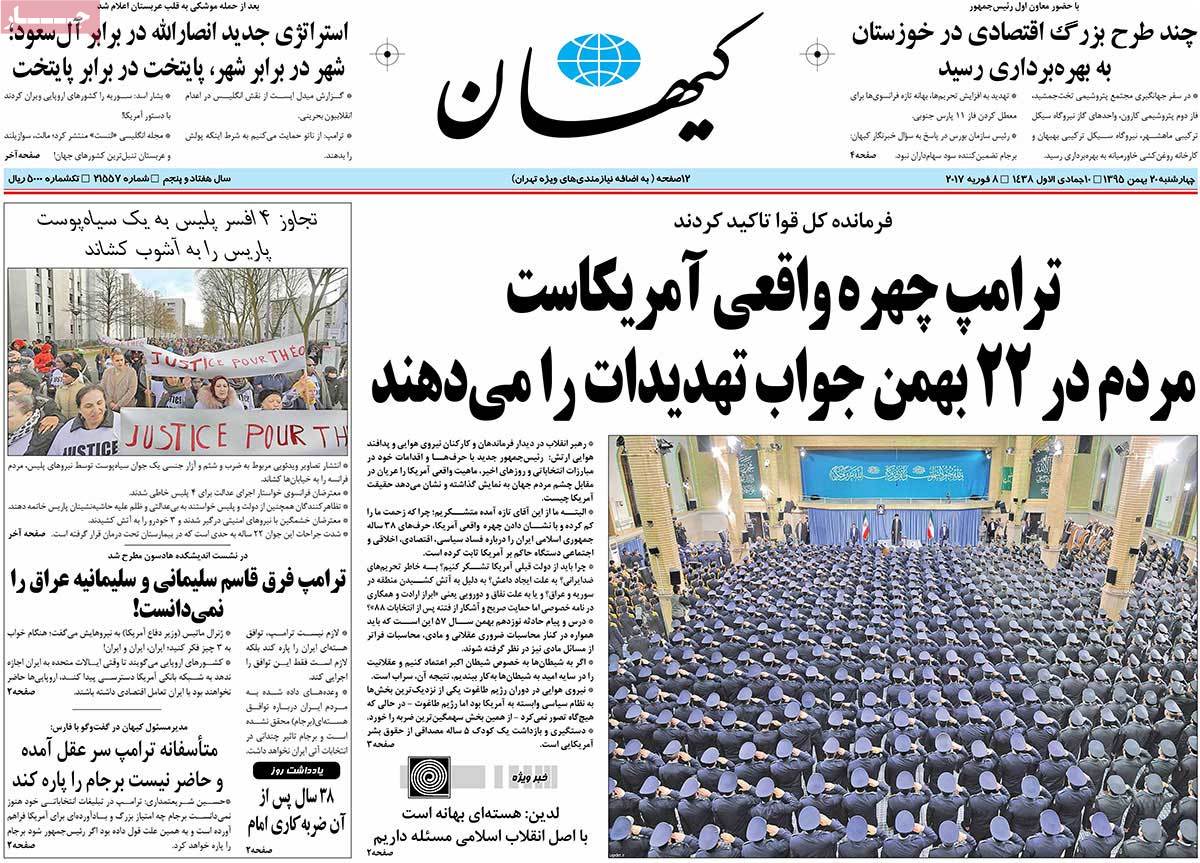 ---
Resalat:
1- Nuclear Chief: Iran to Go for 100,000 SWU Enrichment If JCPOA Is Violated
2- Assad: EU Supports Takfiri [Extremist] Terrorists
3- IRGC General: Britain Should Return Home from Same Path It Came to Middle East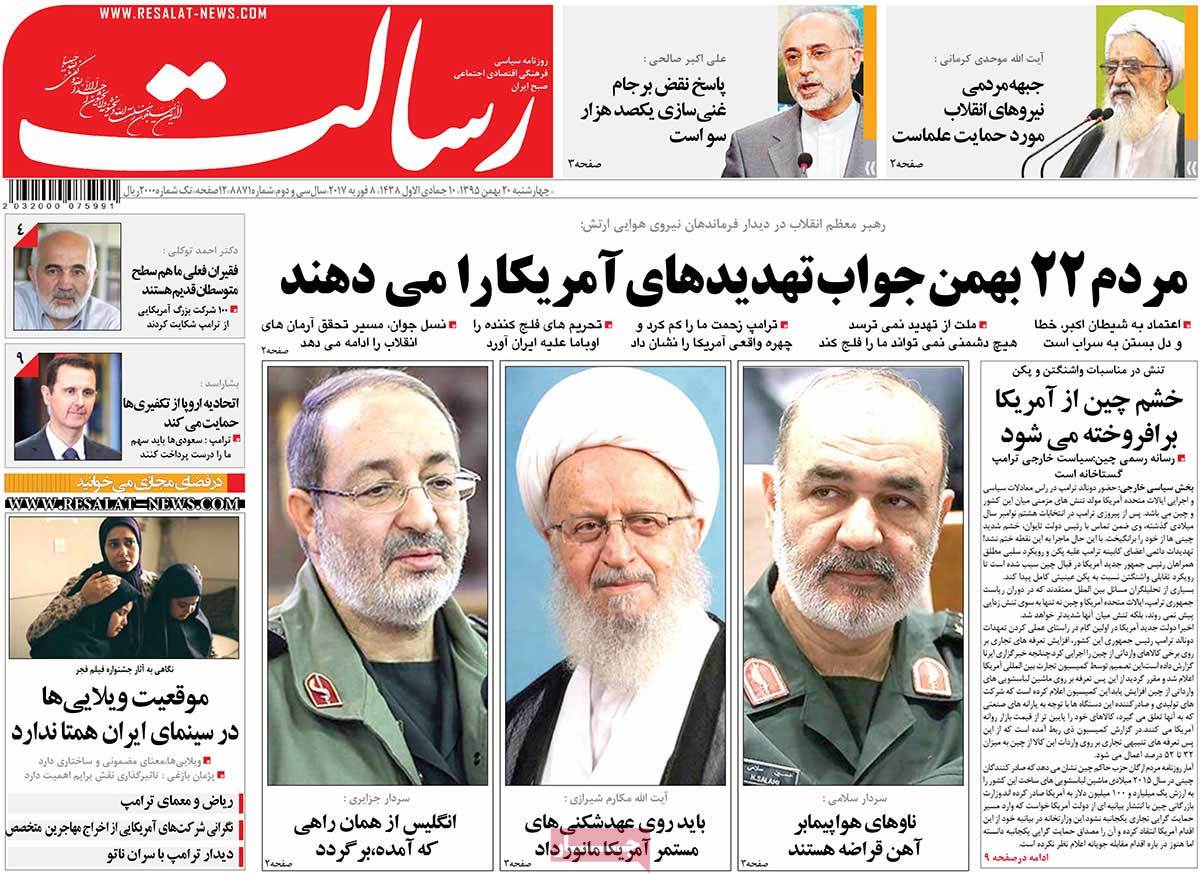 ---
Shahrvand:
1- Iran's Leader Highlight Necessity for Rationality and Prudence in Diplomacy and Administration
2- President: Some Were Opposed to Negotiation, but [Ayatollah Khamenei's] 'Heroic Flexibility' Theory Paved Our Way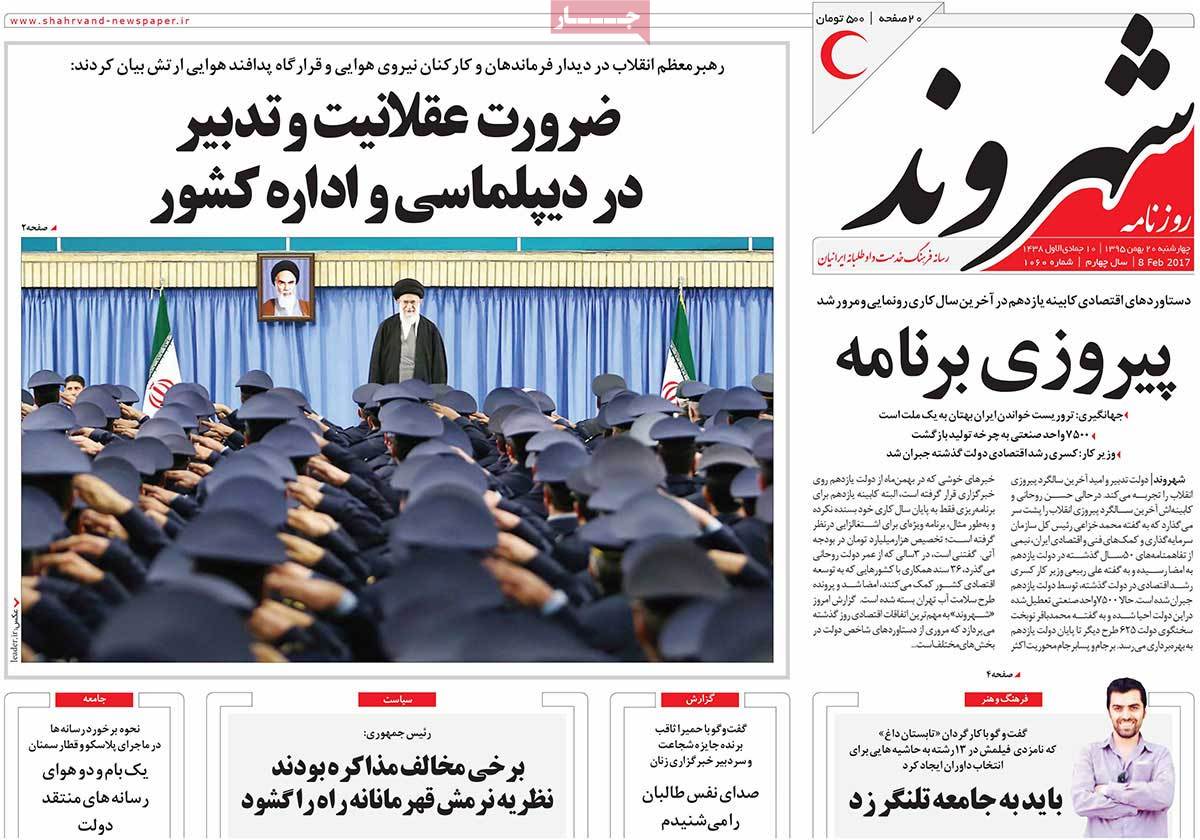 ---
Shargh:
1- President Rouhani Referring to Nuclear Talks: No One Can Trick Us into Doing Something