The top story today was the anti-Iran remarks and positions by US President Donald Trump and the reactions they received from Iran and Russia.
Yemen's claim that it has targeted a Saudi base in Riyadh with a missile also received great coverage.
Newspapers also covered the remarks made by Iranian Foreign Ministry Spokesman Bahram Qassemi about Iran's missile test and the country's right to enhance its defensive capabilities.
The above issues, as well as many more, are highlighted in the following headlines:
Abrar:
1- 100 Killed in Tehran by Cold Weapons in 10 Months
2- Trump to Take a Hard Line on Immigrants by Adopting Stricter Positions
3- HRW: Myanmar Commanders Responsible for Assaults on Rohingya Muslims Should Be Punished
---
Abrar-e Eqtesadi:
1- Iran Has Not Banned American Companies from Oil Tenders; They Themselves Don't Have Permission to Take Part
2- 43% Increase in Chinese Investments in Iran
---
Aftab-e Yazd:
1- Military Forces Cannot Have Political Activities at All
2- We Shouldn't Let Caspian Seal Become Endangered Like Asiatic Cheetah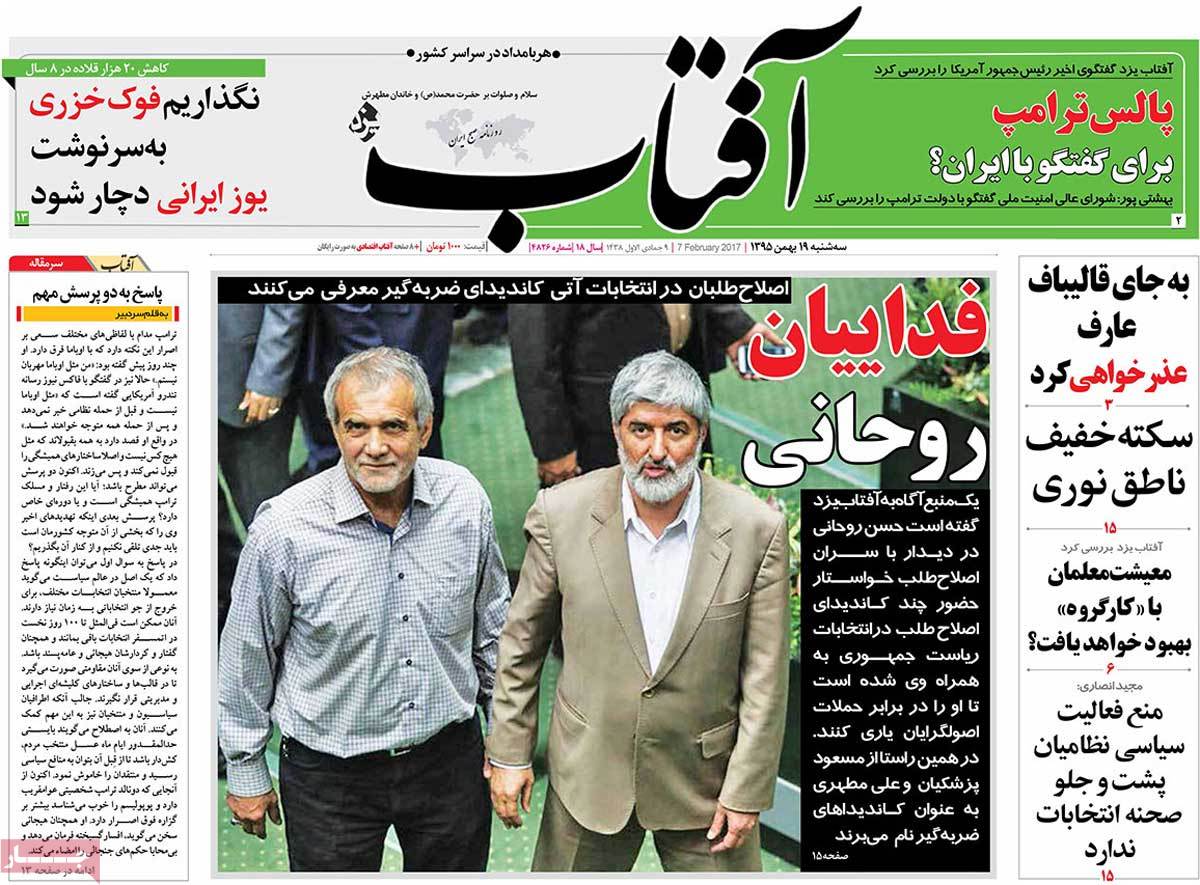 ---
Arman-e Emrooz:
1- Senior Clerics Appreciate Rouhani Government's Prudence; Clerics Urge Government Not to Be the First One to Violate Nuclear Deal
2- Transport Minister: There Are $100 Billion Worth of Empty Houses in Iran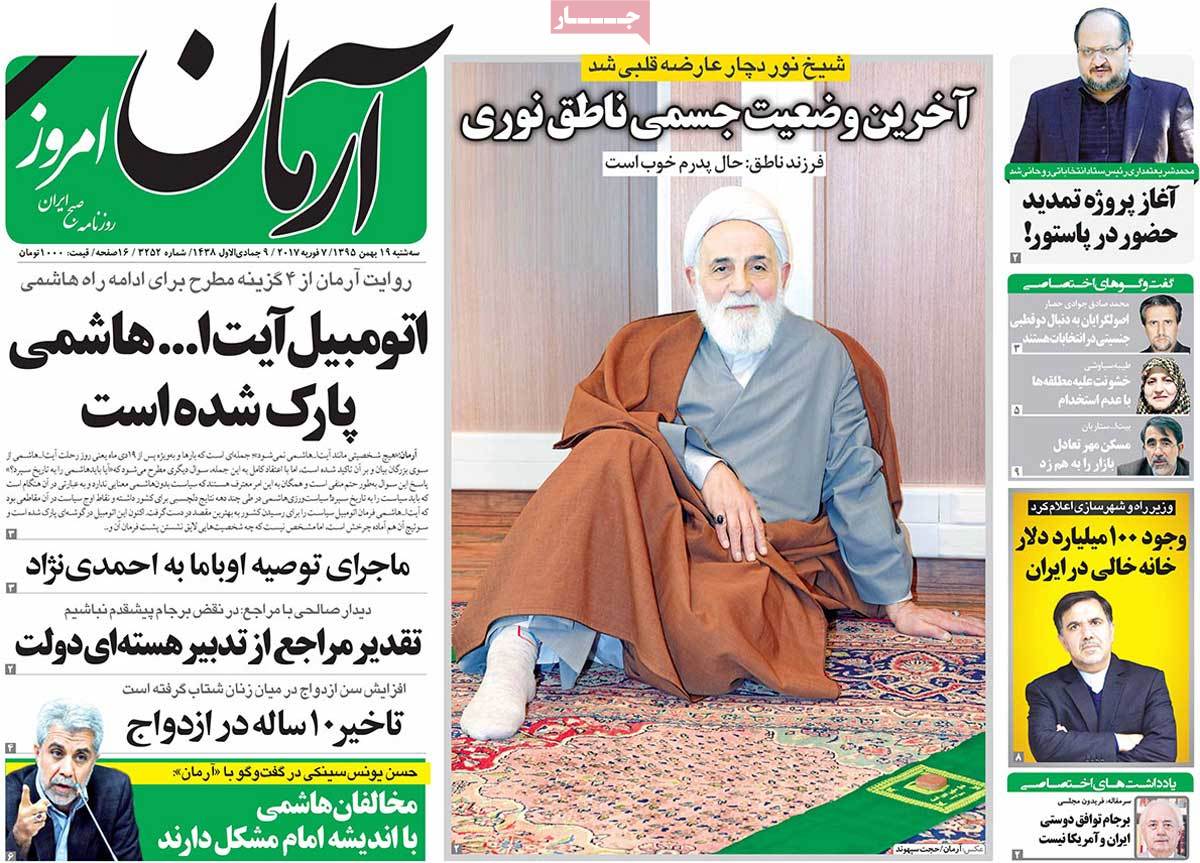 ---
Asrar:
1- Culture Minister: Iran Safest Country for Whoever Motivated to Come Here
2- Foreign Ministry Spokesman: Iran's Missile Affairs Not in US Business
3- Oil Minister: Abadan Refinery Will No Longer Be Unprofitable
4- Veteran Conservative Nateq Noori Hospitalised for Heart Problem, but He's Fine
---
Bahar:
1- Female Reformist MP Underlines Need for Decreasing Violence against Women: We Should Break Taboo of Talking about Street Women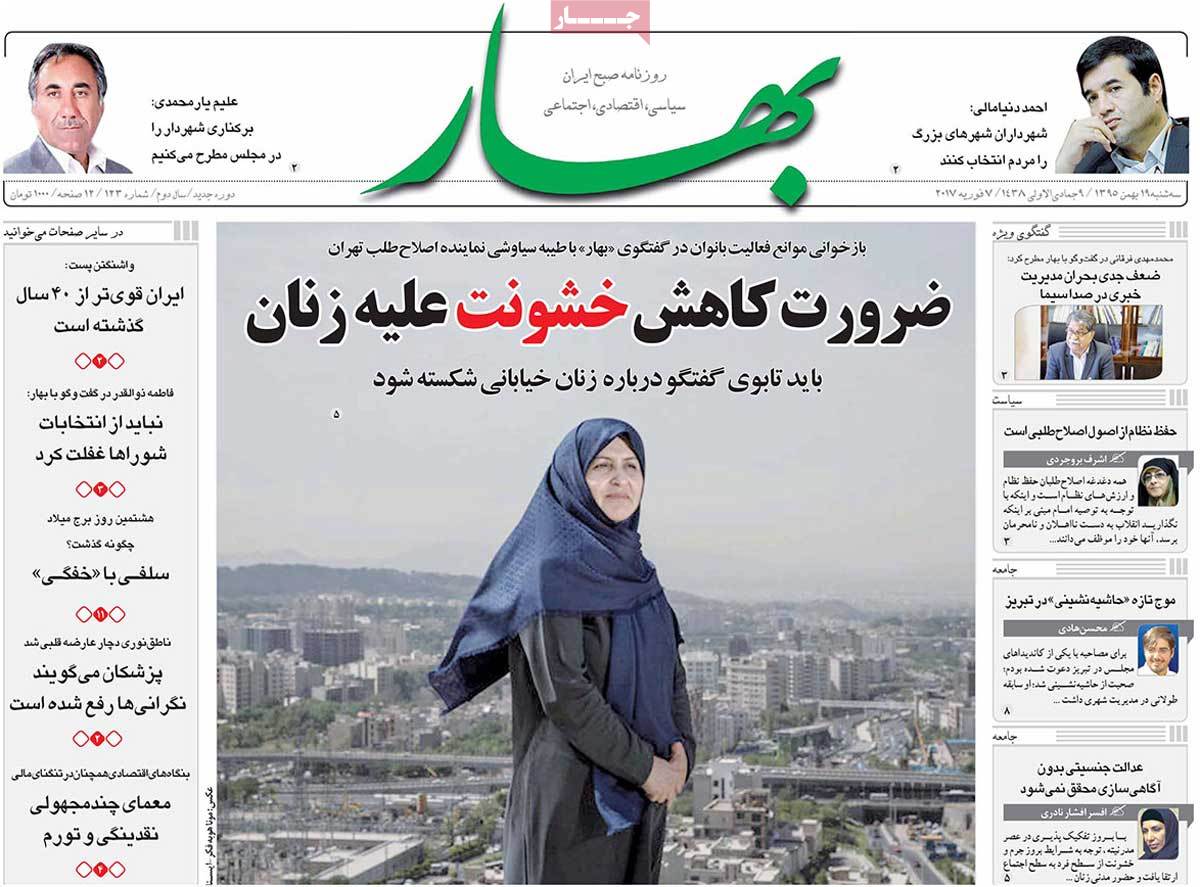 ---
Ebtekar:
1- Rouhani's Candidacy in Presidential Votes Finalised
2- Who Is to Blame for Death of Hour al-Azim Swamp? 70% Revival of Khuzestan Province's Biggest Wetland to Remove Domestic Source of Dust Pollution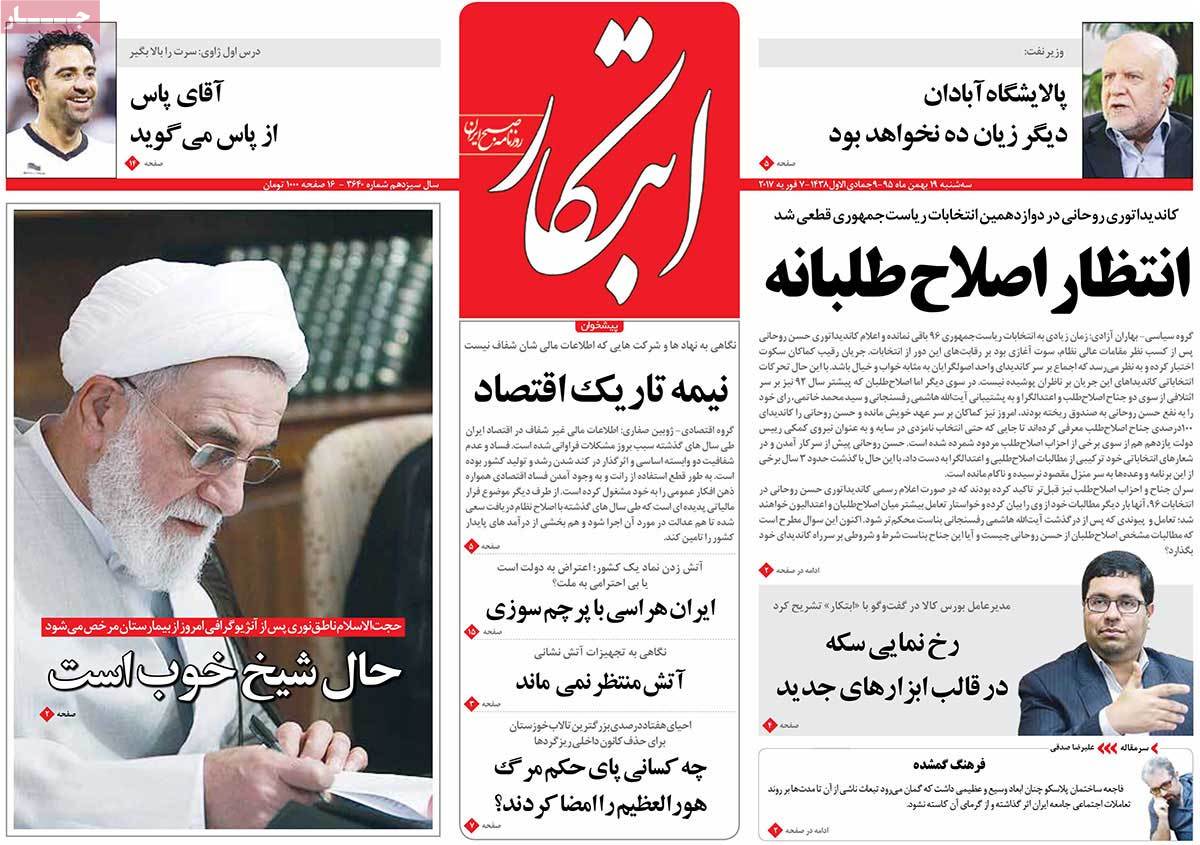 ---
Etemad:
1- Moscow-Trump Confrontation in Iran's Favour: Russian FM Responds to US President's Harsh Remarks about Iran
2- Ayatollah Javadi Amoli: I Appreciate Nuclear Negotiating Team's Hard Work
---
Ettela'at:
1- Zarif: Mr Trump! Foreign Policy Is Different from Real Estate Marketing! Americans Should Pay the Price of Trump's Radical Behaviours
2- Fear in Saudi Arabia: Riyadh Targeted by Yemeni Army's Ballistic Missile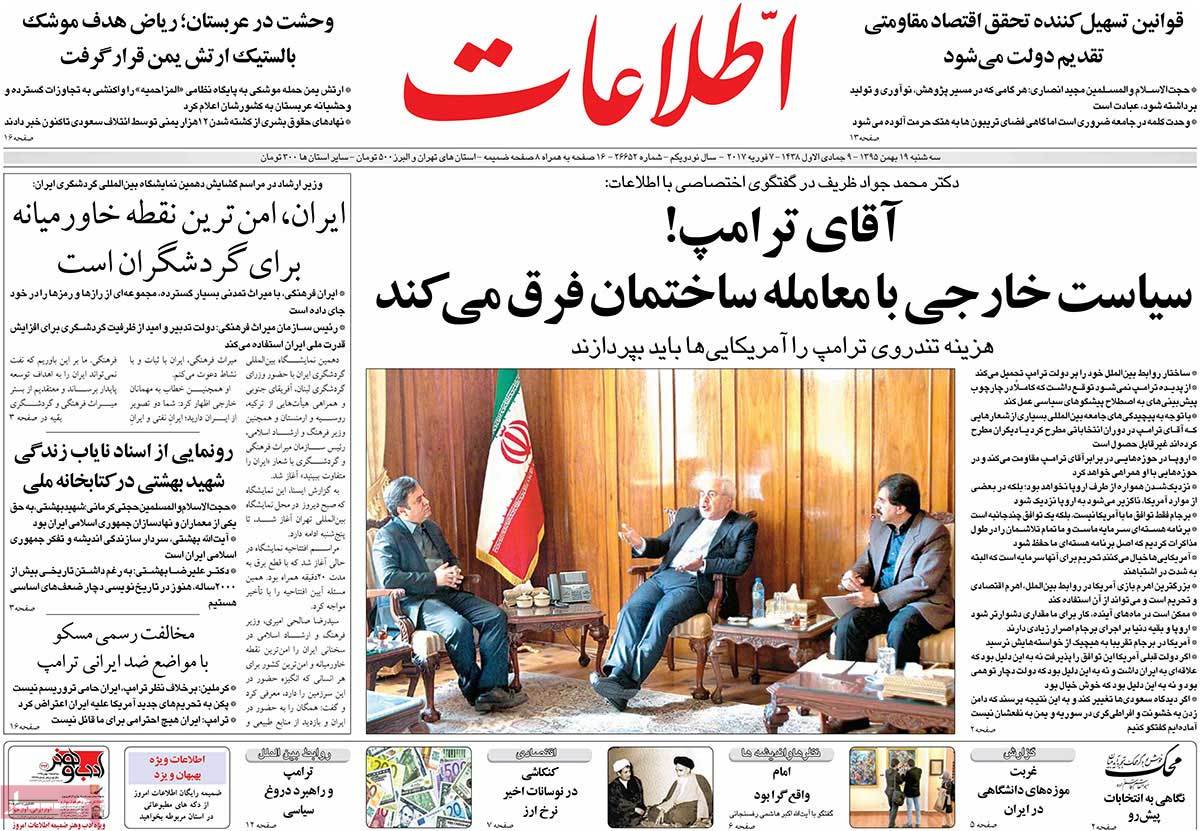 ---
Ghanoon:
1- Foreign Ministry Spokesman: We've Given No Arms to Yemenis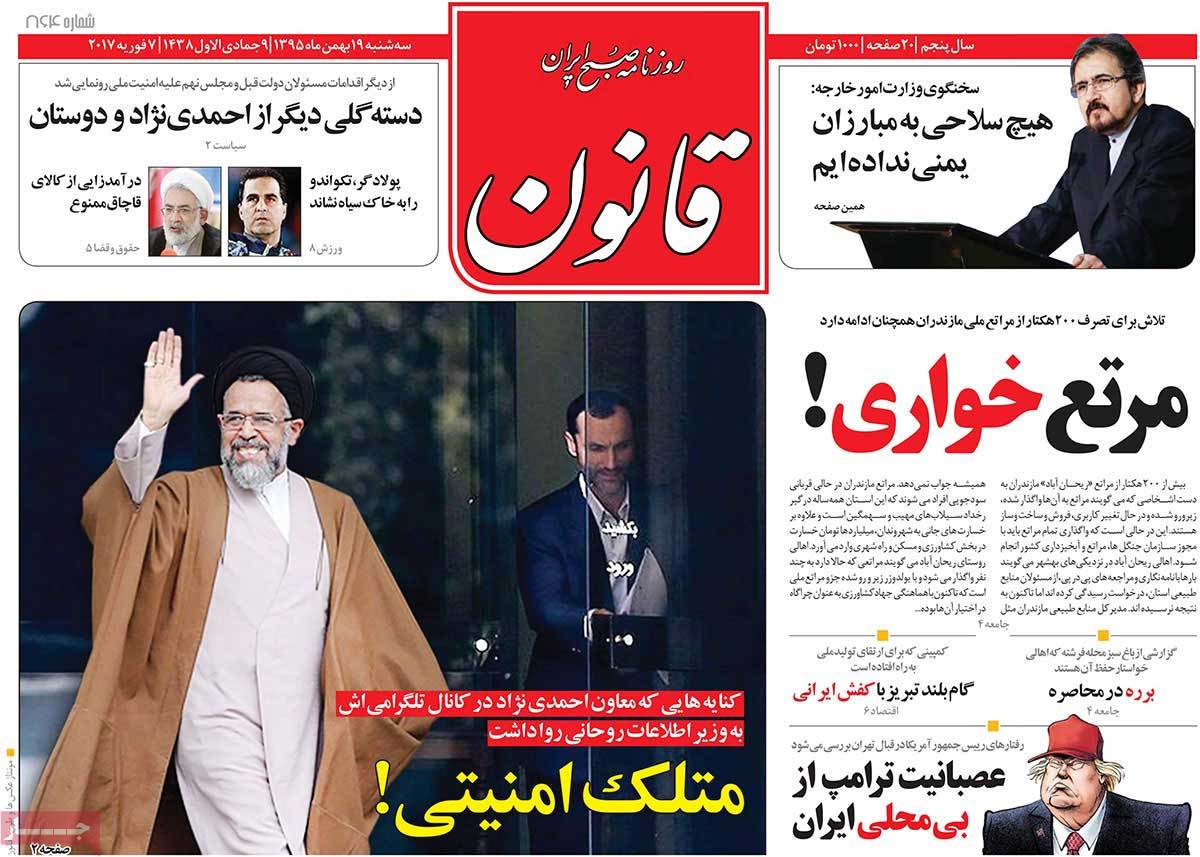 ---
Haft-e Sobh:
1- Trump's Playing Putin's Role: Should US President's Threats Be Taken Seriously?
---
Jame Jam:
1- World's Tech Giants against Trump
---
Javan:
1- Shooting Riyadh: Yemeni Army Says It Has Attacked Saudi Military Base in Riyadh Using Scud Missile
2- Trump Threatens Iran While Begging for Cooperation: We Would Have Been OK with Nuclear Deal If They Said Alright, We're Now Together!
---
Jomhouri Eslami:
1- China and Russia Reacts to Trump's Anti-Iran Threats
2- Washington Post: Iran Is Now More Powerful than 40 Years Ago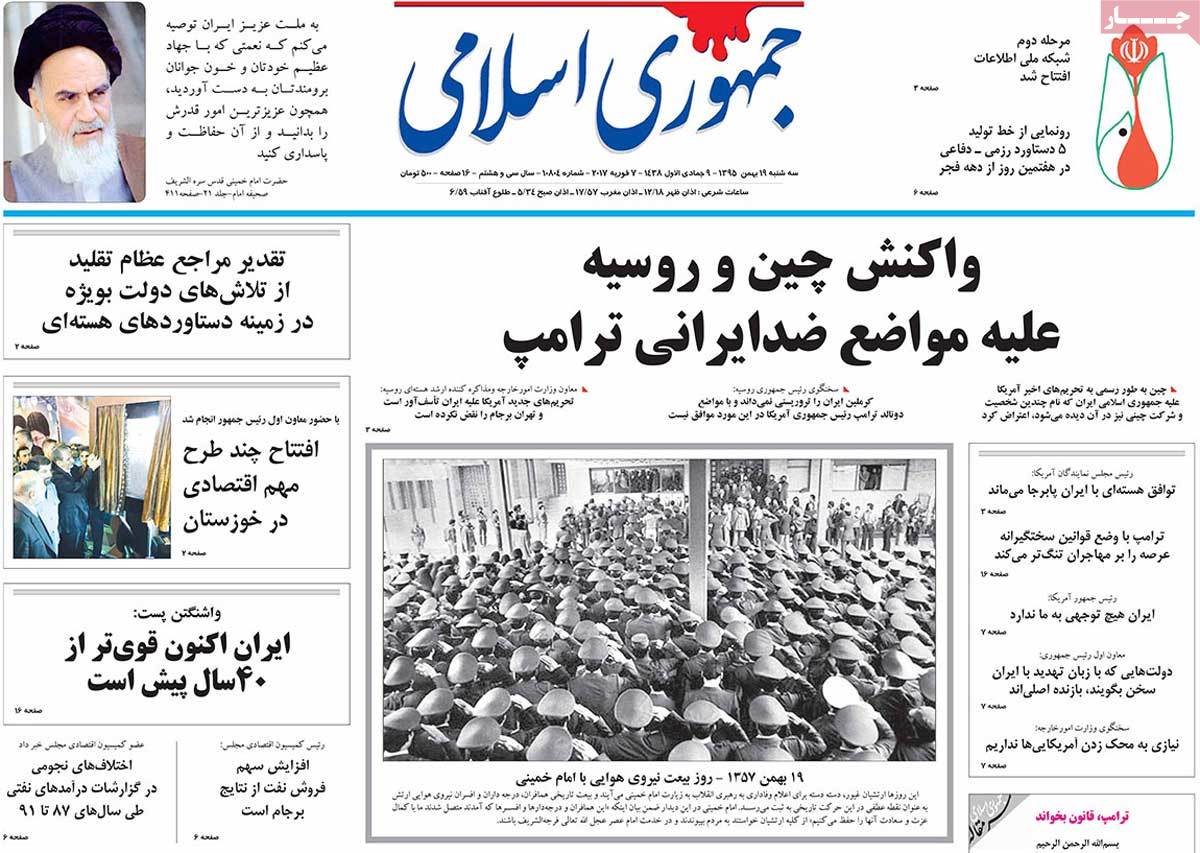 ---
Kayhan:
1- Shooting Heart of Saudi Arabia: Ansarullah Defeats Al Saud
2- Who Is Trump's Puppeteer?
3- IRGC Inaugurates 823 Development and Employment Projects in Deprived Southeastern Province Sistan and Baluchestan
---
Payam-e Zaman:
1- First VP: Iranian Nation Won't Accept Threatening Language; US Will Lose If It Keeps Talking Impolitely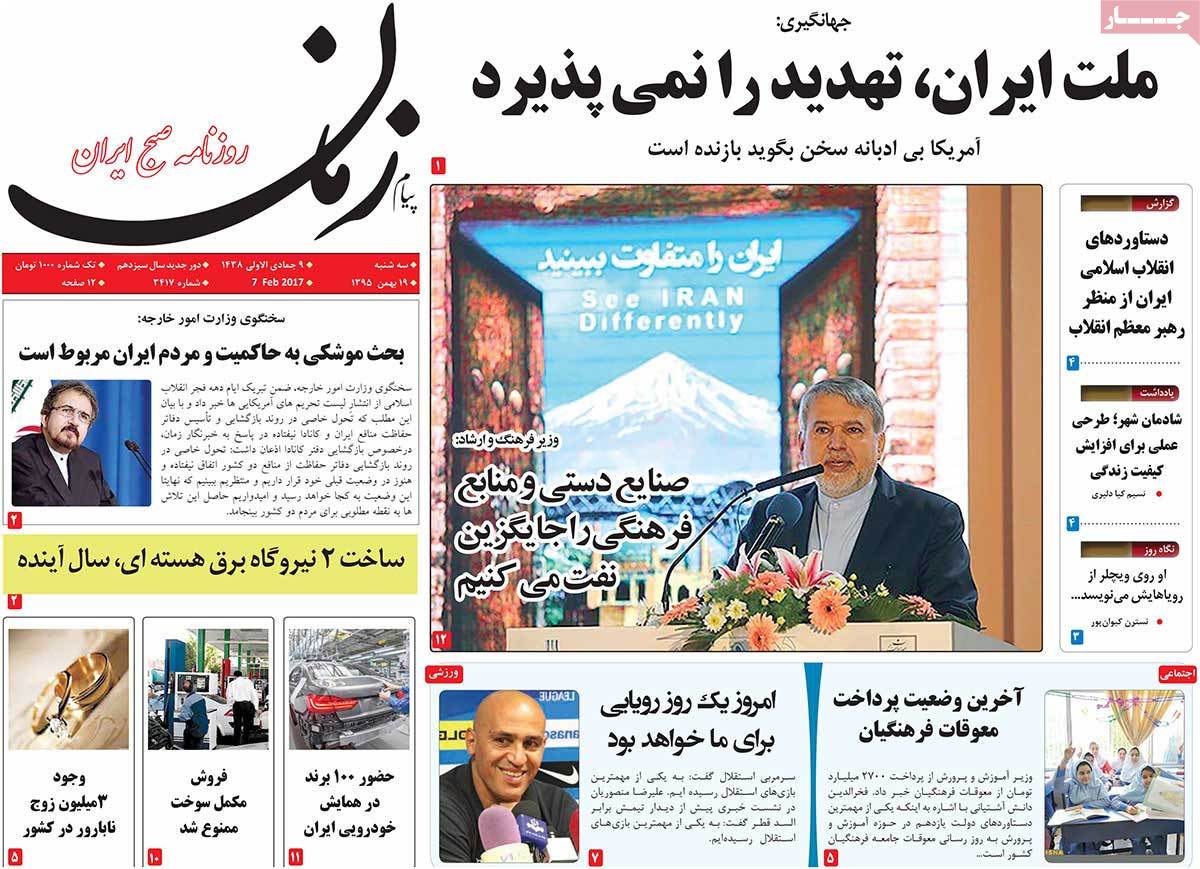 ---
Resalat:
1- DM Unveils 5 New Defensive and Military Achievements
2- Politician: Iran's Islamic Revolution Was a Riot against Western Principles
---
Saheb Qalam:
1- Exhibition of Carpets worth Millions of Dollars in Niavaran Palace in Tehran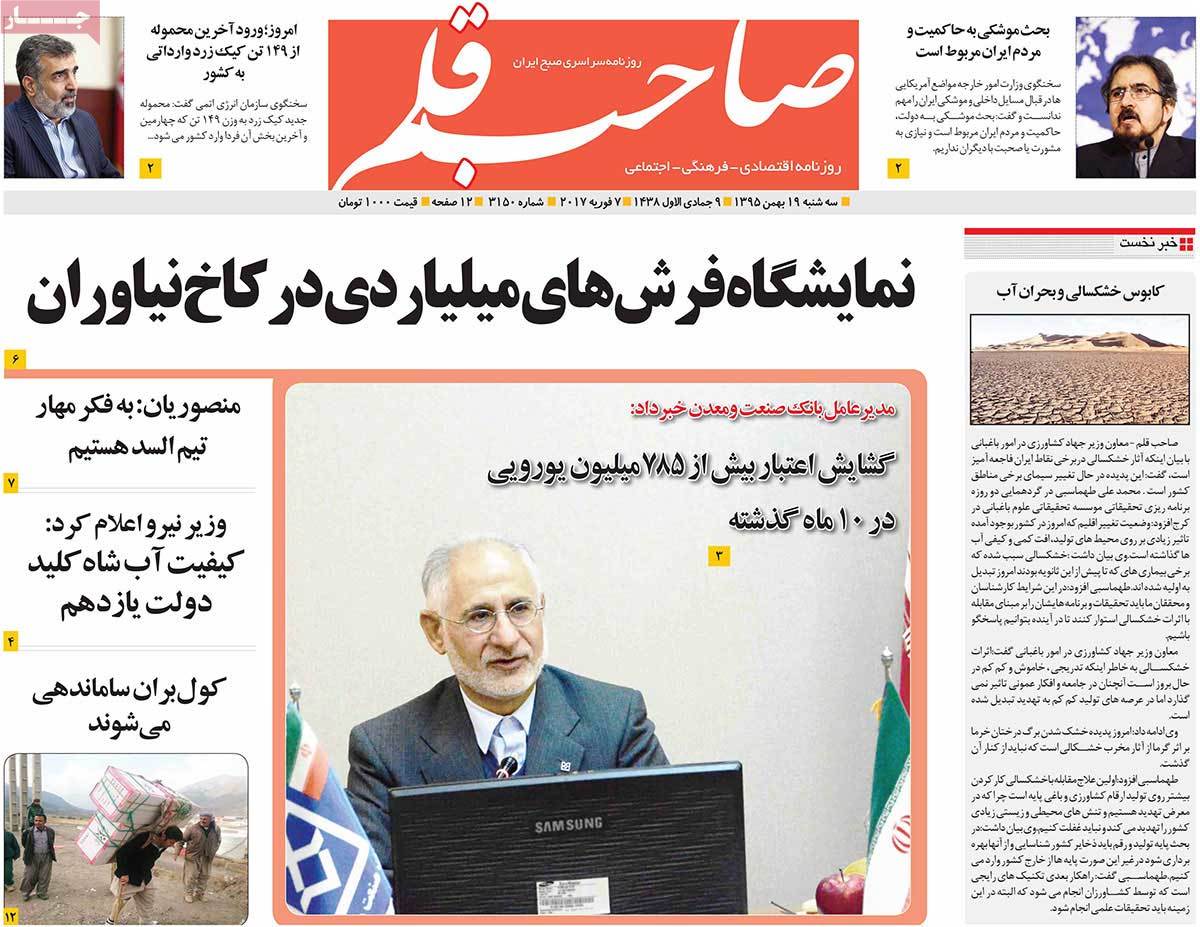 ---
Setareh Sobh:
1- Danger of Populism in France Closer than Ever
2- War of Words from Distance: A Report on Tehran-Washington Ties
---
Shahrvand:
1- Former US Defence Dept. Official Outlines Four Ways to Get Rid of Trump: Waiting, Impeachment, Coup, Use of Pence's Ambitions
2- Incident Reporters More Inclined to Depression: A Report on Plasco Incident in Terms of Psychological Health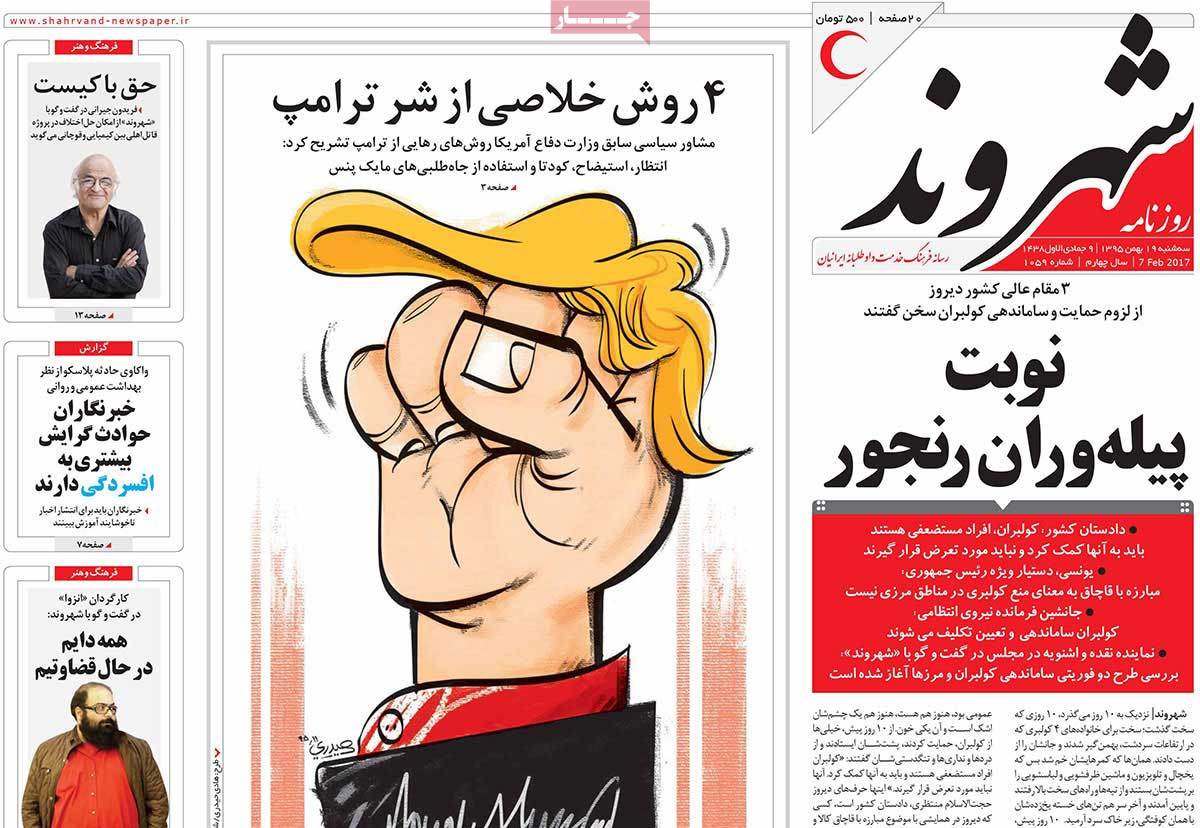 ---
Shargh:
1- For a Bunch of Dollar: Two Members of Trump's Cabinet Have Received Money from MKO Terrorist Group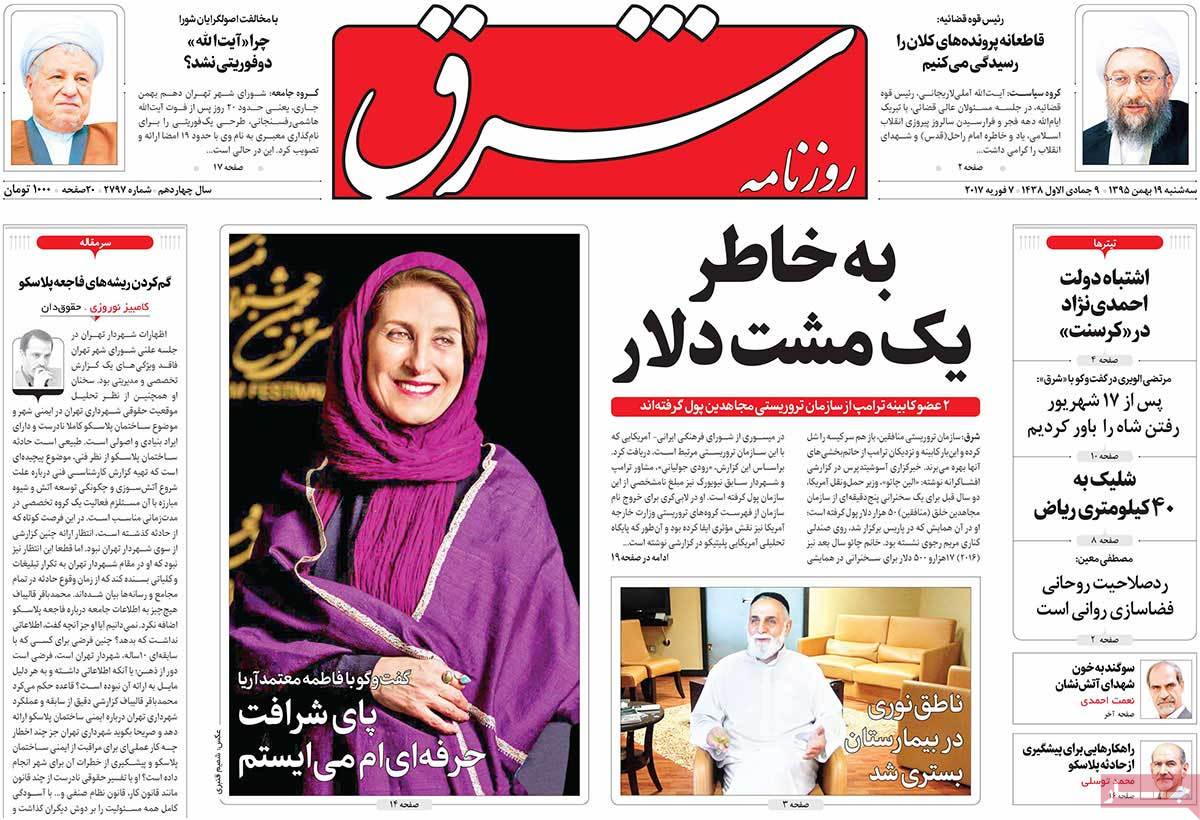 ---
Shorou:
1- FAO Warns Iran of Looming Locust Crisis
2- Iran's Foreign Ministry Spokesman Invites Everyone to Patience in Reaction to Trump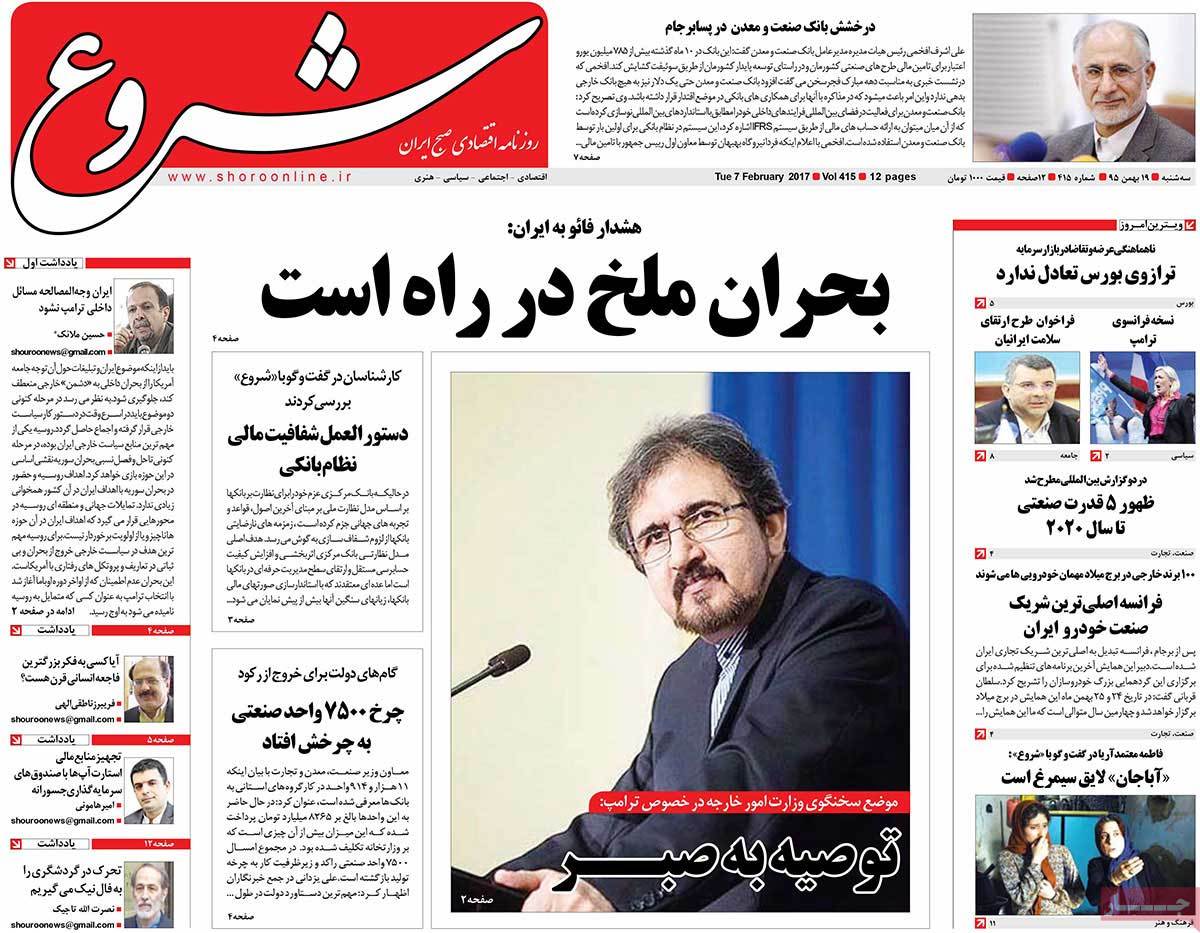 ---
Vaghaye Ettefaghieh:
1- The "Un-United States": Two States and 97 American Companies Protest at Trump's Order
2- Fragile Arab-Hebrew Coalition against Iran: A Report on Efforts to Form New Front Led by US in Middle East
---
Vatan-e Emrooz:
1- Trump: California State's Control out of Central Government's Hand
2- Angry Trump's Empty Words [Editorial]