IFP has taken a look at the front pages of Iranian newspapers on Tuesday, February 26, 2019, and picked headlines from 10 of them. IFP has simply translated the headlines and does not vouch for their accuracy.
Almost all papers today highlighted the remarks made by the Leader of Iran's Islamic Revolution Ayatollah Seyyed Ali Khamenei in his meeting with Syrian President Bashar al-Assad.
On Monday, Syrian President Bashar al-Assad visited Iran in one of his rare foreign trips. The visit came after the Syrian army, backed by its allies including Iranian military advisors, managed to restore relative peace to the country following years of militancy. The Syrian president met with Leader of Iran's Islamic Revolution, Ayatollah Seyyed Ali Khamenei, and President Hassan Rouhani in the capital Tehran.
Some Iranian papers today covered the resignation of FM Mohammad Javad Zarif's unofficial resignation which was announced on his page Monday night. The longtime diplomat made the announcement on his Instagram page, saying he was unable to continue his job.
The above issues, as well as many more, are highlighted in the following headlines and top stories:
Afkar:
People like Trump Pushing West towards Collapse: Iranian Senior Commander
"Import of Medicines produced inside country Banned"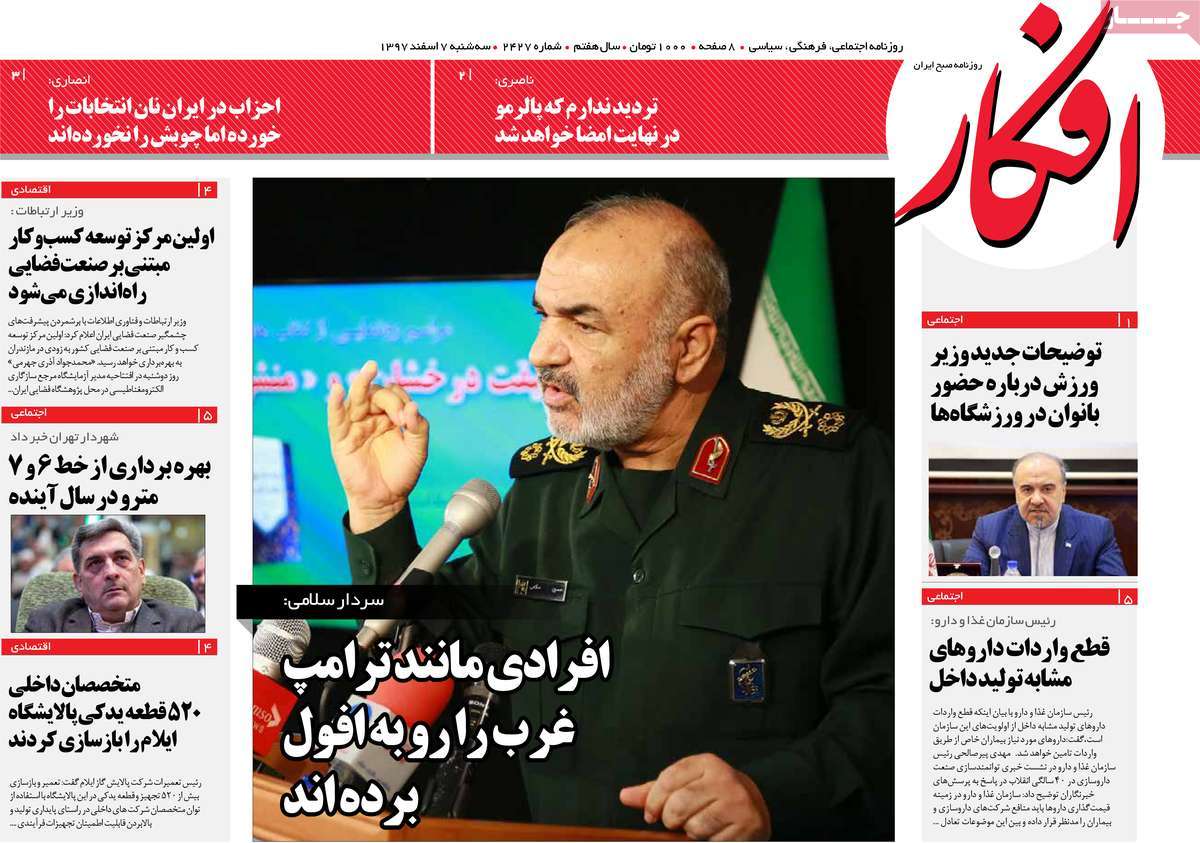 ---
Aftab-e Yazd:
Supporting Syria Means Supporting Resistance: Leader
Strait of Hormuz is open as long as we export our oil: IRGC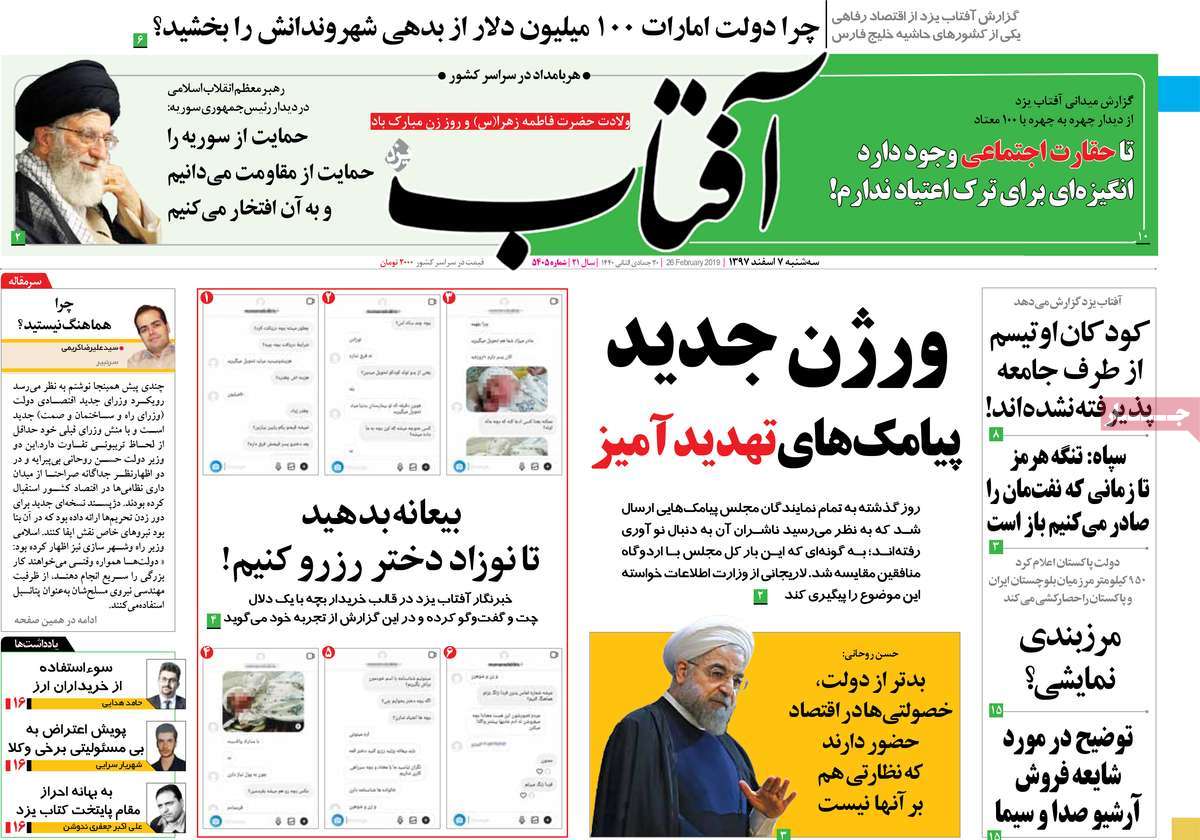 ---
Arman-e Emrooz:
Shocking Resignation of Zarif
FATF Opponents Stop Architect of JCPOA
Bashar Al-Assad Visits Iran
---
E'temad:
The Hero of Arab world
Leaders Praises Assad for Resisting Against US, Its Allies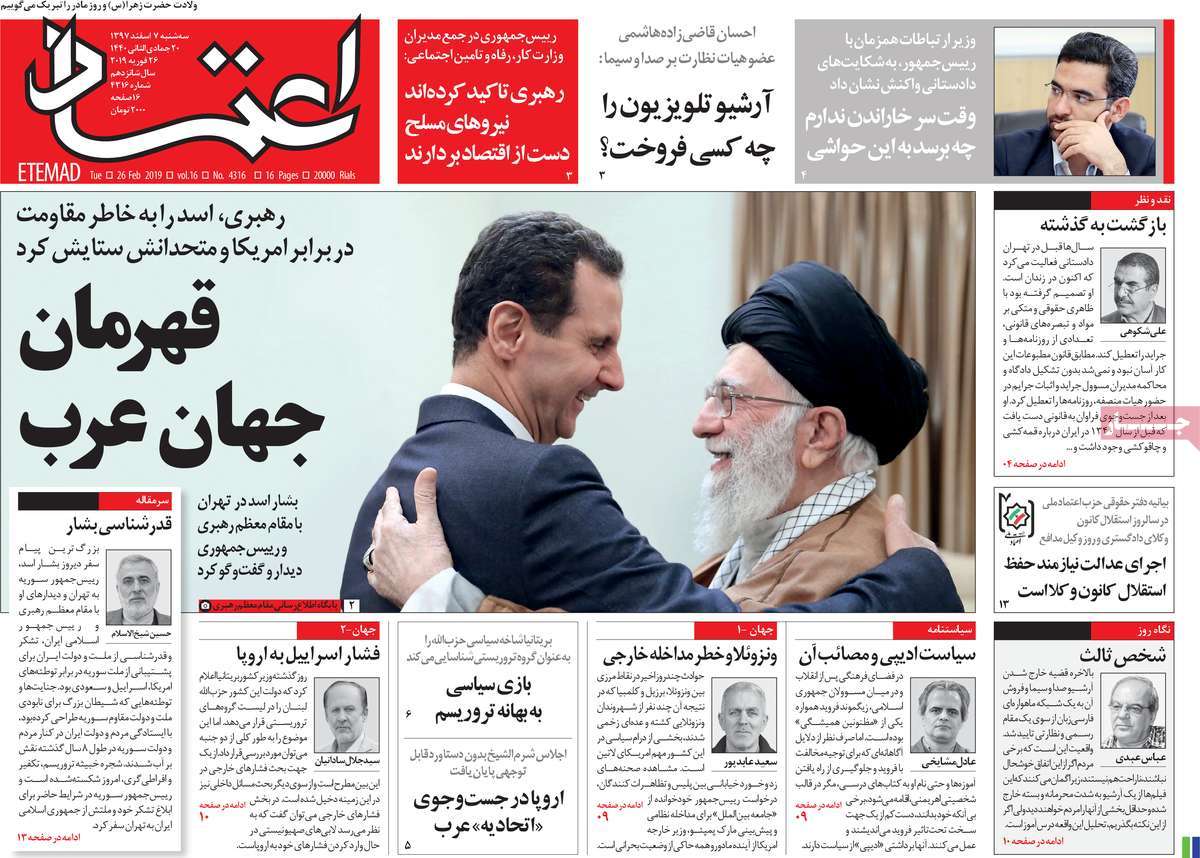 ---
Ettela'at:
We Should Not Do Anything Else Except National Thinking: First VP
157 MPs Write Letter to President to Control Prices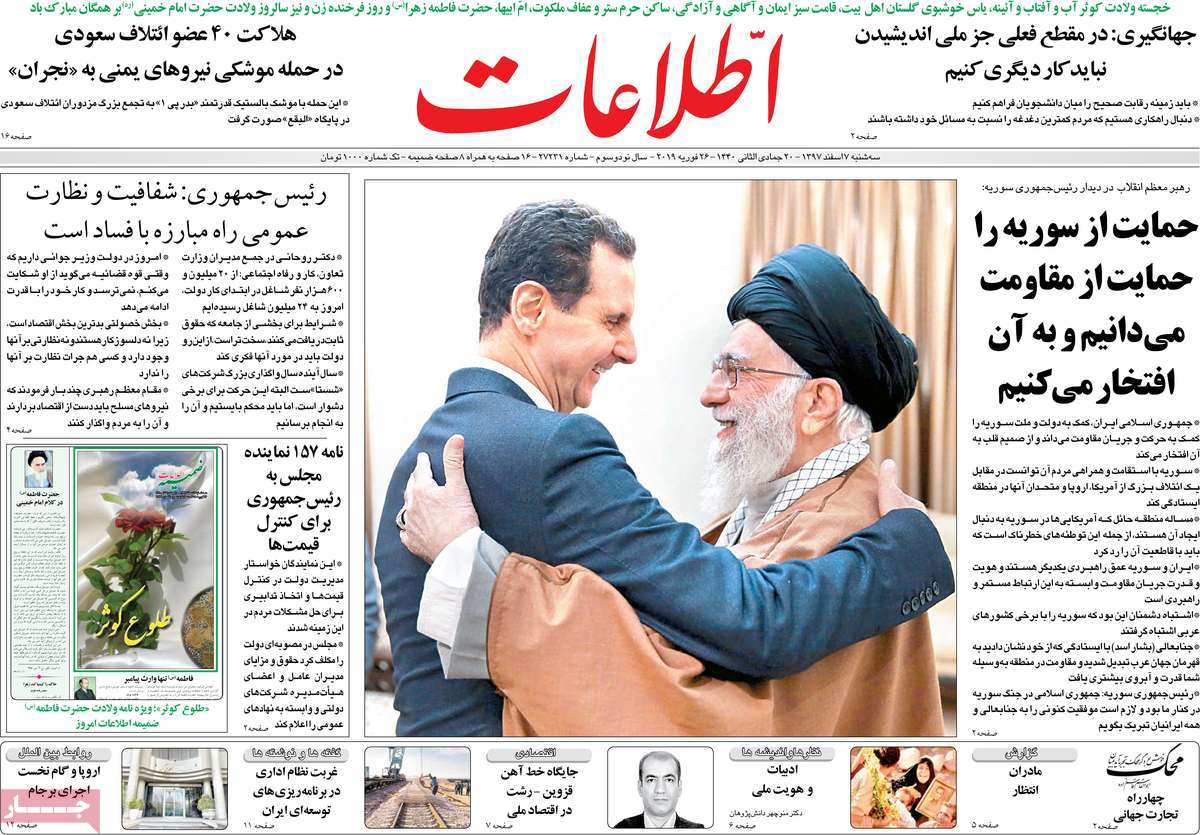 ---
Javan:
Assad in Tehran
We Appreciate All Iranians to Support Syrians during War
Trump Retreats from "Disarmament" to "Stop Nuclear Tests" on North Korea
---
Jomhouri Eslami:
Negotiation Backbone of Field Strength: Zarif
Consequences of Not joining FATF Serious
Islamic Republic Will Stand by Syrian Government as Before: Rouhani
---
Kayhan:
Iran Proud to Support Resistance: Leader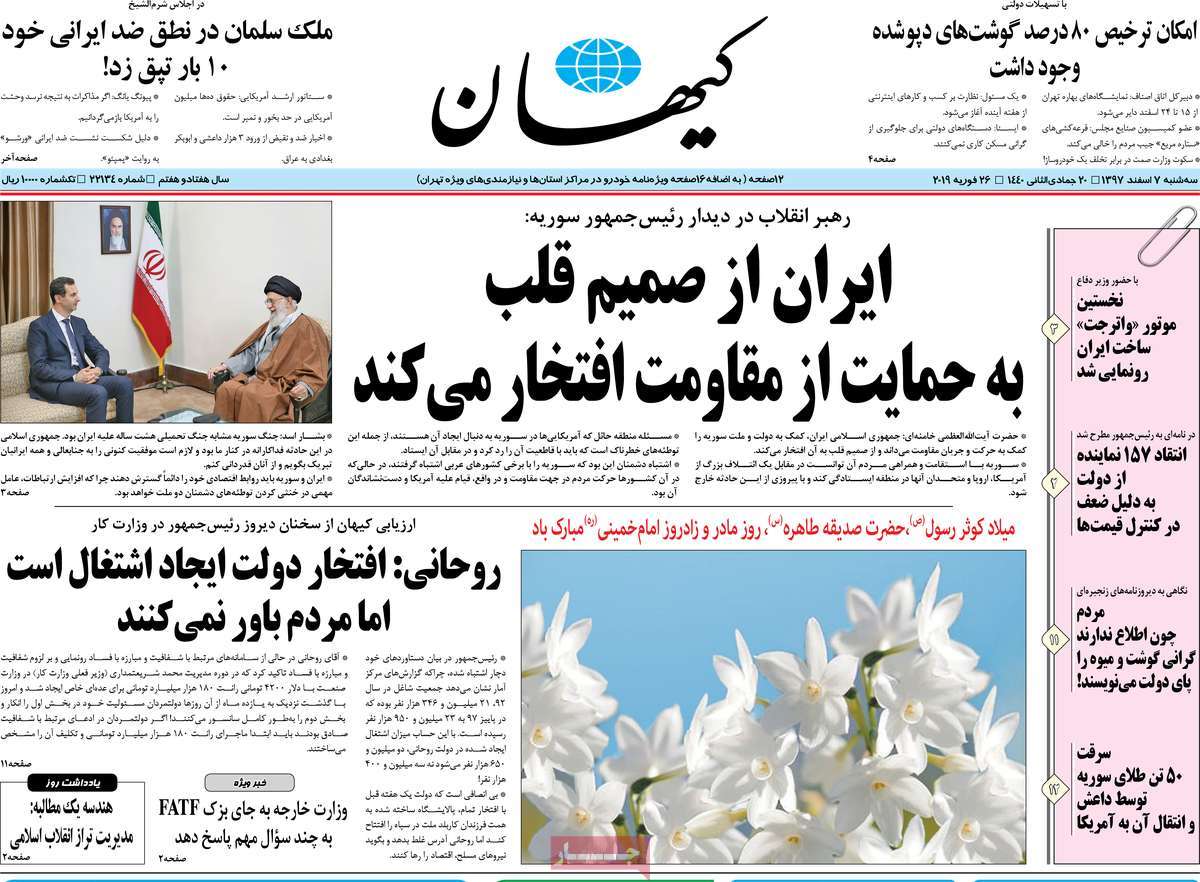 ---
Shahrvand:
Campaign to Support Young Minister
Tehran's Billboards Congratulate Women's Day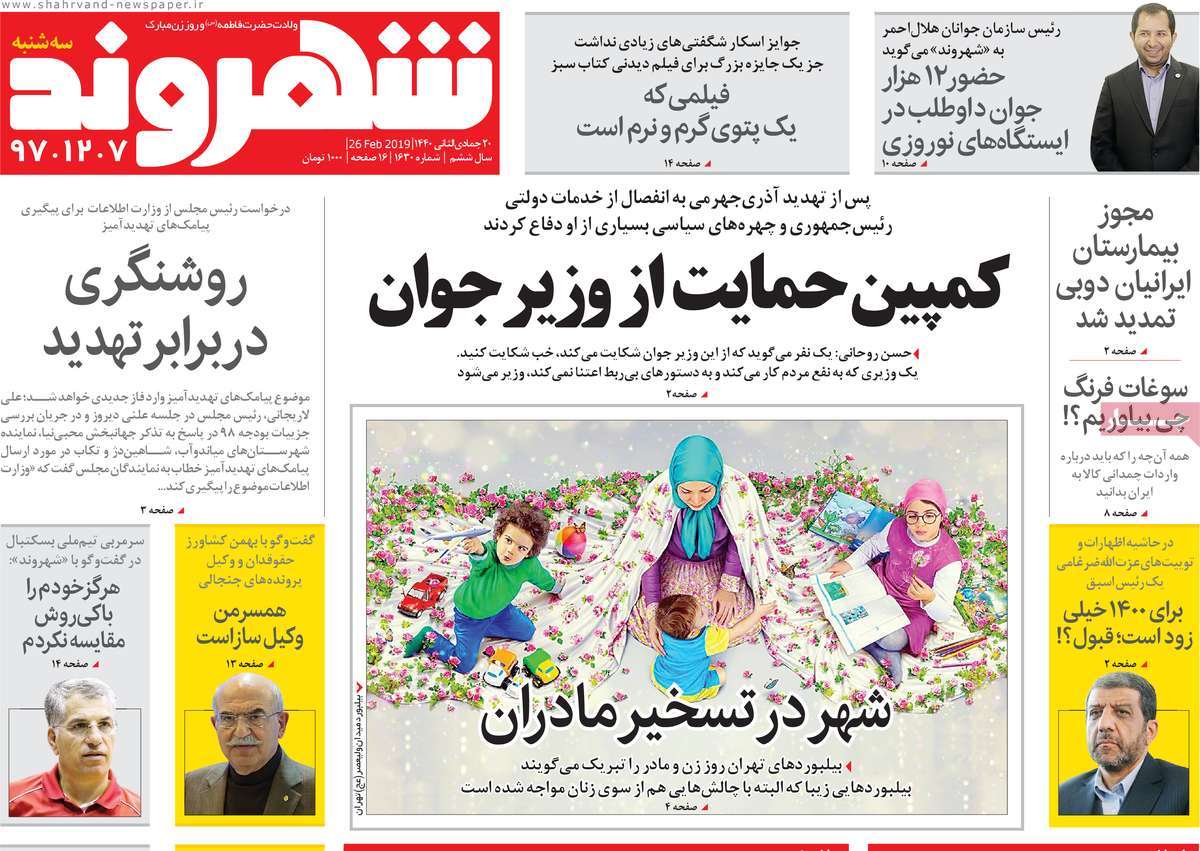 ---
Sharq:
Iran Welcomes Laying Wall on Pakistan Border: Supreme National Security Council
IRGC Denies Claim of MP
Rouhani's Talks with MI6 Agent Tapped by IRGC: MP