Almost all newspapers today covered the ongoing climatic crises across Iran, including the flood in southern provinces and the heavy snow in northern Iran.
The dust pollution and its consequences in Khuzestan province were also widely covered by newspapers today.
Another top story was the world title claimed by Iran's wrestling team, which defeated the US in the final match in Kermanshah, western Iran, to win the top position.
Newspapers also covered the ceremony held in commemoration of Ayatollah Akbar Hashemi Rafsanjani in the 40th day after his demise.
The above issues, as well as many more, are highlighted in the following headlines:
19 Dey:
1- People Commemorate the One Who Loved Them: 40th Day after Death of Ayatollah Hashemi Rafsanjani Commemorated Gloriously
2- Trump: Iran Shouldn't Know What I'm Going to Do!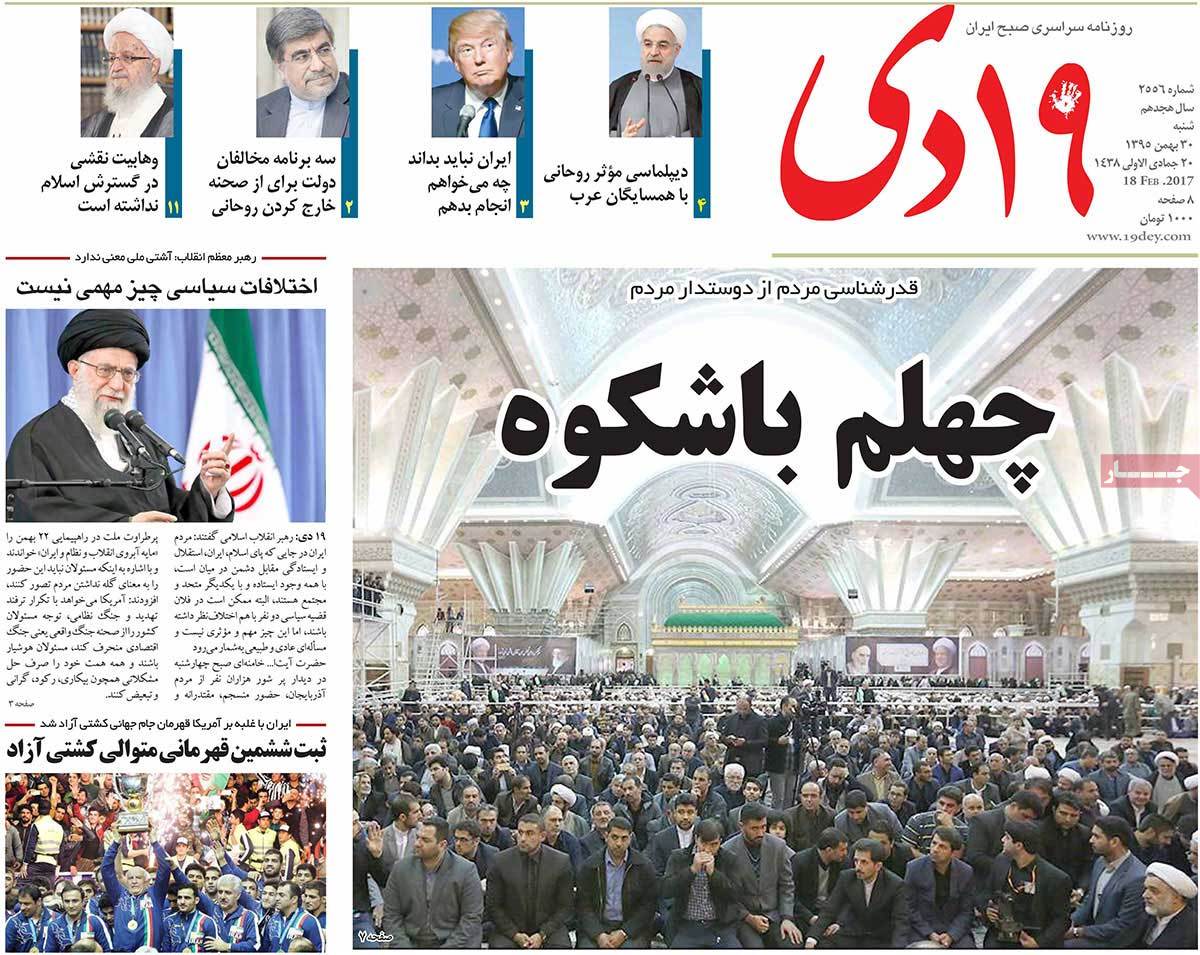 ---
Abrar:
1- Iran and Eurasia to Establish Joint Free Trade Zone
2- Netanyahu: Iran's Behaviour Has Not Changed after Nuclear Deal
3- Deputy FM: Iran Has Invited Syrian Groups to Peaceful Negotiations with Syrian Government
4- ISIS Attack on Western Tal Afar Foiled
---
Abrar-e Eqtesadi:
1- Oil Price Stands near $60: Possibility of Deal Extension Raises Oil Price
2- Iran Resumes Power Exports to Iraq
3- Central Bank Governor: We Don't Have Any Frozen Assets in Oman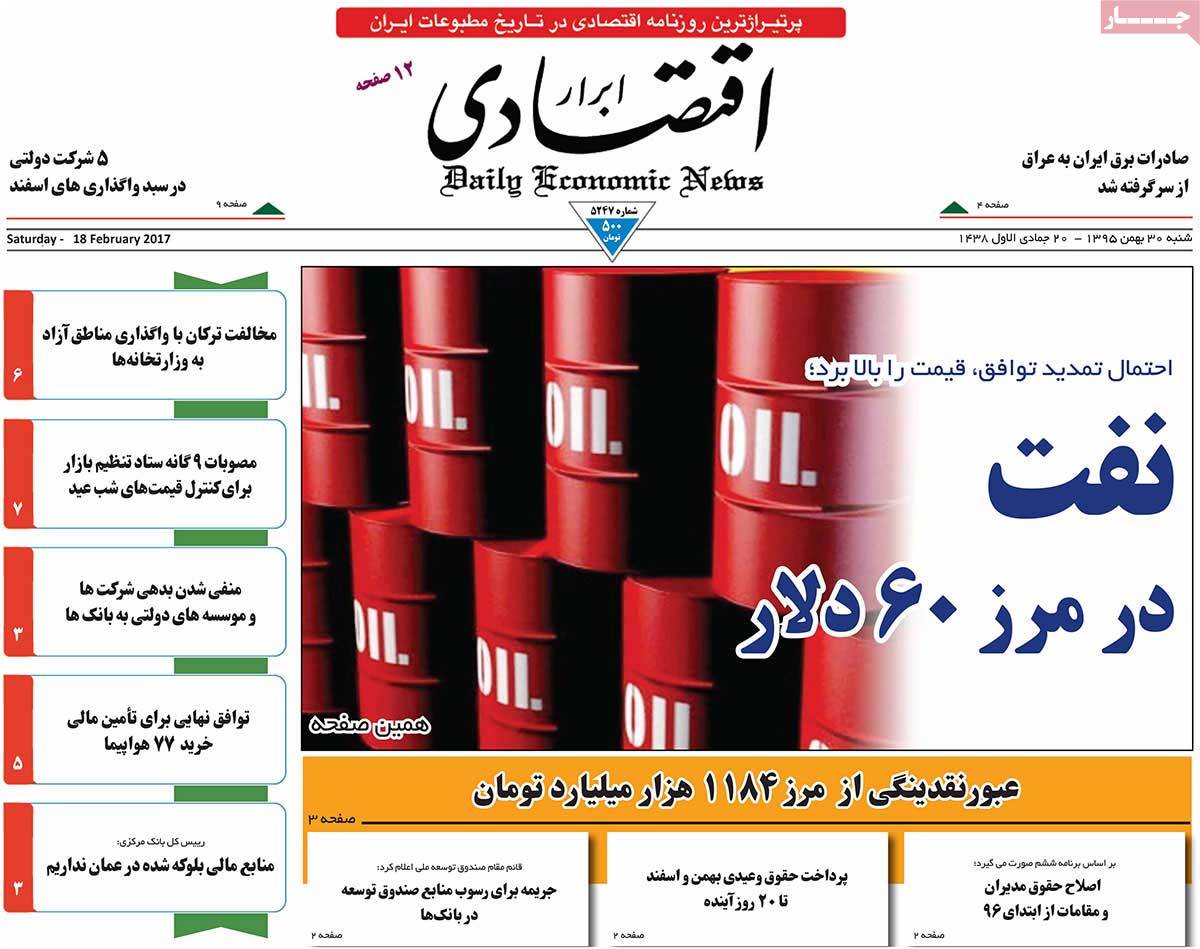 ---
Afkar:
1- Netanyahu: Iran Intends to Dominate the World!
2- Foreign Ministry Spokesman Underlines Global Unity against Terrorism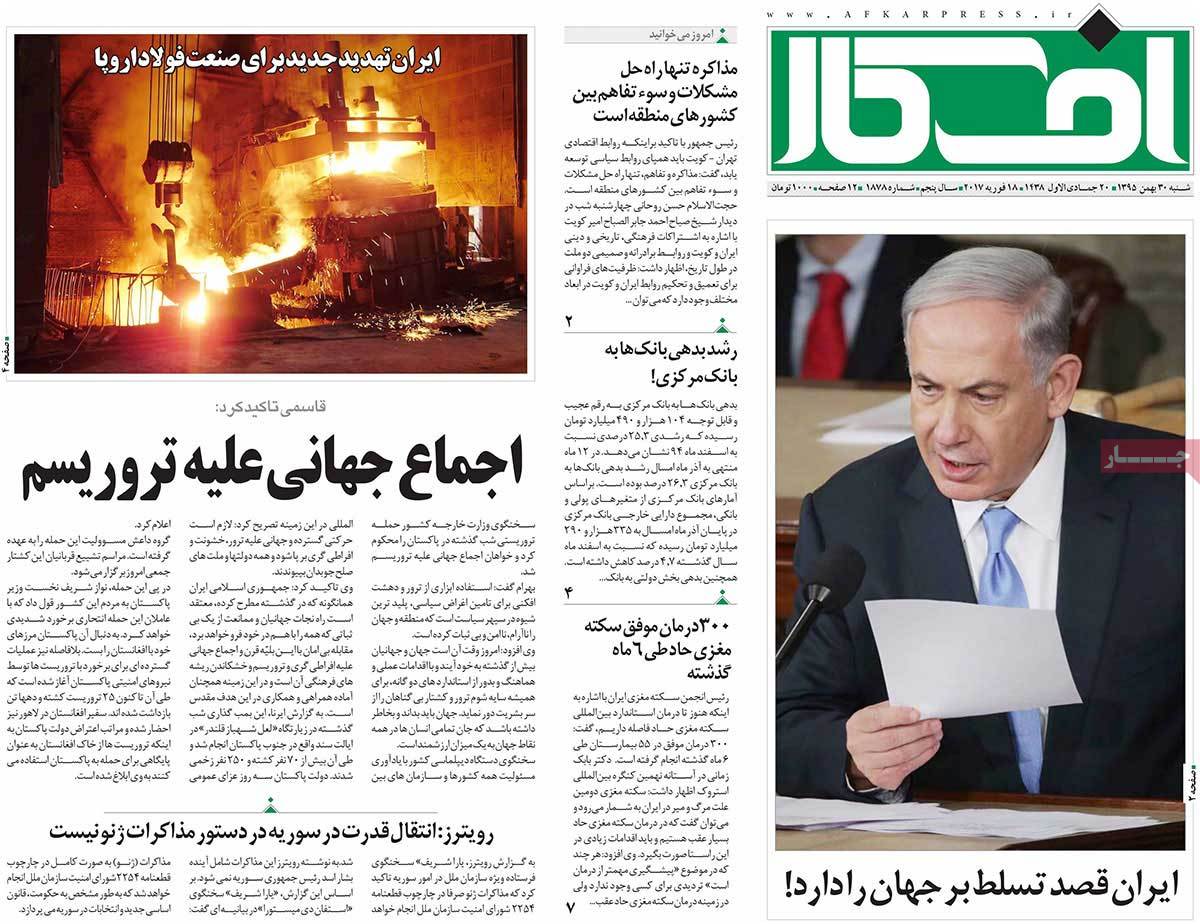 ---
Aftab-e Yazd:
1- Iran's Climate Is Changing; Climatologist Says Iran's Vulnerability to Precipitations Has Increased
2- Trump's US Is Not a Big Fan of Israel Either: A Report on Future of Tel Aviv-Washington Ties in New Era
---
Amin:
1- Former Culture Minister Explains Three Plans Followed by Opponents to Remove Rouhani from Politics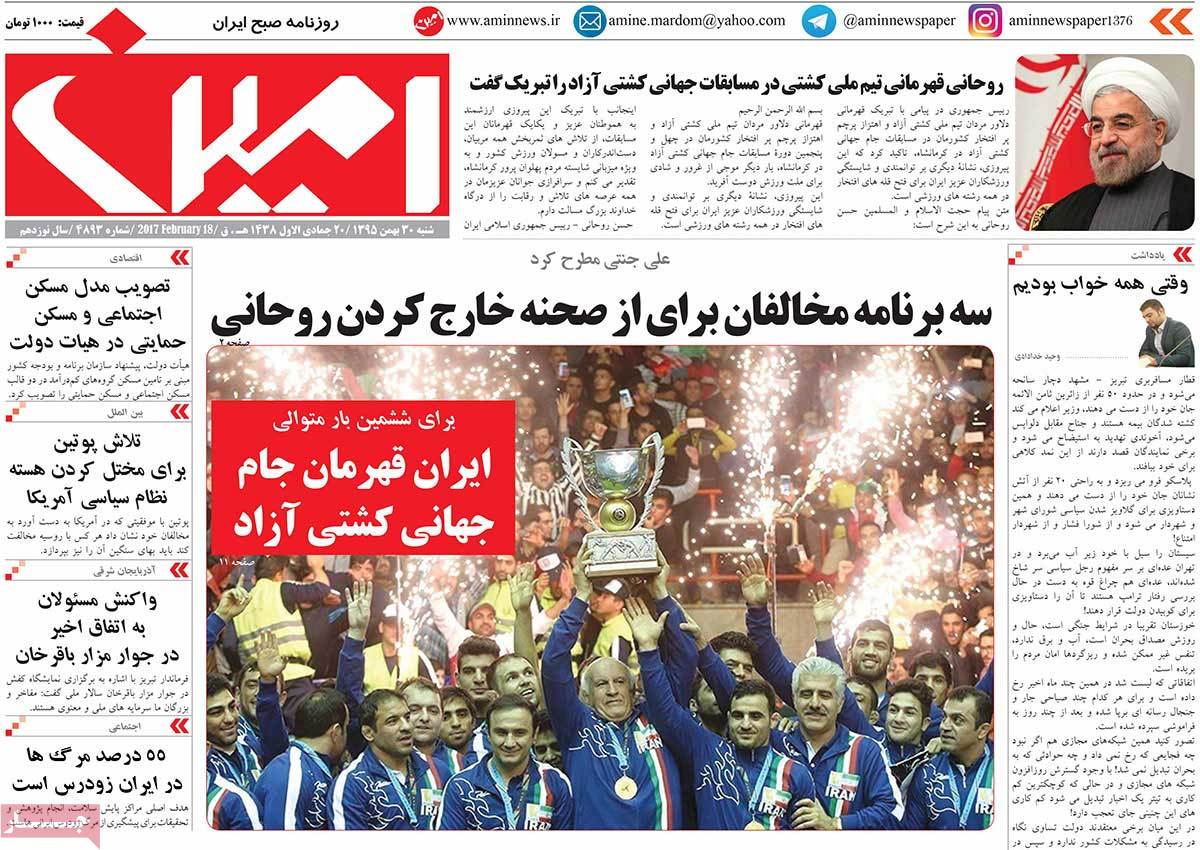 ---
Arman-e Emrooz:
1- Winners of the Cup: Iran's Wrestling Team Claims World Title
2- Iranian FM May Meet US Secretary of State; Zarif to Deliver Speech at Munich Security Conference
3- Analyst: It Is Possible to Make a Deal with Trump as a Businessman
---
Bahar:
1- People Have the Right to Protest: Cleric's Reaction to Crisis in Khuzestan Province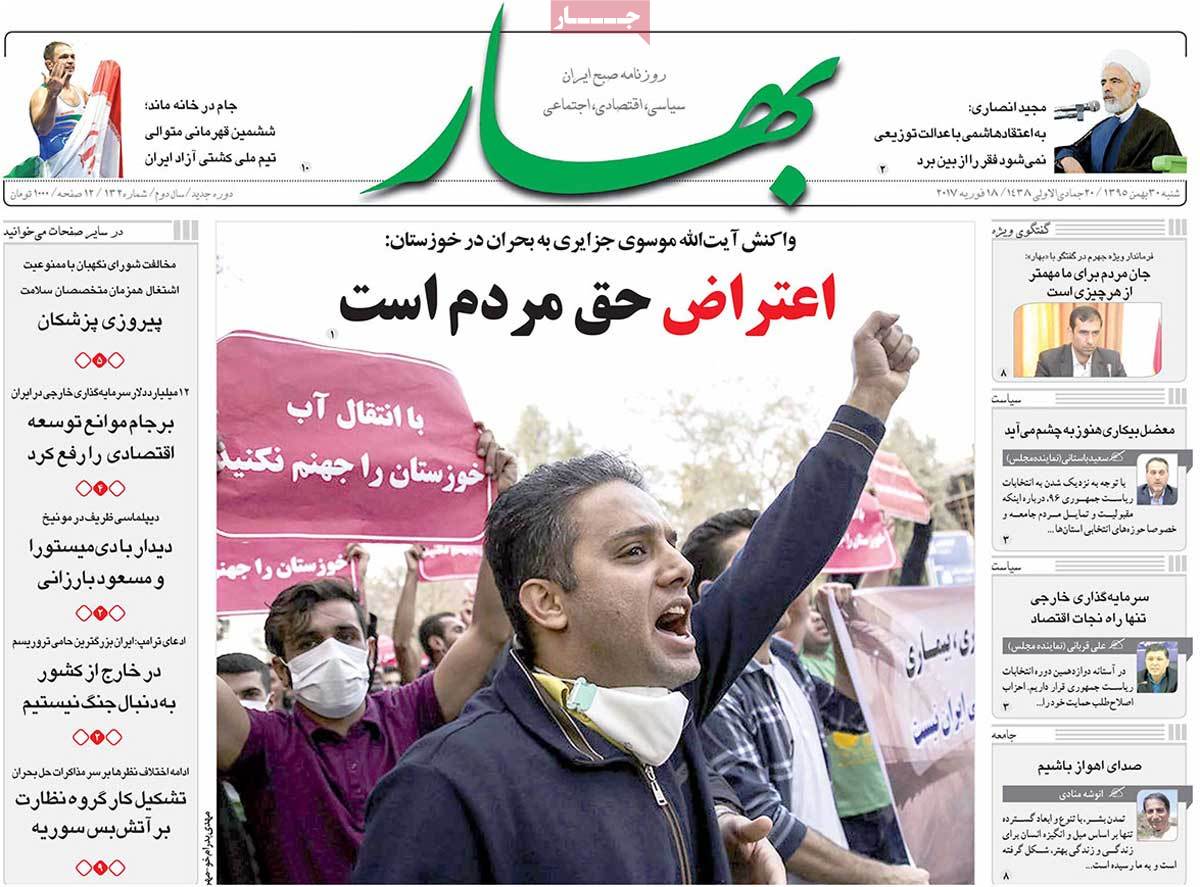 ---
Besharat-e Now:
1- A Day of Woman, Earth, and Love: Sepandarmazgan Can Be the Valentine's Day for Iranians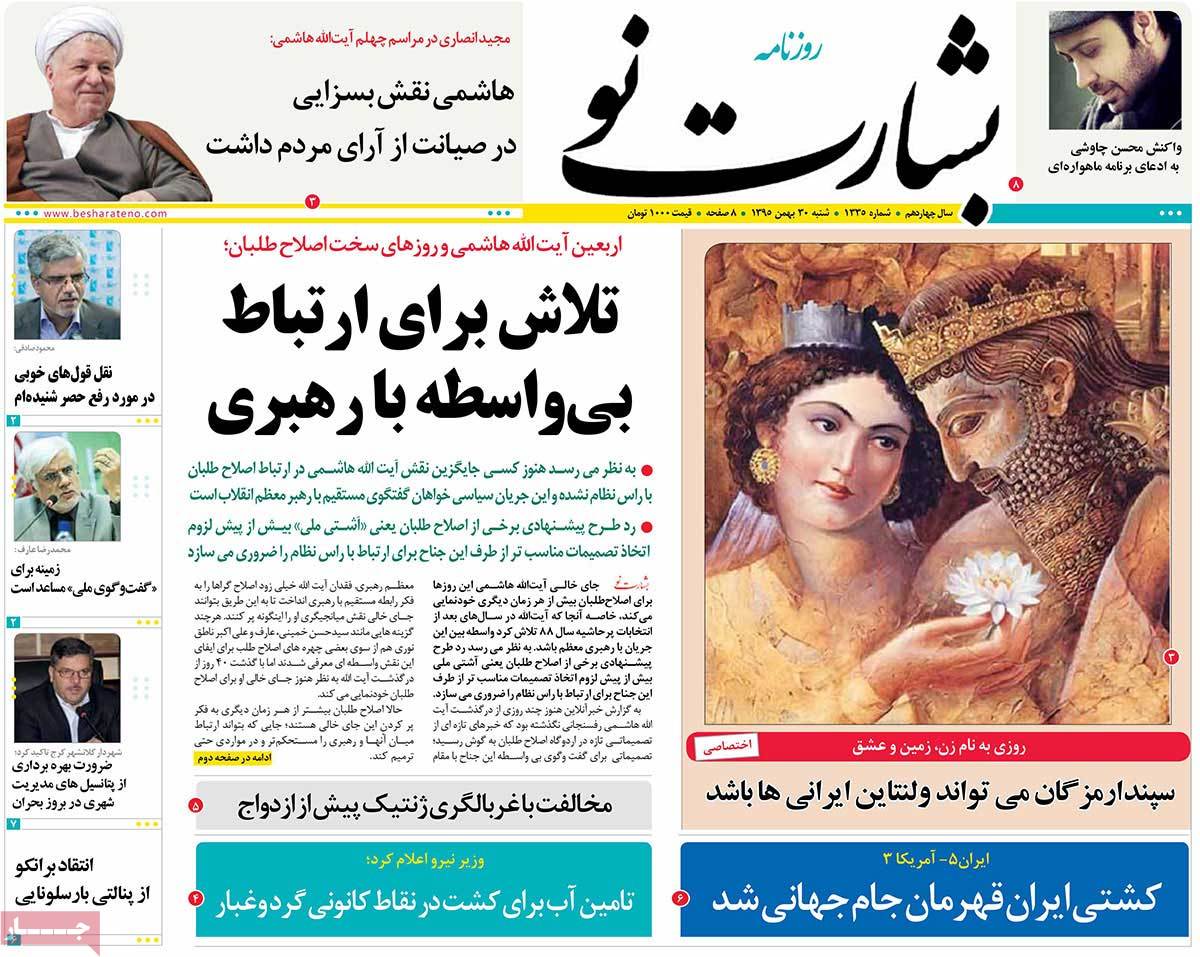 ---
Ebtekar:
1- Sports Triumph over Politics: Iran's Wrestling Team Defeats US to Win World Cup
2- Trump and Series of Confrontations with Media
---
Etemad:
1- Iran Shows Its Power; Iranian Wrestlers Claim World Title
2- Coach of Iran's Freestyle Wrestling Team: We Both Won Ethics in Politics and Top Position in World Cup
3- Zarif to CNN: JCPOA Will Remain in Place
---
Ettela'at:
1- At the End of Astana Talks: Iran, Russia, and Turkey Form a Team to Follow up on Syria Truce
2- Senior Analysts to Ettela'at: Water Conditions Are Critical in Iran; the Country Should Be Industrialised
3- ISIS Terrorist Attack on Shrine in Pakistan's Sindh Kills 80 and Wounds 250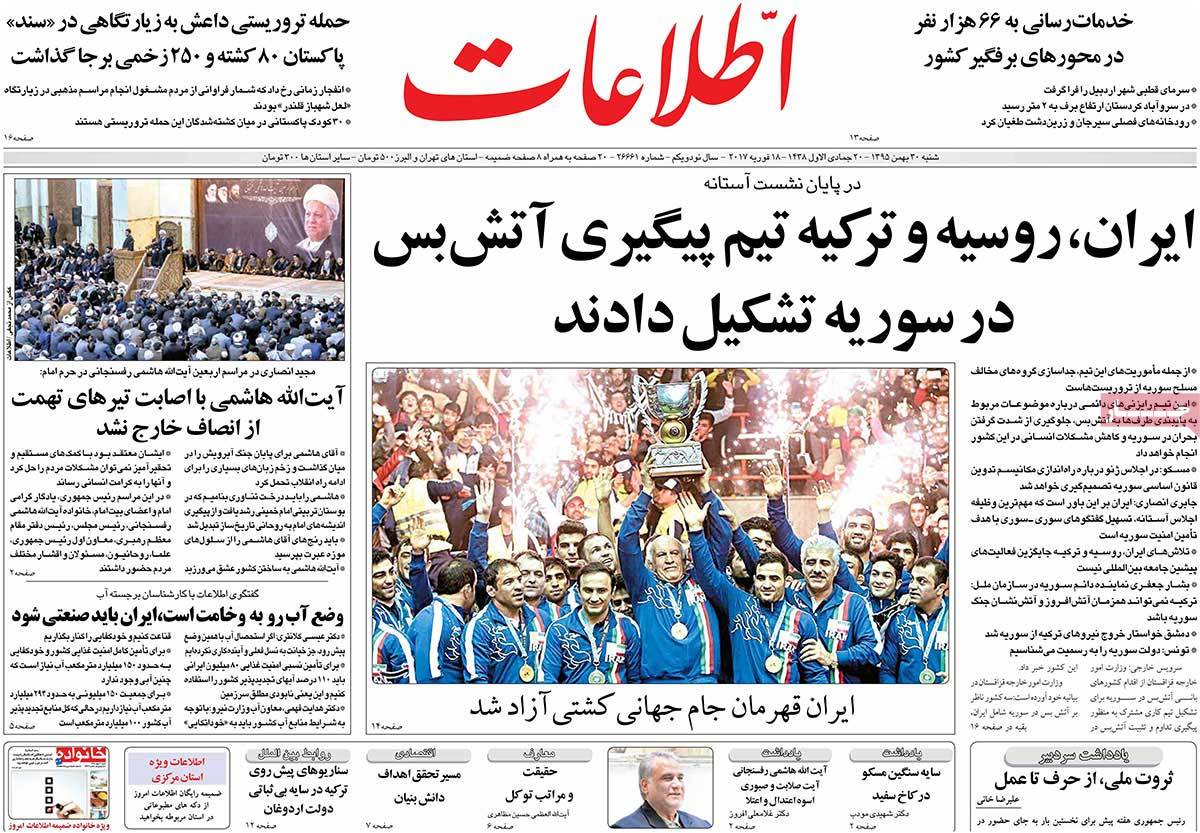 ---
Haft-e Sobh:
1- Nature's Outrage: Flood in the South and Snow and Blizzard in the North
---
Iran:
1- 21 Cities in 11 Provinces Grappling with Heavy Rain: Southern Provinces Surrounded by Flood
2- Beginning of Plan to Control Dust Pollution
3- New Chapter of Iran-Arab Dialogue Opened; Kuwait's Deputy FM: Rouhani's Visit Manifestation of Iran-GCC Agreement
---
Jame Jam:
1- Fars, Bushehr, and Kerman Provinces Have Suffered Damages Caused by Flood in Past Days
2- US Defeated by Iran in Wrestling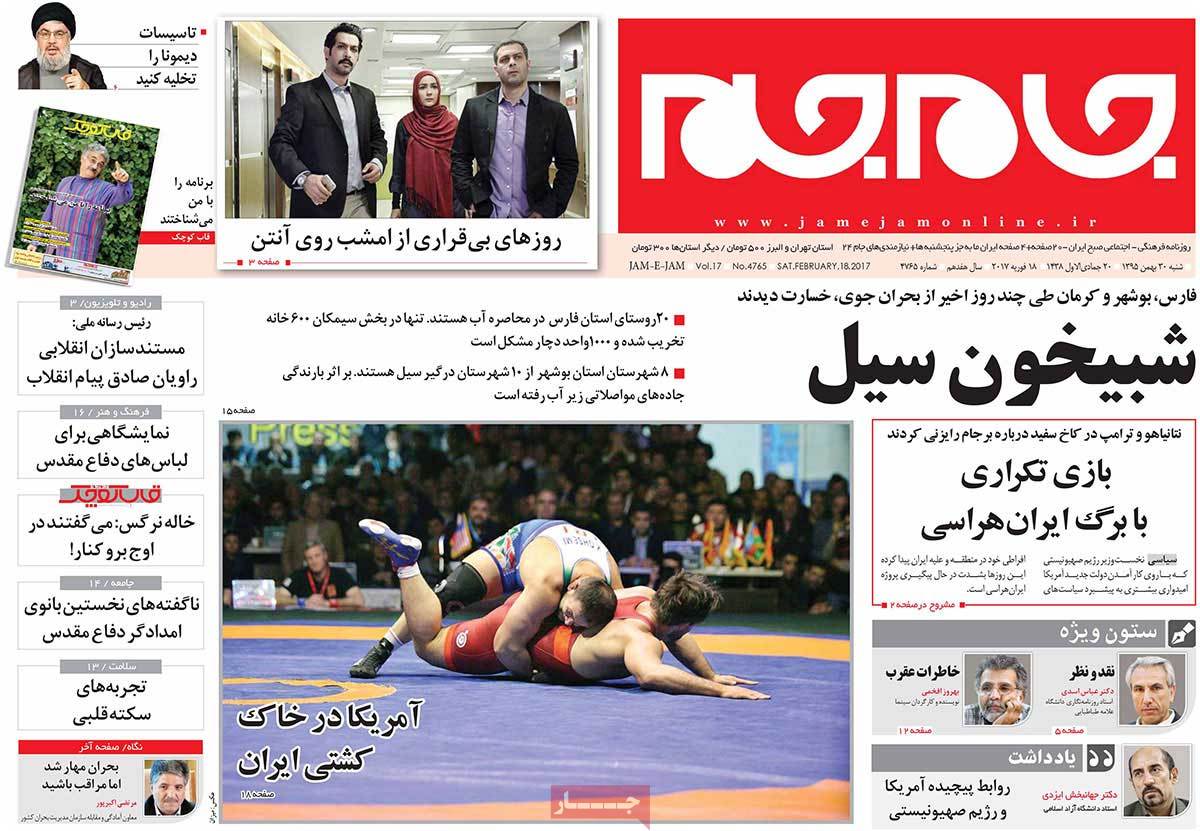 ---
Javan:
1- Threatening Israel to Nuclear Attack Using Its Own Nukes; Nasrallah: You Know What Would Happen If Hezbollah Fires Missiles on Dimona!
2- Unique Situation of Shiraz [Fars Province]: Mohammad Abad Dam Broken, River Has Flooded, 78 Units Destroyed in Jahrom, and Red Crescent Chopper Cannot Fly!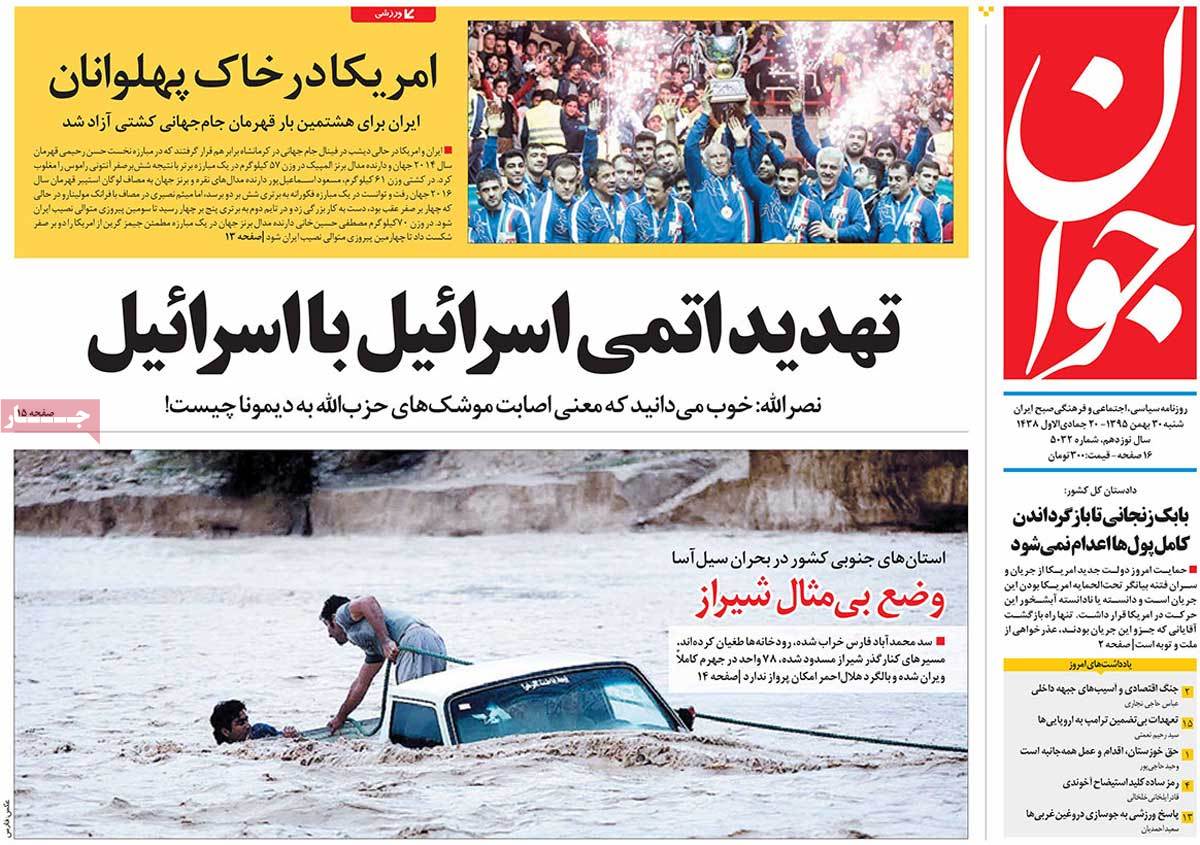 ---
Jomhouri Eslami:
1- Loyal People of Islamic Republic of Iran Commemorate Ayatollah Rafsanjani
2- Saudi Warplanes Pound Mourning Ceremony in Sana'a, Yemen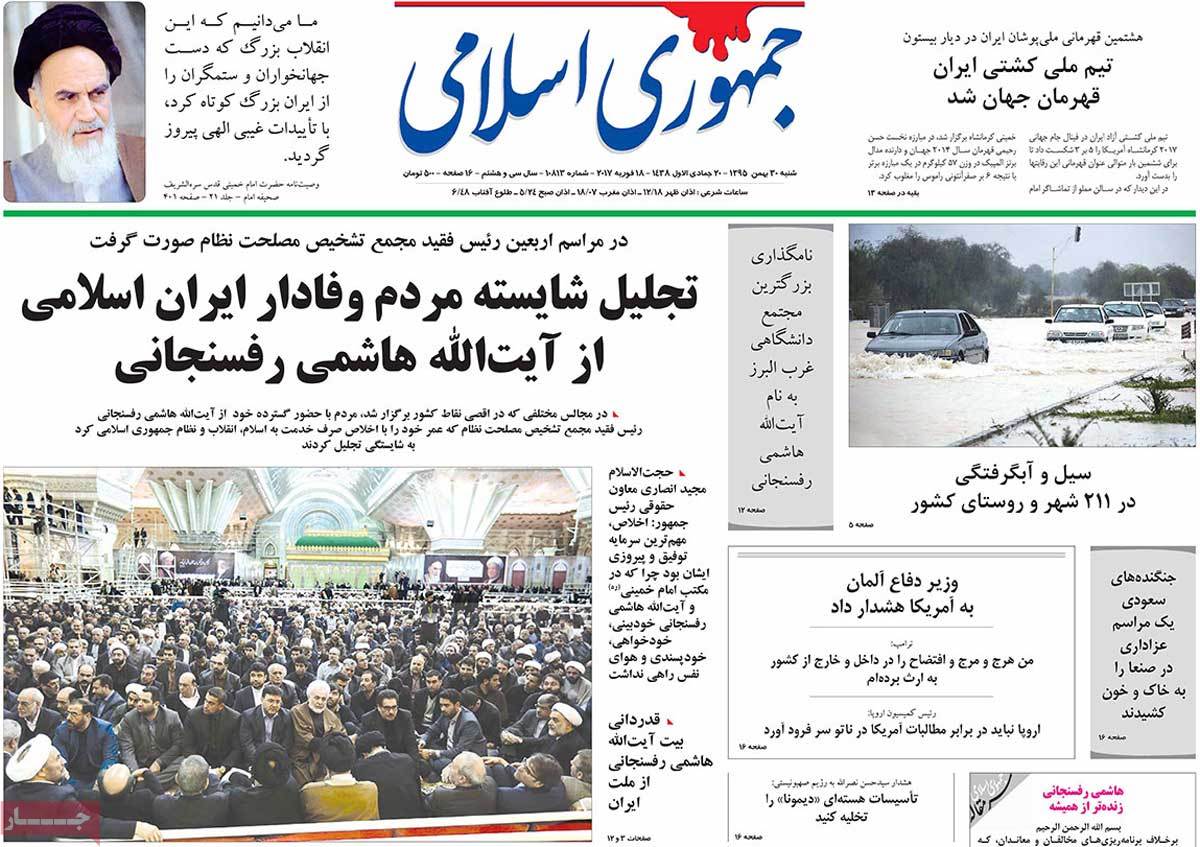 ---
Ka'enat:
1- Last Meeting in Munich: First Encounter in Post-Trump US and Zarif's Last Encounter in Current Iranian Calendar Year [due to end in mid-March]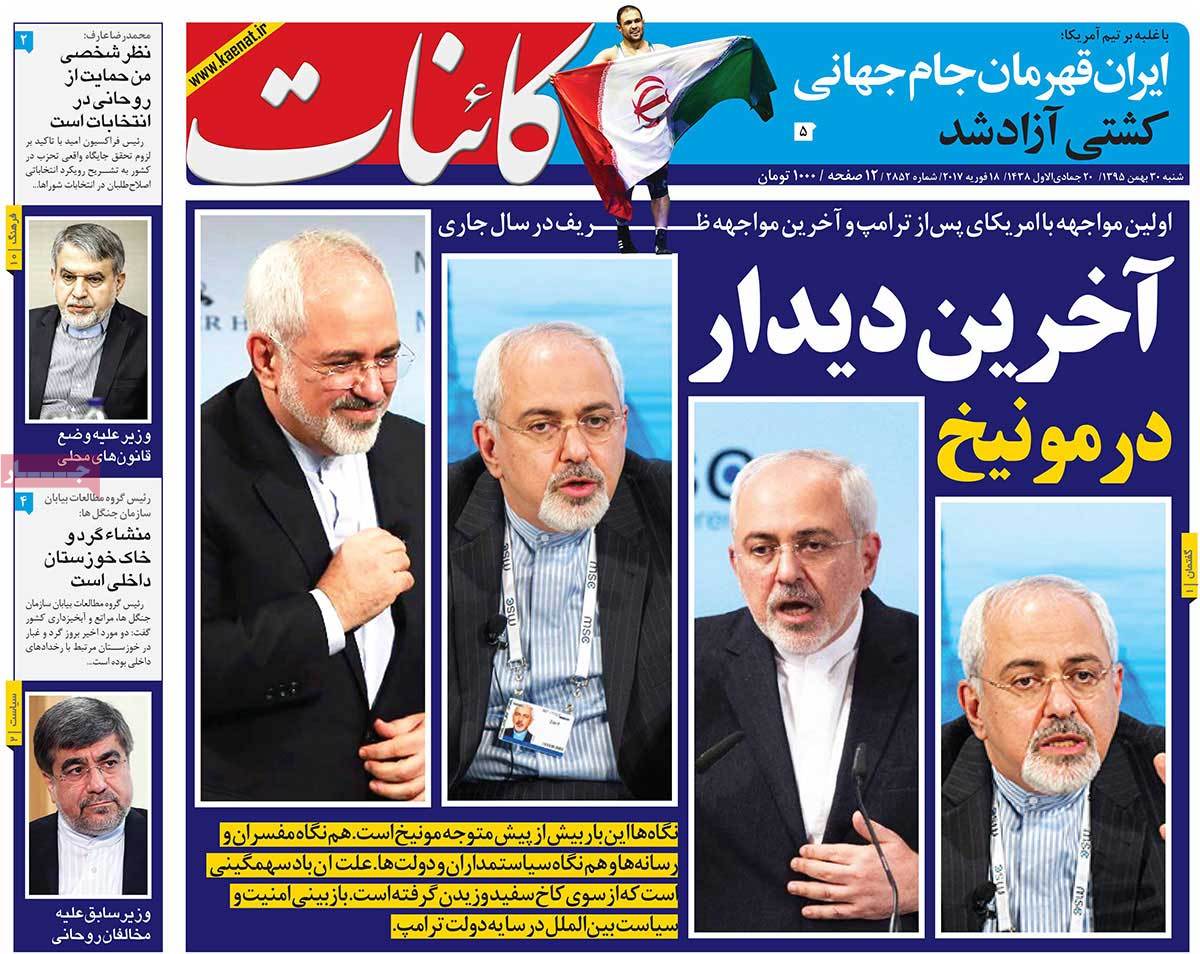 ---
Kayhan:
1- Distance between Statistics and Realities: A Test of Government's Economic Report
2- Achievement of Swedish PM's Visit to Iran: Proposing Anti-Iran Resolution!
---
Resalat:
1- Hezbollah Secretary General Urges Israel to Get Rid of Its Nuclear Warheads in Dimona
2- Trump: We're Not Going to Decrease Pressure on Iran
---
Saheb Qalam:
1- Reviving Wetlands Is Only Way to Save Khuzestan Province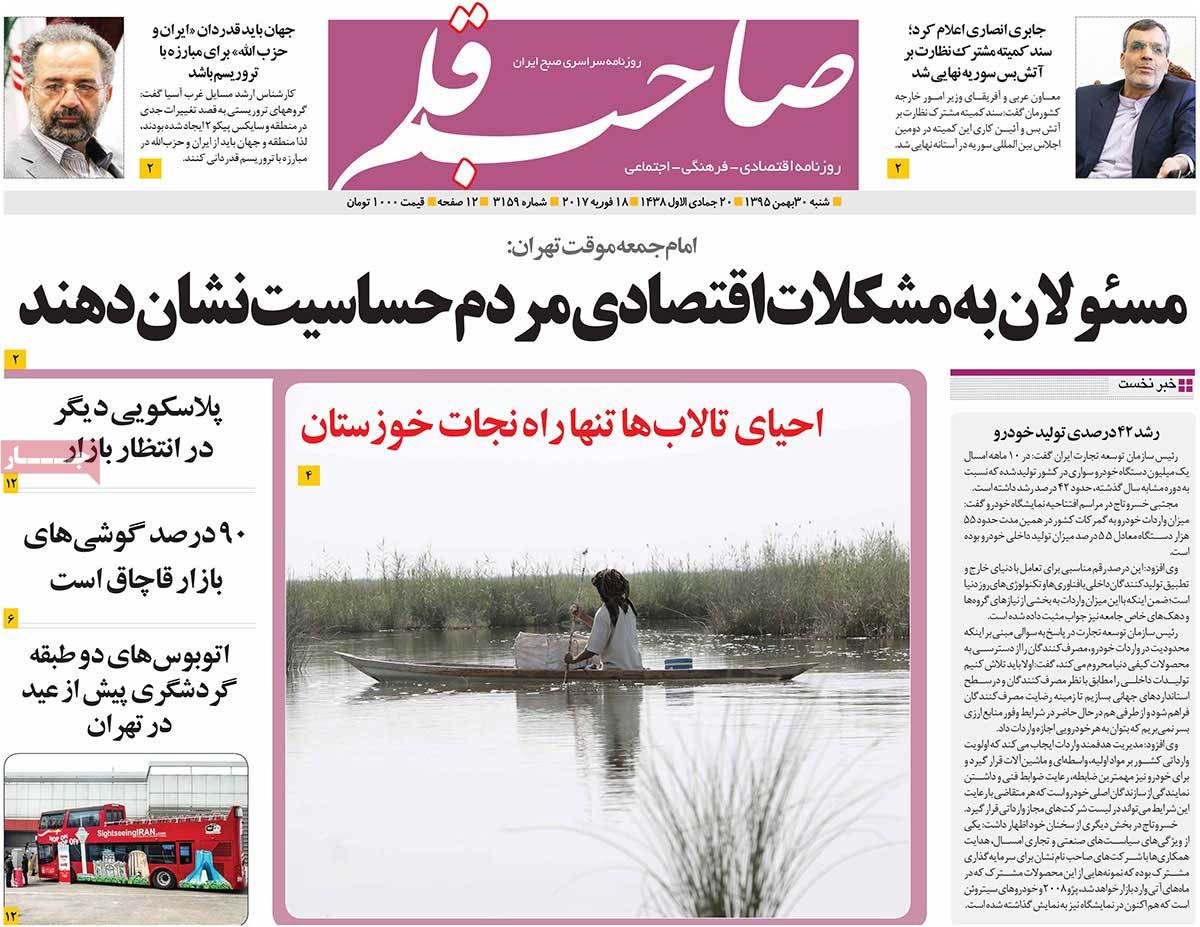 ---
Setareh Sobh:
1- G20 Summit and Pressure on US Secretary of State
2- Analyst: Russia Not in a Position to Form New World Order along with US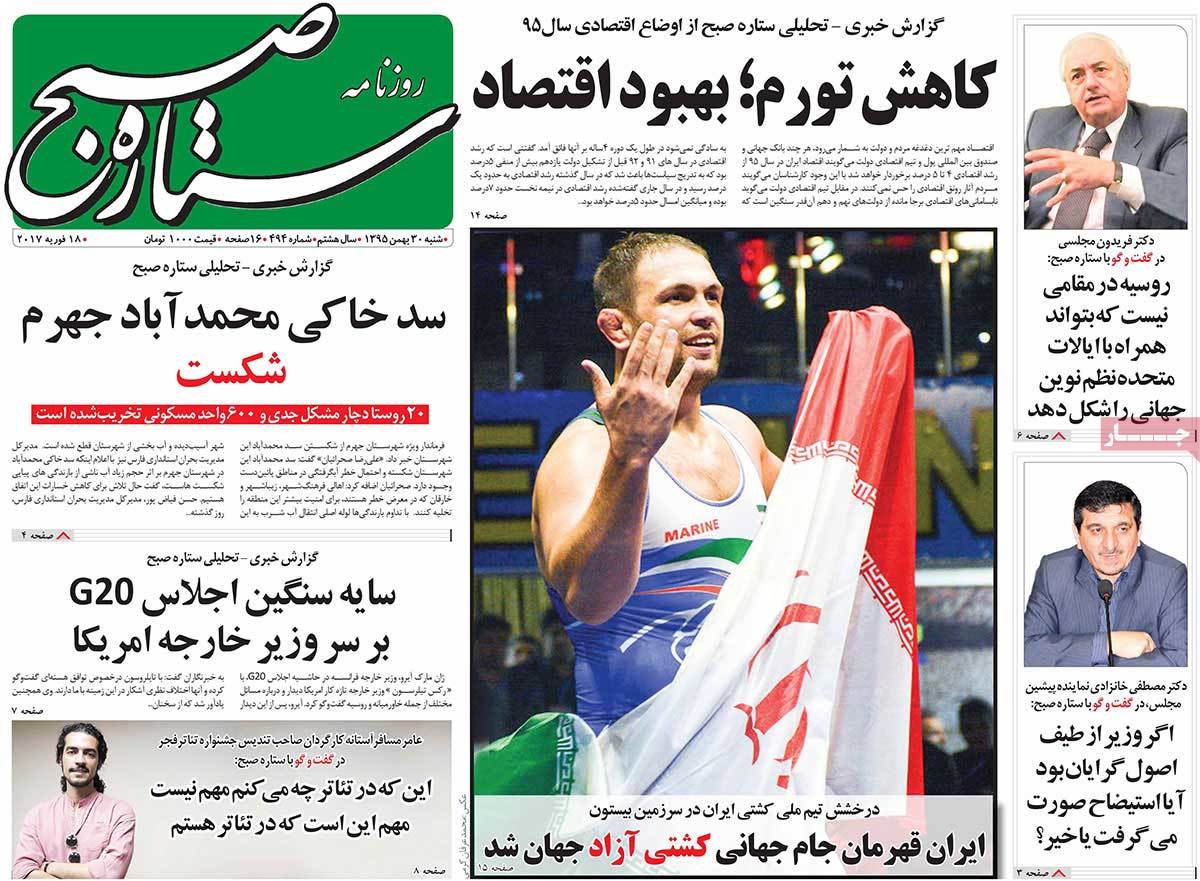 ---
Shahrvand:
1- Our Mouths Taste like Dust: People of Ahvaz Talk about Their Lives without Water and Power, and with Heavy Dust Pollution
2- Rescue Operations from South to North: Over 60,000 People Stranded in Snow and Flood Receive Relief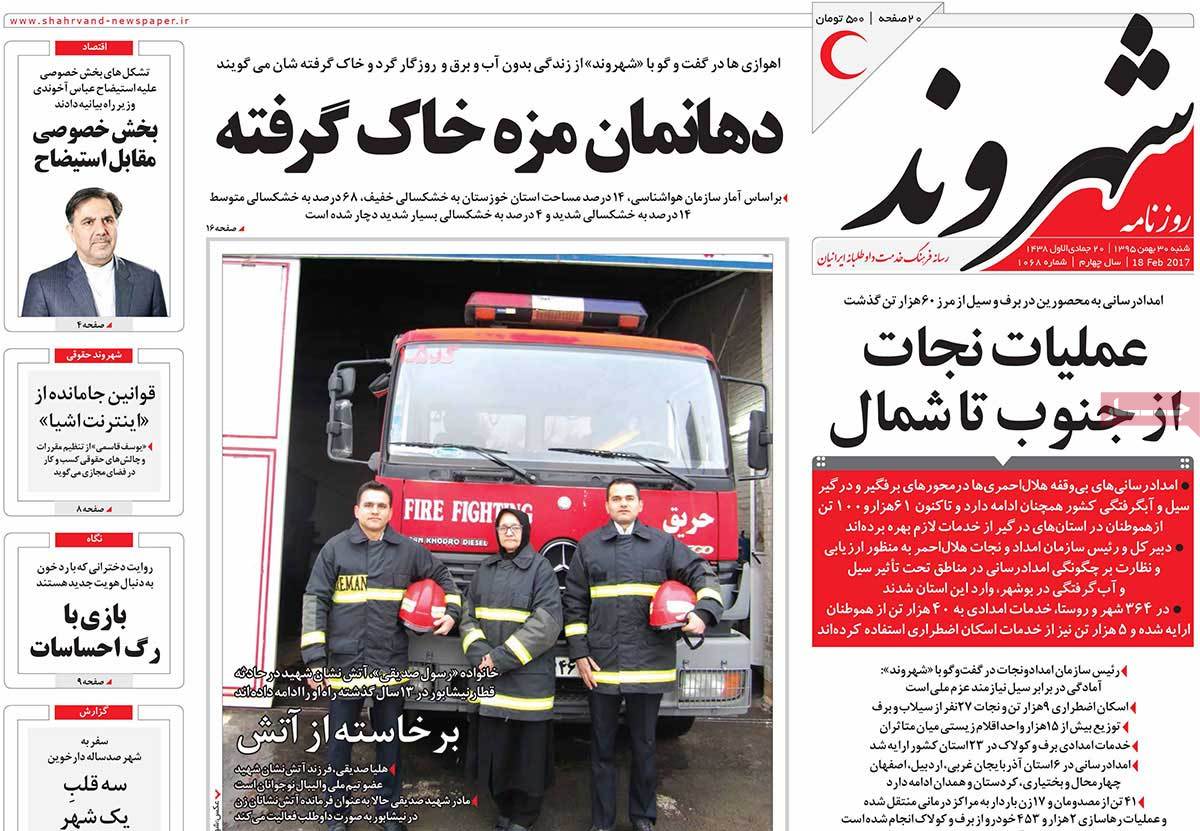 ---
Shargh:
1- Parliament and Impeachment Test: MPs Consider Transport Minister's Impeachment as a Politically-Motivated One Aimed at Damaging Rouhani Government's Image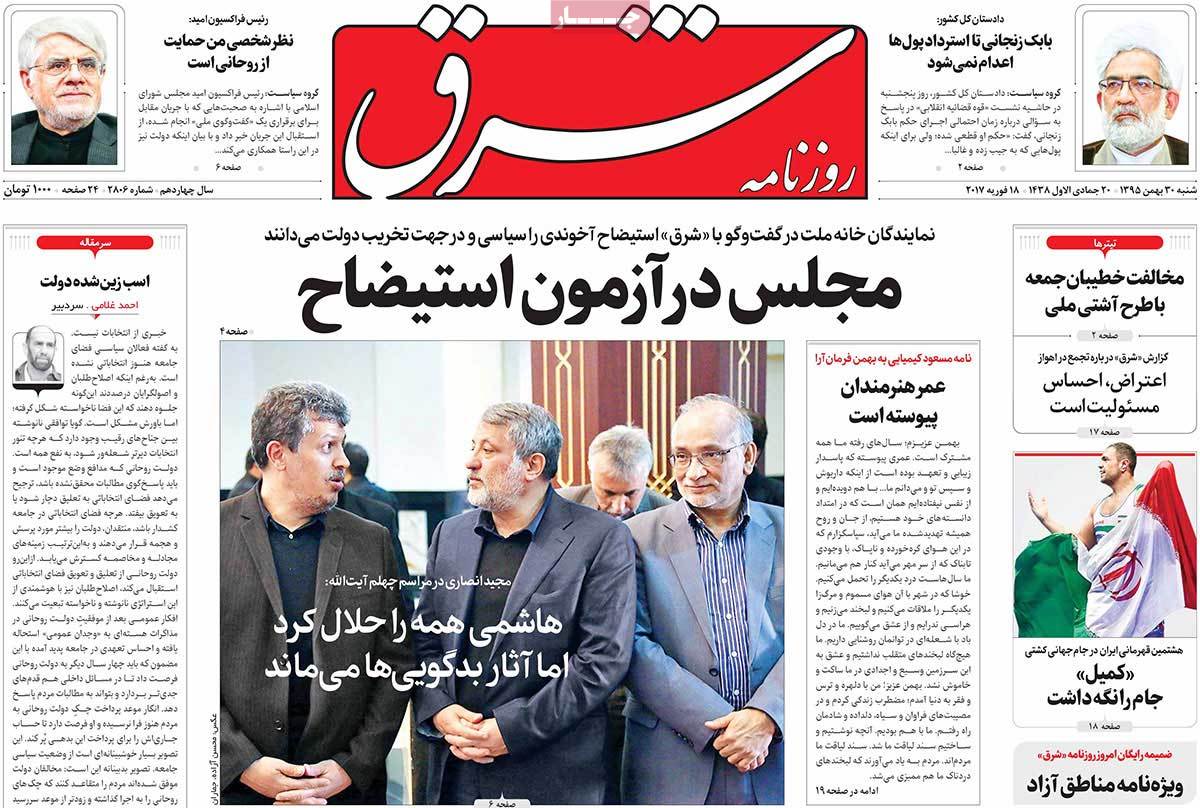 ---
Sobh-e Now:
1- Flood in the South: MP Says We're Not Prepared to Manage Such Crises; Jahrom's Old Urban Structure on Verge of Collapse
---
Vaghaye Ettefaghieh:
1- Munich Afraid of Trump's Evil: Representatives of 60 Countries Convene to Discuss World Security
---
Vatan-e Emrooz:
1- Trump: No to War, Yes to Sanctions; US President Stresses Exacerbation of Anti-Iran Sanctions
2- Two New Crimes by ISIS: 48 Killed in Baghdad Explosion