All newspapers today covered the Thursday terrorist attack on the south-eastern Iranian city of Chabahar, which killed two police forces and wounded over 40 others, including several women and children.
Also a top story was the 175th meeting of member states of the Organization of the Petroleum Exporting Countries (OPEC) in Vienna, which ended with a deal on output cut. Thanks to efforts made by Iranian Oil Minister Bijan Zanganeh, the OPEC agreed to exempt Iran from the output reduction because of the US sanctions.
Several papers also highlighted the Yellow Vest protests in France, where protesters were going to resume the rallies on Saturday, and the police vowed to deploy 89,000 forces, including those of the Army, to control the situation.
The above issues, as well as many more, are highlighted in the following headlines and top stories:
Abrar:
1- Bahrain FM Makes New Anti-Iran Claims
2- IRGC to Track, Punish Those behind Chabahar Terrorist Attack
3- Iran Key Focus of Talks among Members of Persian Gulf Cooperation Council
4- Larijani Praises Roles of China, Russia, Europeans in Preserving JCPOA
5- Macron Officially Cancels Plan to Raise Fuel Taxes
---
Aftab-e Yazd:
1- Iran's Resistance Works
Marathon Talks in Vienna Leads to OPEC Output Cut Deal, Iran's Exemption
2- Decreased Opposition to CFT at Parliament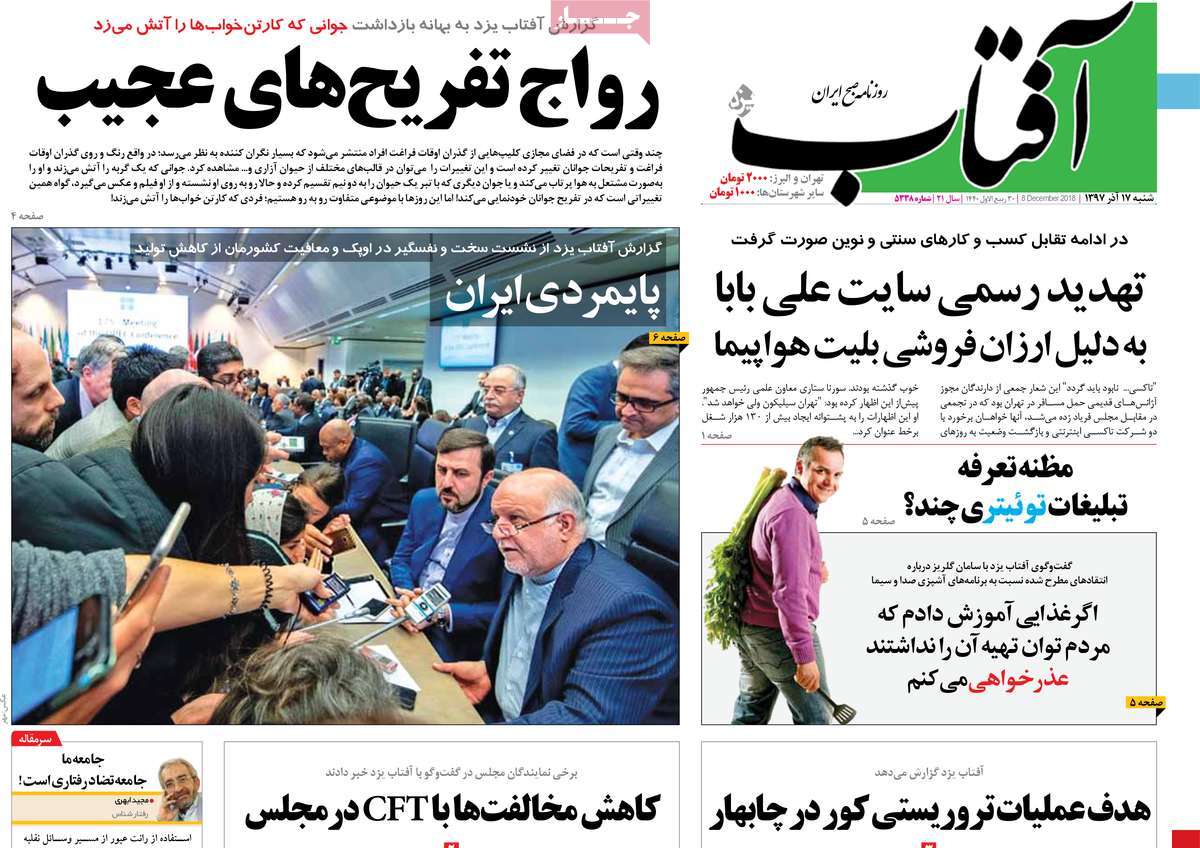 ---
Arman-e Emrooz:
1- Oil Price Decreases to Stop
---
Ebtekar:
1- Rouhani's First VP: Countries Must Stand against US Unilateralism
---
Etemad:
1- Iran Final Winner of OPEC [Editorial]
2- Ansar al-Furqan's Terrorist Attack on Chabahar: 2 Killed, 48 Wounded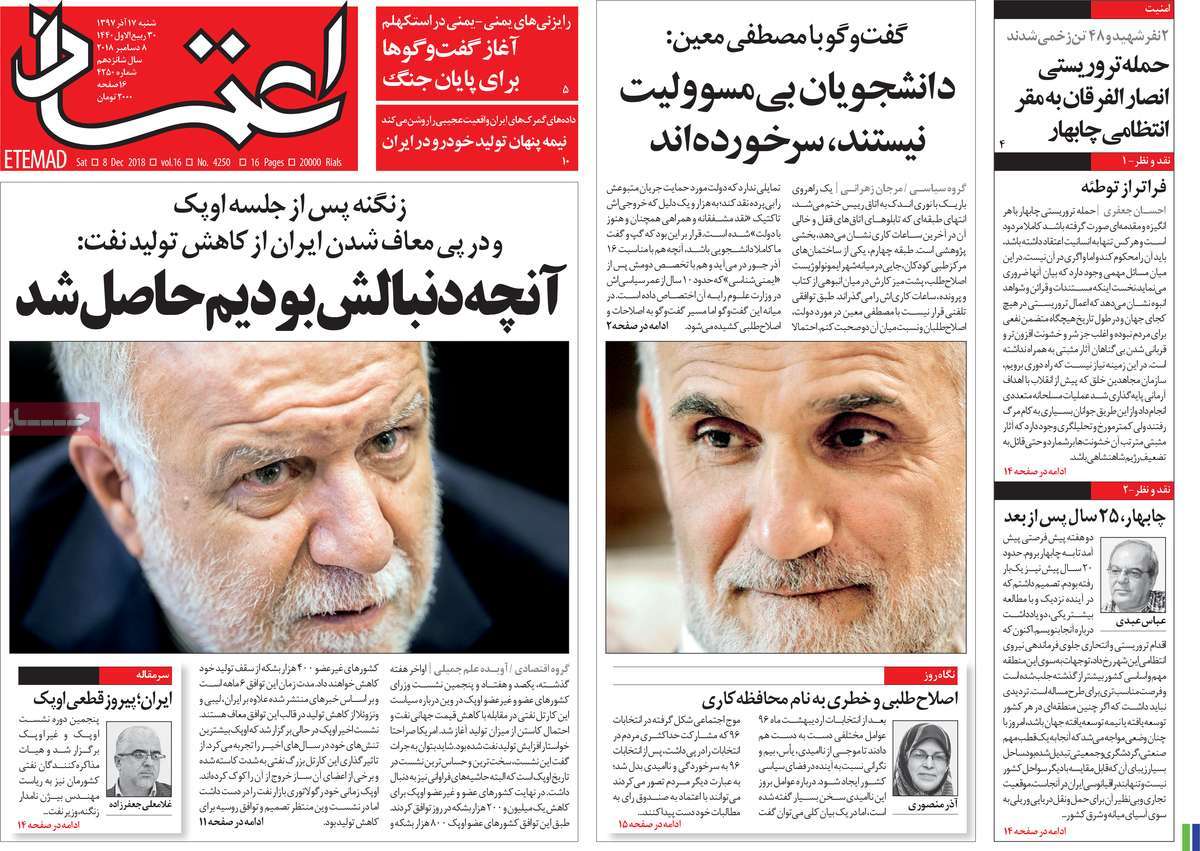 ---
Ettela'at:
1- Eurasia Endorses Deal for Establishing Free Trade Zone with Iran
2- Putin: We'll Provide Arms, Financial Support for Venezuela
3- Europe's Special Financial Channel for Iran to Be Launched by Year-End
4- World Condemns Chabahar Terrorist Attack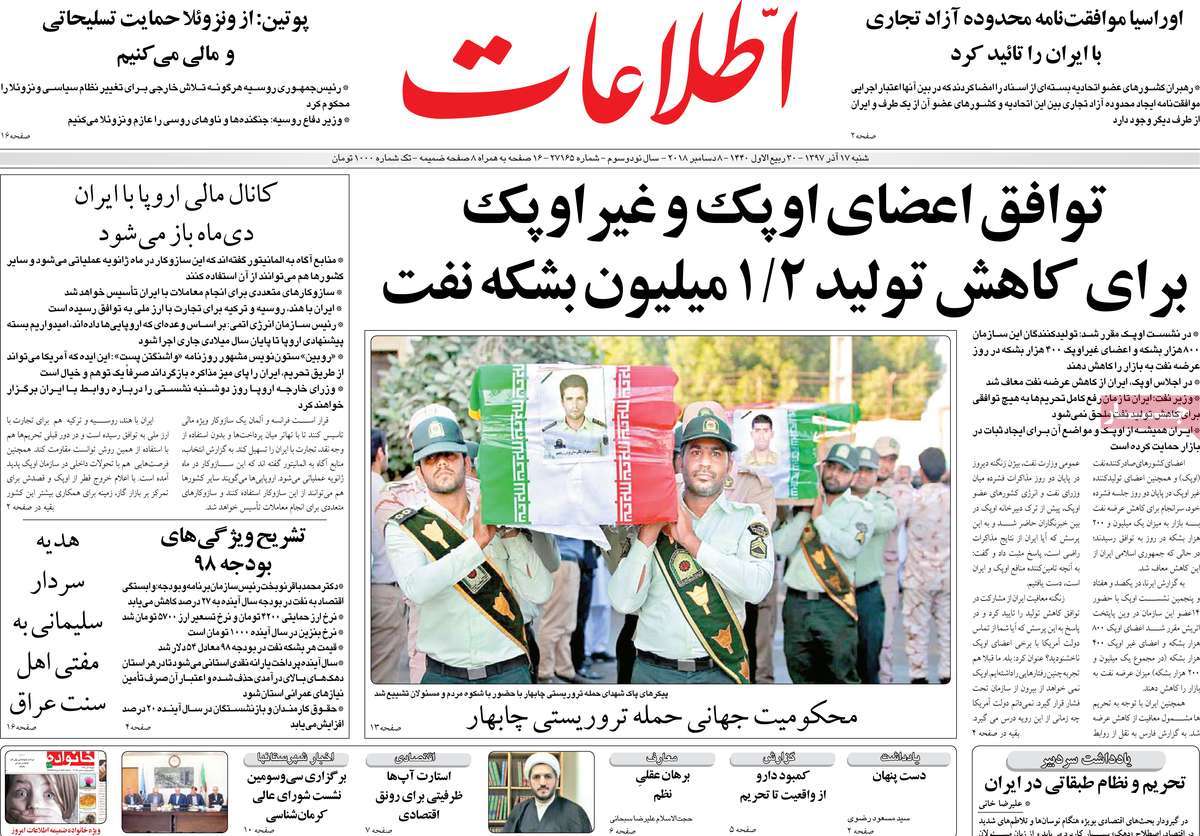 ---
Haft-e Sobh:
1- Battle of Giants in Vienna: Iranian Minister's Fierce Fight against Russia, Saudi
2- Hollywood Still Feeling Guilty: A Review of Golden Globe Nominees
3- Which Country, Service Was behind Chabahar Terror Attack?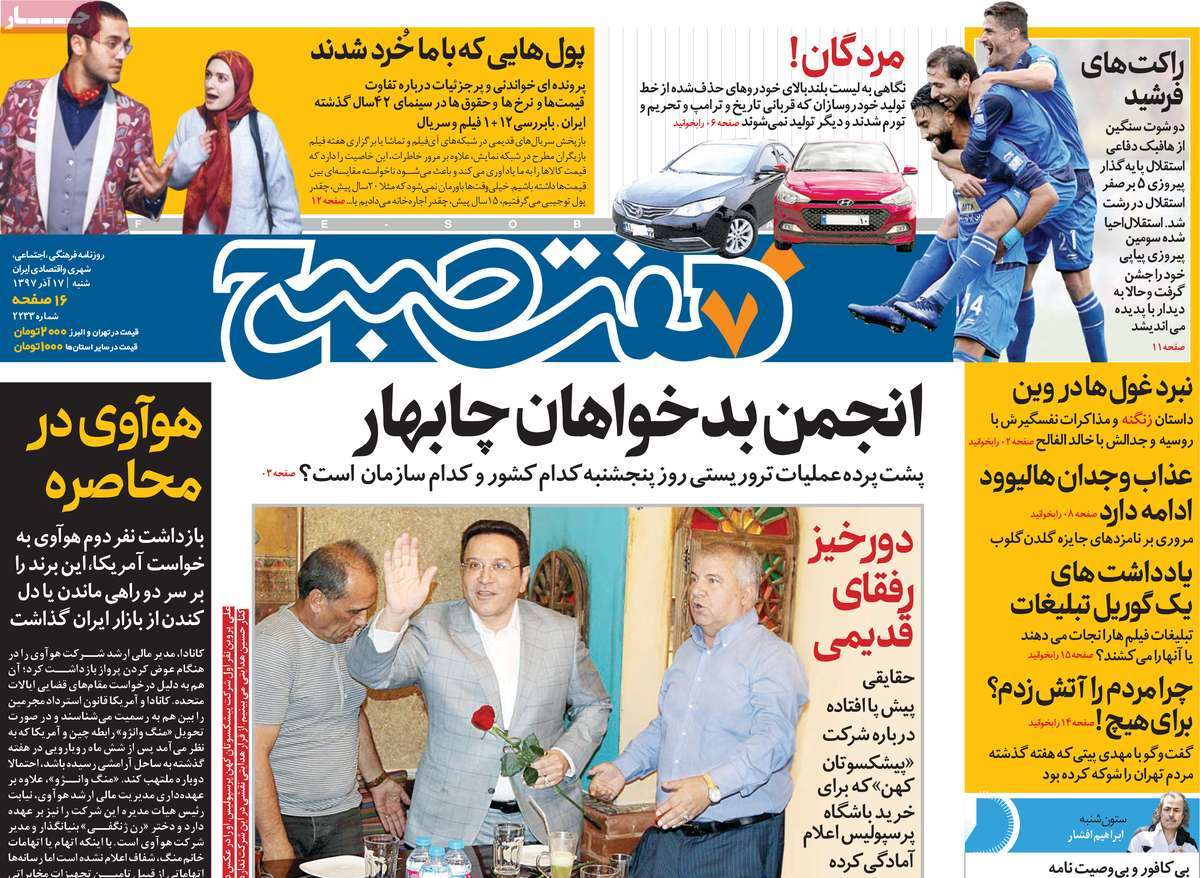 ---
Iran:
1- Iran Exempted from Oil Output Cut
2- Everything Calm in Chabahar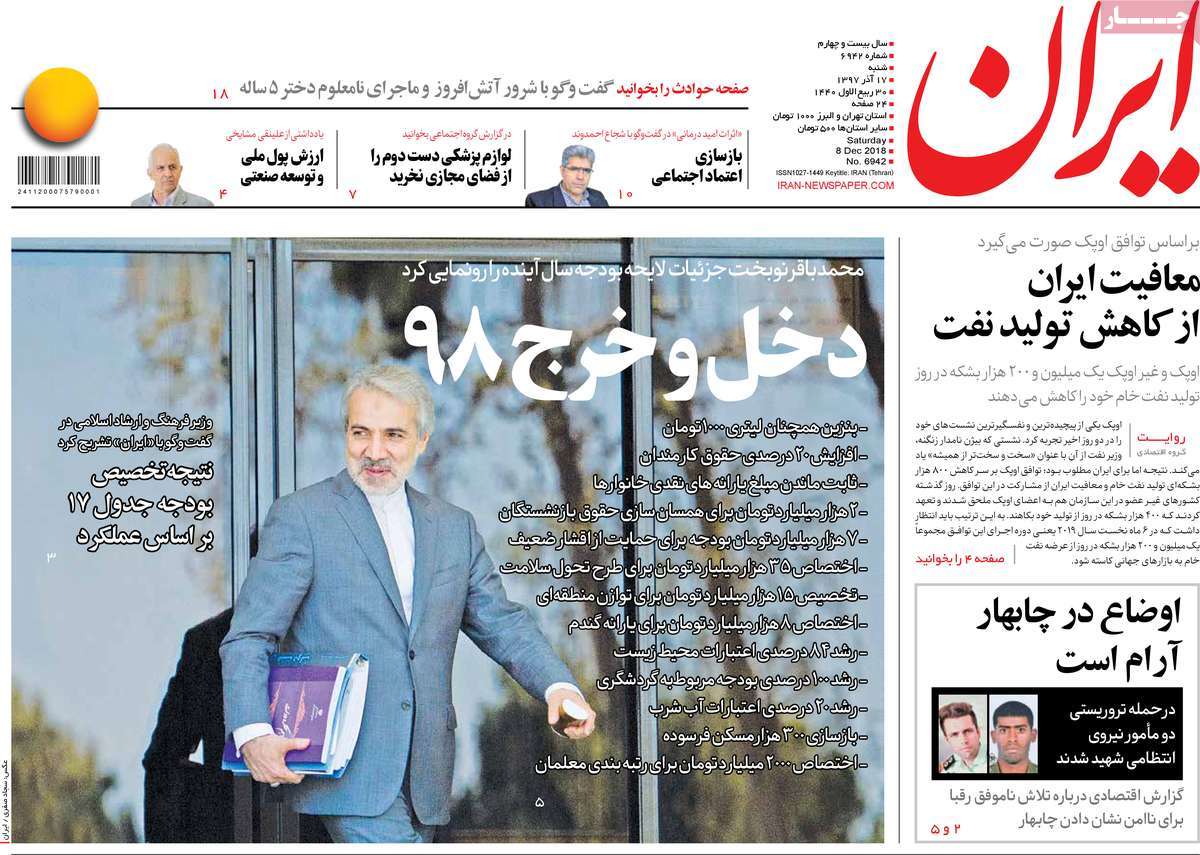 ---
Jame Jam:
1- Details of Chabahar Explosion
2- Message of Chaos in Paris
Analyst Discusses Root Causes of Recent Protests in France
3- Celebrity with 66m Followers Resigns from Hosting Oscar 2019 over Pressures of LGBT Supporters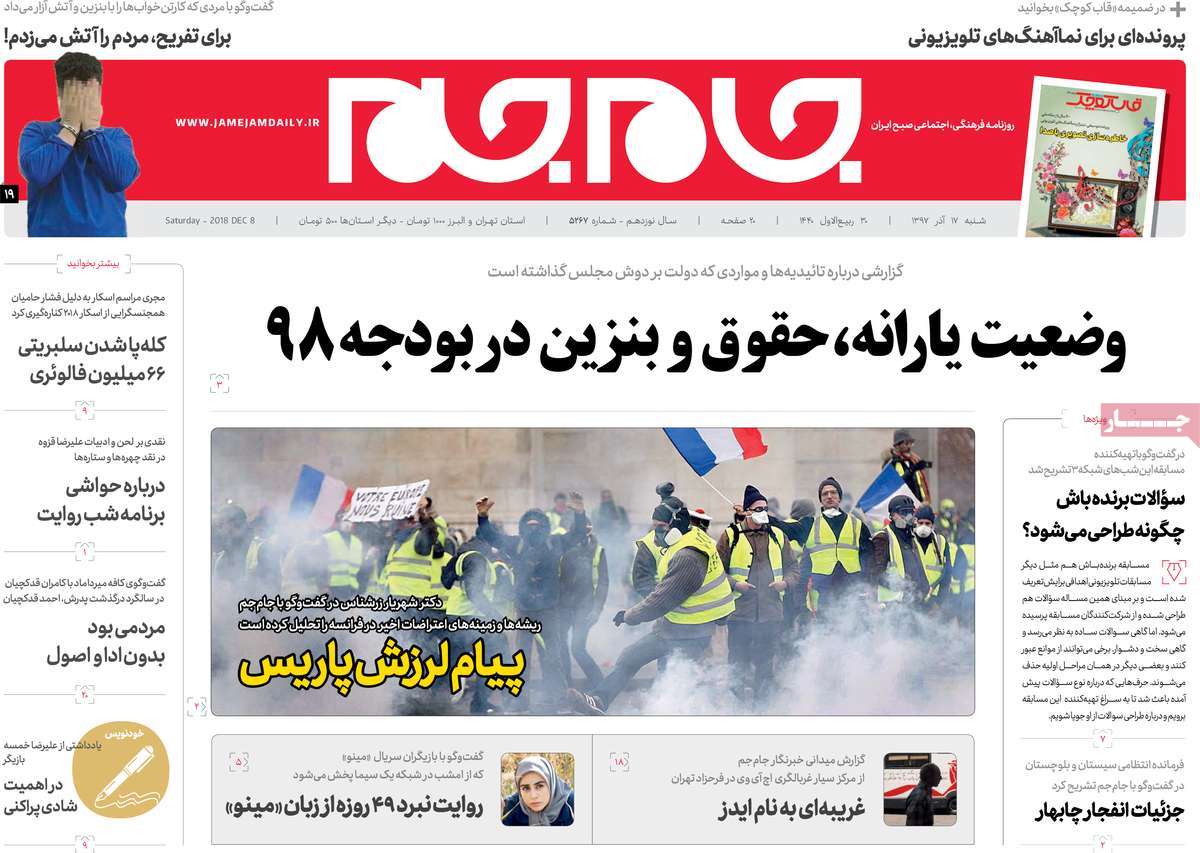 ---
Jomhouri Eslami:
1- US Heavily Defeated by Palestinian Resistance at UN
2- US Senate Says Bin Salman Accomplice in Khashoggi Murder
3- US General: Pentagon to Establish Army of 40,000 Forces in Syria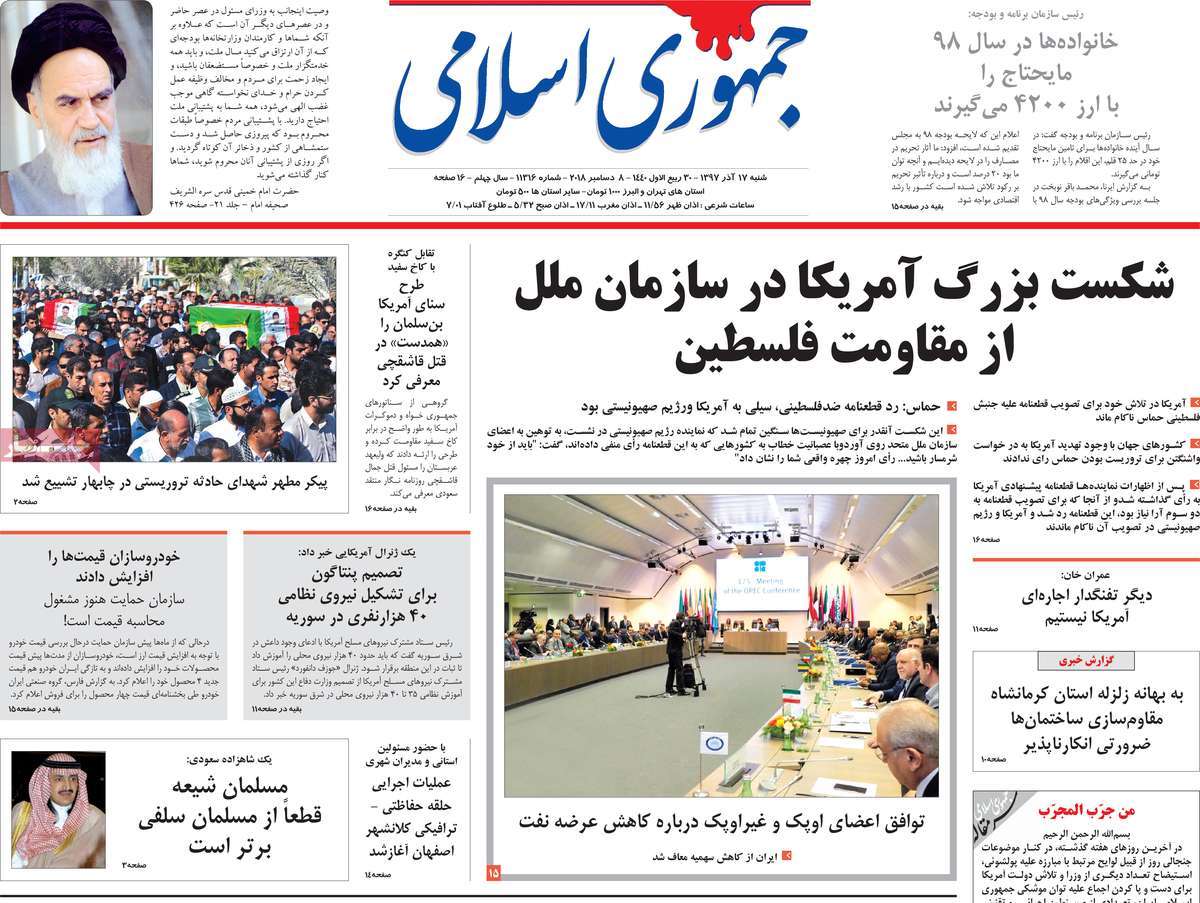 ---
Kayhan:
1- Chabahar Terror Attack Foiled Thanks to Vigilance, Sacrifice of Two Police Forces
2- France, Calm before Storm: 89,000 Police Forces against Protesters
Yellow Vest Protesters to Get Back to Streets Today
3- Iran First VP: We Don't Ask for Anyone's Permission for Setting Range of Our Missiles
4- How Can Rouhani Defeat Trump? [Editorial]
5- A Report on Latest Situation of Yemen War, Stockholm Talks
---
Sazandegi:
1- Attack on Gate of Iran's Trade
Chabahar Attack Shows Some Trying to Intimidate Investors
2- Chinese Hostage: Huawei CFO Arrested in Canada for Bypassing US Sanctions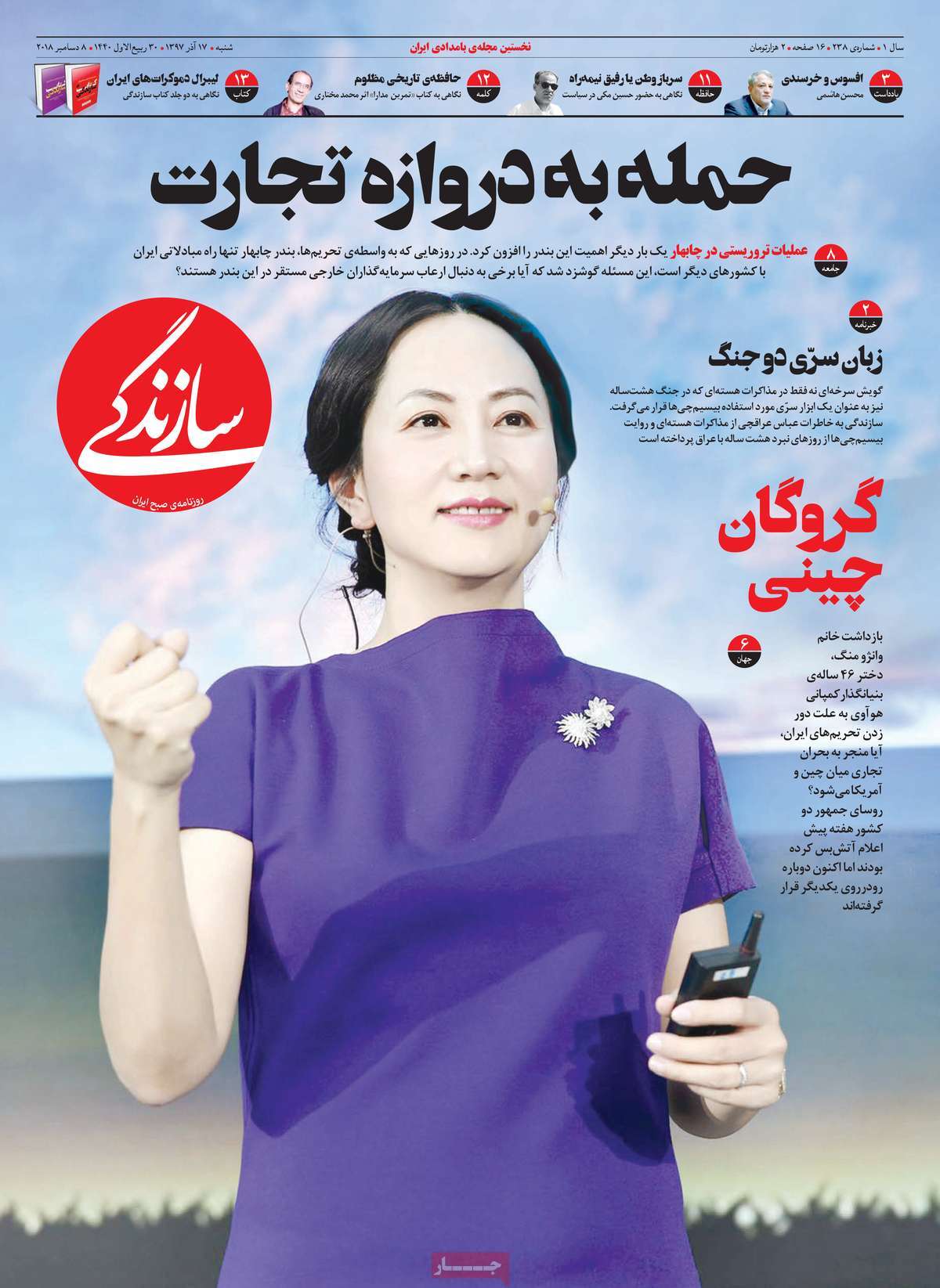 ---
Shargh:
1- Iran Exempted: 175th OPEC Meeting Ends with Deal on Oil Output Cut
---
Sobh-e Now:
1- UN Says No to Anti-Iran Resolution
2- Chabahar, Expressway of Iran's Economy
Terrorist Attack on a Region Exempted from Sanctions
Chabahar Attack Took Place Days after Iran Provided Evidence on Saudi Sabotage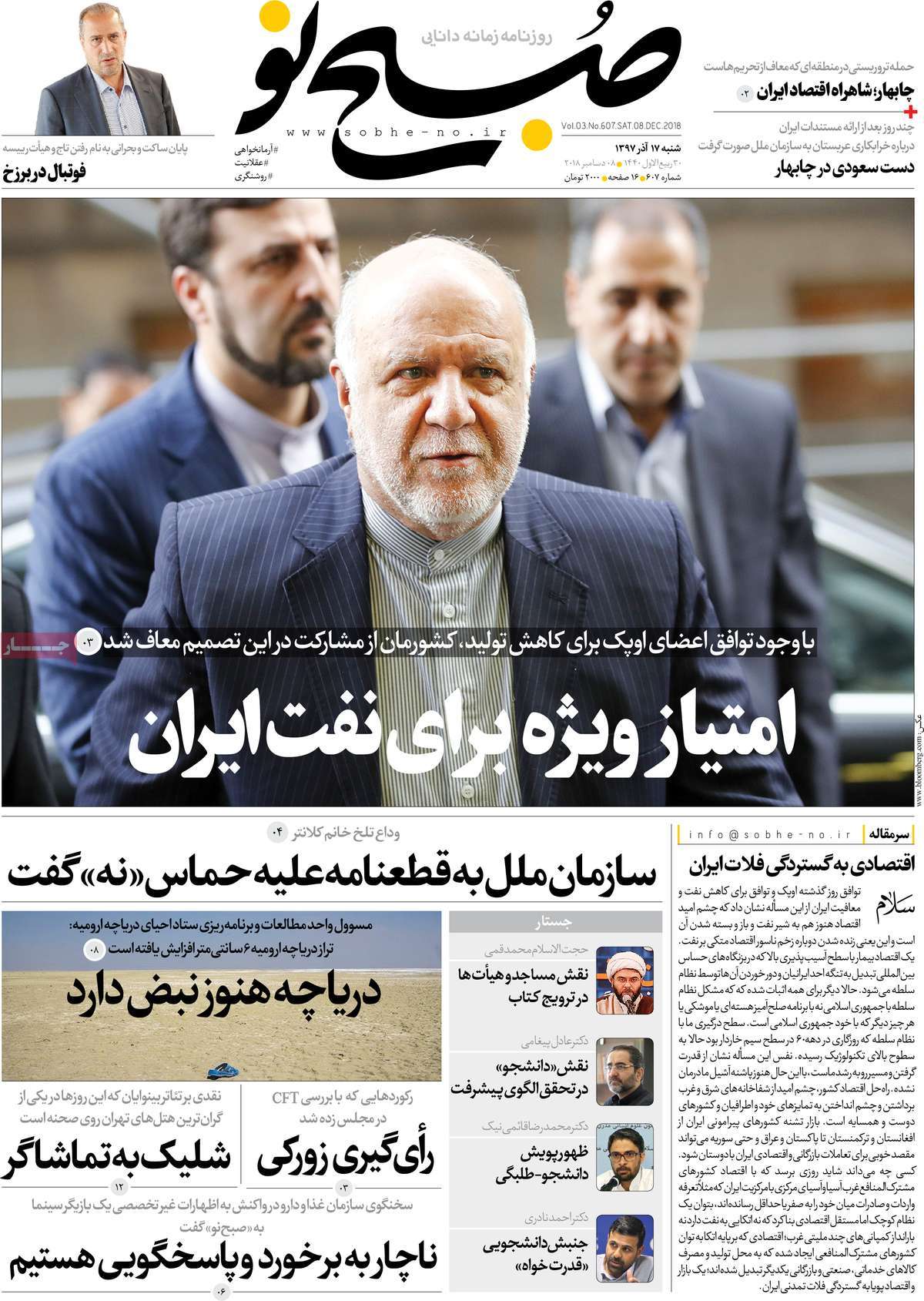 ---
Vatan-e Emrooz:
1- French Army Deployed
All Tourist Sites in Paris, Including Eifel Tower, Louvre Museum, Shut Down
700 French High School Students Arrested by Police