Newspapers on Thursday highlighted the remarks made by various Iranian officials about the pro-Establishment demonstrations of December 30, 2009.
The reactions to a recent report by Shahrvand newspaper about dozens of homeless people who sleep inside graves in a cemetery near Tehran also received great coverage.
Papers also widely covered the death of Donya Fannizadeh, the master of popular Iranian puppet character Kolah Ghermezi [the One with the Red Hat], who passed away at the age of 49 because of hand cancer.
The above issues, as well as many more, are highlighted in the following headlines:
Abrar:
1- Mosul Dam, More Dangerous than Atomic Bomb
2- 75 Years after Japan's Attack: US and Japan Looking for Sustainable Peace in Pearl Harbour
3- Ahmadinejad's Heritage for Rouhani: A Hole Which Can't Be Filled
4- US Says Allegations about Its Support for ISIS in Syria Are Ridiculous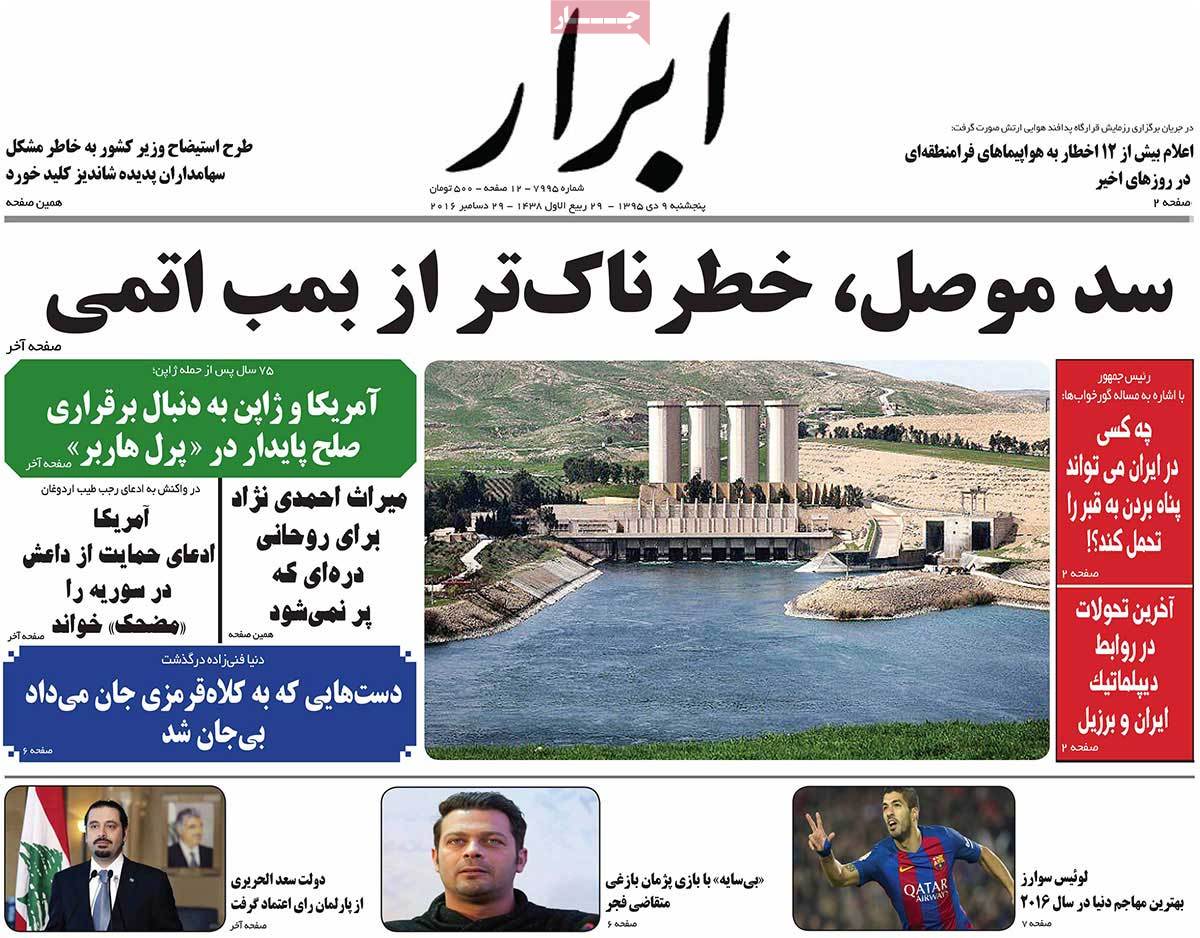 ---
Afkar:
1- Vigilance Is Iranian Nation's Biggest Asset: Parliament Speaker
2- Police Will Prevent Production of Unsafe Cars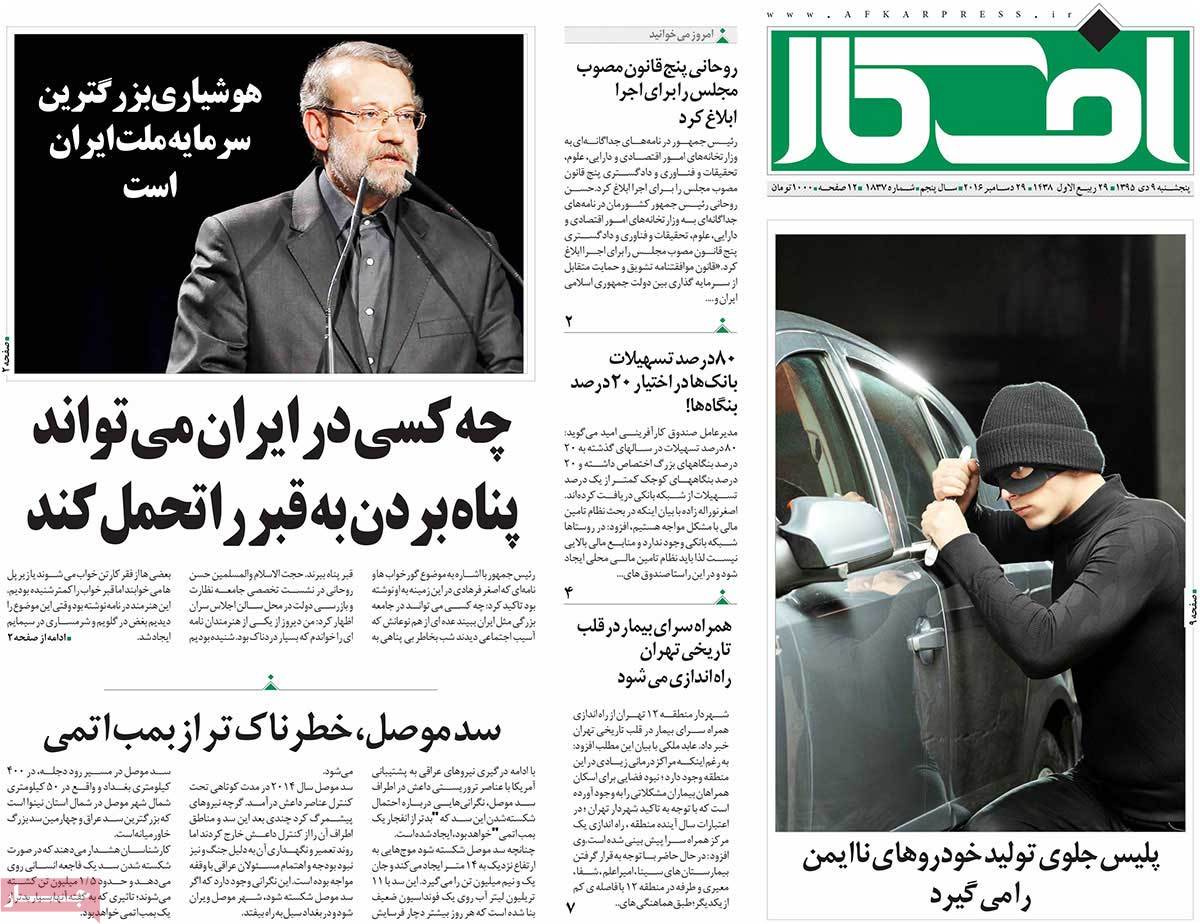 ---
Aftab-e Yazd:
1- Going towards Failure? How Much Chance Does Qalibaf, the Mayor of Tehran and Possible Conservative Candidate, Have to Win Presidency?
2- [Popular Iranian Puppet] Kolah Ghermezi [literally Red Hat] Stops Moving: Puppeteer Donya Fannizadeh Dies at 49
---
Ebtekar:
1- The World Is Thirsty for Cooperation with and Making Investment in Iran: Rafsanjani
2- Kolah Ghermezi and the End of 'Donya'
3- People Like Asghar Farhadi Should Roll Up Sleeves: A Look at Celebrities' Moves to Resolve Social Harms
4- President Rouhani: Who in Iran Can Tolerate Taking Shelter in a Grave?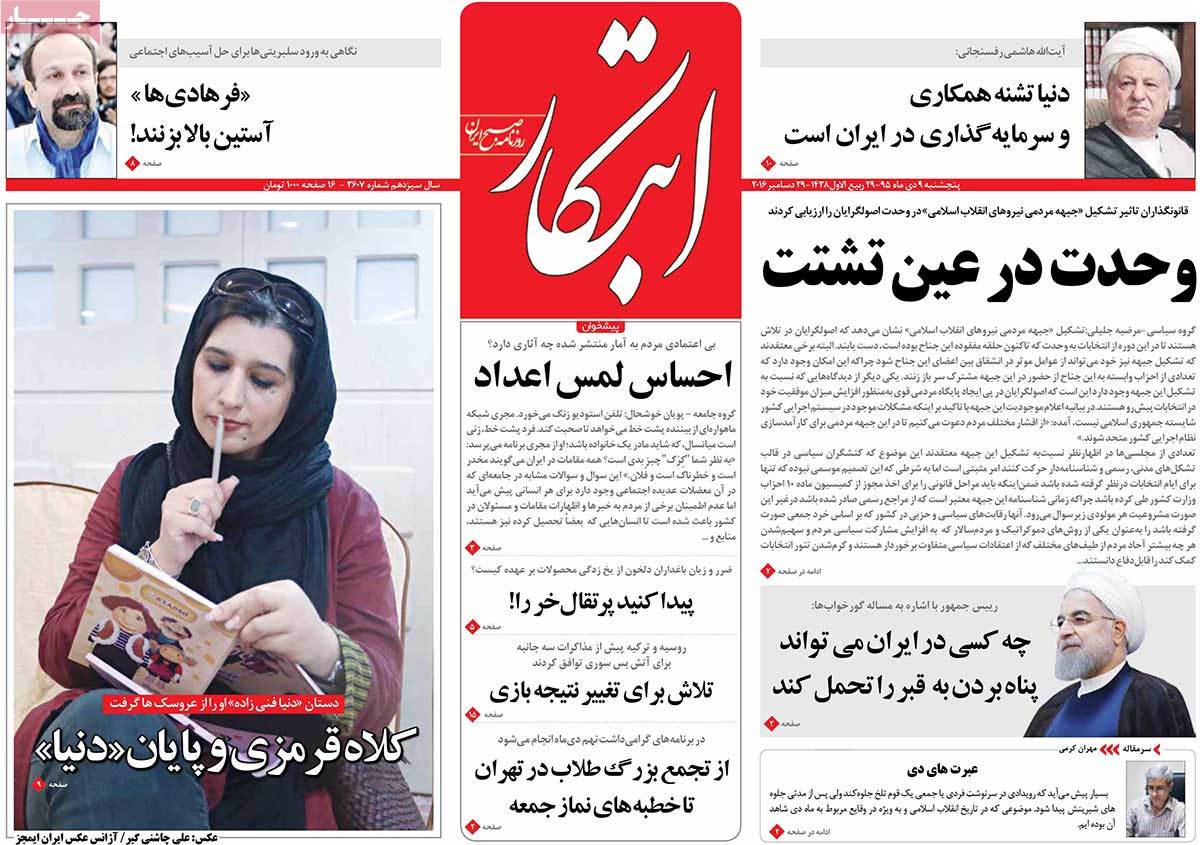 ---
Etemad:
1- Sleeping in Graves Turned to a Political Issue
2- Trump Threatens in Twitter: Horrible Iran Deal Was End of Friendship with Israel
3- John Kerry's Late Move to Reveal Obama's Prescription for Peace
4- Sleeping in Graves Is Not Tolerable, We Are All Responsible: Rouhani
---
Ettela'at:
1- Fight against Corruption without Any Discrimination Is a Prerequisite for Improving Economy and Ethics: President
2- Charter on Citizens' Rights Aimed at Strengthening Religious Democracy
3- ISIS Commanders Captured in Intelligence Operation by Iraqi Forces
4- Police Commander: Portal to Be Launched for Stolen Properties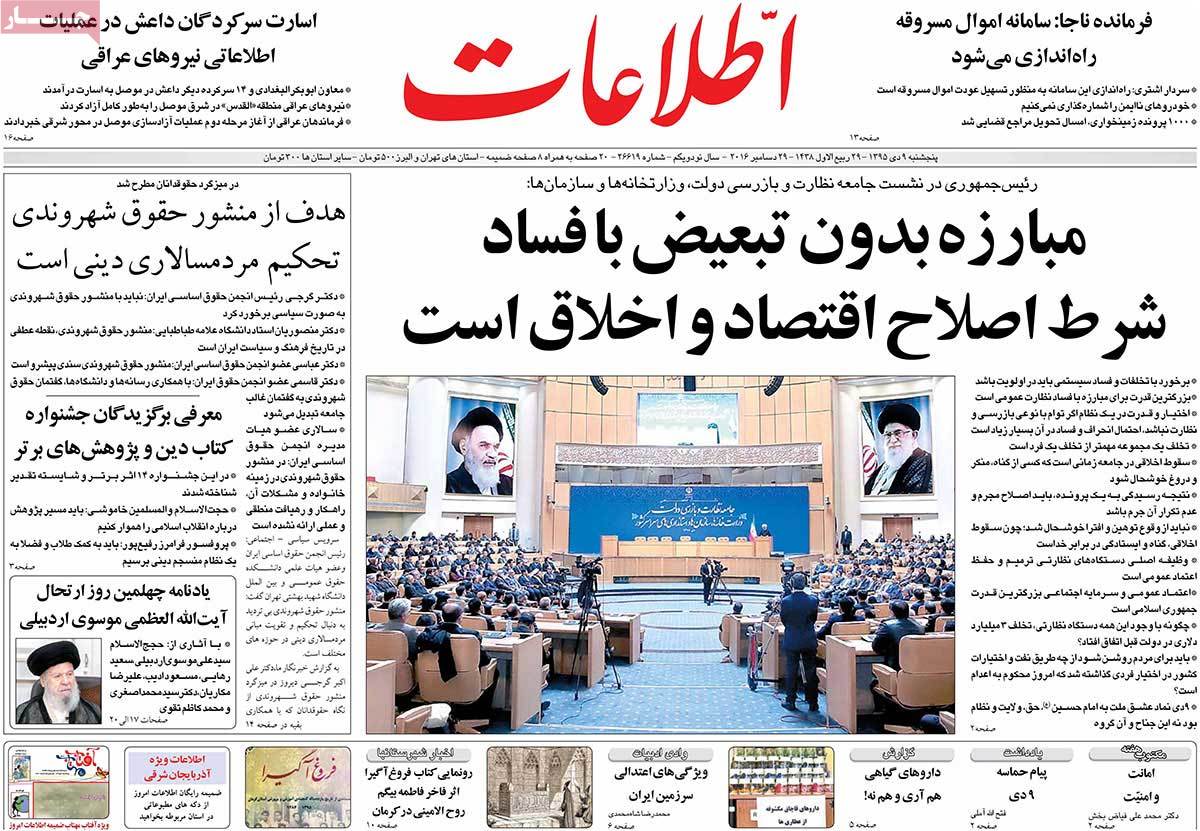 ---
Ghanoon:
1- Kolah Ghermezi's Life Was Dependent on Donya
2- Christmas Supper: Russia and Turkey Prepare Plan for Syria Ceasefire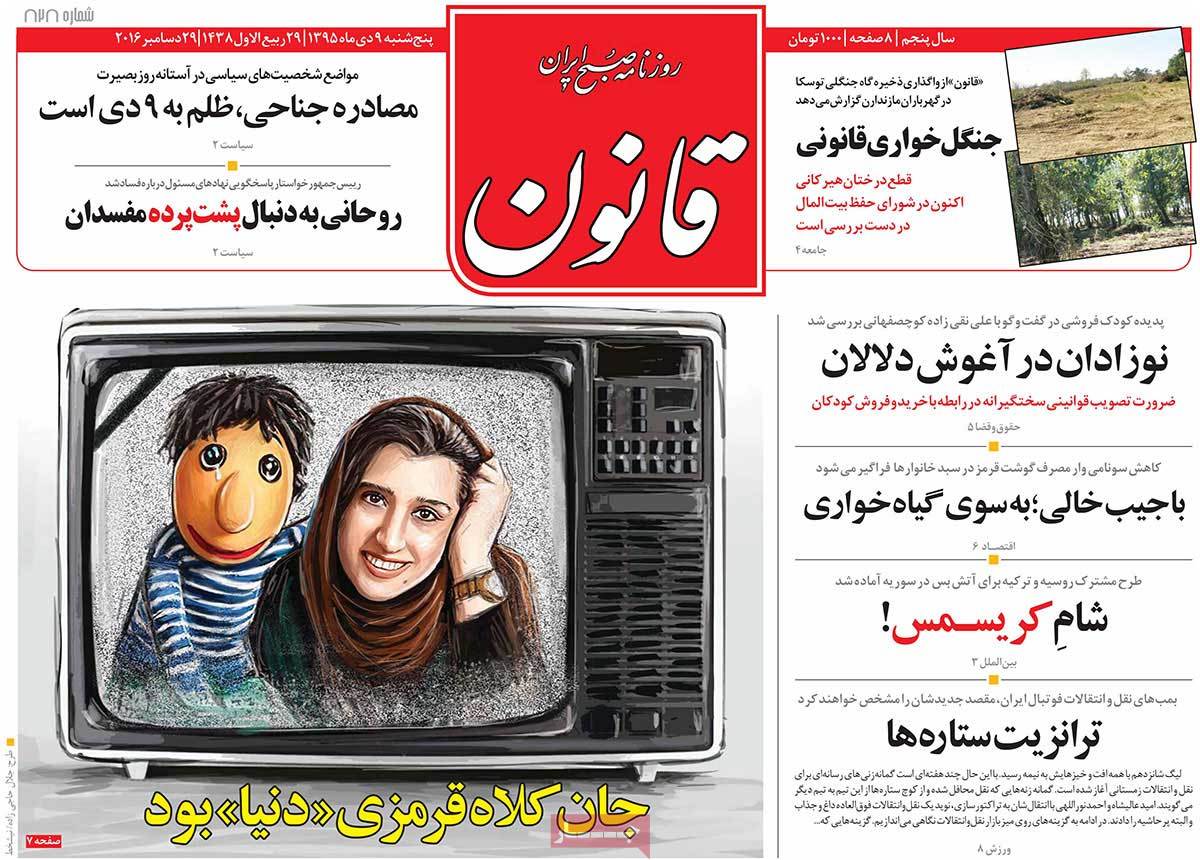 ---
Haft-e Sobh:
1- Goodbye Donya [literally the World]: Donya Fanizadeh, the Puppeteer of Kolah Ghermezi Dies at 49
2- Mashhad, the Political Capital of Conservatives
3- My Christian Compatriot [Editorial]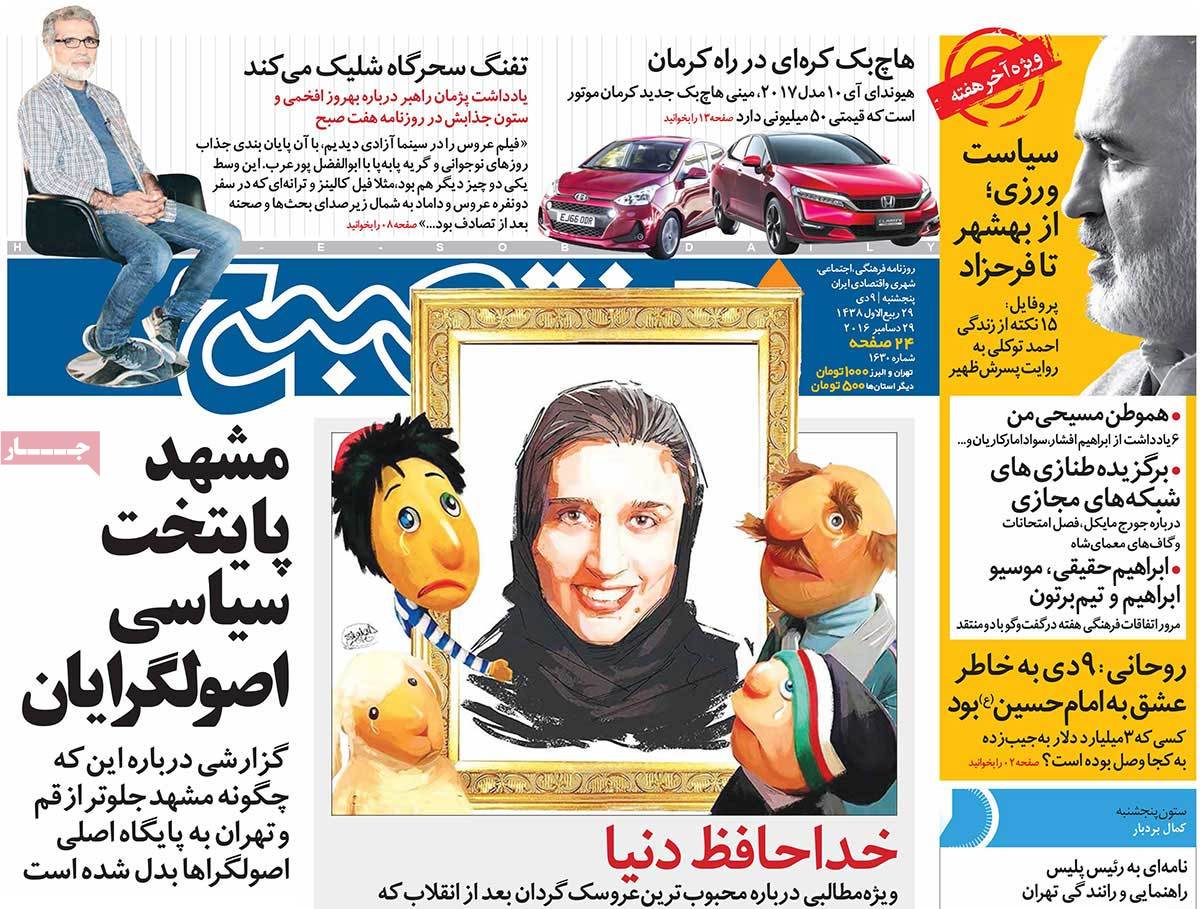 ---
Hemayat:
1- Secretary of Guardian Council Praises Judiciary's Firmness in Taking Action against Corrupt People and Those Who Create Sedition
2- Deputy Head of Judiciary: We Are Not Opposed to Amending Law of Fight against Illicit Drugs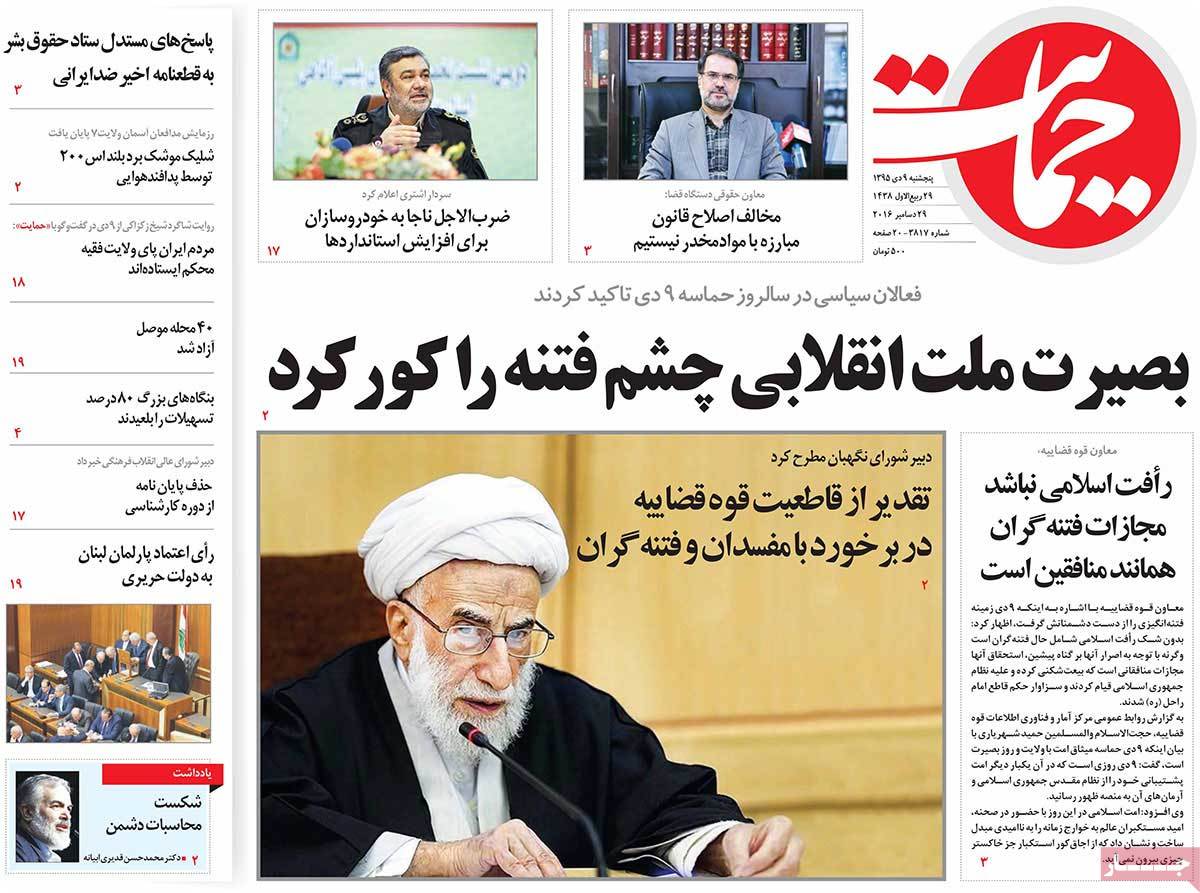 ---
Jame Jam:
1- Anniversary of People's Pro-Establishment Demonstrations on December 30, 2009:
President: People Made a Great Move to Defend the Islamic Establishment
Parliament Speaker: People on December 30 Determined the Future Path of Iran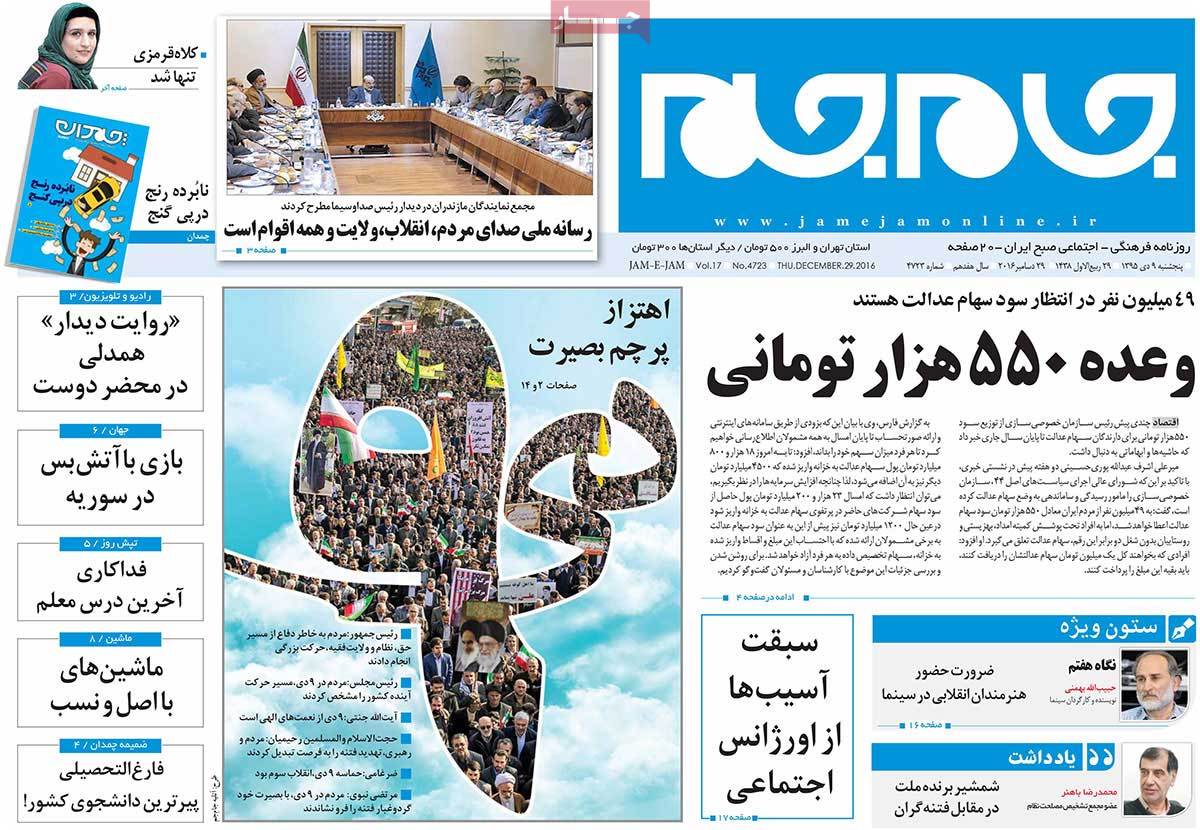 ---
Javan:
1- President Rouhani: People's Move on December 30 Was Aimed at Defending the Right Path
2- French Company that Had Sold Iran Infected Blood Opens Office in Iran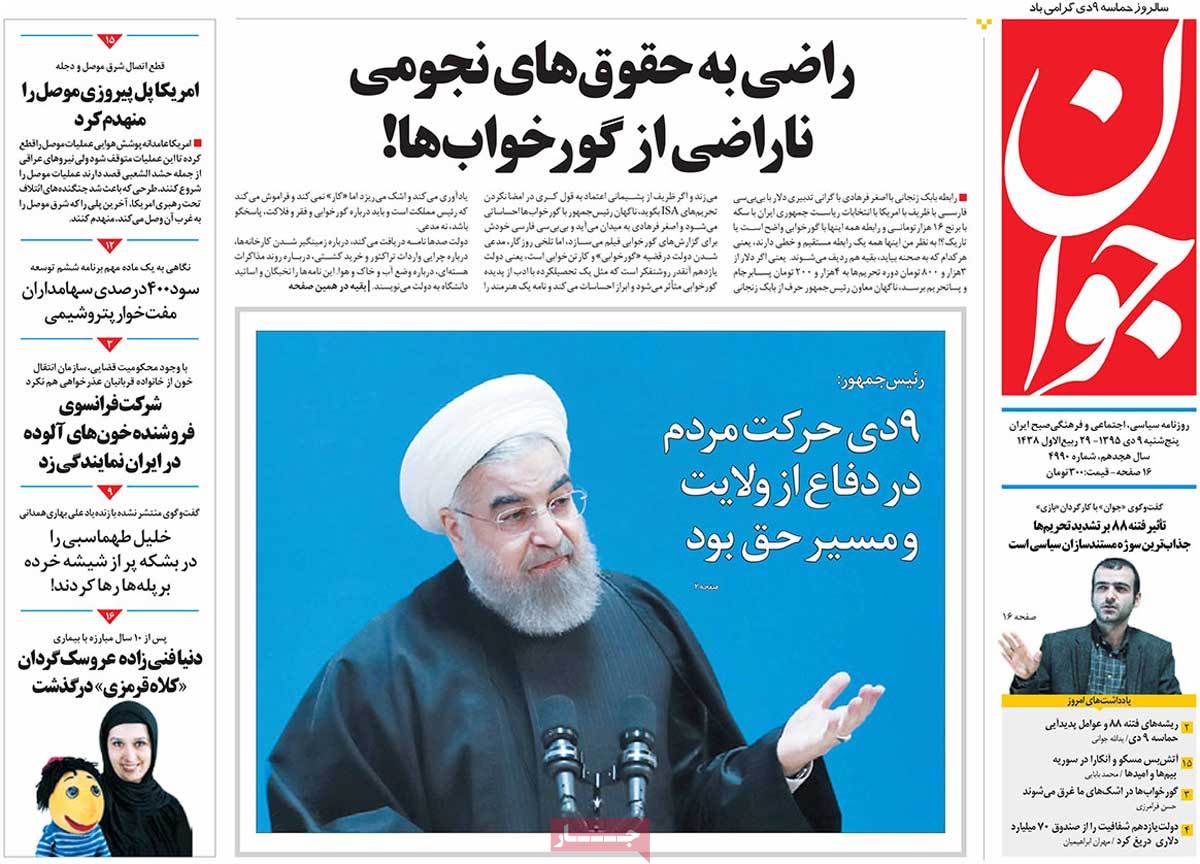 ---
Jomhouri Eslami:
1- People's Questions about Public Funds Wasted [by Previous Gov't] Should Be Answered: Rouhani
2- Asian Countries' Import of Iran's Crude Oil More than Doubled
3- Iraqi PM in Reaction to Riyadh: Popular Forces Units Are a Legal Organization
---
Kayhan:
1- These People Are Obeying Their Leader that They Don't Create a Storm [against those who created 2009 sedition]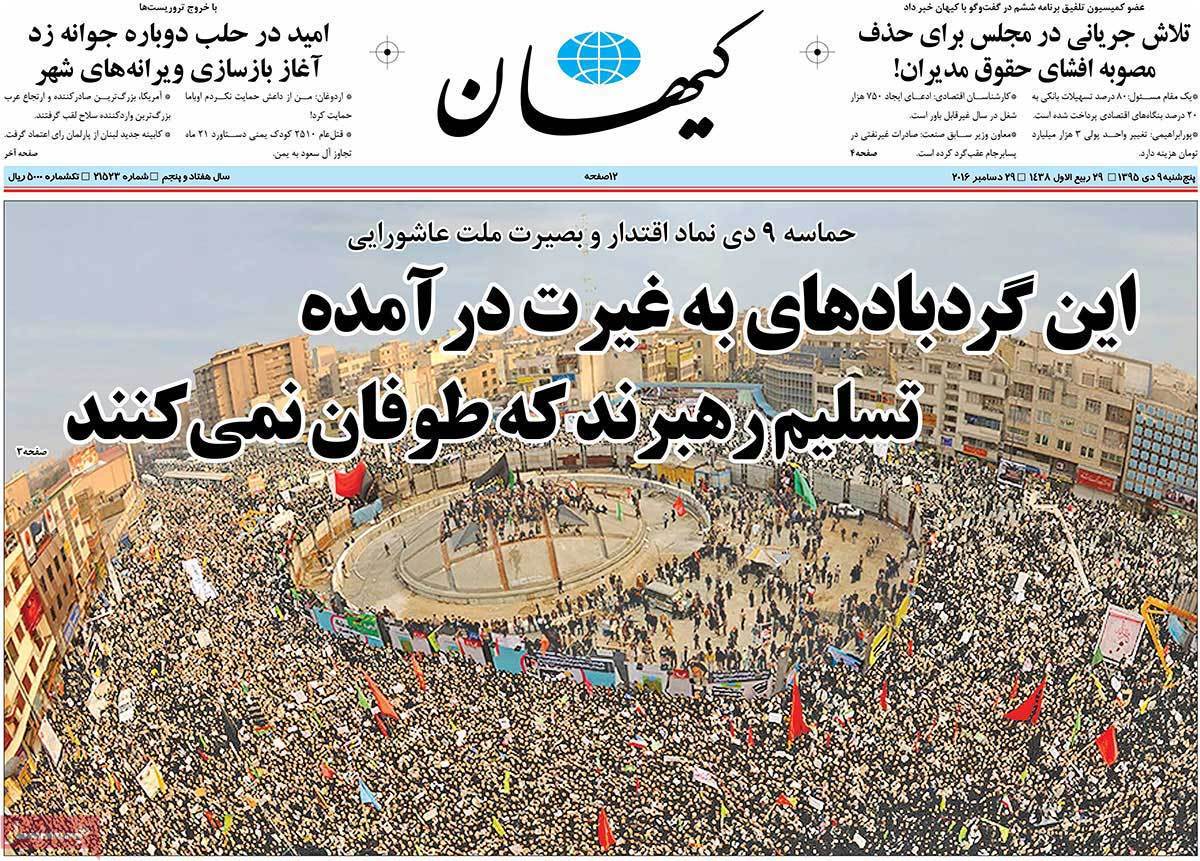 ---
Resalat:
1- Parliament Speaker: People's Political Vigilance on December 30, 2009, Was Unique in the World
2- If It Wasn't for Leader's Prudence in 2009 Sedition, Iran Would Have Turned Worse than Libya and Egypt: Senior Cleric
3- Erdogan: US-Led Coalition Supports Terrorists
4- Assad Will Strongly Remain in Power US and Britain Lose the Game in Syria
---
Rooyesh-e Mellat:
1- Mossad, CIA, and Saudi Intelligence Officers Surrounded in Aleppo: Senior MP
2- Public Surveillance Is Biggest Power to Fight Corruption: Rouhani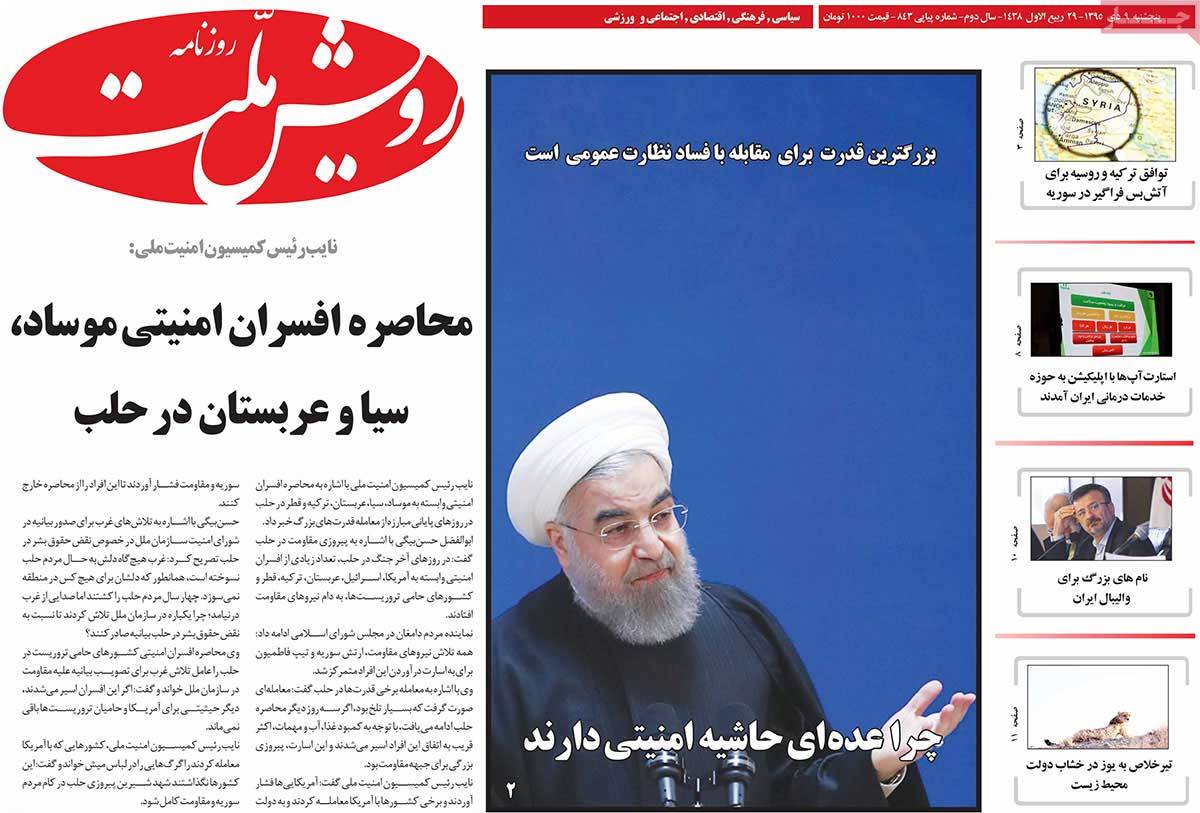 ---
Shahrvand:
1- Online Taxis Might Be Closed: Taxi Organization's Criticism of Online Taxis Enters New Phase
2- City Council Jurist: People Have the Right to Choose Their Transportation Vehicle, and Government Can Refuse to Interfere
3- Tehran Is More Beautiful in Christmas: An Interview with Armenian Captain of Iran's National Football Team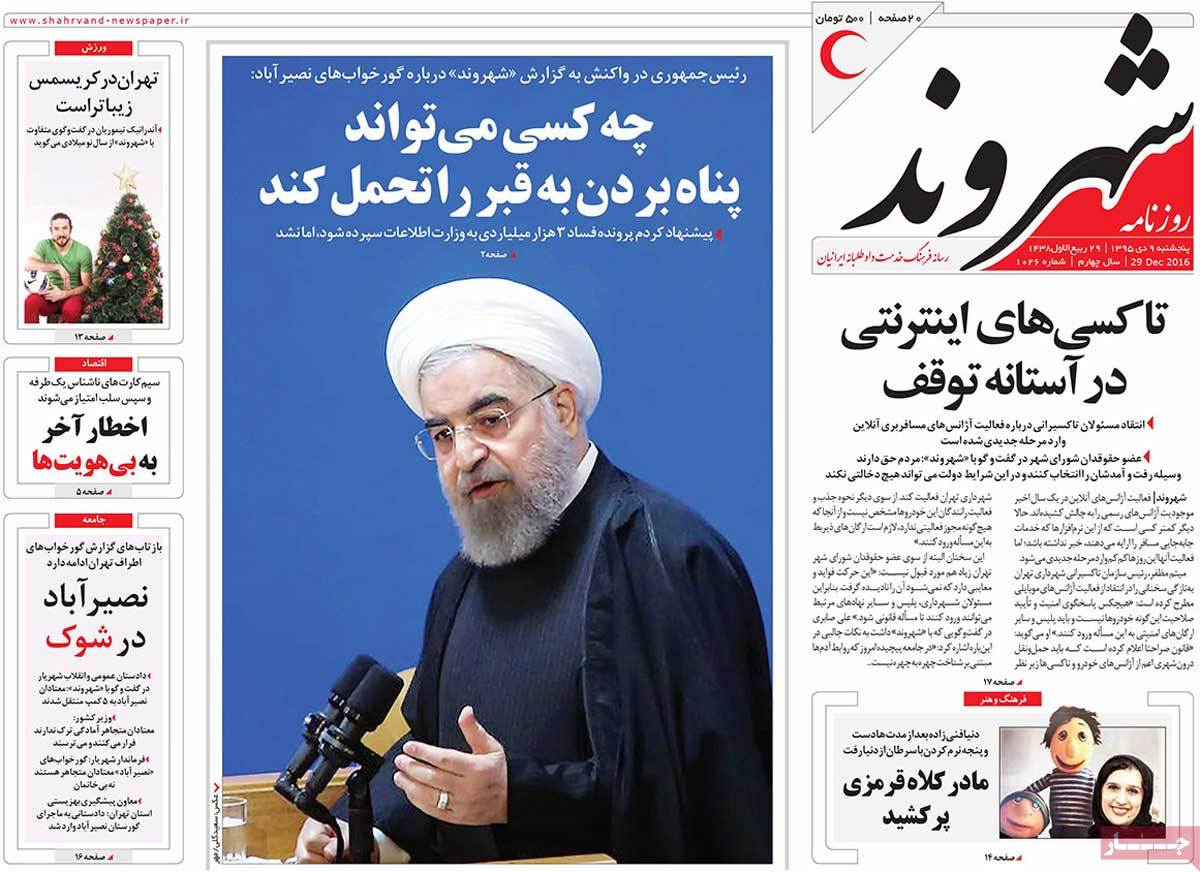 ---
Shargh:
1- Rouhani Resolved to Run for Presidency: Rafsanjani
2- If Iran's Establishment Decides So, We'll Help: DM about Russia's Possible Use of Nojeh Airbase
---
Siasat-e Rooz:
1- People Renewed Allegiance to Islamic Revolution on December 30, 2009
2- Erdogan Abusing Decency of Iran and Russia: Experts' Evaluation of Turkey's Call for Presence of Saudi Arabia and Qatar in Syria Peace Process
---
Tamashagaran-e Emrooz:
1- Sorrow of Puppets [Death of Fannizadeh]