Newspapers on Wednesday covered the remarks made by the Leader of the Islamic Revolution Ayatollah Seyyed Ali Khamenei in an address to a group of seminary students. The Leader mainly talked about the December 30, 2009, demonstrations held by a huge crowd of Iranian people in support for the Islamic Establishment, and also highlighted the need for enhancement of Iran's deterrent power.
Another top story was the widespread reactions to Shahrvand newspaper's Tuesday report about the homeless people who live inside the graves of a cemetery near Tehran.
The comments made by First Vice-President Eshaq Jahangiri and Economy Minister Ali Tayyebnia about the terrible economic heritage of Ahmadinejad's government for the incumbent administration also received great coverage.
The above issues, as well as many more, are highlighted in the following headlines:
Abrar:
1- Leader: People's Intellectual Power Brought Them to Streets on December 30 [2009] Pro-Establishment Demonstrations
2- 3,000 Civilians Moved Out of Mosul in 3 Days Because of Adverse Humanitarian Conditions
3- Successful Test-Fire of 'Mersad' and 'Ya Zahra III' Missile Defence Systems in Second Phase of Air Defence Drills in Southern Iran
4- Trump: UN Has Turned to a Club for Having Fun!
---
Afkar:
1- Leader: Enemy Seeks to Rob Iran of Its Power
2- Moscow and Ankara Agree on Ceasefire in Syria
---
Aftab-e Yazd:
1- Leader: Prohibition of Nuclear Weapon Has Very Important Jurisprudential and Rational Foundations
2- They Are Mourning! Thought-Provoking Remarks by First VP Jahangiri about Those Who Are Upset about Increase in Iran's Economic Growth Rate
---
Amin:
1- Tehran Is Most Polluted City in the World Based on Air Quality Indices
2- Minimum Monthly Wage of Retired People Set Approximately at $262
---
Arman-e Emrooz:
1- Politician: JCPOA Is Not Enough for Rouhani's Re-Election
2- 7% of Parties in Iran Are Dedicated to Women: A Report on 18 Political Parties for Women
3- Asghar Farhadi's Bitter Letter to President Rouhani: Is This Our Utopia? Sometimes Authorities Should Walk among Ordinary People in Disguise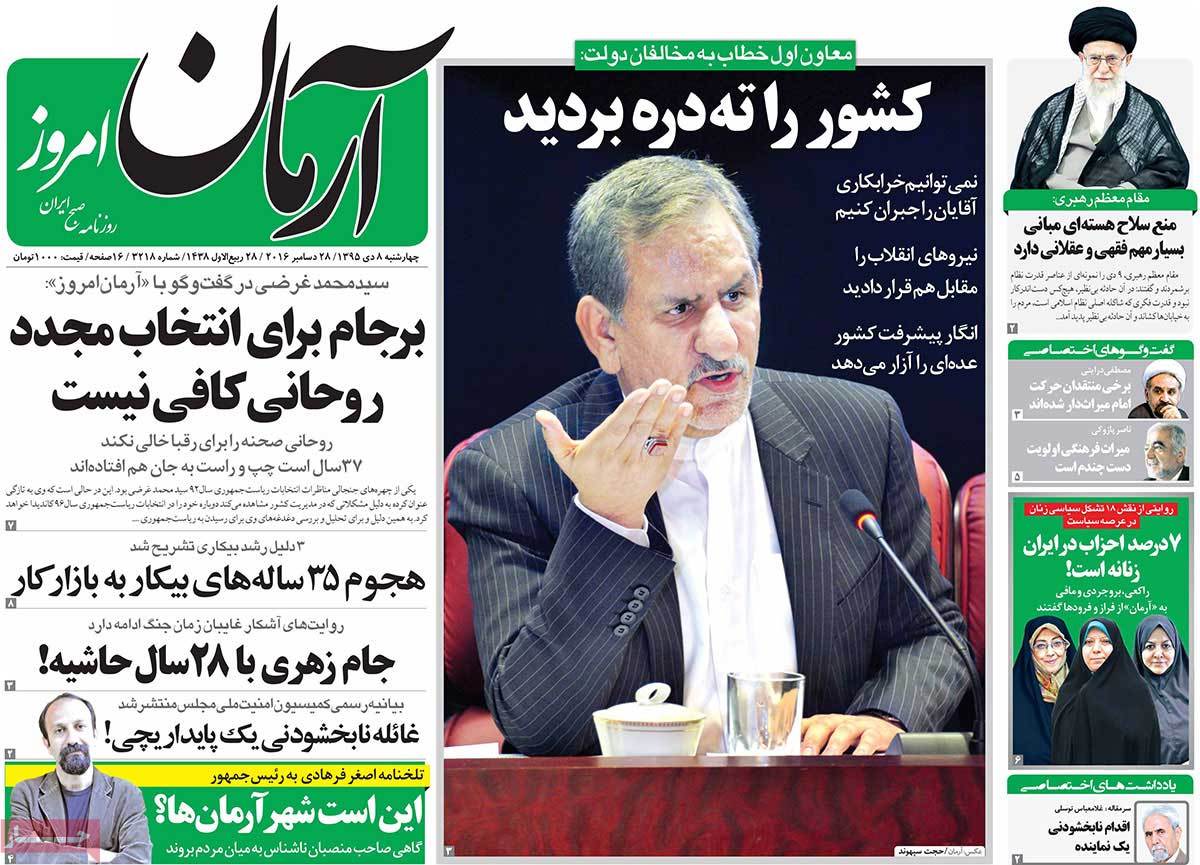 ---
Asrar:
1- Economy Minister: Iran's Rank in Ease of Doing Business Is Not What Iranian People Deserve
2- Academic: Radicals Are Opposed to Citizens' Rights
3- Lavrov: Government and Dissidents in Syria Are in Talks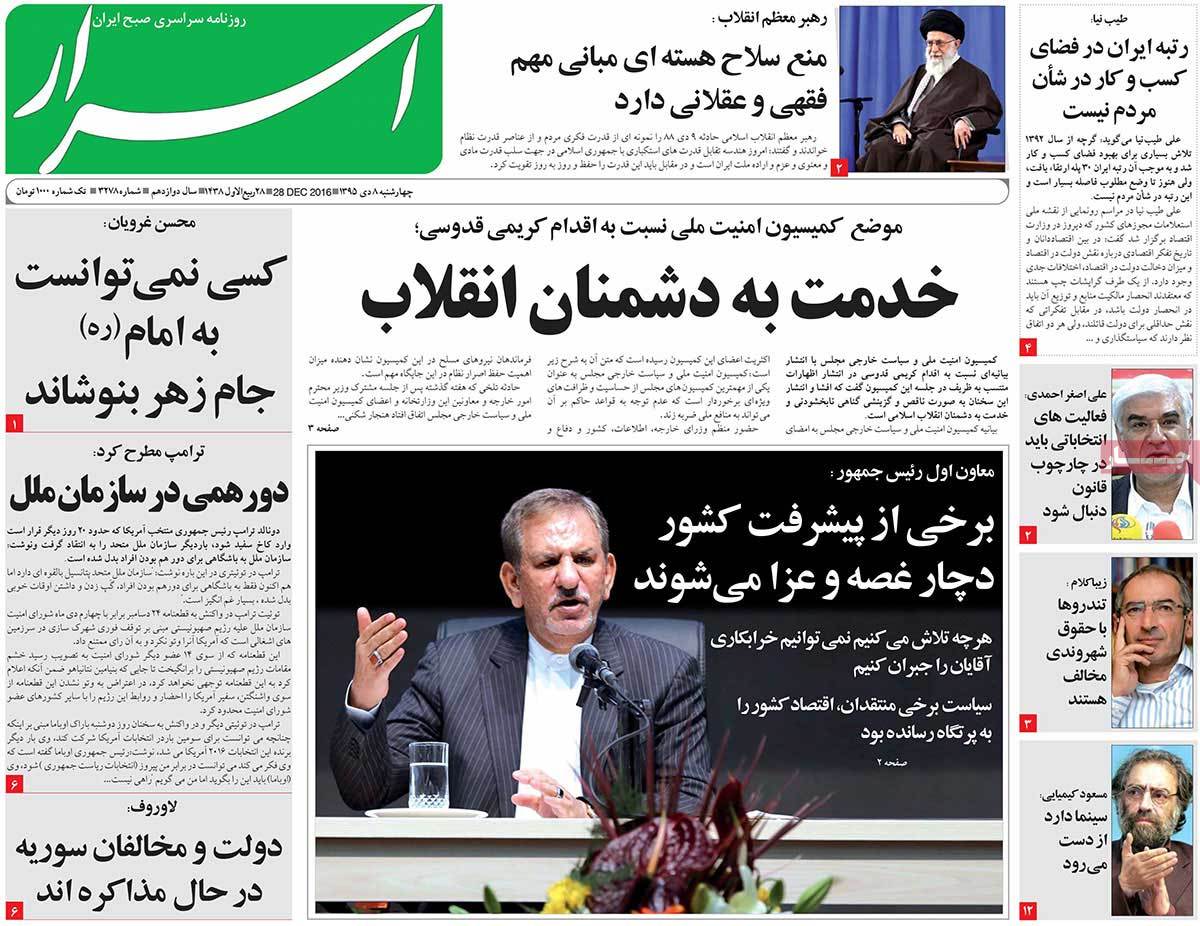 ---
Emtiaz:
1- Migratory Swans in Sorkhrood Wetland in Mazandaran, Northern Iran: Each Year, Thousands of Migratory Swans Migrate to Sorkhrood in Winter. They Are Guests of This Region until Early March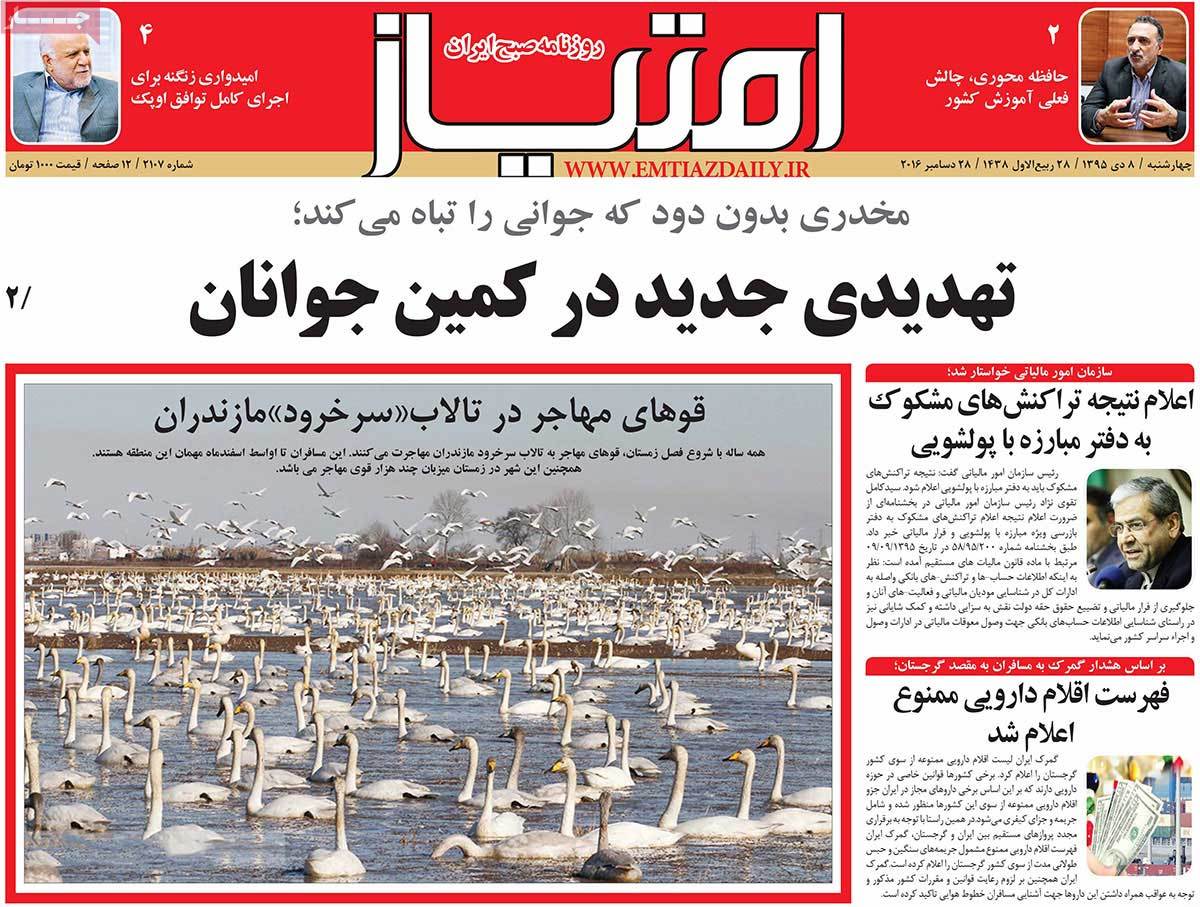 ---
Etemad:
1- Economy Minister: Increase of Economic Growth Rate Has Not Impacted People's Lives; We're Not Pleased with the Way People Live
2- Asghar Farhadi's Open Letter to President in Reaction to a Report on 50 Men and Women Living inside Graves of a Cemetery near Tehran: My Entire Soul Is Filled with Shame and Sadness
3- Foreign Ministry Official: Neither Russia nor America Can Ignore Iran in Afghanistan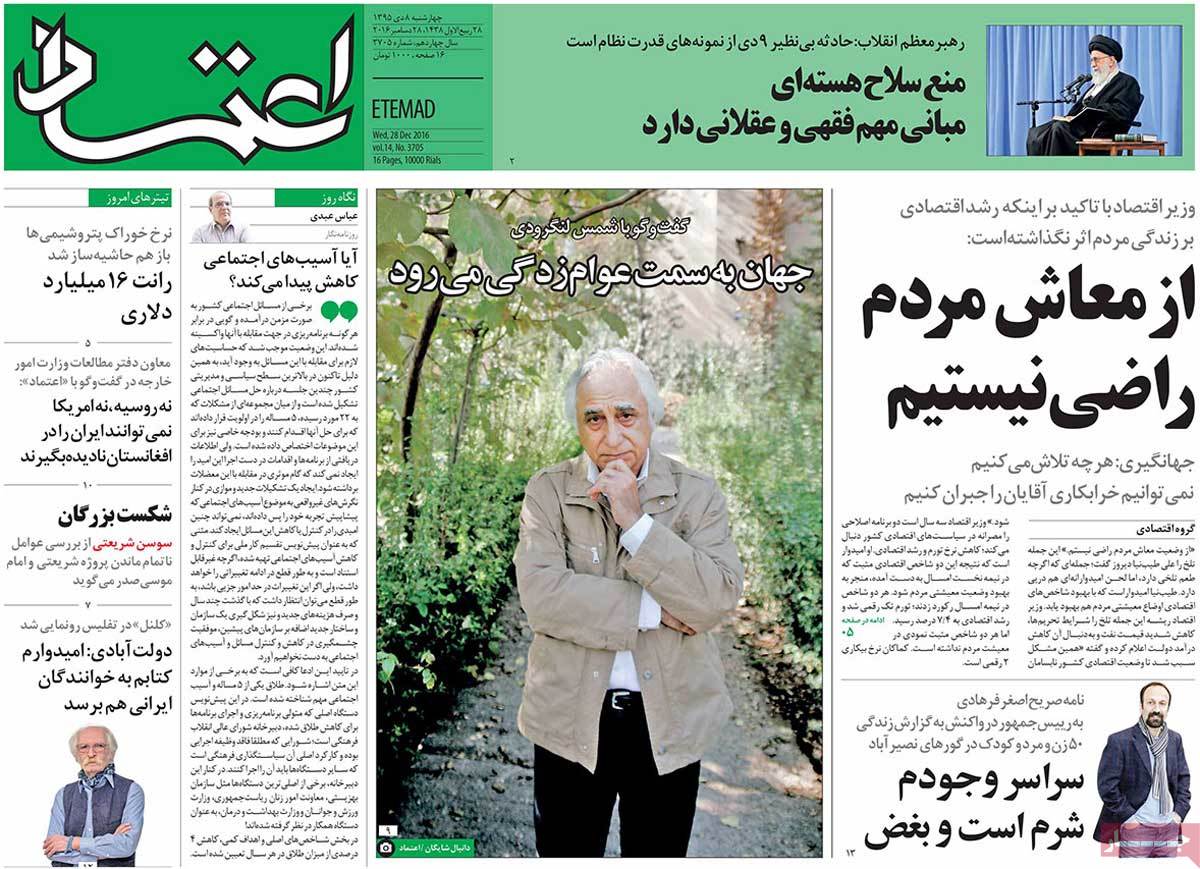 ---
Ettela'at:
1- Unprecedented Demonstrations in December 30 Was One of the Examples of Islamic Republic's Power
2- Baghdad: We Won't Let Saudi Arabia Create Sedition in Iraq
---
Haft-e Sobh:
1- Controversial Video of Soldiers in Iranian Drill Who Fail to Break an Earthenware Pot Using Martial Arts: Kuwaiti and Saudi Media Abusing the Video Leaked from IRIB's Archive
2- Access to 'Clash of Clans' Will Be Restricted: In Unofficial Iranian Market, the Game's Accounts Are Traded with Prices Up to $2,500
---
Hemayat:
1- Assembly of Experts Chief: Those Who Created Sedition in 2009 Were Looking for Establishment of Secular Government under US Supervision
2- Tehran Prosecutor General: Doctors Who Received Astronomical Salaries Summoned to Court
---
Iran:
1- Tel Aviv Suspends Ties with 12 Countries: Netanyahu's Passive Reaction and Endless Anger Following UNSC Resolution
Britain, France, Russia, China, Japan, Egypt, Spain, Ukraine, Uruguay, Senegal, Venezuela, and New Zealand Are the Countries that Voted for the Historic Anti-Israel Resolution and Are Targeted by Tel Aviv Regime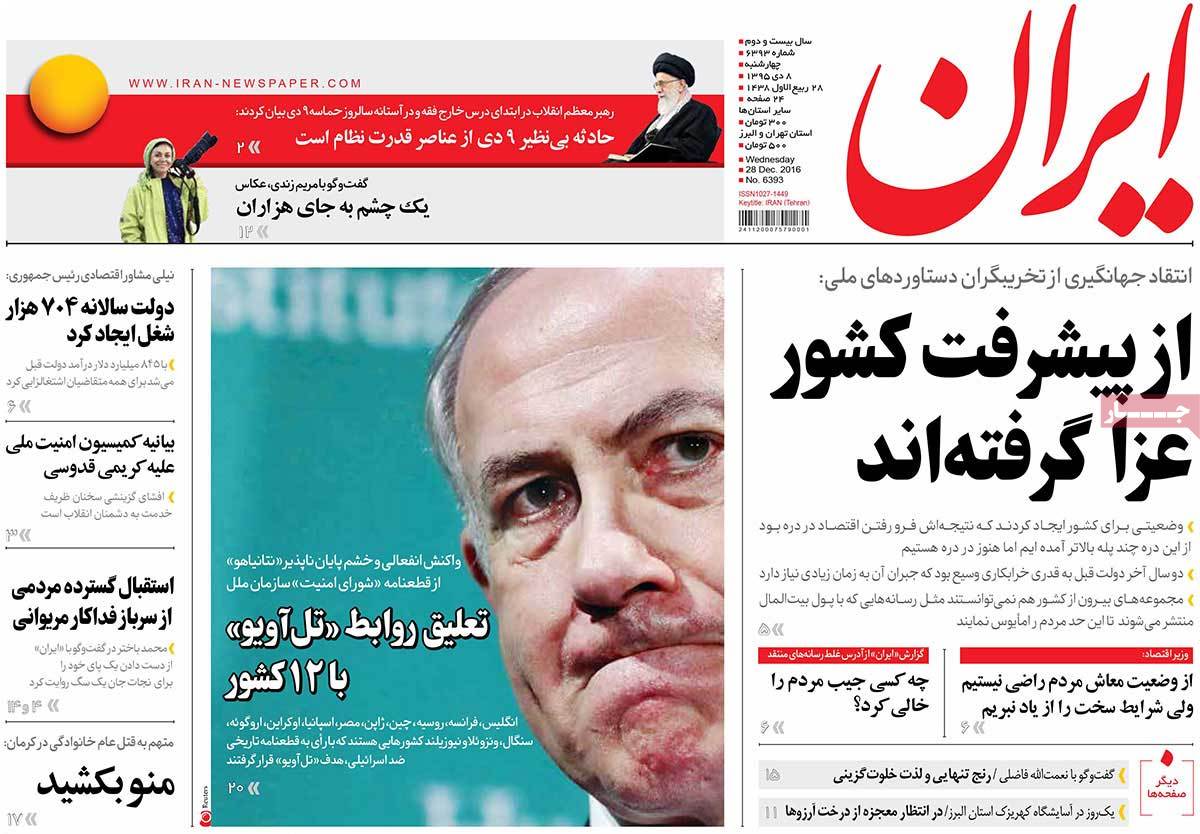 ---
Jahan-e Sanat:
1- Oil Ministry's Warning against Sale of Petchem Feedstock in Cheap Prices: Government Will Lose $16 Billion
2- Reuters' Analysis of Foreign Exchange Fluctuations in Iran: Rouhani's Economic Achievements in Danger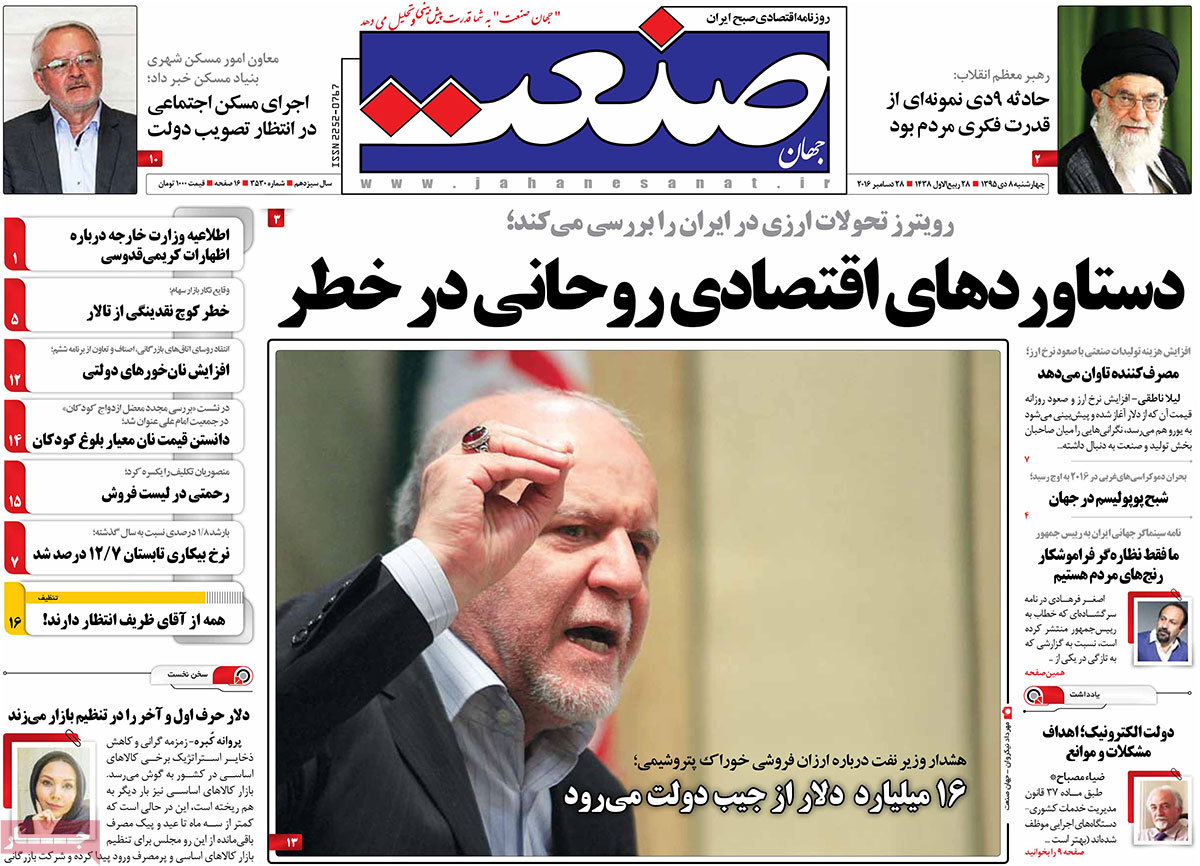 ---
Javan:
1- Iran's Leader: Enemy Disarms Its Target by Smiling, Joking, and Rebuking
2- Some Still Don't Have a Clear Understanding of 2009 Sedition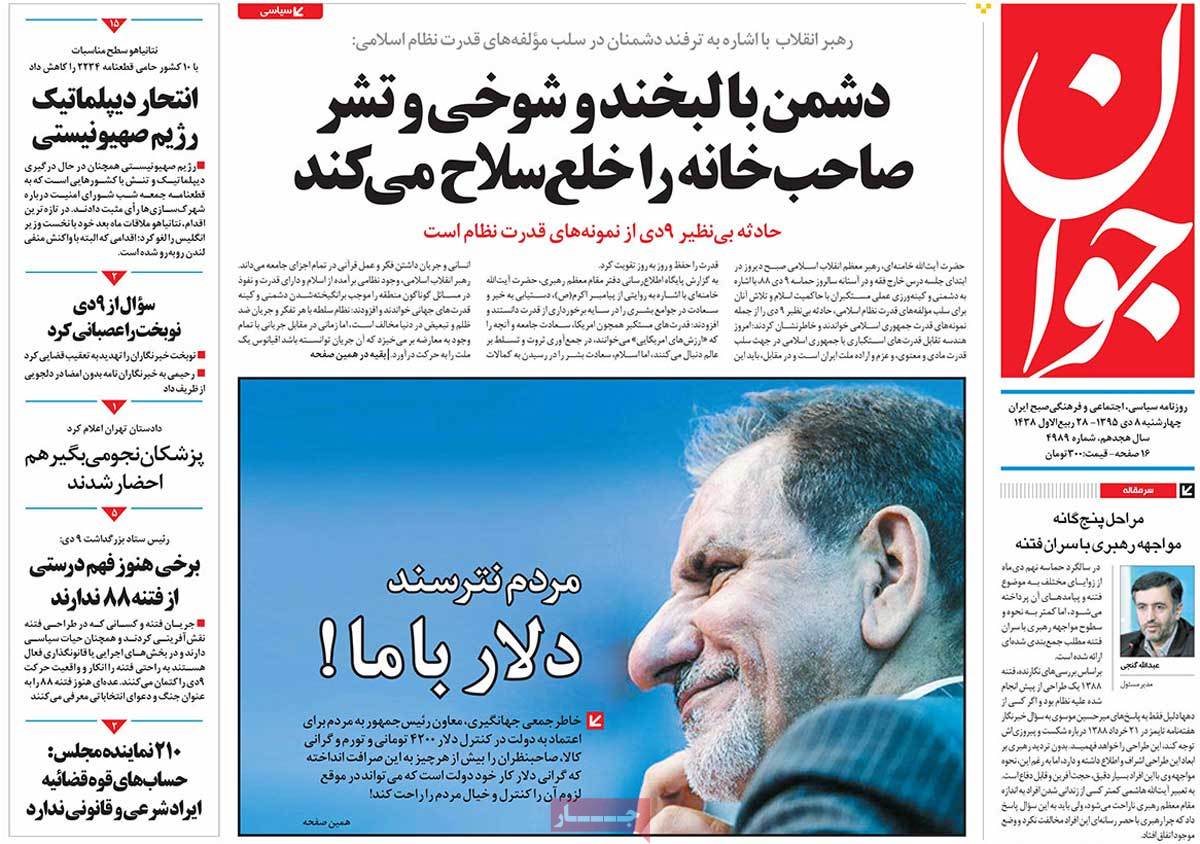 ---
Jomhouri Eslami:
1- National Coalition Won't Allow Anyone to Disintegrate Iraq: Ammar Hakim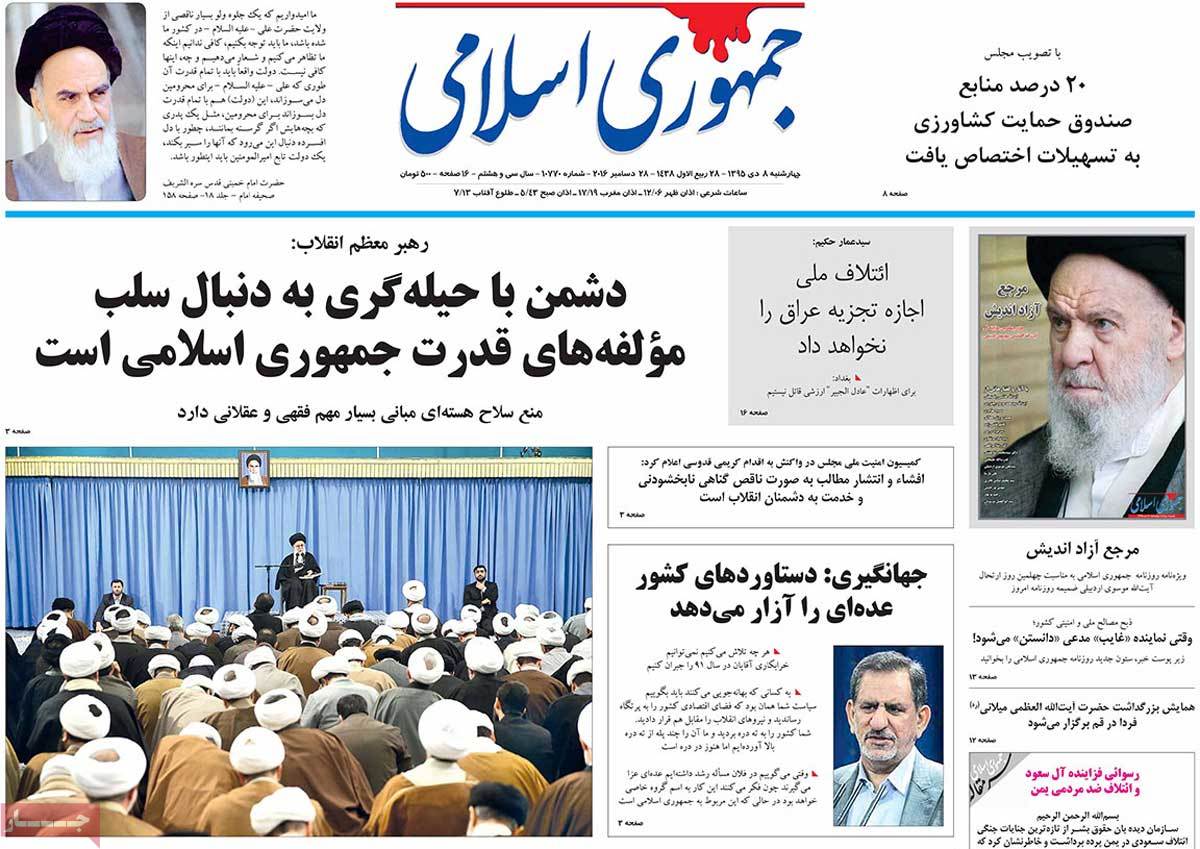 ---
Ka'enat:
1- Deputy Head of IRGC's Intelligence Organisation: 2009 Sedition Was Not the Reason for House Arrest of Opposition Leaders
---
Kayhan:
1- Senior MP: Oil Money Is Still Being Blocked, But It Is Our National Assets!
2- Zionist Media: Israeli Delegation to Bahrain Drank Wine and Danced with Al Khalifa's Representatives!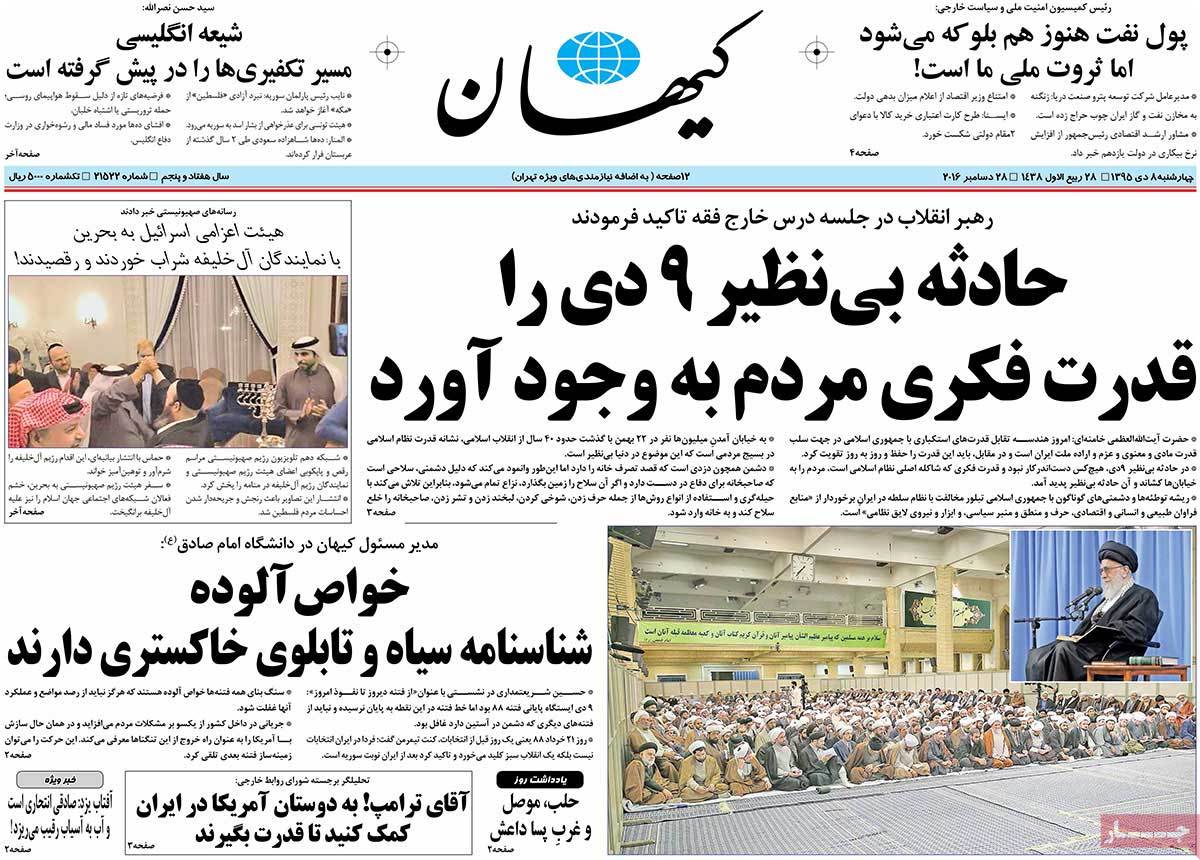 ---
Khorasan:
1- Erdogan: We Have Enough Documents to Prove Americans Are Helping ISIS
2- Iraqi FM Explicitly Supports Iran against Saudi Arabia
---
Payam-e Zaman:
1- Jahangiri: Those Who Devastated the Country Are Attacking the Government Instead of Apologizing to People
2- Parliament's National Security and Foreign Policy Commission Issues Statement in Reaction to Conservative MP's Move to Disclose FM Zarif's Remarks in a Closed Session: Selected Disclosure of Zarif's Remarks Was a Service Given to Enemies of Iran's Revolution
3- Iran Exports $6.5 Billion of Petchem Products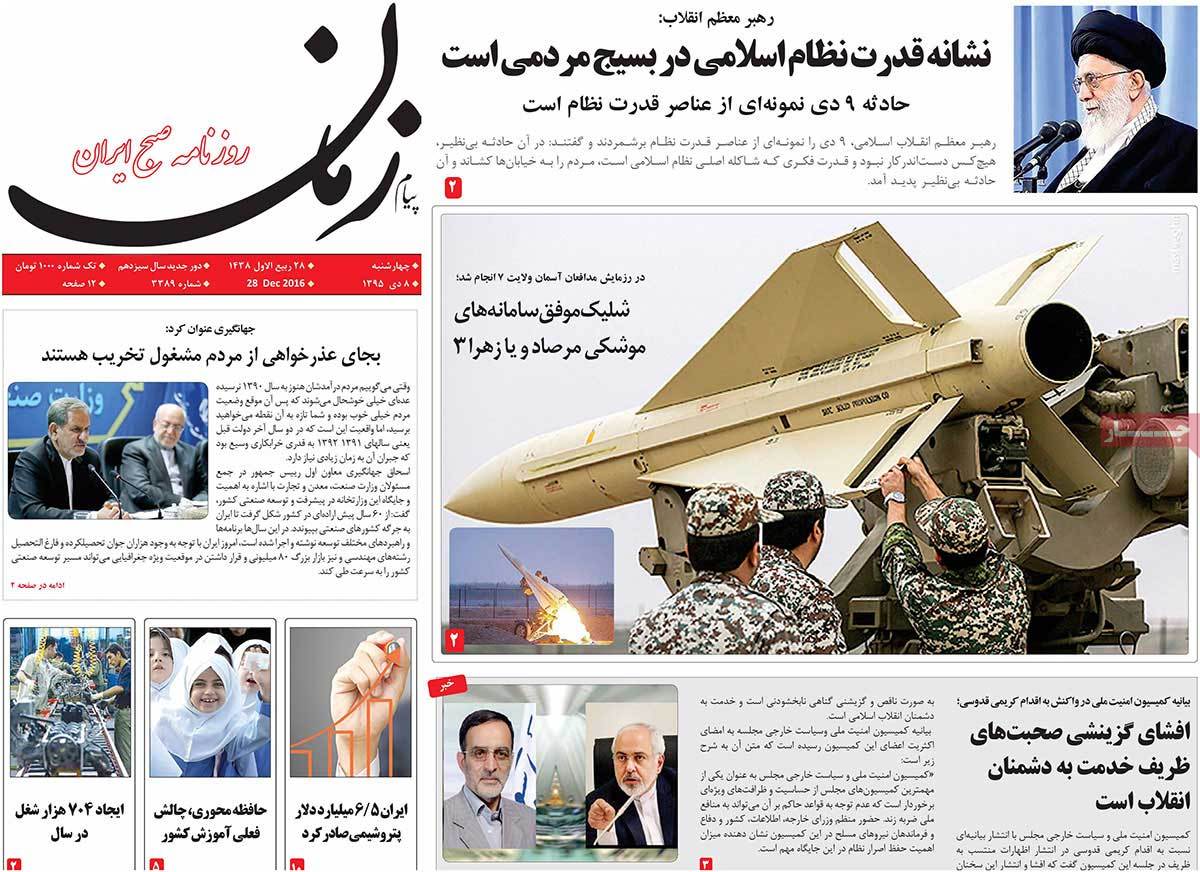 ---
Rah-e Mardom:
1- A Report on Early Results of National Census and Serious Concerns: Iran's Population Exceeds 80 Million
2- Iran's Budget, One of the Most Oil-Dependent Ones in OPEC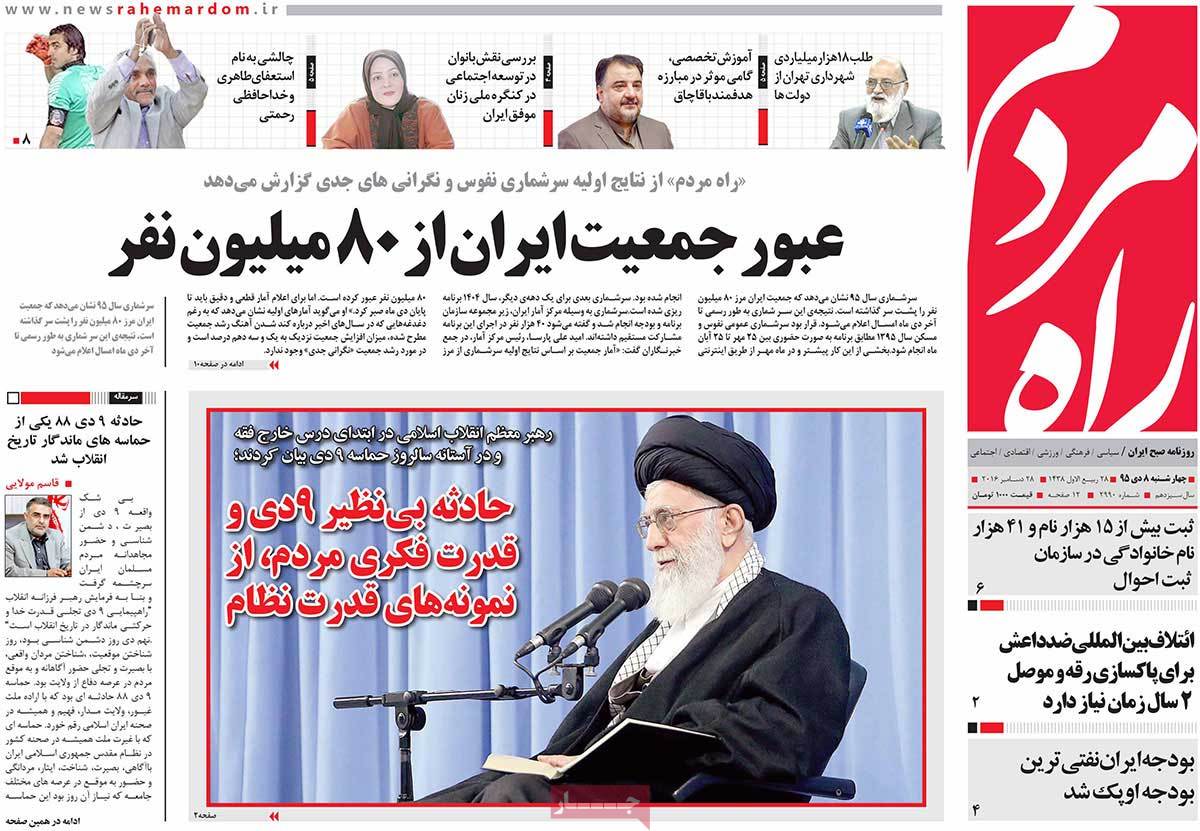 ---
Resalat:
1- Advisor to Iran's Leader: Western Media Have Turned to ISIS' Horns
2- Riyadh's Support for Terrorism: Al Saud Raising Baseless Claims against Iraqi Popular Forces; Americans Admit Power of Hashd al-Shaabi Forces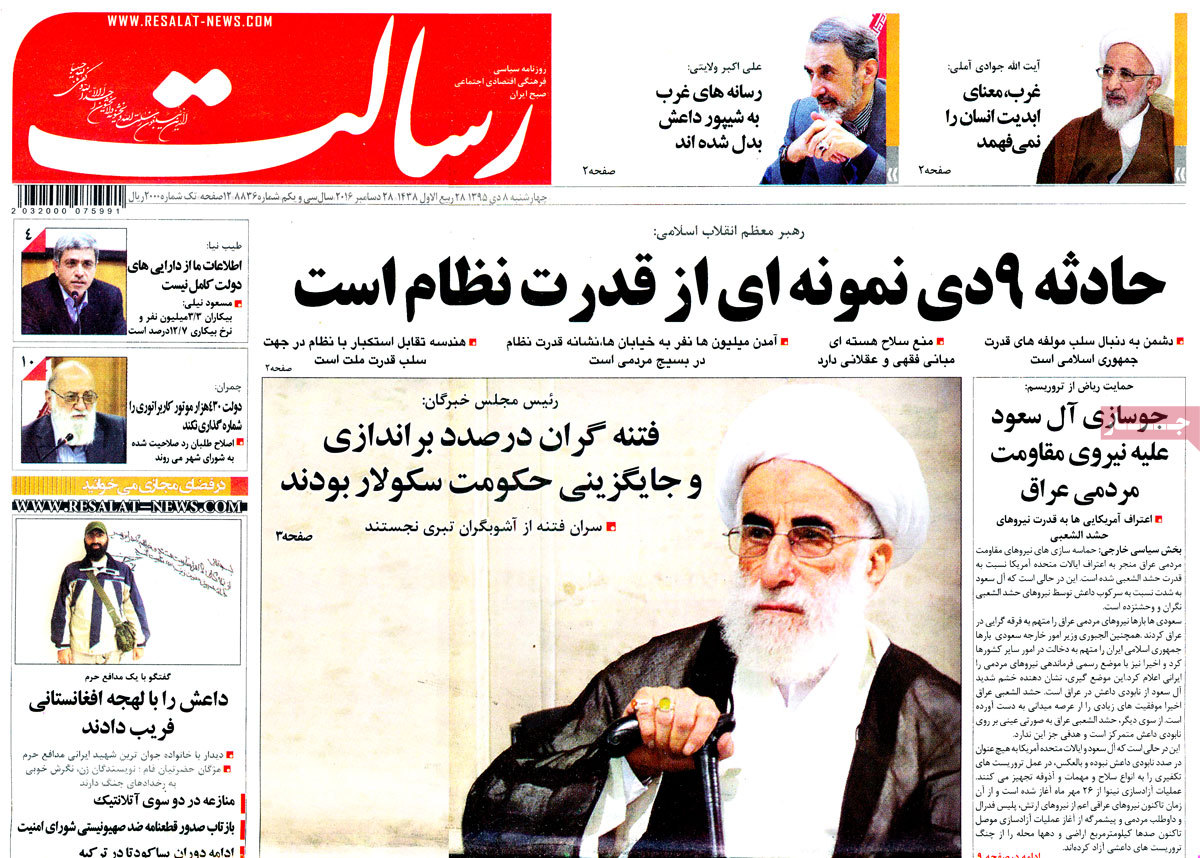 ---
Shargh:
1- First VP: It's Not Possible to Compensate for What Previous Government Did to Iran
---
Vaghaye Ettefaghieh:
1- Iran's Leader: Hegemonic Powers Are Opposed to Any Anti-Tyranny Thought and Movement
2- Economy Minister Once Again Refers to Previous Government's Debts: Debts Were over $37.5 Billion
3- Rouhani's Government Was One of the Unluckiest Governments after Revolution Because It Inherited One of the Most Unprecedented Levels of Inefficiency and Corruption of Previous Government: Analyst