Almost all newspapers on Sunday highlighted the United Nations Security Council's Resolution against Israeli settlements, which was passed after US refused to veto it.
The remarks allegedly made by Iranian Foreign Minister Mohammad Javad Zarif in a recent closed parliamentary session also remained a top story today. A conservative MP disclosed that Zarif has regretted trusting his US counterpart's words, but Foreign Ministry has categorically denied such comments. Meanwhile, the MP, Javad Karimi Qoddousi, has vowed to broadcast the audiotape of Zarif's remarks to prove his words.
Christmas and the advent of new Christian year also received great coverage in today's papers. The celebrations in Tehran and President Hassan Rouhani's congratulatory messages to world leaders and Pope were among the issues covered today.
The above issues, as well as many more, are highlighted in the following headlines:
19 Dey:
1- Ayatollah Rafsanjani's Account of Unfair Behaviours against Zarif
2- Parliament Speaker in His Christmas Congratulatory Message: Iran's Parliament Ready to Have Interaction with Other Countries to Reinforce Peace
3- Labour Minister: They Want to Create an Atmosphere Where No One Can Defend Nuclear Deal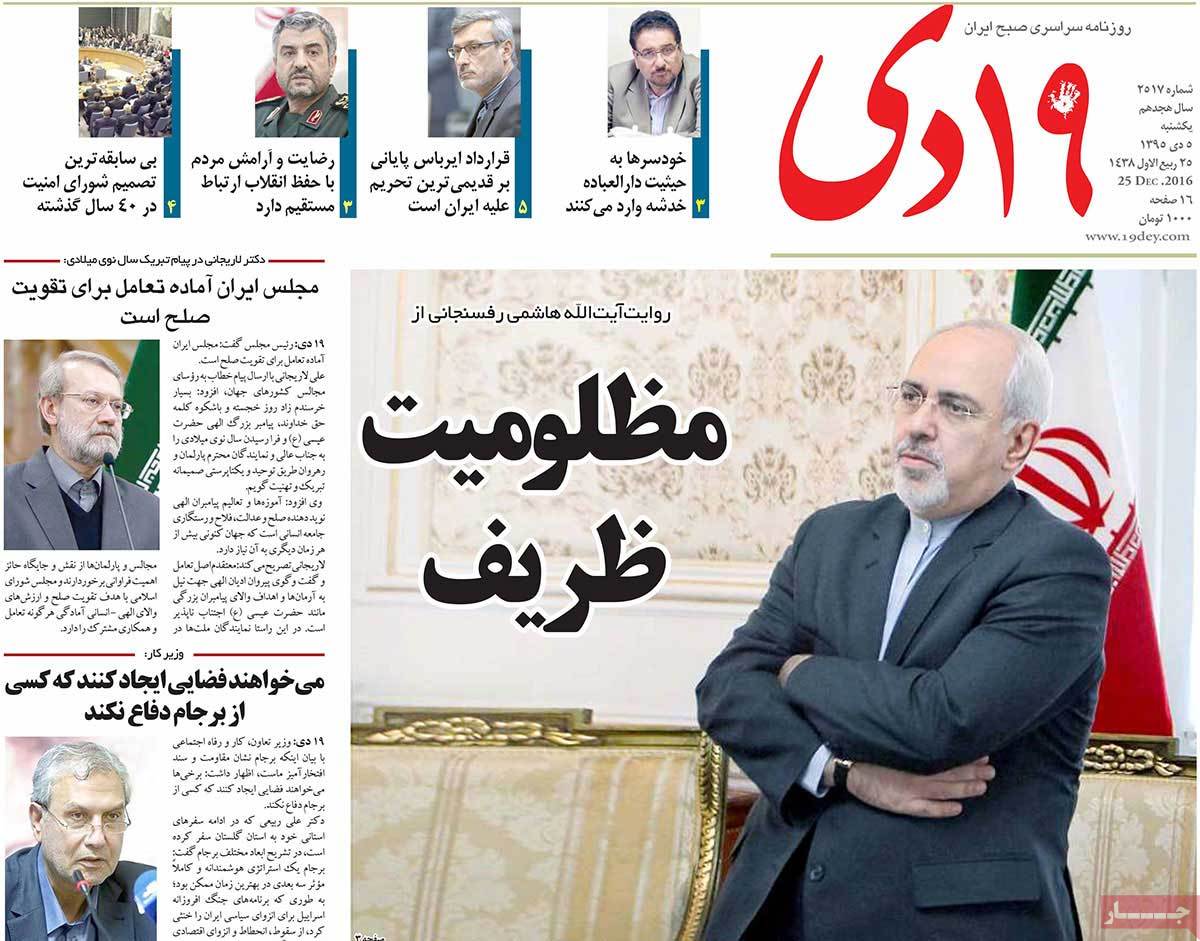 ---
Abrar:
1- MPs' Letter to Larijani: Play the Audiotape of Zarif's Comments in Open Session of Parliament
2- Netanyahu: We Won't Adhere to UNSC Resolution on Settlements
3- Erdogan: I Don't Care If I'm Called a Dictator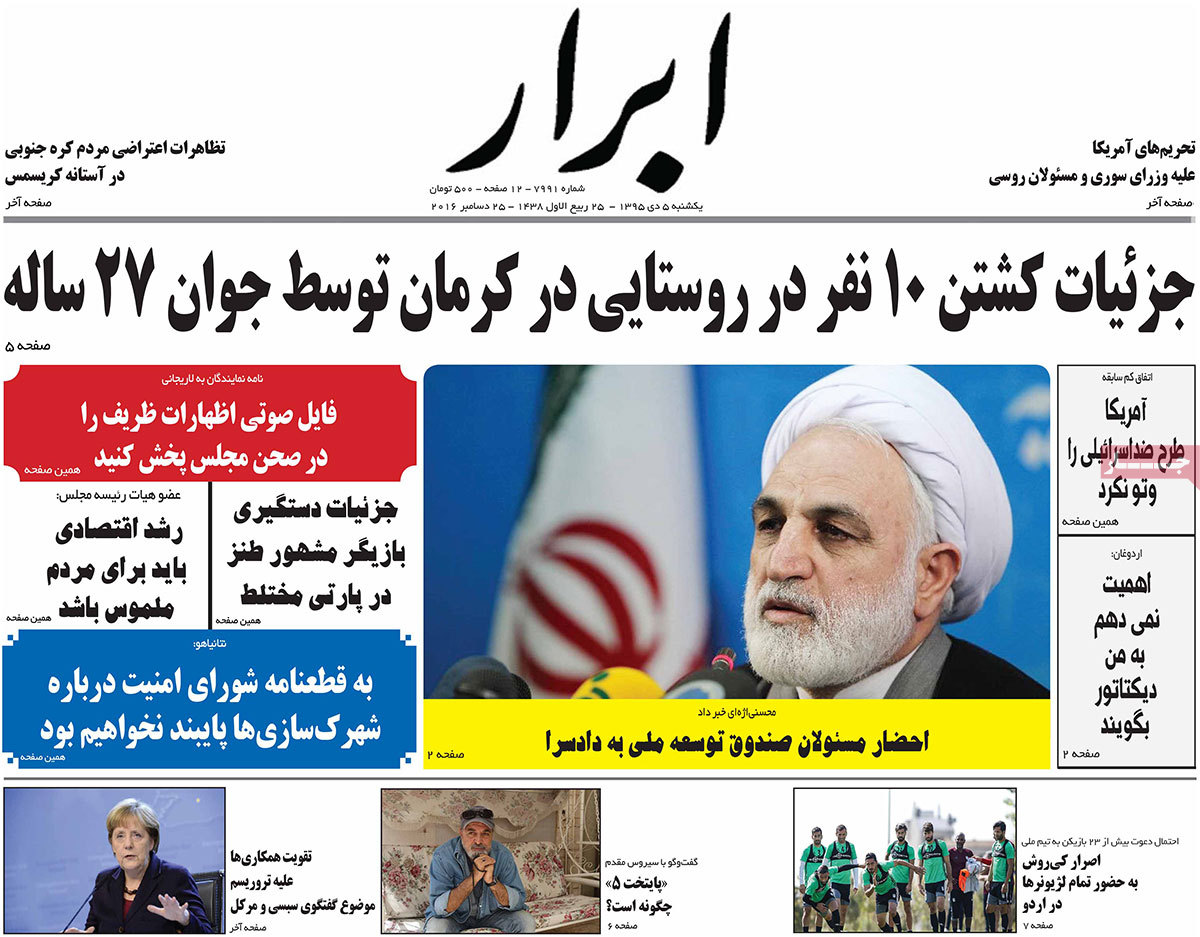 ---
Aftab-e Yazd:
1- Obama's Smart Move: UNSC Manages to Condemn Israel after US Refused to Use Its Veto
2- Analyst: US Absenteeism Implied Washington's Agreement with Condemnation of Israel
3- US Friday Vote Was Obama Administration's First Opposition to Israeli Settlements: Expert
4- UN's Friday Plan Was a Competition between Obama and Netanyahu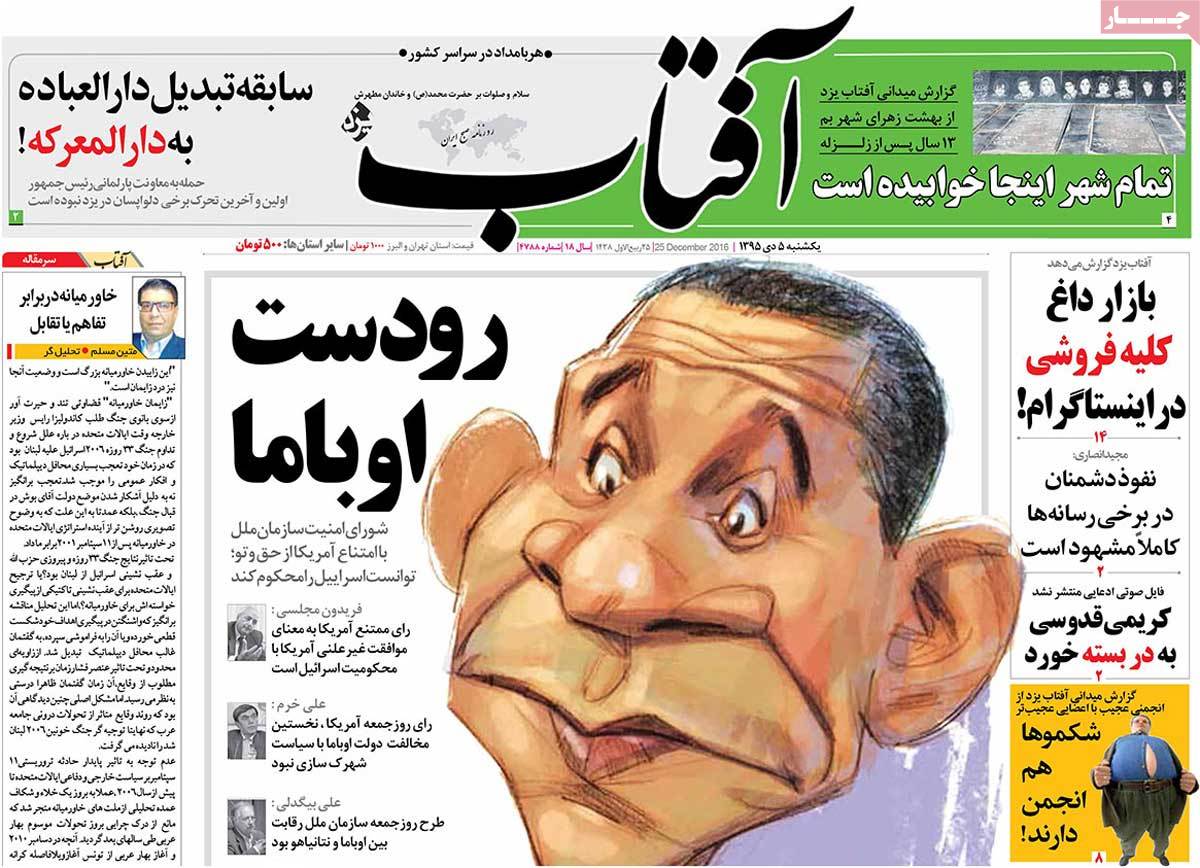 ---
Amin:
1- Transport Minister: Iran Looking for Restoring Its Share from Global Economy
---
Arman-e Emrooz:
1- IRGC Commander: Missions to Establish Security Should Not Make People Dissatisfied
2- Sale of Children in Some Hospitals in Tehran!
3- Obama's Final Blow on Netanyahu: Iran Welcomes Anti-Israel Resolution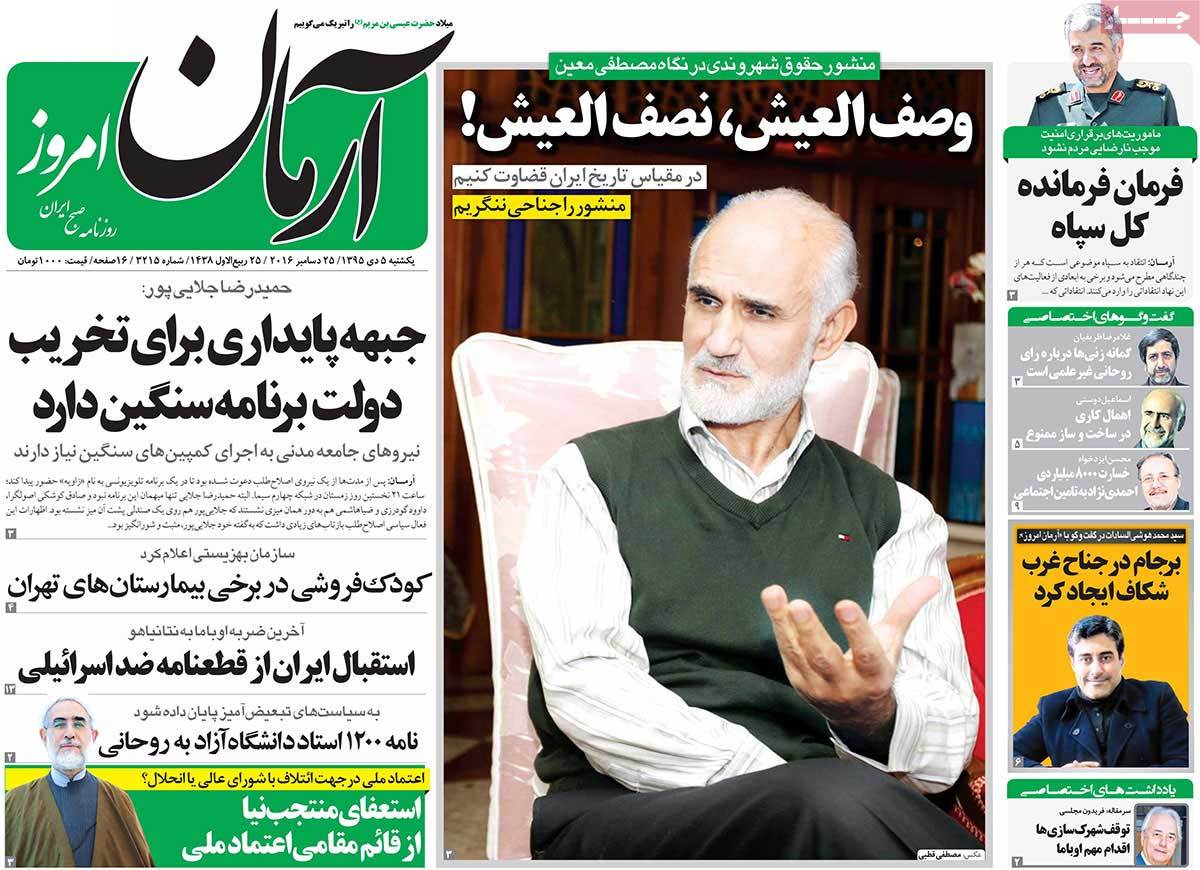 ---
Asr-e Rasaneh:
1- Armenian Churches in Iran to Be Repaired
2- New Record of Russians' Oil Partnership: Holding 20 Oil and Gas Tenders in Iran
3- Iran and Kyrgyzstan to Develop Banking Ties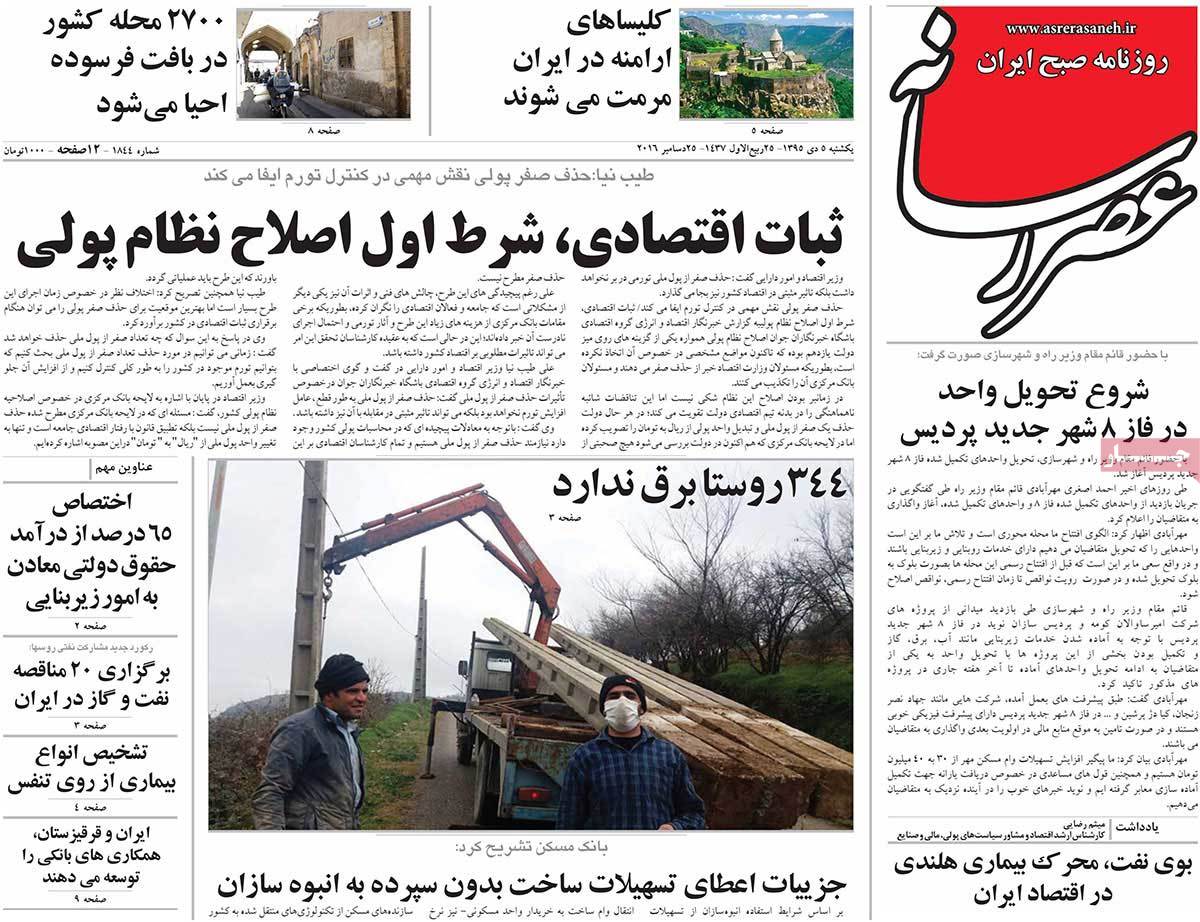 ---
Asrar:
1- VP for Legal Affairs: Some Enemies Have Clearly Infiltrated into Certain Media in Iran
2- Iran Breaks Oil Records on Verge of Christmas
3- MP Criticizes Attack on VP in Yazd: Project to Disrupt Speeches Is Still Going on
---
Besharat-e Now:
1- 90% of Girls' Escape from Their Houses Are Caused by Being Insulted by Families; 70% of Escapees Return to Their Families
2- Iran's Ambassador to Britain: Deal with Airbus Is Not an Ordinary Commercial Deal
3- Iran Is the Only Country in the World Where Musical Instruments Are Not Shown in State TV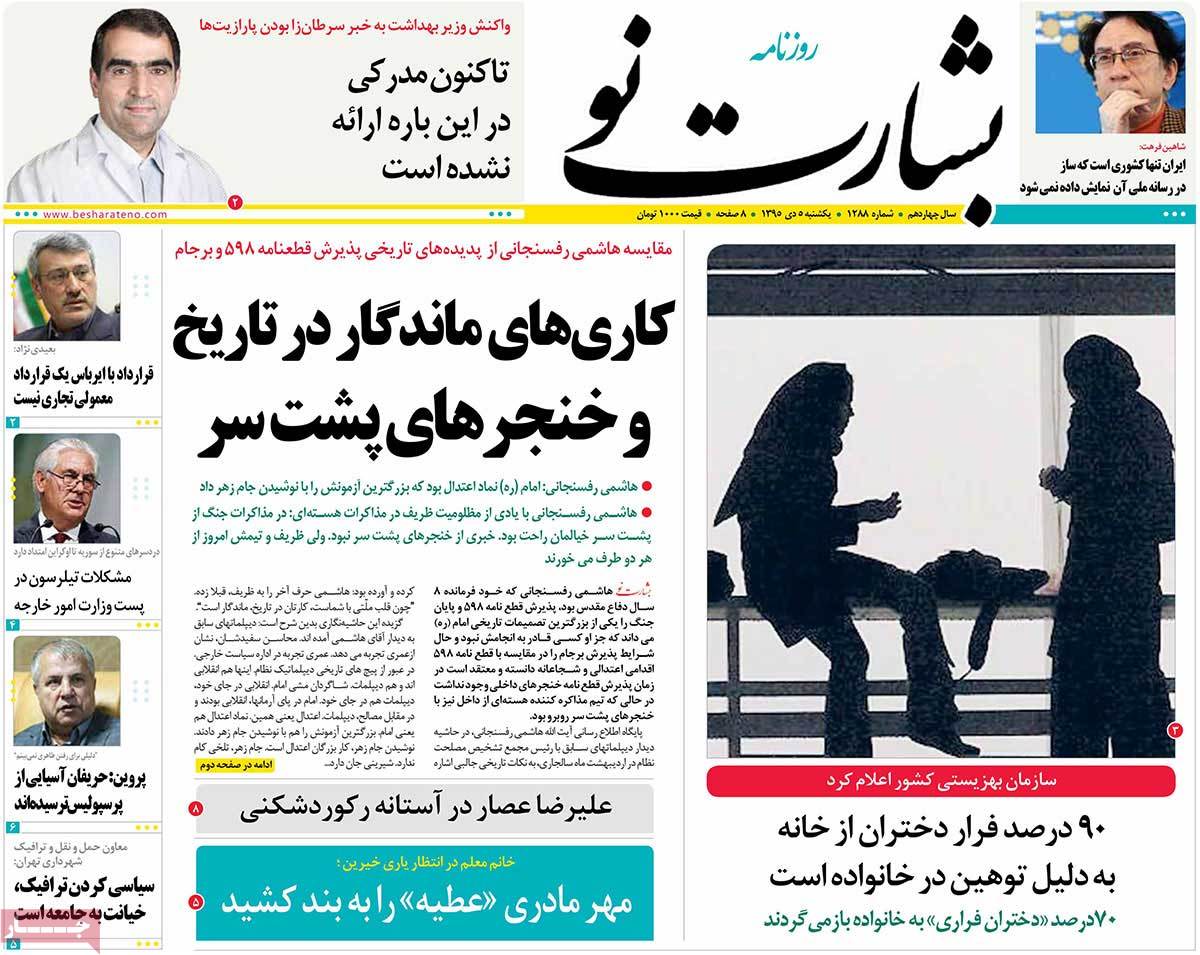 ---
Emtiaz:
1- Steep Slope of Ageing in Iran: Alzheimer's Disease Society Chief Warns
2- Iran's Oil Export to Japan Doubled
---
Etemad:
1- Air Pollution in Tehran Takes 405 People to Hospital
---
Ettela'at:
1- VP: We Don't Doubt in Protecting People's Rights
2- Deal with Airbus, a Major Success for Iran's Aviation Industry in Past 40 Years
---
Hemayat:
1- Lebanese President Praises Iran's Positive Role in Regional Developments
2- Terrorists Pollute Water Supply in Damascus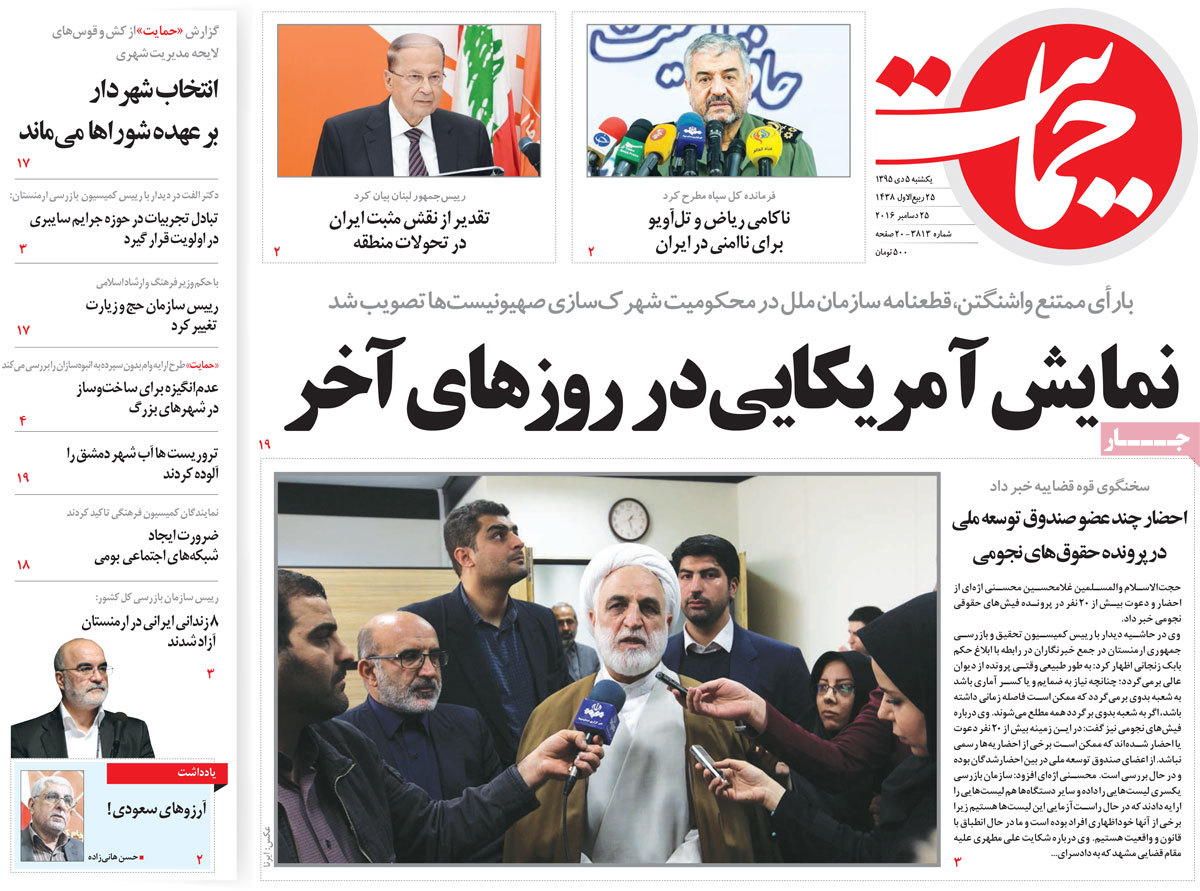 ---
Iran:
1- Economy of Art Flourishes in Tehran Auction: Veteran and Young Artists Compete with Each Other
2- Fall of Venezuela, Rescue of Iran: A Statistical Comparison of the Two Countries in 2012 and 2016
---
Javan:
1- Everyone Waiting for Zarif's Voice: If the Audiotape of Zarif's Regret [about Trusting Kerry's Promise] Was Not Allowed to Be Broadcast, FM Would Better Talk to People in Loud Voice
2- Iran Leader's Great Help to Oil Industry: Ayatollah Khamenei Prevents Oil Ministry's Plan to Privatize National Iranian Drilling Company
3- 150 Yemeni Children Die of Malnutrition Everyday: UNICEF
---
Jomhouri Eslami:
1- World Welcomes UNSC's Historic Resolution against Israel
2- UNSC Resolution Calls Israel the 'Occupying Power'
3- Trump Angry about Ratification of Anti-Israel Resolution: I'll Change Conditions
4- Tel Aviv: Obama Stabbed Us in the Back
5- Russia: Recent Resolution Was a Reflection of Global Stance
6- Iran Ambassador to Britain: Airbus Deal Was an End to Oldest Sanctions against Iran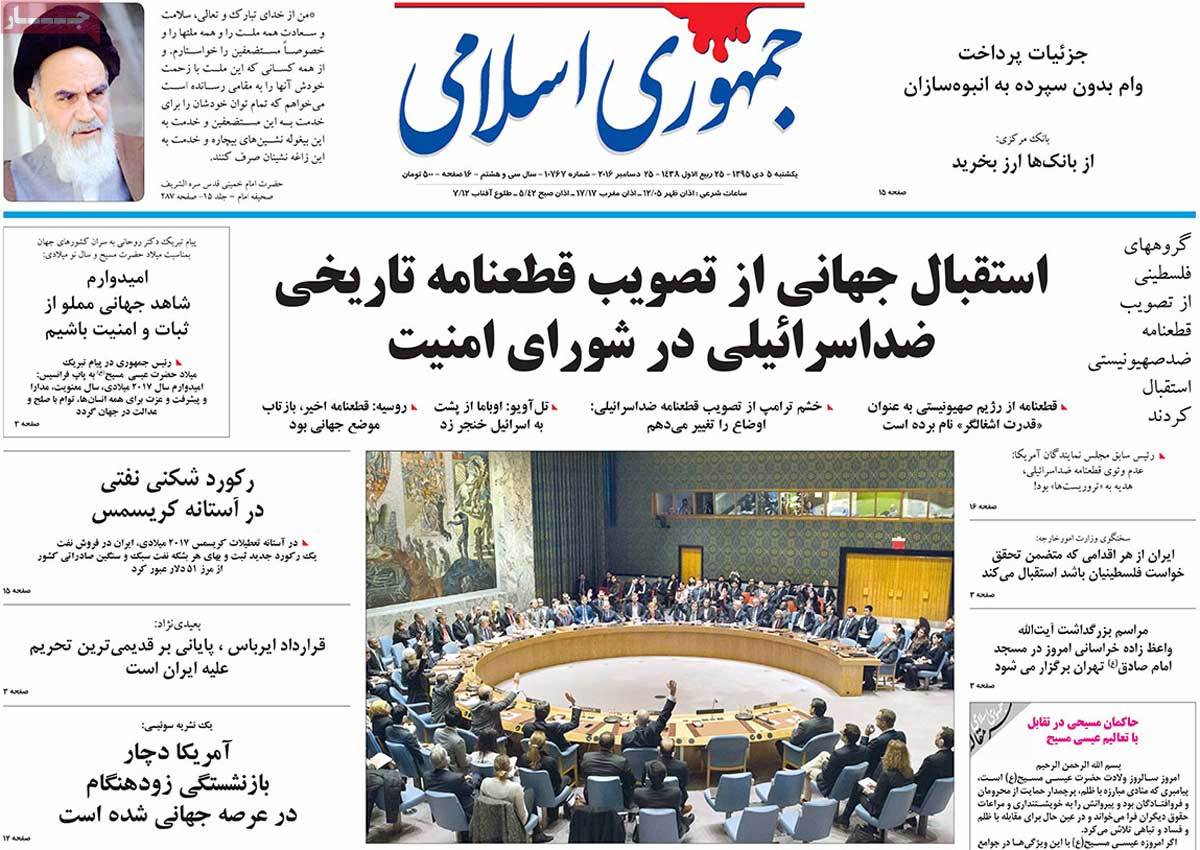 ---
Kayhan:
1- Double Inflation Rates: Government Says It Is 8%, People's Pocket Shows 53%!
2- Those Who Claim to Be Supporters of the Government of Honest People Don't Tolerate Zarif's Honesty
3- Former British Envoy to Syria: We Were Defeated, Assad IS Running Syria Well
---
Payam-e Zaman:
1- IRGC Commander: Today We Have Sustainable Security in Iran
2- First VP: Launch of Production Units; Industry Is Government's Important Priority
3- JCPOA Joint Commission to Hold Meeting in Vienna on January 10
---
Resalat:
1- Ayatollah Mesbah Yazdi: It's Not Fair to Ignore the Country's Progress; We Could Achieve Further Progress If We Didn't Trust the Enemy
2- IRGC Commander: Saudi Arabia and Israel Trying to Make Iran Insecure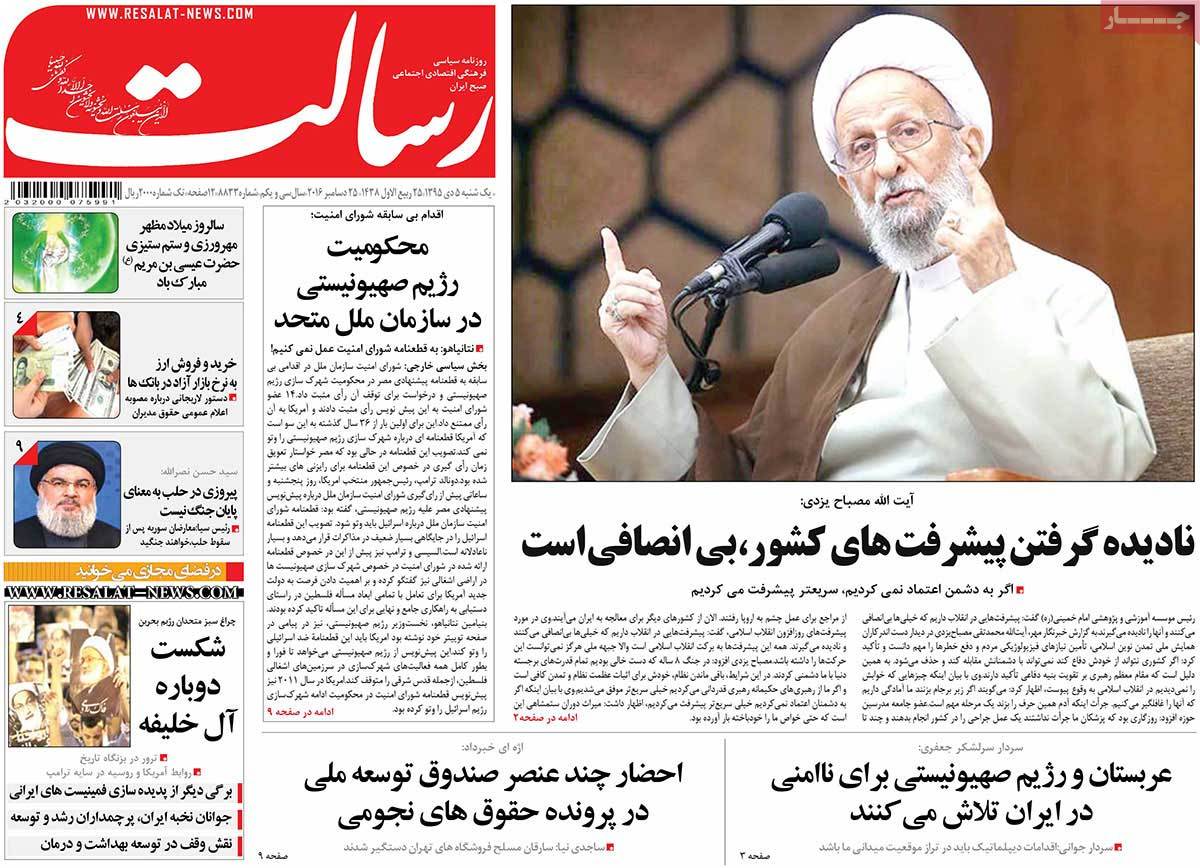 ---
Shahrvand:
1- Passion of Christmas in Tehran: Appearance of Christian-Majority Streets in Tehran Changed ahead of Christmas
2- Retirement with Discrimination: Difference between Minimum and Maximum Retirement Wages in Iran to Rise to 20 Times
3- Health Minister's Reaction to His Deputy's Remarks about Impact of Radio Jamming on Cancer: Leader, Government, and Parliament Are Sensitive about Issue of Radio Jamming; If They Cause Cancer, We'll Declare It, and There's Nothing to Hide
---
Shargh:
1- Rouhani Congratulates World Leaders ahead of New Christian Year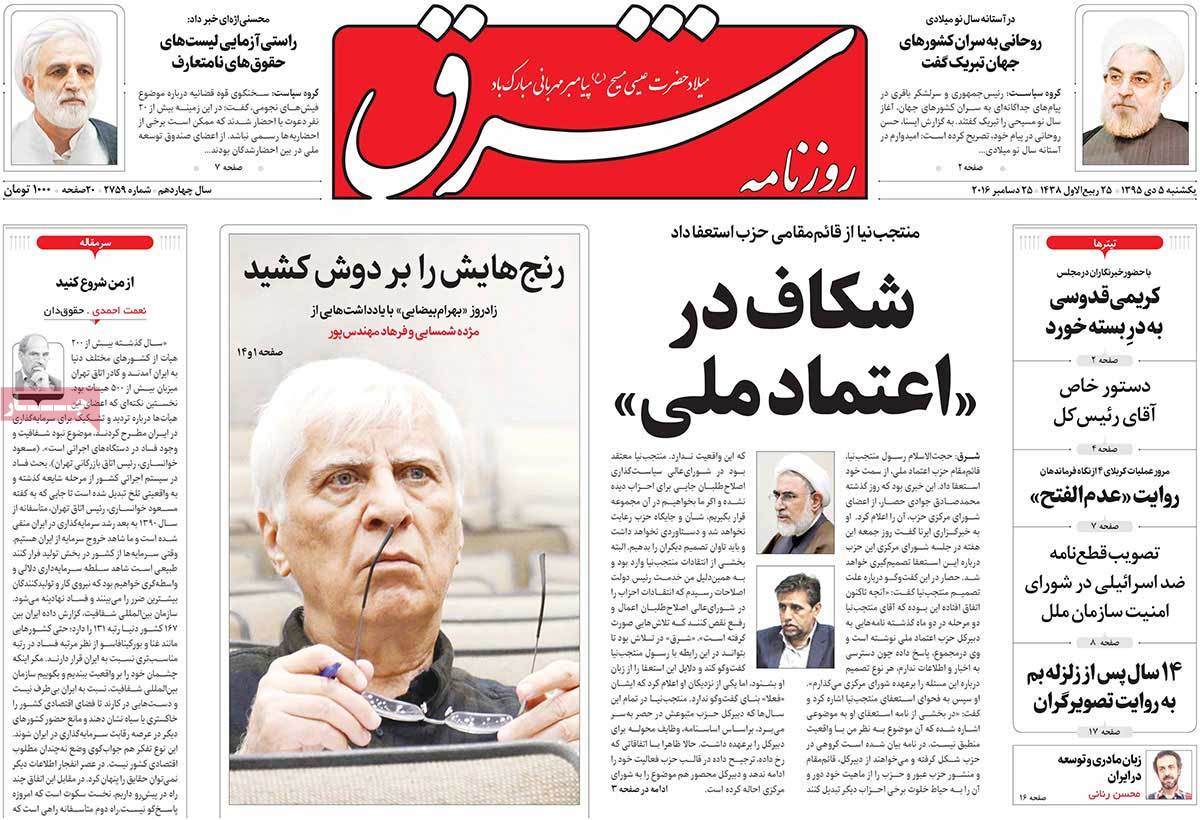 ---
Shorou:
1- Rouhani: I Hope 2017 Would Be the Year of Peace and Justice in the World
2- After 2-Fold Increase in Iran's Oil Export to Japan and East Asia, Arab Sheikhdoms Seem to Be Left behind from Iranian Minister's Oil Diplomacy
3- It Is Hard to Breathe Here: Damages Are Irreparable; Fight against Air Pollution Needs National Resolve