Newspapers on Saturday covered the return of President Hassan Rouhani from his 3-nation tour of Eurasian countries, Armenia, Kazakhstan, and Kyrgyzstan, and the achievements of his tour.
The quadcopter shot down in central Tehran on Friday morning was also a top story. The drone was reportedly used for making a documentary, but it had trespassed on a no-fly zone near the house of Iran's Leader and the President's office.
US President-elect Donald Trump and Russian President Vladimir Putin's calls for enhancement of their nuclear capabilities also received great coverage.
The above issues, as well as many more, are highlighted in the following headlines:
19 Dey:
1- Ayatollah Yazdi Explicitly Criticizes Charter on Citizens' Rights
2- Ayatollah Rafsanjani: I Consider Nuclear Deal as a Very Successful One
3- Achievements of Rouhani's Trip to Central Asia: Export of Goods, Lifting Visa Requirements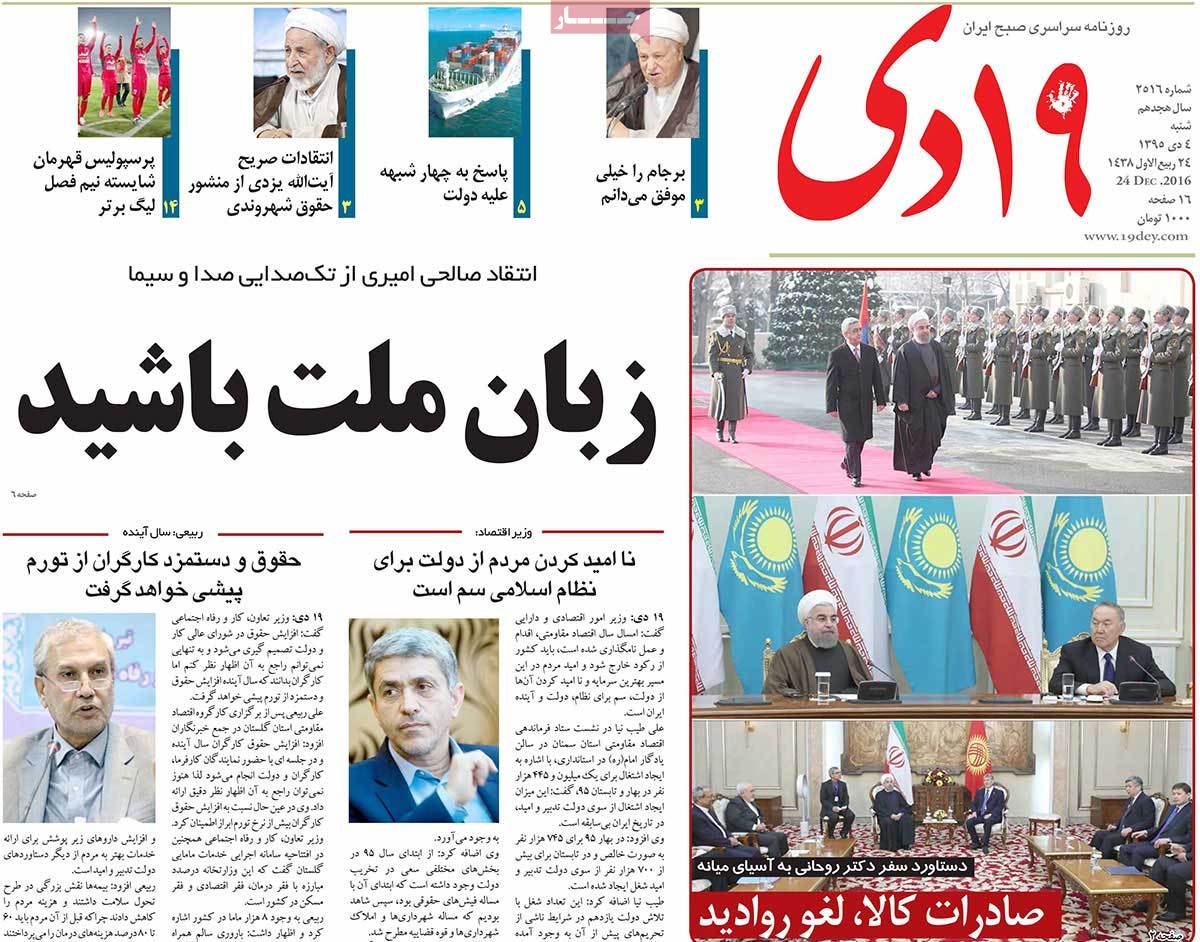 ---
Abrar:
1- Rouhani, Erdogan, Putin to Meet in Kazakhstan in Mid-January
2- US Treasury Dept. Facilitates Medical Exports to Iran
3- Brazilian President Refuses to Resign
4- Int'l Resolution Ratified to Prosecute War Criminals in Syria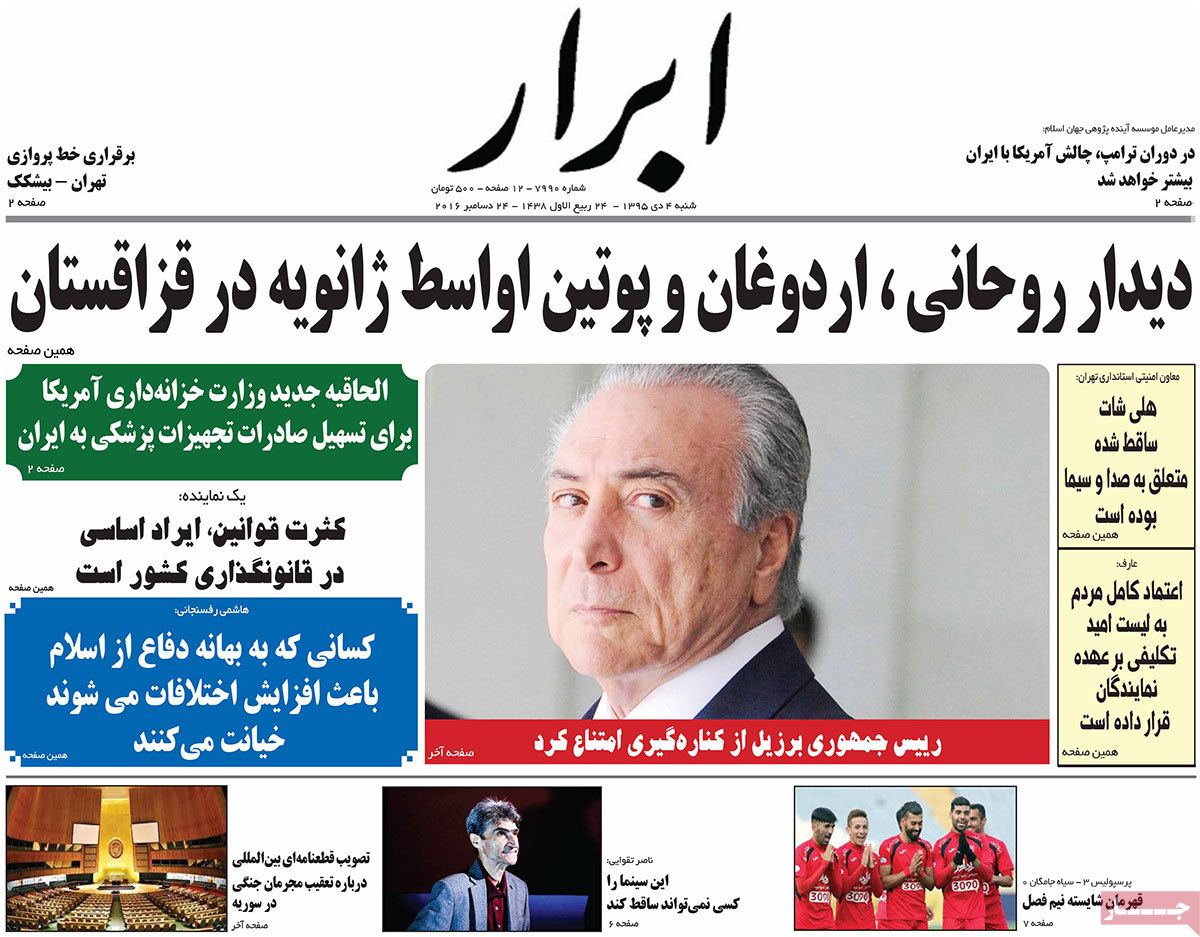 ---
Abrar Eqtesadi:
1- Japan Interested in Expanding Trade with Iran
2- President: Iran and Kyrgyzstan to Swap Oil
3- Airbus 380 Dropped from List of Iran's Purchases: Tehran Withdraws from Buying World's Biggest Airliner
4- Trump's Signal to Oil Market: Room to Be Opened for Iran's Oil
---
Afkar:
1- Trump Calls for Reinforcement of US Nuclear Arsenal
2- US Issues Directive for Facilitation of Trade with Iran
3- Ayatollah Seddiqi: Aleppo Victory Was Triumph of Pure Islam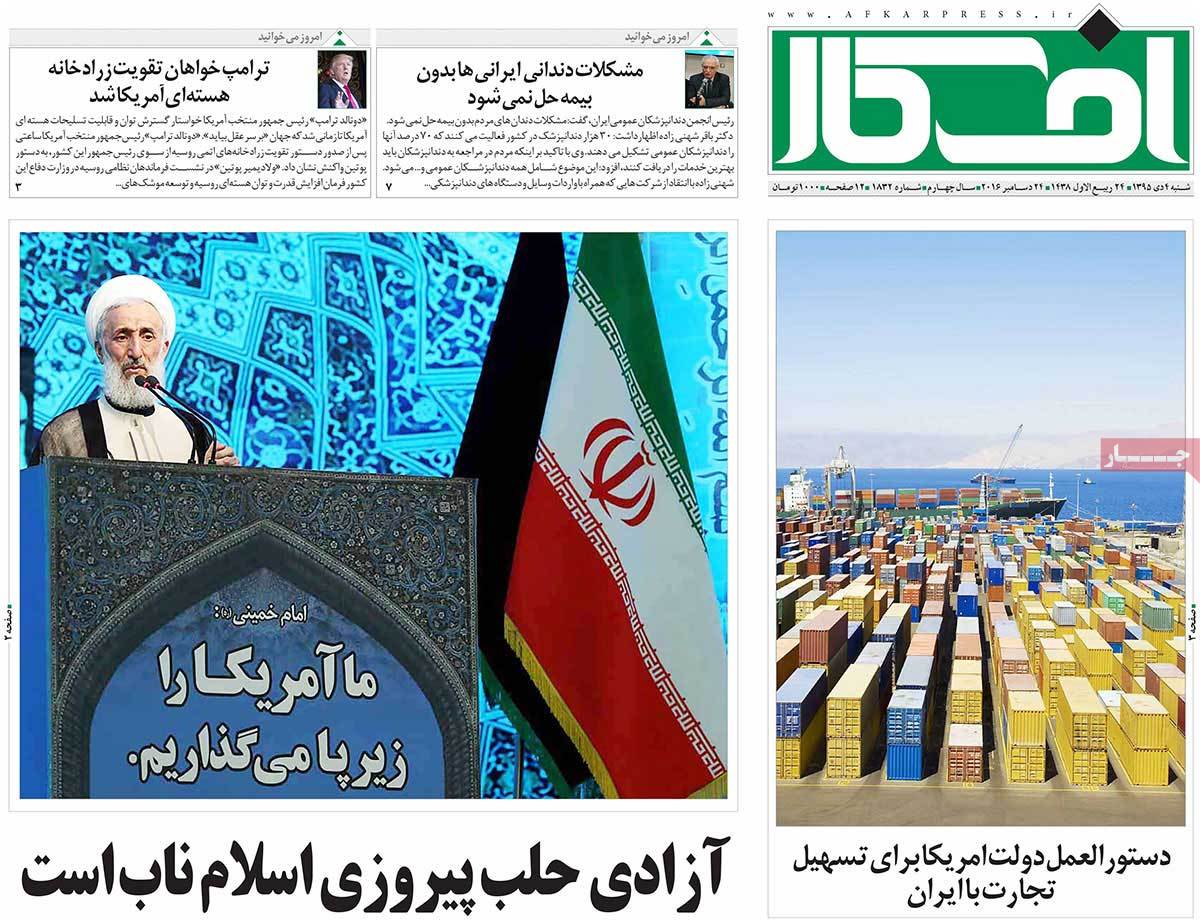 ---
Aftab-e Yazd:
1- Friday Prayers Imam of Isfahan: Some Clerics Are Opposed to Alliance with Russia
2- Ayatollah Rafsanjani's Different Account of Nuclear Deal While Government Is Harshly Criticized: How Will Those Who Deny Impacts of JCPOA Respond to God?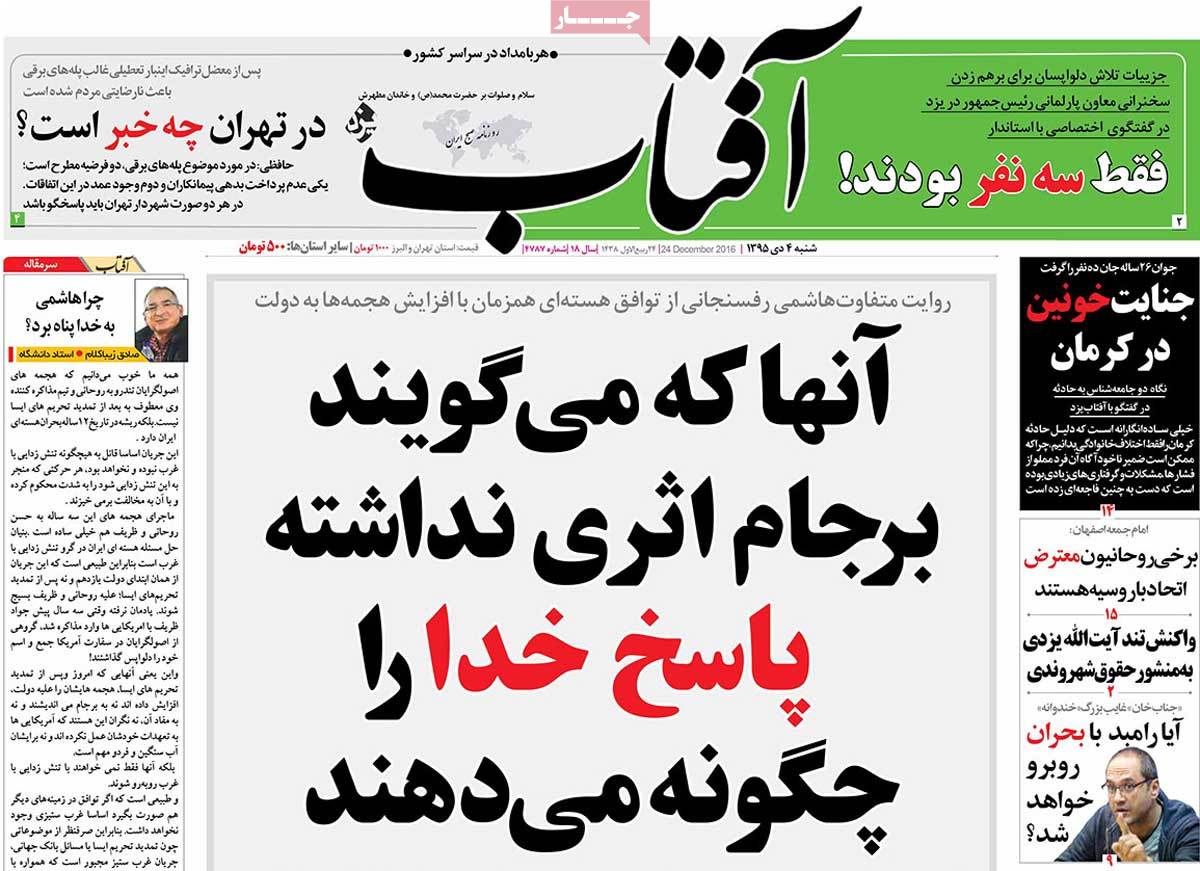 ---
Arman-e Emrooz:
1- Vice-President's Speech in Yazd Disrupted
2- Suspicious Drone Shot Down in Tehran
3- Academic: Conservatives' Ship Is Wrecked
4- Denying Nuclear Deal Is Most Bitter than Sanctions: Politicians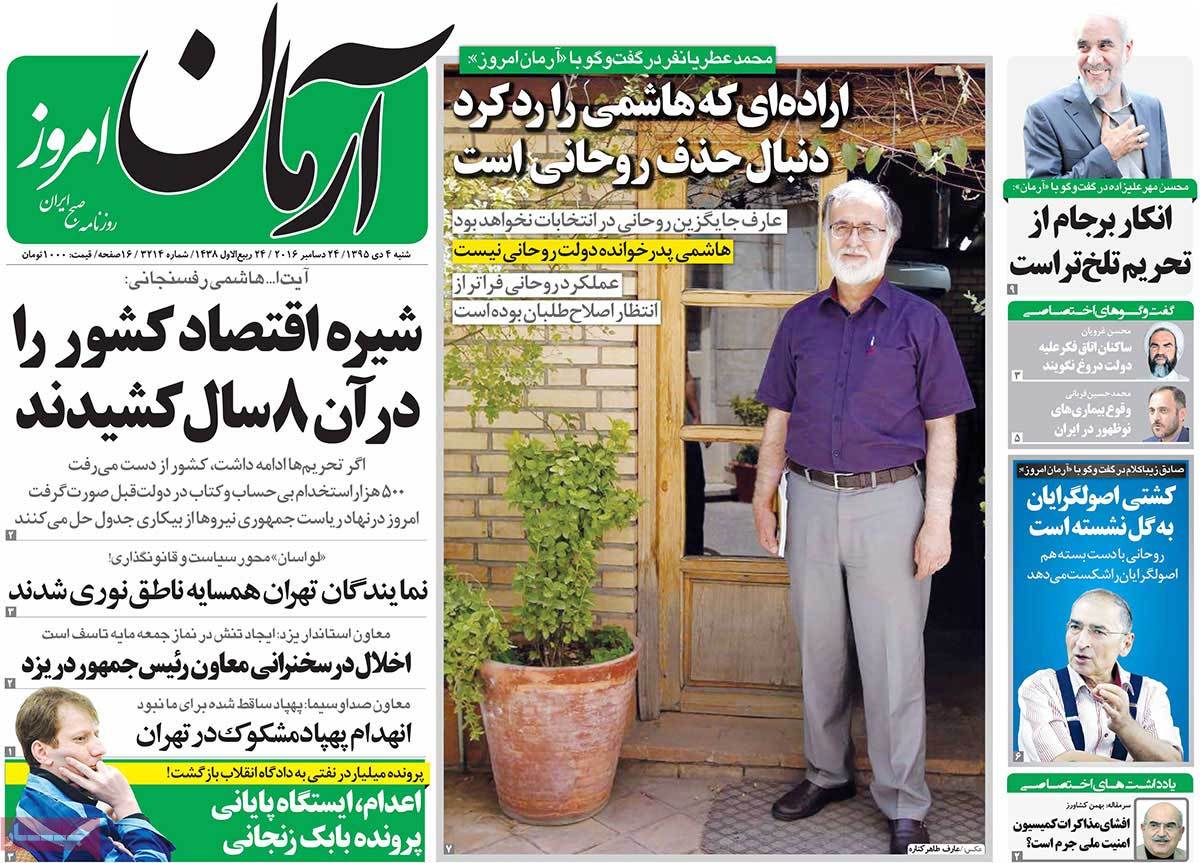 ---
Asr-e Iranian:
1- Putin: Iran, Russia, and Turkey Formed Triangle of Aleppo Liberation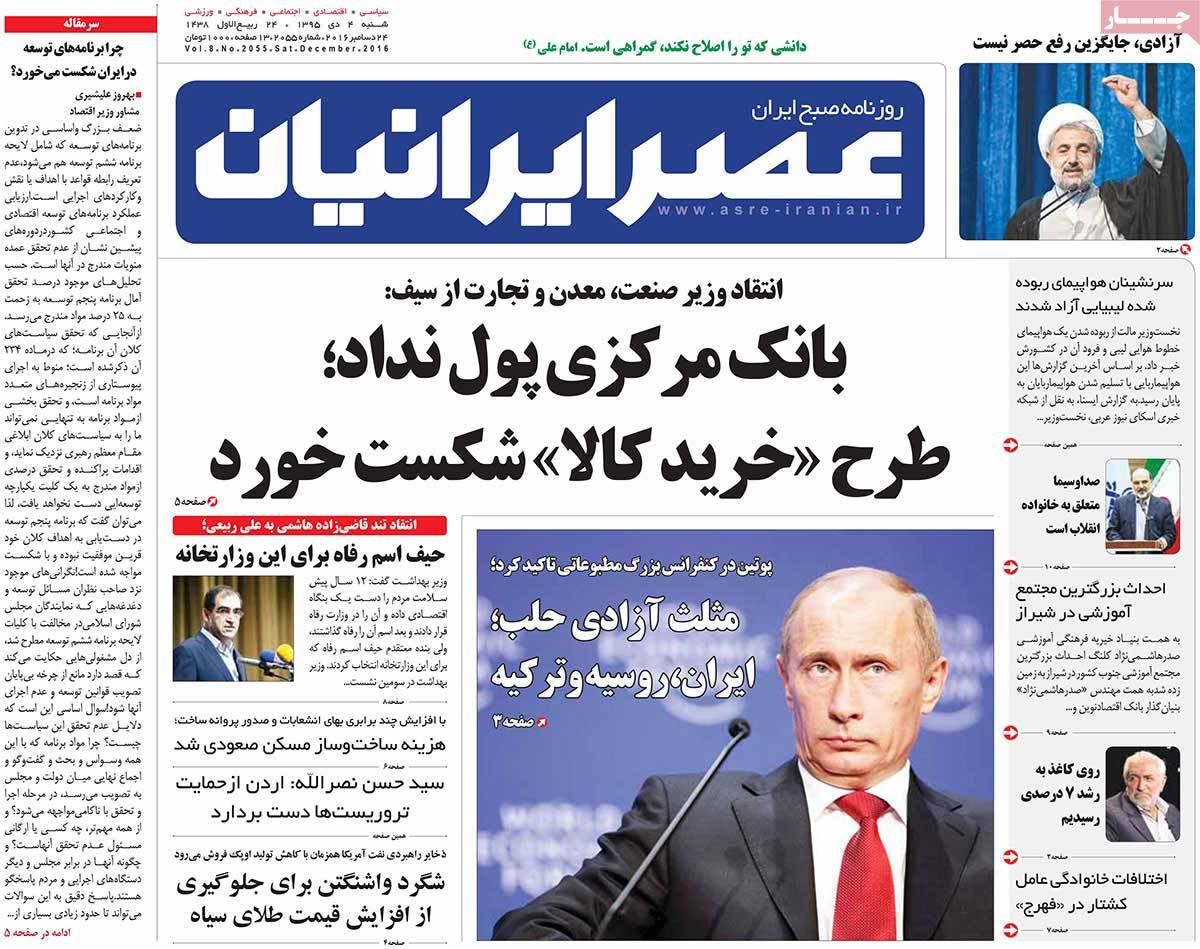 ---
Asrar:
1- 10 Killed in Bloody Shoot-Out in Kerman: Young Man Opens Fire on His Family Members
2- Advisor to Iran's Leader: Qatar Is Number One Criminal in Aleppo Crimes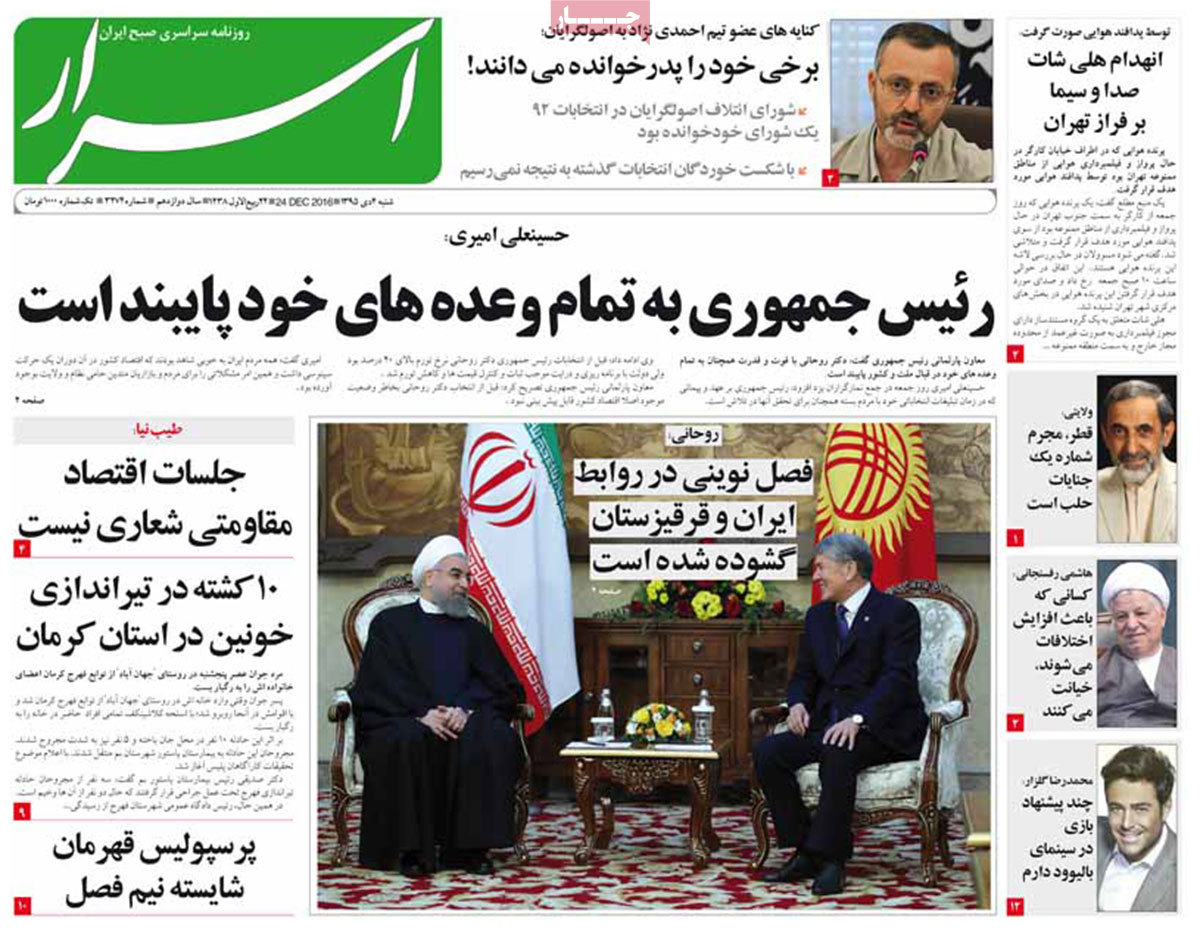 ---
Ebtekar:
1- Souvenir of Eurasia: Rouhani Returns to Tehran after Visiting Armenia, Kazakhstan, and Kyrgyzstan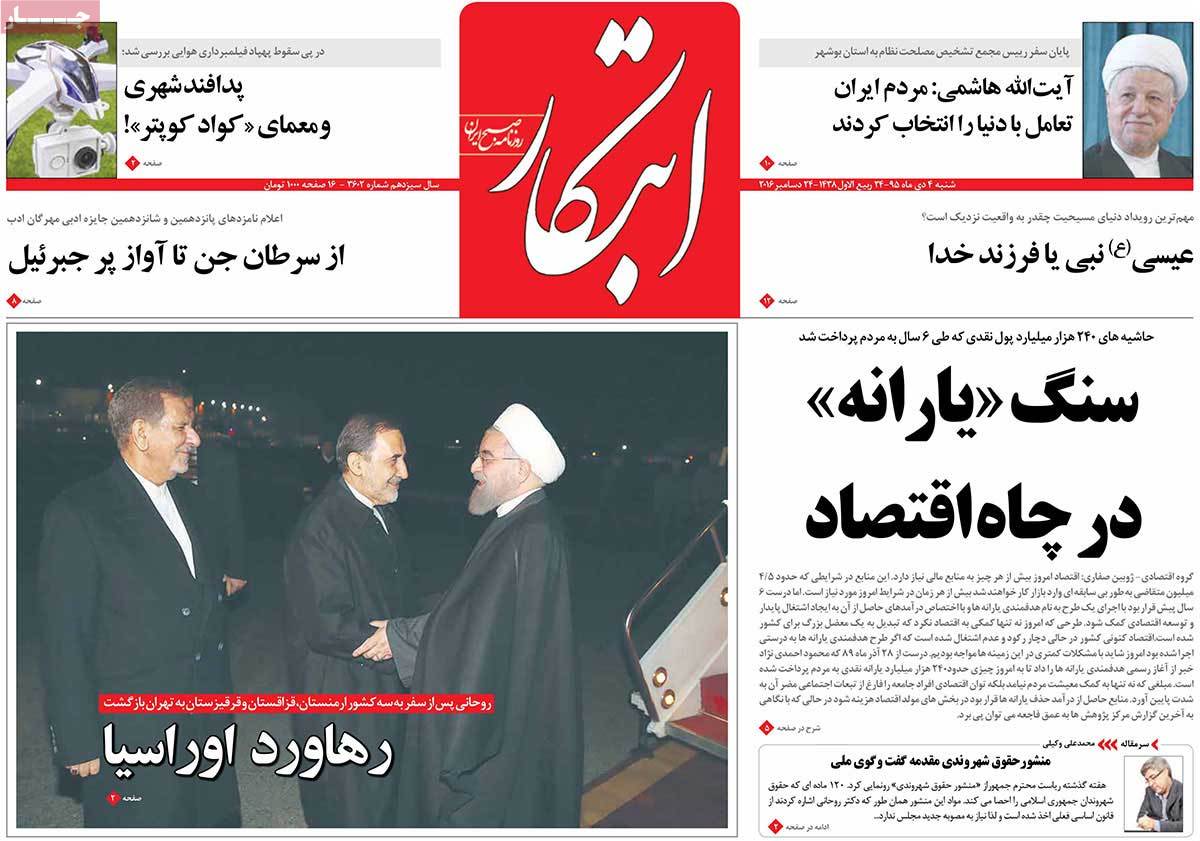 ---
Etemad:
1- Airbus Comes to Iran after Boeing
2- Foreign Ministry Spokesman: There Was No Mistake either in Negotiations or in JCPOA
3- Important and Meaningful Meeting: An Analysis of Recent Meeting between Iranian Deputy FM and Lebanon's Hariri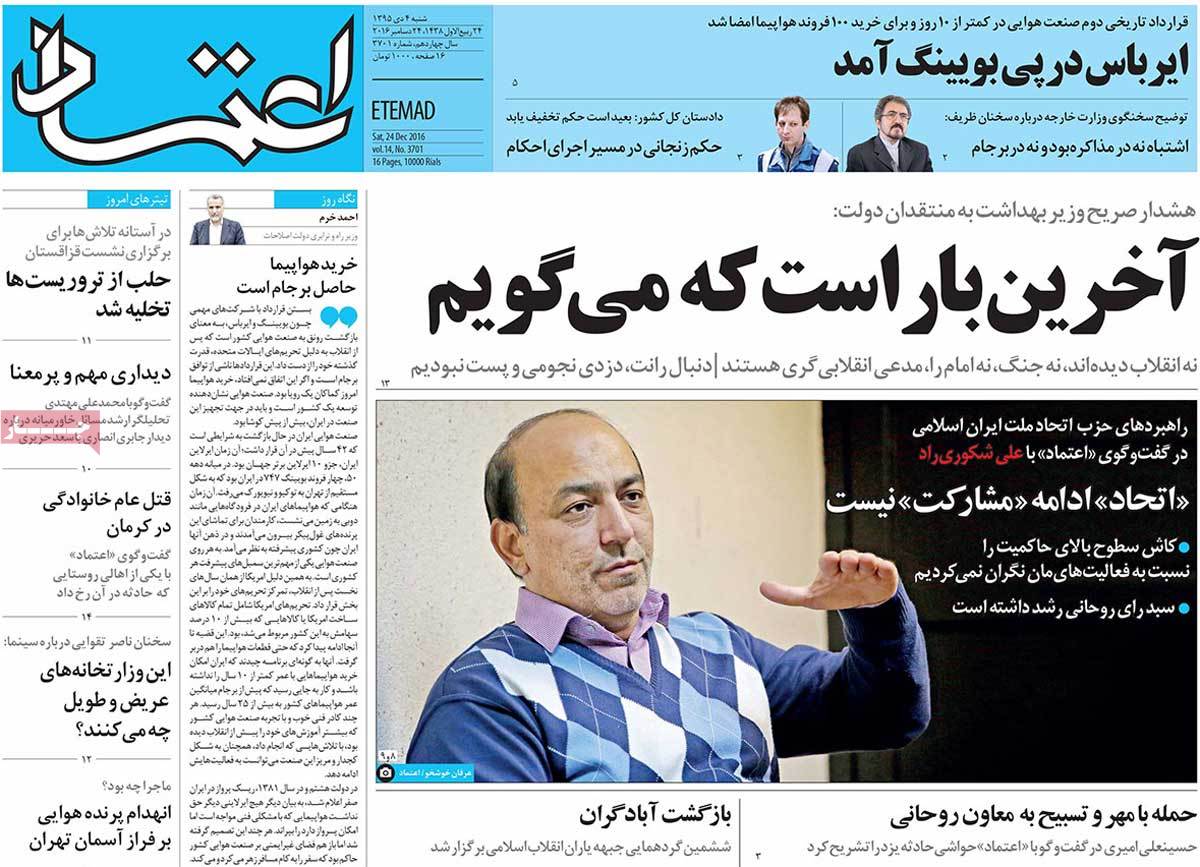 ---
Ettela'at:
1- Putin: Aleppo Liberation Not Possible without Iran
2- Iran Signs Deal to Buy 100 Airbus Planes
3- Assad Appreciates Iran's All-Out Support for Syria
4- Larijani: Investment Conditions Are Improving
5- Iran and Kyrgyzstan Announce Road-Map for 10-Year Cooperation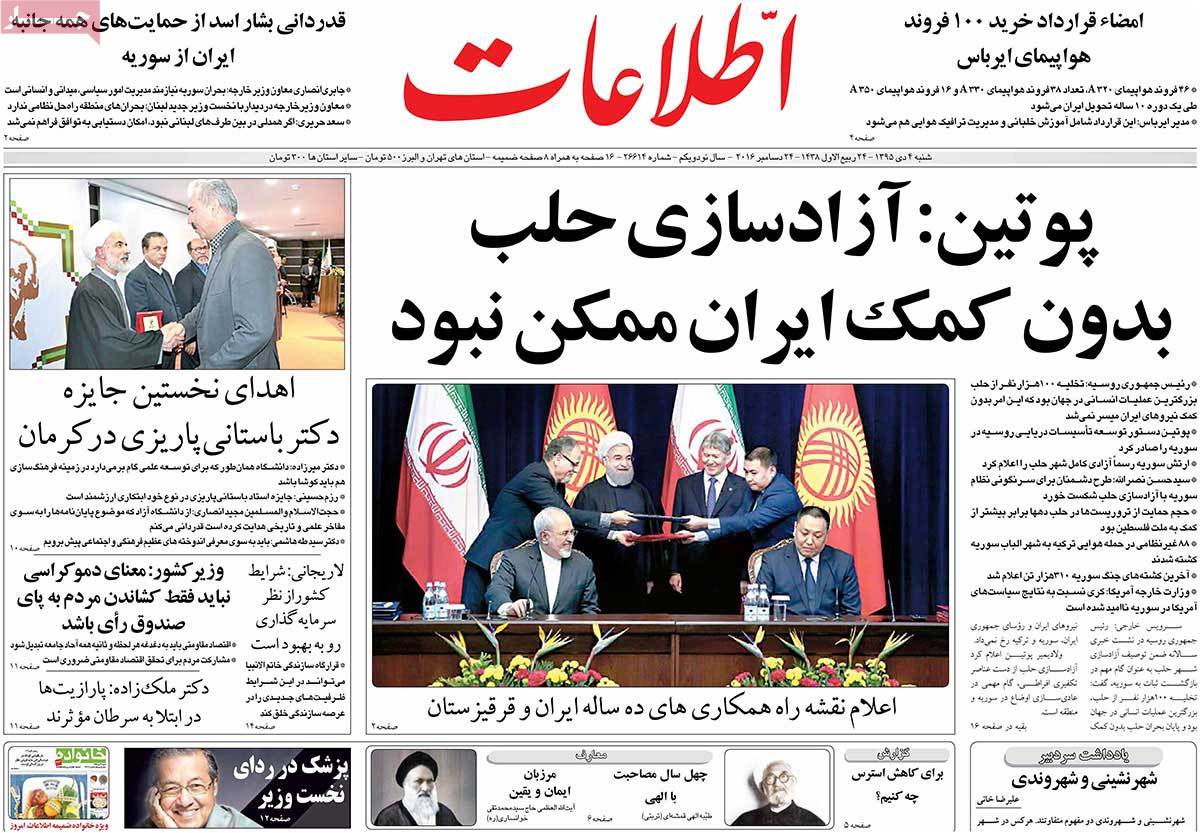 ---
Ghanoon:
1- Iran's 5 Scenarios for Dealing with a Giant Named Trump
2- Iranian Women Waiting for Int'l Federation's Approval: Women Wrestling on Path of Standardization
3- Captain Not Accessible: A Report on Latest Efforts to Release Iranian Prisoners Captured in Somalia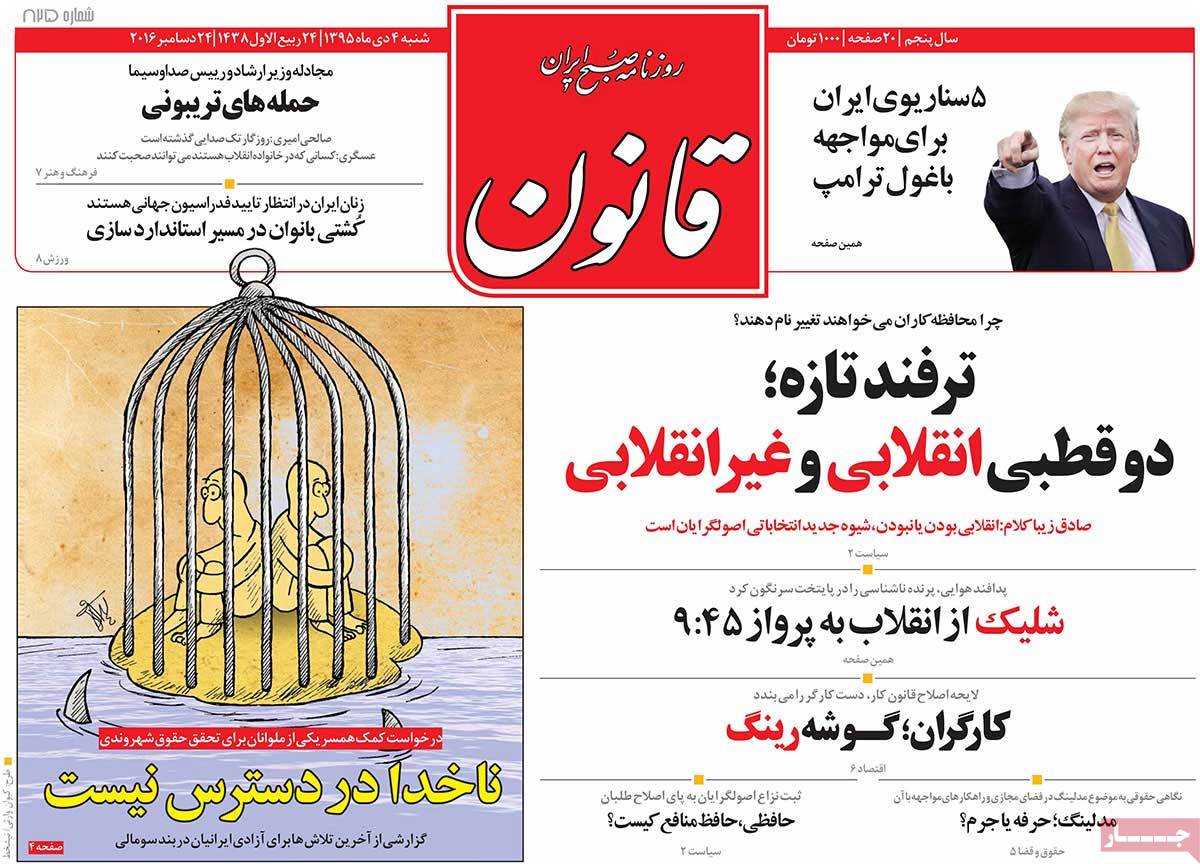 ---
Iran:
1- Armenians' Contribution to Iran's Construction and Defence: A Report on Verge of Jesus Christ's Birthday
2- 15 Documents of Cooperation Signed during Rouhani's Visits to Armenia, Kazakhstan, and Kyrgyzstan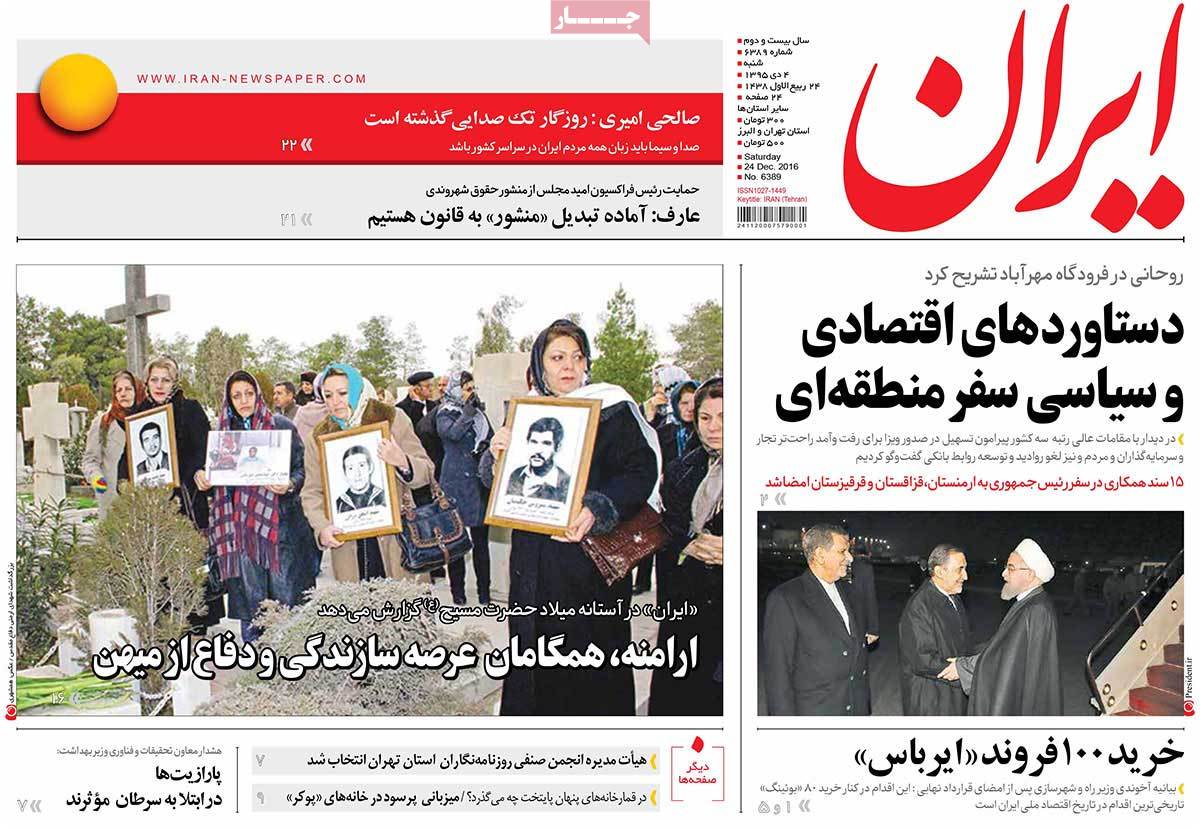 ---
Jame Jam:
1- Aleppo Smiles: People Celebrate after Full Liberation of Syrian City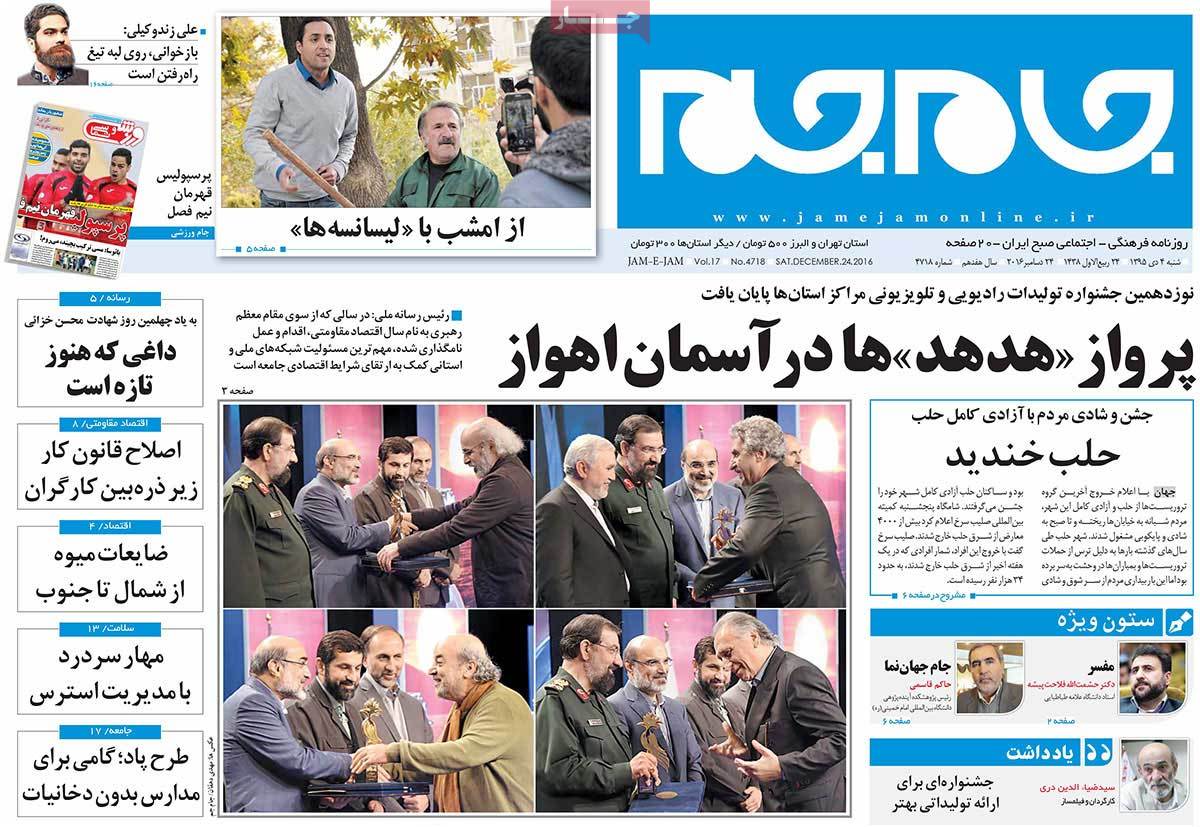 ---
Javan:
1- Putin and Trump Start Relations with Nuclear Confrontation: American and Russian Presidents Underline Enhancement of Nuclear Capabilities
2- Day of US Frustration in Syria: Kerry Is the First One Everyone Talks about His Frustration with Results of US Policies in Syria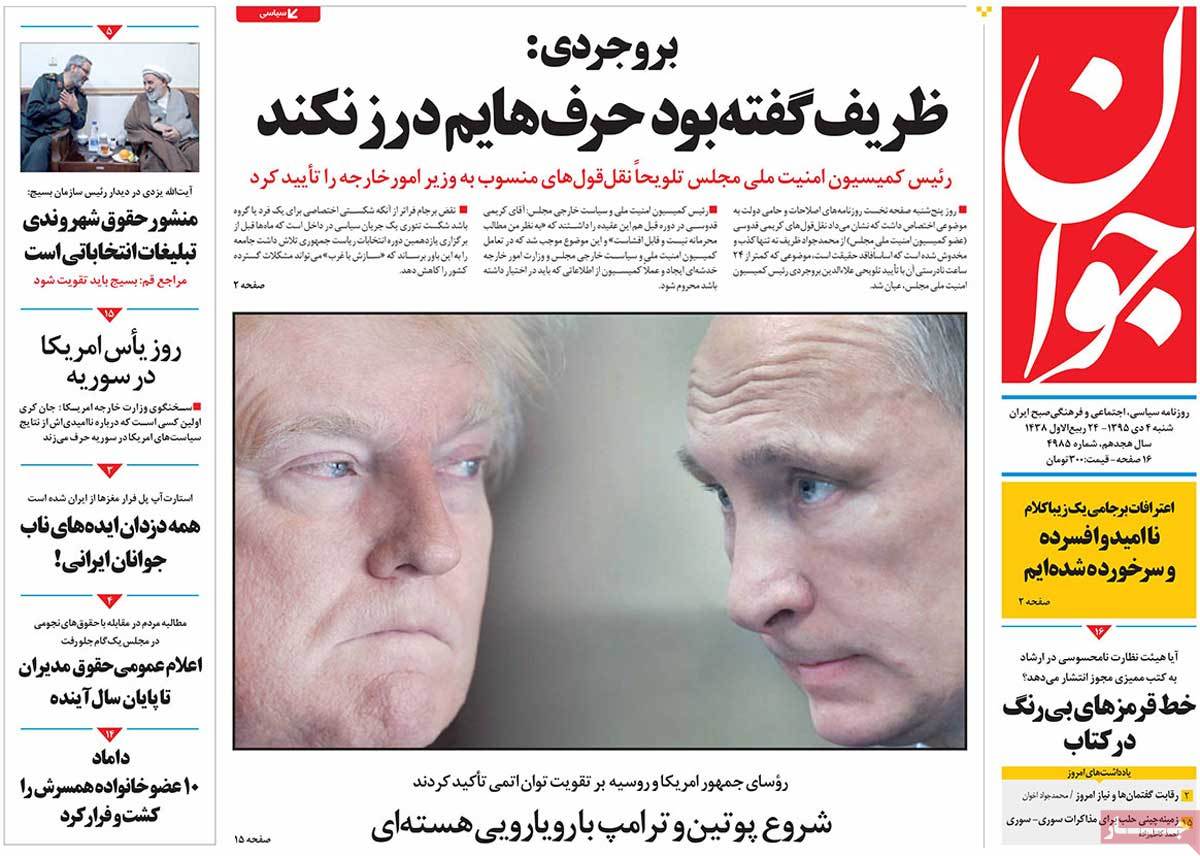 ---
Jomhouri Eslami:
1- Opening of New Chapter in Iran's Political and Economic Cooperation with Central Asia
2- Syrian Army Declares End of Aleppo Liberation Process
3- Mossad Delegation Visits Bahrain in Form of Jewish Commercial Delegate
4- Trump: Attack on Berlin Confirms My Plan to Prevent Muslims from Entering US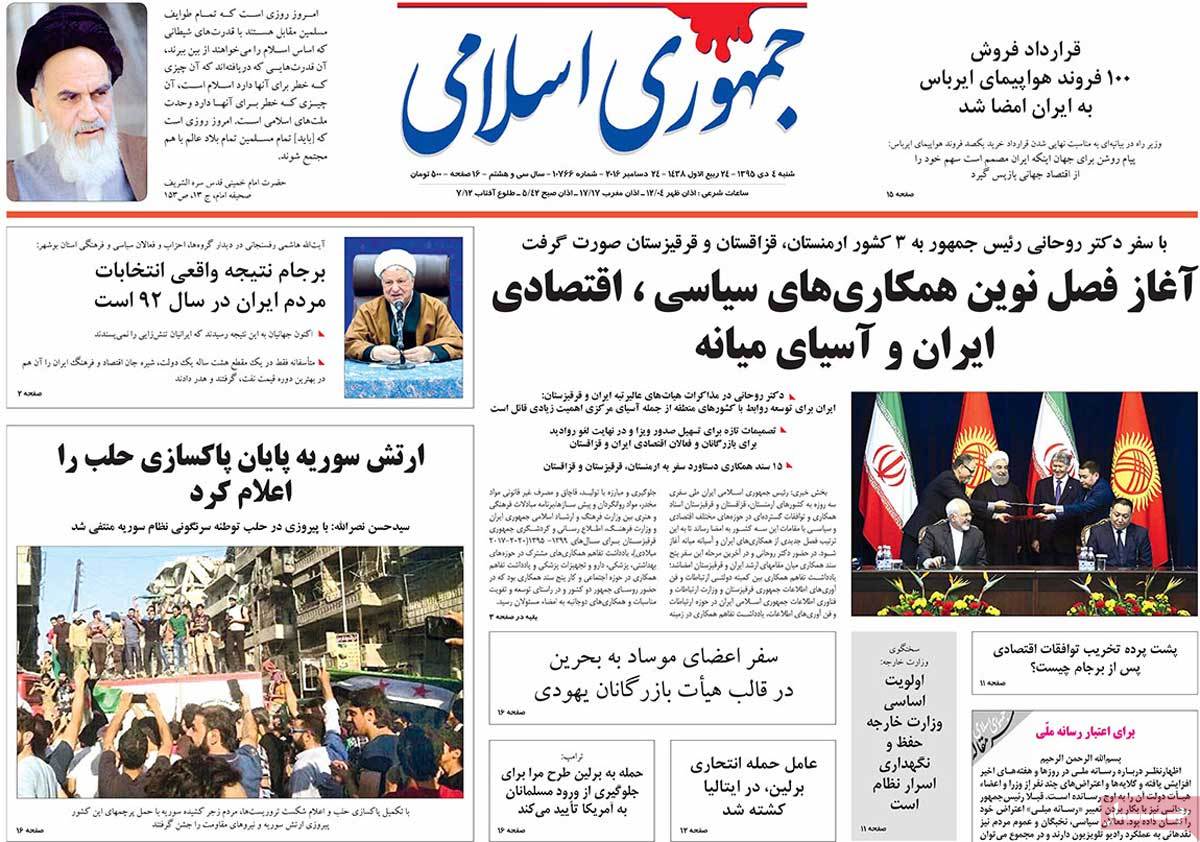 ---
Kayhan:
1- Zarif's Honest Confession, Frustration of Those Who Embellished Nuclear Deal
2- Guardian: Britain Has Turned to Saudi Arabia's Accomplice in Slaughtering Yemenis
3- Nasrallah: US and Its Allies Supported Terrorists in Aleppo until Last Moment by Spending Huge Money
4- US State Dept. Spokesman Desperate about Celebration of Aleppo Victory by Syrian People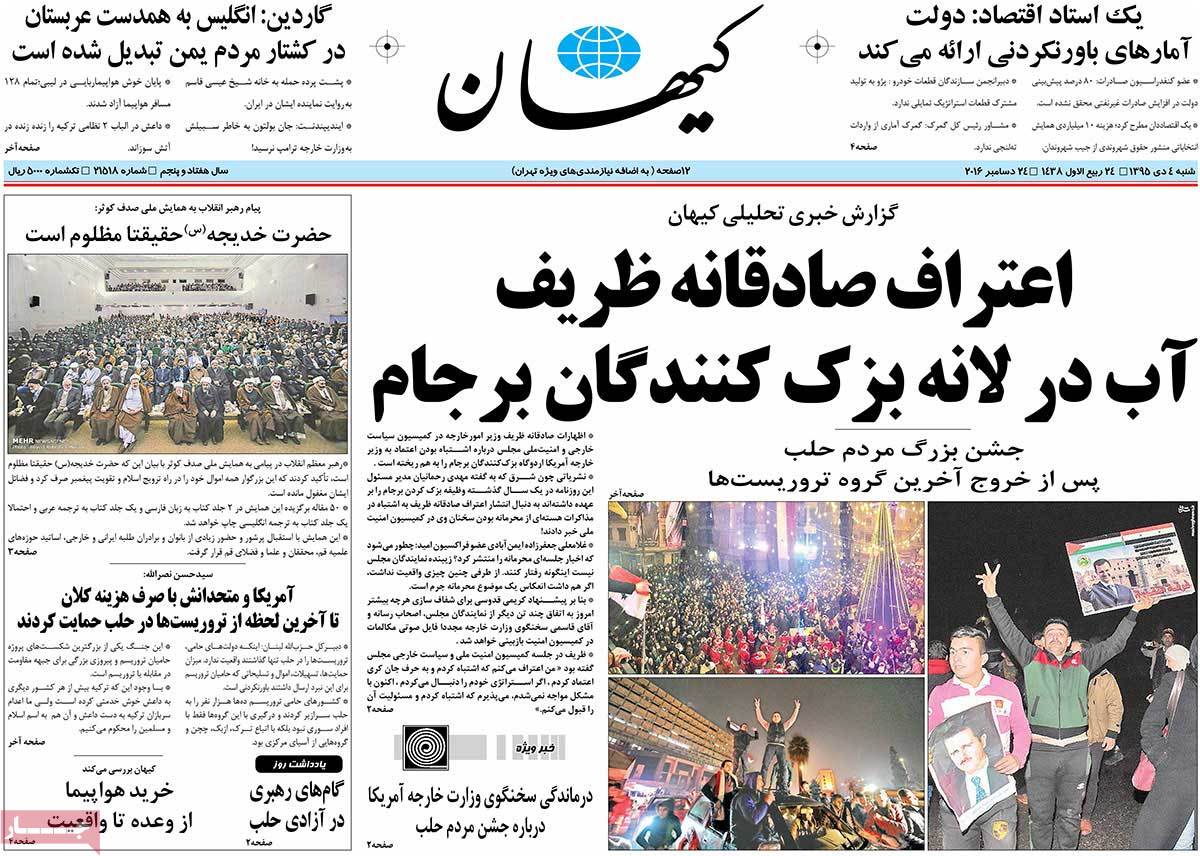 ---
Khorasan:
1- War of New Stars: Putin's Order and Trump's Stance on Reinforcement of Nuclear and Military Weapons
2- Christmas with Security Concerns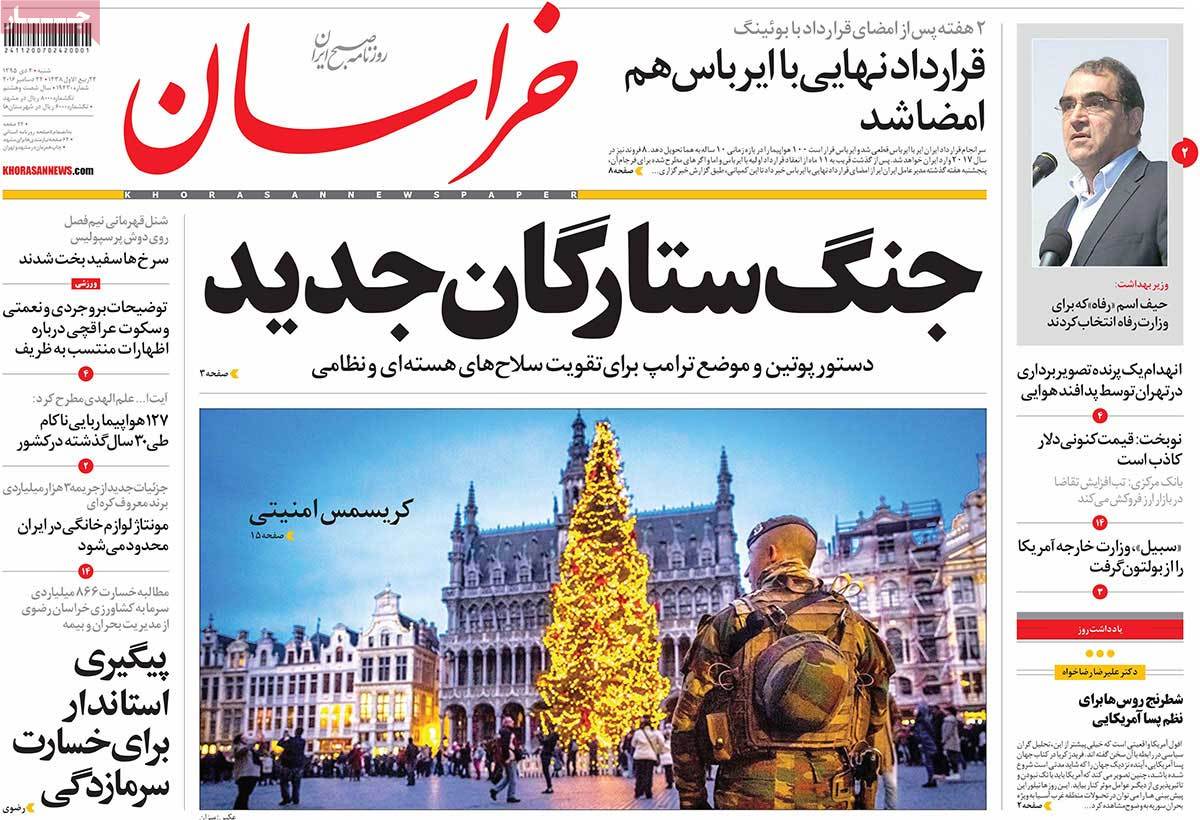 ---
Payam-e Zaman:
1- No Aggressor Dares to Invade Iran: Chief of Iran's Armed Forces
2- New Corridor Opened for Export of Iran's Oil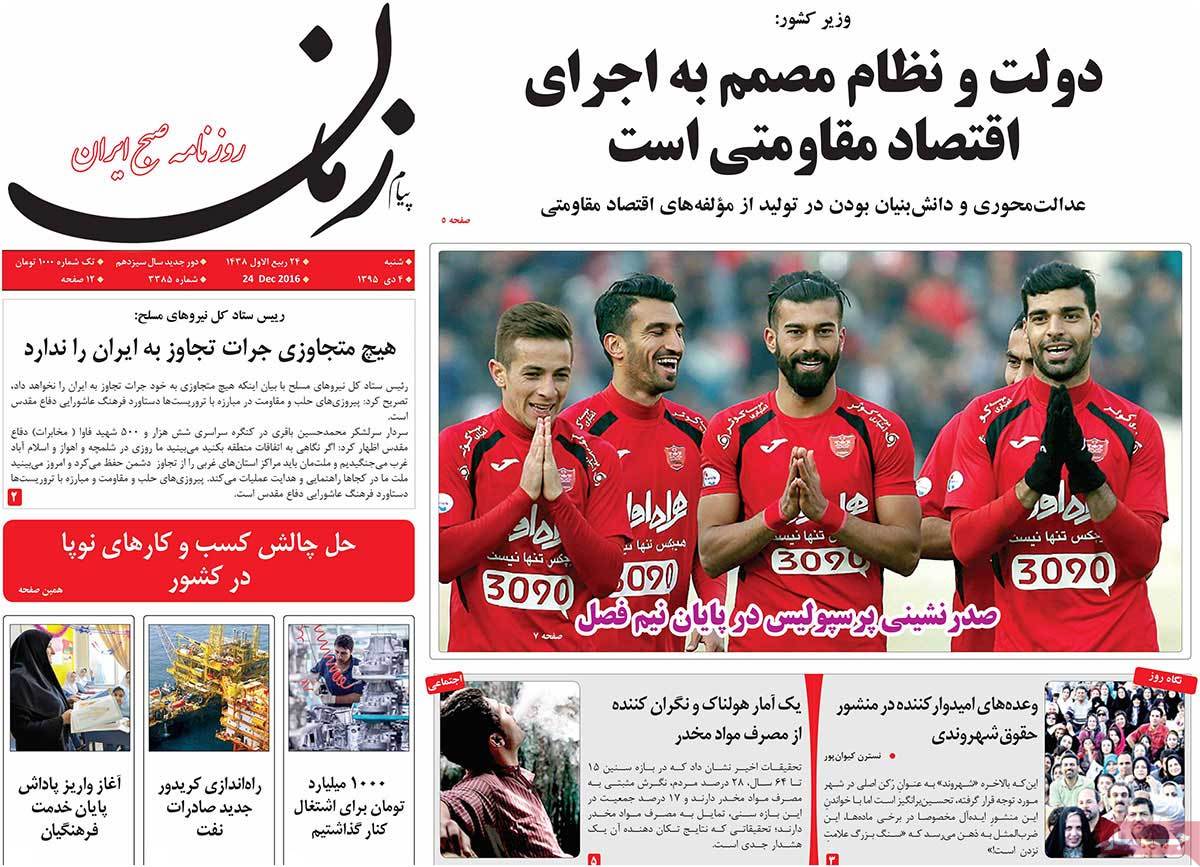 ---
Saheb Qalam:
1- One Airbus Plane to Be Delivered to Iran before Trump's Inauguration
2- The Quadcopter Shot Down in Tehran Was Not of Security Type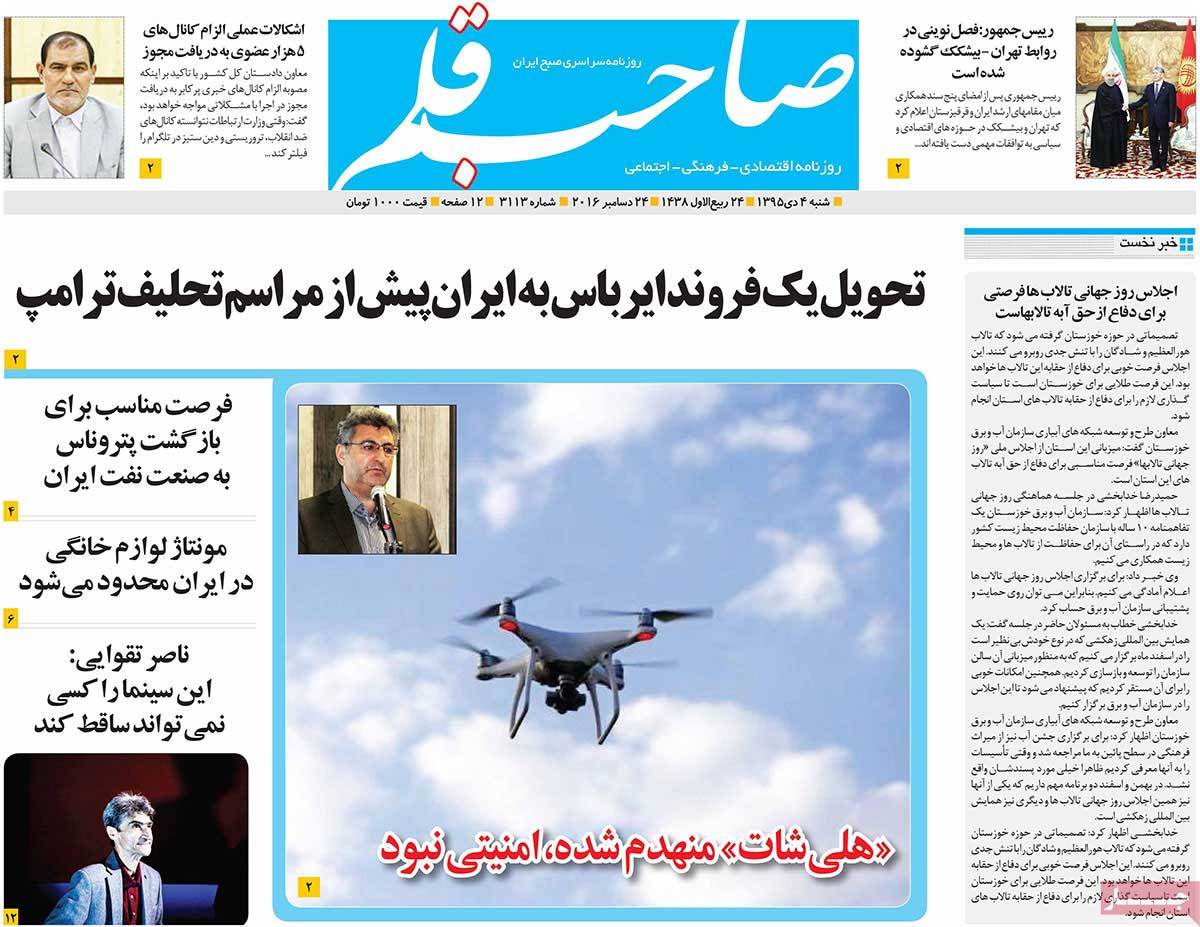 ---
Shargh:
1- Suspicious Drone Shot Down in Forbidden Airspace
2- Tehran in State of Emergency: Monster of Air Pollution Wakes Up Once Again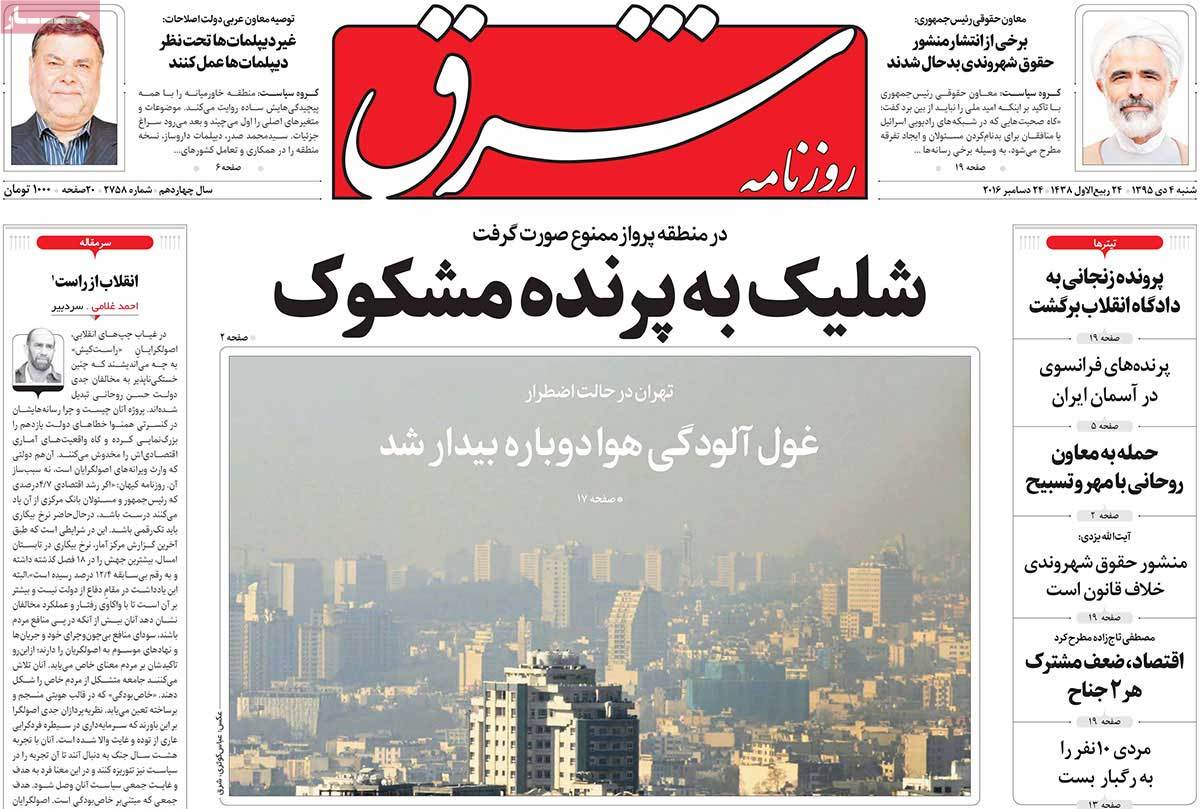 ---
Vatan-e Emrooz:
1- MP Asks Foreign Ministry Spokesman and Media Professionals to Listen to Audiotape of Zarif's Remarks in Parliament's National Security and Foreign Policy Commission Session about US Extension of ISA: Here You Are, Listen to It Yourself!
2- Nasrallah: Turkey Burning in Fire of Supporting ISIS