Almost all newspapers covered the claims raised by conservative lawmaker Javad Karimi Qoddousi, who disclosed the remarks made by Foreign Minister Mohammad Javad Zarif in a closed session with lawmakers. Karimi Qoddousi claimed that Zarif has regretted trusting US Secretary of State John Kerry's promise, and that he was wrong. However, Foreign Ministry Spokesman Bahram Qassemi dismissed the allegations, saying that Karimi Qoddousi was not even present in that session and his remarks were in direct contradiction to Zarif's comments.
Another top story was the attack of Al Khalifa regime on Bahraini cleric Sheikh Isa Qassim's house, and the protest rallies held by Sheikh Qassim's supporters.
The unusual traffic jam in the Iranian capital of Tehran, and President Hassan Rouhani's ongoing tour of Eurasia were among other top stories today.
The above issues, as well as many more, are highlighted in the following headlines:
Abrar:
1- Aref: Iran's Current Problem Is Weak Management and Bureaucracy, Not Money
2- Trump Removes Russia from List of Anti-US Threats
3- Oil Incomes Have Caused Mismanagement Not to Be Noticed Enough: MP
4- Iraqi PM: Any Iraqi Group Fighting in Syria Is Not Our Representative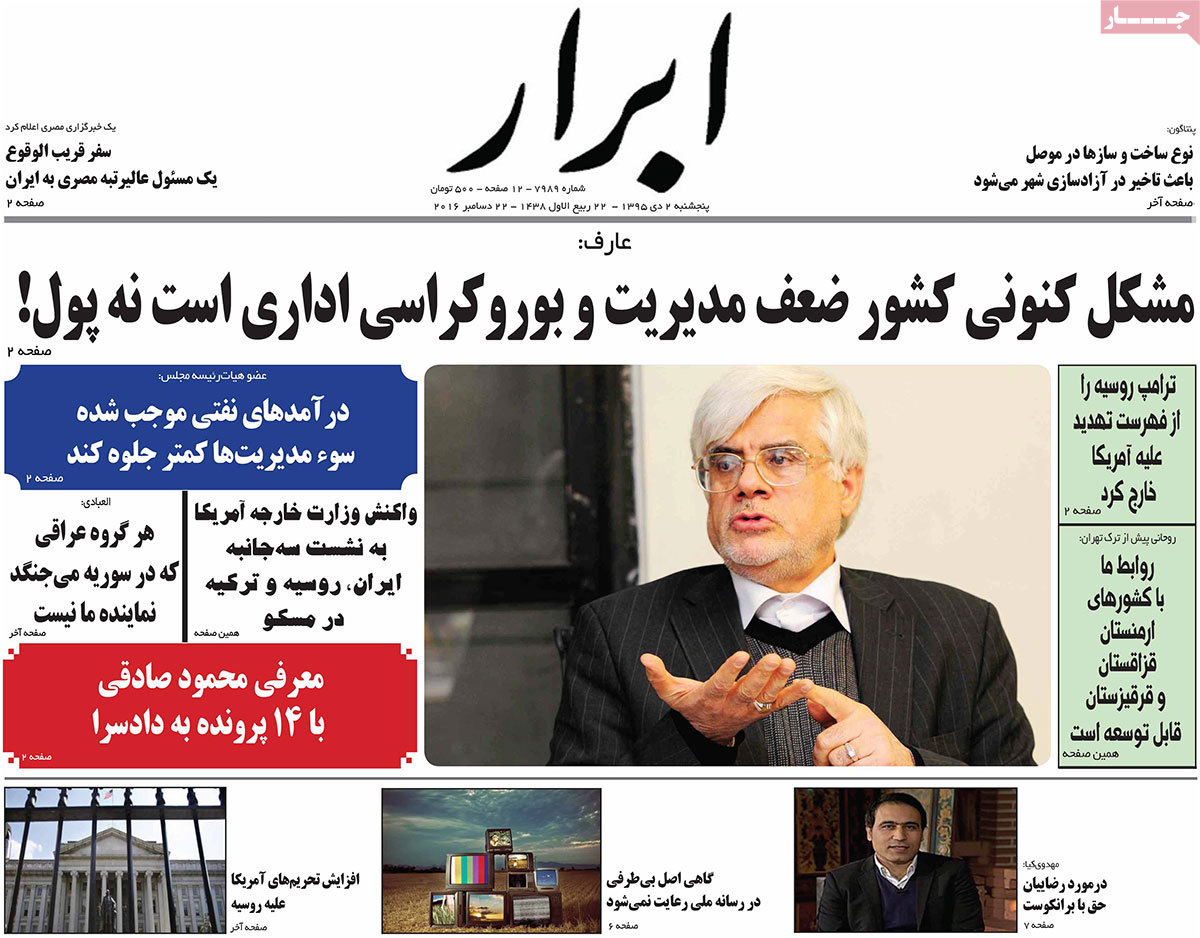 ---
Abrar Eqtesadi:
1- Dollar Rate in Iran Crosses 4,000 Tomans
2- 61% Jump in Britain's Imports from Iran
3- Iran-Indonesia Oil Ties to Be Revived as of 2017
4- New Round of Negotiations with Pakistan for Free Trade Deal
5- US Congressman: Trump Trying to Hinder Iran's Purchase of Boeing and Airbus Planes
6- Inflation Rate in Past Iranian Month Decreased to 7.2%
---
Aftab-e Yazd:
1- A Slap on Face of Truth: Hard-Line MP Discloses [in a distorted way] the Secret Content of Closed Parliamentary Session for Second Time
[Conservative lawmaker Javad Karimi Qoddousi claimed Foreign Minister Mohammad Javad Zarif has said in a closed session with Parliament's National Security and Foreign Policy Commission that he regrets trusting US Secretary of State John Kerry's promise, and that he was wrong. However, Foreign Ministry Spokesman Bahram Qassemi dismissed the allegations, saying that Karimi Qoddousi's remarks were in direct contradiction to Zarif's comments.]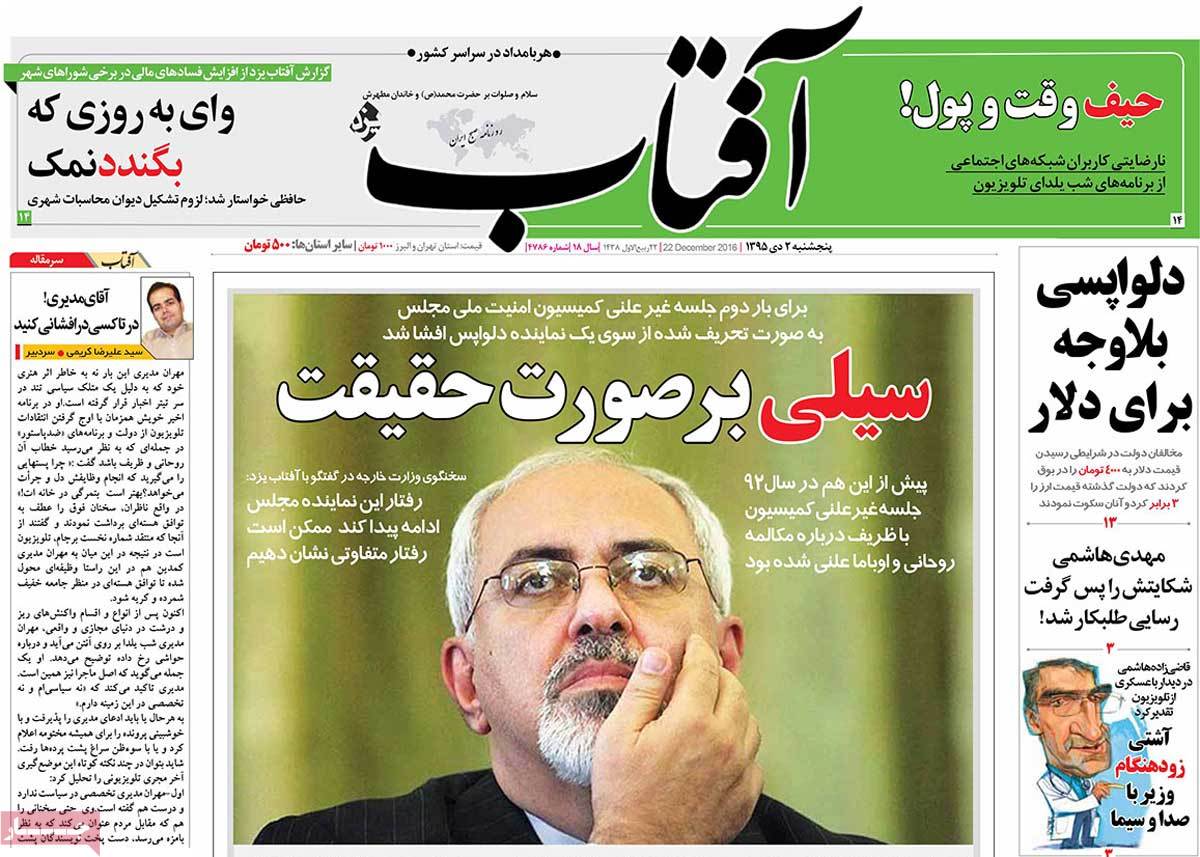 ---
Arman-e Emrooz:
1- Ayatollah Rafsanjani: JCPOA Opened the Way for Saving the Country
2- Absent MP Discloses What He Has Not Seen Himself; Foreign Ministry's Response: Karimi Qoddousi Was Not Present in the Session and His Remarks Are False
---
Ebtekar:
1- Giants Destroying Iran's Nature: What Consequences Do Activities of Factories Have for Environment?
2- On Occasion of Assassination of Russian Envoy to Ankara: Alexander Griboyedov, Russian Envoy Killed in Iran; Was He a Victim of Prejudice or Was the Russian Tsar Mad at Him?
3- Finding Equivalents for Social Media Jargon: Concerns of Iran's Culture Centre
4- Iran's Economy Demanding Share from New Markets
5- Economic Opportunities Provided by Interaction with Asian Countries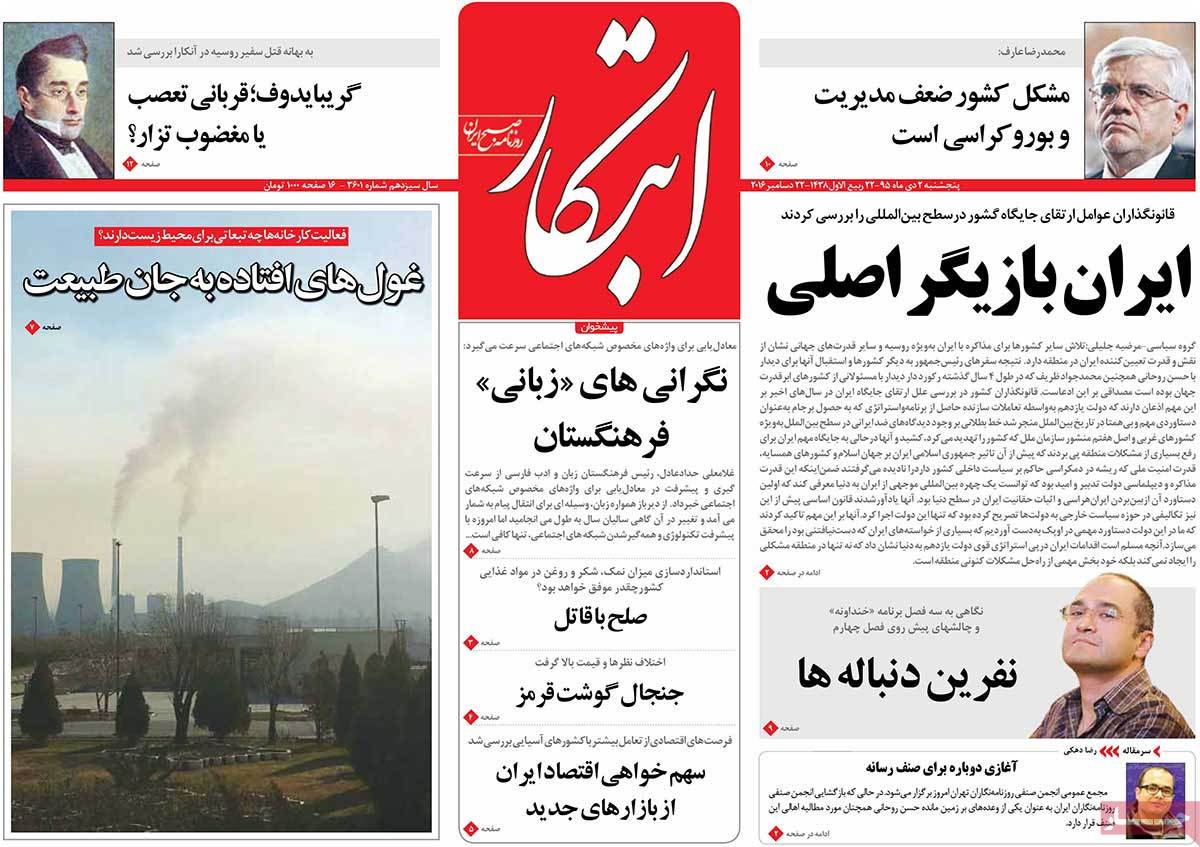 ---
Ettela'at:
1- Washington: We Failed in Distinguishing Terrorists from Dissidents of Assad
2- 5 MoUs Signed by Iranian and Armenian Presidents
3- If It Was Legal, We Would Declare Names of Those Who Are Heavily Indebted to Banks: Prosecutor General
4- Foreign Ministry Rejects Remarks Attributed to Zarif
5- Al Khalifa Regime's Forces Attack House of Bahraini Revolution's Spiritual Leader
6- Bahraini Clerics Call for People's Massive Presence in Streets in Support of Sheikh Isa Qassim
7- Amnesty Int'l Urges Al Khalifa Regime to Stop Its Oppressive Actions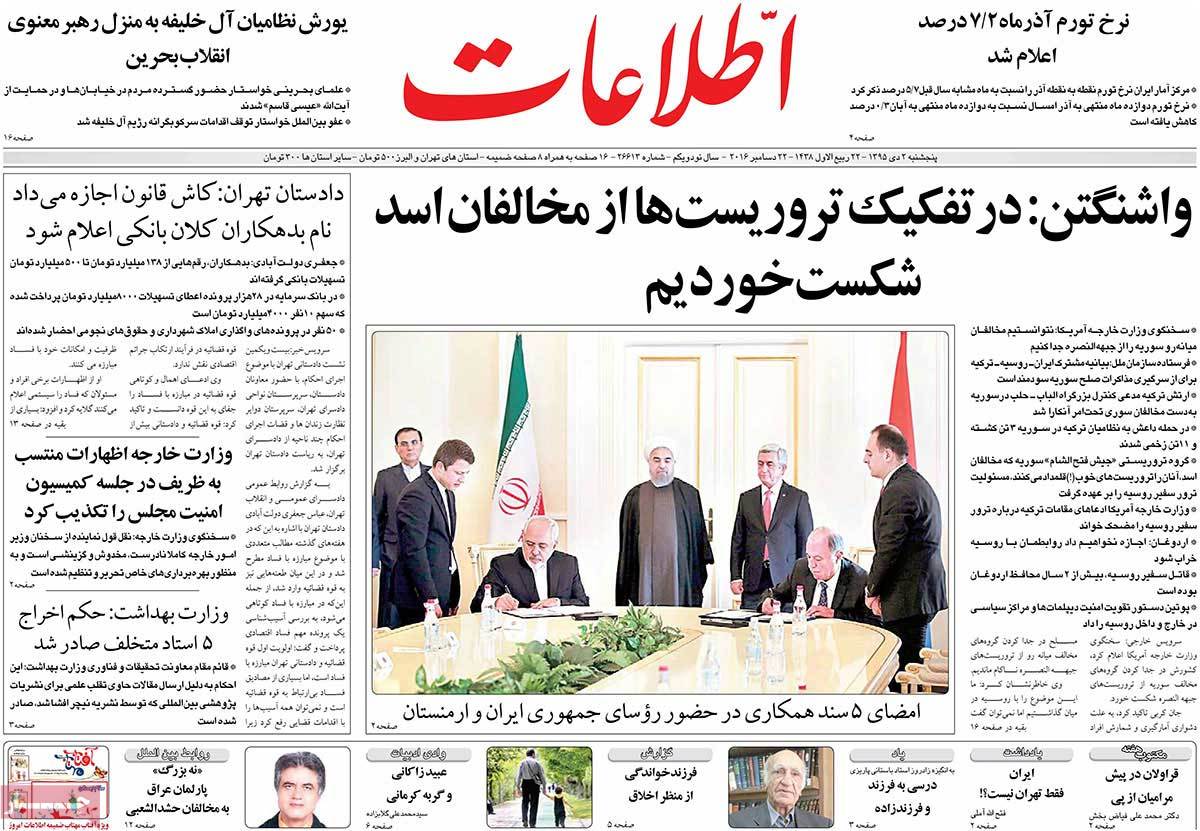 ---
Forsat-e Emrooz:
1- Iranian Highways, Paradise of Foreign Investors
2- Iranian Roads Can Attract $3 Billion New Investment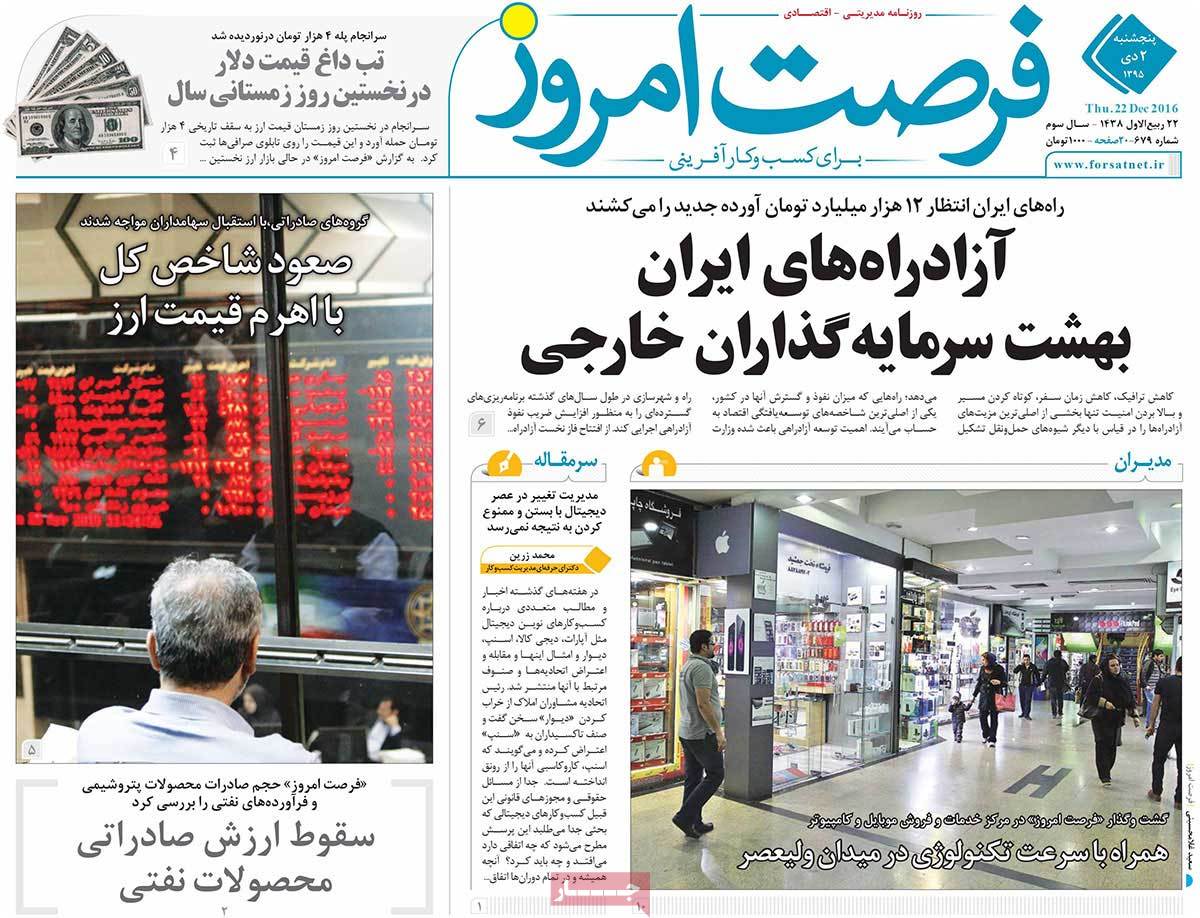 ---
Iran:
1- Rouhani's Regional Tour Starts from Armenia
2- Tehran and Yerevan Sign 5 Documents of Cooperation
3- City Council Members Criticize Unusual Traffic Jam in Iranian Capital
4- Hot Market of Foreign Exchange in First Day of Winter
5- Based on Obama's Order, Oil Excavation in Northern America Will Be Prohibited Forever
---
Jahan-e Sanat:
1- Terrorism without Borders: Security Conditions in Germany after Intentional Truck Attack
2- Rouhani: Development of Relations with Eurasia Aimed at Free Trade
---
Javan:
1- Zarif: I Admit I Made a Big Mistake: Controversy over Zarif's Shocking Remarks in Parliament Finally Ends with a Video Confirming His Comments. It Was Finally Shown Zarif Has Regretted Trusting Kerry; Zarif: I Made a Very Big Mistake
2- Rouhani Who Used to Criticize High Rate of Foreign Exchange in Time of Sanctions, Now Sees Highest Rates of Dollar in the Time of Sanctions Removal (!). However, Some Believe that It Is an Intentional Move by His Government to Raise the Rates
3- US Fired from Ground of Aleppo Victory
4- Kerry's Absence from Iran-Russia-Turkey Trilateral Meeting Attracts Attentions
---
Jomhouri Eslami:
1- Iran Sends 1 Million Barrels of Gas Condensates to Europe
2- Hollande: France Exposed to High Level of Terrorism Threat
3- Reactions to a Lawmaker's Unethical Behaviour against Foreign Ministry
4- Anti-Government Demonstrations Held in Eastern Saudi Arabia on Verge of Death Anniversary of Sheikh Nimr
5- UN Worried about Rapid Growth of Palestinian Population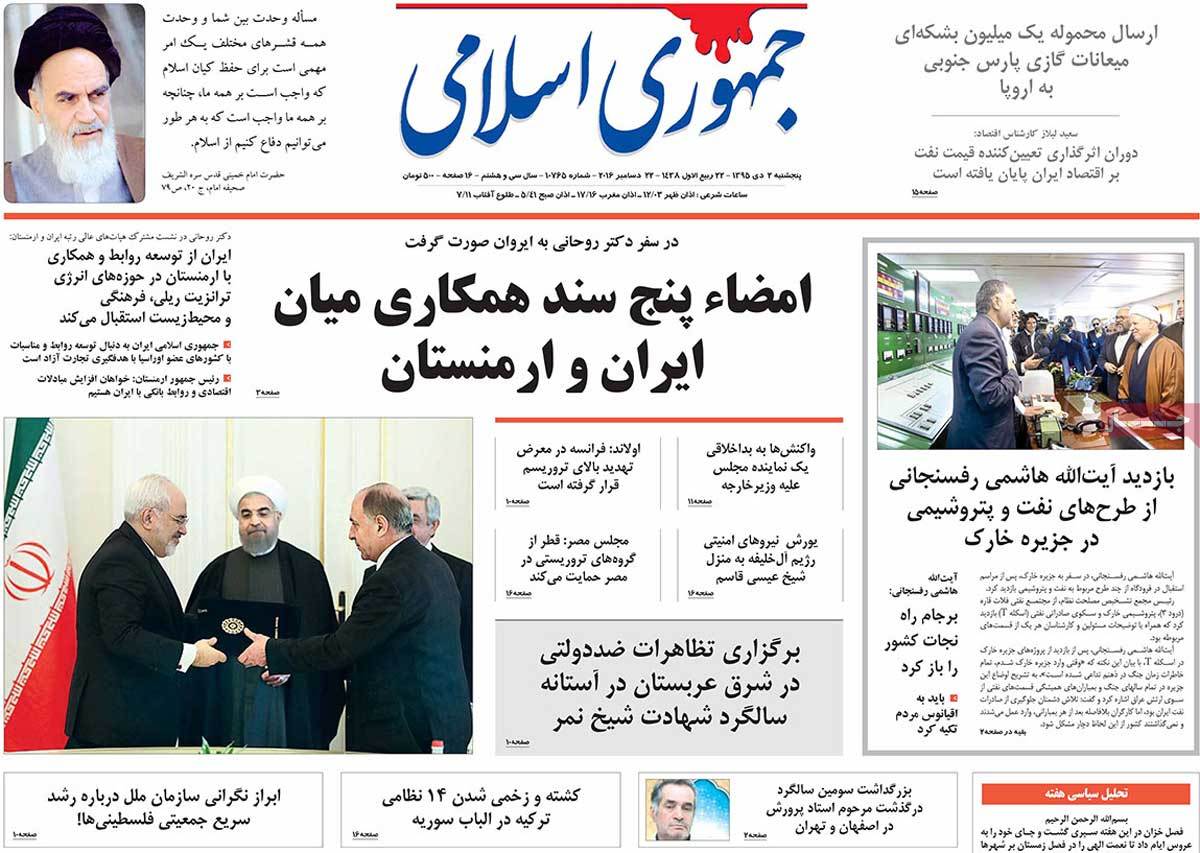 ---
Ka'enat:
1- Winter Drums of War: Simulation of Attack on South Korean Presidential Palace: While Everyone's Attention Is Focused on ISIS and Assasination of Russian Ambassador to Turkey, Flames of War May Be Ignited Somewhere Else; North Korean Leader Preparing His Army for an All-Out War by Testing New Missiles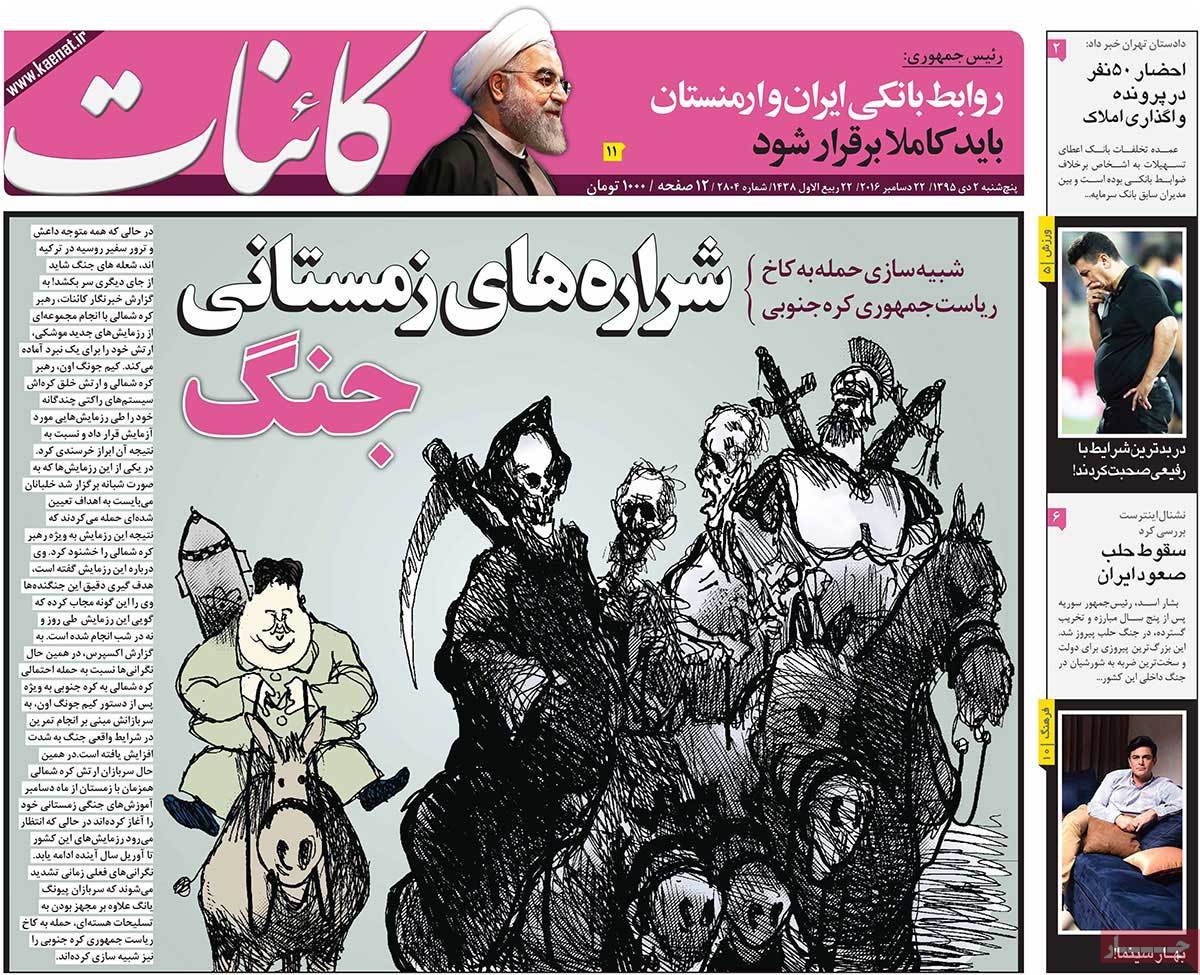 ---
Kayhan:
1- Zarif: I Admit It Was Wrong to Trust John Kerry
2- Mobile Time Bombs Depart Iraq and Syria for Europe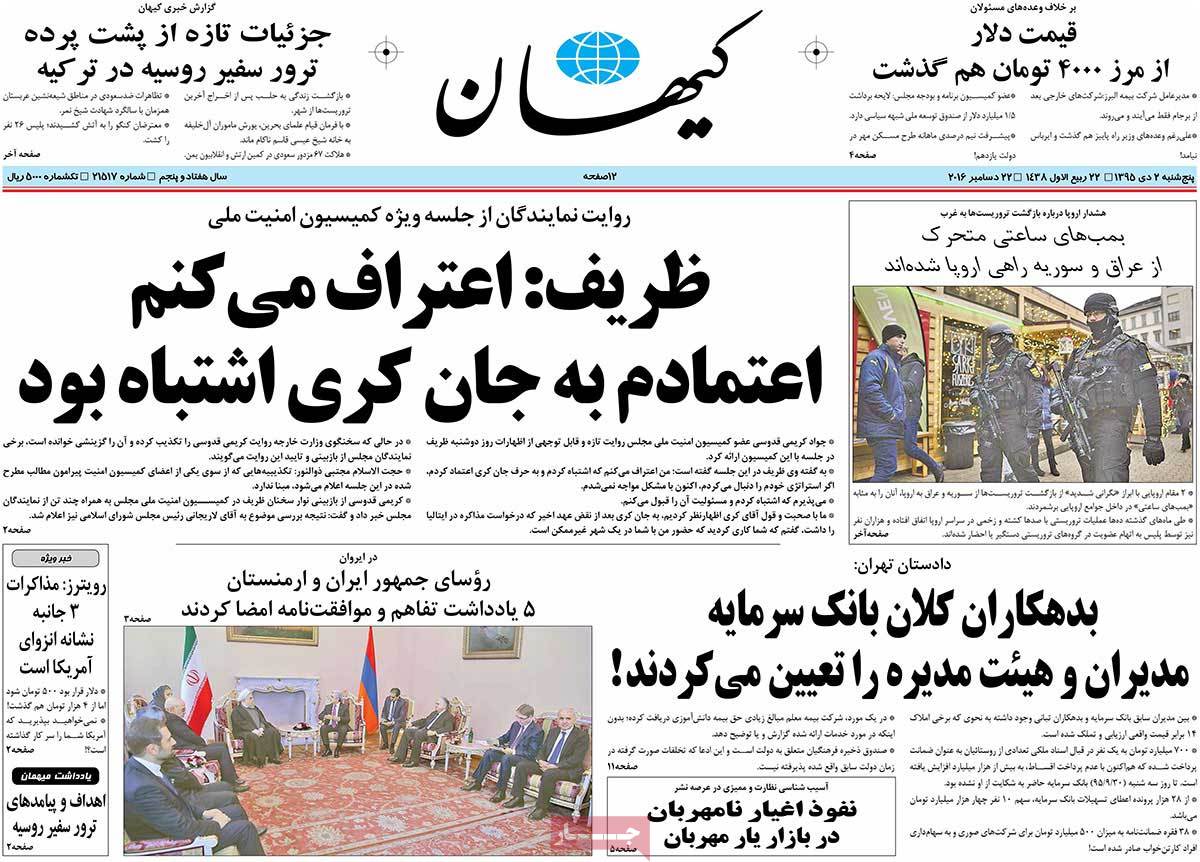 ---
Khorasan:
1- Korean Brand Receives $750 Million Fine: Iran's Customs Organization Discovers a Major Importer's Trick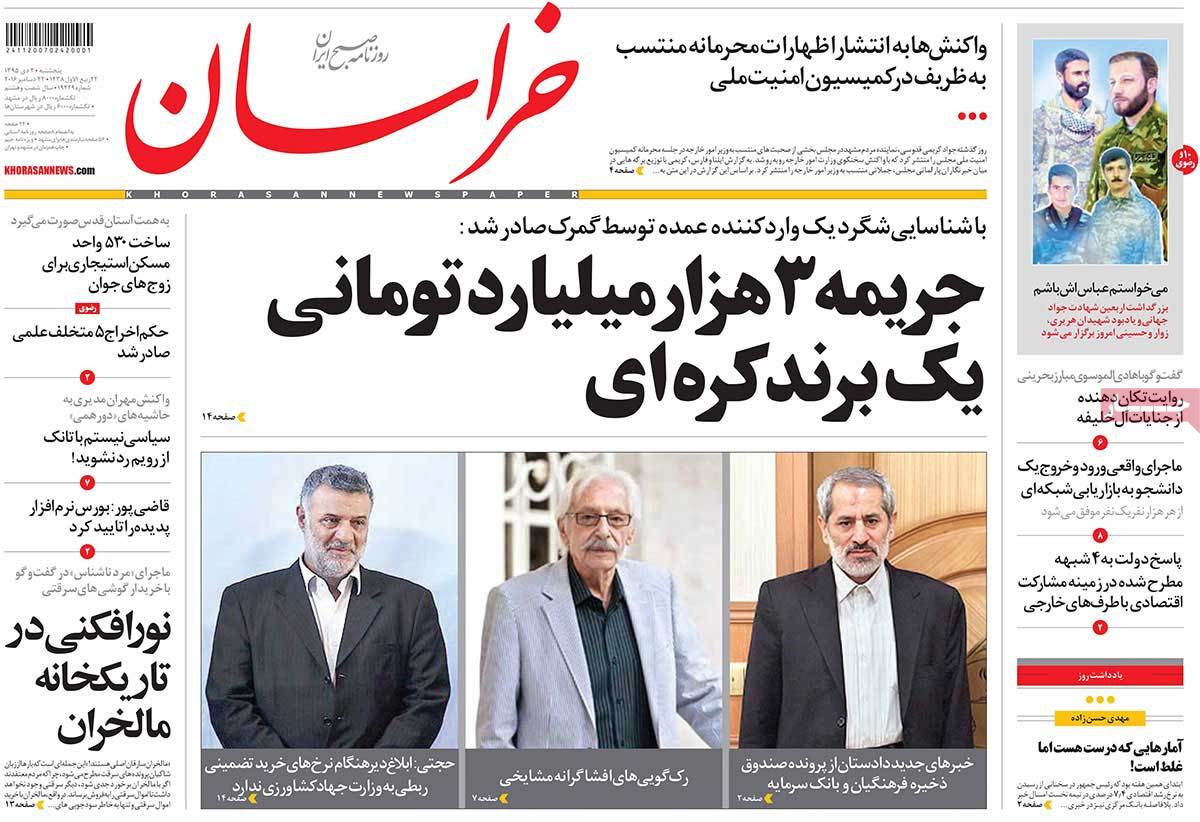 ---
Resalat:
1- Fight against Corruption Has No Way but Transparency: MP's Letter to Parliament
2- Senior Cleric Ayatollah Alavi Gorgani: We Can't Expect People Not to Complain
3- IRGC Has Carried Out 34,000 Projects to End Deprivation
---
Siasat-e Rooz:
1- Tehran Prosecutor General: 22 Executives Who Received Astronomical Salaries Summoned
2- Mistake in Trust: Is It Possible to Compensate?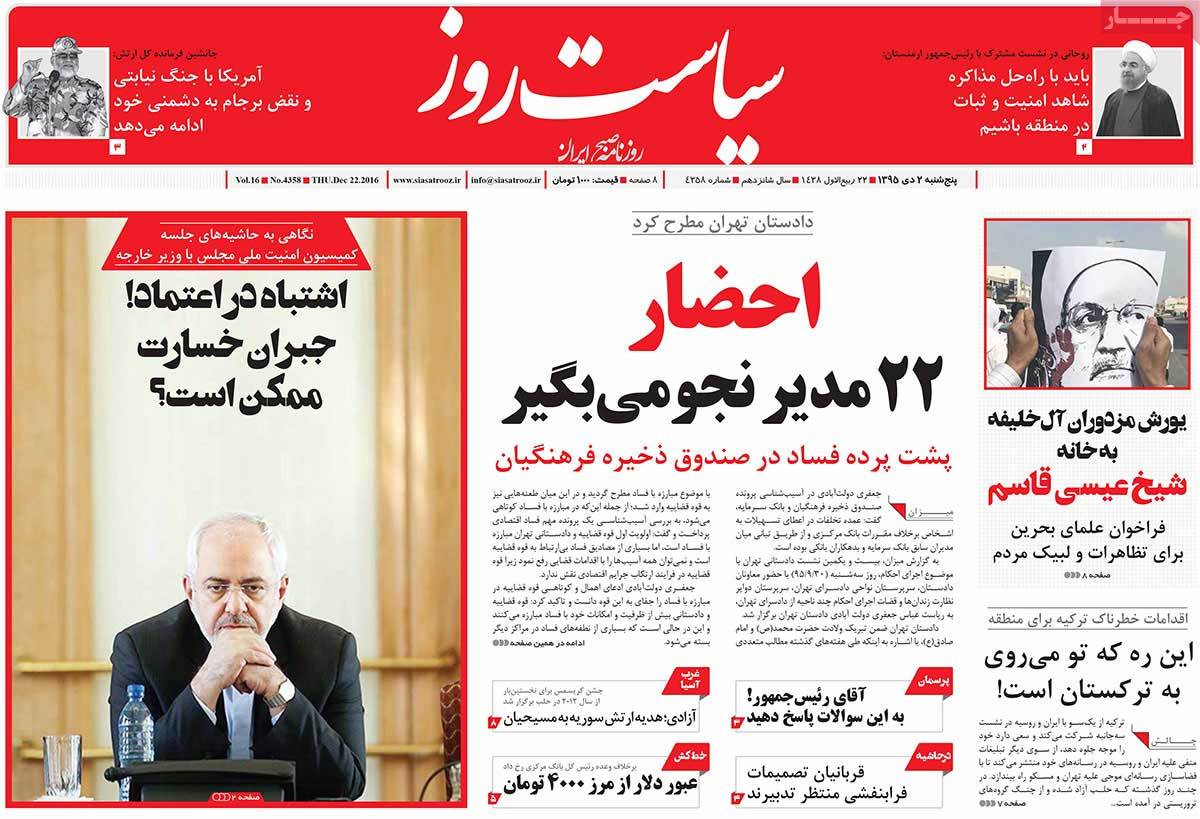 ---
Shahrvand:
1- Four Diseases Kill Half of Iranians: Diabetes, Cardiovascular Diseases, Respiratory Diseases, and Cancer Cause 52% of Deaths
2- Secrets behind Tehran's Traffic Jam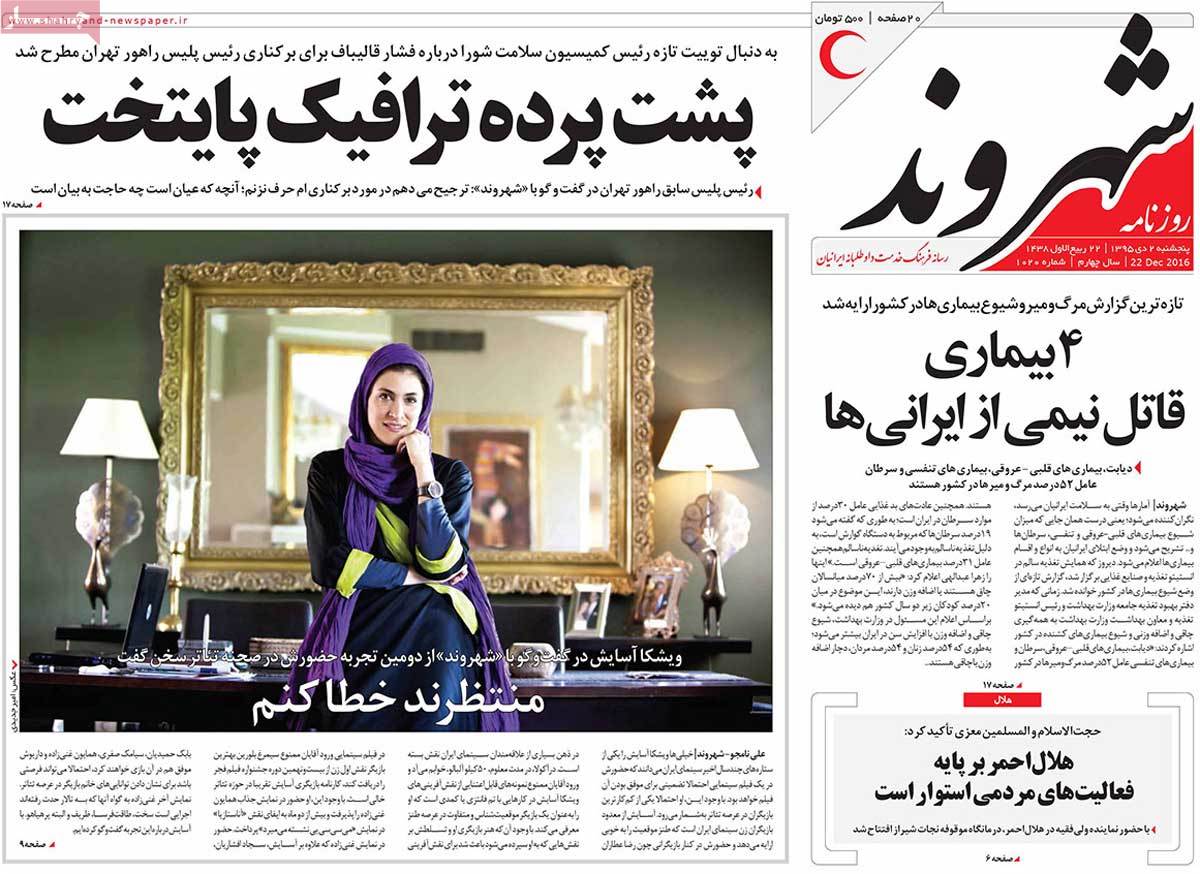 ---
Shorou:
1- Foreign Ministry Denies Remarks by Karimi Qoddousi about Zarif's Remarks: Hardliners Take Revenge from Zarif
2- Tehran's Response to New Delhi: We Won't Sell Iran's Oil Free of Charge
---
Vatan-e Emrooz:
1- I Was Wrong: Important Remarks by FM Zarif in Parliament's National Security and Foreign Policy Commission Meeting about His Trust in John Kerry's Promise to Prevent ISA Extension
2- Al Khalifa Attacks Defenders of Sheikh Qassim in Bahrain