The assassination of Russian Ambassador to Turkey was the top story almost in all newspapers today.
The Charter on Citizens' Rights unveiled by President Hassan Rouhani on Monday was also widely covered. Reformist and moderate papers said Rouhani has fulfilled its promise, and conservative ones asked him to do something about unemployment and huge salaries given to certain people.
Many papers also covered the ancient ceremony of Yalda Night, which will be observed by Iranian people tonight at the last night of autumn and the longest night of the year.
The above issues, as well as many more, are highlighted in the following headlines:
19 Dey:
1- Rouhani: No One Is Favoured by the Law
2- MP: Rouhani Has a Good Position among Conservatives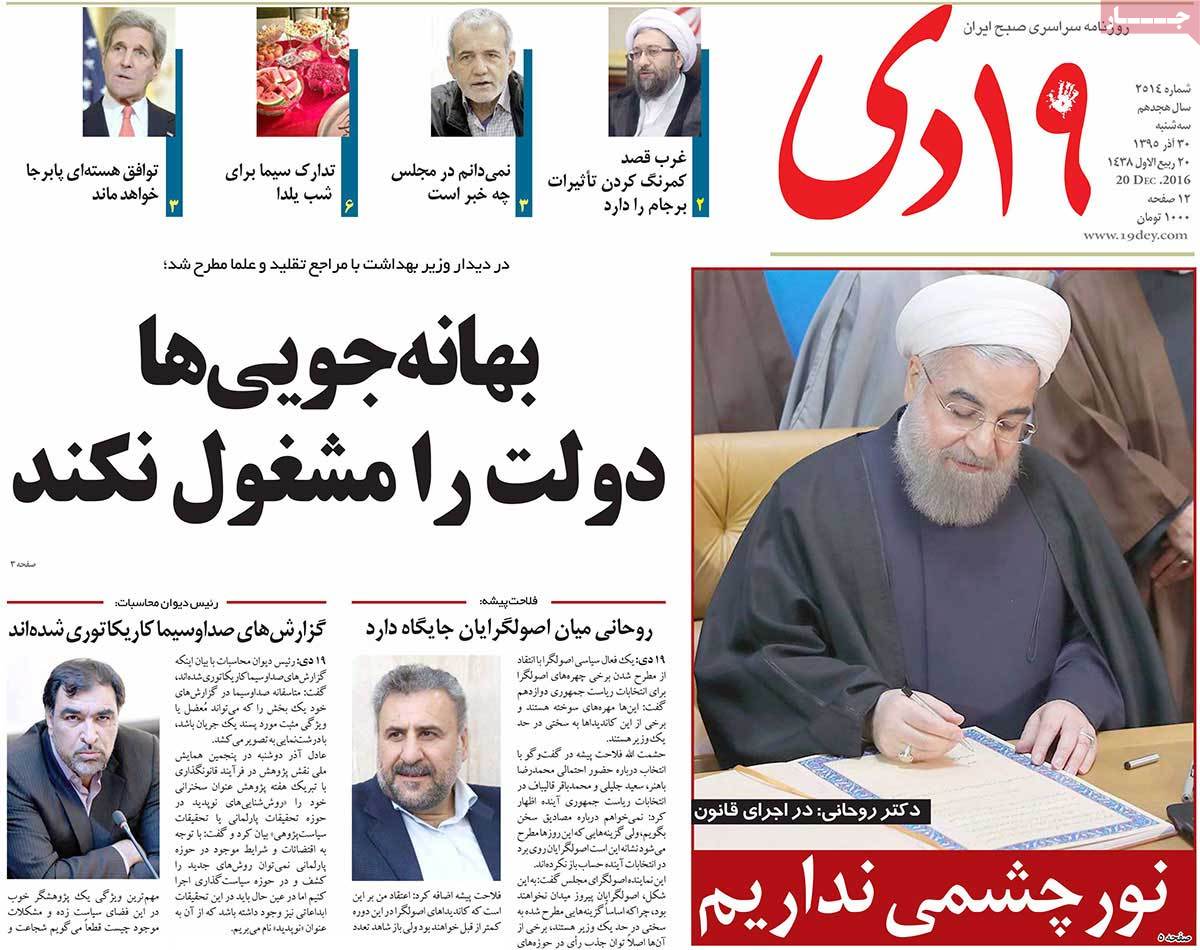 ---
Abrar:
1- MP Criticizes Increase in Taxes
2- Congress Trying to Empower Trump against Russia, Iran, and Turkey
3- Oxfam: Over 1 Million Iraqis Entrapped in Mosul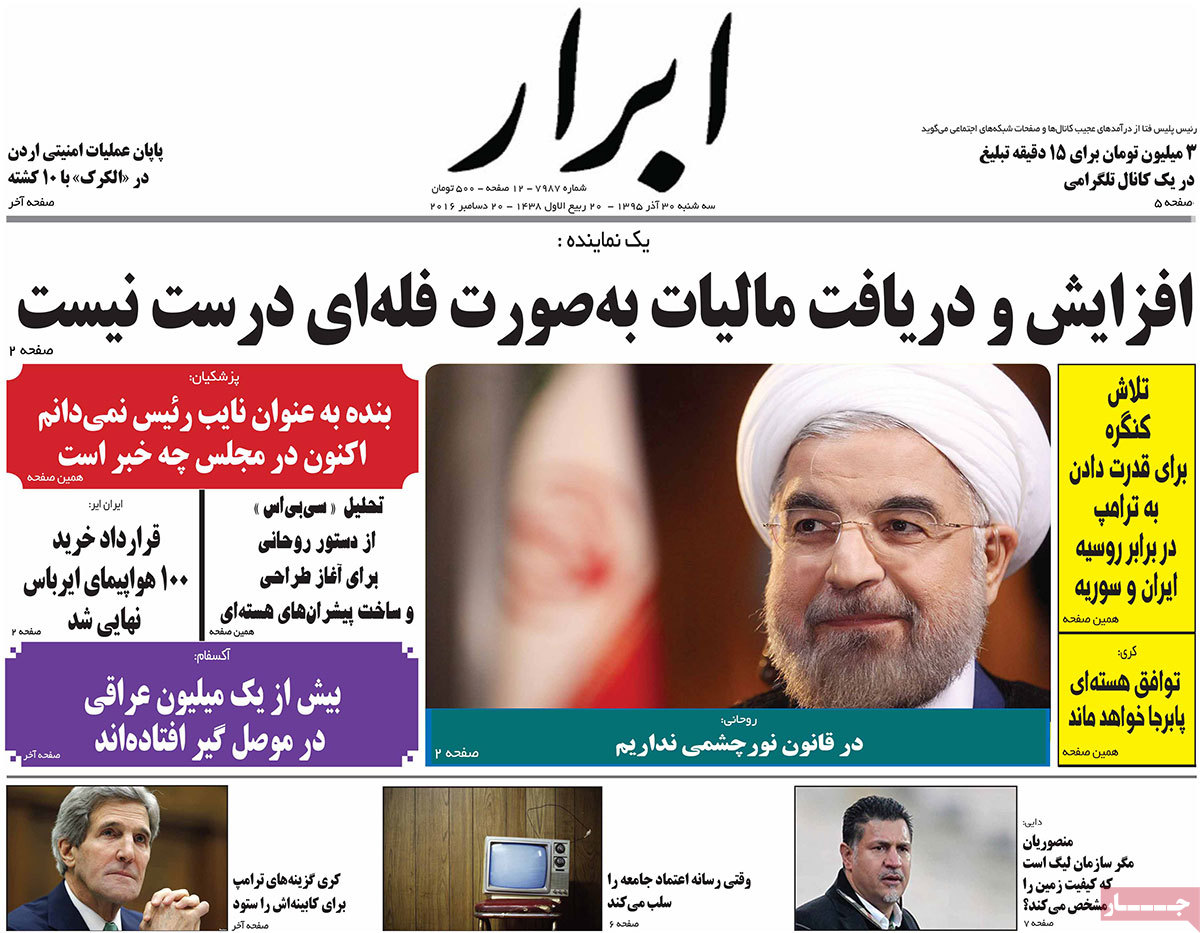 ---
Afkar:
1- Rouhani: I Had Promised Iranian Nation to Save the Economy
2- Obesity and Overweight Threatening Iranians
3- Budget Allocated to Revival of Lake Urmia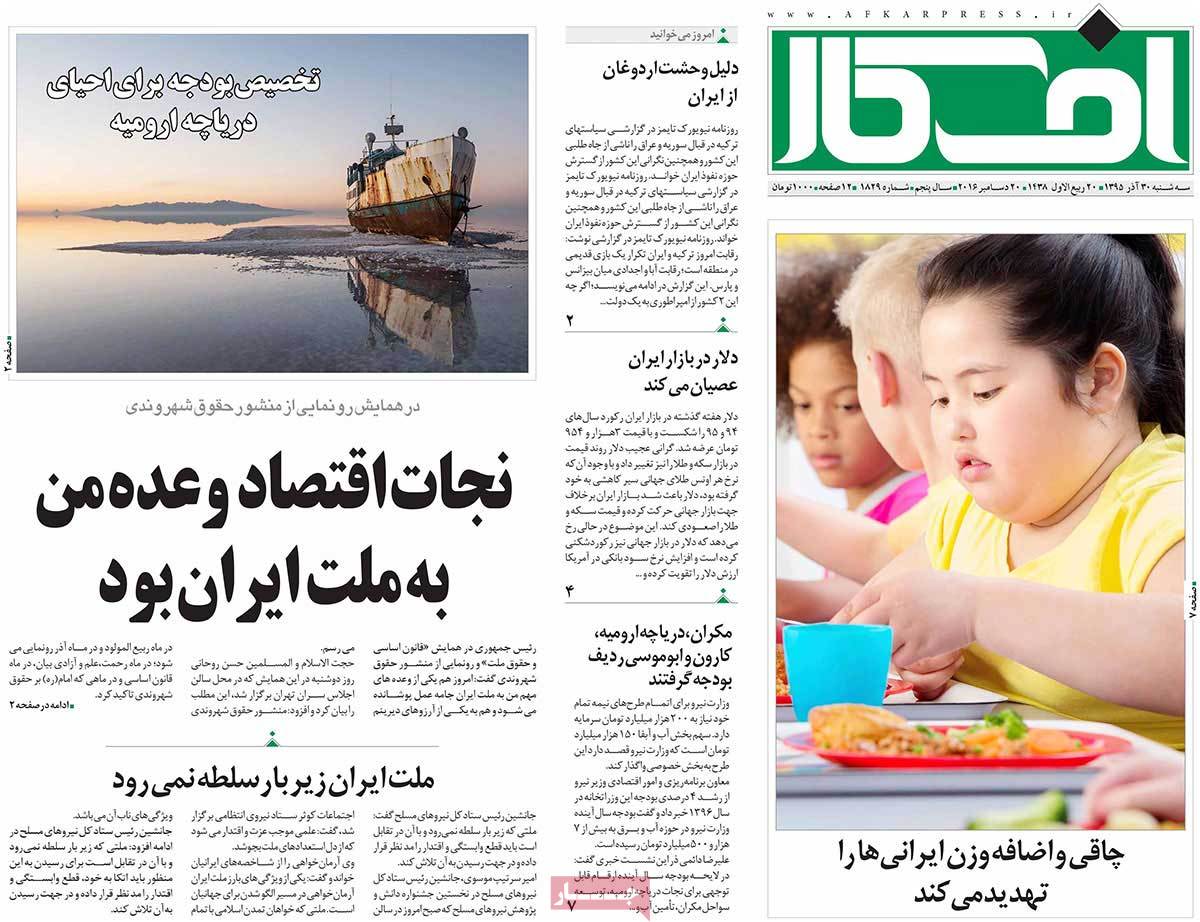 ---
Aftab-e Yazd:
1- A Report on Ancient Celebration of Yalda Night: Celebrating the Birth of Light
2- Deputy Head of Iran's Meteorological Organization Gives Details of Iran's Purchase of American Supercomputer after JCPOA
3- President Rouhani Carries Out His Campaign Promise: 'Charter on Citizens' Rights' Unveiled by Rouhani Cautiously Welcomed by Jurists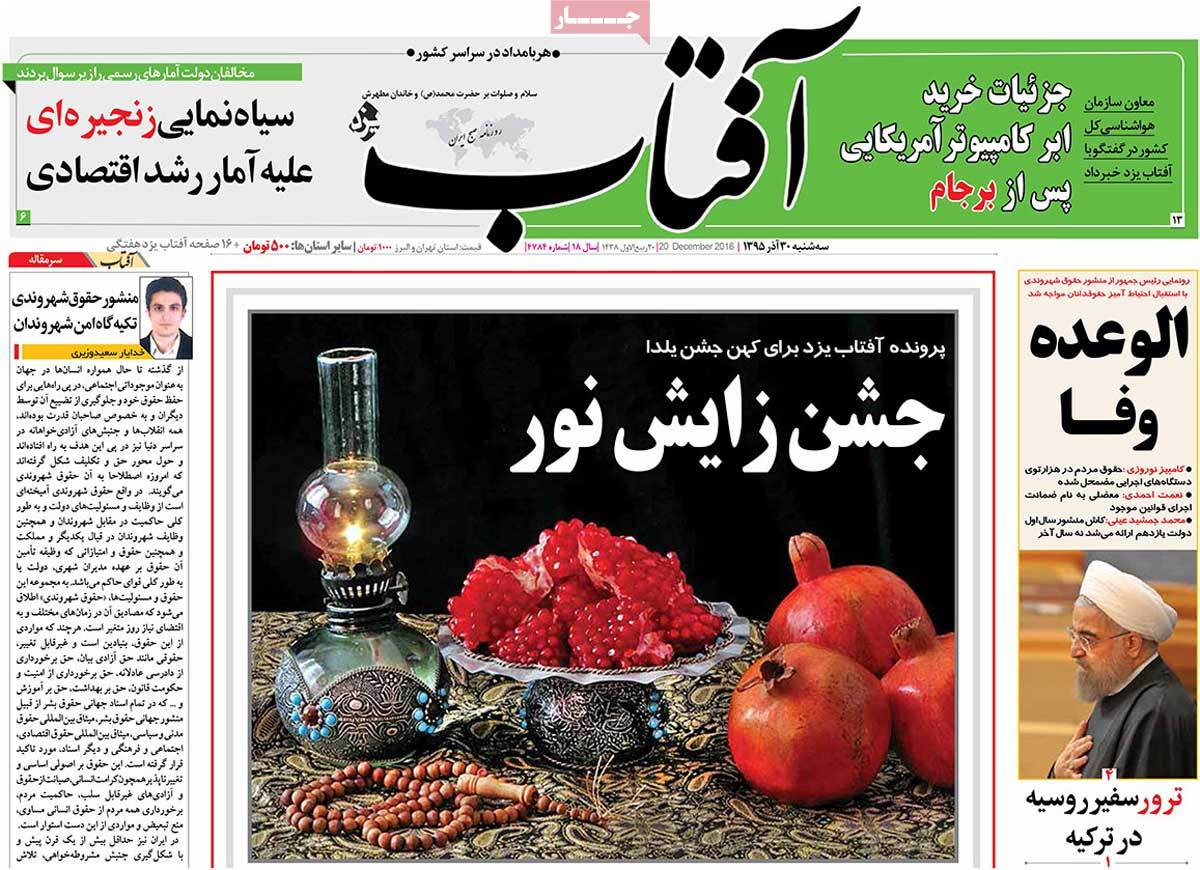 ---
Arman-e Emrooz:
1- President: I'll Keep All My Promises until the End; No Individual, Body, or Medium Should Be Exempted from Law
2- We're Worried that People Would Get Disappointed in Rouhani: Politician
3- Manoeuvre of Increasing Prices in Yalda Night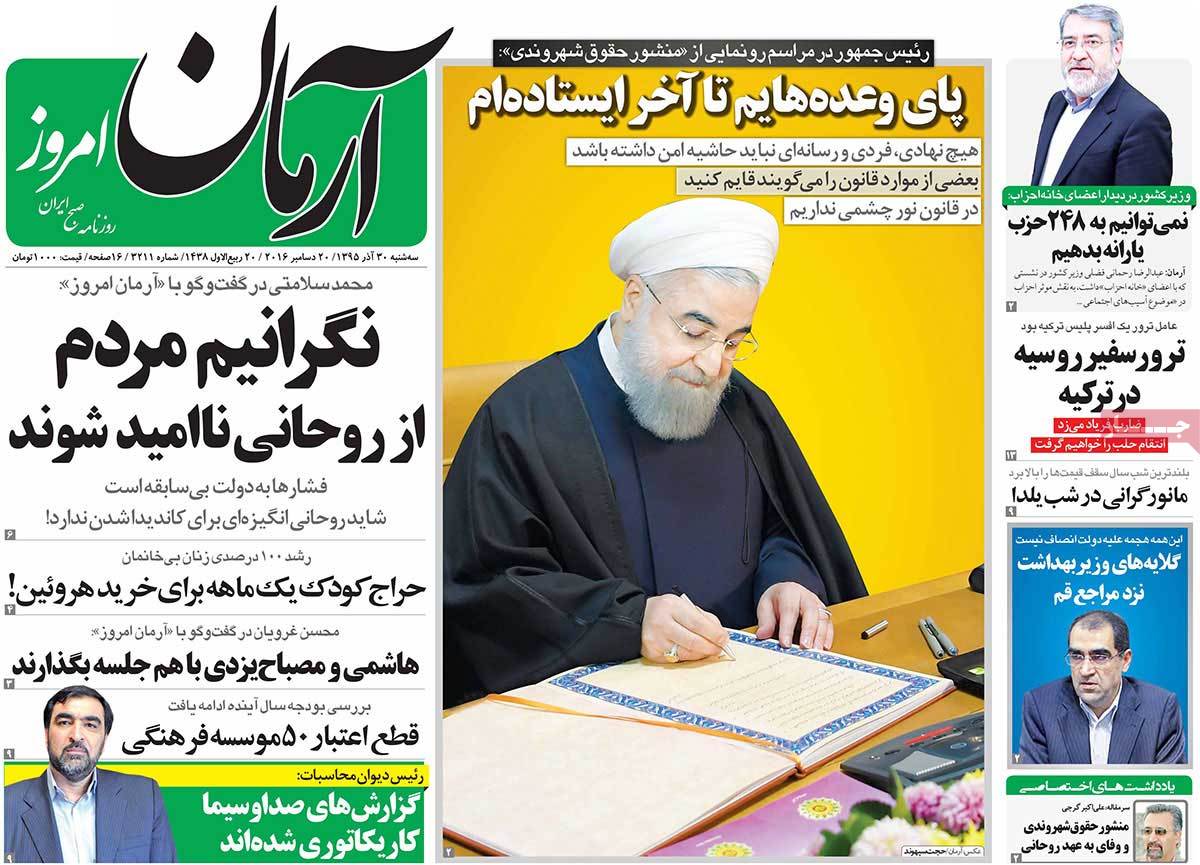 ---
Asrar:
1- No Talks of Degrading Level of Ties with British Government: Foreign Ministry Spokesman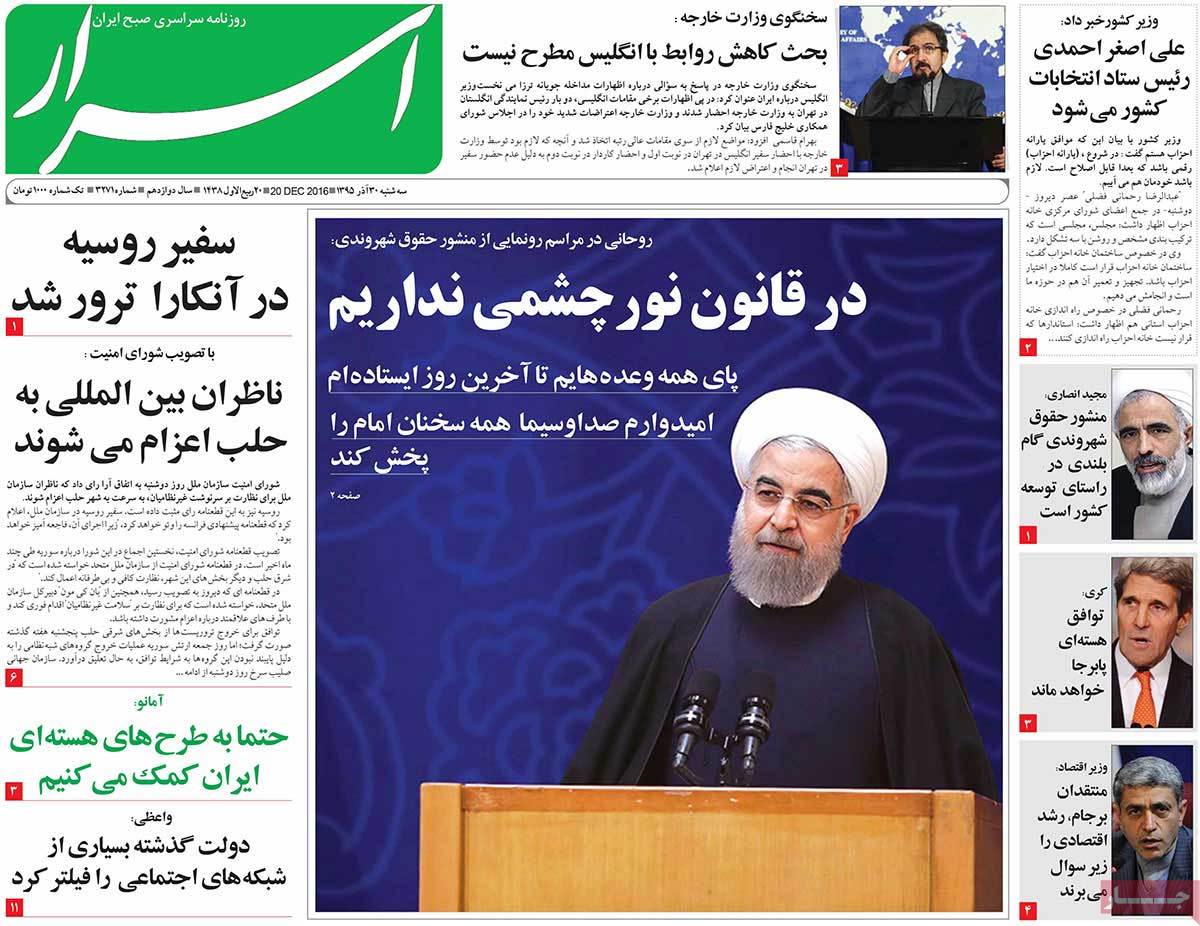 ---
Ebtekar:
1- A Charter to Remember: Rouhani Fulfils His Promise to Develop a Charter on Citizens' Rights
2- Iran's Initiative in Moscow for Syria
3- Taking Revenge in Terrorists' Style: Russian Envoy to Turkey Killed
4- Colourful Night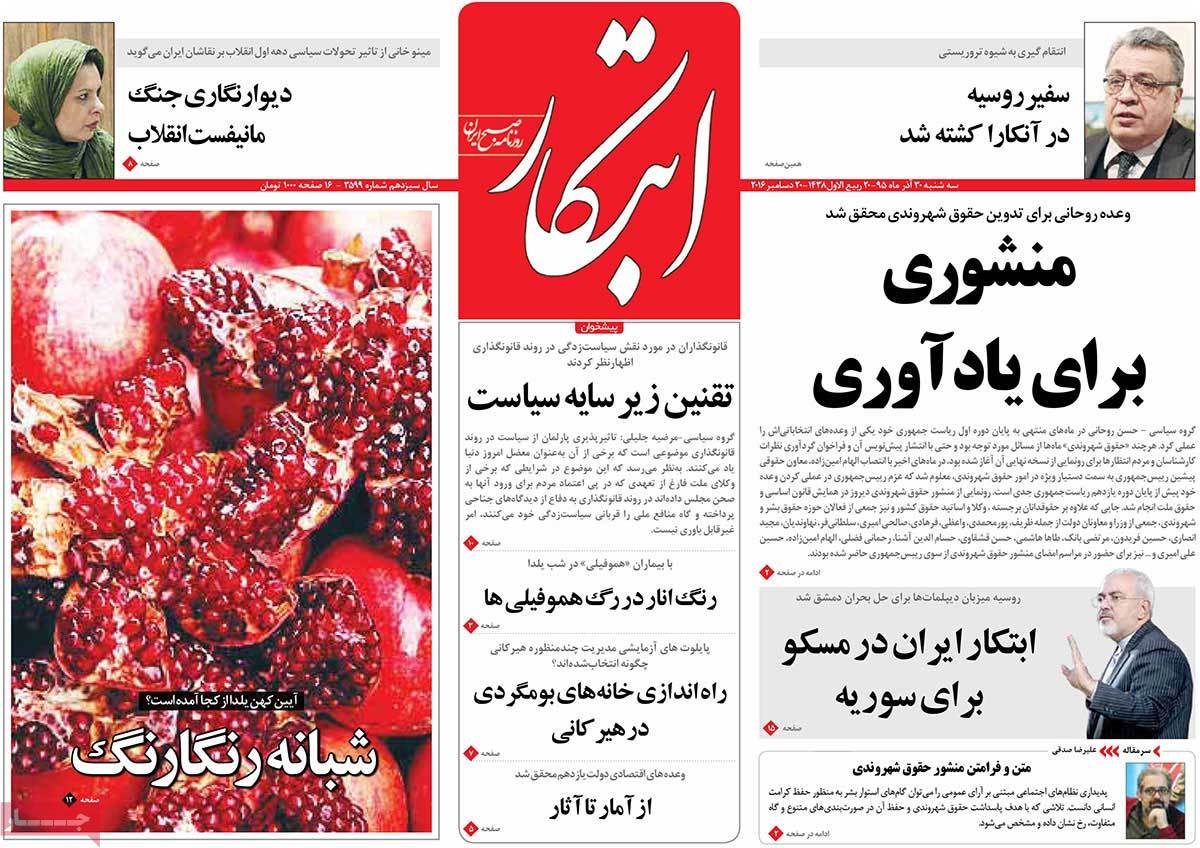 ---
Etemad:
1- Civil Treaty: Rouhani Signs Charter on Citizens' Rights While Emphasizing Responsibilities of Establishment and People
2- Russian Ambassador Shot Dead: Assassin Was Killed by Security Forces after Chanting Slogans about Aleppo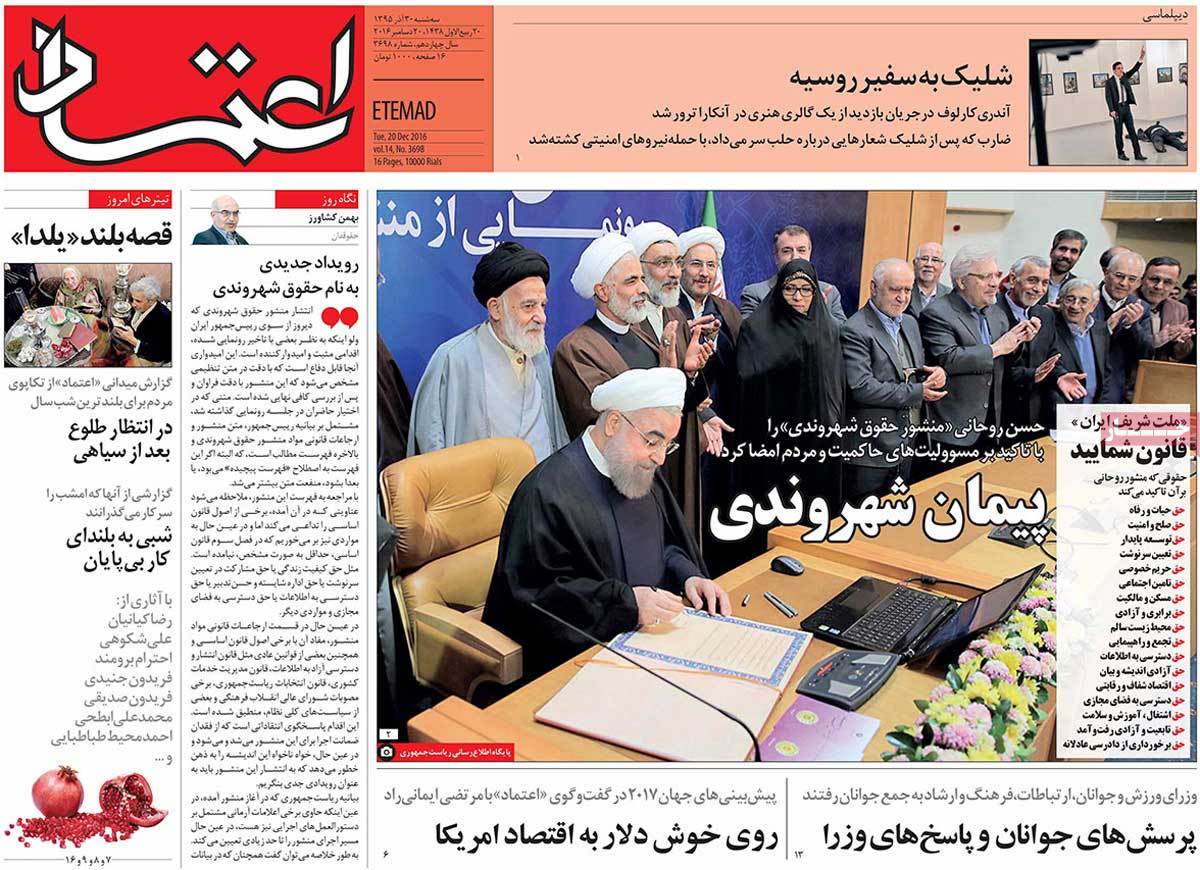 ---
Ettela'at:
1- Rouhani: Government's Resolve to Guarantee Civil Rights Is Serious
2- Iranians Will Celebrate Longest Night of the Year Tonight
3- Parliament Sets 8% as the Goal of Economic Growth Rate in 'Sixth Development Plan'
4- Russian Envoy to Ankara Assassinated: Putin Holds Security Session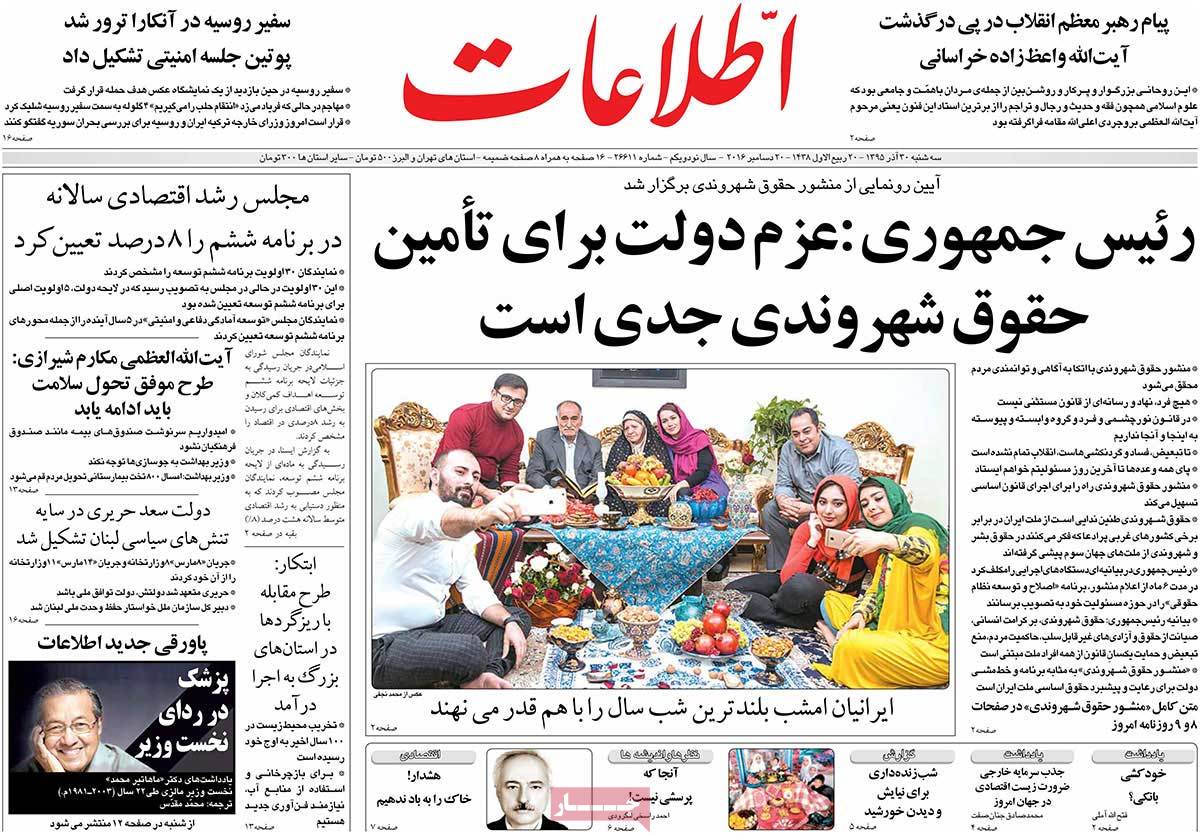 ---
Ghanoon:
1- Our Share Was Just a Text Message!
2- Shooting Moscow from Ankara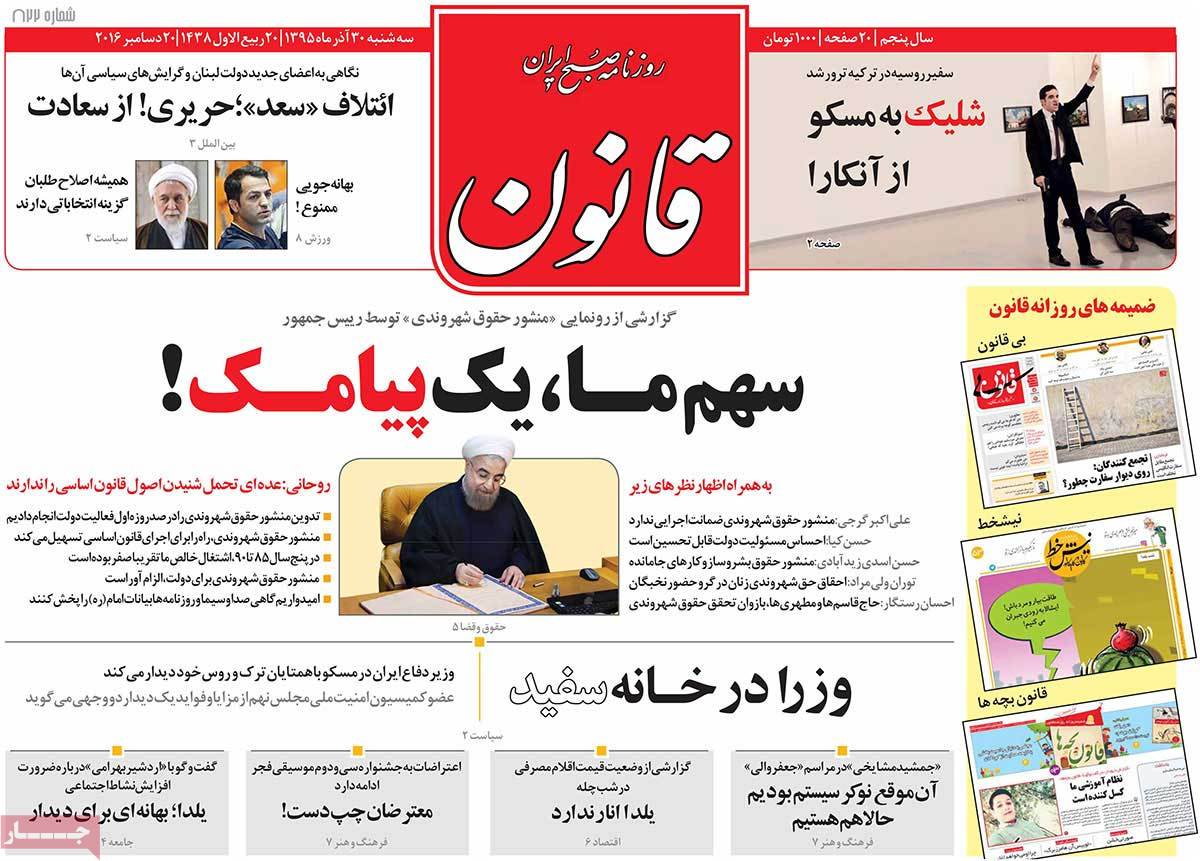 ---
Hemayat:
1- Judiciary Chief: Washington's Long-Term Strategy Is to Restore Anti-Iran Sanctions
2- Zarif Voices Iran's Protest at US Violation of Sanctions in Phone Conversation with Kerry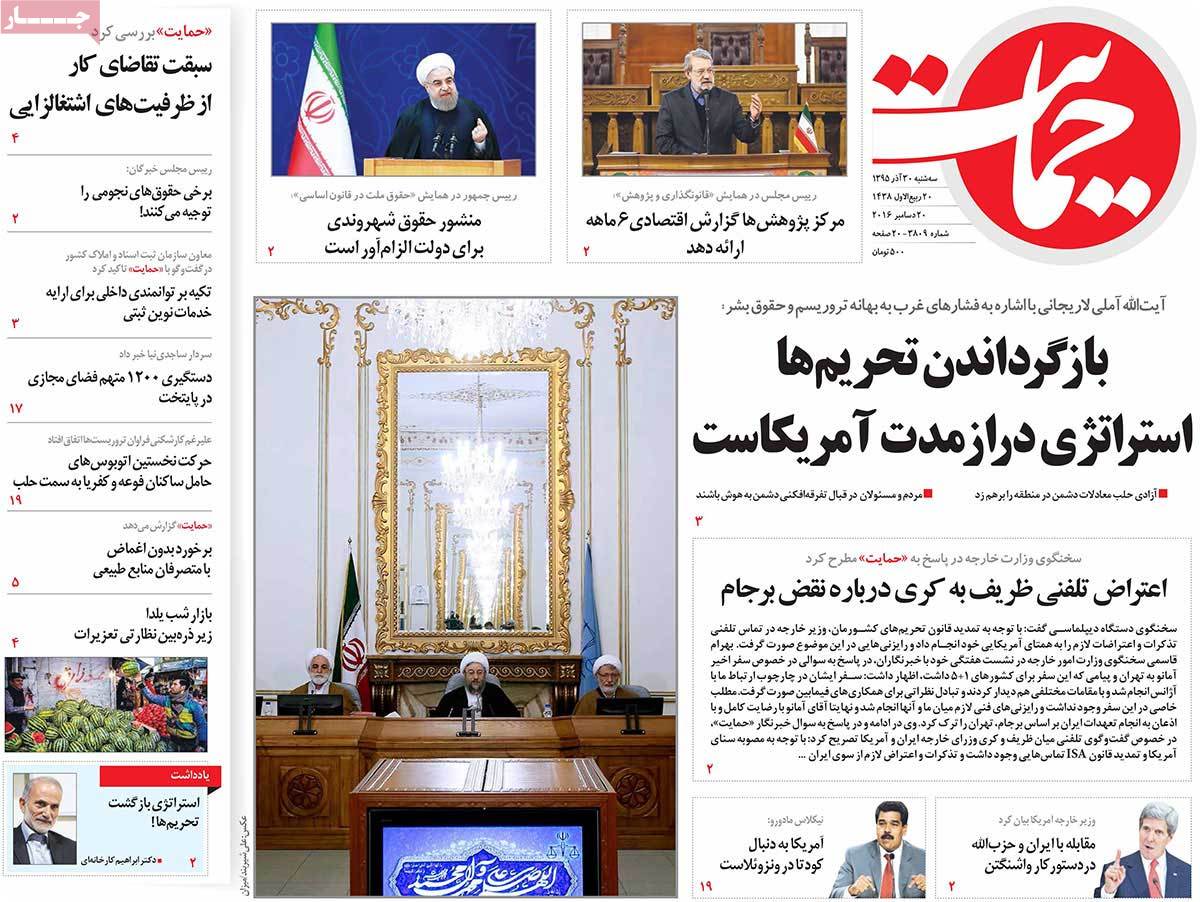 ---
Iran:
1- Senior Clerics in Qom Support RouhaniCare
2- Yalda, a Night to Gather Together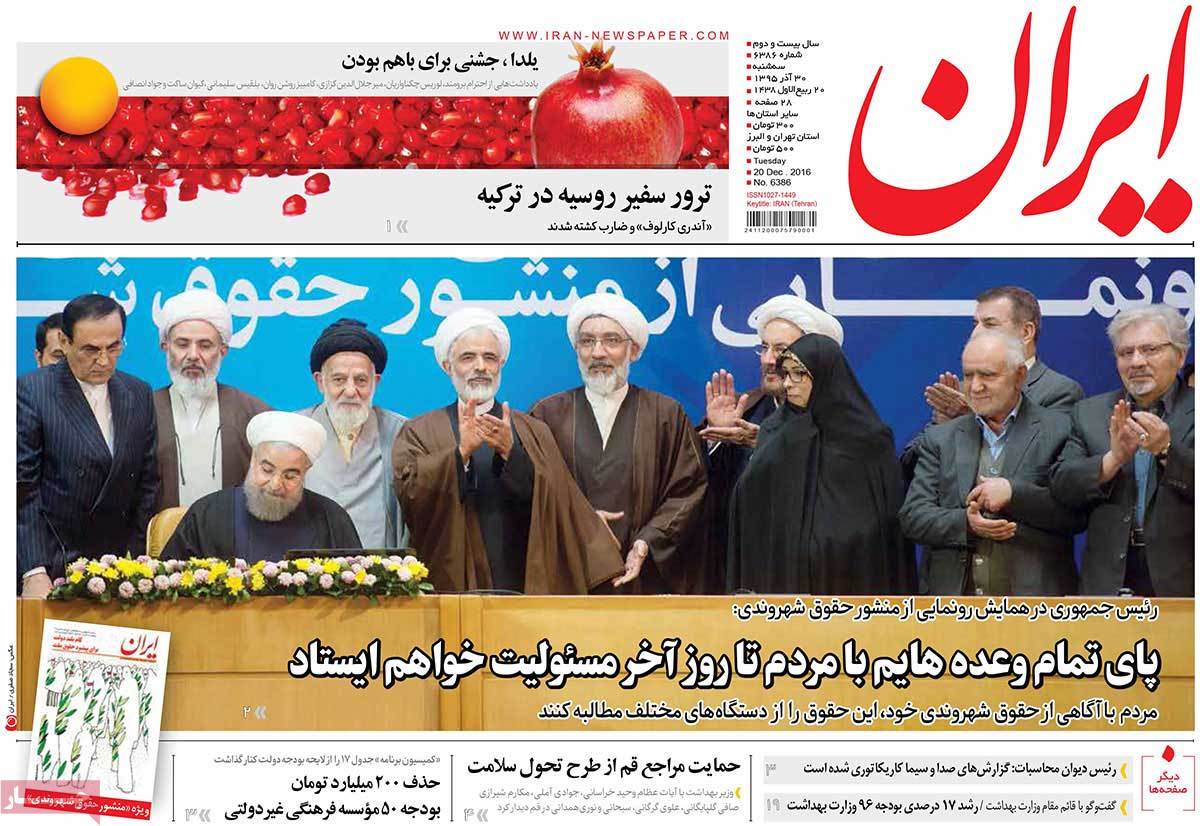 ---
Jame Jam:
1- Shadow of Terror over 2+1 Diplomacy: Russian Ambassador in Turkey Shot Dead
2- Celebration of Longest Night of the Year in IRIB TV Channels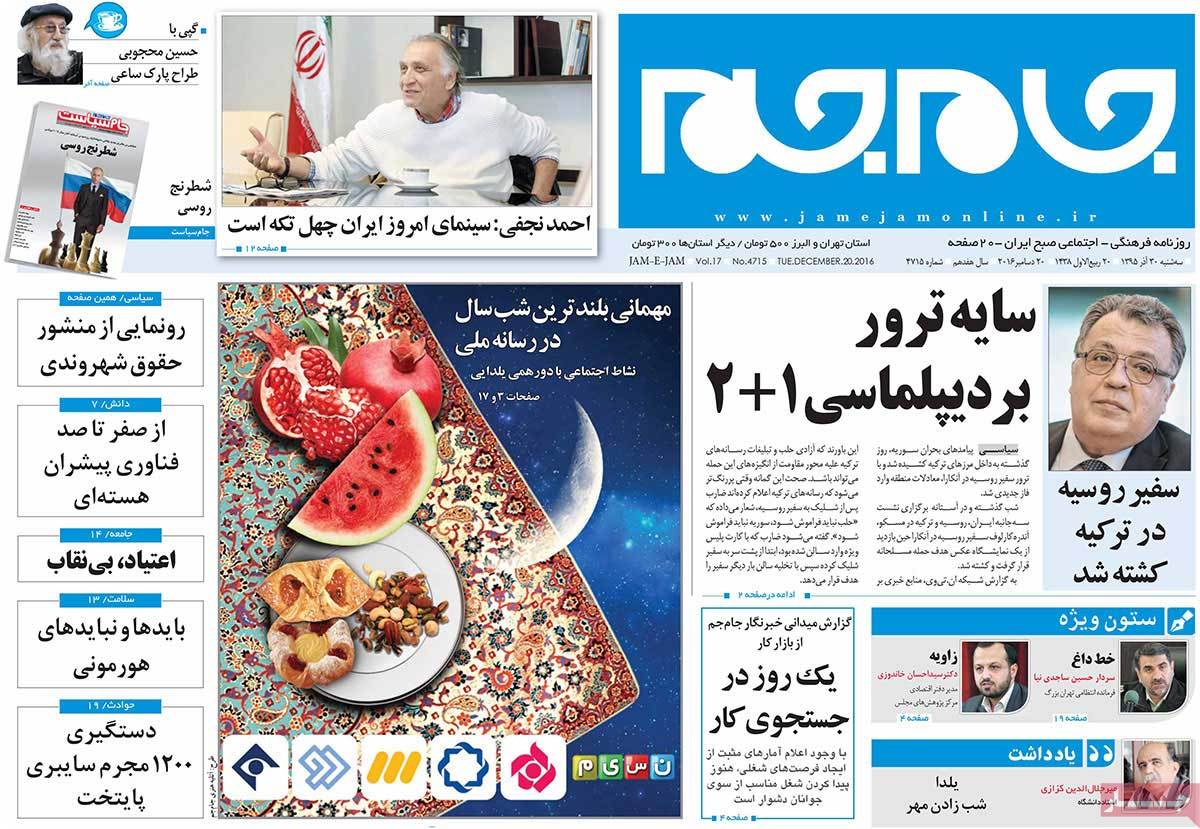 ---
Javan:
1- President Rouhani Sends Text Message to Inform People of Their Civil Rights, but Unemployed People, Those Living in Slums, and Single Young People Didn't Receive the Message!
2- Rouhani: I Saved Iran's Economy; He Cites a Deal with France for Joint Car Manufaturing as an Instance of Saving Iran's Economy!
3- Kerry Allays Zarif's Concerns
4- First Group of al-Foua and Kafrya Civilians Evacuated after 21 Months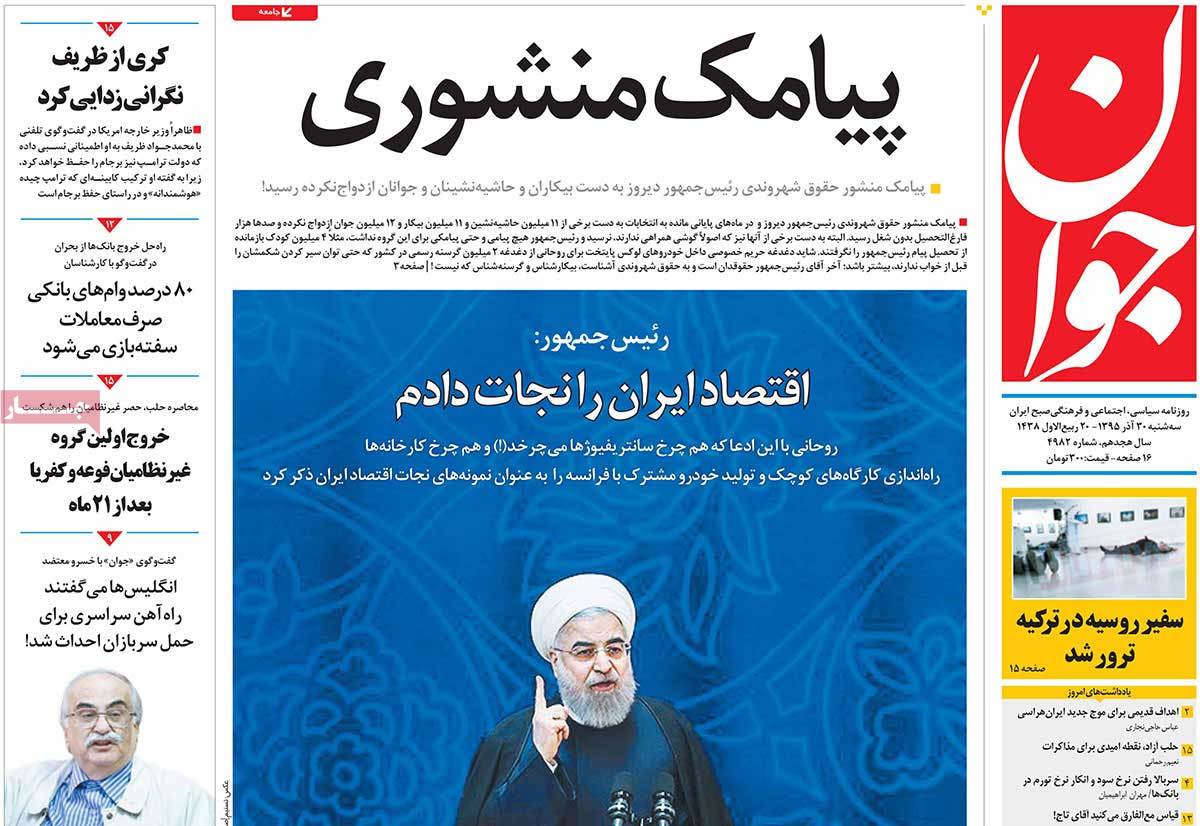 ---
Jomhouri Eslami:
1- First Purchased Airbus Will Land in Iran Next Month
2- Full Text of 'Charter on Citizens' Rights': A Charter with 23 Titles and 120 Articles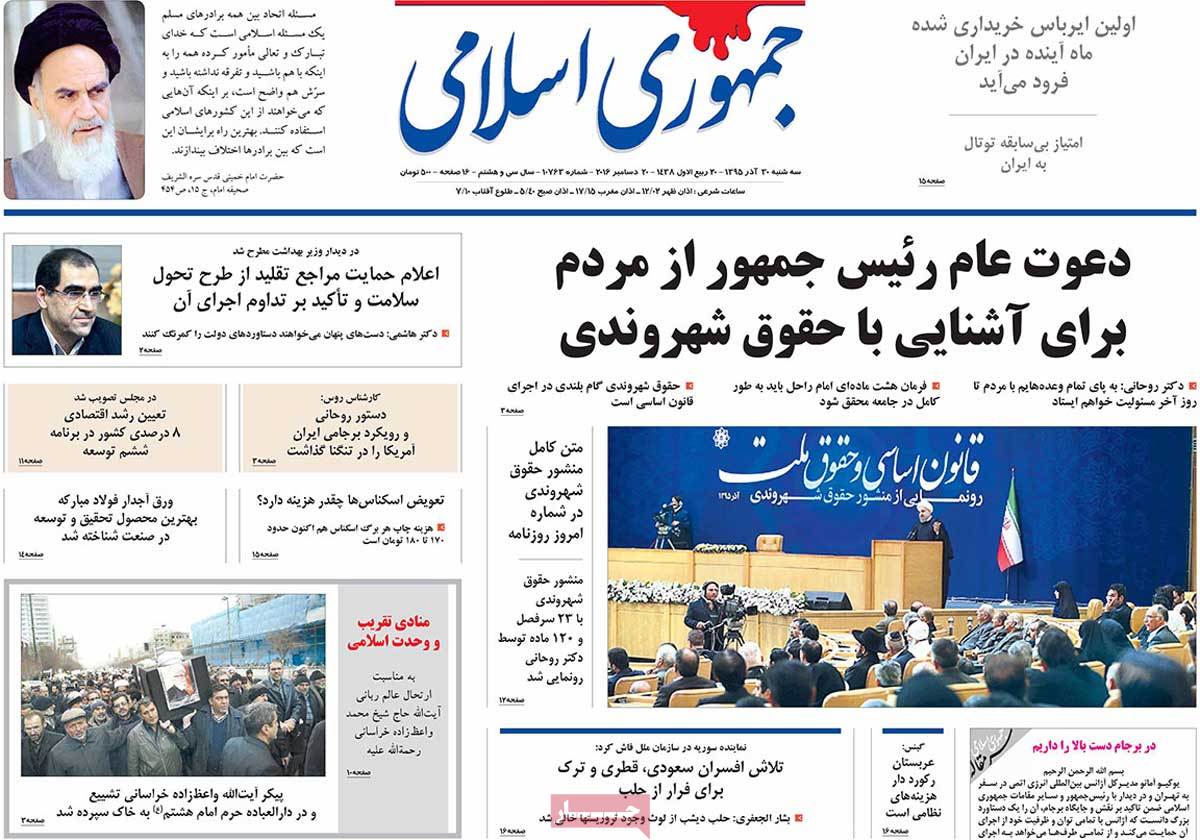 ---
Ka'enat:
1- A Report on Yalda Night in 2016
---
Kayhan:
1- If You End Giving Astronomical Salaries and Stop Favouring Certain People, Civil Rights Will Be Secured
2- In TV Show Poll: 70% of Iranian People Prefer Development of Railway System to Purchase of Planes
3- New Lebanese Cabinet Is Formed: Key Posts for Hezbollah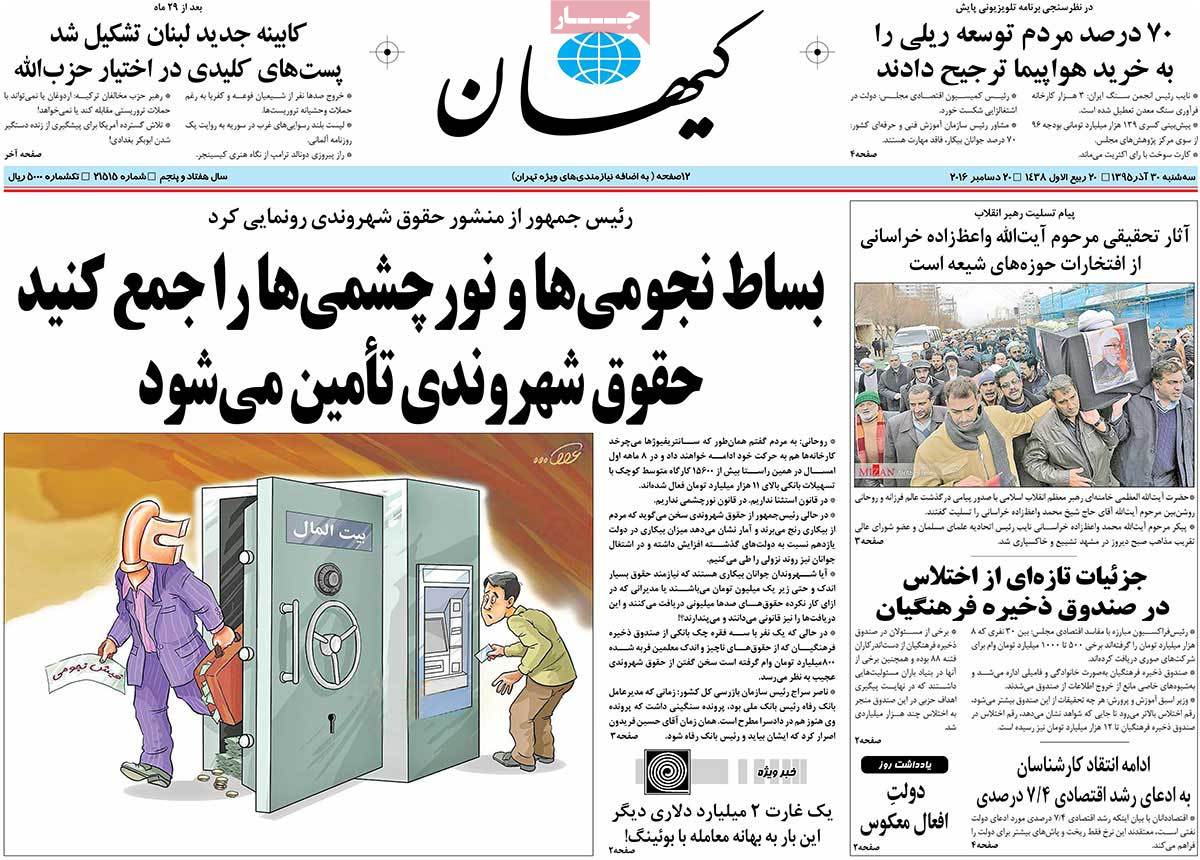 ---
Khorasan:
1- Happy and Sweet Yalda Night
2- Assassination of Russian Ambassador in Turkey: Shadow of Crisis over Middle East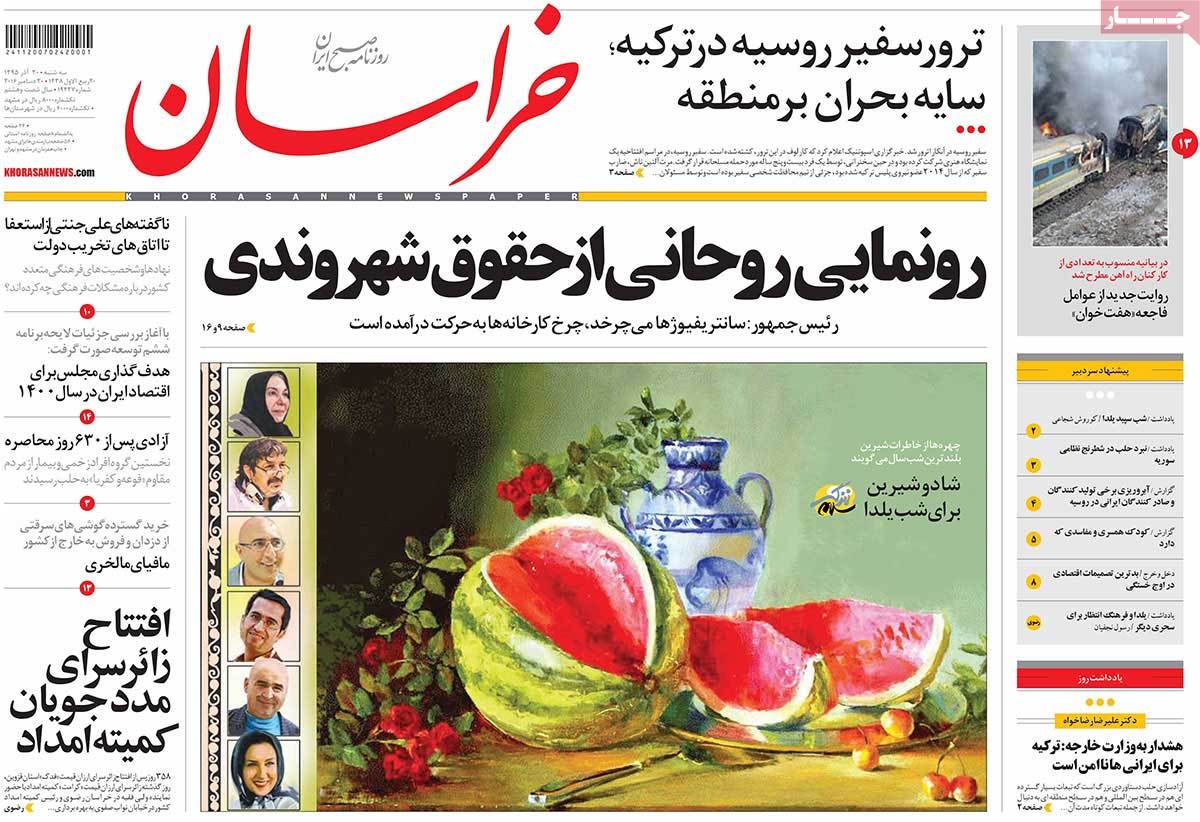 ---
Shahrvand:
1- People's Right
2- 500 Young Iranians Express Their Concerns in Q&A Session with 3 Ministers