The majority of newspapers today covered the remarks made by the Leader of the Islamic Revolution Ayatollah Seyyed Ali Khamenei in the religious coming of age ceremony for hundreds of Iranian teenagers.
The separate orders given by President Hassan Rouhani to Foreign Minister Mohammad Javad Zarif and nuclear chief Ali Akbar Salehi were also widely covered. Rouhani's orders were issued in reaction to the US violation of nuclear deal with Tehran.
The economic contracts between Iran and Russia, particularly those in the field of energy, were also a top story today.
The liberation of Syrian city of Aleppo and the increase in Iranian women's political activities were among other top stories.
The above issues, as well as many more, are highlighted in the following headlines:
Abrar:
1- Number of Displaced People in Mosul Exceeds 100,000
2- Sardar Azmoun Chosen as Best Asian Young Player of Year in 2016
3- Head of Chamber of Commerce Harshly Criticizes Rouhani's Administration: Government Has Shut Down the Country's Industry
---
Abrar-e Eqtesadi:
1- Akhoundi Is Not a Good Transport Minister; Parliament Members Say His Performance Has Been Poor
2- Iran to Sign New Oil Contracts Worth $25 Billion
3- Oil Minister: Iran Sells 100,000 Barrels of Crude Oil to Russia Every Day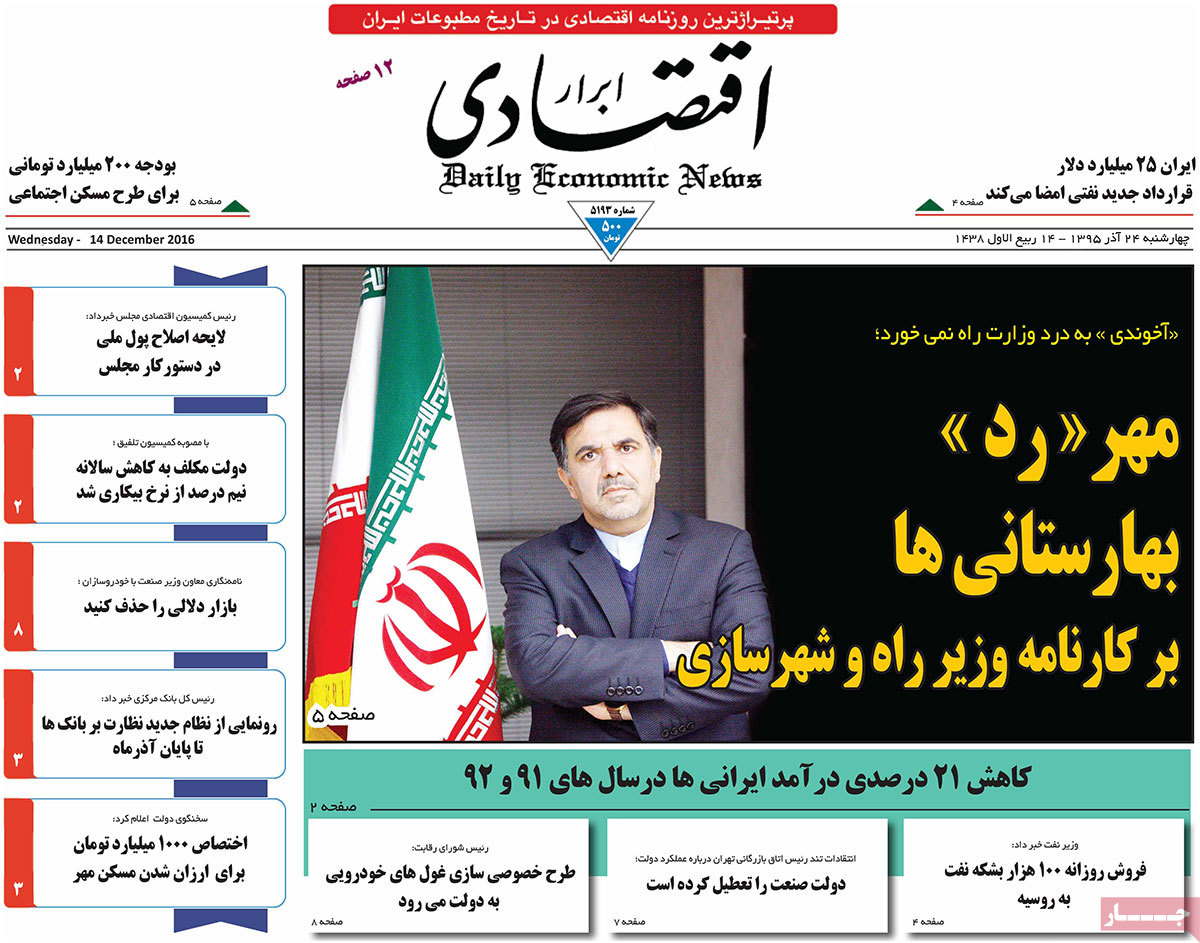 ---
Afkar:
1- Government Spokesman: Iran and Group 5+1 Should Hold Extraordinary Meeting
2- Rouhani: Terrorism and Divisive Policies Are Two Big Plots of Enemies against Free Nations of Middle East
---
Aftab-e Yazd:
1- Iran's Leader: Enemy Seeks to Infiltrate into [Minds of] Iranian Youths and Teenagers
2- A Report on Consequences of Aleppo Liberation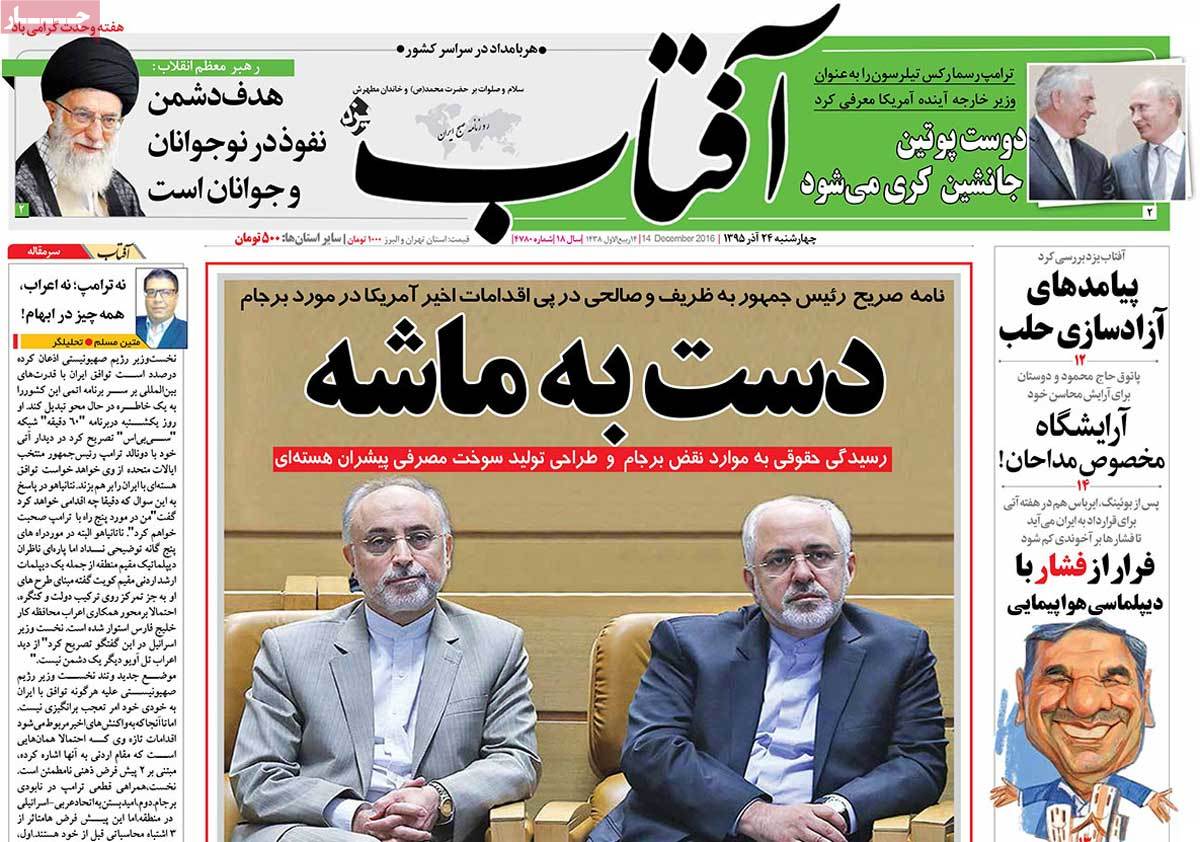 ---
Arman-e Emrooz:
1- Iran's Leader to Students: Tomorrow of Iran and History Belongs to You, Be Prepared
2- Putin's Friend Elected as Trump's Secretary of State; Tillerson: Political Sanctions Are Harmful
3- Tsunami of Leaving Babies behind: 60 Infants Are Monthly Left Alone in Mashhad
4- Interior Minister: I Agree with Women's Presence in Election's Executive Committees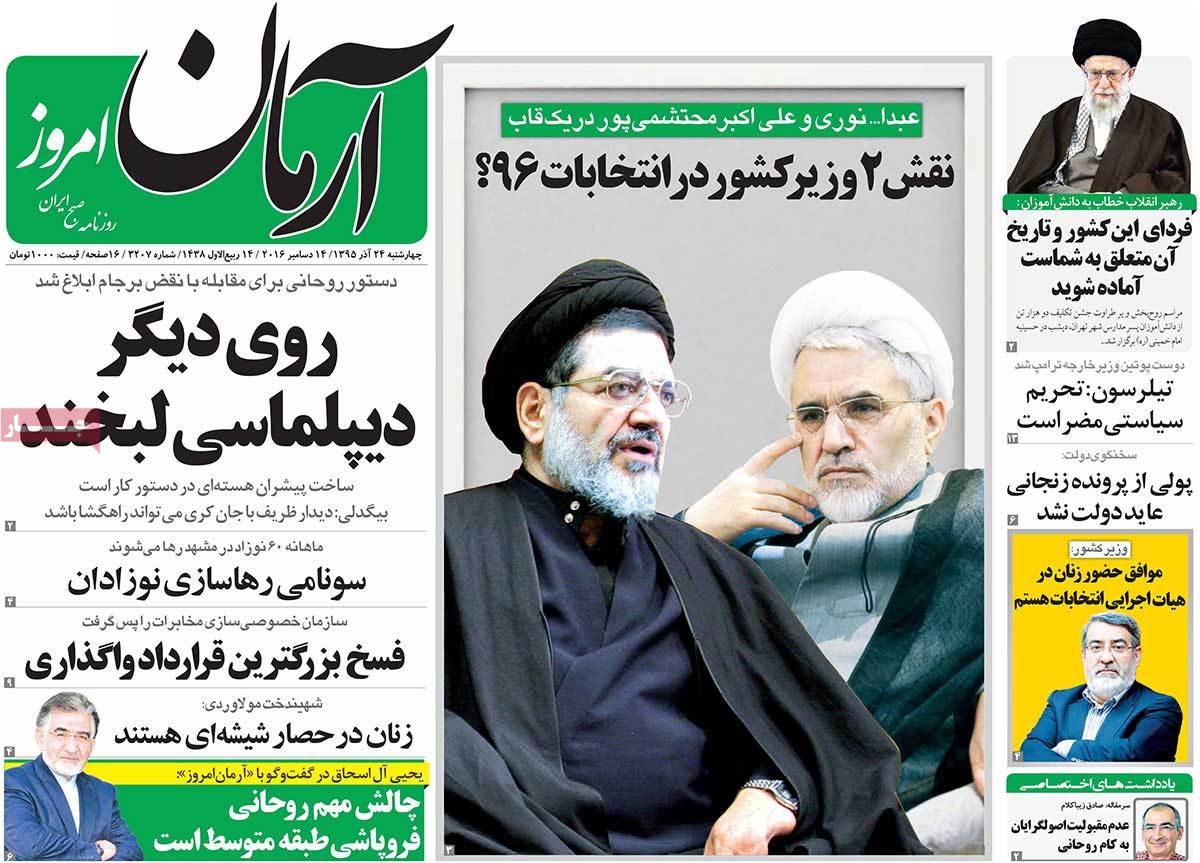 ---
Asr-e Rasaneh:
1- Transport Minister after Talks with Turkish Counterparts: Iran Wants to Expand Its Cooperation with Turkey in the Field of Transportation
2- Iran and Russia to Have Mutual Cooperation in Building Satellite
http://www.jaaar.com/assets/images/pishkhan/1395/9/24/456ac9b0.jpg4
---
Asrar:
1- Zarif: Opening of EU Office in Tehran Is Out of Question
2- Ayatollah Rafsanjani: Some People Put Their Entire Energy on Creating Division
3- Biggest Contract to Privatize State-Owned Organizations Will Be Annulled: Telecommunication Company of Iran Temporarily Returned to Government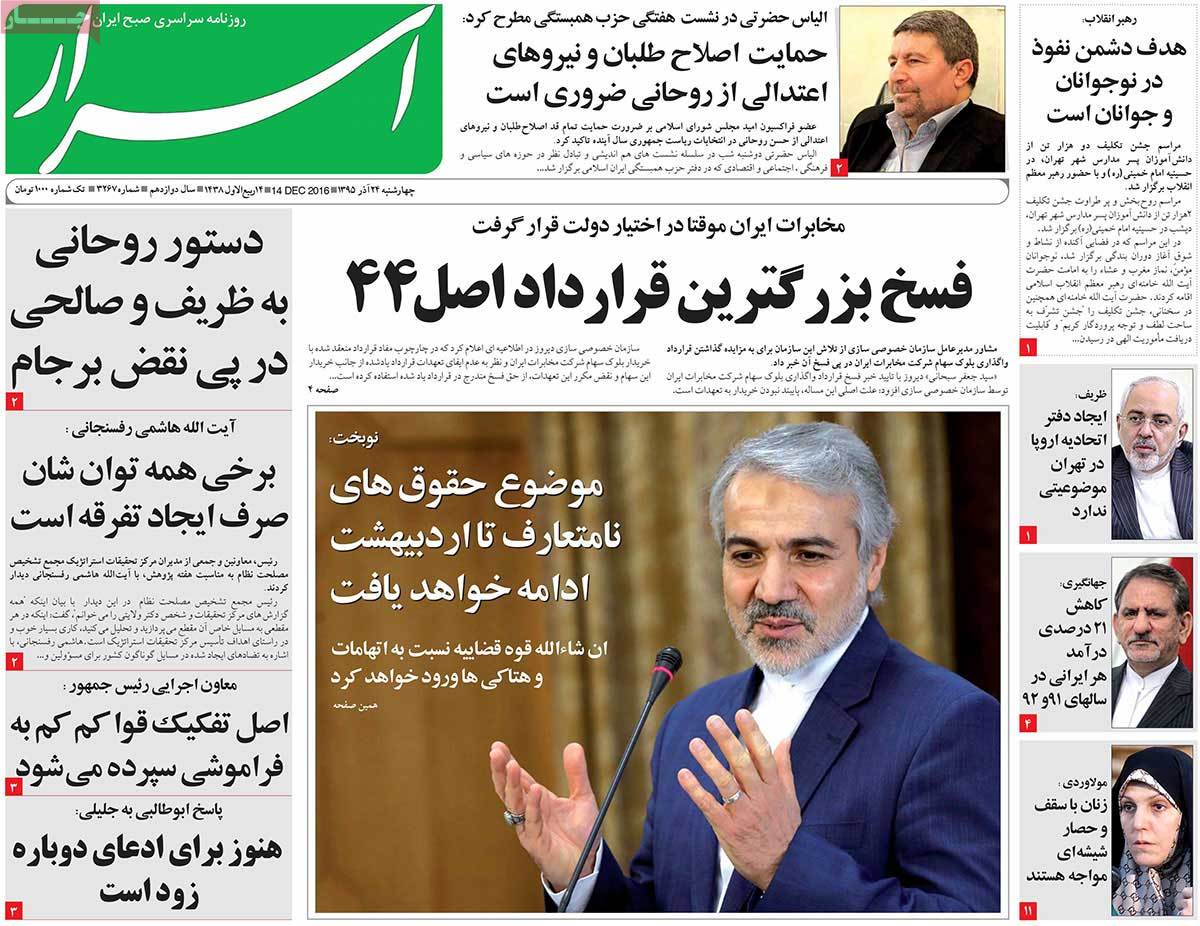 Besharat-e Now:
1- VP for Women Affairs: Iranian Women Are Faced with Several Barriers for Political Progress
2- Government Spokesman Urges People to Trust the Government and Be Informed of Problems
3- Asghar Farhadi's 'The Salesman' Nominated for Golden Globe Awards
http://www.jaaar.com/assets/images/pishkhan/1395/9/24/160c8865.jpg
---
Emtiaz:
1- 67% of Crossings in Tehran Are Blocked by Cars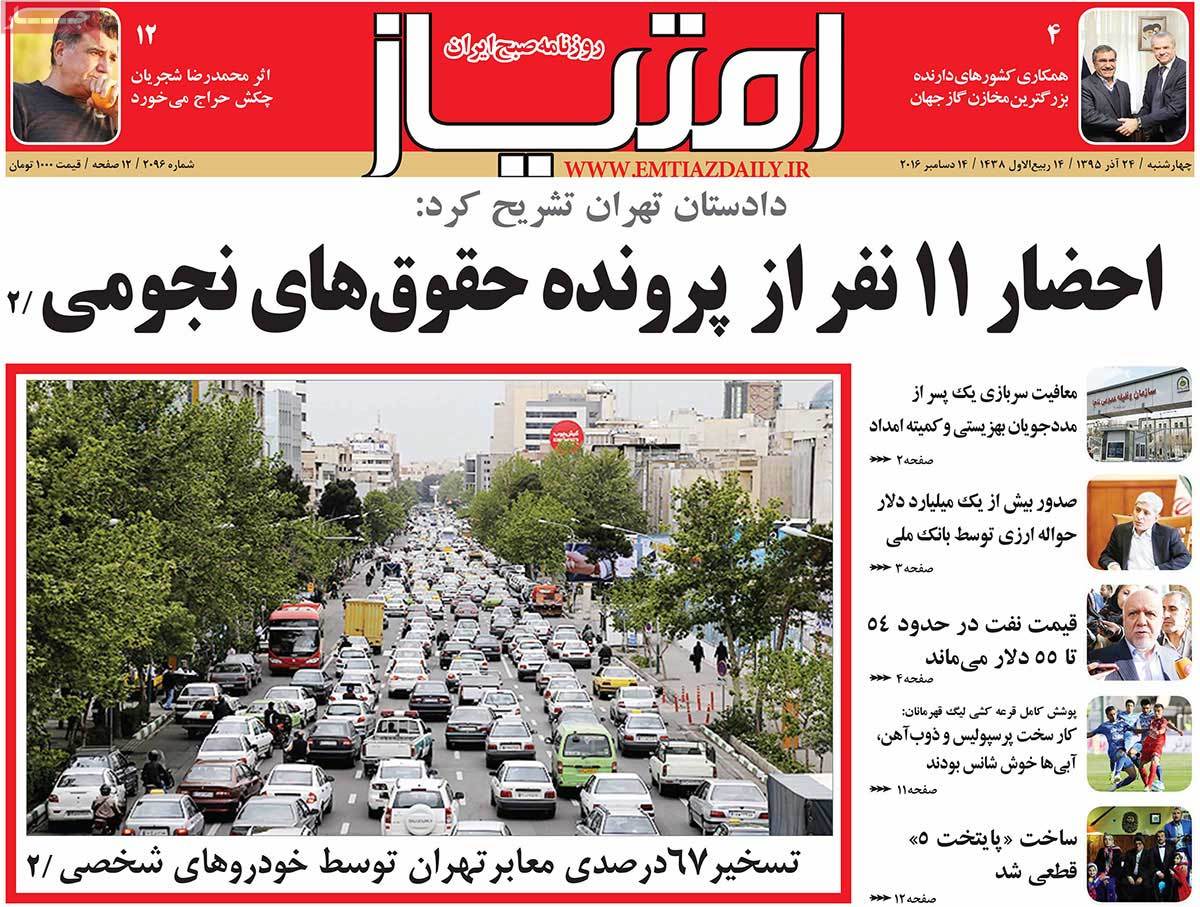 ---
Etemad:
1- Iran's Response to US: Rouhani Obliges FM Zarif and Nuclear Chief Salehi to Pursue Violation of JCPOA and Development of Iran's Peaceful Nuclear Program
2- Interior Minister: There Are over 1,000 Female Deputy Governors in Iran
3- Left- and Right-Wingers Worried about Corruption; Outspoken Conservative Politician Tavakkoli: What Can Overthrow Islamic Republic Is Corruption; Veteran Reformist Asgharzadeh: In Iranian Society, Corruption Should Not Be Shown as Something that Is Not Very Bad
---
Ettela'at:
1- Iran's Leader: Cutting Relations with God Is the Deficiency of Biggest Western Declining Civilisation
2- Works of Prominent Iranian Artists Put on Sale for Building Hospital for Children
3- Government Spokesman: Government Creates 750,000 Jobs Every Year
---
Hemayat:
1- People in Syria Celebrating Liberation of Aleppo
2- Judiciary Chief Underlines Need for Development of Iran-Iraq Ties
3- Iran Tests Suicide Drone in Last Day of Army Drills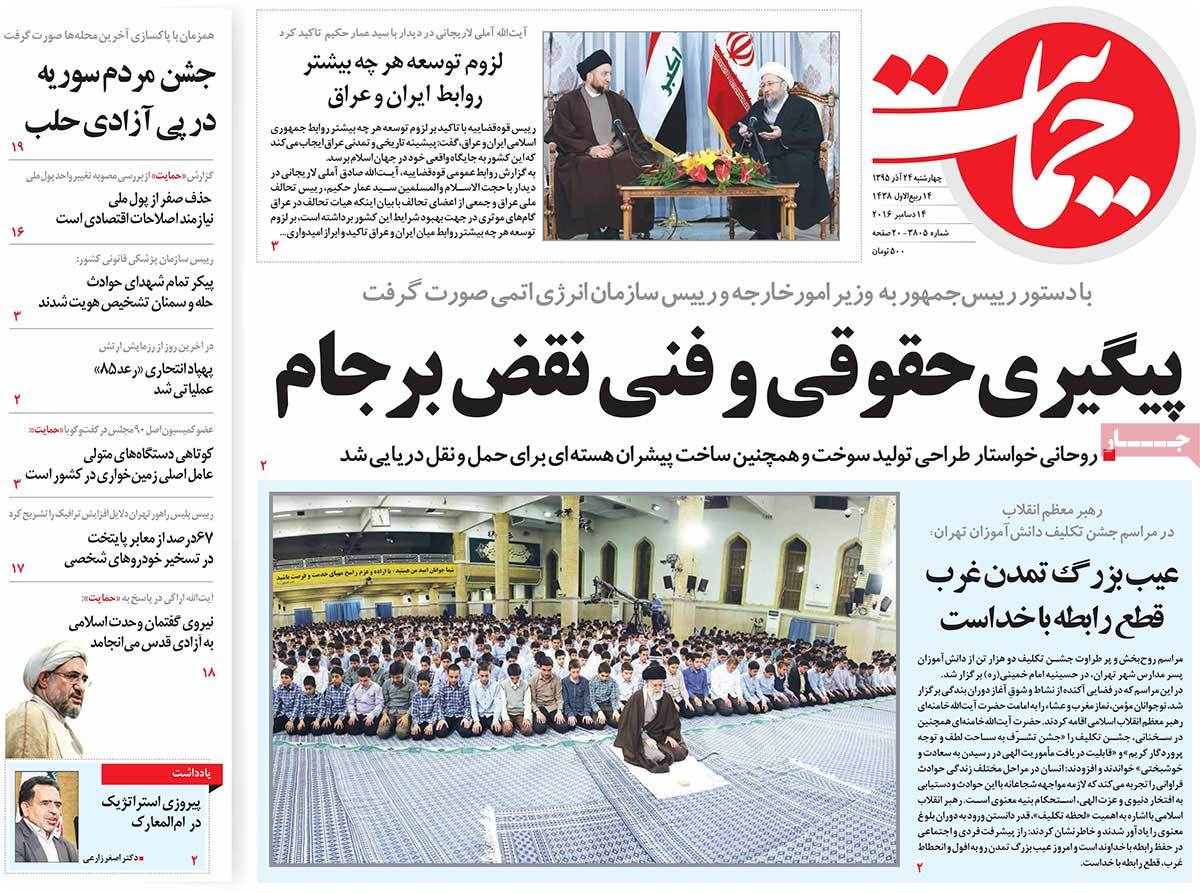 ---
Iran:
1- Scenes of Jubilation in Aleppo Following Liberation
2- Government Spokesman: All Unconventional Salaries Have Been Returned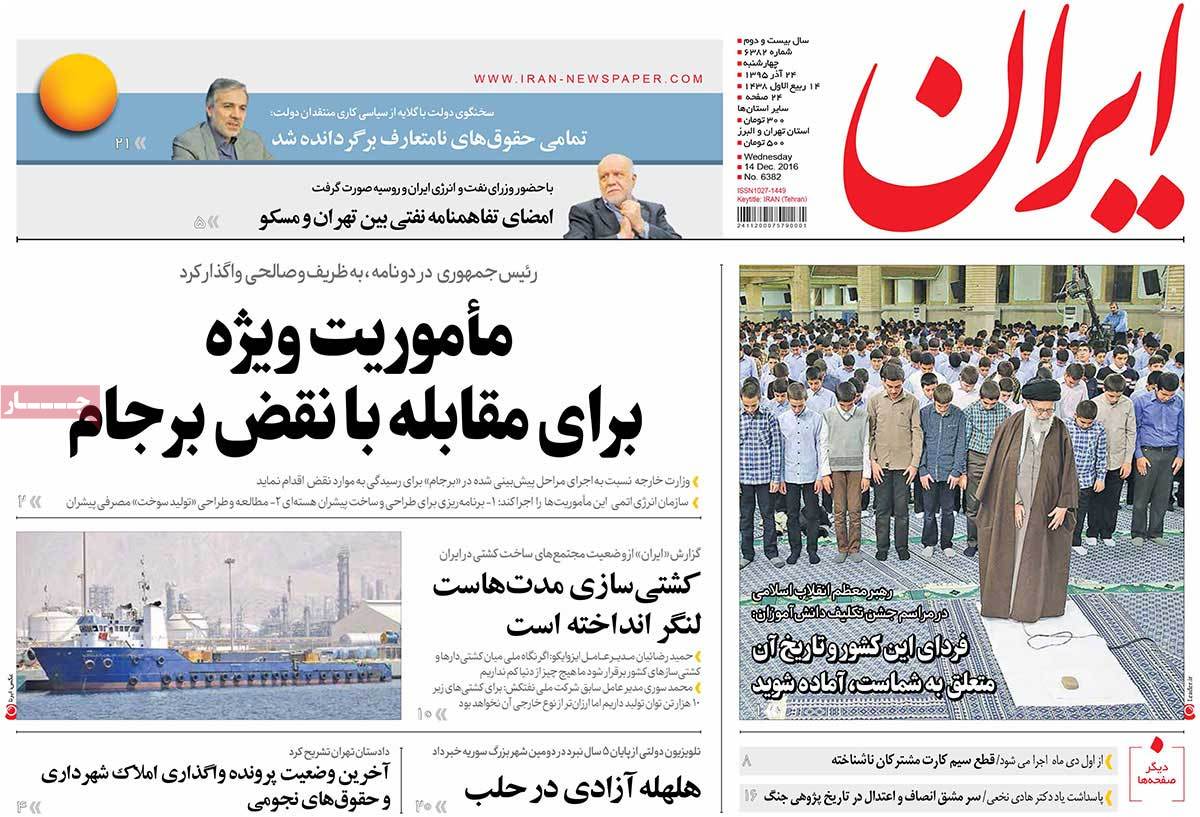 ---
Javan:
1- Leader Urges Students to Gain Spiritual Health through Prayers
2- Iran Ready for Enrichment at Levels beyond JCPOA
3- Rouhani: Liberation of Quds Should Be First Priority of Middle East
---
Jomhouri Eslami:
1- Airbus Representatives in Iran to Finalize Deal for Sale of 100 Planes
2- One Yemeni Kid Dies of Starvation Every 10 Minutes
3- 30th Islamic Unity Conference to Be Held in Tehran Tomorrow
---
Kayhan:
1- Resistance Worked, Aleppo Is Liberated, US and Al Saud Humiliated
2- Government Spokesman: Case of Astronomical Salaries Is Closed!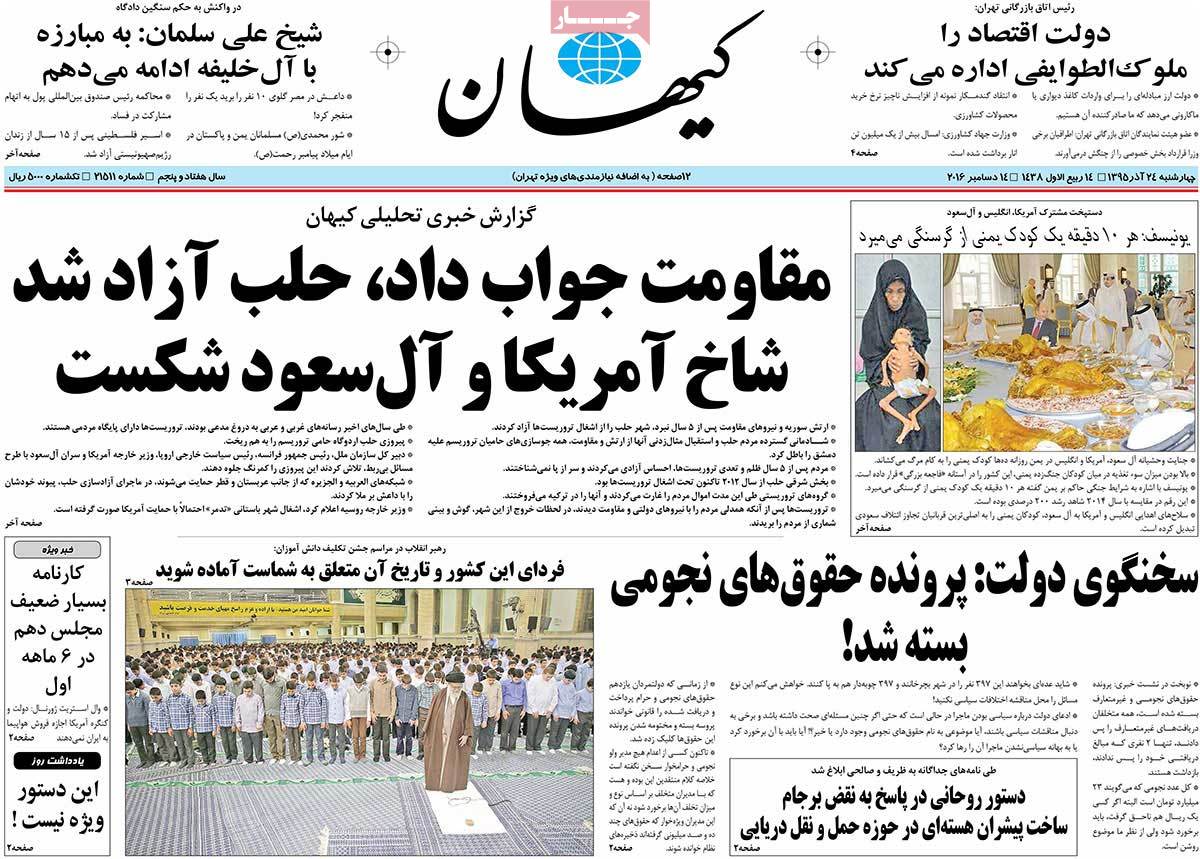 ---
Khorasan:
1- Friday Prayers Imam of Mashhad Alamolhoda in Reaction to Criticisms: Mashhad Is Neither an Autonomous Region nor a City Seeking Monopoly
2- Cooperation of 10 Banks, Signing of 10 MoUs, and Study of 7 Iranian Oilfields by Russians: Major Economic Agreements between Tehran and Moscow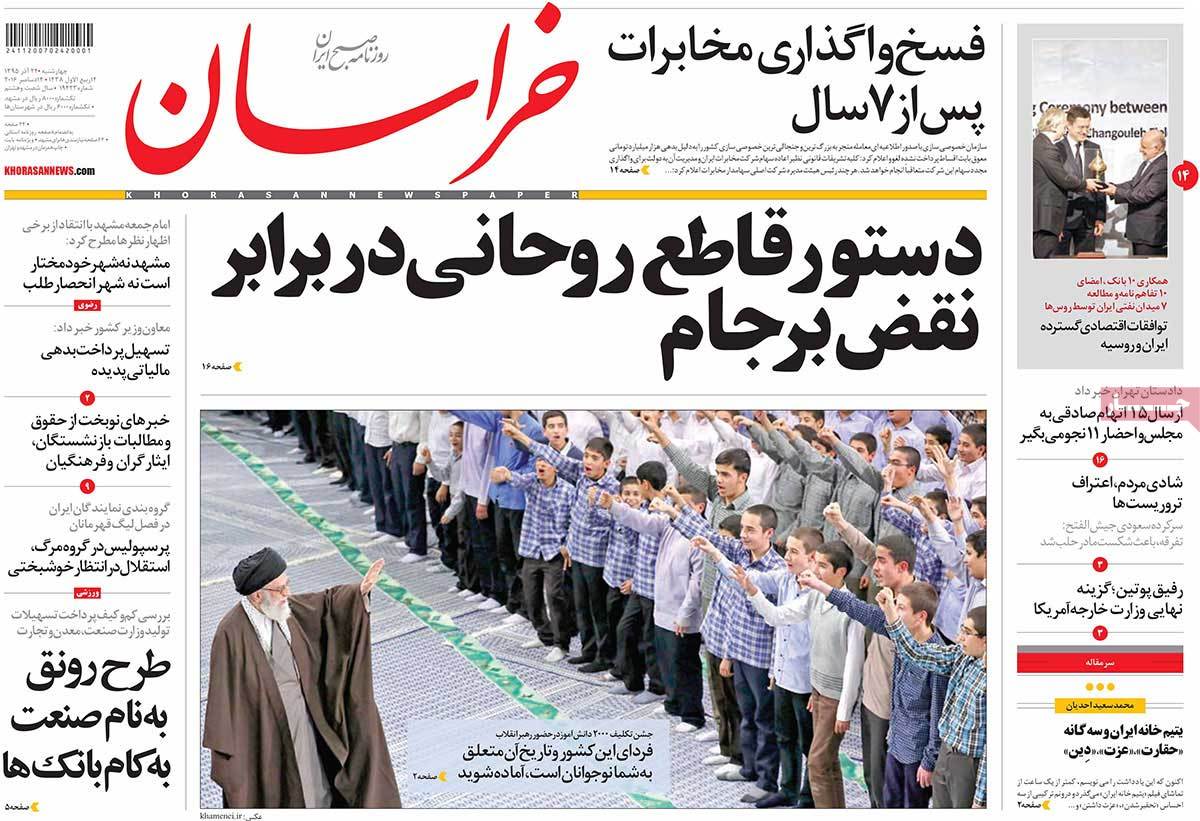 ---
Rah-e Mardom:
1- Oil Minister: Russians Have Biggest Share in Studying Iran's Oilfields
2- Obtaining Consent of Clerics for Changing Conditions of Marriage in Early Ages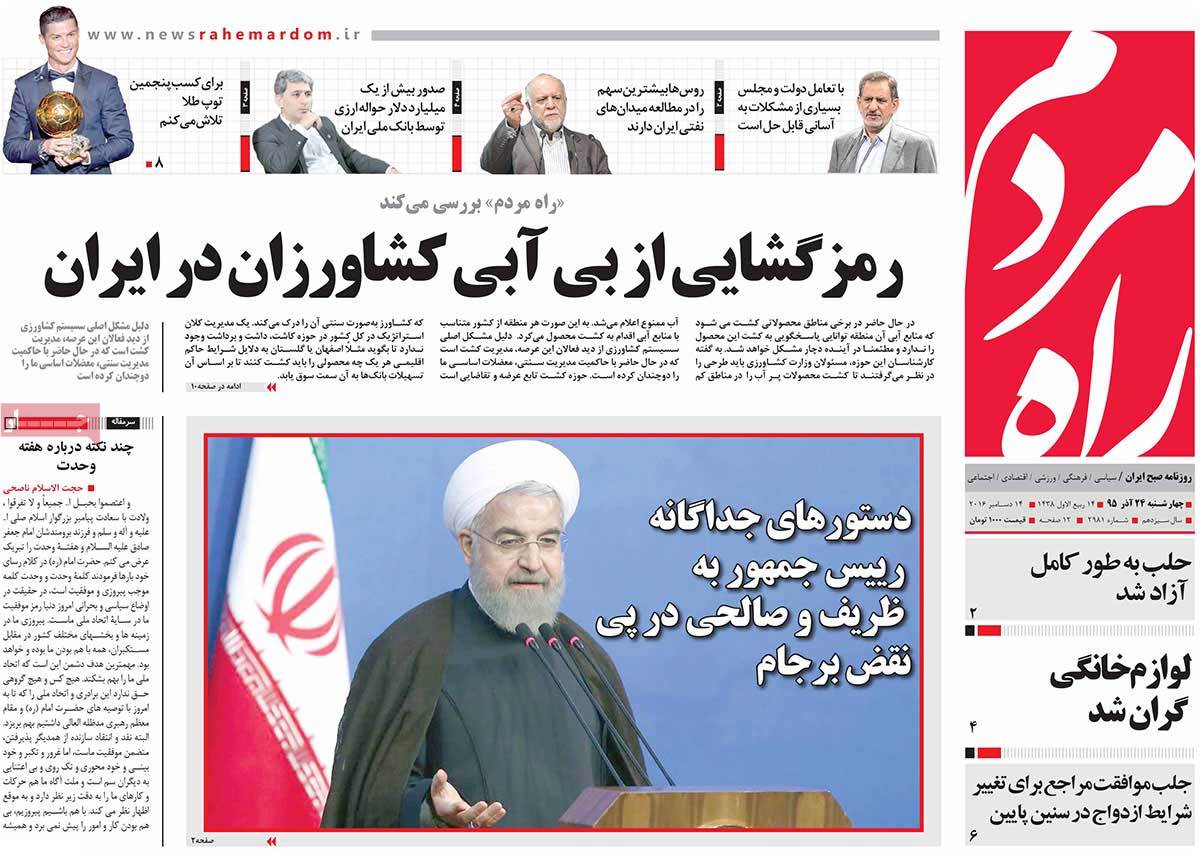 ---
Resalat:
1- Iran's First Official Reaction to JCPOA Violation: President Rouhani's Separate Orders to Zarif and Salehi in Reaction to Breach of Nuclear Deal
2- Senior MP: Britain Does Not Deserve to Have Relations with Iran at Level of Ambassadors
3- Government Does Not Feel Responsible for Cyberspace: Ayatollah Makarem Shirazi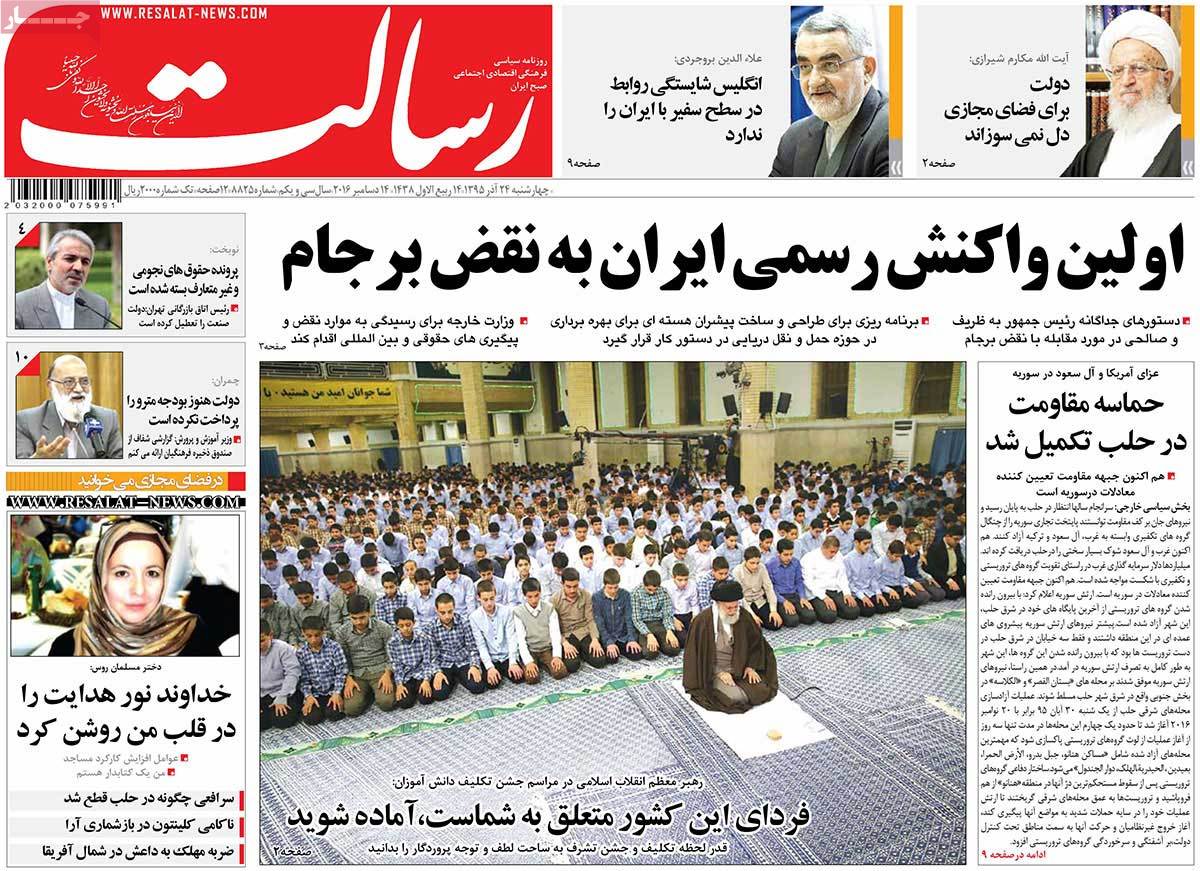 ---
Rooyesh-e Mellat:
1- Removing Fordow Infrastructure Is Based on Iran's Commitments
2- Iran and Czech Republic Sign Document of Nuclear Cooperation
---
Shargh:
1- Government Spokesman: Babak Zanjani's Debts Have Yet to Be Paid to Government
2- Iranian MPs' Receive Monthly Salaries Up to $1,400: Vice-Speaker
3- 35% of Patients Suffering from AIDS Are Women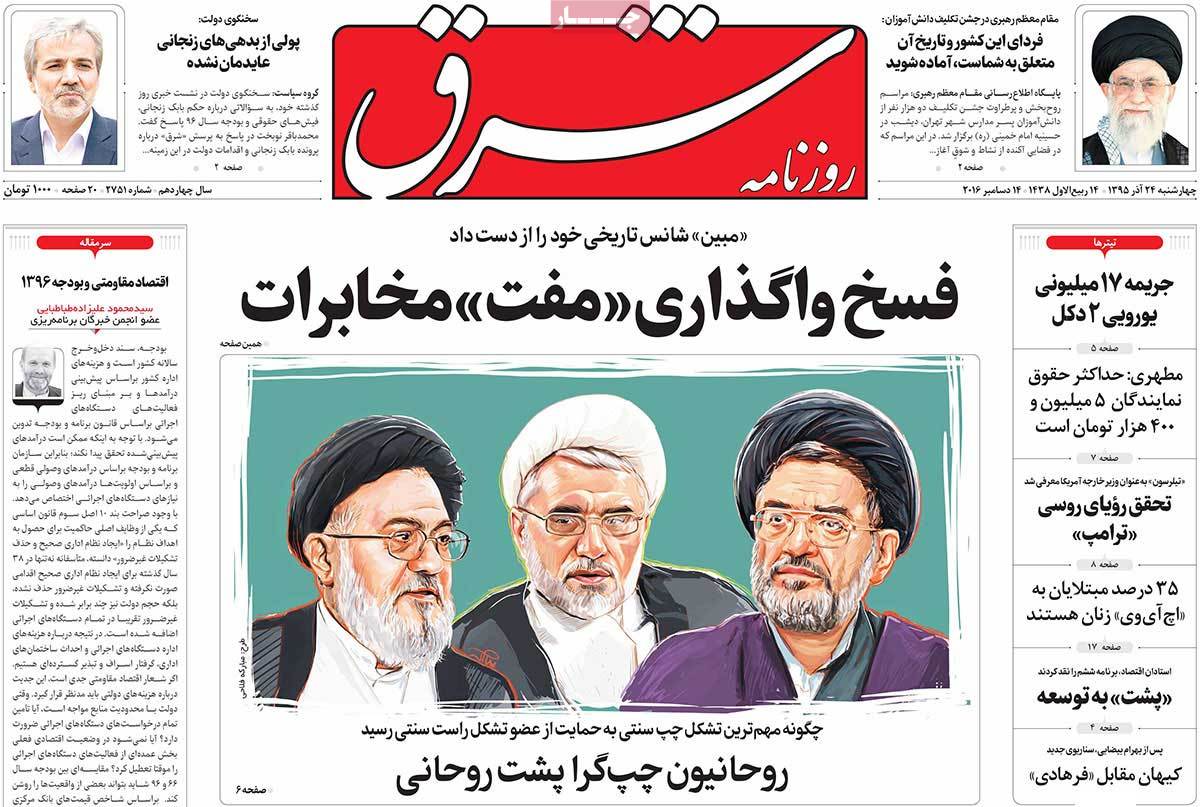 ---
Vaghaye Ettefaghieh:
1- They Kill the Birds: A Report on Migratory Birds in Iran's Sky and Their Ruthless Slaughter
2- Iran Is Winner, Saudi Arabia Is Frustrated, Turkey Is Alone: Great Victory in Aleppo and Change of Regional Equations Are in Favour of Iran and Syria