Newspapers on Monday covered the remarks made by the Leader of the Islamic Revolution Ayatollah Seyyed Ali Khamenei in a meeting with Iraqi officials in Tehran. The Leader's remarks about Iraq's Hashd al-Shaabi [Popular Mobilisation Forces] and warnings against trusting the United States were widely covered in the headlines today.
Another top story was Tehran Security Conference, which was attended by senior officials and reportedly portrayed Iran as the centre of stability and security in the chaotic Middle East.
The imminent liberation of Syria's Aleppo and Iraq's Mosul also remained a top story today.
The deal between Iran and South Korea for building dozens of ships was also a controversial story, as the commander of IRGC's Khatam al-Anbia Construction Base harshly criticized it by saying that the deal ignores Iran's capabilities. IFP will publish a full report about all the reactions to this contract.
The above issues, as well as many more, are highlighted in the following headlines:
19 Dey:
1- Parliament Speaker Larijani Defends Nuclear Deal: Nuclear Talks Were Not Expensive for Us
2- Rouhani in an Address to Sunni Clerics: No Difference between Shiites and Sunnis in Iran
3- 50,000 Seats Added to Iran's Air Fleet: Transport Minister after Purchase of Boeing Planes
---
Abrar:
1- Ayatollah Rafsanjani: Foreign Investors Will No Longer Face an Adventuresome Iran
2- Official: Interior Ministry Will Remain Neutral in Upcoming Presidential Elections
3- UN Calls for a Safe Humanitarian Corridor in Aleppo While Underlining Need for Cessation of Violence
---
Abrar-e Eqtesadi:
1- Spell of Iran's Trade Ties with US Is Broken: Iran and American Plane Manufacturer Boeing Sign Deal for Purchase of 80 Planes
2- Iran and Russia Resolved to Enhance Level of Oil Cooperation
3- Oil Talks with Austrians in Tehran
4- Sweden Eager to Develop Business Ties with Iran
---
Afkar:
1- Iran's Leader in a Meeting with Iraqi Official: One Should Not Trust US and Be Deceived by Its Smile
2- Beginning of 'Prophet of Kindness' Music Festival in Tehran
3- Industry Minister: We've Exported 6.5 Million Tons of Steel in Past 8 Months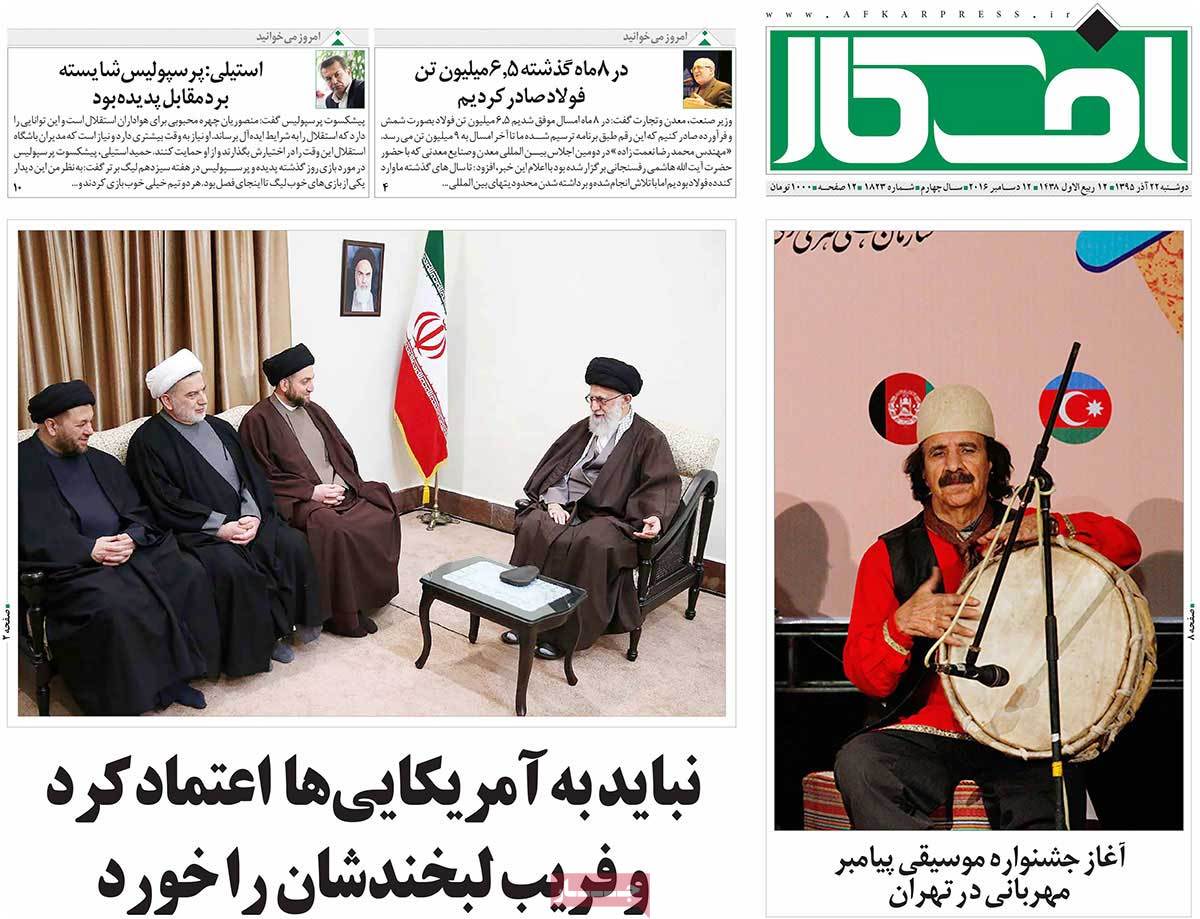 ---
Aftab-e Yazd:
1- Boeing's Historic Landing in Iran: After 37 Years, Iran Signs Deal with Boeing to Buy 80 New Planes
2- Rouhani: The Islam We Know Is the Religion of Mercy
3- A Look at the US Designate Secretary of State: Businessman and Putin's Friend, Just Like Trump
---
Amin:
1- Rouhani: Diversity of Ethnicities and Religions Is Not a Threat to Security; It's Rather a Big Opportunity for National Unity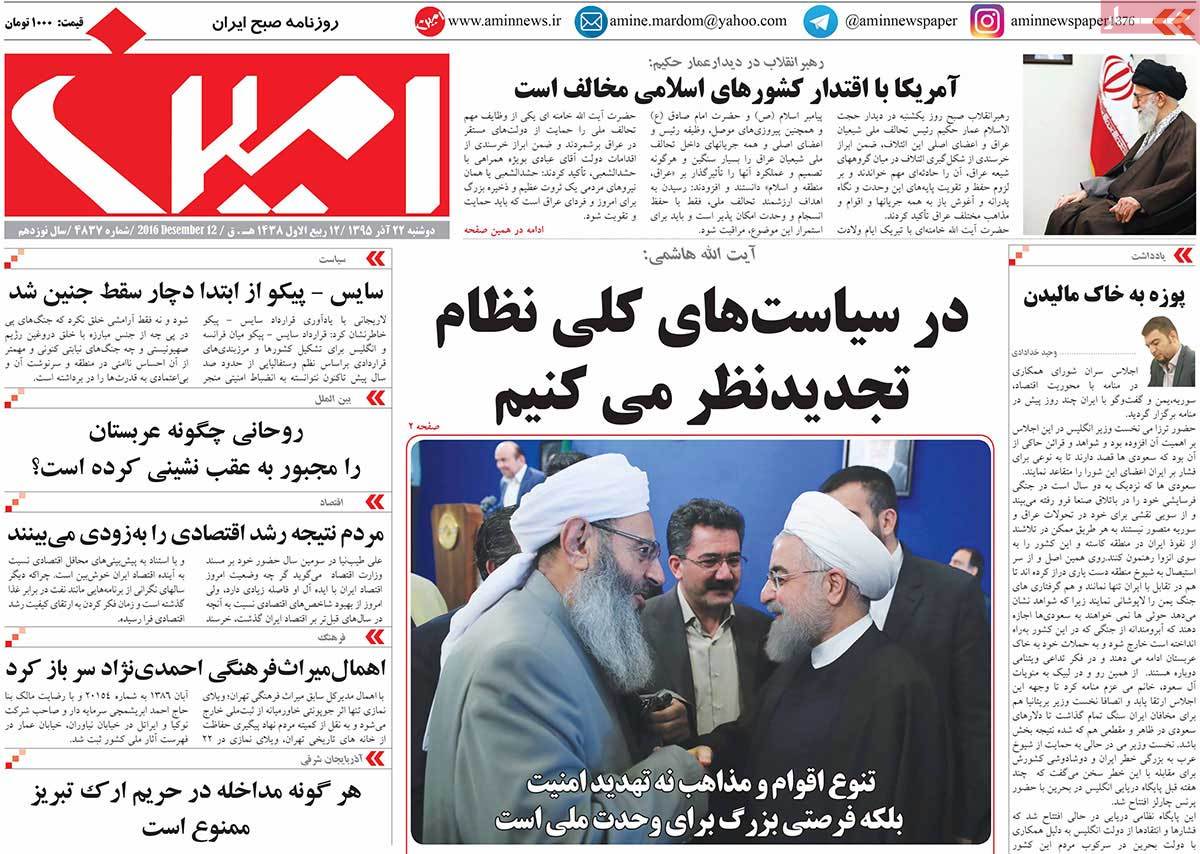 ---
Arman-e Emrooz:
1- Why Female Members of Rouhani's Cabinet Are Attacked More Frequently than Male Members? These Two Women's Resistance to Attacks; Good Management of Environment Dept. Chief Ebtekar and Vice-President for Women Affairs Mowlaverdi
---
Asrar:
1- Iran's Leader: Future of Iraq Will Be Much Brighter and Better than Today
2- Iran's Sky to Host 80 Boeing Planes
3- Europe Won't Let US Scrap Nuclear Deal: Swedish Diplomat Hans Blix
4- 38 Killed in Istanbul Terrorist Attack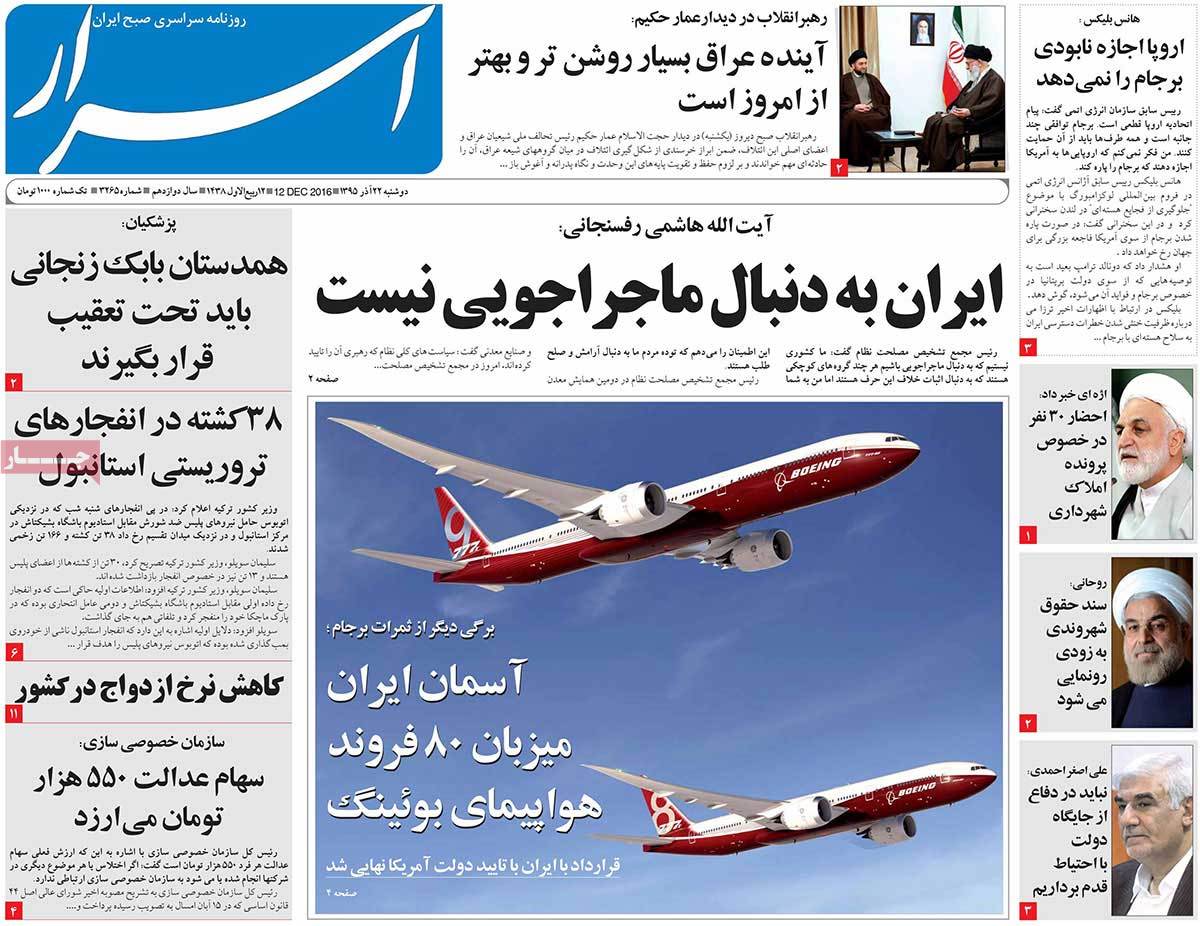 ---
Besharat-e Now:
1- Rouhani: Iran Belongs to All Ethnicities and Religions; Iran's Honours Are Not Based on Religion
2- 17% of Marriages in Iran Are for Girls under 18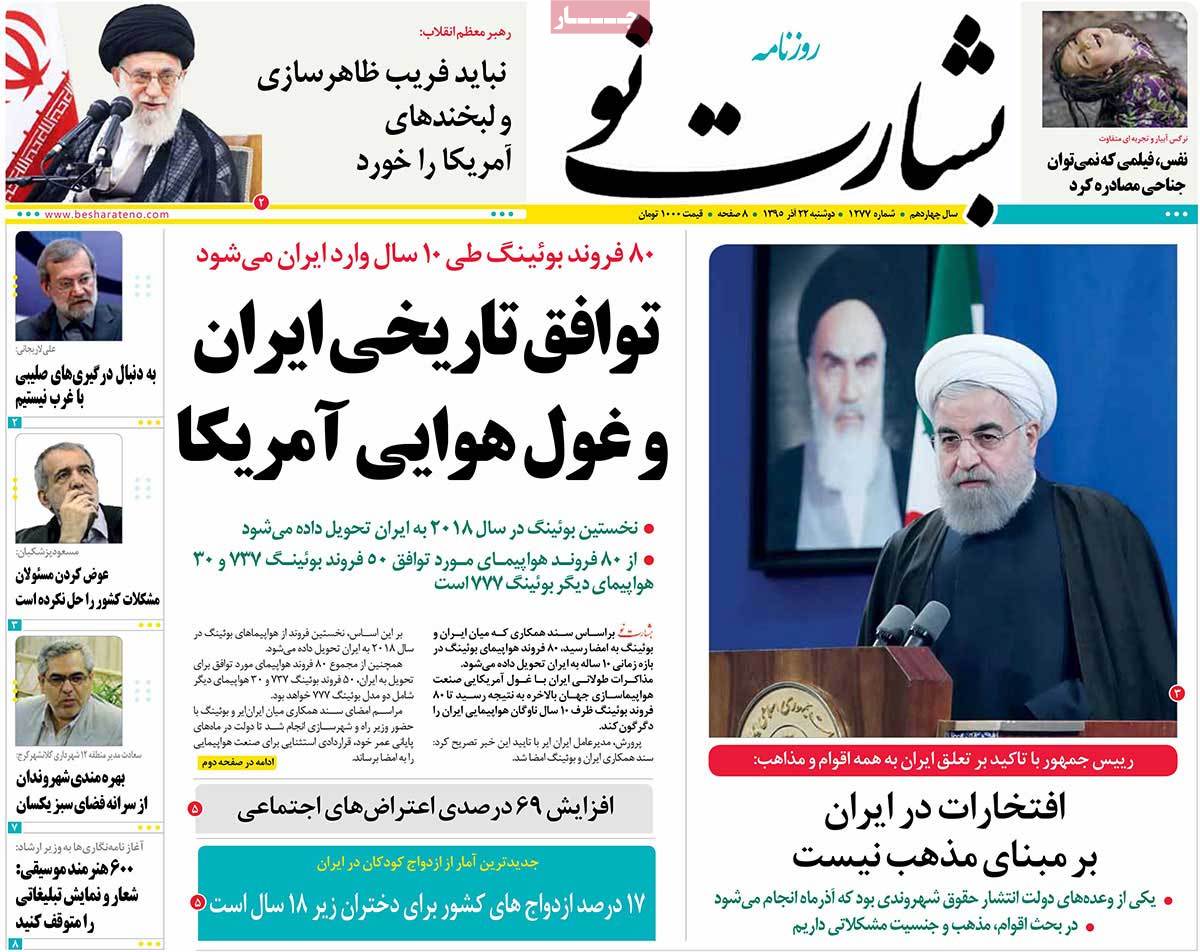 ---
Ebtekar:
1- Leader: US Is Opposed to Power of Muslim Countries
2- Boeing's Flight over Wall of Sanctions
3- President: We Have Problems in the Field of Ethnic Groups, Religions, and Genders, Which Should Be Resolved
4- From Saladin to Saddam Hussein: Sinister Children of Tikrit
5- Blood on Turkey's Face: Twin Blasts Hit Istanbul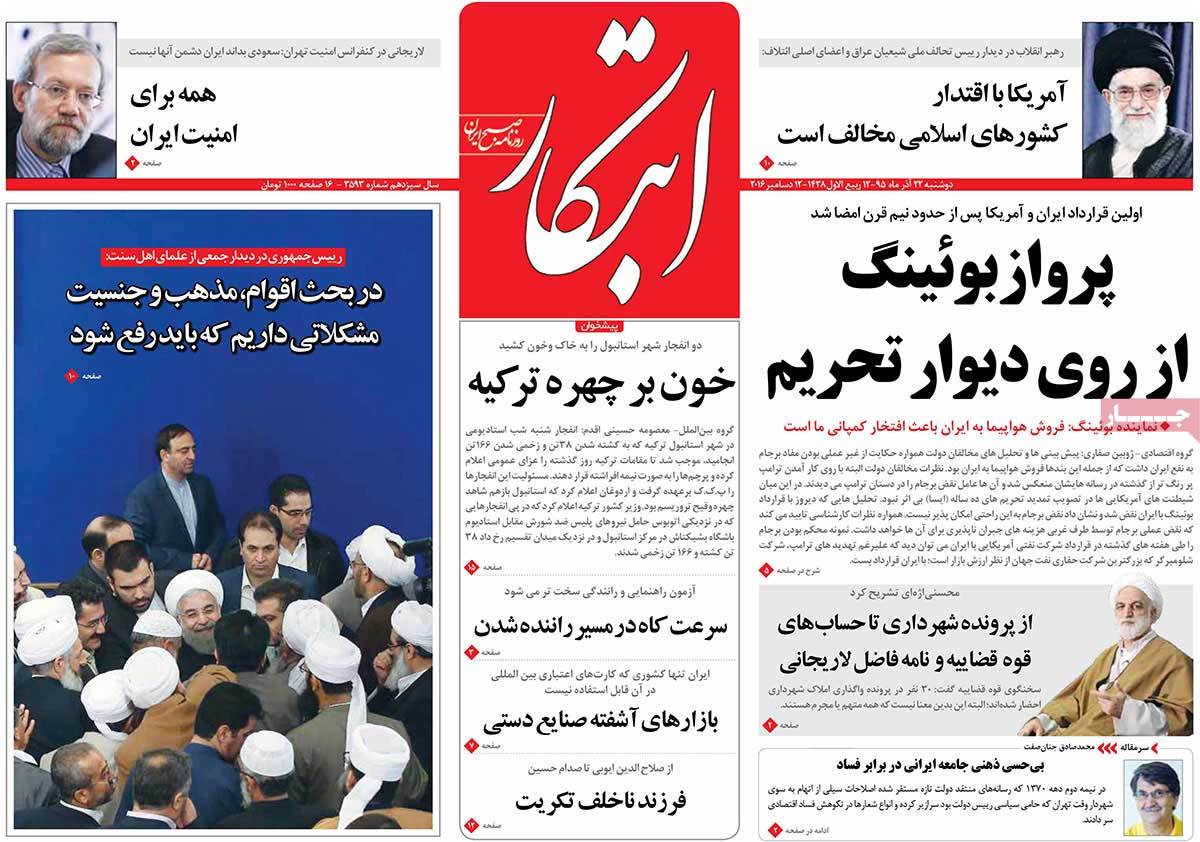 ---
Etemad:
1- Rouhani Receives Sunni Guests
2- Boeing in Tehran's Nest: $16.6 Billion Contract for Delivery of 737 and 777 Models in 10 Years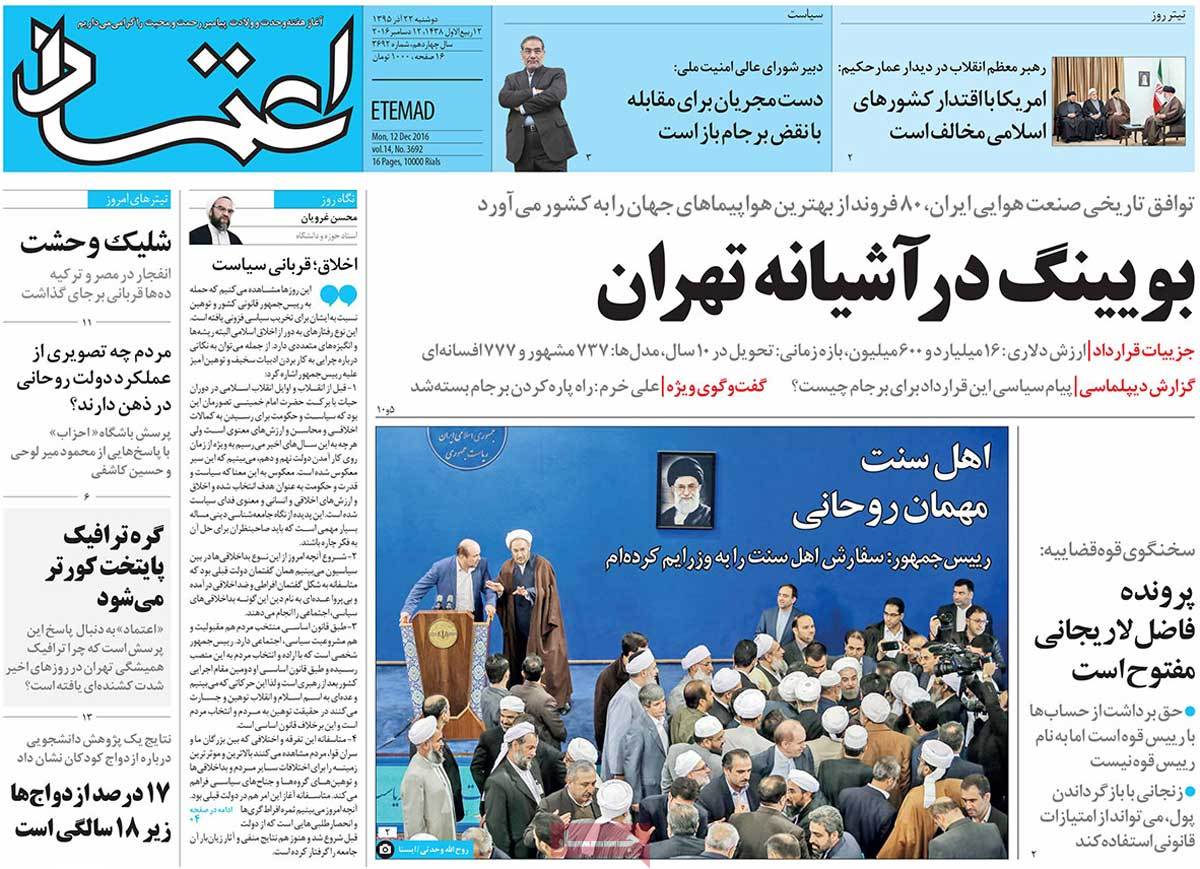 ---
Ettela'at:
1- Leader: Iraq's Progress in in Islamic Republic's Interest
2- Iran and US Sign First Trade Deal after 1979 Revolution
3- Revolution Belongs to All Iranian Ethnicities and Religions: Rouhani
---
Hamshahri:
1- Being a Woman Does Not Prevent People from Progress: Ayatollah Javadi Amoli; No Perfection Is Dependent on Being Man or Woman
2- Environment Chief Ebtekar Confirms Reports about Smuggling of Soil from Hormuz Island in Persian Gulf
---
Hemayat:
1- MP: US Wants to Change Iran's Behaviour through JCPOA
2- Judiciary Official: We'll Make Khavari [Fugitive Iranian Banker] and Money Laundry Criminals Return to Iran
3- Night of Terror in Istanbul
---
Iran:
1- Iran's Message of Convergence to Middle East: Tehran Security Conference Held in Iran's Capital
2- Besiktas Stadium in Istanbul Painted in Bloody Red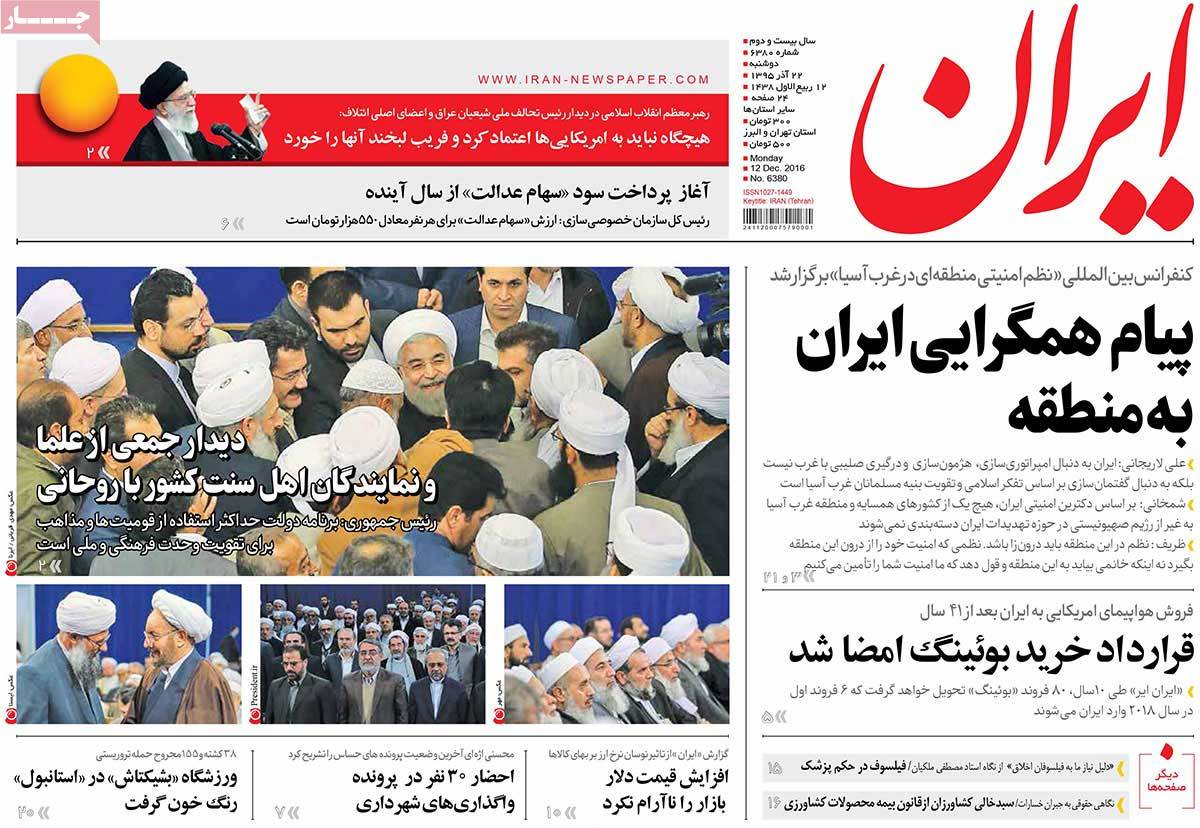 ---
Jame Jam:
1- Leader to Iraqi Shiite Coalition: Never Ever Trust the US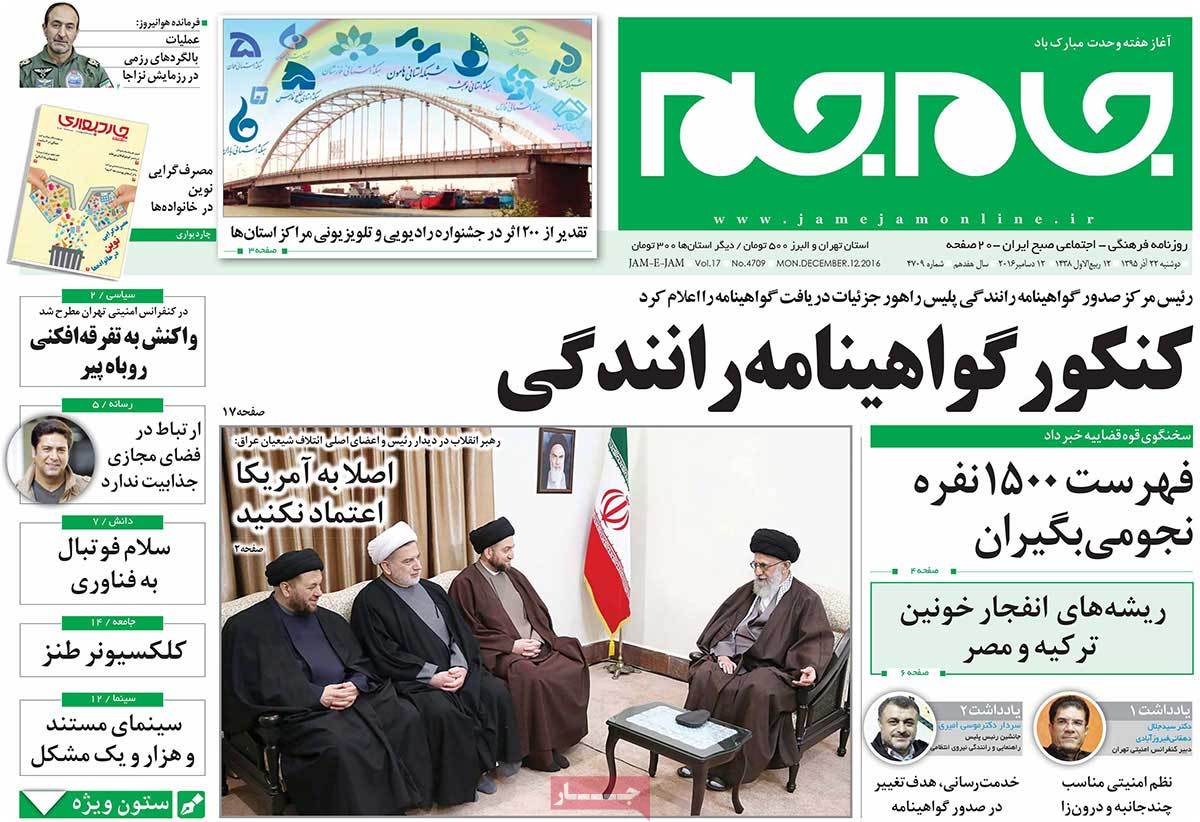 ---
Javan:
1- Defence Minister: Theresa May Is Drunk with Petrodollars
2- 30 Cops Killed in Istanbul Blasts
---
Jomhouri Eslami:
1- Leader: US Not Looking for Eradication of Terrorists in Iraq and Syria
2- Former IAEA Chief: World Will Not Accompany Trump in Imposing Anti-Iran Sanctions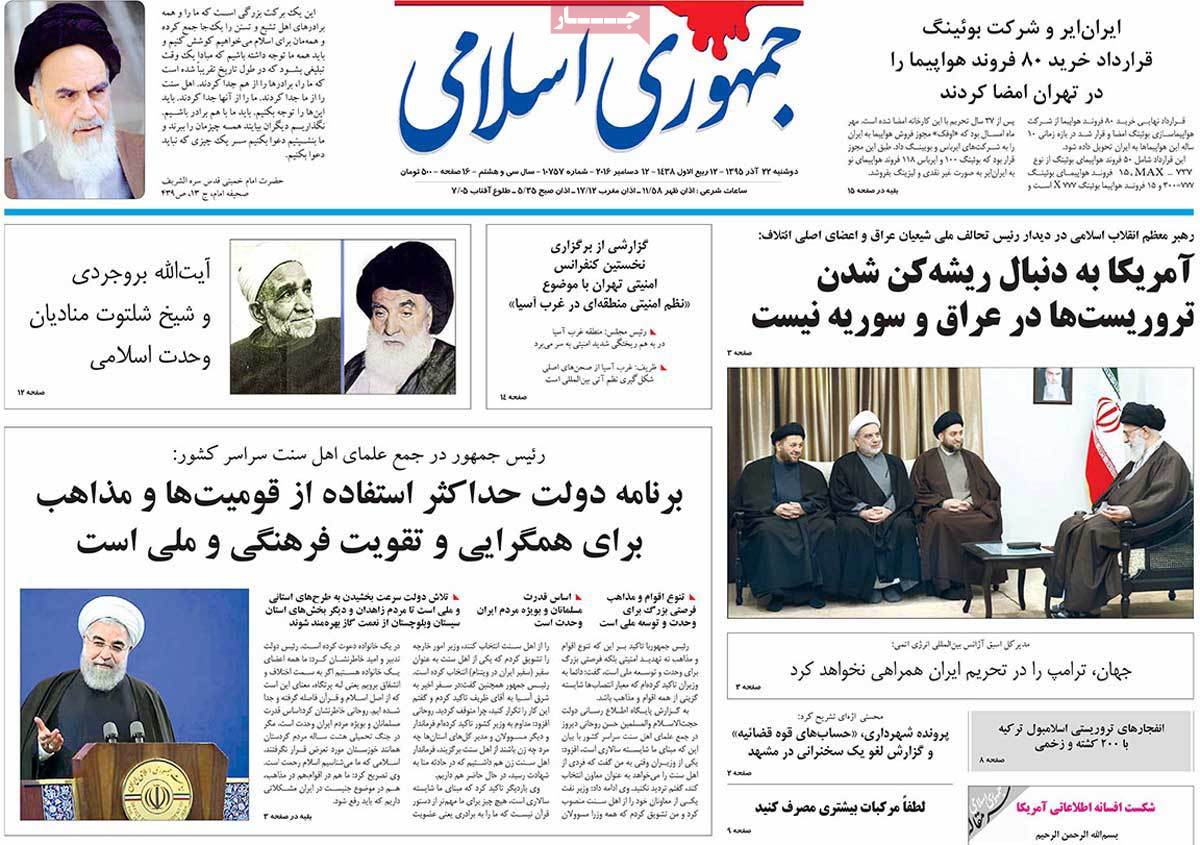 ---
Kayhan:
1- IRGC's Khatam al-Anbia Construction Base Commander: We Are Capable of Building Ships, Don't Give Orders to Koreans
2- Iraqi PM: Mosul Is ISIS' Last Stronghold in Iraq
3- Takfiris [Extremists] Escaping from Aleppo Stab Erdogan in the Back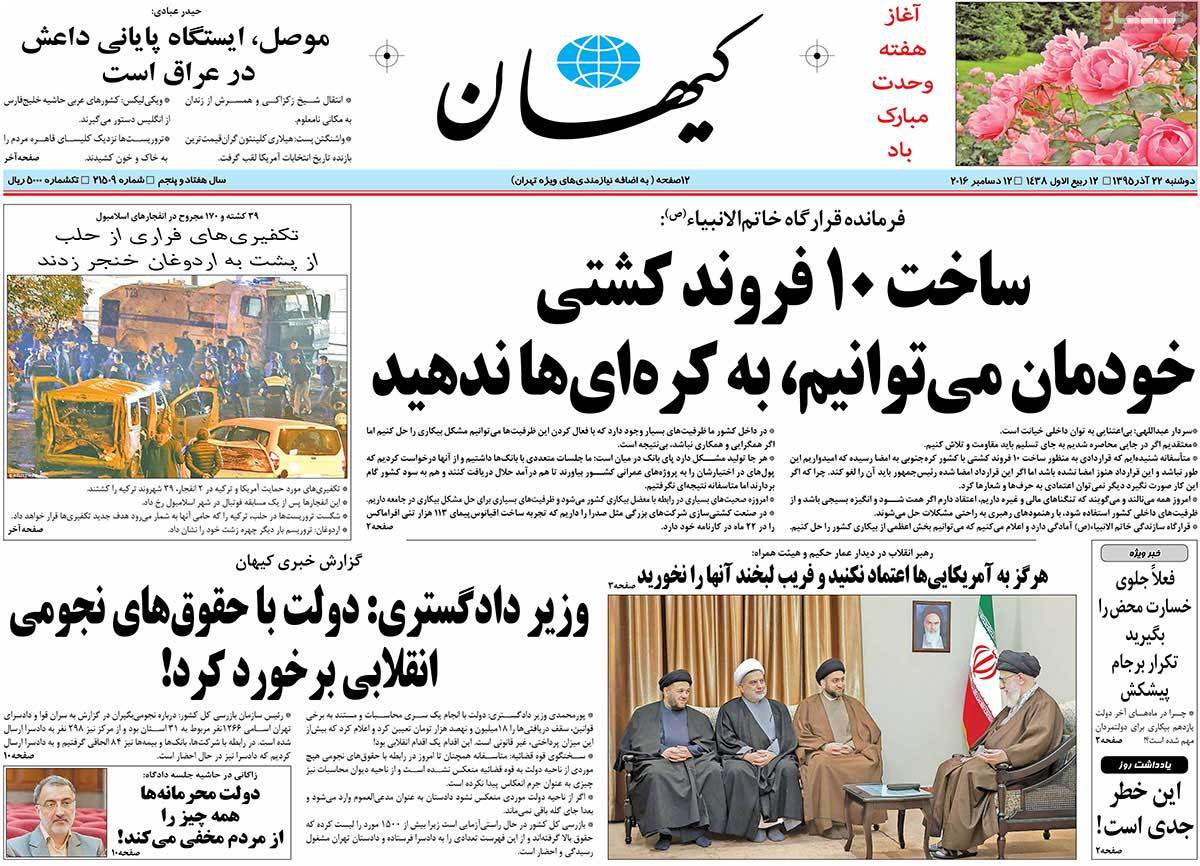 ---
Khorasan:
1- ISIS Beheads 5 Young Sunnis
2- Iranian Boy Shoots His Father in the Chest to Be Exempted from Military Service!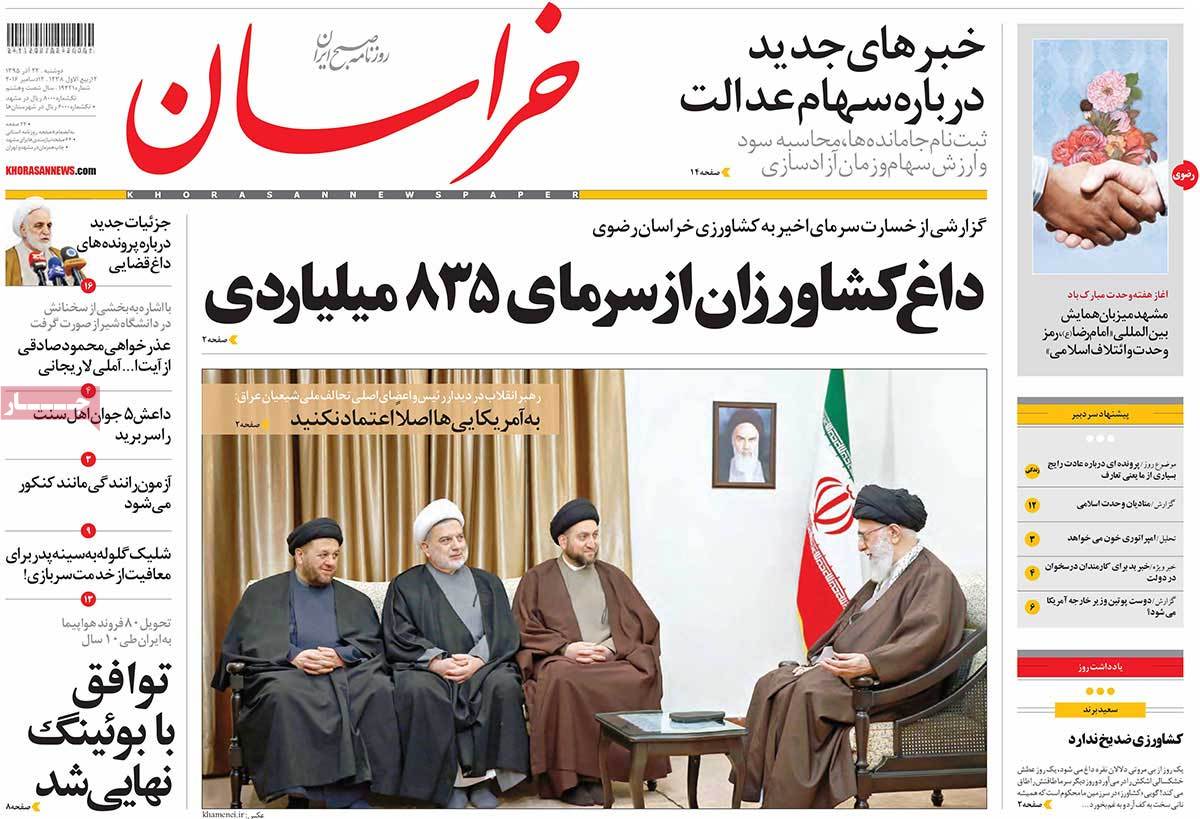 ---
Payam-e Zaman:
1- Intelligence Minister: Iran's Security and Economy Not Dependent on Westerners
2- Sports Minister: We Want to Host 2023 AFC Asian Cup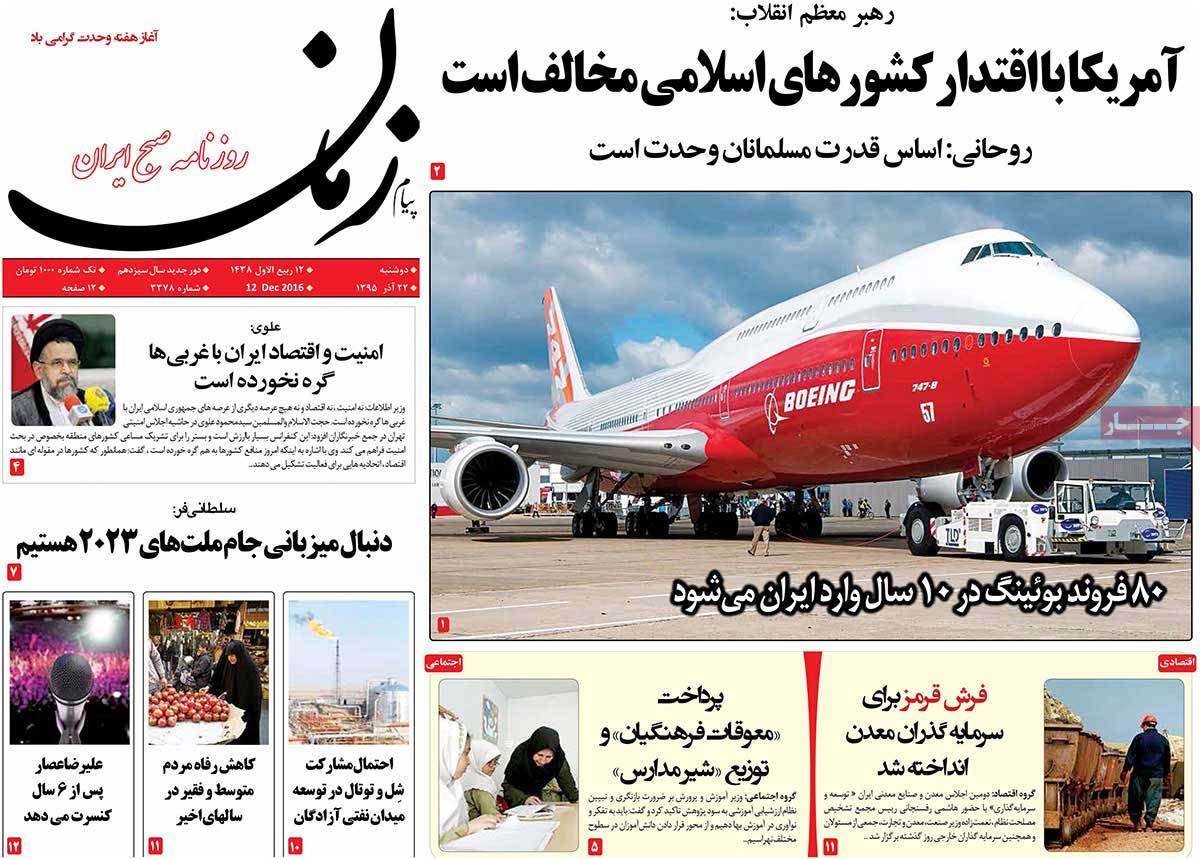 ---
Resalat:
1- Leader: Popular Forces Are a Great Treasure and Wealth for Future of Iraq
2- Parliament Speaker: Iran's Strategy Is Unity of Islamic Countries and Fight against Zionist Regime of Israel
3- Tehran Security Conference: Iran Is the Centre of Regional Stability and Security
4- Sheikh Zakzaky and His Wife Transferred to Unknown Place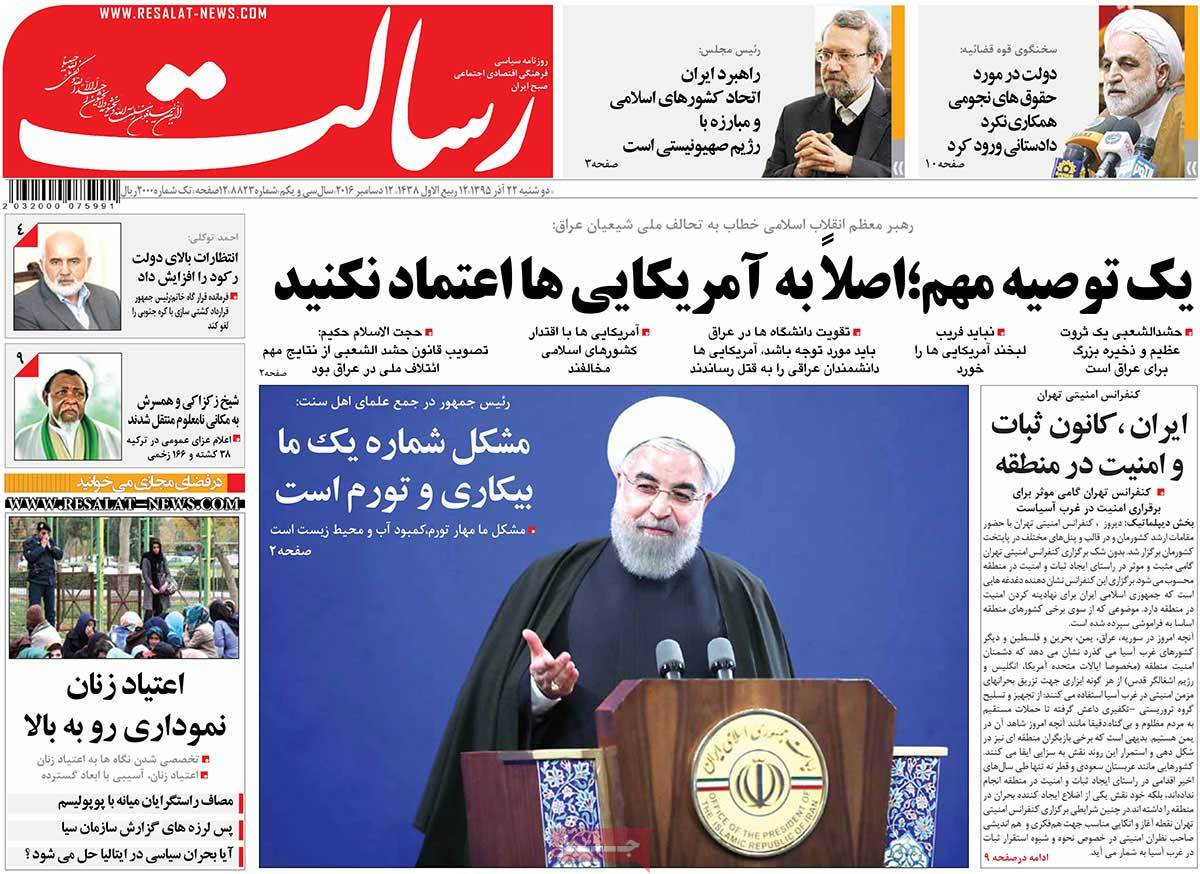 ---
Samt:
1- Mine Minister: Investment in Mining Will Be Facilitated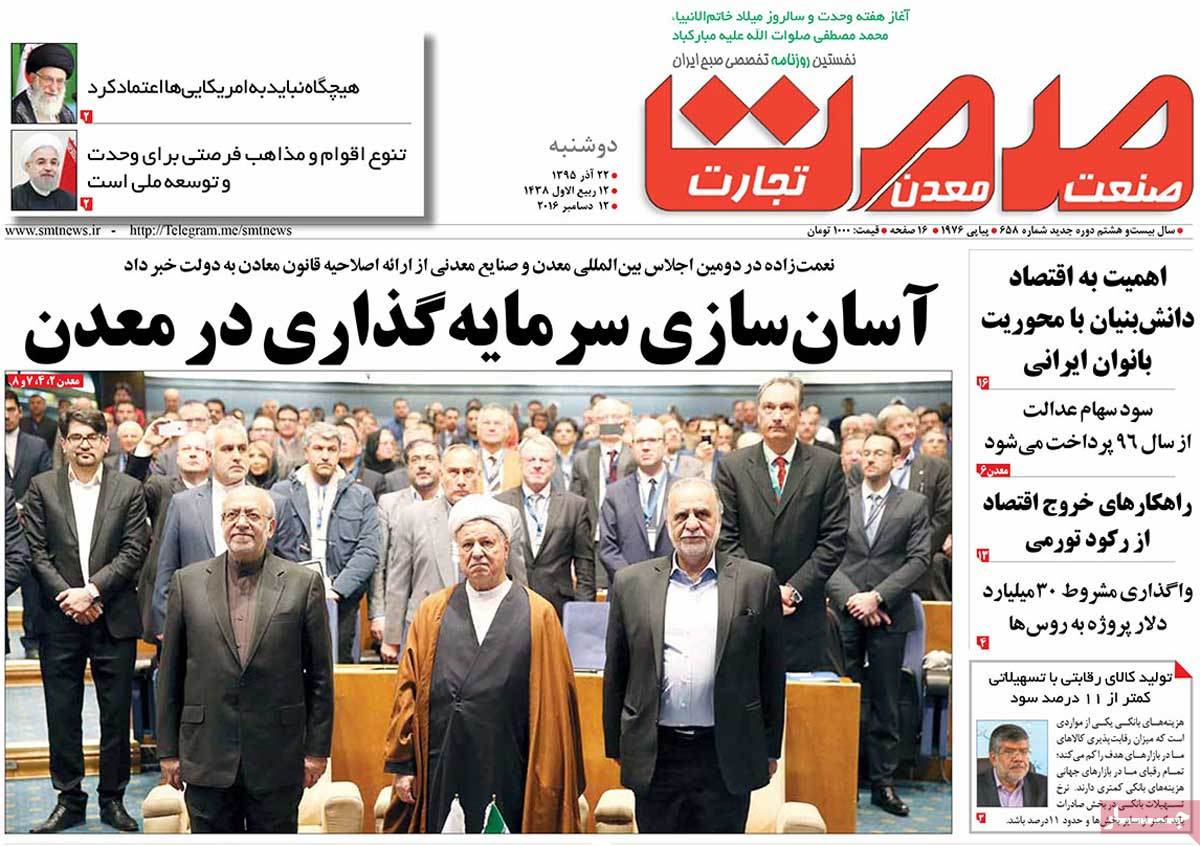 ---
Setareh Sobh:
1- Oil Billionaire Rex Tillerson May Replace John Kerry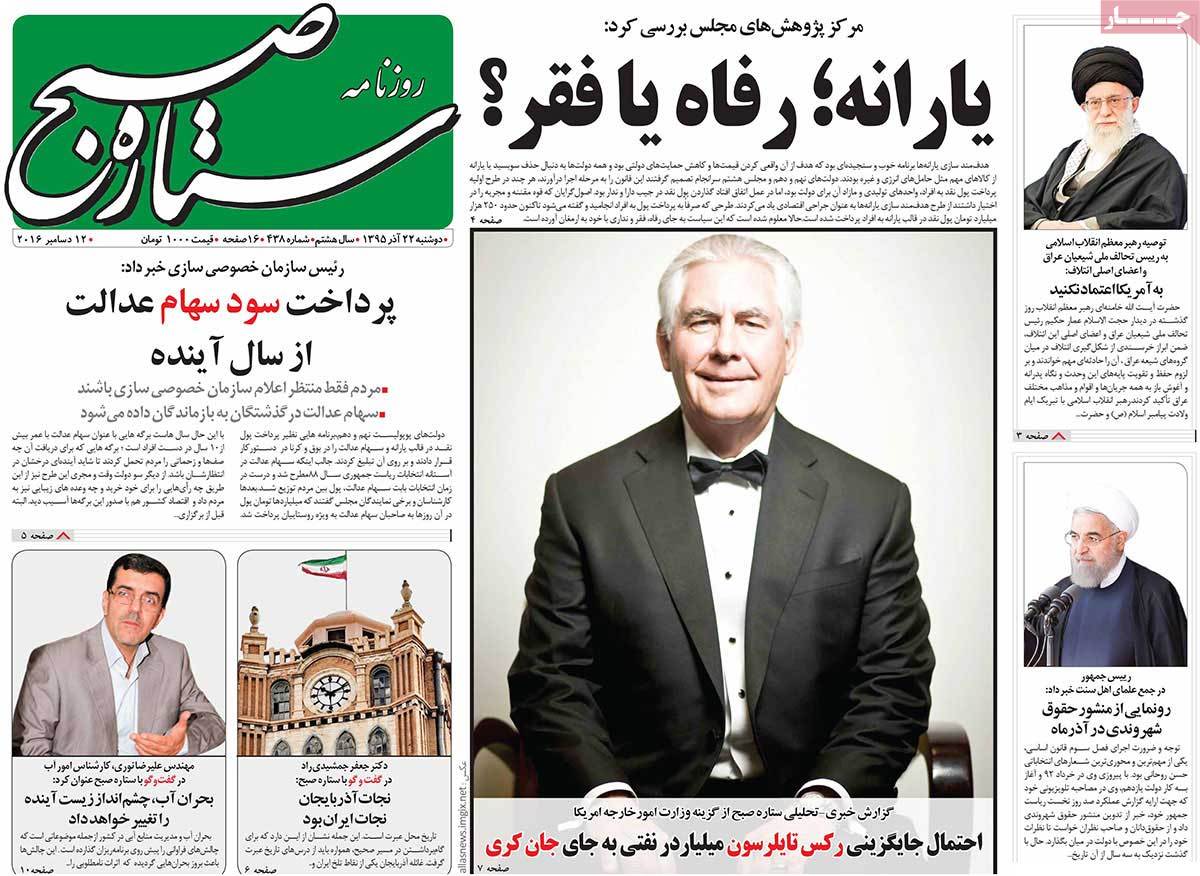 ---
Shakhe-ye Sabz:
1- Zarif: Security and Order in Region Cannot Be Purchased with Dollar
2- SNSC Secretary: Israel Is Only Inherent Crisis in Western Asia
---
Shargh:
1- Khatam al-Anbia Construction Base to Rouhani: You Must Cancel Contract with South Korea for Building Ships; Signing This Deal Means Ignoring the Country's Capabilities in Building Ships
2- Possibility of Iran-US Military Confrontation in Persian Gulf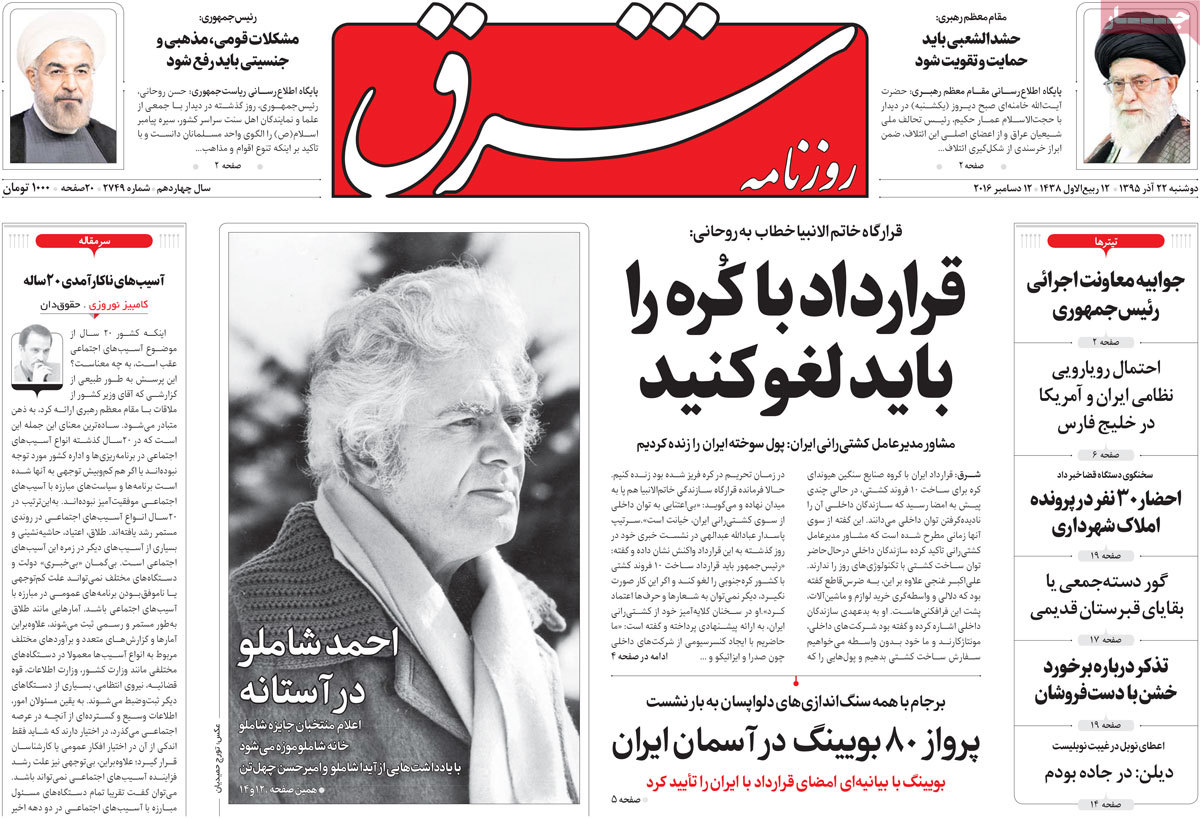 ---
Sobh-e Now:
1- Purchase of 80 Boeing Planes: A Contract to Create 100,000 Jobs in US!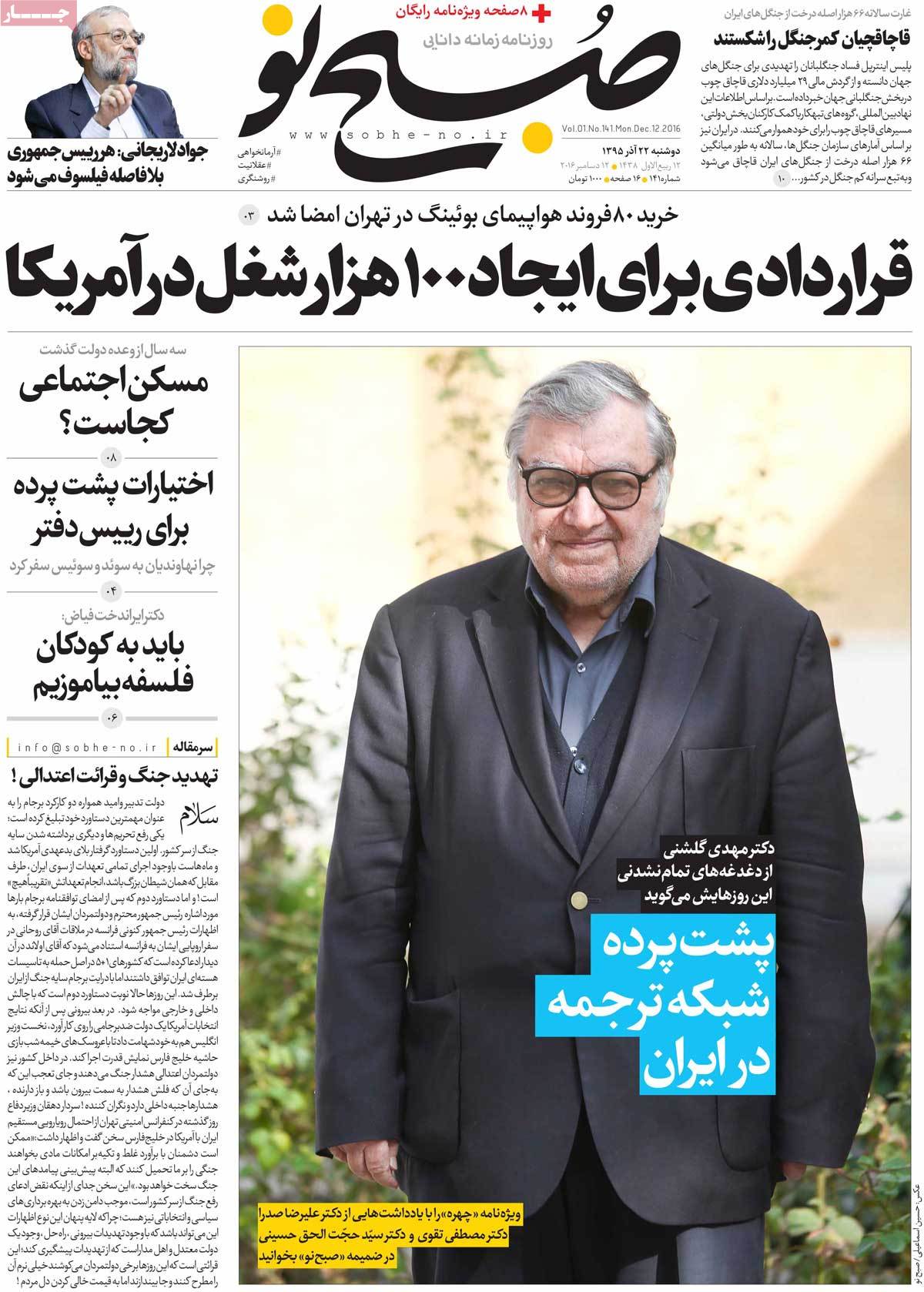 ---
Vaghaye Ettefaghieh:
1- Security Conference Attended by Iranian Officials: A New Plan for Middle East
2- One Step to Full Liberation of Aleppo: Game Still Goes On in Spite of the Victory