Newspapers on Sunday highlighted the imminent liberation of Syrian city of Aleppo and Iraqi city of Mosul, and the efforts made by Western countries to protect militants, particularly in Aleppo.
They also covered Tehran Security Conference in Tehran, which is attended by many experts and officials of Western Asia.
The reactions to British Prime Minister Theresa May's anti-Iran remarks in a recent Persian Gulf Cooperation Council meeting also remained a top story.
The above issues, as well as many more, are highlighted in the following headlines:
Abrar:
1- Younger Brother of Larijani Family in a Letter to Prosecutor General Call for Probe into Assets of Ahmadinejad's Companions
2- Iran Is One of the World's Worst Countries in Terms of Water Planning: MP
3- British Foreign Secretary: We Should Try to Have Good Relations with Iran
4- UNSC: North Korea Still Violating Human Rights
---
Abrar-e Eqtesadi:
1- Airlines in Talks for Purchase of Russian Planes
2- OPEC and Non-OPEC States Agree on Oil Output Cut
3- 5 Tons of Gold Reserves Discovered in Iran: Iran's Mines under Scrutiny of European and Asian Companies
4- 34-Fold Increase in France's Imports from Iran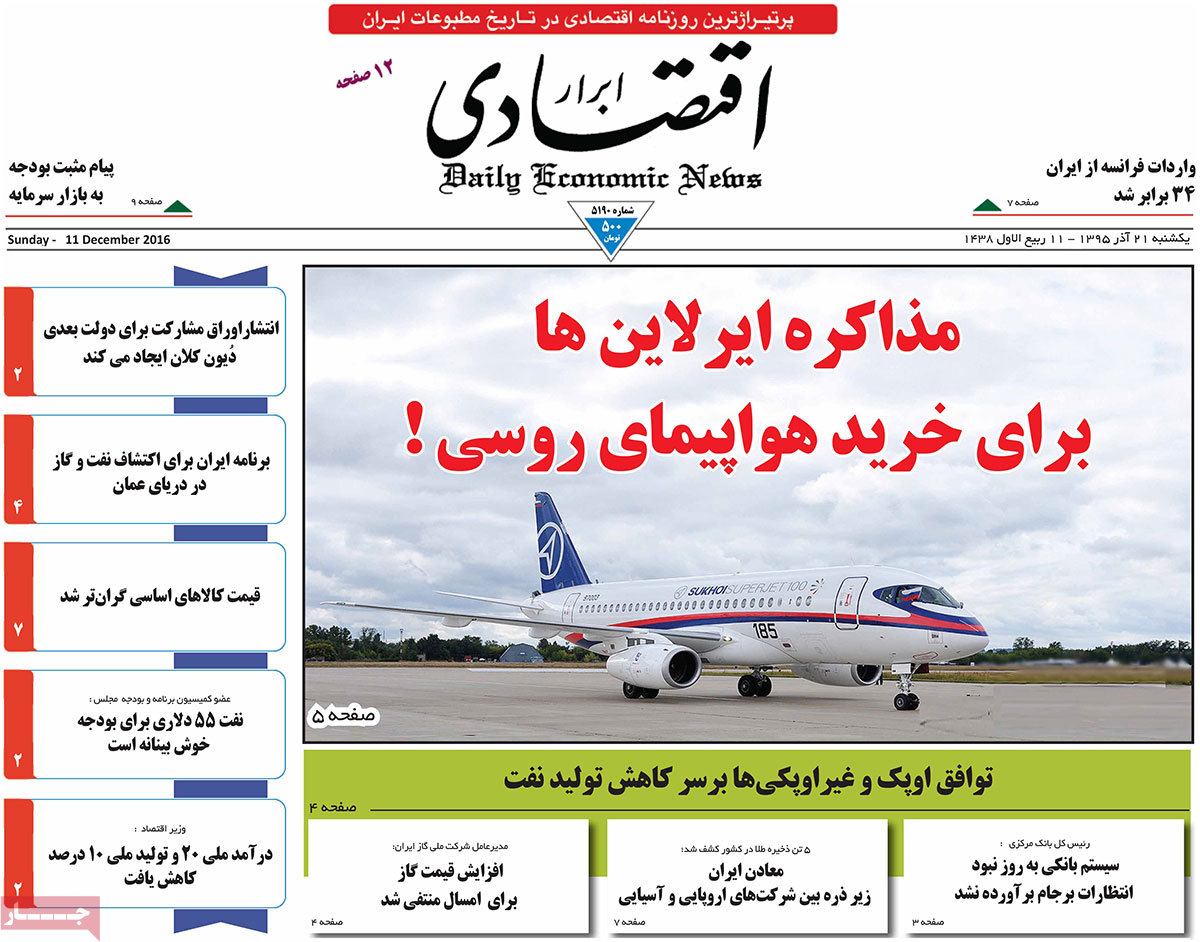 ---
Afkar:
1- Expansion of Iran-Sweden Banking Ties
2- Iran Condemns Israeli Regime's Settlement Plans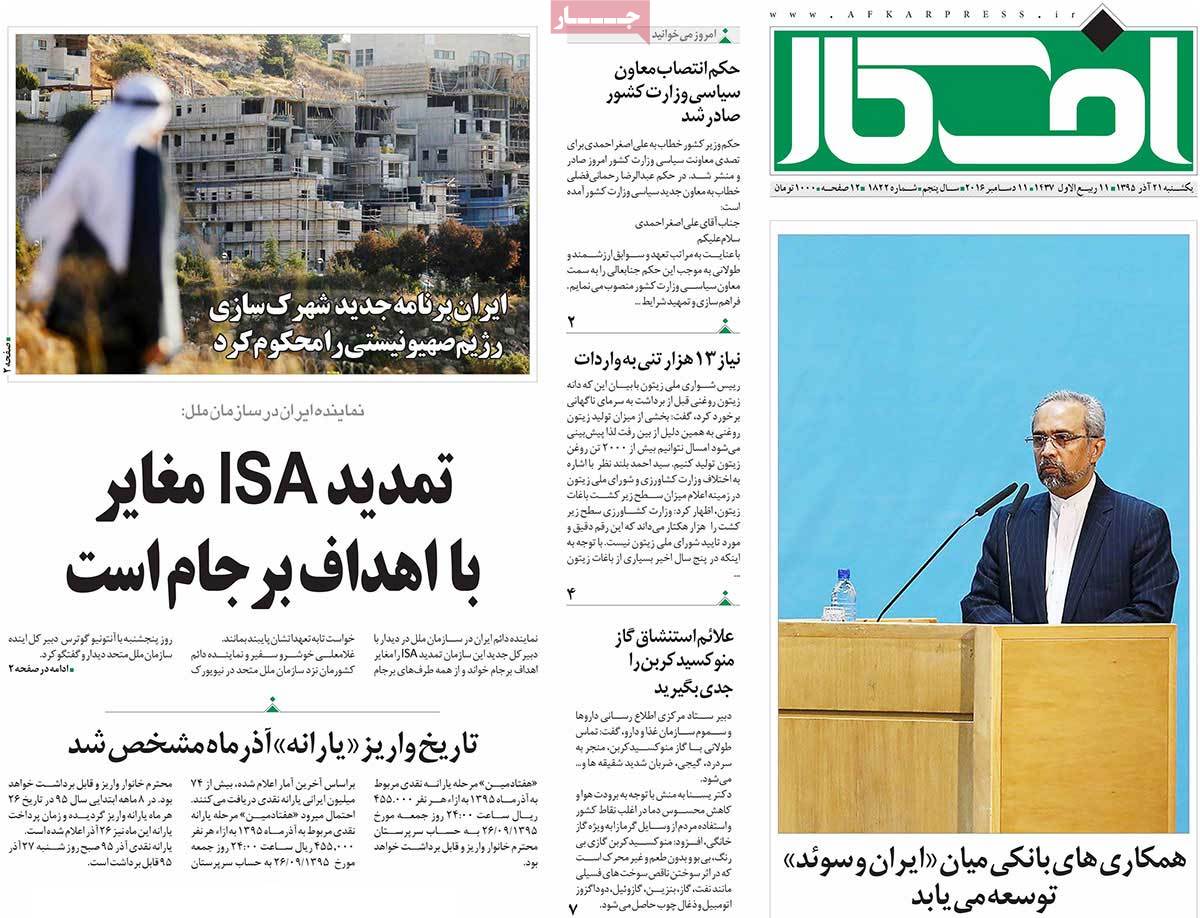 ---
Aftab-e Yazd:
1- People's Happiness for JCPOA Is Ridiculed: Hardliners Put Nuclear Deal in a Coffin and Held Funeral Ceremony for It
2- Reformist Figure: Iran Will Not Scrap Nuclear Deal; Trump's Model of Presidency Is Like that of a Sultan
3- Hidden War between Start-ups and Traditional Market: Internet Is No Longer an Instrument, It's Now Part of Our DNA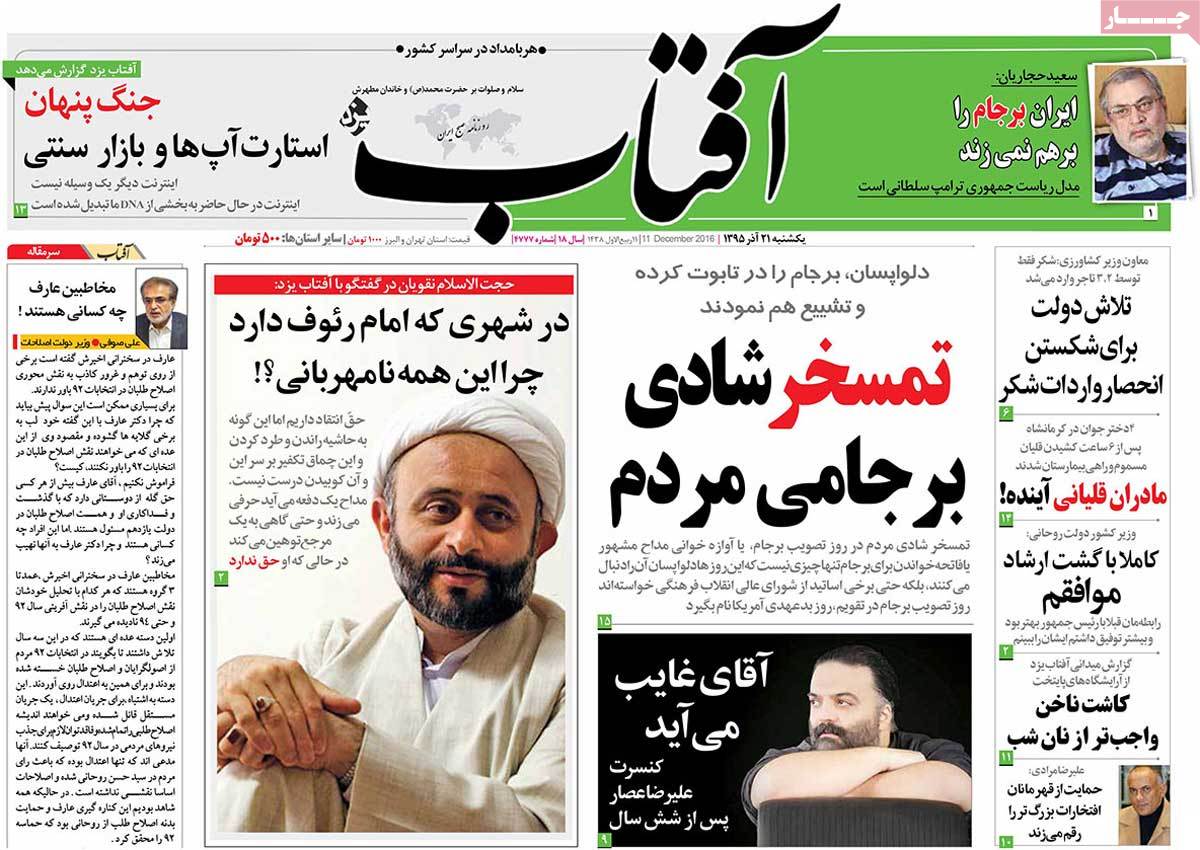 ---
Arman-e Emrooz:
1- Iran Has 2,000 Child Widows
2- Based on Obama's Order: Russia's Role in Trump's Victory Will Be Investigated
3- Reformist Figure: Rouhani Is Still Repairing the Country after 8 Years of Devastation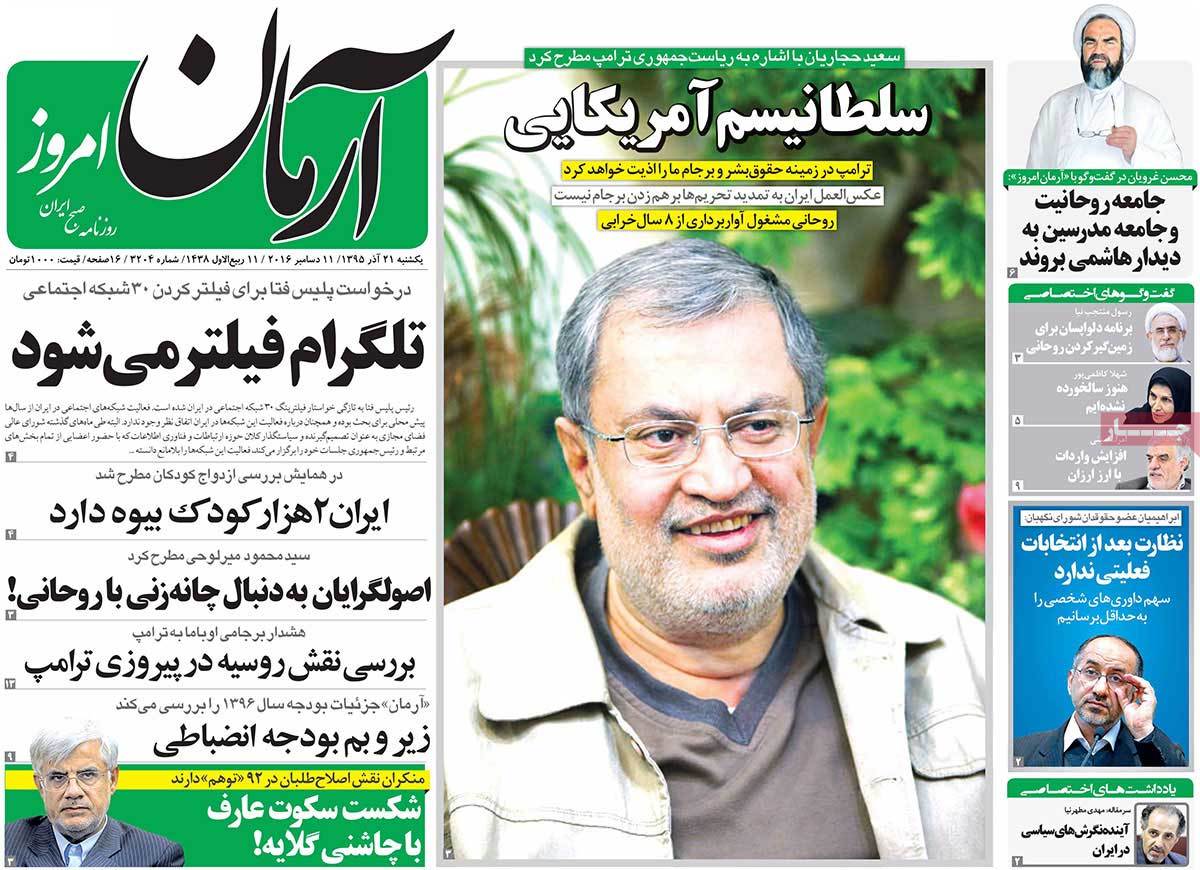 ---
Asrar:
1- British Ambassador Summoned to Foreign Ministry
2- "Friends of Syria" Meeting in Paris Ends without Any Result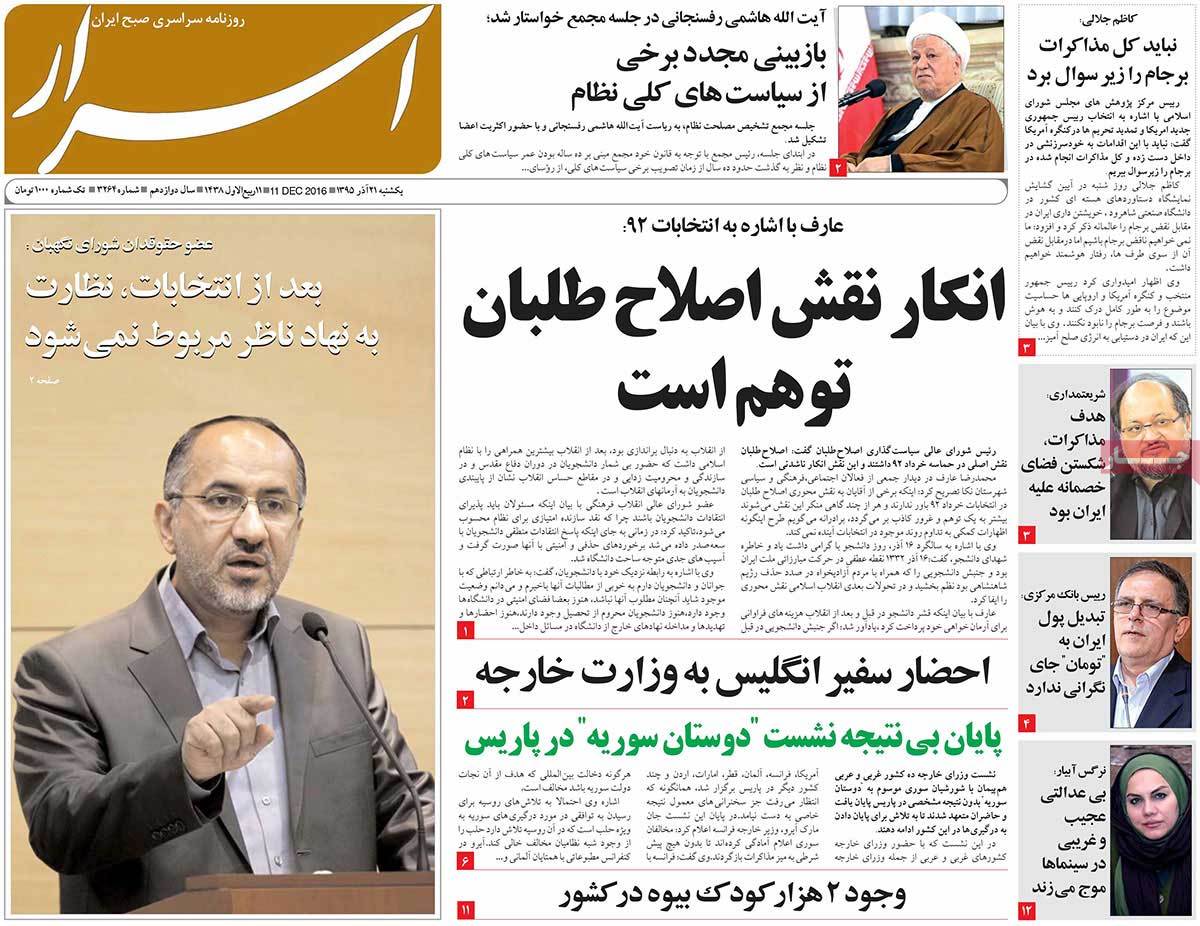 ---
Besharat-e Now:
1- Iran Will Become a Dry Country in 15 Years; Agriculture as Main Consumer of the Country's Water Is the Main Cause of Water Shortage
2- Iran Has the Highest Number of Lawsuits in FIFA and AFC: Official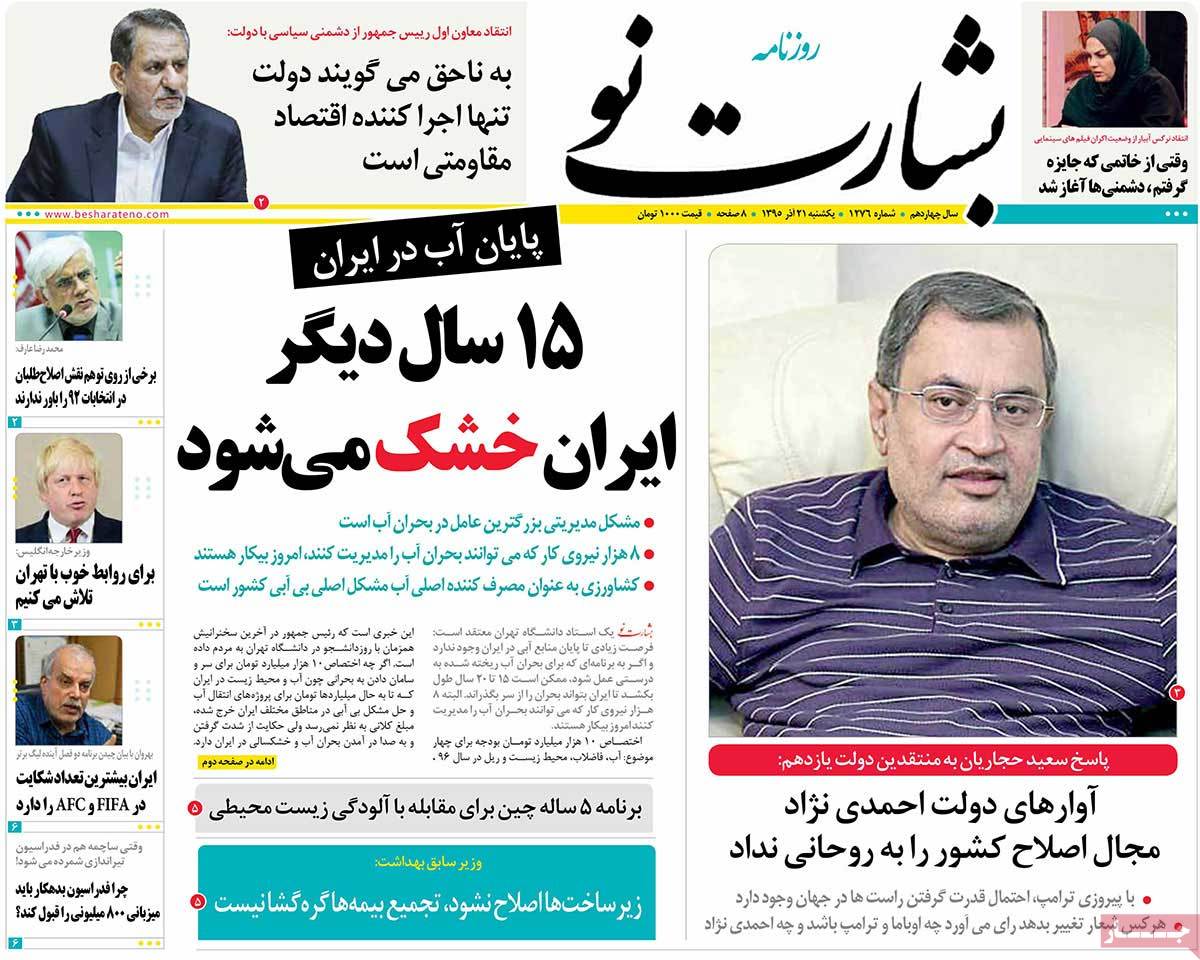 ---
Donya-ye Eqtesad:
1- What Will Be the Consequences of Trump's Protectionism Policy? Horn of War on World Trade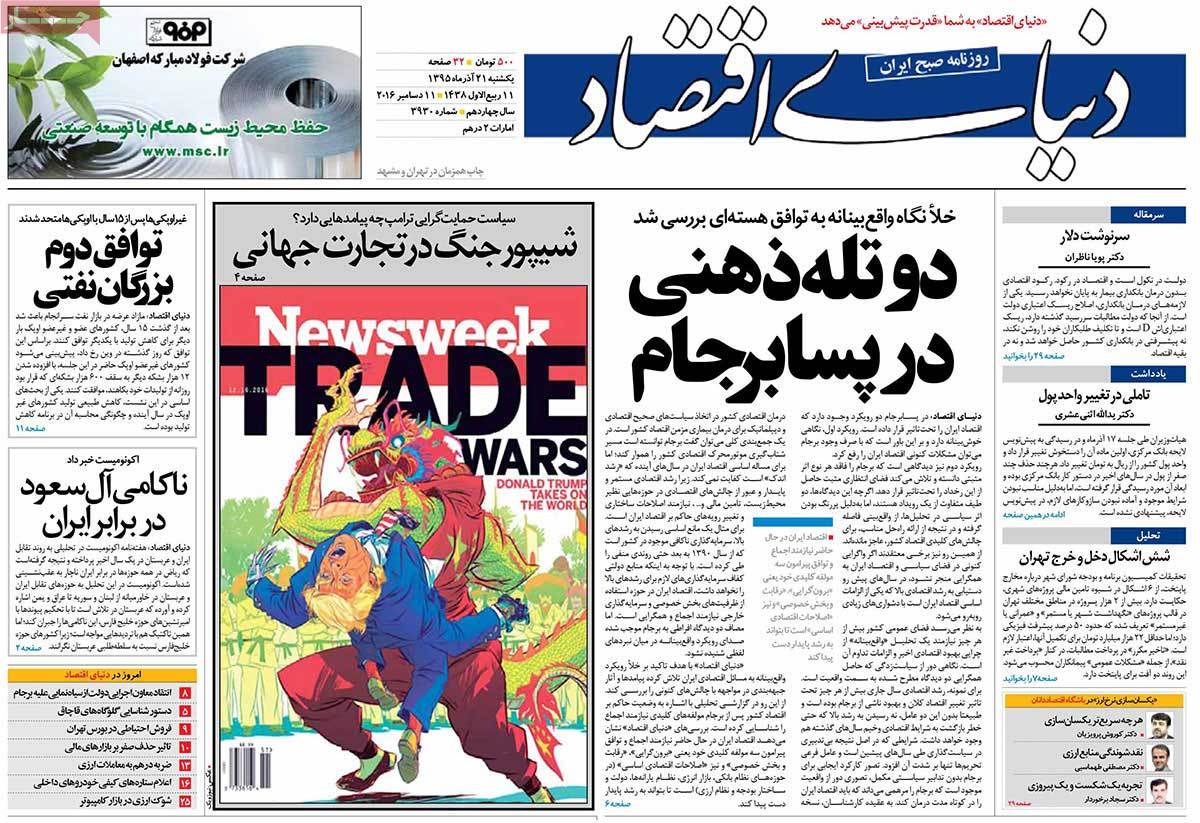 ---
Ebtekar:
1- Rubble of Cold Ceiling: Doctor in Hamadan Says Both Legs of a Homeless Man Should Be Cut Off after Frostbite
2- London's Stances and the Art of Diplomacy [Editorial]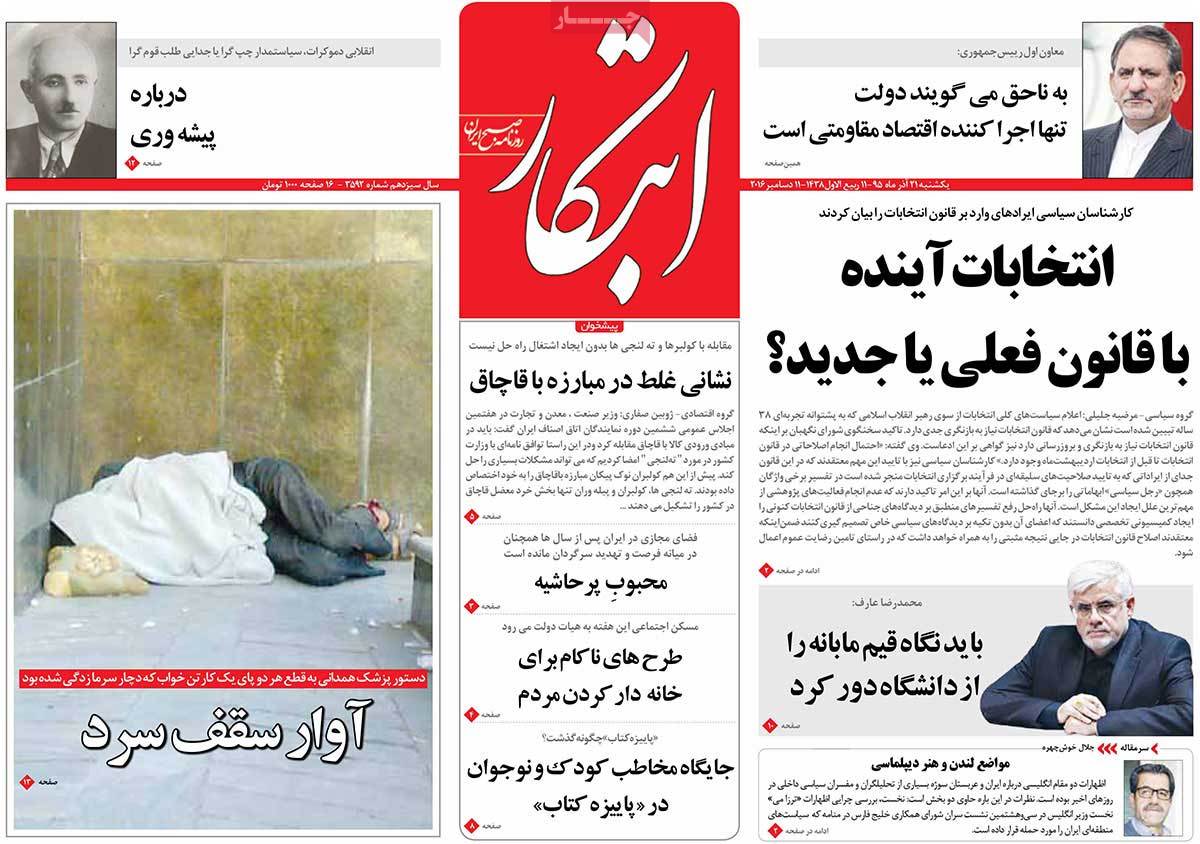 ---
Etemad:
1- Russia's Hidden Hand behind Trump's Victory: CIA Says Moscow Has Interfered in Spoiling Clinton's Image
2- Iran's Ex-Ambassador to Morocco: Saudi Arabia Has Dragged Iran into an Unwanted War
3- Adrenaline Is in Highest Level Here: A Report on Female Motorcyclists' Training Session in Tehran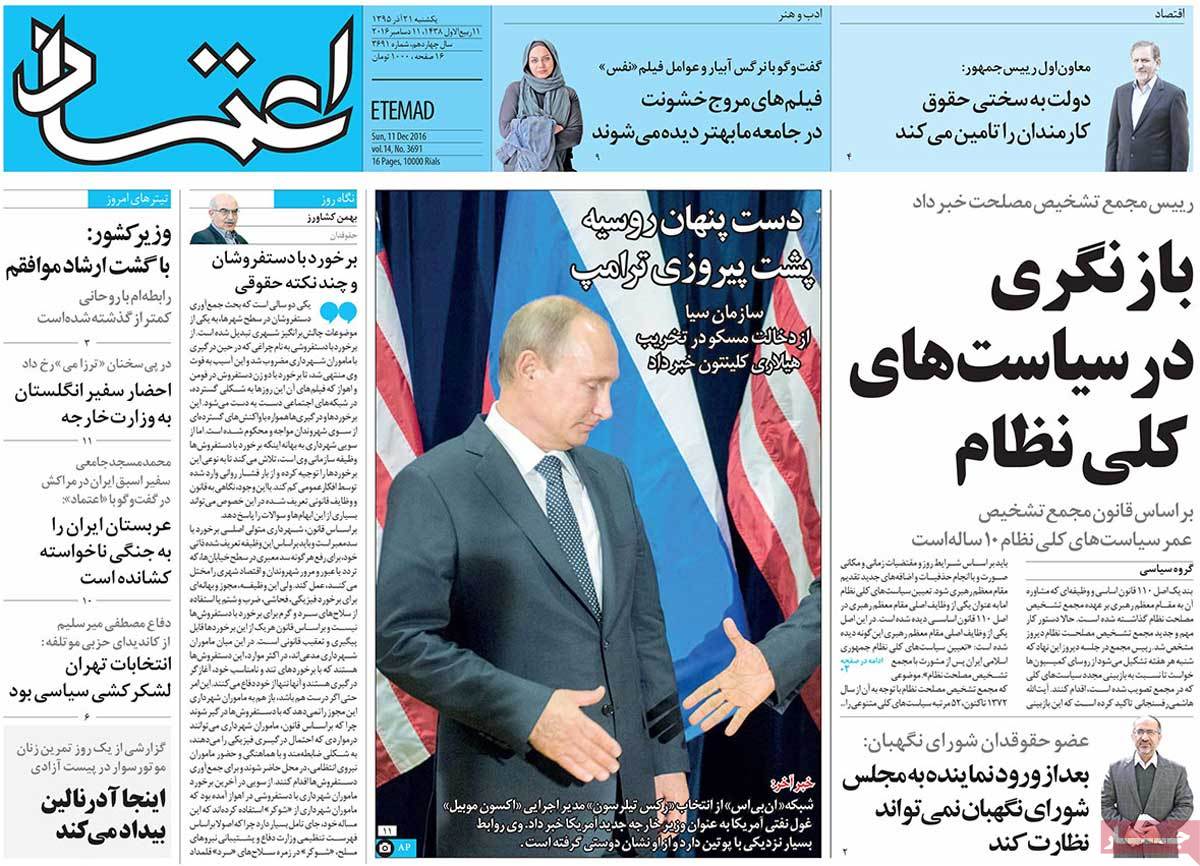 ---
Ettela'at:
1- Secretary General of Hezbollah: One Step Left to Victory in Syria
2- Tehran Security Conference Kicks Off with West Asian Authorities in Attendance
3- Economist: Saudi Arabia Defeated by Iran
4- Economy Minister: Impacts of Economic Growth Will Gradually Appear in People's Lives
---
Haft-e Sobh:
1- Iran Ranks Higher than Turkey and Dubai: Business Insider Puts Iran in List of Top 50 Tourist Destinations for 2017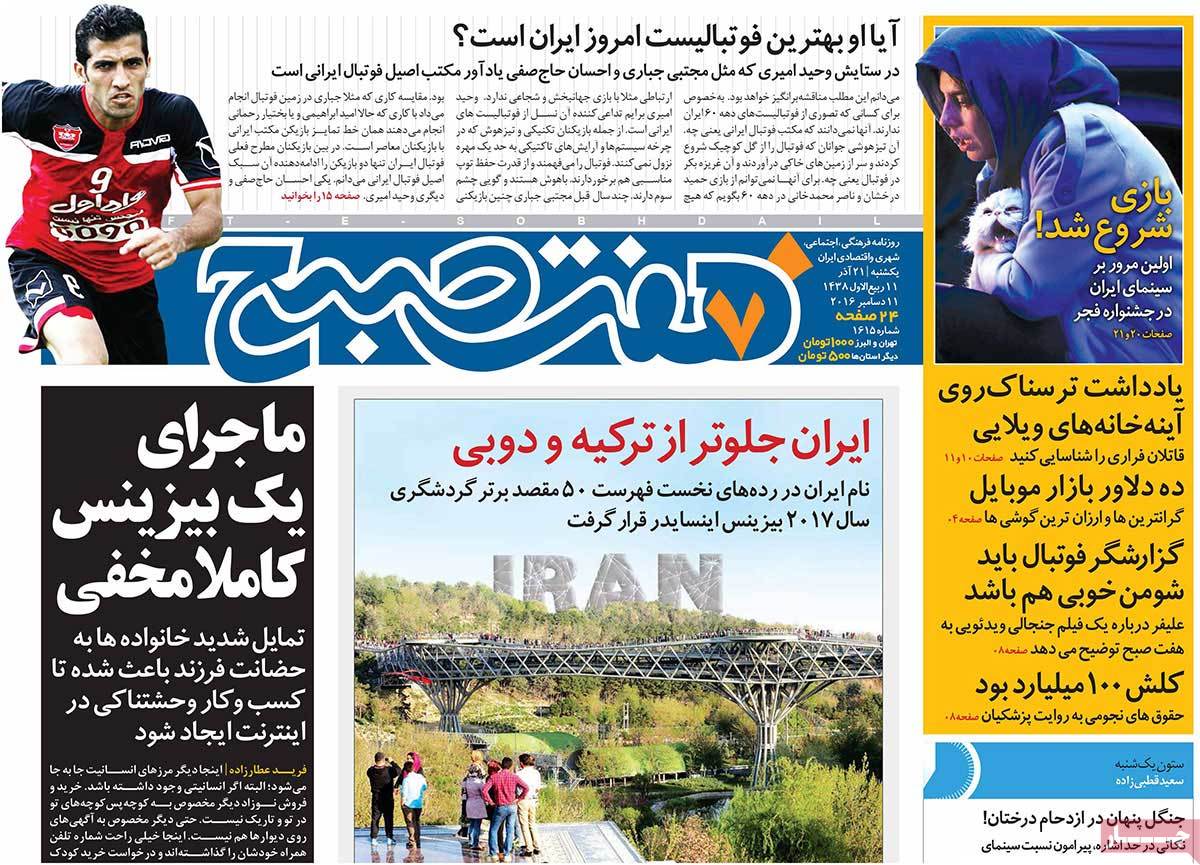 ---
Hemayat:
1- SNSC Secretary: We Have Plans to Counter US Violation of Its Commitments
2- IRGC General: Enemy's Forces Are within Range of Iran's Military
3- Holding Electronic Elections Is Possible If Security Is Considered: Guardian Council Spokesman
4- Nasrallah: Region Has Entered a New Stage
5- Resistance Front's Major Victories from Mosul to Aleppo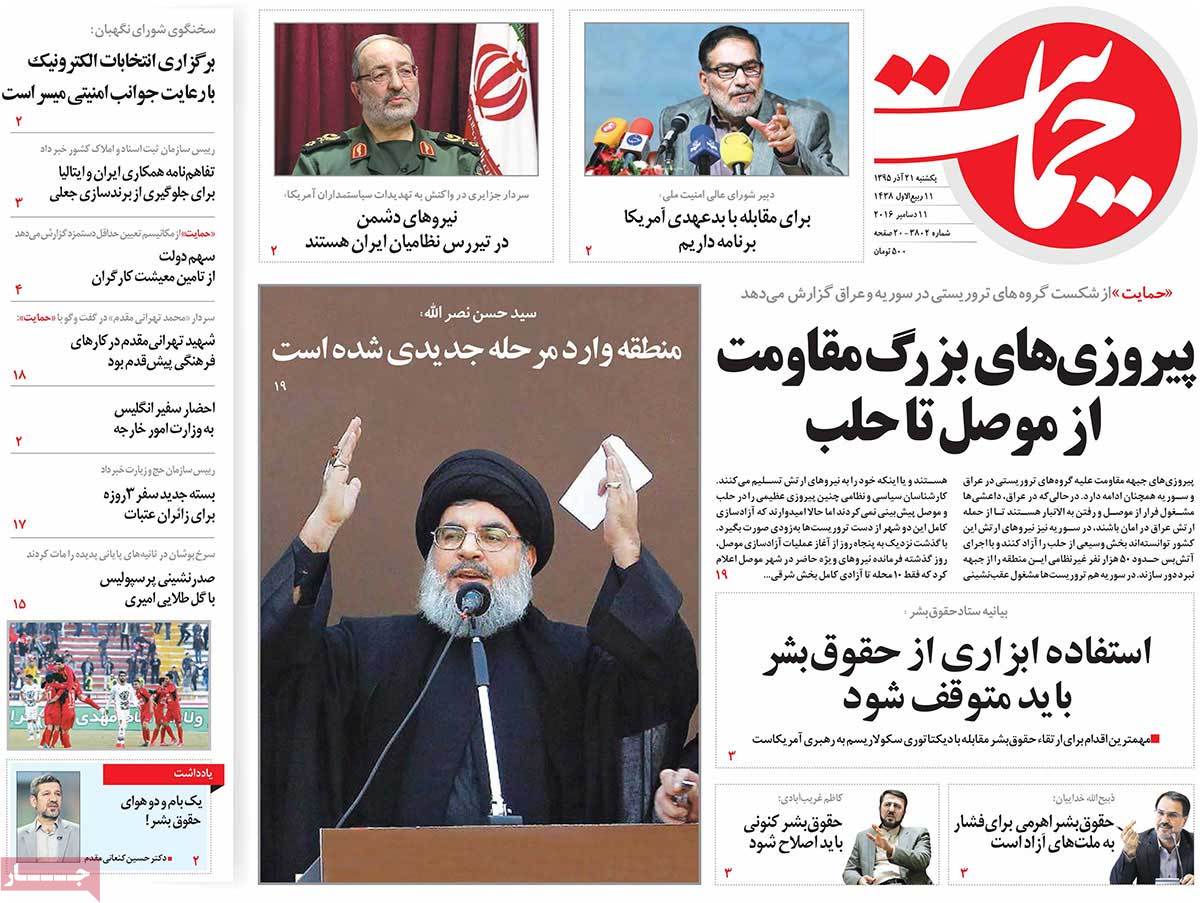 ---
Iran:
1- Europe and China's Plan for Controlling the Dragon of Pollution
2- First VP: People Will Be Harmed by Political Fights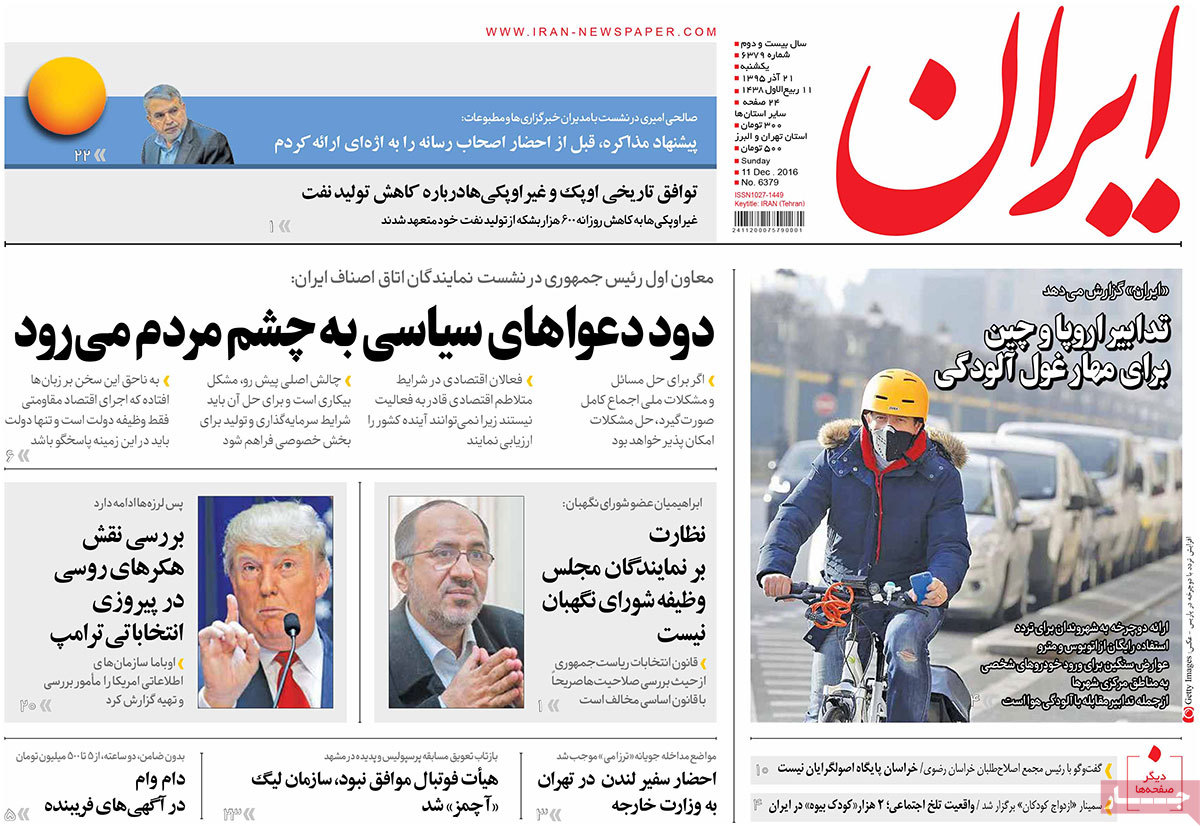 ---
Jame Jam:
1- Year of Al Saud's Defeat: Reginal and World Media Talk about Saudi Arabia's Policies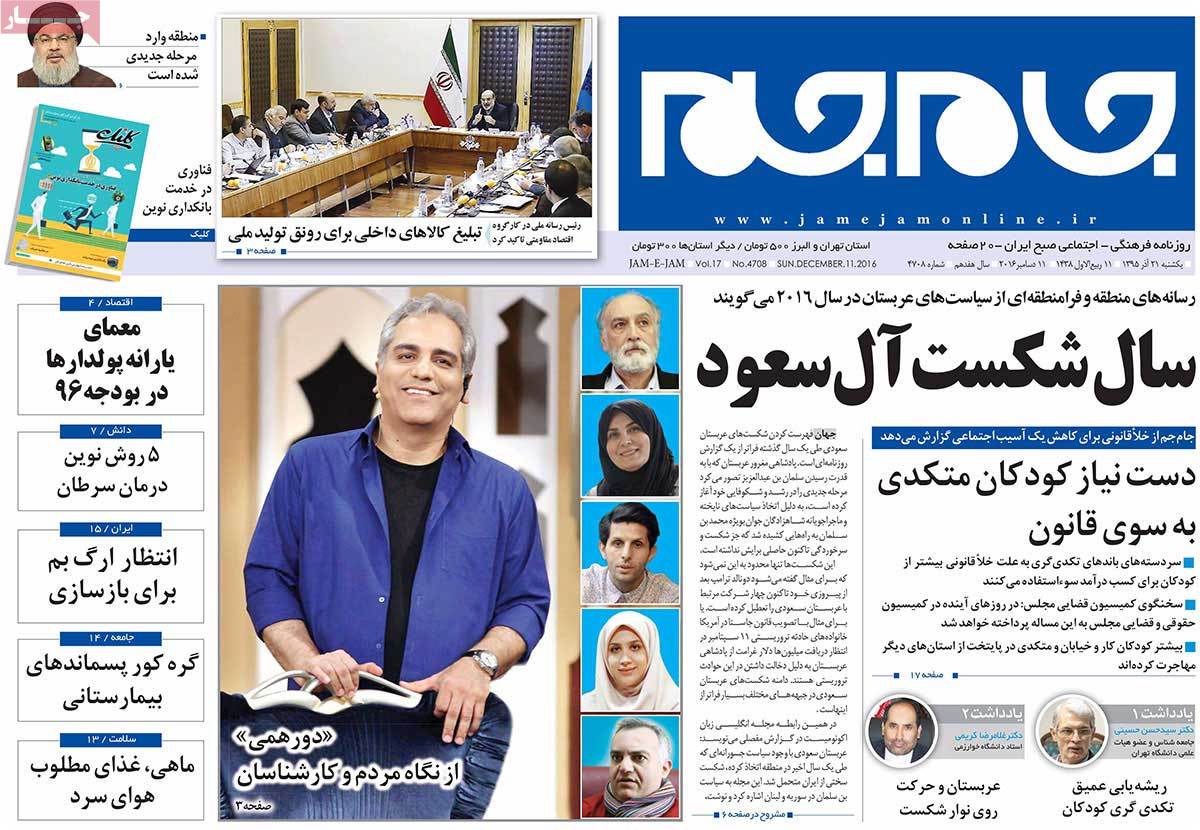 ---
Javan:
1- Amid Imminent Liberation of Aleppo, US Send American Weapons to Terrorists in Raqqa
---
Jomhouri Eslami:
1- Iran Is a Major Power in the Middle East, and Someone Should Not Come to This Region and Make Meddlesome Remarks: First VP in Reference to Theresa May's Remarks
2- Iran Will Celebrate Its Self-Sufficiency in Wheat Production Tomorrow
3- Economist: Saudi Arabia Has Backed Off in All Fronts in Confrontation with Iran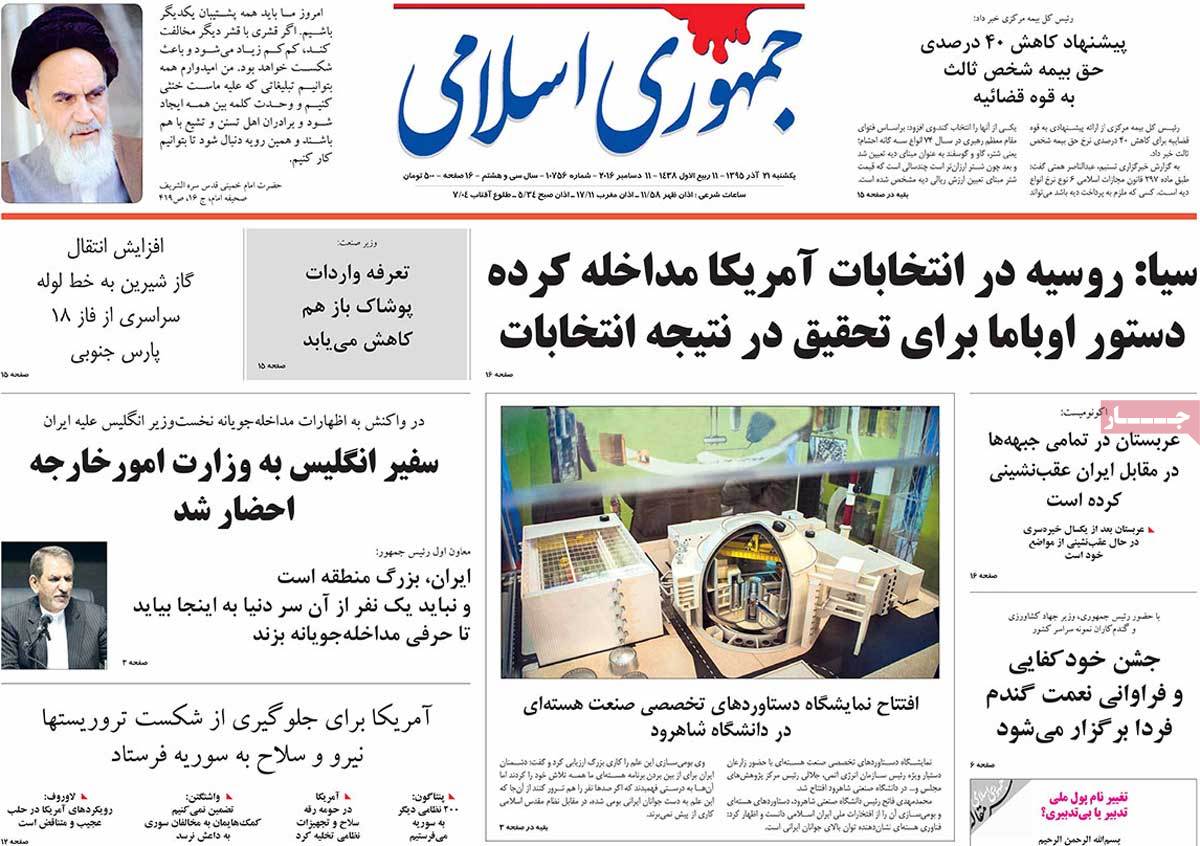 ---
Kayhan:
1- While ISIS Is under Pressure, US Bombs Iraqi Army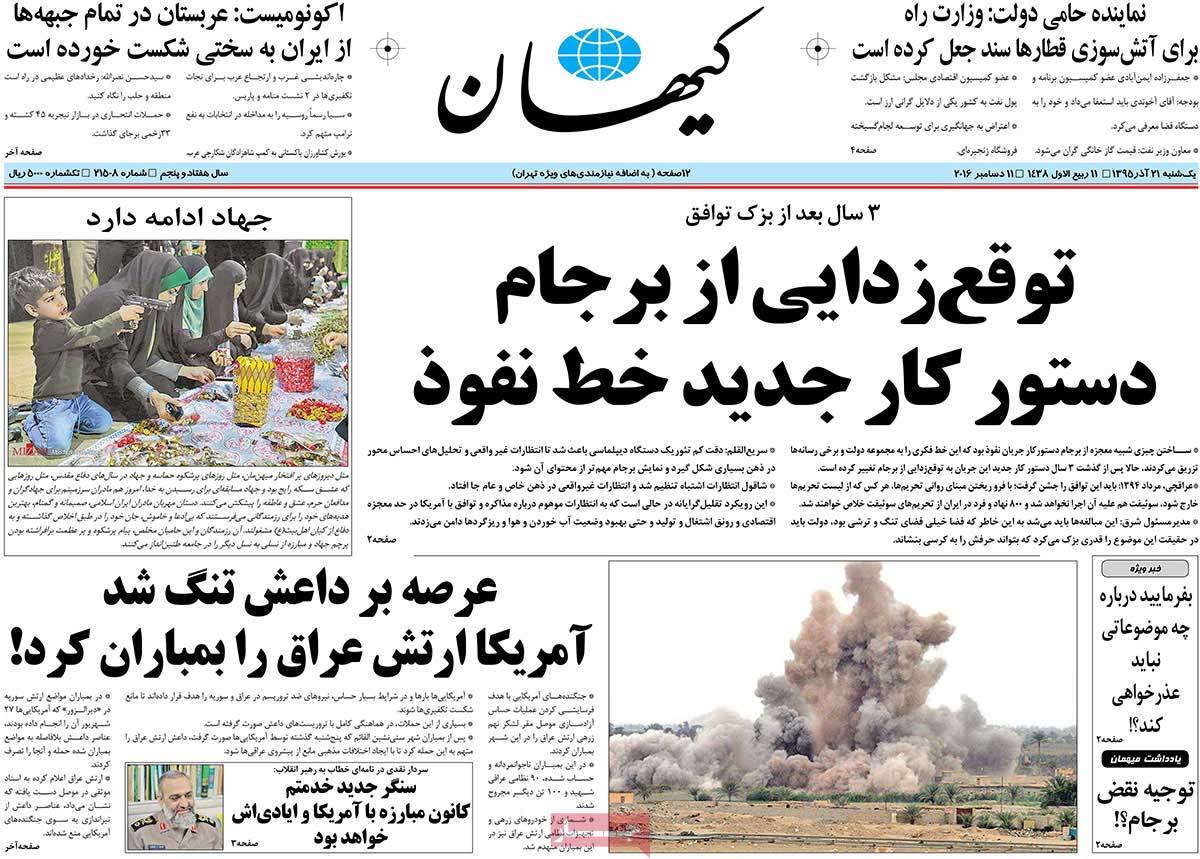 ---
Khorasan:
1- Formation of Biggest Oil Coalition: 25 Major Oil Producers Agree on Oil Output Cut
2- Terrorists Enter Al-Bab with Turkey's Support; ISIS Seizes Palmyra Once Again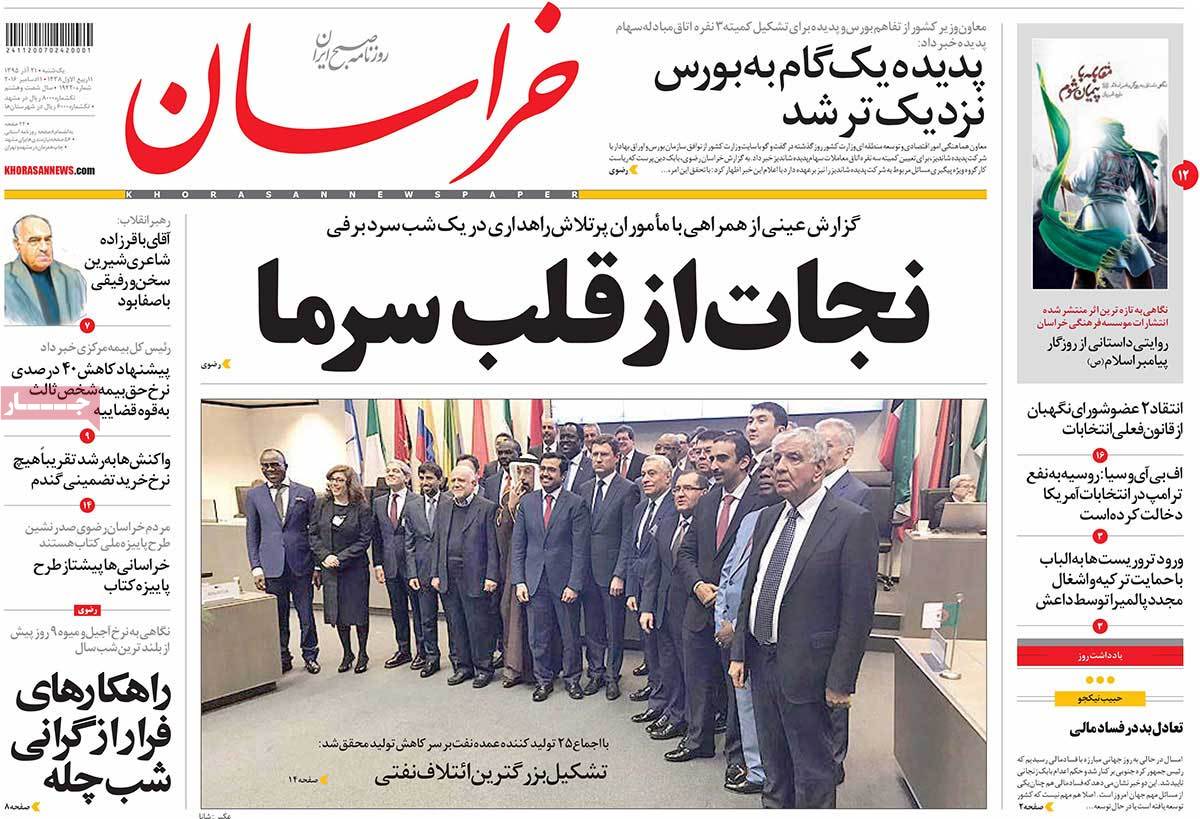 ---
Mardom Salari:
1- Britain's New Scenario: London's Dream of Replacing US in Region
---
Payam-e Zaman:
1- IRGC General Warns Those Who Threaten Iran in Persian Gulf
2- Cultural Poverty, a Major Cause in Increased Child Marriage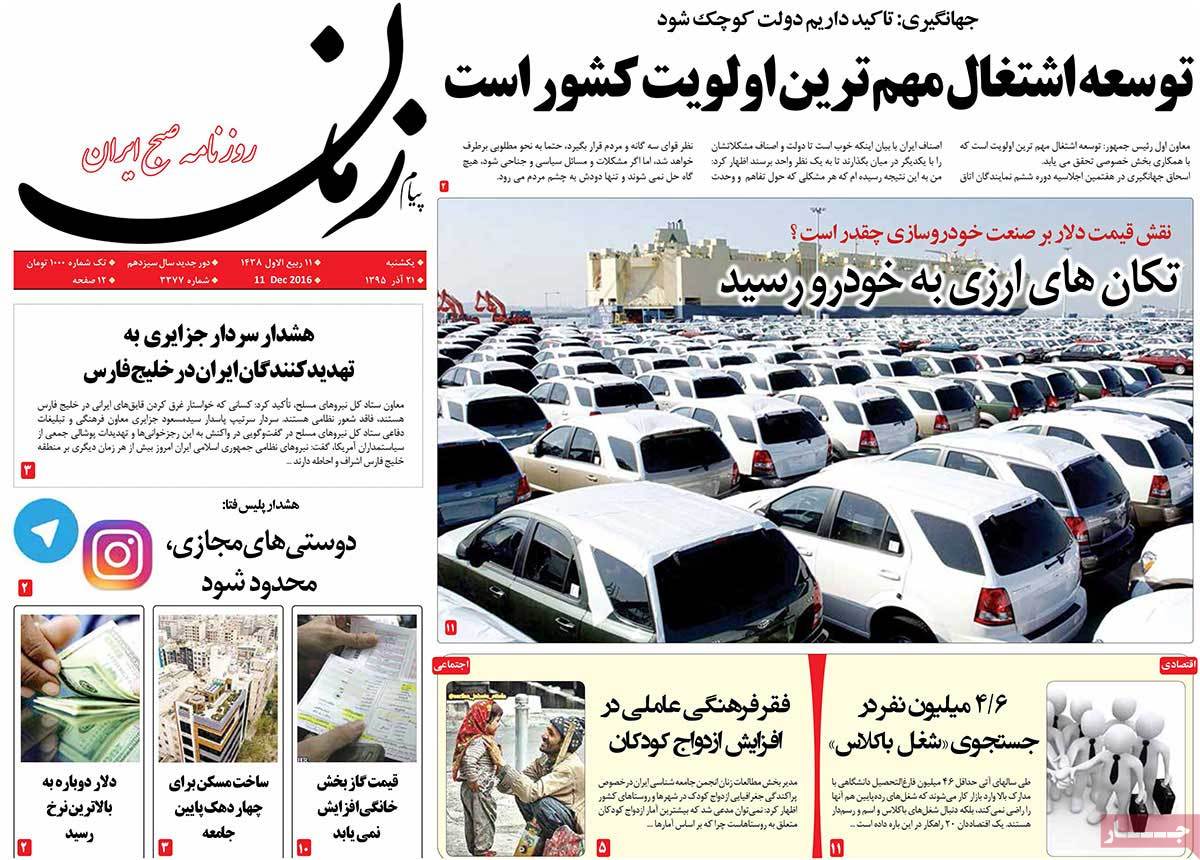 ---
Resalat:
1- Secretary of Tehran Security Conference: A New Order Is Being Formed in Middle East
2- West Terrified of Takfiris' Defeat in Aleppo
---
Sayeh:
1- First VP in Reaction to Recent GCC Summit: No One Can Take Back Iran's Security since Iran Has Not Received It from Others
2- IRGC General: Iran Is Very Serious in Defence and Security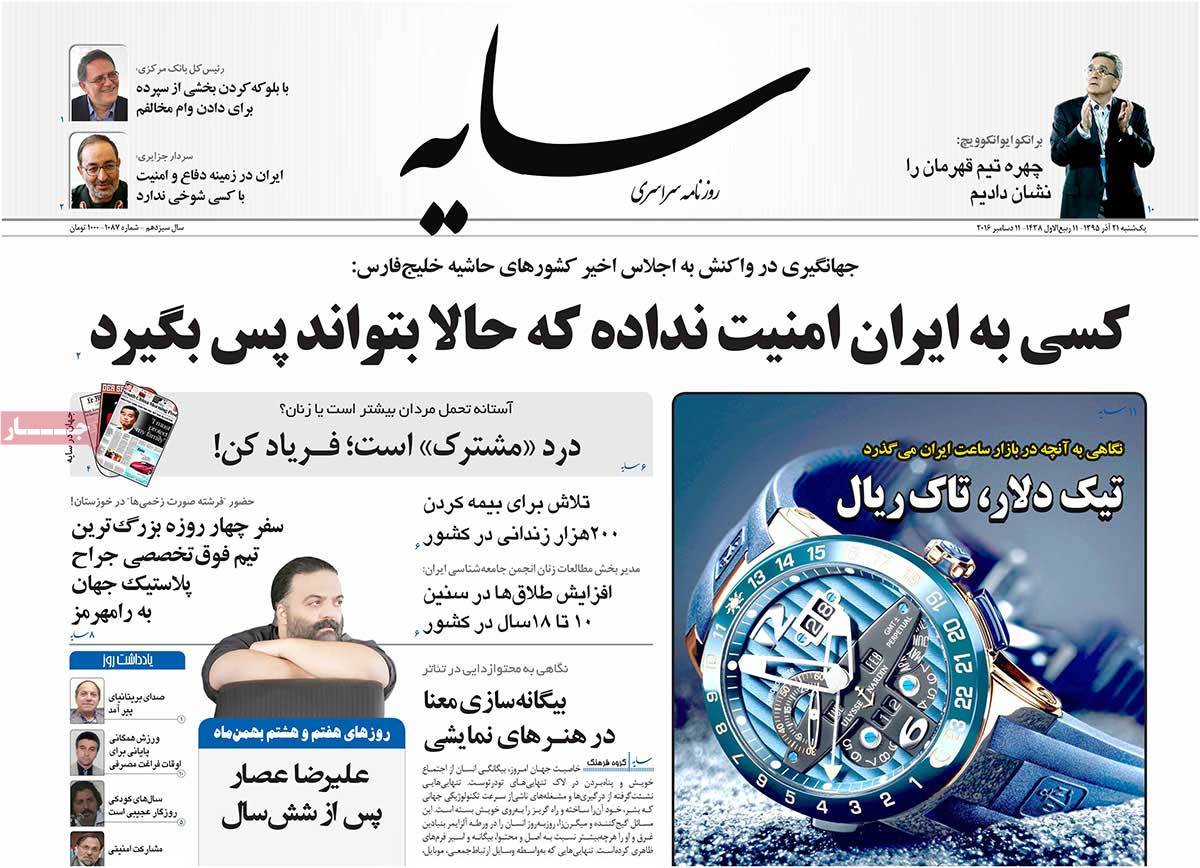 ---
Shargh:
1- Reformist Figure: Republicans Deal with Iran in a Better Way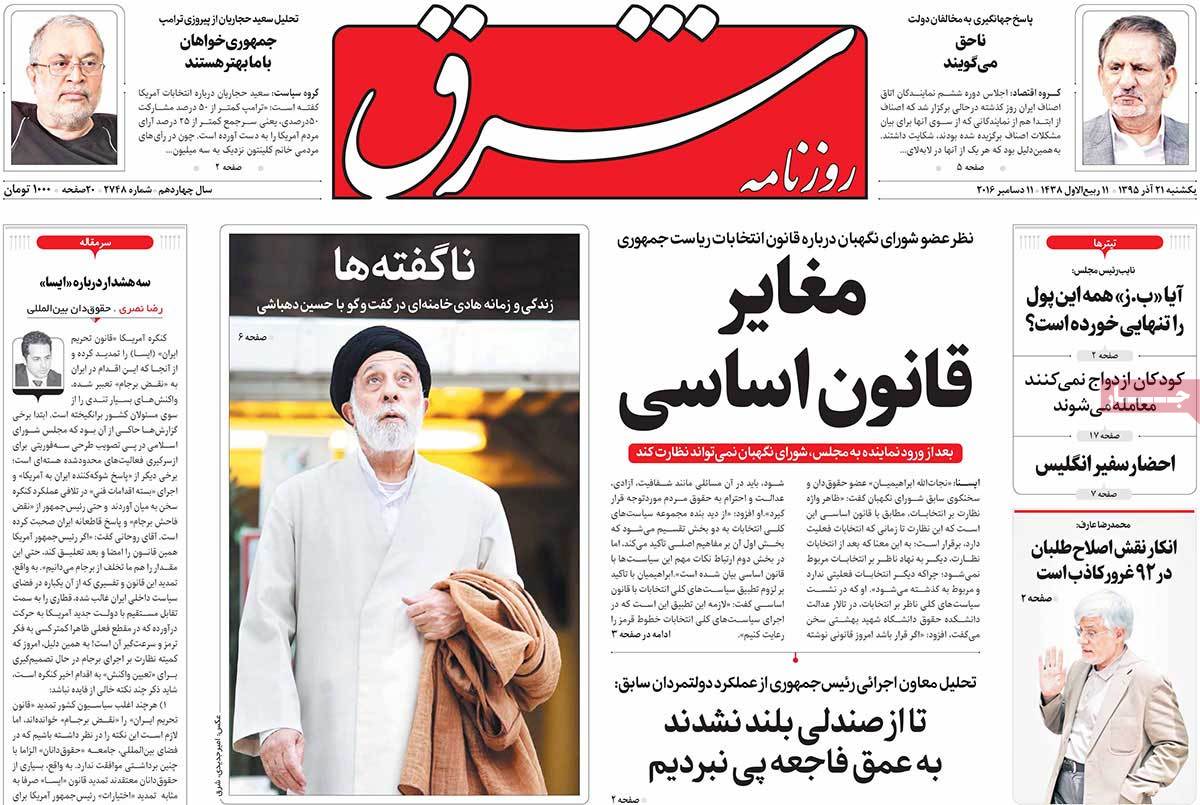 ---
Vaghaye Ettefaghieh:
1- Vessels vs Vessels: Repetitious Conflict between Iran and US in Middle East
2- The Beautiful Love Whose Name Is Freedom: A Report on Latin American Music and Songs