A major issue covered by Iranian newspapers today was the anti-Iran remarks made by British Prime Minister Theresa May and Britain's return to Persian Gulf by opening its military base in Bahrain.
The South Korean Parliament's vote to dismiss their President Park over her friend's violation of law also received great coverage.
Newspapers also highlighted the imminent liberation of Syria's rebel-held Aleppo by the Syrian Arab Army.
The above issues, as well as many more, are highlighted in the following headlines:
Abrar:
1- South Korean President Dismissed after Parliament's Vote
2- London: British Foreign Secretary's Remarks about Iran-Saudi Proxy War Were His Personal Opinion
3- Iran's Army Commander: We're Countering Numerous Threats
4- Senior Cleric: We Seek to Seize the White House
5- McCain: Trump Has Formed a Good Team to Confront Iran
6- MP: Annual Graduation of 30,000 PhD Candidates Is Worrying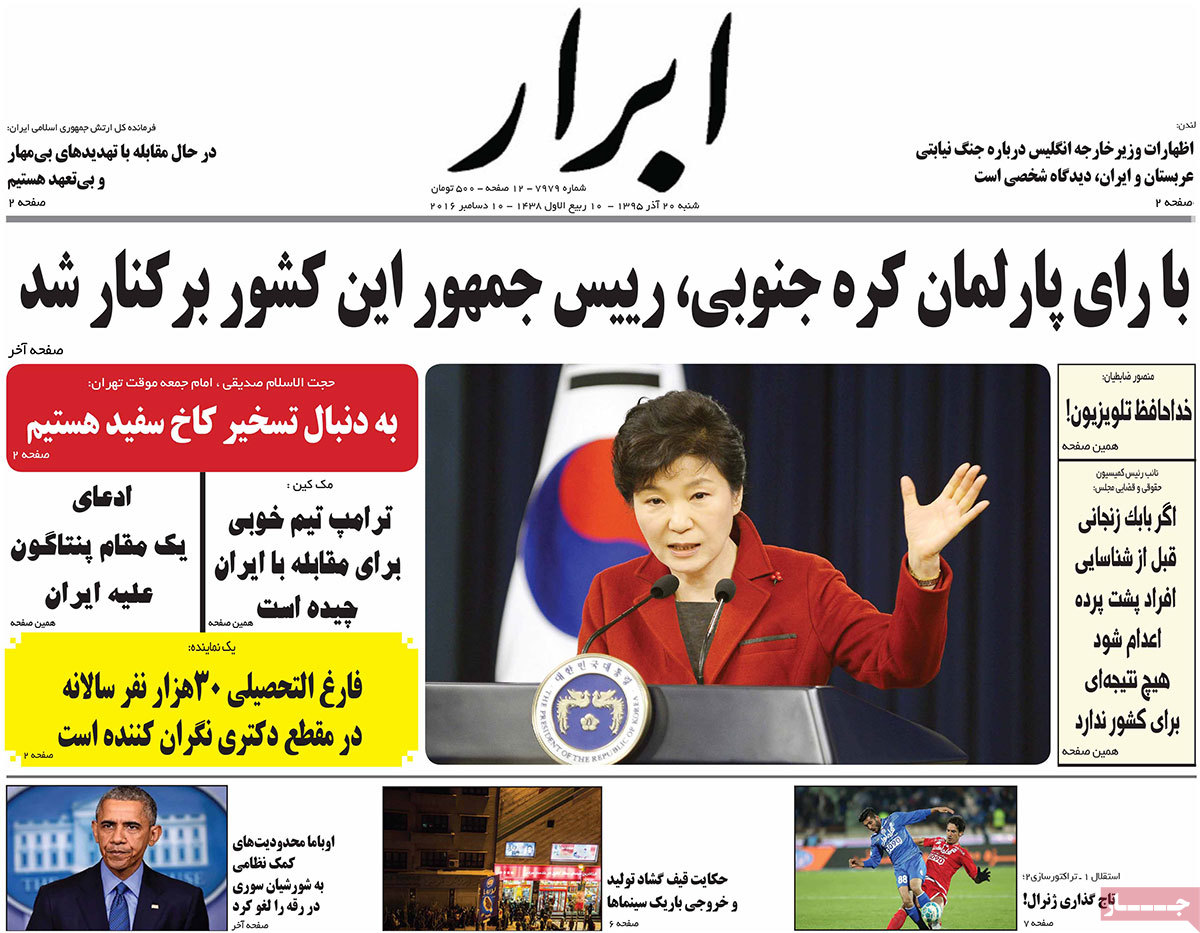 ---
Abrar-e Eqtesadi:
1- Highest Level of Corruption and Economic Inefficiency in Past 50 Years Took Place during Ahmadinejad's Terms from 2005 to 2013
2- 31% Increase in Iran's Imports from US
3- World's Oil Giants Eager to Do Business with Iran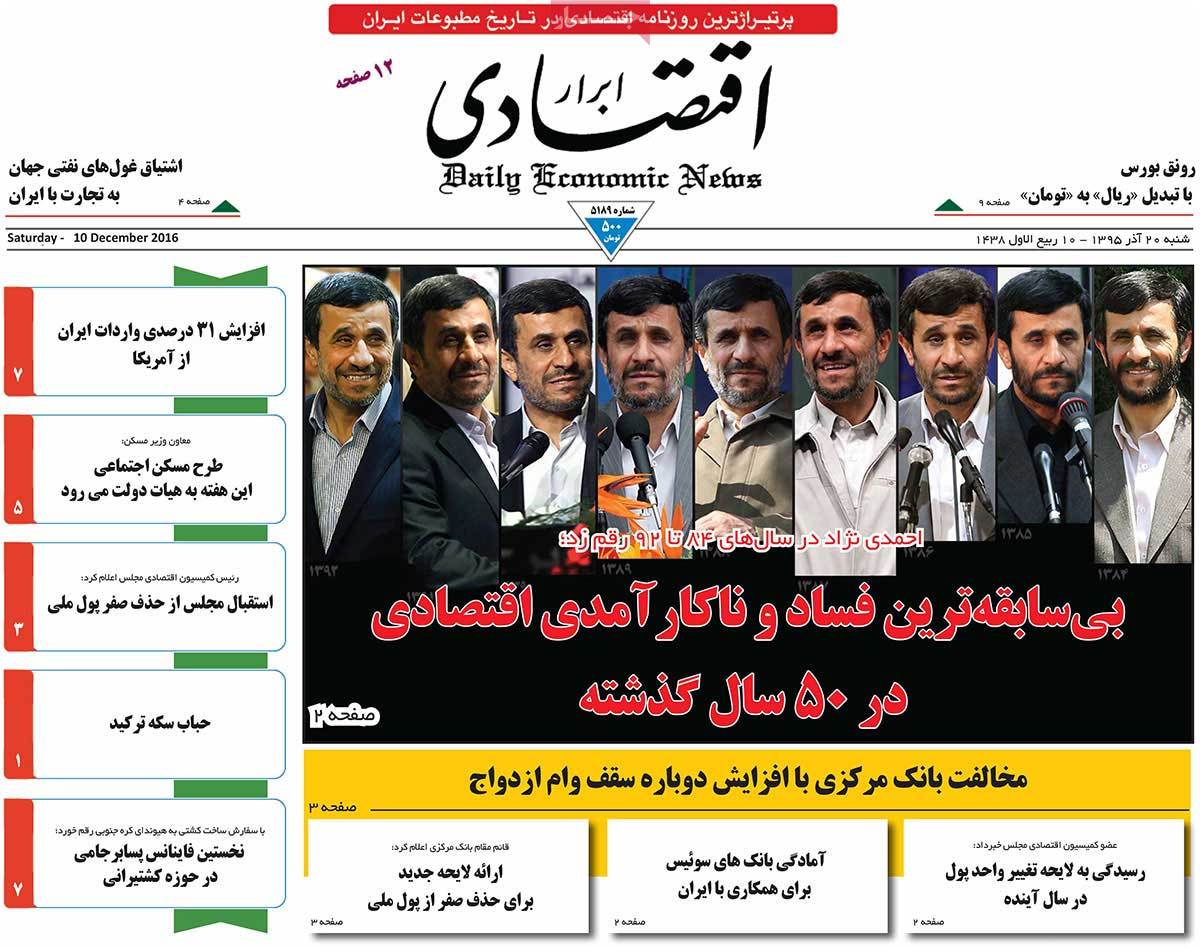 ---
Afkar:
1- Pentagon Official's Claim against Iran: Tehran and Its Allied Forces Might Be behind Drone Attack on Turkish Soldiers in Syria
2- Senior MP's Reaction to British PM's Remarks: Iran's Parliament Will Degrade Level of Ties with Britain
3- Group 5+1 and Iran Hold Extraordinary Meeting to Discuss US Administration's Clear Violation of JCPOA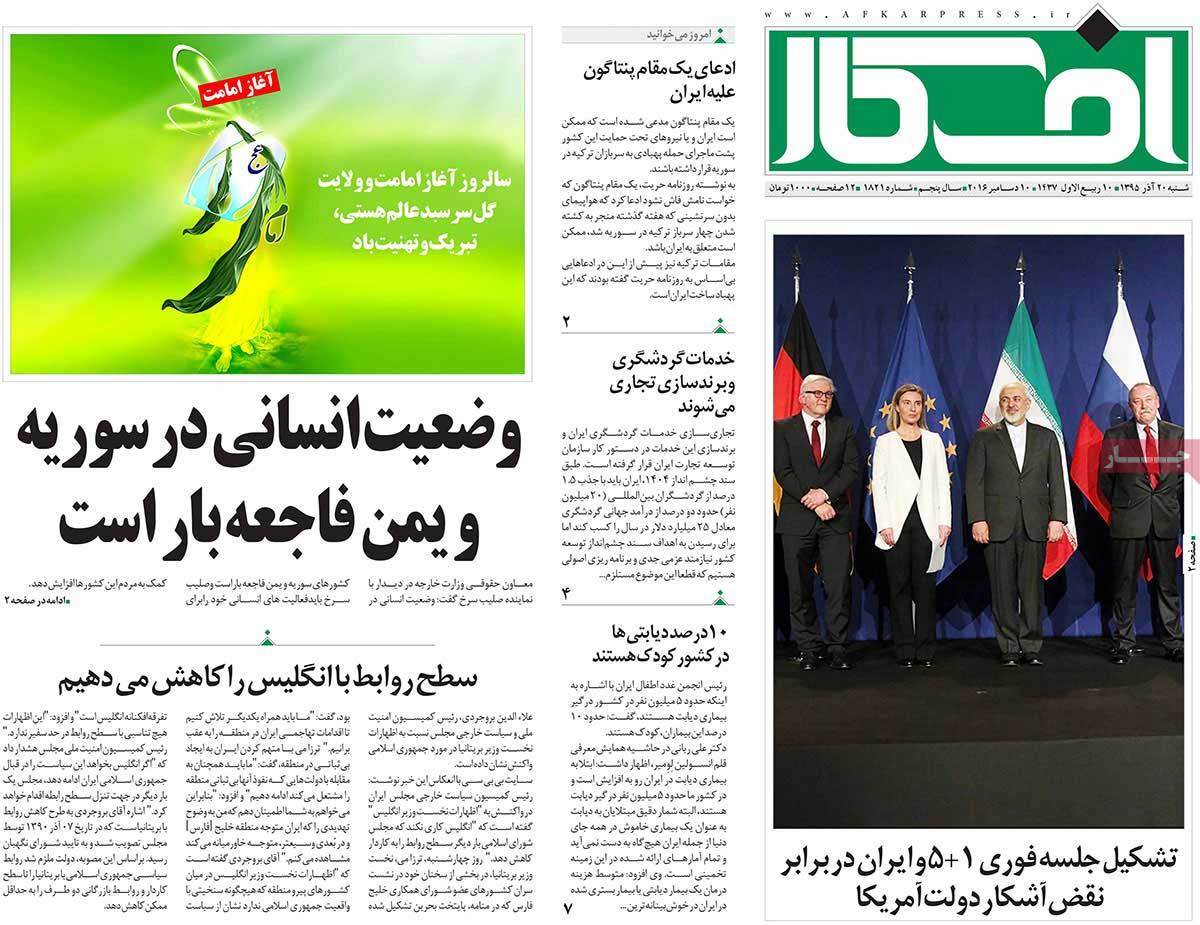 ---
Aftab-e Yazd:
1- US Role in Dismissal of South Korean President
2- Zarif: JCPOA Will Survive
3- Senior Cleric Alamolhoda: Nuclear Deal Is Failed
4- Teaching Traditional Medicine to Iranian Doctors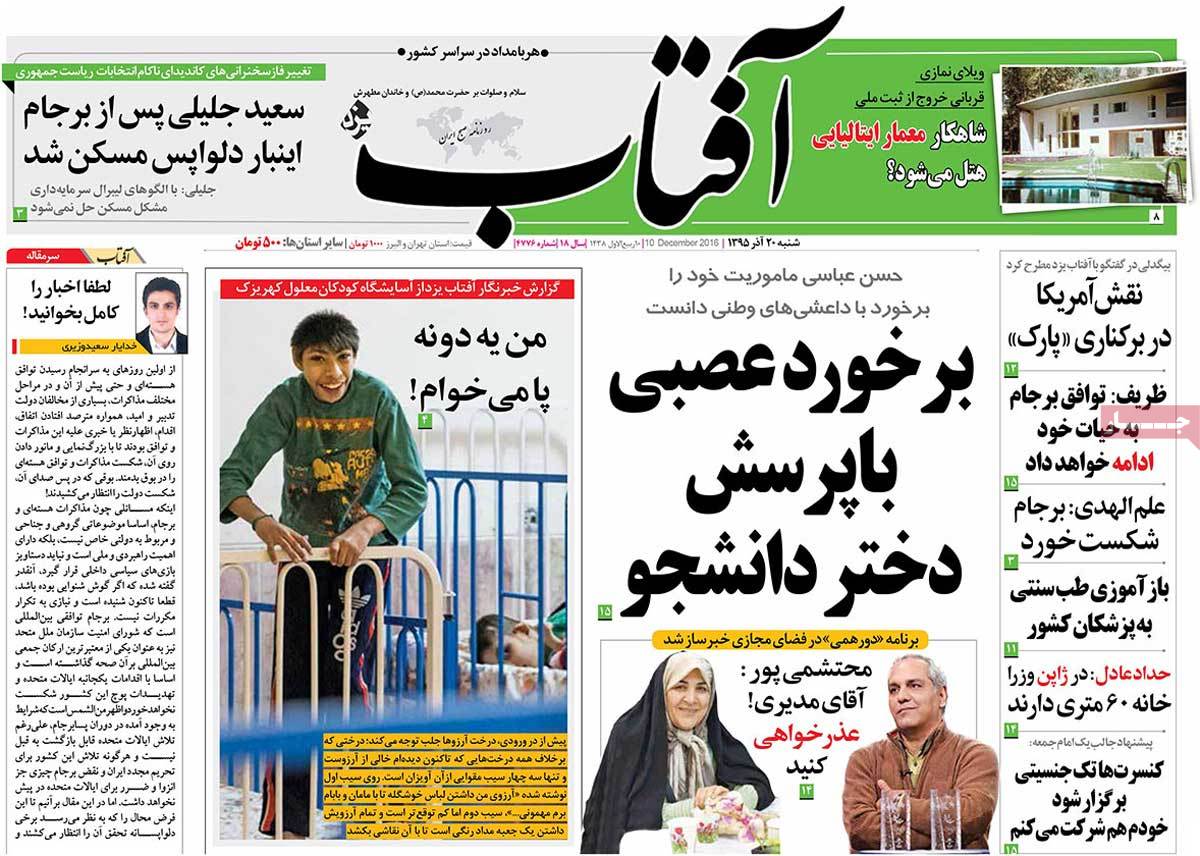 ---
Arman-e Emrooz:
1- Leader's Message to Nationwide Namaz [Islamic daily prayers] Conference: Namaz Is a Cure for Major Individual and Social Pains
2- Expert: JCPOA Helps Iranian Society Avoid Violence
3- Interior Minister: 11 Million Iranians Live in Slums; 20-Year Delay in Addressing Social Issues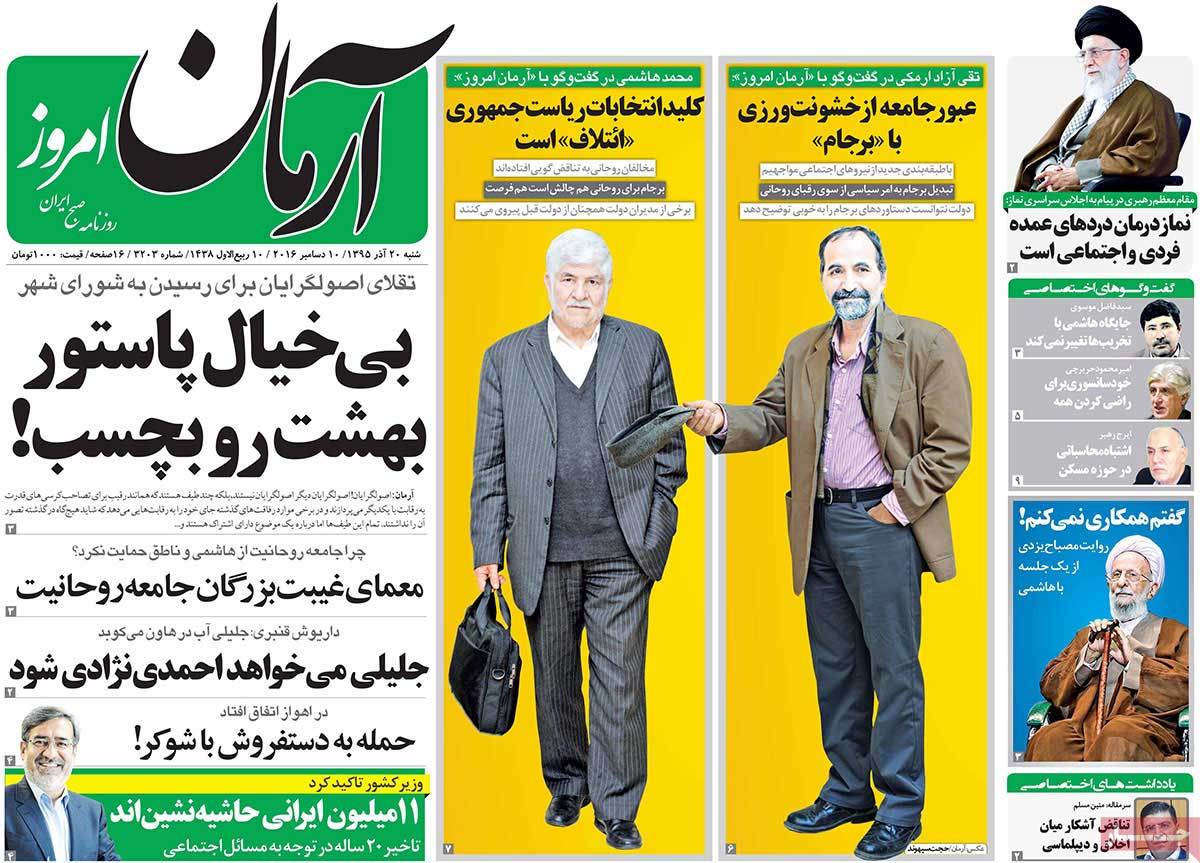 ---
Asrar:
1- Zarif: Iran Is Ready for Interaction with World; It's in US Favour to Stay Committed to JCPOA
2- Deputy Oil Minister: Iran's Frozen Money in Britain Is Now Released
3- Iran's Protest at British PM's Remarks
4- Saudi Crown Prince Urges Dismissal of FM Jubeir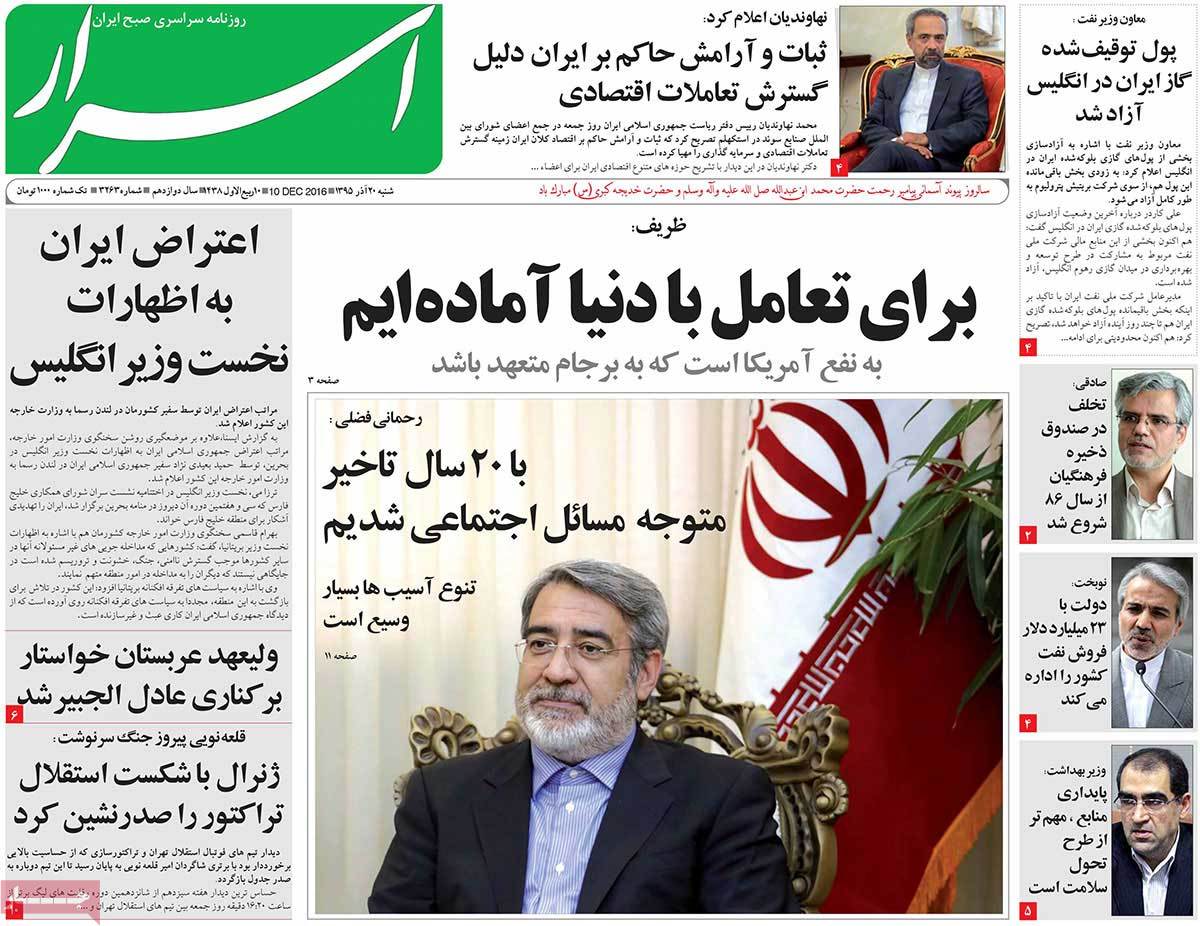 ---
Besharat-e Now:
1- Iranian Passport Gaining Global Credit: Increase in Number of Countries Listed for Cancellation of Visa with Iran
2- Municipality Agents Attack Street Vendor in Southwestern Iranian City of Ahvaz, This Time Using a Stun Gun!
---
Ebtekar:
1- Theresa May's Marketing after Brexit: Influence of British PM's Anti-Iran Remarks on Bilateral Ties
2- Dream of Leaving Rouhani behind (Editorial]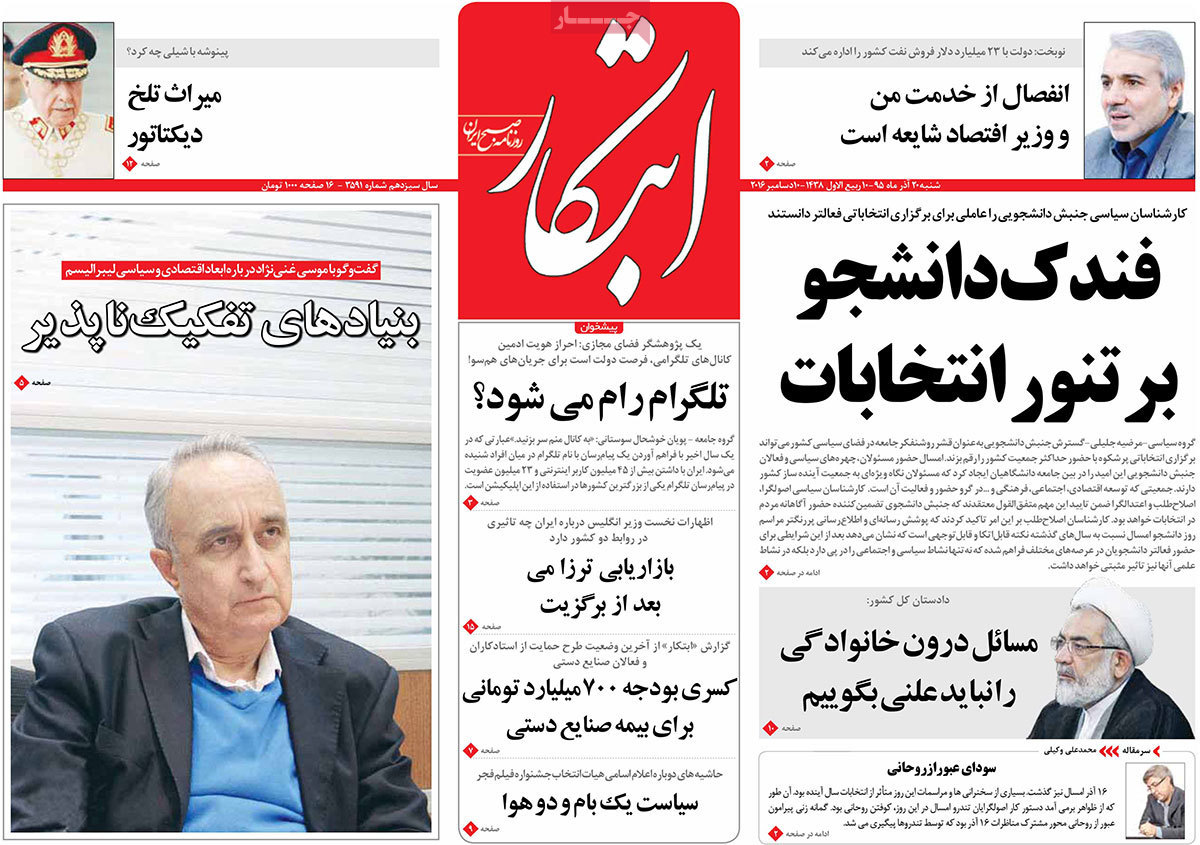 ---
Etemad:
1- Analyst: Trump Is a Combination of Bin Laden and George W. Bush
2- London Looking for Official Military Presence in Persian Gulf: An Analysis of May's Visit to Region
---
Ettela'at:
1- Experts Warn against Consequences of Hasty Extraction of Water from Limited Underground Resources: Half of the Country's Underground Water Resources Are Used
2- 93% of Eastern Aleppo Liberated: Russian Statement
3- HRW: US Is Complicit in Saudi Crimes in Yemen
4- Iranian President's Chief of Staff: Grounds Are Prepared for Expansion of Economic Ties with Tehran
---
Iran:
1- Switzerland, a Centre for Iran's Banking Diplomacy: President's Chief of Staff Hold Talks with Swiss President and Banking Officials
2- Unprecedented Deal with World's Shipping Giant: Hyundai to Build 10 Ships and 6 Tankers for Iran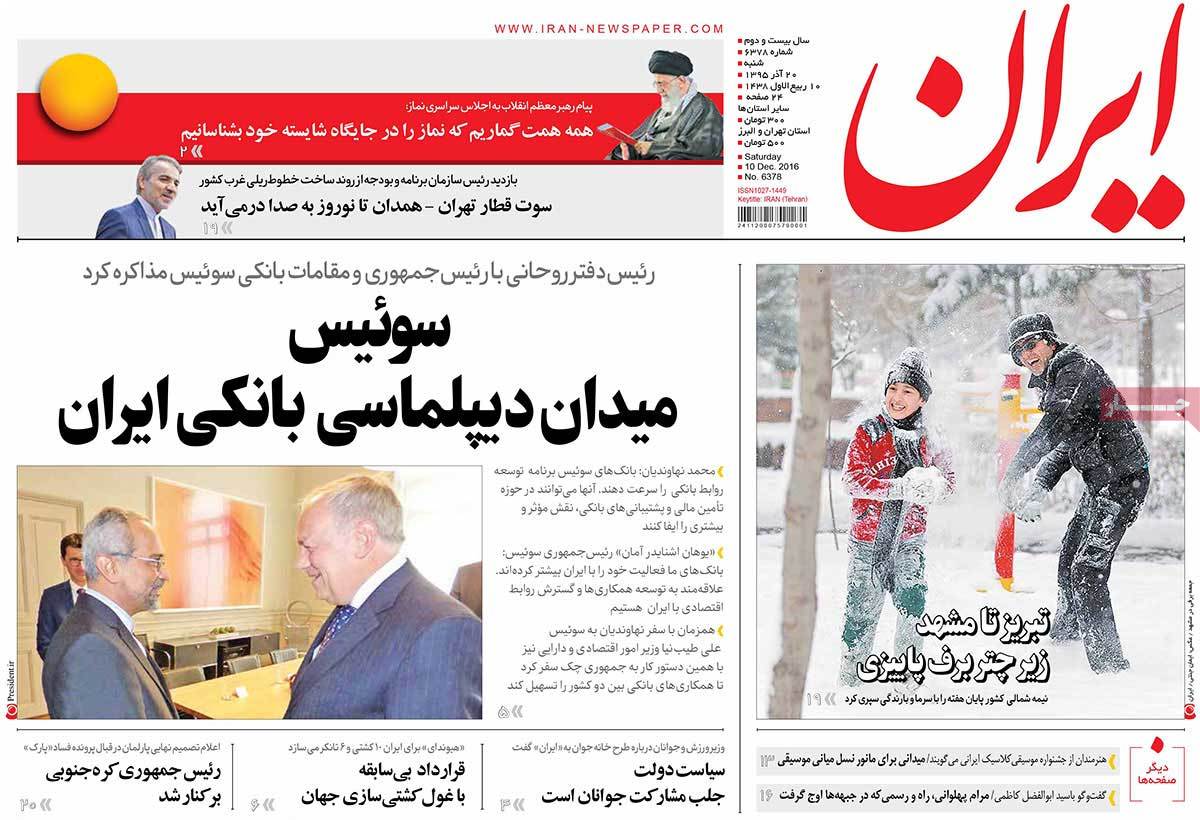 ---
Jame Jam:
1- Deadly Contracts: US Agrees to Sell $7bn of Weapons to 4 Arab Countries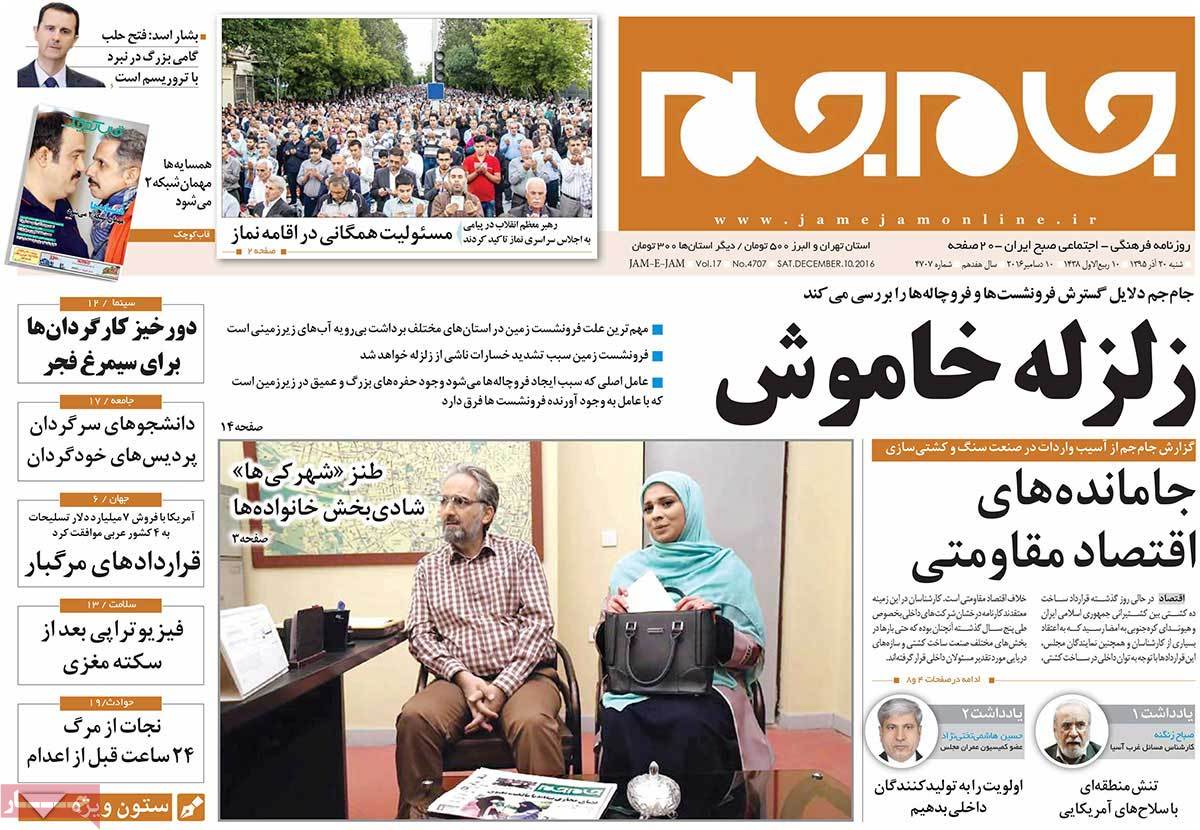 ---
Javan:
1- South Korean President Dismissed for Her Friend's Violation of Law
2- Futile Efforts of West in Zero Hour of Aleppo Liberation; Moscow: American Weapons [Given to Rebels] Not to Change Anything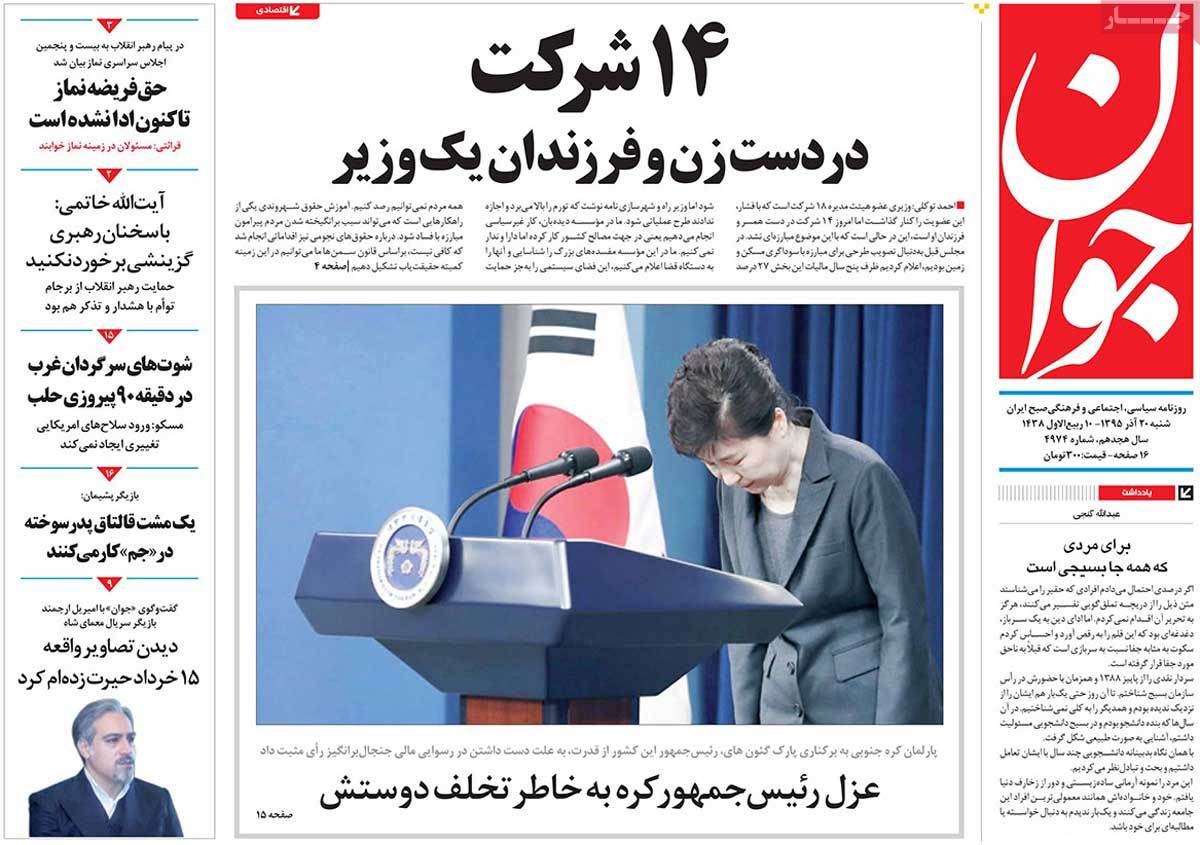 ---
Jomhouri Eslami:
1- Aleppo on Verge of Full Liberation: Terrorists Escaping en Masse
2- NY Times: Saudi Arabia Fanning Flames of War in Afghanistan by Supporting Taliban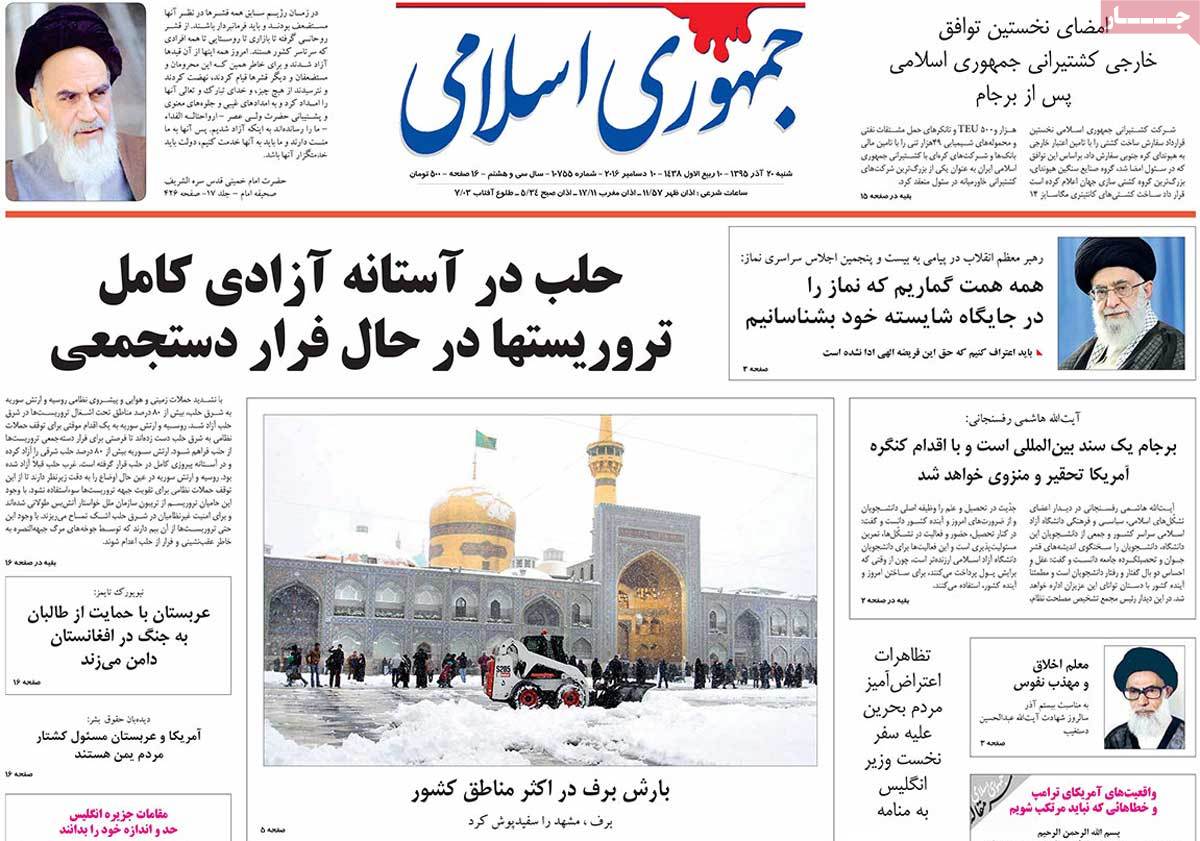 ---
Kayhan:
1- EU Impose Sanctions on Iran's Aseman Airline
2- Moscow Deploys S-400 Missile Defence System in Russia-Europe Border Areas
3- Shell Spokesperson: Oil MoU with Iran Is Confidential!
4- Carnegie Think Tank: Iran Will Not Become Isolated Even If JCPOA Fails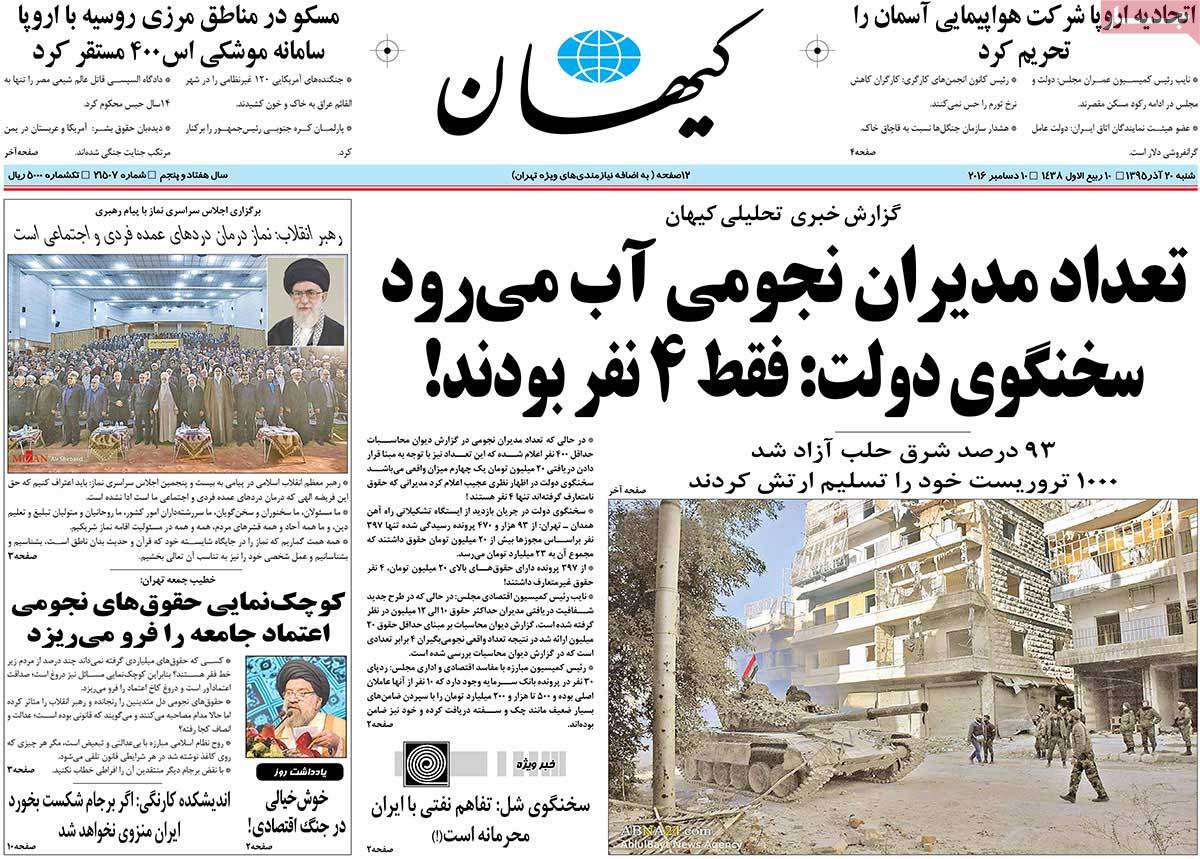 ---
Khorasan:
1- After Signing Deal with World's Biggest Ship Manufacturer: Iranian Manufacturers' Loss Following Orders Given to Foreign Companies
2- Sputnik: Trump to Become Producer of TV Show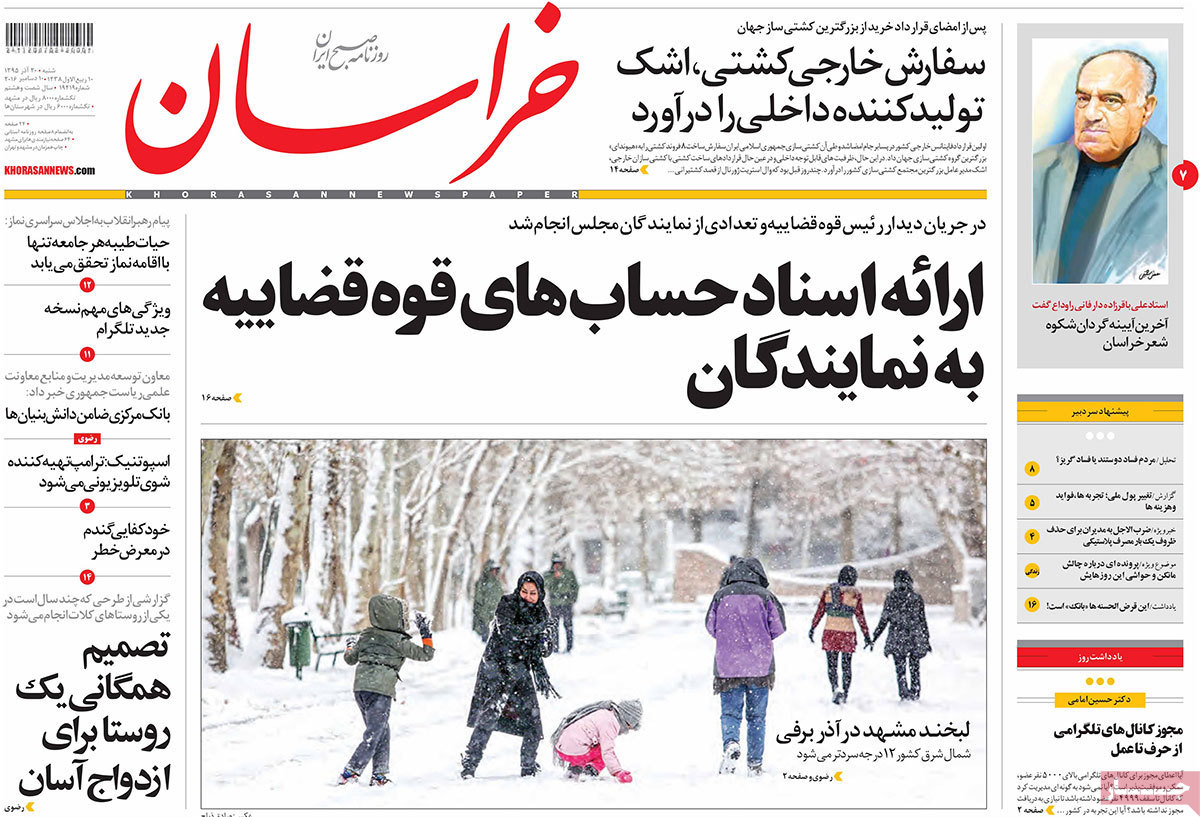 ---
Payam-e Zaman:
1- Iran's First Counterattack on D'Amato Act: Americans Banned from Investing in Iran's Oil Industry
---
Resalat:
1- Senior Cleric: Policy of Smiling at Foreign Countries Has Not Worked
2- Trump's Big Lie to American People; $618bn Military Budget Ratified; Congress Allocates $60bn to Overseas War!
---
Shahrvand:
1- Documents of Judiciary's Bank Accounts Reviewed by MPs
2- Experts Discuss the Need for Replacing Prison Sentence with Other Alternatives for Women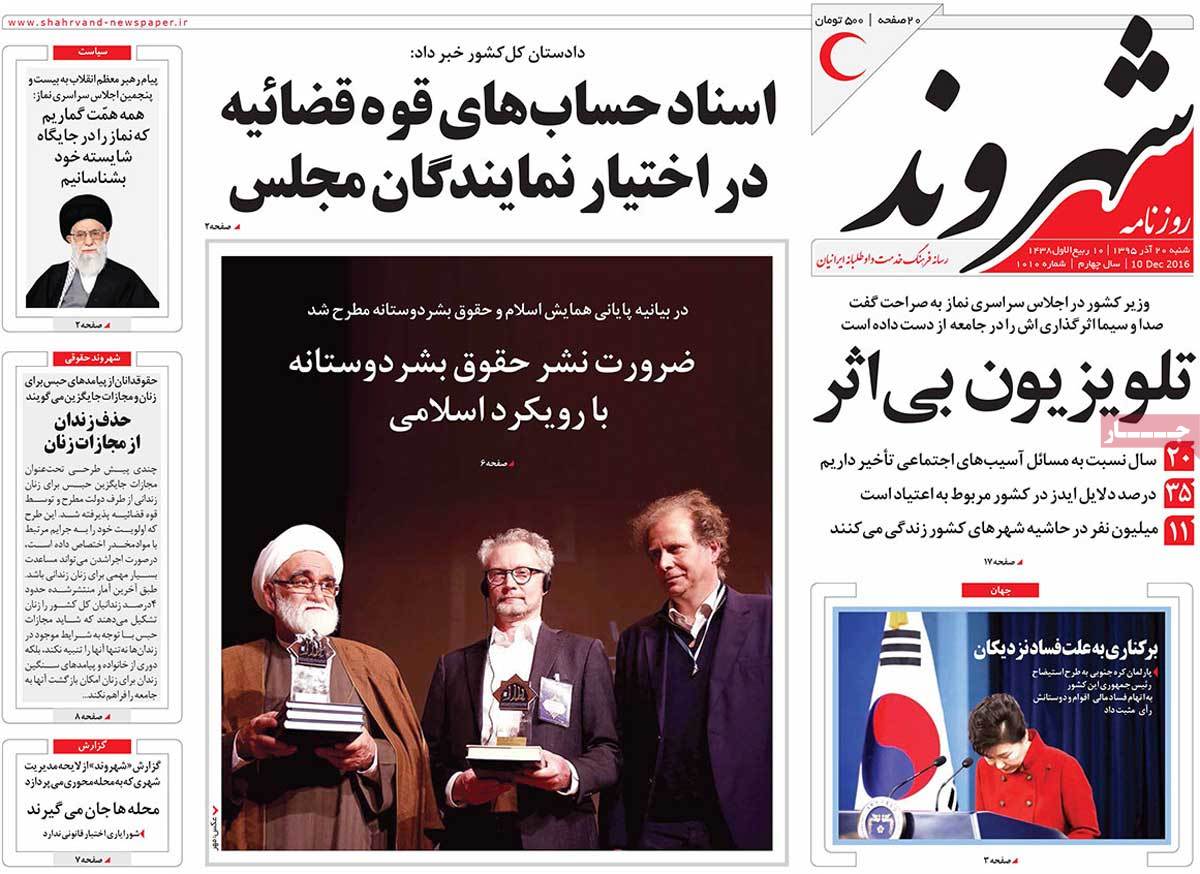 ---
Vaghaye Ettefaghieh:
1- Water Crisis, Executives' Penalty
2- Madness of War: World Photographers Took Bitter Photographs in Previous Year
3- Russia in the Path to Revive Its Empire: Comrades with Return
4- National Campaign to Recover Forests: People for Jungle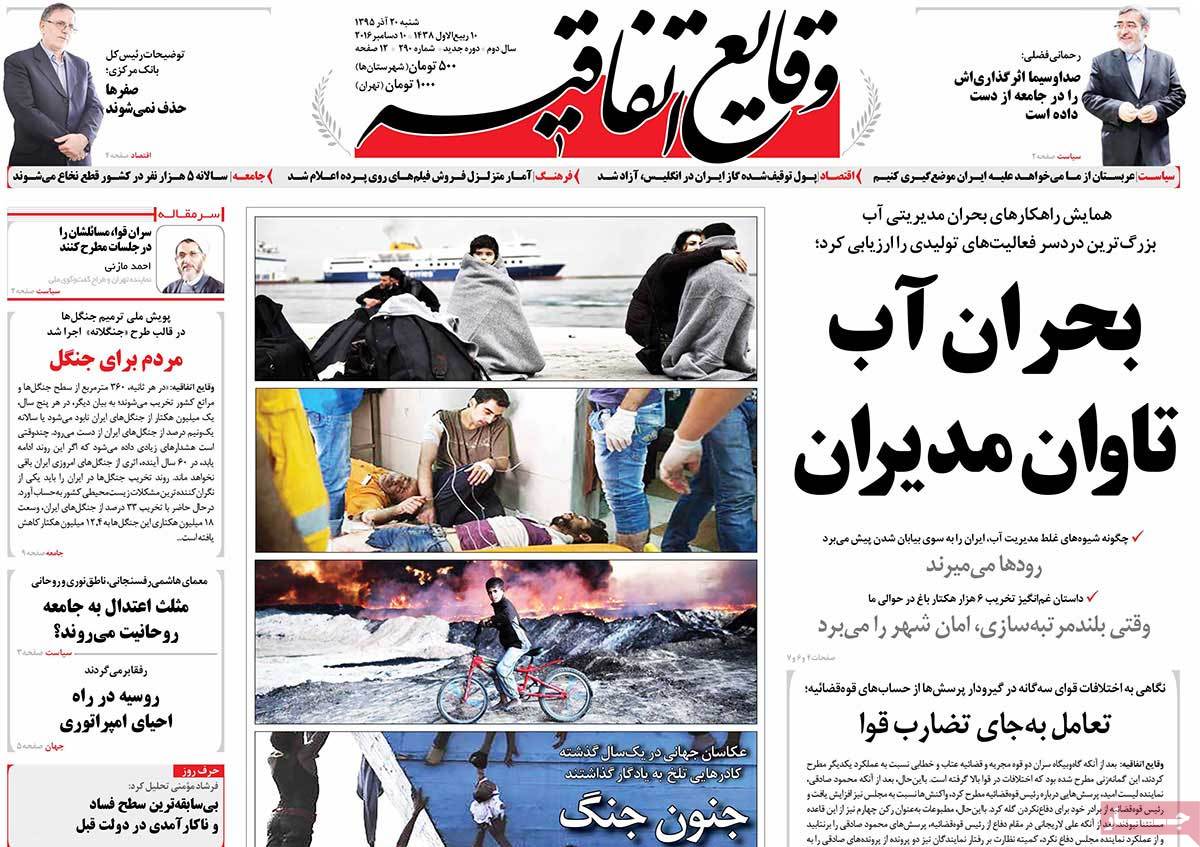 ---
Vatan-e Emrooz:
1- Dream of Returning to Persian Gulf: Theresa May's Anti-Iran Remarks in Arab Sheikhs' Meeting and Official Opening of Military Base in Bahrain Show Britain Is Restoring Its Colonialist Illusions