In Iranian calendar this year, Monday and Wednesday, November 28 and 30, were religious holidays and newspapers were not published in these two days. Today, Thursday, is not a holiday, but since tomorrow, Friday, is the weekend holiday, a few number of newspapers have been published on Thursday. One of the reasons could be the financial problems many Iranian media are faced with; therefore, the majority of newspapers have tried to cut their expenses by allowing their personnel to go on leave and avoiding publishing costs on Thursday.
Headlines of only four major newspapers have been selected for today's coverage of Iranian press. The main issue covered by these papers is the historic deal of Organization of Petroleum Exporting Countries (OPEC), which is described by pro-government media and experts as a great victory. It is even praised as the oil JCPOA, the Joint Comprehensive Plan of Action, in a comparison with Iran's nuclear deal with world powers.
The other top story today was the funeral ceremonies held for victims of an ISIS' attack on pilgrims in Iraqi city of Hilla as well as the train collision in Iran's Semnan province. A huge number of people and several officials took part in the ceremonies held in southwestern city of Ahvaz and northwestern city of Tabriz.
Arman-e Emrooz:
1- Iran's Oil JCPOA in Vienna: Iran's Oil Output Will Be Restored to Pre-Sanctions Level
2- End of Saudi Arabia's Self-Flagellation in OPEC
3- 49 Iranians Lose Their Lives in Car Crashes Everyday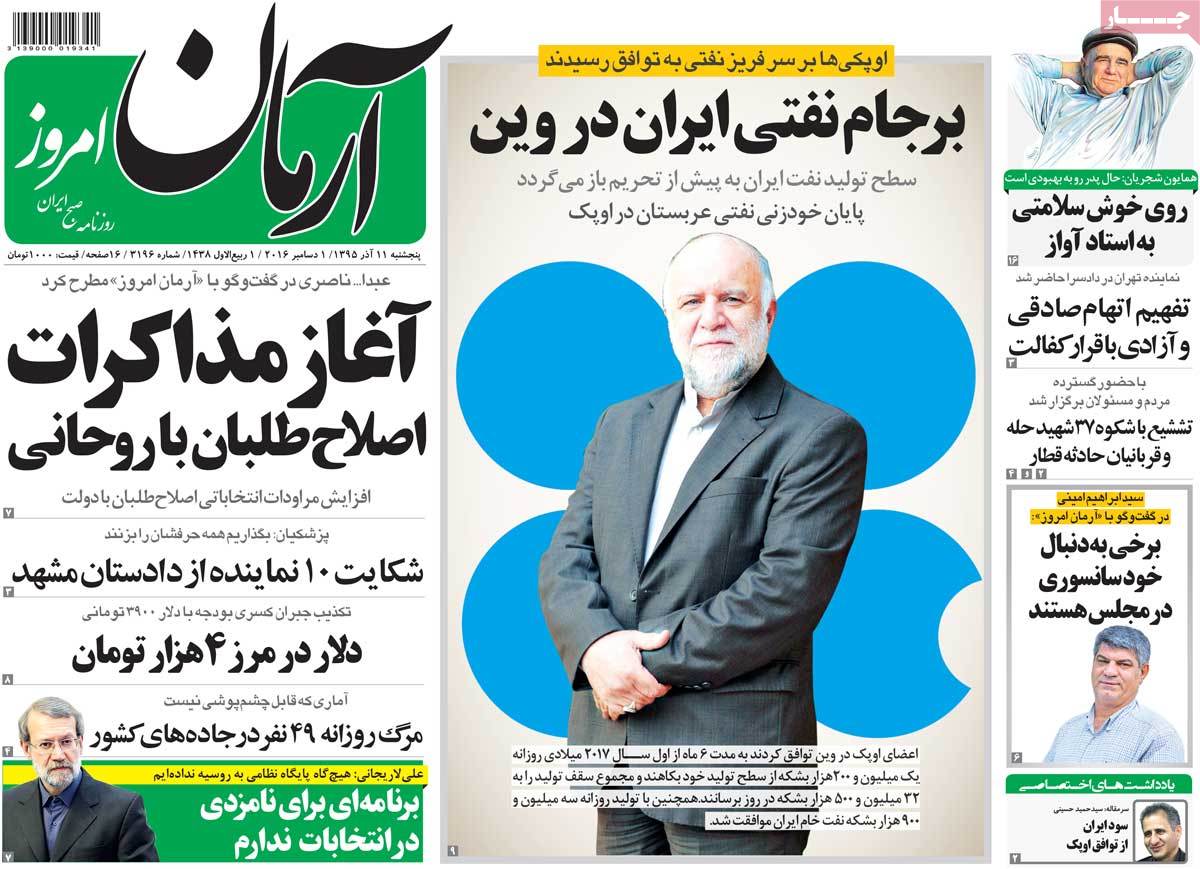 ---
Hamshahri:
1- Oil Deal in Iran's Favour: All Oil Producing Countries Agree on Oil Output Cut, But Iran Is Exempted from Decreasing Its Production
2- Ahvaz and Tabriz in Grief of Pilgrims Killed in Hilla Attack and Train Crash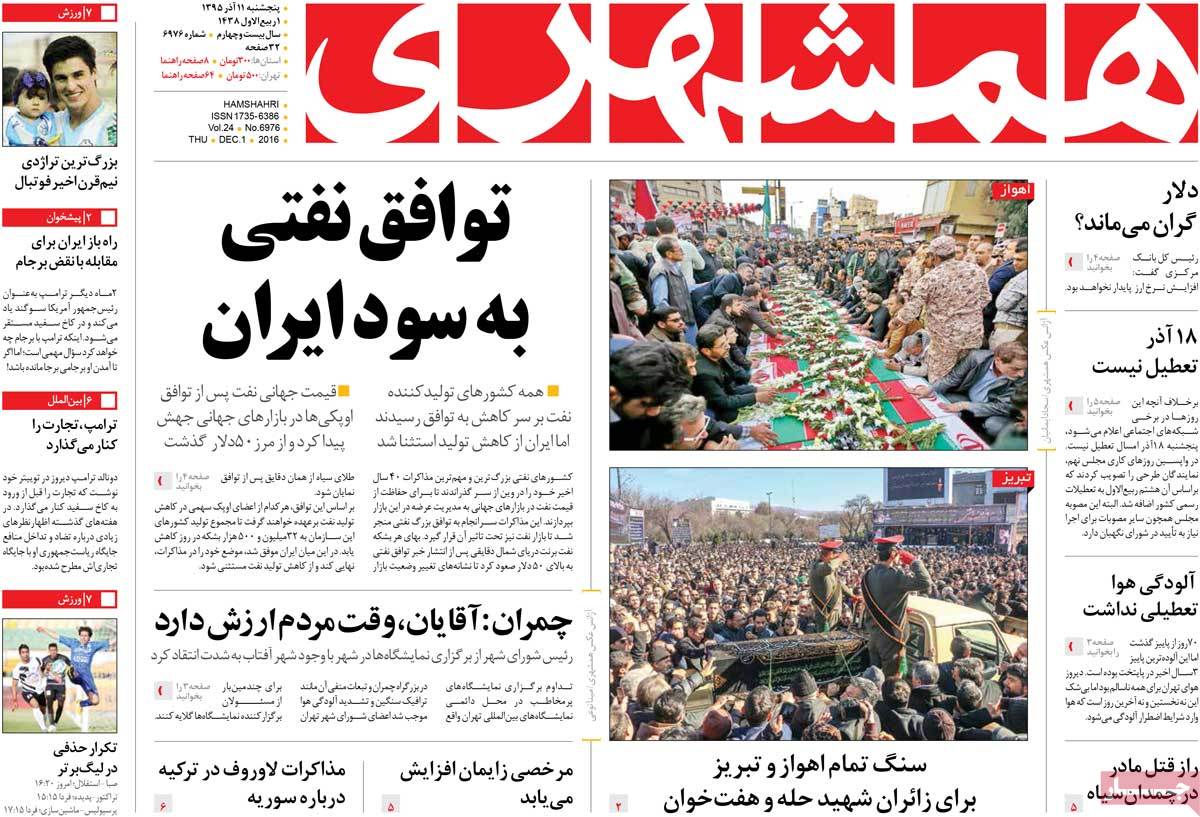 ---
Iran:
1- Glorious Farewell Ceremonies in Ahvaz and Tabriz: Huge Number of People and Officials Attend Funeral Ceremonies of Those Killed in ISIS' Attack on Pilgrims in Hilla and Deadly Train Crash in Semnan Province
2- Transport Minister Apologizes to People for Train Crash
3- Farhadi's 'The Salesman' Selected as Hollywood's Best Foreign Language Film
4- Israeli Jet Fighters' Attack on Damascus Suburbs
5- Iran's Oil Victory in OPEC
---
Jame Jam:
1- Failure of Riyadh's Oil Diplomacy
2- The Deal that Will Change Future of Oil Market: Energy Expert
3- Nowruz Inscribed as World Heritage