The comments of President Rouhani on journalistic freedom and interaction with the rest of the world and those of Akbar Hashemi Rafsanjani on the nuclear deal dominated the front pages of Iranian newspapers on Saturday.
Ettela'at: "Government has a duty to safeguard journalistic freedom and reporter rights enshrined in the guild charter," President Rouhani said.
"Reporters serve as the conscience of society as it walks down the path of prosperity and moral high ground," the president further said in a statement to mark Reporters Day.
---
Abrar: "The Iran-Germany Joint Economic Commission meets in Tehran for the first time," said the Iranian ambassador to Berlin.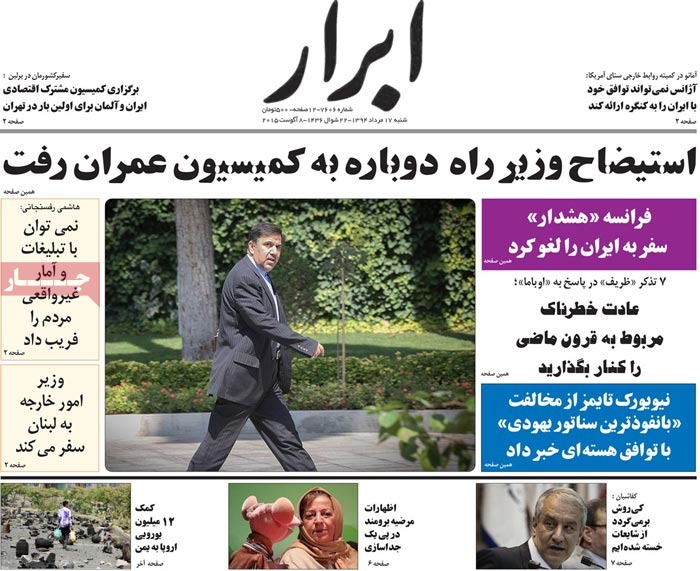 ---
Afkar: "Termination of sanctions won't translate into an overnight economic boom," said the chairman of parliament's National Security and Foreign Policy Committee.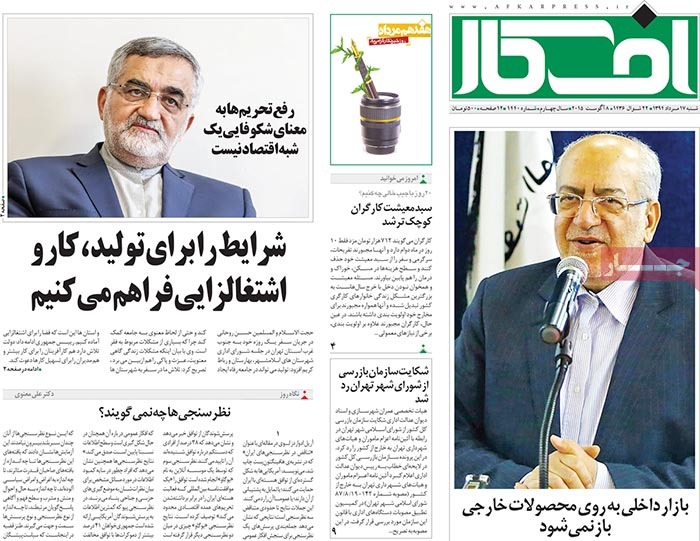 ---
Aftab-e Yazd: Amano's anticlimactic move
In the US Congress, the director general of the International Atomic Energy Agency would not reveal the details of the deal the UN nuclear watchdog has struck with Iran.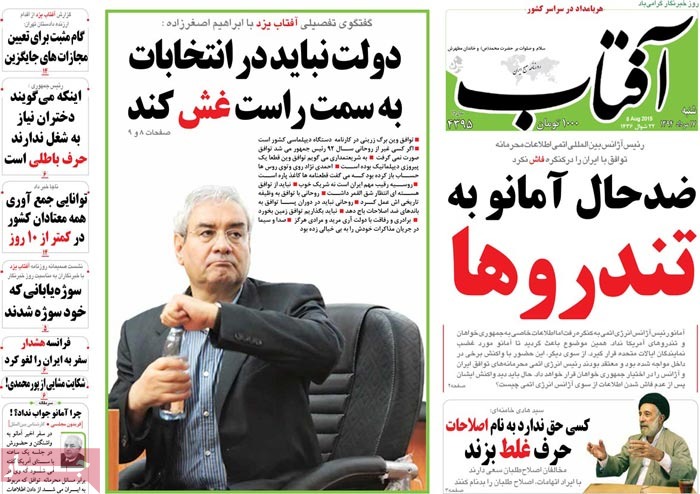 ---
Arman-e Emrooz: Esfandiar Rahim Mashaei, a close aide to the former president, has filed a lawsuit against Justice Minister Mostafa Pourmohammadi.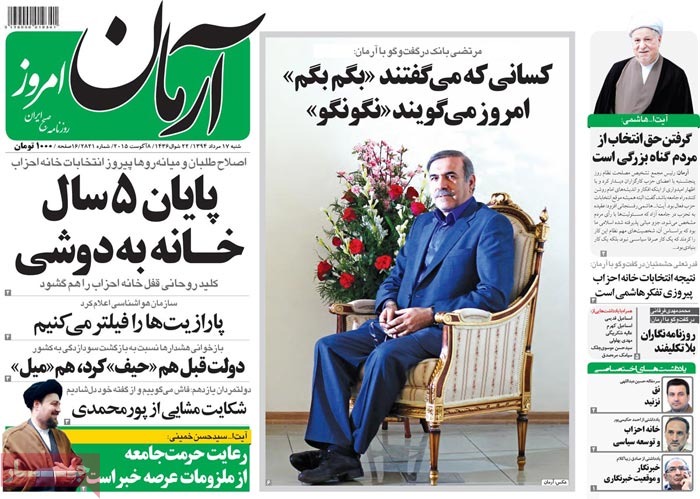 ---
Asr-e Iranian: The industry minister has vowed to industrialize the country in a decade.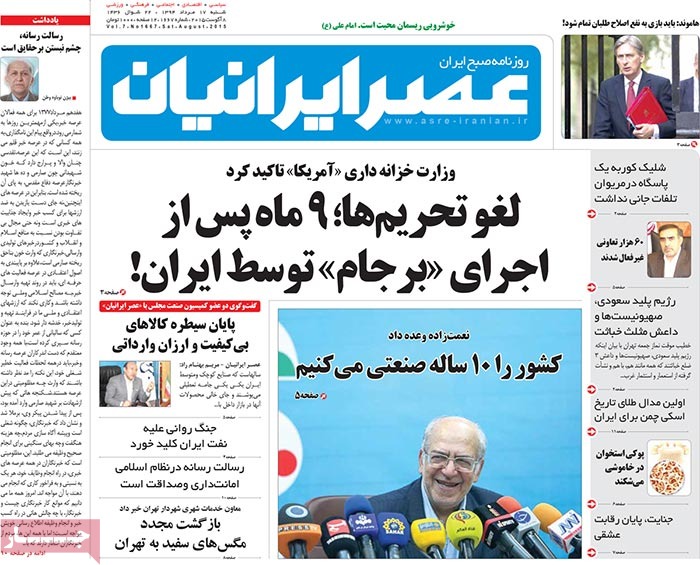 ---
Asrar: A Japanese economic delegation visits Iran on Saturday.
Asrar: Foreign Minister Zarif has urged the United States to drop "dangerous habits" of the past centuries.
Asrar: "Denying the public the right to choose is a cardinal sin," said Chairman of the Expediency Council Ayatollah Akbar Hashemi Rafsanjani.
Asrar:  "We seek interaction with the rest of the world in areas other than the nuclear issue," said Iranian President Hassan Rouhani.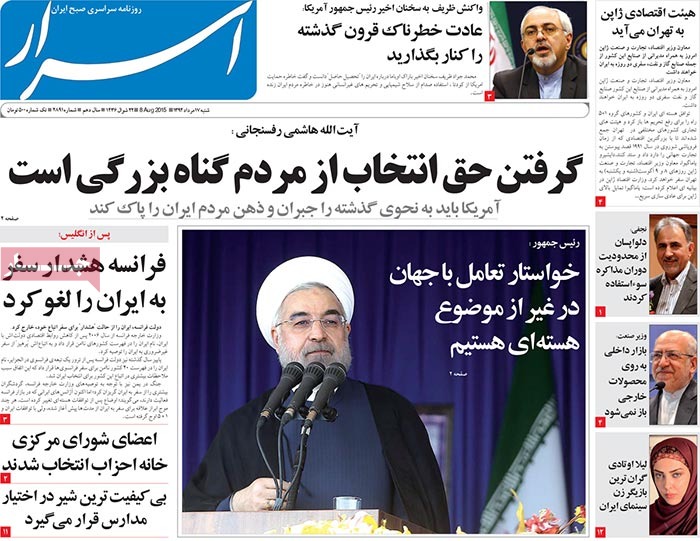 ---
Hambastegi: "People won't be duped by propaganda and unreal figures," said Ayatollah Akbar Hashemi Rafsanjani.
The chairman of the Expediency Council further said that the national capital should not be wasted on political bickering.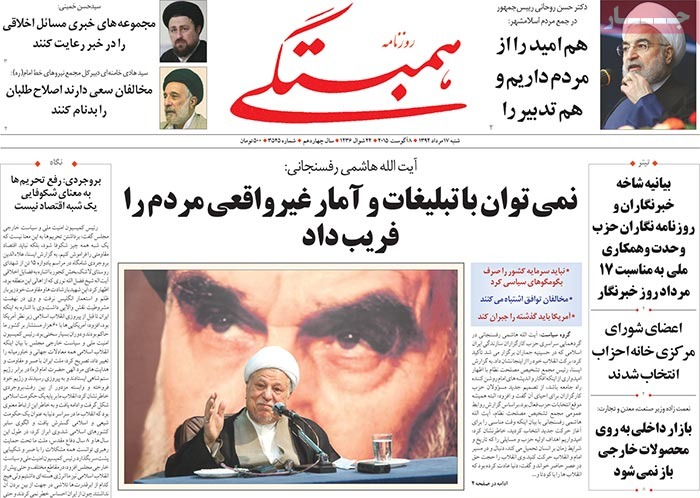 ---
Jomhouri Islami: "Foreign countries have welcomed a $2 billion investment in Iran's health sector," Health Minister Hassan Hashemi said.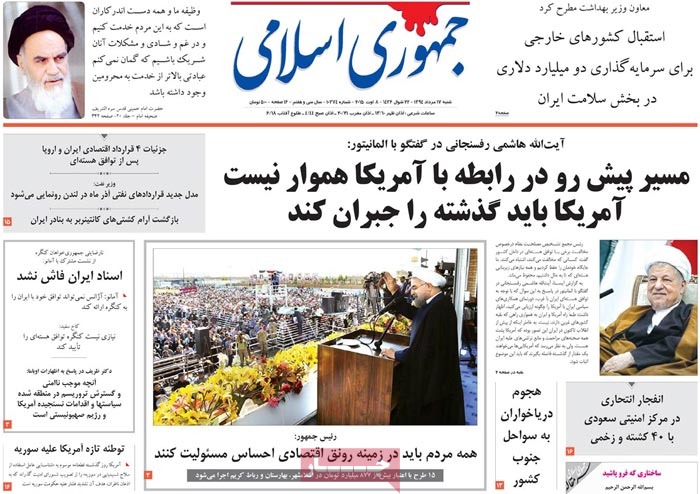 ---
Kayhan: The government is killing time by providing theatrical answers to technical and legal questions.
[The daily has said that the Rouhani administration has failed to provide any definitive answer to questions of the critics of the nuclear deal.]
Kayhan: The people of Mazandaran have welcomed home the remains of the divers who were killed in the war with Iraq in the 80s.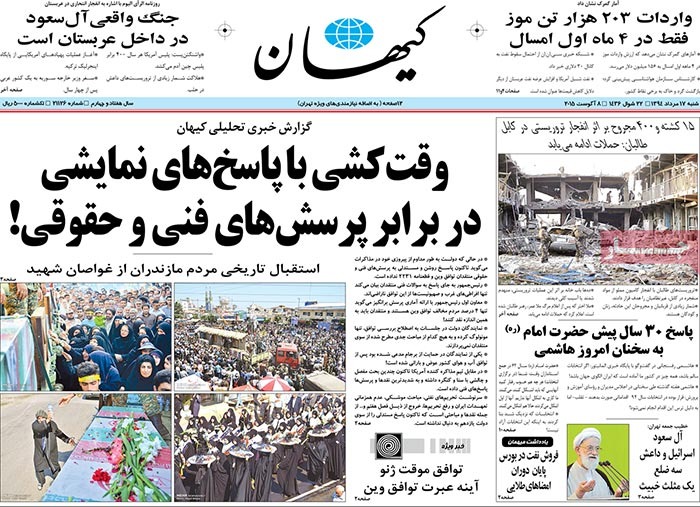 ---
Khorasan: After the Supreme Court upheld a lower court verdict, the countdown to execution of the "Yellow Wolves" [two thugs who raped several women in Mashhad] has started.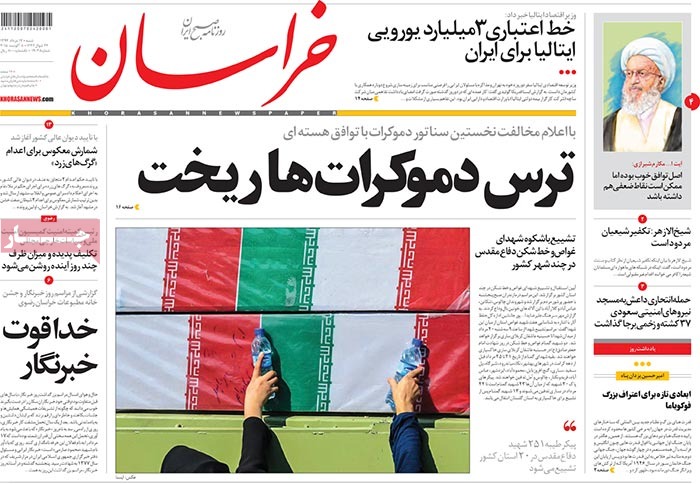 ---
Resalat: "Parliament will review the Joint Comprehensive Plan of Action this week," said Alaeddin Borujerdi, an MP.
Resalat: "The nuclear deal won't open the floodgates of the Iranian market to foreign products," vowed the Iranian trade minister.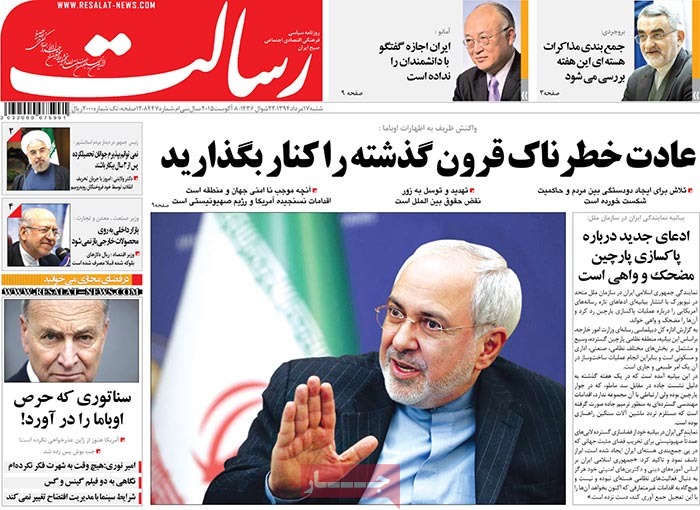 ---
Shahrvand: "We shouldn't allow self-censorship to get the better of us," said the grandson of the founder of the Islamic Republic.