What the first vice-president said and what he didn't say about corruption during the previous government's term in office dominated the front pages of Iranian newspapers on Tuesday. Reformist dailies put an announcement by the chairman of the Expediency Council about his candidacy in upcoming Assembly of Experts on their front pages. Principlists continued to lash out at President Rouhani for his comments during a prime-time televised speech on Sunday.
Ettela'at: "We should not allow hardliners and the enemies to stir things up in the country once again," said the first vice-president at a meeting with members of Tehran Chamber of Commerce, Industries and Mines.
Eshagh Jahangiri further said the private sector is mature enough to seize trade opportunities.
---
Afarinesh: "The trial of Babak Zanjani [a young billionaire who stands accused of massive corruption when Ahmadinejad was in office] will open on October 3," the judiciary spokesman said.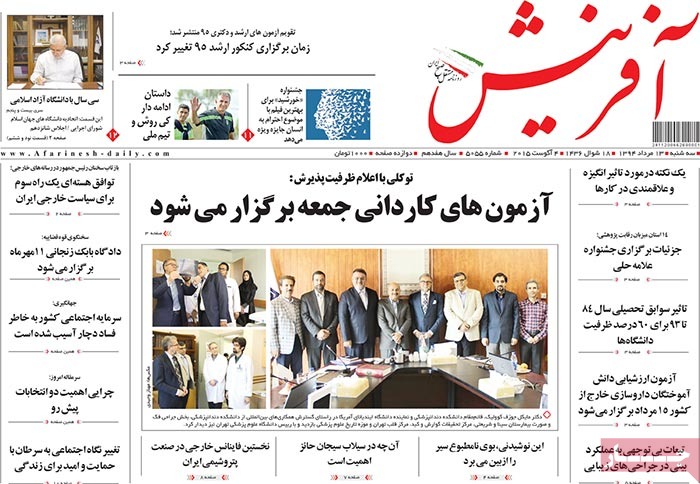 ---
Afkar: "IS does not pose a threat to Iran's borders," said the Iranian interior minister.
---
Aftab-e Yazd: Participation to repel hardliners
Ayatollah Rafsanjani has signaled his readiness to run for the Assembly of Experts.
Aftab-e Yazd: "Instead of apologizing, those behind corruption act as if they are owed by members of the public," said First Vice-President Eshagh Jahangiri.
---
Arman-e Emrooz: "I have many things to say; I'll make them public all in due time," said First Vice-President Eshagh Jahangiri.
Arman-e Emrooz: Extremism on trial
Those who attacked Tehran MP Ali Motahari when he traveled to Shiraz for a planned speech will appear in court on Tuesday.
Arman-e Emrooz: "It takes 20 years to fix the problems caused by the previous government," said Ahmad Khorram, a former transport minister.
---
Asr-e Rasaneh: The director of the Environment Protection Organization has said that smoke alarms will be installed in forested areas to detect forest fires.
---
Asrar: The arsonist who set fire to Hormoz Hotel in the southern port city of Bandar Abbas has been arrested.
Asrar: Dey 9 [a weekly run by hardline MP Hamid Rasaei] has been banned; Kayhan has been given an admonition.
---
Ebtekar: "Foreign banks are to set up branches in Iran," said the governor of the Central Bank.
Valiollah Seif further said six months after the termination of sanctions, a single foreign exchange rate will be introduced in the country.
Ebtekar: "A verdict in the case of Saeed Mortazavi [a former director of the Social Security Organization who is on trial, among other things, for corruption] will be issued within days," said the judiciary spokesman.
Gholamhossein Mohseni Ejei denied the existence of a second or third Babak Zanjani [a young billionaire who stands accused of committing massive embezzlement when Ahmadinejad was in office]
---
Emtiaz: A rehabilitation center for addicted mothers has been set up in eastern Tehran.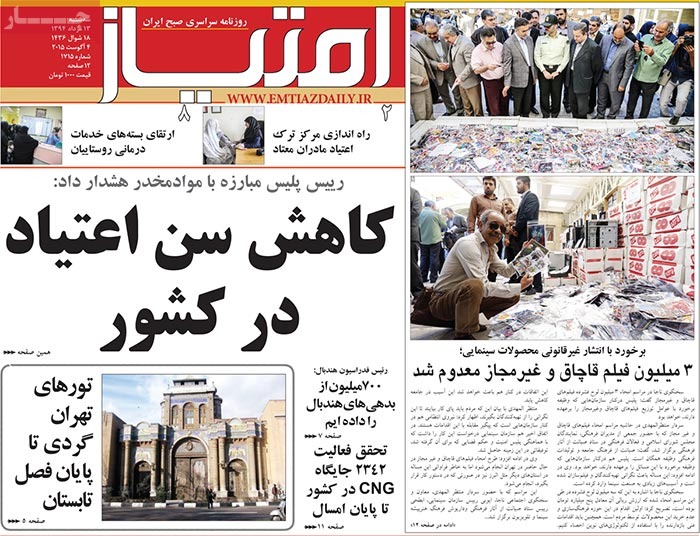 ---
Etemad: "Frankly, I am worried [about the nuclear deal Iran has struck with P5+1 in Vienna," said Tehran MP Gholamali Haddad Adel.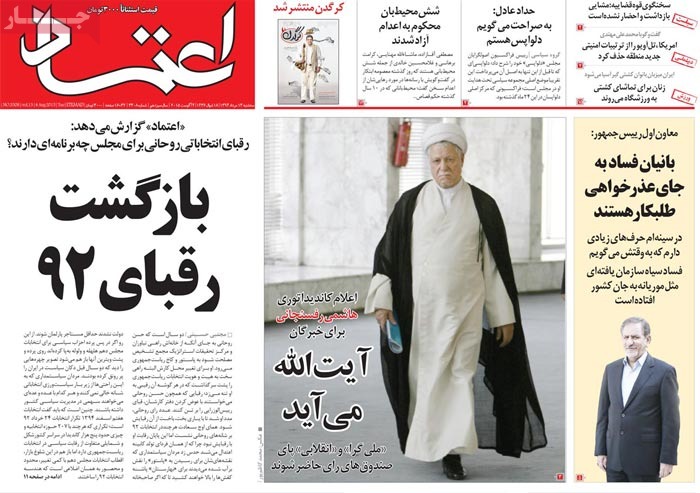 ---
Hambastegi: The police chief has said law enforcement is blocking some border areas following an order issued by the Supreme National Security Council.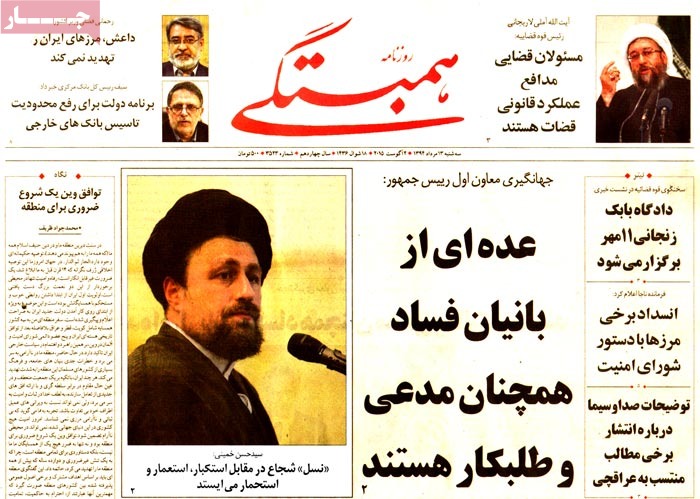 ---
Hemayat: "The gray points of the nuclear deal will be examined," said Judiciary Chief Ayatollah Sadegh Amoli Larijani.
---
Jamejam: The Iranian foreign minister has proposed the formation of an assembly for regional dialogue [in an opinion piece published by four Arabic-language papers in the Middle East].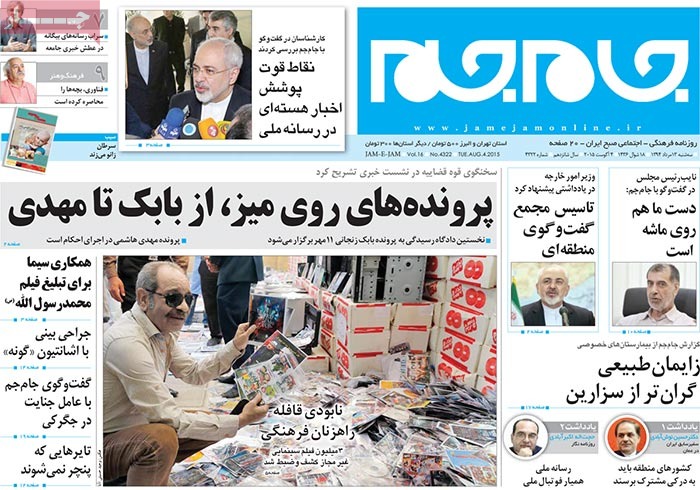 ---
Javan: "Iran's missile defense system won't be switched off," Brigadier General Farzad Esmaili, the commander of Khatam al-Anbiya Air Defense Base, said.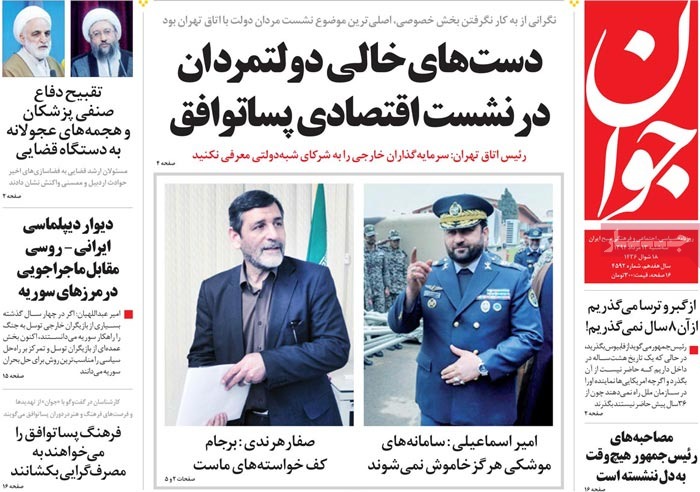 ---
Jomhouri Islami: Ships belonging to 11 international carriers have docked at Iranian ports following the nuclear deal of July 14.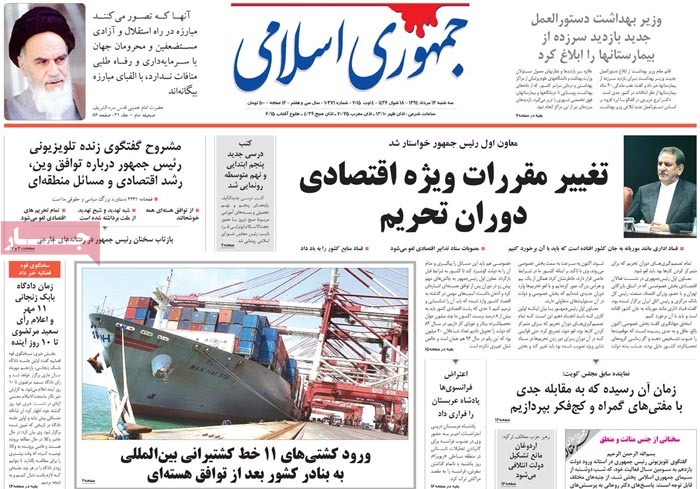 ---
Kayhan: Saudi Arabia and Israel have for the first time announced their official alliance.
Kayhan: "I seek refuge in God from muzzling the critics!" President Rouhani said two years ago today.
[The sarcastic banner headline was in reaction to the closure of a hardline weekly and the admonition Kayhan received from relevant officials for their coverage of the nuclear deal between Iran and P5+1.]
---
Saheb Ghalam: Iran has resumed exports of natural gas to Turkey.
Saheb Ghalam: The minister of trade has said his ministry does not act as a rival to the private sector.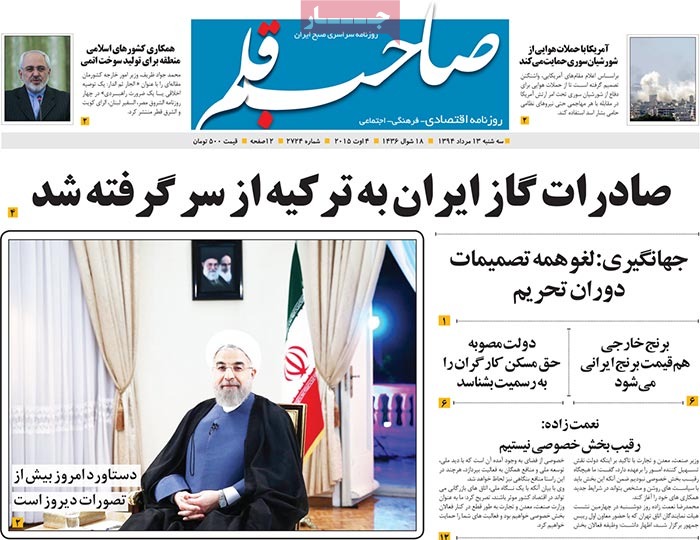 ---
Sayeh: "Islamic Republic of Iran Broadcasting [IRIB] was afraid of Ahmadinejad and wouldn't do anything to cross him," said [outspoken] Tehran MP Ali Motahari.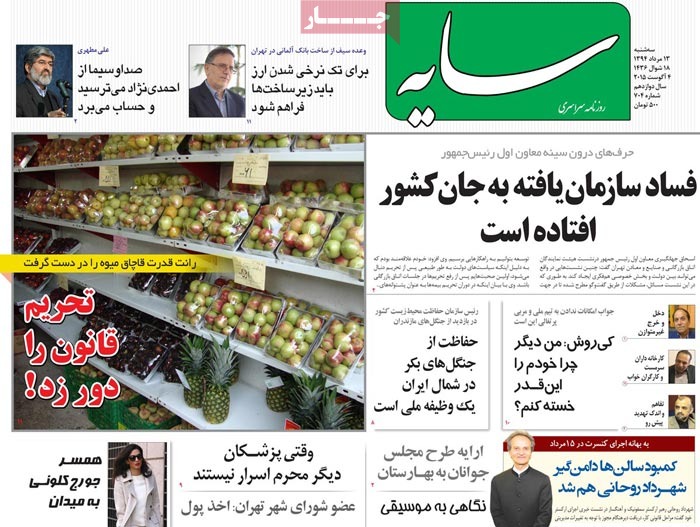 ---
Shahrvand: Twenty-seven social activists have sent a letter to Khandovaneh, to thank the host of the popular TV show for painting a realistic picture of Afghan immigrants.