The comments of the judiciary spokesman in a news conference about a range of issues including the ban on media coverage of news related to the former reformist president dominated the front pages of Iranian newspapers on Monday.
Ettela'at: "Limitless imports of consumer goods in the post-sanctions era are a red line for the government," said Dr. Masoud Nili, an economic advisor to President Rouhani.
He further said the administration welcomes the private sector's clear-cut views on trade and investment.
---
Aftab-e Yazd: The country's economy has been hijacked by MPs who play the impeachment card too often.
Aftab-e Yazd: Master vocalist Mohammad Reza Shajarian [who was hospitalized for respiratory problems] is in a good condition.
Aftab-e Yazd: The ban on media coverage of news about the former president does not include mere mention of his name.
---
Arman-e Emrooz: Without naming names, the judiciary spokesman has said two individuals found guilty of spying [for the US and Israel] have been sentenced to 10 years in prison each.
Arman-e Emrooz: An oil industry manager has been arrested in connection with the missing oil derrick.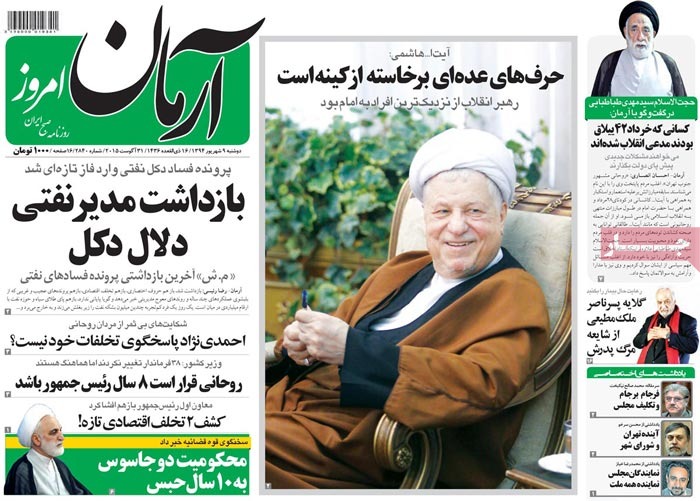 ---
Asrar: Iran is ready to export six million barrels of crude per day.
Asrar: Parliament Speaker Ali Larijani is likely to meet with American senators during his New York visit.
An advisor to the top MP has said that there have been requests by the American side for such meetings, but nothing is final.
Asrar: The interior minister has warned, if necessary, he would name new governors general on the same day general elections are held.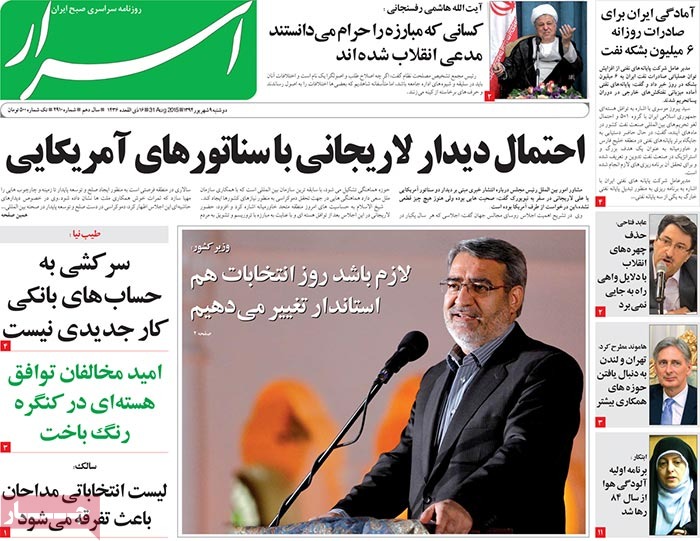 ---
Emtiaz: South Africa has signaled willingness to resume imports of Iranian crude oil.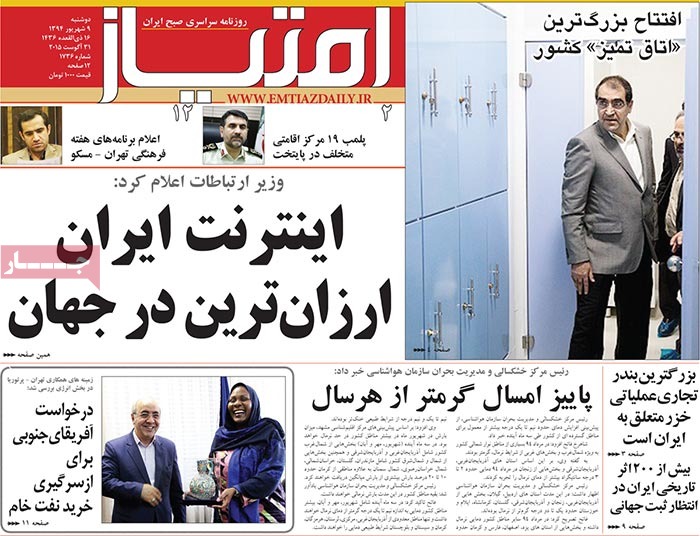 ---
Hemayat: The judiciary spokesman has said an inspection of the cell where Mehdi Hashemi [a son of the chairman of the Expediency Council] is serving time has produced 30 gold coins and a cell phone complete with SIM card.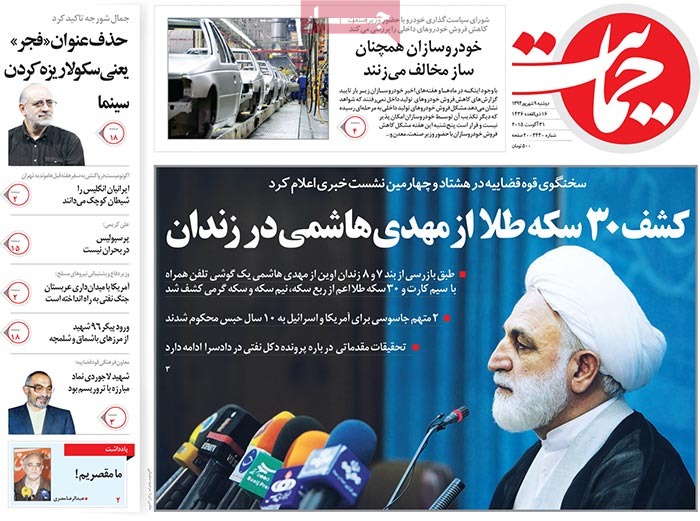 ---
Iran: The first vice-president has said that government will not back down in the fight against corruption.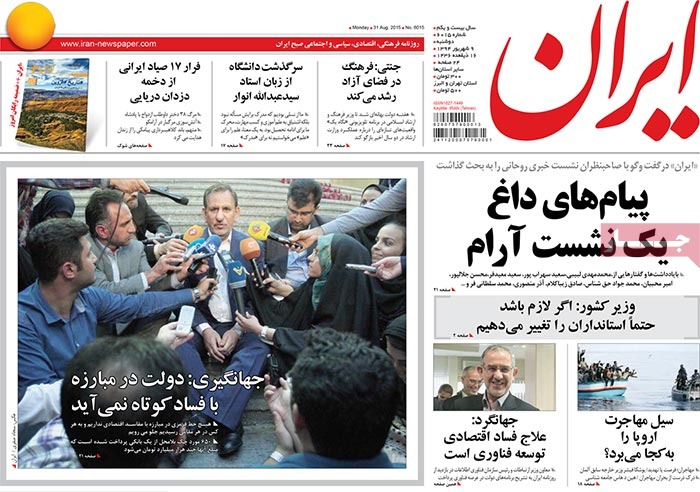 ---
Jomhouri Islami: Hopes of congressional approval of the Joint Comprehensive Plan of Action have been boosted.
---
Kar va Kargar: In separate meetings with the new ambassadors of Ireland, Mongolia and Singapore, the president has said that the nuclear deal is an opportunity that needs to be seized for expansion of all-out ties.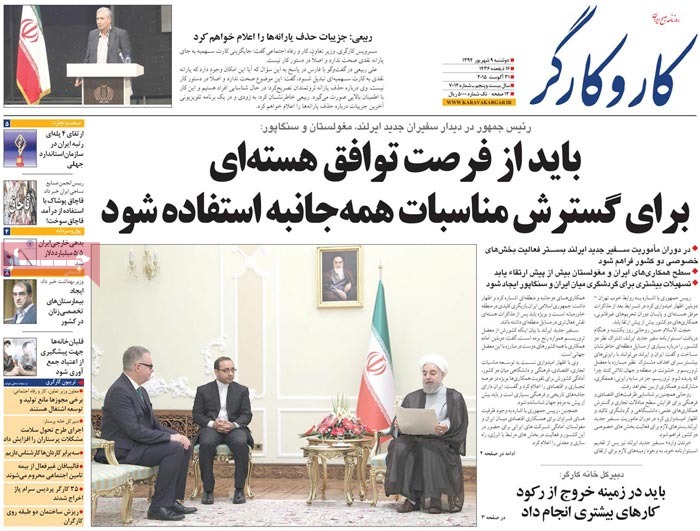 ---
Payam-e Zaman: "The Iranian nation does not need anyone's permission to ensure its security," said the defense minister.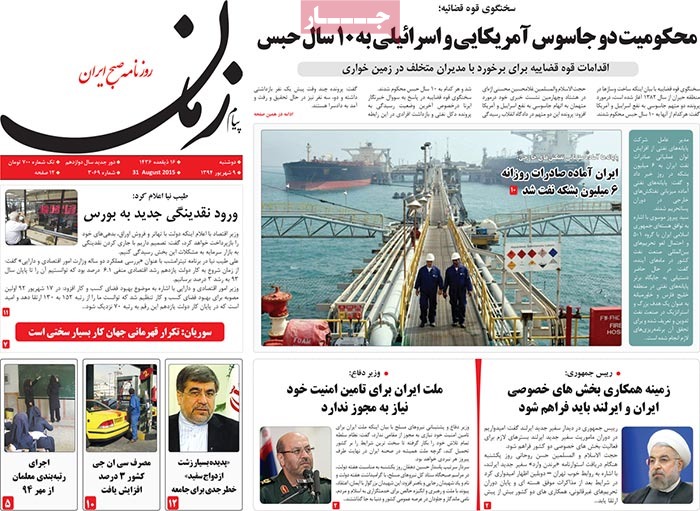 ---
Resalat: A new trick by the Brits: Forget the past, zoom in on the future.
British Foreign Secretary Philip Hammond has said that Iranians should not focus on what happened in the 19th and 20th centuries.