The comments President Rouhani made in a televised speech on the nuclear deal Iran has struck with P5+1 dominated the front pages of Iranian newspapers on Monday. Also in the news were the comments of the oil minister about the corruption case involving Babak Zanjani.
Ettela'at: "Next year will usher in a transformation in the country," President Rouhani said in a televised speech.
"Having Iran's nuclear case removed from Chapter VII of the United Nations Charter without a war was quite an achievement."
"The ideology that one needs to either defeat the world or be defeated by it is wrong; there is a better way: interaction with the rest of the world."
---
Abrar: The details of the Joint Comprehensive Plan of Action will be discussed in parliament's National Security Committee with members of the negotiating team in attendance.
---
Afarinesh: Deputy Foreign Minister Abbas Araghchi has said that revealing what was said at a private meeting with IRIB [a reference to state broadcaster] officials runs counter to national interests.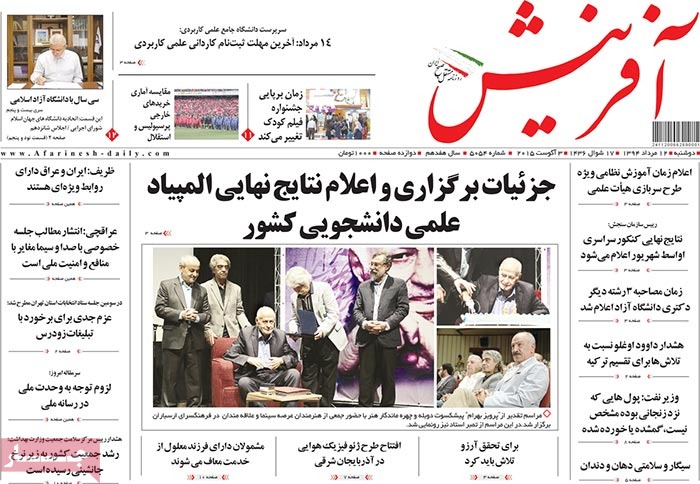 ---
Afkar: First Vice-President Eshagh Jahangiri has called for expansion of Tehran-Yerevan ties.
Afkar: A first phase of the Tehran-North Highway Project will have become operational by the end of the year [March 20, 2016].
---
Aftab-e Yazd: The previous government purchased run-down oil derricks!
Nader Ghazipour, an MP, has said that there is evidence that the previous government has bought two dilapidated derricks, which have yet to be delivered to Iran.
He further said that apparently the derricks have been seized in Sharjah, UAE.
Aftab-e Yazd: There would have been no nuclear deal, if Rouhani had not been elected president.
---
Arman-e Emrooz: "Those who benefitted from sanctions are now mad," President Rouhani said in a speech.
He further said that the 2013 presidential election amounted to a nuclear referendum.
Arman-e Emrooz: Reclamation is taking a toll on the environment.
There are around 500,000 illegally-built villas around the country.
Arman-e Emrooz: Mohsen Hashemi, [a son of Chairman of the Expediency Council Ayatollah Akbar Hashemi Rafsanjani] has not ruled out a run for parliament.
---
Asrar: "We face no restrictions as far as cooperating with American firms is concerned," said the Iranian oil minister.
---
Ebtekar: The Iranian Foreign Ministry has rejected reports that Foreign Minister Zarif's son has been the best man of US Secretary of State John Kerry's son-in-law.
Ebtekar: The government spokesman has said this year's budget won't be realized.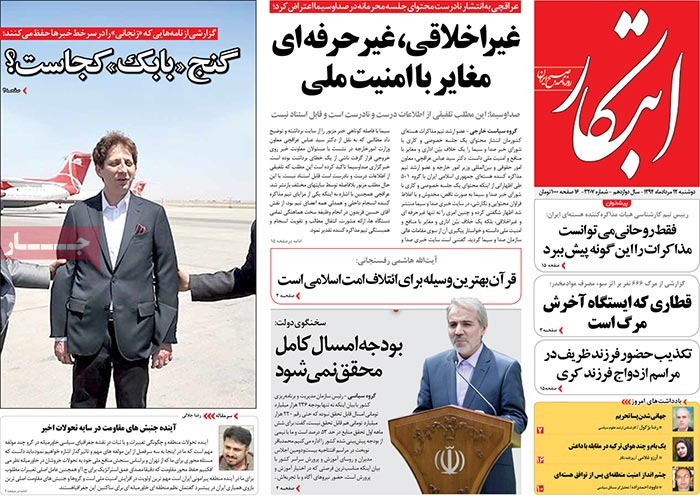 ---
Esfahan Emrooz: Krzysztof Wielicki, a Pole whose name has gone down in history for the first winter ascent of Mount Everest, has come to Isfahan to talk about his experience to Iranian climbers.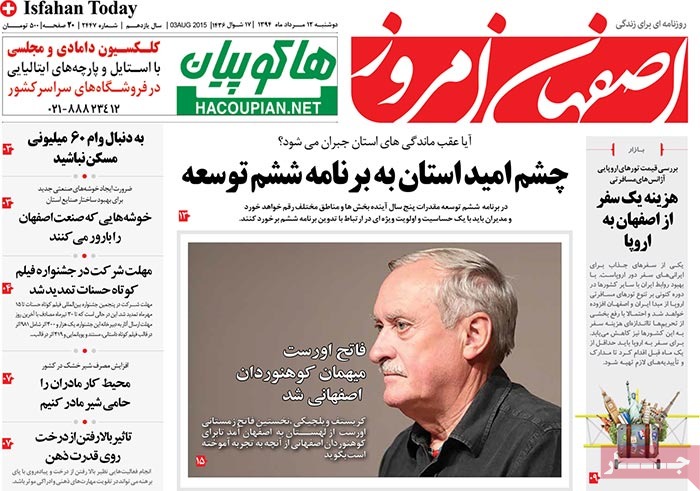 ---
Etemad: Truthfulness versus rhetoric
The president said in a televised speech that some wanted to slap a ban on social networking platform, but that he opposed the move.
"I asked President Obama whether the Americans are serious in the talks and his answer was in the affirmative," President Rouhani said.
"At the end of this government's term in office, the 40-year dream of securing sustainable single-digit inflation will have been realized."
---
Hemayat: The justice minister has said that the nuclear deal will be reviewed from a legal standpoint at the Justice Ministry.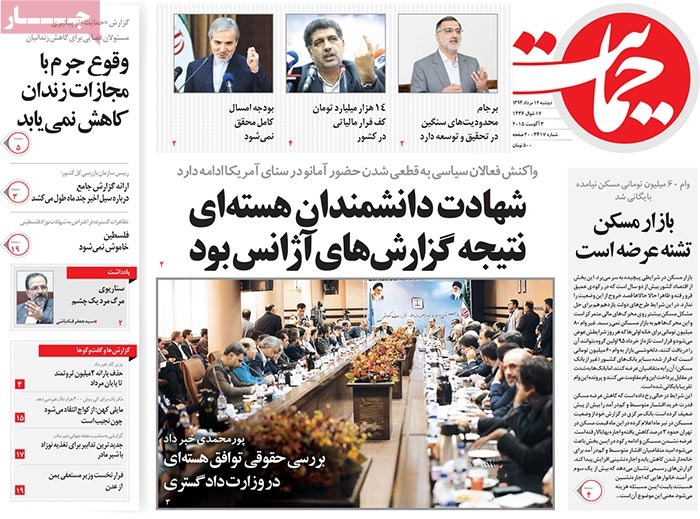 ---
Iran: The prices of Chinese-made cars on Iranian market are declining.
Iran: "There is no truth to reports that there is a second Babak Zanjani [a young billionaire who stands accused of massive corruption when Ahmadinejad was in office]," the oil minister said.
Bijan Namdar Zanganeh further said rumors that there has been a second embezzler are designed to play down the hideousness of Babak Zanjani's measures.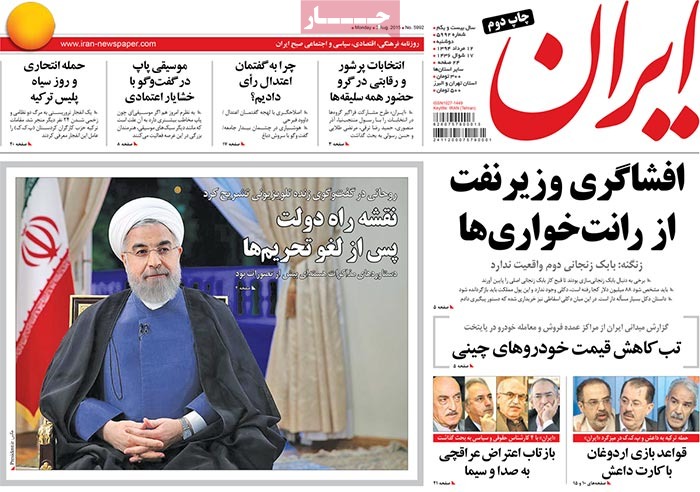 ---
Jomhouri Islami: "The number of people taken off the list of individuals eligible to get cash subsidies will have increased to 2 million by the end of the month [August 22]," said the minister of cooperatives, labor and social welfare.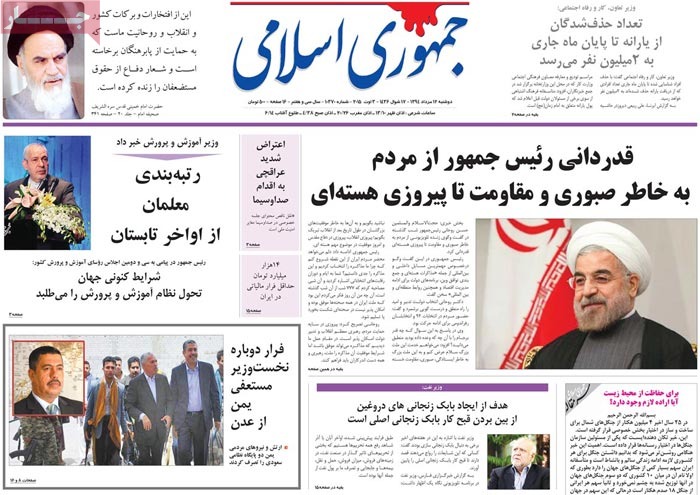 ---
Kayhan: A number of MPs have said that American atrocities against the Iranian people won't drift into oblivion on the back of the nuclear deal.
Kayhan: A funeral procession has been held in Damavand for a young Iranian national who was killed at the hands of terrorists in Syria.
---
Mardomsalari: "Iran is owed $8.5 billion in oil money," said the oil minister.
Mardomsalari: The commander of the Iranian Army says his men keep a close eye on regional developments.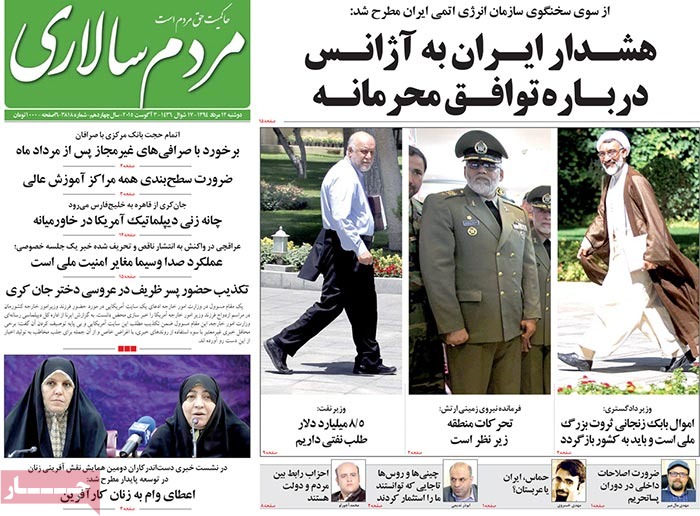 ---
Setareh Sobh: Renowned Iranian actor Nasser Malek Motiei has said that he would not move out of his homeland.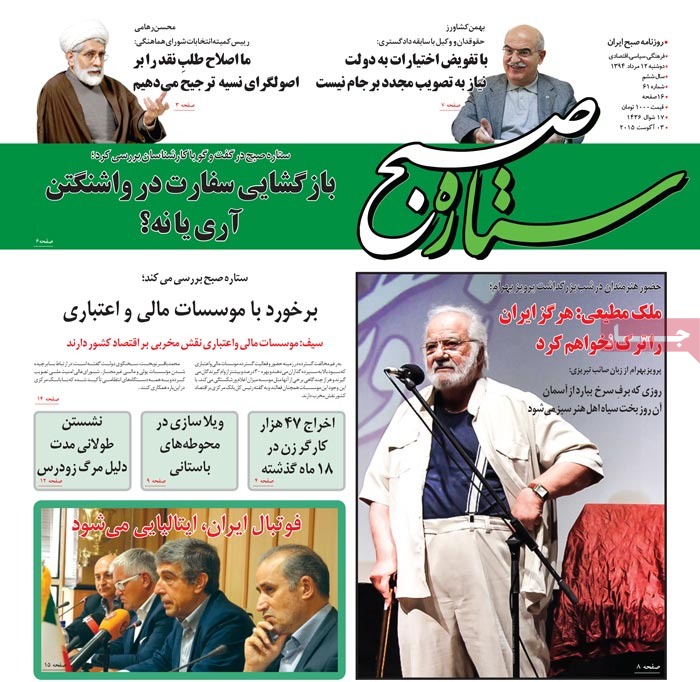 ---
Sharq: "Eighty MPs support Ahmadinejad," Akbar Torkan, an advisor to the president said.