The comments President Rouhani made in a news conference attended by local and foreign reporters dominated the front pages of Iranian newspapers on Sunday.
Ettela'at: "Whenever we talk about compliance with law, some people tell us not to make a fuss!" President Rouhani told a press conference.
He further said that on the local front the government has done its best not to create any new wounds and heal the wounds of the past.
---
Abrar: "The nuclear deal is a historic opportunity for banks to seize," said the managing director of Bank Tejarat.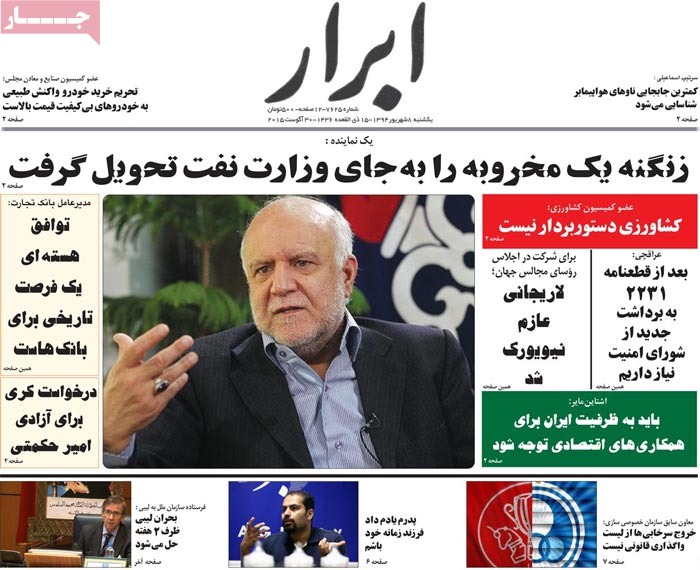 ---
Afarinesh: The attorney general has said that the judiciary helps the executive branch to secure the objectives of the establishment.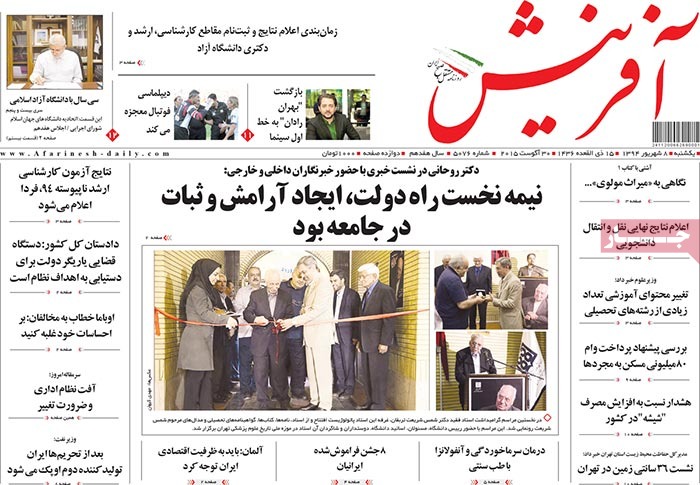 ---
Arman-e Emrooz: The president told a news conference that his government does not seek to take on any state institutions in the upcoming elections.
He further said his government is not afraid of lawsuits [filed by members of the previous government].
President Rouhani further said he wonders why whenever he talks about laws some individuals get irritated.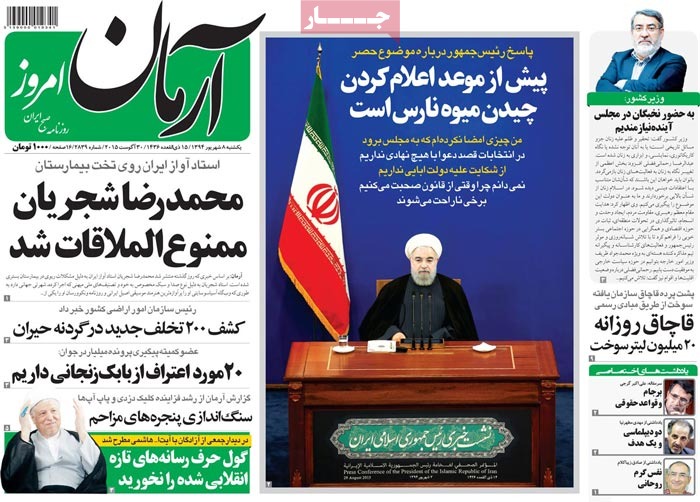 ---
Asrar: Trade delegations from 10 European countries are to visit Iran.
Asrar: Iranian vocalist Mohammad Reza Shajarian has been hospitalized.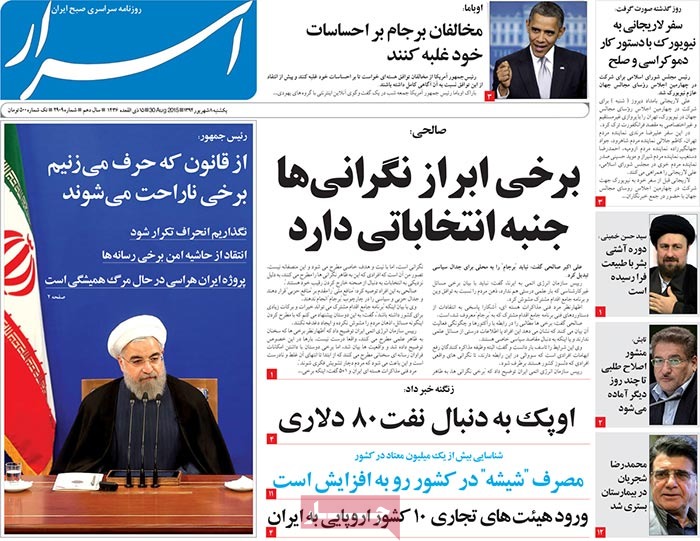 ---
Ebtekar: The director of the Atomic Energy Organization has said those who are apparently worried about the nuclear deal simply seek to further their electoral goals.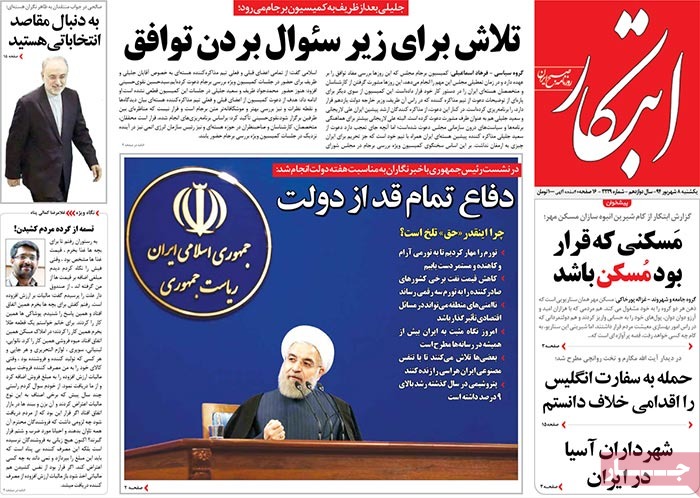 ---
Emtiaz: An executive board of Asian mayors has been set up in Tehran.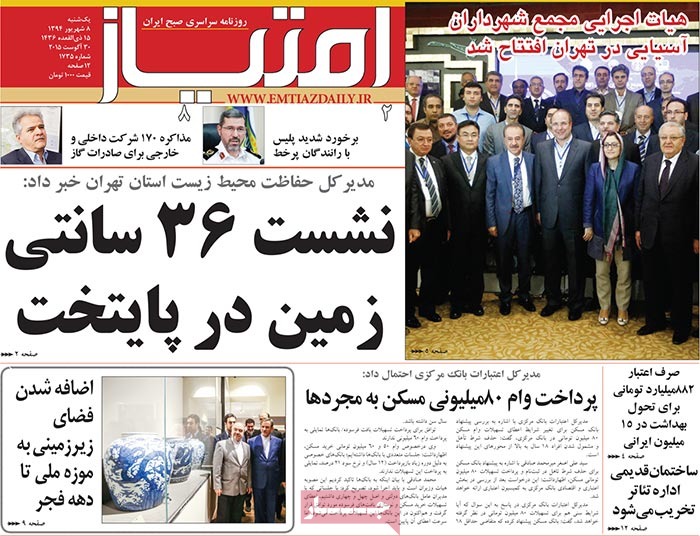 ---
Etemad: "Massive debts, cash subsidies which are not in line with any laws and an affordable housing project in shambles are the legacy of the previous government," said President Rouhani in a news conference.
Etemad: "China won't get preferential treatment in the post-sanctions era," said the deputy foreign minister.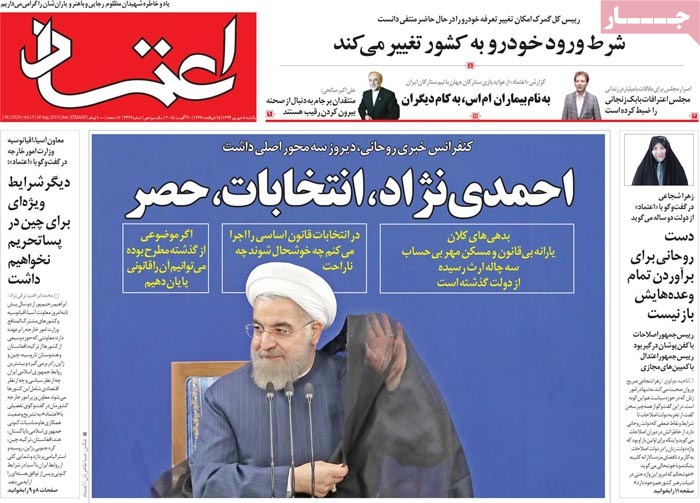 ---
Hemayat: The judiciary chief has said the judicial system will hire 4,000 new judges as part of a transformation plan.
---
Jamejam: The president has said the Joint Comprehensive Plan of Action does not need to be approved by parliament.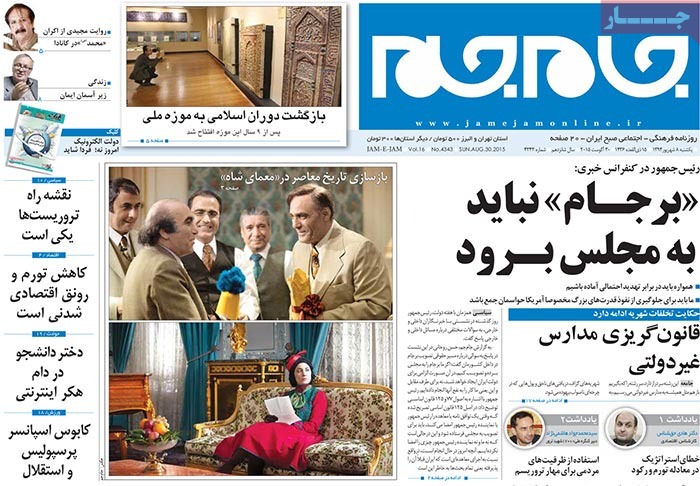 ---
Kayhan: "I haven't signed anything to be sent to parliament for approval!" the president said in explaining why he has not sent the Vienna accord in the form of a bill to the Islamic Consultative Assembly.
Kayhan: The intelligence minister has apologized for misquoting the Supreme Leader.
---
Mardomsalari: American intelligence whistleblower Edward Snowden has said that Bin Laden is still alive.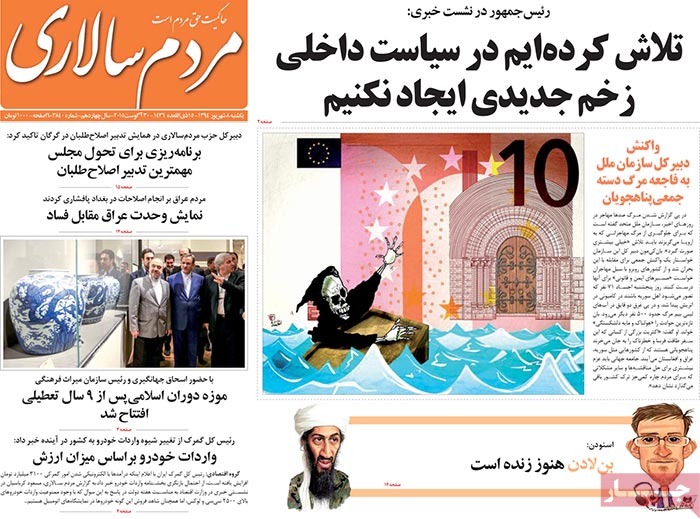 ---
Qods: The president has promised to solve the problems associated with unemployment, marriage and drug addiction in the post-sanctions era.
Qods: A new radar and missile system has been unveiled.
---
Rooyesh-e Mellat: "The Iranophobia project has a foot in the grave," said President Hassan Rouhani.