The comments of the president and his intelligence minister about the upcoming elections dominated the front pages of Iranian newspapers on Wednesday.
Ettela'at: "No person or institution is above the law in the country," said President Hassan Rouhani.
Speaking at a gathering of local people in Hamedan, the president said his administration managed to dispel the ominous clouds of war on the back of 22 months of talks.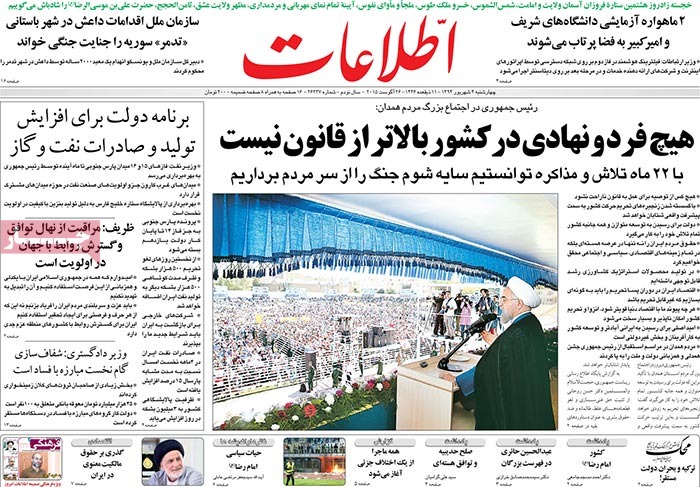 ---
Afarinesh: Foreign Minister Zarif has said that opposition in the US [Congress] to the nuclear deal is not strong enough to override the executive veto.
Afarinesh: The Russian foreign minister has dismissed as unacceptable US Vice President Joe Biden's idea on dividing Iraq into three autonomous regions.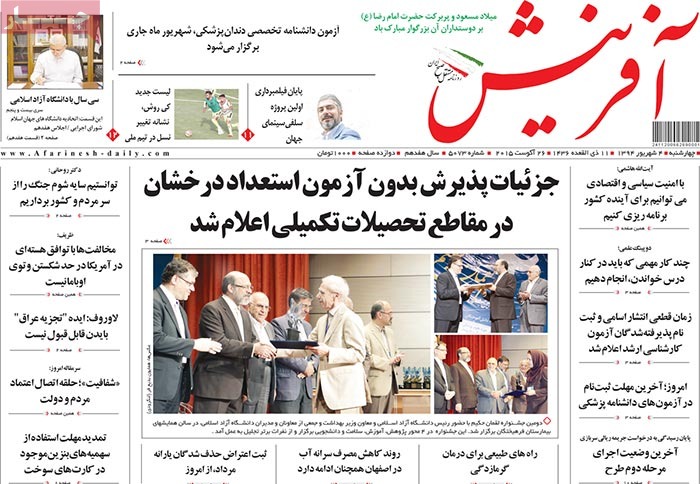 ---
Afkar: Kuwait has turned down a Saudi request to sever ties with Iran.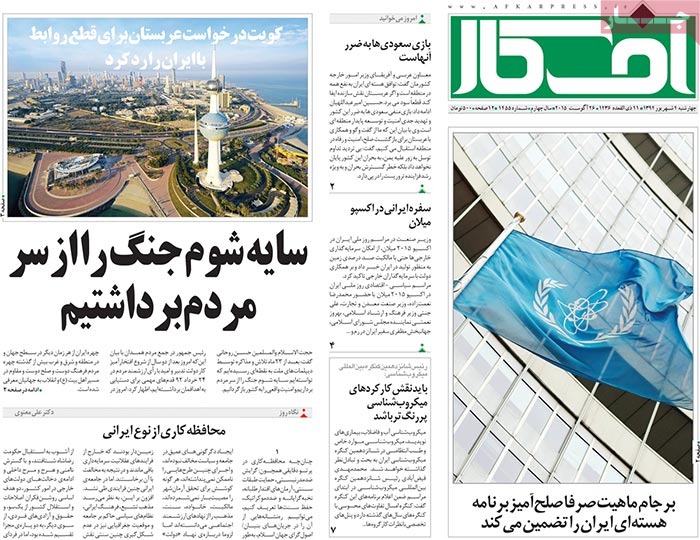 ---
Aftab-e Yazd: The intelligence minister has said that government coffers were not simply empty, they were in the red when the 11th government took office.
Aftab-e Yazd: "Instead of impeaching government ministers, MPs had better take up the backlog of bills and motions they have on their hands," said Vice-President for Parliamentary Affairs Majid Ansari.
---
Arman-e Emrooz: The Iranian intelligence minister has said that security forces have arrested IS terrorists who had plans to set off bombs in five different areas across the country.
Seyyed Mahmoud Alavi further said in the operation more than half a ton of explosives was seized by Intelligence Ministry agents.
He went on to say the Intelligence Ministry does not pry into the private lives of citizens.
---
Asrar: "Economic growth reaches five percent next year," said the director of the Management and Planning Organization.
Asrar: "The record Babak Zanjani [a young billionaire who stands accused of massive fraud during the presidency of Ahmadinejad] set in embezzlement was unique," said Oil Minister Bijan Namdar Zanganeh.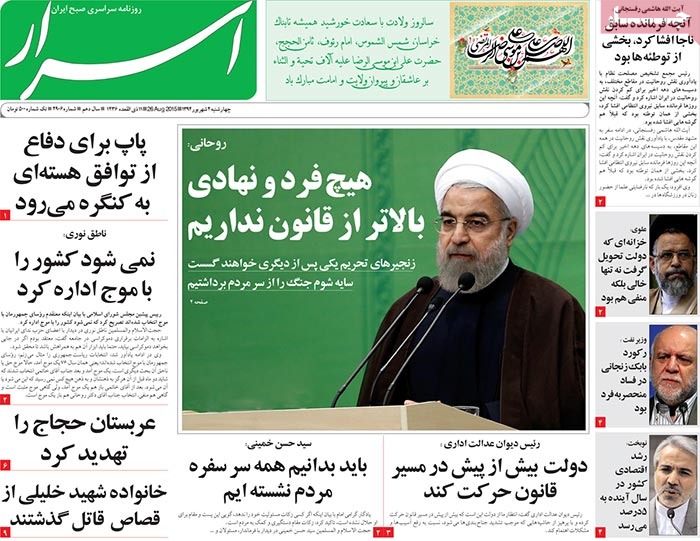 ---
Etemad: Nuclear debate in parliament
Parliament's JCPOA Review Committee seeks to invite nuclear negotiators led by Jalili, Larijani and Zarif to the chamber to discuss the Vienna nuclear deal.
---
Ghanoon: An eight-member committee to vet prospective candidates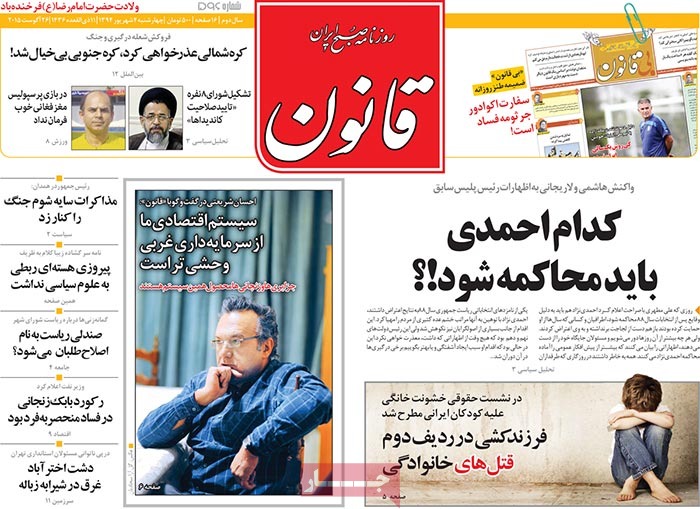 ---
Iran: "Instructions on compliance with the law should not get under anyone's skin," said President Rouhani.
---
Jomhouri Islami: The production line of Nasr cruise missile has been inaugurated.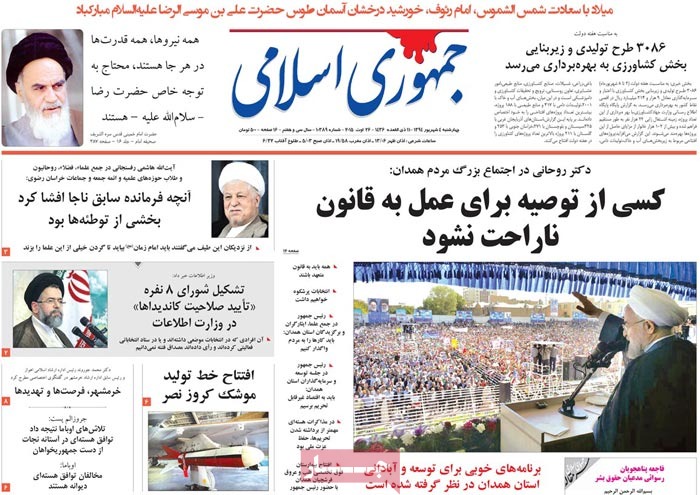 ---
Kayhan: JCPOA is up in the air; parliament's recess is not expedient.
---
Resalat: "Those who doubted the legitimacy of the establishment should not expect to be given the go-ahead to run for public office," said the intelligence minister.
Resalat: "The nuclear deal does not translate into a thaw in relations between Iran and the United States," said Ayatollah Ahmad Khatami.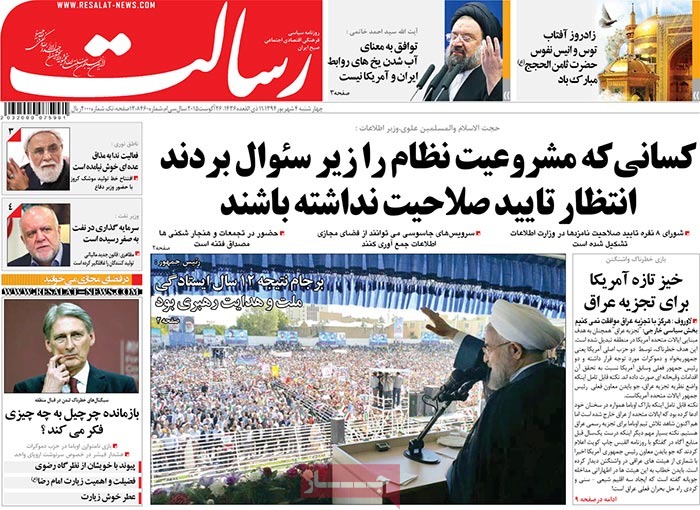 ---
Saheb Ghalam: "We won't allow the Healthcare Transformation Plan to come to a halt," said the Iranian health minister.