The comments of President Rouhani about republicanism as his Cabinet paid respect to the late Imam Khomeini in his mausoleum in southern Tehran, the meetings of the British foreign secretary with Iranian officials, and the remarks of the judiciary chief and the interior minister on the role of the Guardian Council in the electoral process dominated the front pages of Iranian newspapers on Tuesday.
Ettela'at: "We should not remain stuck in the past," said President Rouhani at a meeting with visiting British Foreign Secretary Philip Hammond.
The Iranian president further said those who sat at the negotiating table with us will realize in the future that interaction with Iran has been the right choice.
---
Aftab-e Yazd: "Those who went so far as to sanctify Ahmadinejad should now answer for their measures," said Chairman of the Expediency Council Akbar Hashemi Rafsanjani.
Aftab-e Yazd: Chinese cars have landed on a list of items boycotted by people.
Aftab-e Yazd: The interior minister has said that his ministry seeks to hold talks with the Guardian Council on upcoming elections.
---
Arman-e Emrooz: The Interior Ministry has broken its silence.
"I received 10 calls a day from MPs as I was about to name a governor general," the interior minister said.
---
Asrar: "Talks with the Americans on other issues depends on their behavior," said Iranian Foreign Minister Mohammad Javad Zarif.
Asrar: "Our revolution was not designed to make us sever our ties with the rest of the world," said Tehran MP Ali Motahari.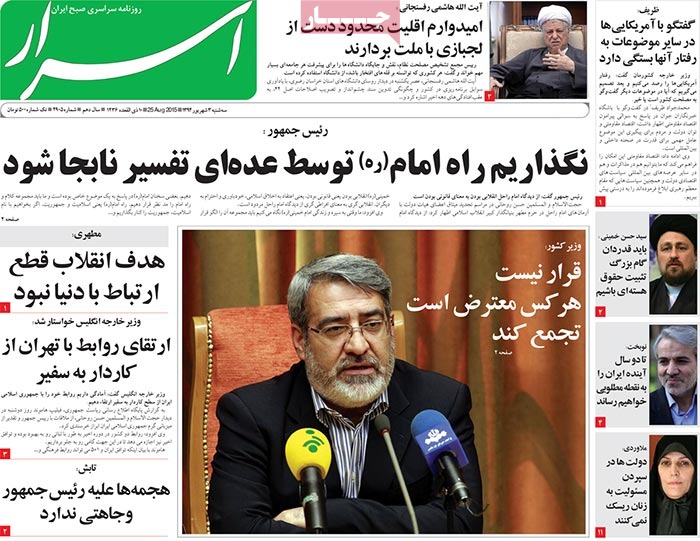 ---
Ebtekar: The German foreign minister is due in Iran shortly.
He will be the third top diplomat of the P5+1 group to visit Iran in the wake of the Vienna accord.
Ebtekar: Rouhani has dismissed the notion that being a revolutionary is equal to holding extremist ideas.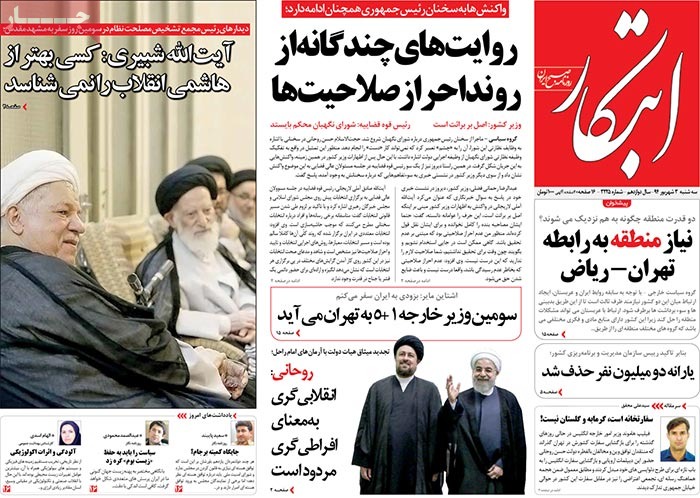 ---
Emtiaz: The petrochemical industry needs $8 billion in annual investment.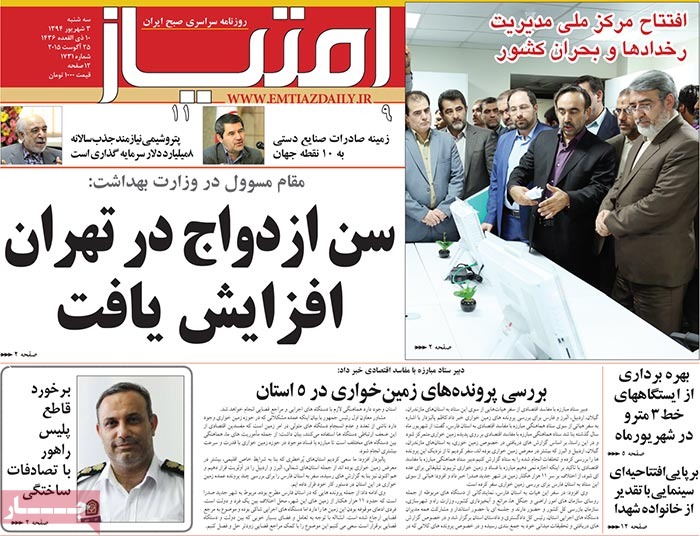 ---
Hemayat: "The seditionists [a reference to those who supported massive riots sparked when two candidates questioned the results of the 2009 presidential elections] seek to run for office in [upcoming] elections; the Guardian Council should stay its ground," said the judiciary chief.
---
Iran: The cash subsidies of some two million high-income individuals have been cut.
Iran: President Rouhani has said that officials should not allow the ideas of the late Imam Khomeini to be misinterpreted.
---
Kaenat: "The path the late Imam chose laid emphasis on Islam and Republicanism," said president Rouhani.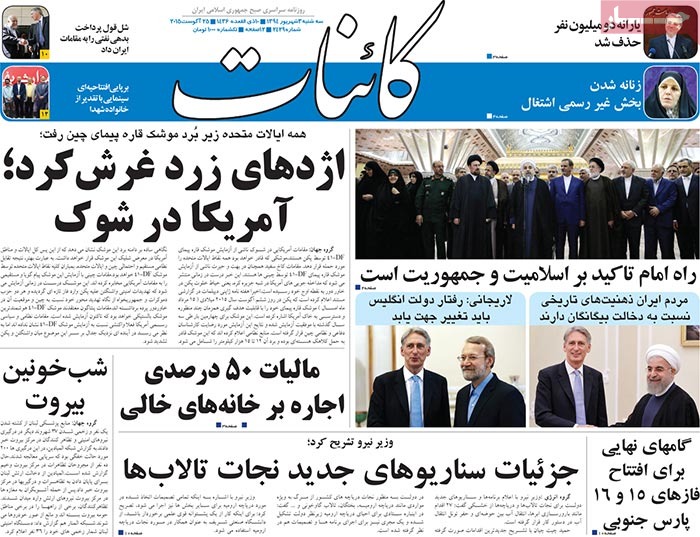 ---
Rooyesh-e Mellat: "Elections in nine metropolises will be 100 percent electronic," said the interior minister.