The reopening of the British and Iranian embassies in Tehran and London dominated the front pages of Iranian newspapers on Saturday. The comments of the defense minister on Iran's military doctrine also appeared on the cover of dailies.
Ettela'at: Sources of emulation have thanked the Rouhani government for its plans to promote healthcare.
It came as the health minister met with Grand Ayatollahs Makarem Shirazi, Mousavi Ardebili, and Safi Golpayegani.
---
Afkar: "The Joint Comprehensive Plan of Action serves the interests of the Islamic Republic," said the secretary of the Supreme National Security Council.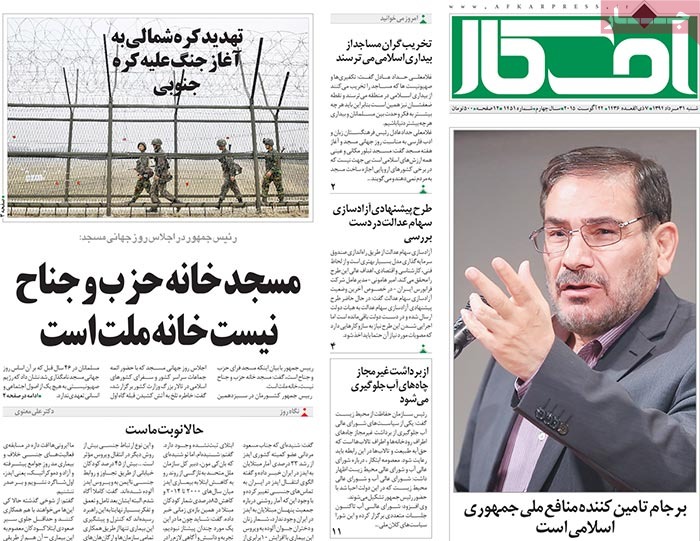 ---
Arman-e Emrooz: "Mosques are places of worship, not partisanship or factionalism", President Rouhani said.
Arman-e Emrooz: Foreign Minister Zarif has said that the Joint Comprehensive Plan of Action does not need to be ratified by parliament.
---
Asrar: A daily loss of $250 million is the result of the strategic blunders of the 10th government.
Asrar: "The ranks of the unemployed grow by a dozen an hour", said the minister of labor.
---
Ebtekar: "Blowing the weaknesses of the Joint Comprehensive Plan of Action won't serve the country's interests," said Parliament Speaker Ali Larijani.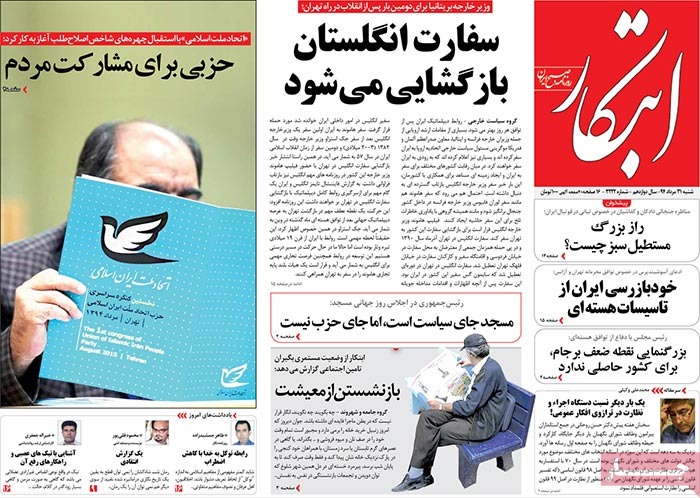 ---
Emtiaz: Iran has worked out plans to return to the European petrochemical market.
Emtiaz: A protocol has been formulated for the treatment of alcohol addiction.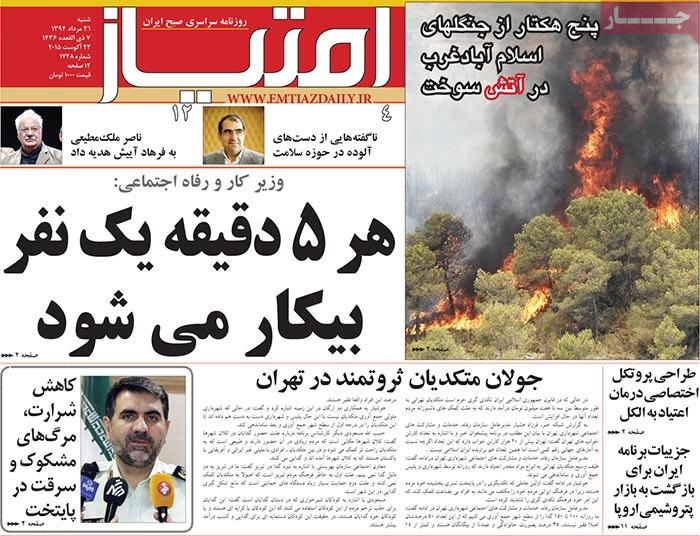 ---
Hemayat: "Those who have risen to power thanks to the generosity of the Guardian Council should make well thought-out comments," said the commander of the Islamic Revolution Guard Corps.
[Major General Mohammad Ali Jafari took a jab at the president for his comments about the Guardian Council which oversees elections and vets candidates.]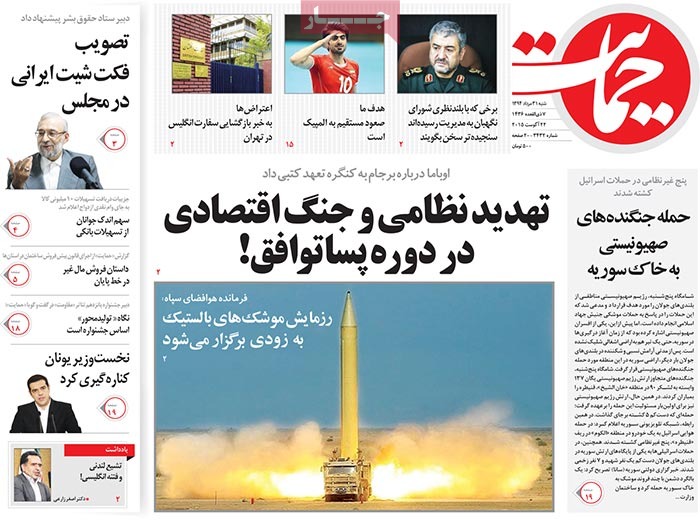 ---
Jomhouri Islami: "The review of the Joint Comprehensive Plan of Action is in its final stages at the Supreme National Security Council," said the secretary of the council.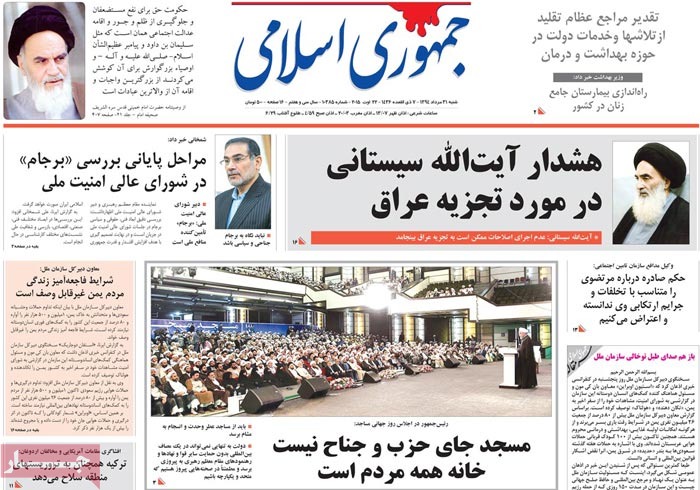 ---
Kaenat: A first visit to Iran by a British foreign secretary in 12 years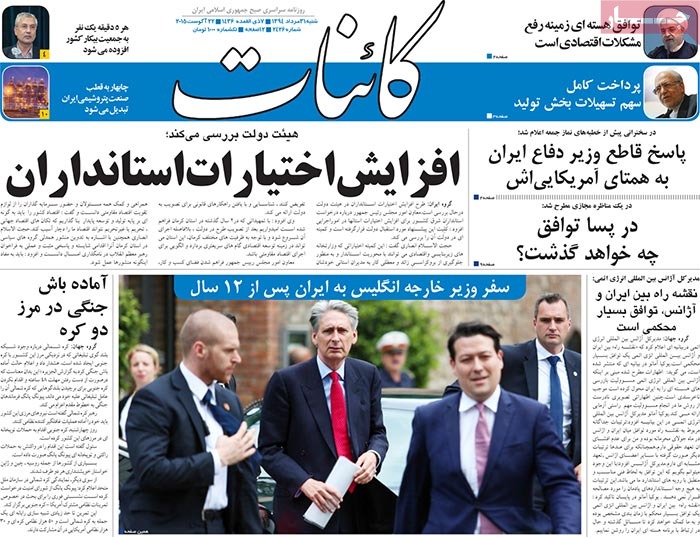 ---
Kayhan: The IS treasurer has made off with millions of dollars in donated money!
Kayhan: The traitors of the 2009 sedition have emerged under a new mask.
The seditionists are members of a new party called Unity of Nation.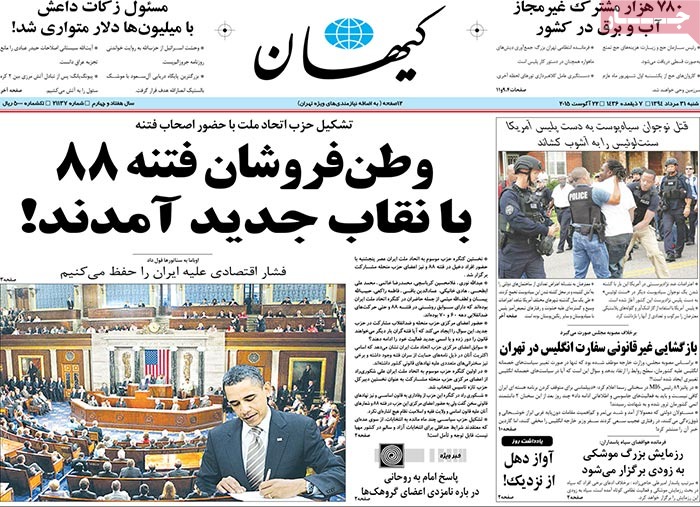 ---
Qods: Iran's economy on the verge of a tax revolution
The president has communicated a law that makes it possible for authorities to look into the banking information [of those suspected of tax evasion].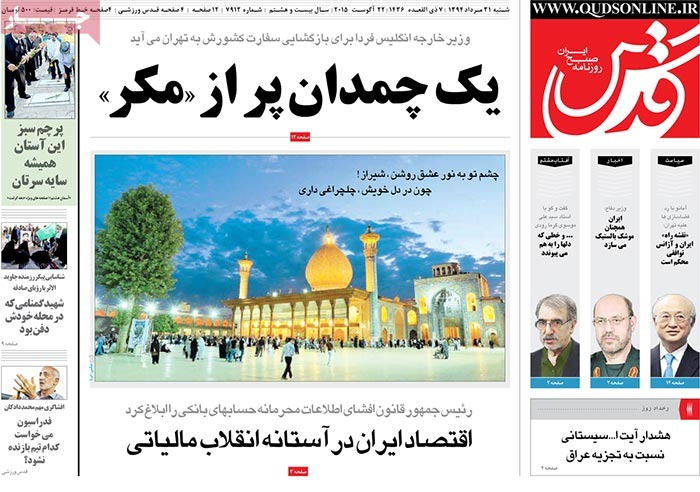 ---
Resalat: "The nuclear deal with P5+1 won't amount to reconciliation with America," said Tehran's Friday prayer leader.