The comments of the Supreme Leader about the stance of the Islamic Republic vis-à-vis the US and Muslim unity dominated the front pages of Iranian newspapers on Tuesday.
Ettela'at: "Iran extends a hand of friendship to all Islamic states," the Supreme Leader said at a meeting with those who participated in the general assembly of an Islamic Radio and Television Union and the AhlulBayt World Assembly in Tehran.
Ayatollah Khamenei further said the most important responsibility of Muslims is to make efforts to eliminate divisions among themselves.
---
Abrar: "[IAEA] Inspectors who are approved of by Iran are the only ones who can arrive here for inspections," said Iranian nuclear negotiator Abbas Araghchi.
Abrar: "The decision the establishment made on the nuclear issue was timely and well-founded," said Parliament Speaker Ali Larijani.
---
Afkar: There have been fresh attacks on Iranian trucks in Turkey.
Afkar: A veteran Italian musician is in Tehran to teach a master class.
---
Aftab-e Yazd: Following the conclusion of the Vienna deal, the popularity of President Rouhani has increased.
Aftab-e Yazd: "Some individuals who do not know the ABCs of economy doubt the economic policies of the government!" First Vice-President Eshagh Jahangiri complained.
---
Arman-e Emrooz: "Rendering the country poorer is not resistance," said Chairman of the Expediency Council Ayatollah Akbar Hashemi Rafsanjani.
Arman-e Emrooz: Assailants who attacked Tehran MP in Shiraz earlier this year have yet to talk in their defense in court.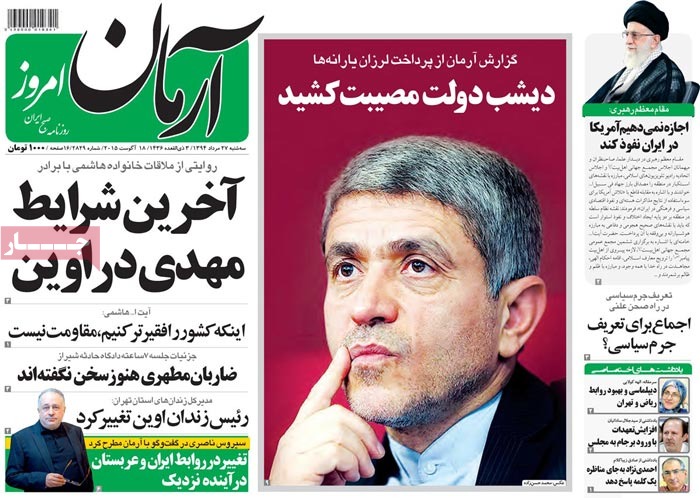 ---
Asr-e Rasaneh: The minister of communications and information technology has said that 88 percent of Iranians are strongly in favor of the nuclear deal.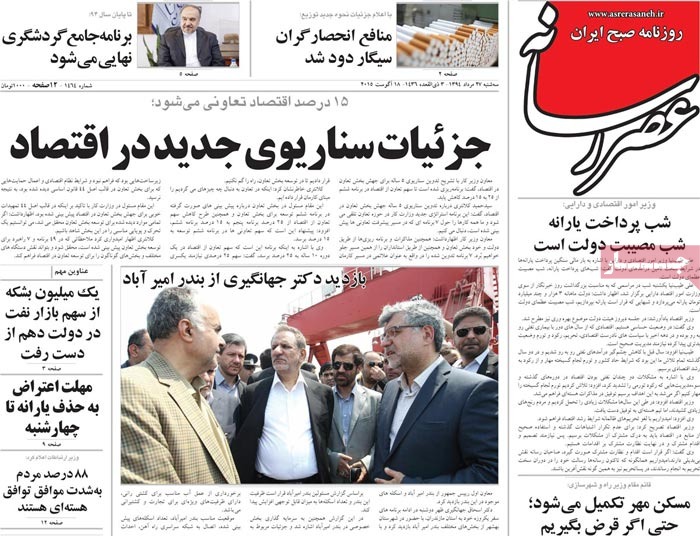 ---
Asrar: The chairman of the Expediency Council has said he will do anything within his powers to shore up football in the country.
Ayatollah Rafsanjani made the comment at a meeting with senior officials of the Football Federation.
Asrar: Foreign Minister Zarif has said that military ties with Russia will be boosted.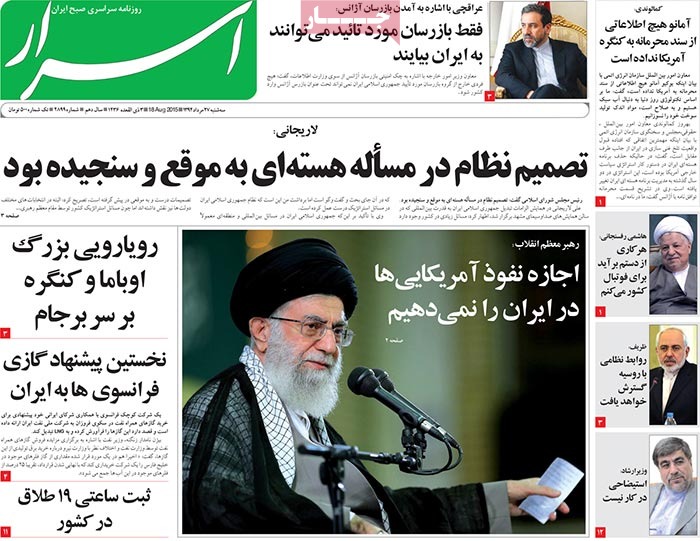 ---
Ebtekar: Temperatures will continue to hike in much of the country.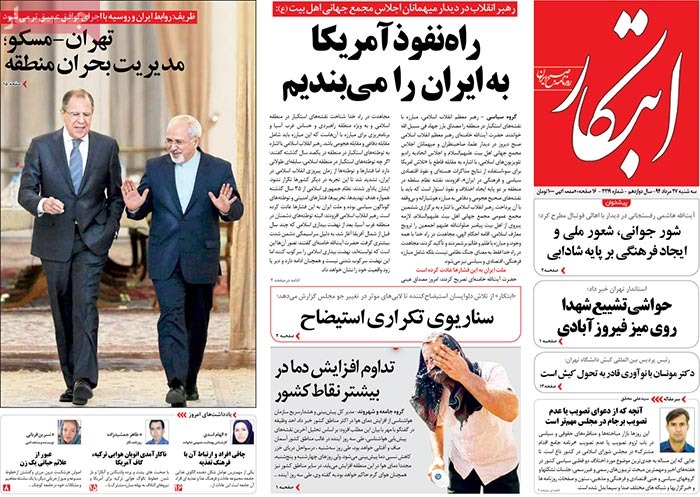 ---
Etemad: An official with the Health Ministry has said that each hour as many as 19 divorces are registered in the country.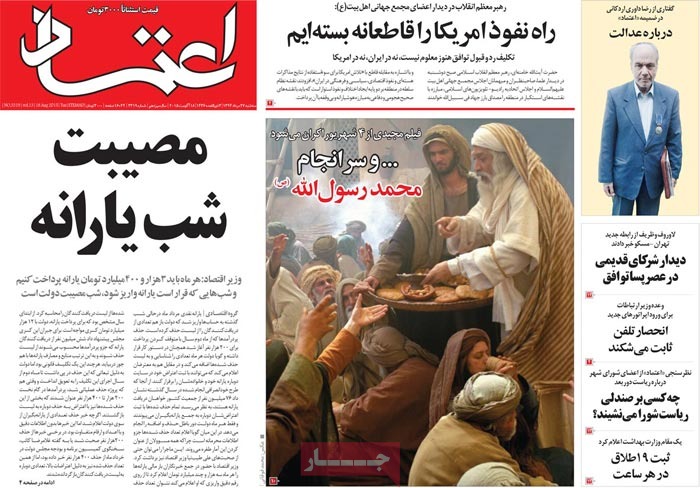 ---
Ghanoon: Turkish leaders are at each other's throats.
Disarray reigns in Ottoman Empire 2015!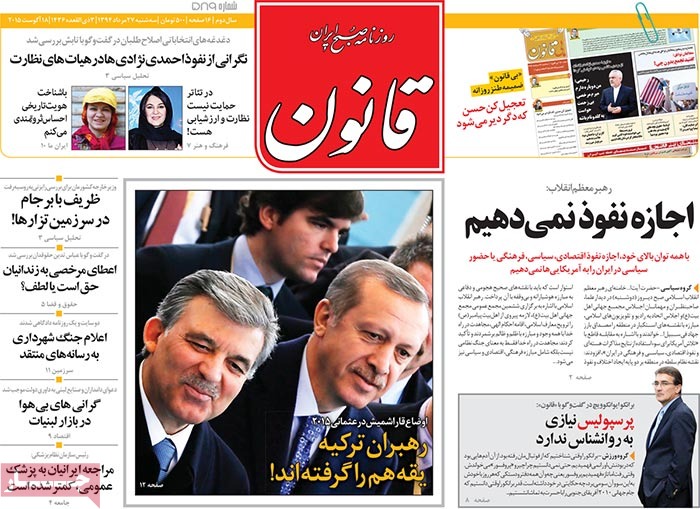 ---
Hambastegi: "Iran's military doctrine has always been defensive," said the Iranian defense minister.
Hambastegi: "Government does not make promises it cannot keep," said the Iranian vice-president for executive affairs.
---
Hemayat: "American-style changes in Iran are only a pipe dream," said the judiciary chief.
Hemayat: "Some 40 percent of all prisoners in Iran are behind bars for drug-related offenses," said a judiciary official.
Hemayat: Some news sources say Israel may launch a ground offensive against Syria.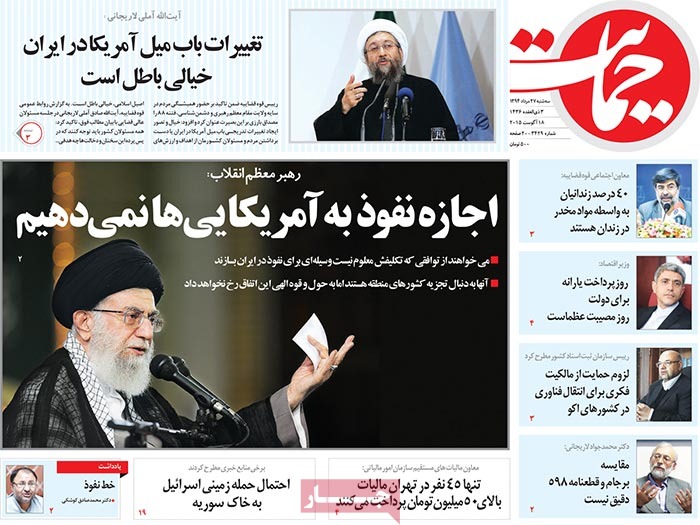 ---
Iran: Iranian Foreign Minister Zarif has been warmly welcomed by Russian officials in Moscow.
Zarif said Iran and Russia will implement new nuclear projects.
Iran: Iran's junior wrestlers have been crowned world champions in Brazil.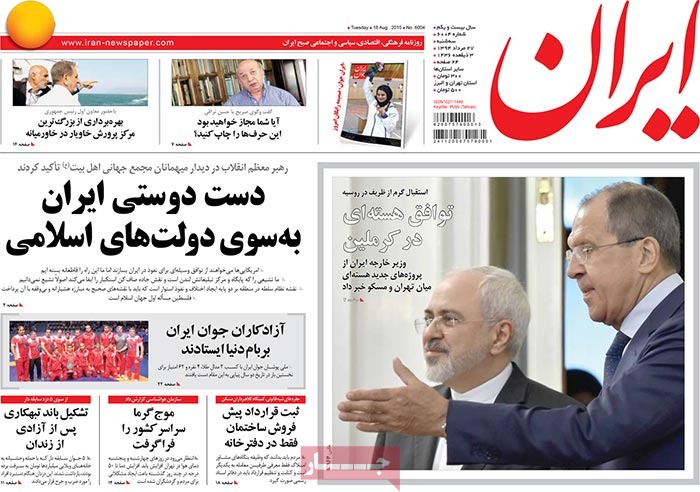 ---
Kaenat: Iran and Russia are opposed to foreign interference in Syria.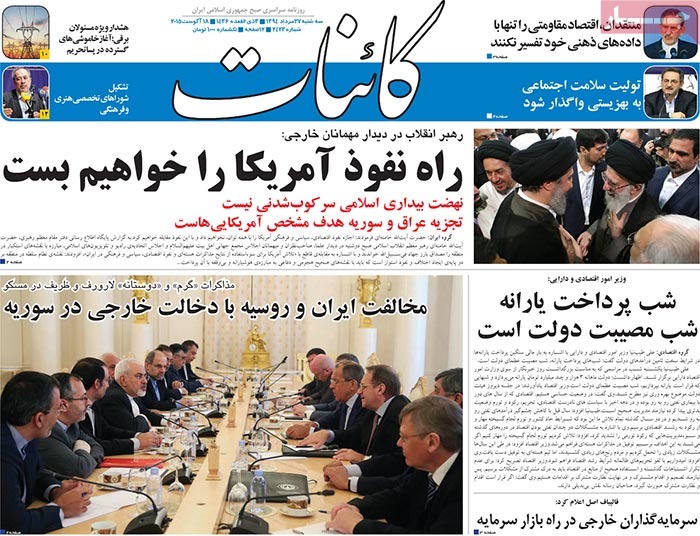 ---
Khorasan:"We will firmly stand up against American inroads," said the Supreme Leader as he recalled American attempts to find its way back into Iran following the nuclear deal.
Khorasan: "The telecommunications monopoly will soon be broken," said the minister of communications.
---
Mardomsalari: Hassan Ghafurifard, a onetime MP and Cabinet minister, has been named chairman of the House of Political Parties.
Mardomsalari: Oil prices are closing in on 6-year lows.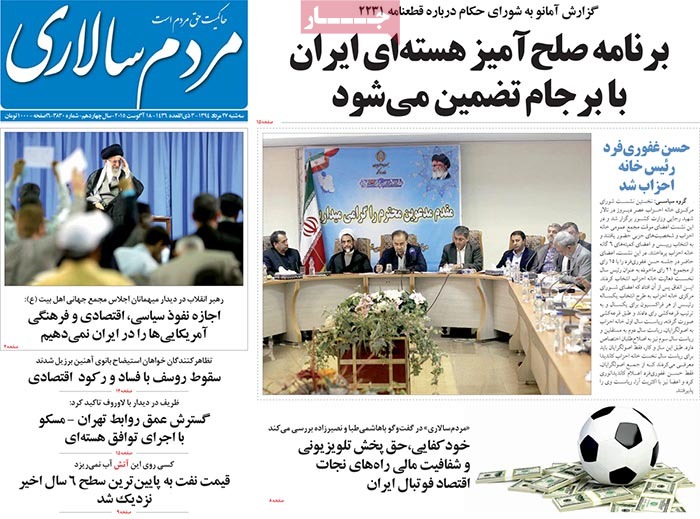 ---
Payam-e Zaman: "The law that eliminates the obstacles standing in the way of production will be implemented in three months," the industry minister said.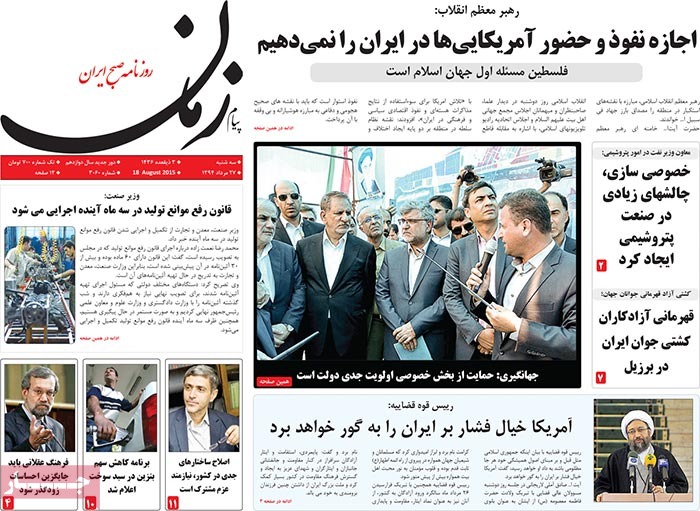 ---
Resalat: "The day cash subsidies are paid is a very sad day for government," said the economy minister as he talked about existing monetary problems to sustain cash handouts [introduced by the government of Ahmadinejad].
---
Setareh Sobh: "We condemn any measure disrespectful of Sunni sanctities," the Supreme Leader said.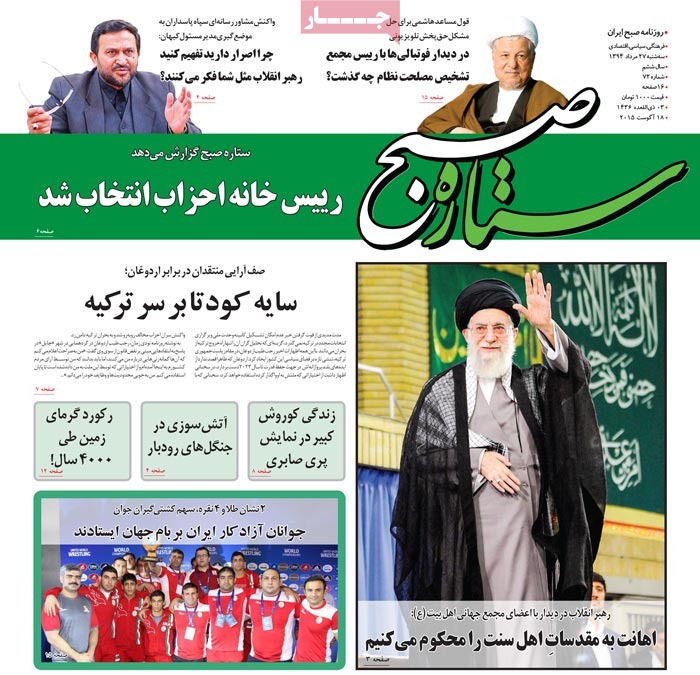 ---
Sharq: Russia is trying to increase its arms sales to Iran.
Sharq: The Chinese ploy to remain on the Iranian market: five-year warranties on Chinese-made cars.