Mehdi Hashemi, a son of the chairman of the Expediency Council, arrival at Tehran's Evin Prison to serve a 10-year jail term dominated the front pages of Iranian newspapers on Monday. The comments of the foreign minister, his deputies and the Iranian nuclear chief in defense of the nuclear deal between Iran and P5+1 also appeared on the covers of the dailies.
Ettela'at: "The West's regime change policy on Iran failed," said Foreign Minister Zarif in an Iranian diplomacy forum at Ettela'at Institute.
He further said no restrictions have been imposed on Iran's defense capabilities [as a result of the Vienna deal].
The director of the Atomic Energy Organization said commercialization of nuclear industry is on the horizon.
---
Afkar: Russian warships have docked at Iran's northern port of Anzali.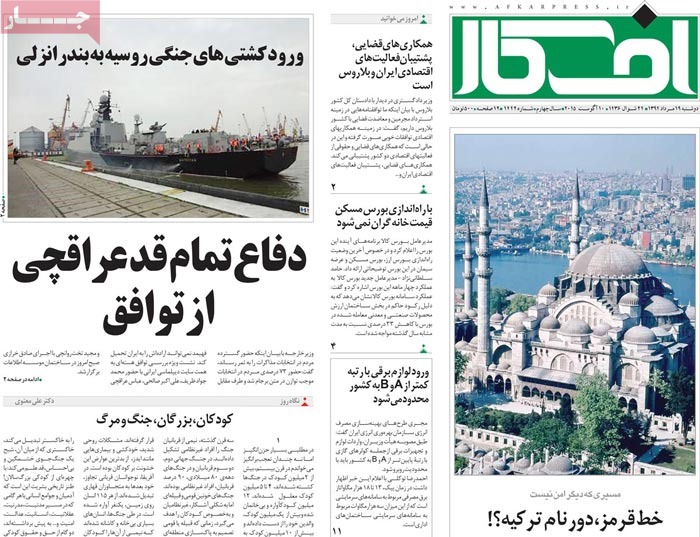 ---
Aftab-e Yazd: Japanese giants in Tehran
The daily has a report on "Tokyo's resolve to expand economic ties with Iran".
Aftab-e Yazd: The father saw off the son, wishing him well.
Mehdi Hashemi, a son of Ayatollah Akbar Hashemi Rafsanjani who leads the Expediency Council, has reported to Evin Prison to serve a 10-year term.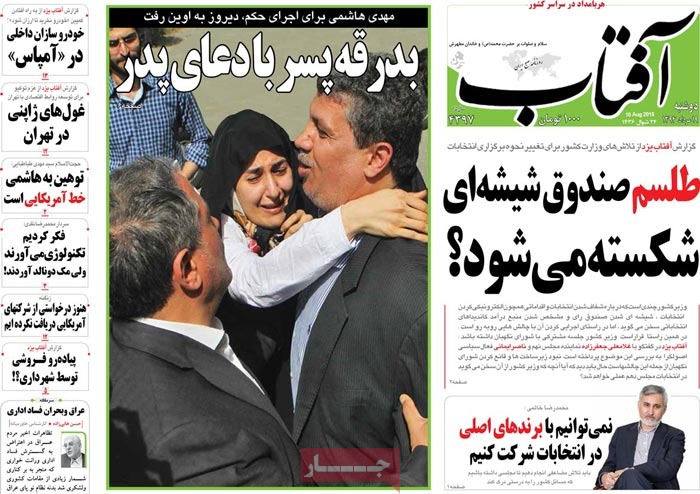 ---
Asr-e Rasaneh: "We have yet to receive any application from American firms," said Iranian Oil Minister Bijan Namdar Zanganeh.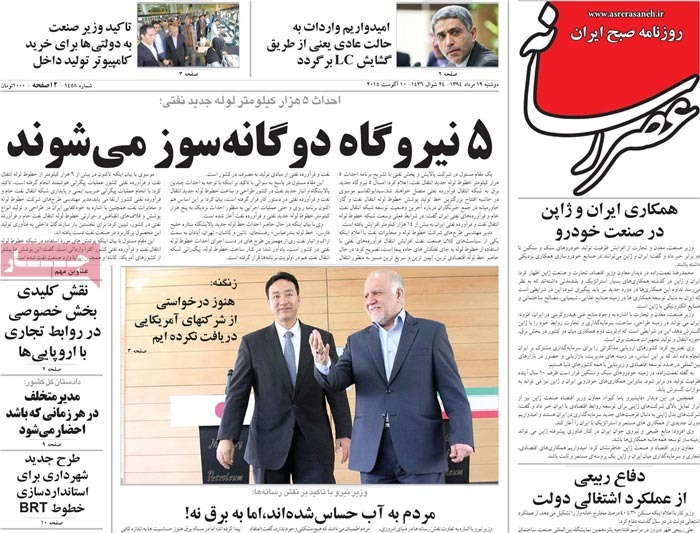 ---
Asrar: "The establishment should make a serious decision about health insurance," said Health Minister Hassan Hashemi.
Asrar: "Those who were nowhere to be seen in the thick of the revolutionary struggles are now laying claim to the revolution," said Mehdi Tabatabai, a senior religious scholar.
---
Ebtekar: "The efforts of the government supported by the Supreme Leader prevented hardliners [from achieving their goals]," said Ayatollah Akbar Hashemi Rafsanjani, the chairman of the Expediency Council.
Ebtekar: "Claims that Iran suffered a defeat in nuclear talks are very traitorous," said Foreign Minister Mohammad Javad Zarif.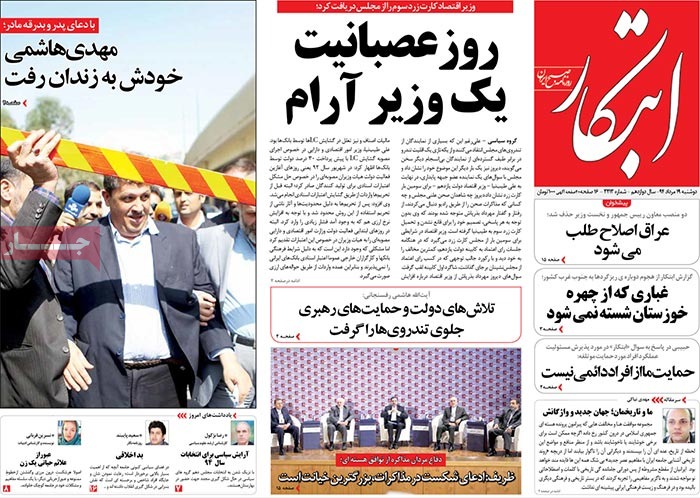 ---
Emtiaz: The illegal drugs trade in Iran is worth around $3 billion a year.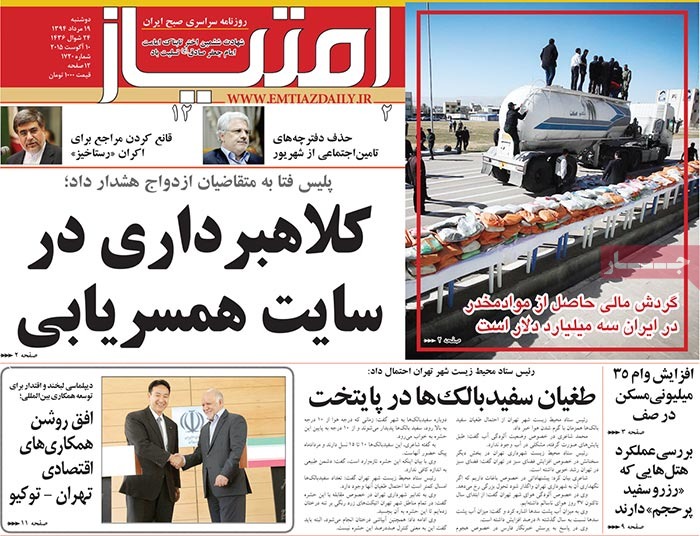 ---
Etemad: A member of the Islamic Consultative Assembly has said the chamber's Cultural and Judicial Committee has decided to require police to write $30-plus tickets to women who fail to observe the Islamic dress code in their cars.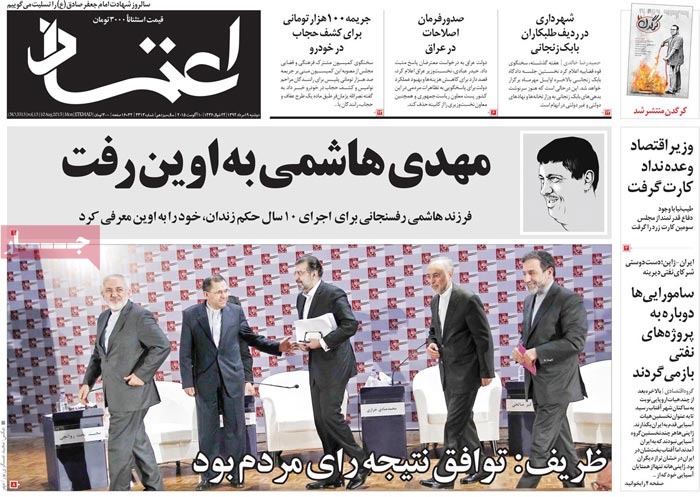 ---
Farhikhtegan: Mehdi Hashemi has called on IRIB [state broadcaster] to air his defense arguments in court.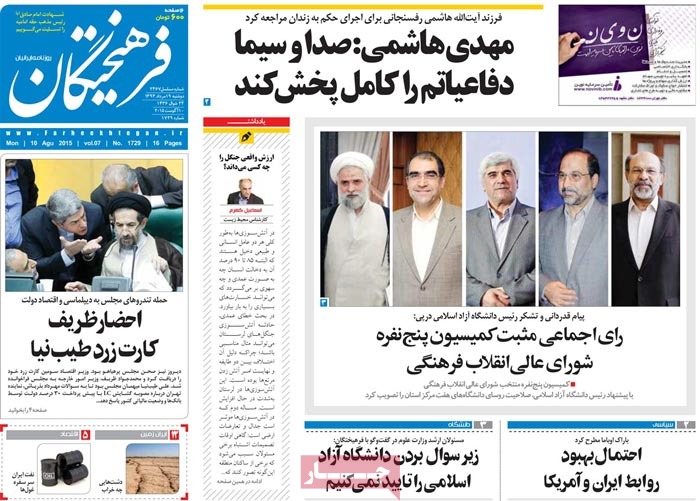 ---
Ghanoon: Parliament took its nuclear revenge on the economy, issuing a third yellow card to the economy chief.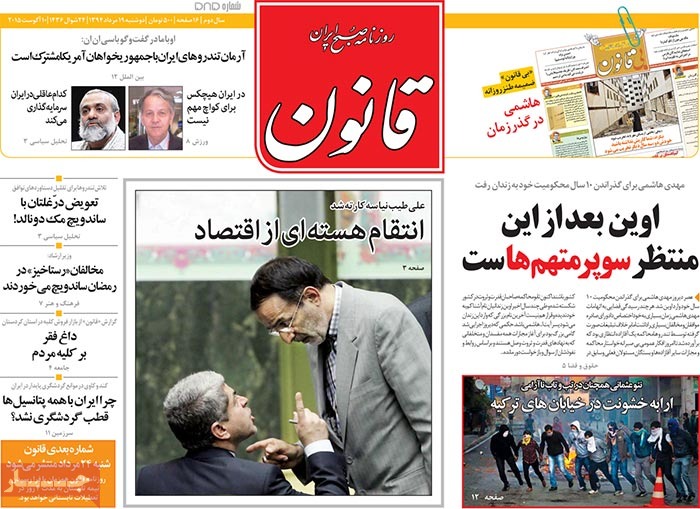 ---
Hambastegi: "No country resents the nuclear deal between Iran and P5+1," said the chairman of the Expediency Council.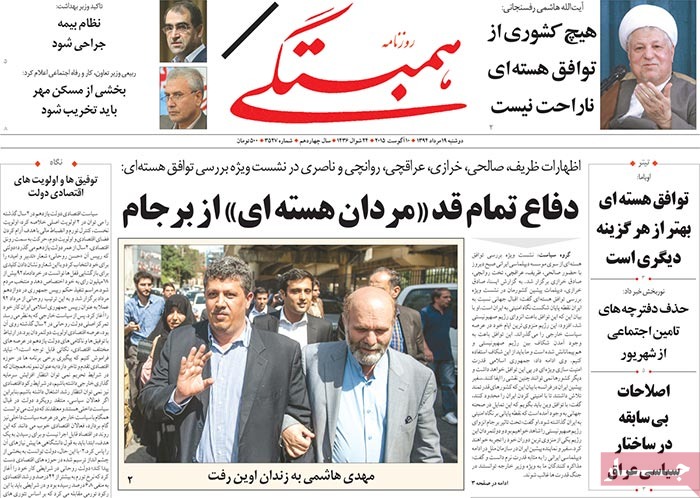 ---
Hemayat: Mehdi Hashemi has started to serve a 10-year jail term; the judiciary stuck to implementation of justice.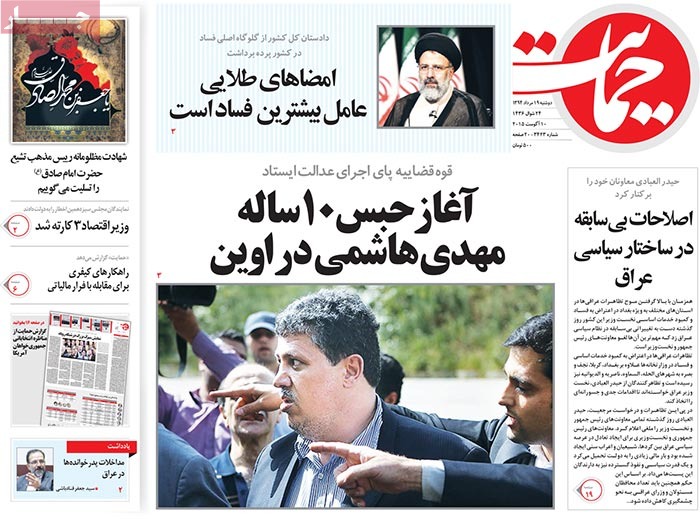 ---
Jomhouri Islami: A new chapter has opened in economic cooperation between Iran and Japan.
---
Kayhan: IS has issued a threat against Saudi Arabia.
Kayhan: Reviewing the Vienna deal in the absence of critics?!
---
Sharq: Iran's first female ambassador to be named shortly.
Sharq: The reports issued by the Central Bank of Iran are evidence that Ahmadinejad flouted rules and regulations.