Several papers today covered the remarks made by the Leader of Iran's Islamic Revolution Ayatollah Seyyed Ali Khamenei about the country's rising power and the enemies' fear of such might.
The top story, however, was the growing dollar rates in Iran's forex market and the unprecedented decrease in the value of the Iranian rial, which has turned the issue into a national crisis.
The National Nuclear Technology Day and the country's achievements in this field were among other top stories today.
A number of papers also highlighted Iranian Foreign Minister Mohammad Javad Zarif's tour of Africa and South America, which started with his visit to Senegal. The tour will later take him to Brazil, Uruguay, and Namibia.
The above issues, as well as many more, are highlighted in the following headlines and top stories:
19 Dey:
Fall of National Currency amid Officials' Silence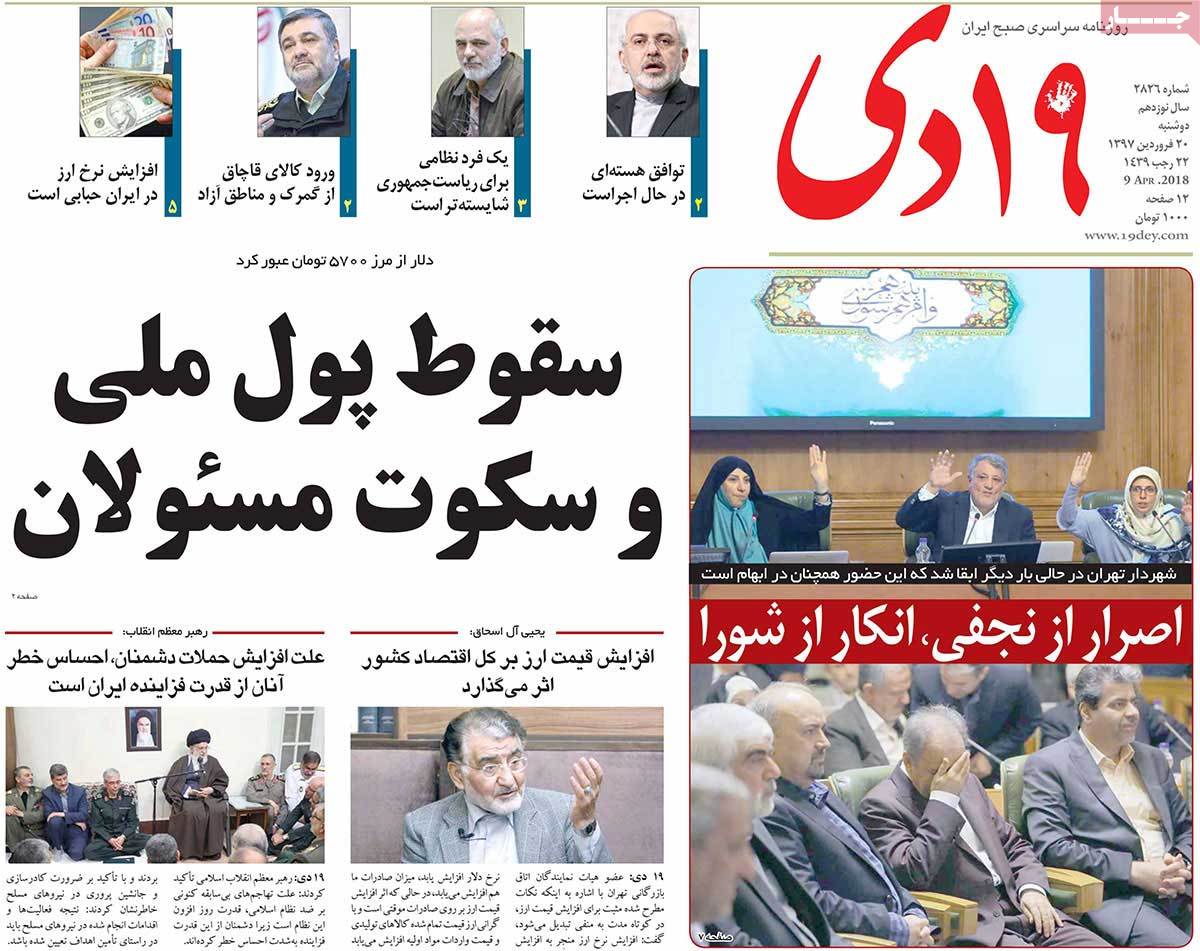 ---
Abrar:
Iran FM: Nuclear Deal Being Implemented
Parliament Calls on Economic Officials to Discuss Hike in Forex Rates
---
Aftab-e Yazd:
Iran Leader: Enemies' Fear of Iran's Rising Power Main Reason for Increased Attacks
Unbridled US Dollar Rate: What Happened to Rouhani's Promise?
Zarif in Africa, Bin Salman in Europe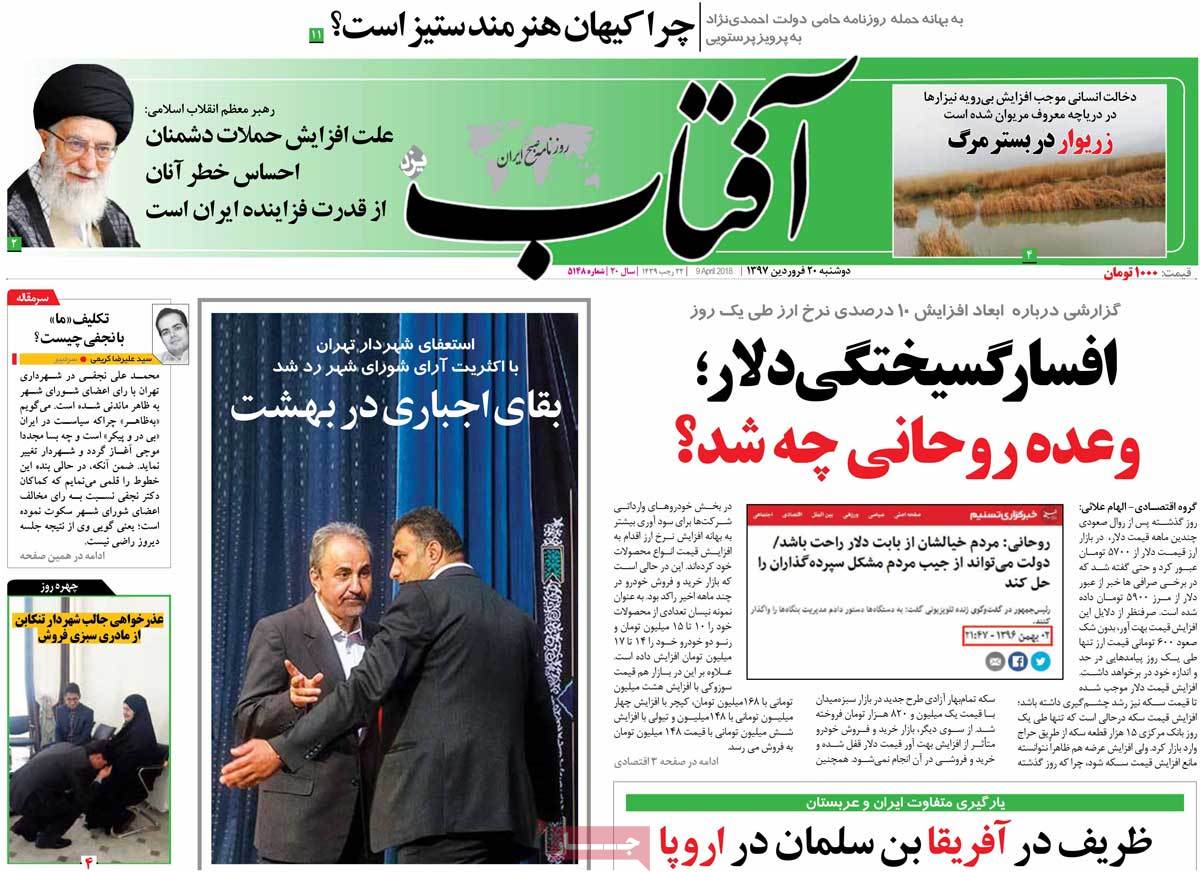 ---
Arman-e Emrooz:
Forex Coup: A Report on Those behind Recent Forex Market Fluctuations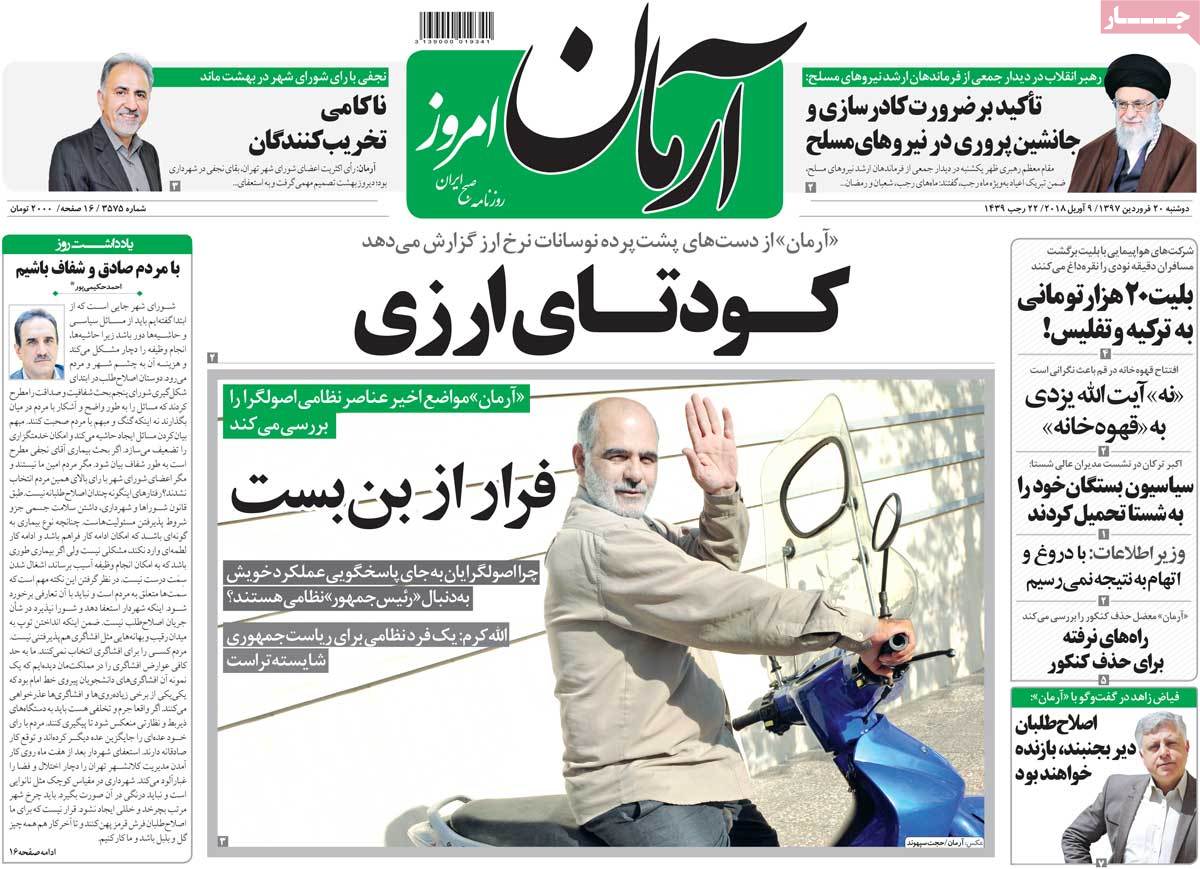 ---
Asrar:
Iran Nuclear Chief: We'll Return to 20% Enrichment in 4 Days
Syria Invited to Summit of Arab Leaders in Riyadh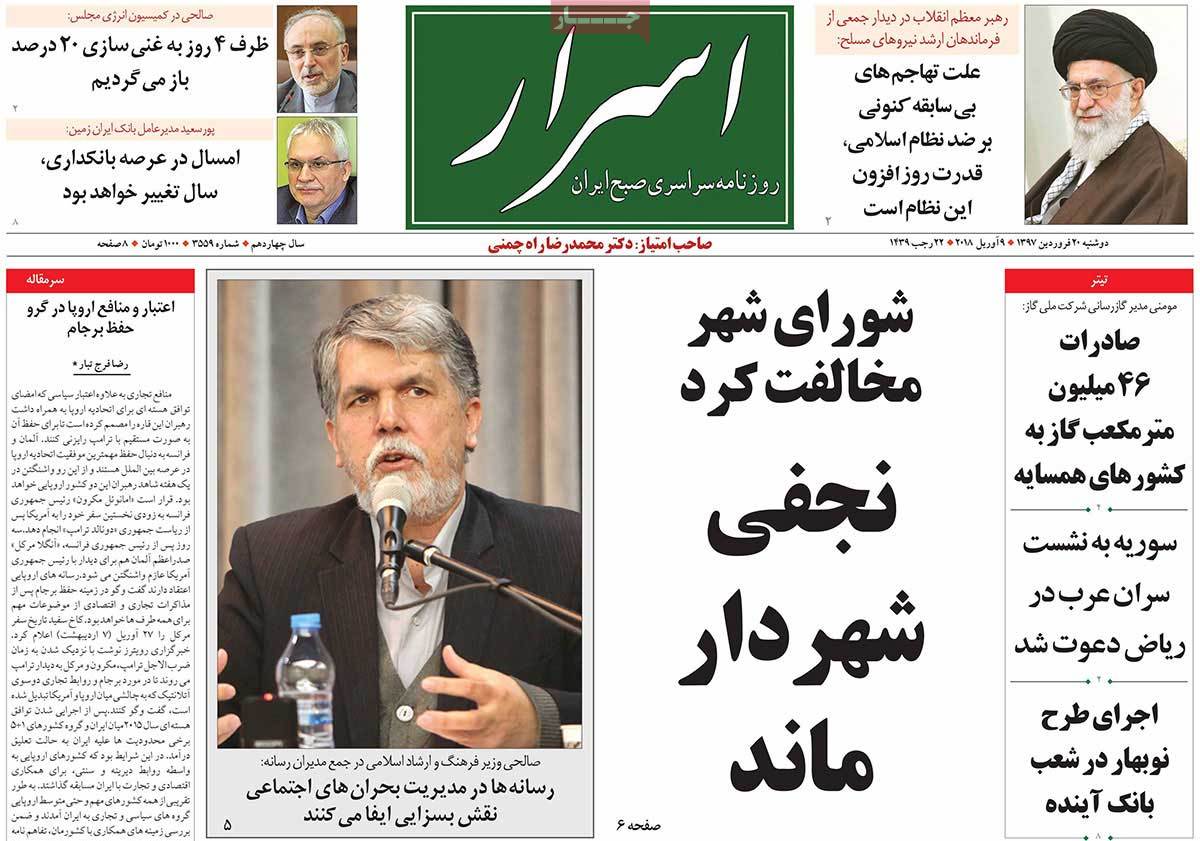 ---
Ebtekar
Controversy of US Dollar in City
A Report on People's Concerns about Increase in US Dollar Rate
Parliament Trying to Control Forex Rates: Consequences of Dollar Instability
---
Etemad:
15 Years after Fall of Baghdad: What Happened to Iraq after US Invasion
Nature of Iran's Forex Market Changed
Capability of Managing Forex Rates [Editorial]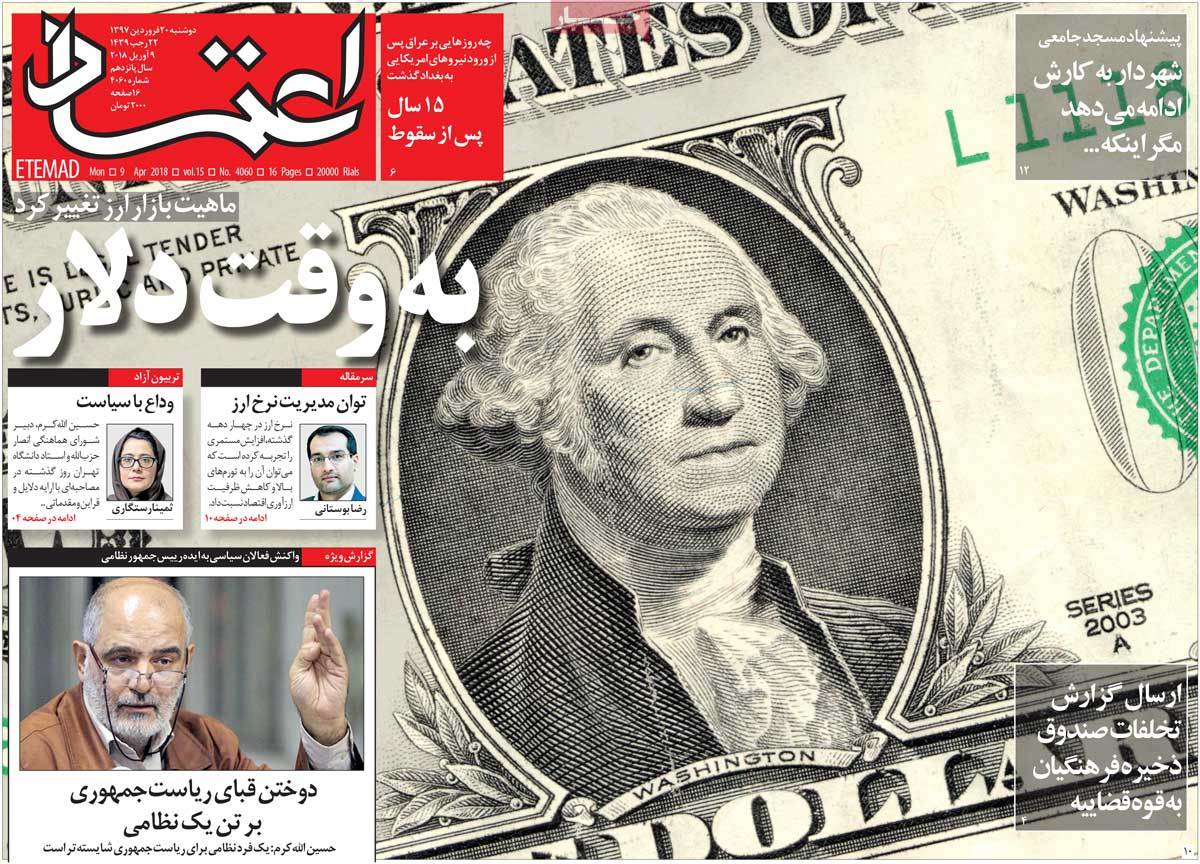 ---
Ettela'at:
Iran Nuclear Chief: Europe to Be Humiliated If It Follows US Footsteps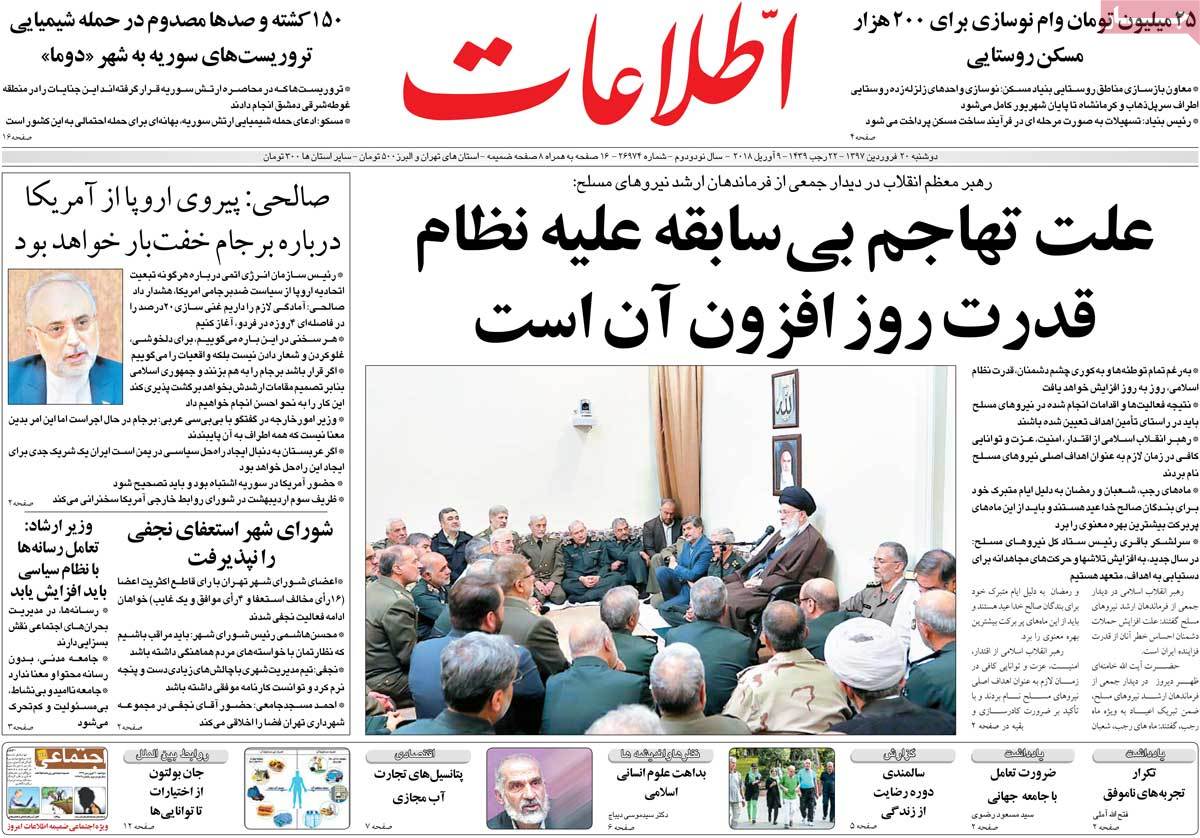 ---
Haft-e Sobh:
US Dollar Is Kidding Us!
Tragedy of Growing Dollar Rates Turning into Comedy
---
Jahan-e San'at:
Government's Silence towards Surging Dollar Rates: Guided Crisis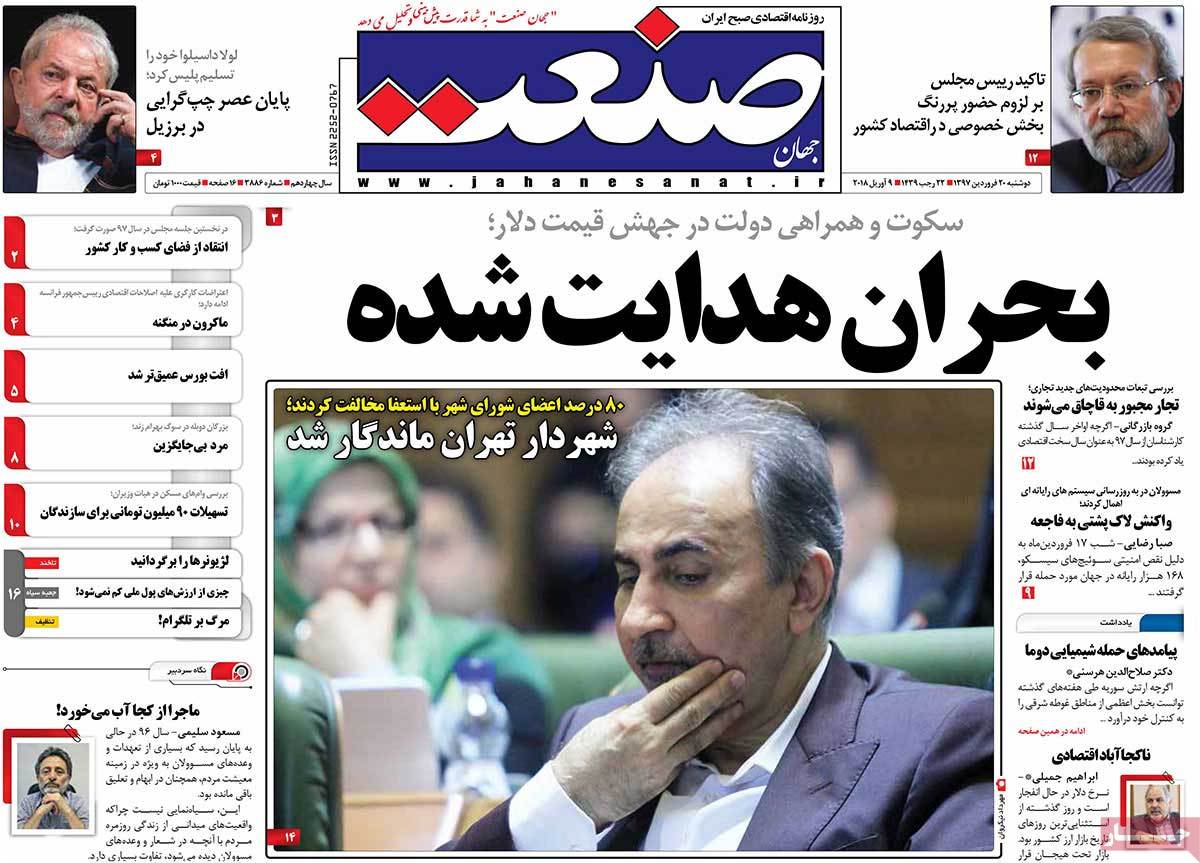 ---
Javan:
Chemical Attack to Keep US in Syria!
On Anniversary of Khan Shaykhun, 2013 Scenario Repeated in Eastern Ghouta
Nasrallah: Gaza Protests Slap on Face of "Deal of Century"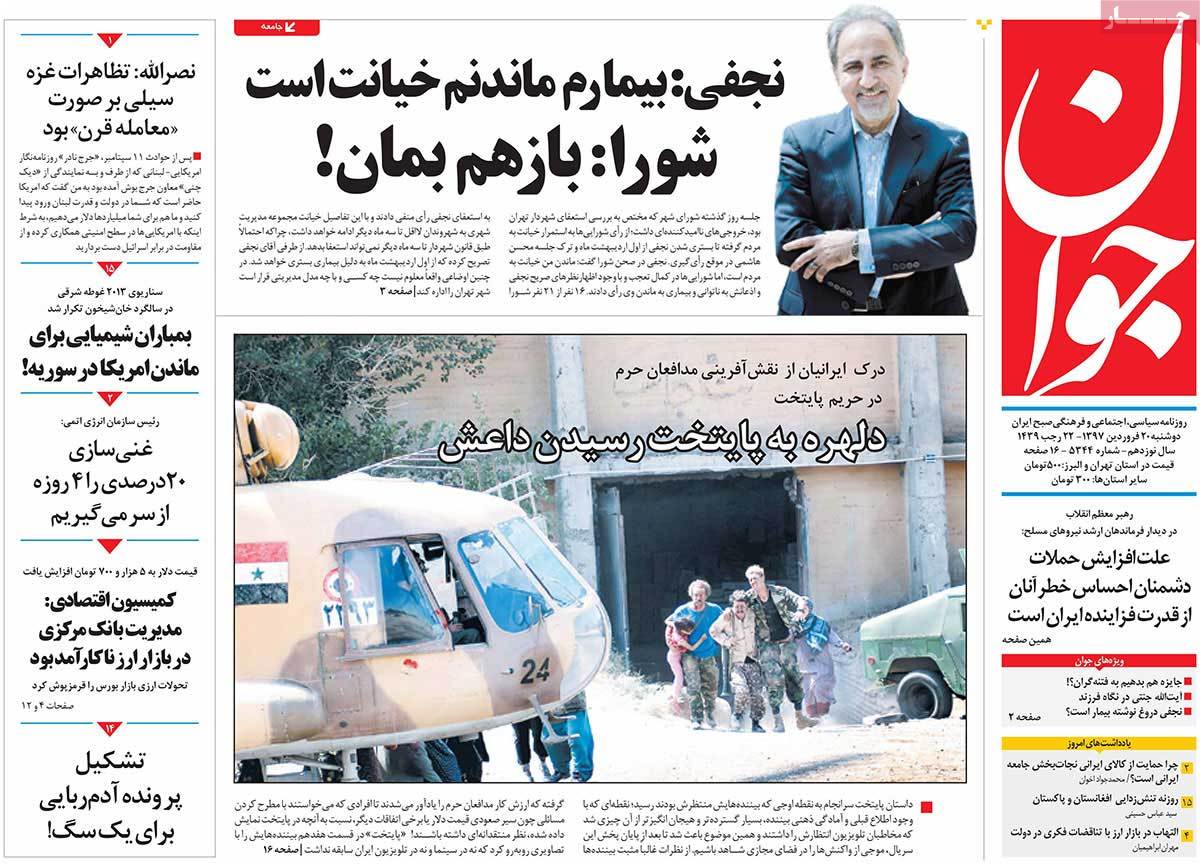 ---
Jomhouri Eslami:
Nasrallah: Lebanon Needs A Parliament that Can Counter Threats
---
Kayhan:
Achievement of Government of JCPOA, Telegram: IRR 58,000 for $1
Saudi Arabia Asks for Senegal, Sudan's Help to Survive Ansarullah Attacks
---
Khorasan:
Dream of Testing Tehran Reactor's Nuclear Fuel to Be Operationalized
Zarif: Any Deal with US Survives Only Until End of One US Presidential Term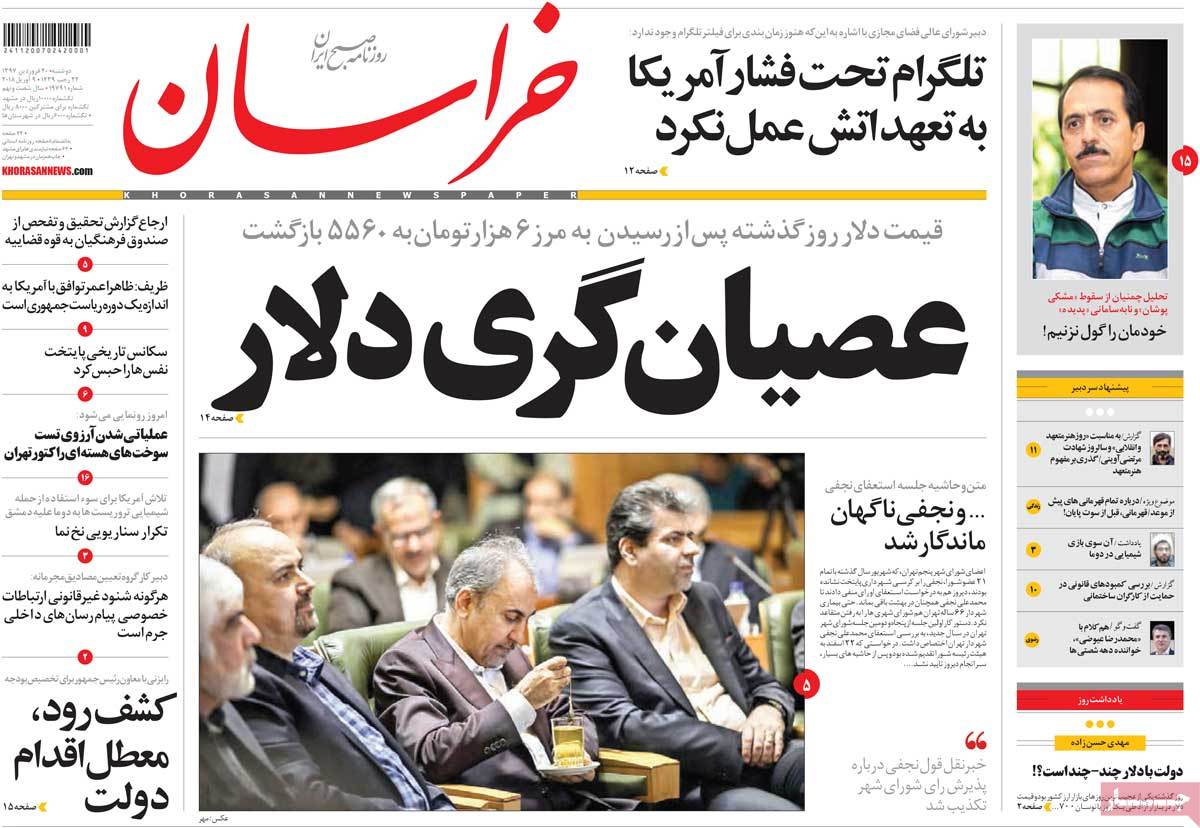 ---
Payam-e Zaman:
Iran Nuclear Chief: 83 Nuclear Achievements to Be Unveiled Today
Iran's Nuclear Power, with or without JCPOA
---
Resalat:
Enemy Looking for Psychological War, Sanction against Iran: Top Cleric
---
Rooyesh-e Mellat:
Iran Has Always Supported Stability, Security in Lebanon: Foreign Ministry
---
Sazandegi:
Sedition of Dollar
US Dollar Rate Surges in Iran Market, Expected to Rise Even More
---
Shahrvand:
Suspicious Demands for US Dollar
Questionable Purchase of US Banknotes Drops Iranian Rial's Value by 10% in One Day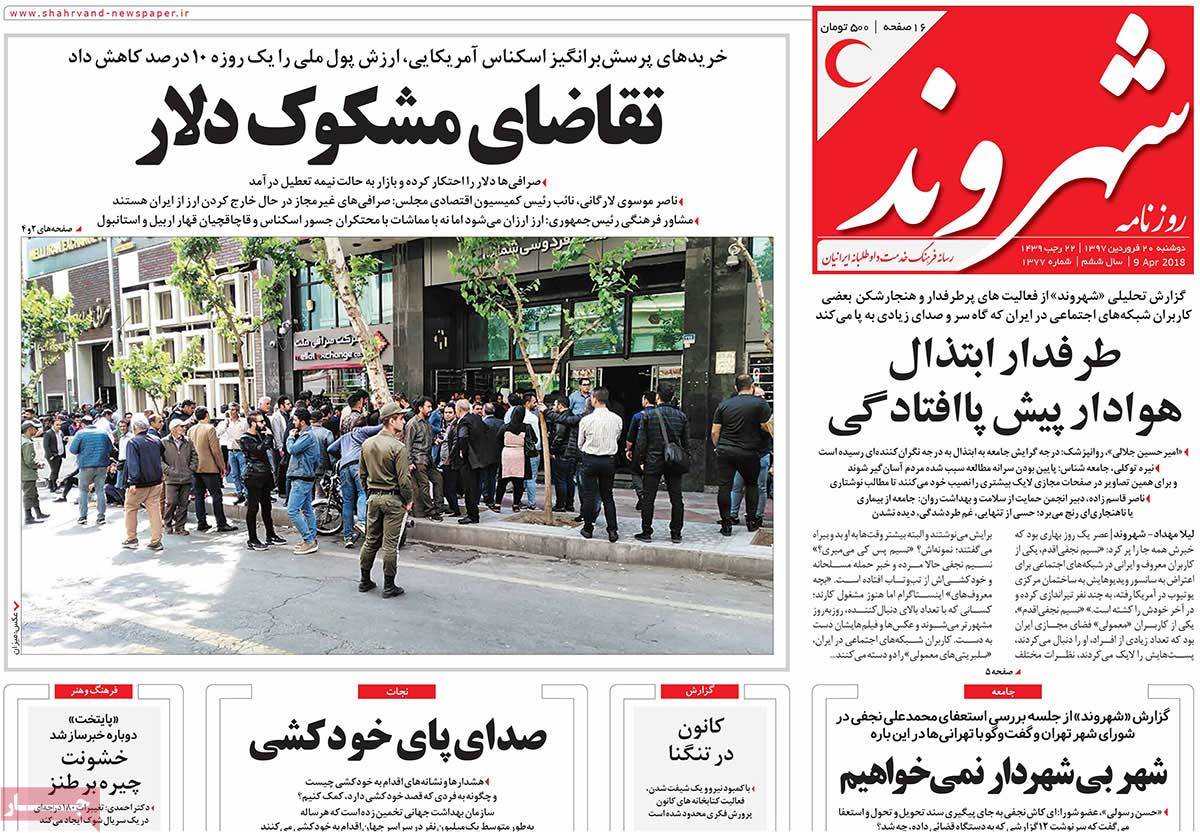 ---
Shargh:
Rumours Spreading among Conservatives: A Military President!
Allahkaram: A Man of Military Better Choice for Iran's Presidency
A Bridge to Two Continents: Zarif Starts Visits to Africa, South America