Many papers today covered the remarks made by the Leader of Iran's Islamic Revolution Ayatollah Seyyed Ali Khamenei in a meeting with the participants of the International Quran Competition in Tehran.
The top story in several papers was the historic meeting between the North Korean Leader and the president of South Korea.
Warnings by top Shiite clerics like Ayatollah Javadi Amoli on the need for the government to pay attention to people's demands also received great coverage today.
The above issues, as well as many more, are highlighted in the following headlines and top stories:
19 Dey:
Energy Minister: This Year to Be Iran's Driest Year in 50 Years
Historic Reconciliation between North, South Korean Leaders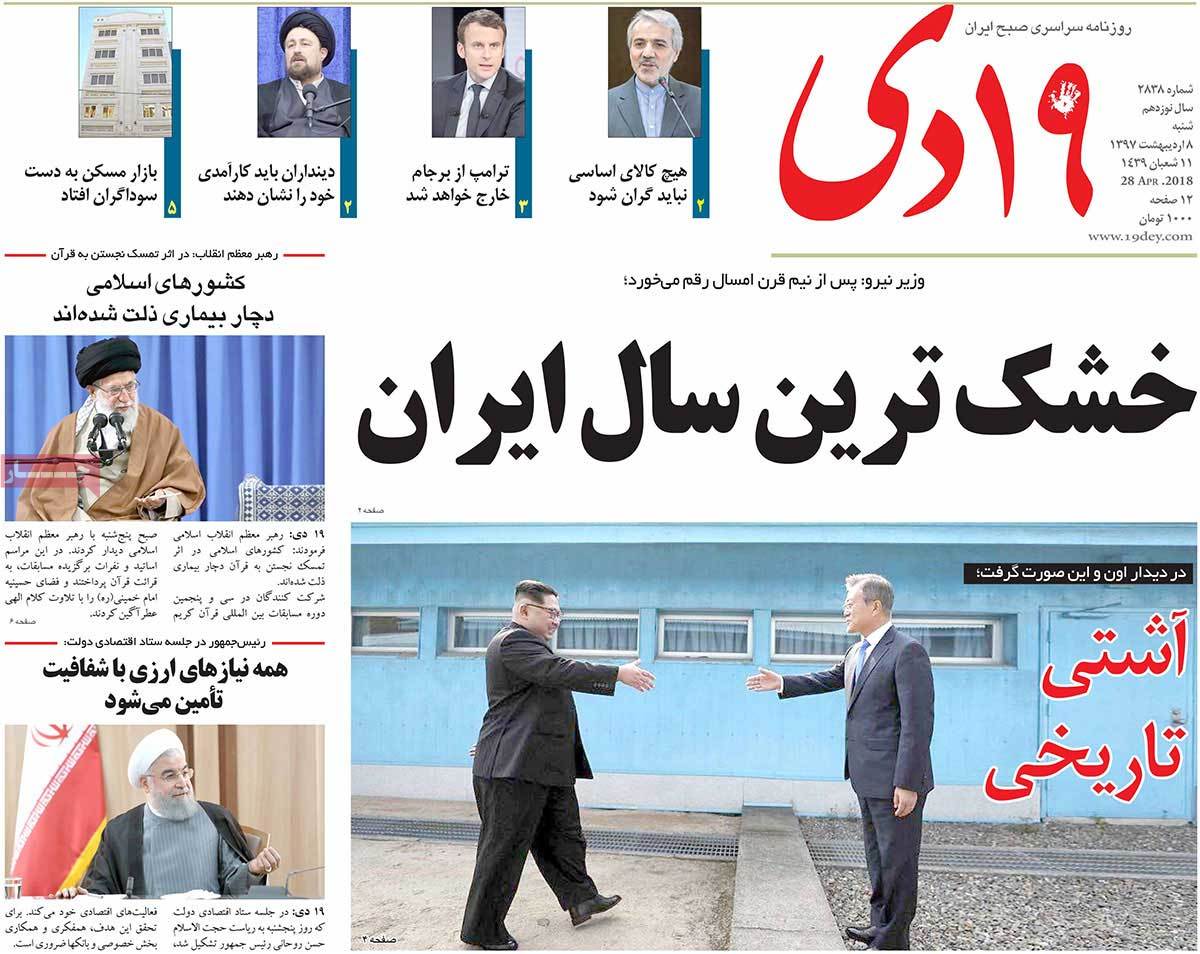 ---
Abrar:
Leader: Iran Has Stood against US, Progressed Based on Quran Teachings
US Defence Secretary: No Decision Taken Yet on US Withdrawal from Iran Deal
---
Afkar:
Cleric: Government's Borrowing from Central Bank Deadly Poison for Economy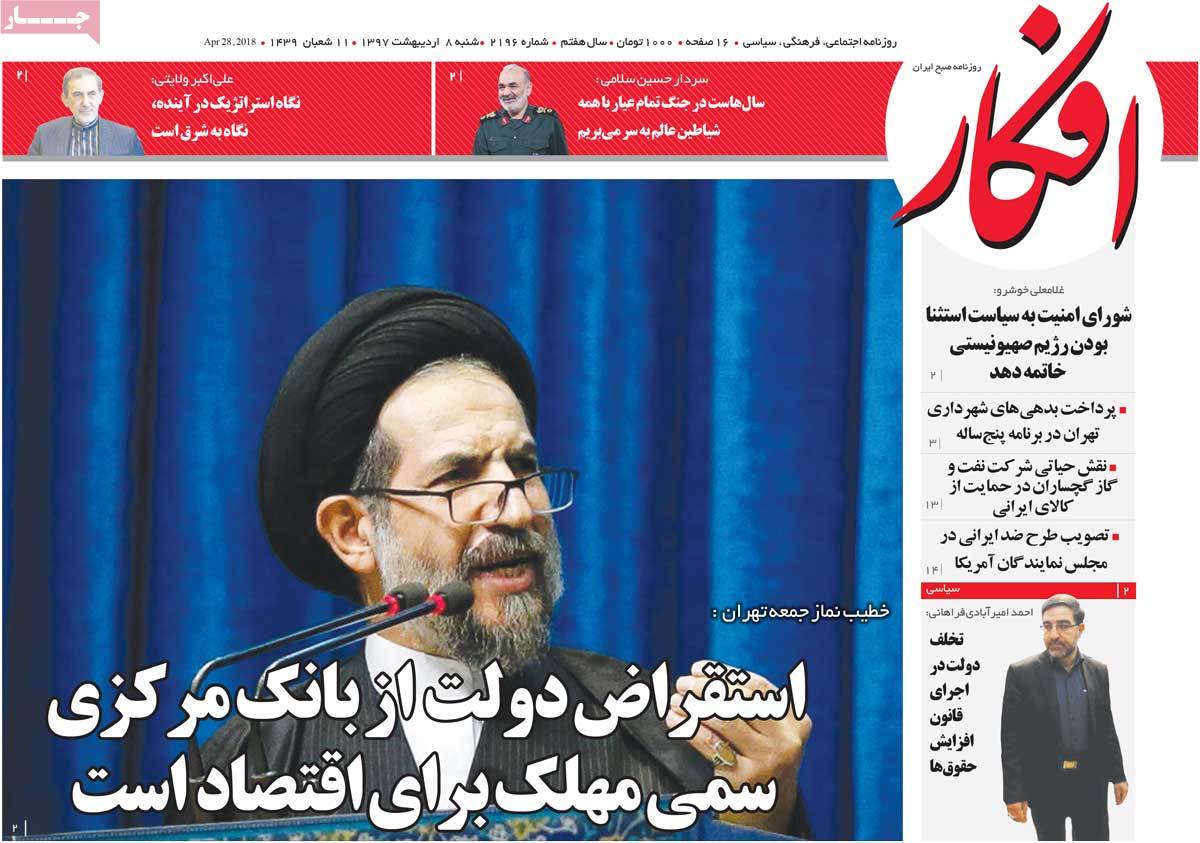 ---
Aftab-e Yazd:
ICT Minister on Telegram Filtering: Don't Expect Me to Do Anything Illegal
---
Arman-e Emrooz:
Transparency Best Way to Fight Corruption: Imam Khomeini's Grandson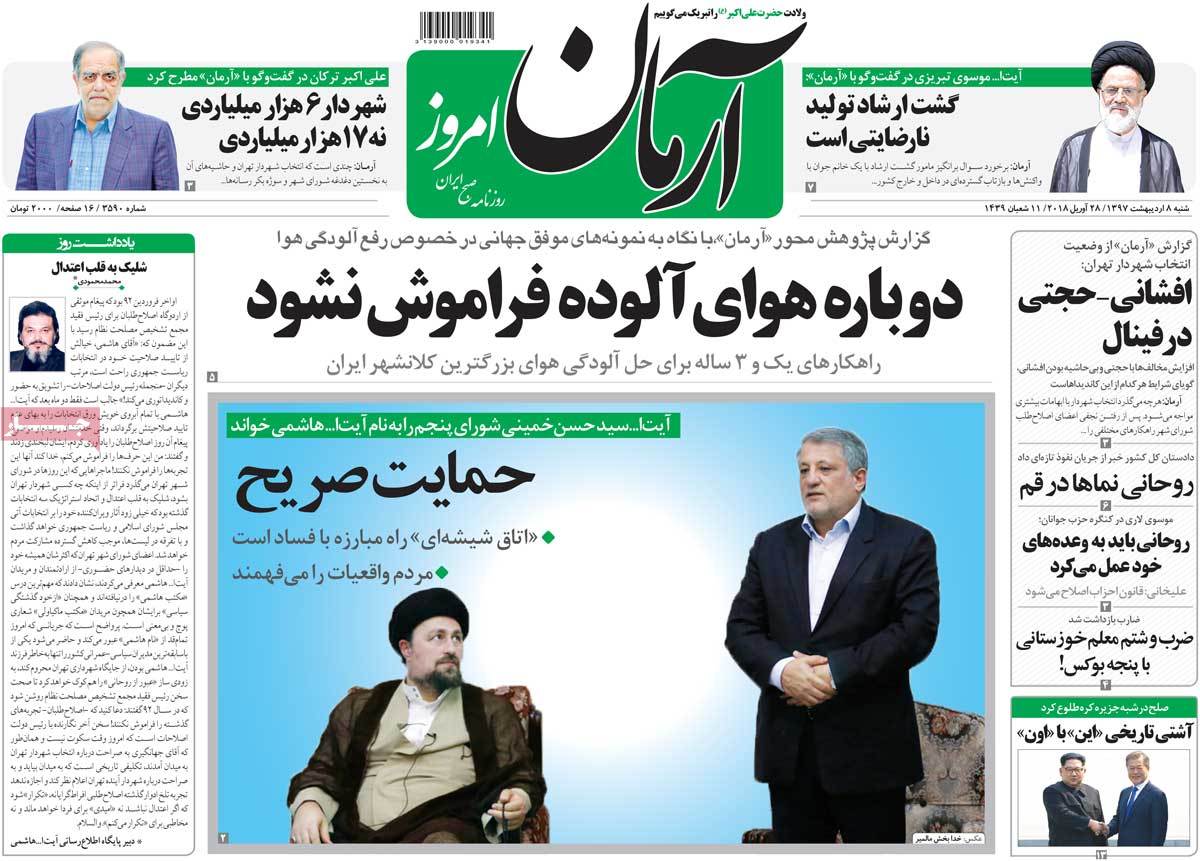 ---
Asrar:
Ayatollah Javadi Amoli: People Not to Tolerate Embezzlement, Incompetence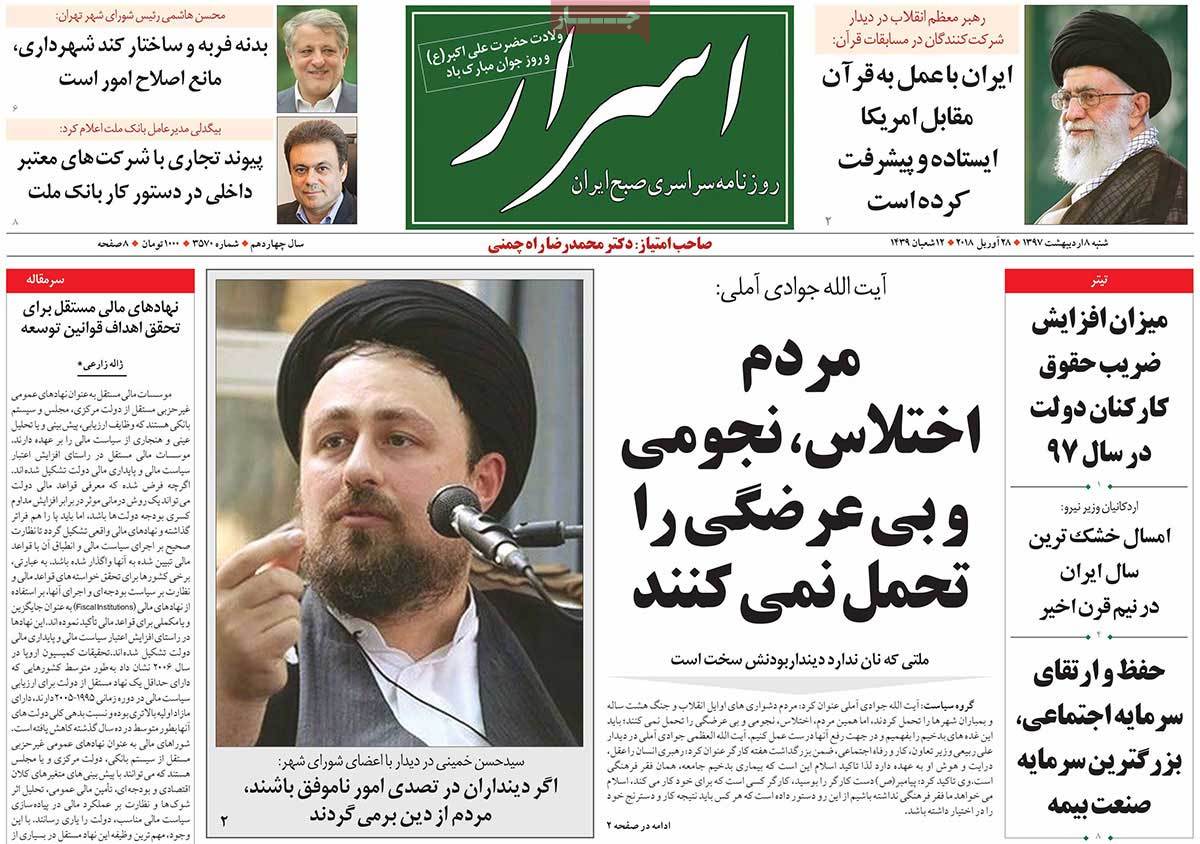 ---
Ebtekar:
Historic Day in Korean Peninsula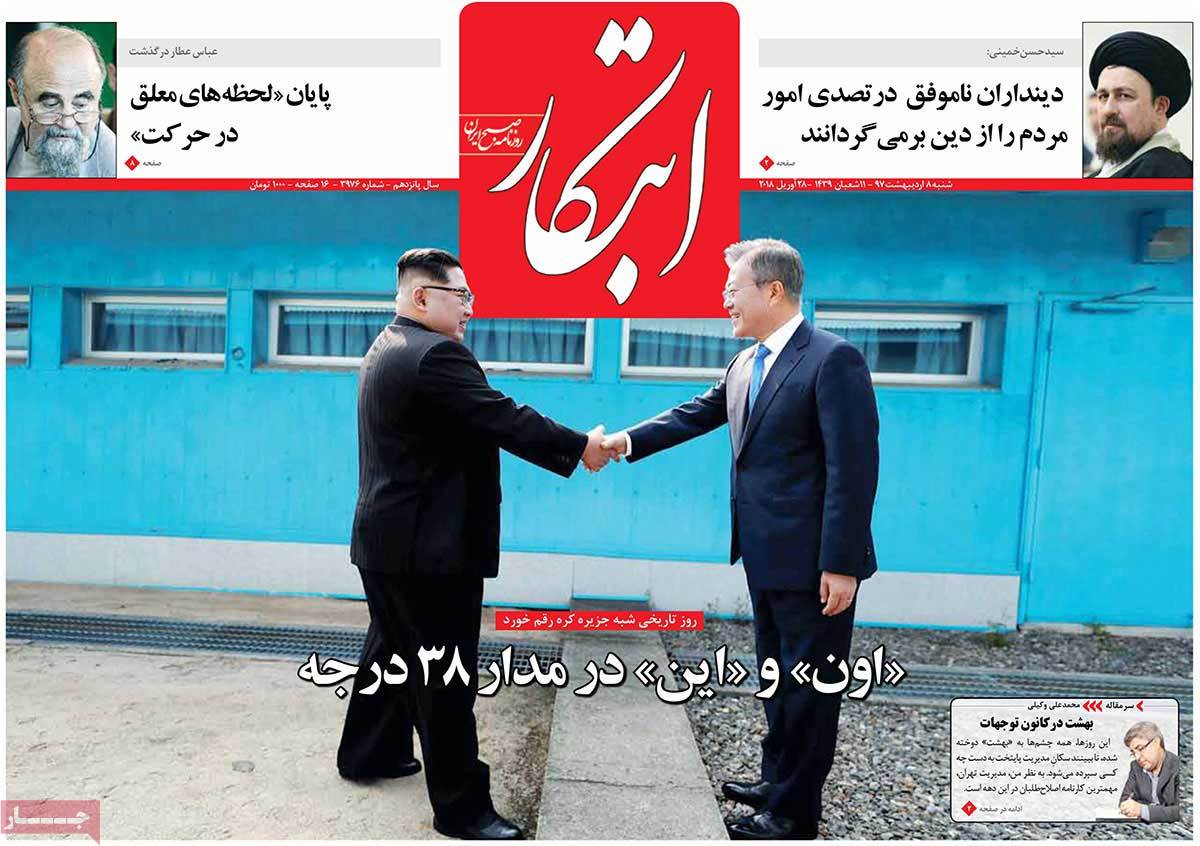 ---
Etemad:
Deputy Head of Environment Dept.: Without Consensus, Lake Urmia Will Die
---
Ettela'at:
Iran Leader: Muslim States Suffering from Humiliation Disease
Historic Meeting of North, South Korean Leaders after 65 Years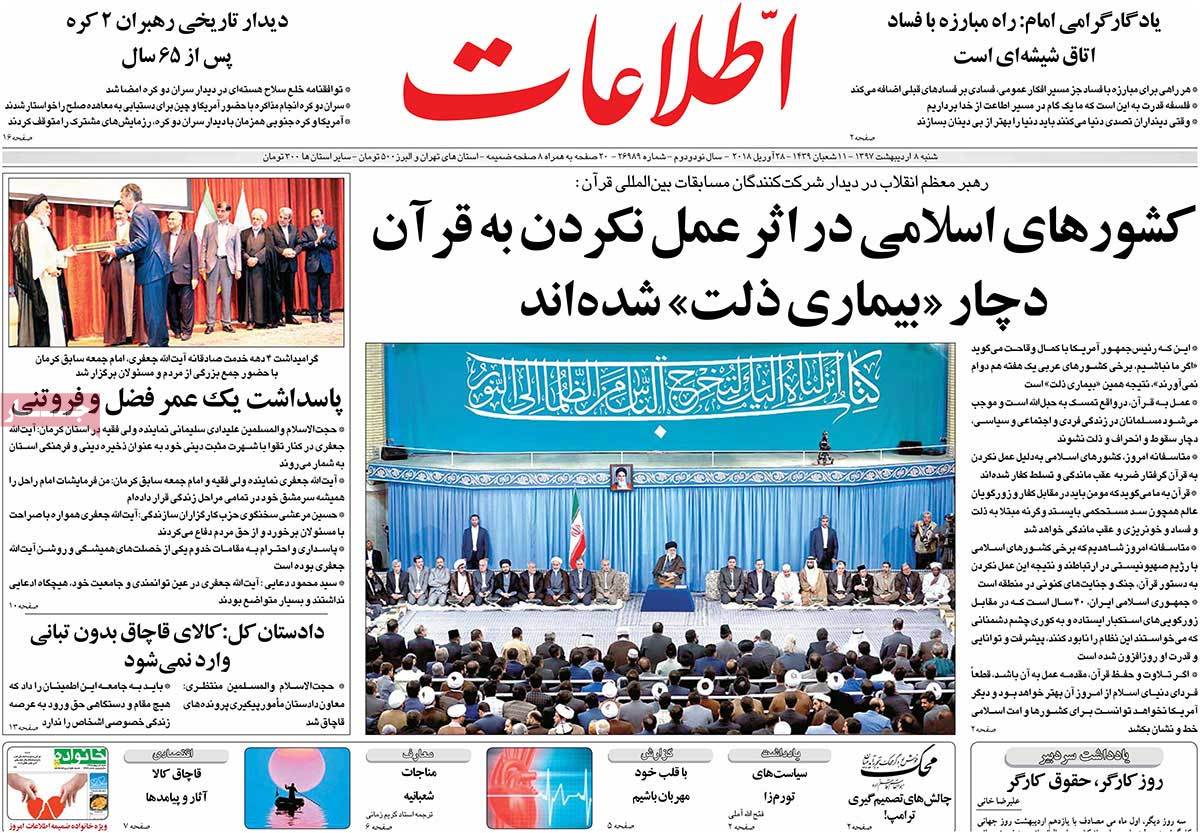 ---
Iran:
Top Clerics Warn about Consequences of Ignoring People's Demands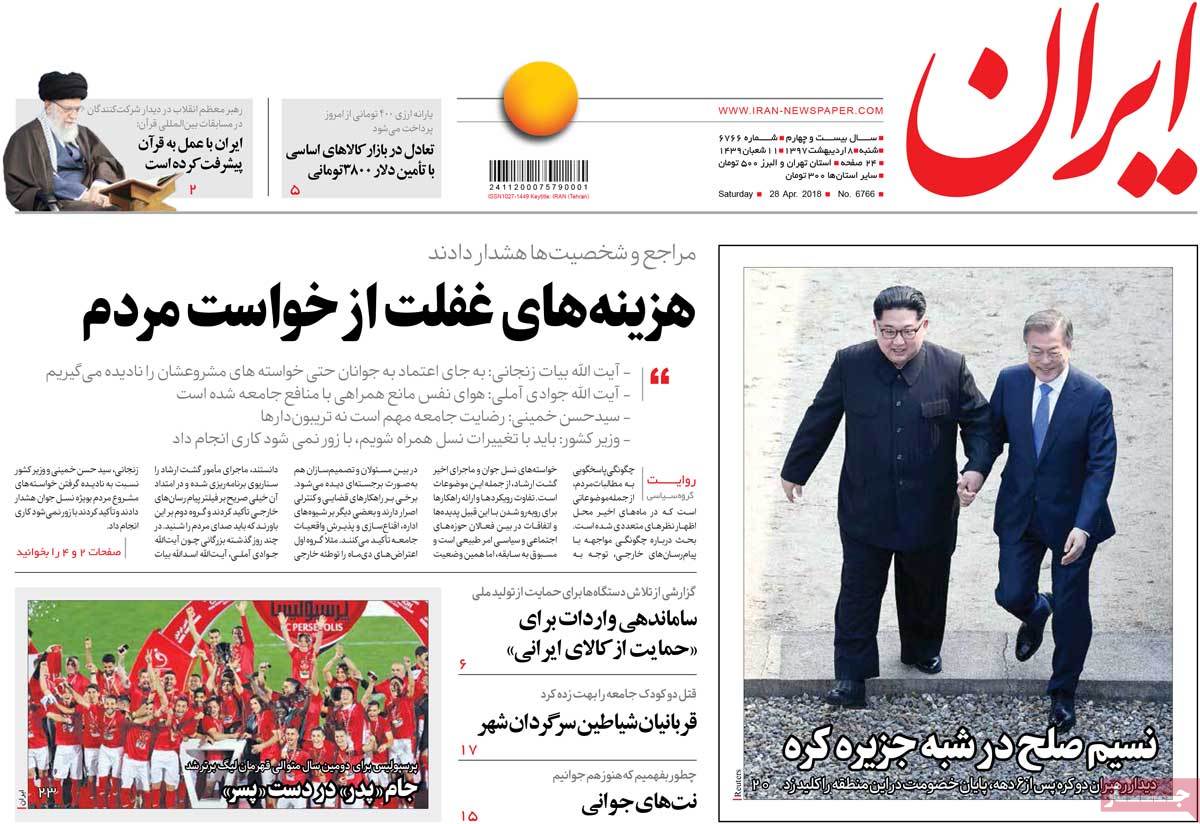 ---
Javan:
Wings of Iran Nuclear Deal Broken
Planes Purchased on Virtue of JCPOA Now Gone
Iran Gov't Ends Its Agreement with Telegram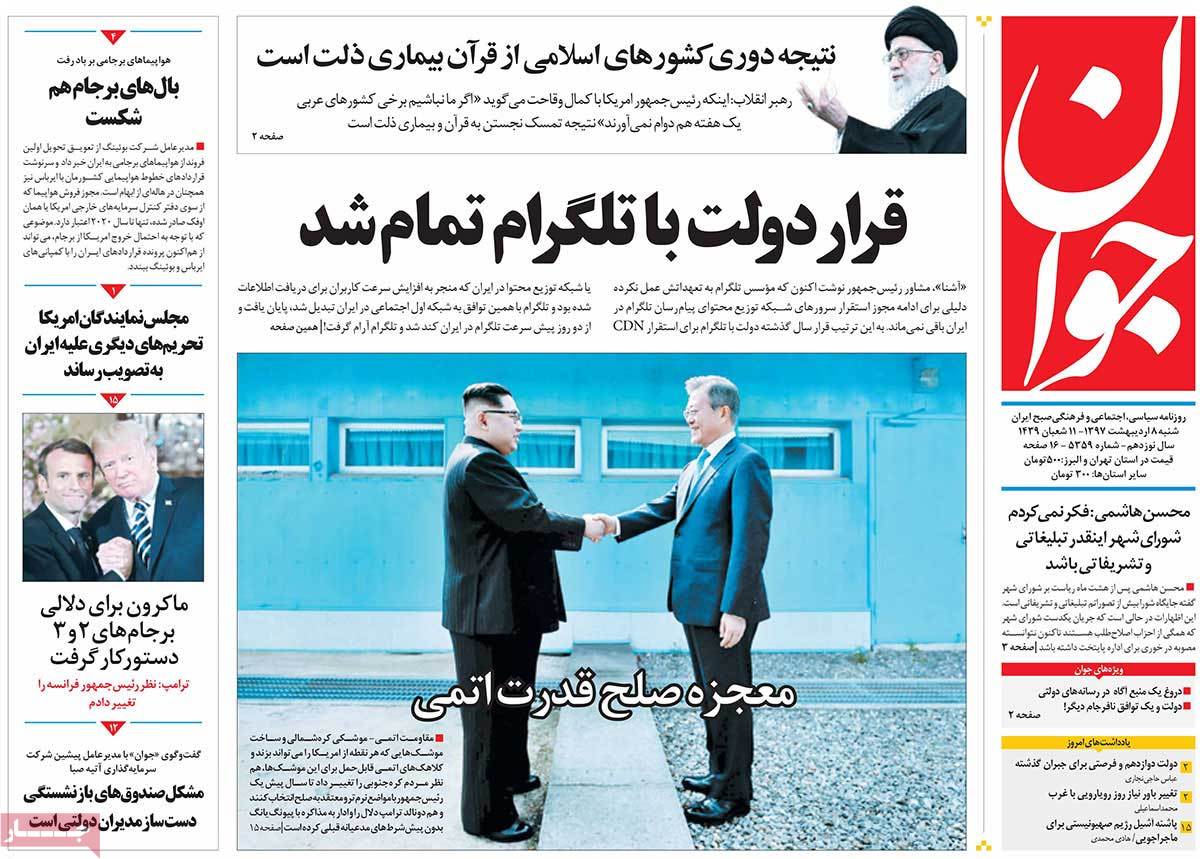 ---
Jomhouri Eslami:
Banks, Private Sector Support Government's New Forex Policy
---
Kayhan:
What Happened in Council of Foreign Relations Meeting?
FM Zarif Must Apologize Instead of Denying Clear Evidence
26 Zionist Military Officials to Trump: JCPOA Ensures Our Security; Don't Pull Out of It!
Iran Leader: Quran Orders Us to Stand against Infidels, Bullies of the World
---
Khorasan:
Six Percent Decrease in Number of House Deals
30% Hike in House Prices in Tehran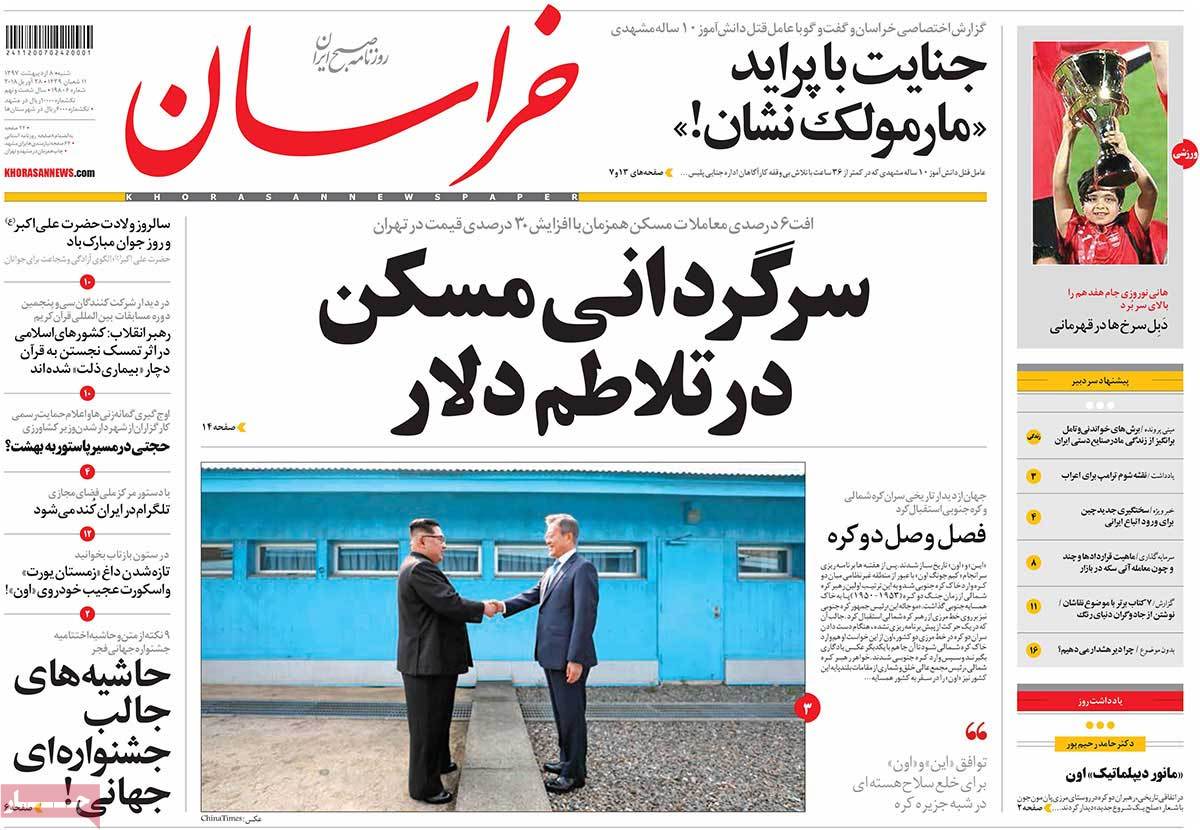 ---
Rah-e Mardom:
MP: Iran to Pull Out of JCPOA If US Leaves It
---
Resalat:
Dear Officials! The Country Cannot Increase Your Wages: Top Cleric
---
Rooyesh-e Mellat:
Iran Top General: Enemies Well Understood Iran Won't Change Its Strategy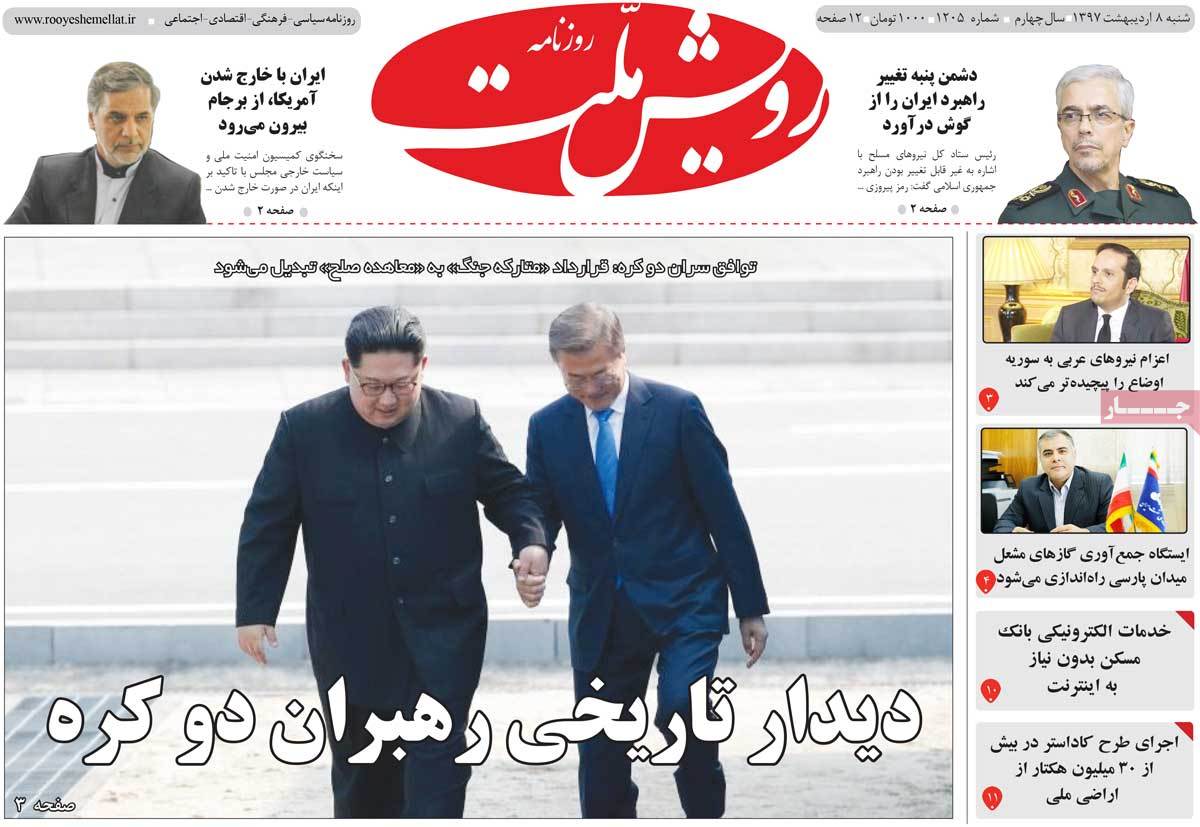 ---
Sayeh:
Ayatollah Javadi Amoli: You Cannot Expect Poor Nation to Show Resistance
---
Shargh:
Imam Khomeini's Grandson: City Council No Place for Political Moves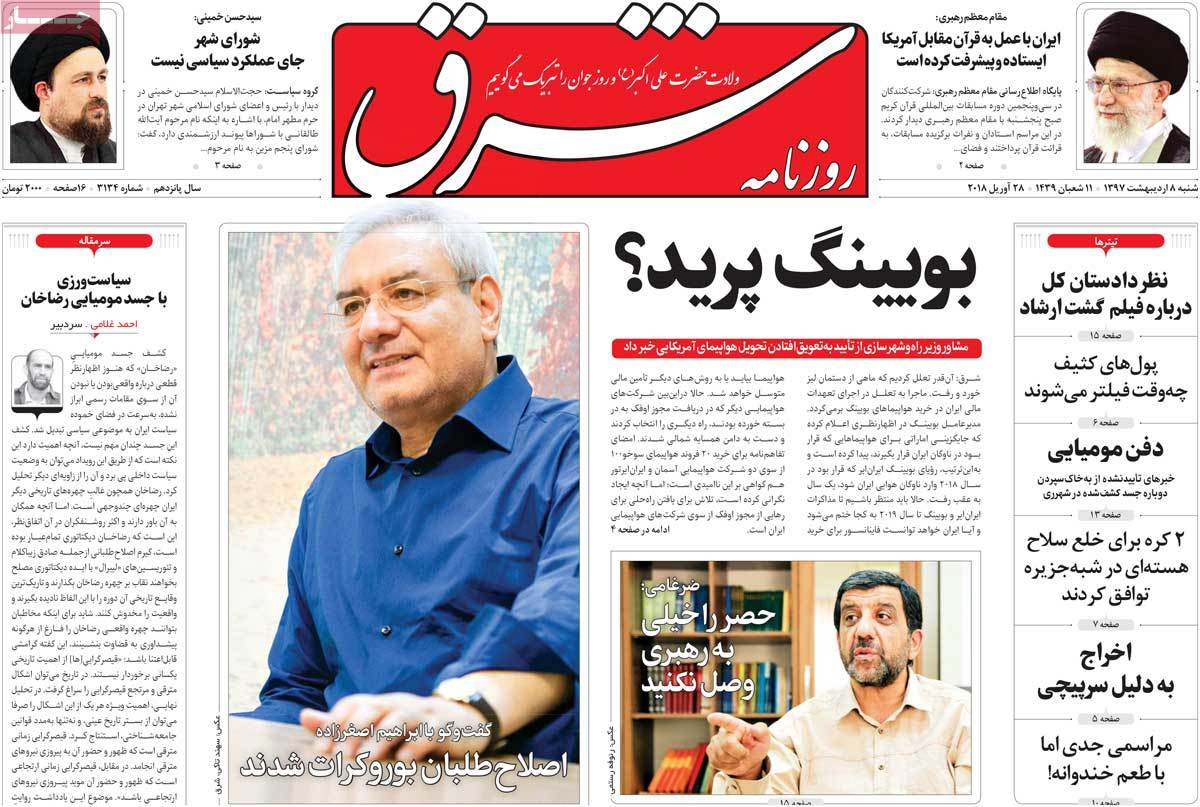 ---
Vatan-e Emrooz:
US President's Ridiculous Comments about Iranian People
Iranians Don't Chant 'Death to America' during My Term in Office: Trump
Ansarullah: US Main Culprit behind Assassination of al-Samad