The Supreme Leader's comments at a meeting with high-ranking Law Enforcement commanders urging police to pay closer attention to the psychological security of citizens dominated the front pages of Iranian newspapers on Monday. Different interpretations of comments made by the interior minister on dirty money in parliament also appeared on the cover of dailies.
Afarinesh: "A secure Iran helps sustain stability in the region," said Chairman of the Expediency Council Ayatollah Akbar Hashemi Rafsanjani, at a meeting with laborers.
Afarinesh: "Saudi failure to allow Iranian aircraft [to land in Yemen to deliver humanitarian aid] won't go unanswered," said Hossein Amir-Abdollahian, a deputy foreign minister.
---
Aftab-e Yazd: "President Rouhani's performance has helped calm return to the country," said Ali Akbar Nategh Nouri, a former parliament speaker.
Aftab-e Yazd: Director of the Environment Protection Organization Masoumeh Ebtekar has said that she has no ambition to become president.
Aftab-e Yazd: Hossein Rezazadeh was overwhelmed by law.
Rezazadeh, a former Olympic gold medalist weightlifter, is a member of Tehran City Council and was an incumbent at the Weightlifting Federation elections.
He has now decided to quit his run for the top job at the Weightlifting Federation.
Aftab-e Yazd: The list of parliament deputies who have received money from [former First Vice-President Mohammad Reza] Rahimi will be released soon.
[Rahimi is doing a five-year-plus prison term for fraud and corruption].
---
Arman-e Emrooz: "I don't feel religiously required to field my candidacy [for upcoming elections]," said Ali Akbar Nategh Nouri [a former parliament speaker].
Nategh Nouri, who once represented principlists in a failed presidential bid, further said, "The youth should be given an opportunity to make their presence felt."
Arman-e Emrooz: The top judge at the Administrative Justice Court has said that the court is looking into illegal decisions of city and town councils.
---
Asr-e Rasaneh: Some 1 billion euros is to be invested in petrochemical development projects.
---
Ebtekar: The Worriers [supporters of former President Mahmoud Ahmadinejad] are playing the "questioning" card.
They have threatened to question the president [for the failure of his administration] to release an Iranian fact sheet on the Lausanne statement.
Ahmadinejad is the only Iranian president so far to have been questioned by parliament.
Ebtekar: "Arak Heavy Water facility and Fordow guarantee Iran's right to uranium enrichment," said the director of the Atomic Energy Organization.

---
Etemad: The chairman of the Expediency Council told a host of workers that a nuclear deal between Iran and P5+1 is within reach.
Etemad: In a speech in parliament, the interior minister presented an implicit account on the so-called dirty money.
"I wanted this session to be held behind closed doors; tax evasion has robbed the state of some $200 billion in revenues; the Presiding Board of the assembly has urged me to apologize to the MPs; the money channeled to electoral campaigns should be traced," Abdolreza Rahmani Fazli said.
Later the head of the Interior Ministry's Information Center said that in his speech in parliament, the interior minister did not retract his previous comments on dirty money.
Etemad: Iranian MPs have reciprocated American senators.
The MPs have refloated the idea of reviewing and approving any nuclear deal with P5+1 before it takes effect.
---
Ettela'at: "P5+1 has accepted to lift the sanctions in one fell swoop," said Director of the Atomic Energy Organization Ali Akbar Salehi.
He further said that Iran has mastered all nuclear technologies which are out there.
Ettela'at: Government's economic plans for the post-sanctions era
Economy Minister Ali Tayyebnia said that after sanctions have been lifted the state oil-based economy will be reassessed.
He added Iran will have short-, medium-, and long-term plans for the post-sanctions era.
---
Hemayat: "Banks are owed more than 30 billion dollars in arrears," said the inspector general.
---
Jomhouri Islami: The interior minister has backtracked in parliament.
Rahmani Fazli said that his comments on injection of dirty money into electoral campaigns had been distorted by media!
---
Kaenat: "The kingpin of an international drug gang has been arrested," said an Iranian Intelligence Ministry official.
---
Kayhan: The leader of IS terrorists is said to be brain dead. Al-Baghdadi has been moved to Israel.
Kayhan: "Police are expected to be resolute and at the same time just and compassionate," said the Supreme Leader at a meeting with senior police commanders.
---
Mardomsalari: Iran and Europe have launched talks [on exports of natural gas from Iran to Europe] in Bulgaria.
---
Resalat: "If the US fails to keep its commitments, we will resume our nuclear activities," warned the director of the Atomic Energy Organization.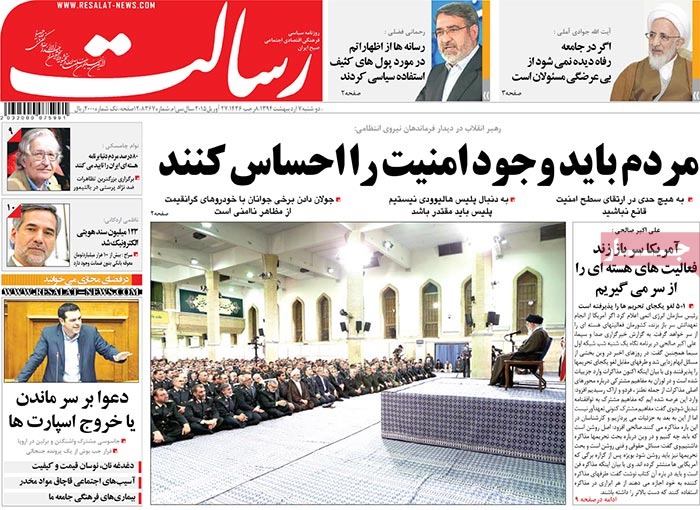 ---
Shahrvand: "Some 90 percent of the Healthcare Transformation Plan is complete," said the first vice-president.
Shahrvand: A Health Ministry official has said that unsafe sex is to blame for 35 percent of all HIV transmissions in the country.