The top story in all newspapers today was the talks between US President Donald Trump and his French counterpart Emmanuel Macron over a new deal on Iran, and Tehran's harsh reactions to the idea.
Several papers also covered the remarks made by Ayatollah Seyyed Ali Khamenei, the Leader of Iran's Islamic Revolution, on the need for seminaries to take philosophy more seriously.
Iranian President Hassan Rouhani's visit to the city of Tabriz in north-western Iran, his surprise visit to the bazaar of shoemakers, and his participation in a ceremony to inaugurate the Tabriz 2018 tourism event also received great coverage. Tabriz 2018 is an event to mark the designation of Tabriz as the tourism capital of Muslim world in 2018.
The above issues, as well as many more, are highlighted in the following headlines and top stories:
Abrar:
Zarif: We'll Retaliate US Withdrawal from Iran Nuclear Deal
Macron after Talks with Trump: We Can Achieve New Deal on Iran
Shiite Movements' Close Competition in Iraq's Parliamentary Elections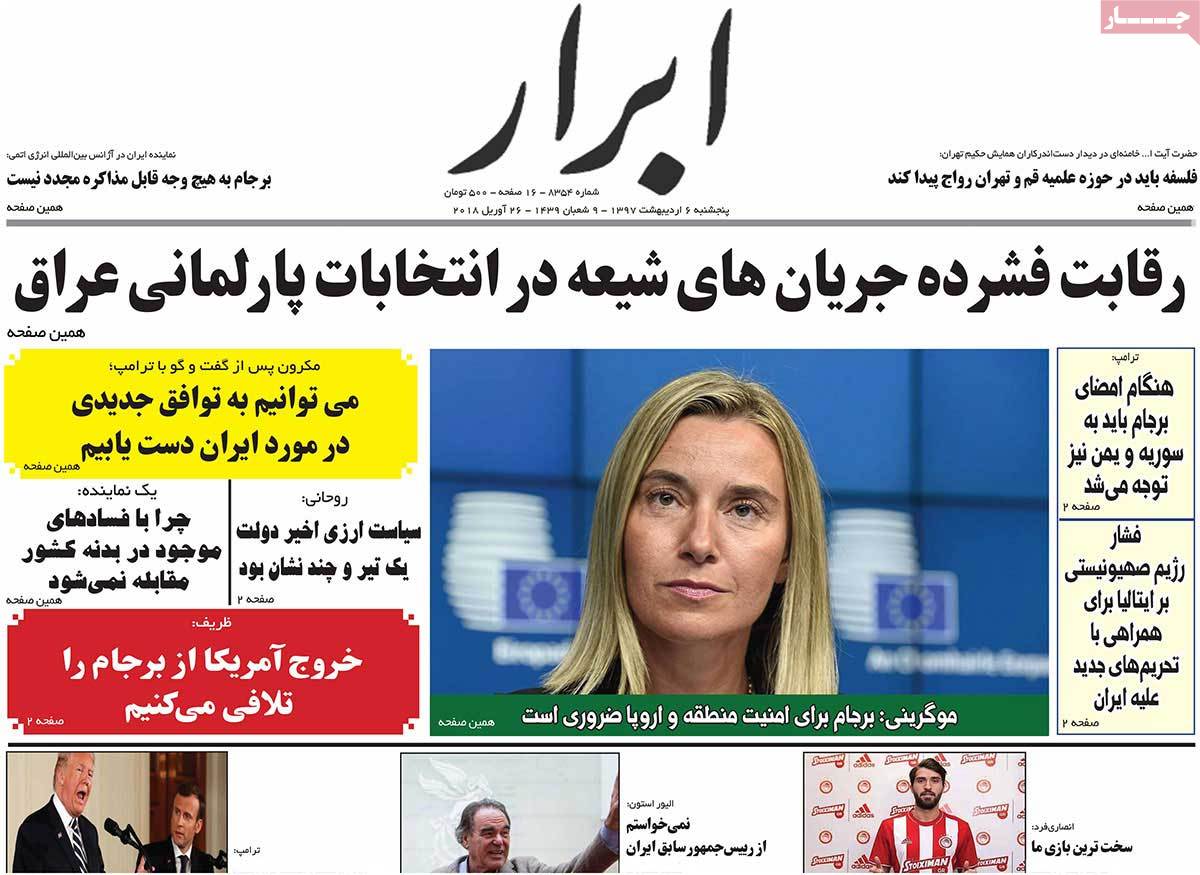 ---
Afkar:
Philosophy Must Be Promoted in Seminaries of Qom, Tehran: Iran Leader
Iran DM: We'll Implement Our Plan If US Leaves JCPOA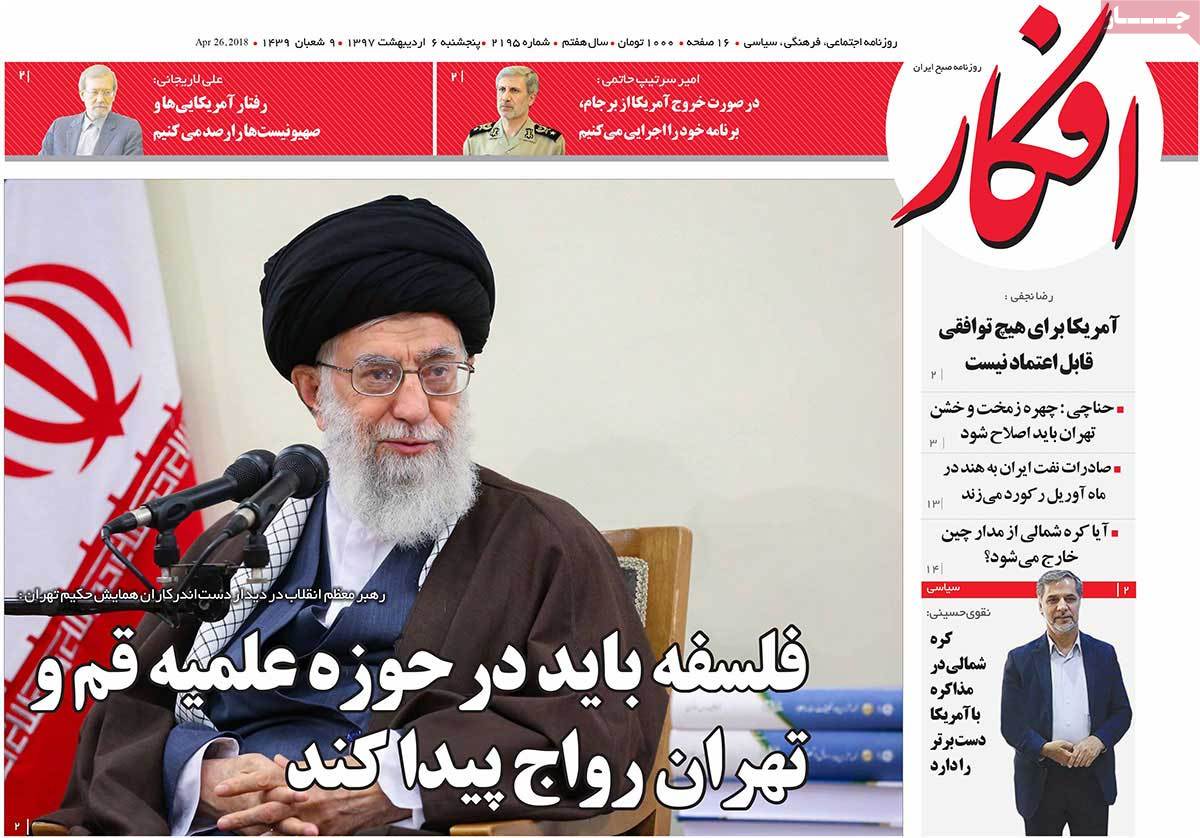 ---
Aftab-e Yazd:
Tehran, Moscow against Messaging App
Iran-Russia Cooperation to Block Telegram?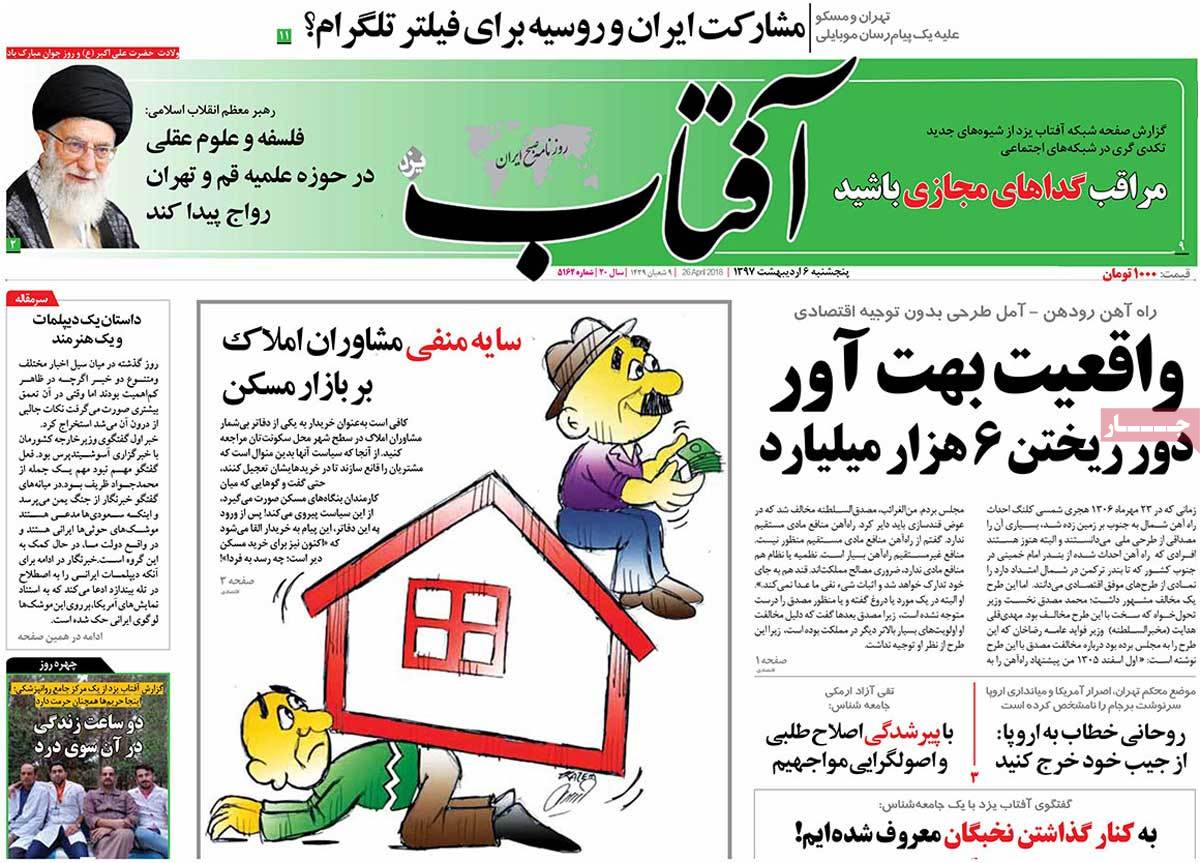 ---
Arman-e Emrooz:
Rouhani: JCPOA Can Be Preserved by Actions, Not Words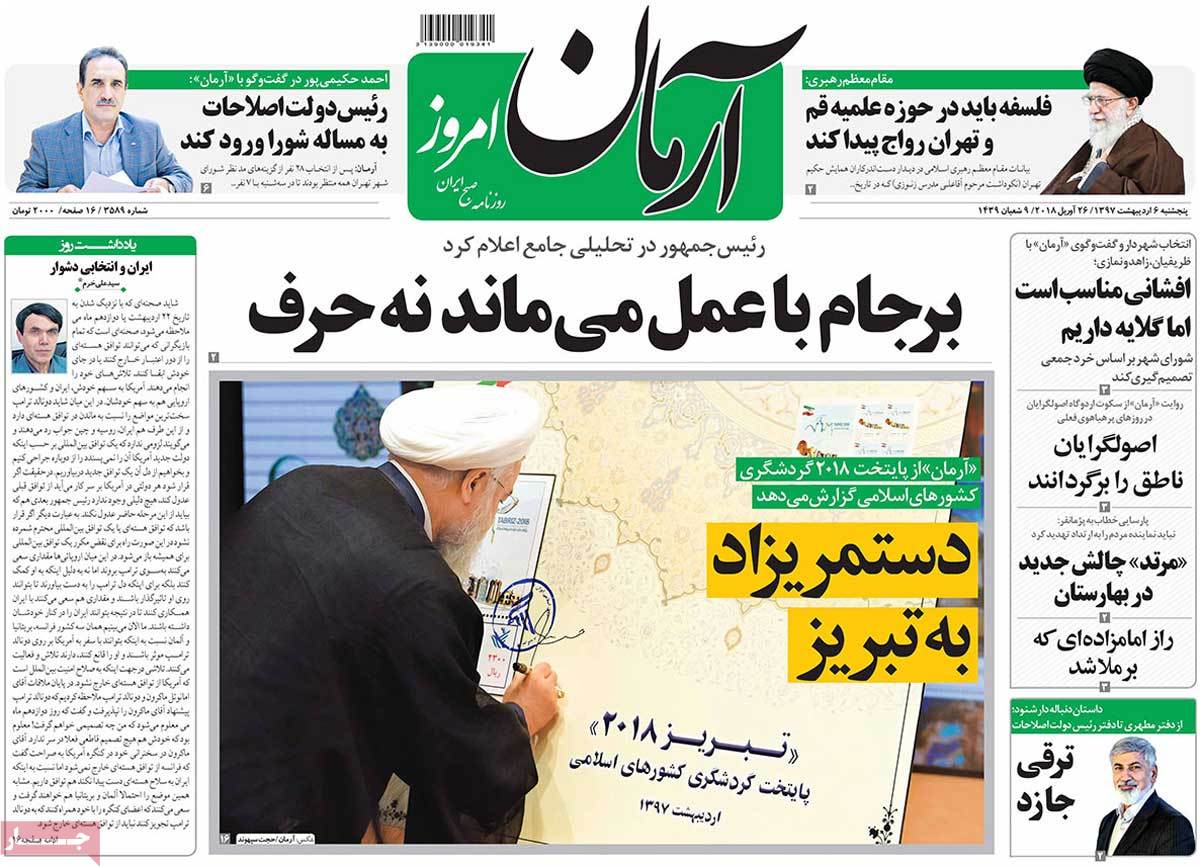 ---
Amin:
Rouhani Officially Inaugurates Tabriz 2018 Tourism Event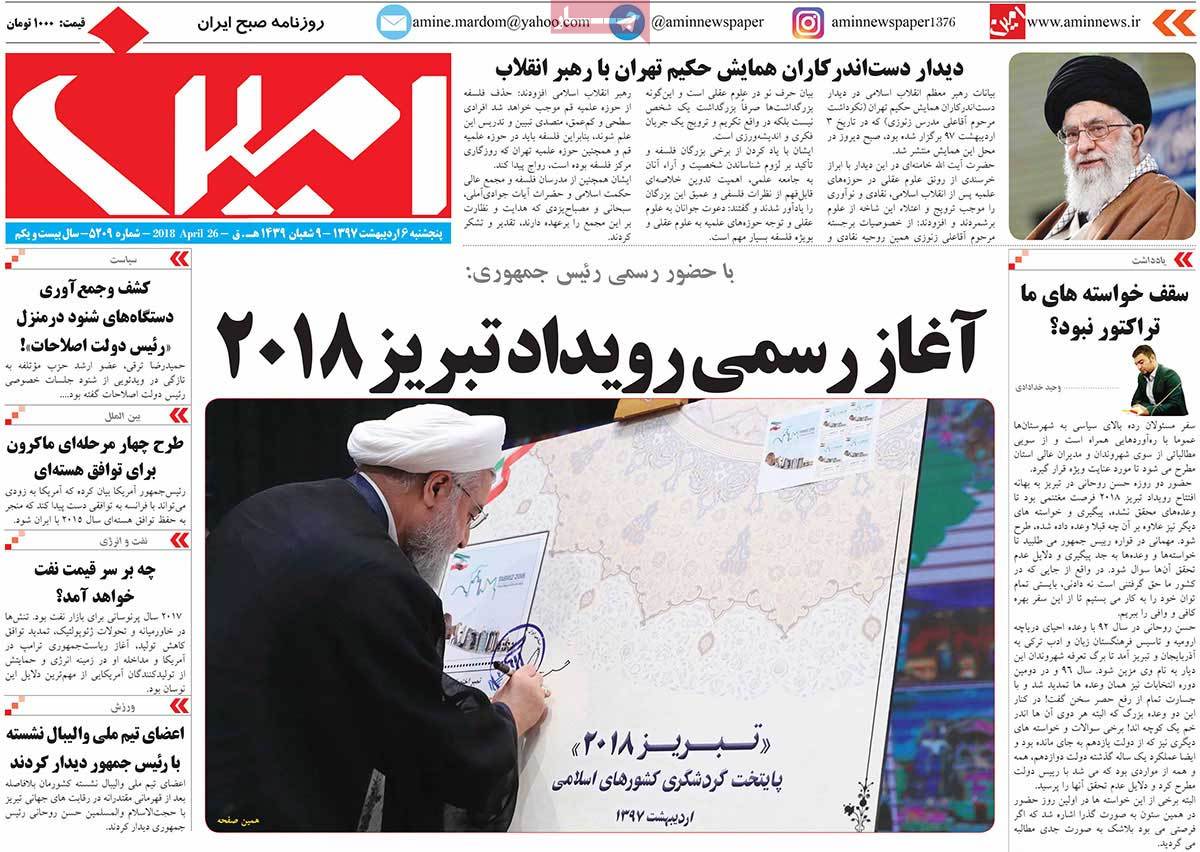 ---
Arman-e Melli:
Politician: Rouhani's Executives Not Loyal to His Gov't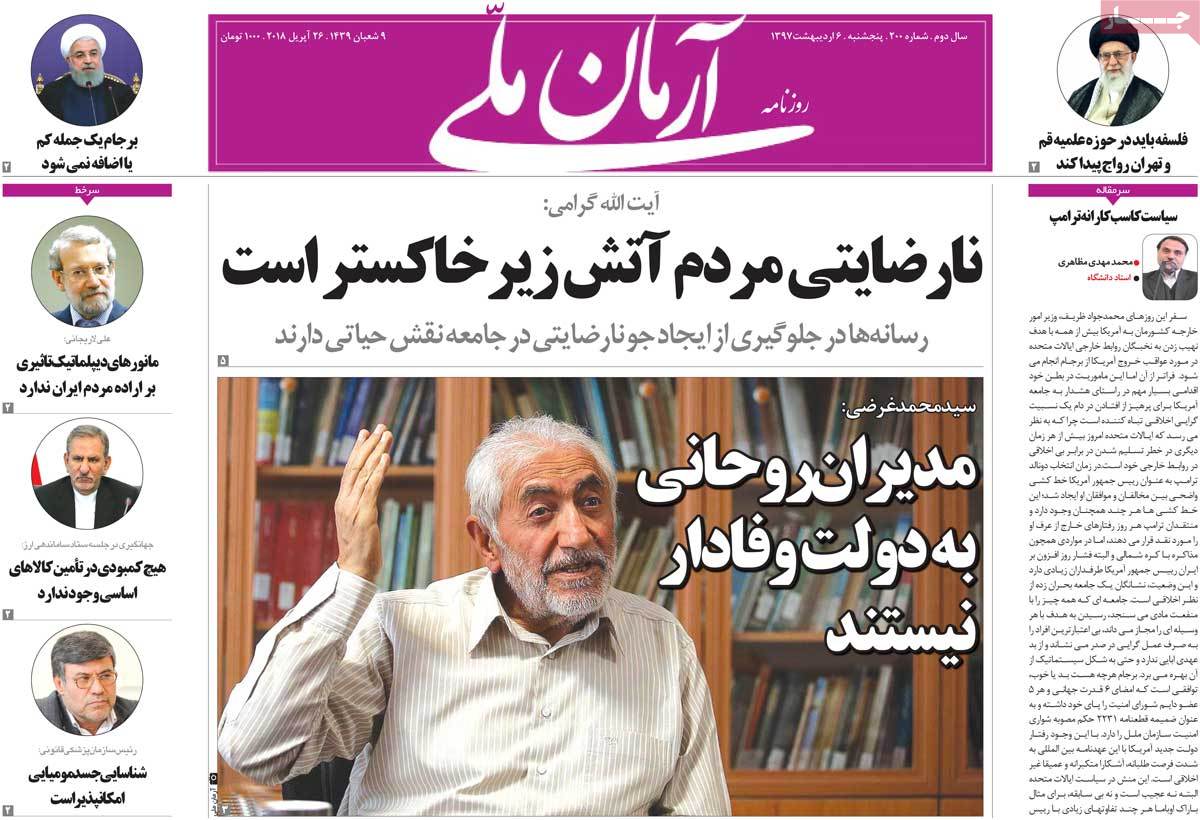 ---
Ebtekar:
Mysterious Player of the Middle East
What Is Jordan Doing in Regional Developments?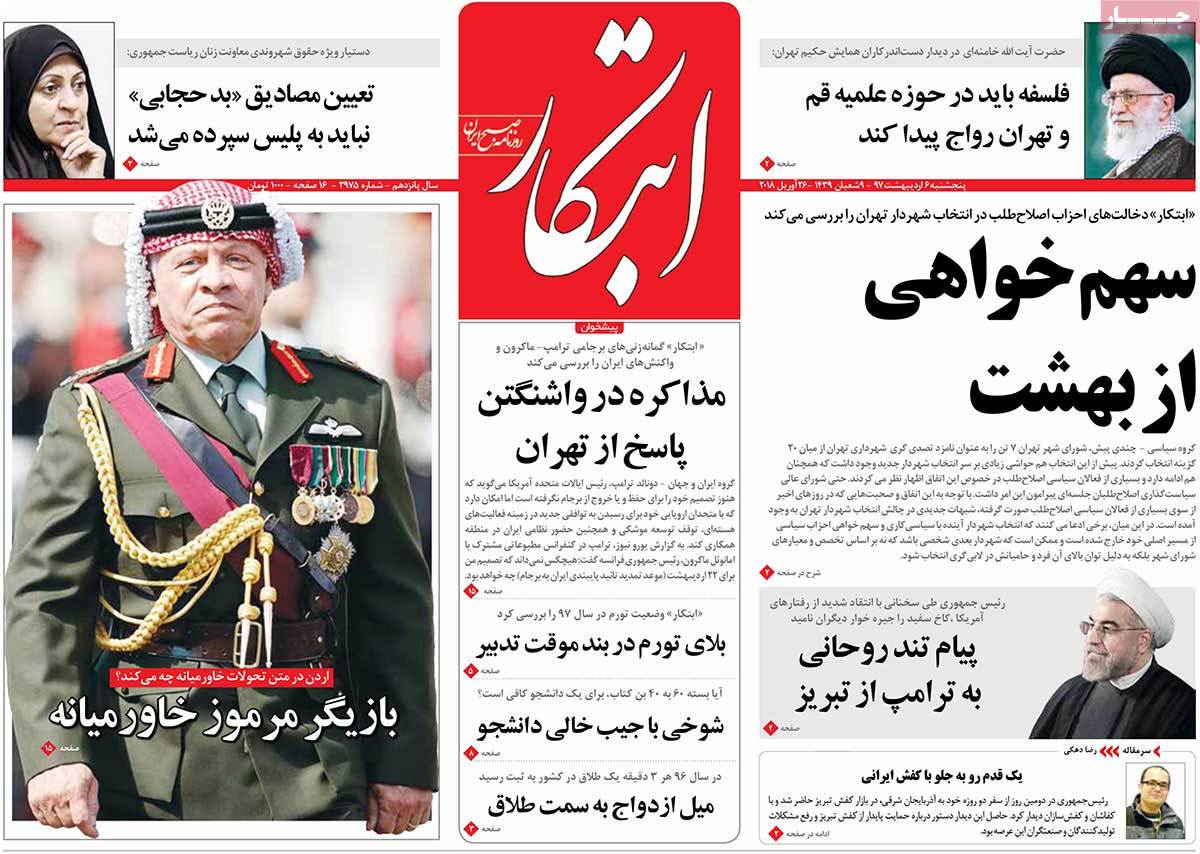 ---
Etemad:
Bazaar of Shoemakers
Rouhani Makes Surprise Visit to Bazaar of Tariz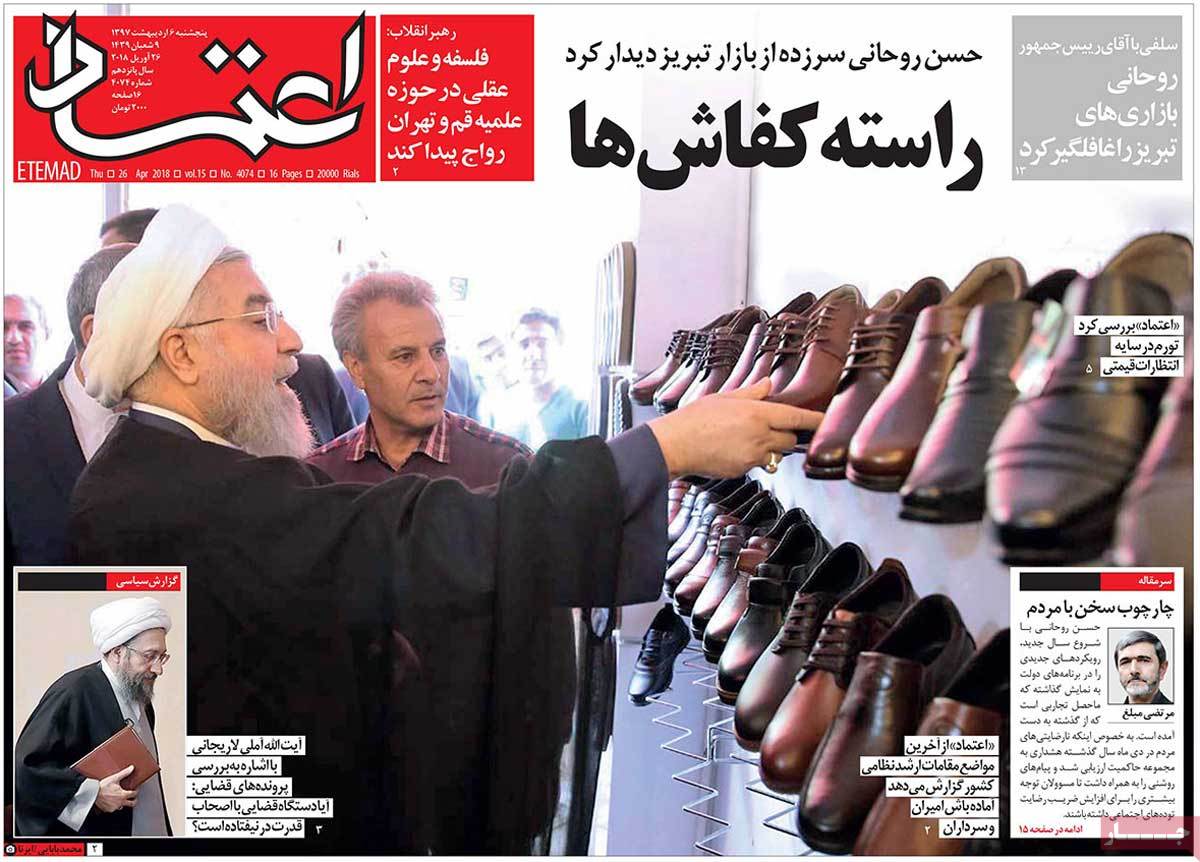 ---
Ettela'at:
Shamkhani: Any Europe-US Agreement to Revise Iran Nuclear Deal Invalid
Trump: Persian Gulf Arabs Not to Survive without Us Even for One Week
12 American Scientists to Attend Tehran Continental Congress of Dermatology despite US Bans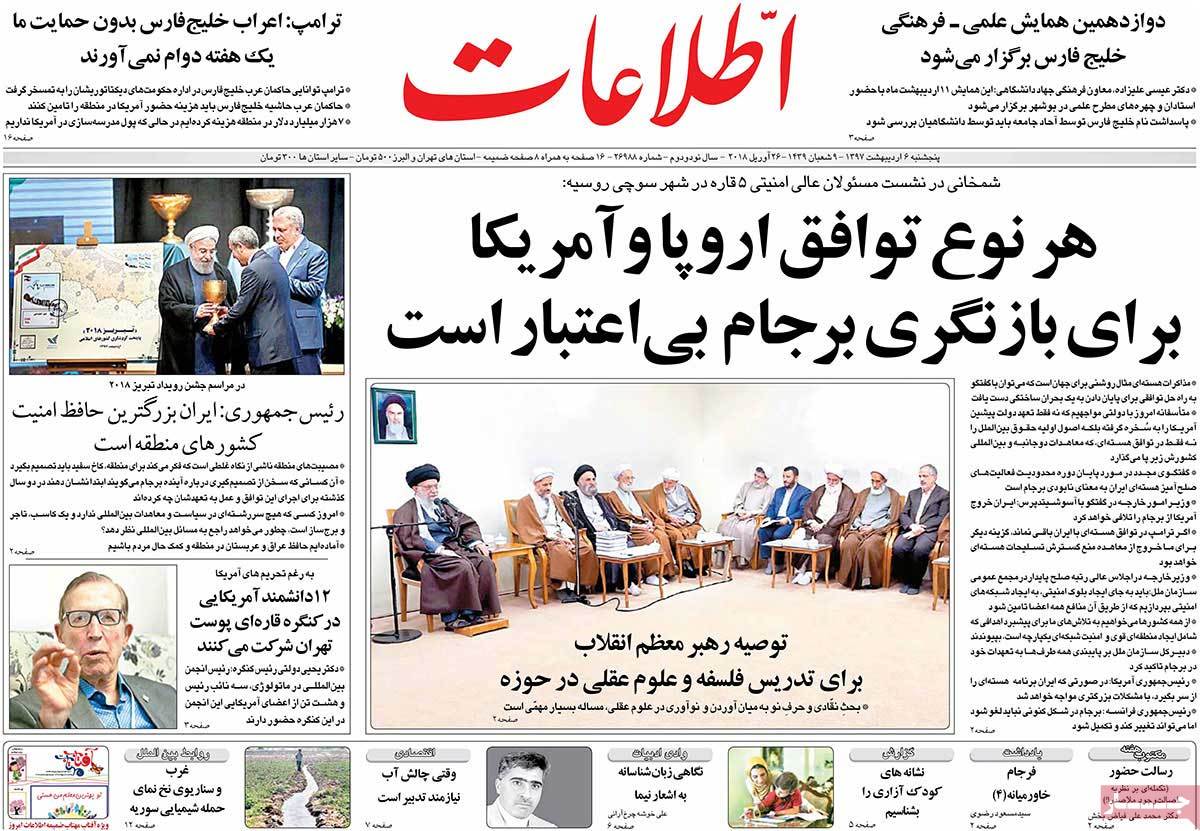 ---
Iran:
Rouhani: Shoes of Tabriz Must Be Turned into Global Brand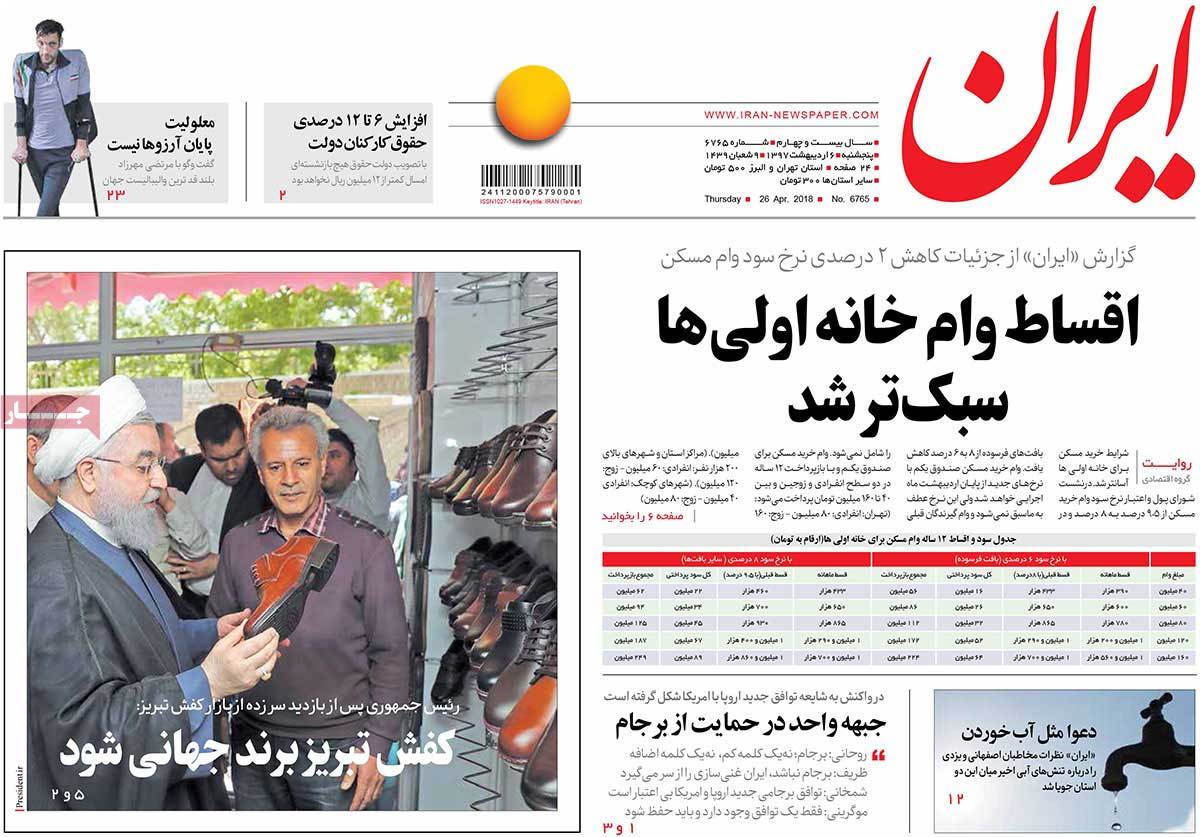 ---
Javan:
Trump to Sheikhdoms: You'll Collapse in One Week If You Don't Pay Us
Rouhani: We're Ready to Protect Saudi Arabia If US Leaves Middle East
Macron Made the Offer, Trump Showed Flexibility
Europe, US after Other Deals with Iran Similar to JCPOA
---
Jomhouri Eslami:
Rouhani: US Now in Position of Defendant
Not a Single Word to Be Added to or Deleted from JCPOA
Egyptian Researcher: Slaughter of Yemeni Muslims Intolerable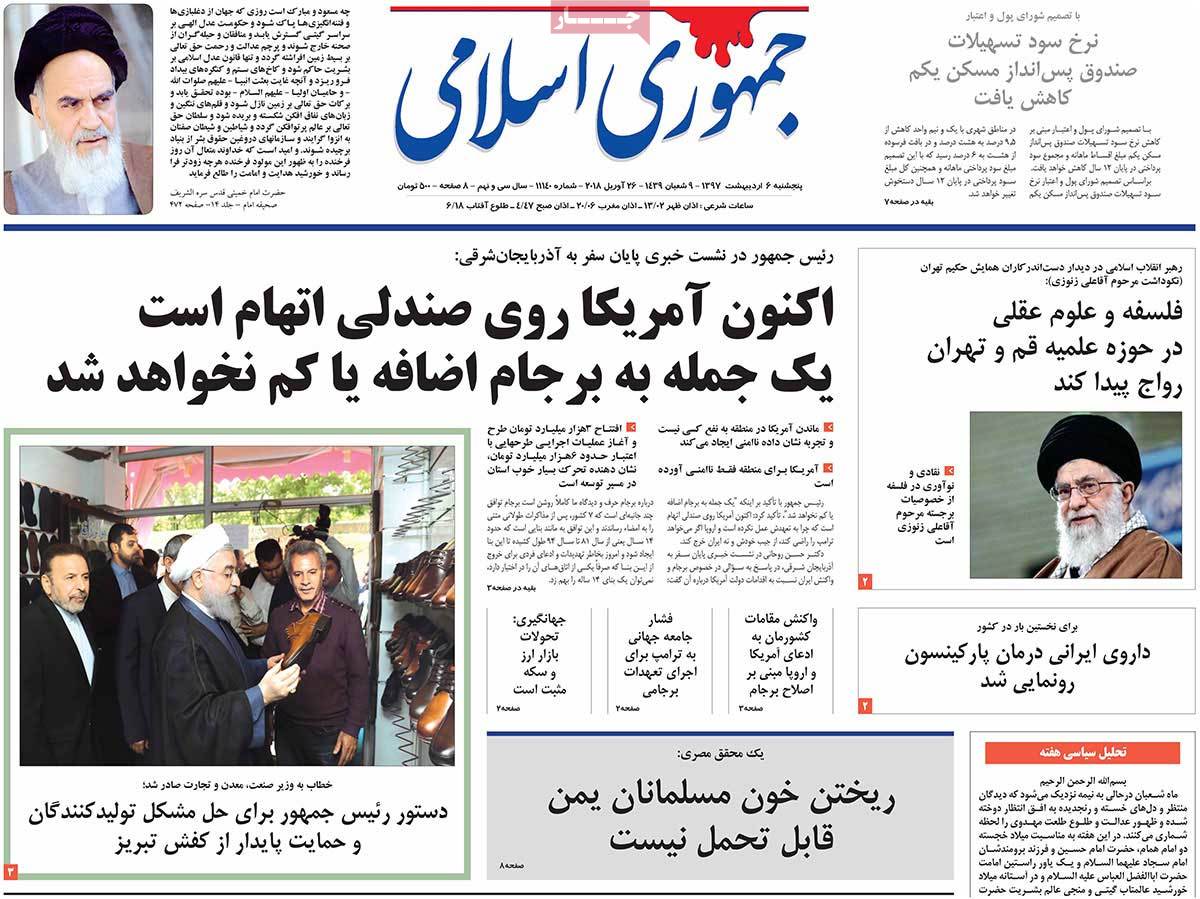 ---
Kayhan:
Coup de Grace Delivered to Wishful Thinkers
Macron: Iran Deal Can Be Preserved If Tehran Abandons Its Missiles
Yemeni Revolutionaries: We'll Take War Deep into Saudi Territory
Saudi People Must Stay Away from State Buildings
Nouri al-Maliki: Iran a Friend and Saudi Arabia a Foe of Iraq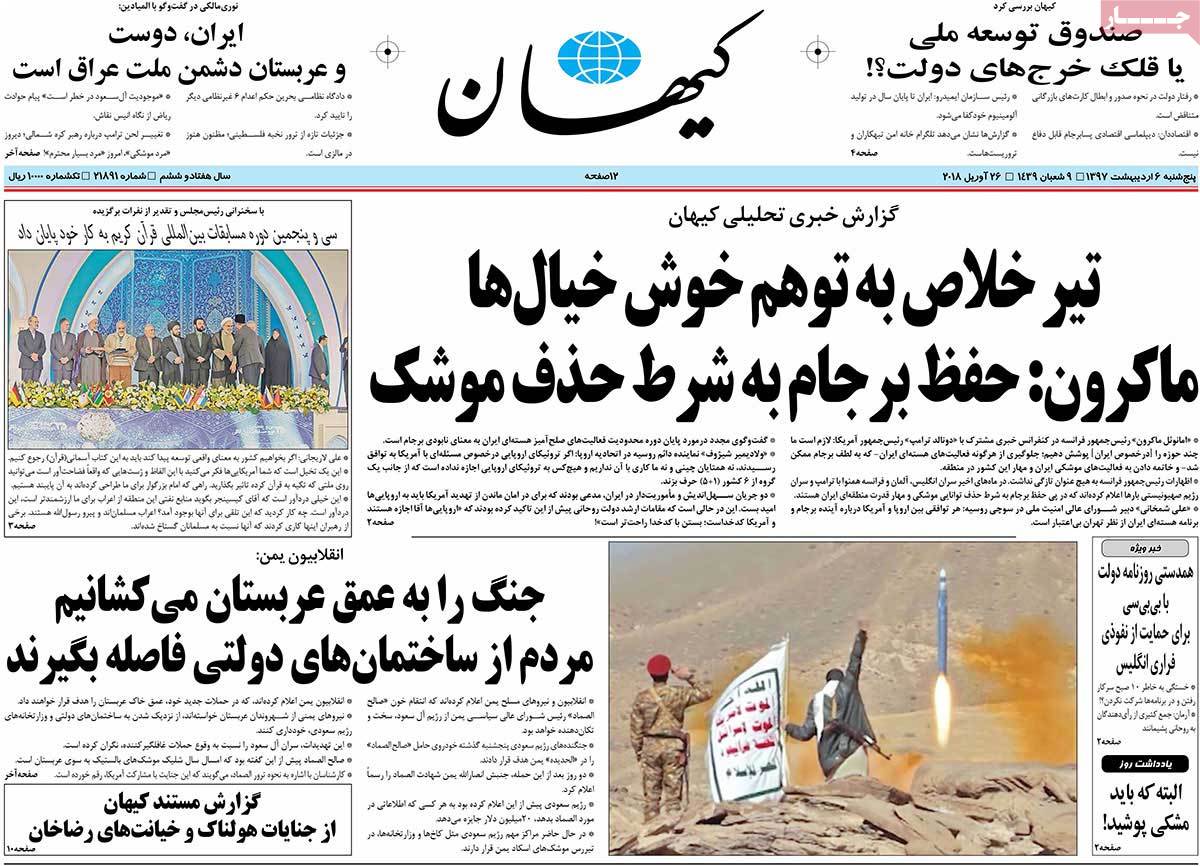 ---
Khorasan:
Iran's Harsh Reaction to Europe's New Game
Russia, China Also Reject US-Europe Preliminary Agreement
---
Resalat:
Iran Leader Urges Seminaries to Deal with Philosophy More Seriously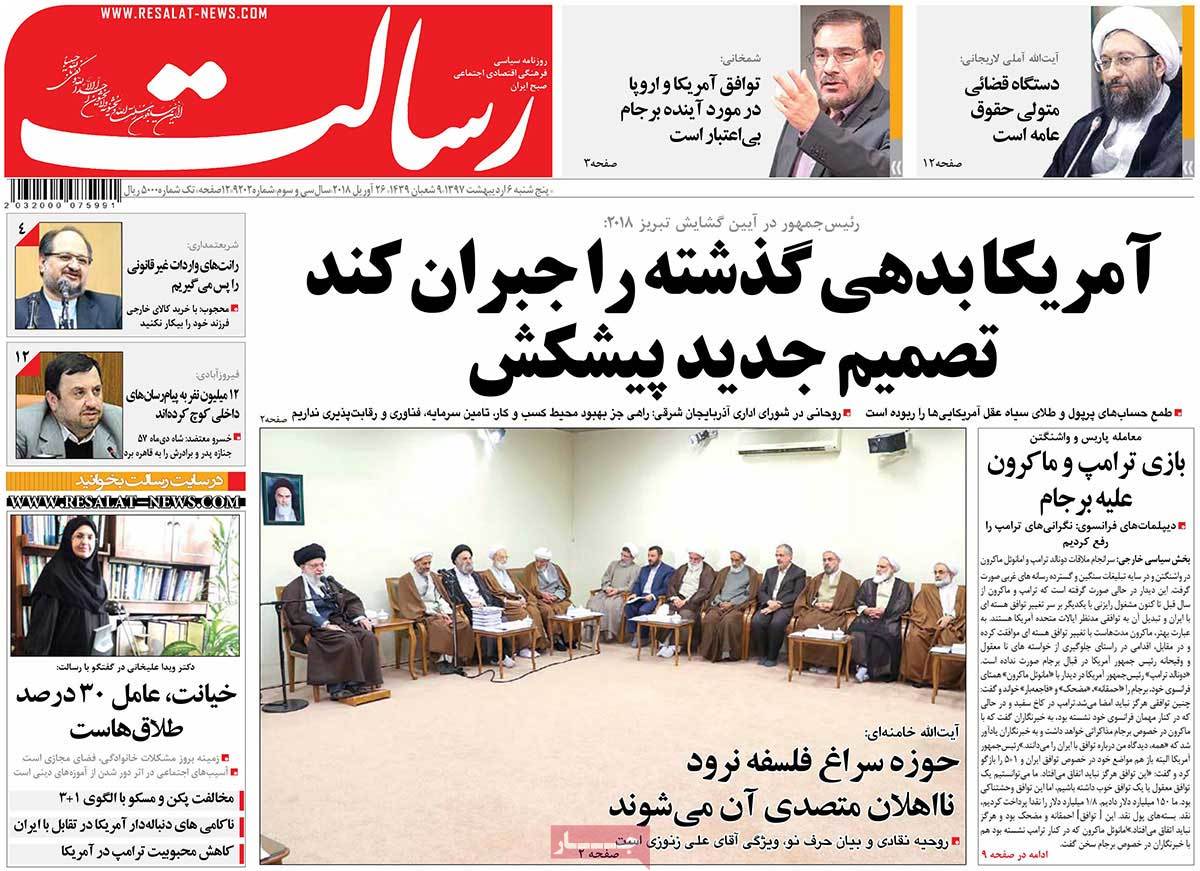 ---
Rooydad-e Emrooz:
Rouhani Calls for Constructive Engagement with World through Tourism
---
Rooyesh-e Mellat:
Putin: Certain Countries Turned into Terrorists' Puppet by Bypassing UNSC
Larijani's Top Aide: There'll Be No Regional JCPOA
---
Shargh:
Iran's Response to Possible Talks on New Deal: First Implement What You Already Signed
Rouhani to Trump: You're Just a Real-Estate Mogul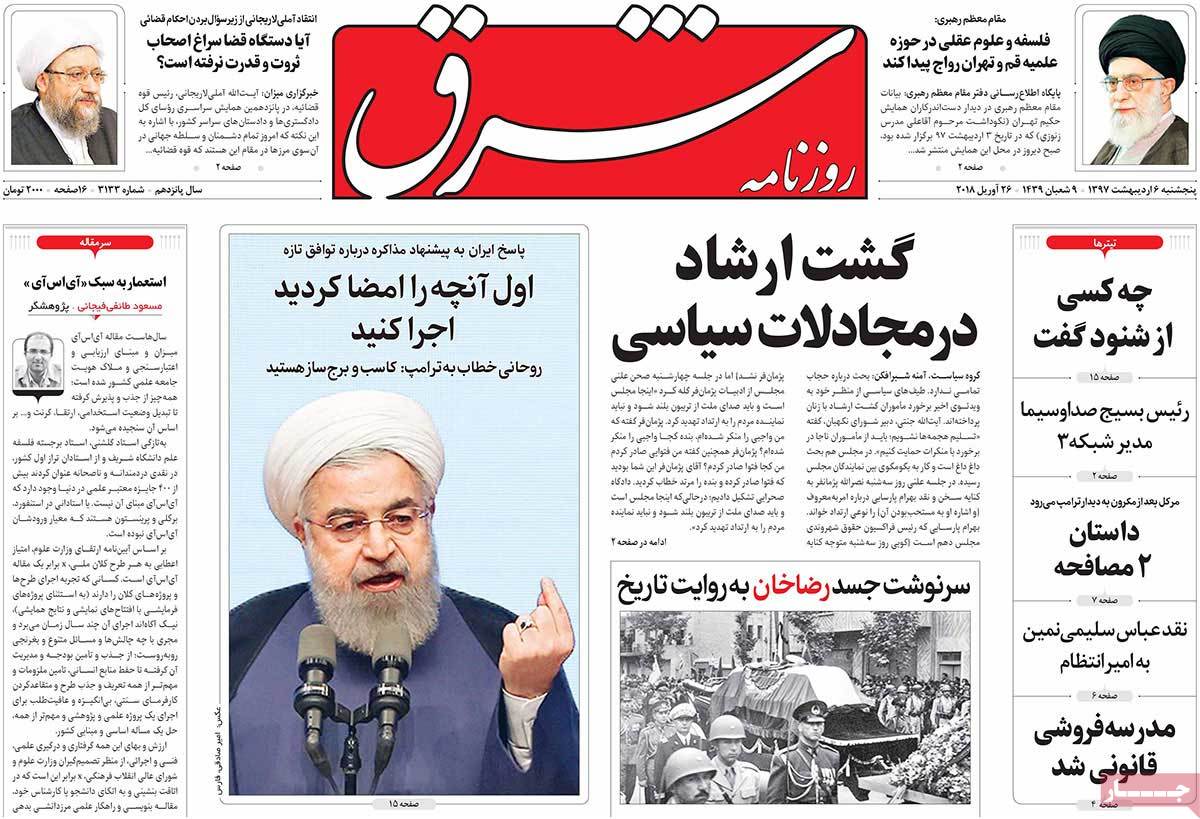 ---
Vatan-e Emrooz:
12 Million People Have Installed Domestic Messenger Apps
Europe Bends on Its Knees
French President Accepts Trump's Conditions for Staying in Iran Deal