Iranian newspapers on Saturday covered the comments of President Rouhani – back from an Indonesian trip where he attended an Asia-Africa Conference – on sanctions and the need for measures to face up to unilateralism and violence around the world. Remarks by the economy minister on interest rates and government's tax policies were also in the news.
Afarinesh: "Asia and Africa need to join hands to stand up to unilateralism on the world stage," said President Rouhani upon arrival home from his Indonesian trip.
---
Asr-e Rasaneh: "A decrease in interest rates is sure to happen," said the economy minister.
---
Asrar: "Islam is the faith of moderation and wisdom, not a religion of sword," said President Rouhani.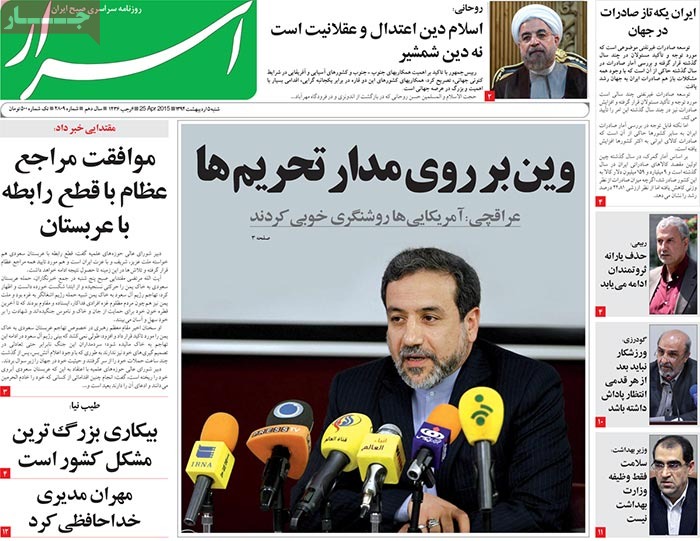 ---
Ebtekar: "We are moving forward well".
Iran's nuclear negotiator Abbas Araghchi made the comment on the process of drafting a comprehensive nuclear deal.
---
Emtiaz: "[About] 25 million Iranians are overweight," warned the health minister.
---
Ettela'at: "If we stop tax evasion, the government's income will be up four-fold," said the economy minister.
---
Financial Tribune: UN to assist Iran in water management
---
Hambastegi: "The implementation of the S300 contract [Iran has inked with Russia] has nothing to do with Saudi airstrikes in Yemen," said the Iranian defense minister.
---
Hemayat: "Officials should be cautious about suspicious trips by the Americans [to Iran]," said Tehran's Friday prayer leader.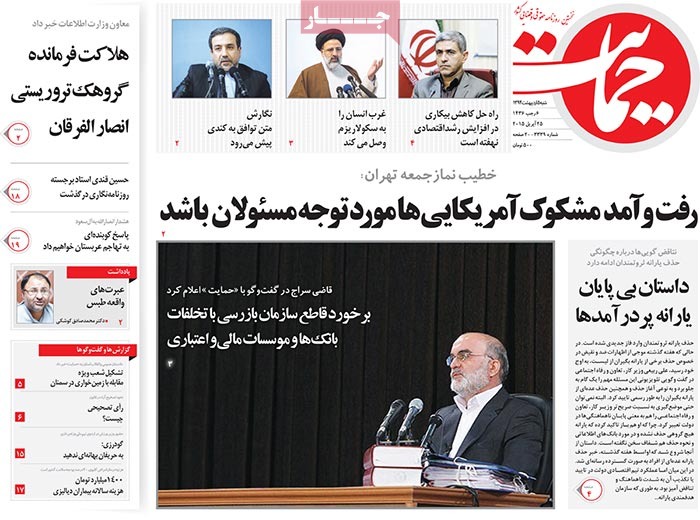 ---
Jomhouri Islami: Human Rights Watch has called for an investigation into Saudi war crimes in Yemen.
---
Kar va Kargar: The minister of cooperatives, labor and social welfare has said that the government will continue to remove the subsidies wealthy individuals get on a monthly basis.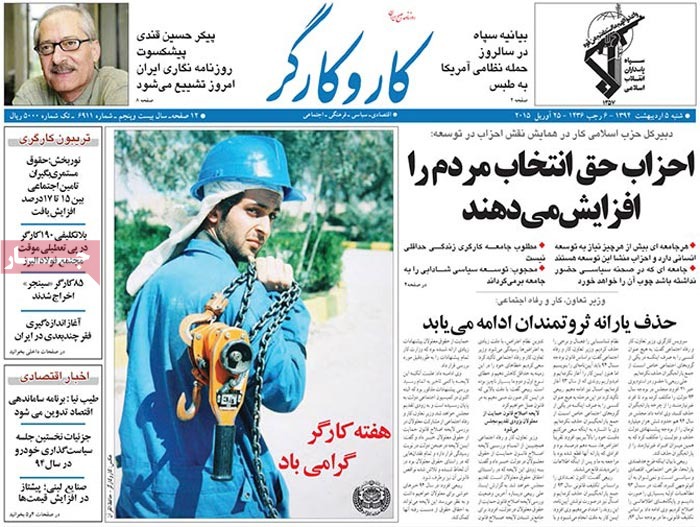 ---
Khorasan: The spokesman of the Guardian Council has said that a plan to hold elections at provincial level is likely to be dismissed.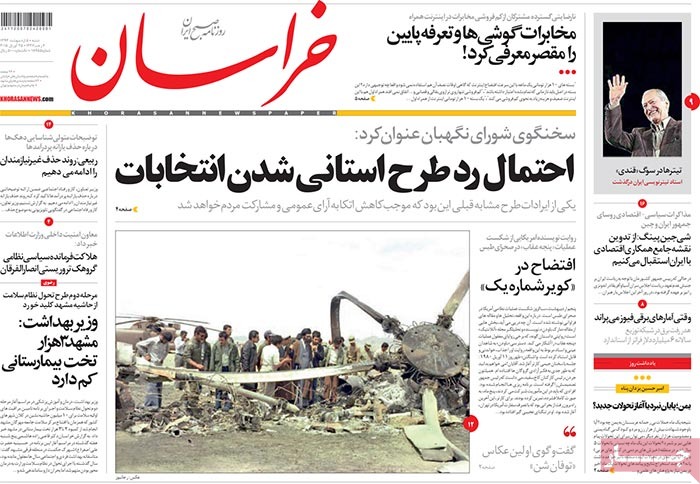 ---
Resalat: "People expect to see prices [of basic items] go down," said Economy Minister Ali Tayyebnia.
---
Sharq: One defendant and two trials; the daily has conducted an exclusive interview with Saeed Mortazavi, a former Tehran prosecutor.
---
Tafahom: "Time has come for Iran's sanctions to be lifted," said President Rouhani in a meeting with his Chinese counterpart Xi Jinping in Jakarta.