President Rouhani's comments on nuclear talks with P5+1 dominated the front pages of Iranian newspapers which also put news of the death of a former deputy of Saddam Hussein on their covers. Time Magazine's inclusion of Iranian Foreign Minister Mohammad Javad Zarif on the list of 100 most influential people in the world also appeared on the front pages of Iranian dailies.
Abrar: Further nuclear talks will be held in Vienna and New York in the weeks ahead.
---
Afkar: "Containing particulates which come in from beyond our borders is not possible," said the Iranian environment chief.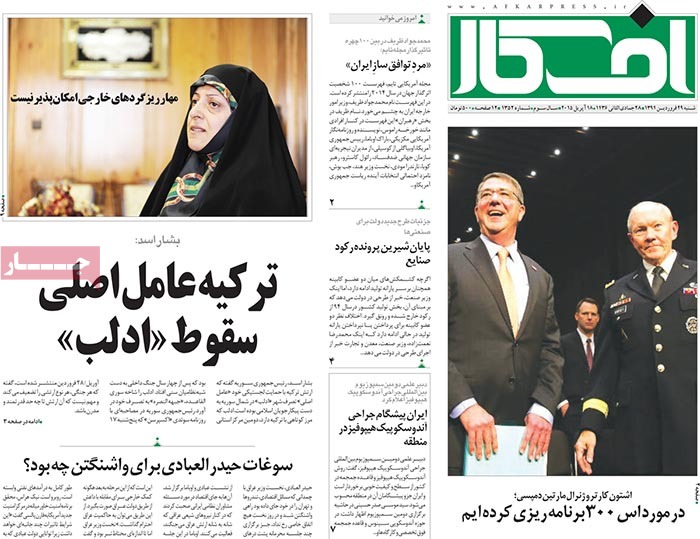 ---
Aftab-e Yazd: President Rouhani has said that even if a final deal is not struck, sanctions won't be as strict as in the past.
Aftab-e Yazd: In case a final nuclear deal is clinched, the European Union will consider natural gas imports from Iran.
---
Amin: The Ministry of [Culture and Islamic] Guidance does not have any opposition to Mohammad Reza Shajarian holding a concert.
The comment was made by the spokesman of the ministry.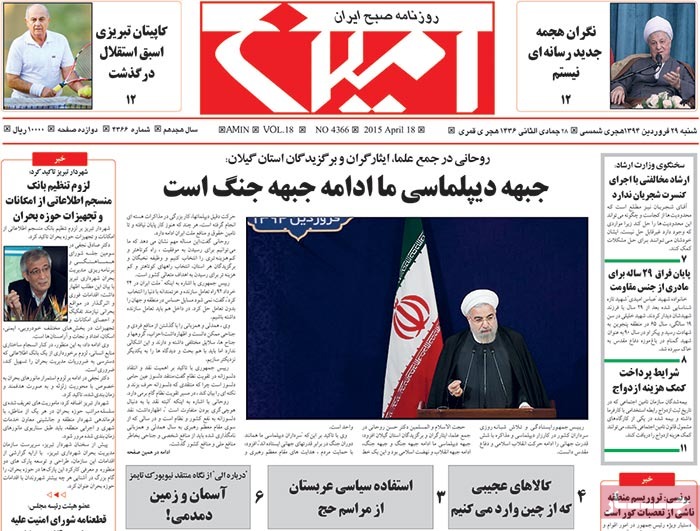 ---
Arman-e Emrooz:Zarif has become a global figure.
The Iranian foreign minister has landed a place on the list of the 100 most influential figures in the world.
Arman-e Emrooz: The presence of Brits in Tehran Stock Exchange
A European delegation has visited the Securities and Exchange Organization.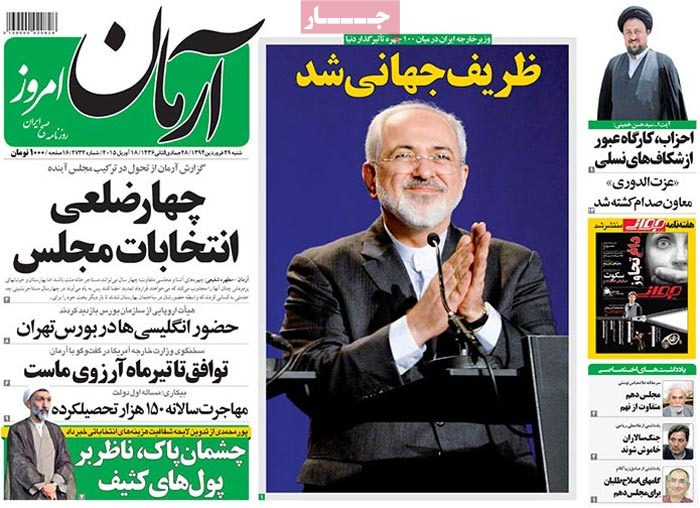 ---
Asr-e Rasaneh: Some 400 hotels are to be built across Iran in a bid to promote tourism.
Asr-e Rasaneh: Up to 200 state firms will be privatized this year.
---
Asrar: As many as 1 million Afghans are employed under the radar in Iran.
---
Ebtekar: There are no transparent laws to supervise electoral campaign finances, complained the justice minister.
---
Ettela'at: Izzat Ibrahim al-Douri, a deputy of Saddam and a senior IS leader, has been killed.
Ettela'at: "Sloganeering and imprisonment won't eliminate corruption," said President Rouhani.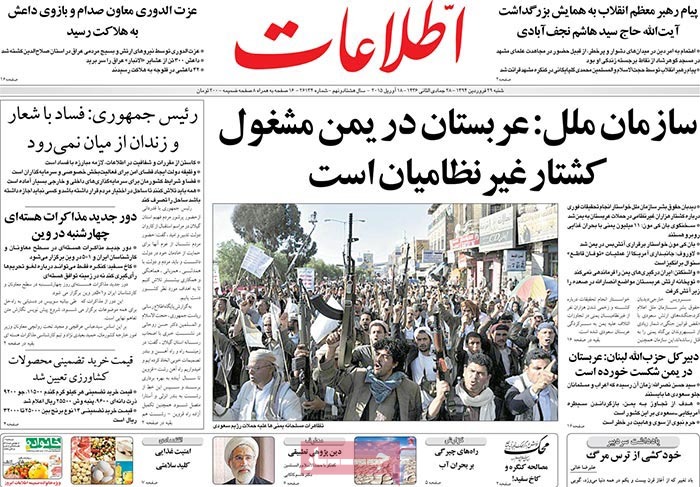 ---
Resalat: "If the US fails to honor its commitments, it will take the dream of a deal to the grave," said Tehran Friday prayer leader Ayatollah Movahedi Kermani.
---
Roozan: Ahmadinejad has hit the campaign trail.
The former president's bid to help his supporters capture a majority in parliament starts in Mashhad.