Comments by President Rouhani at a gathering to honor the memory of the late wife of the founder of the Islamic Republic dominated the front pages of Iranian newspapers on Monday. In his comments, the president took a swipe at those who limit the principle of preventing vice to women on the streets.
Afarinesh: The Supreme Leader has met with sources of emulation in Qom.
Afarinesh: The Iranian oil minister has held talks with officials of three Chinese oil and energy giants.
---
Asrar: "The Worriers got under the skin of the late Imam too," said the chairman of the Expediency Council.
[Ayatollah Rafsanjani was referring to those who keep opposing President Rouhani's domestic and foreign policy].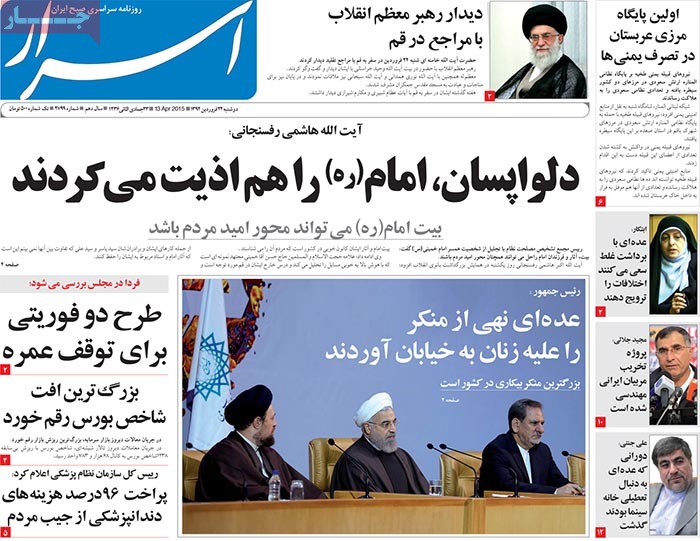 ---
Emtiaz: Sixty-two petrochemical projects are set to absorb foreign investment.
Emtiaz: As part of efforts to streamline banking, interest rates are likely to decrease.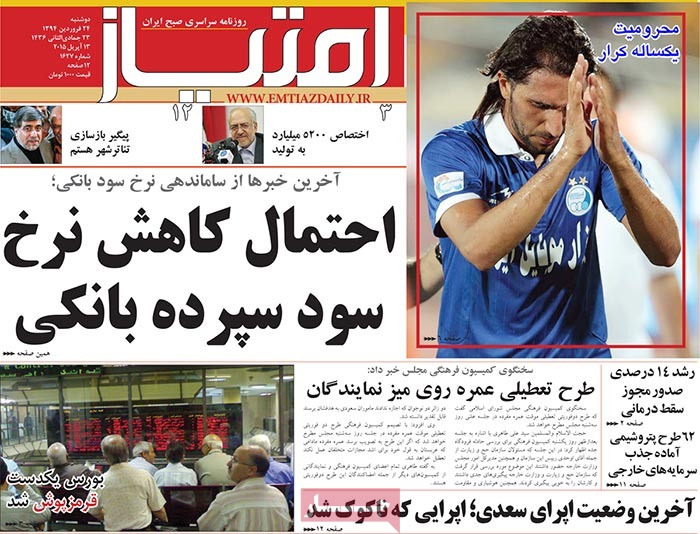 ---
Etemad: "The late Imam's wife urged me to run for president [in 2005]," said Ayatollah Hashemi Rafsanjani.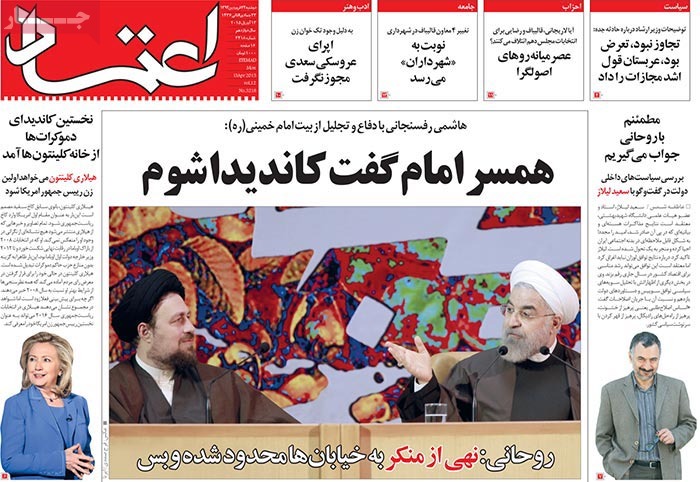 ---
Ettela'at: "Women should have equal rights with men," said President Rouhani.
Ettela'at: The return of flamingos suggests that efforts to revive the Orumiyeh Lake are on track.
---
Farhikhtegan: "We can't lock up 50 percent of the population at home," said President Rouhani.
The president made the comment at a gathering entitled "The Lady of the Islamic Revolution".
---
Hemayat: An Iranian tank that rolls on wheels will be unveiled later in April.
The announcement was made by the commander of the ground troops of the Iranian Army.
Hemayat: "Release the Iranian fact sheet of the Lausanne statement," some 212 MPs have asked the Iranian negotiating team.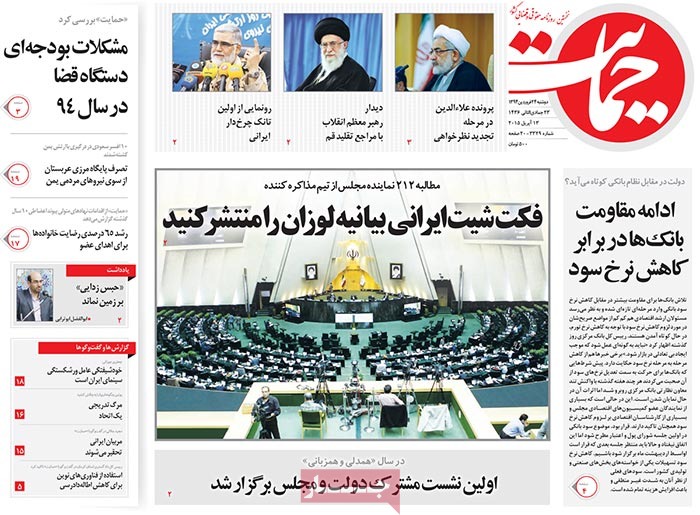 ---
Jomhouri Islami: Those who attacked Tehran MP Ali Motahari have yet to be hauled before court.
Jomhouri Islami: "All primary schools are to come under dental care coverage," said the Iranian health minister.
---
Kayhan: "IS Takfiri [terrorists] are too weak a force to pose a threat to Iran," said a senior Iranian Army commander.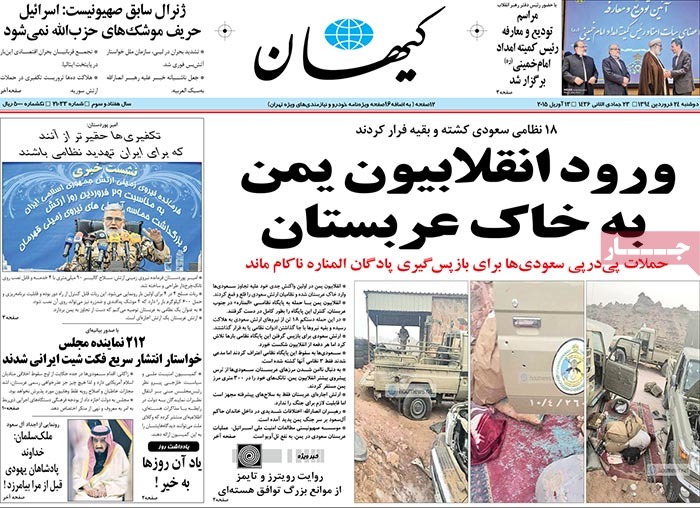 ---
Mardomsalari: "Those who disrupt the security of parties will be seriously dealt with."
The warning was made by the deputy interior minister for security affairs.
Mardomsalari: Some 25,000 Iranians are on an organ transplant waiting list.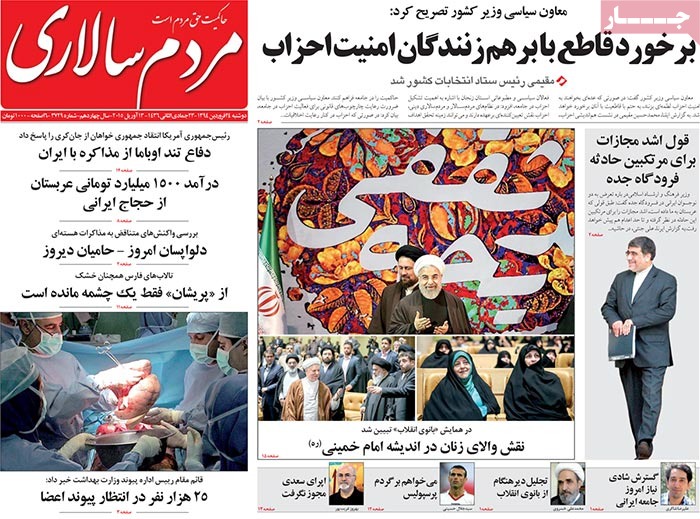 ---
Qods: "The two Saudi officers who have sexually abused two Iranian teens should be executed," said Alaeddin Boroujerdi, a senior MP.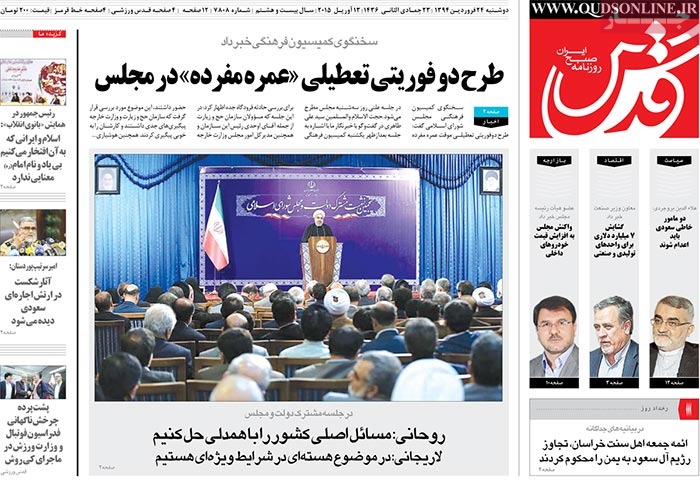 ---
Sharq: "Non-oil exports are poised to make a 20 percent jump this year," said a deputy trade minister.