Comments by the Supreme Leader and President Rouhani about the nuclear talks and removal of sanctions dominated the front pages of Iranian newspapers on Saturday.
Abrar: A senior Revolution Guards commander has said that Pakistan should be held accountable for cross-border attacks on Iranian forces.
---
Afarinesh: "We won't sign any deal unless all sanctions are lifted," said President Hassan Rouhani.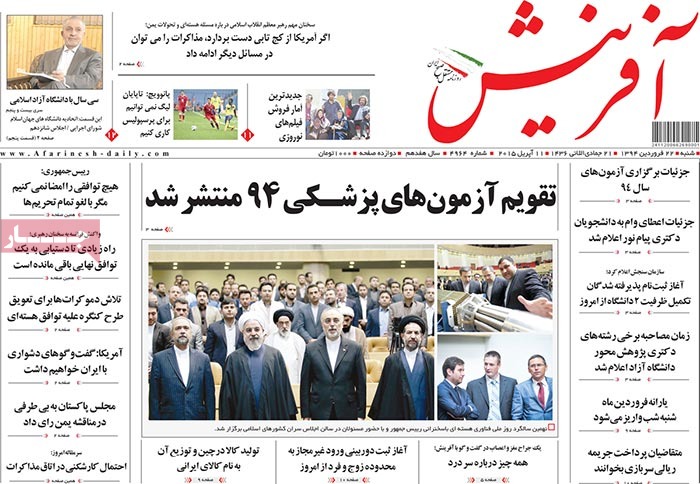 ---
Afkar: The Pakistani parliament has voted against Islamabad's military involvement in Yemen.
---
Aftab-e Yazd: The names of three Iranian nationals have been taken off the EU sanctions list.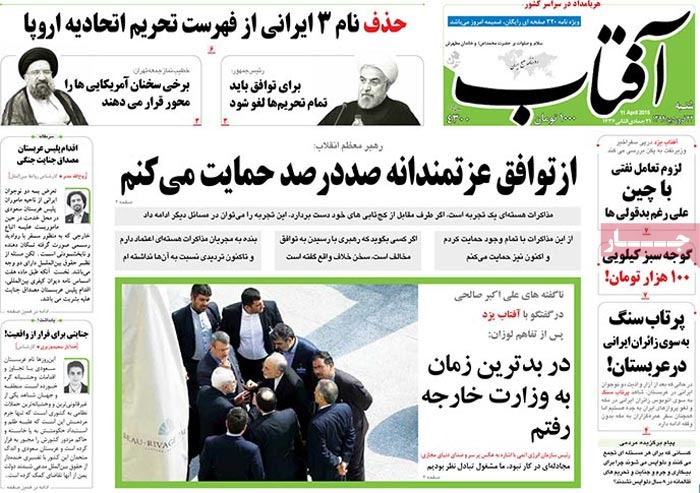 ---
Asr-e Iranian: The vice-chairman of parliament's Development Committee has passed away.
Ali Akbar Aghaei died of a heart attack on Thursday morning.
---
Asrar: Minor Hajj pilgrimage may be called off.
It comes after two Iranian teenage pilgrims were recently subjected to sexual harassment at Jeddah airport by Saudi security forces.
---
Emtiaz: "Up to one third of Iranian schools do not measure up to standards," said the education minister.
---
Ettela'at: Iran and China have underlined closer oil cooperation.
Ettela'at: "A deal which protects [the Iranian nation's] dignity will have my unqualified support," said the Supreme Leader.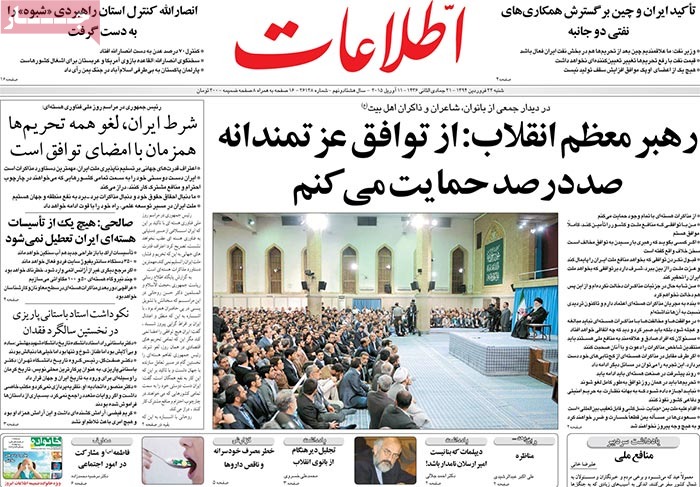 ---
Jomhouri Islami: Brits are to set up an investment fund in Iran.
Jomhouri Islami: "None of Iran's nuclear facilities will be shut down," said Ali Akbar Salehi, the country's nuclear chief.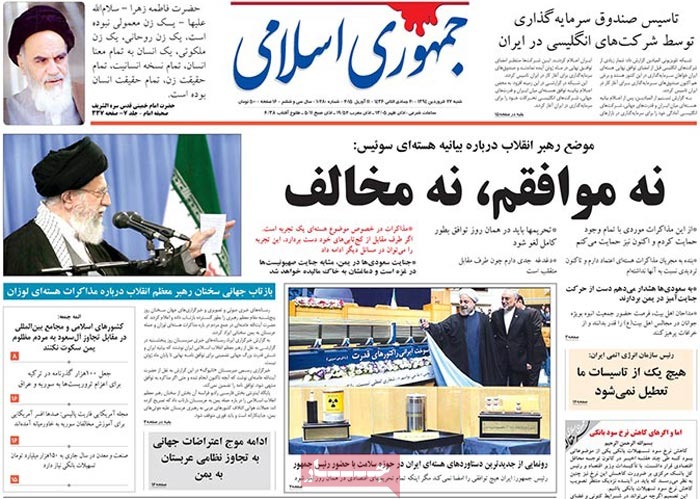 ---
Mardomsalari: "Saudi Arabia, Turkey and Egypt seek to establish a new regional order," said Hamid Reza Asefi, a former Iranian FM spokesman.
Mardomsalari: "We won't allow inspections to be abused," said Iranian nuclear negotiator Abbas Araghchi.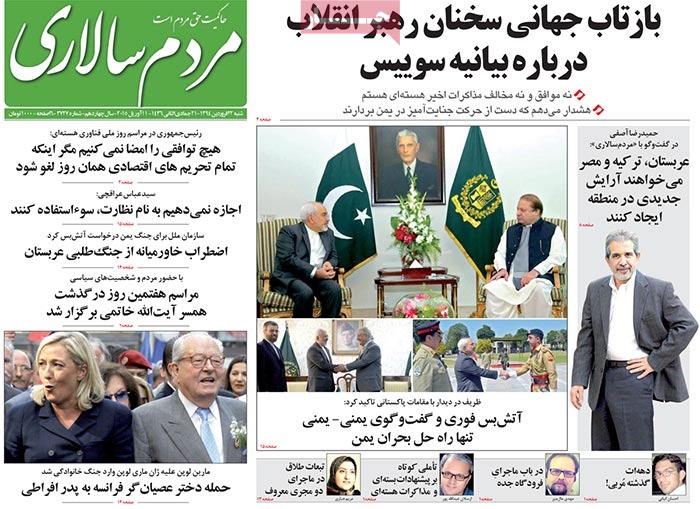 ---
Rooyesh-e Mellat: Iran has returned to world labor market, sending workforce to eight countries.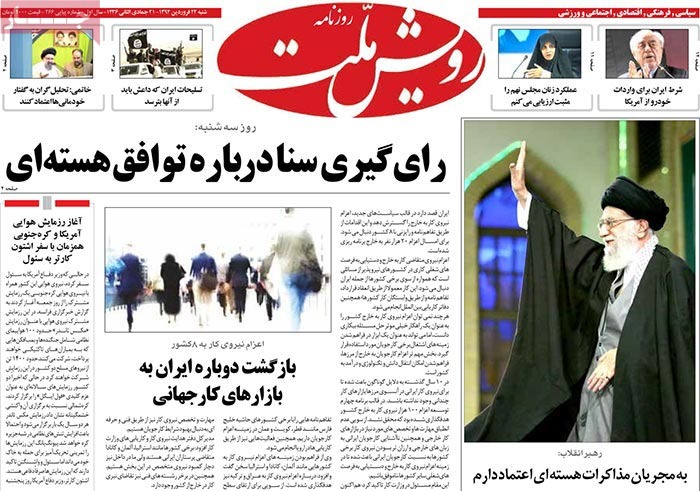 ---
Saheb Ghalam: "We'll push back the timing of the nuclear deal if the leader's ideals are not met," said Iranian negotiator Abbas Araghchi.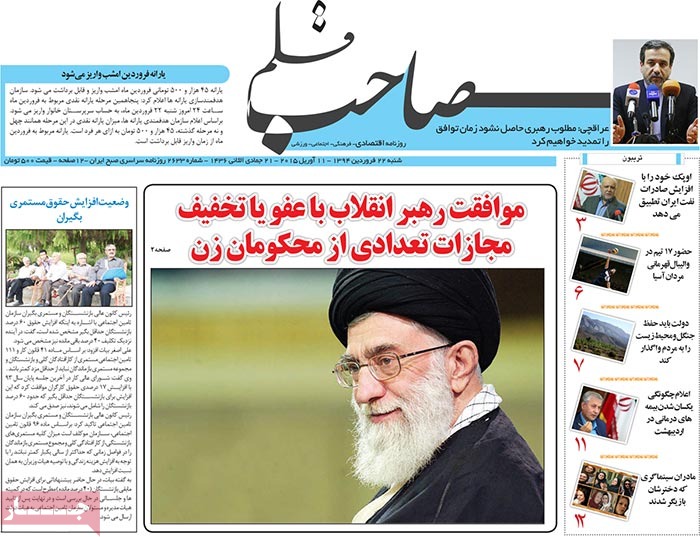 ---
Sayeh: The President and his Cabinet will travel to Gilan Province on Wednesday.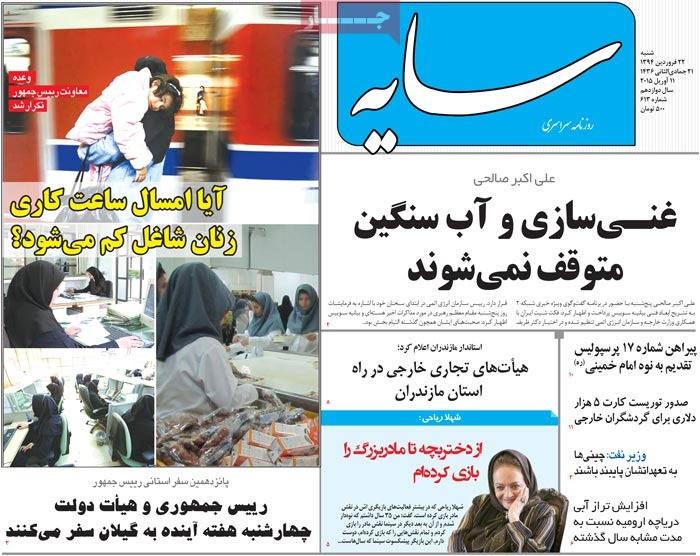 ---
Shahrvand: "OPEC should brace for an increase in Iranian crude output," said the oil minister.
Shahrvand: Fiery takeoff of a Qeshm Air airliner in Istanbul, Turkey.
The plane was taxiing when a loud boom was heard and its right engine went off before pieces of the engine fell onto the tarmac.
The captain skillfully called off the takeoff and brought the plane into a standstill.
No one was injured in the accident.