Almost all papers today covered the decision by the Iranian government to unity the US dollar rate in official and open markets. First Vice-President Es'haq Jahangiri, the official who announced the decision, was the one who received the greatest attention in today's papers.
Also a top story was the rumours of a possible military conflict between the US and Russia in Syria, which seems to be imminent given Trump's recent threat and the Russian response.
The Israeli attack on Syria's T-4 airbase, in which several Iranian military advisers were killed, also received great coverage. The remarks by Ali Akbar Velayati, the Leader's top aide, about Iran's response to Israel, and the repatriation of the bodies of 7 Iranian martyrs were the topics of major stories in this regard.
The above issues, as well as many more, are highlighted in the following headlines and top stories:
19 Dey:
Gov't Spokesman: We Won't Let Opponents Gain Control of Economy
Iran First VP: Gov't to Strongly Implement Policy of Unified Forex Rates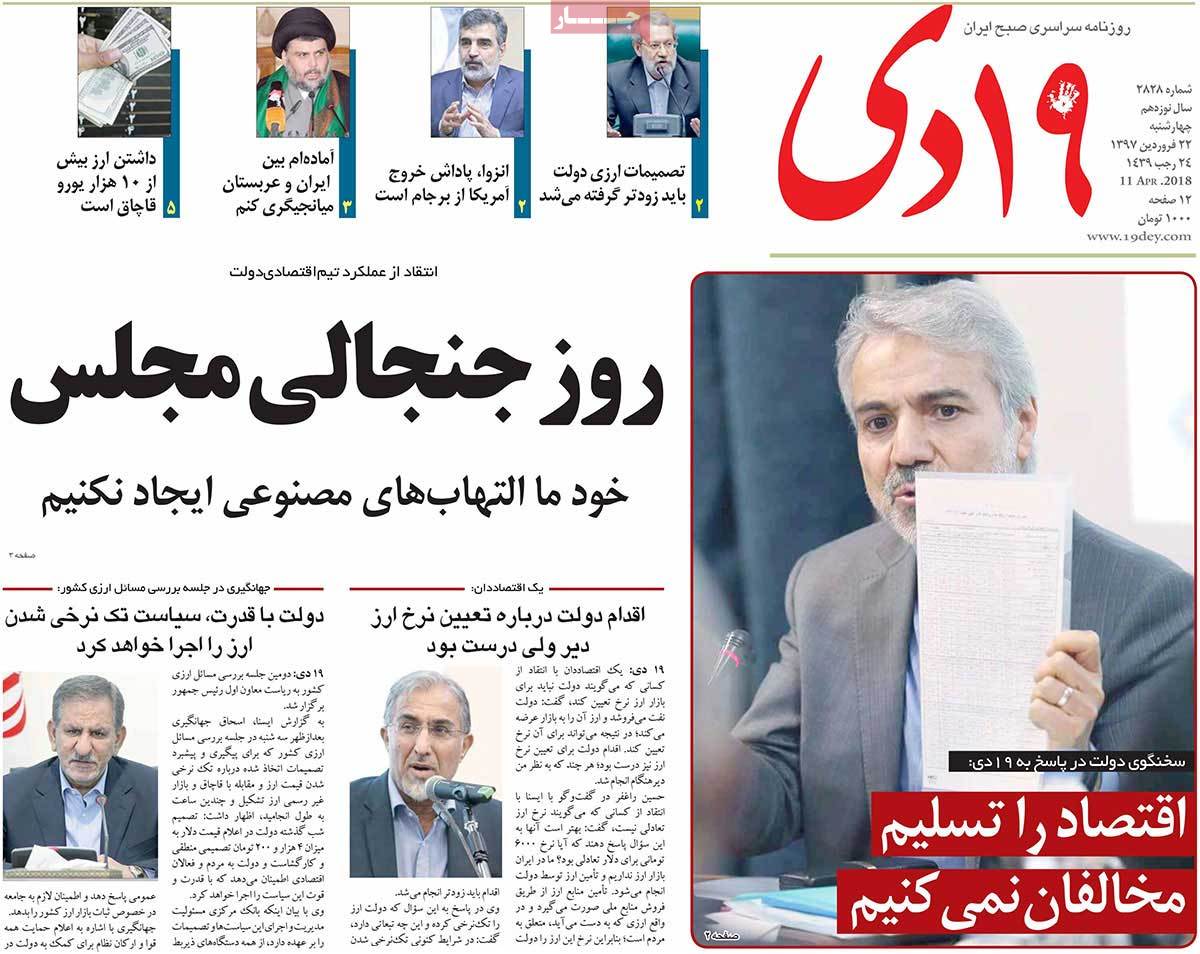 ---
Abrar:
Gov't Spokesman: I Promise We'll Have No More Forex Rate Fluctuations!
Reuters: US Seeking to Convince Certain Countries into Attacking Syria
Central Bank Chief: We Told Iran Leader We Must Replace Dollar with Euro
Putin's Special Envoy for Syria Visits Tehran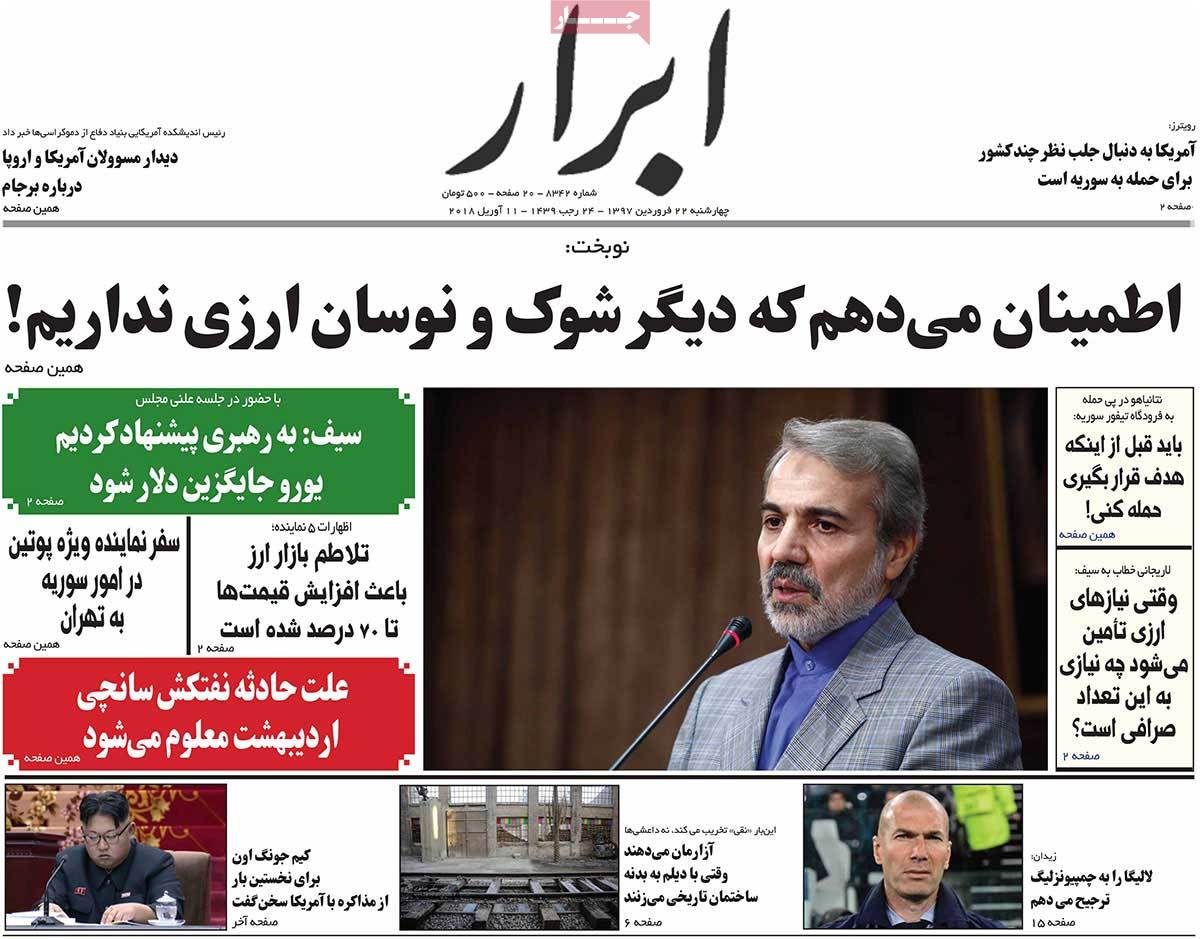 ---
Afkar:
Flames of Wrath Fanned in Mideast
Increased Conflicts between Kremlin, White House Causing Int'l Concern
IRGC Chief-Commander: We'll Witness New Phase of Revolution Expansion
Zarif: Trump's Worthless Attacks against Iran Divisive
Senior MP: Telegram Not as Unrestricted in Any Country as It Is in Iran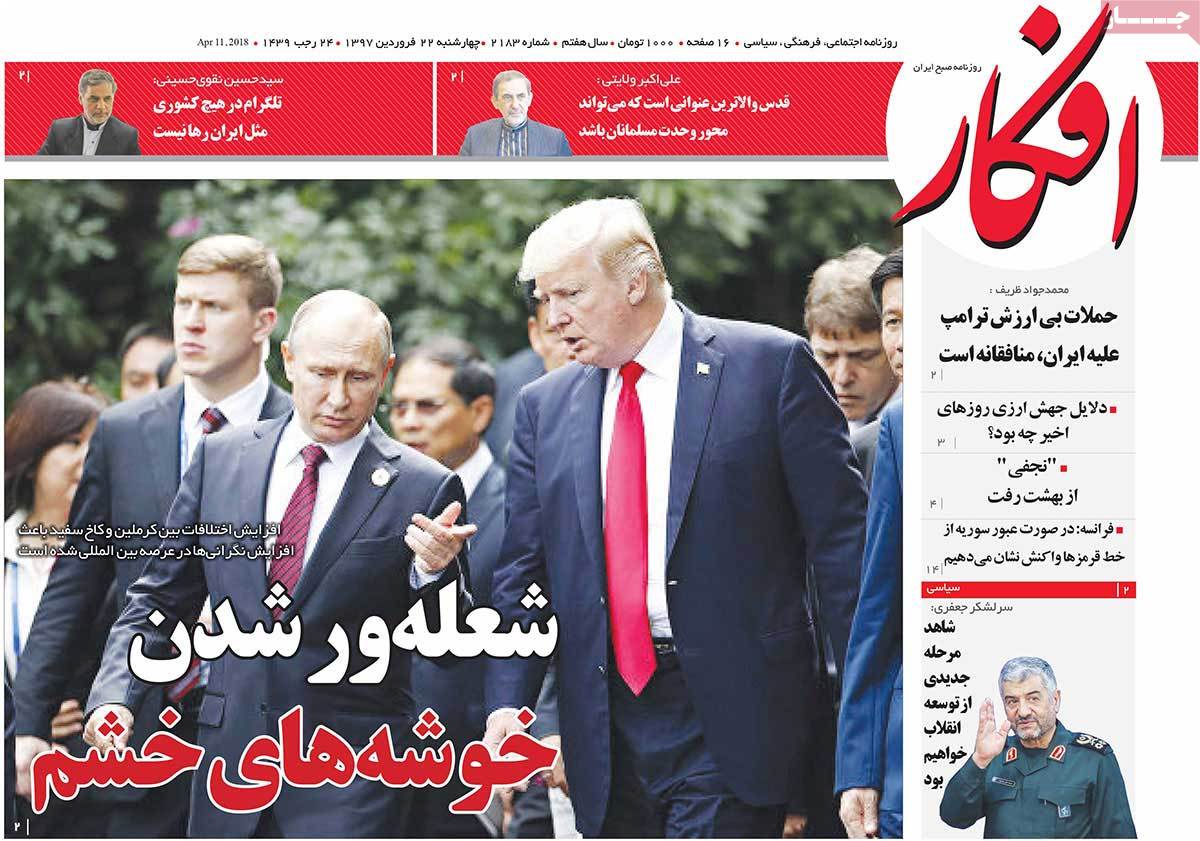 ---
Aftab-e Yazd:
Temporary Pain-Killing: A Report on Government's Decision on Forex Market
Will Unifying Dollar Rate in Official, Open Markets Work?
Did Najafi's Resignation as Tehran Mayor Harm Reformists?
City Council's Strange Decision: Conservative Chosen as Acting Mayor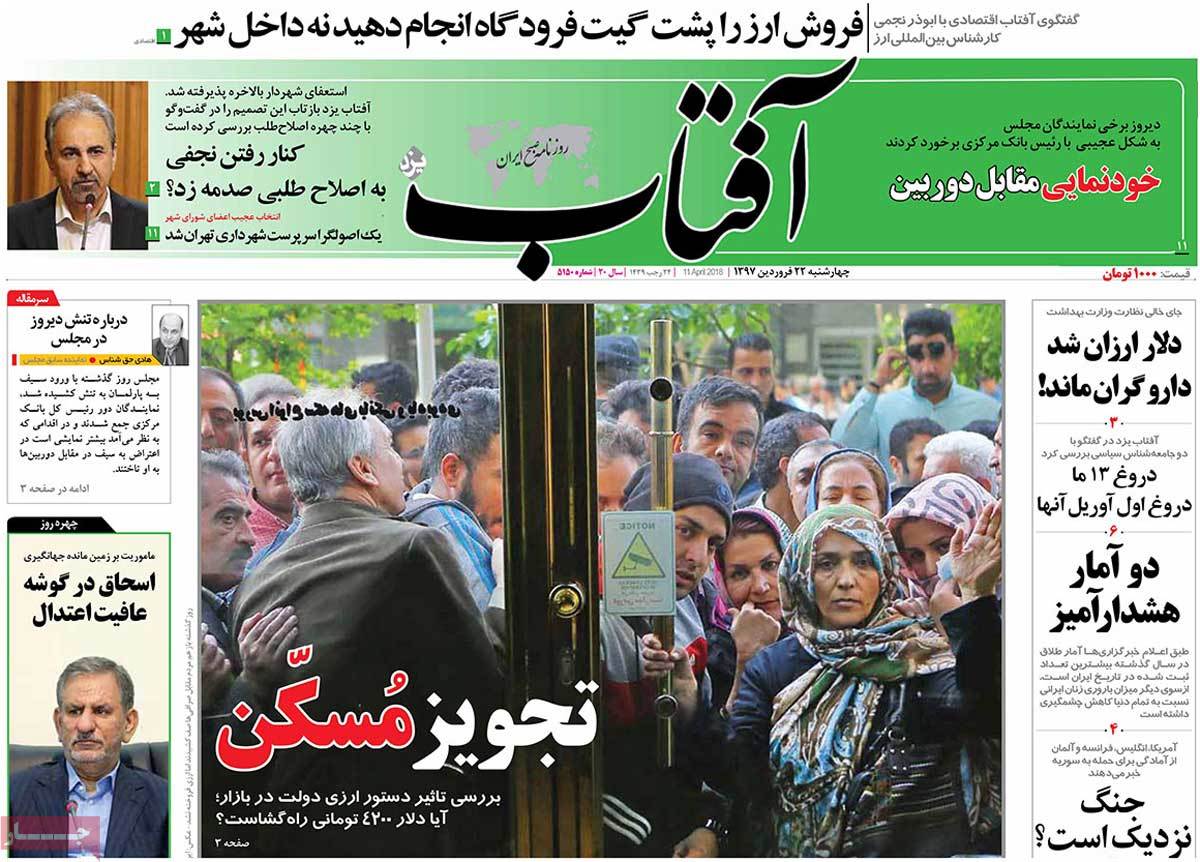 ---
Arman-e Emrooz:
Analyst: Certain Parties Played Dangerous Game with Forex Market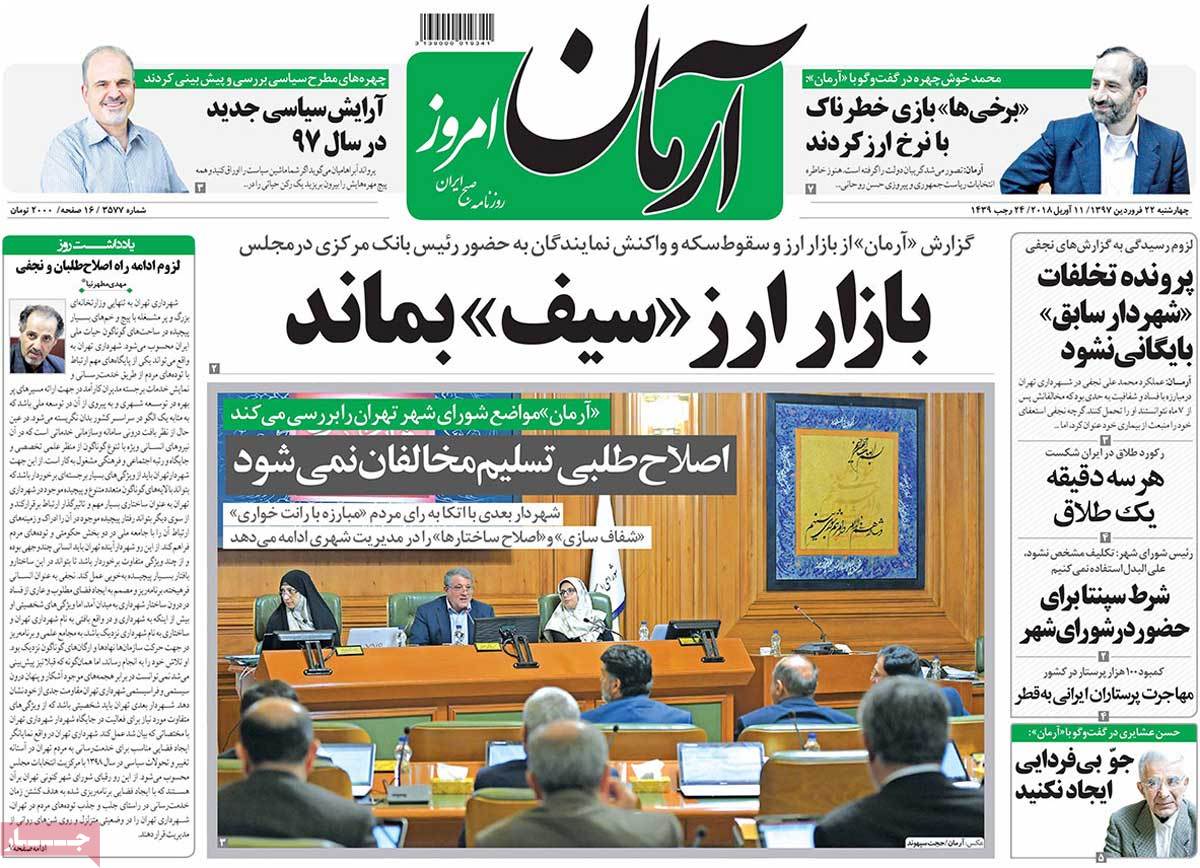 ---
Asrar:
Culture Minister: We Must Use Unity, Intelligence to Decrease Gaps in Cyber World
Larijani: Gov't Should Have Adopted Required Measures in Advance to Stabilize Forex Rate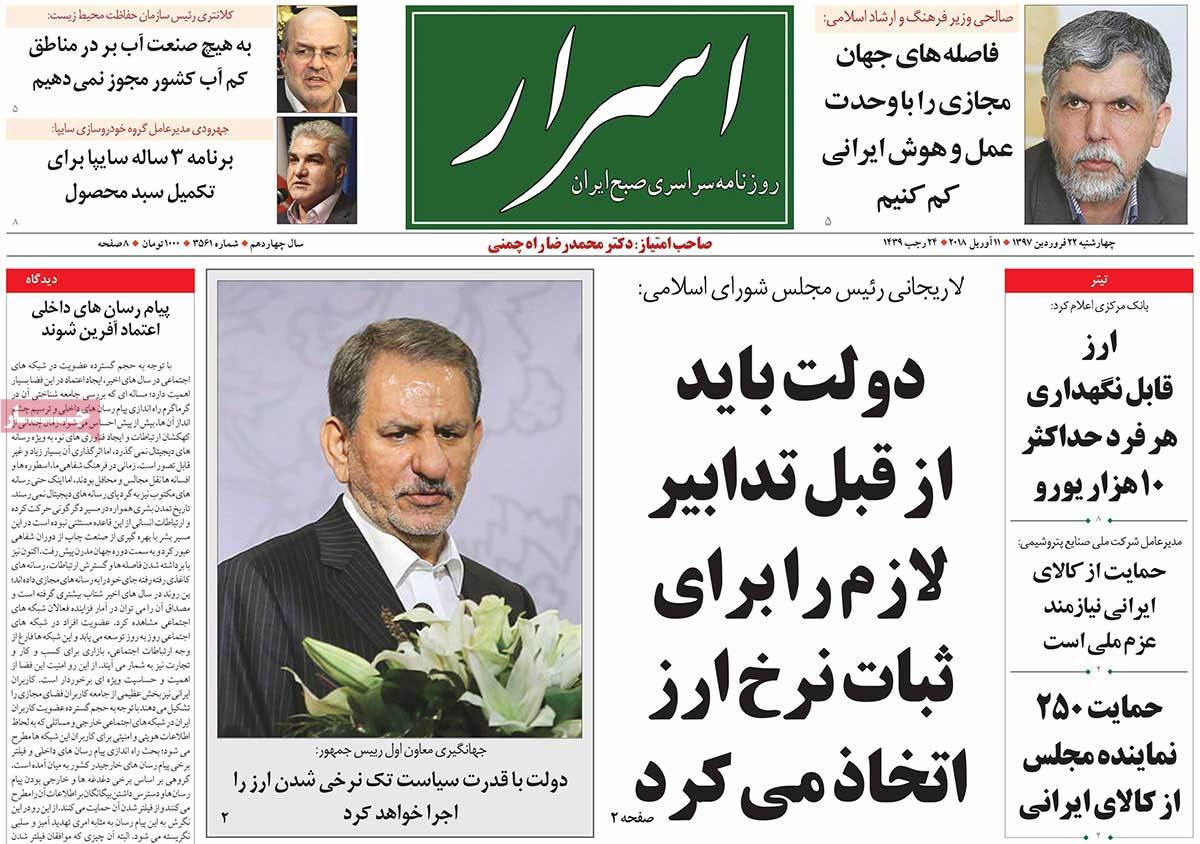 ---
Ebtekar
From Mini World War to WWIII: Moscow, Washington Showing Off Power in Syria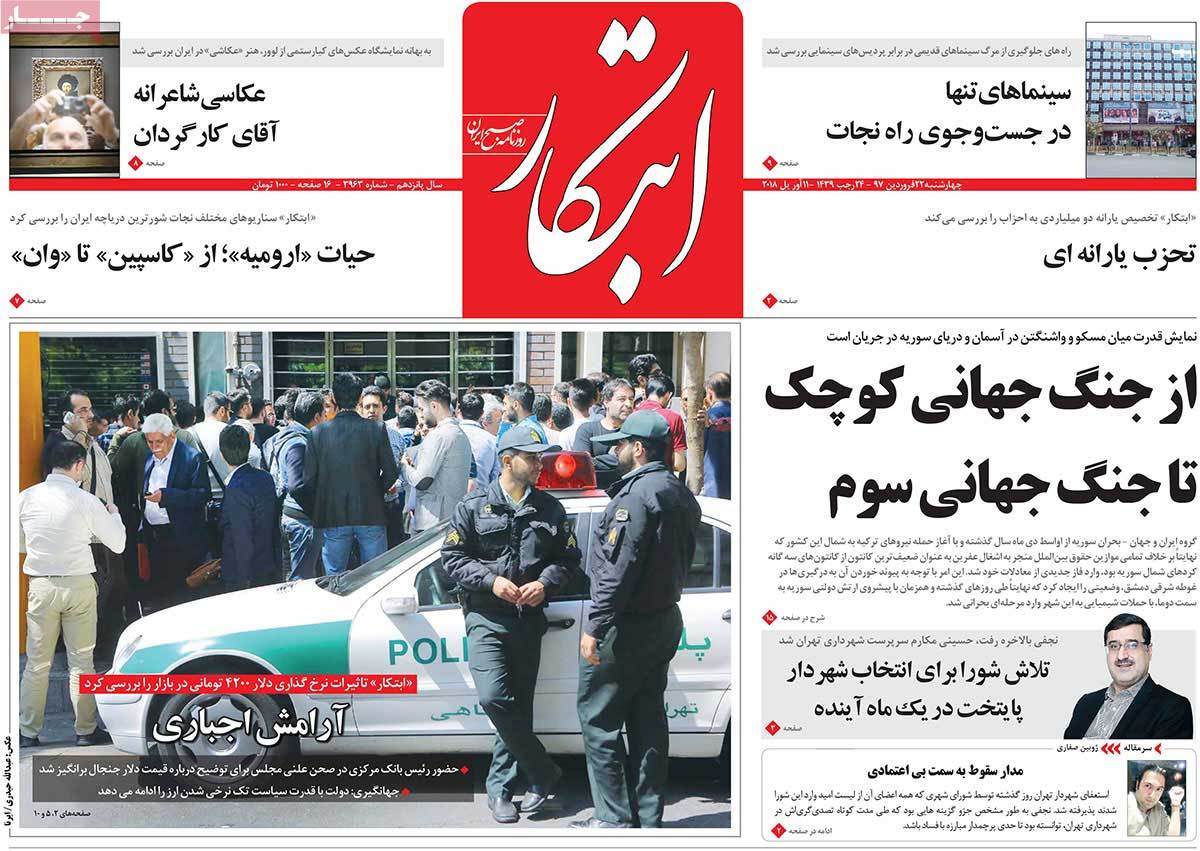 ---
Etemad:
FBI Raids Office of Trump's Lawyer
Return of Es'haq: A Report on Jahangiri's Strong Presence to Resolve Forex Crisis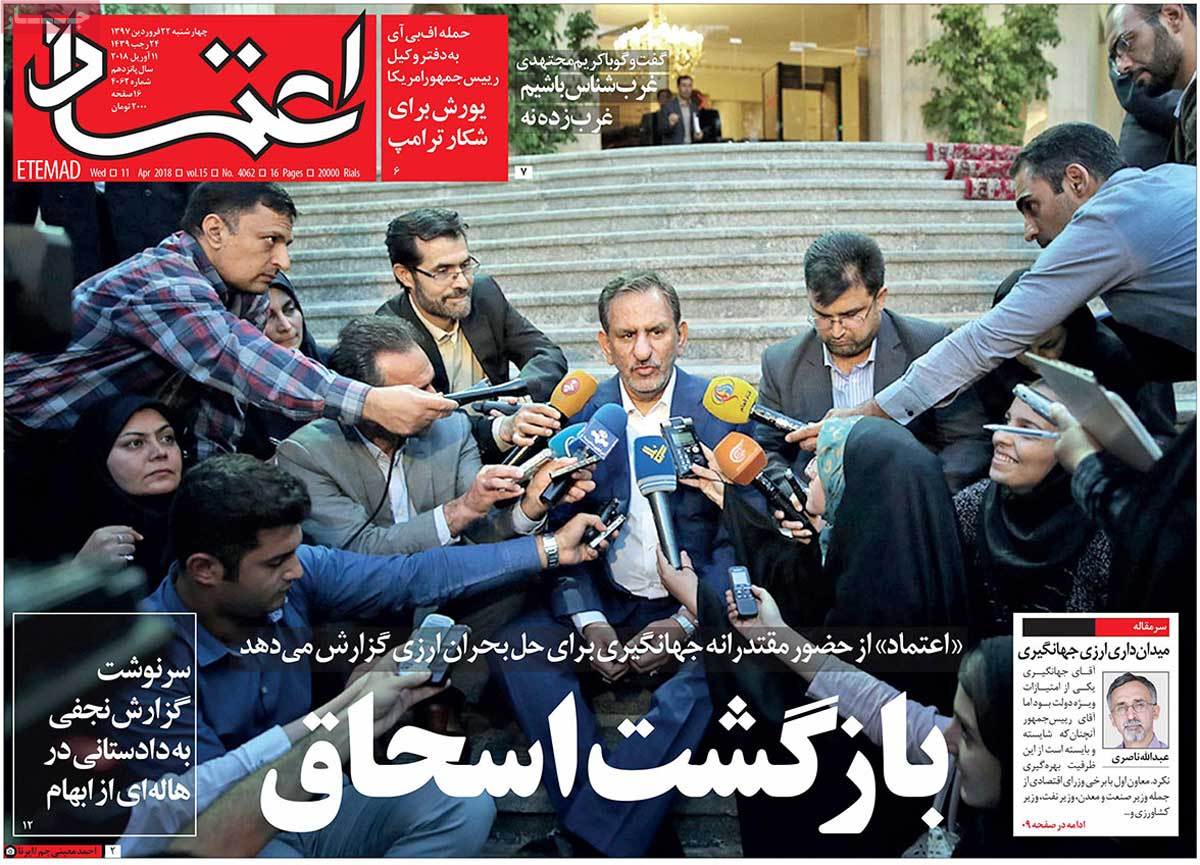 ---
Ettela'at:
Deputy Energy Minister: We Have Maximum 2 Years to Manage Water Crisis
Russia Army on Standby to Counter US Possible Attack on Syria
Zarif: US Looking for Pretexts to Interfere in Syria
Yemen's Ansarullah: We'll Fire Missiles at Aggressive Countries on Daily Basis
---
Iran:
Chomsky in Interview with Iran: Europe Not Interested in Leaving Iran Alone against US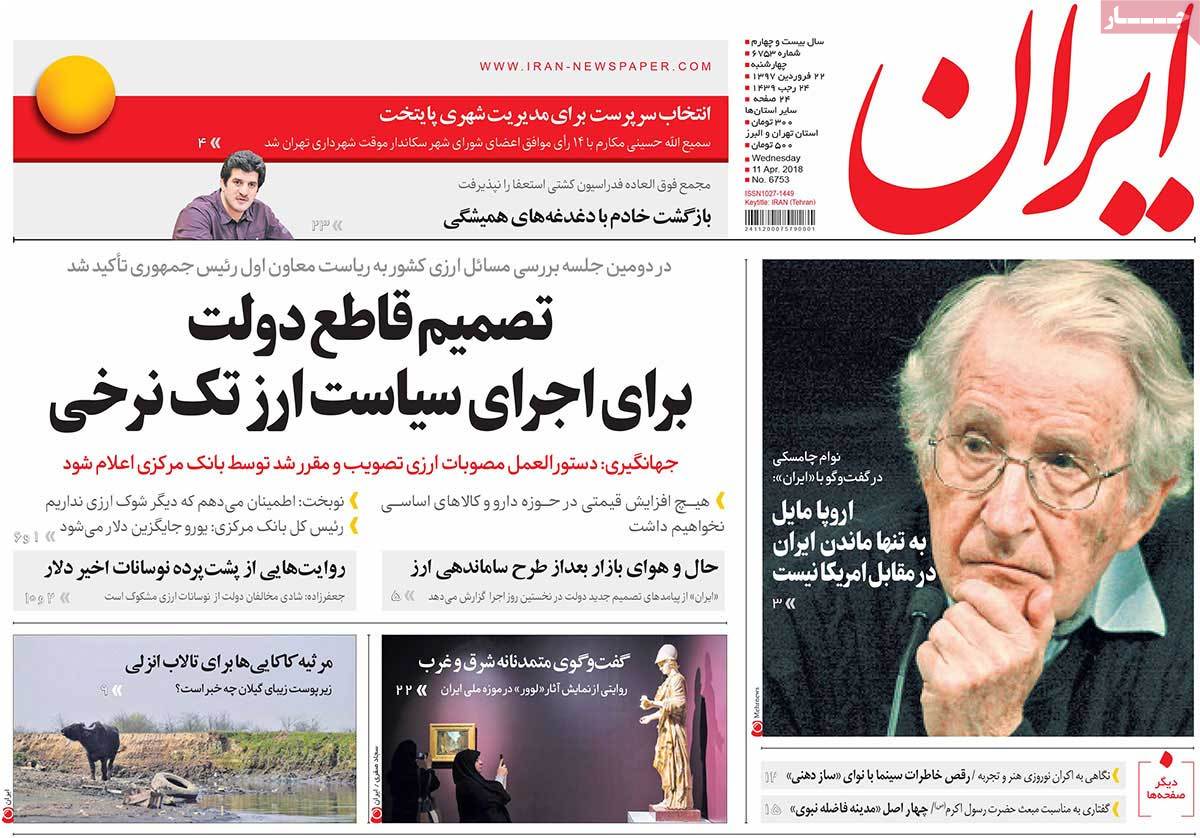 ---
Javan:
Delay in Introducing Worn-Out Dollar Policy
Gov't Spokesman: Transfer of Dollar to Neighbouring Countries Main Cause of Crisis
Central Bank: Telegram, Hostility of Saudi Arabia, UAE Main Cause of Fluctuations
Velayati: Zionists' Attack on T-4 Airbase Not to Remain Unanswered
---
Jomhouri Eslami:
Sky News: Iraqi Kurdistan to Sell Oil to Israel under Turkey's Supervision
Stabilizing Job Opportunities among Main Plans of Gov't: First VP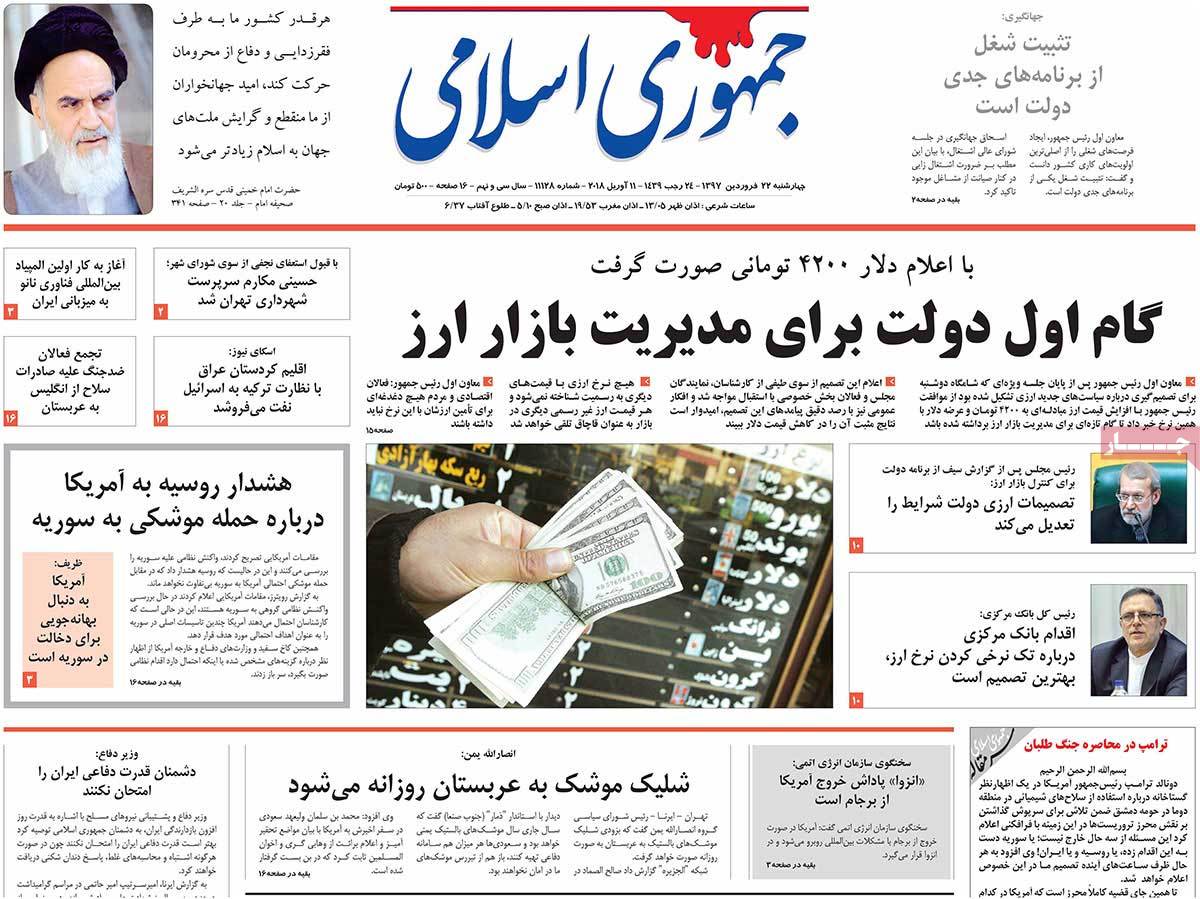 ---
Kayhan:
Forex Market's Getting Out of Control Result of Imprudence
It Won't Be Resolved with Prescriptive Measures
Iranian People Welcome Bodies of 7 Defenders of Shrine
People Counting Minutes to Take Revenge from Zionists
Economic Analysts Urge Parliament to Impose Tax on House, Forex, Gold Dealers
War and Threat against Syria in Important UNSC Meeting
US Says It'll Attack Syria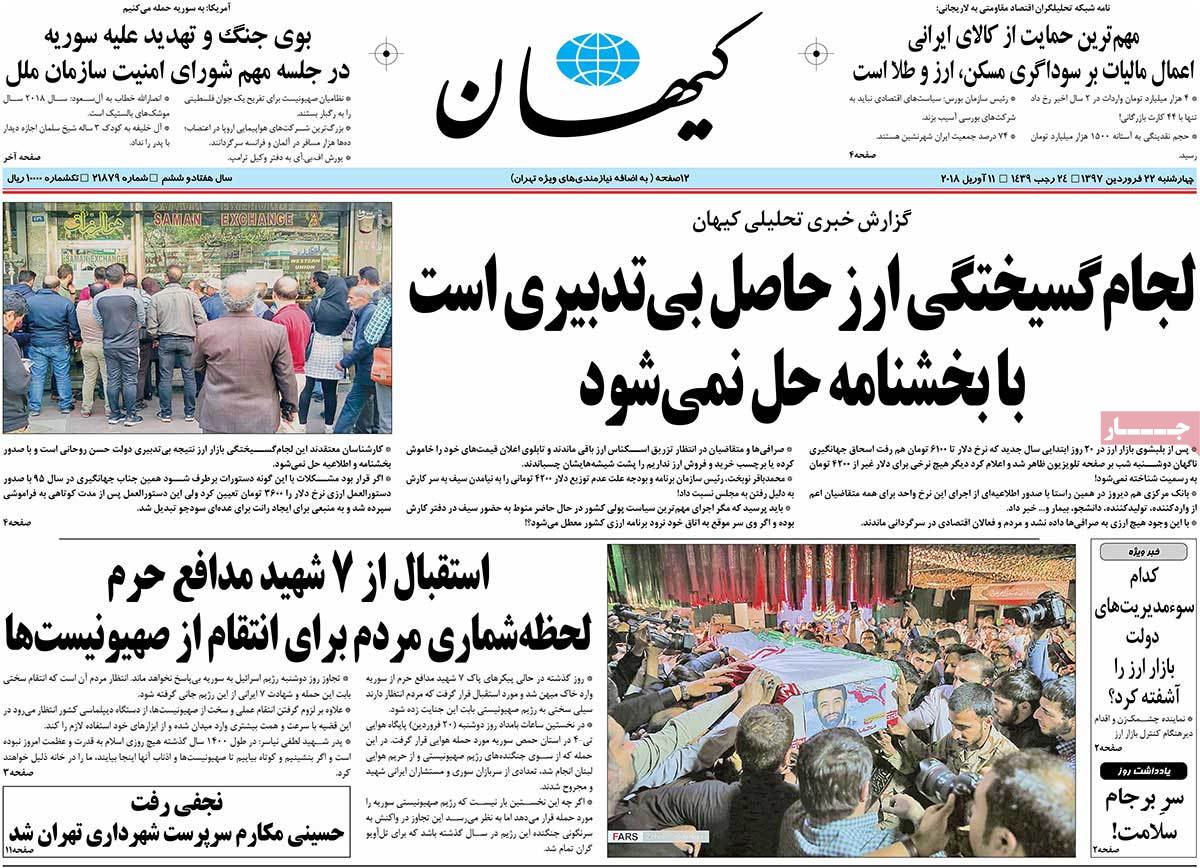 ---
Khorasan:
Smell of War in Syria: Russia-West Clash at UN Security Council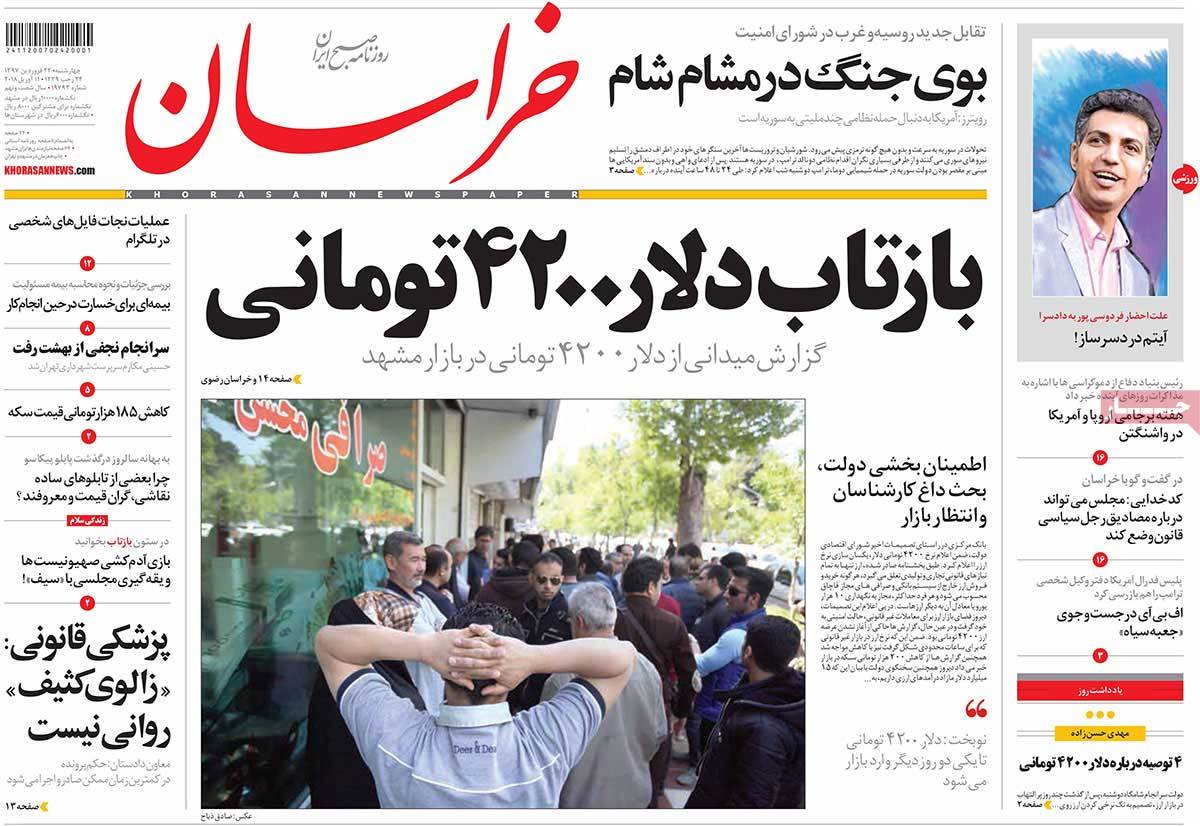 ---
Rah-e Mardom:
IRGC Chief-Commander: Islamic Revolution Well-Known in Countering Threats
---
Resalat:
Larijani: Only One Single Voice Must Be Heard from Gov't
Central Bank Must Form Committee to Monitor Forex Issues
Ayatollah Nouri Hamadani Calls for Promotion of Correct Water Consumption Patterns
---
Rooyesh-e Mellat:
Araqchi: JCPOA Not for US Government So It Can't Make Any Decision about It
Most Important Issue in Supporting Iranian Products Is to Promote Its Culture: Rouhani
---
Shargh:
Conservative MPs, IRGC Intelligence Org. Hold Meeting on Telegram Filtering
MP Calls for Blocking Telegram, Unblocking Twitter
Fingers on the Trigger
Chemical Attack on Douma Increases Possibility of US-Russia Proxy War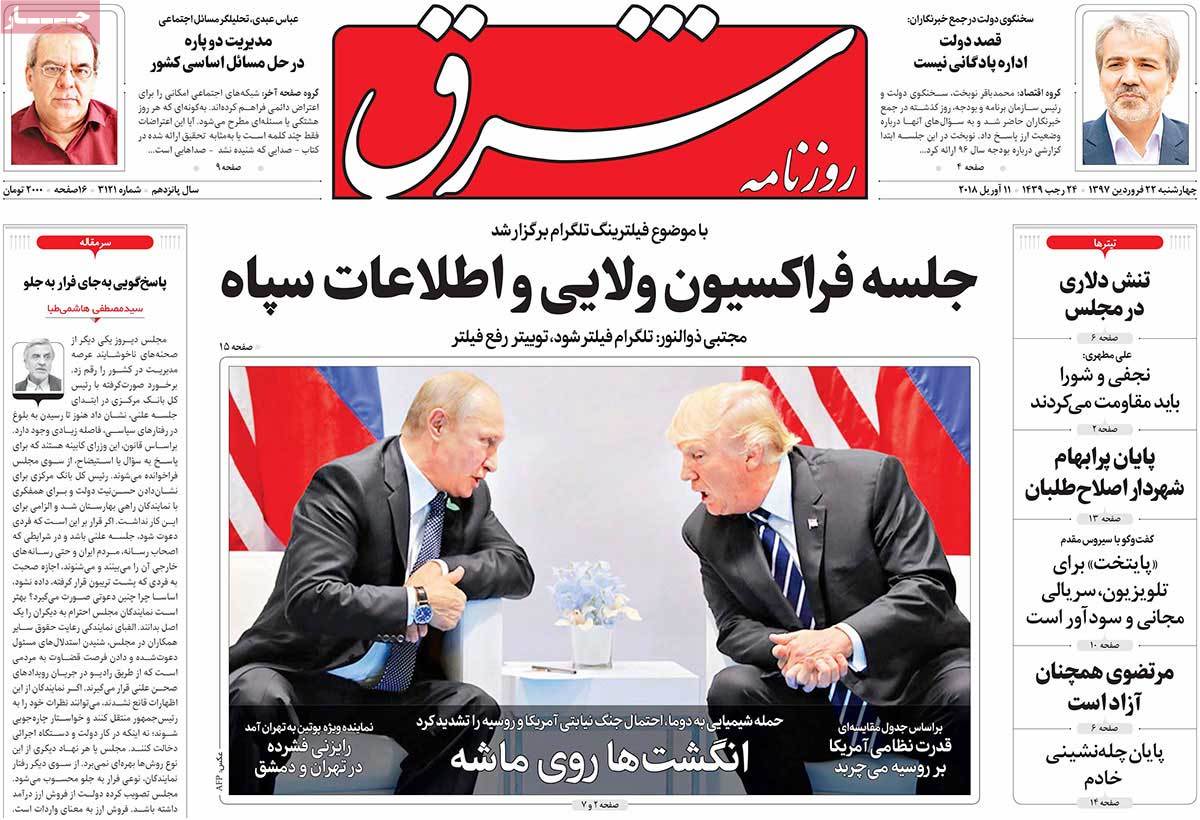 ---
Vatan-e Emrooz:
Russian Ambassador Explains US Way of Distributing Crisis from Syria to Afghanistan
Rand Paul: US Neoconservatives, Not Assad, behind Douma Chemical Attack