IFP has taken a look at the front pages of Iranian newspapers on Monday and picked headlines from 20 of them. IFP has simply translated the headlines and does not vouch for their accuracy.
The state visit by South African President Jacob Zuma and his meetings with the Leader of the Islamic Revolution Ayatollah Seyed Ali Khamenei and President Hassan Rouhani received a lot of coverage across Iranian media.
The recent controversial remarks by Central Bank of Iran (CBI) Chief Valiollah Seif – who pinned the blame on Mahmoud Ahmadinejad's government over the US seizure of Iran's frozen assets – also continued to garner reactions from different factions.
Abrar:
 Iran's Judiciary Urged to Open Legal Case for Ahmadinejad over Seizure of Iranian Assets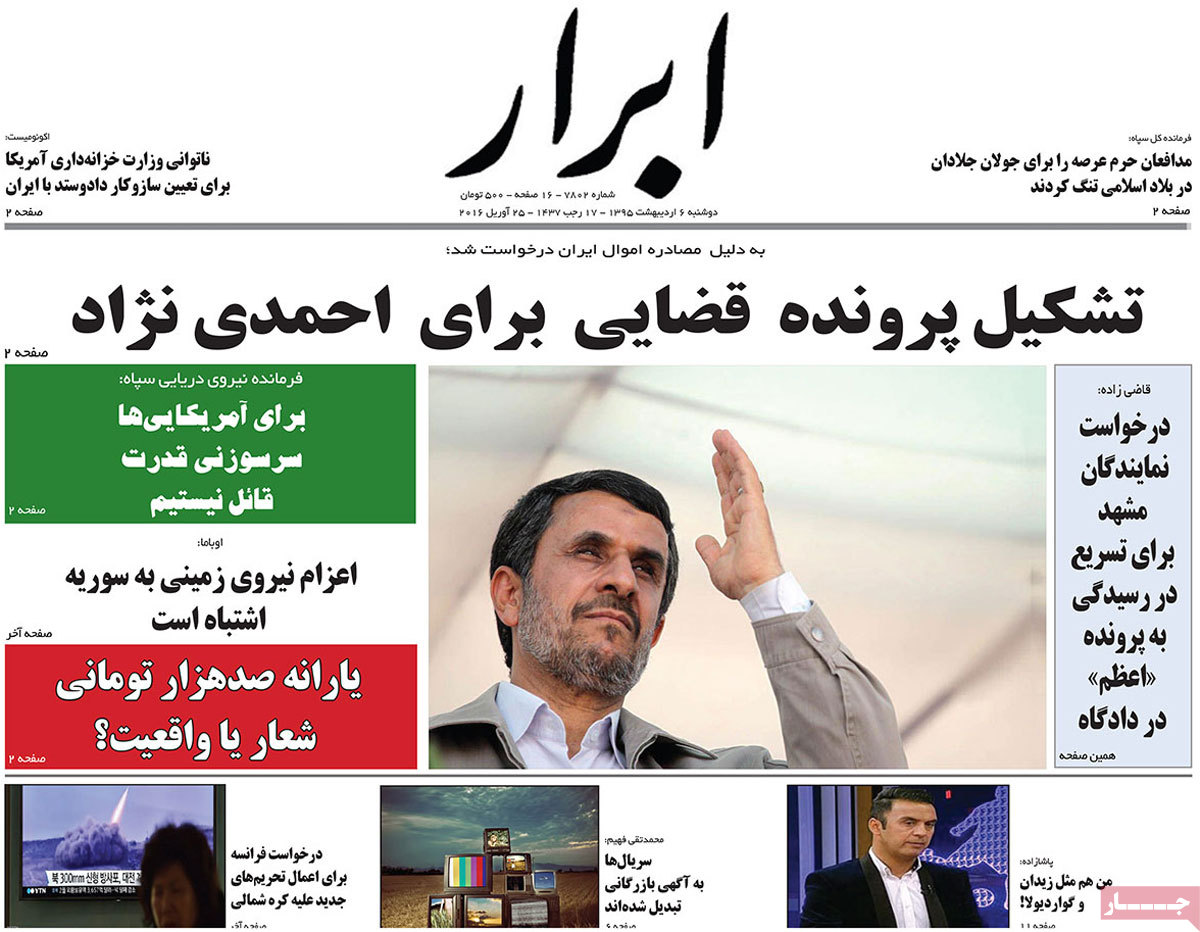 ---
Afarinesh:
 Iranian Female Athletes Break Records of Booking Olympic Tickets
Obama: It Would be a Mistake to Deploy Ground Forces to Topple Syria's Assad
 Syrian Free Army Threatens to Cancel Ceasefire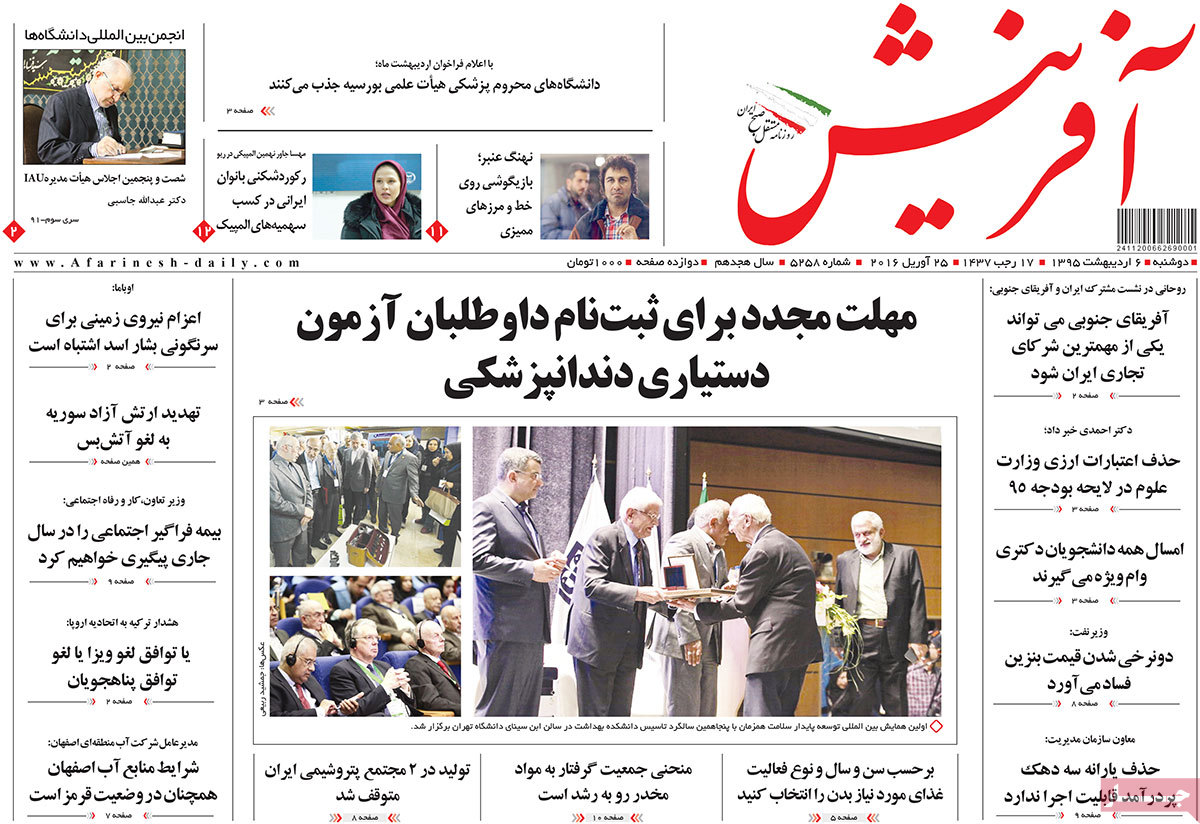 ---
Asr-e Rasaneh:
 Iran's Share in Global IT Market
 60 Historical Sites Waiting to Be Registered by UNESCO
---
Ebtekar:
Iran Won't Forget Sanction-Era Friends: Rouhani to South Africa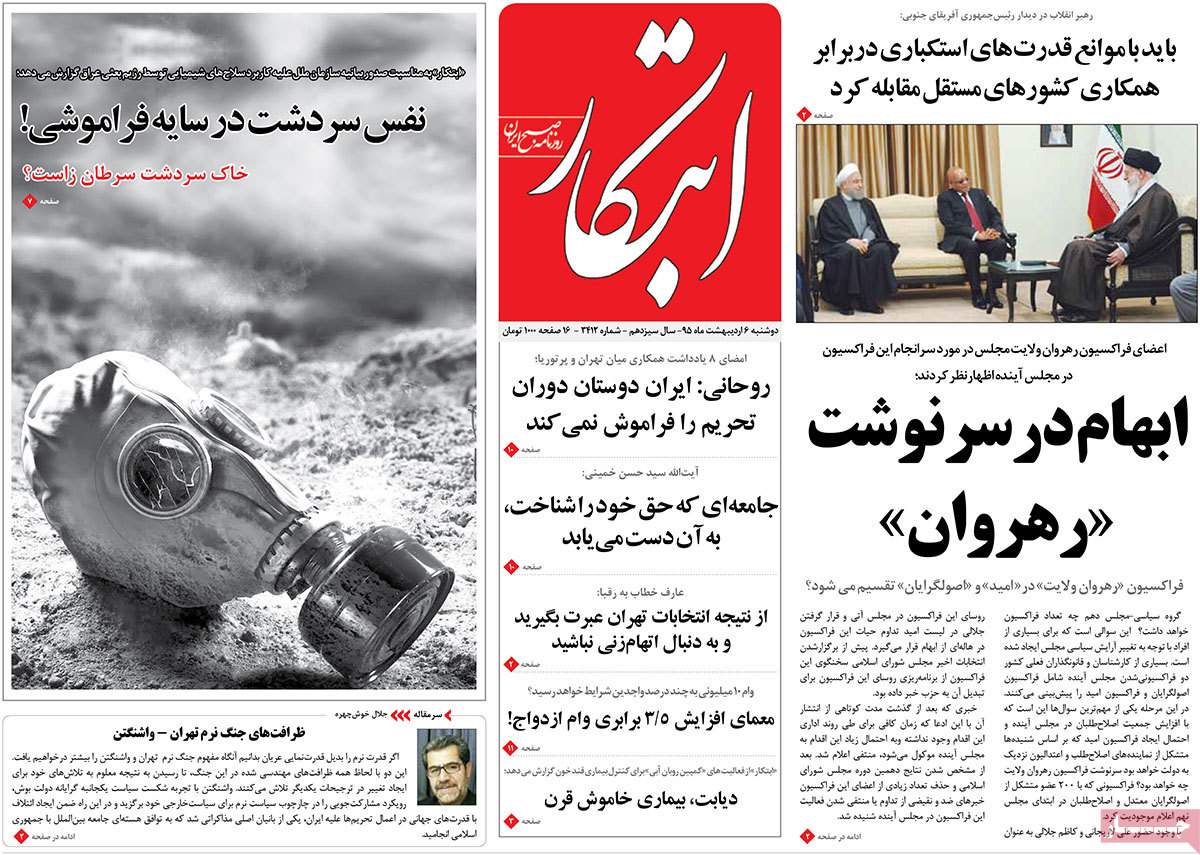 ---
Emtiaz:
Prosecutor-General Warns against Use of Alcoholic Drinks, Especially among Athletes and Artists
 60-70 Earthquakes Occur in Iran Every Day
 Lucrative Iranian Cosmetics Market
 3 Tramlines to Be Built in Tehran
---
Ettela'at:
Independent Countries Should Remain Close to Each Other: Leader
Iran and South Africa Sign 8 Cooperation Documents
Using Homegrown Products Should Make People Feel Proud
---
Etemad:
Iran's VP: Laws on Women to Be Reformed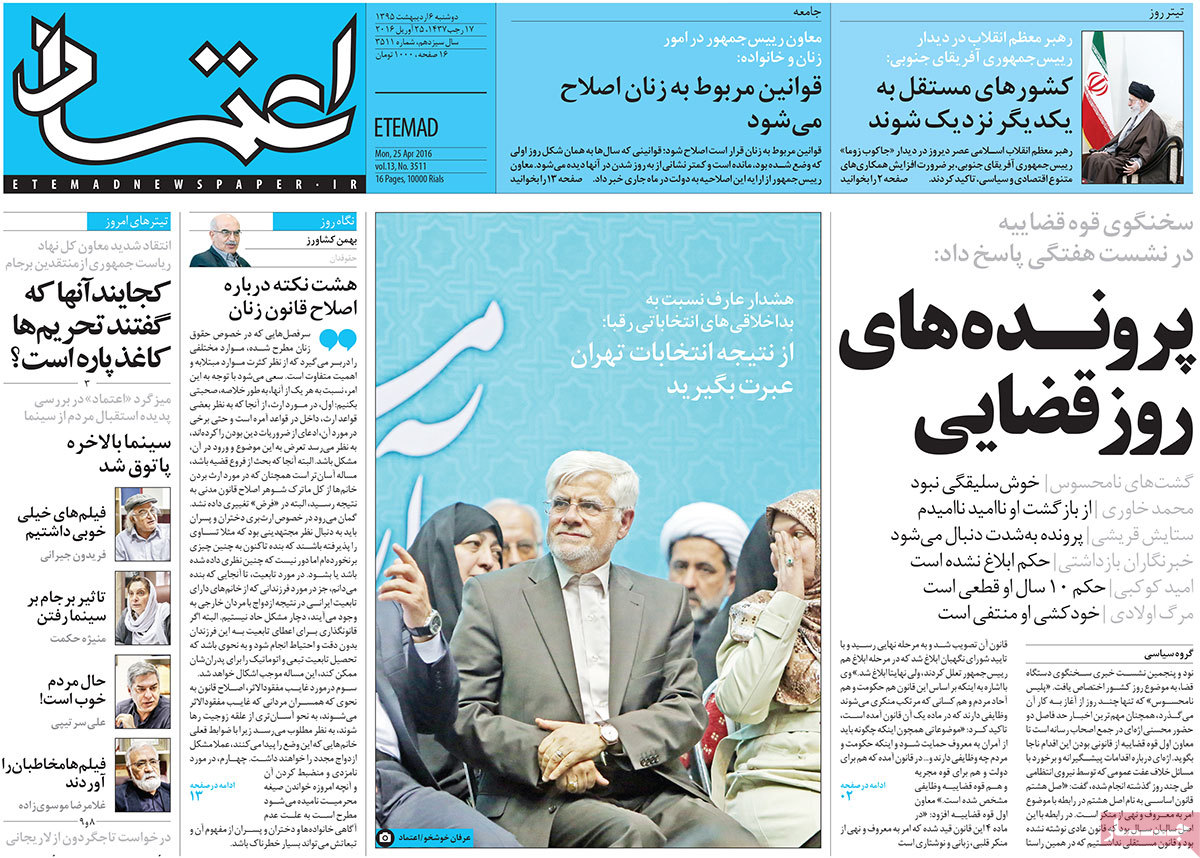 ---
Ghanoon:
Iran Pessimistic about Extraditing Banker Who Fled to Canada: Judiciary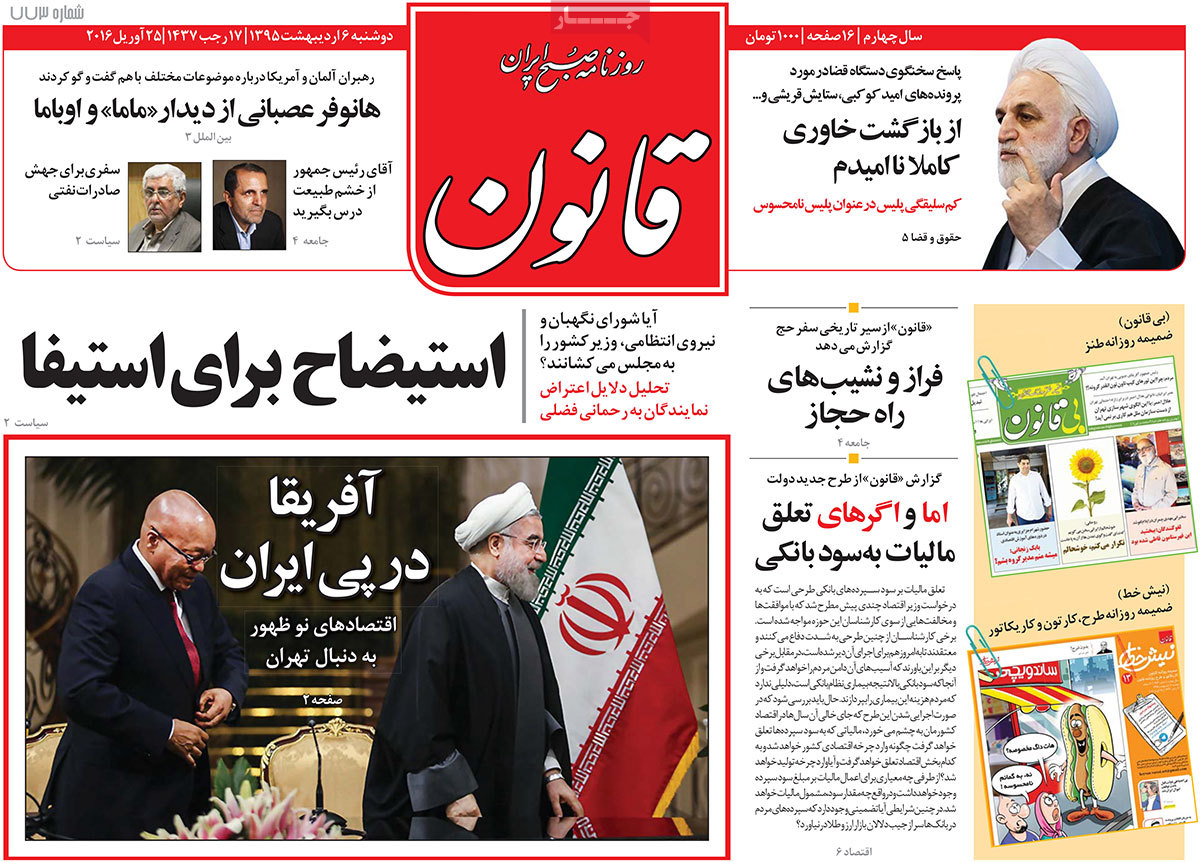 ---
Hamshahri:
More Colourful Blood: $10m Compensation for American Marines, $40k for Afghans and Yemenis
Saudi Arabia Launches Propaganda Campaign to Escape Crisis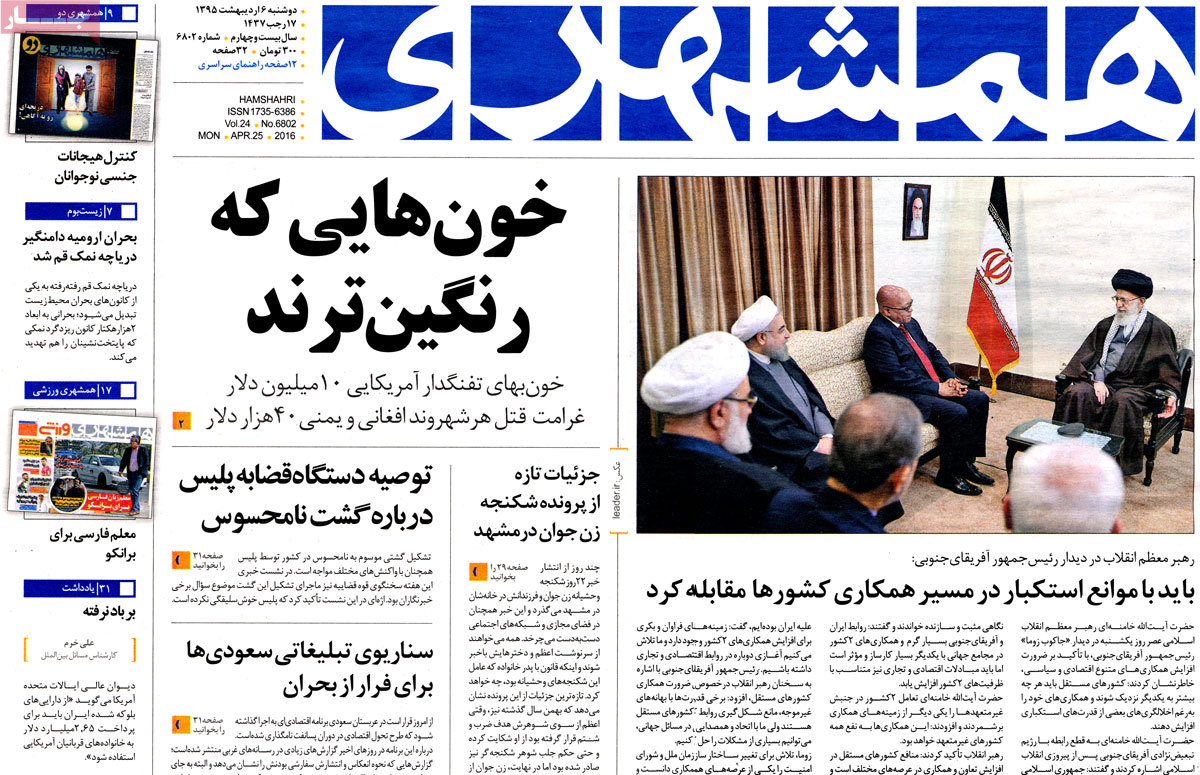 ---
Hemayat:
Huge Bribery Gang Arrested in Iran's Tax Administration
---
Iran:
Imprisoned Physicist Omid Kokabi's 10-Year Verdict Is Final and He Is under Medical Treatment: Judiciary Spokesman

Iran's Culture Minister Slams Saudi Arabia's Stonewalling in Hajj Talks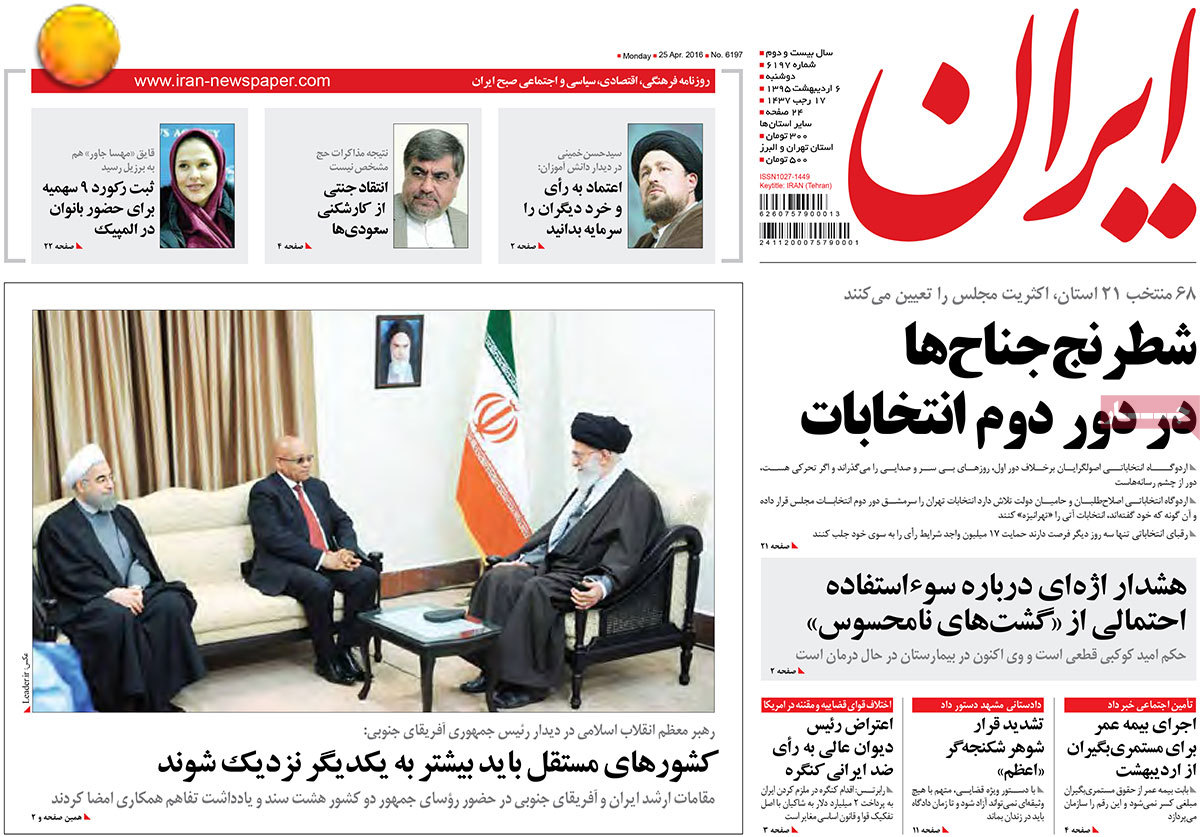 ---
Jomhouri Eslami:
MPs Urge Prosecution of Officials in Ahmadinejad's Gov't over US Seizure of Iranian Assets
Hundreds of Israelis Attack al-Aqsa Mosque
Barriers to Iran's Int'l Shipping Removed
Iran Exports Record-Breaking 4.1m Tons of Steel Products
---
Javan:
South African President: Iran a Great Example of Self-Reliance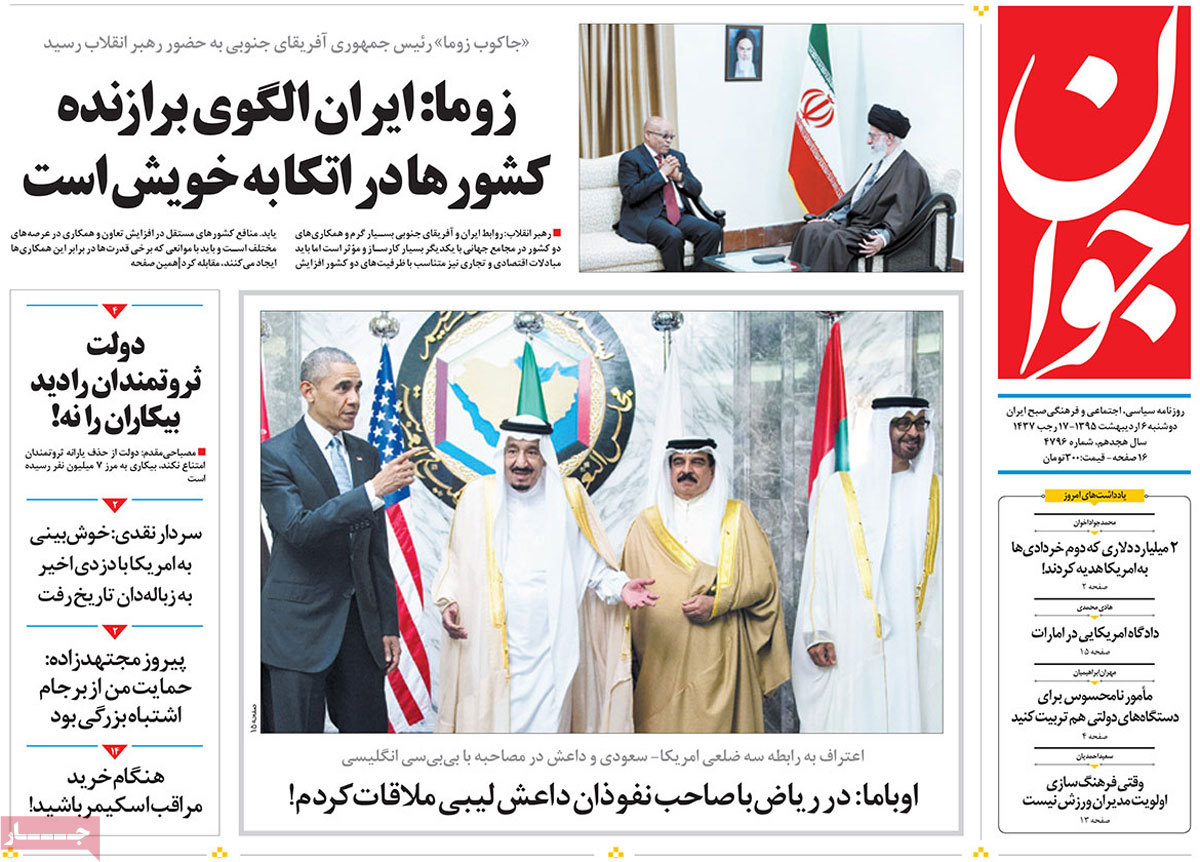 ---
Kayhan:
Rouhani Administration's Response to US Seizure of Iranian Assets: Hail the JCPOA!
250 Iraqi Girls Preferred Death to Marriage with Takfiris
---
Khorasan:
Ahmadinejad's Minister Reacts to CBI Chief's Accusations of US Seizure of Iranian Assets
Source: Over $16bn of Iranian Property Still in Danger of Being Confiscated by US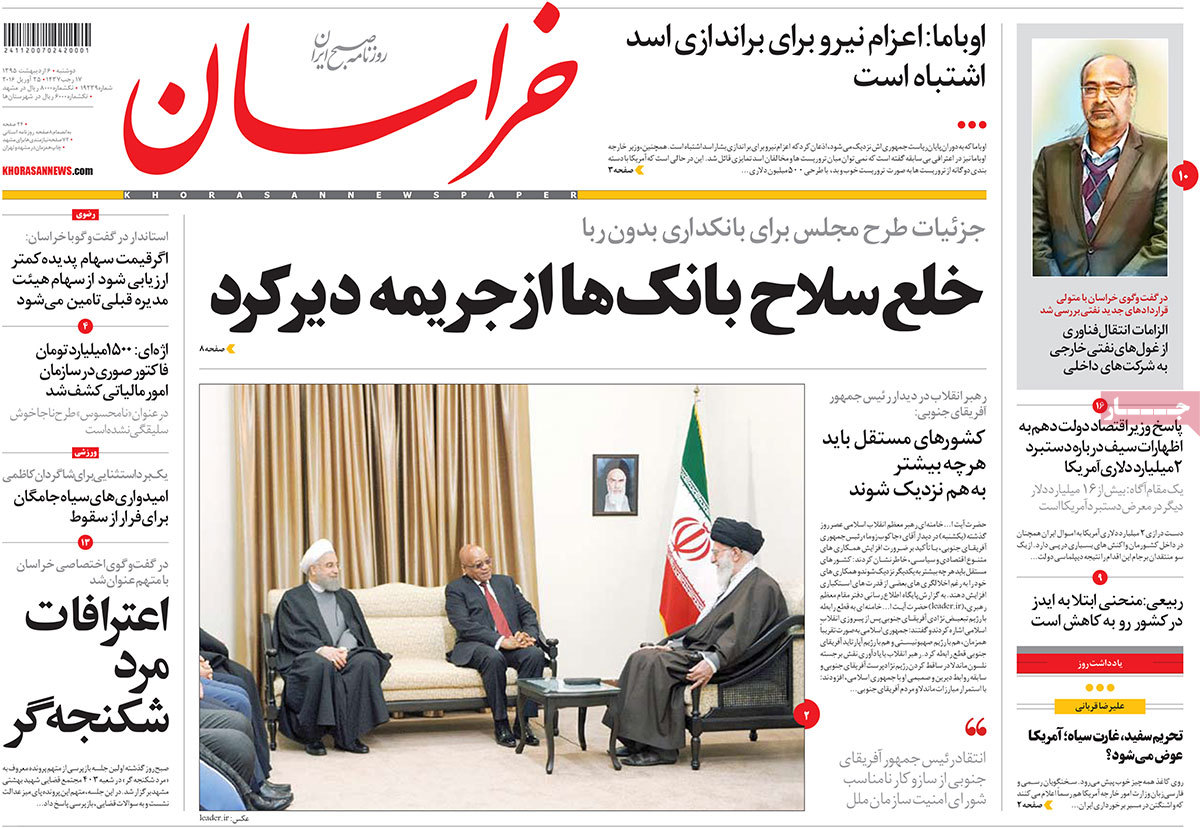 ---
Rahe Mardom:
General Soleimani's Offer to Syria's Assad: Iran's Intelligence Minister
Main Challenges for Tehran: Noise and Air Pollution
---
Resalat:
Iran's Response to Enemy Aggression Not Predictable: Armed Forces Spokesman
We Expected Rouhani to Take Firm Stance against US on Asset Seizure: Politician
---
Sayeh:
Degrees in Iranian Society: I Cannot Live without Academic Degree
Anti-Narcotics NGO Urges Popular TV Series Shahrzad Not to Show Smoking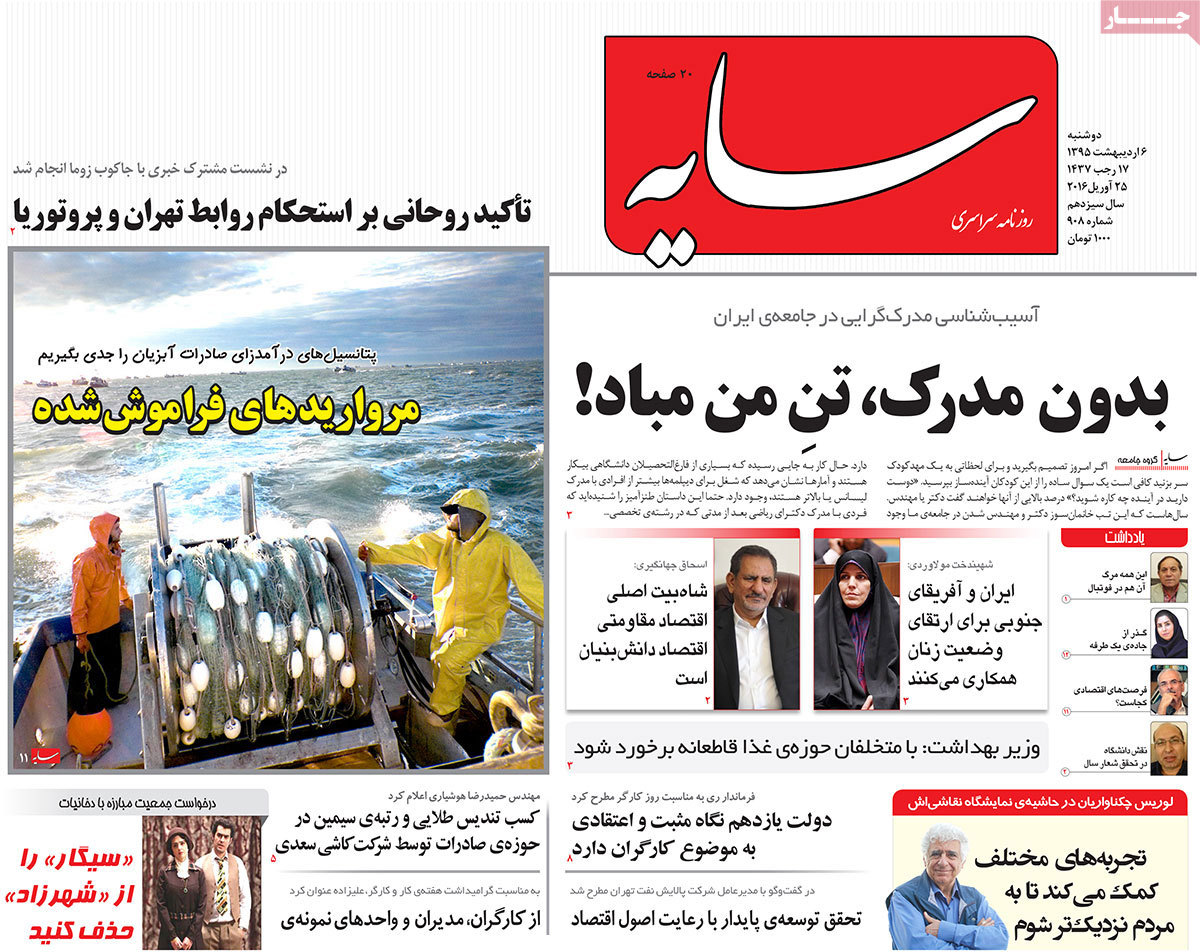 ---
Sharq:
MPs Unaware of American Bond Purchase by Ahmadinejad Gov't: How Iran Lost $2bn
Trump's Victory in Iran's Interest: JCPOA to Be Implemented Strictly If Hillary Wins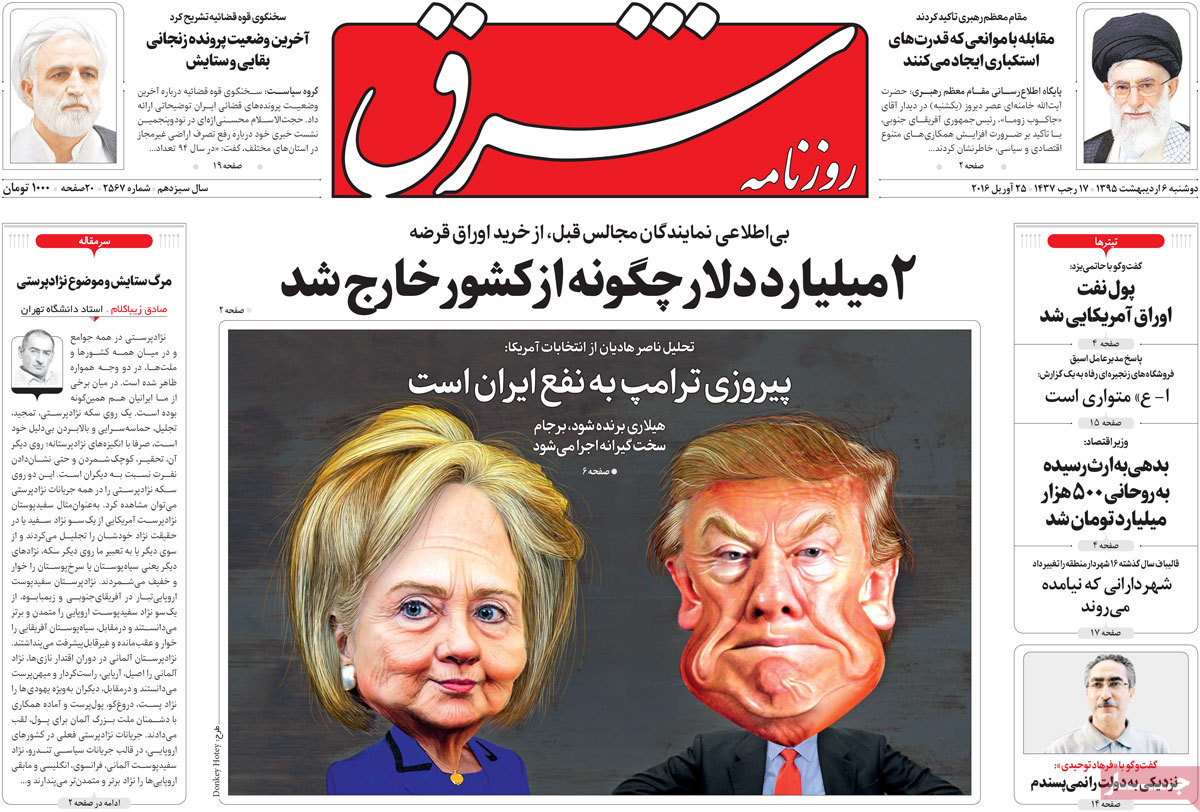 ---
Siasate Rooz:
Families of 185 Victims of Mina Crush Sue Saudi Arabia
There Is Always a "Former Gov't" to Be Blamed
(Another response to CBI Chief who blamed Ahmadinejad's gov't over US seizure of Iranian assets)