Almost all newspapers today covered a recent meeting between Iranian Foreign Minister Mohammad Javad Zarif and his US counterpart John Kerry in New York, where the American side promised to remove barriers to Iran's trade with Europe.
Iranian media also covered the remarks by Central Bank of Iran (CBI) Chief Valiollah Seif, who blamed the former Iranian administration for a recent US court ruling which seized $2 billion of Iranian assets.
President Hassan Rouhani's comments on Iran's role in the fight against terrorism and extremism, as well as his cabinet meeting on the controversial plan of "plainclothes morality" police were also discussed.
Abrar:
1-Iran and Group 5+1 Agree to Continue Cooperation on Sanctions Removal: EU
2-Kerry: Banks and Financial Institutions Should Not Be Afraid of Dealing with Iran
3-I Hope Kerry's Remarks Allay Banks' Concerns: Iran FM
4-US House Speaker Criticizes Purchase of Iran's Heavy Water
5-Libya's Darnah Fully Cleansed of Daesh Terrorists
---
Abrar-e Eqtesadi:
1- Ahmadinejad to Blame for US Seizure of Iranian Assets
2- 1 Million Shopping Cards Allocated to Low-Income People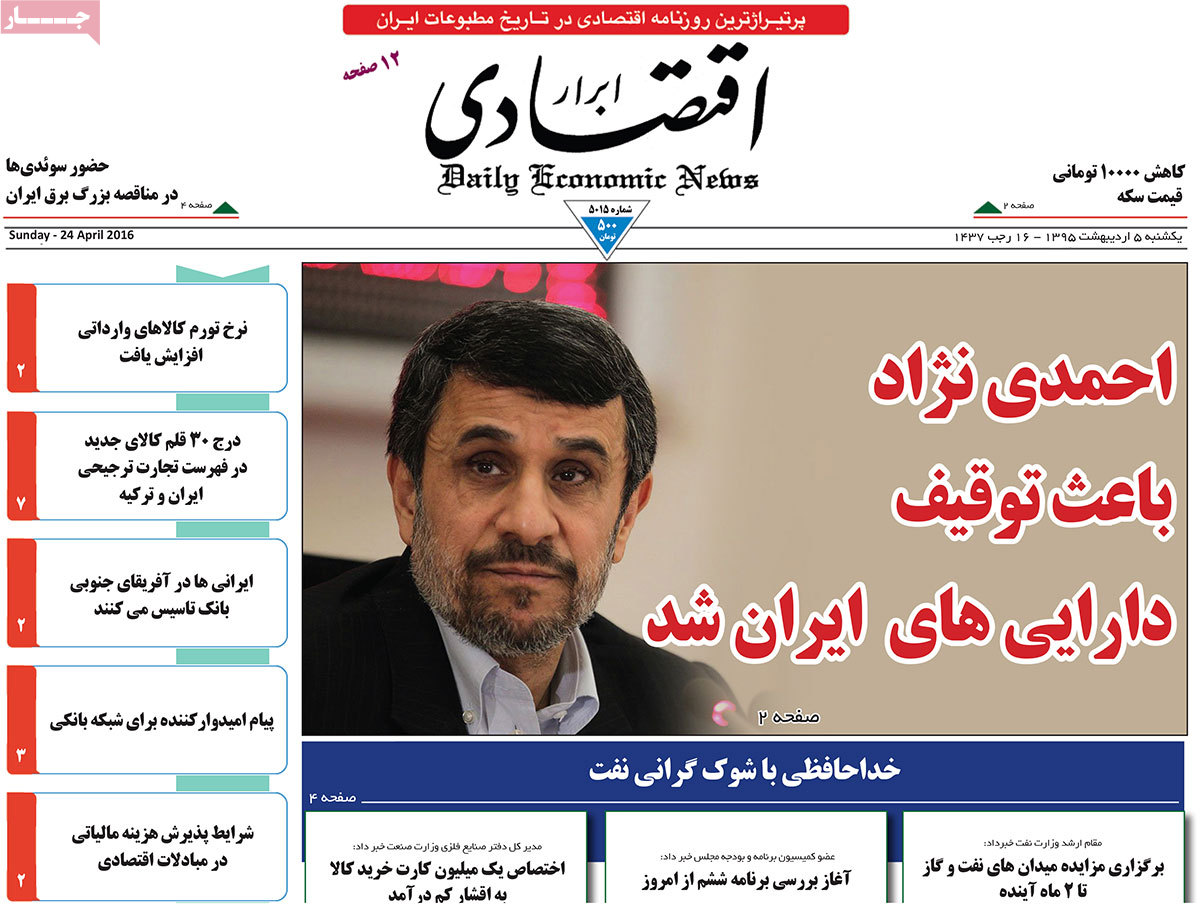 ---
Aftab-e Yazd:
1- American Promise, Iranian Confusion: Will US Keep Its Promises?
2- TV Host of London-Based Persian Channel Controversially Attends Fajr Int'l Film Festival in Tehran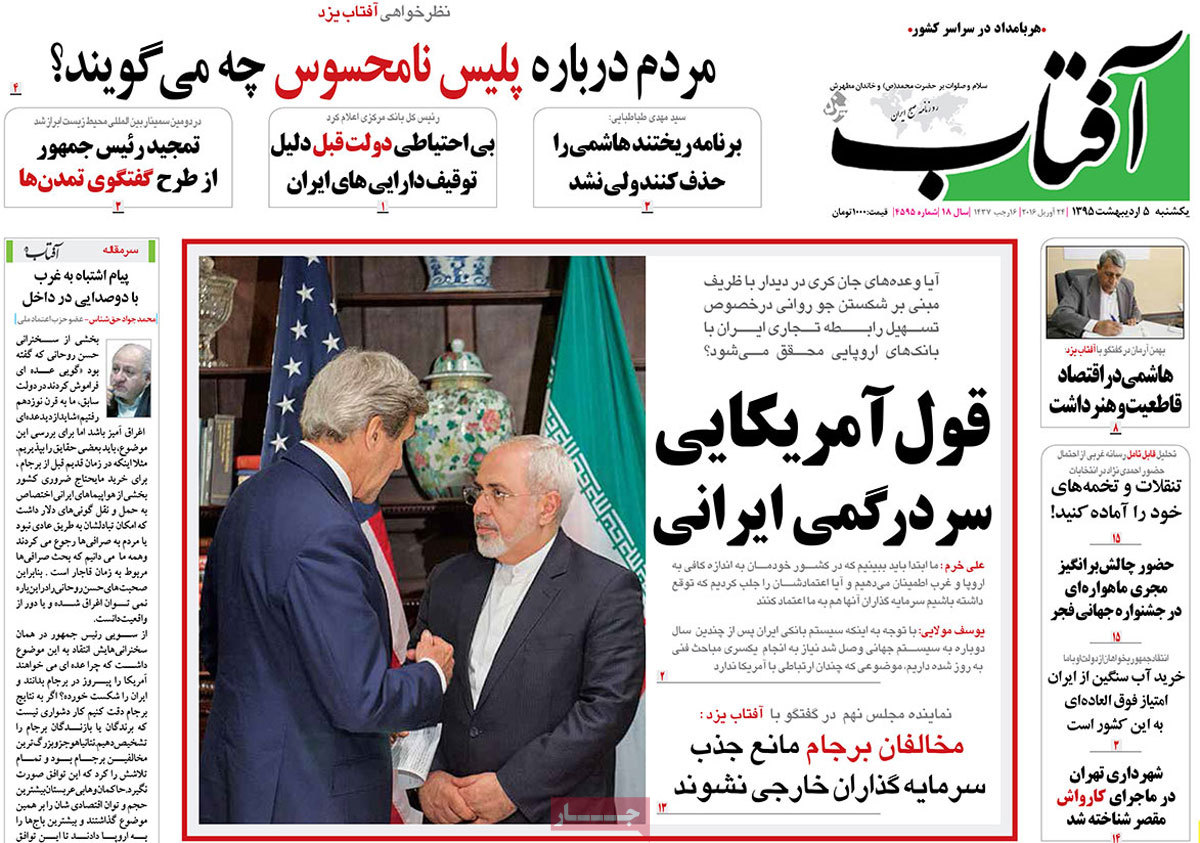 ---
Amin:
1- Carlos Queiroz to Continue as Head Coach of National Football Team
2- Iran is Flag-Bearer in Global Fight against Extremism: Rouhani
3- Why did Israel's Bibi Suddenly Visited Moscow?
4- Asghar Farhadi: About Elly Started with a Photo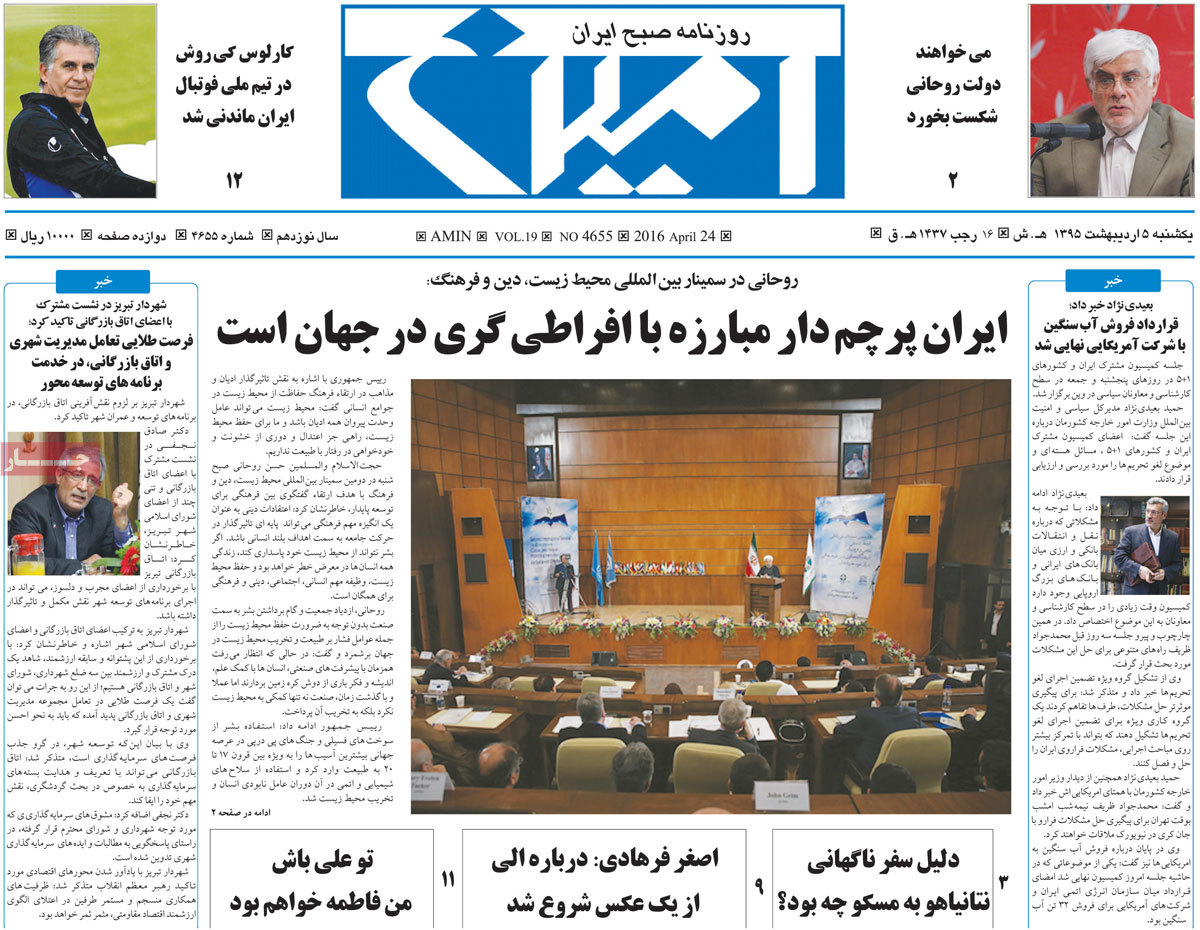 ---
Arman-e Emrooz:
1- Shocking Confession on Possible Tehran Earthquake: No One Is Ready, Even Rescue Teams
2- Iran-US Heavy Water Deal  Worth $8.6m
3- We Are Aware of USA's Domestic Problems: Ayatollah Rafsanjani
---
Asia:
1- US Takes Major Steps for Cooperation with Iran
2- Oil Price Decline Stopped after Doha Meeting: Oil Minister
---
Asrar:
1- If It Was Not for Iran, We Would Be Facing the "Terrorist State of Daesh [ISIS]": Rouhani
2-Iran to Collect Its Principal Money and Interest from US: First VP
3- Iran Seeks to Interact and Cooperate with the World: Rafsanjani
4-Iran's VP Criticizes "Plainclothes Morality Police" Plan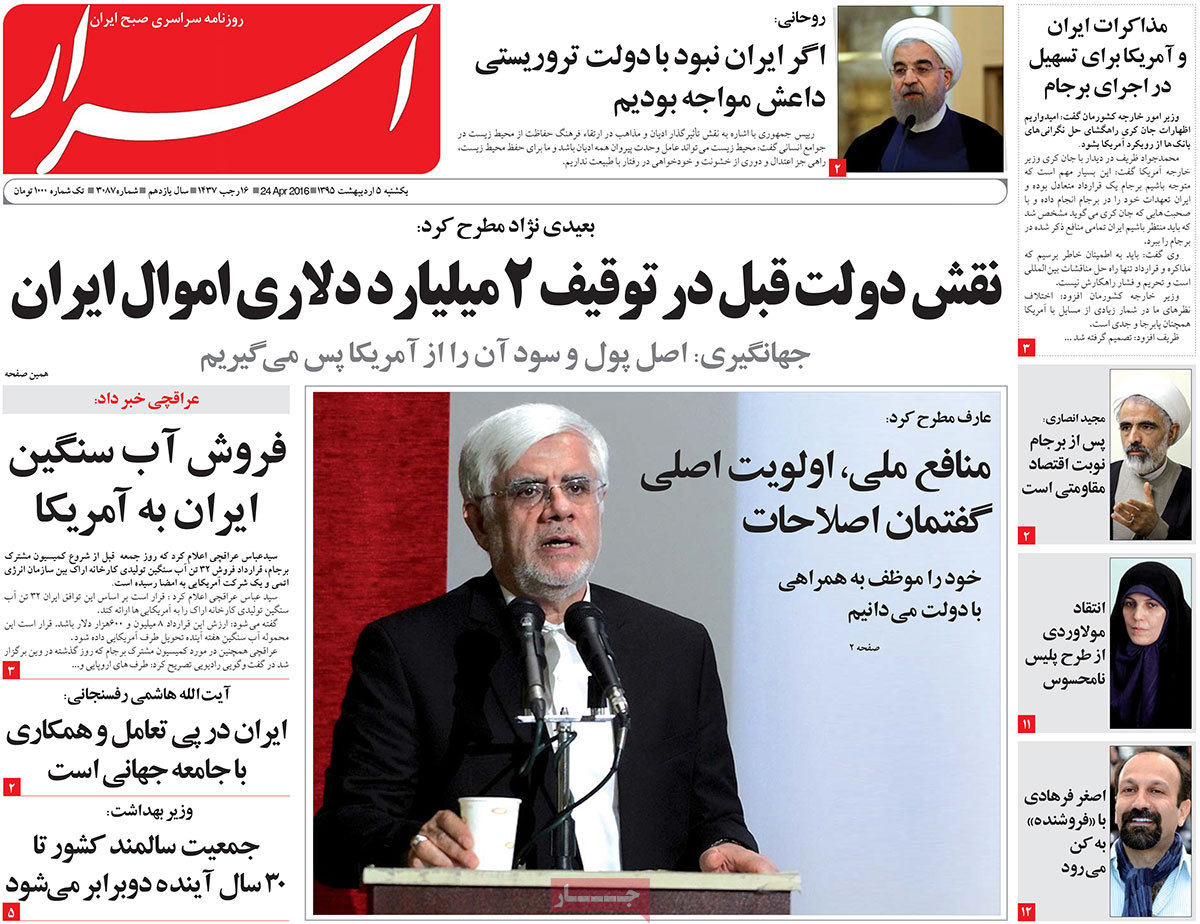 ---
Asre Rasaneh:
1- Iran and Azerbaijan Agree on Regulation of Radio Frequency
2- Italy to Build New Terminal in Tehran's Mehrabad Airport
3- US to Import 41kg of Iran's Saffron
---
Ebtekar:
1- Online Dating for Marriage to Become Legal in Iran!
2- Iran's Diplomatic Pressure Works: US's Kerry Assures Banks of Cooperation with Tehran
---
Emtiaz:
1- HIV Rate Declines: Social Welfare Minister
2- Iran's Proposal to UN on Dust Pollution: VP Ebtekar
3-Number of Drug Addicts in Tehran Doubled: City Council Chief
4- Iran and South Africa to Sign MoUs for Increased Cooperation: Oil Minister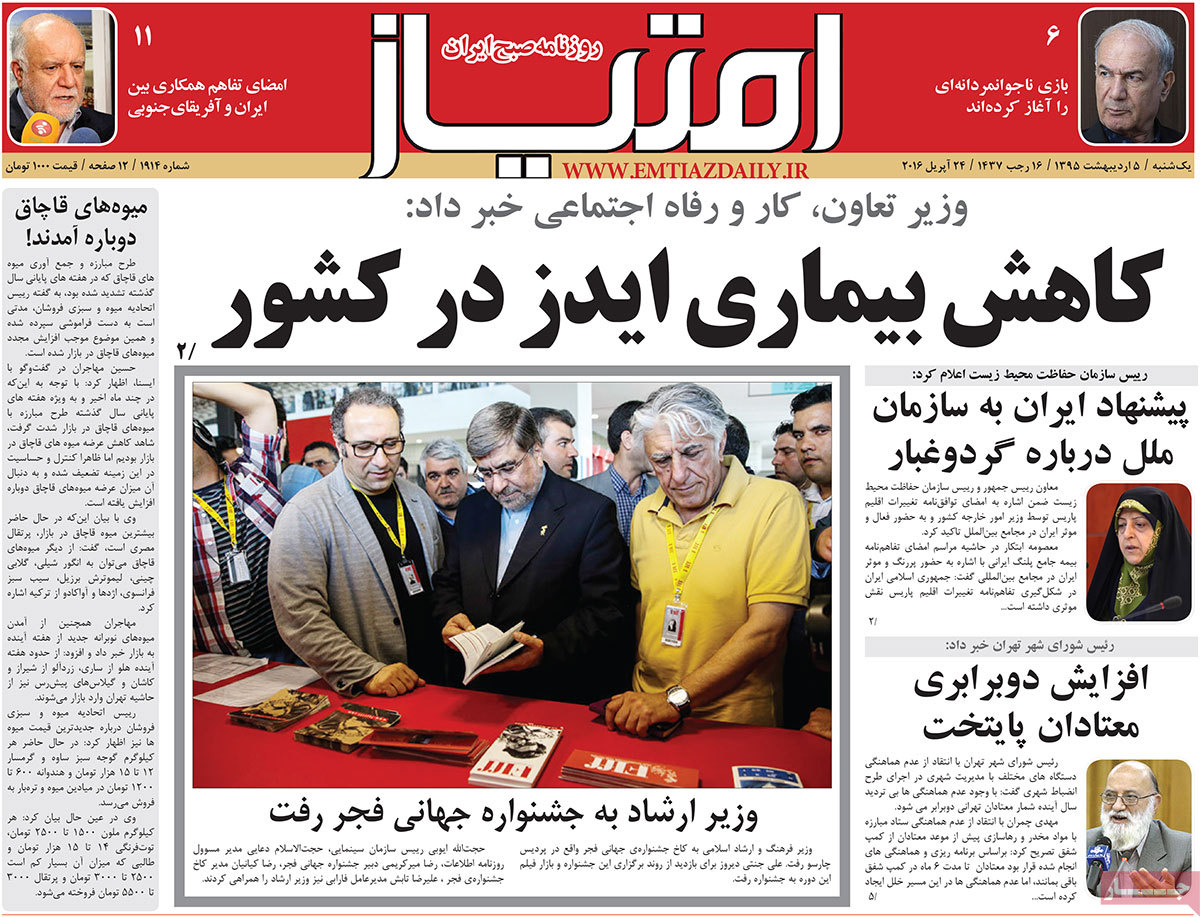 ---
Ettela'at:
1-First Call for Dialogue of Civilizations, Interaction of Religions, and World Cooperation against Violence and Extremism Originated from Iran: Rouhani
2- UN Urges Saudi Arabia to Stop Torture of Political Activists
3-Iran's Cabinet to Study "Plainclothes Morality Police" Plan Today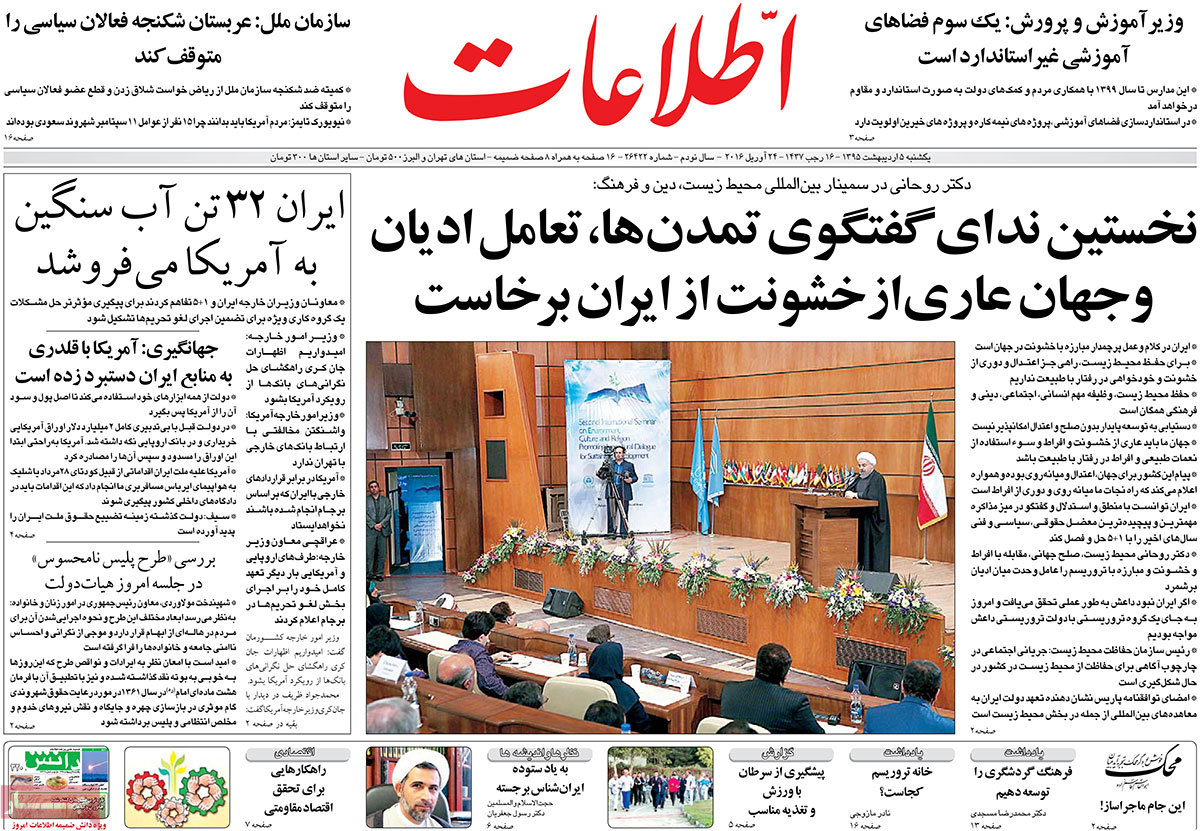 ---
Etemad:
1-Iran Resumes Export of Saffron to US after 15 Years
2- Central Bank Chief Blames Ahmadinejad's Gov't for Seizure of Iranian Assets in US
---
Ghanoon:
1-President "Tweets" Iran's Might to the World: Rouhani Shows Off Iran's Regional Policies
2-The Gift Ahmadinejad Gave to US: Purchase of Bonds from "Hostile" Gov't
3-Playing with Britain's Cards in EU: A Reflection on US Opposition to Brexit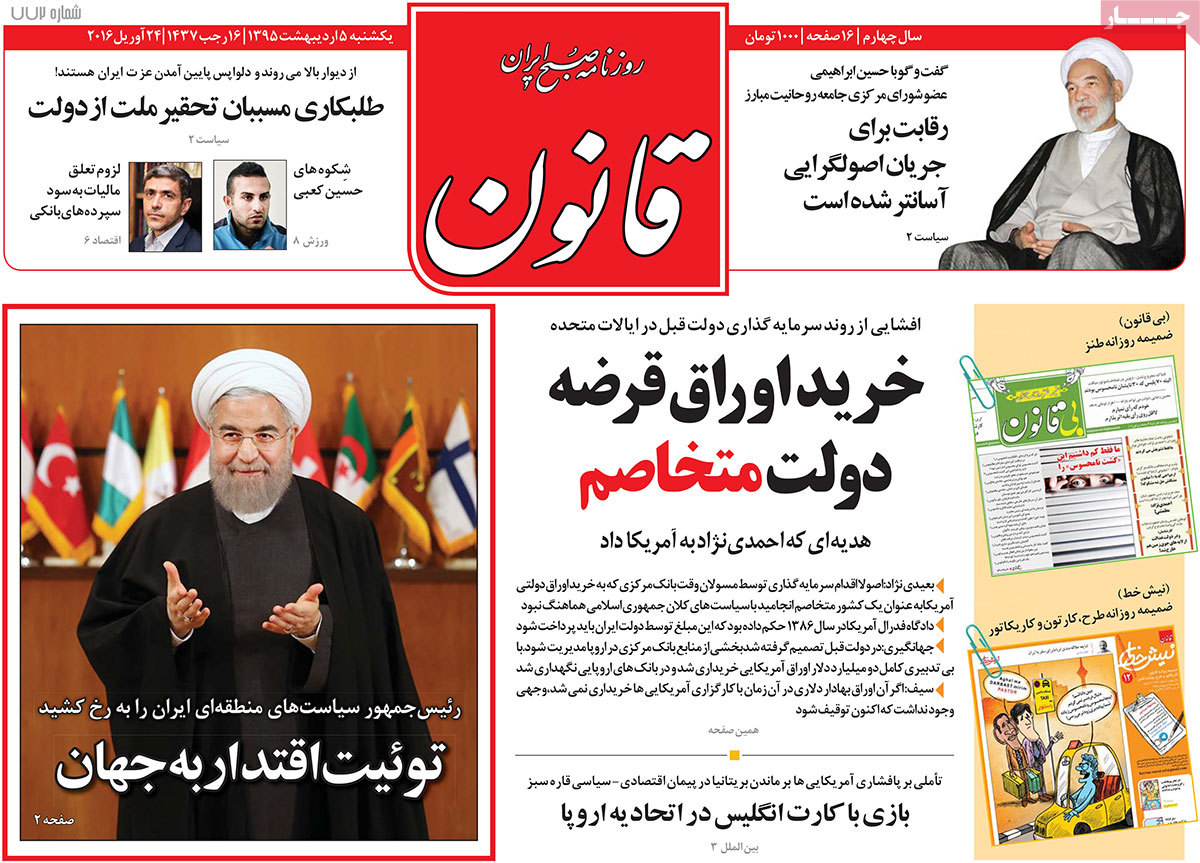 ---
Hamshahri:
1-Lake Urmia to Be Drowned under Wave of Water Transfer from Caspian Sea to Central Iran
2- Central Bank Calls On People to Sue Iranian Banks That Overcharge Them
---
Hemayat:
1-US Court Ruling Is International Thievery: Iranian Lawmakers
2-Price of Imported Medicine Down by 18%
3-White House's Support for Takfiri Terrorists in Aleppo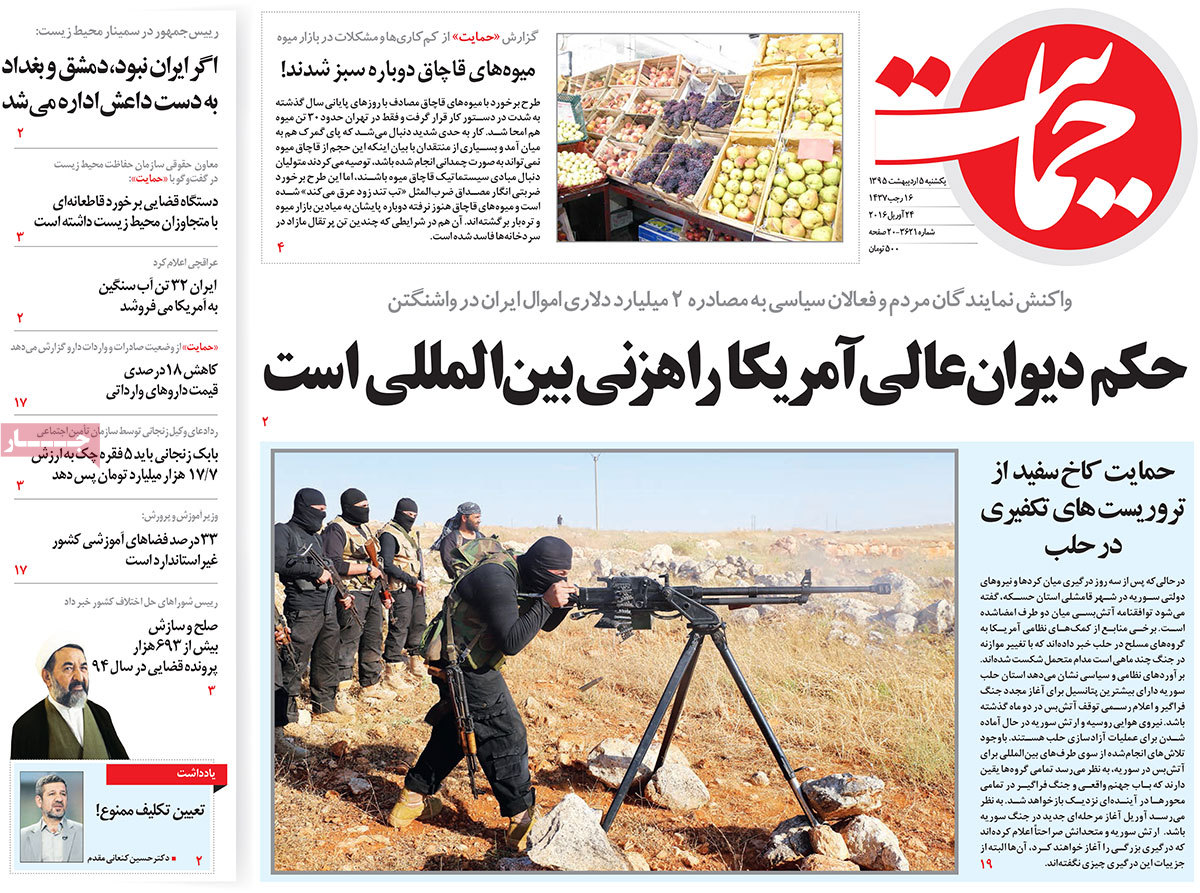 ---
Iran:
1-VP Issues Order to Pursue Case of Iranian Woman Brutally Tortured by Husband
2- Sustainable Development Not Possible without Peace and Moderation: Rouhani
---
Jame Jam:
1- People's Health Up for Auction in Beauty Salons
2- Negotiations to Put an End to Yemen's Hiroshima
3-20-Year-Old Girl Victim of Selfie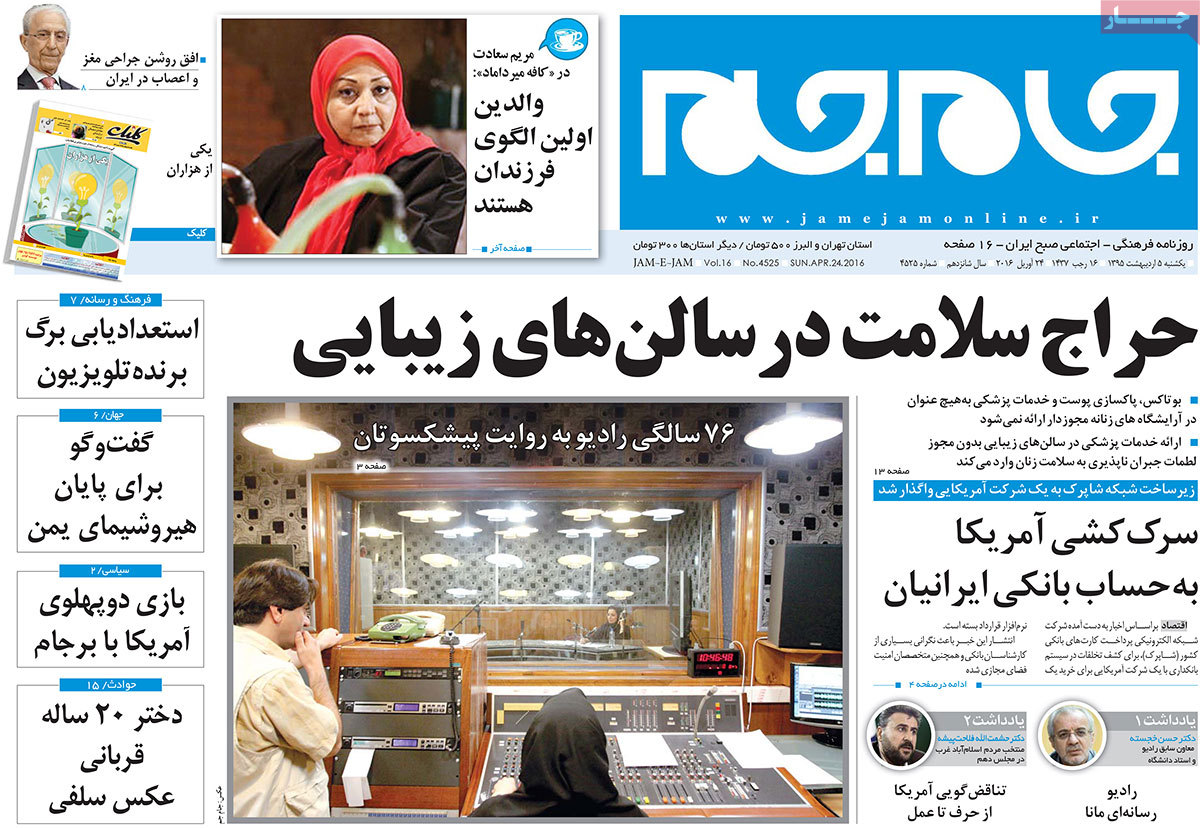 ---
Javan:
1-US and EU Passing JCPOA Back and Forth: Kerry Wants European Firms to Consult Washington before Cooperation with Iran
2- Sale of Iran's Heavy Water to US "on Credit"
3-Mass Execution in US State of Ohio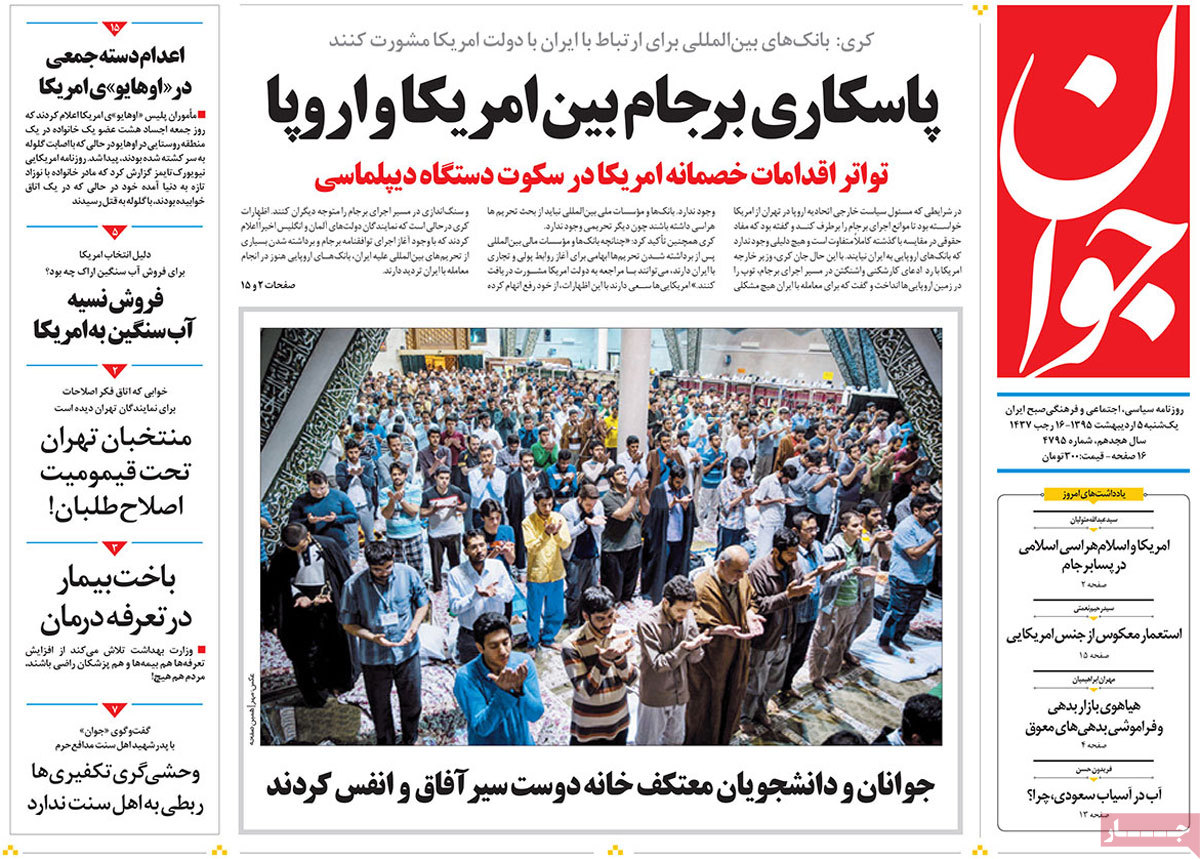 ---
Jomhouri Eslami:
1-EU Official Gives Assurance to Business Firms on Termination of Anti-Iran Sanctions
2-Saudi Regime's Attacks on Yemen Must Be Stopped: UN Envoy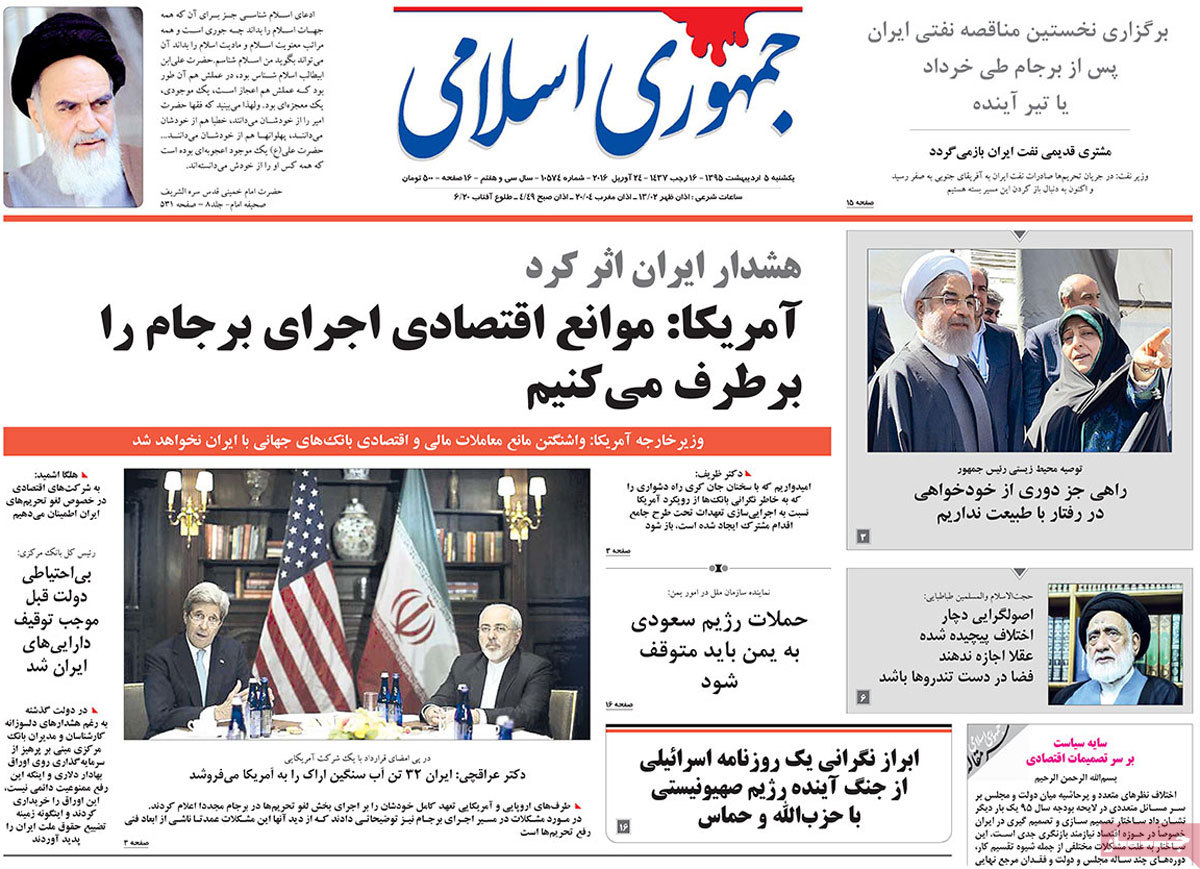 ---
Kayhan:
1-Feigning Patriotic Fervour while Begging Americans: Result of Seeing US as the "Boss"
2-Saudis Too Weak to Defeat Iran: New York Times
---
Mardom Salari:
1-Beginning of Nuclear Trade
2-Cairo Rises against El-Sisi's Betrayal: Egypt Bracing for Protests
---
Rah-e Mardom:
1- Missiles and Diplomacy: Interwoven and Interconnected
2- Oil Price Increases for Third Consecutive Week
3- Iran Ready to Welcome Foreign Investors: Deputy Economy Minister
---
Resalat:
1- US Main Barrier to Europe's Trade Ties with Iran: New York Times
2- Humanitarian Disaster in Nigeria: Amnesty Int'l Reports
3- Differences between Iran and US Still Exist: FM Zarif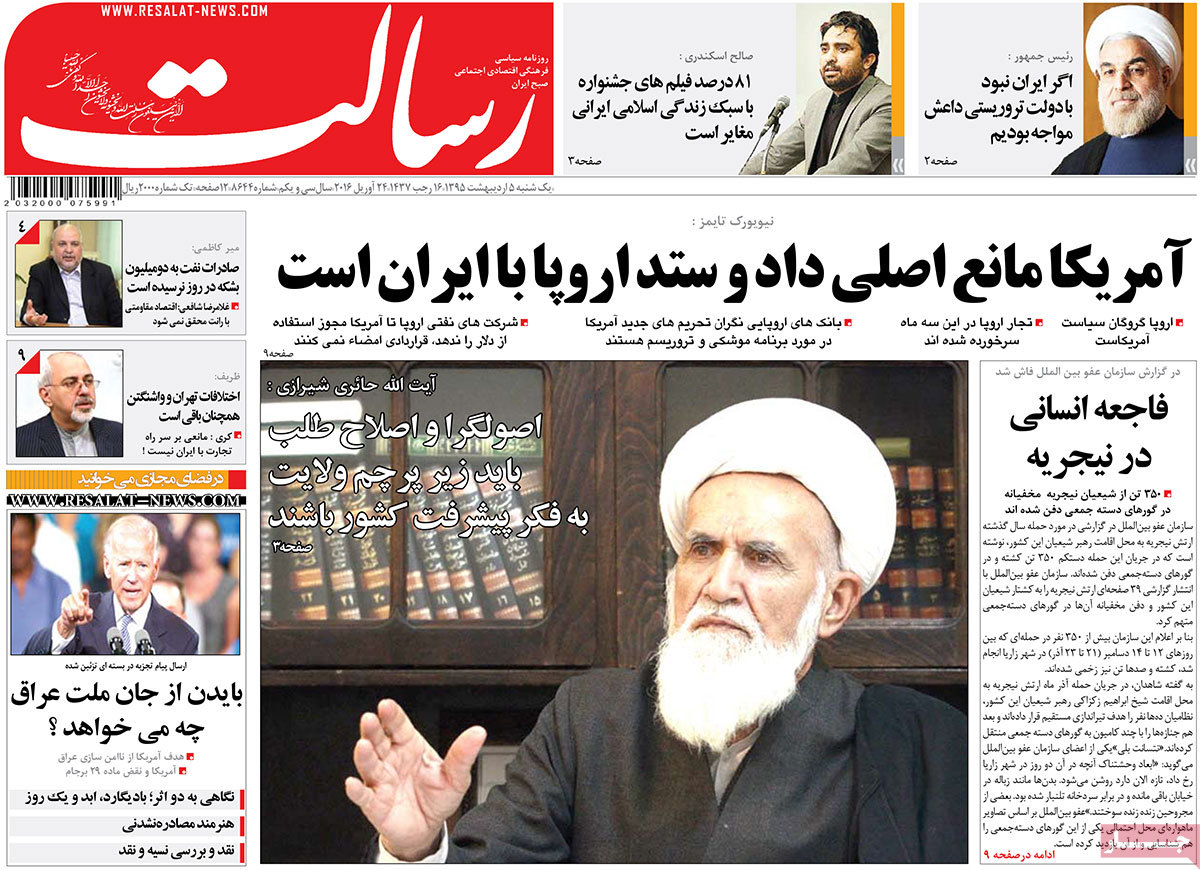 ---
Rooyesh-e Mellat:
1-Kerry Warns against End of Ceasefire in Syria
2-Iran Supports Any Plan to Regulate Oil Market: Minister
3- Environment, Key to Unity among All Religions: President Rouhani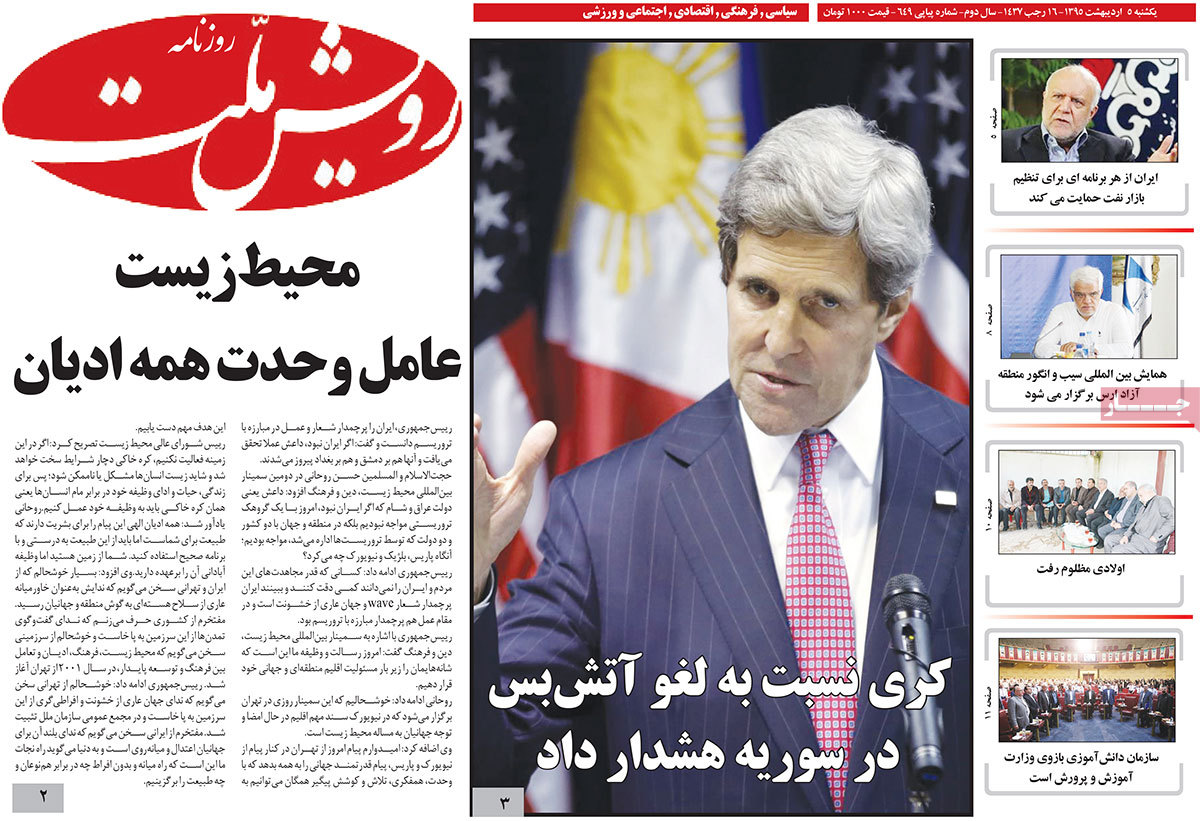 ---
Sepid:
1- Telegram Is No Place to Find Your Spouse: Experts Warn
2- Iranian Doctors More Exposed to Depression
---
Tejarat:
1- Cost of Plane Tickets Declining after Price Dump
2-Iran's Car Industry Coming Out of Hibernation