All papers today highlighted the US president's call for holding talks with Iran without any preconditions, and the reactions of Iranian officials to Trump's offer.
Also a top story today was the ongoing economic problems in Iran, which have put the government of Hassan Rouhani under great pressure.
The above issues, as well as many more, are highlighted in the following headlines and top stories:
Abrar:
1- Europe's Clear Stance on Compensating for US' Withdrawal from JCPOA Very Important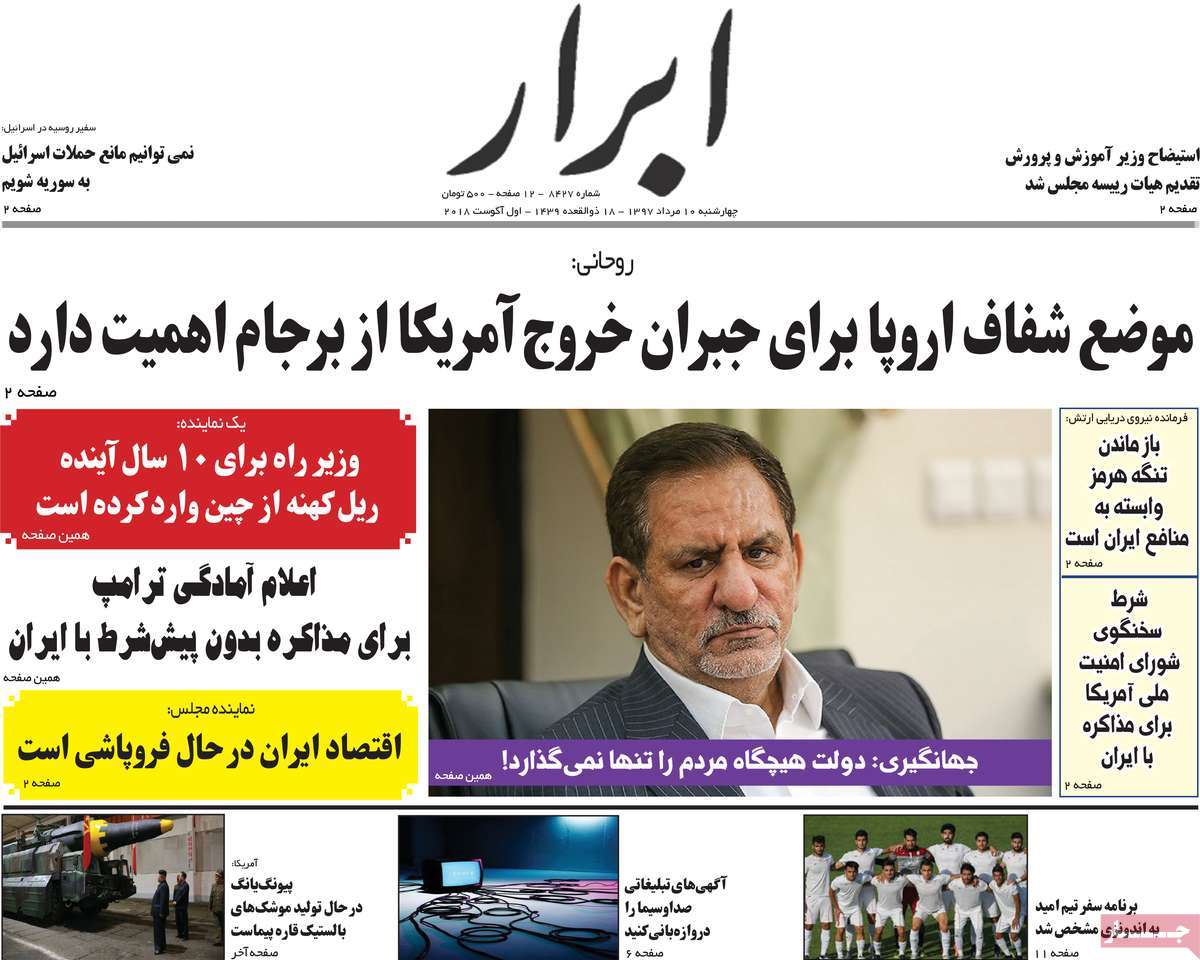 ---
Afkar:
1- US Sending Mixed Signals to Iran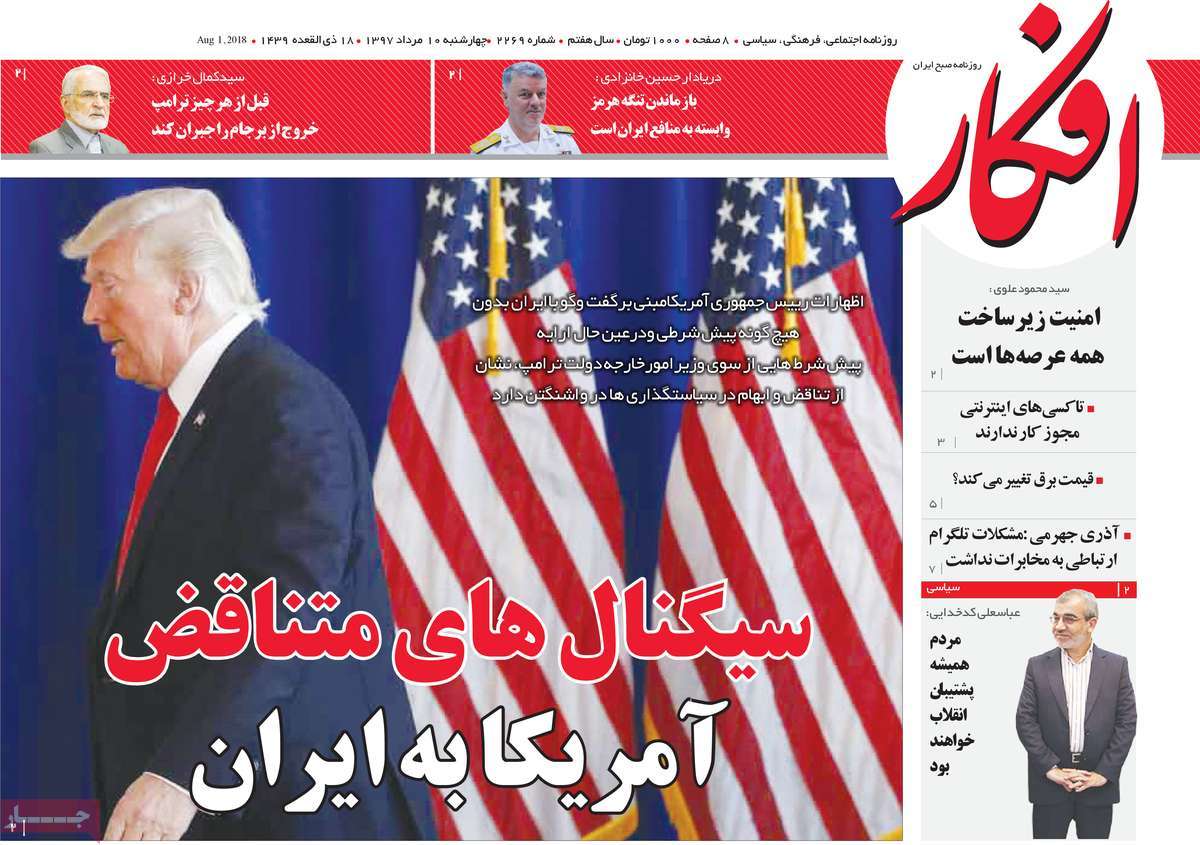 ---
Aftab-e Yazd:
1- Trump Acting Like a Chess Player
US President Calls for Unconditional Dialogue with Iran
2- Sharp Decrease in Gold Coin, US Dollar Rates
Promising Remark by Iranian Officials Restore Calm to Market
Central Bank Chief Unveils New Package for Currency Market
3- Iran Doesn't Want to Create Any Problem for Global Water Passageways: Rouhani
---
Arman-e Emrooz:
1- Iran-US: The Great Negotiation?
2- Oman Ready to Mediate between Tehran, Washington
3- Iranian Ex-FM: Trump Must First Compensate for Withdrawal from JCPOA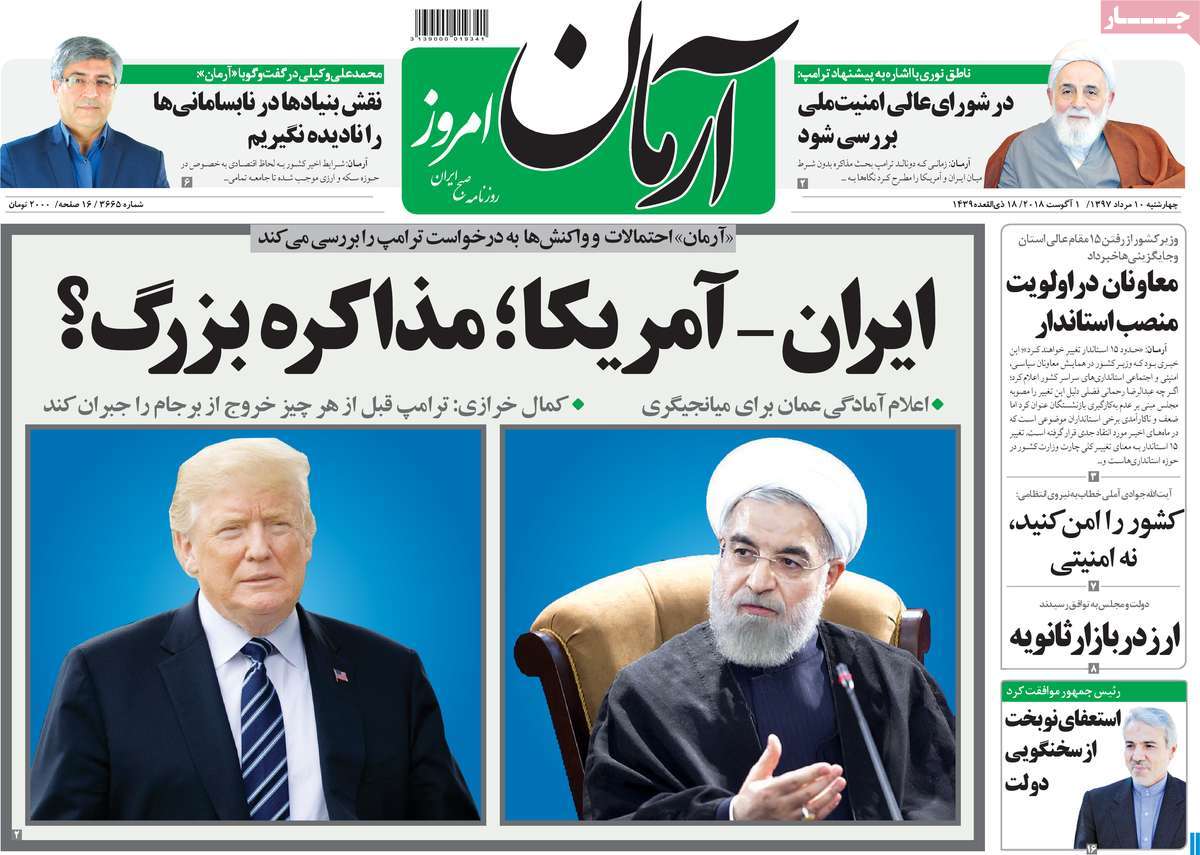 ---
Arman-e Melli:
1- White House's Music Out of Tune: From Threat to Negotiation
2- Trump's Foreign Policy towards Iran Turns into Political Mystery for World Media
3- Rouhani: Ball in Europe's Court
4- Sacking Executives to Give Calm to Society: Moderate Cleric
---
Ebtekar:
1- Drums of War; Songs of Negotiation
Iran: Negotiation Has Basic Requirements, Conditions that Haven't Been Seen in Trump's Words, Behaviours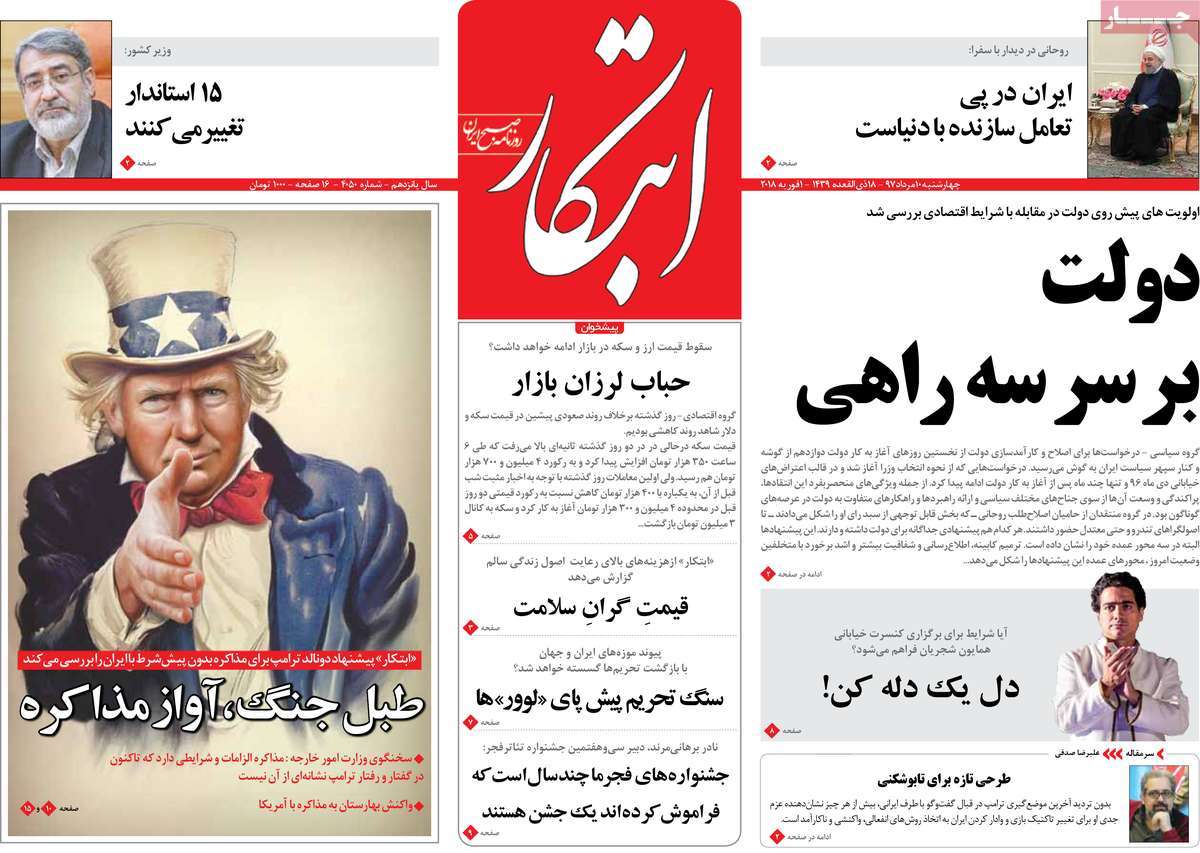 ---
Etemad:
1- Trump's Trap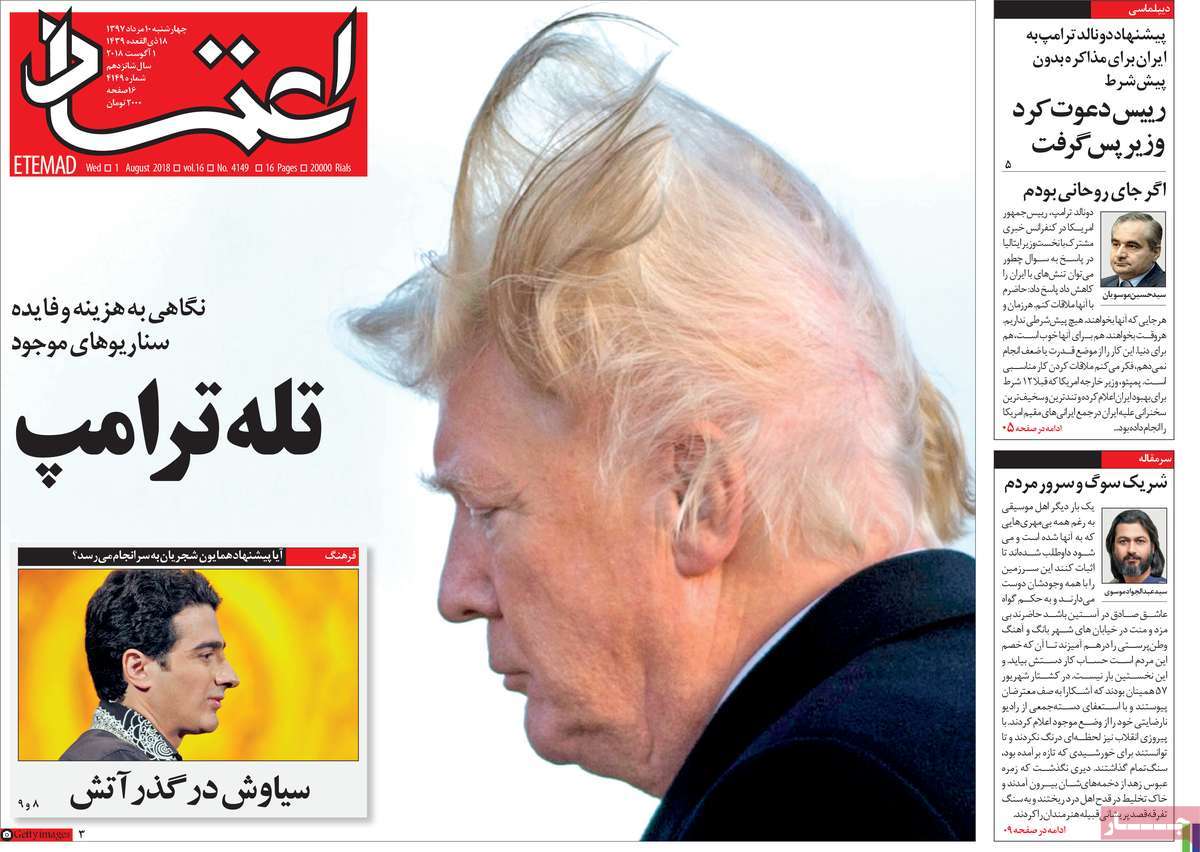 ---
Ettela'at:
1- US Must Make up for Its Withdrawal from JCPOA: Former Diplomat
2- Rouhani: We Won't Give Up Our Right to Export Oil
3- World Food Program: 18 Million Yemenis in Danger of Drought
4- Iran First VP: We Have No Red Line for Countering Corruption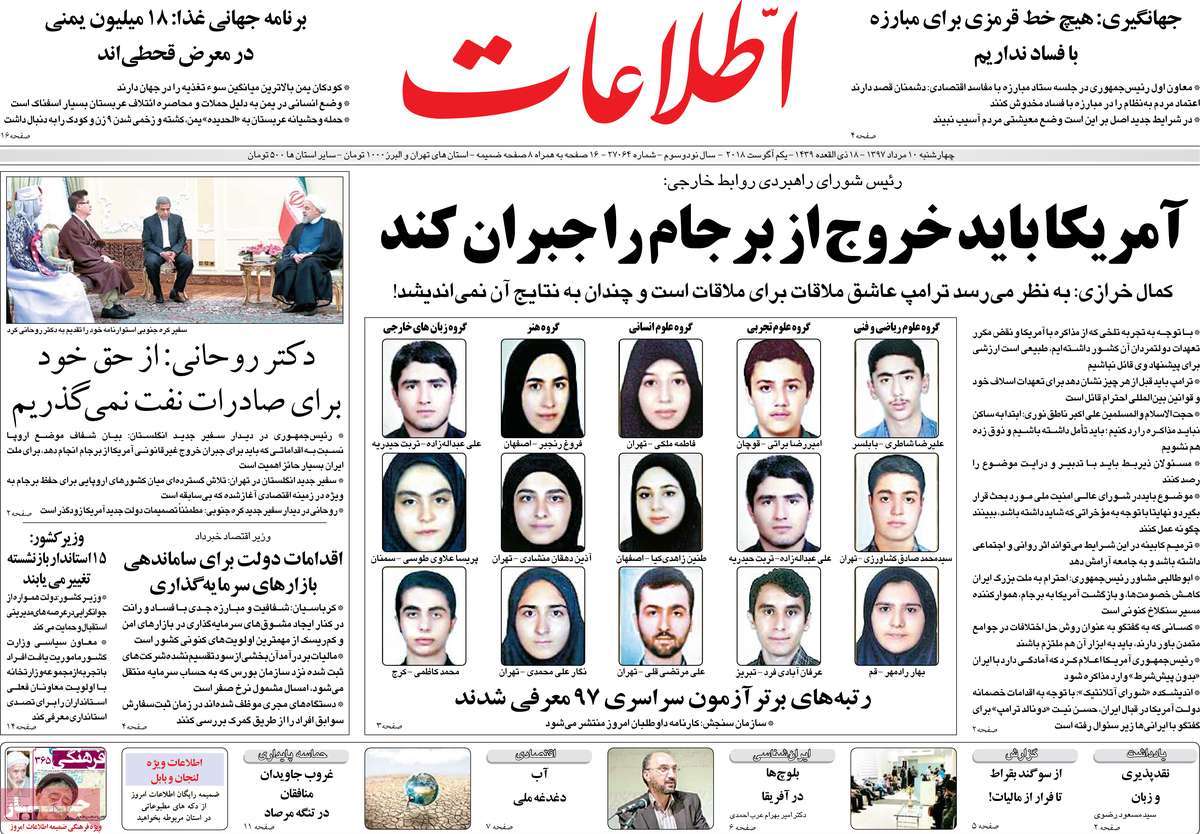 ---
Farhikhtegan:
1- Trump Wants to Destroy Negotiations: Former Diplomat
2- Academic: If Trump Wants to Sit for Talks with Iran, He Must First Return to JCPOA, Fulfil Commitments
3- Analyst: Trump Wants to Stabilize His Own Position in US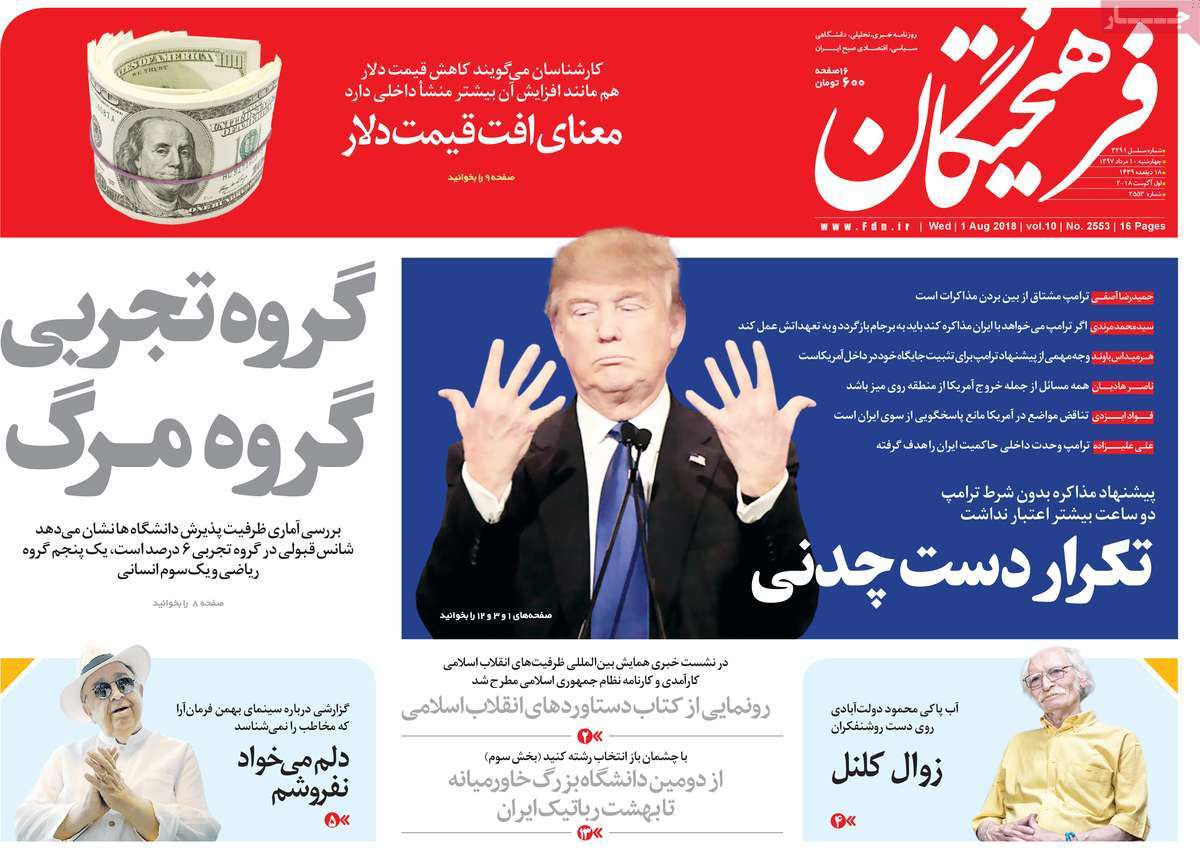 ---
Ghanoon:
1- American Paradox: Iranian Officials Didn't Show Positive Reactions to Americans' Call for Talks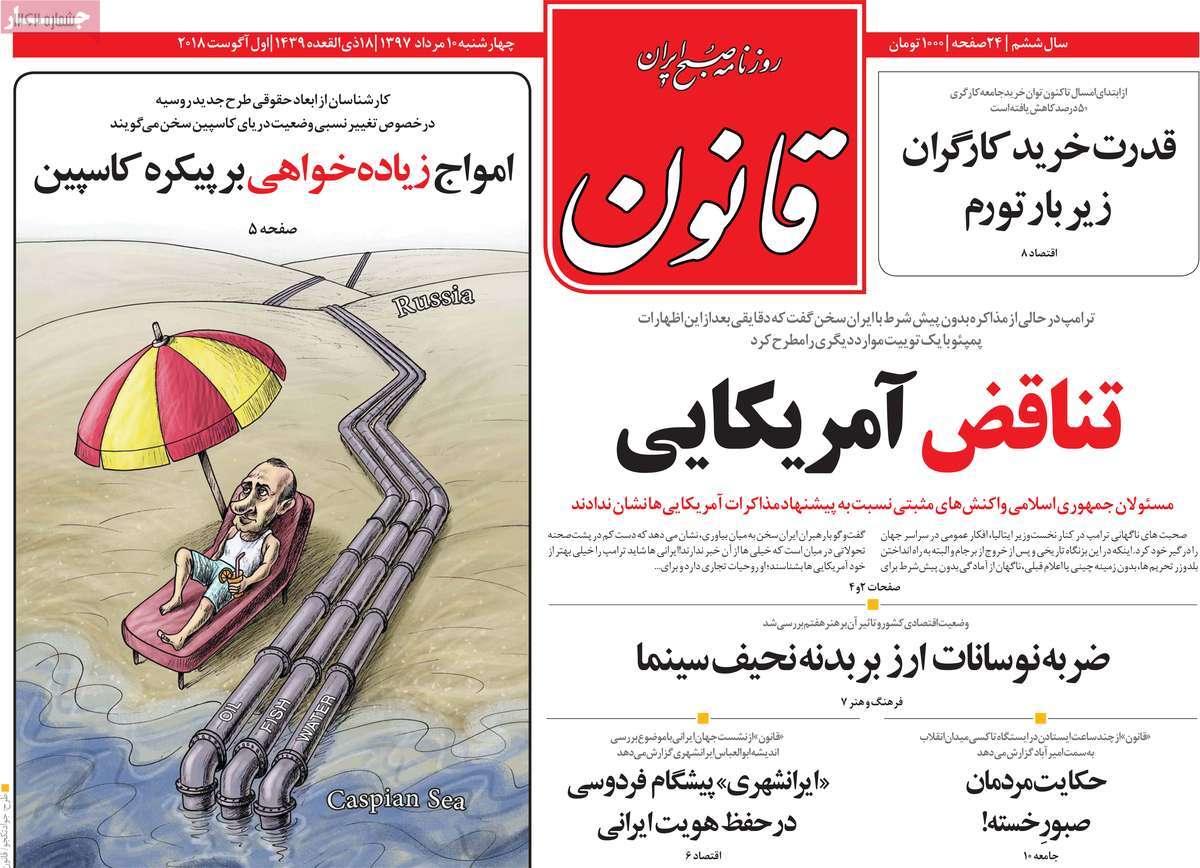 ---
Hemayat:
1- Trump Once Again Showing Deceitful Behaviours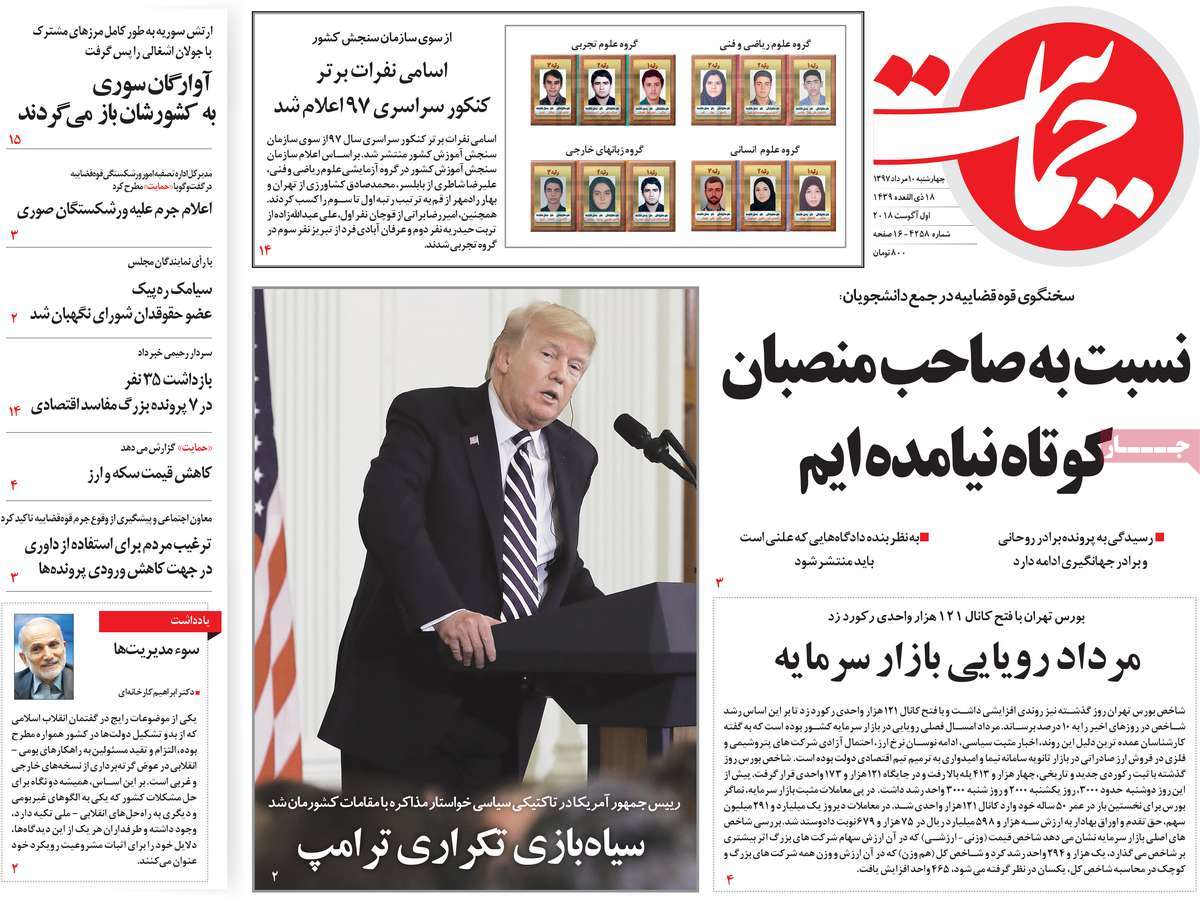 ---
Iran:
1- American Paradoxes
2- Women More Effective in Public Diplomacy: Iran's Second Female Ambassador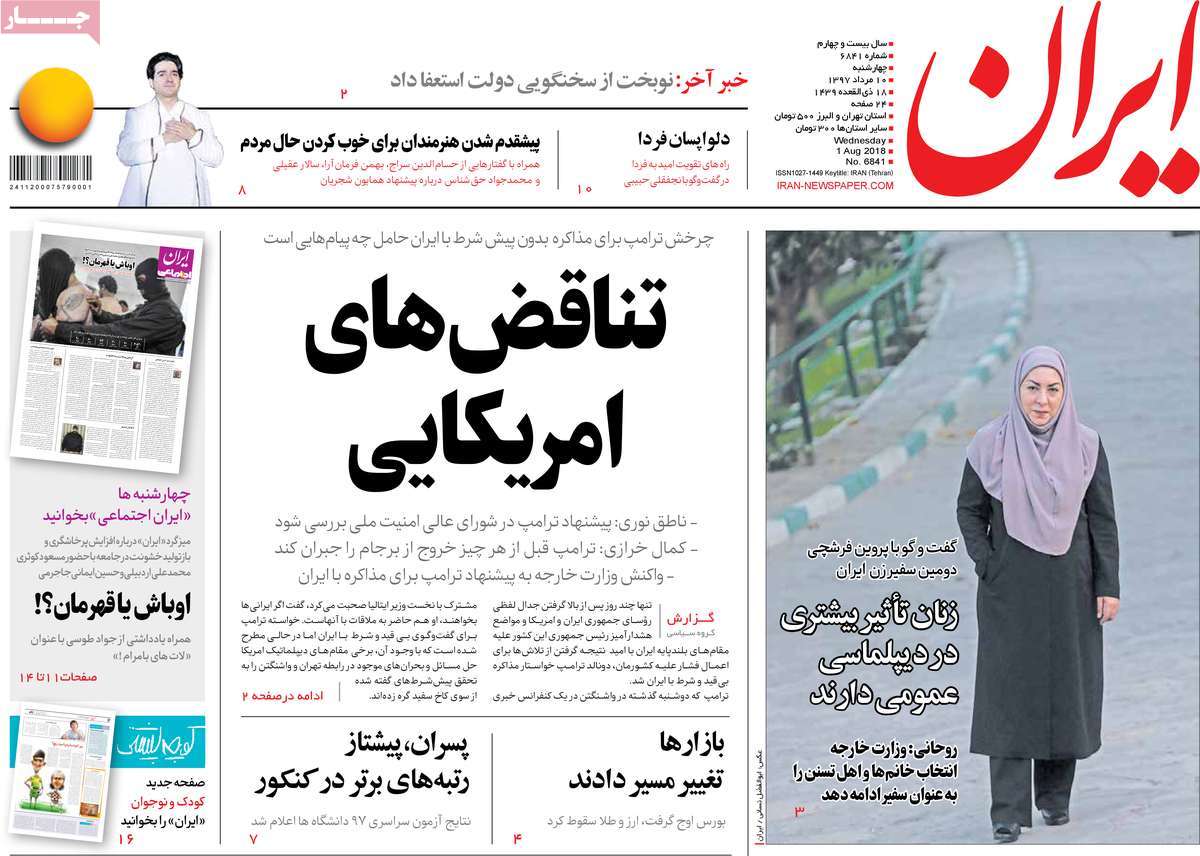 ---
Jame Jam:
1- Trump's Call for War
Hidden Aspects of US President's Call for Dialogue with Iran
---
Javan:
1- Gambler Playing with Negotiation
US President Longs for another Show of Photo-Diplomacy with Iran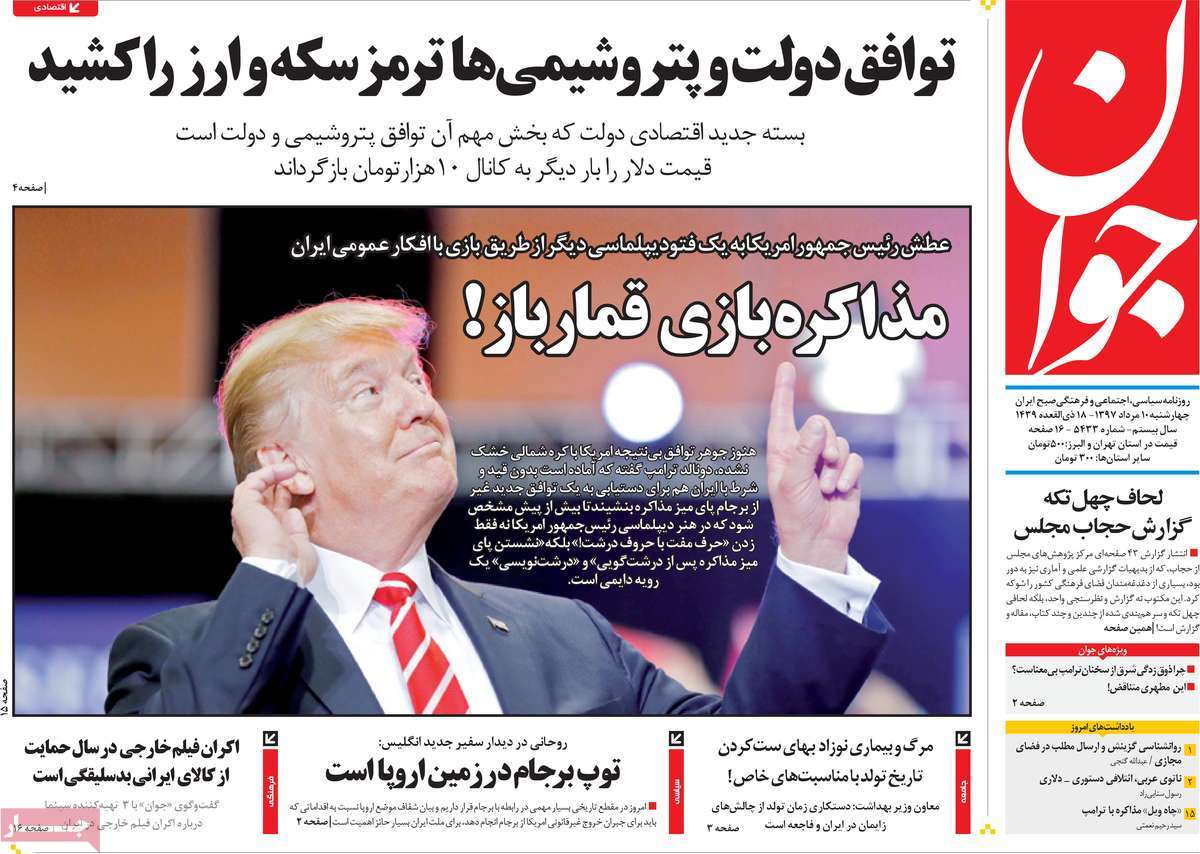 ---
Ka'enat:
1- Latest Tomfoolery of the Man Who Thinks He's Smart!
---
Kayhan:
1- Le Monde: Trade War with China, Europe Paralyzing US' Economy
2- No Problem in Supplying Petroleum
3- Syrian Army Gains Full Control over Golan Heights Borders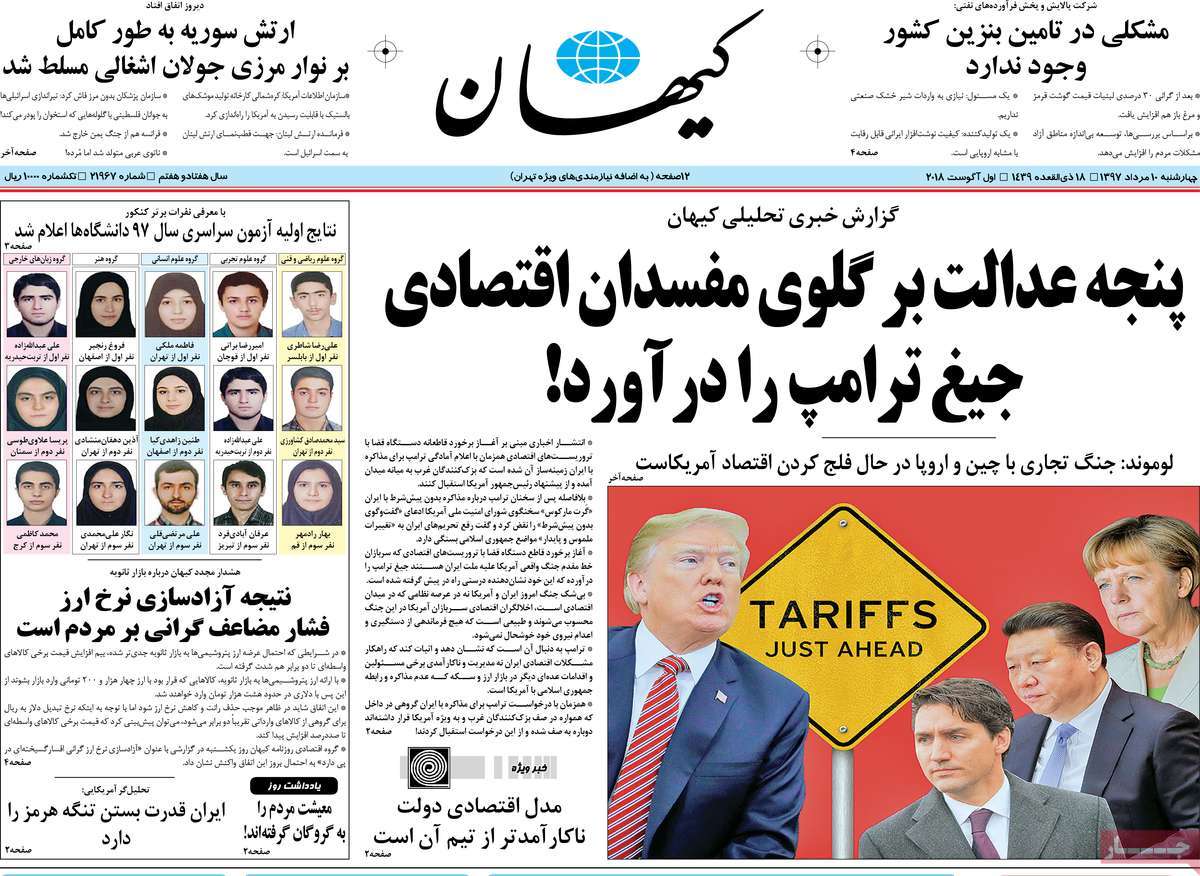 ---
Khorasan:
1- US Breaks Record of Untrustworthiness
Trump's Remarks on Negotiation with Iran Denied after 2 Hours!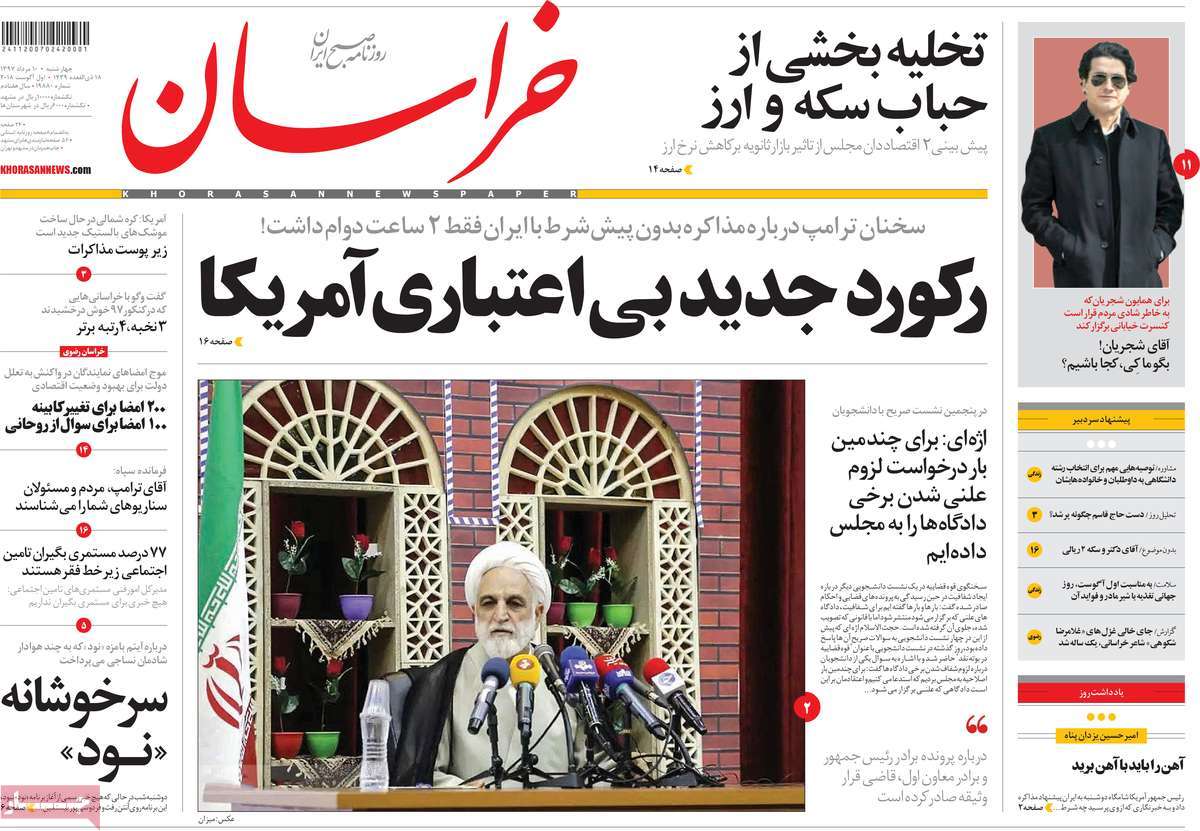 ---
Resalat:
1- Region's Realities beyond Political Bluffs: Senior Lawmaker
2- Yemeni Nation Will Definitely Emerge Victorious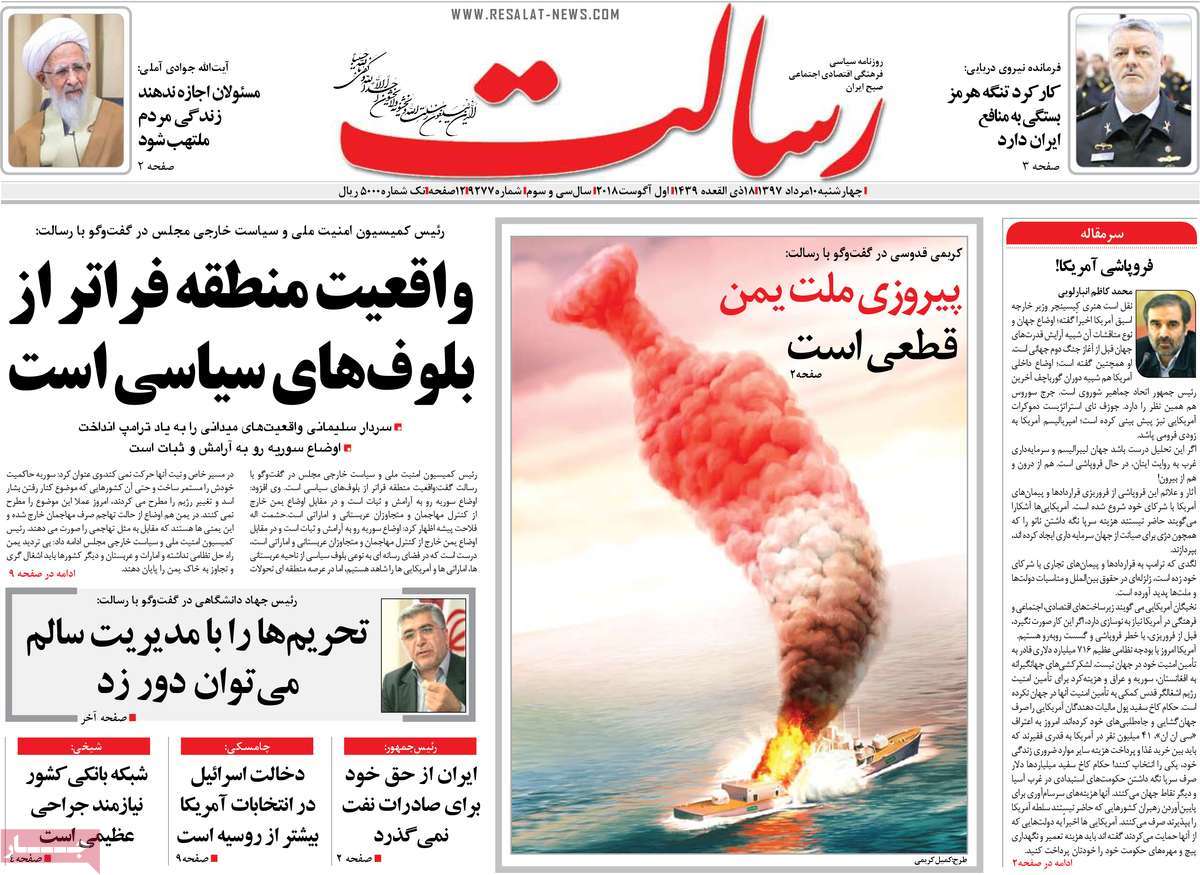 ---
Sazandegi:
1- Trump One Step Back
Iran Not Afraid of Negotiation, but Trump Must Prove He's Trustworthy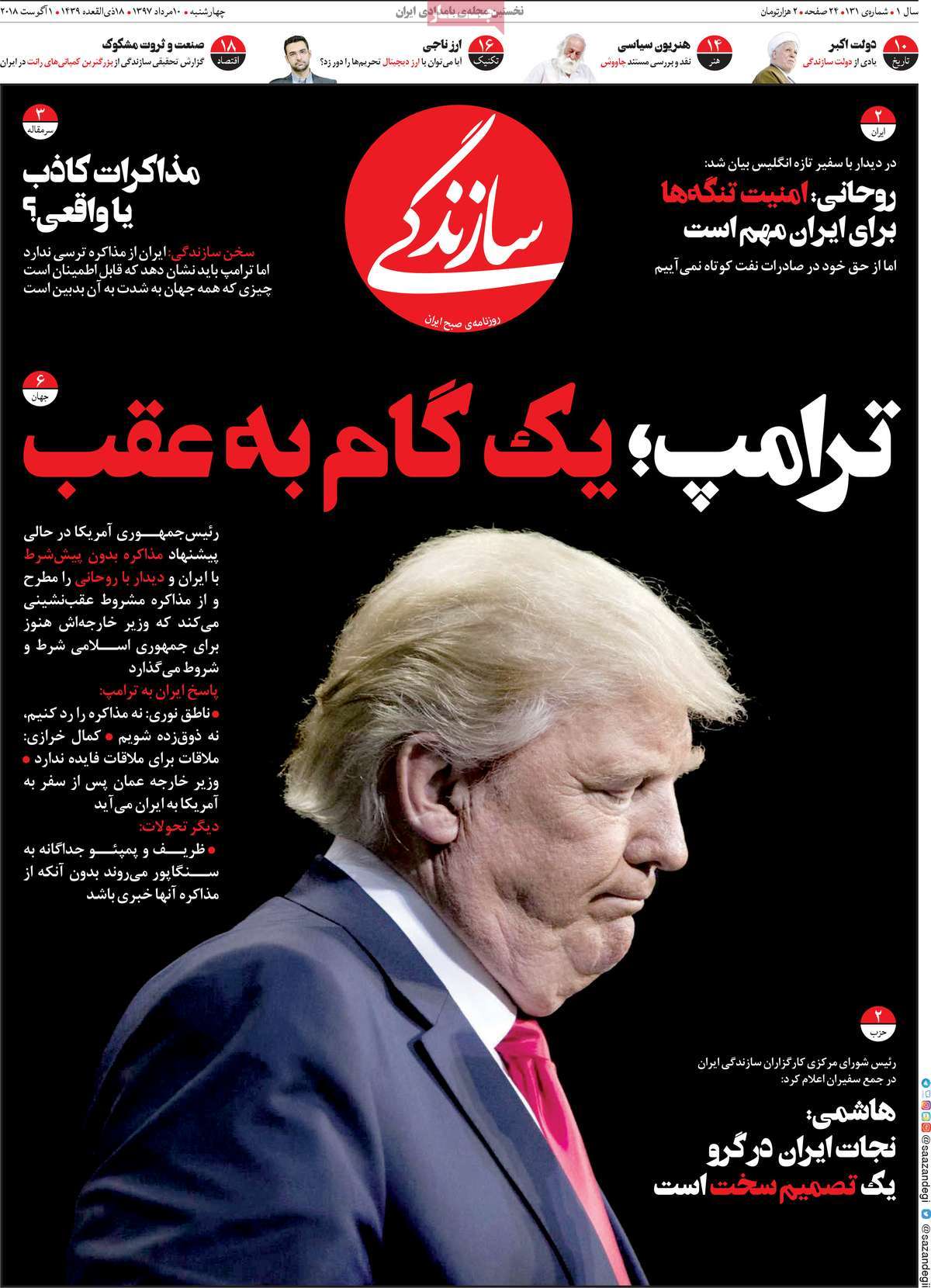 ---
Setareh Sobh:
1- Negotiation with Iran without Any Preconditions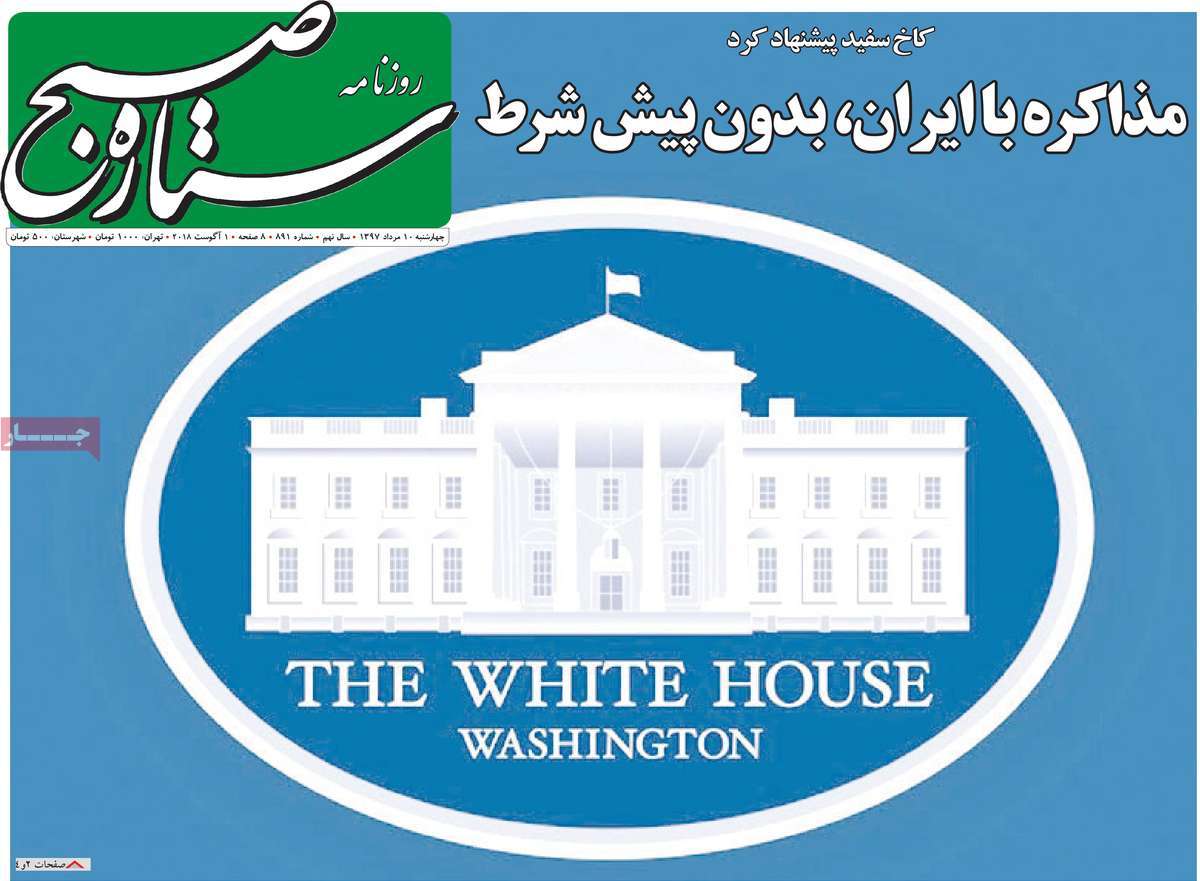 ---
Sobh-e Now:
1- The Same Deceitful Hand Extended to Iran
Path of Negotiation with Polite Obama Not to Be Treaded Again with Gambler Trump