IFP has taken a look at the front pages of Iranian newspapers on Sunday, April 15, and picked headlines from 21 of them. IFP has simply translated the headlines and does not vouch for their accuracy.
The US-led coalition's Saturday airstrikes on Syria was the top story in all Iranian papers today. The headlines today were mostly dedicated to remarks made by the Leader of Iran's Islamic Revolution Ayatollah Seyyed Ali Khamenei and Iranian President Hassan Rouhani, and a statement by the Islamic Revolution Guards Corps (IRGC) about the attacks.
Iran's strategic alliance with Russia and the comments by Sayyid Hassan Nasrallah, the secretary-general of the Lebanese Resistance Movement Hezbollah, about the recent Israeli attack on the T-4 airbase in Syria's Homs were among other top stories today.
The above issues, as well as many more, are highlighted in the following headlines and top stories:
19 Dey:
Iran Leader: Attack on Syria Major Crime
US Won't Achieve Anything by Attacking Syria: Ayatollah Khamenei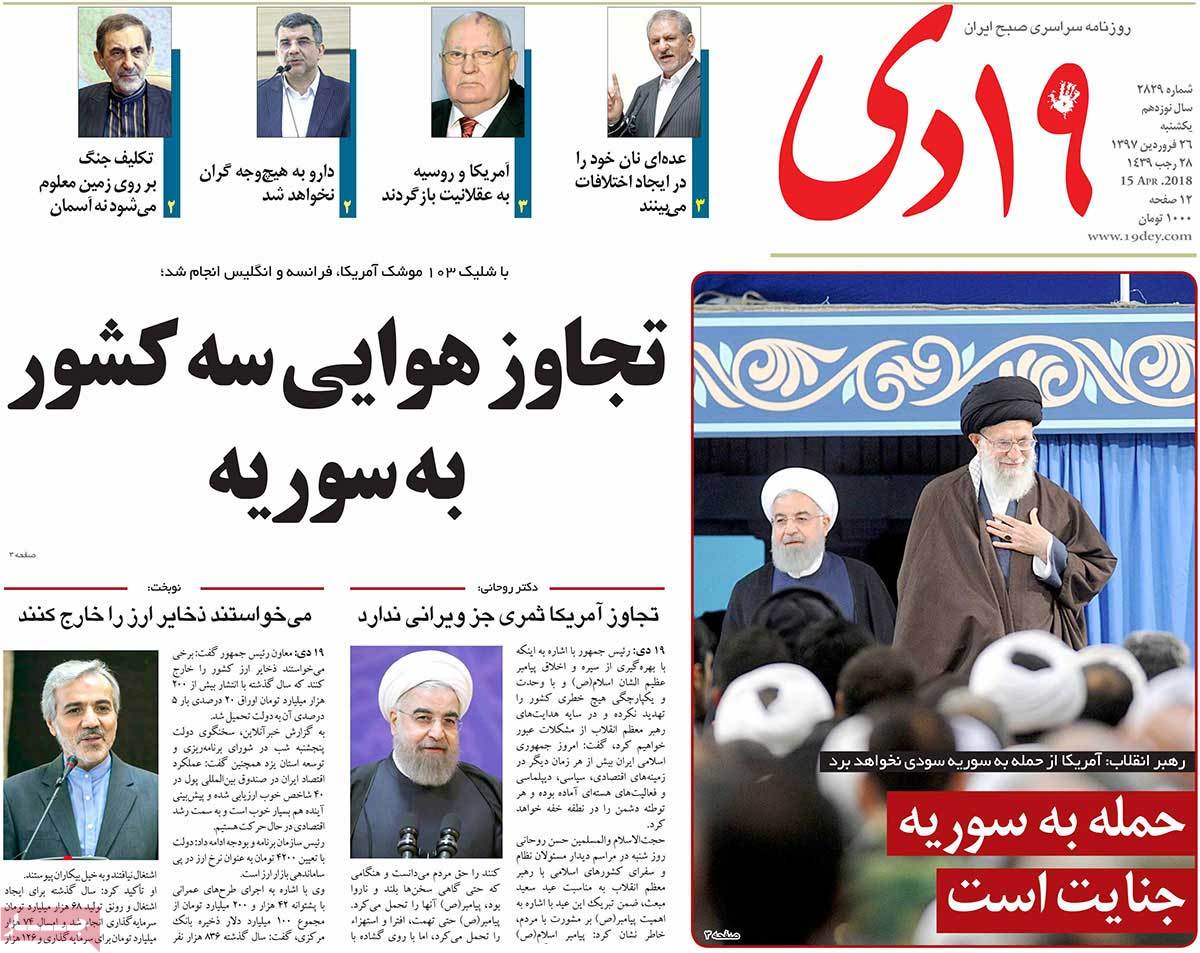 ---
Abrar:
Iran Leader: Leaders of US, France, Britain Criminals
Zarif, Syrian Counterpart Discuss US Strikes in Phone Conversation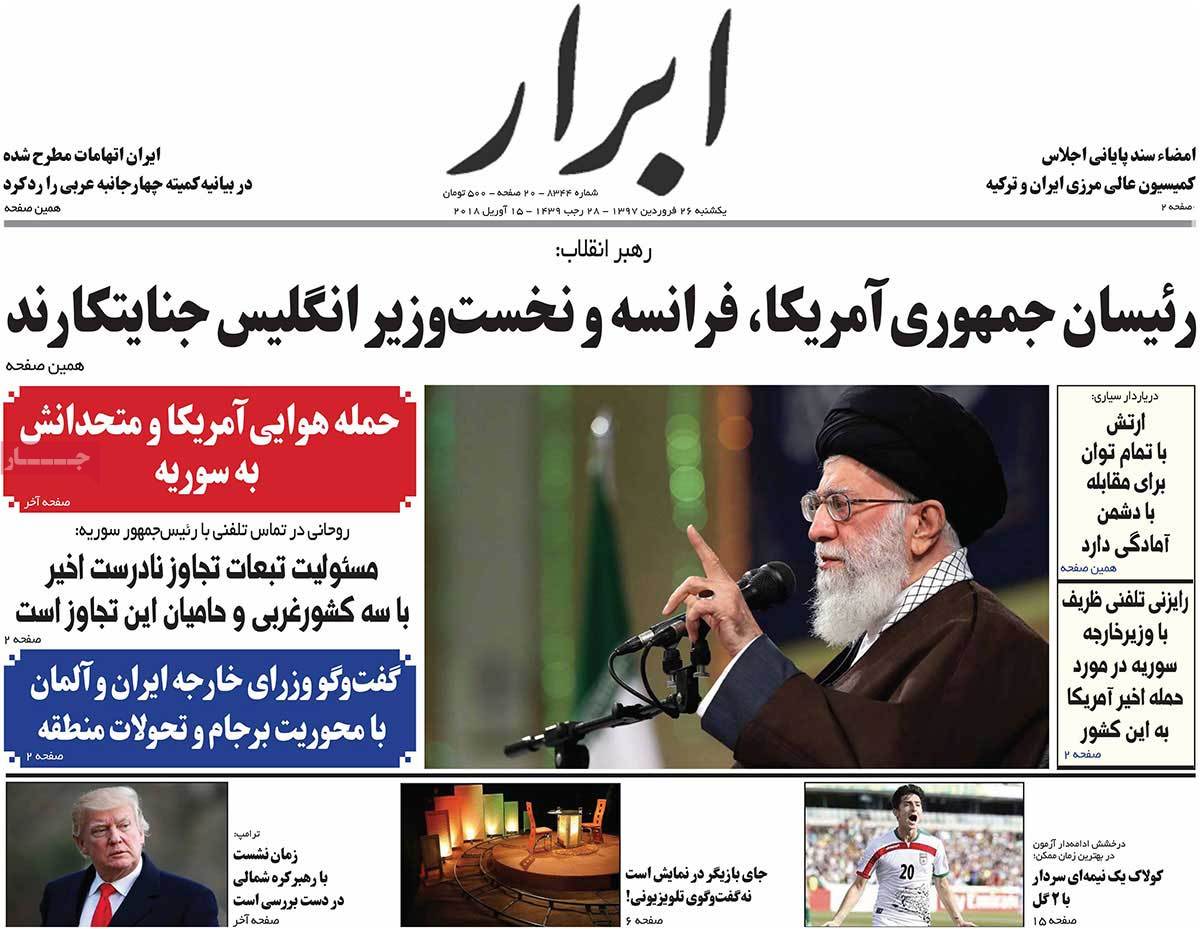 ---
Afkar:
Amir-Abdollahian: Military Operation against Syria Blatant Violation of UN Charter
MP: Leaders of Britain, US, France Must Be Tried as War Criminals
Those Who Benefited from Forex Crisis Purchase Mansions in Neighbouring States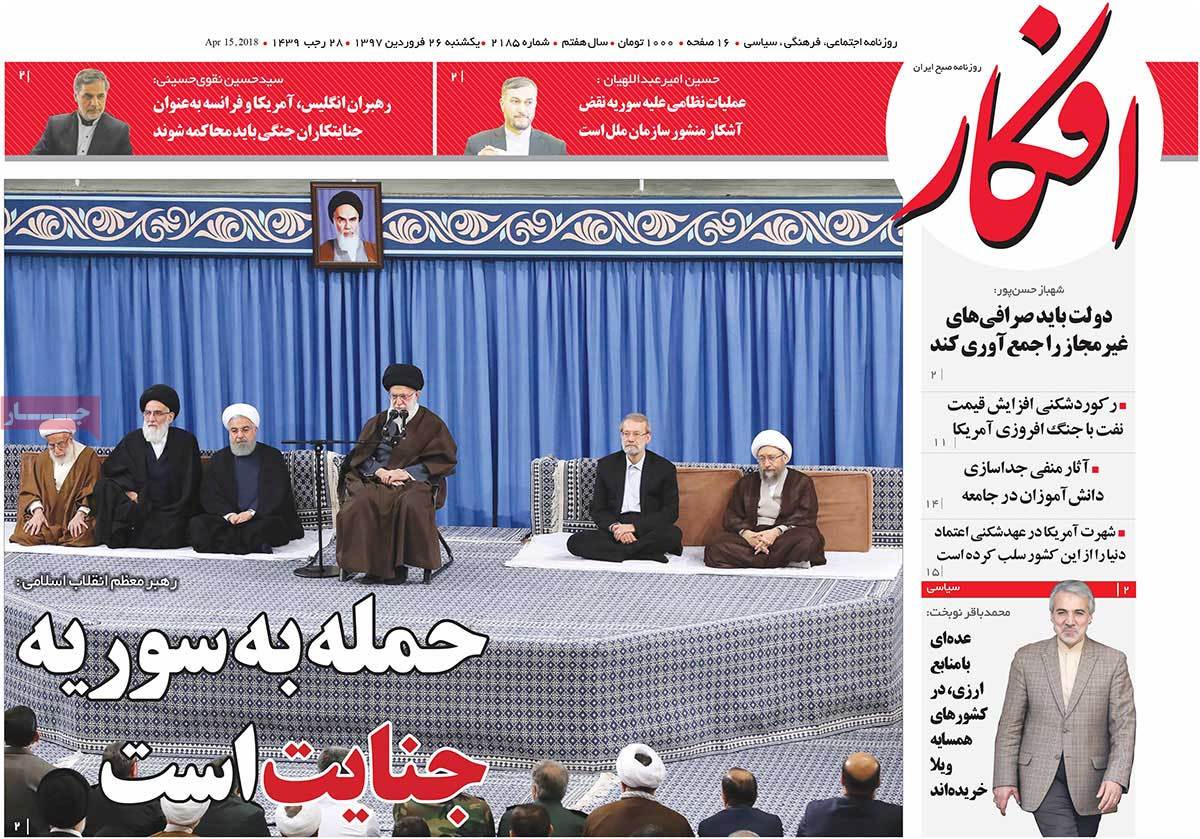 ---
Aftab-e Yazd:
Telegram against Russia's Blocking: Durov Says He Can Bypass Filtering
Iran Leader: US Will Once Again Suffer Defeat
---
Arman-e Emrooz:
Russians Don't Take Risk without Gaining Benefits
Iran Shouldn't Be Trapped in US War of Attrition in Syria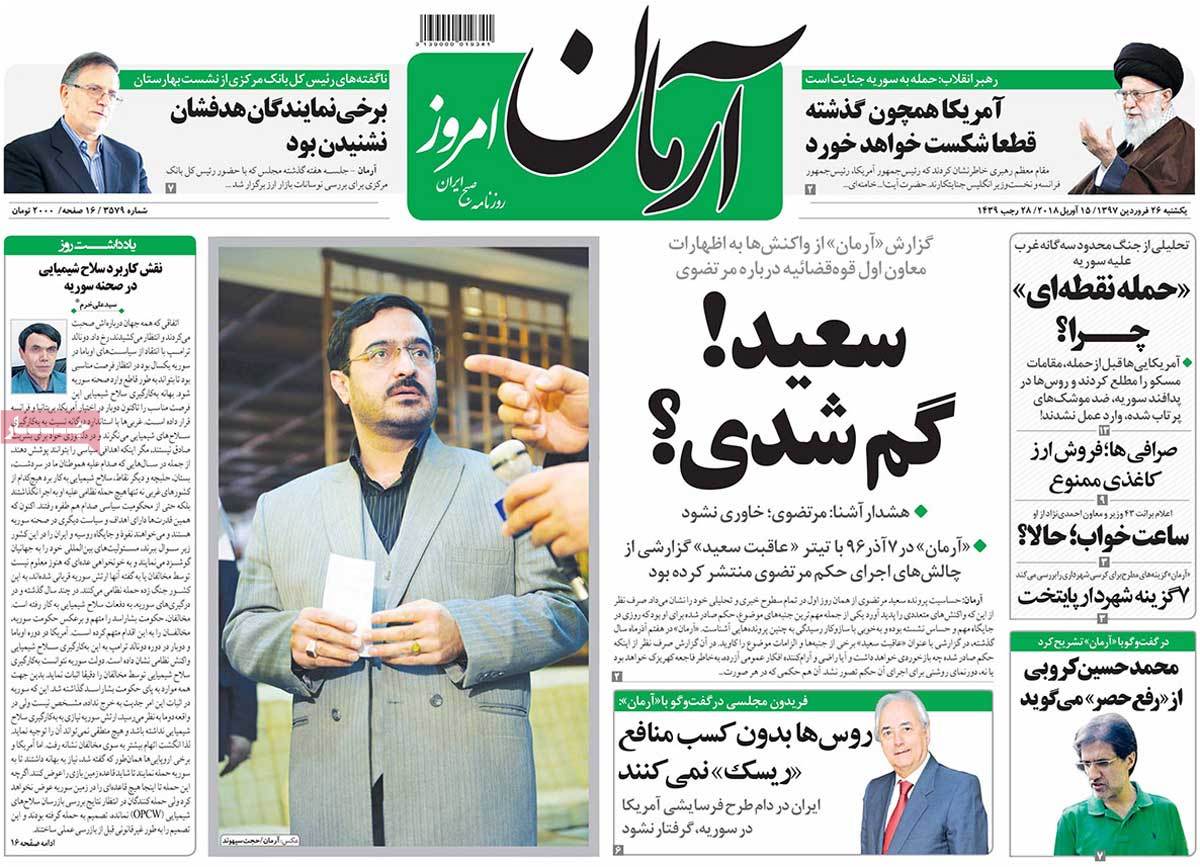 ---
Asrar:
Rouhani: US Aggressions in Region Will Have No Result but Destruction
Oil Minister: Project to Transfer Gas to Oman to Be Finalised in 3 Months
---
Ebtekar
Playing with Missiles
A Review of US-led Coalition's Strikes on Syria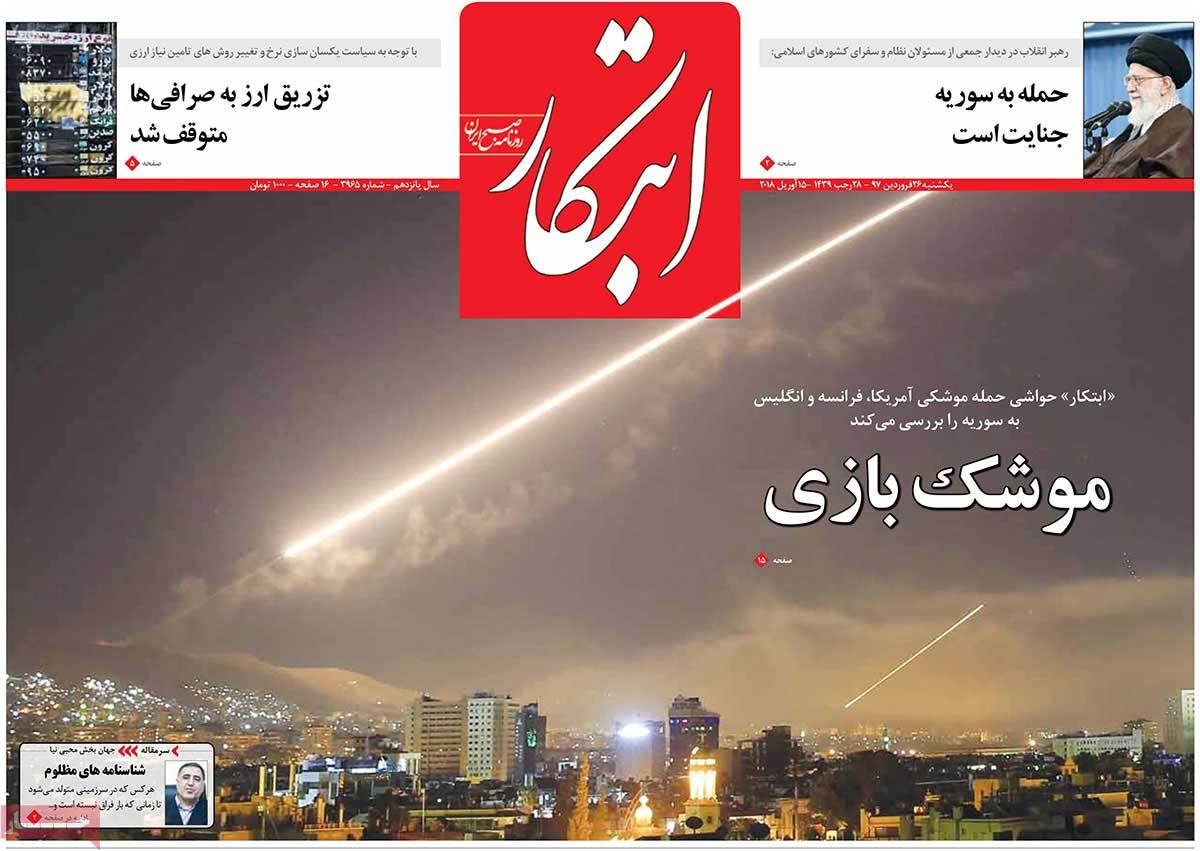 ---
Emtiaz:
Iran VP: Plans Made to Create 1.33 Million Jobs
---
Etemad:
Missile Game: US, Britain, France Launch Joint Attack on Syria
---
Ettela'at:
Nasrallah: Zionists Made Historic Mistake by Attacking Iranians
Attack of US, Britain, France on Syria Left without Any Achievement
---
Iran:
Battle of Missiles in Syria Sky
US-France Coalition Attack Homs, Damascus
Rouhani: US Aggressions Response to Defeats of Terrorists It Supports in Ghouta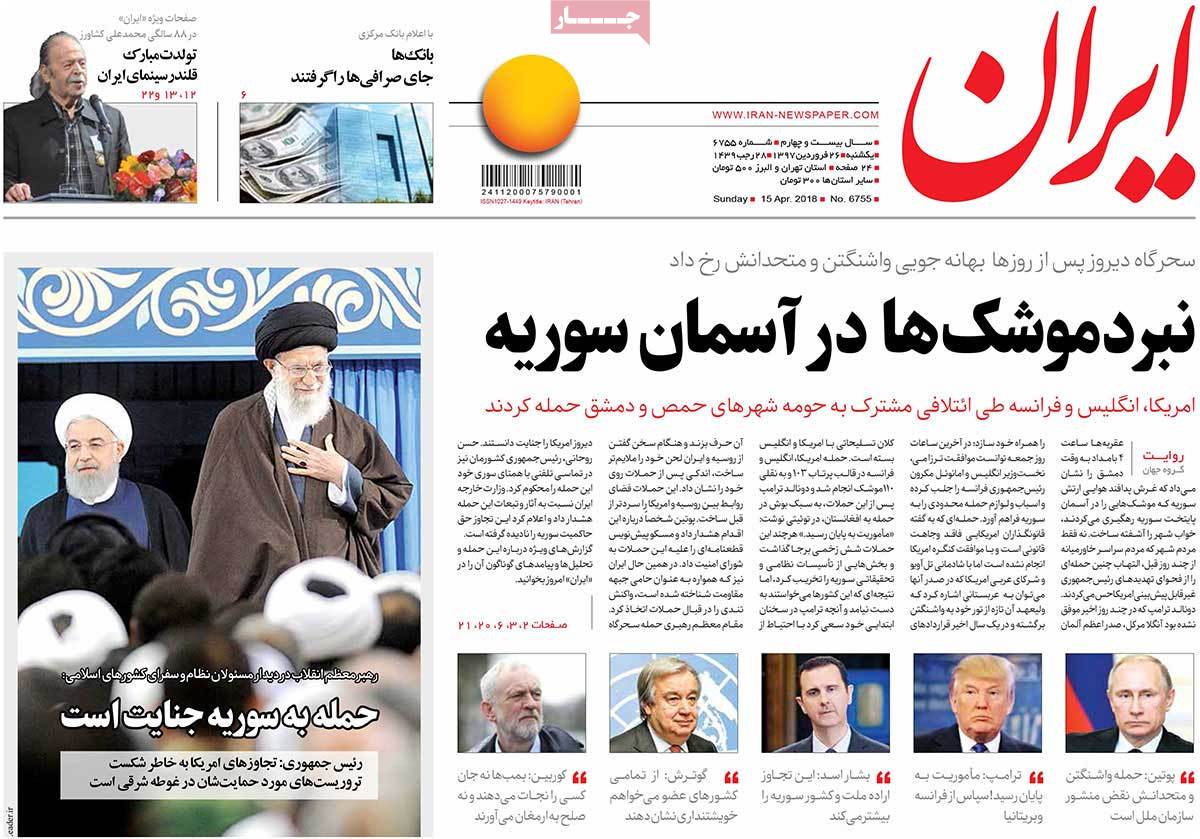 ---
Javan:
Triangle of Crime in Syria
Syria Attacked by 110 Missiles, but No Change Made to Balance of Power in Battlefield
Celebration in Syria after Failed Missile Attack
Syrians Gather in Damascus with Flags of Iran, Syria, Russia
---
Jomhouri Eslami:
Defeat of Trump's Adventure; International Condemnation of Attack on Syria
Nasrallah: Trump's Hollywood-Like Moves Won't Intimidate Resistance Front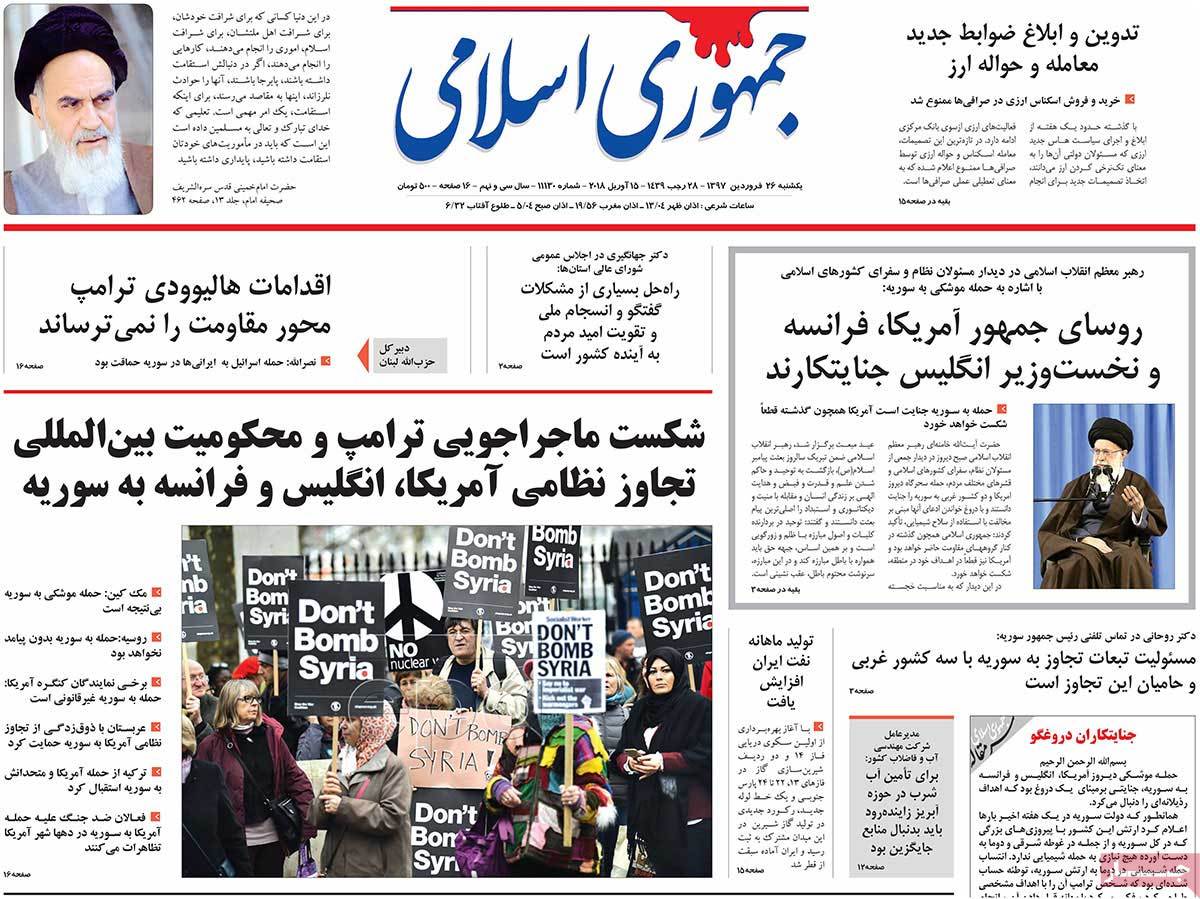 ---
Kayhan:
Missile Attack on Syria: Noisy but Empty Inside
BBC: US Attack Not to Make Any Change in Syria
Nasrallah: Attack on Iranian Forces in T-4 Was Israel's Historic Mistake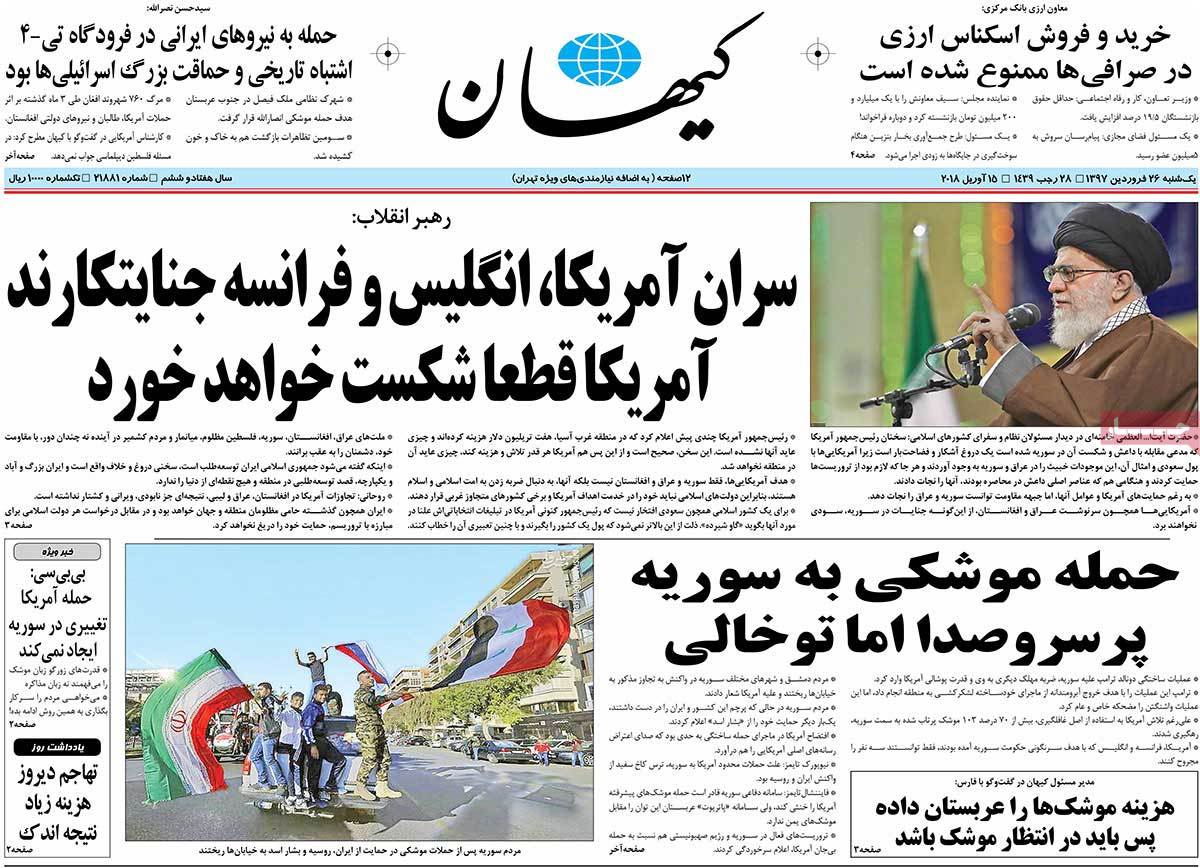 ---
Khorasan:
Almost Zero: CNN, New York Times, Ynet Admit Attack on Syria Was Futile
43 Officials, Ministers, Top Executives of Ahmadinejad's Gov't Renounce Him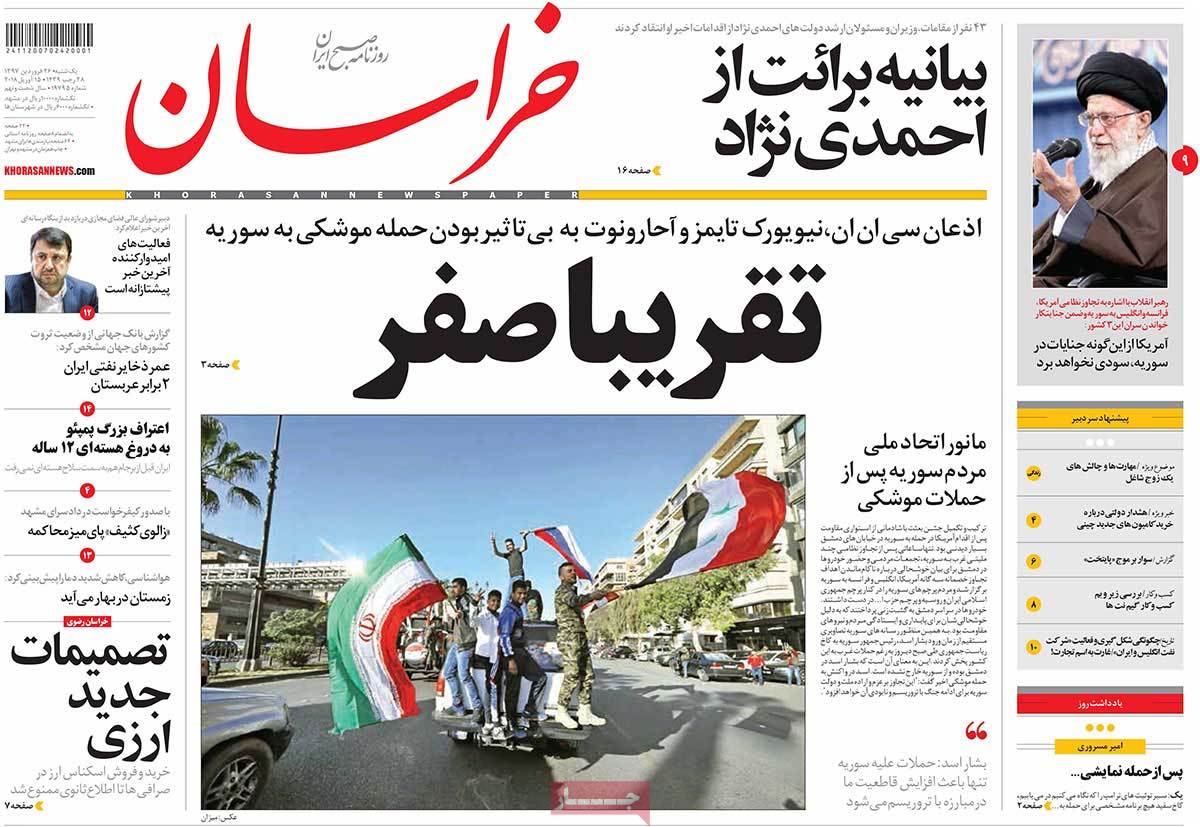 ---
Resalat:
Ayatollah Javadi Amoli: Society's Wealth Must Be in People's Hands
Velayati: Fate of War Decided on Ground, Not Sky
---
Rooydad-e Emrooz:
End of 50-Minute Assault: Aerial Attack of US, Allies on Syria
---
Rooyesh-e Mellat:
Iran DM: Missile Attack on Syria Violation of Int'l Law
So-Called Advocates of Human Rights
Britain, France, US Target Centres in Syria in Aerial, Missile Attack
---
Sayeh:
People Must Be Allowed to Choose between Domestic, Foreign Messengers: Rouhani's Aide
---
Shargh:
Iran Leader: Dictators Won't Succeed Anywhere in the World
Iran First VP Criticises Interference of Supervisory Bodies in Executive Affairs
---
Vatan-e Emrooz:
Rouhani: We'll Stand by Syria
IRGC: Flames of US Crimes to Engulf Perpetrators, Supporters