After the election of Donald Trump as the US president, many observers are worried that the GOP president-elect would keep his promise and scrap the nuclear deal with Iran. Many newspapers today covered the European foreign ministers' vow to remain committed to the deal and also the warnings against Trump's possible move.
They also covered the football match between Iran and Syria, which was held in a swamp-like stadium in Malaysia as the Arab country cannot be a host due to security conditions.
The air pollution in Tehran and other Iranian megacities also remained a top story today.
The above issues, as well as many more, are highlighted in the following headlines:
Abrar:
1- We'll Fully Implement JCPOA
2- 11 Arab Countries in MENA Write Anti-Iran Letter to UN
3- Anti-ISIS Coalition's Meeting in Germany Focused on Raqqa and Mosul
4- MP: 12 People with Dual Nationality Have So Far Been Arrested
5- JCPOA Is Not Just a Deal between US and Iran: Obama
6- Russia Seeks to Use Iran's Hamadan Airbase Once Again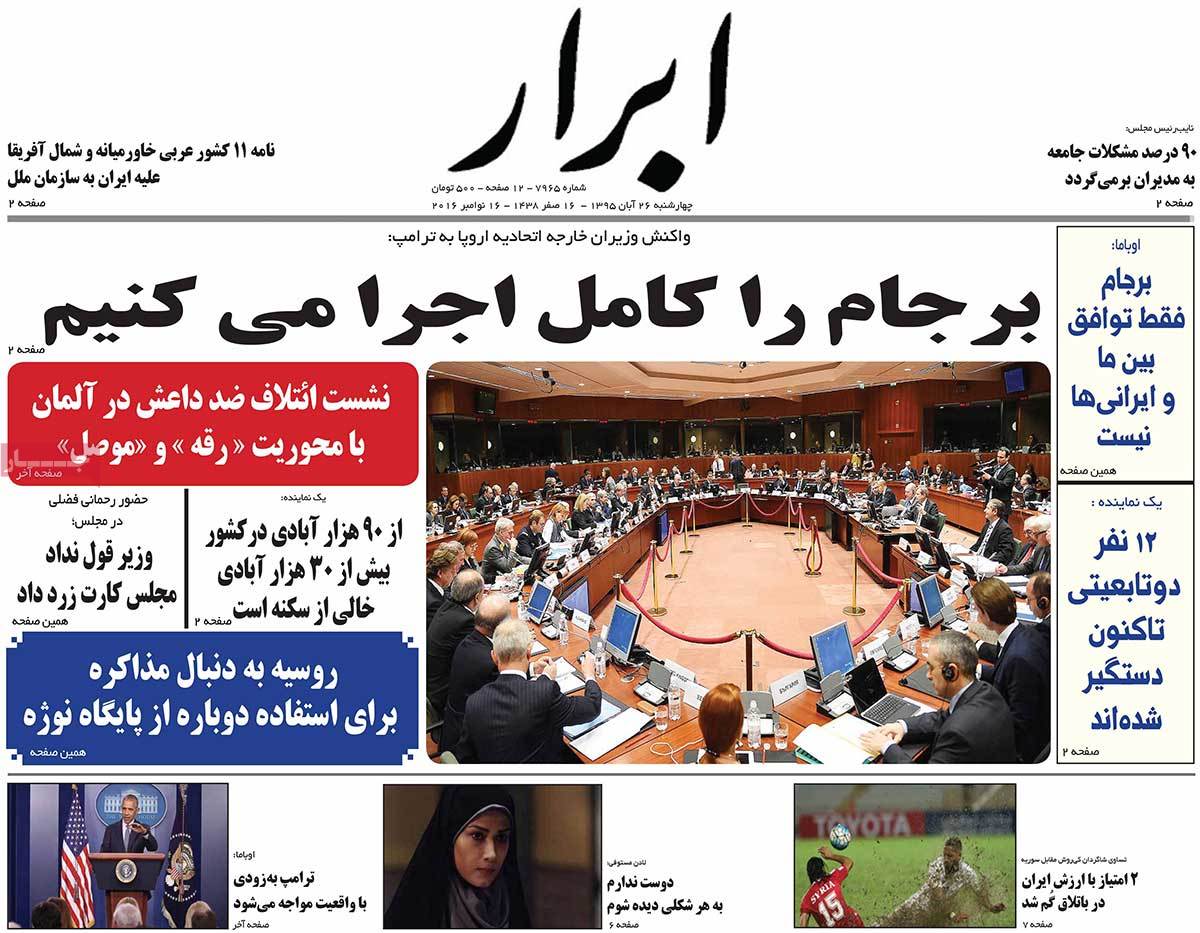 ---
Abrar-e Eqtesadi:
1- Iran's Oil Income Exceeds $30bn
2- Iran Biggest Exporter of Crude Oil to France
---
Afkar:
1- Foreign Ministry Spokesman Denies Taliban's Presence in Iran
2- Need for Iran-China Cooperation to Counter Big Threat of Terrorism
3- Iran and Spain to Hold Theatre Weeks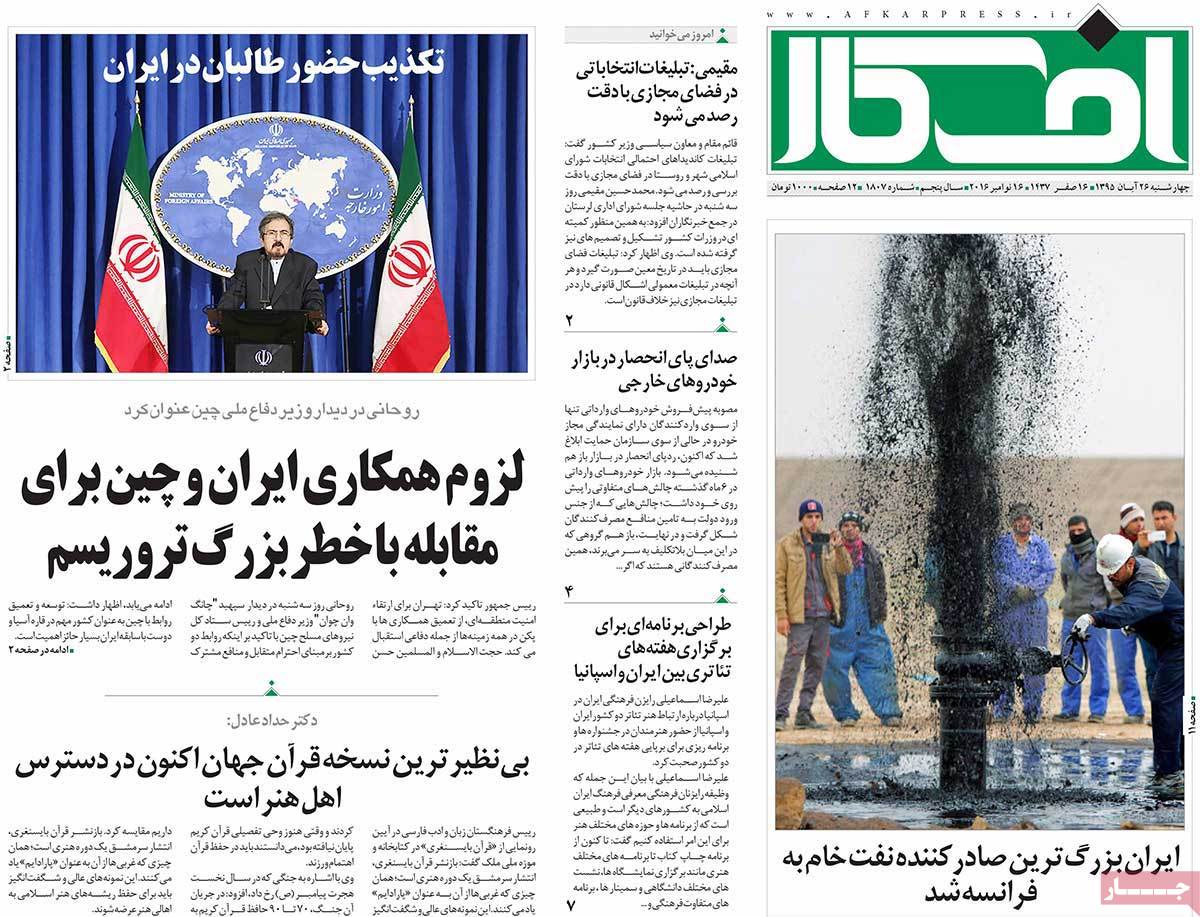 ---
Aftab-e Yazd:
1- Mixed Reactions to Air Pollution: Reformists Apologized, Conservatives Wore Masks!
2- Tehran Prosecutor General Explains about Secrets behind a Foreign Model's Visit to Iran
3- [Fugitive Iranian banker] Khavari Is Dangerous for Canada as Well: Judicial Official
4- 40 MPs Visit Karbala on Verge of Arbaeen
---
Amin:
1- European FMs: We're Committed to Nuclear Deal with Iran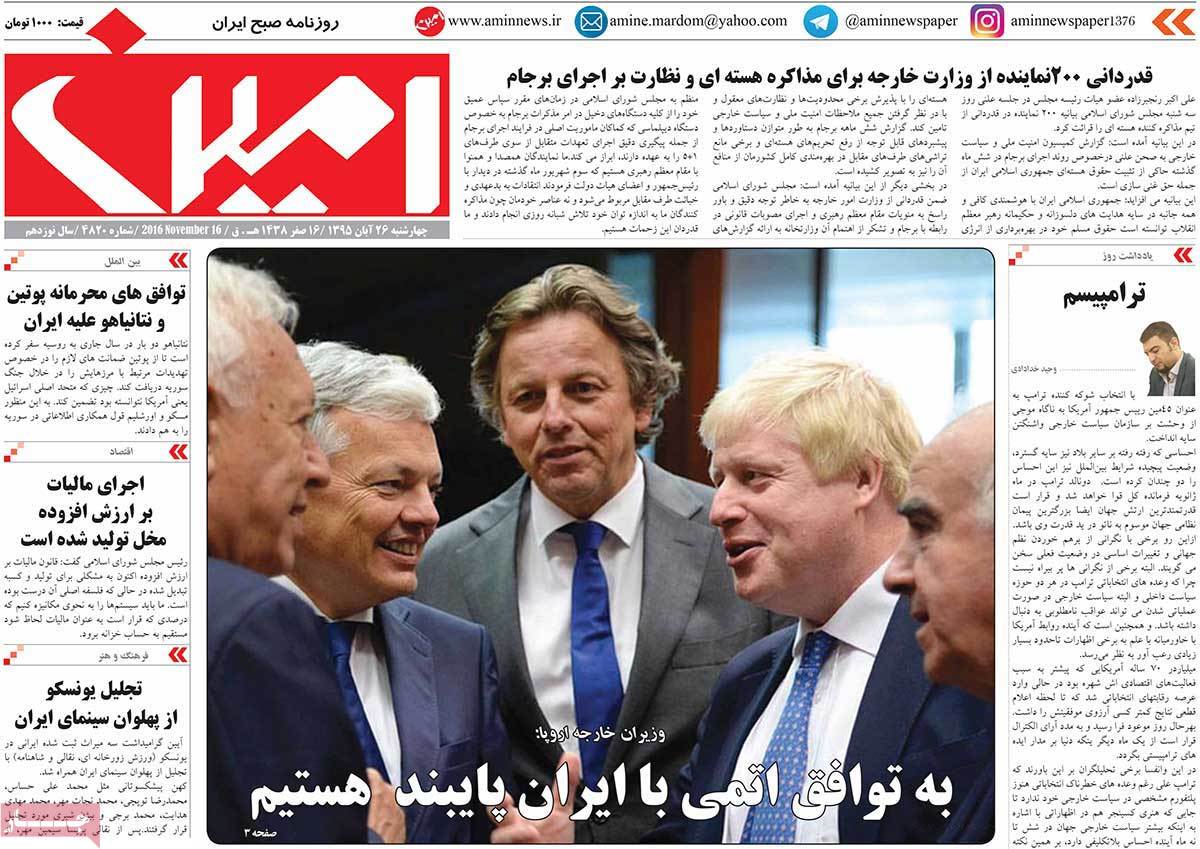 ---
Arman-e Emrooz:
1- 412 Citizens Died of Air Pollution in Past 23 Days!
2- Obama Warns Trump about Nuclear Deal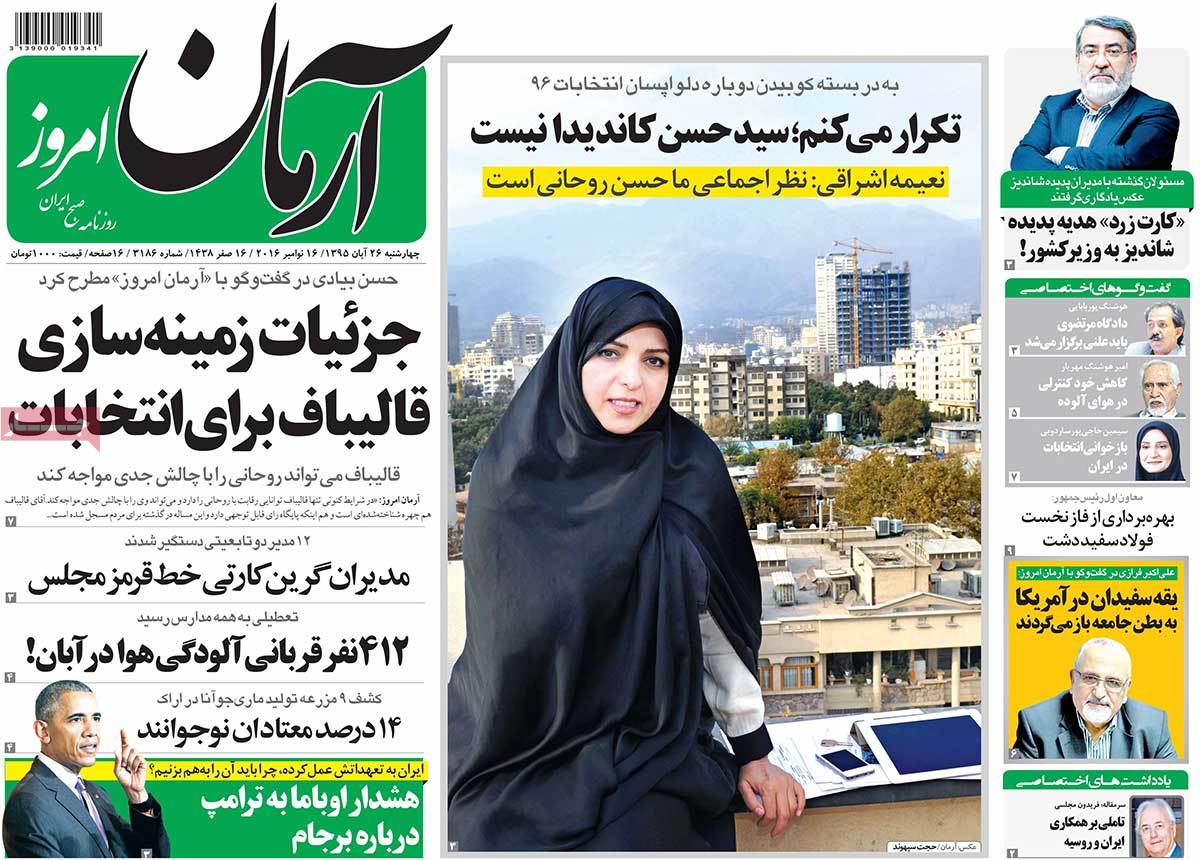 ---
Asrar:
1- Interior Minister Receives Yellow Card from Parliament
2- Rouhani: Iran Welcomes Defence Cooperation with China
3- Two Points Lost in AFC's Swamp: Iran 0 – 0 Syria in FIFA World Cup Qualifying Match in Swamp-Like Malaysian Stadium
4- Yemen's Ansarullah and Riyadh Agree on a Ceasefire
---
Asr-e Iranian:
1- 300 Days after Transport Minister's Promises: Boeing and Airbus Have Yet to Arrive in Iranian Sky!
2- Yemeni Government and National Unity to Be Formed by Year-End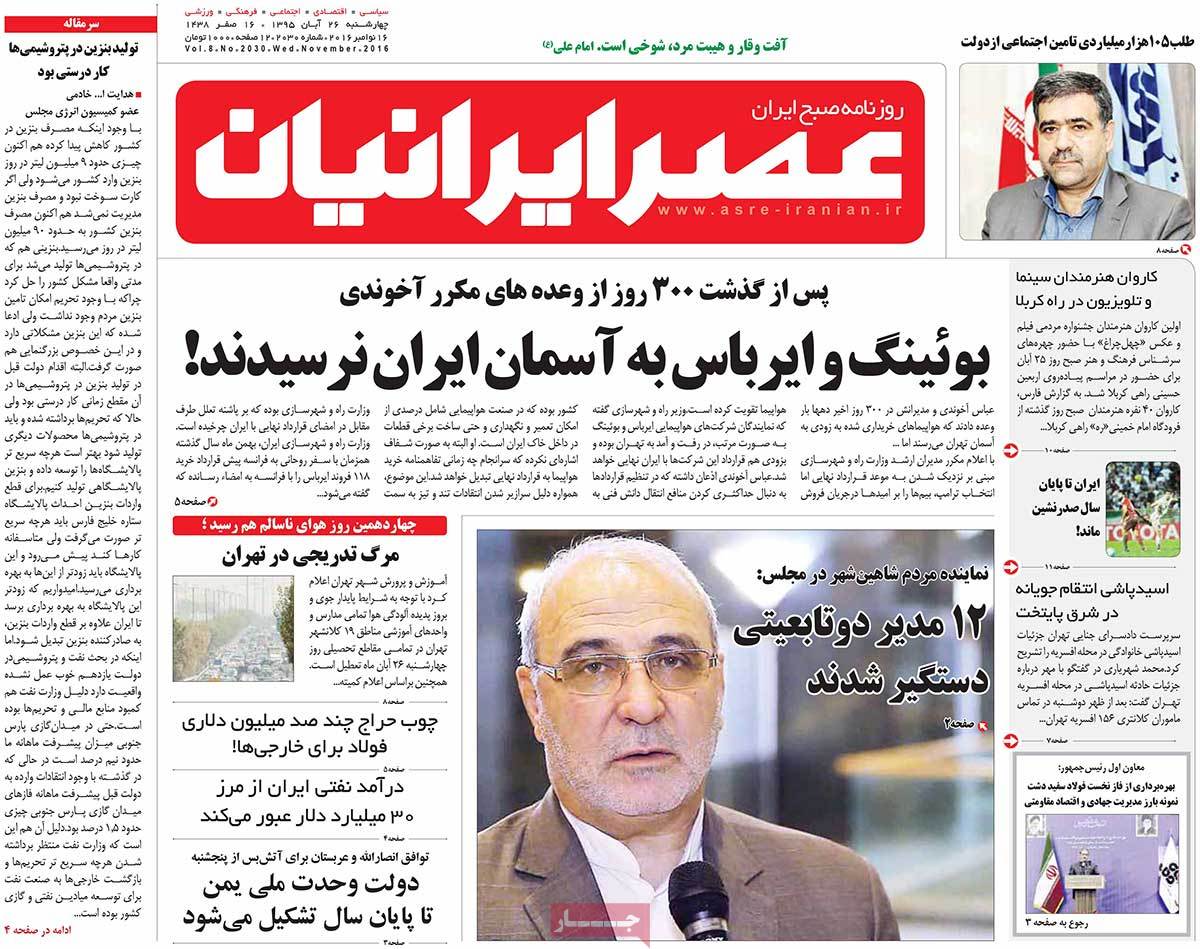 ---
Besharat-e Now:
1- Asghar Farhadi's 'The Salesman' Breaks Records in Iranian Cinema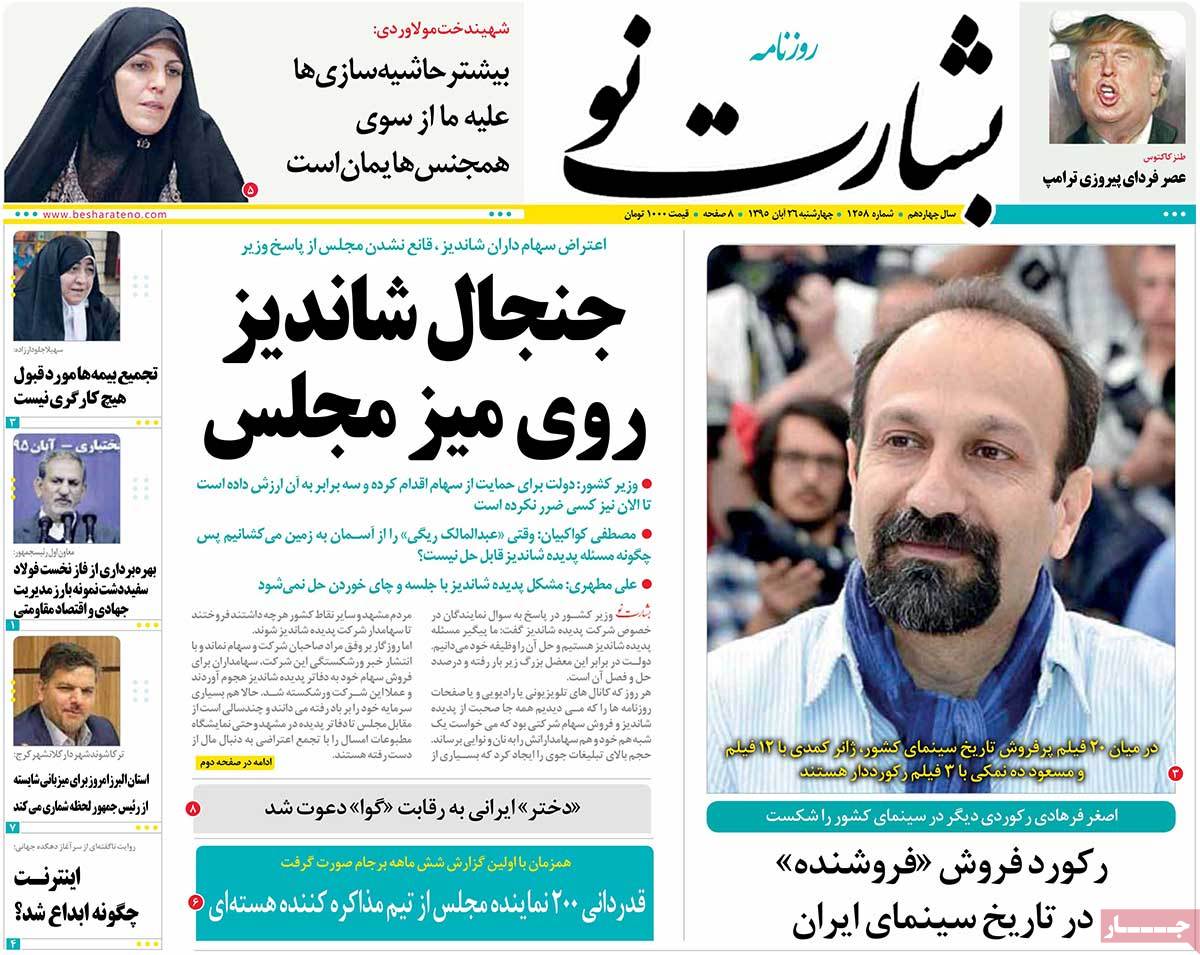 ---
Ebtekar:
1- Getting Ready for Sharp Fall in Oil Price: Which Countries Will Lose the Most after Failure of Oil Freeze Talks?
2- If Iran Doesn't Release Its [previously classified] Documents, Others Will Distort Our History: Zarif
---
Etemad:
1- Iran and Germany in Talks for $12bn Deal
2- 35 MPs Write Letter to President for Tehran's Air Pollution
3- Zarif Unveils Foreign Ministry's Classified Documents Dating Back to Qajar Era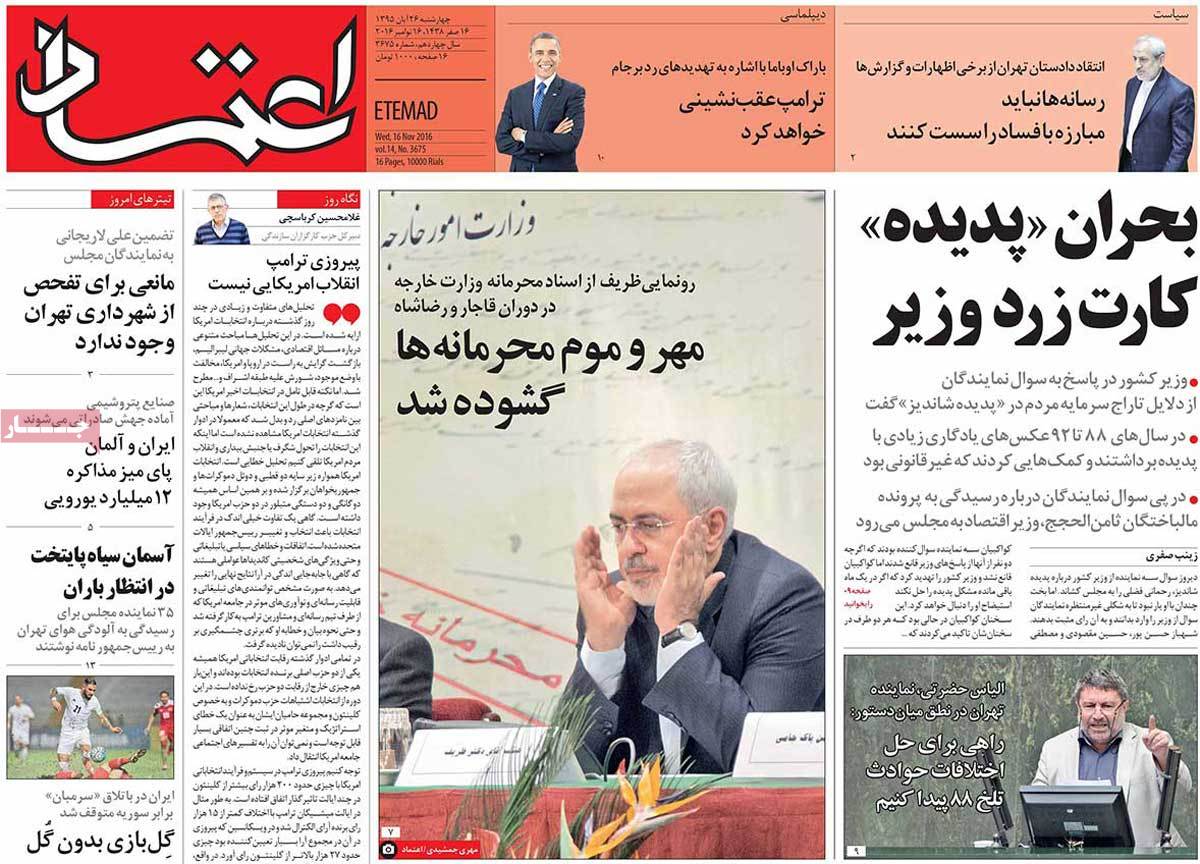 ---
Ettela'at:
1- Obama: Trump Will Confess to Benefits of JCPOA
2- President: Terrorism and Illegitimate Interference of Some Countries Is a Major Threat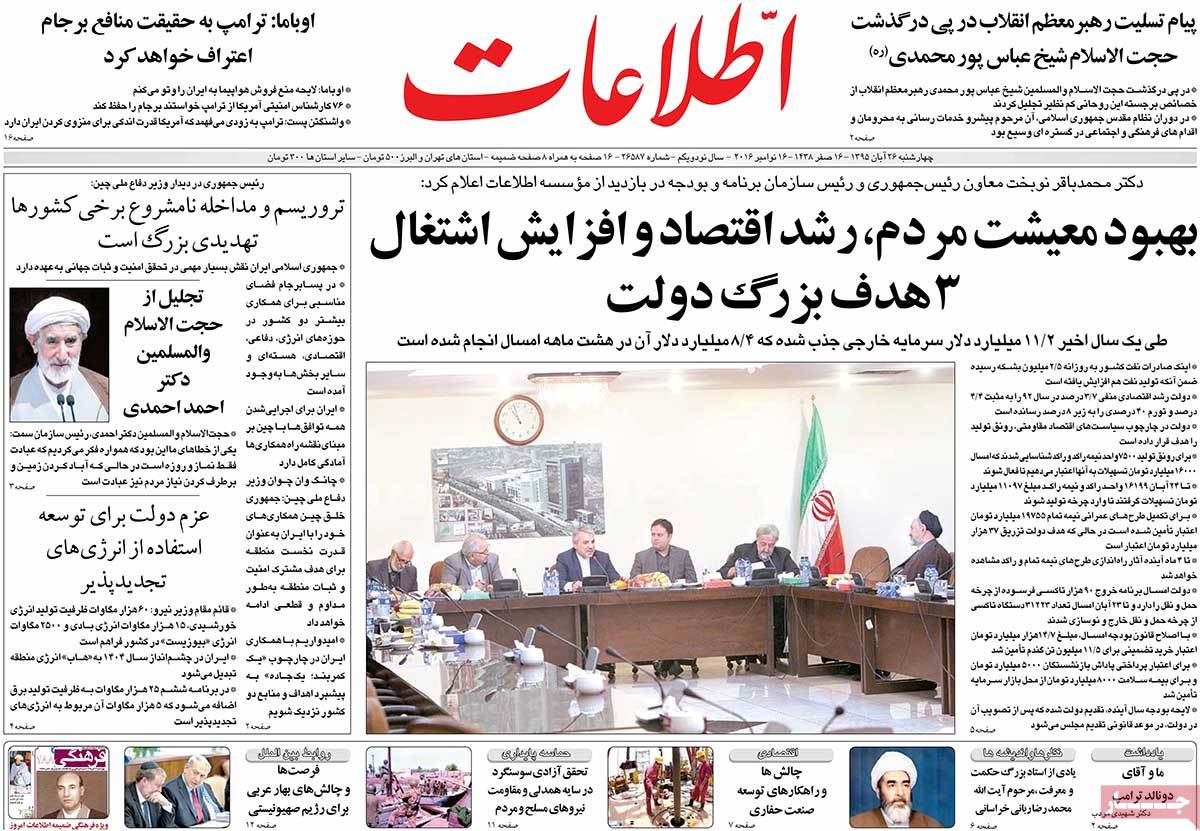 ---
Hemayat:
1- US Department of Treasury Shows Green Light to Trump for Increasing Anti-Iran Sanctions
2- US People Call for an End to Using Electoral System in Elections
3- Pilgrimage to Karbala Will Lead to Liberation of Palestine
4- Slaughter of Arbaeen Pilgrims in Nigeria
---
Iran:
1- When Air Becomes Politicized: Number of Unhealthy Days of Tehran Has Been Decreased from 146 Days in 2011 [Ahmadinejad's era] to 37 Days in Past 7 Months
2- Domestic Opponents of JCPOA Excited by Trump's Election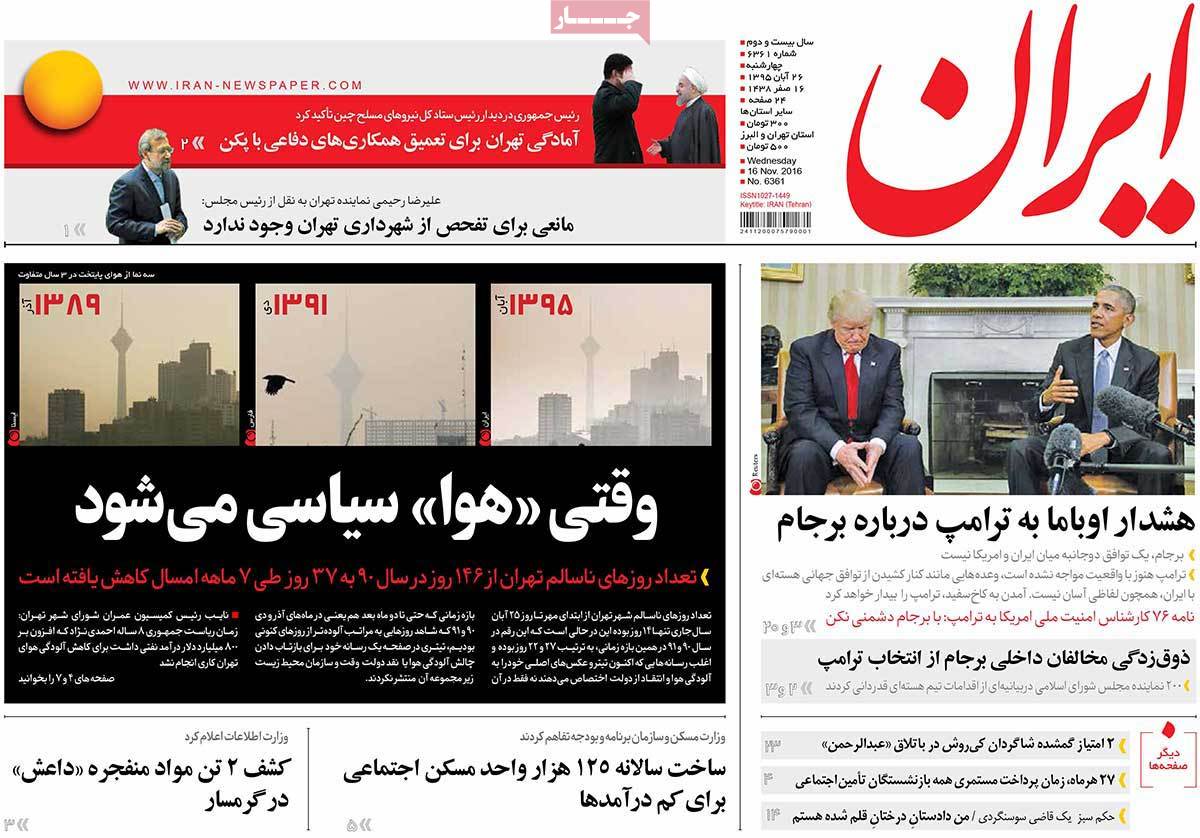 ---
Javan:
1- Oil Ministry Is to Blame for Air Pollution
2- Europe Starts 'Strategic Autonomy' and Independence from US
---
Jomhouri Eslami:
1- Arab League Calls for Withdrawal of Turkish Aggressive Army from Iraqi Territory
2- Obama: Iran Has Kept Its Promises in JCPOA
3- Four US States Want Independence
---
Kayhan:
1- CBI Governor: Iran's Banking System Is Not Feeling Well
2- The Hague Prosecutor Accuses US of Committing War Crime in Afghanistan
3- Obama: Scrapping JCPOA Will Damage US Interests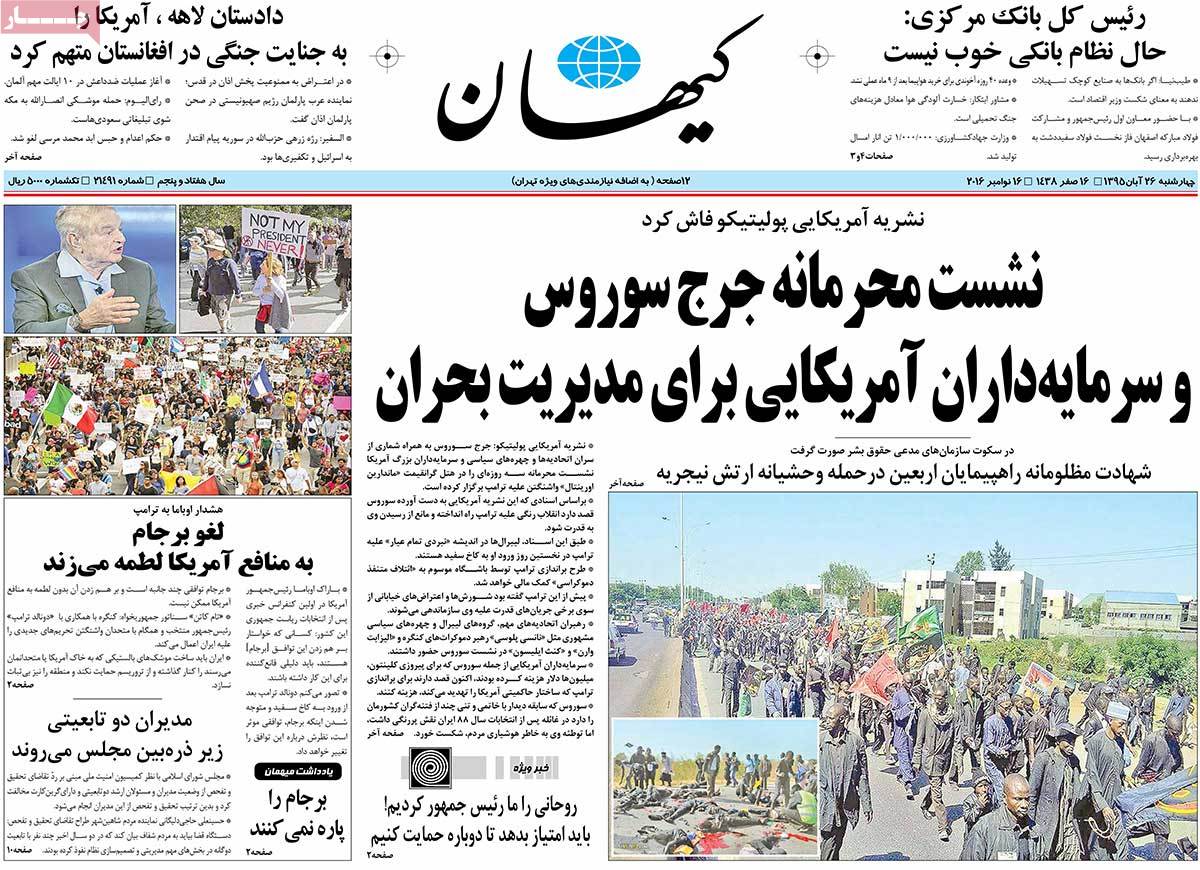 ---
Khorasan:
1- Shamkhani Warns against US Extension of Anti-Iran Sanctions
---
Resalat:
1- Leader's Int'l Advisor: Sun of US Empire Is Going Down
2- Leader's Military Advisor: We're Looking for a Solution to Liberate Palestine
3- Democrats Hold Meeting with George Soros to Disqualify Trump: Observer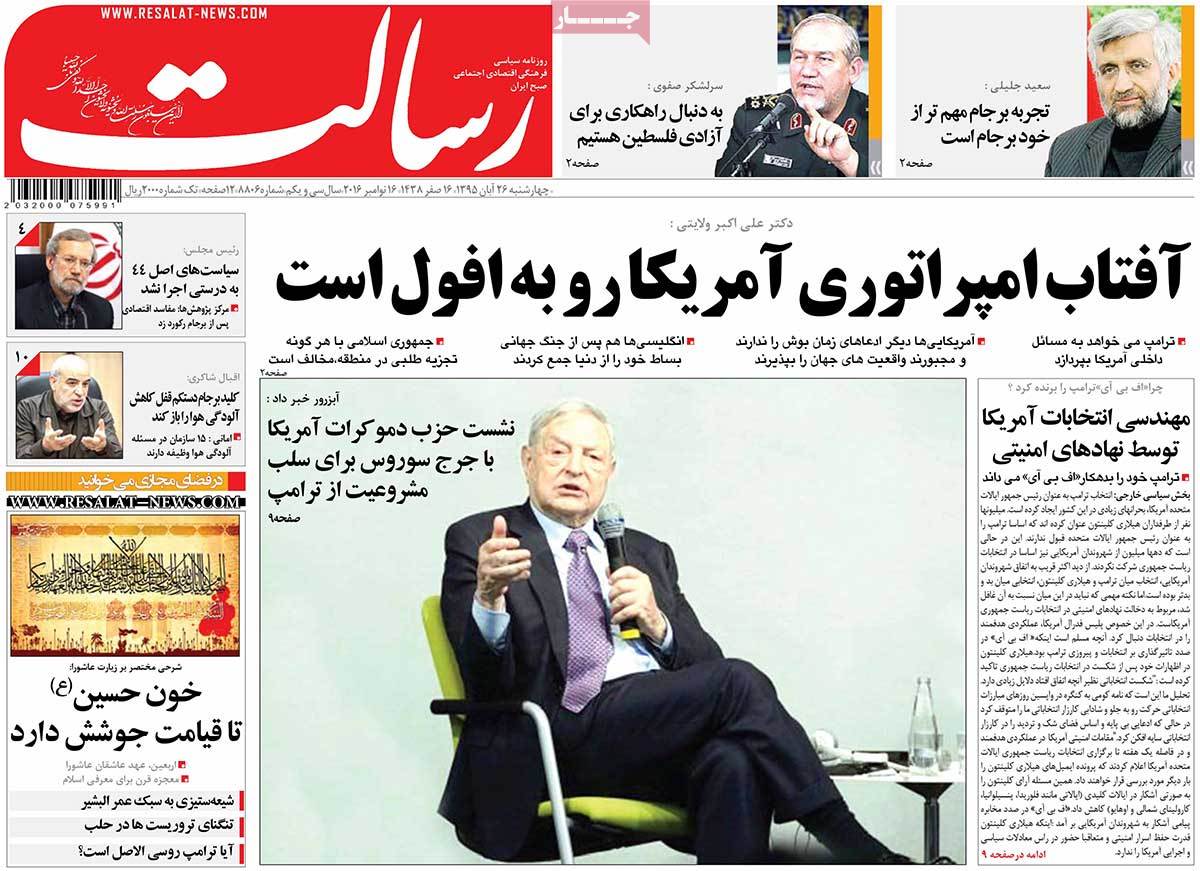 ---
Rooyesh-e Mellat:
1- Leader's Aide: We'll Stand against Disintegration of Regional Countries
---
Sepid:
1- Air Pollution, the Fourth Cause of Death in World
2- Trump's Candidates for Department of State: Rudy Giuliani Is First Option, John Bolton the Second
3- 14% of Drug Addicts Are 15 to 19 Years Old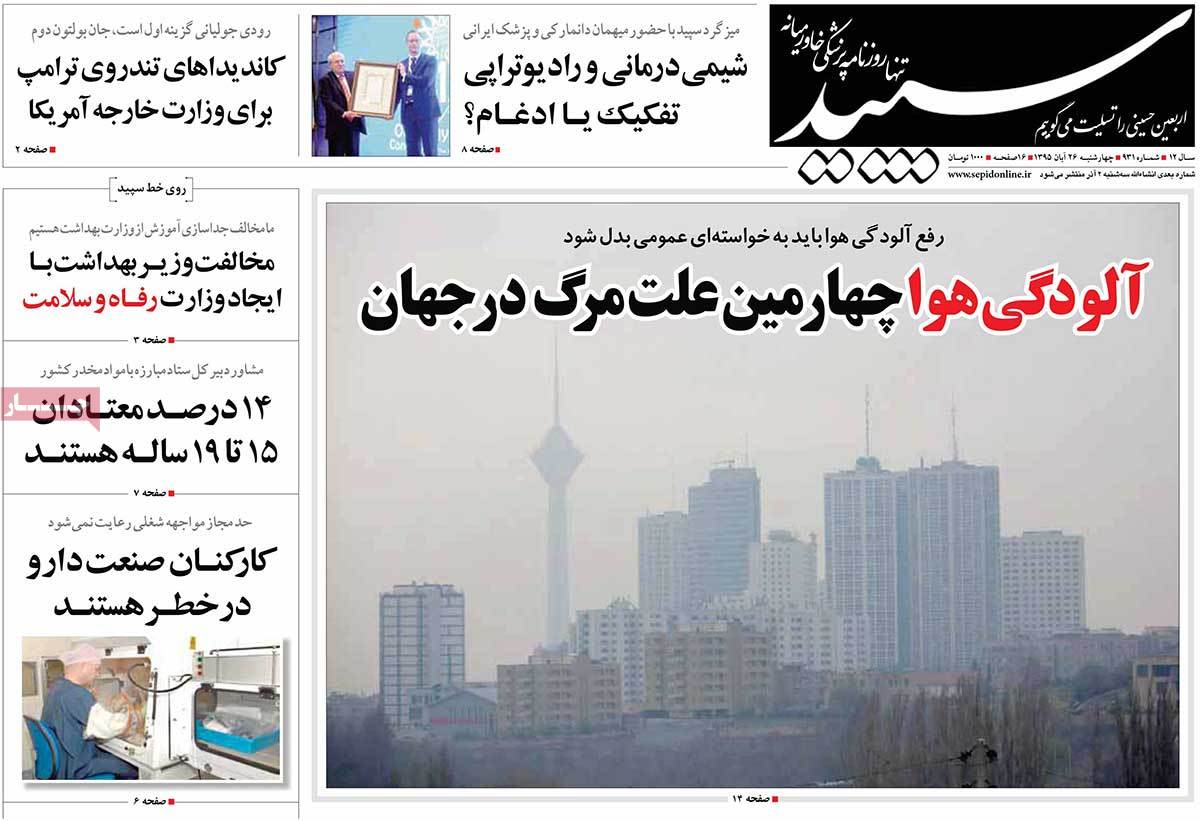 ---
Shahrvand:
1- We Die as Simple as That!
2- Why Rouhani Doesn't Talk about Trump? Experts Answer
---
Shargh:
1- Larijani Gives the Green Light for Probing into Tehran Municipality
2- Prosecutor General: Insulting Different Branches of Iran's Establishment Is a Crime
3- Playing with Mud in Malaysia's Seremban: Iran Couldn't Defeat Muddy Stadium and Syria
---
Vatan-e Emrooz:
1- Saudi Crown Prince Will Be Possibly Removed: Change in Process of Power Transition in Bin Salman's Favour
2- Obama Government Officials Say Trump's Probable Move against JCPOA Is Legal: Donkeys Give the Green Light!