Almost all major newspapers on Monday covered Iran's deal with the government's controversial deal with Financial Action Task Force (FATF), which is an international task force against money laundry. All conservatives described it as treason and called for its termination.
The US President Barack Obama's visit to Hangzhou, and China's controversial reception also received great coverage. Newspapers pointed to Obama's humiliation following China's refusal to give him red carpet treatment.
The election of Rasoul Khadem, the former Iranian wrestler and President of Iran's Wrestling Federation, as a bureau member of United World Wrestling was also a top story as it was the first of its kind in the past years.
The above issues, as well as many more, are covered in the following headlines:
Abrar:
1- Obama: Differences with Russia over Syria Still in Place
2- Turkey Backs Off in Dealing with EU
3- Merkel Doesn't Regret Accepting Refugees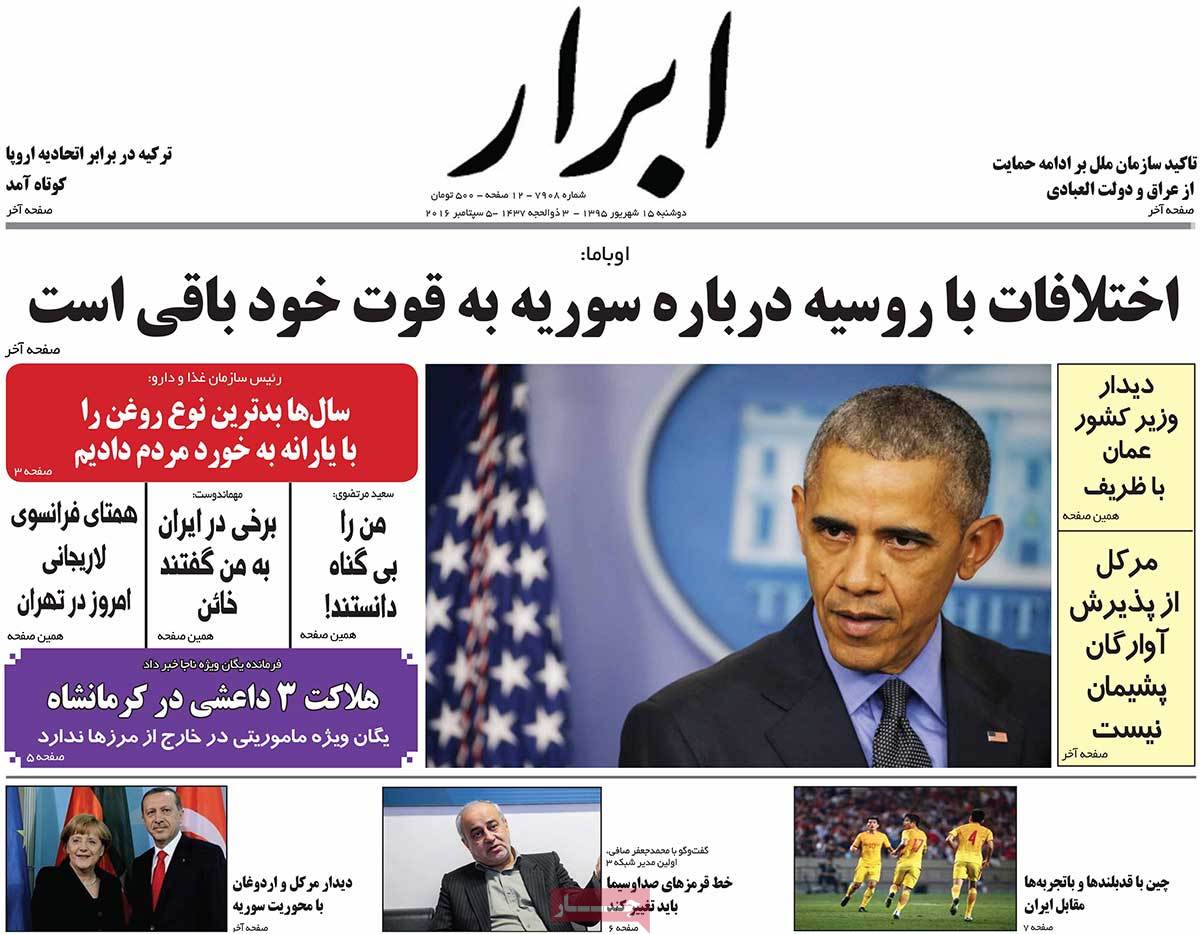 ---
Abrar-e Eqtesadi:
1- Iranian Banks to Open Branches in Germany
2- 137 Luxury Cars [Illegally Smuggled into Iran] Exported to Other Countries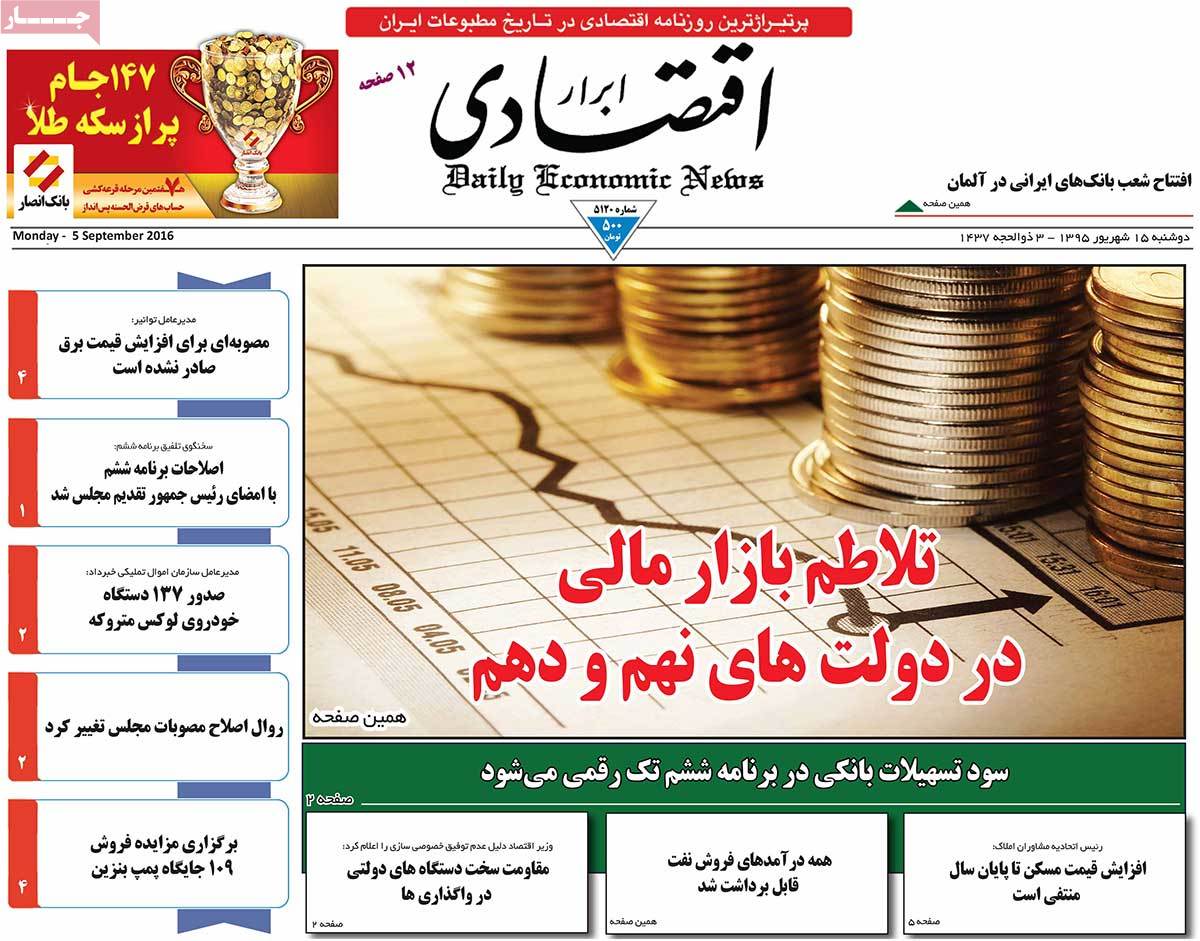 ---
Afkar:
1- FATF Deal Not in Iran's Interests: Leader's Advisor
2- 37 Intangible Heritages Registered in Iran's National Heritage List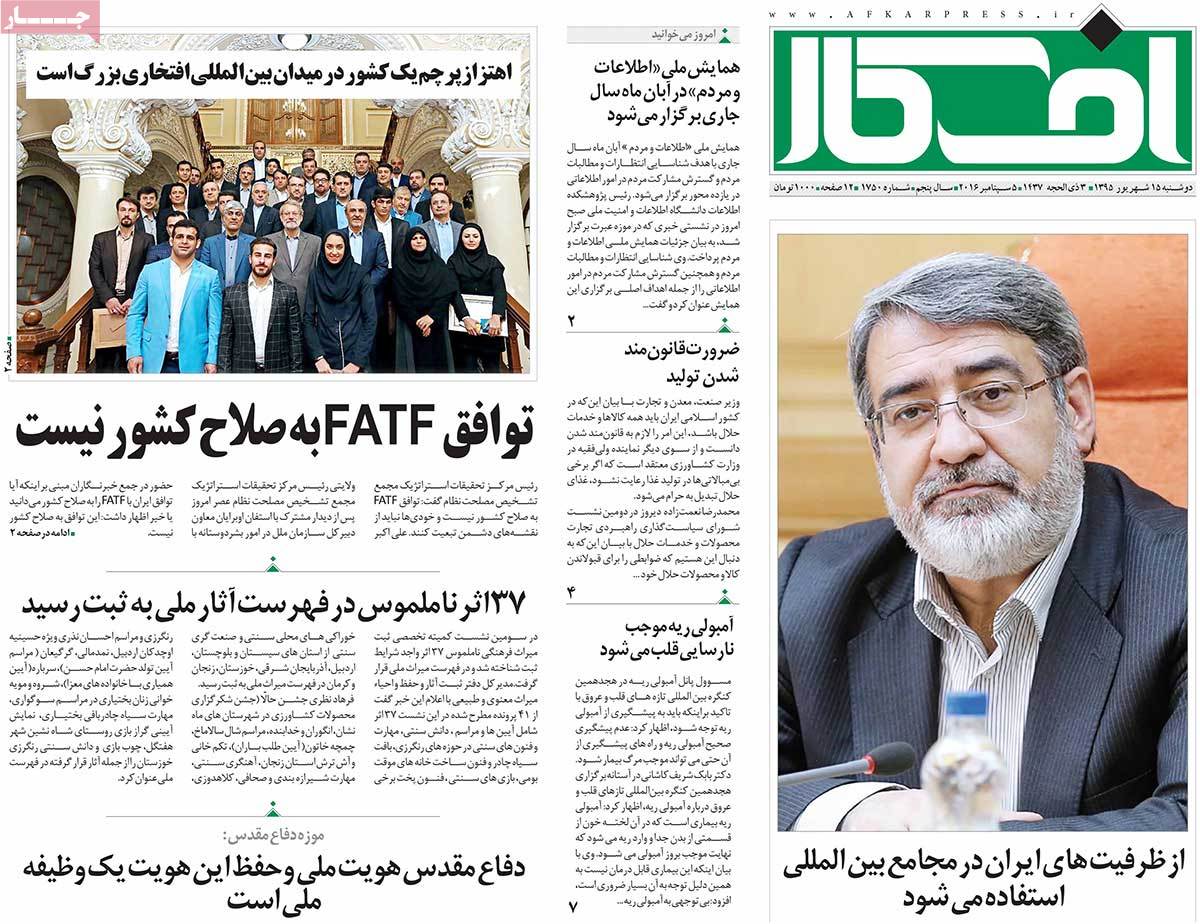 ---
Aftab-e Yazd:
1- Rouhani to Take Longer Steps in His Second Term: Rafsanjani
2- Iranian Music Maestro Shahram Nazeri: I've Stayed in Iran Because of My Love for the Country
3- FATF Membership Was Ahmadinejad Government's Suggestion
4- Historical Tiles Stolen from Tehran Are Displayed in Louvre!
---
Arman-e Emrooz:
1- I Knew the Leader Wanted the Nuclear Case to Be Resolved: Rafsanjani
2- Efforts Being Made to Persuade Zarif to Run for Presidential Elections
3- Car Accident, First Cause of Iranian Children's Death
4- Haddad Adel [senior conservative and former MP]: I Won't Run for Presidential Votes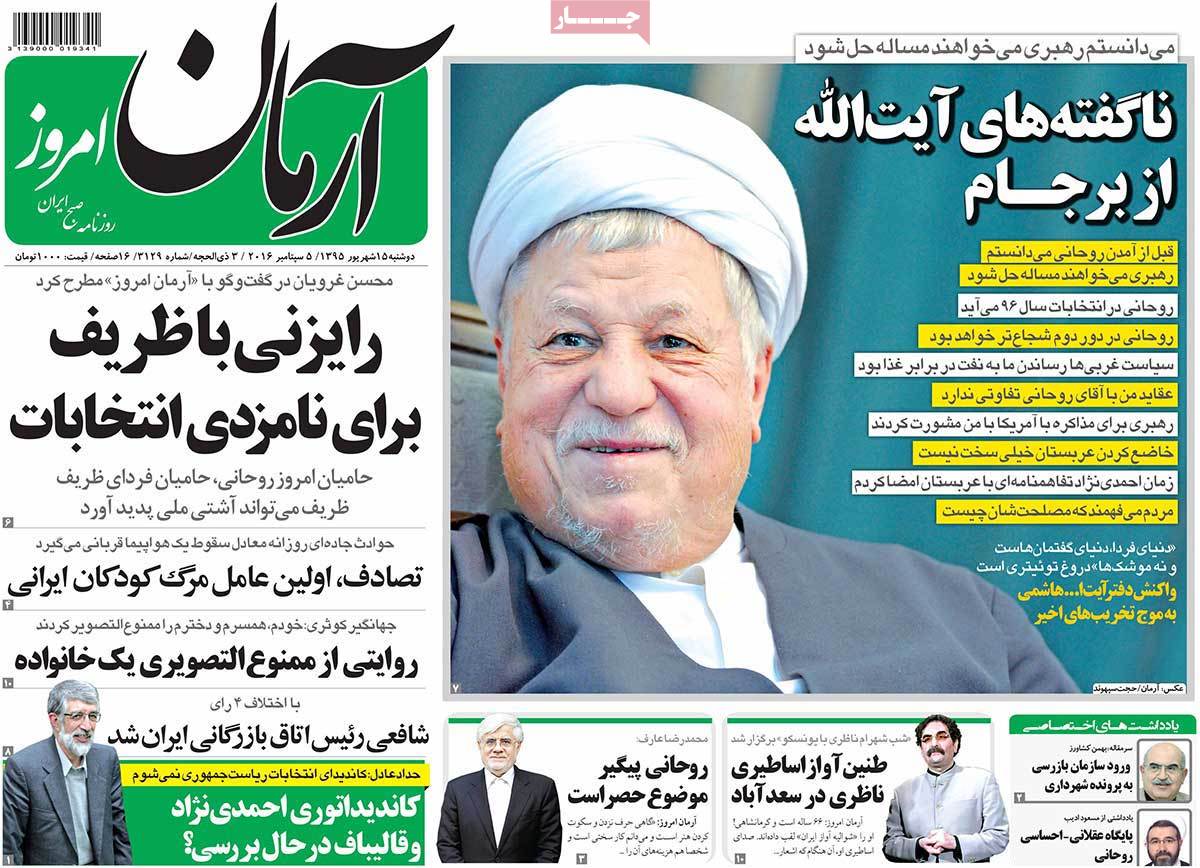 ---
Ebtekar:
1- Unhealthy Lifestyle of Iranian Youth Has Exposed Them to Heart Diseases
2- Great Development for Iran's Wrestling: Khadem Becomes Bureau Member of United World Wrestling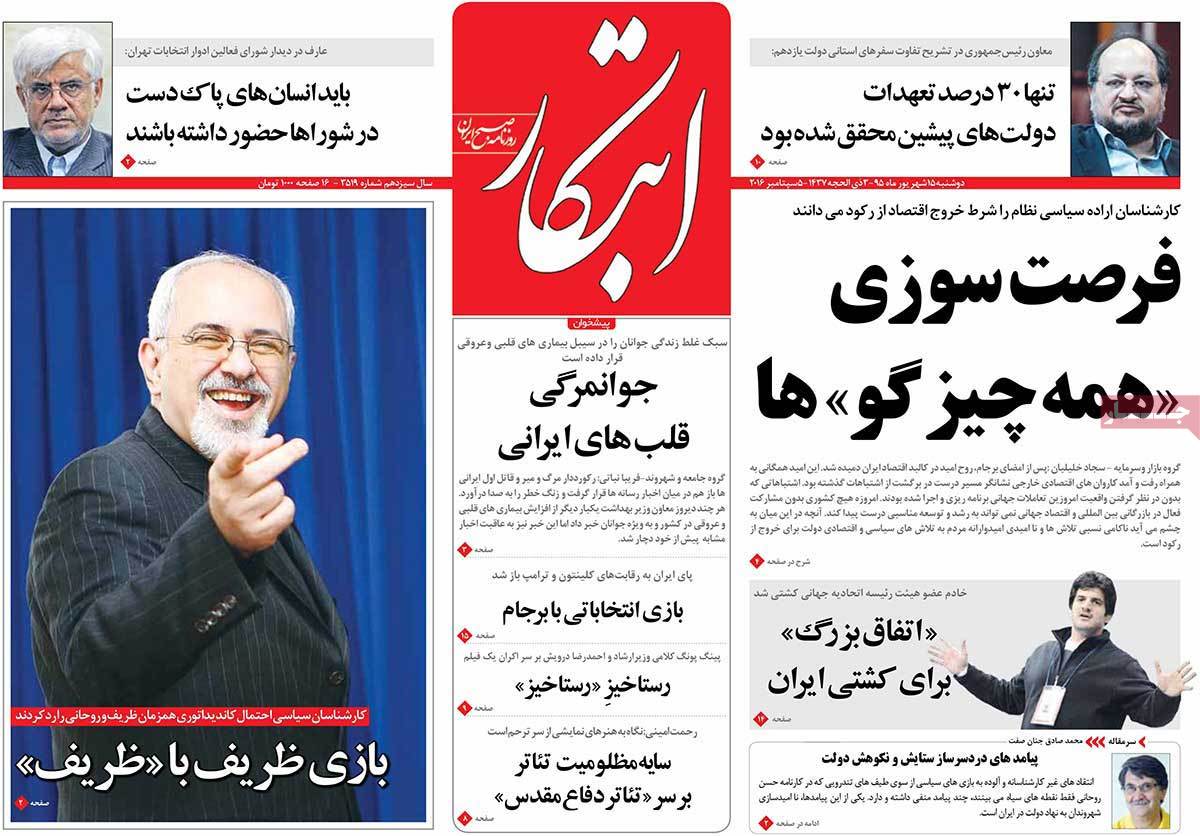 ---
Emtiaz:
1- Ultimatum for Stopping Production of Flavoured Tobaccos
2- Inter-Governmental Schools to Be Established in Iraq: Education Minister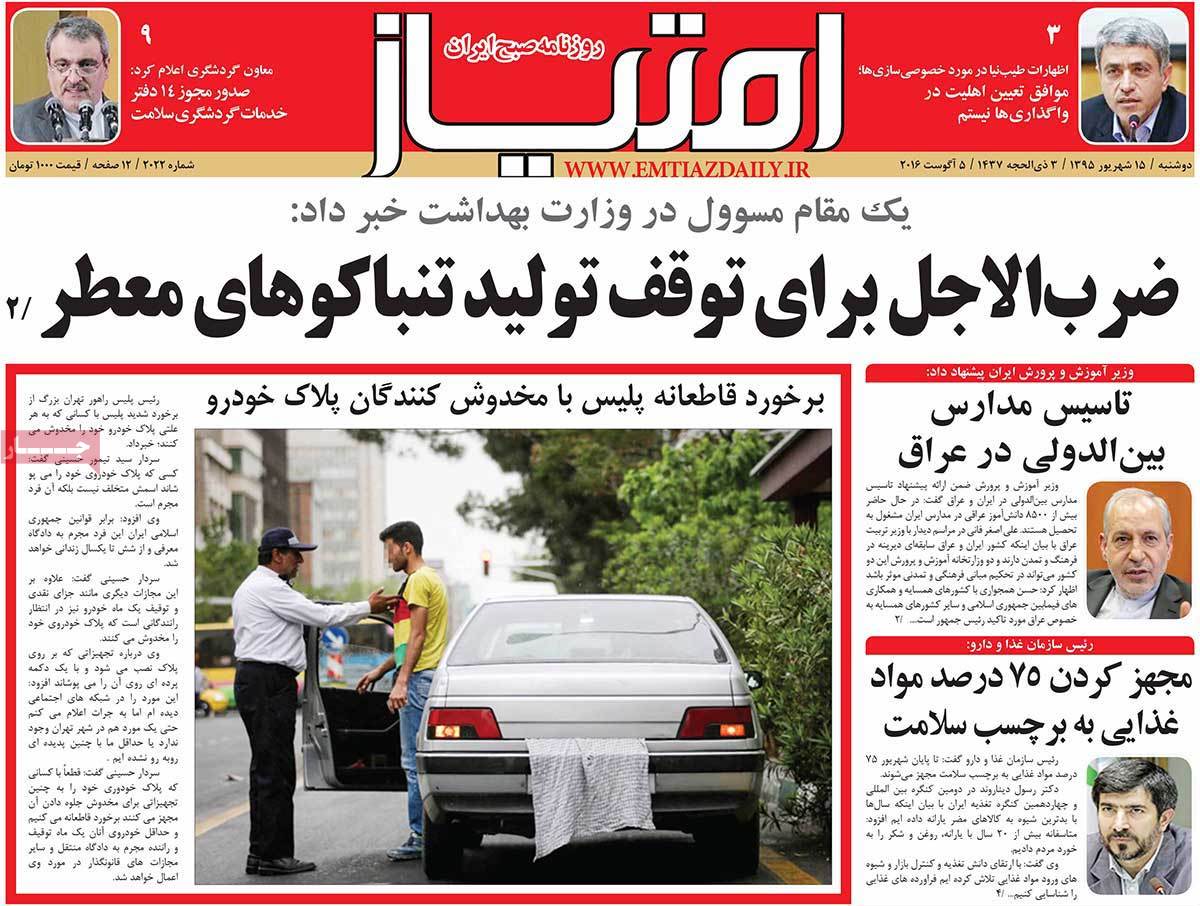 ---
Etemad:
1- Victory of Traditionalists in Economy: Shafe'i Elected as Head of Iran's Chamber of Commerce
---
Ettela'at:
1- Chomsky: US and West Have Closed Their Eyes on Saudi Arabia's Support for Terrorism
2- Saudi Warplanes' Attacks on Yemen's Infrastructure
3- Zarif: Cooperation Should Replace Competition in Middle East
4- Easy Marriage Ceremonies Held across Iran on Occasion of Wedding Anniversary of Imam Ali and Prophet Muhammad's Daughter Fatimah
---
Haft-e Sobh:
1- Story of Rafsanjani's Love for Germany and Japan: How the Ayatollah's Devotion to Economic Development of These Two, and Also That of China, Led to Free Trade Zones in Iran
2- Cold Swedish Cars for Warm-Blooded Iranians: About New Luxury Models of Volvo in Iranian Streets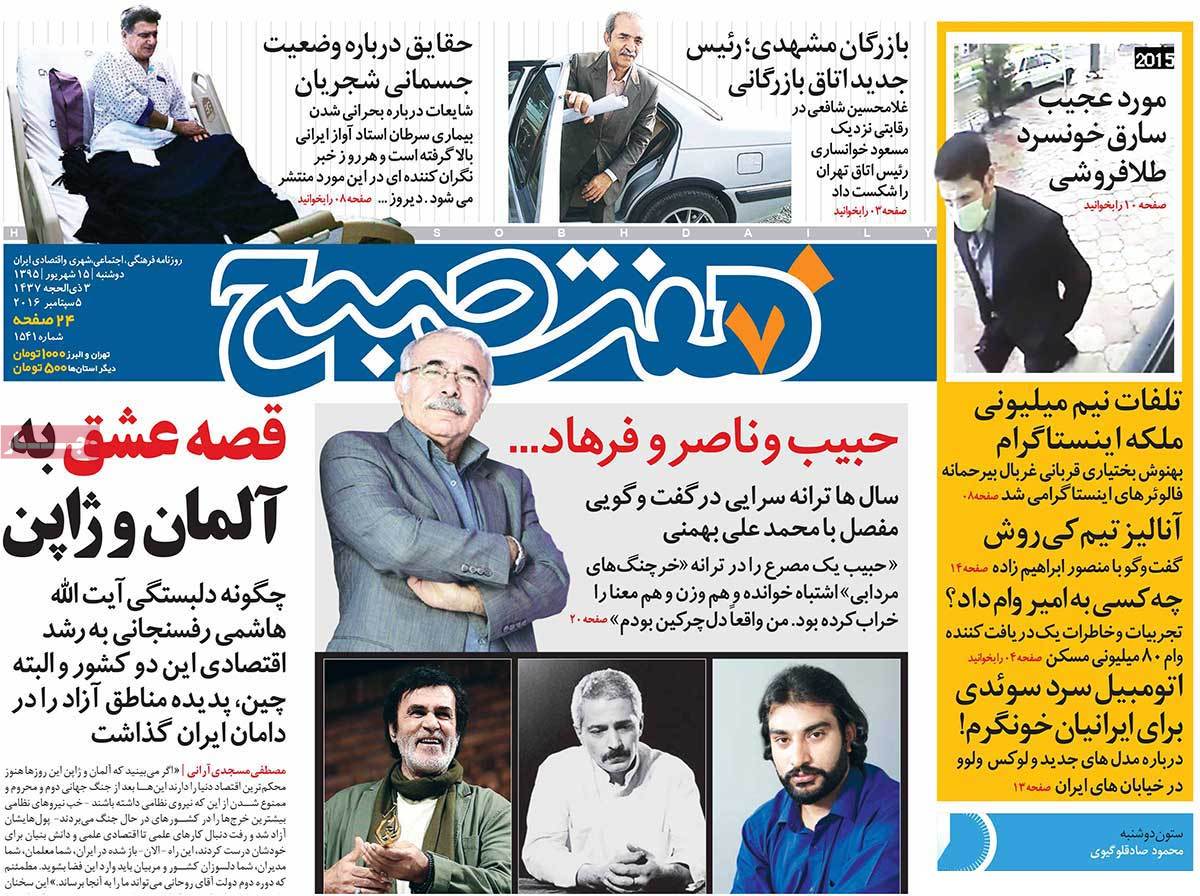 ---
Hamshahri:
1- Knife Used in 45% of Murders in Iran
2- Dismissal of Executives with Dual Nationality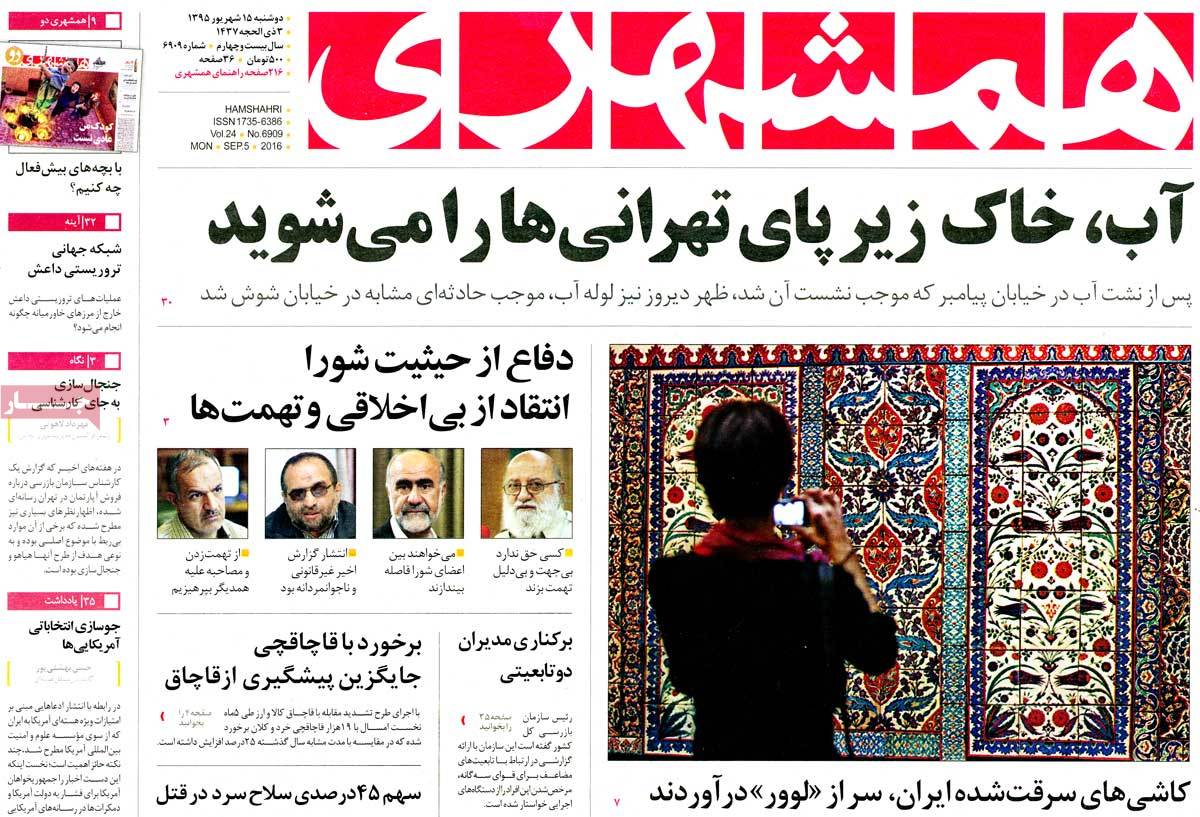 ---
Jame Jam:
1- Death, the Last Stage of Addiction
2- Europe Becomes Main Source of Iran's Imports
---
Javan:
1- People Wouldn't Accept the FATF Humiliation: Continued Reactions to Self-Imposition of Sanctions
2- China Refused to Give Obama Red Carpet Treatment
3- The Comments [written by Ayatollah Khamenei] which Made People Interested in Reading Books: People Consider Leader of Islamic Revolution as a Reliable Guide for Buying Books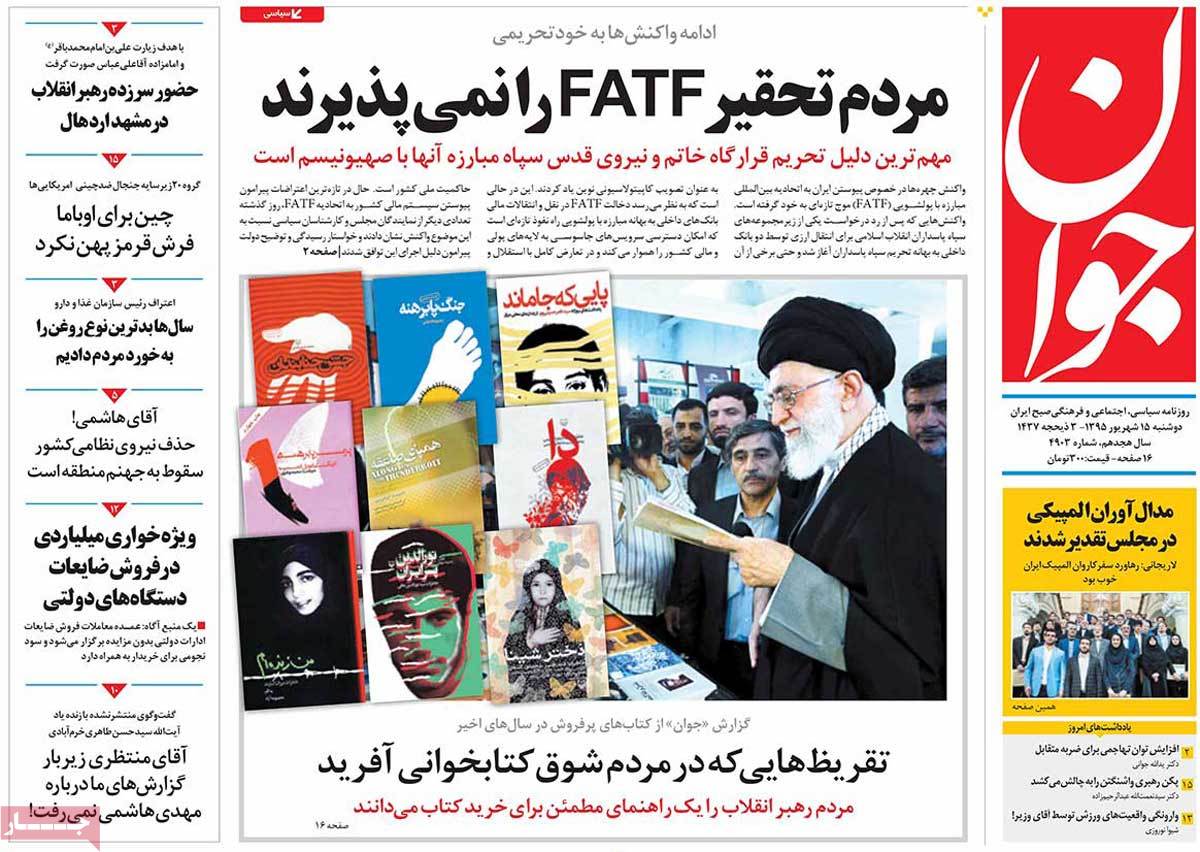 ---
Jomhouri Eslami:
1- Expansion of Iran-Europe Banking Ties with Removal of Barriers and Establishment of Branches in Other Countries: Iranian Banks Open Branches in Germany
2- Turkish Army Enters Kobane as Part of Its Continued Invasion of Syrian Territory
3- Saudi Coalition's Numerous Attacks on Civilian Areas and Yemen Airports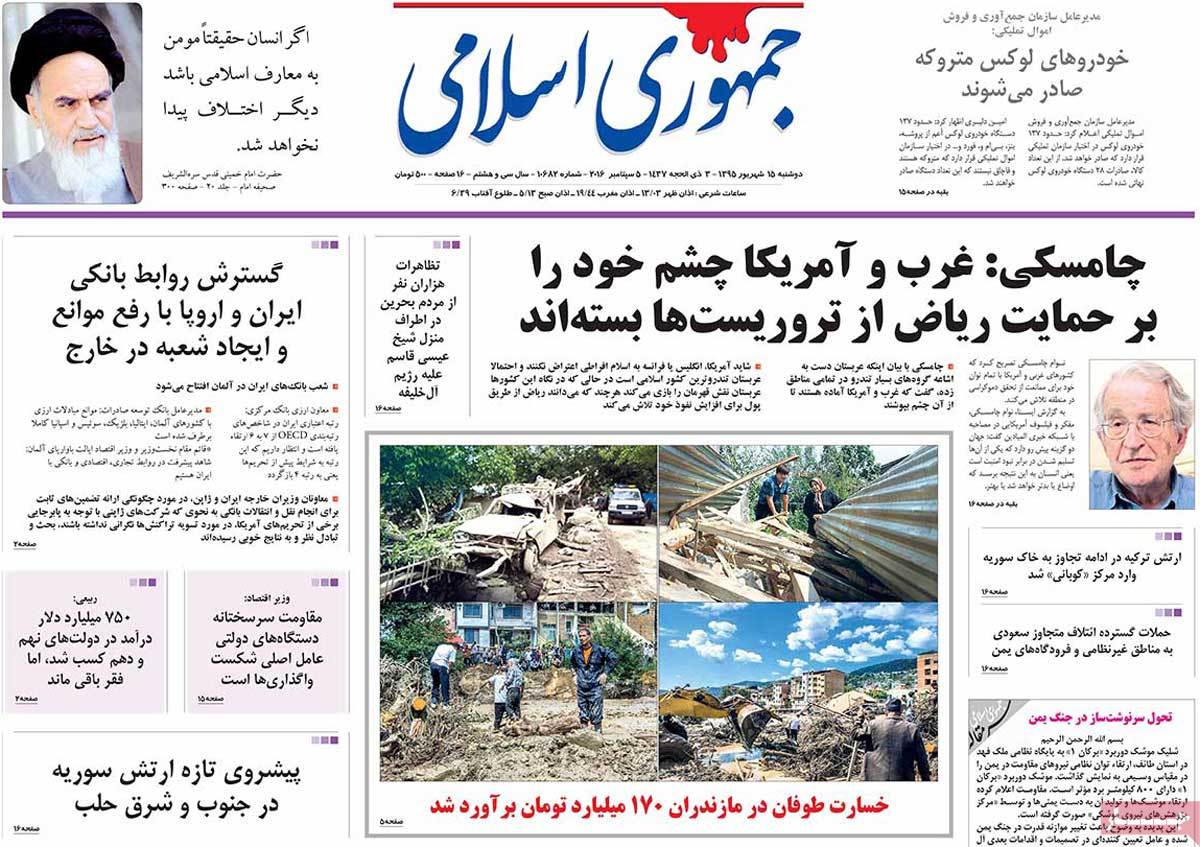 ---
Kayhan:
1- Immediate Termination of FATF Deal, a Public Demand
2- The Chinese Didn't Give Obama the Red Carpet
3- Salafis' Faith Isn't that of Prophet Muhammad, It Is the Religion of Muhammad ibn Abd al-Wahhab: Al-Azhar Mufti
4- Saudi Ambassador to Iraq Is Tasked with Supporting ISIS: Missionary
5- Al Saud's Huge Expenses Have Failed to Prevent Spread of Shiism in the US: One of World's 50 Most Influential Muslims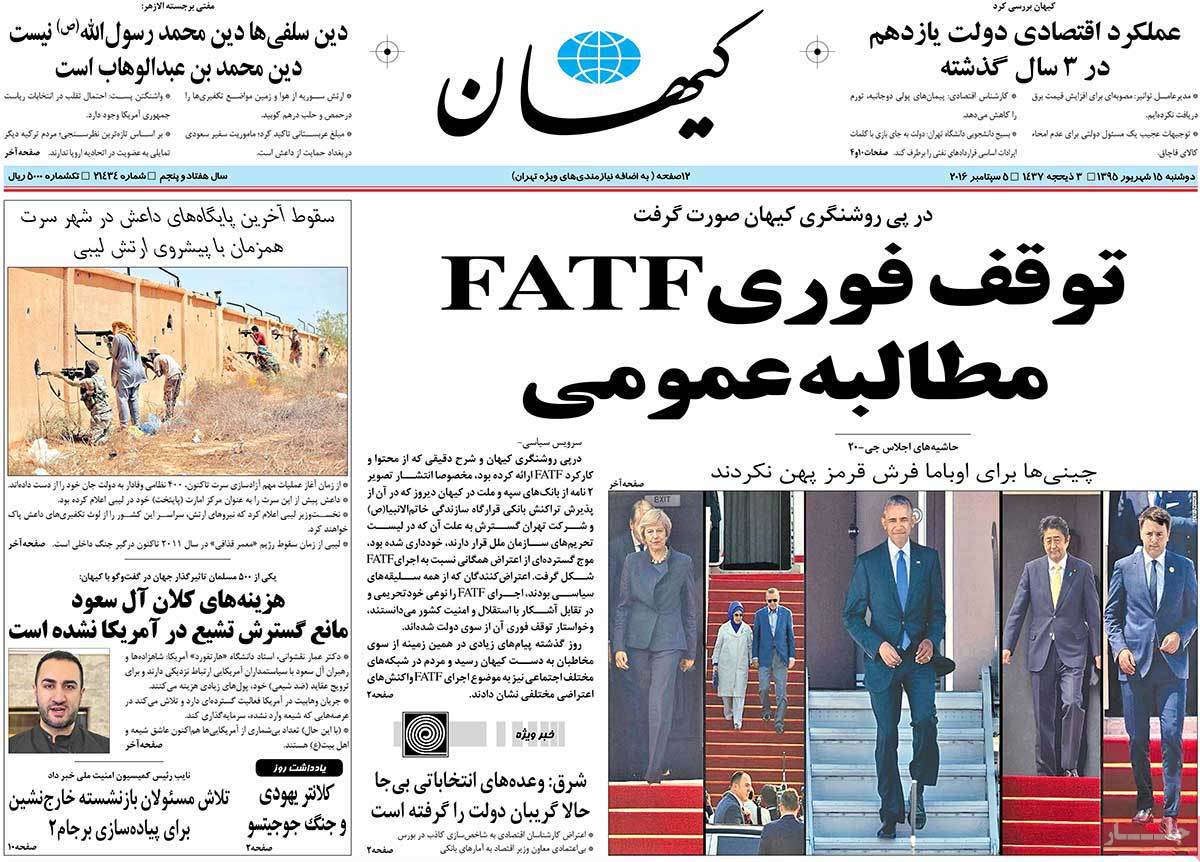 ---
Khorasan:
1- Humiliation in China: Obama's Visit to China Becomes Controversial
2- Death Toll in Iranian Roads as Much as that of One Plane Crash Every Day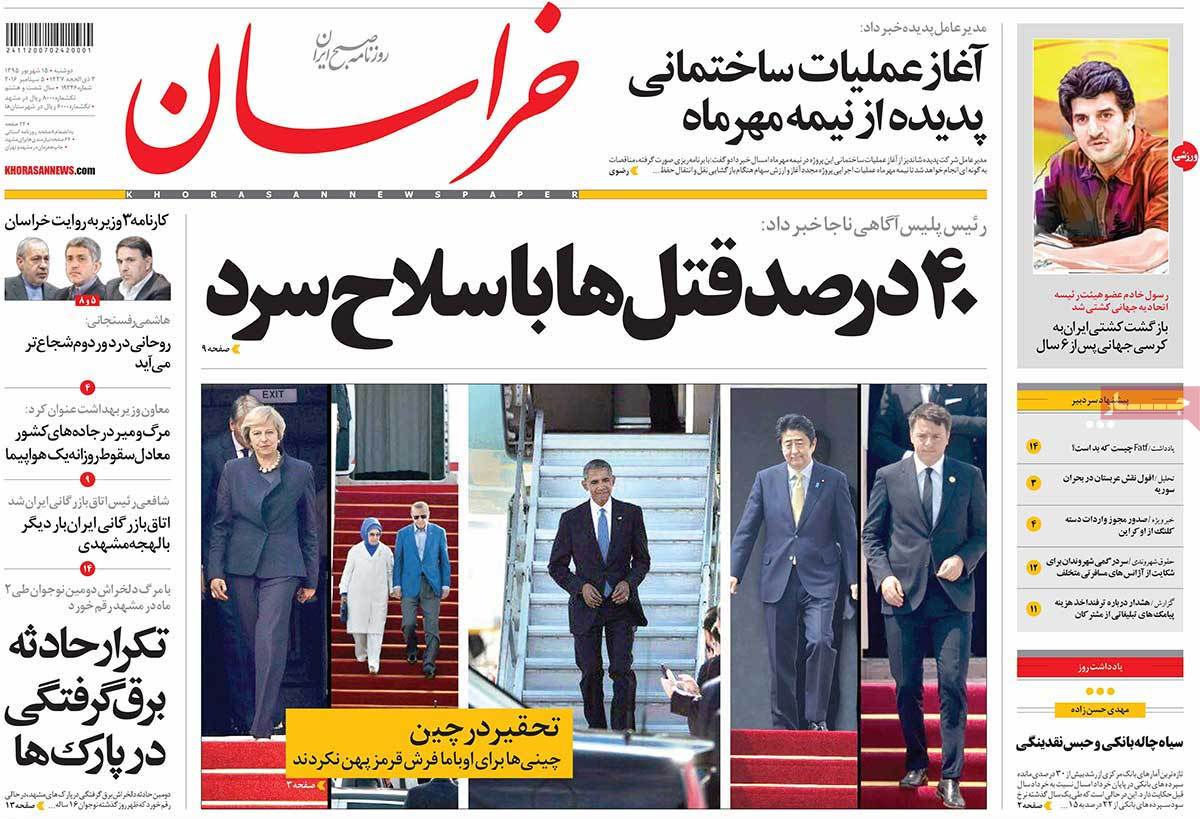 ---
Resalat:
1- Justifying US Violation of Its Commitments Is Cooperating in Their Crimes: Senior Cleric
2- FATF Deal Doesn't Serve Iran's Interests: Velayati
3- Abiding by FATF Worse than Capitulation: Political Analyst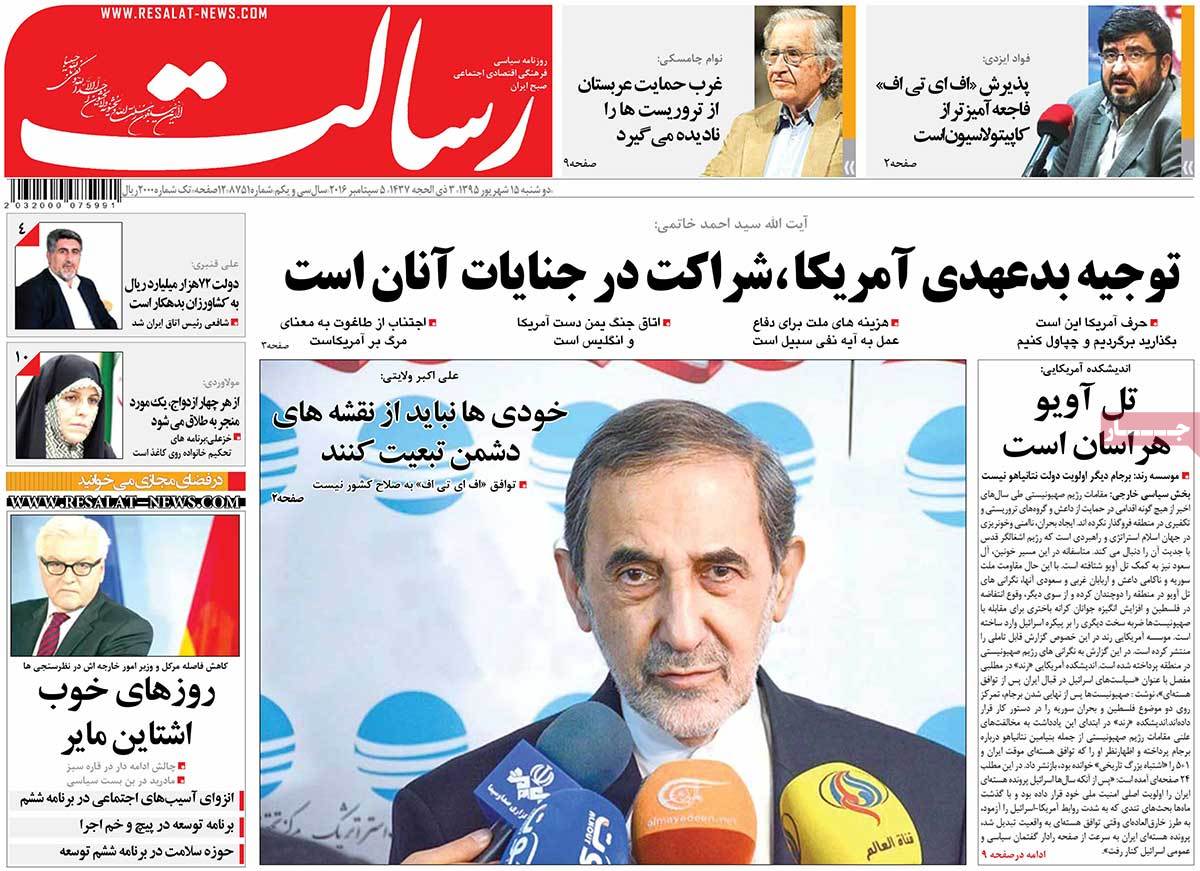 ---
Shahrvand:
1- Wrong Privatization of Government-Owned Companies Is Major Cause of Poverty: 2 Ministers
2- Ista, a Timeless Village: A Report on the Village Whose People's Lives Stopped 100 Years Ago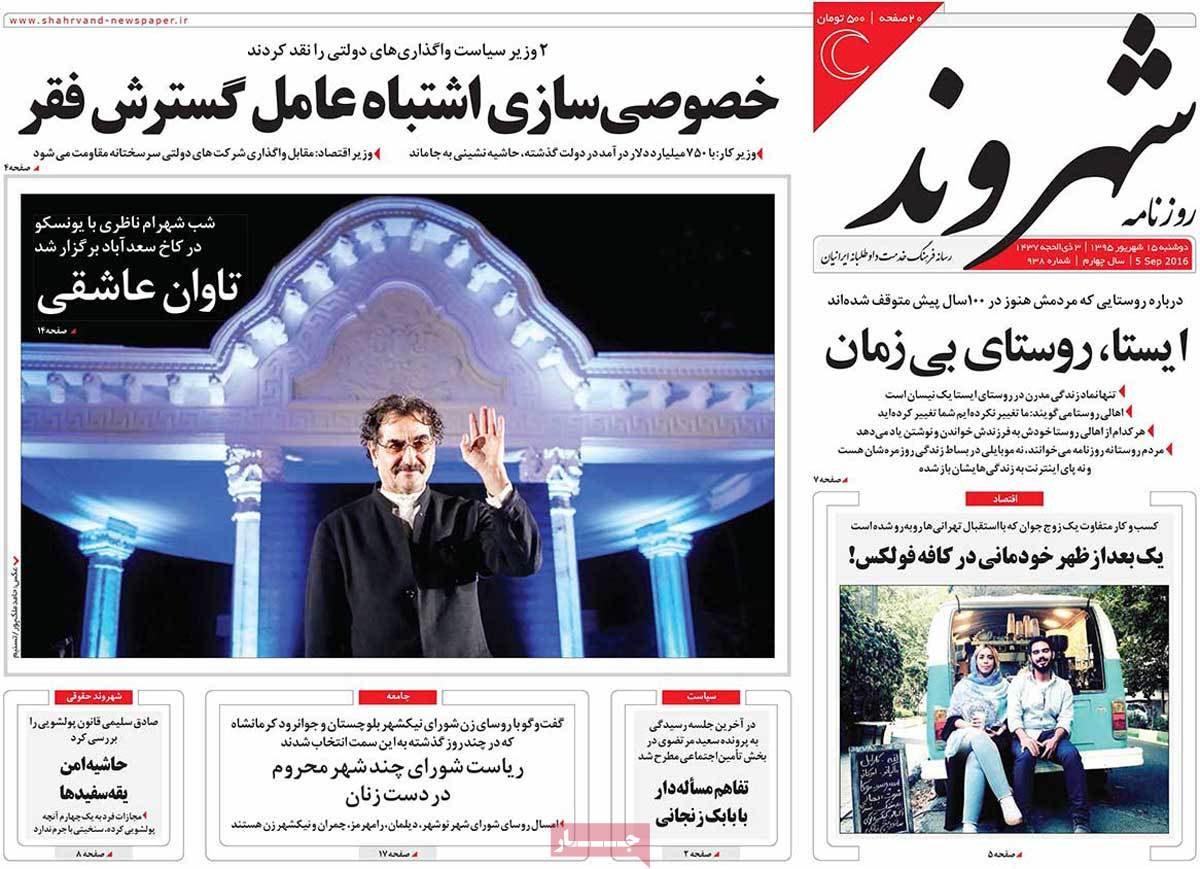 ---
Sobh-e Now:
1- Halt to Project for Self-Imposition of Sanctions? Danger of Joining FATF
2- Champion of Breaking Records: Rasoul Khadem and End of Iran's Absence in World Wrestling Bureau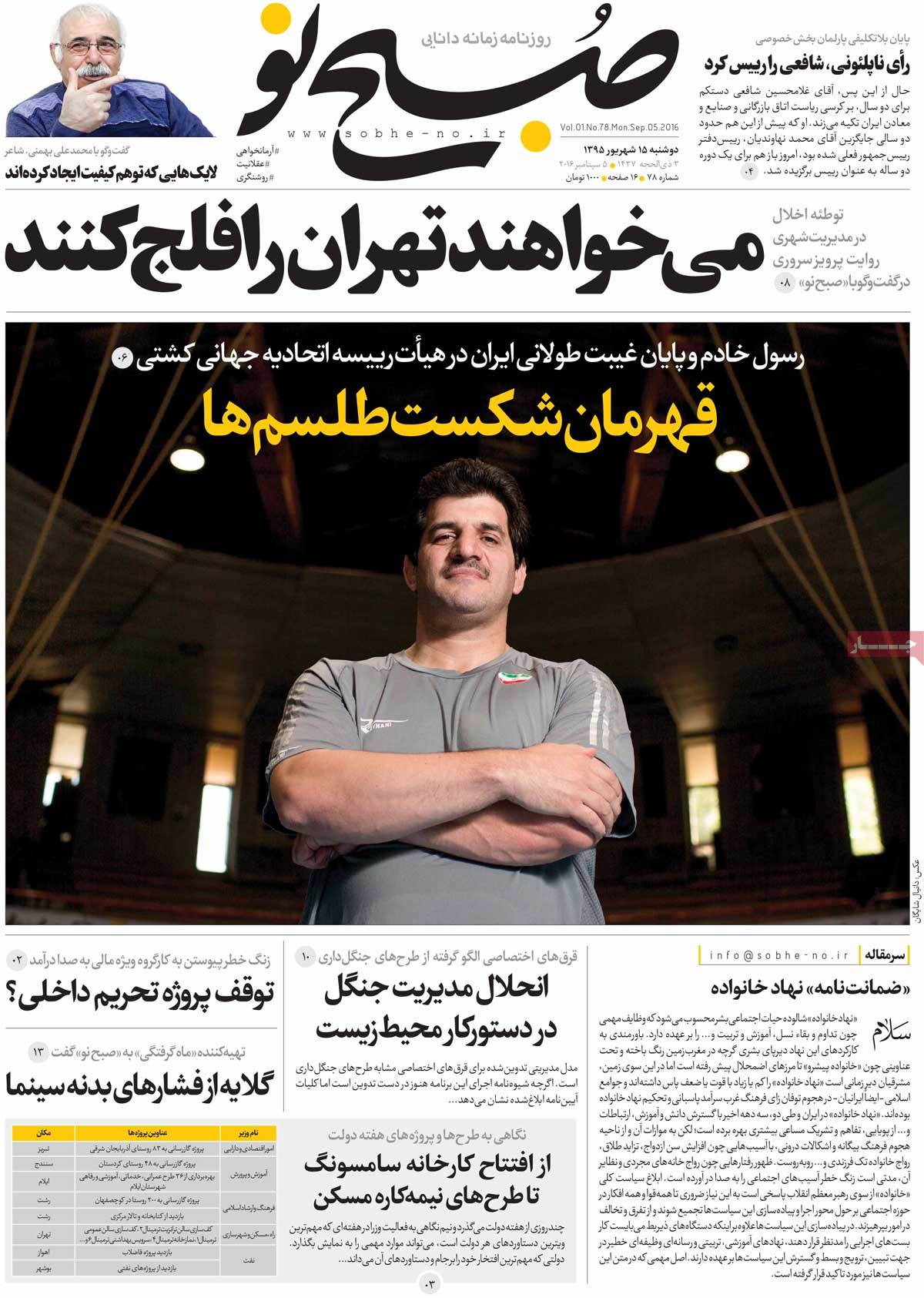 ---
Vaghaye Ettefaghieh:
1- UNESCO Holds Commemoration Ceremony for Iran's Music Maestro Shahram Nazeri
2- Saudis Bite Off More than They Can Chew: Riyadh Threatens Iran to War
3- Constructive Cooperation Should Replace Illusion of Competition in Middle East: Zarif
4- 25% Decrease in Divorce Rate Is an Optimistic Statistic: VP for Women Affairs
---
Vatan-e Emrooz:
1- Damocles: Officials, MPs, Political and Economic Experts Warn against Dangers of Treasonous Disaster of FATF Deal
2- Aleppo Once Again under Full Siege: Syrian Army Takes Control of Arms Faculty
3- Obama Humiliated by the Chinese: Sidelines and Meetings of G20 Leaders
4- Symphony of Imprudence in Northern Iran Flood: Huge Crisis in Mazandaran and Golestan Provinces