All newspapers on Sunday covered the general policies outlined by the Leader of the Islamic Revolution Ayatollah Seyyed Ali Khamenei on family foundation and the moves to facilitate marriage.
They also talked about the upcoming arrival of Russian warships in Iranian northern port city of Bandar Anzali, the second part of Iran-Russia defence cooperation after Moscow's use of Iranian base in Hamadan.
The above issues as well as many more are covered in the following headlines:
Abrar:
1- Trump and Clinton Compete with Each Other in Anti-JCPOA Remarks
---
Afkar:
1- Velayati: We Welcome Revival of Silk Road
2- 2 Russian Warships to Arrive in Iran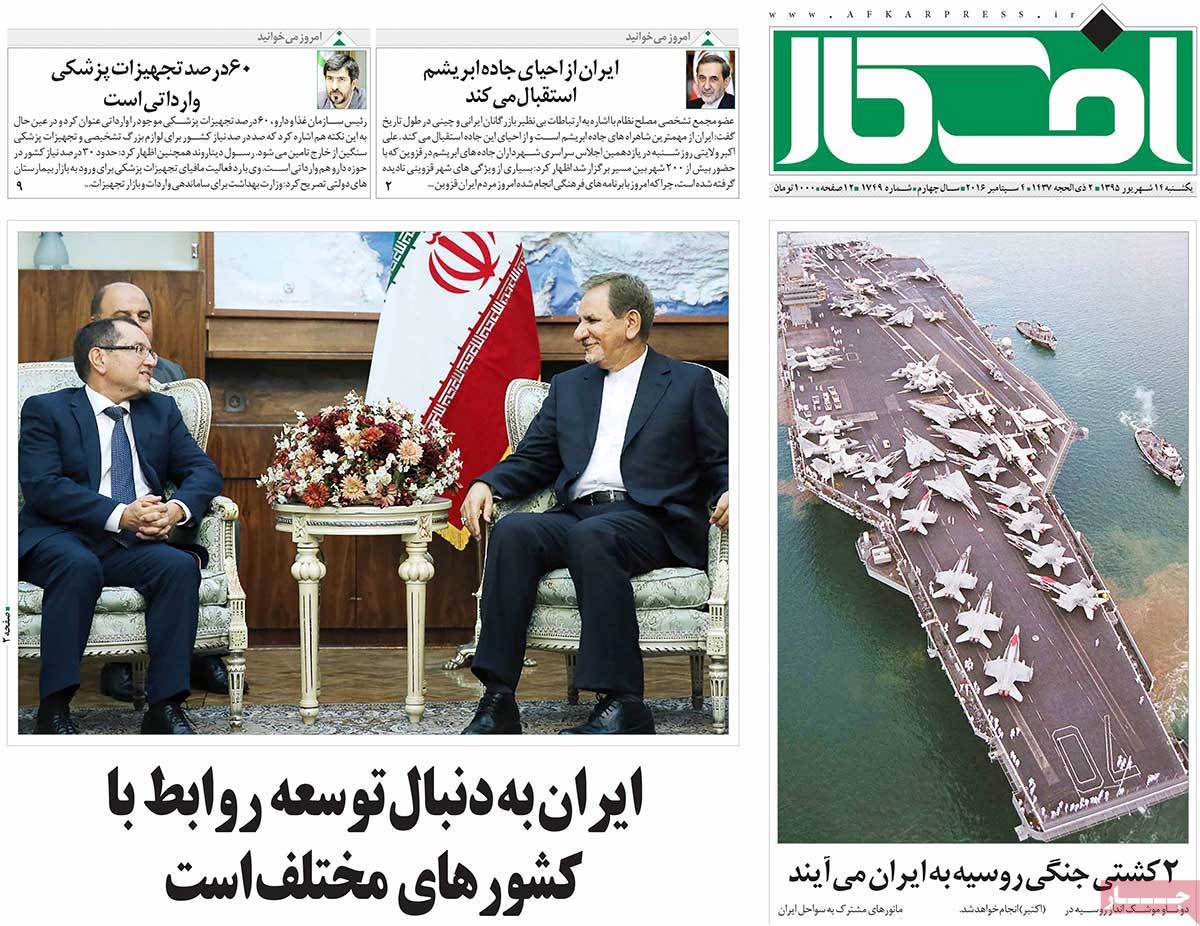 ---
Aftab-e Yazd:
1- Leader Outlines General Policies on Family
2- 20-Storey Buildings in 8-Metre Alleys!
3- Begging for Tourists: Turks Give Flowers to Russian Tourists
---
Amin:
1- Bashar Assad and Erdogan Will Meet in Moscow under Putin's Supervision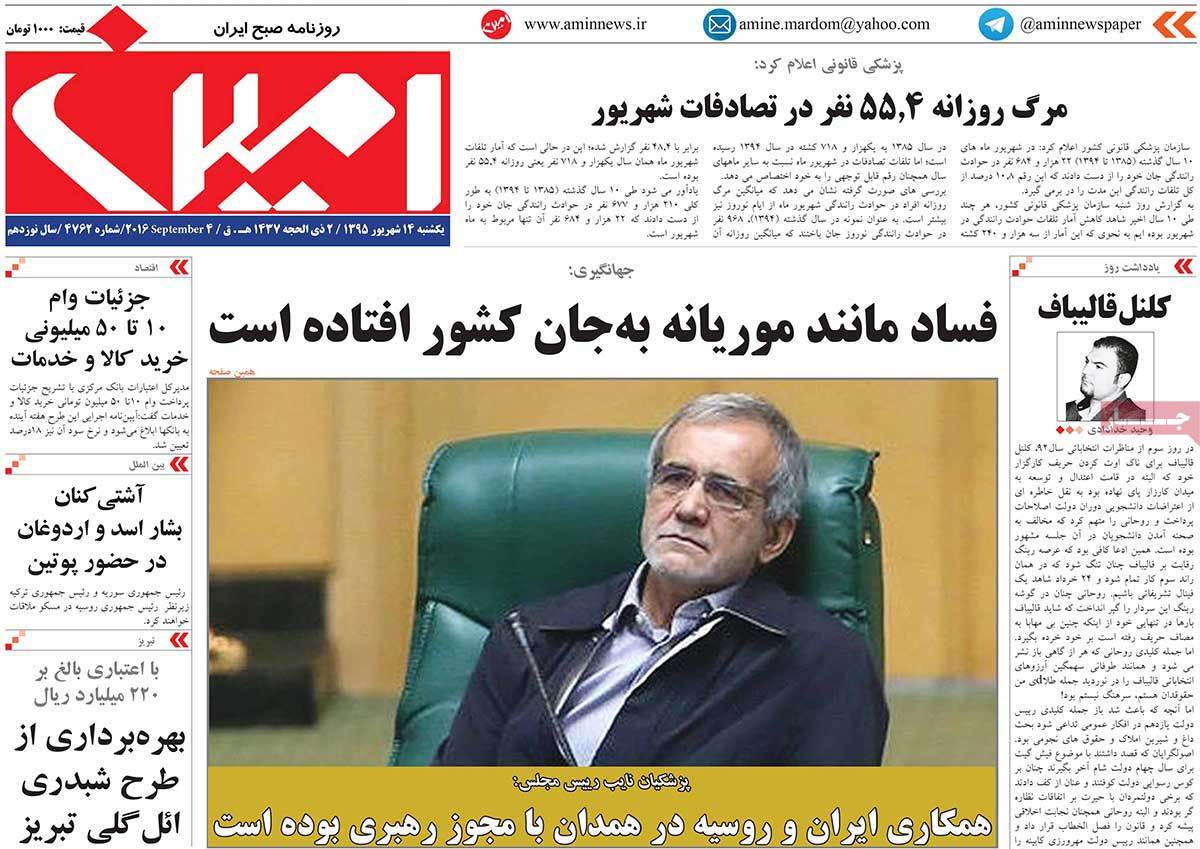 ---
Arman-e Emrooz:
1- Minister Urges Intelligence Services Not to Interfere in Political Fights
2- We Should Not Consider Capitalists as Criminals, nor Should We See Having Wealth as a Sin: Intelligence Minister
3- Imam Khomeini's Grandson: 50% of Jobs Should Be Assigned to Women
4- Vice-Speaker: Russia Is Looking for Its Own Interests; Russian Warships in Iran's Anzali Port
---
Asrar:
1- Imam Khomeini's Grandson: Peaceful Criticism Leads to Iran's Development
2- Foreign Ministry Spokesman: Saudi Arabia Should Replace Illusions with Rationality
3- Hard-line Friday Prayers Leader of Mashhad Alamolhoda: I Listen to Some Music
---
Ebtekar:
1- Record-Breaking Sale of Asghar Farhadi's 'The Salesman' in Box Office: $300,000 in 3 Days
2- Efforts to Decrease Social Ills among Teenagers: Risky Behaviours of Teenagers to Be Protected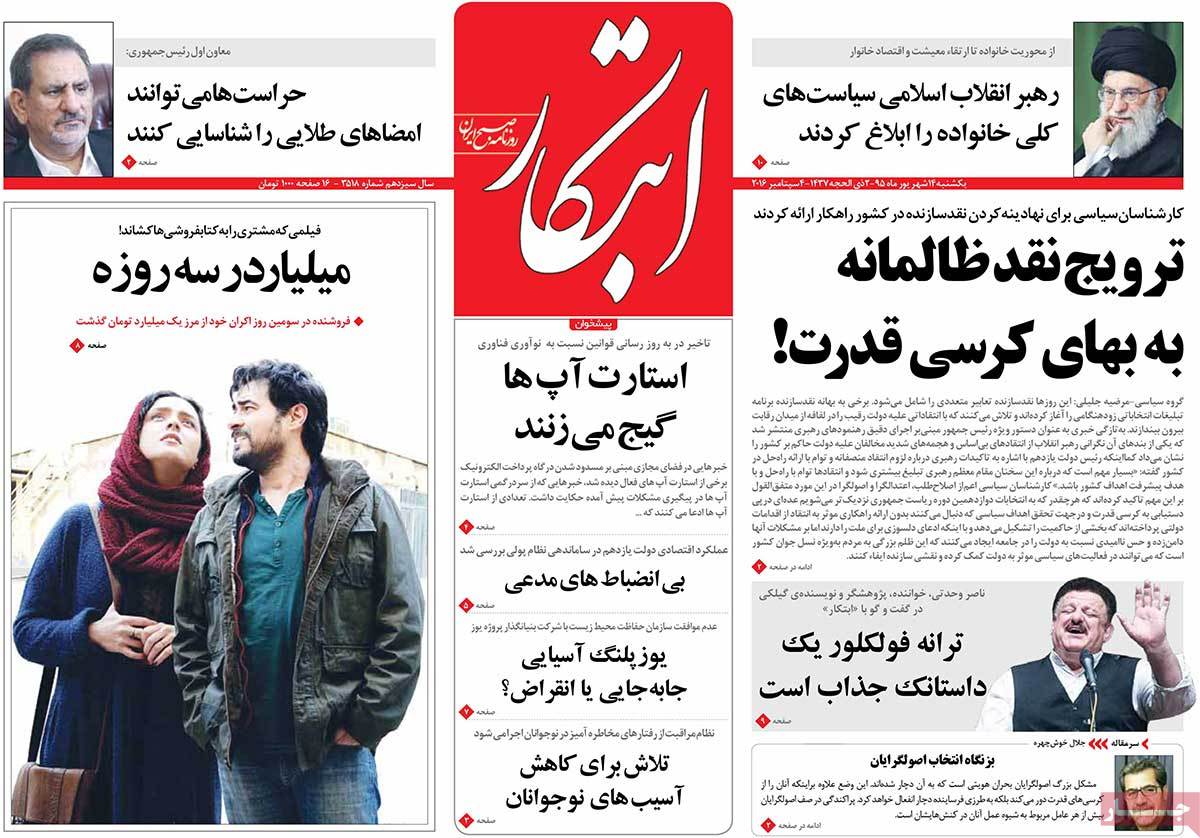 ---
Etemad:
1- Ayatollah Khamenei Underlines Need for Preventing Social Ills and Factors behind Collapse of Family Foundation
2- Minister Cancels Ban on Body Organ Transplant to Afghan Immigrants
3- Bana, Coach of Iran's Greco-Roman Wrestling Team, Resigns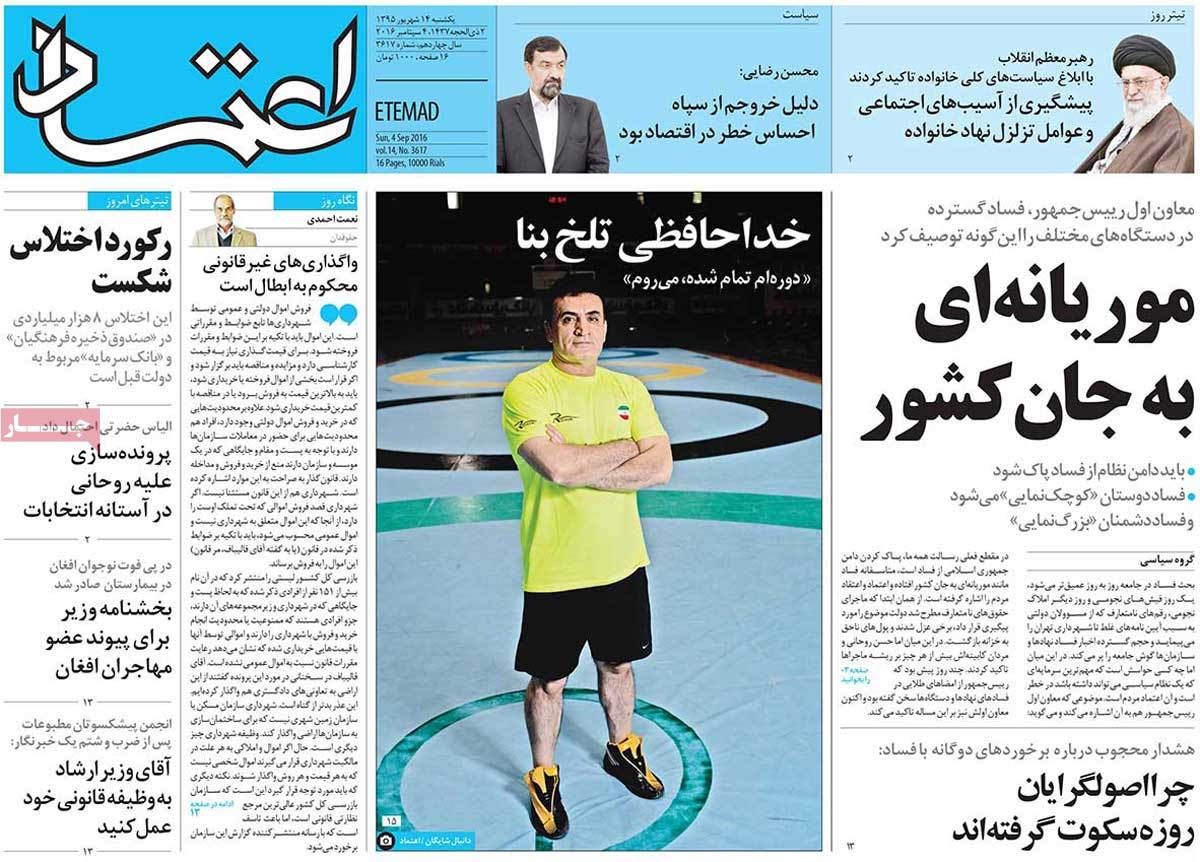 ---
Ettela'at:
1- Leisure Time Insurance to Be Unveiled in 2 Weeks
2- Yemeni Forces Surprise Saudis by Firing Missiles with 800km Range
3- Int'l Conference to Be Held in Imam Reza Shrine to Commemorate Mina Tragedy Victims
4- Freedom and Right to Decide One's Destiny Are among Major Human Rights: Imam Khomeini's Grandson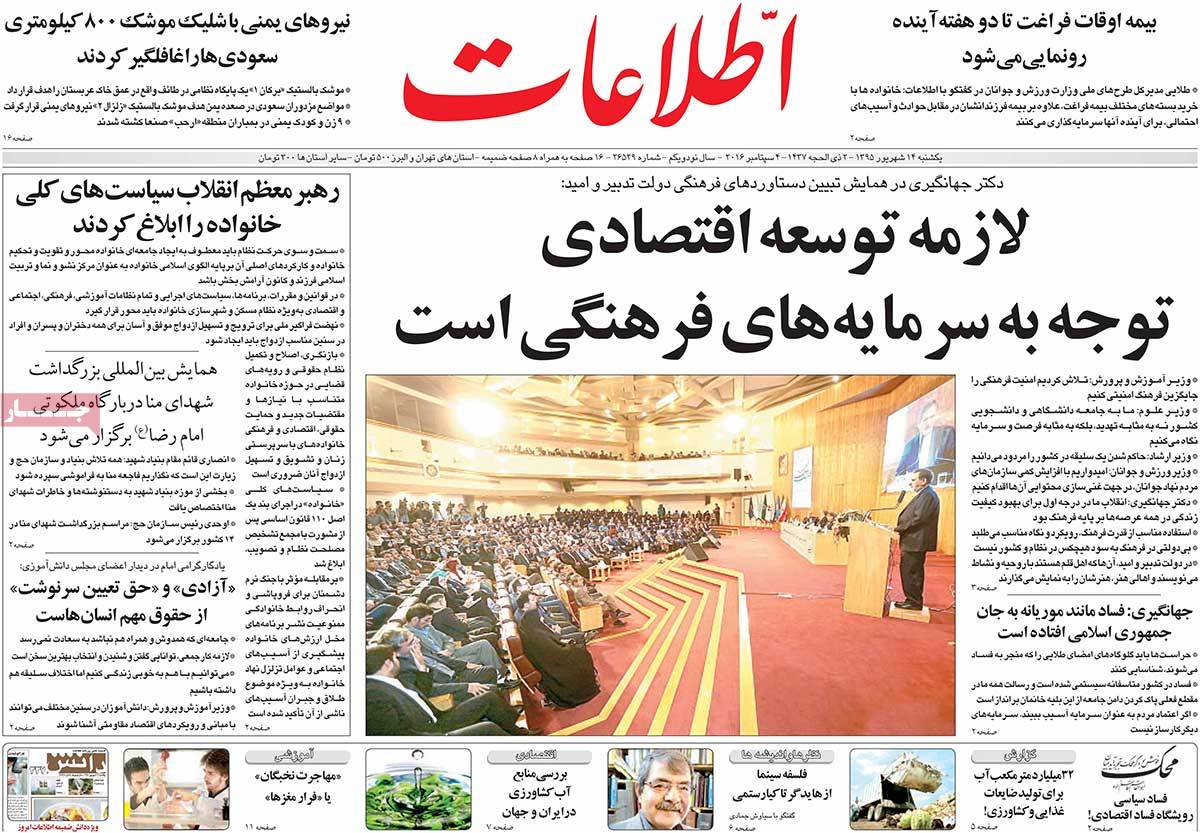 ---
Iran:
1- We've Not Had a Security Crisis in Past 3 Years: Deputy Minister
2- Security and Cultural Diversity, Main Priorities in Rouhani's Gov't: 6 Cabinet Members Present Cultural Achievements
3- Rescue and Relief Teams Continue Providing Services for Storm and Flood-Stricken People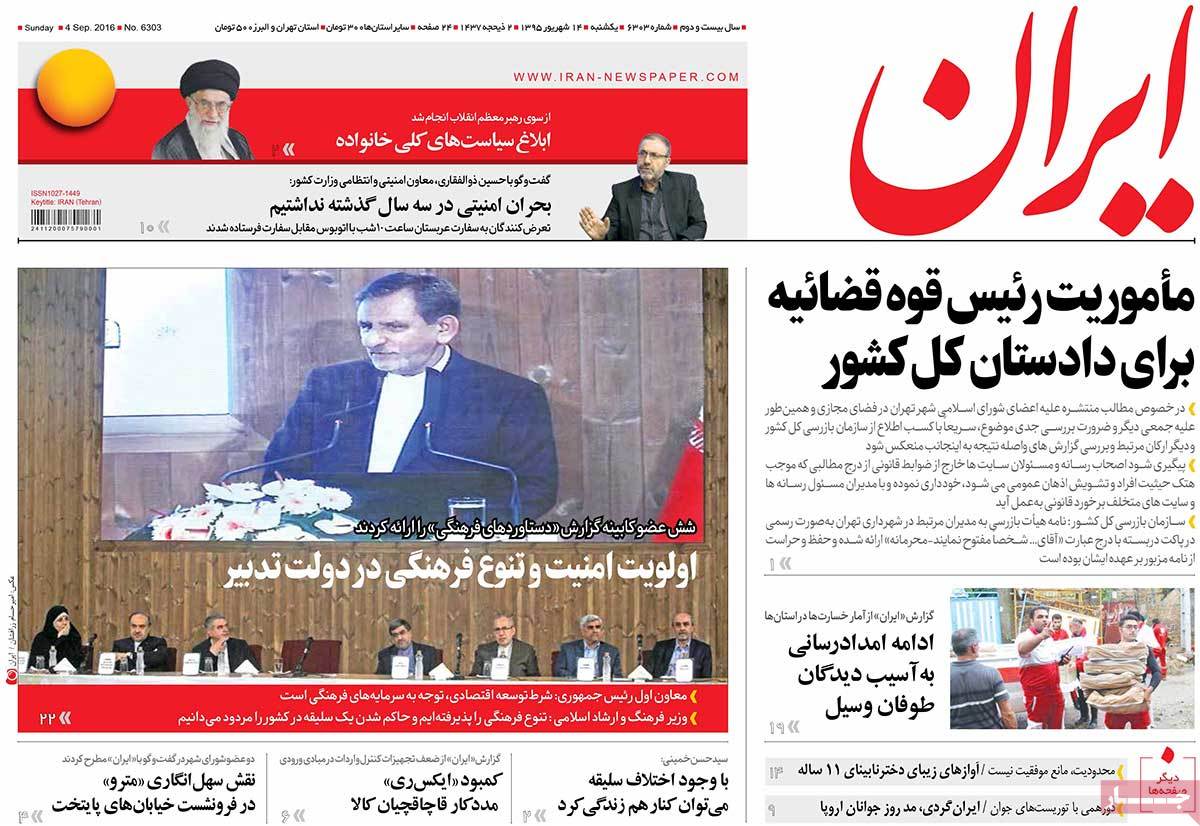 ---
Javan:
1- Government's Poor Performance in Financial and Monetary Discipline
2- $430m Wasted for Toppling Iran's Ruling System: Washington Dedicated $400m from 2004 to 2016 to What They Call Support for Democracy in Iran
3- Leader Outlines General Principles of Family Including Facilitation of Marriage for Everyone
4- Sunni Clerics Don't Consider Saudi Arabia as Sunni Muslim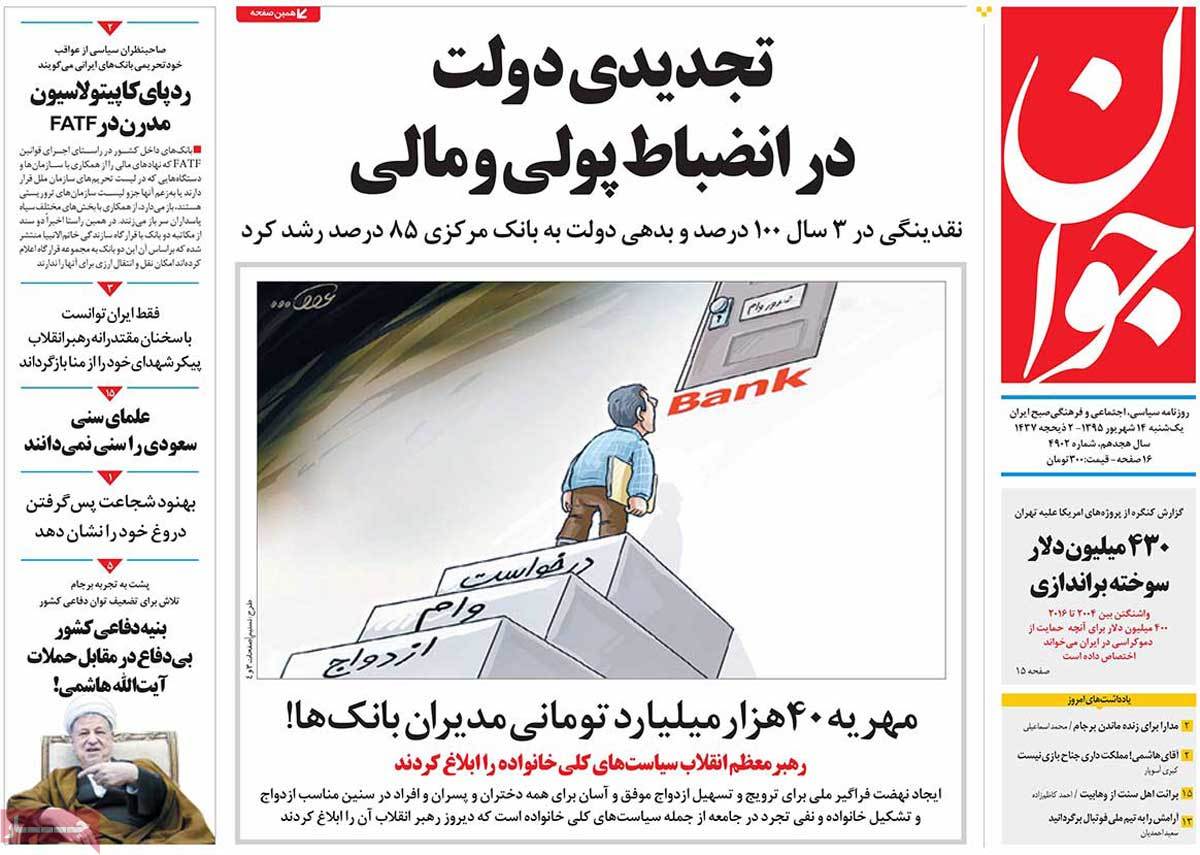 ---
Jomhouri Eslami:
1- Putin Trying to Arrange Meeting between Assad and Erdogan
2- Israeli General: We're Champions of Occupation in the World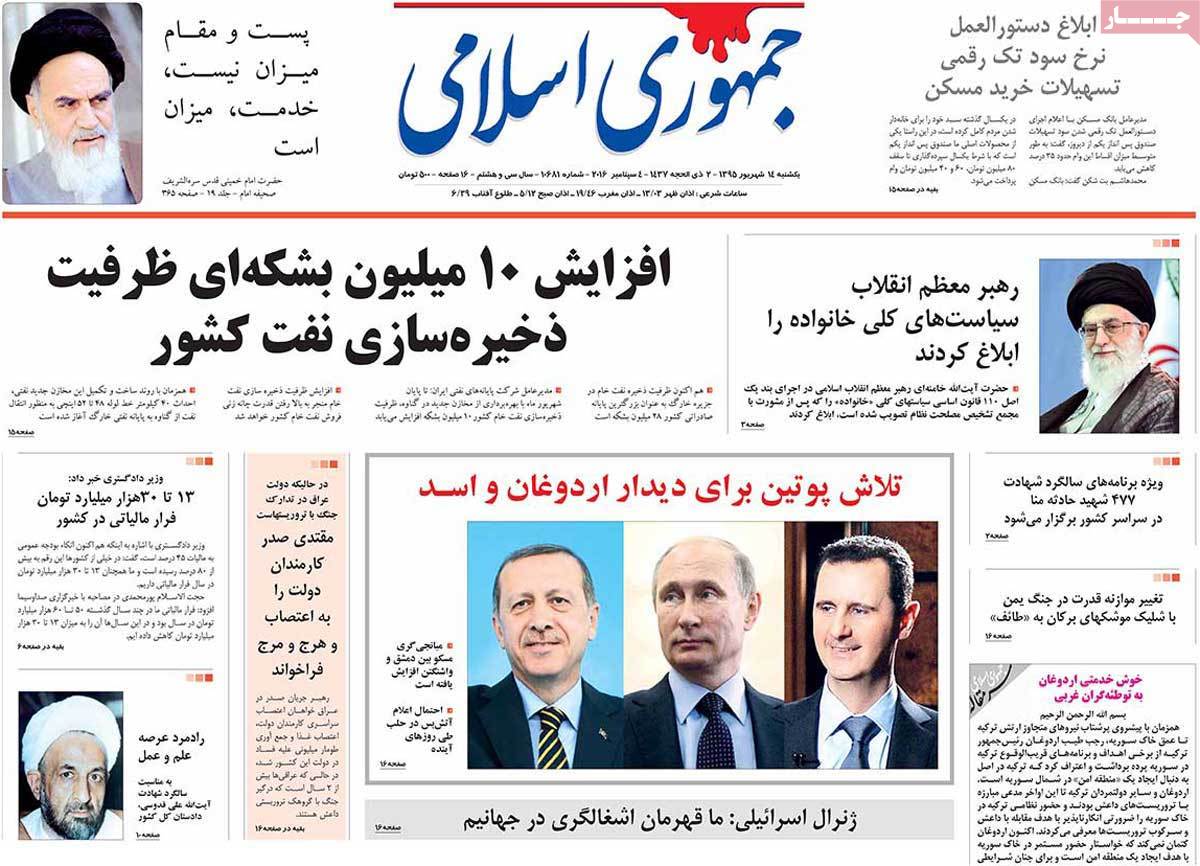 ---
Ka'enat:
1- Culture Minister: 8m People Watched Movies in Iranian Cinemas in 3 Months
2- Iran Supports Creating Balance in Oil Market
---
Kayhan:
1- Leader Highlights the Need for Fight against Aristocracy and Luxury in Islamic-Iranian Family Model
2- Iranian Official Reveals New Details of Al Saud's Brutal Behaviour in Mina Tragedy
---
Khorasan:
1- Disclosure of Letters Belonging to Two Banks under Sanctions, and Government's Silence
2- Criticisms Once Again Rise against Cooperation with FATF
3- Family-Based Society and Inclusive Facilitation of Marriage among Main Policies Communicated by Leader
---
Payam-e Zaman:
1- 10m-Barrel Increase in Iran's Oil Reserve Capacity in a Few Weeks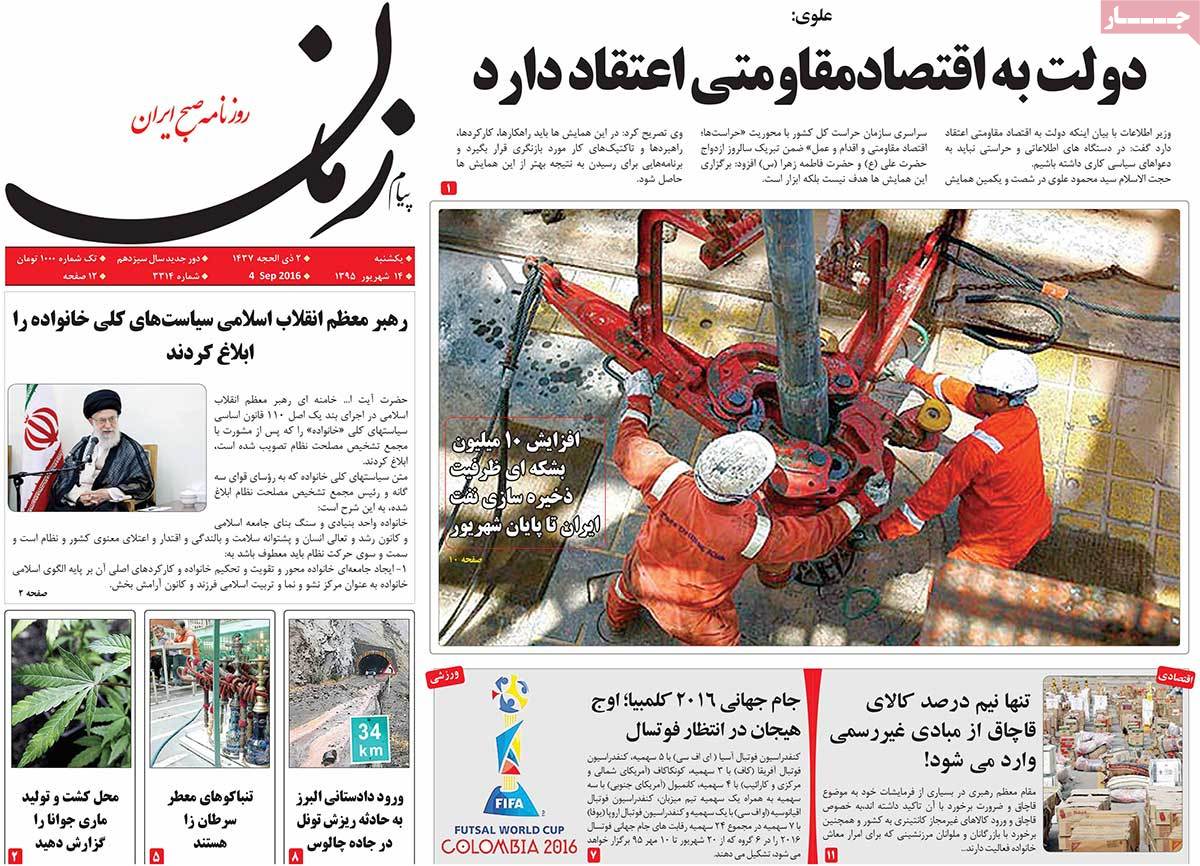 ---
Resalat:
1- We've Never Been Optimistic towards the US: Zarif
2- Today, US Is Being as Arrogant as Pharaohs Used to Be: Ayatollah Mesbah Yazdi
3- 5 Provinces Hit by Heavy Flood and Storm
4- From West's Payments to Syrian Opposition to Personal Expenses of Defenders