Newspapers on Saturday covered the comments made by the Leader of the Islamic Revolution Ayatollah Seyyed Ali Khamenei about the impact of Western propaganda on the family foundations in Iran and their plot to influence Iranian families.
They also continued to cover the recent allegations against the Municipality of Tehran and its illegal sale of houses to certain individuals in high discounts.
The above issues, as well as many more, are highlighted in the following headlines:
Abrar:
1- Iran's Criminal Population 3 Times More than Capacity of Prisons: Official
2- Interior Minister: JCPOA Doesn't Mean 100% Trust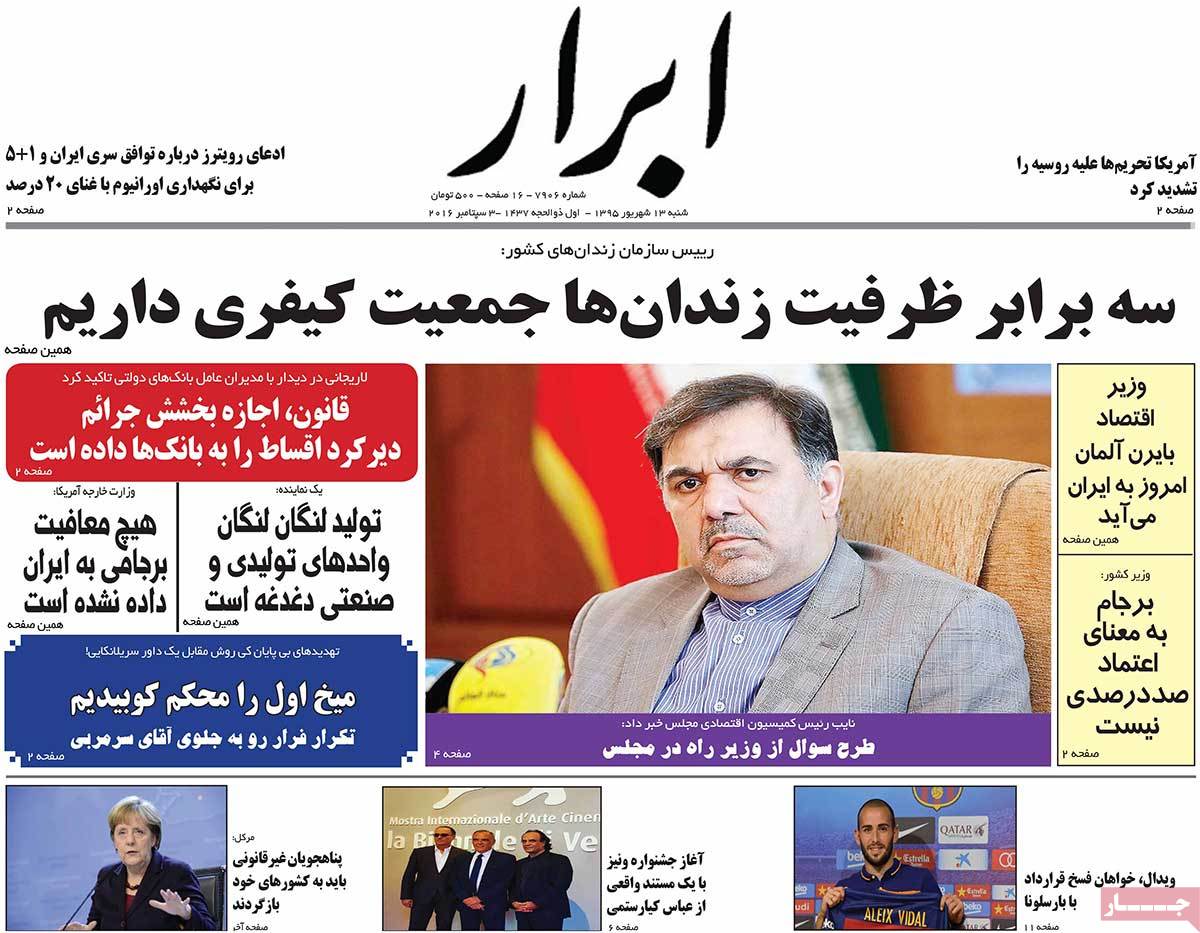 ---
Arman-e Emrooz:
1- London-Tehran Direct Flight Resumes after 4 Years
2- Qalibaf and Ahmadinejad Will Both Run for Presidency Next Year: Conservative Figure
---
Asrar:
1- Aref: Executives Remaining from Previous Government Don't Accompany Rouhani's Administration
2- VP Describes Anti-Gov't Attacks through Official Tribunes as 'Unprecedented'
3- Putin: Iran's Oil Production Shouldn't Be as Much as It Was under Sanctions
4- Hajj Official: We Don't Want Hajj Pilgrimage to Be Cancelled Next Years Too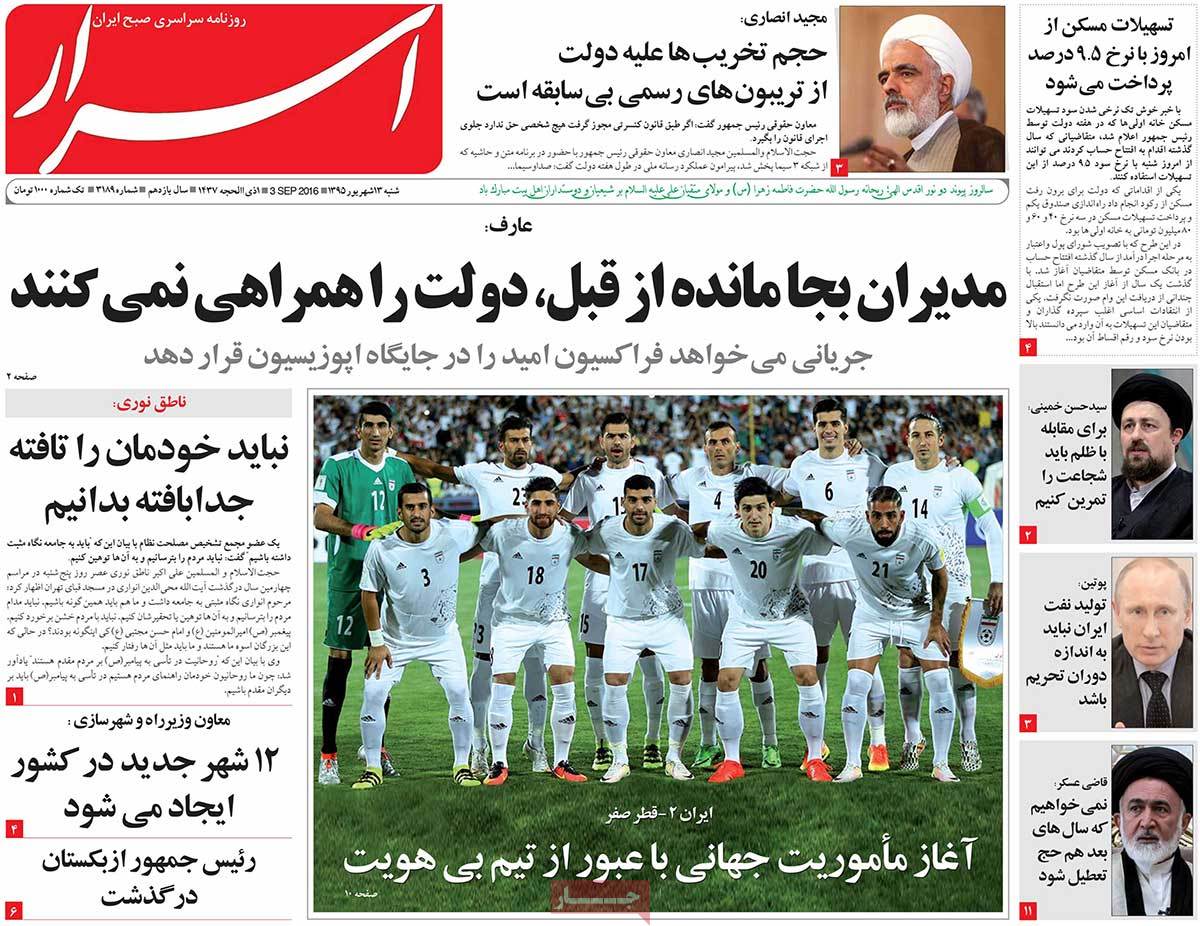 ---
Ettela'at:
1- Leader: Western Propaganda Threatening Family Foundation in Iran
2- Heavy Rain, Storm, and Thunderstorm Cause Heavy Damages to Northern Iran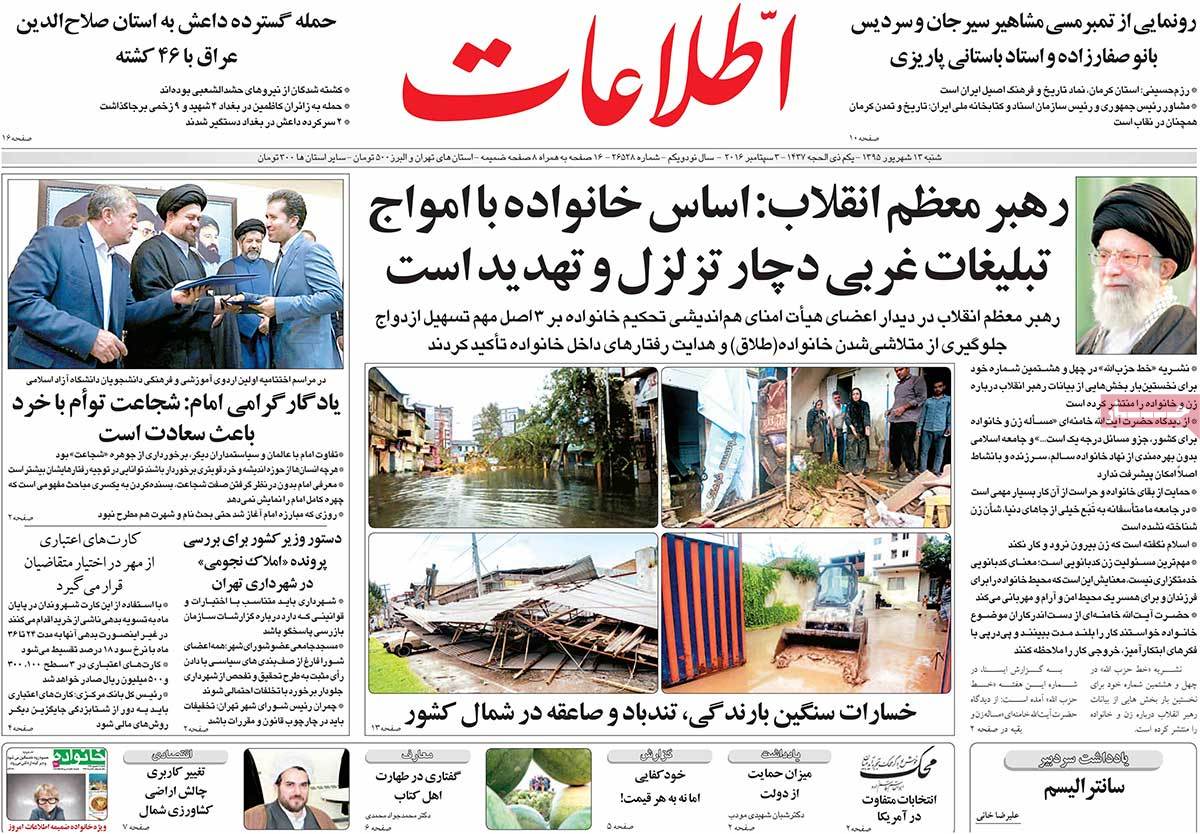 ---
Etemad:
1- Interior Minister Urges His Deputies to Clarify Ambiguities of "Astronomical Houses" Case [Municipality scandal]
2- Aref's Message to Government: It's Time for Change!
---
Emtiaz:
1- Department of Environment: 18 Types of Car Banned from Official Registration
2- Team Melli Moves towards Victory in 100-Minute Match: We Beat Qatar in Psychological War!
3- Iran and Poland to Cooperate in Field of Health
---
Iran:
1- AEOI Chief: 2 New Nuclear Power Plants to Be Built in Bushehr as of September 10
2- Kiarostami's Name Echoed in Opening of Venice Film Festival: Italian Festival Opened after Praising Iran's Renowned Filmmaker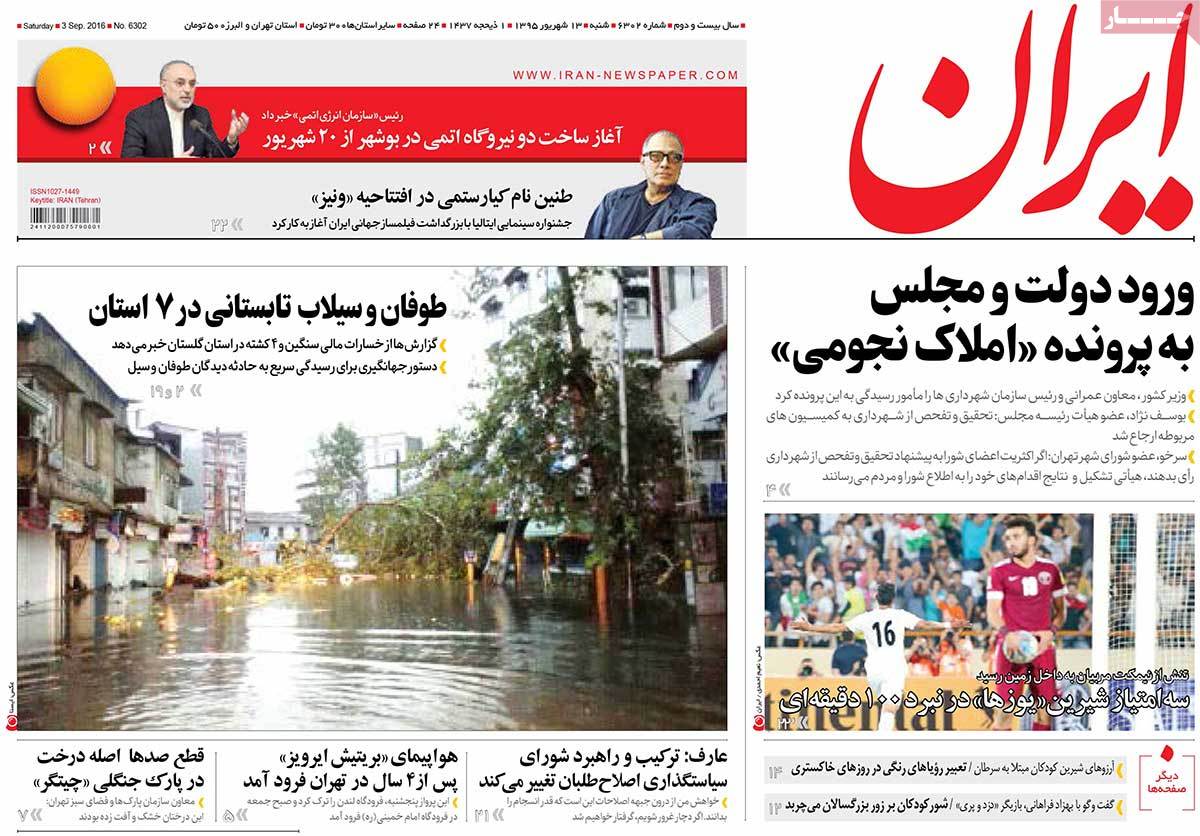 ---
Javan:
1- Re-Sale of Nuclear Deal: JCPOA Commission Considers Special Discounts for Iran!
2- A Report on Entry of over $7bn Smuggled Goods through Official Routes: Goods Smuggled through Customs Office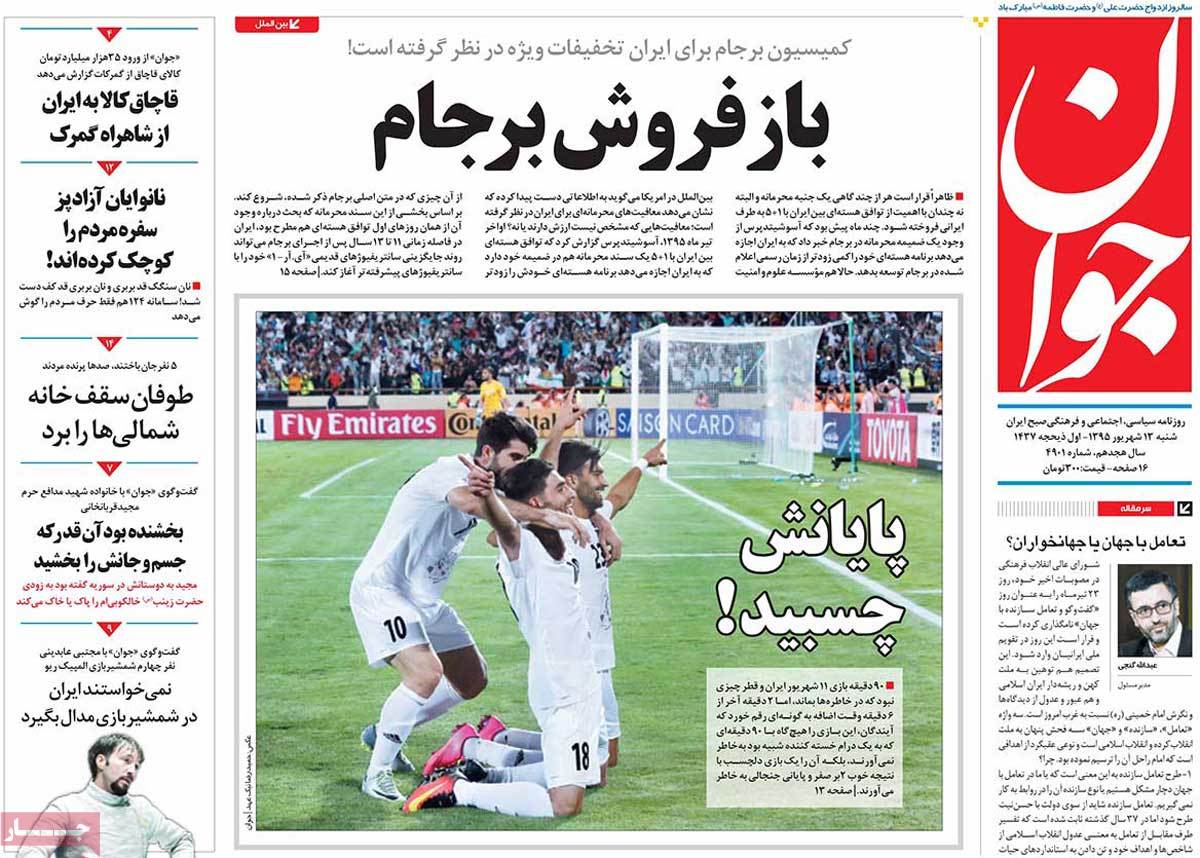 ---
Jomhouri Eslami:
1- Clerics Advise IRIB Chief to Stay Away from Radicalism and Supporting Particular Parties
2- Iran's Oil Exports to Asian Markets Up by 61%
3- Uzbek President Passes Away
4- Erdogan: Turkey Looking for a Safe Zone in Northern Syria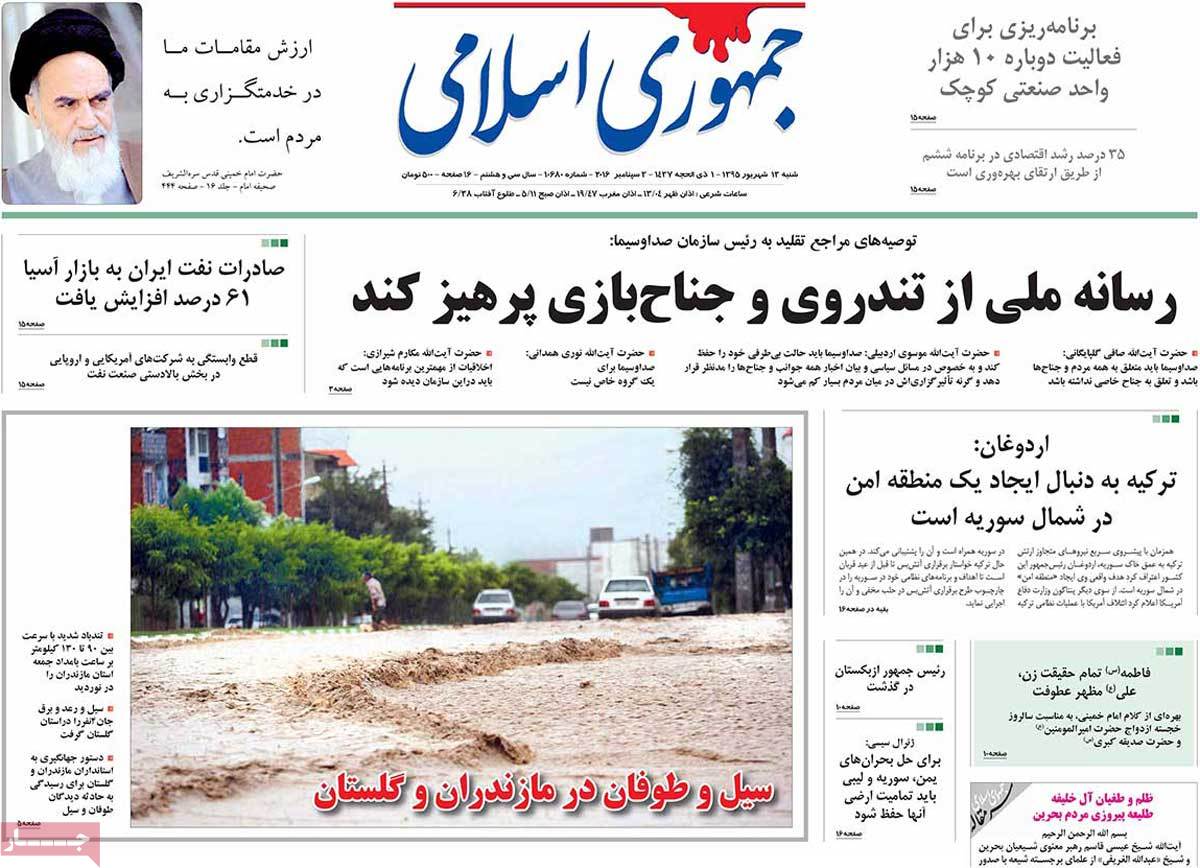 ---
Ka'enat:
1- Brave People Not Born from Coward Ones: Imam Khomeini's Grandson
2- 10 Personnel of Customs Office Arrested
3- 66 Projects to Be Implemented in Iran through Foreign Investment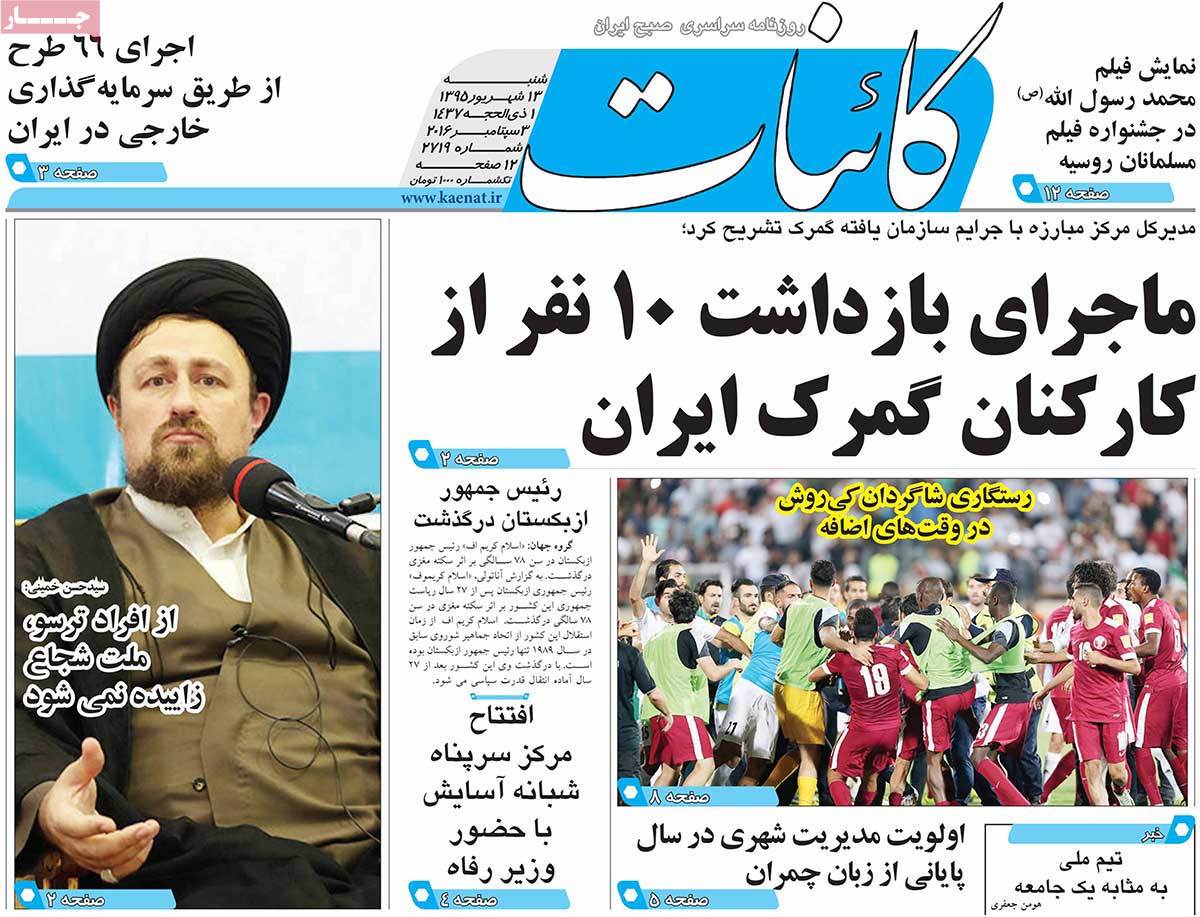 ---
Kayhan:
1- Domestic Banks Start Imposing Sanctions on Themselves in a Bid to Implement FATF!
2- 25-Year Oil Contracts to Endanger Iran's Independence: MPs
3- Zarif: Removal of Sanctions Was Not Main Purpose of Negotiations
4- Revealed after 60 Years: France Claimed Tens of Thousands of Lives in Algeria through 17 Nuclear Tests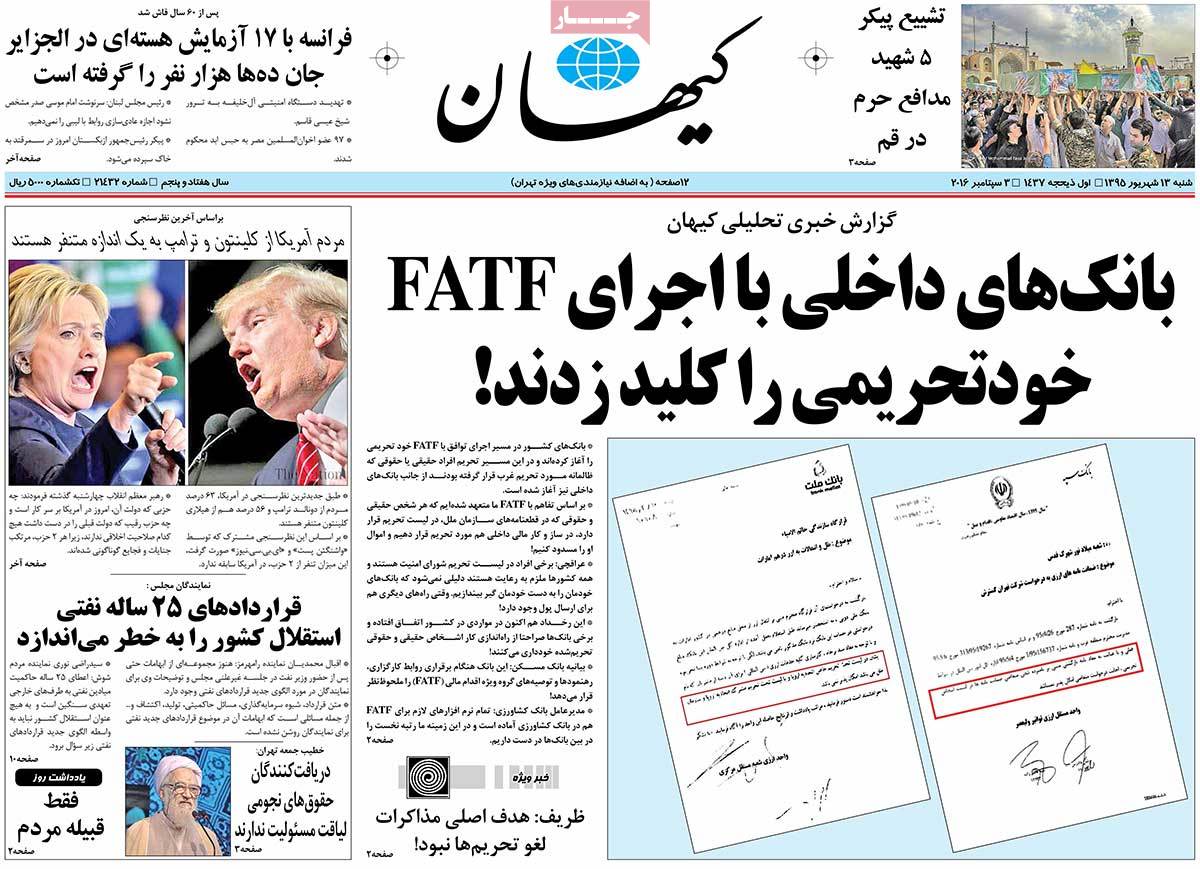 ---
Payam-e Zaman:
1- Increase in Iran's Strategic Oil Reserves within Next 20 Days
---
Resalat:
1- Senior Cleric: Those Who Received Astronomical Salaries Don't Deserve to Hold Official Positions; Why Government Executives Apologized If Payments Were Legal?
2- Unconventional Salaries Should Be Returned: Parliament Speaker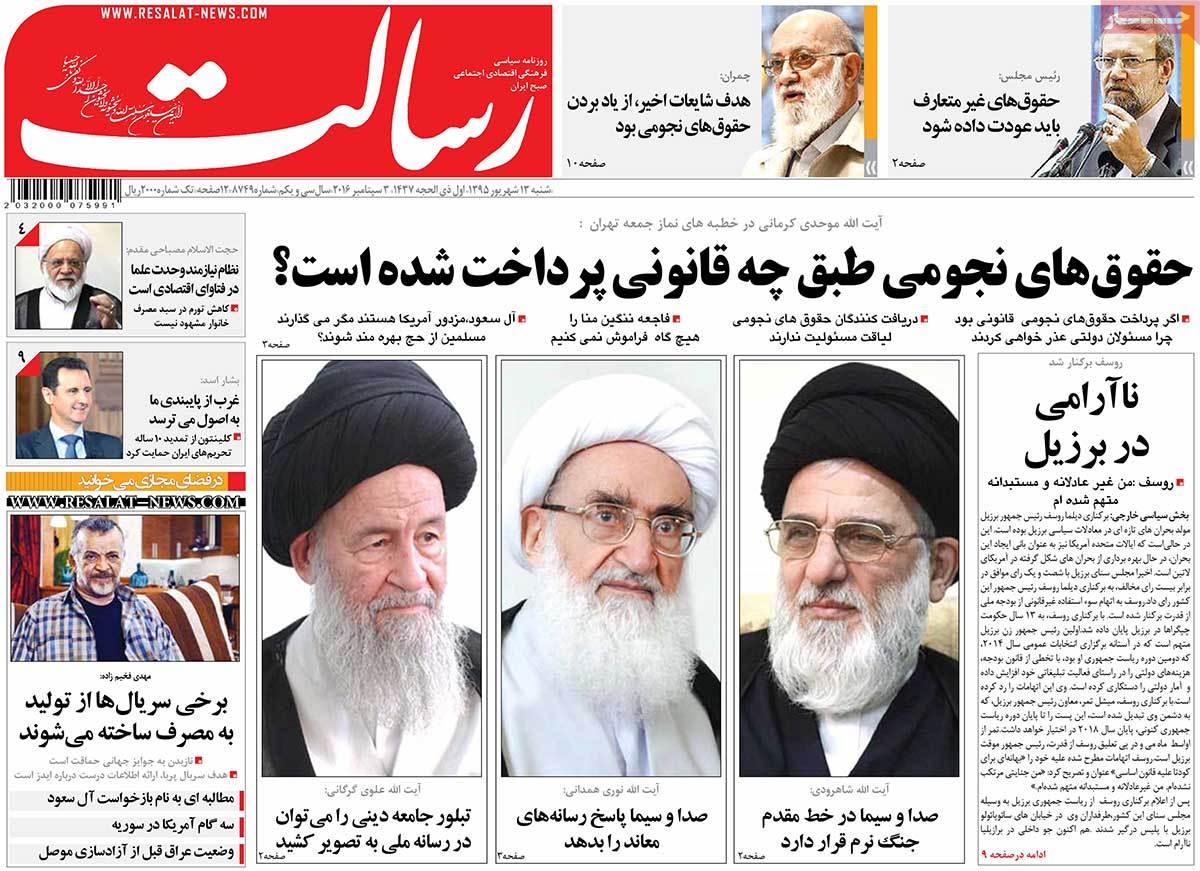 ---
Sayeh:
1- Pre-Marriage Genetic Test Becomes Obligatory: Official
2- Imminent Extinction of Cheetahs: A Report on Asiatic Cheetah and Other Endangered Species of Cheetahs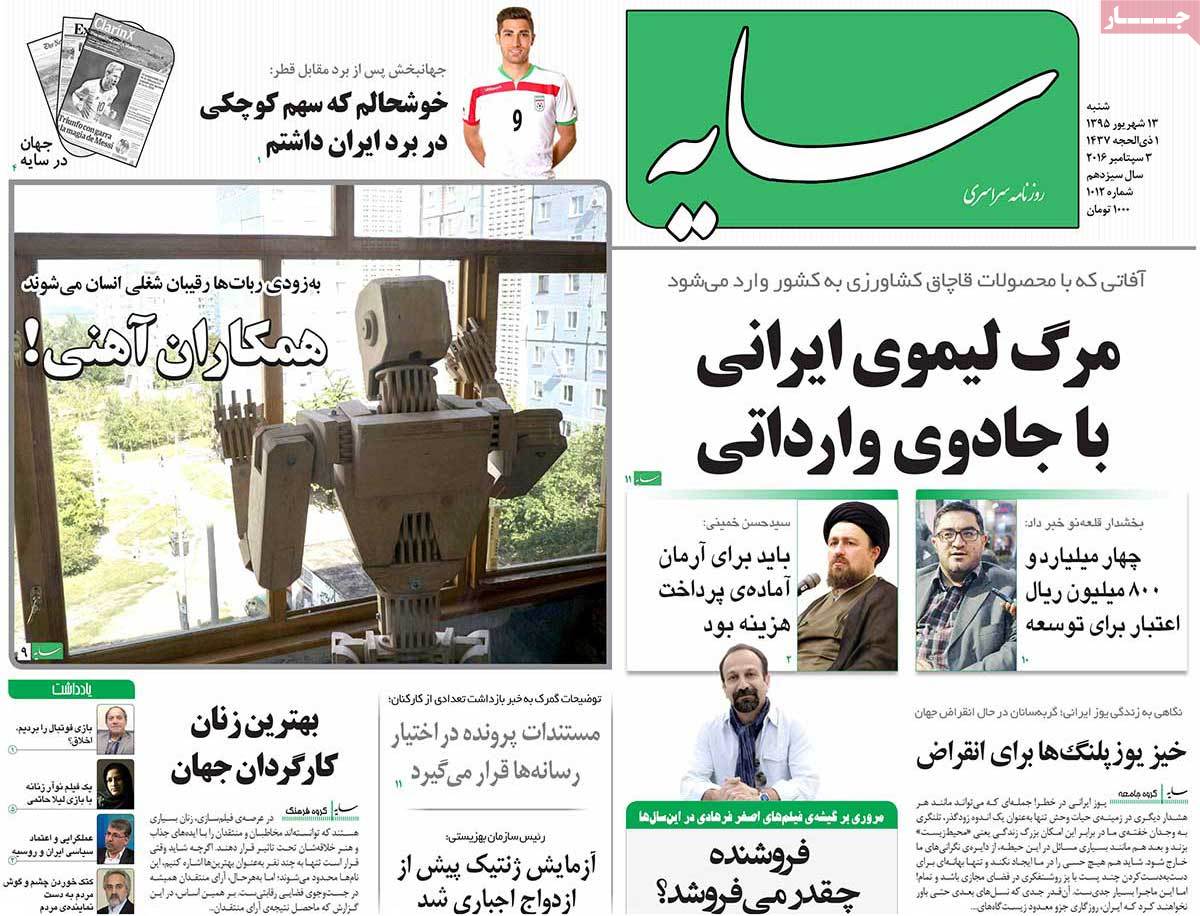 ---
Siasat-e Rooz:
1- Iranian Youth's Priority Is Employment, Marriage, and House, Not Concert and Cycling: Former Culture Minister
---
Shahrvand:
1- 12 Cities to Be Added to Iran's Map in a Move to Modify Models of Living in Cities and Appropriate Distribution of Population in Iran: Majority of New Cities Located in Coast Areas
2- Pace of Living in Cities in Iran 2 Times Faster than World Average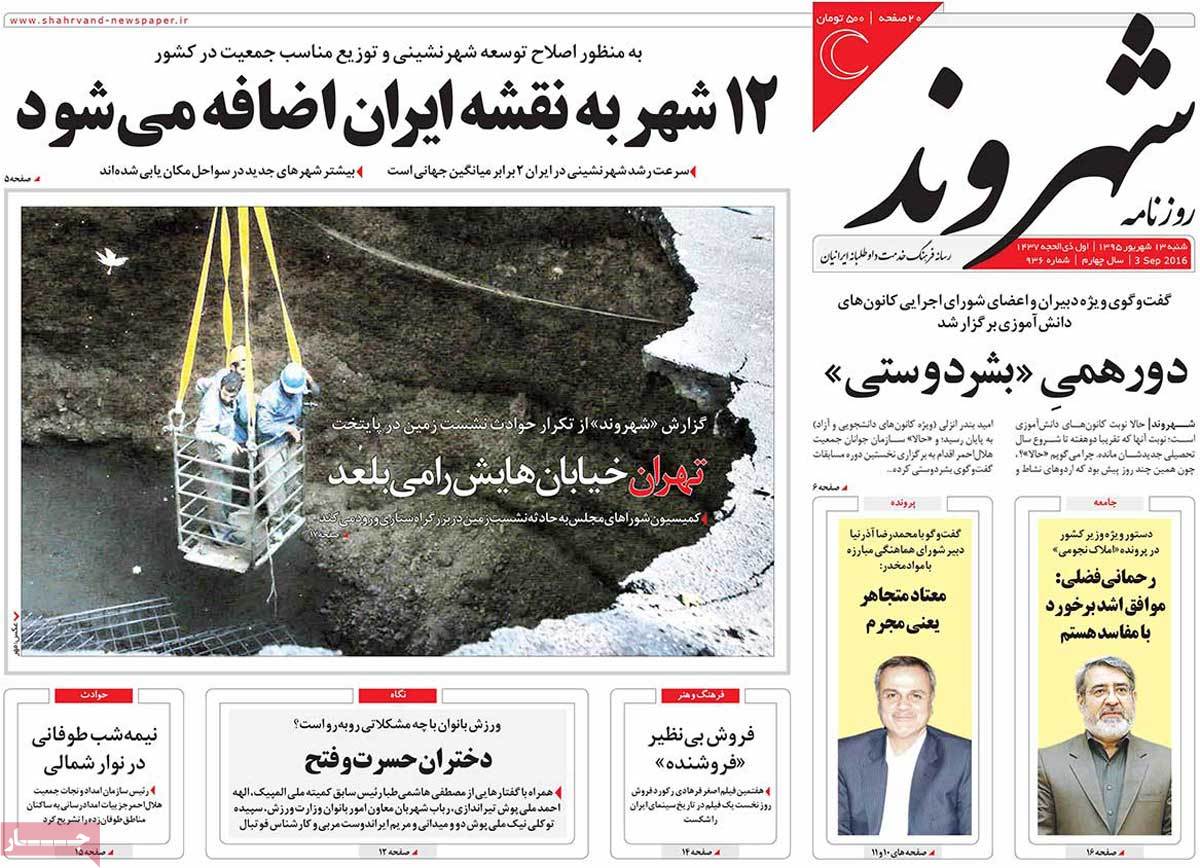 ---
Shargh:
1- 21 MPs Following Up on Municipality Case
2- Iranian Ethnicities Demand Appreciation and Efforts to Develop Deprived Areas: President's Aide