Newspapers on Wednesday covered the US presidential debate between Hillary Clinton and Donald Trump. Almost all newspapers dedicated part of their front pages to the debate, covering different points mentioned in the session, particularly their talks about Iran and the nuclear deal.
A letter by ex-president Mahmoud Ahmadinejad to the Leader of the Islamic Revolution Ayatollah Seyyed Ali Khamenei also received great coverage. Ahmadinejad in his letter announced that he will do as Ayatollah Khamenei advised him to and will not run for the next year's presidential elections.
The Organization of Petroleum Exporting Countries (OPEC) summit in Algeria and the remarks made by Iran's Oil Minister Bijan Namdar Zanganeh about the oil freeze plan was also a top story today.
The above issues, as well as many more, are highlighted in the following headlines:
Abrar:
1- US Spokesman: We Don't Comment about Iran's Domestic Policies
2- MP: Ahmadinejad Is Convicted in Court of Audit for $3.4bn Corruption Case
3- Moscow: S-300 Delivery to Be Completed by End of 2016
4- Indian FM: Pakistan Should Stop Dreaming about Kashmir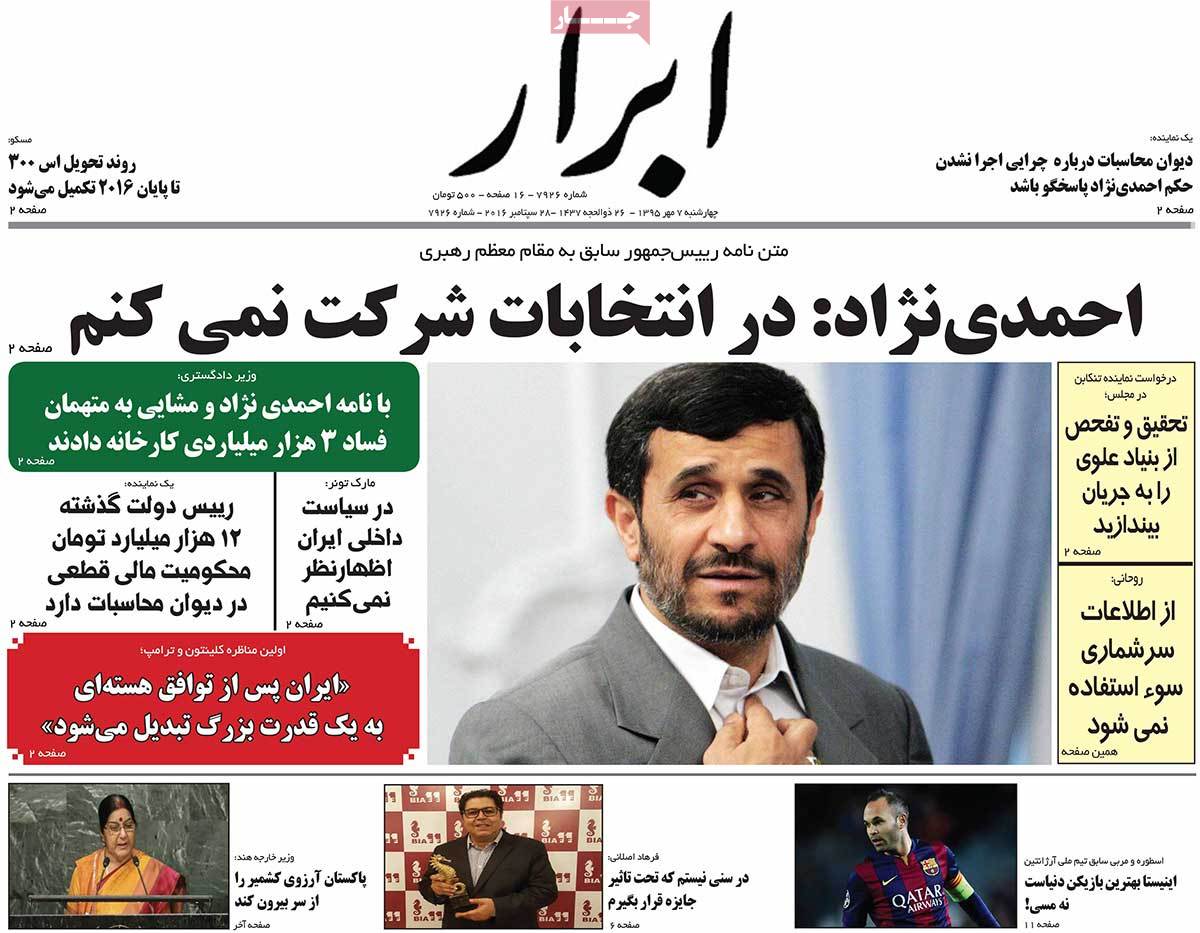 ---
Abrar-e Eqtesadi:
1- Italy Outpaced Other European Countries in Making Investment in Iran
2- New Phase of Iran-Taiwan Trade Ties Kicked Off
3- Oil Minister: Iran's Oil Production Not to Be Restricted; OPEC Oil Price Decreases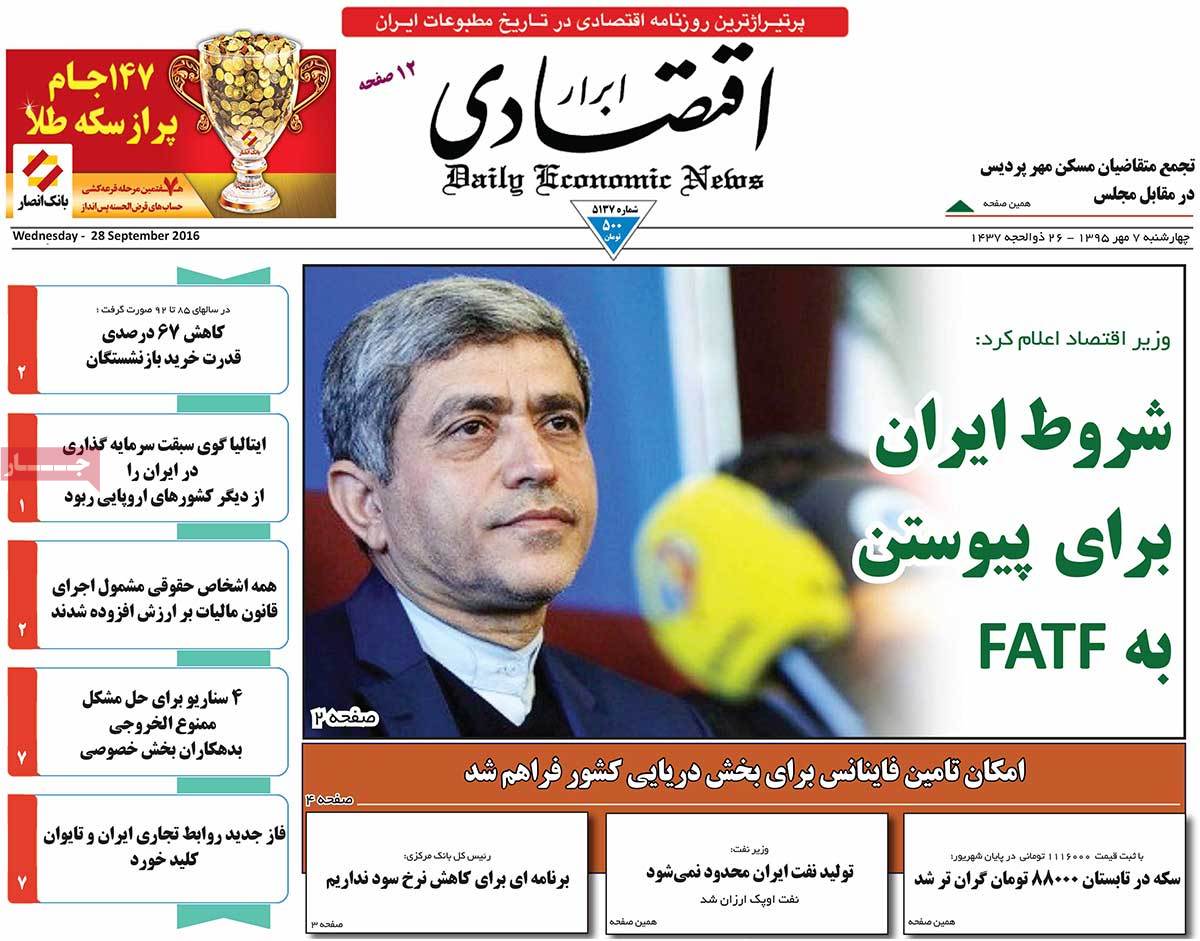 ---
Afarinesh:
1- Larijani: Government Has Corrected All Deficiencies of Oil Contracts
2- Talks with US in Fishery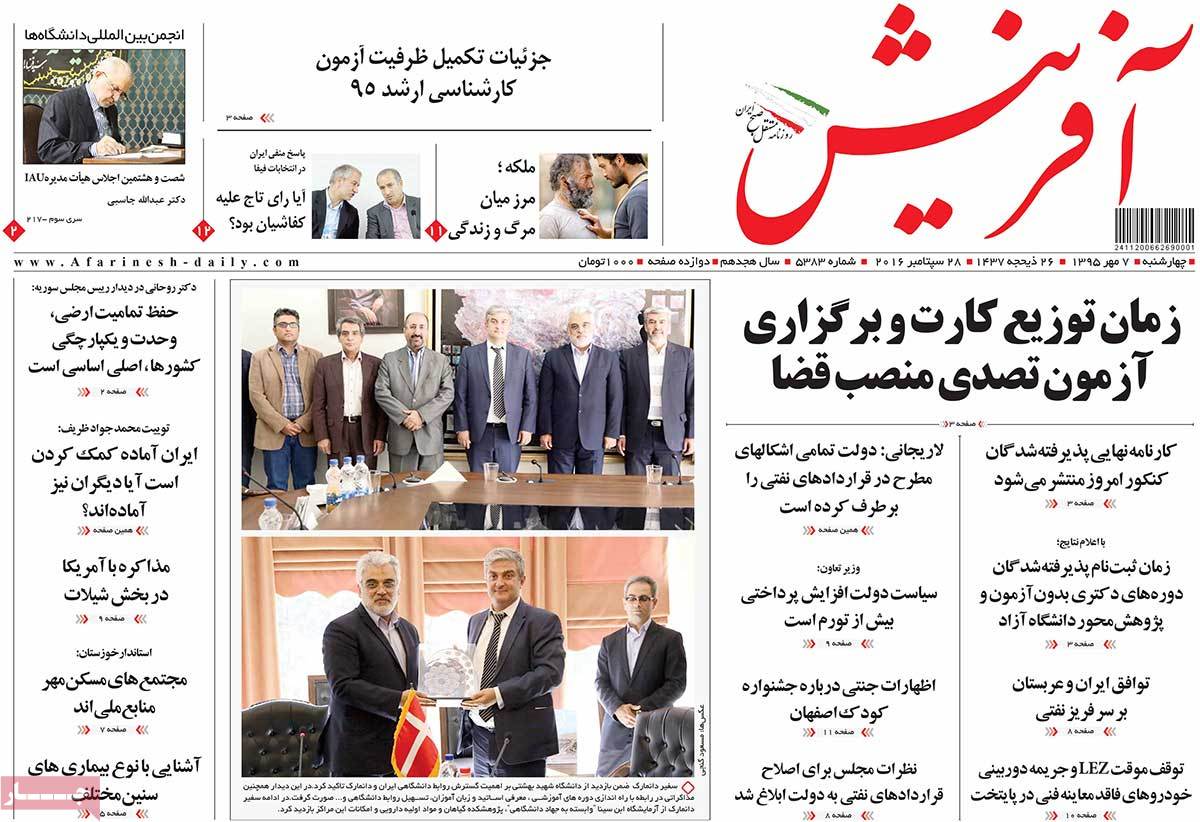 ---
Aftab-e Yazd:
1- Kuwait Gov't Files Lawsuit against a Newspaper for Insulting Iran
2- Insistence on Opposition to FATF: Economy Minister Says FATF Deal Had Been Finalized in 2009
---
Arman-e Emrooz:
1- Hillary and Trump's Contest over JCPOA: Iran Will Become a Major Power, Trump Says
2- Ahmadinejad's Letter to Leader: I Have No Plan for Elections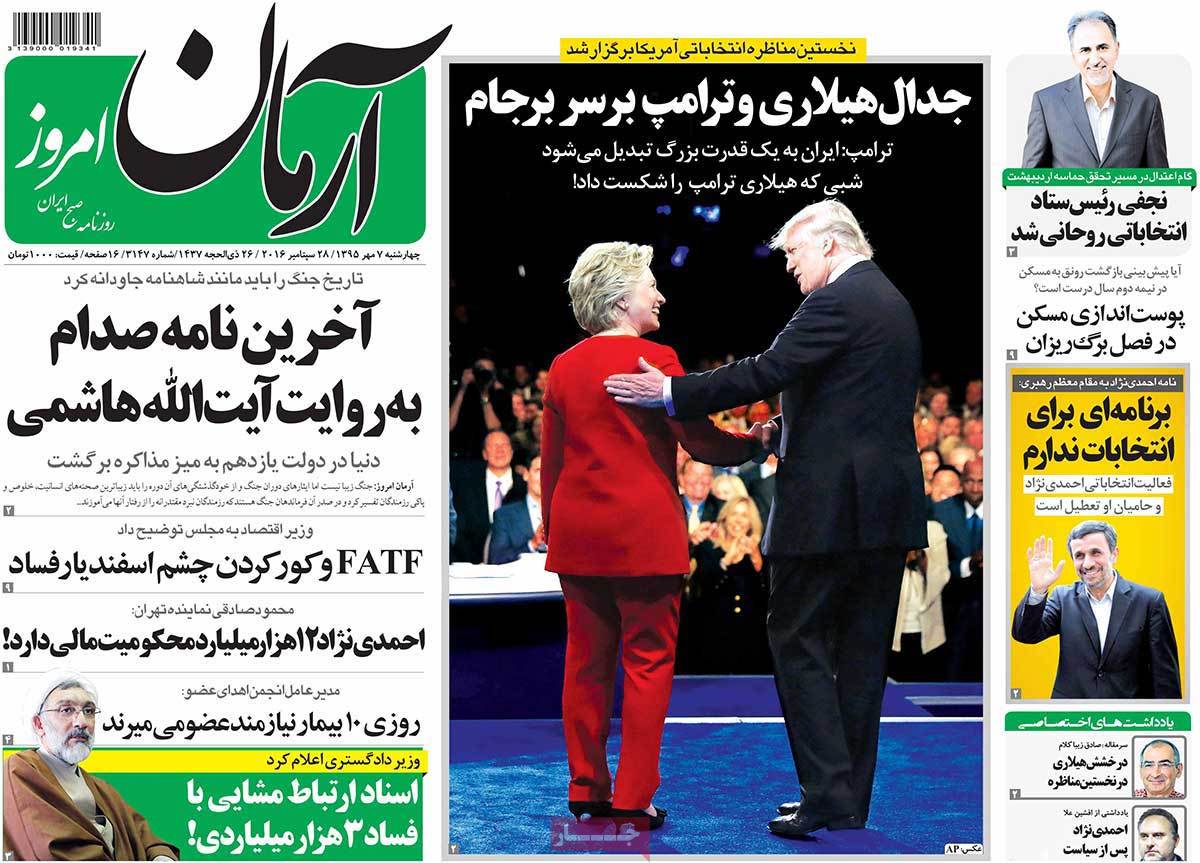 ---
Asrar:
1- Advisor to Leader: Saudi Arabia's Mistake Will Lead to Annihilation of Wahhabism and Al Saud
2- Oil Minister: Some Have Disabled OPEC
3- Bahrain FM: Manama Seeks to Have Better Ties with Tehran
4- Possibility of ISIS' Chemical Attack on Europe
5- Tentative Diplomacy Worked: Canada Appreciates Iran for Releasing a Prisoner
---
Donya-ye Eqtesad:
1- World Market Votes for Hillary
2- Trump's Attack on JCPOA and Clinton's Defence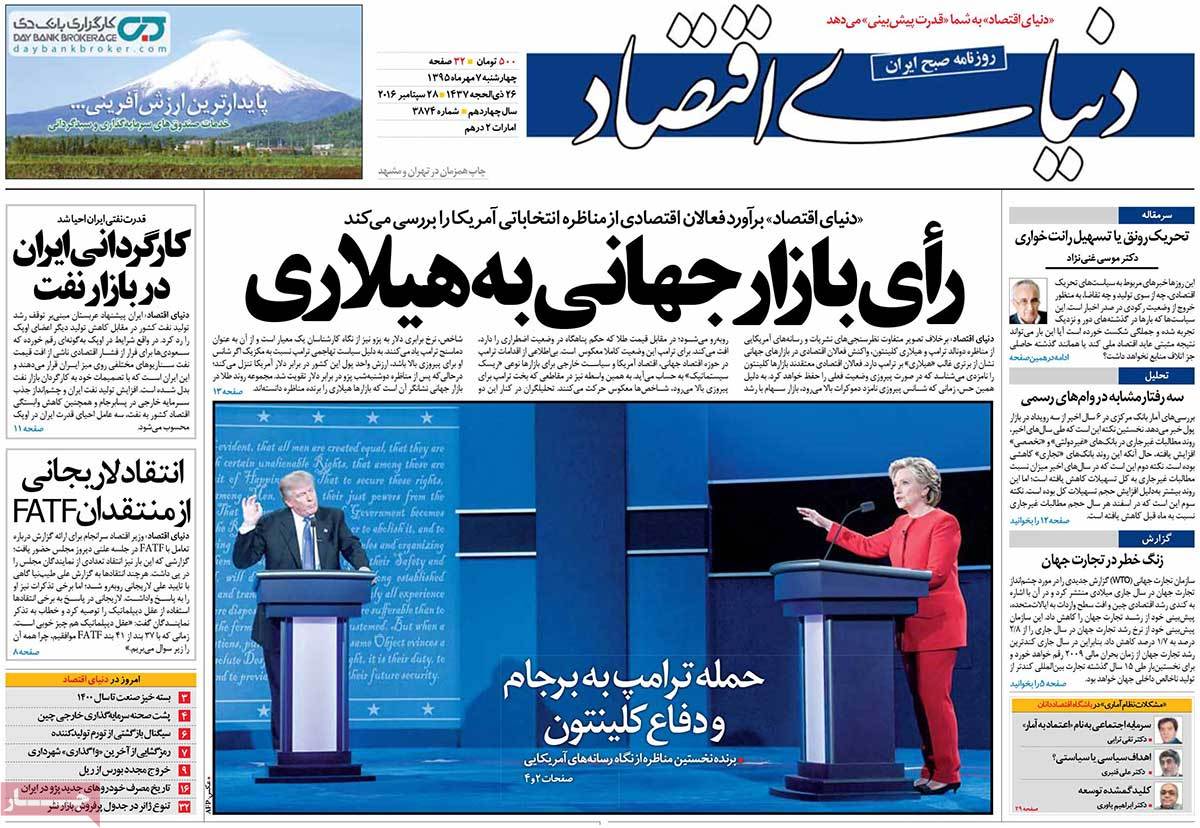 ---
Ebtekar:
1- Iran, the Focal Point of First US Presidential Debate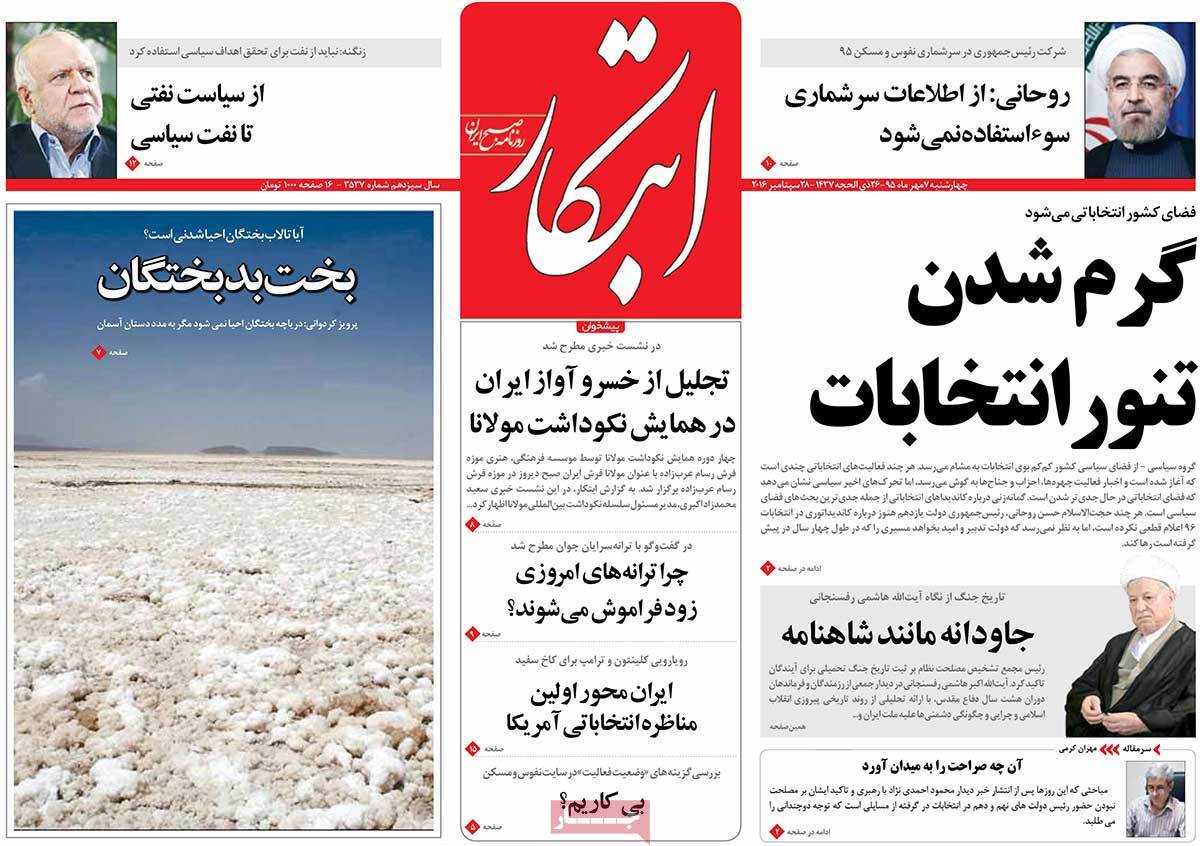 ---
Etemad:
1- The Lawyer Won the Debate: Democrats' Candidate Was Well-Prepared, but GOP Candidate Fought by Improvisation
2- Major General Baqeri: We Pursue Our Defensive Missions beyond Our Borders
3- Oil Minister in Algiers Meeting: Don't Use Oil as a Weapon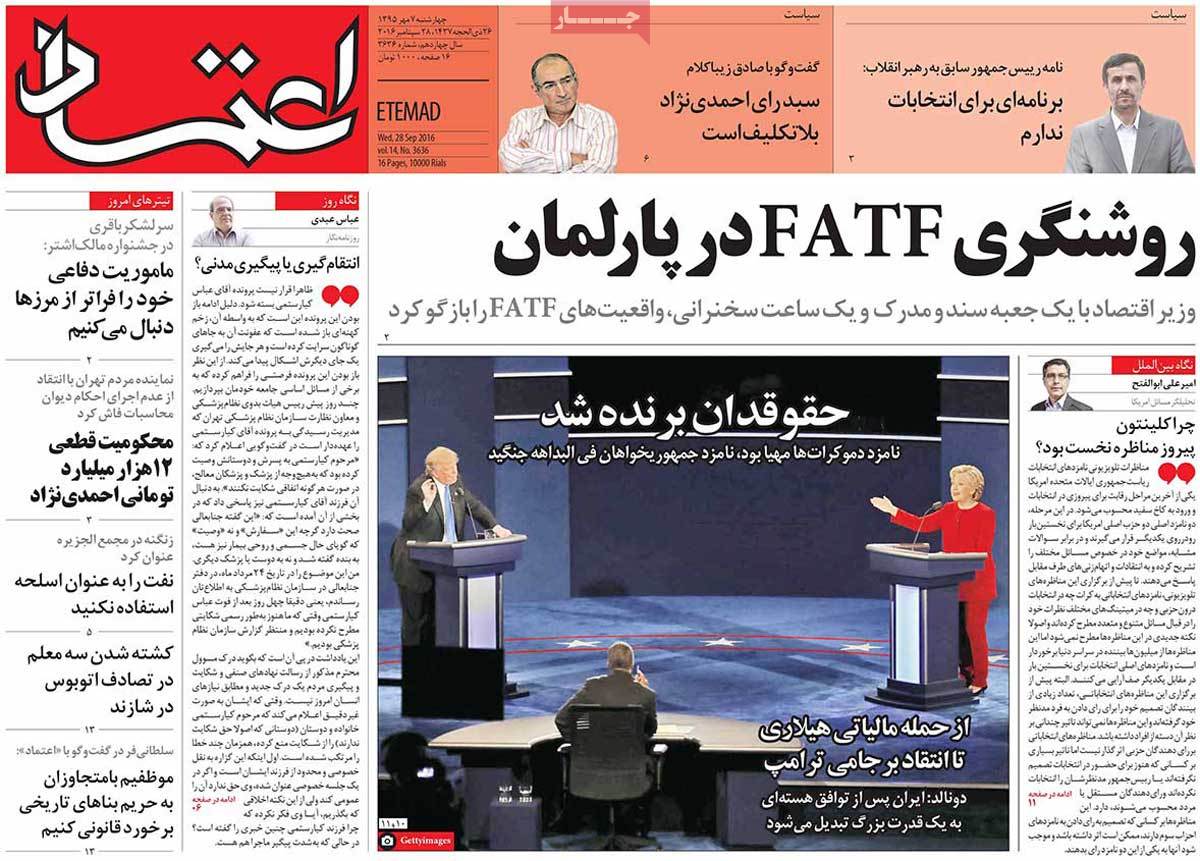 ---
Ettela'at:
1- Economy Minister: Preventing Money Laundry Is the Way to Fight Corruption
2- French FM: West's Support for Terrorism in Syria Is Wrong
3- Nigerian Shiites' Ultimatum to Government for Release of Sheikh Zakzaky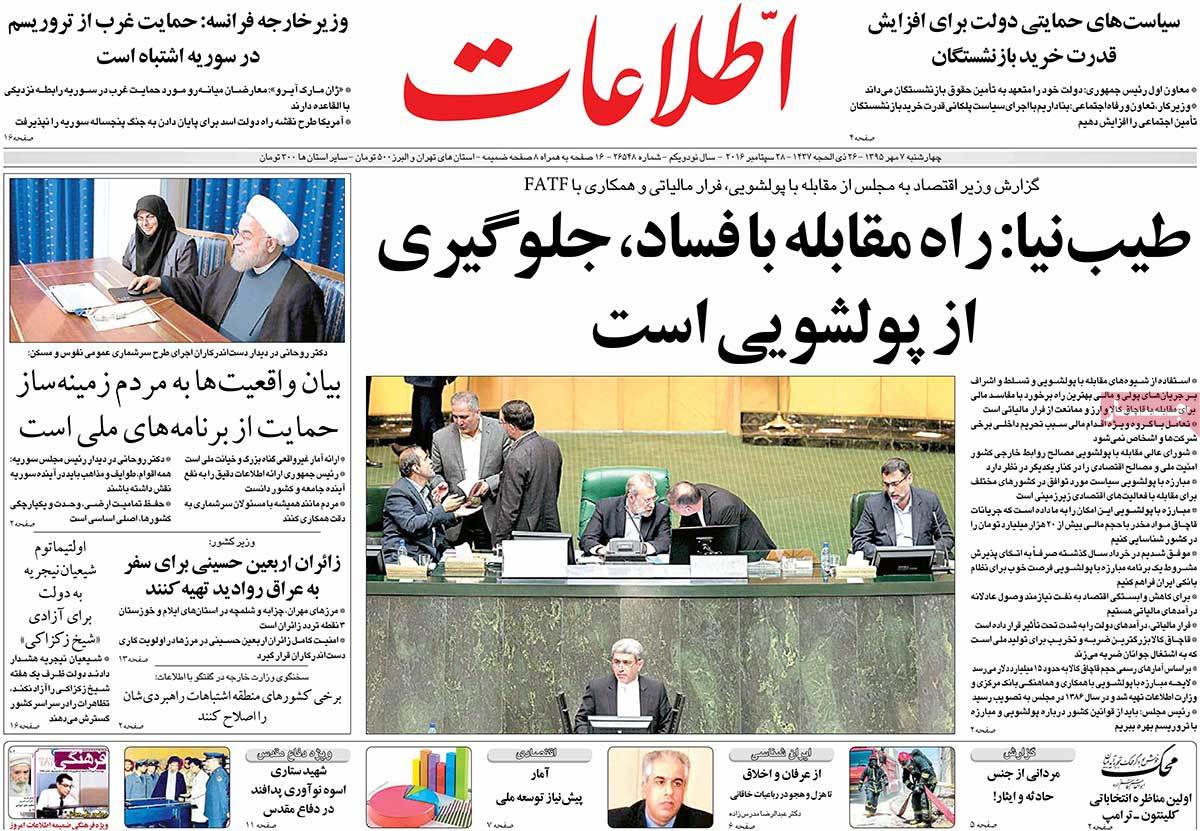 ---
Haft-e Sobh:
1- Trump-Hillary: The Show Begins; First US Presidential Debate Was Held as Hillary Was Chosen as Winner Only in CNN Poll
2- Revolution of Architectures in Tehran: The Guardian's Report on How Tehran Looks Like in 2016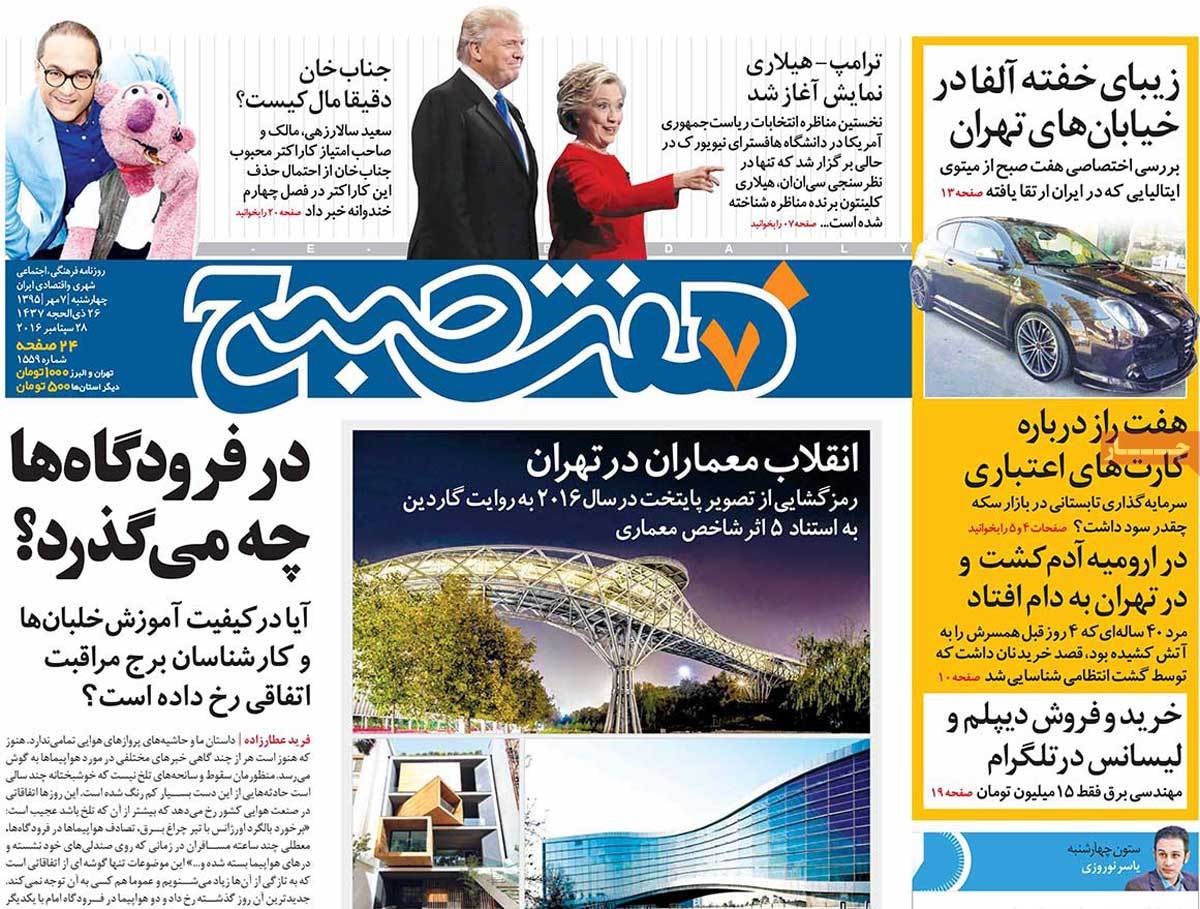 ---
Hamshahri:
1- Clinton, the Winner of First 90 Minutes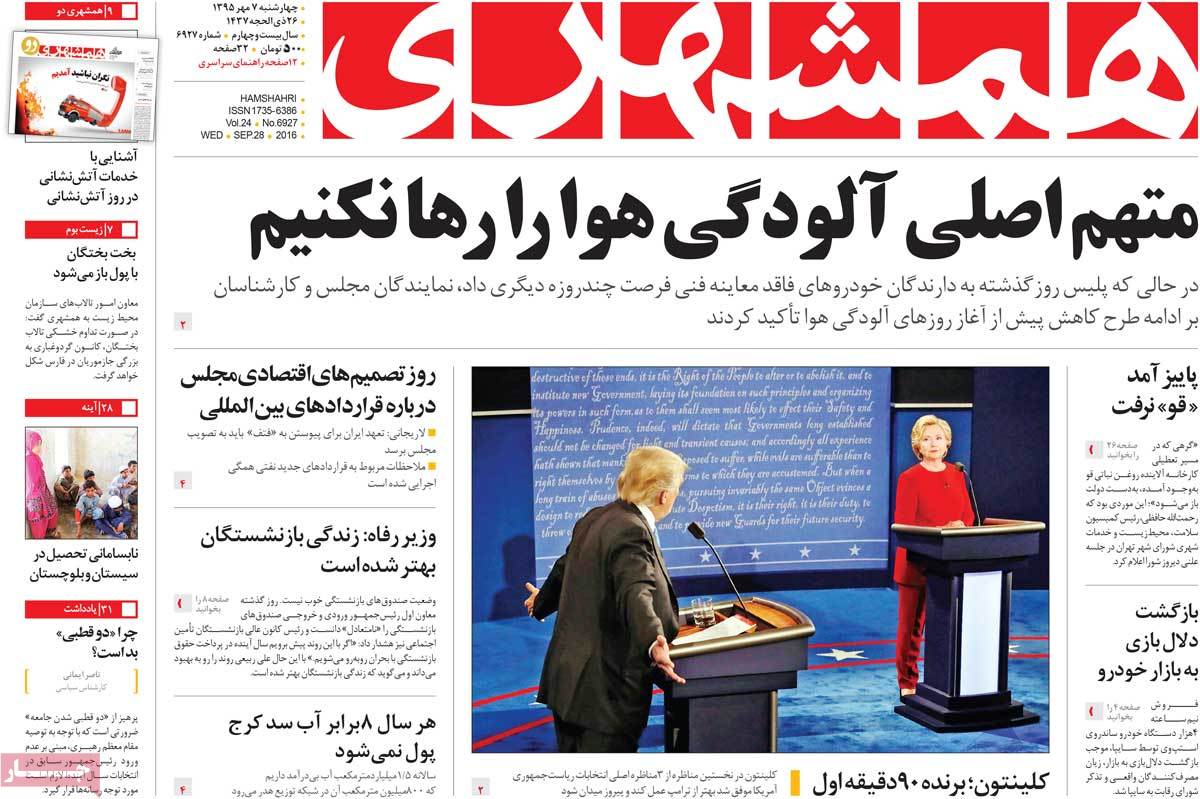 ---
Iran:
1- Heavy Shadow of Nuclear Deal on First Presidential Debate between Democrats and Republicans: 100m Watched the Most-Viewed Debate in US History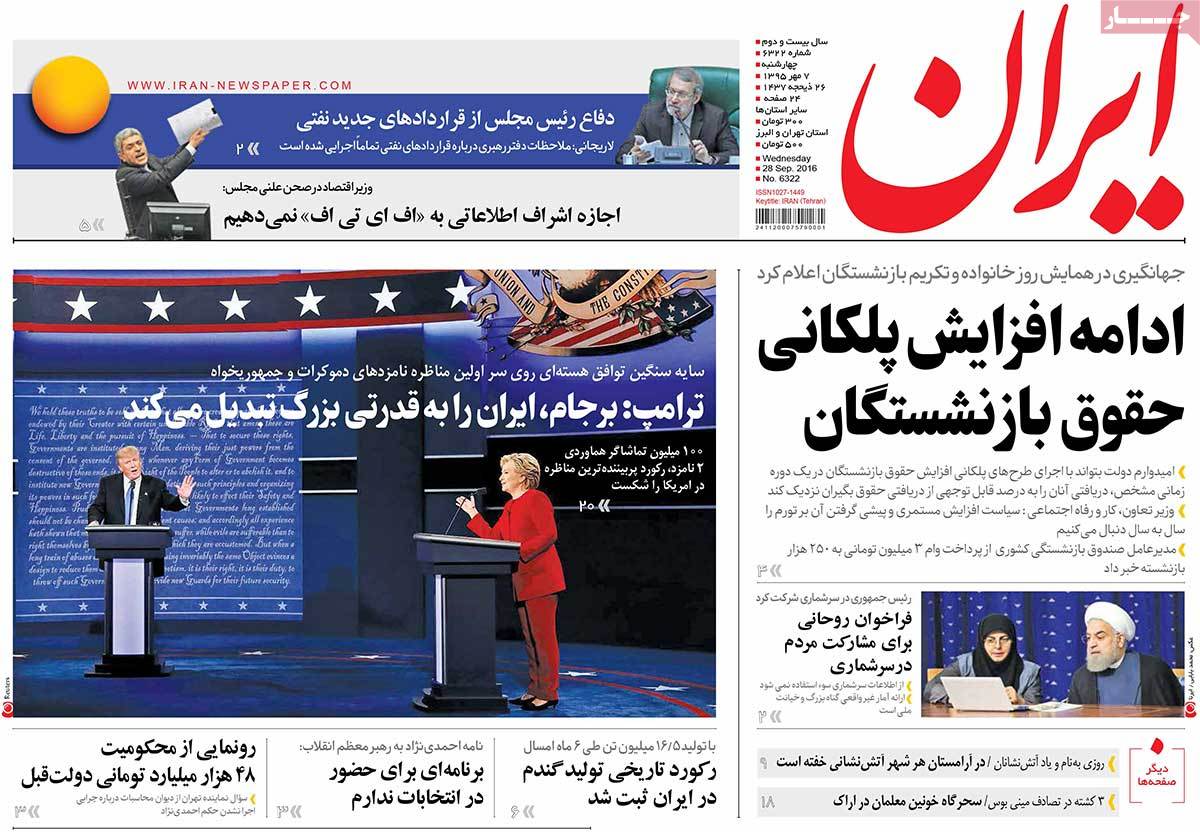 ---
Jame Jam:
1- Beyond the First Debate of Clinton and Trump: Image of US without Any Retouch
2- Iran to Deploy Child Police: Specialization Policy in Judiciary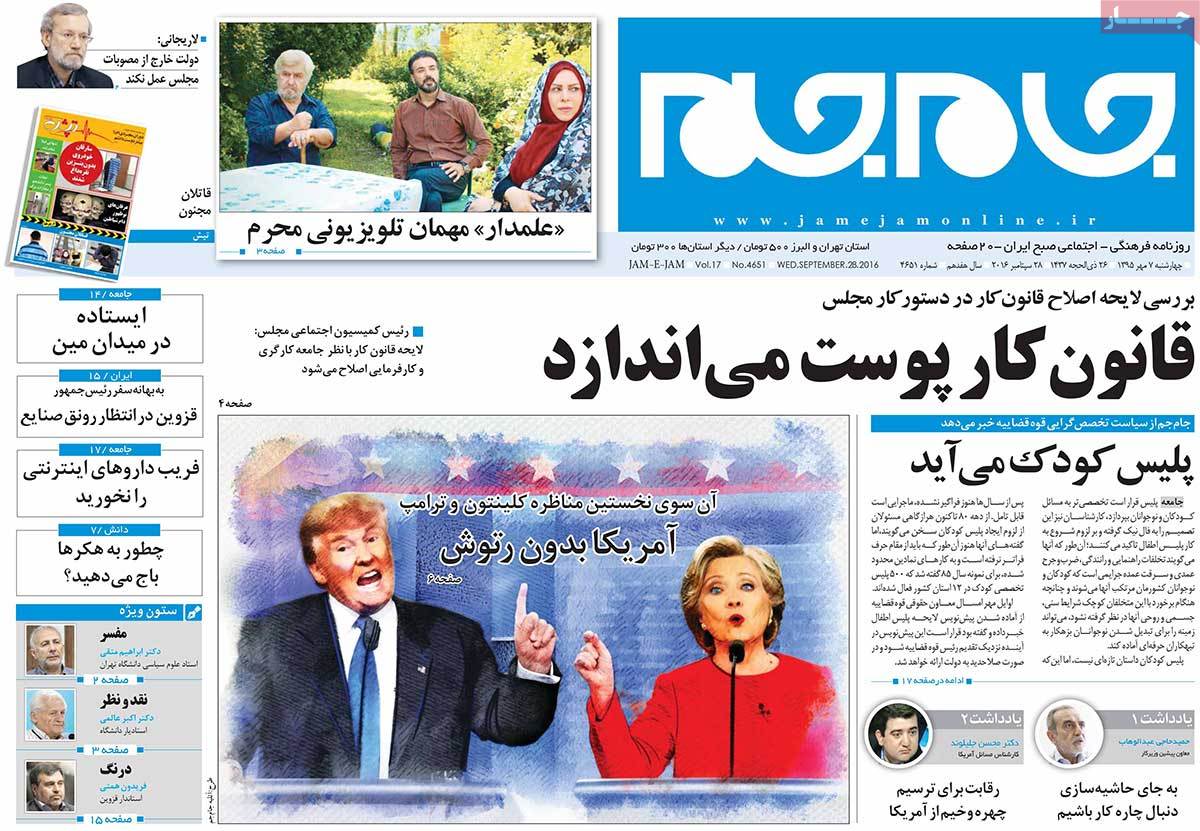 ---
Javan:
1- Anti-Iran Competition in US Presidential Debate: US Candidates Mentioned Iran's Name for 19 Times in First Presidential Debate
2- Shamkhani: We Need More Agreements over FATF; Larijani: Commitment to FATF Should Only Be within Iran's Law; Economy Minister: Cooperation with FATF Would Never Cause Domestic Sanction
---
Jomhouri Eslami:
1- Rouhani: All Ethnic Groups and Followers of All Religions Should Be Able to Play a Role in Future of Syria
2- Oil Minister: Iran Won't Freeze Its Oil Output at Current Level
3- Sponsors of Terrorism Worried about Syrian Army's Progress in Aleppo
4- US: We Don't Support Nusra Front, But Our Allies May Do So!
5- Nasrallah: Field Developments to Decide Syrian's Fate
---
Kayhan:
1- Iranophobia Competition between Clinton and Trump in First Presidential Debate
2- Al Saud's Latest Crime: Massacre of 10 Members of a Yemeni Family
3- MP: Part of the Rice Imported to Iran Is Genetically-Modified
4- Nasrallah: In Syria, the War Front Says the Last Word, Not a Political Solution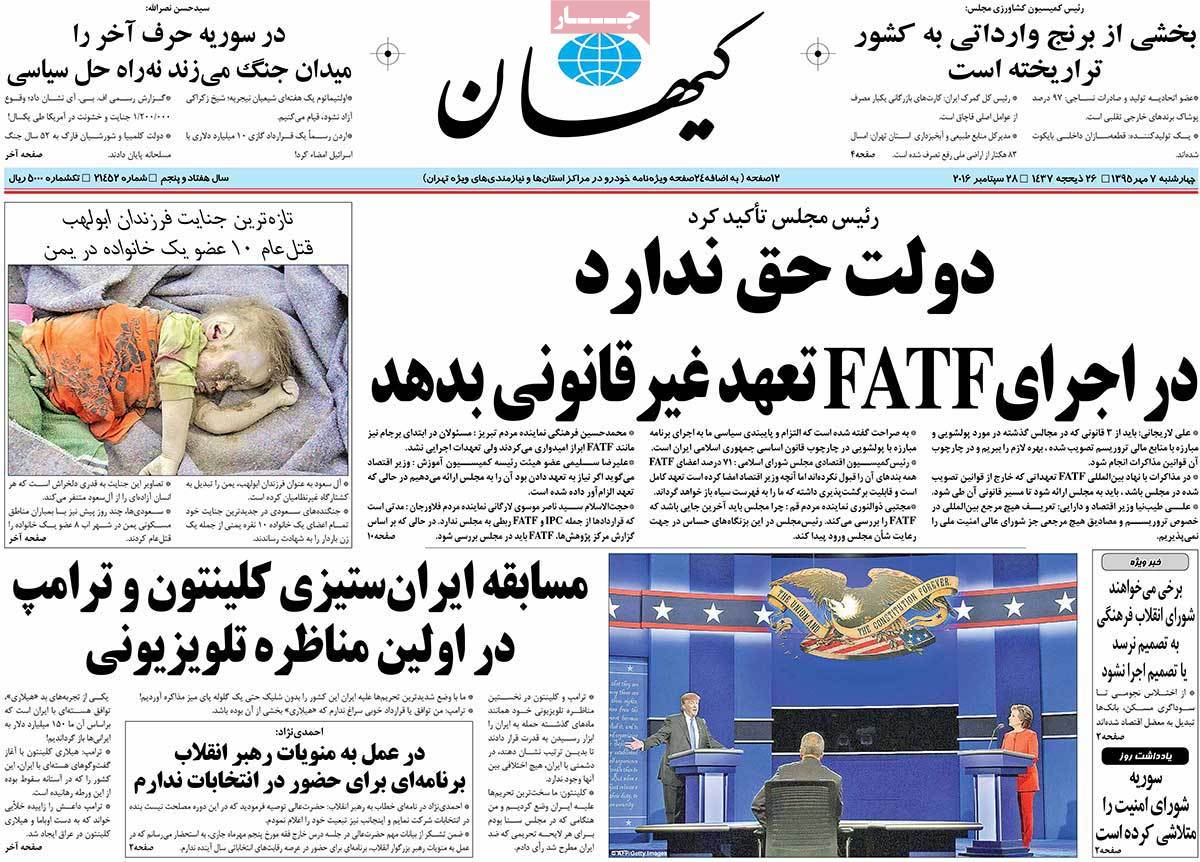 ---
Khorasan:
1- Polls Smile at Trump: Many Polls Show that Trump Has Won Presidential Debate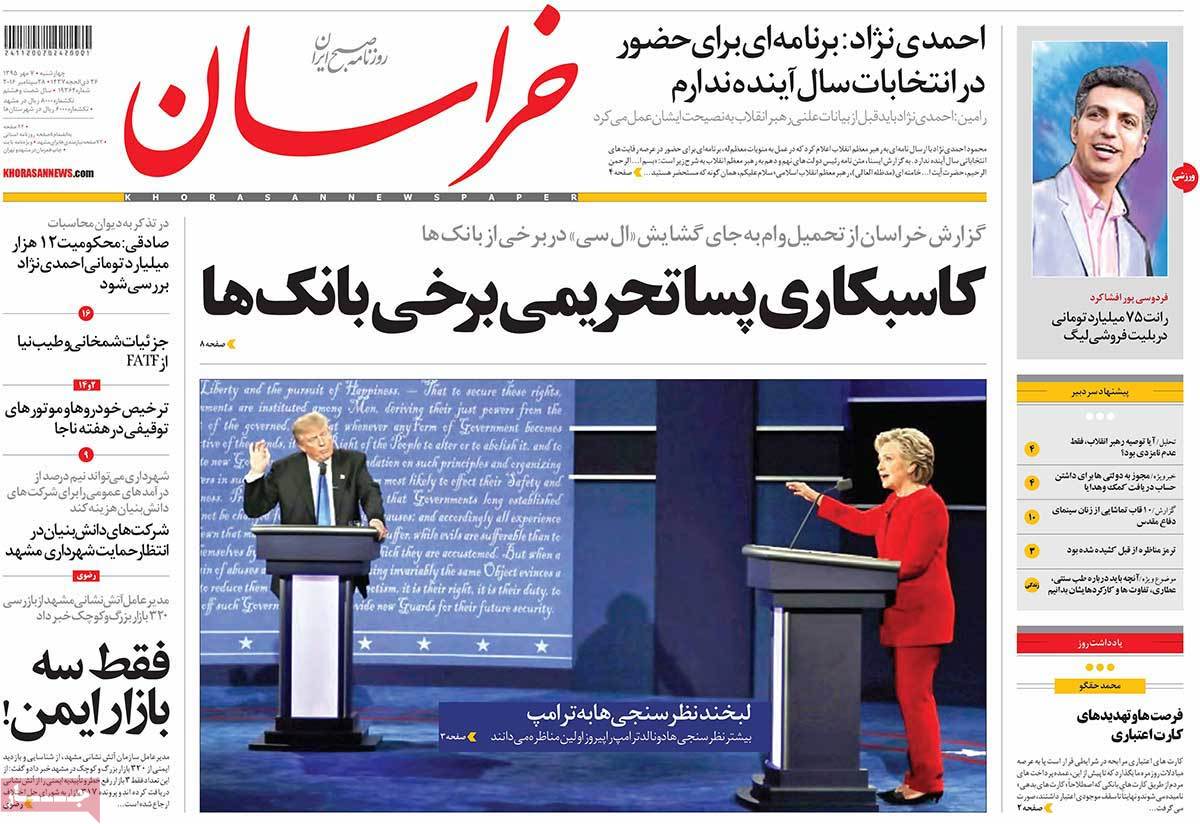 ---
Resalat:
1- Israel Is Our Target; We Don't Need Missile with Longer Ranges: General
2- Bahonar: Conservatives' Support for Rouhani in 2017 Elections Not on Agenda
3- Nasrallah: We Repelled the Threat in Syria
---
Setareh Sobh:
1- Focus on Economy, Taxation, and Foreign Policy: Most-Viewed Presidential Debate in Past 36 Years
2- Hillary: I'm Satisfied with Iran Nuclear Deal, If Trump Doesn't Want It, He Should Propose Alternative Solution
3- Trump: US Has Signed Worst Deal with Iran, Iran Will Become a Major Power after Nuclear Deal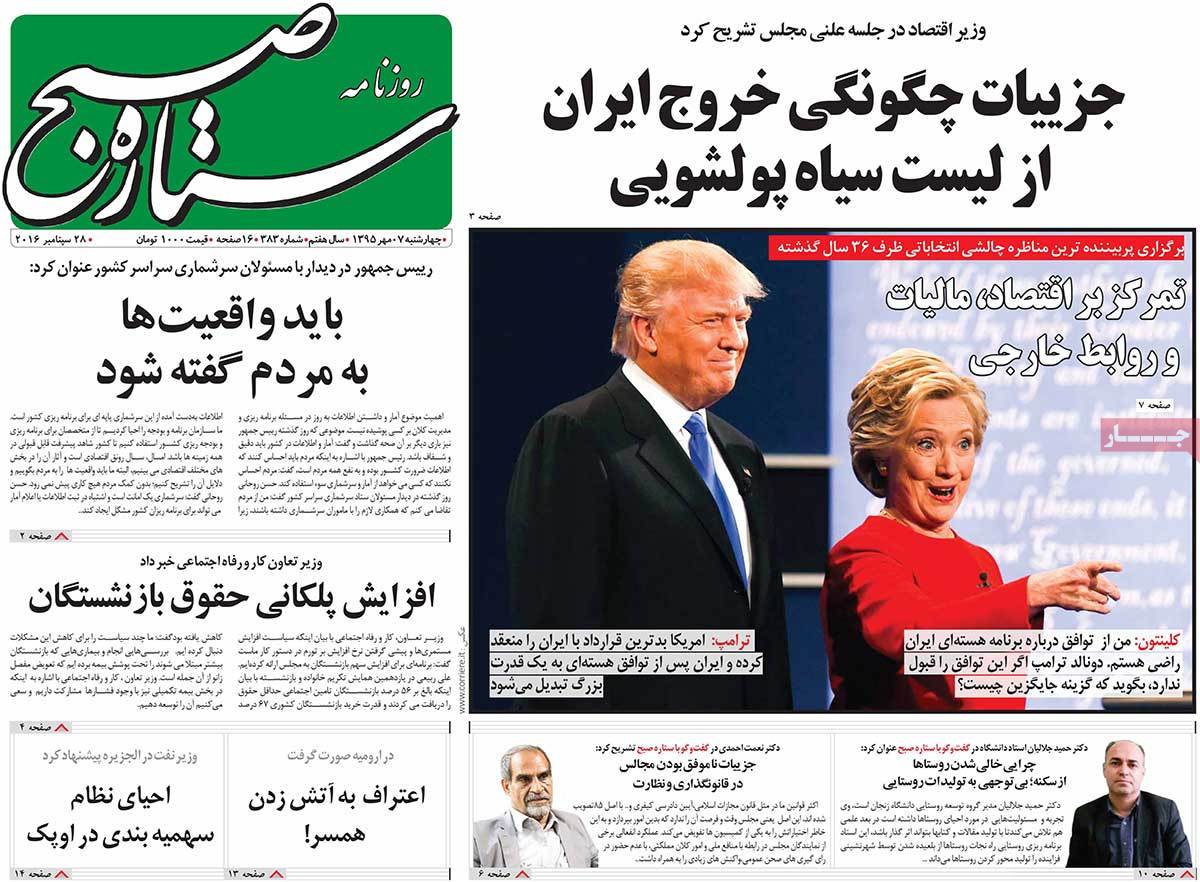 ---
Shargh:
1- Rouhani: Change in Borders Is Not to Interest of the Middle East
2- Larijani's Reaction to FATF Opponents: It's Good to Have Diplomatic Wisdom!
3- Hillary Wins the Debate 1-1: Why Iran Became Central Point in Presidential Debate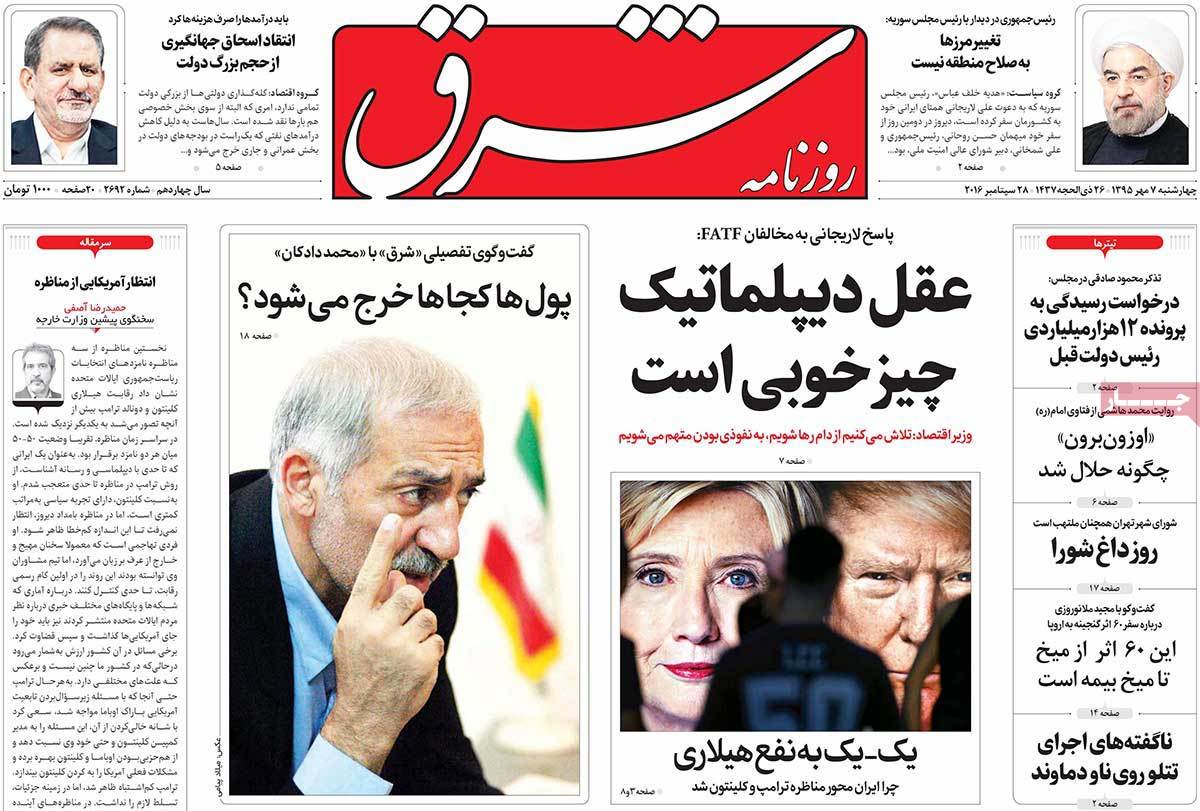 ---
Vaghaye Ettefaghieh:
1- Hillary Seems to Be Staying in Competition, Trump Approaching the End
2- Ahmadinejad Confirms He Won't Run for Presidential Elections; an Escape for Immunity from Prosecution; He Doesn't Want to Be Finished
3- A Report on Deepest Human Darkness: Stop War against Children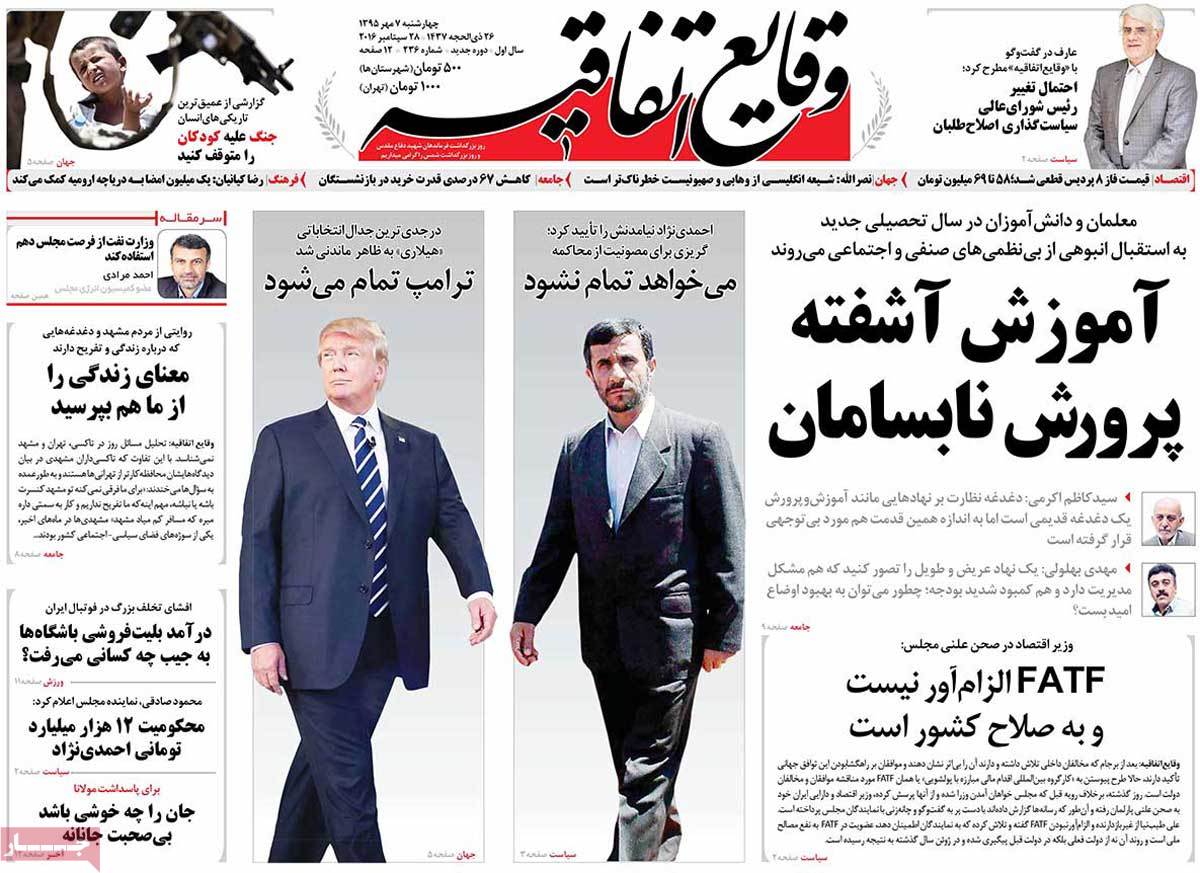 ---
Vatan-e Emrooz:
1- Hillary: We Shut Down Iran's Nuclear Program
2- Iran's Central Bank Governor in Austria: US Not Acting Transparently
3- Leader's Military Advisor: It's Way out of Saudi Arabia's League to Threaten Iran