The majority of newspapers reported the remarks made by the Leader of the Islamic Revolution Ayatollah Seyyed Ali Khamenei who publicly announced that he has advised ex-president Mahmoud Ahmadinejad against running for next year's presidential elections.
The presidential debate between Hillary Clinton and Donald Trump also remained a top story today among some newspapers.
Newspapers further covered the speech delivered by President Hassan Rouhani at the World Tourism Day conference on the rise of tourism in Iran.
The above issues, as well as many more, are highlighted in the following headlines:
Abrar:
1- Australian Trade Minister: We Prefer that Iranian Asylum-Seekers Return to Their Country
2- Zarif: US Vowed Not to Punish Banks Engaged with Iran
3- Int'l Bodies Warn of Humanitarian Disaster in Aleppo: 50% of Victims Are Children
4- US: Russia Abusing Its UNSC Seat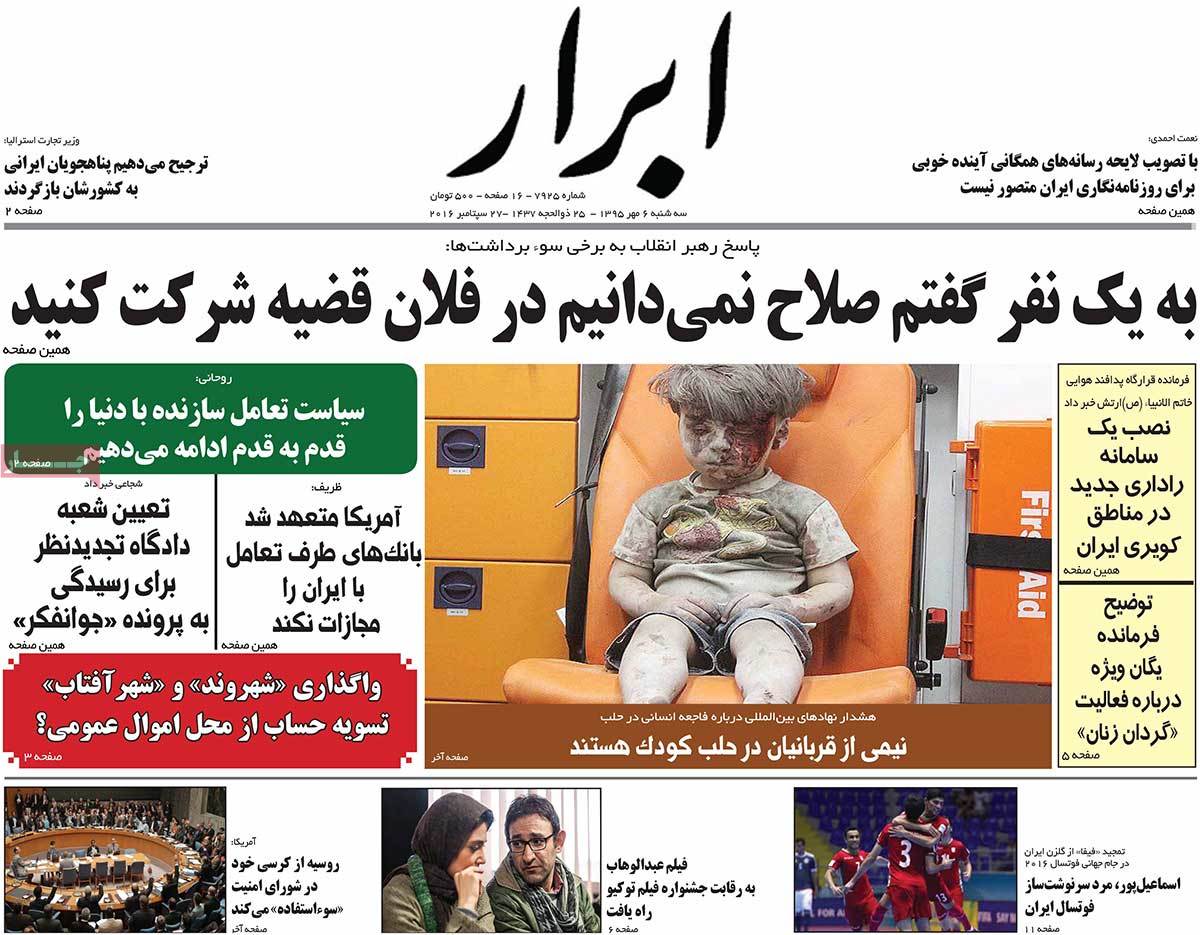 ---
Abrar-e Eqtesadi:
1- 30% Increase in Iran's Liquidity in 1 Year
2- Return of World's Major Economies to Doing Business with Iran
3- No Decision to Be Made in Algeria Meeting: Talks with Non-OPEC Members for Stability in Oil Market
4- US Is Biggest Customer of Iran's Saffron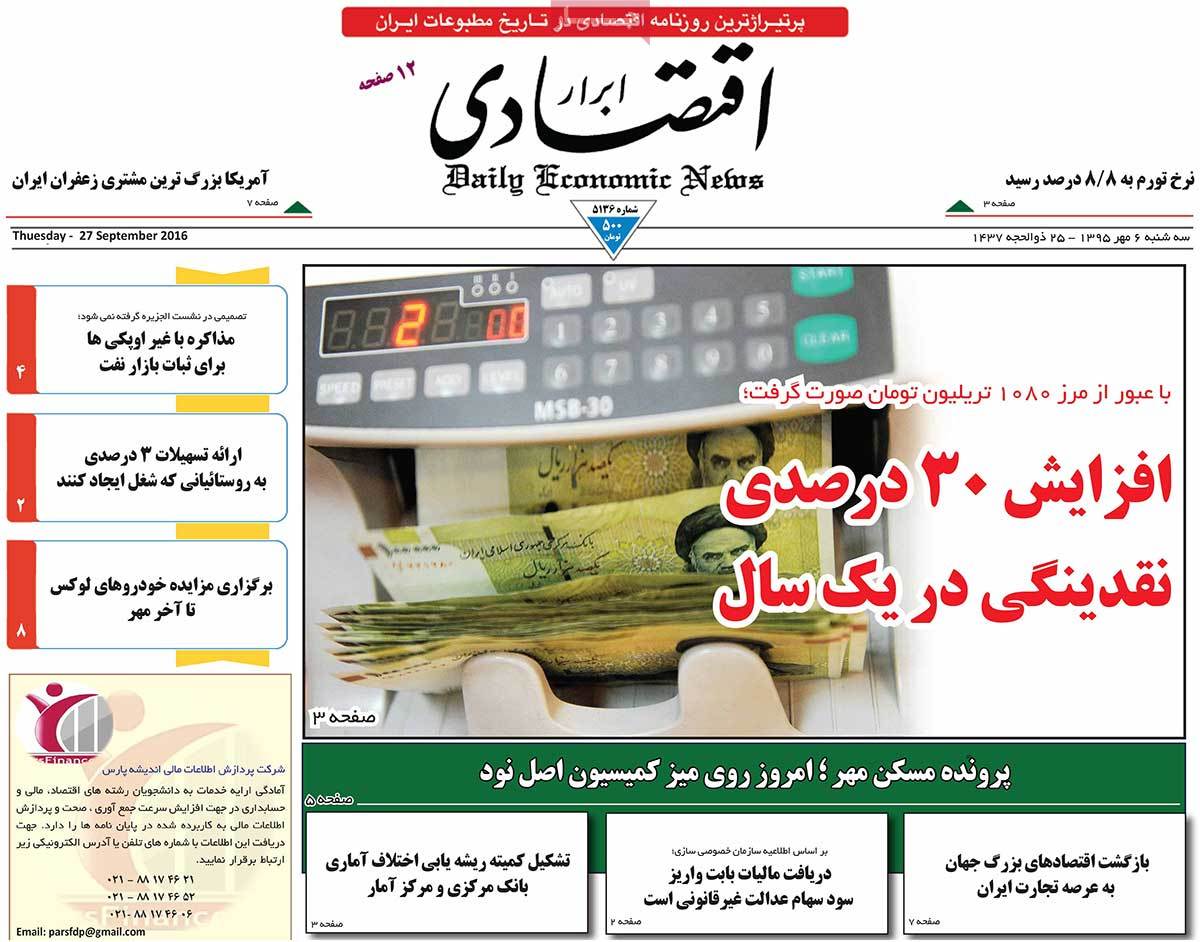 ---
Afarinesh:
1- Larijani: It's Not Possible to Deepen Democracy through Creating Security Crises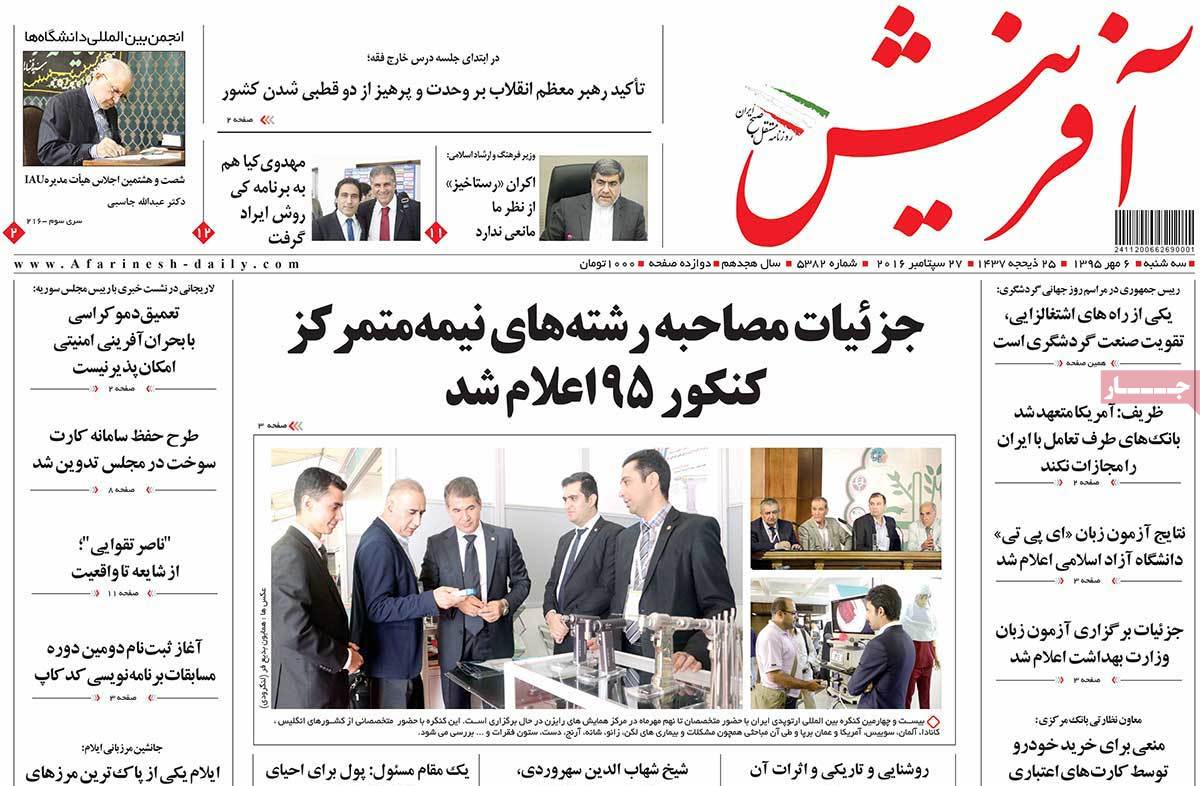 ---
Afkar:
1- Foreign Ministry Spokesman: Syria Crisis Can Only Be Resolved through Negotiations
2- Iran's Exports Stands near $22bn
3- Russia Receives 38 Tons of Iran's Heavy Water
---
Aftab-e Yazd:
1- Conservative Mayor of Tehran: I Agree with JCPOA; Qalibaf Hails Rouhani's Greatest Achievement on Contrary to Previous Stances
2- Hillary and Trump's Competition for Pleasing Netanyahu: Separate Meetings of US Candidates with Leaders of Occupying Regime [Israel]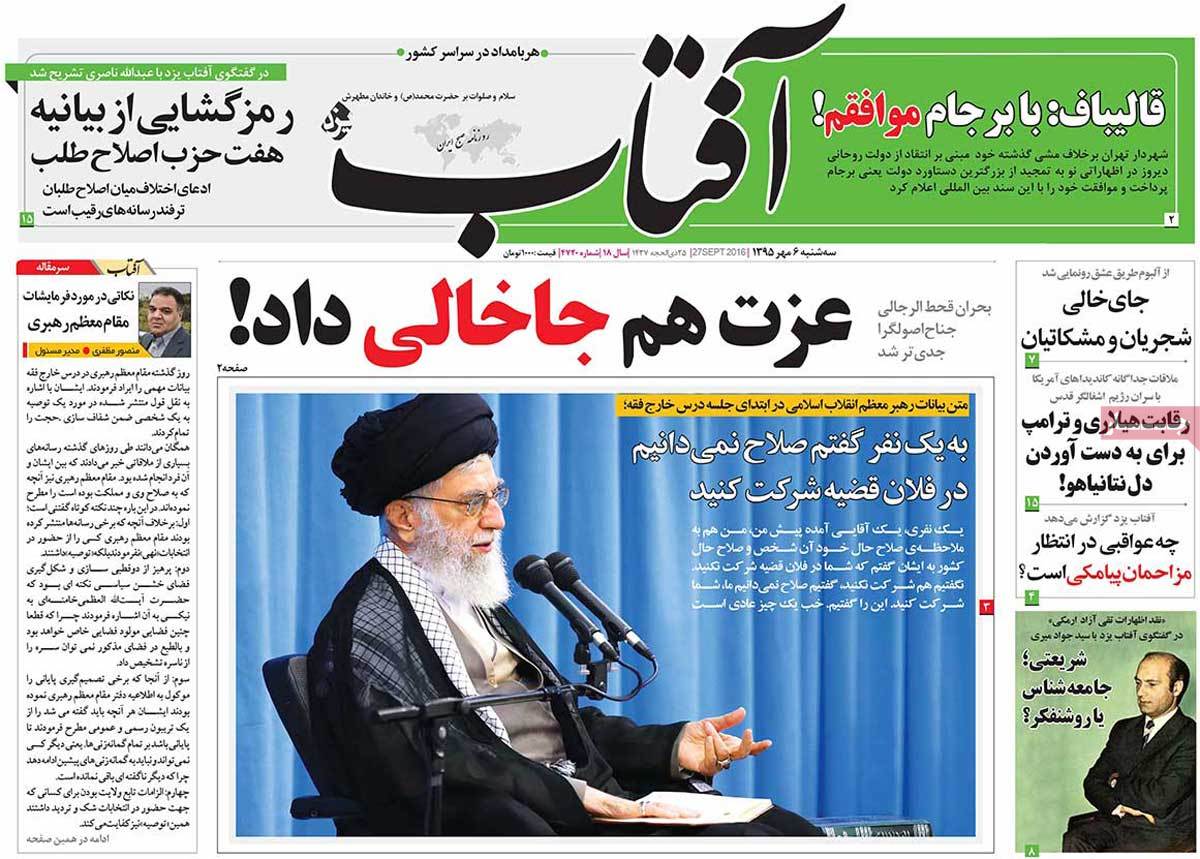 ---
Amin:
1- President: Countering Iranophobia Is an Honour for Government
2- Erdogan: Even Iran Says Reza Zarrab Is Innocent
3- Government Dedicates over $84m to Revival of Lake Urmia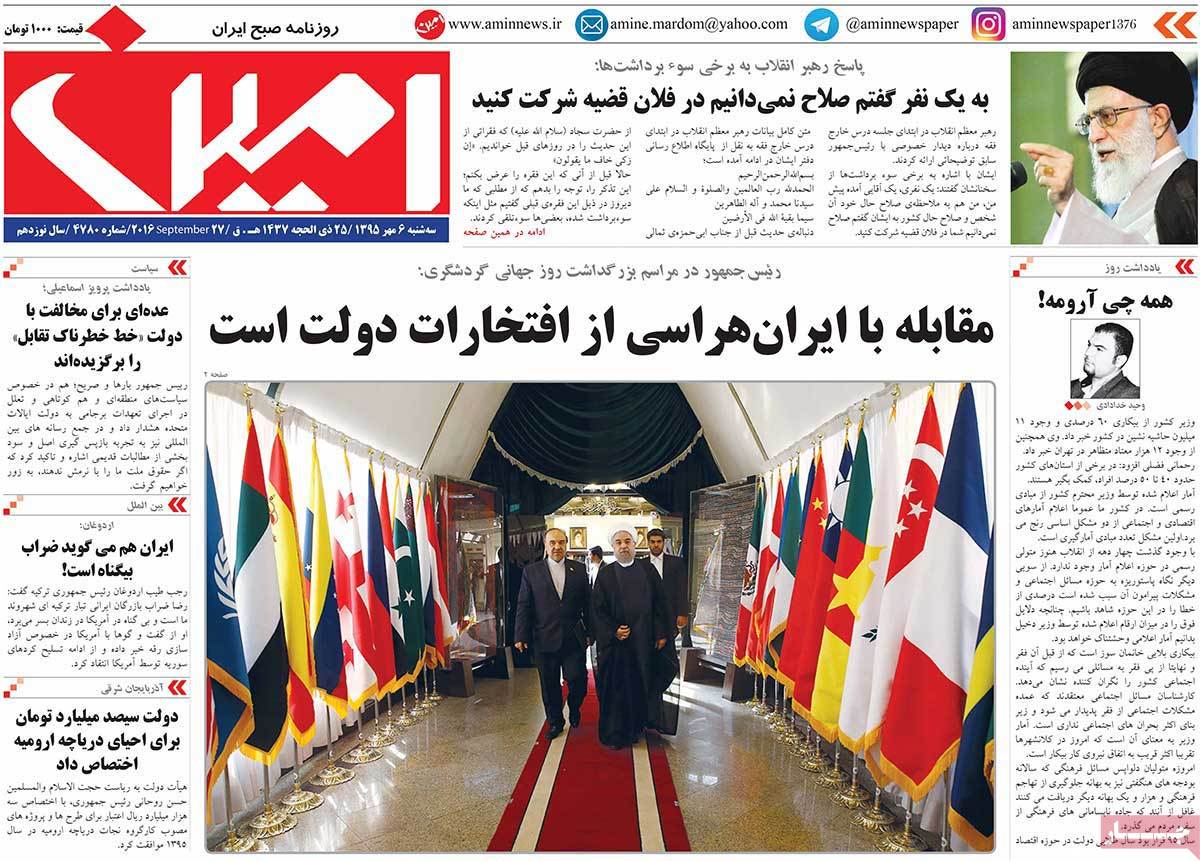 ---
Arman-e Emrooz:
1- Leader on Candidacy of a "Gentleman" in Presidential Elections: We Don't See His Participation Appropriate
2- Goodbye Ahmadinejad: Experts' Analyses Given the Leader's Explicit Advice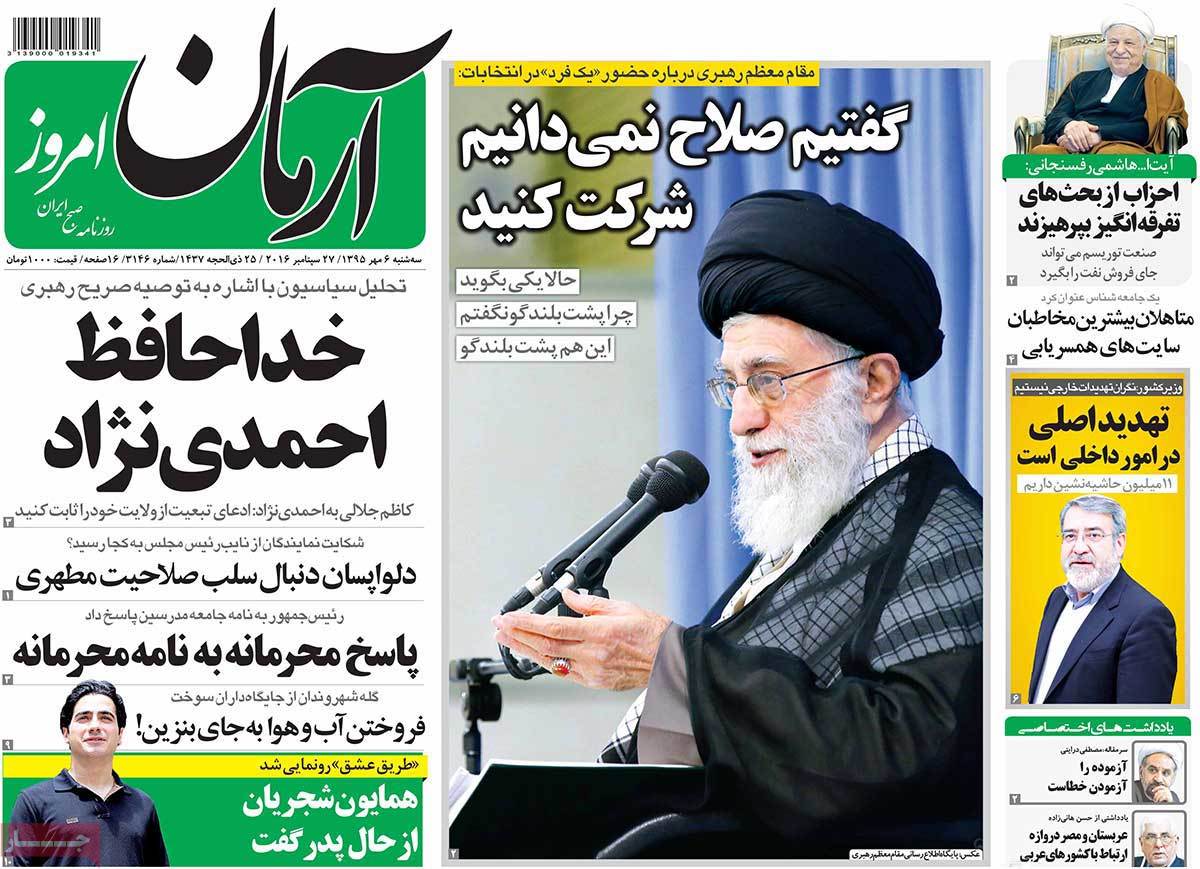 ---
Asr-e Iranian
1- Arabs Seize Shares of 7 OPEC Member States
2- Tsunami of Youths' Marriage with Old People
3- Russian Representative' Fight with Envoys of US, Britain, and France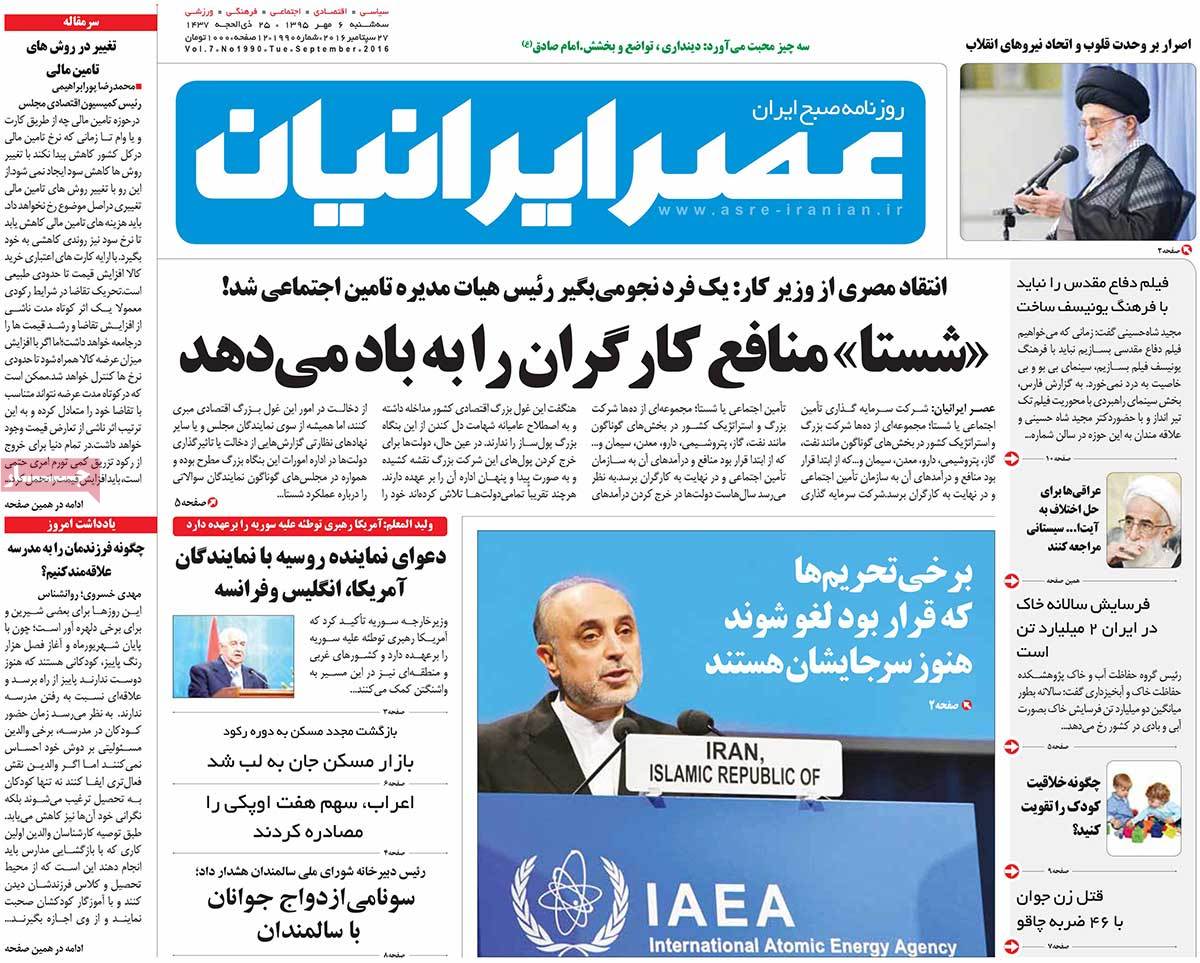 ---
Ebtekar:
1- President: Interaction with the World, Step by Step
2- Judiciary Chief: Huge Number of Prisoners Taints Image of Islamic Republic
---
Etemad:
1- IRGC General Mohsen Rezaei Won't Run for Presidential Elections
2- Conservatives and Third Division: Another Group of Cons Establish 'Faction of Revolution'
3- Iranian Spokesman: No Time Can Be Bought for Terrorists in Syria
---
Ettela'at:
1- Rouhani: Progress Is a Fruit of Security; We're Thankful of All Security and Armed Forces
2- Senior Nusra Front Commander: US Gives Us Weapons Directly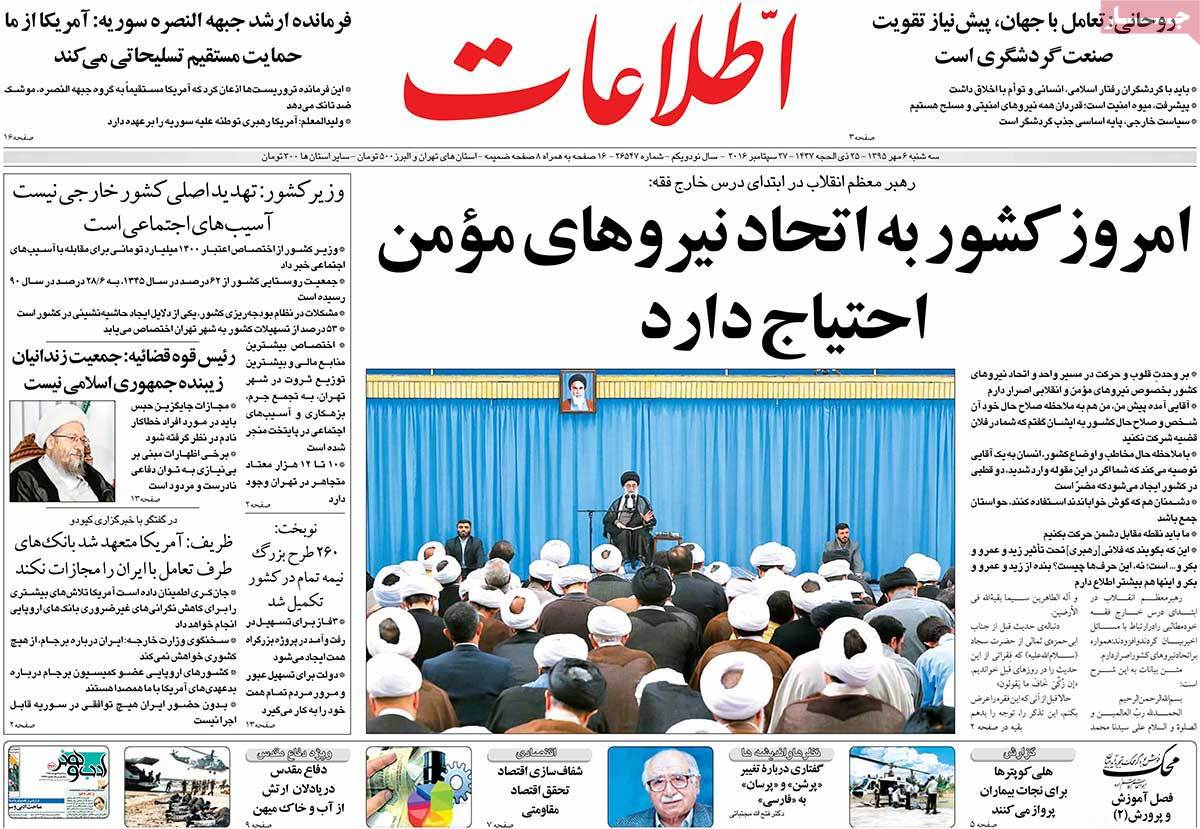 ---
Iran:
1- President: 10% Increase in Number of Foreign Tourists Visiting Iran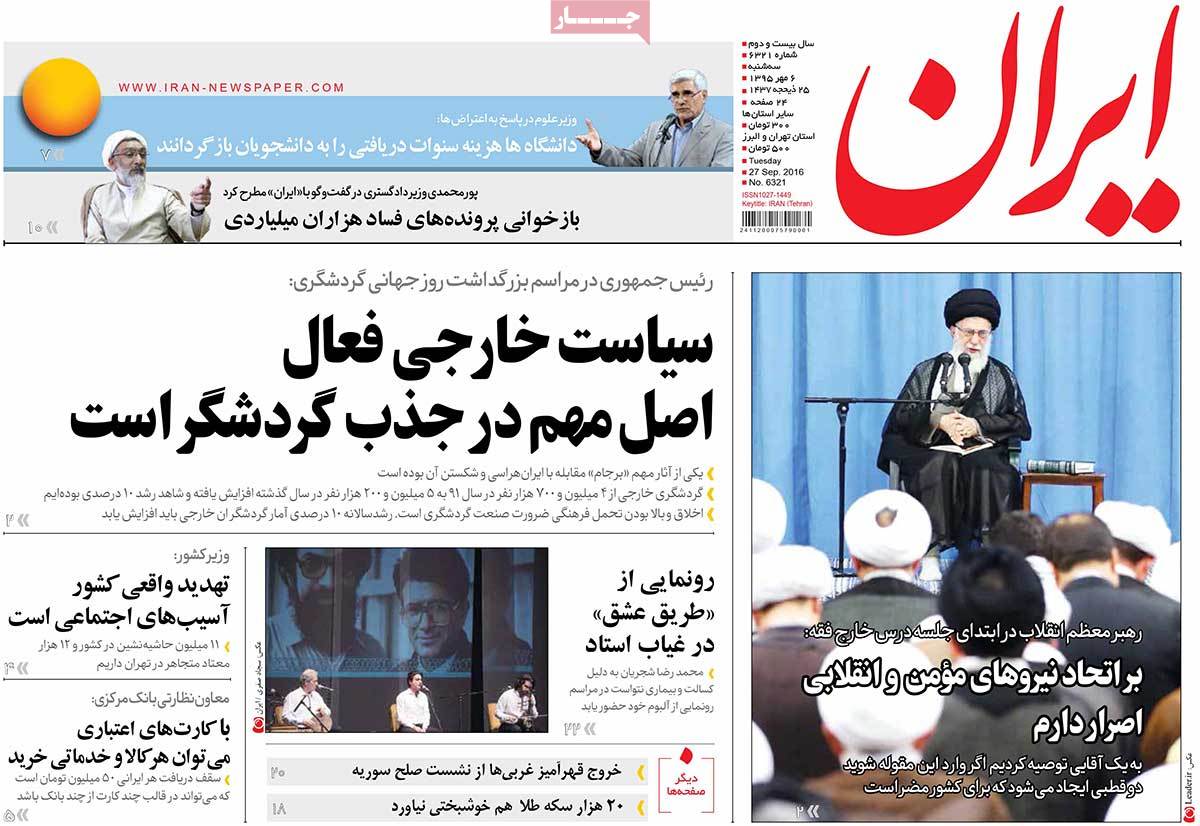 ---
Javan:
1- Salehi's Warning to the West: JCPOA Is Being Threatened
2- Battle in Aleppo, Fight in UNCS: Unprecedented Tension between Western Powers and Russia and Syria in UN Session
---
Jomhouri Eslami:
1- Value of Iran's Non-Oil Foreign Trade Exceeds $42bn
2- Australia to Open Trade Office in Iran
3- President: Establishment and Government Will Continue Its Constructive Interaction Approach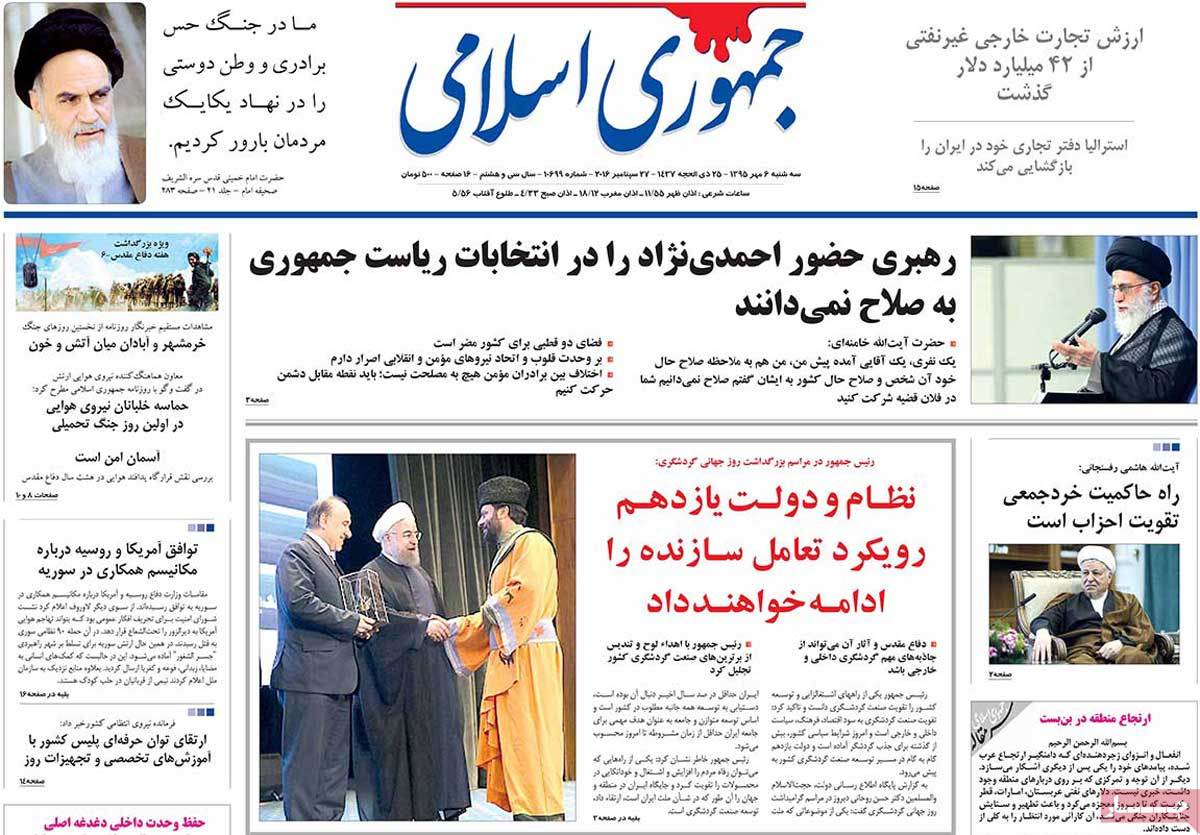 ---
Kayhan:
1- Leader Foils Enemy Plots by Underlining Movement on Opposite Side of the Enemies
2- Iranian-Islamic Architecture of the Freeway Connecting Tehran to Northern Iran Assigned to Italians!
3- Yemeni People Go to Banks and Give Their Money and Assets to Ansarullah
4- During Netanyahu's Meetings with Clinton and Trump, It's Said that US Is Coordinated with Israel in JCPOA Implementation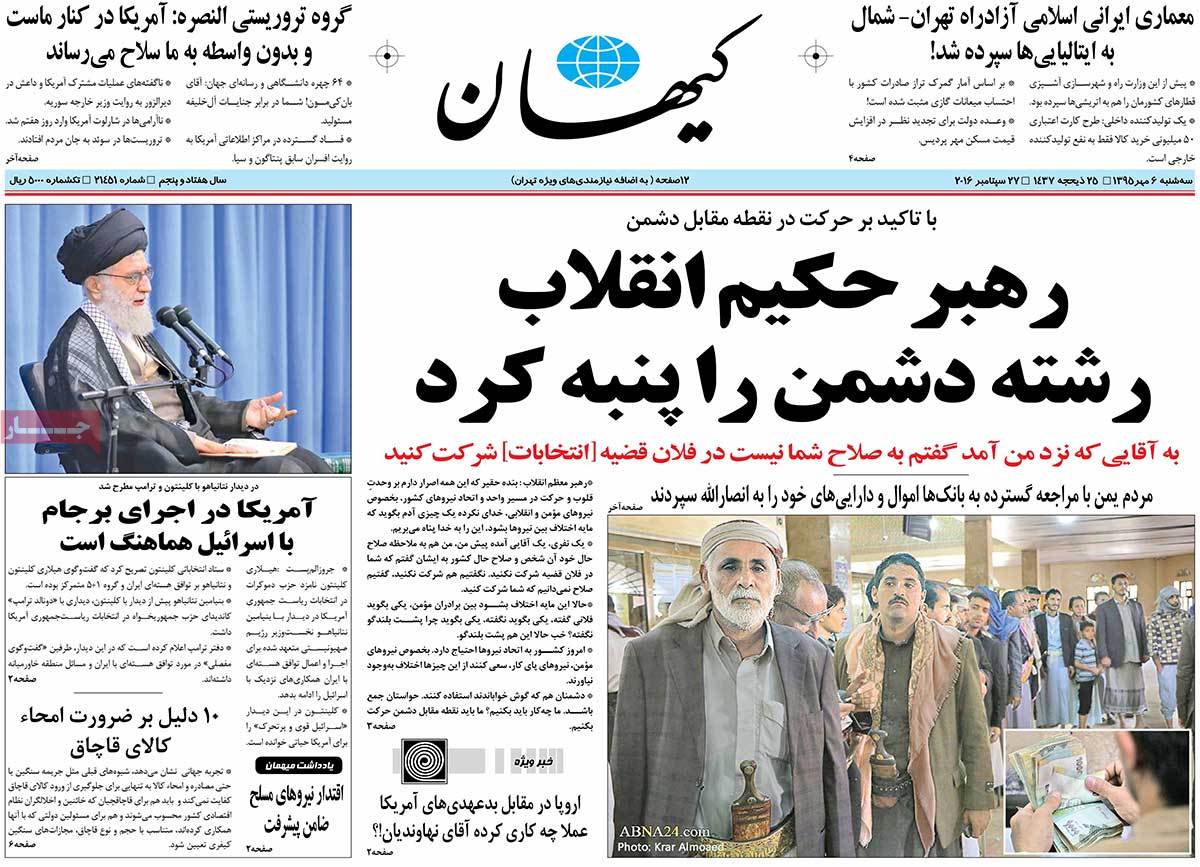 ---
Khorasan:
1- Iran's Nuclear Chief: Some Sanctions Are Still in Place in Spite of What Agreed Upon in JCPOA
2- 810 Killed in Road Accidents in Iranian Month of Shahrivar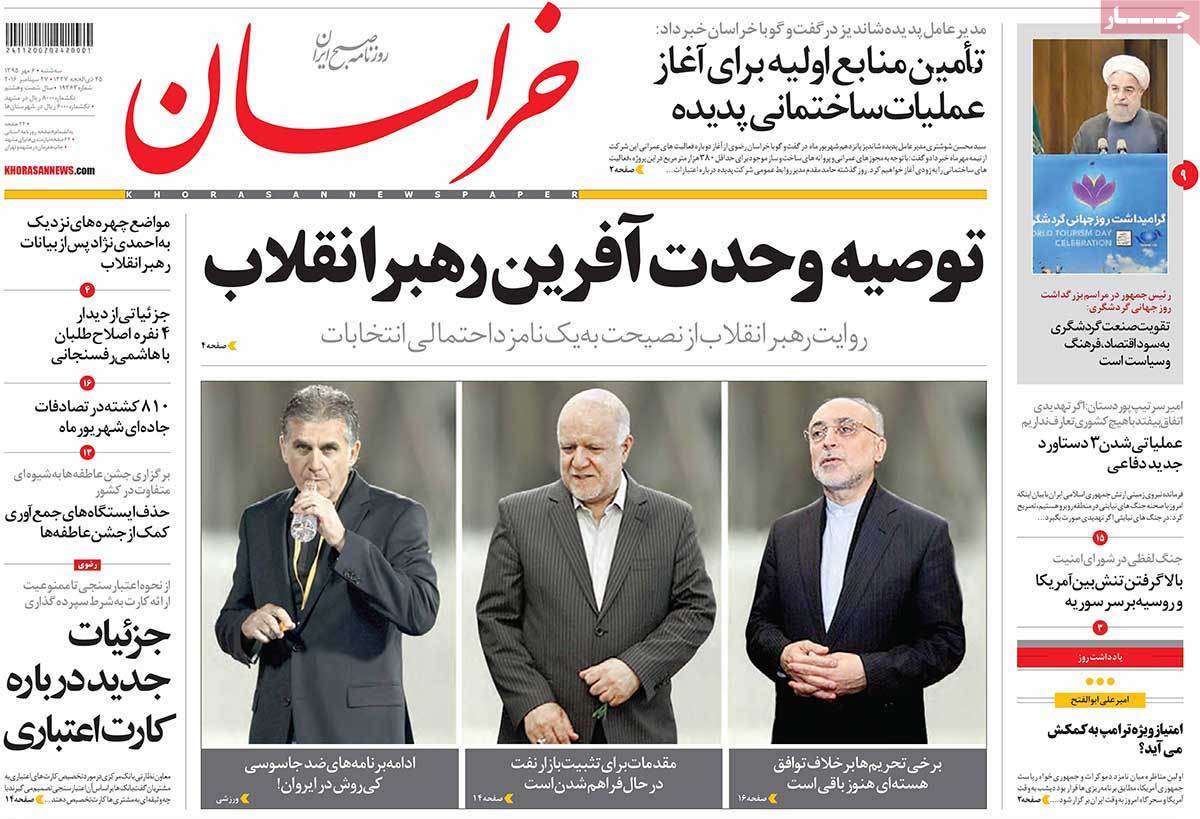 ---
Resalat:
1- New York Times: US Explicit Robbery of Iran's Assets
2- Interior Minister: Unemployment Rate Is as High as 60% in Some Cities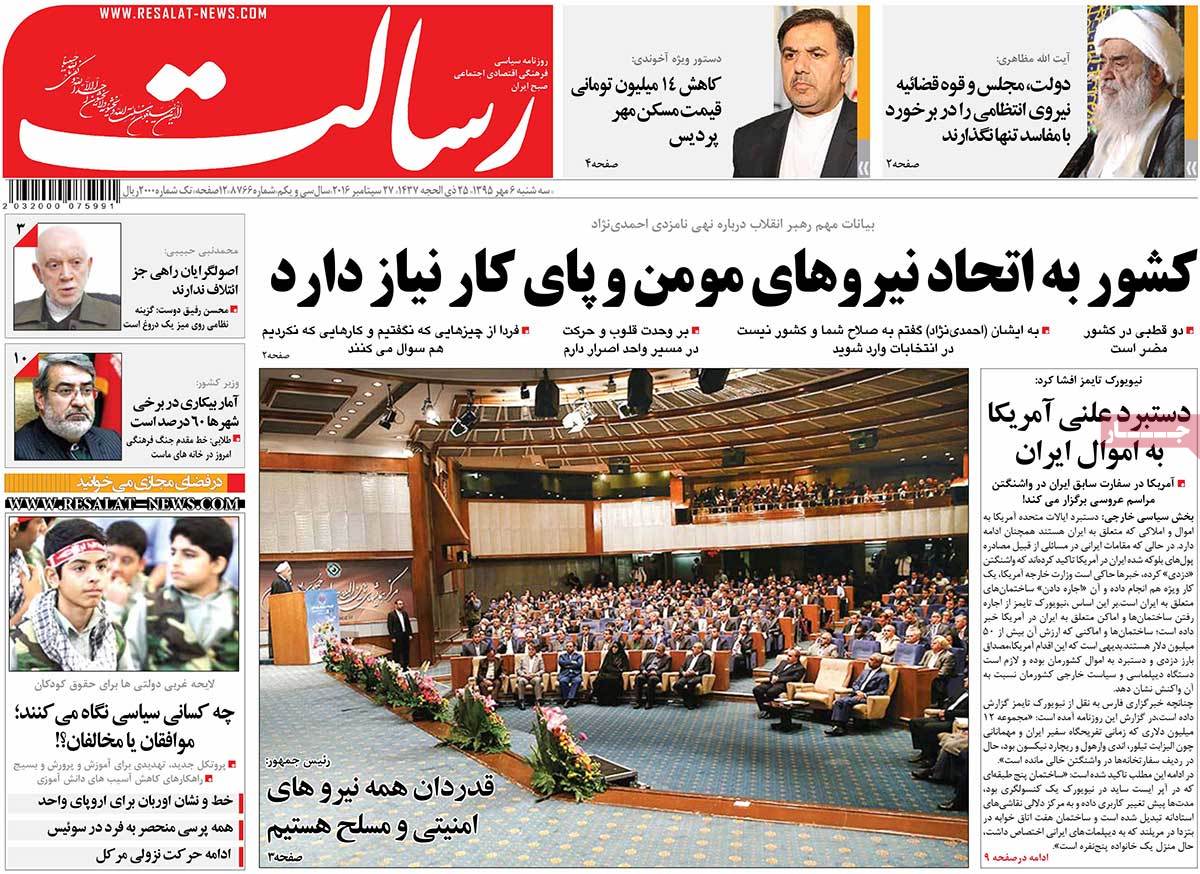 ---
Shargh:
1- President: Tourists Visit Countries with High Cultural Toleration
2- Founding Member of IRGC Mohammad Gharazi: If I Had Three Mortar Shells, Khorramshahr Might Not Fall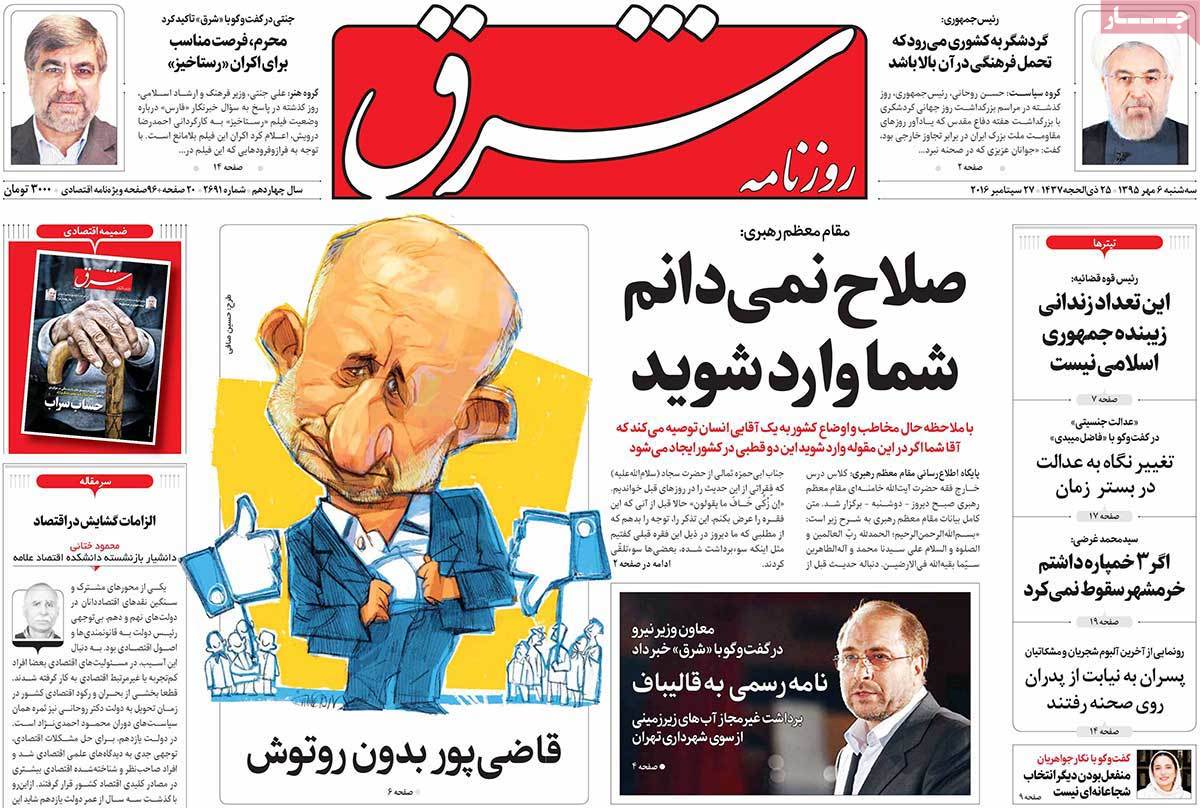 ---
Vaghaye Ettefaghieh:
1- Leader Publicly Announce His Advice to Ahmadinejad: I Don't Think It's to Iran's Interests that You Run for Presidential Elections; Country Would Be Polarized
2- Reverse Trend of Globalization? Crisis in Political Leadership of Europe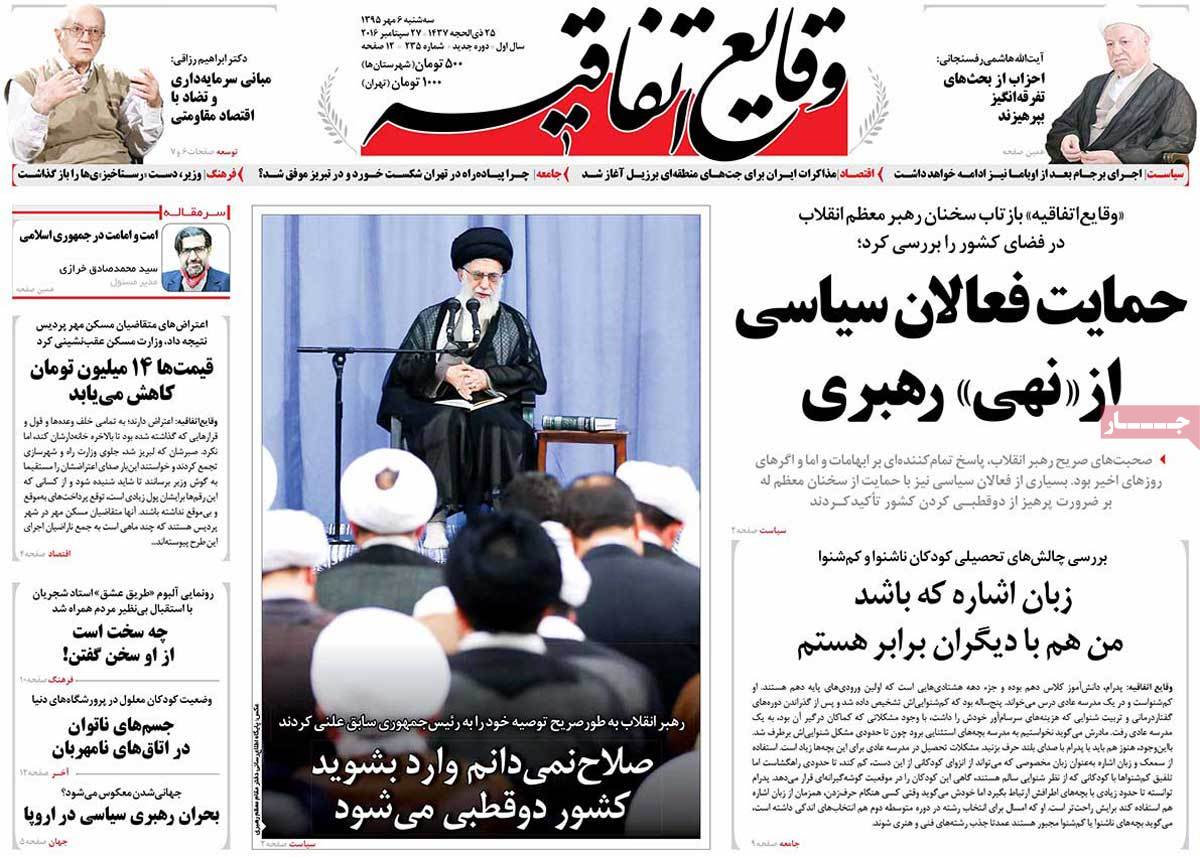 ---
Vatan-e Emrooz:
1- Judiciary Chief: Iran's Security Finds Meaning under Shadow of Its Defensive Might
2- Leader Underlines the Need for Unity among Revolutionary Forces