Iranian newspapers on Saturday covered the remarks made by President Hassan Rouhani about the achievements of his trip to New York. They also covered his speech at the United Nations General Assembly and his efforts to pursue the implementation of the nuclear deal.
The anti-Iran bills passed by the US House of Representatives and its veto by President Barack Obama also received great coverage.
Some newspapers also dedicated their front page headlines to Boeing and Airbus planes and their upcoming arrival in Iran after Washington issued permission to the two aviation giants for doing business with Iran.
The above issues, as well as many more, are highlighted in the following headlines:
Abrar:
1- Leader's Message for Sacred Defence Week: Martyrs' Lives and Deaths Are Sources of Excellence for Islamic Society
2- President in UNGA: A Century Which Began with Terror in New York Shouldn't Continue with More Wars
3- US House of Representatives Passes a Bill to Ban Cash Payment to Iran
4- Anti-Iran US House Bill in Support of Baha'is
5- Kerry's Harsh Remarks in Syria Meeting: Should We Remain Silent So as to See Continuation of Bombardments?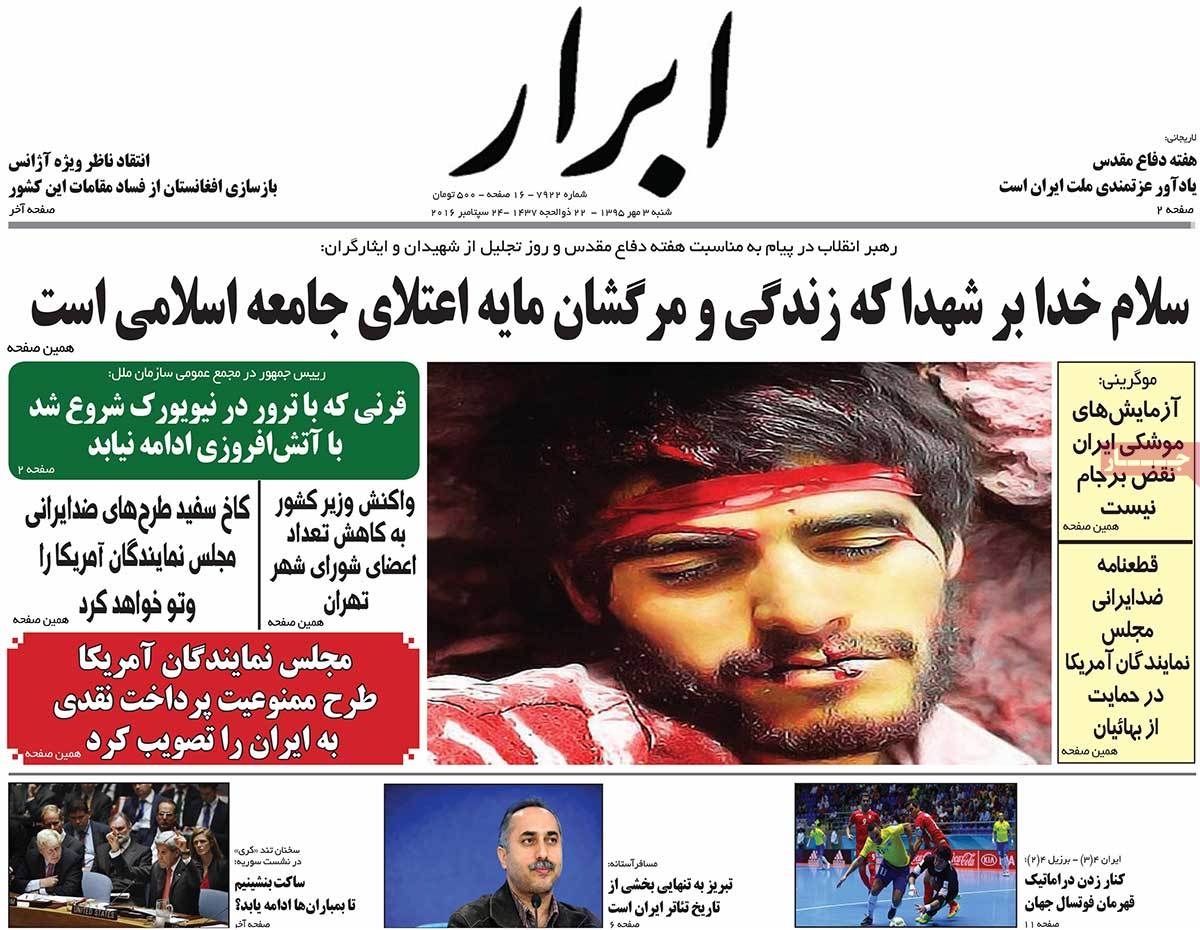 ---
Abrar-e Eqtesadi:
1- Boeing Outpaces Airbus in Iran's Sky: New Planes to Arrive in Iran by End of 2016
2- Iran's Willingness to Join China-Pakistan Economic Corridor
3- 112% Increase in South Korea's Imports of Iran's Crude Oil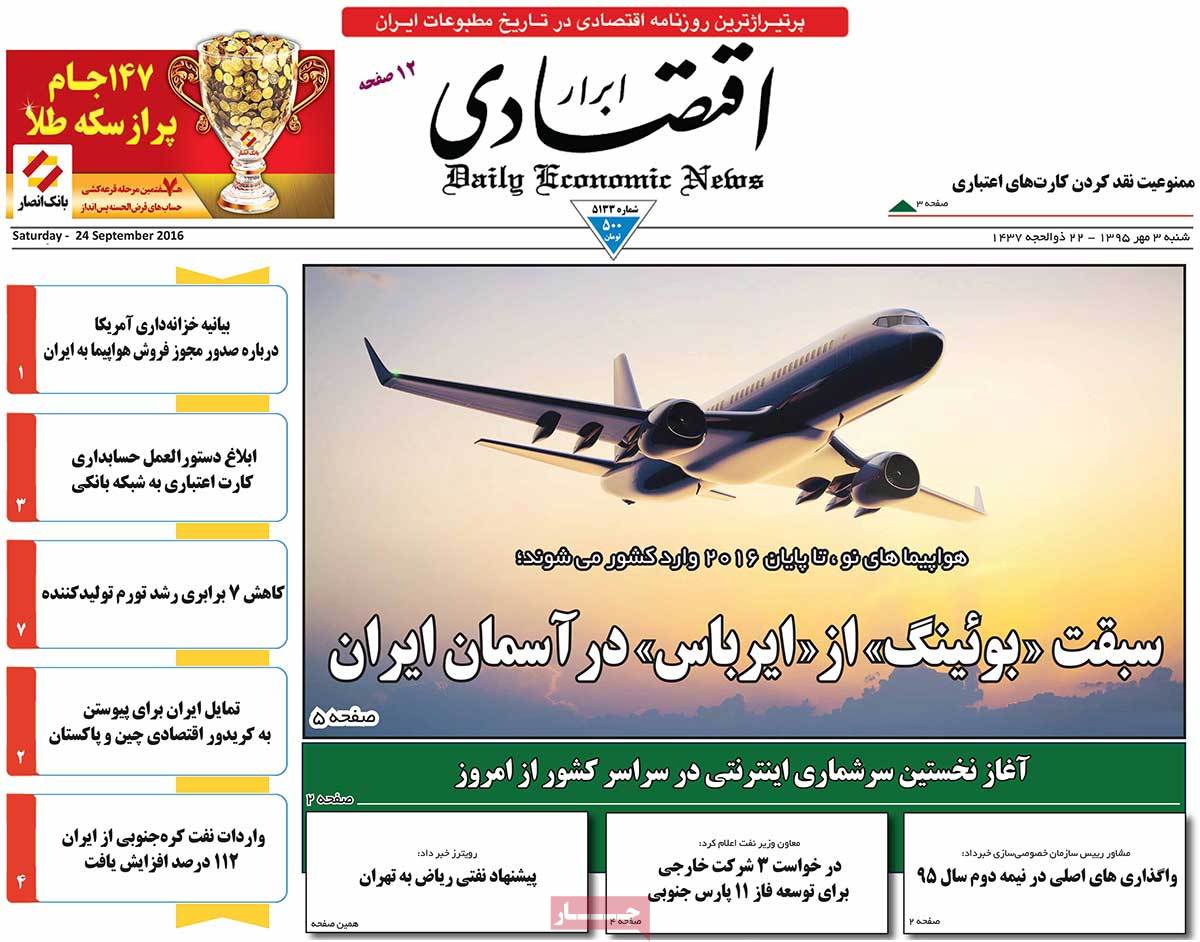 ---
Afarinesh:
1- Rouhani after Return to Tehran: Iran's Stance Was Confirmed in JCPOA Joint Commission
2- US State Dept. Spokesperson: Plane Sale to Iran Was Breaking the Taboos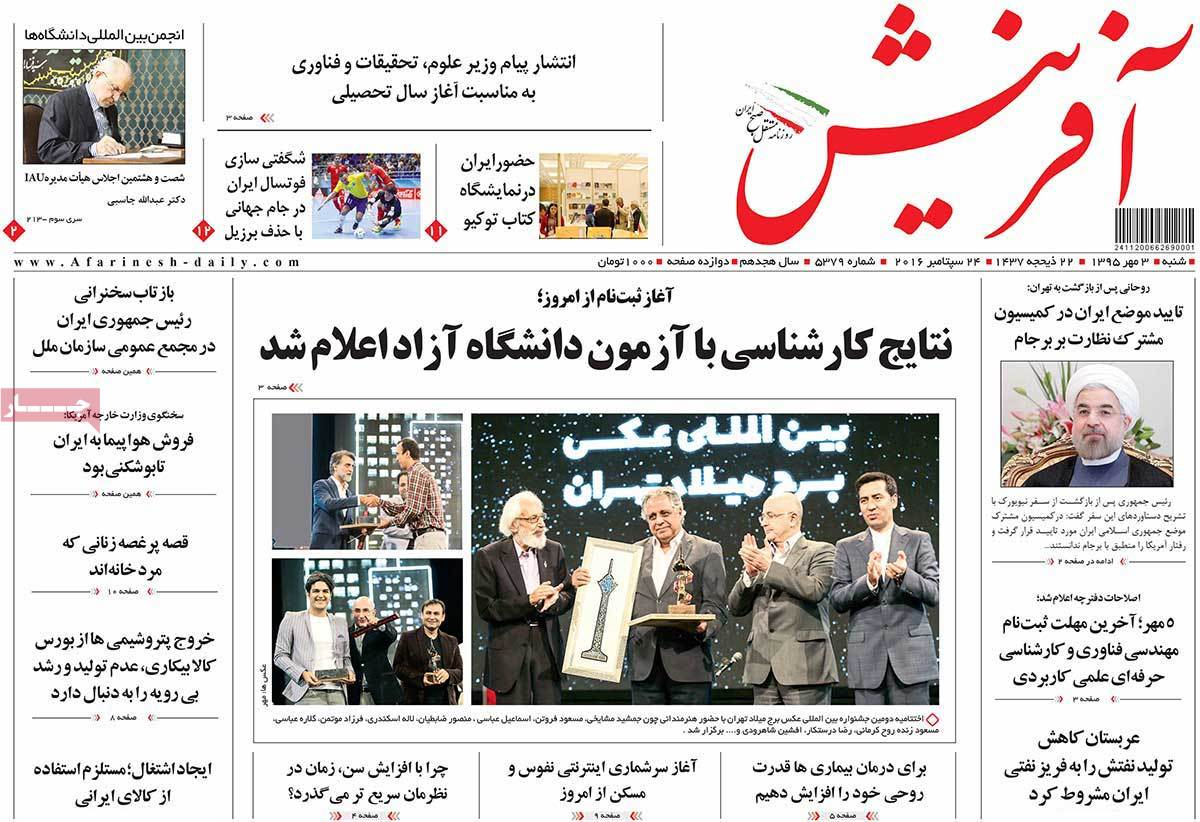 ---
Afkar:
1- JCPOA Consensus in Iran's Favour
2- Erdogan's Strong Criticism of the US
3- Shamkhani: Al Saud Can't Clean Its Hands from Stain of Mina Tragedy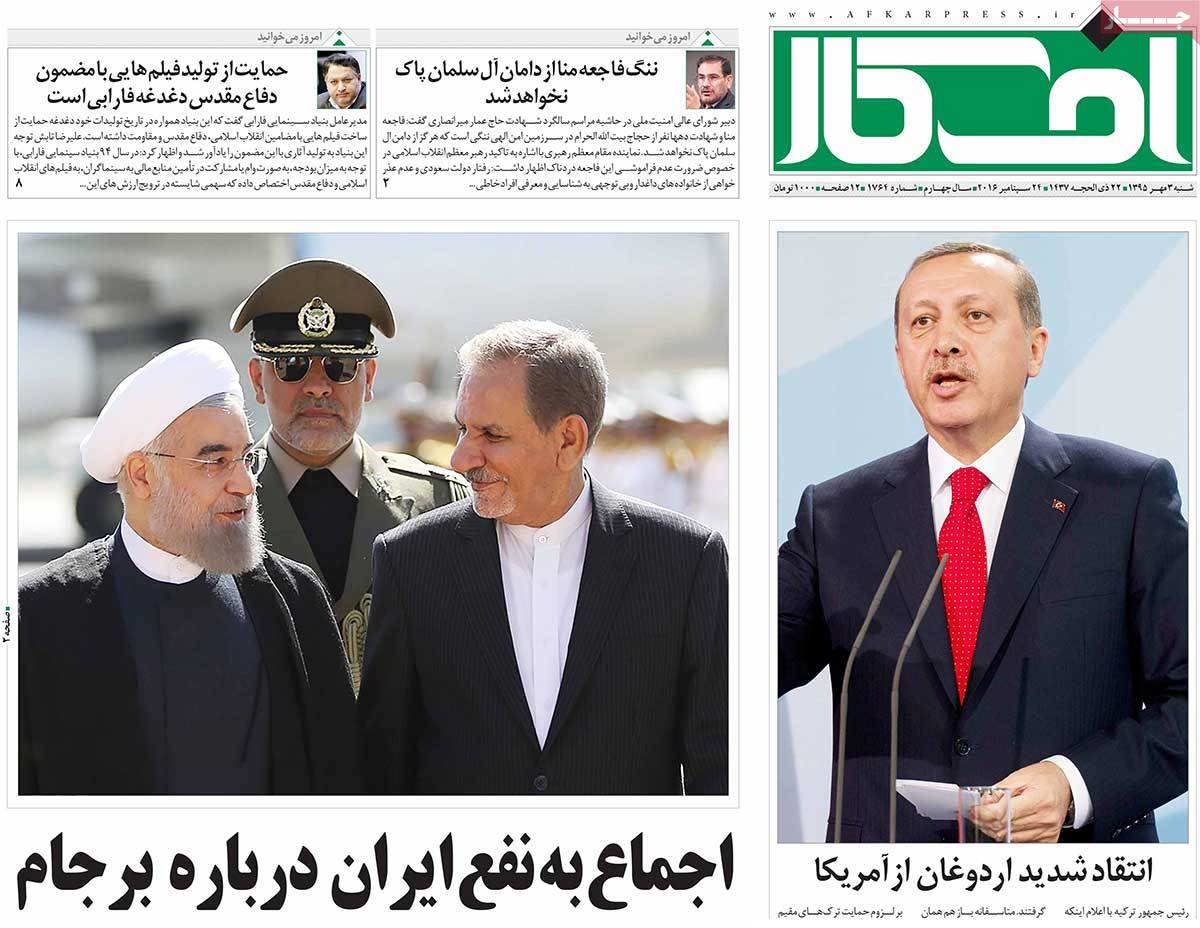 ---
Aftab-e Yazd:
1- Rouhani: French President Said It's Not Acceptable that a Country Interferes in Banking Issues after All Efforts Made by G5+1 and Iran for Clinching Nuclear Deal
2- Obama Vetoes Anti-Iran Bill
---
Arman-e Emrooz:
1- Sound of Hope in New York: Rouhani's Last Address to UNGA in His First Four-Year Term
2- Rouhani: We'll Take Back the Confiscated Money Together with Its Interest; US Promised to Correct the Trend
3- Import of 700mcm of Water to Tehran: Critical Conditions of Water Consumption in Capital City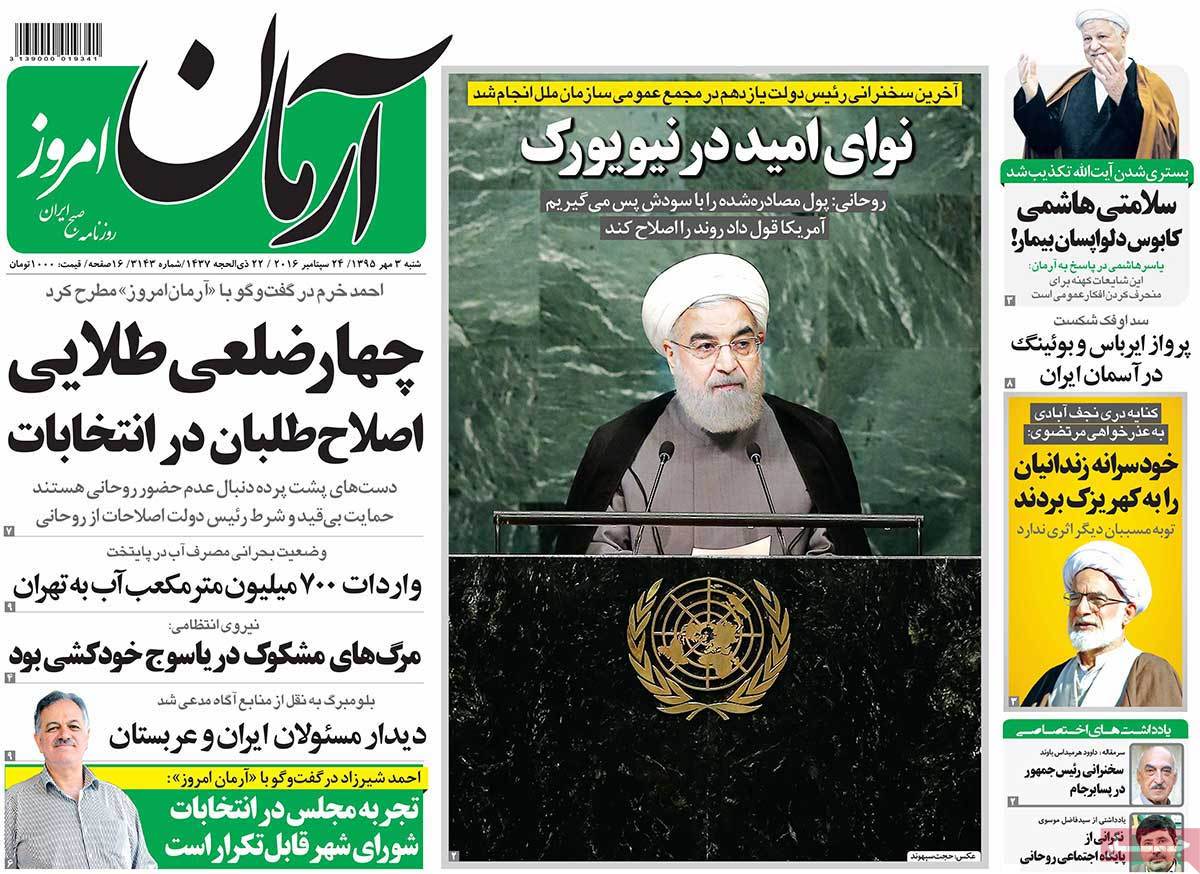 ---
Asrar:
1- US and Saudi Arabia Held Accountable by Rouhani in UNGA
2- Reuters: Riyadh's Oil Offer to Tehran
3- Futsal World Cup: Iran Makes History by Defeating Brazil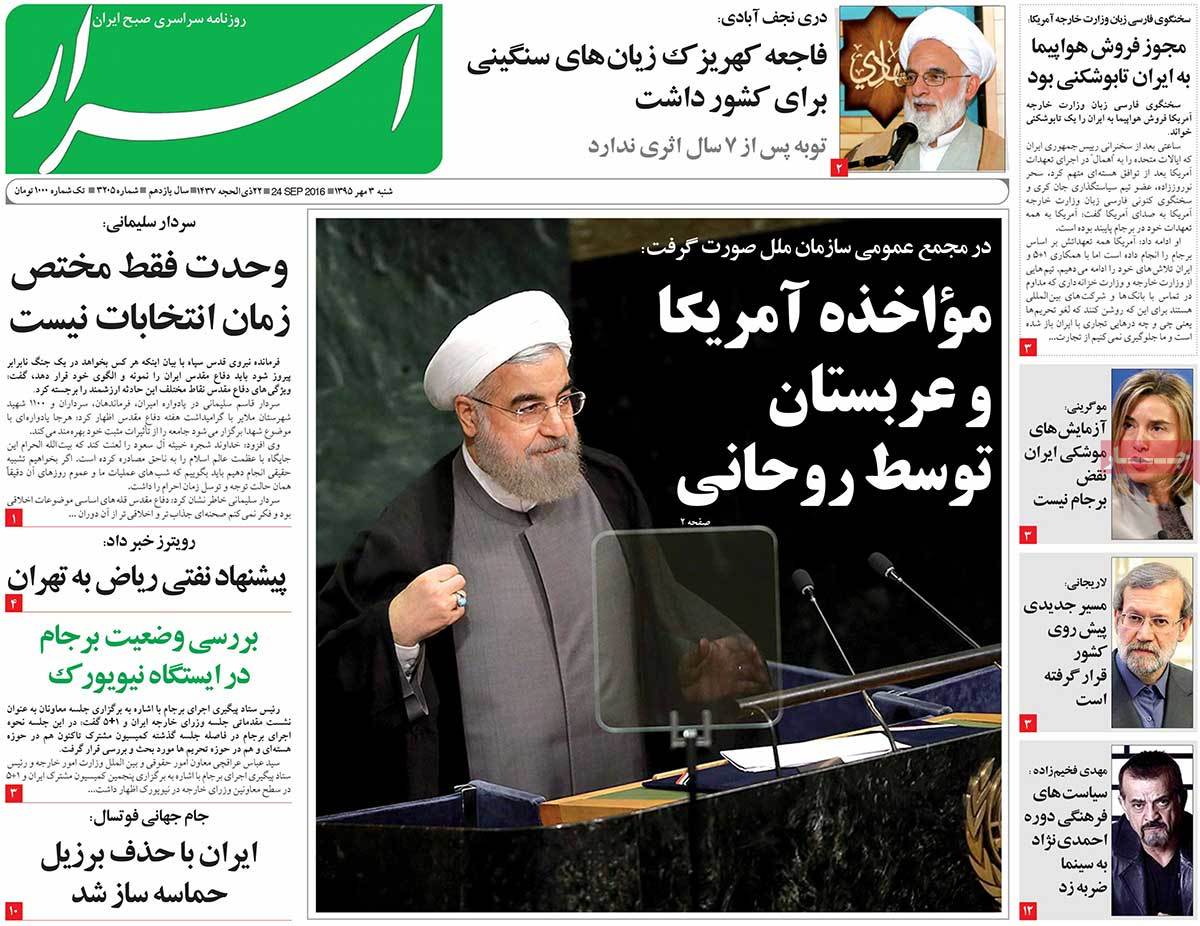 ---
Ebtekar:
1- Rouhani in NY Press Conference: As the President, I'll Do My Best for Proper Implementation of Law in Judiciary and Security Sector
2- Iranian Air Fleet to Be Renovated after 40 Years
3- Bloomberg: Iran and Saudi Arabia's Representatives Have Met ahead of OPEC Meeting
---
Etemad:
1- Rouhani Warns Washington in US Territory: JCPOA Implementation, the Focus of Tehran's Diplomatic Efforts in New York
2- First Batch of Modern Psychedelic Drugs Seized by Iran's Anti-Narcotics Police
3- Entry of Boeing and Airbus Planes Will Lead to Decreased Prices: Minister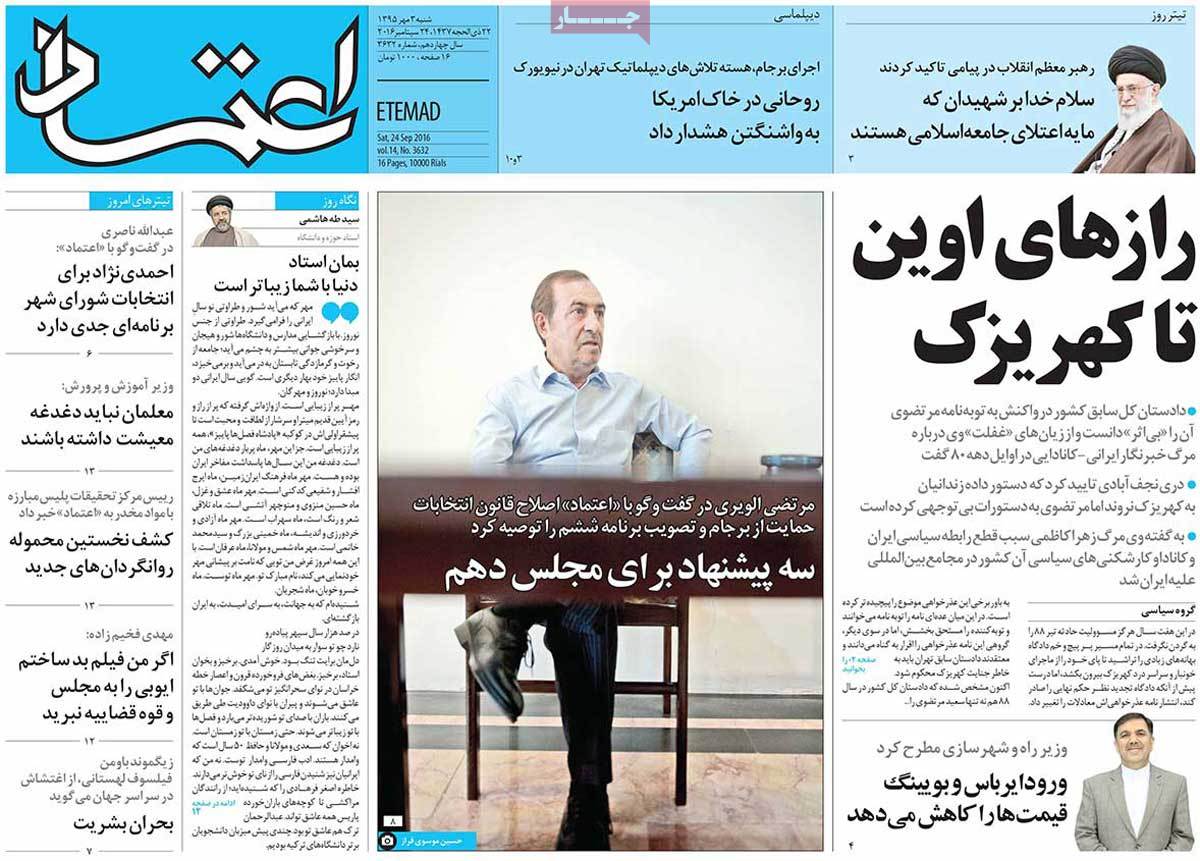 ---
Ettela'at:
1- Rouhani: US Should Rapidly Compensate for Its Delay in JCPOA Implementation
2- General Soleimani: Islamic Republic Is Strongly Standing against West
3- Deputy Transport Minister: Boeing Officials to Visit Tehran in Coming Days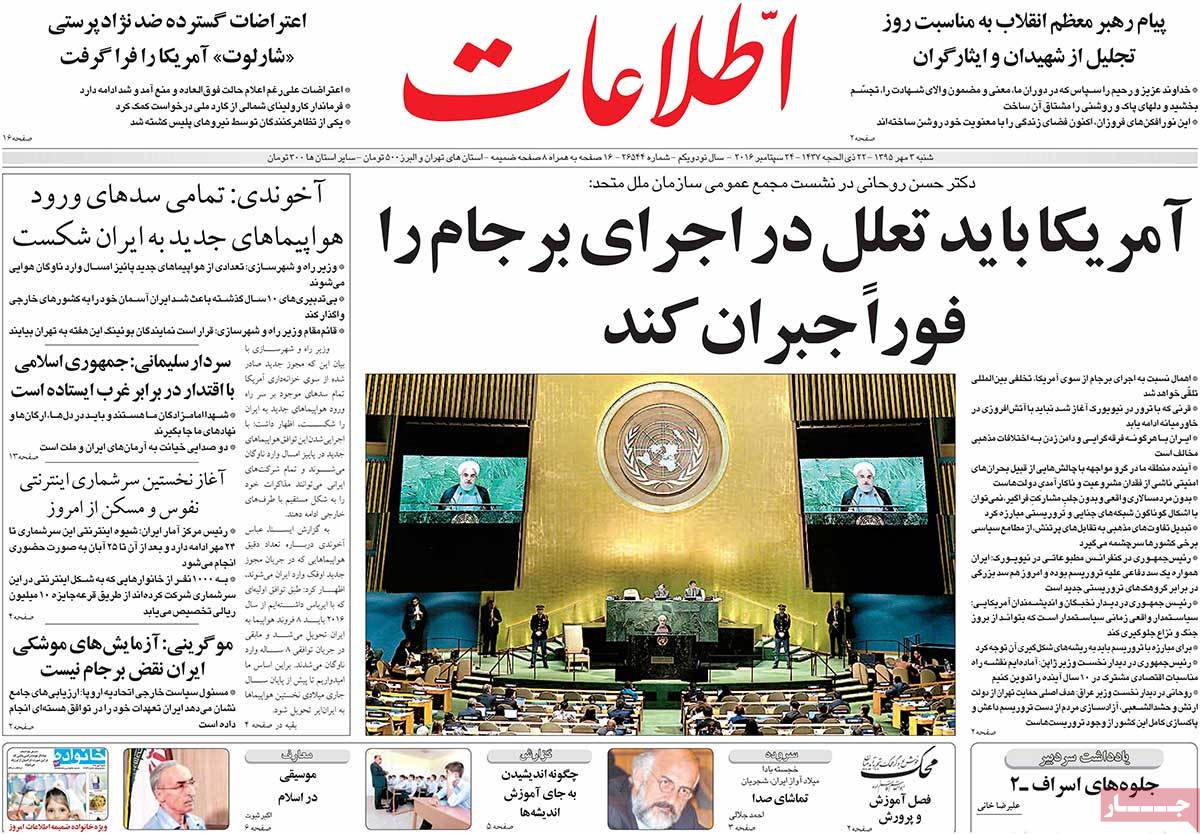 ---
Hemayat:
1- Human Rights Accusations against Iran, Silence over Oppression of the Black: US House Passes 3 Anti-Iran Bills
2- Head of Iran's Prisons Organization in Meeting with Germany's Deputy Justice Minister: Iranian Judiciary's Effective Measures in Use of Alternative Punishments for Prison Term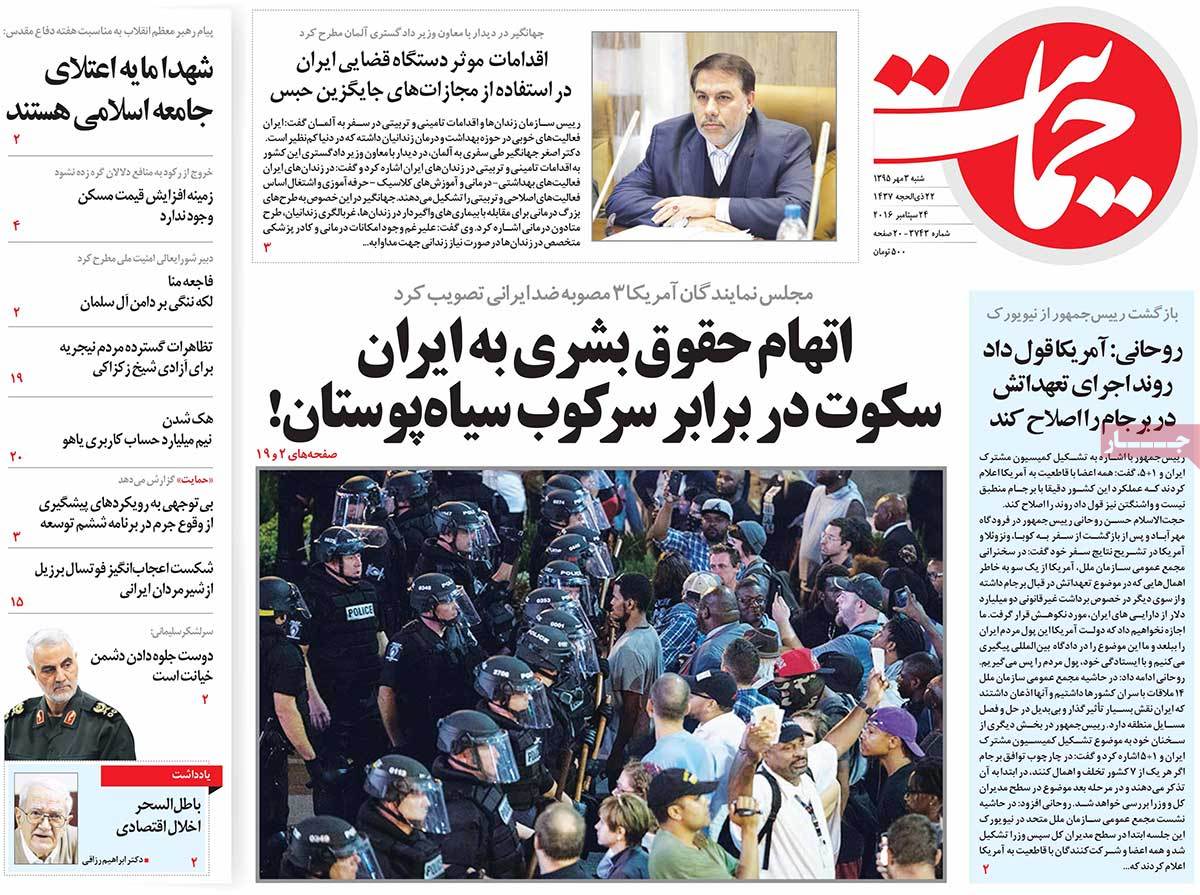 ---
Iran:
1- Netanyahu's Address to Empty Seats in UN: Many World Leaders Left Their Seats before Israeli PM's Address in Show of Protest
2- Iran's Achievements from New York Meeting: It Was a Great Success for Iran that Six Countries Urged US to Correct Its Behaviours, President Rouhani Says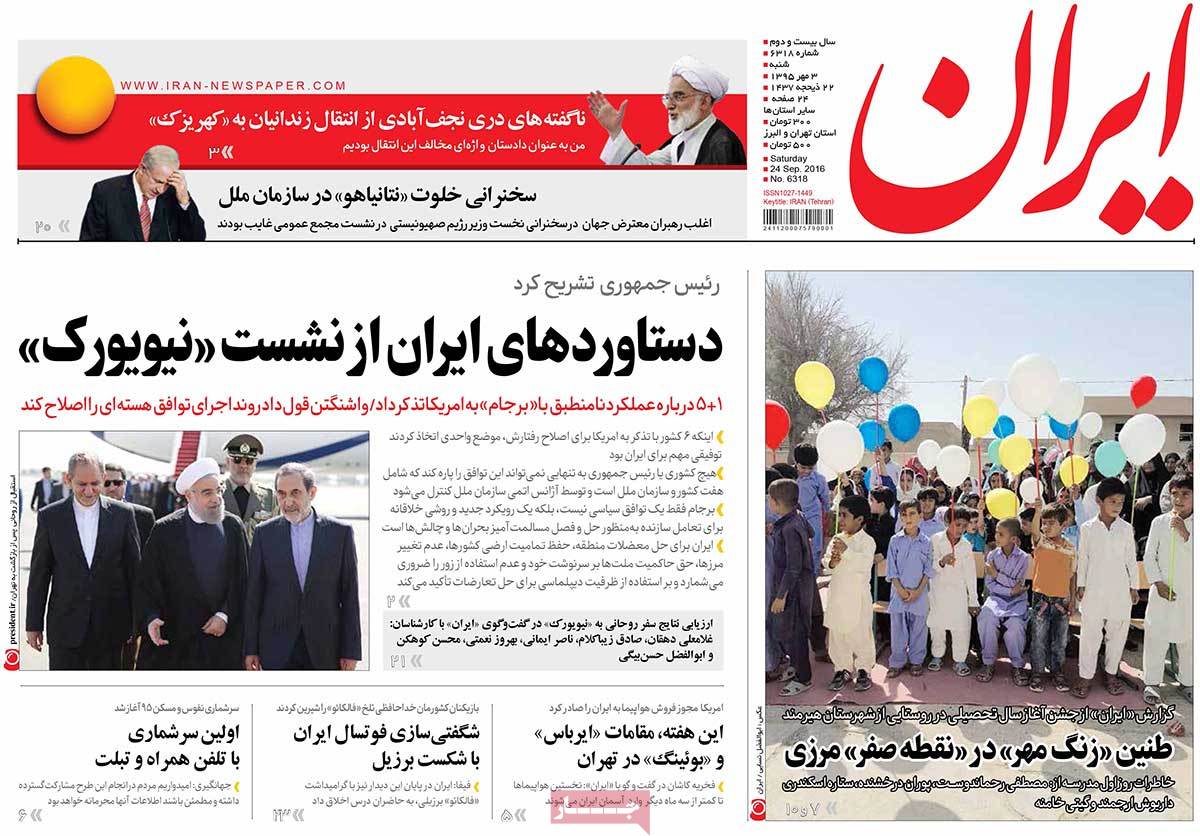 ---
Jame Jam:
1- President Rouhani in New York Press Conference: US Has a History of Failing to Meet Obligations
2- African-Americans' Anger in Charlotte
---
Javan:
1- USA's New Promise, the Souvenir of Rouhani from New York: US Vows to Correct Its Performance in JCPOA Implementation
2- Moscow's Iron Fist in US Violation of Its Commitments in Syria Ceasefire: East Aleppo Terrorists under Fire of Russian Jet Fighters
---
Jomhouri Eslami:
1- Mogherini: Iran's Missile Tests Don't Violate JCPOA
2- Erdogan Meets Representative of US Zionists
3- Yemen's Ansarullah: UN Has Become an Instrument in US Hands
4- A Number of Al Saud Royal Family Members Arrested on Mohammed bin Salman's Order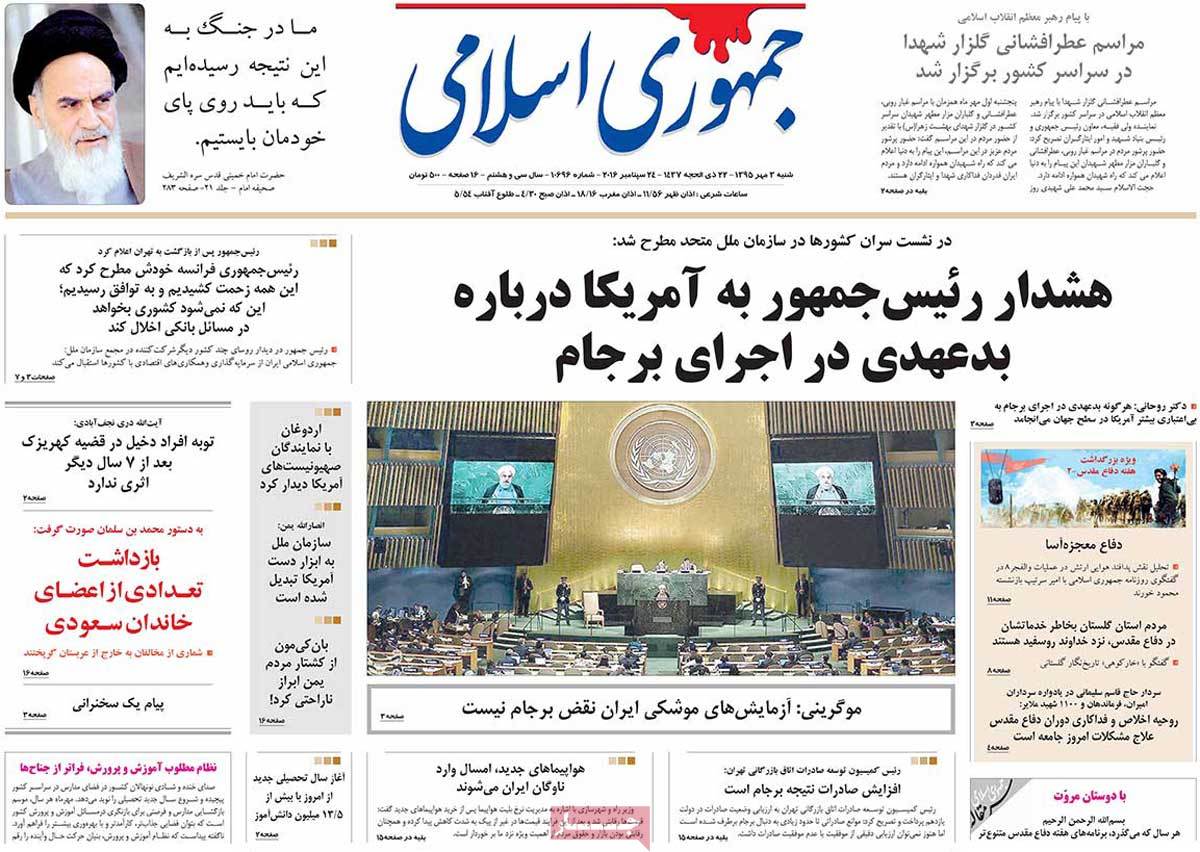 ---
Kayhan:
1- Even Before the Planes' Arrival in Iran, US Is Setting Conditions for Them!
2- Emergency Situation Announced in North Carolina after Death of a Protester
---
Khorasan:
1- All G5+1 Member States Warn US against Violation of Its Commitments
2- Personal Information of 500m Yahoo Users Leaked in Biggest Cyber Attack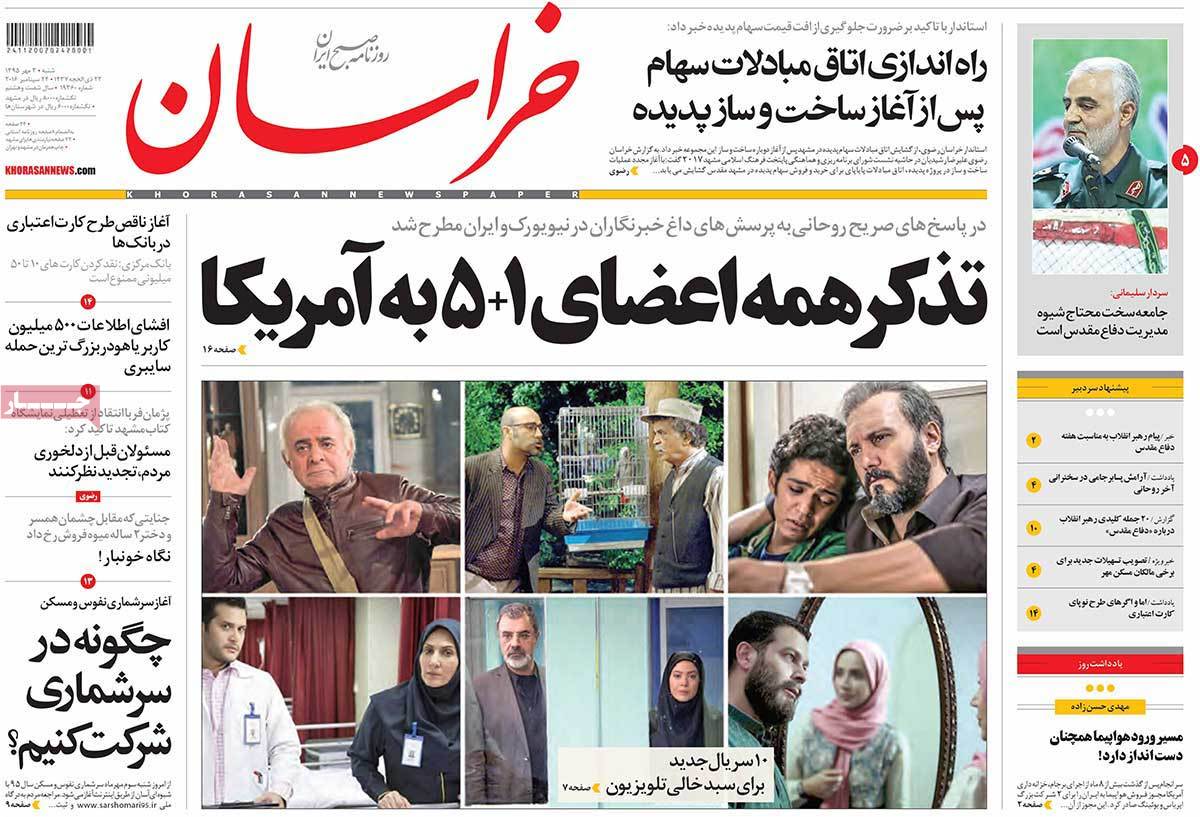 ---
Rah-e Mardom:
1- France to Return to Iran's South Pars Gas Field
2- Iran's Armed Forces Ten Times More Equipped and Prepared than Before: Deputy Chief of Staff of Armed Forces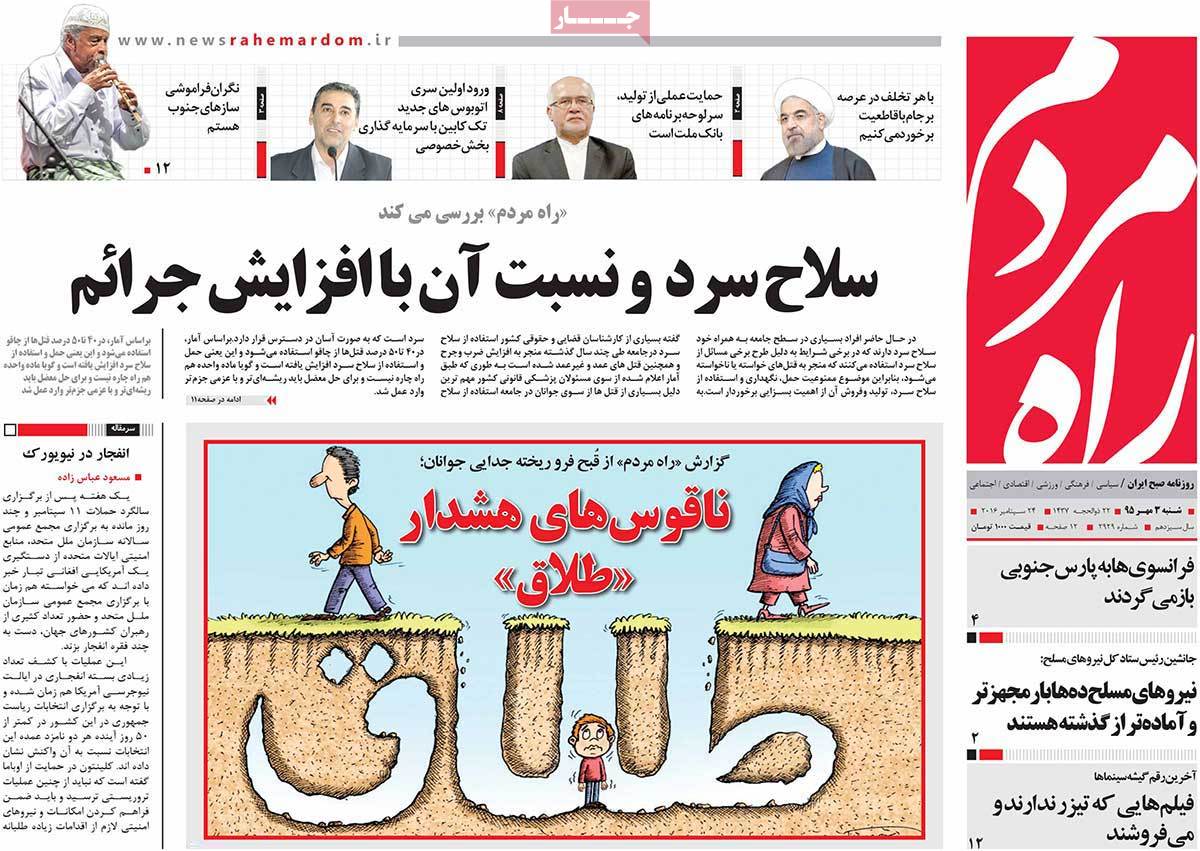 ---
Resalat:
1- Russia: Washington Didn't Keep Its Promises; End of Syria Ceasefire
2- President in Address to UNGA: Saudi Arabia Should Stop Promoting Ideology of Hatred and Invasion of Neighbours
3- Obama: I Don't Know What Churchill or Eisenhower Would Have Done If They Were in Syria!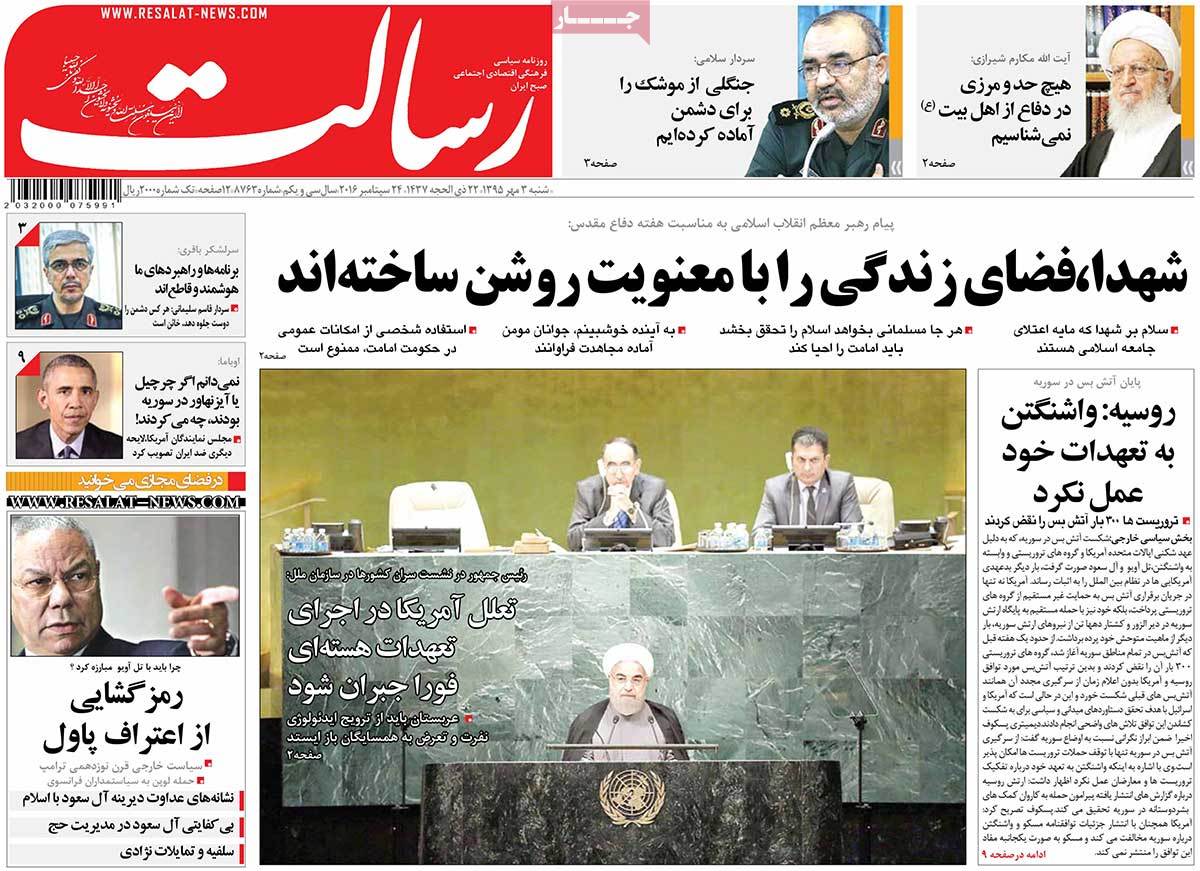 ---
Setareh Sobh:
1- Rouhani and Obama Didn't Encounter with Each Other, But They Said Meaningful Things
2- Rouhani: Iran Now Has an Economic Growth Rate of over 4% and an Inflation Rate of Less than 10%; Iran's Oil Production and Export Is Also Getting to Pre-Sanction Level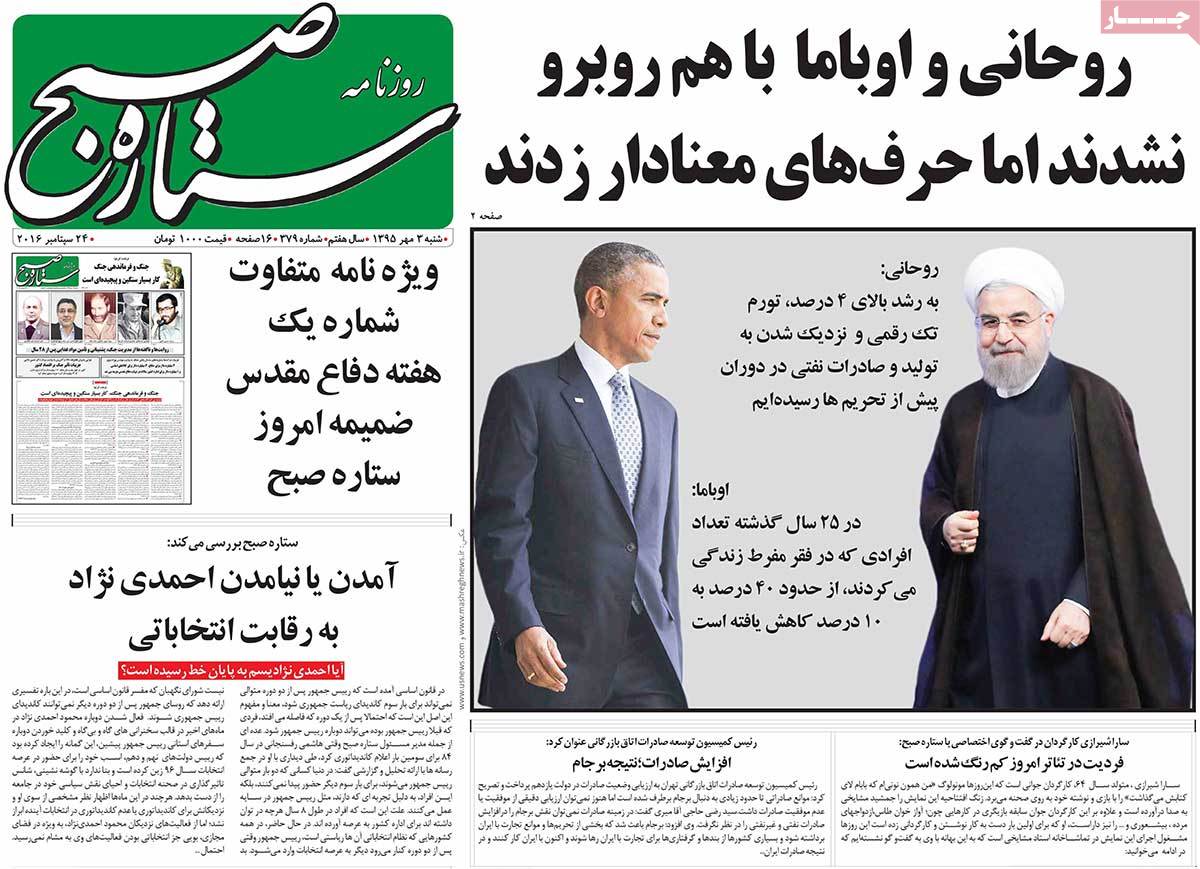 ---
Shargh:
1- Rouhani: US Promised to Correct Its Behaviours
2- Shargh's Interview with OPEC Secretary General: Fair Price Is a Requirement for Stability in Market
3- Leader's Military Advisor IRGC General Rahim Safavi Worried about US-Russia Cooperation and Its Harms for Iran
4- IRGC Lieutenant Commander: A Jungle of Missiles Ready to Fire in Iran's Silos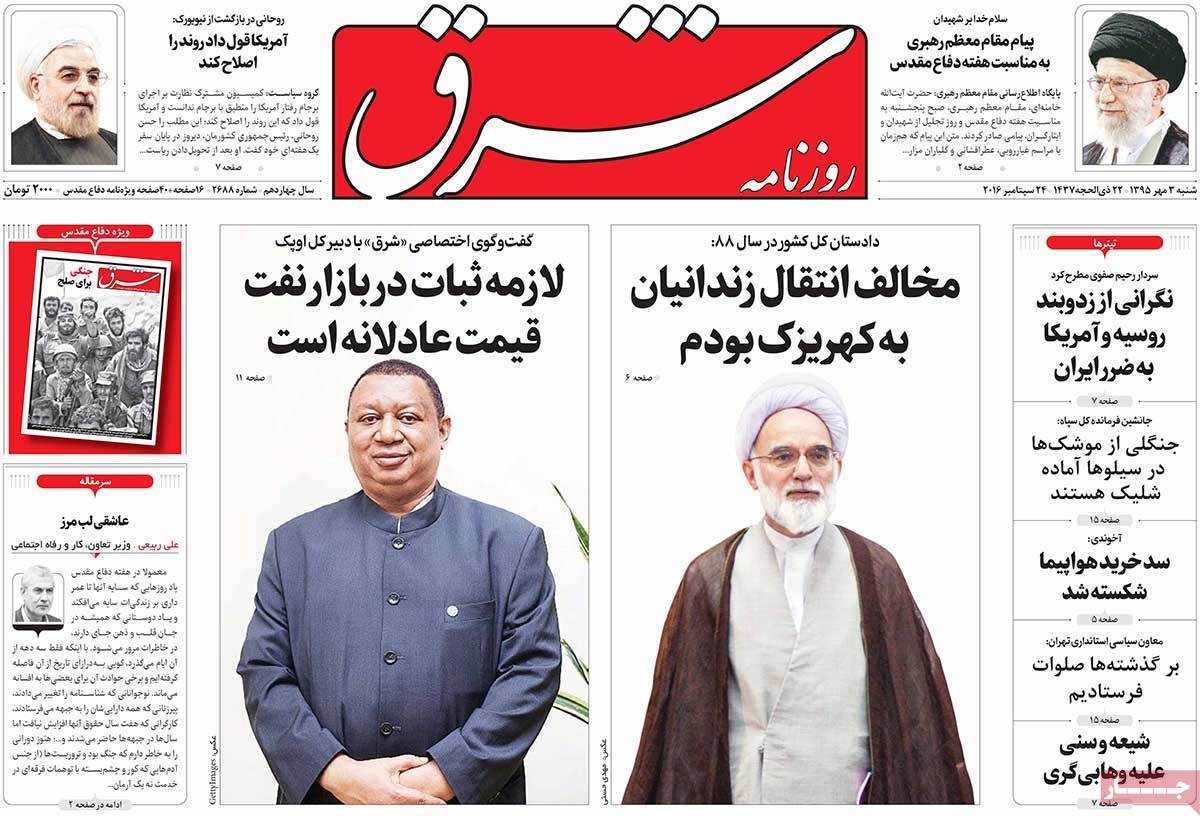 ---
Vaghaye Ettefaghieh:
1- Gorgan Gulf, a Counterpart for Lake Urmia: Critical Situation of Caspian Sea's Only Gulf