Newspapers on Thursday covered the remarks made by Ali Motahari, the outspoken Vice-Speaker of Iranian Parliament, in reaction to a recent letter of apology by Saeid Mortazavi, the former prosecutor-general of Tehran who allegedly had a role in the deaths of three Iranian protesters during the 2009 Iranian election protests.
They also referred to the statements made by IRGC Major General Yahya Rahim Safavi who warned Saudi Arabia against testing Iran's patience.
Secretary of Iran's Supreme National Security Council Ali Shamkhani's remarks about FATF also received great coverage. Shamkhani stressed that the SNSC has reached conclusion over the deal with Financial Action Task Force, but it should be signed by the Leader of the Islamic Revolution Ayatollah Seyyed Ali Khamenei as well.
The above issues as well as many more are highlighted in the following headlines:
Abrar:
1- Russian Agents Once Again Hack US Democrats
2- Saudi Rulers Shouldn't Test Iran's Patience: IRGC General Safavi
3- We've Informed Iran of Our Concerns: US State Dept.
4- No Plan for a Meeting between Iran's Zarif and USA's Kerry
5- IRGC Fully Prepared to Counter Any Threat against Islamic Revolution: Commander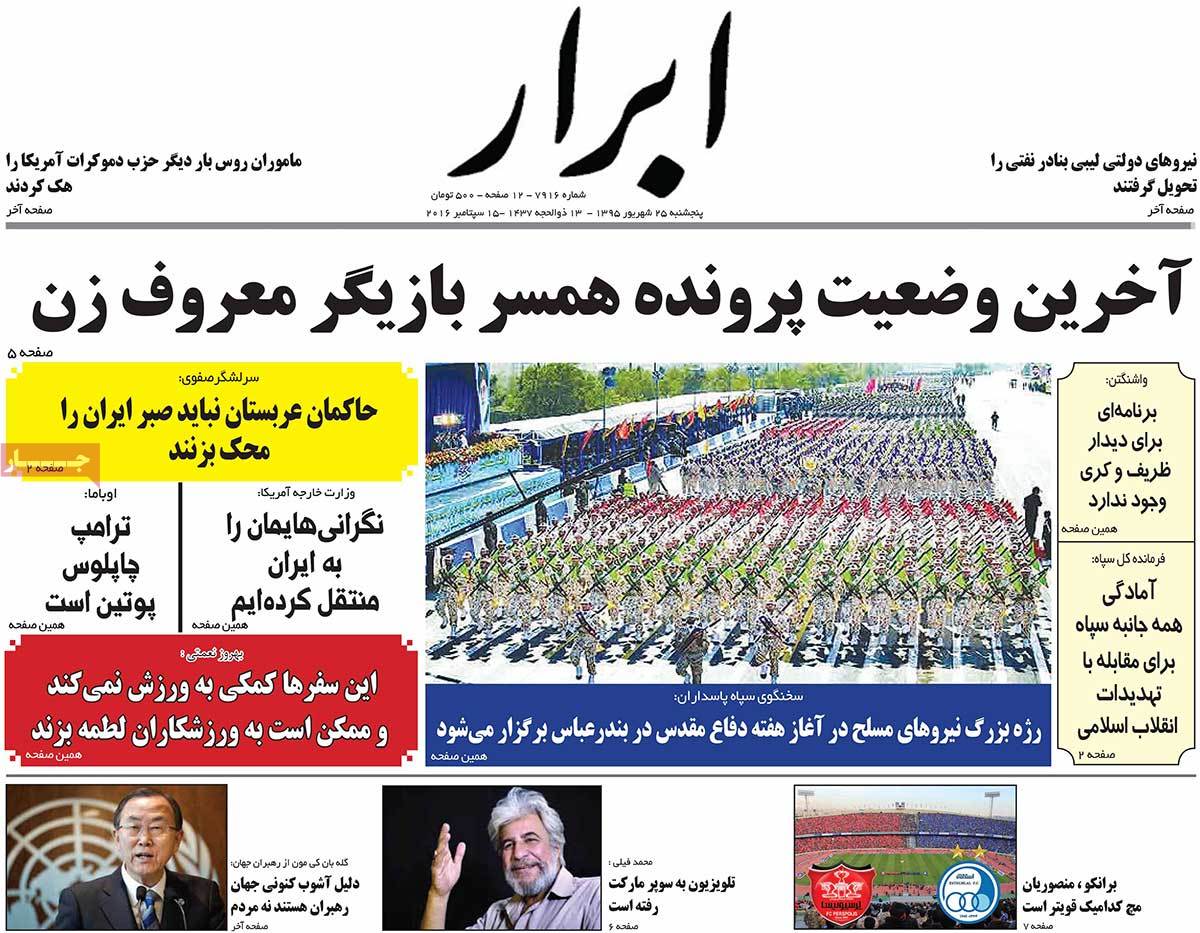 ---
Abrar-e Eqtesadi:
1- 5 European Countries in List of New Customers of Iran's Petchem Products
2- Iran's Kish Island Didn't Replace Turkey [as a regional tourist destination]
3- UK Pays Iran's Revenue from Rhum Gas Field
4- Iran to Rent Gas Pipeline: New Plans for Gas Export to Europe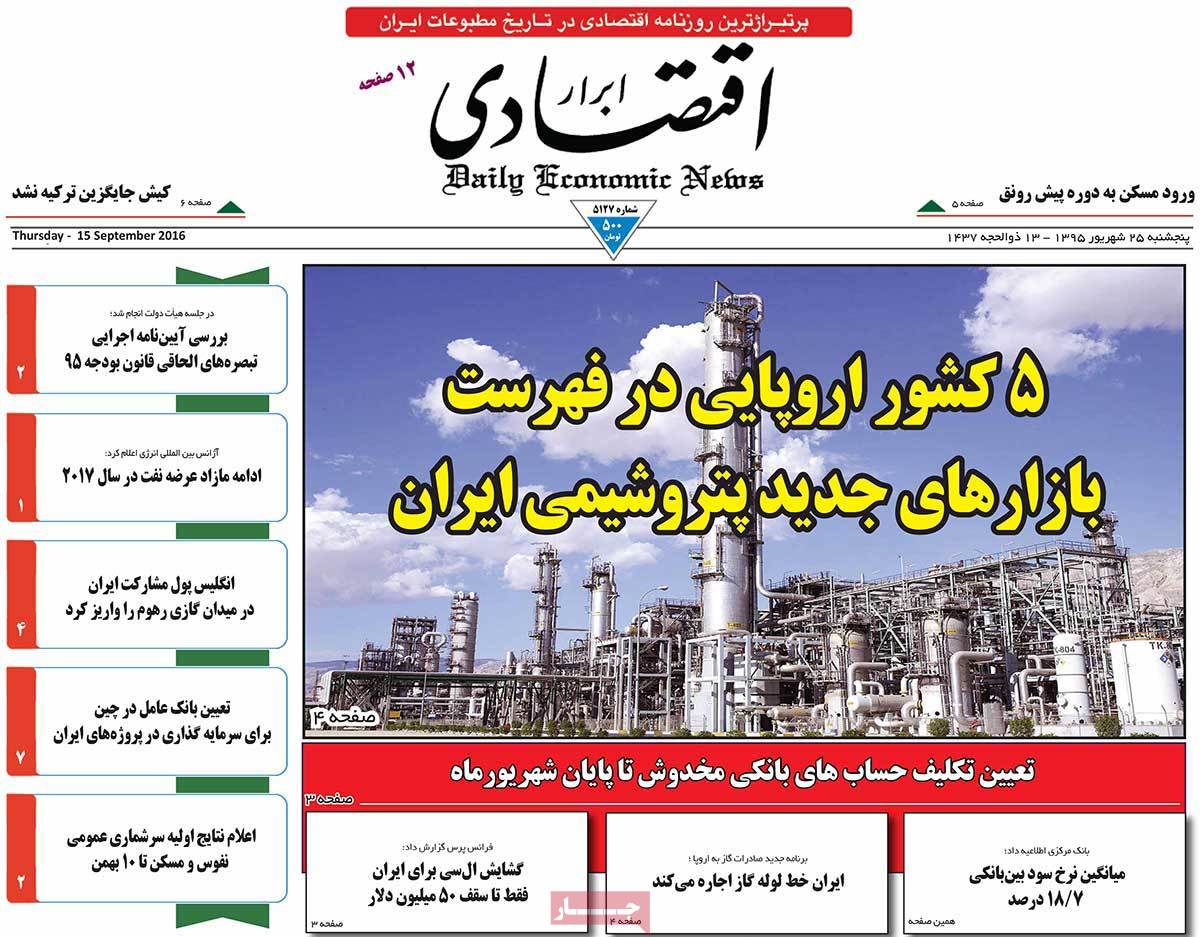 ---
Afkar:
1- We've Had No Contact and Consultation with US: Foreign Ministry Spokesman
2- Major Military Deal [between US and Russia] amid Cold Political Ties
3- 8 Iranian Films Nominated as Iran's Submission to Academy Awards
4- Adviser to Parliament Speaker Criticizes US Efforts to Save MKO Terrorists
---
Aftab-e Yazd:
1- Tehran Has Hundreds of Unknown Faults: Capital City Should Be Moved to Somewhere between Arak and Isfahan
2- Dangerous Dichotomy: Some Conservative Media Are Trying to Put Rouhani and General Soleimani against Each Other
3- Tolerating Saudi Arabia, an Economic Necessity: Tense Conditions Would Discourage Timid Investors
4- More than 40m Iranians Deprived of Cinema
5- Ahmadinejad Knows He'll Be Disqualified from Running for Presidency: Reformist Figure
6- Difference between Iranian and French Youths in Using Social Media: Why Are We Just Looking for Dates?
7- FATF Deal Should Be Approved by Leader: Shamkhani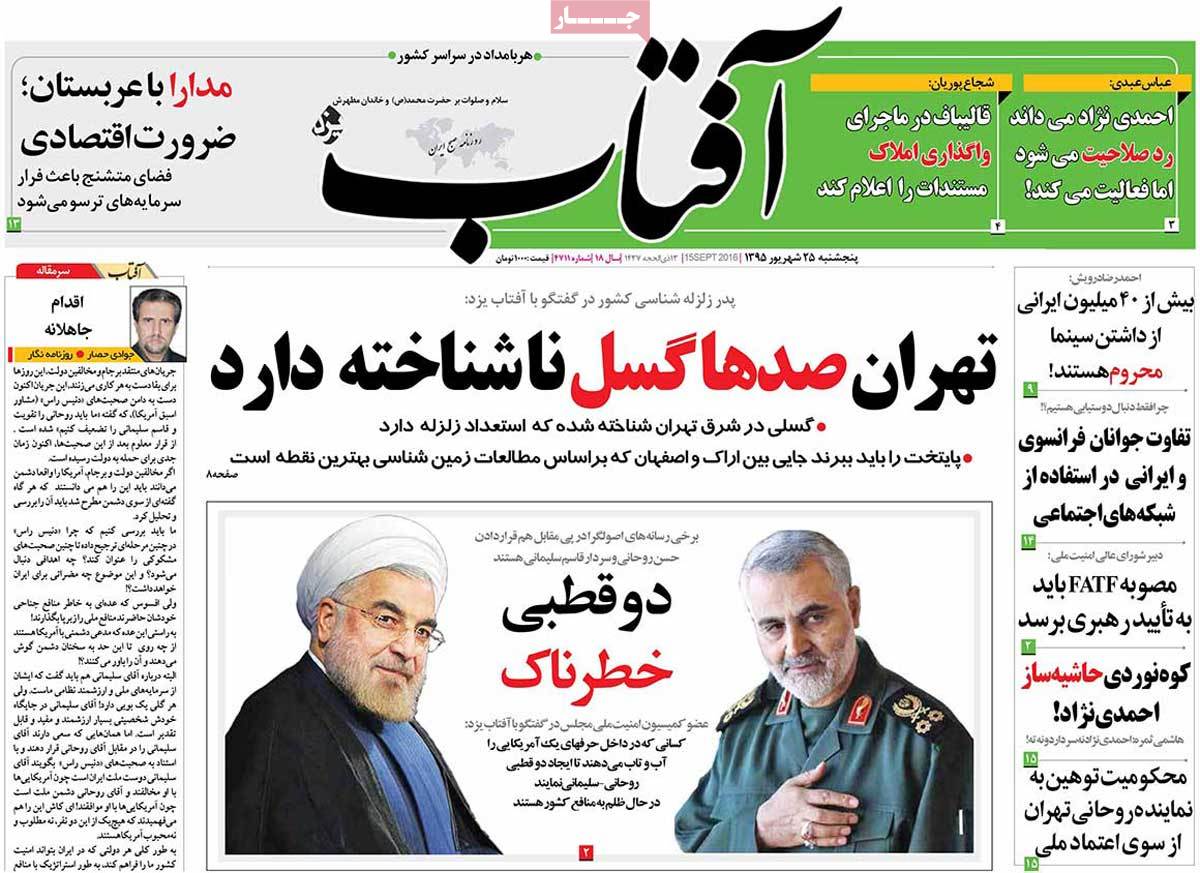 ---
Arman-e Emrooz:
1- Vice-Speaker Motahari: Mortazavi's Letter of Apology Was a Positive Move; Why Are His Supporters Silent? He'd Better Write another Letter about Zahra Kazemi
[Iranian-Canadian freelance photographer whose death in 2003 became controversial. Mortazavi, the then Tehran prosecutor, announced that Kazemi had died of a stroke, while there were rumours that she had been raped and murdered.]
2- Zarif: Let's Rid the World of Wahhabism
3- Attracting Foreign Investment by Joining FATF: Iran's Economy Is Out of Downturn
4- Expert: Saudi Arabia Moving towards Disintegration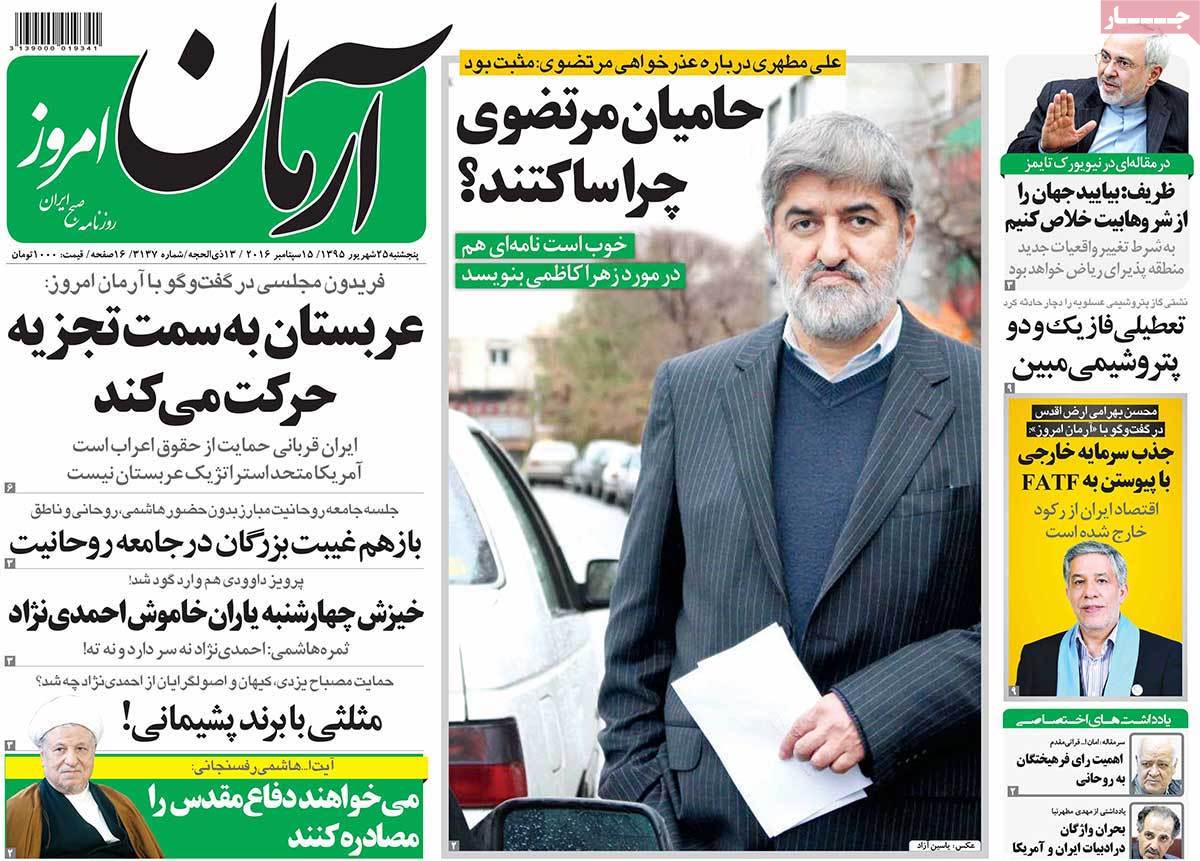 ---
Asrar:
1- FATF Implementation Hinges on Leader's Signature: Shamkhani
2- President's Aide: Accountability Strengthens Iranian Establishment's Foundation and Decreases Corruption
3- 28m Iranians Are Using Telegram Messaging App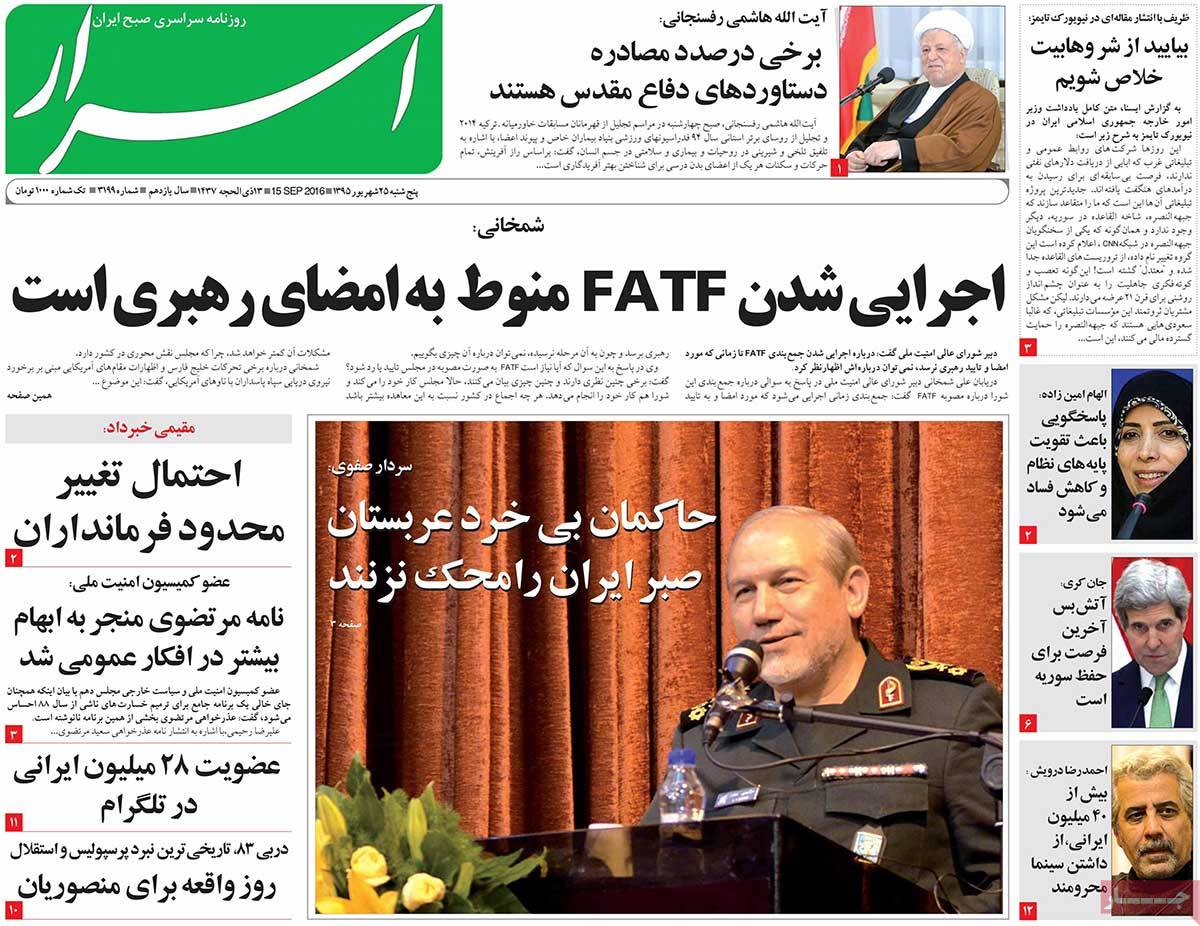 ---
Emtiaz:
1- Iranian Schools May Be Shut Down for 2 Weeks in Autumn Because of Air Pollution
2- 10 Iranians Die of Drug Overdose per Day
3- 400,000 Tons of Milk to Be Distributed in Iranian Schools in New Academic Year
4- Internet Speed in Iran to Be Doubled
5- 100 Tons of Smuggled Goods Set on Fire in Tehran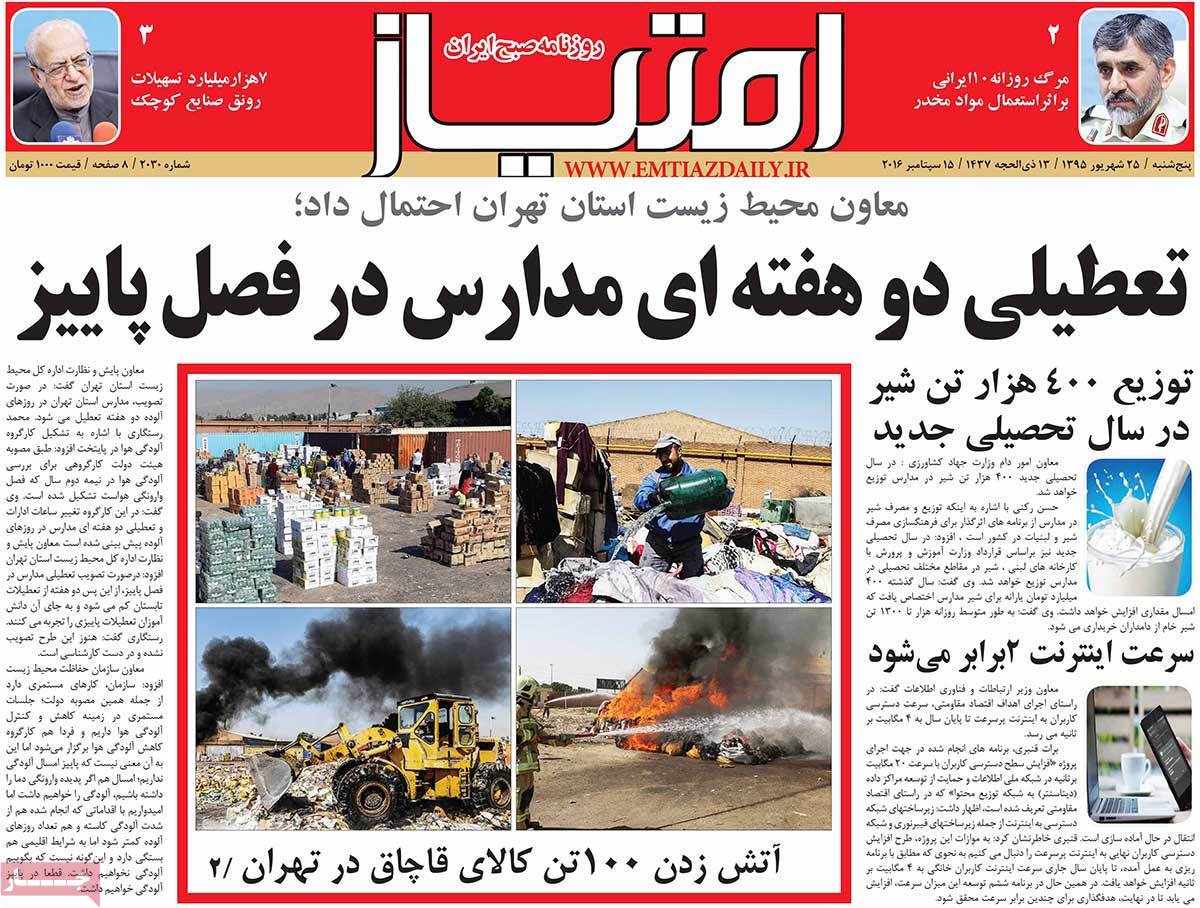 ---
Etemad:
1- Attack on Wahhabism through US Media Heart: Zarif in Op-Ed in New York Times Calls for Getting Rid of Wahhabism
2- Ahmadinejad Will Fail in Competition with Rouhani: Reformist Figure
3- Mortazavi Should Explain about Zahra Kazemi's Death as Well: Motahari
---
Ettela'at:
1- Congress in Letter to Obama: Don't Disgrace US by Supporting Saudi Arabia
2- Shamkhani: Supreme National Security Council Has Reached Conclusion over FATF
3- ISIS' Centre for Production of Chemical Weapons Destroyed in US Airstrike on Mosul
4- 7,500 Industrial Units Back to Production Cycle
5- Iranian Archers' Brilliant Performance in Paralympics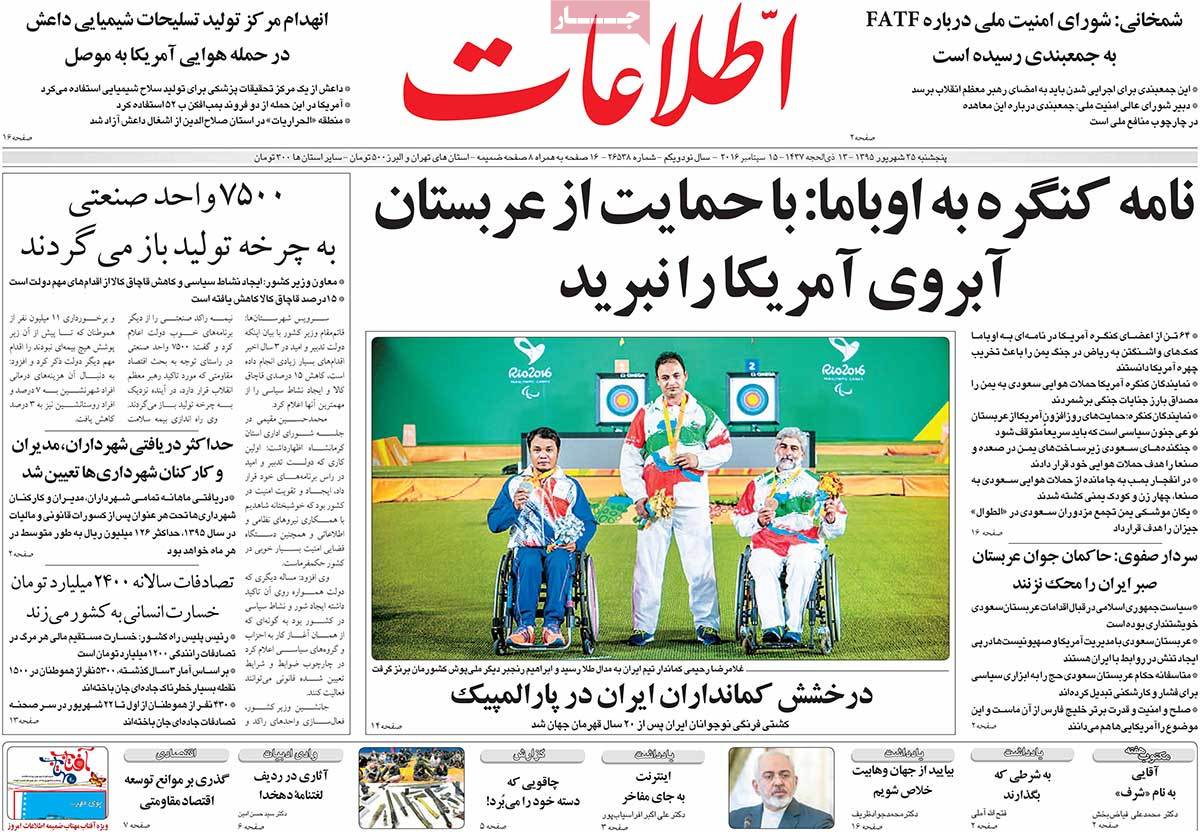 ---
Hemayat:
1- Weapon-Sellers Renounce Saudi Child-Killing: Congress' Letter to Obama against Riyadh's War Crimes
2- Iran Is in Frontline of Fight against Terrorism: Javad Larijani in Rome
3- Italian Senate President Praises Iran's Serious Fight against Illicit Drugs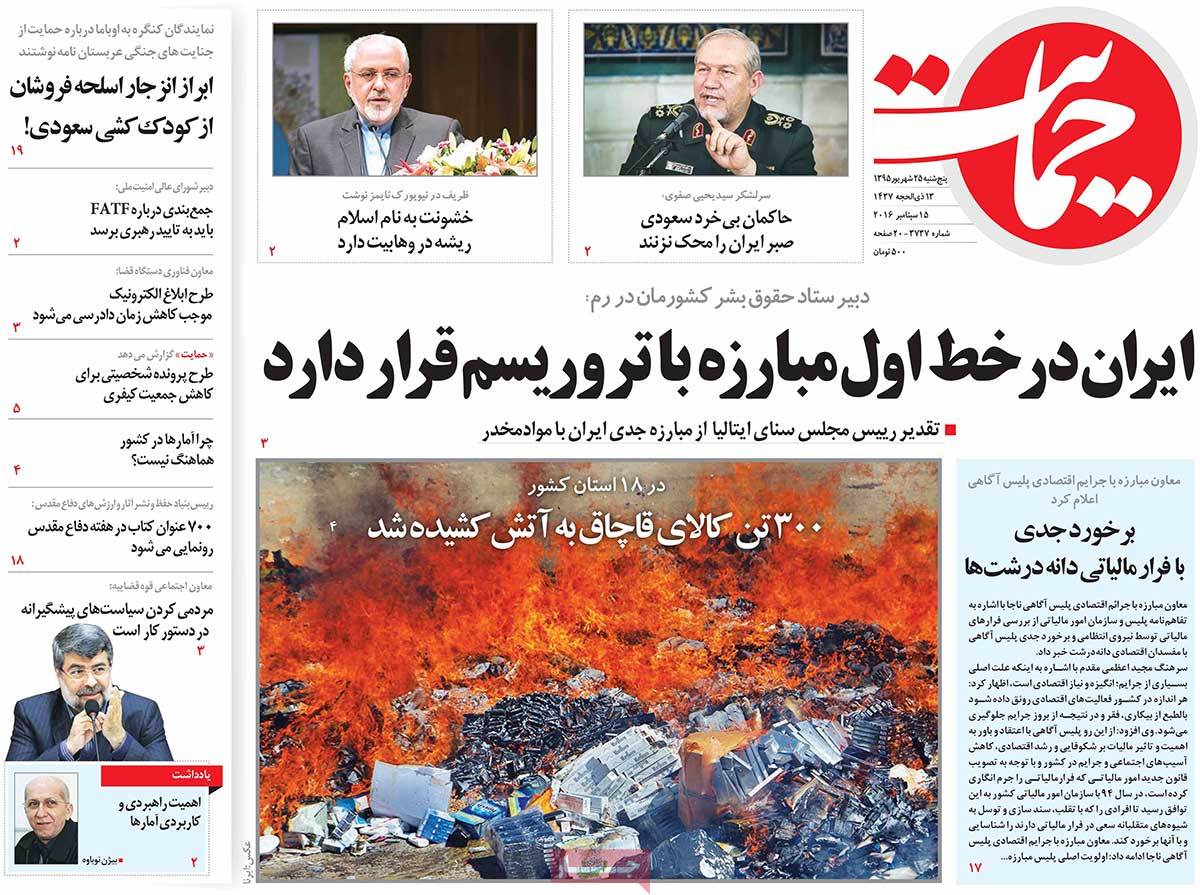 ---
Iran:
1- Rouhani's Different Visit to New York; President to Depart for Venezuela Tomorrow to Attend NAM Summit
2- Health Minister's Warning about Iranians' Lifestyle
3- David Cameron Inquired about Overthrow of Gaddafi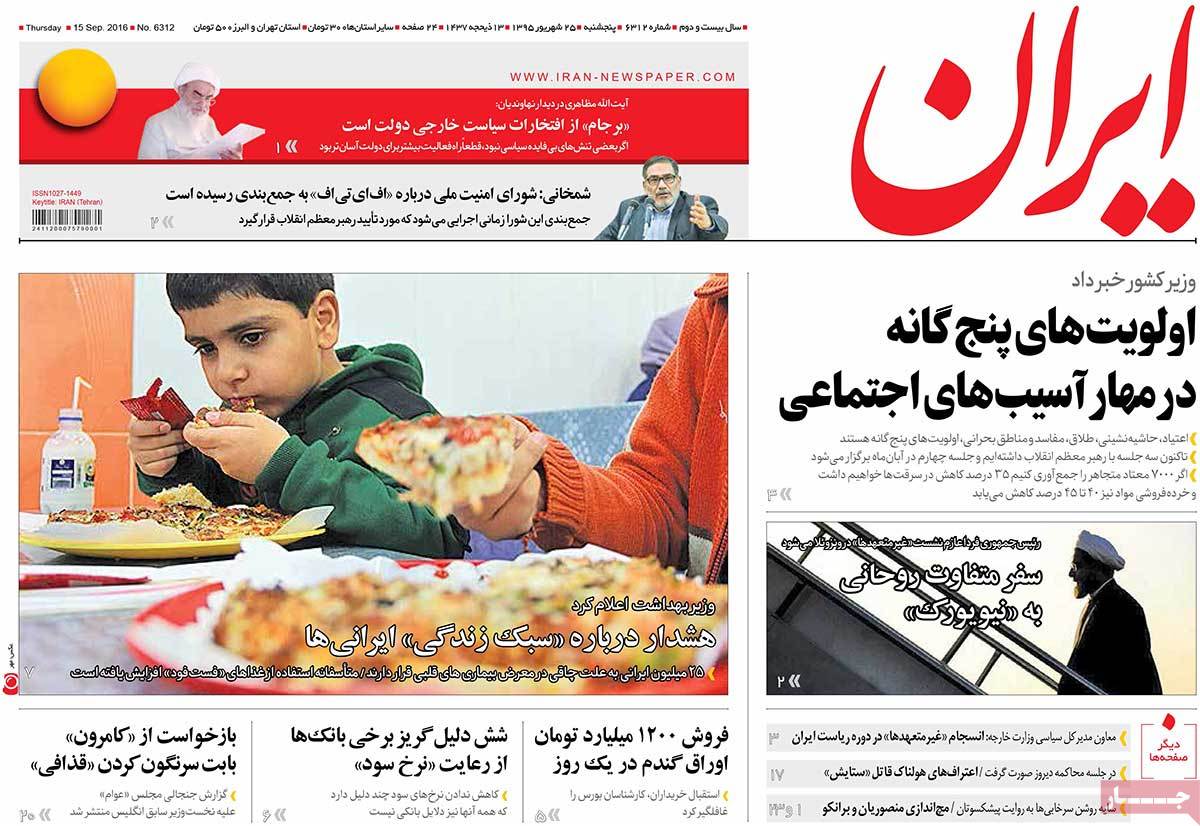 ---
Jame Jam:
1- Roads in Red Condition: 3,400 Accident-Prone Areas in Iran; 2,000 Passengers Die in Car Crashes in Accident-Prone Areas Each Year
2- IRGC Navy Commander Urges Americans to Leave Persian Gulf
---
Javan:
1- NSA Chief: A Mideast-Like Instability Has Begun in US
2- $50m, the Maximum Amount of LCs Opened for Iran
3- 50% Decrease in Number of Hajj Pilgrims Confirms Al Saud's Incompetence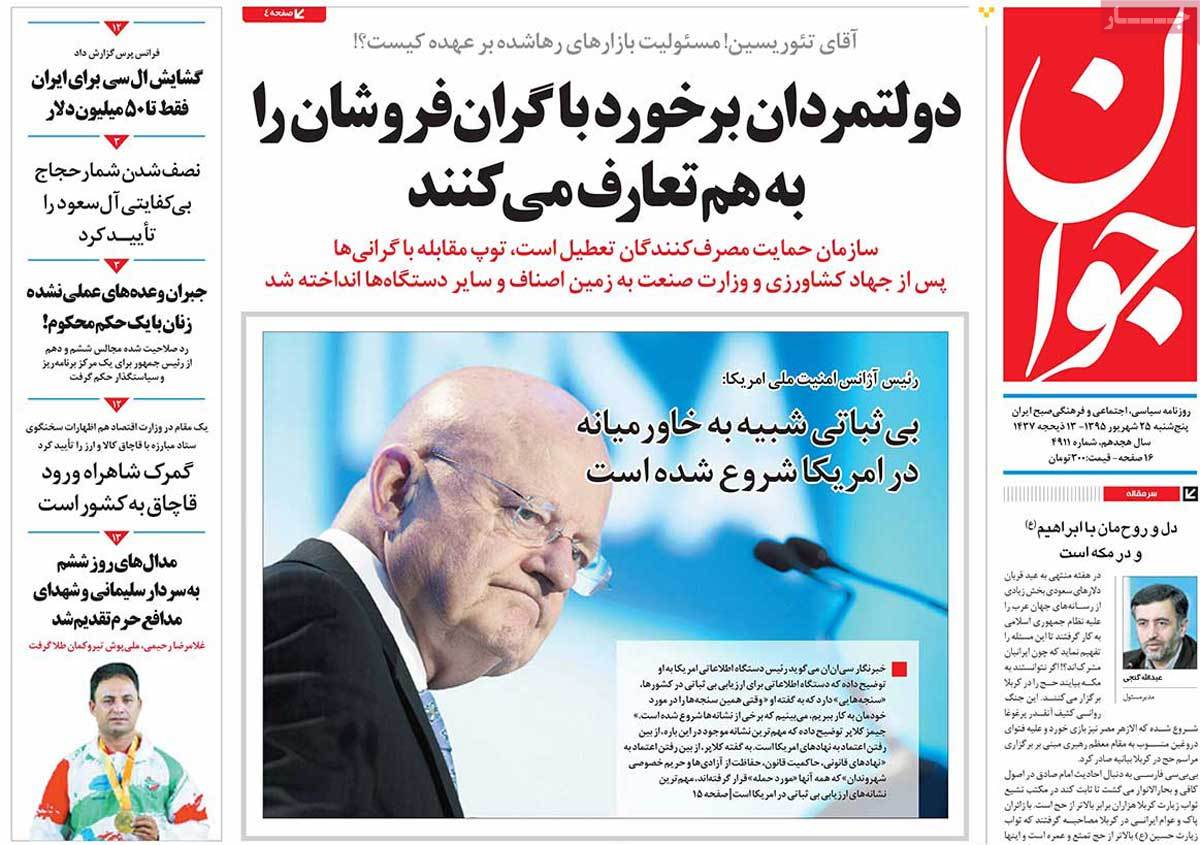 ---
Jomhouri Eslami:
1- JCPOA Is Government's Major Achievement in Foreign Policy: Ayatollah Mazaheri
2- We Should Return to Islamic Ethics and Iranian Traditions: Ayatollah Rafsanjani
3- West's Pressures Have Made UN Inefficient; Leaders of Countries, rather than People, Are Main Reason for Current Chaos in the World: Ban Ki-moon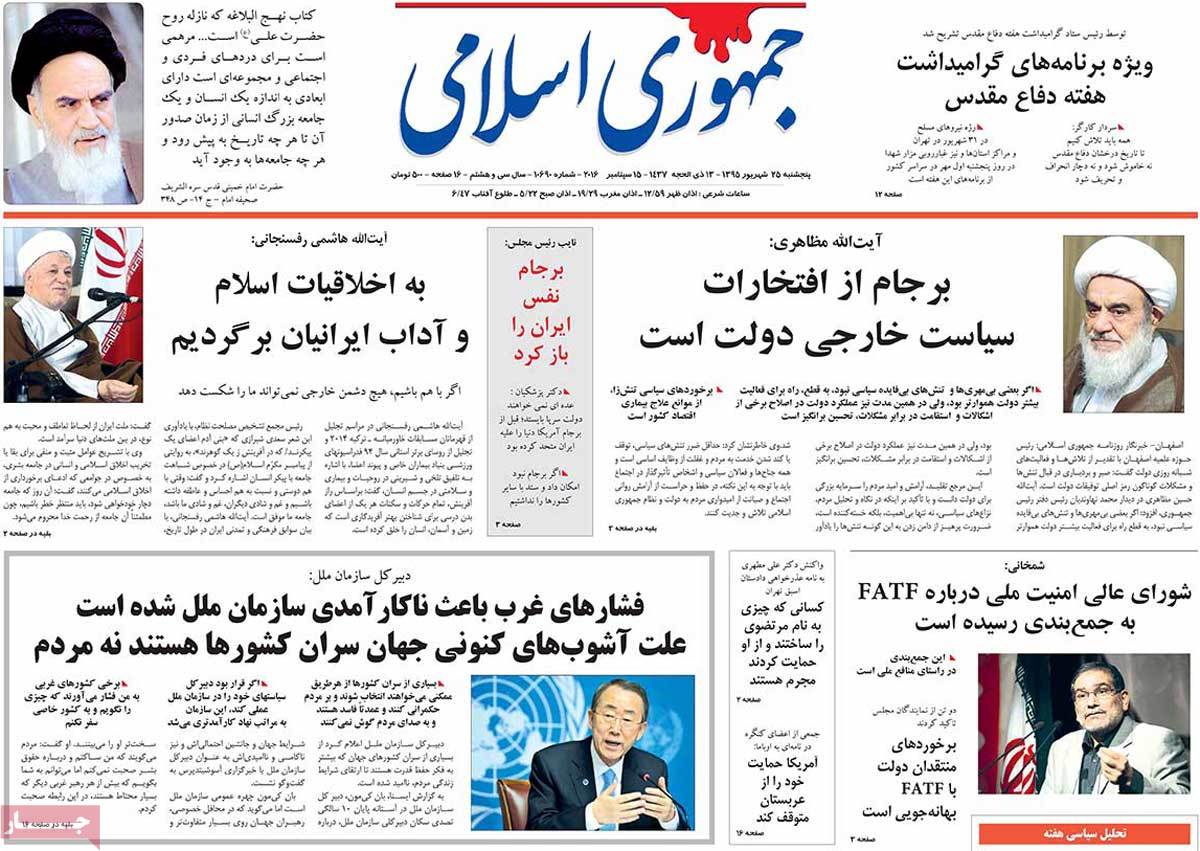 ---
Kayhan:
1- Ship of Resistance Economy Won't Arrive at the Coast If They [Rouhani's statesmen] Are the Sailors
2- UN's Reaction to Brutal Oppression of Bahraini Shiites: We're Worried!
3- Strong Opposition of 40 Iranian Economists with Iran's FATF Accession
4- Saudi King: We Stay Awake Overnight for Welfare of Hajj Pilgrims!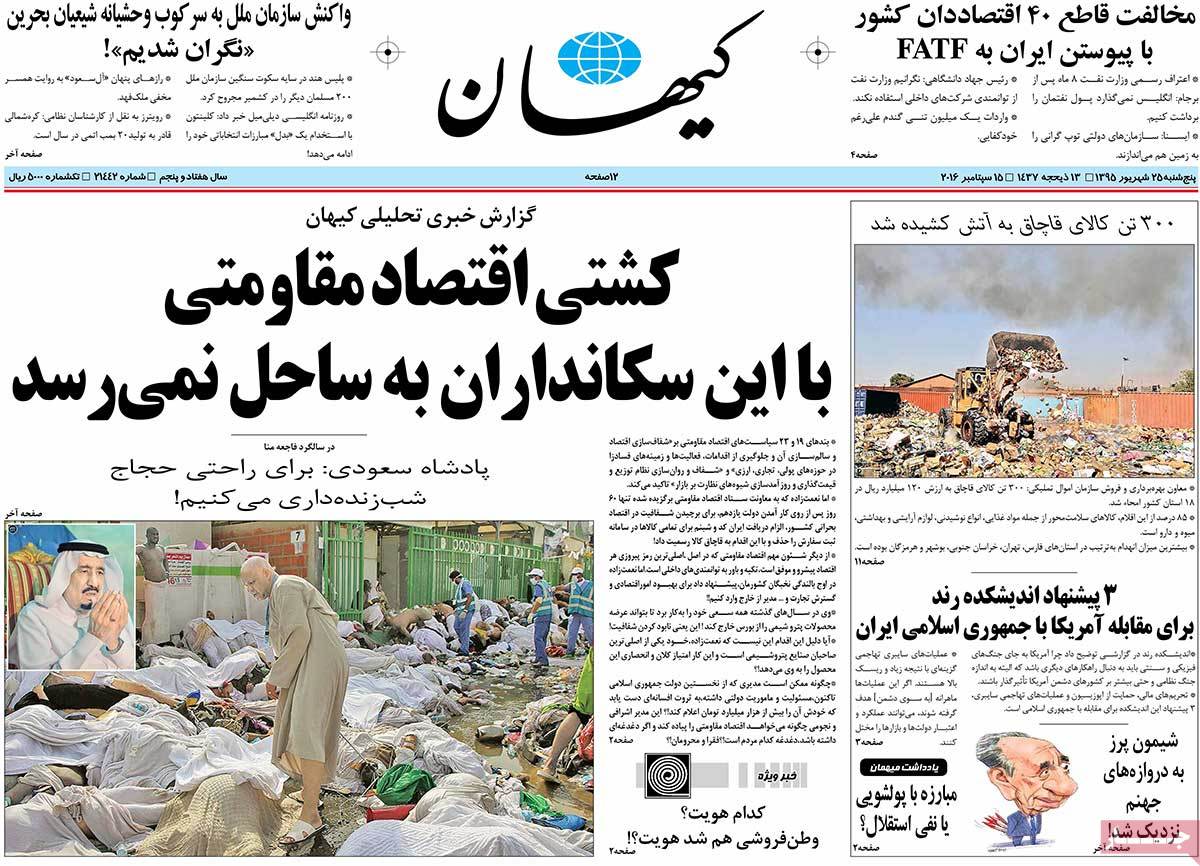 ---
Khorasan:
1- Zarif Calls for Formation of an Int'l Coalition against Wahhabism
2- Clinton's Illness: A Winning Card or Nightmare of Defeat?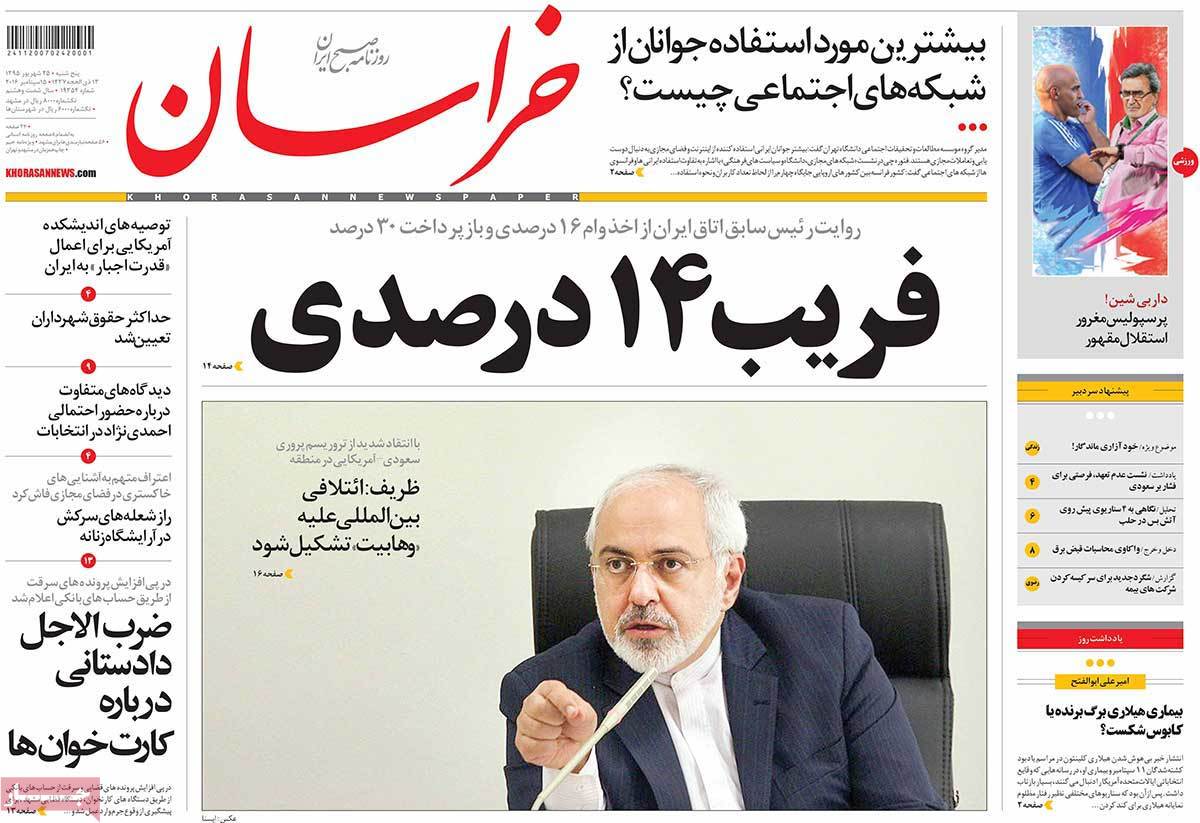 ---
Resalat:
1- People Suffering from Severe Economic Pressure: Ayatollah Mazaheri
2- Liberals Still Waiting for US Help: IRGC General Rezaei
3- European Banks Have Doubts about Doing Business with Iran: VP
4- Wahhabism Is a Fabricated Cult and Has Nothing to Do with Islam: Ayatollah Makarem Shirazi
5- Signs of Ageing and Senility in World's Biggest Democracy: When Young People Have No Place in US Government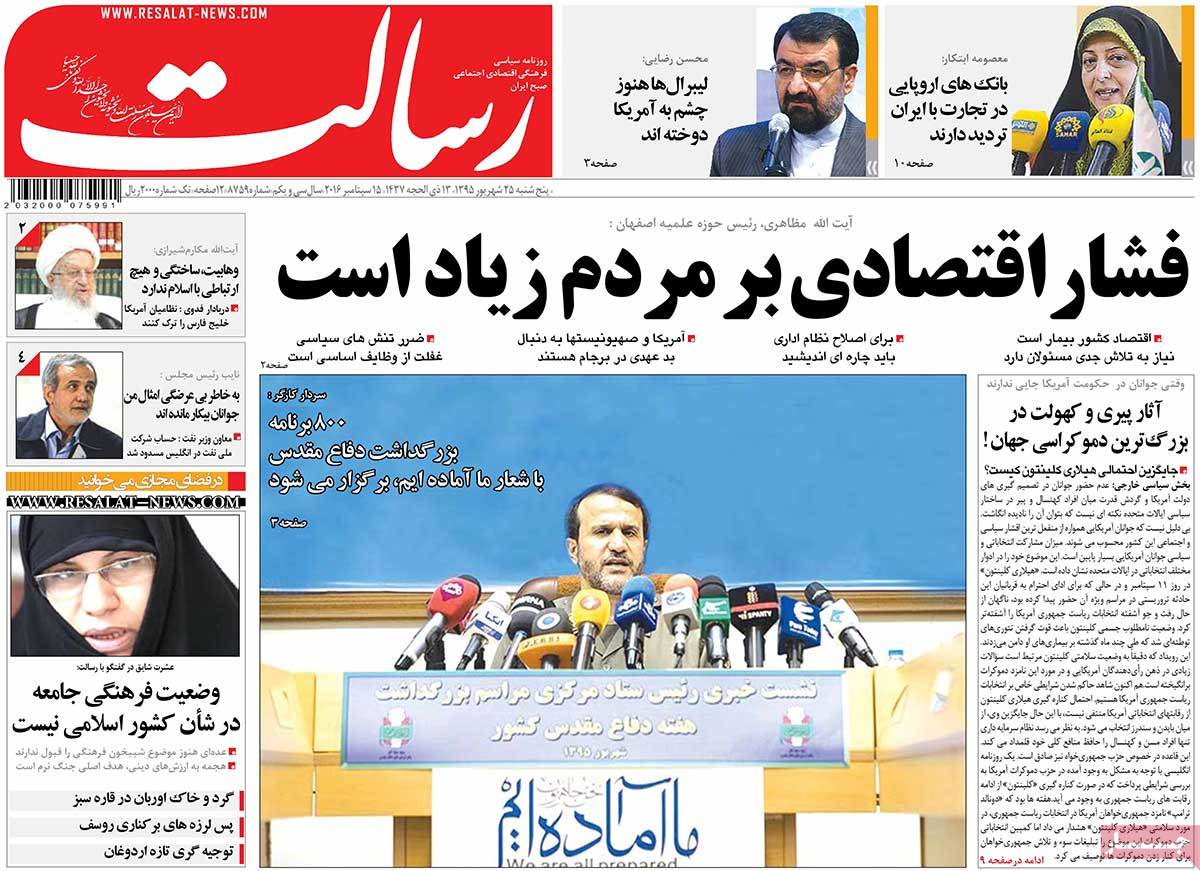 ---
Roozan:
1- Fragile Ceasefire: Second Day of Truce in Syria
2- Ambiguous Fate of Gas Dollars: UK Blocks Bank Account of Iran Oil Company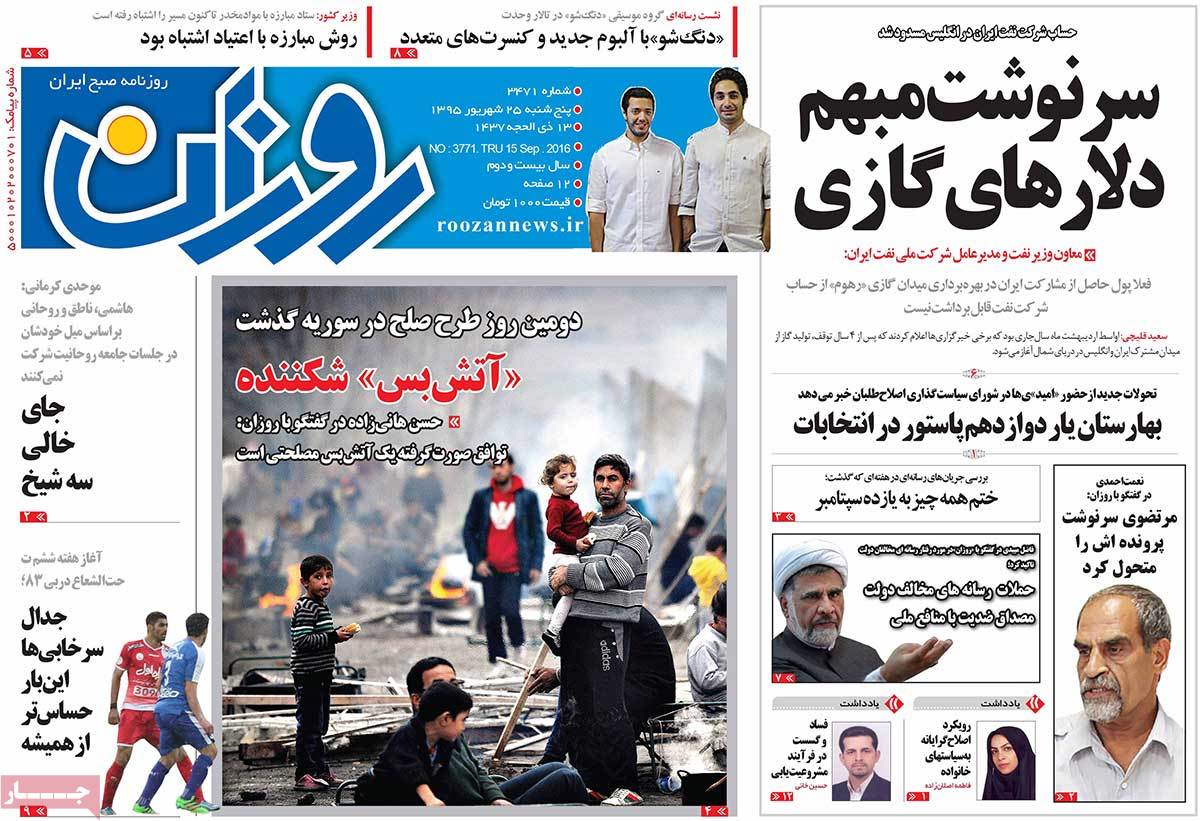 ---
Shargh:
1- Ahmadinejad's Support of Mortazavi Was Weird to Me: Motahari
2- IRGC's Negative Response to an Offer for Establishment of Direct Shipping Line to US
3- Sex Education in Iran's School Books: +18 in Schools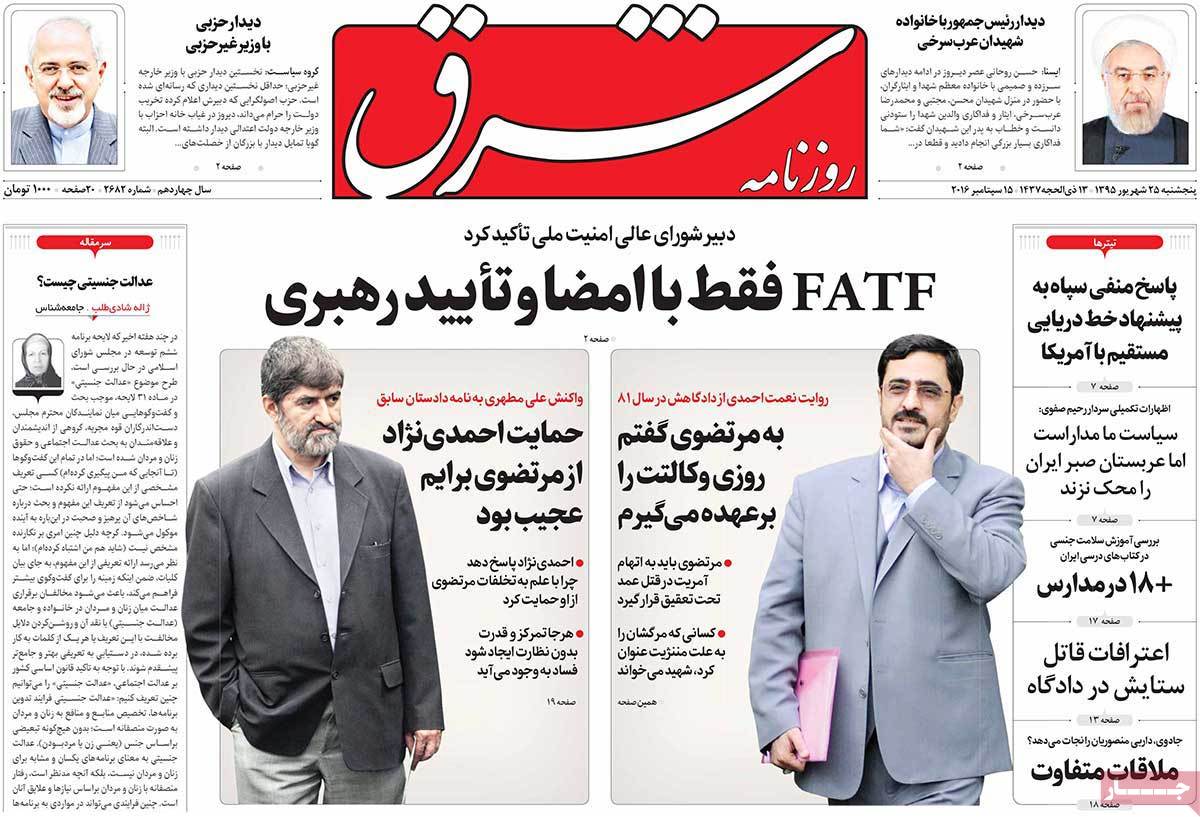 ---
Vaghaye Ettefaghieh:
1- A Report on Need for Happiness and Staying Away from Negative Thoughts among Iranians: Society in Turn of Thinking Positively
2- Emergency Meeting between Mortazavi and Ahmadinejad in the Latter's Office
3- Oil Freeze Waiting for Iran's Decision
4- Saudi Arabia Wants Middle East to Return to Saddam Hussein's Era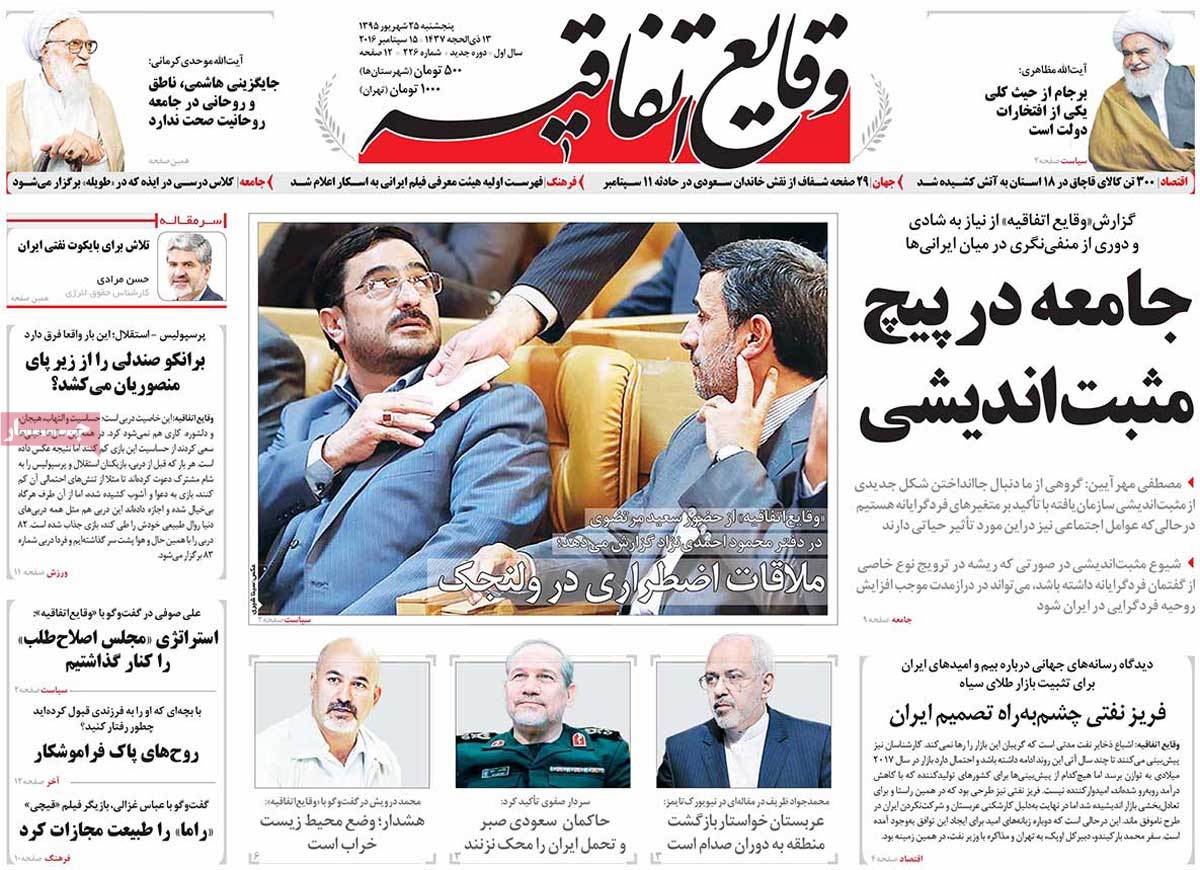 ---
Vatan-e Emrooz:
1- US Doping Stars: Leakage of Secret WADA Documents Showing Positive Doping Tests of Famous American Athletes
2- Dennis Ross: If We Want Rouhani's Success, We Should Weaken Resistance Front: Netanyahu's Recommendation
3- Suspicious and Beautiful Statistics: A Report on Rouhani Government's Performance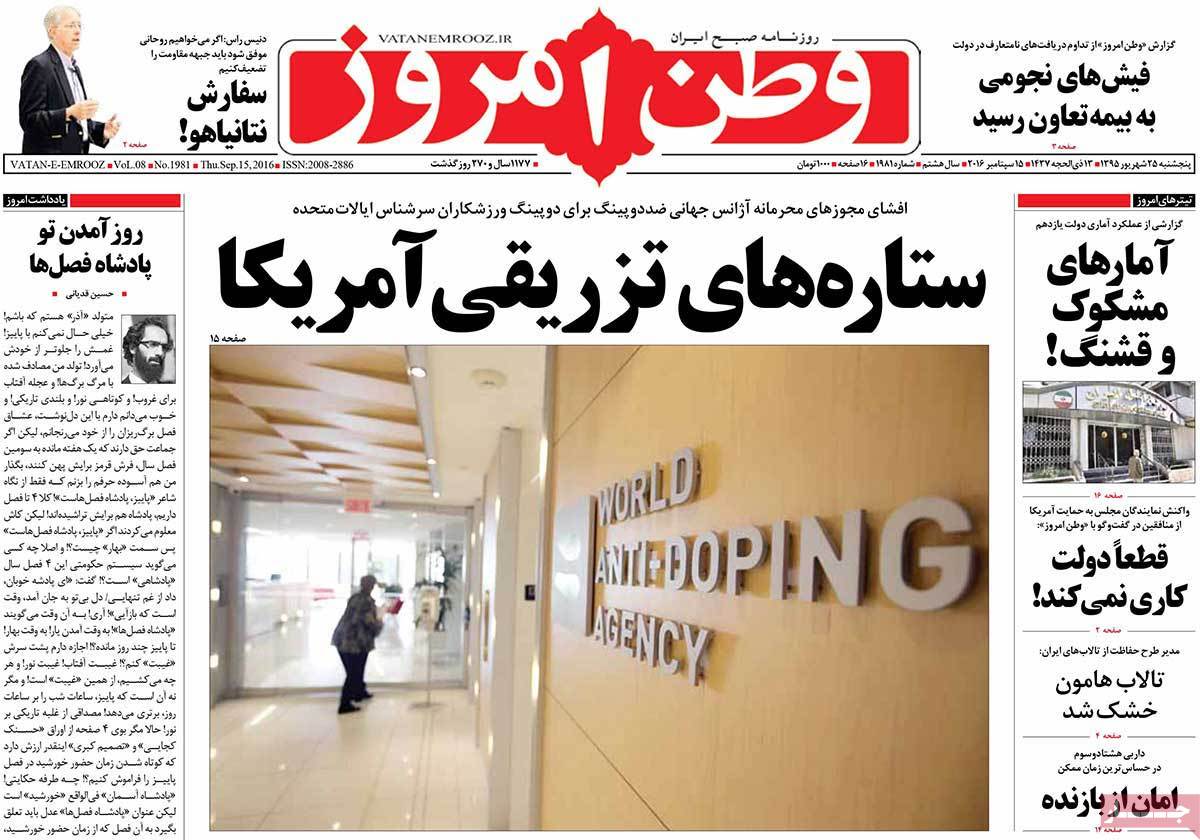 ---