Newspapers on Wednesday covered the remarks made by the Leader of the Islamic Revolution Ayatollah Seyyed Ali Khamenei in a Tuesday meeting with members of Iran's Statistics Organization and the census personnel.
They also discussed the former IRGC Commander Yahya Rahim Safavi's call for easing tensions with Saudi Arabia.
The letter of apology by Saeid Mortazavi, the former prosecutor-general of Tehran who allegedly had a role in the deaths of three Iranian protesters during the 2009 Iranian election protests, also remained a top story today, especially among reformist newspapers. Mortazavi is now being tried for what he did at that time.
The above issues, as well as many more, are highlighted in the following headlines:
Abrar:
1- IRGC Major General Rahim Safavi: We Never Should Move towards Tension with Saudi Arabia
2- Chinese Ambassador to Iran: Tehran and Beijing Will Exchange Military Delegations in Near Future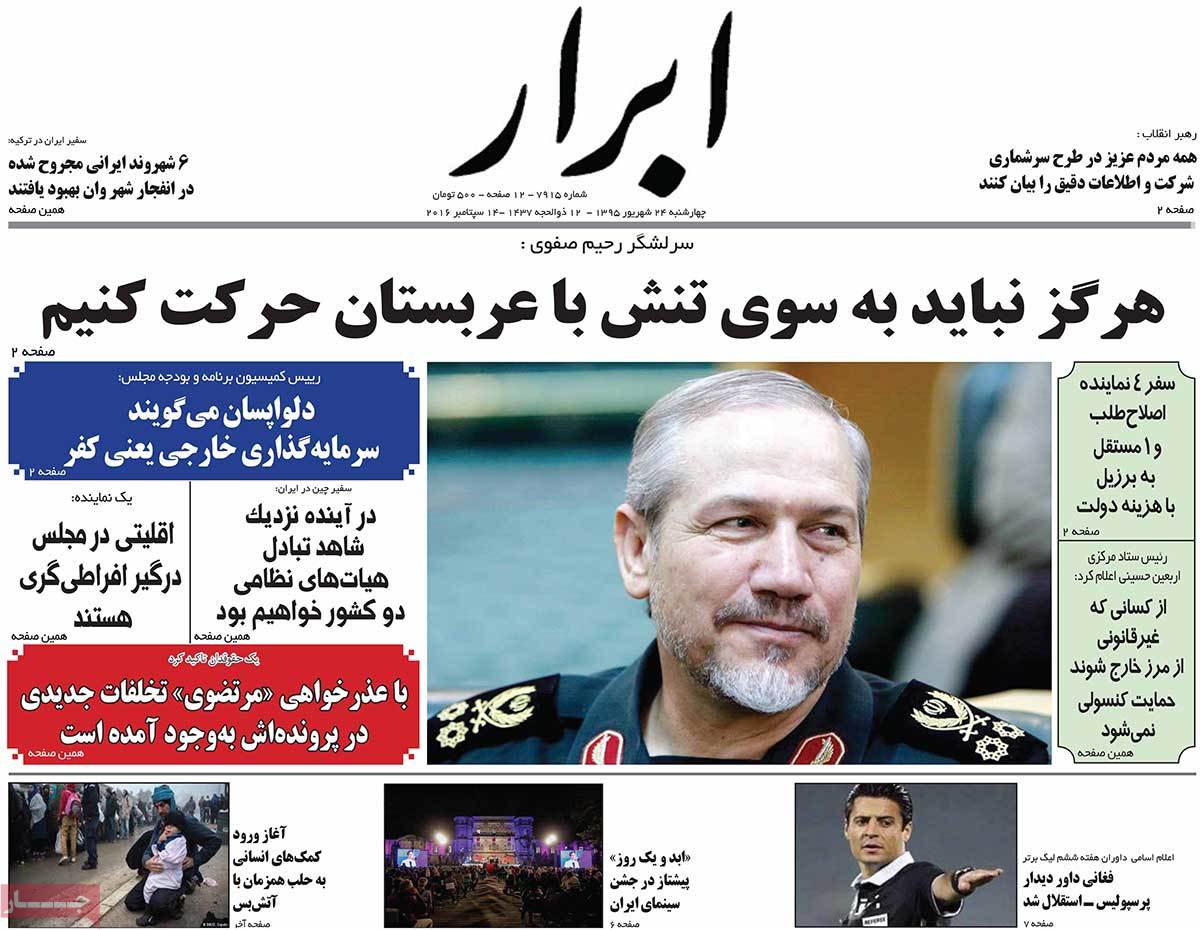 ---
Abrar-e Eqtesadi:
1- After 5 Months, Nothing Heard from Airbus Deal!
2- $2.9bn Jump in Iran's Oil Income (Thanks to Export of Gas Condensates)
3- Records Broken in Export of Iran's Oil to Japan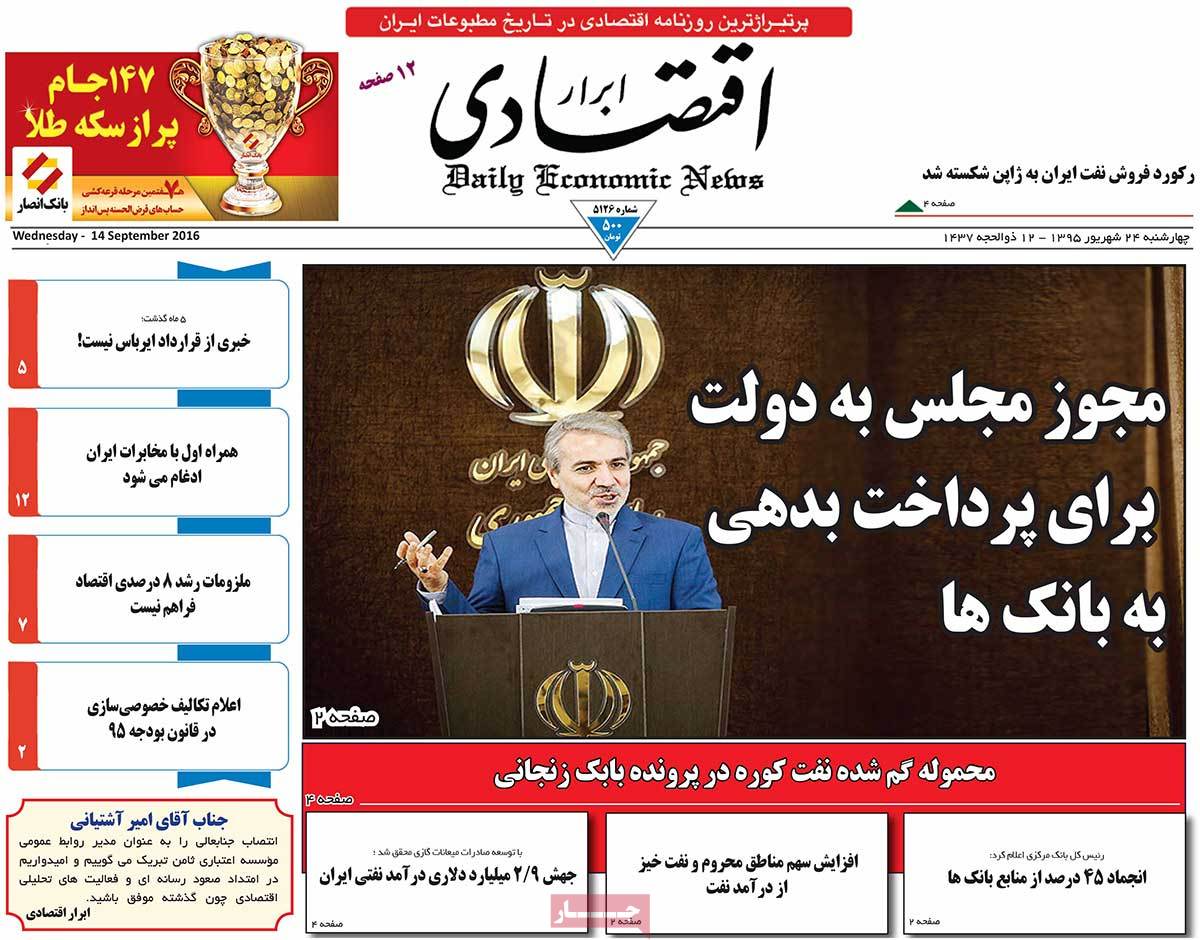 ---
Afarinesh:
1- Ayatollah Rafsanjani: We Hope Mischievous Acts that Prevented Iranian Pilgrims from Going on Hajj Are Corrected for Next Year
2- Fox News: Iran's Serious Warning to US Spy Aircraft in Persian Gulf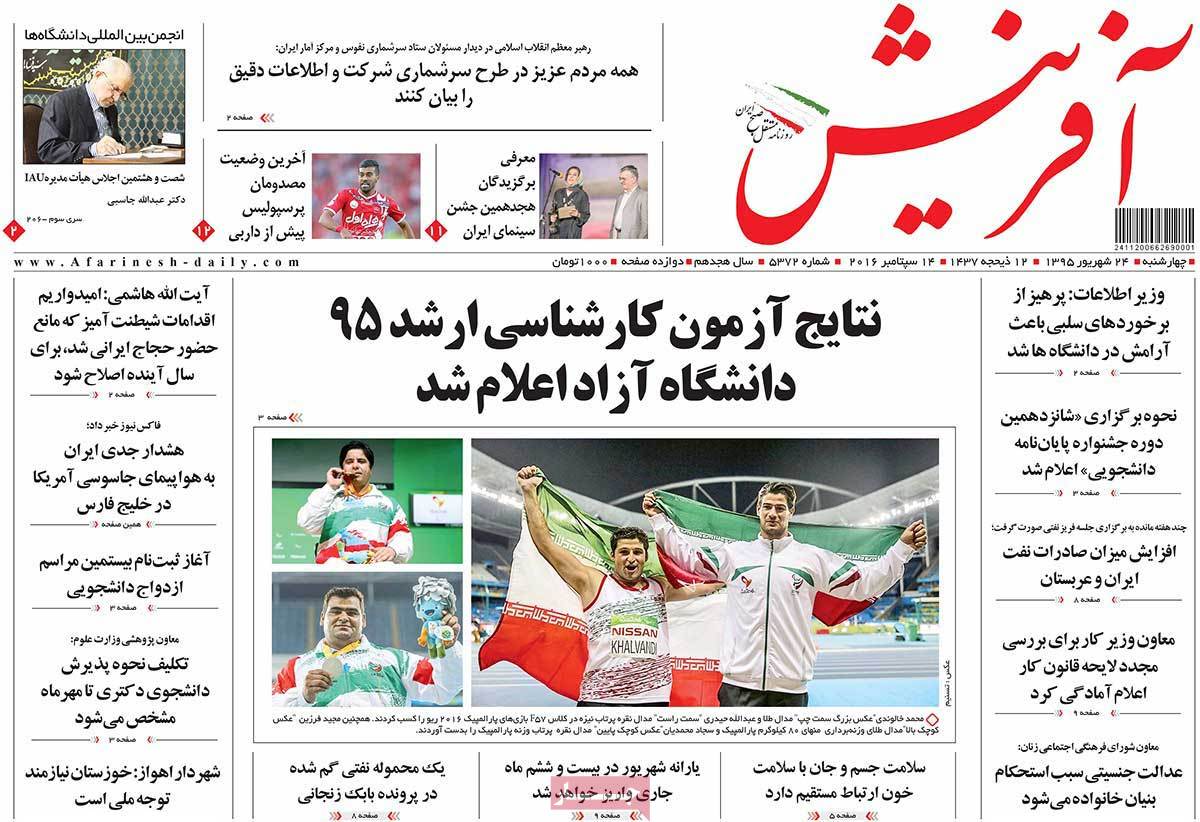 ---
Aftab-e Yazd:
1- Hardliners Consider Foreign Investment as Heresy: MP
2- Hard-Line Lawmaker: I Can Gain Support of No More than 12 MPs in Raising Anti-Gov't Plans
---
Amin:
1- Government Spokesman: Issue of FATF Should Be Discussed in Supreme National Security Council, Not through Friday Prayers Tribune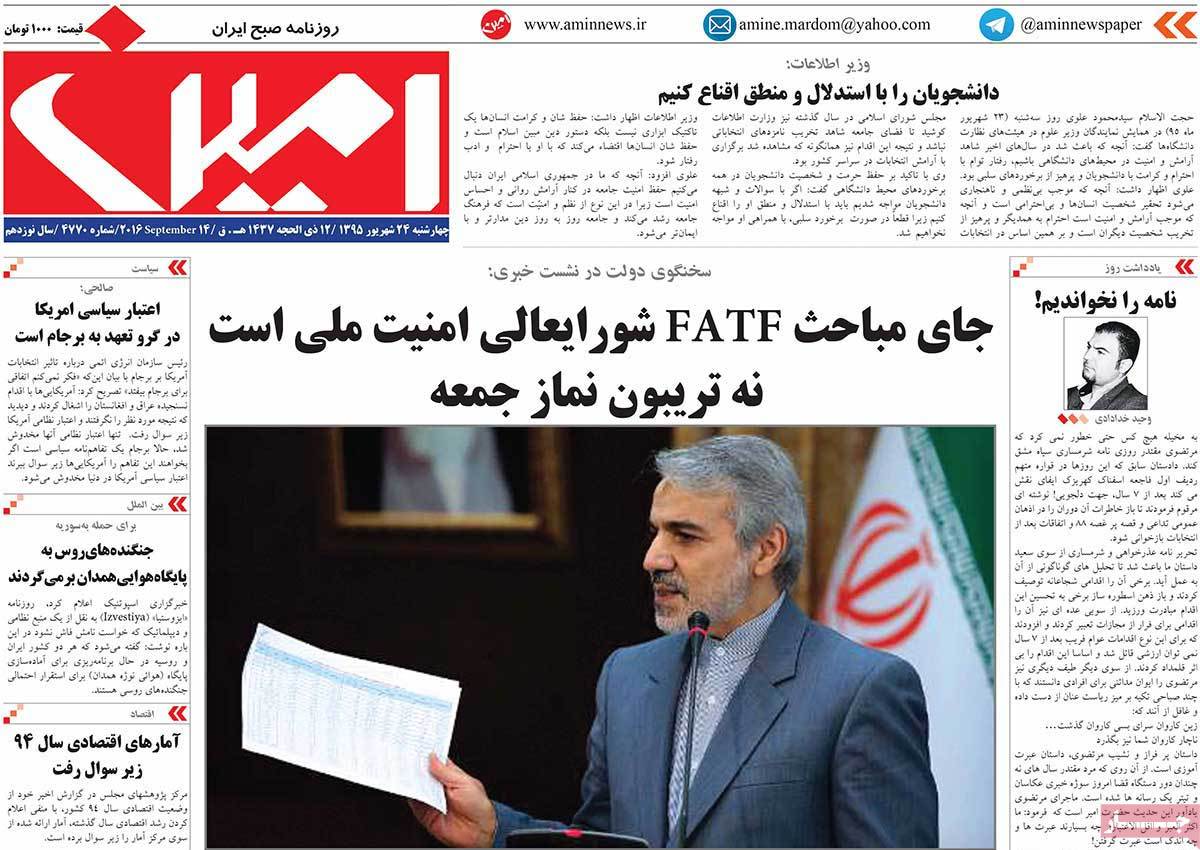 ---
Arman-e Emrooz:
1- Vice-Speaker: If It Wasn't for Leader's Support, Iran's Nuclear Negotiating Team Could Have Been Executed!
2- Kahrizak's Letter of Repentance! [The letter of apology written by Saeid Mortazavi, the former prosecutor-general of Tehran who allegedly had a role in the deaths of three Iranian protesters during the 2009 Iranian election protests.]
Zibakalam: World Could Have Been More Beautiful If You Would Apologize in 2009
Mortazavi's Apology Is a Confession: Expert
3- Iran's Oil Cargo Is Lost! Official Says Whereabouts of One of Iran's Fuel Oil Cargos Is Not Clear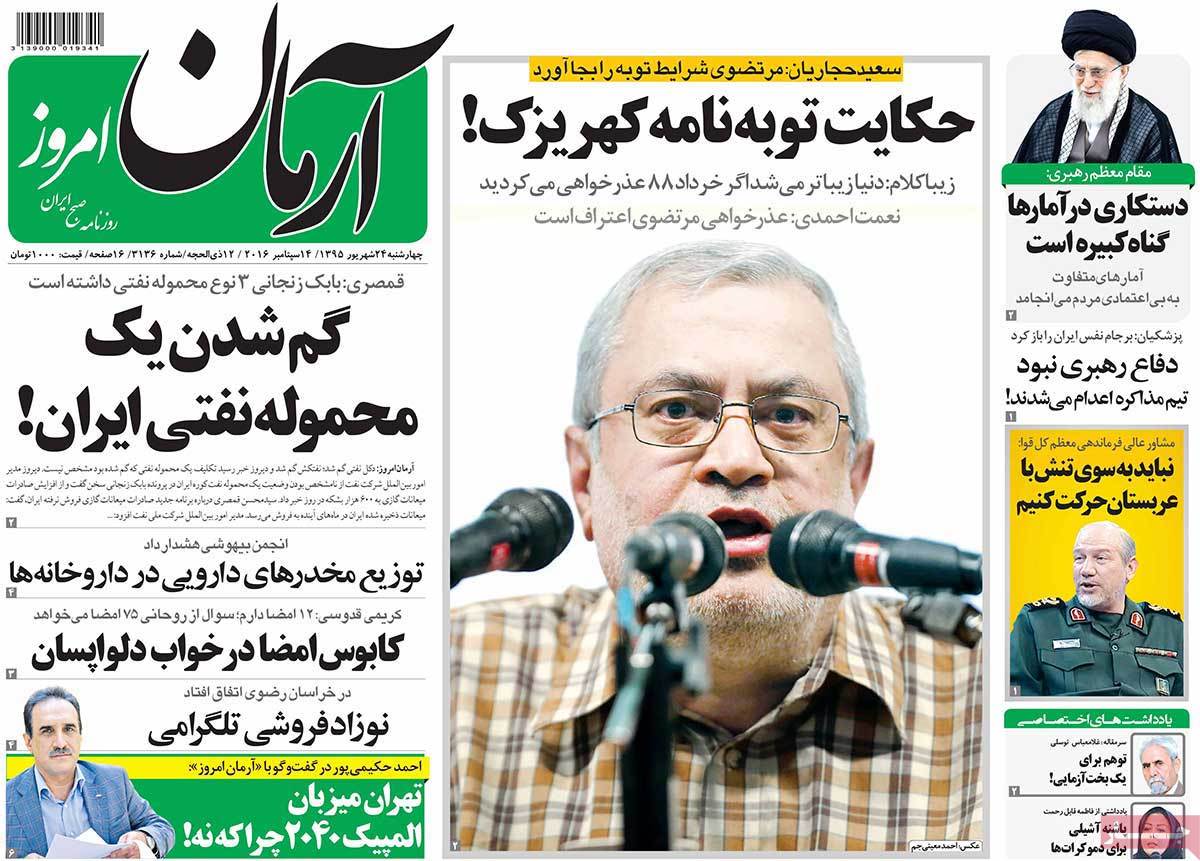 ---
Asrar:
1- Leader: Ageing Population Is One of the Incurable Problems
2- US State Dept.: Kerry and Zarif Are in Touch; We Expect Iran to Use Its Influence on Hezbollah to Support Syria Ceasefire
3- Iran Ready to Buy Nuclear Reactor from Japan: Salehi
4- Government Spokesman: We Won't Sign a Deal that Doesn't Serve Iran's National Interests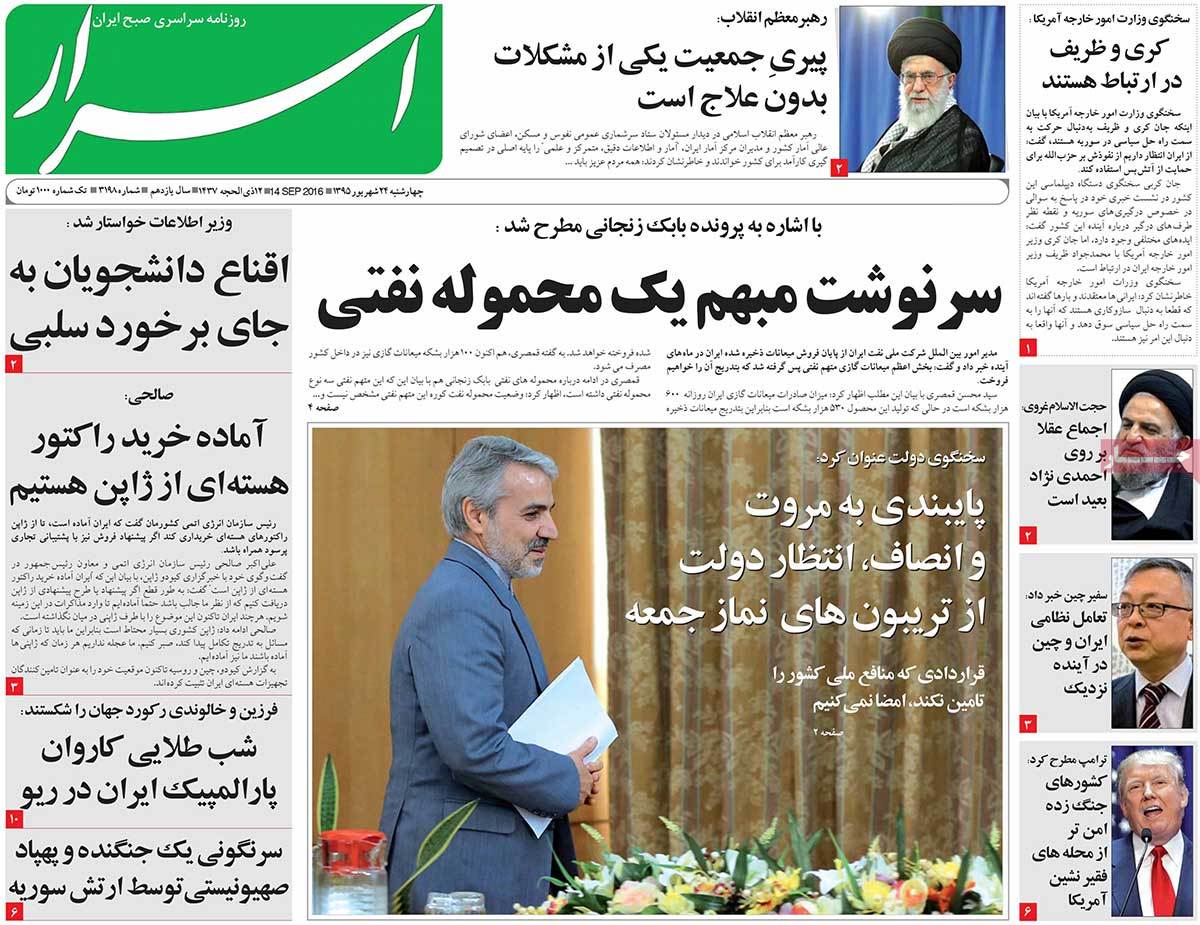 ---
Ebtekar:
1- Iran's DM: We're Worried about Terrorist Movements Being Armed and Equipped Once Again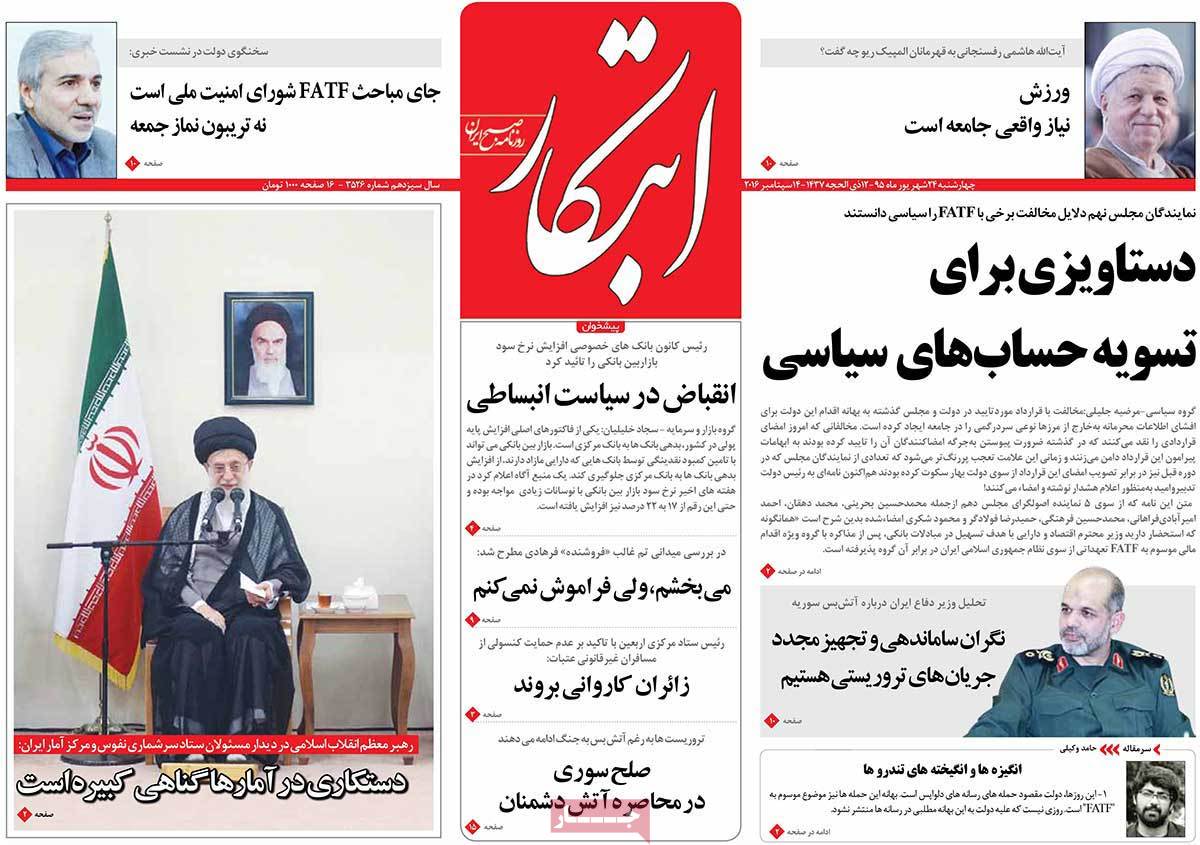 ---
Emtiaz:
1- Annual Shortage of Water in Iran Stands at 5.7bcm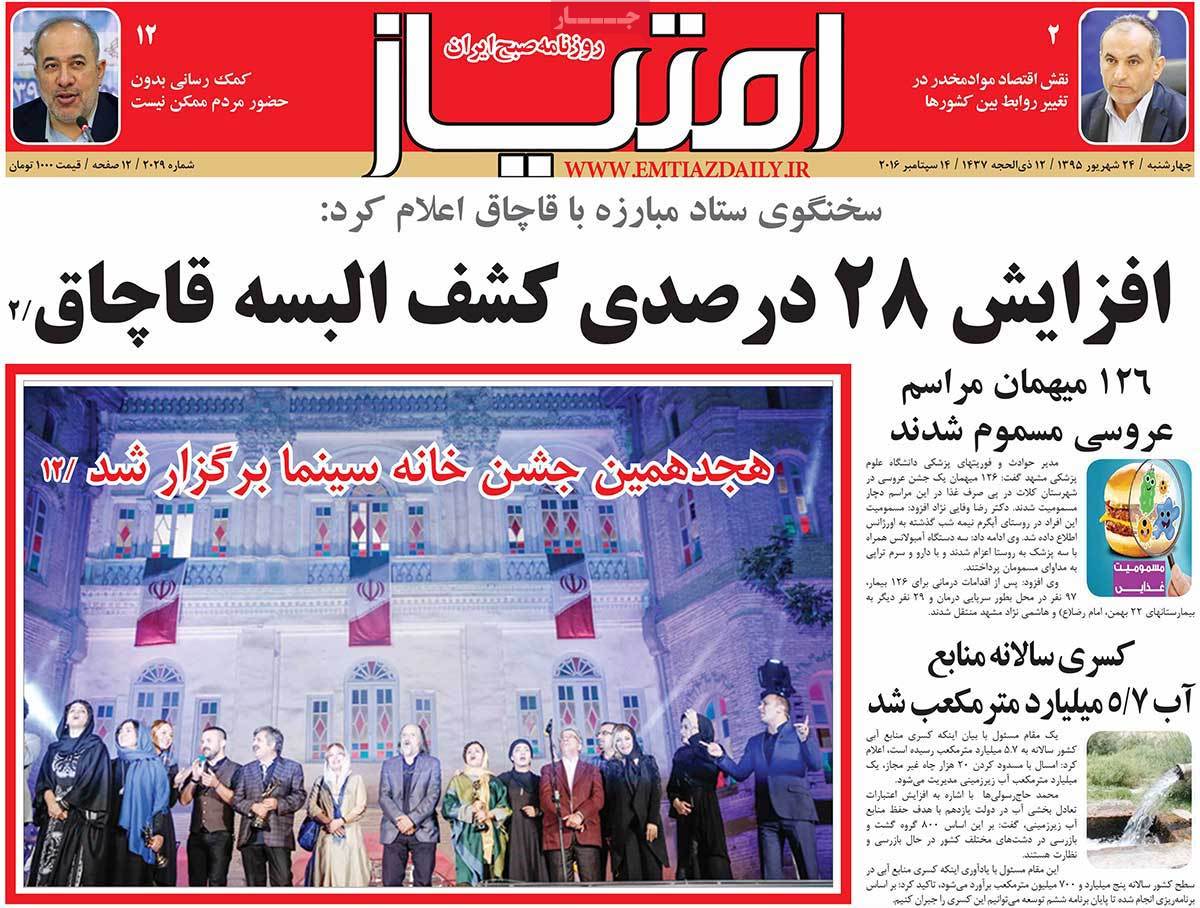 ---
Etemad:
1- Leader Calls for Investigation into Source of Differences between Governments' Statistics
2- CBI Governor: Dealers Made an $80bn Profit out of Anti-Iran Sanctions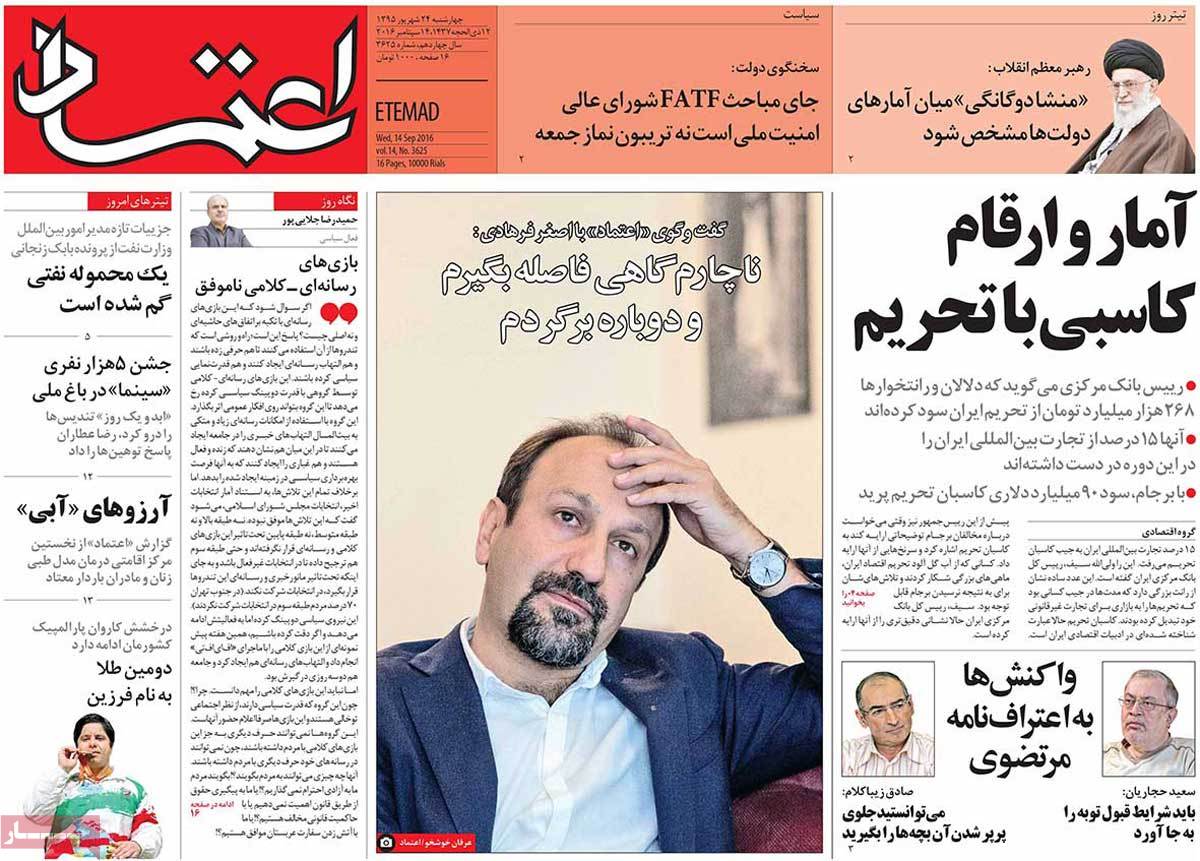 ---
Ettela'at:
1- President: Regional Issues Should Be Resolved through Dialogue
2- Syrian Army Shoots Down Zionist Regime's F-16
3- Fourth Nuclear Power Plant Will Be Built in Makran [in southeastern Iran]: Salehi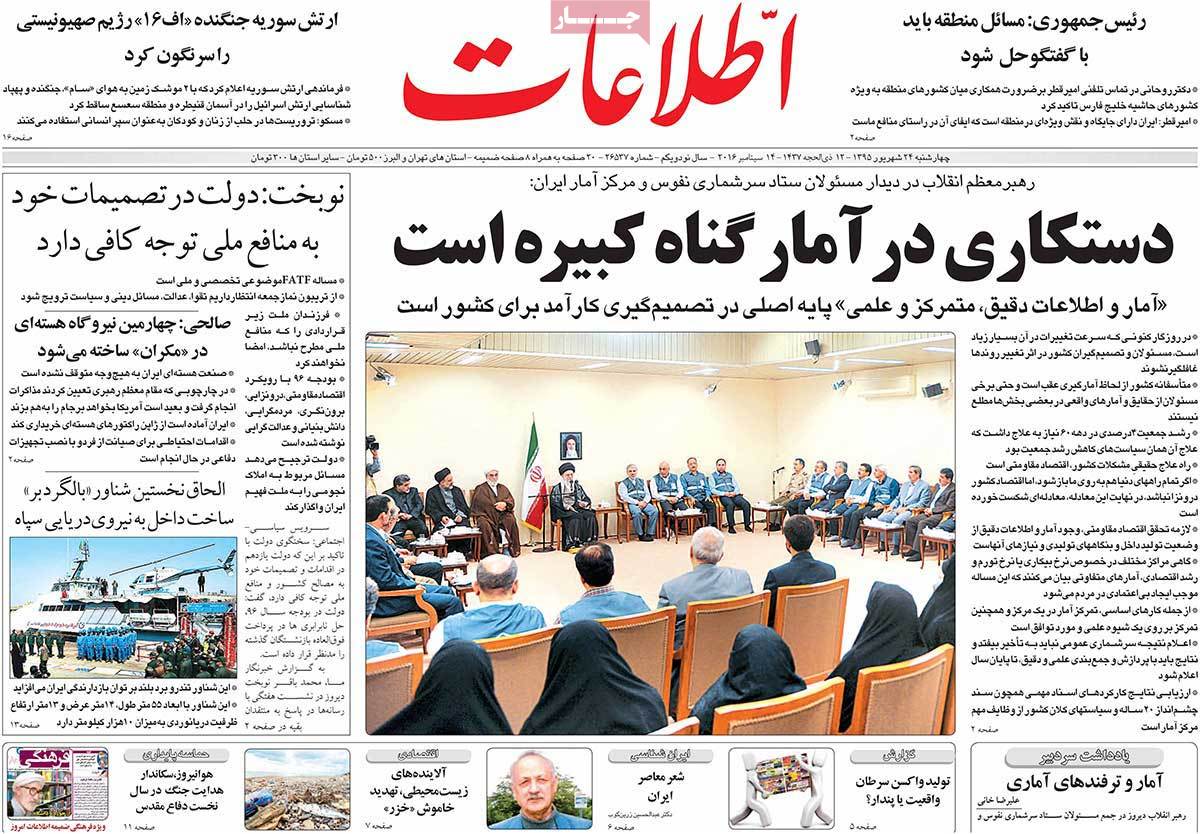 ---
Farhikhtegan:
1- Leader: It Is Wrong to Continue Policies of Population Control
2- Robert Fisk: Instead of Warmongering, Saudi Arabia Should Better Pay Wages of Its Labourers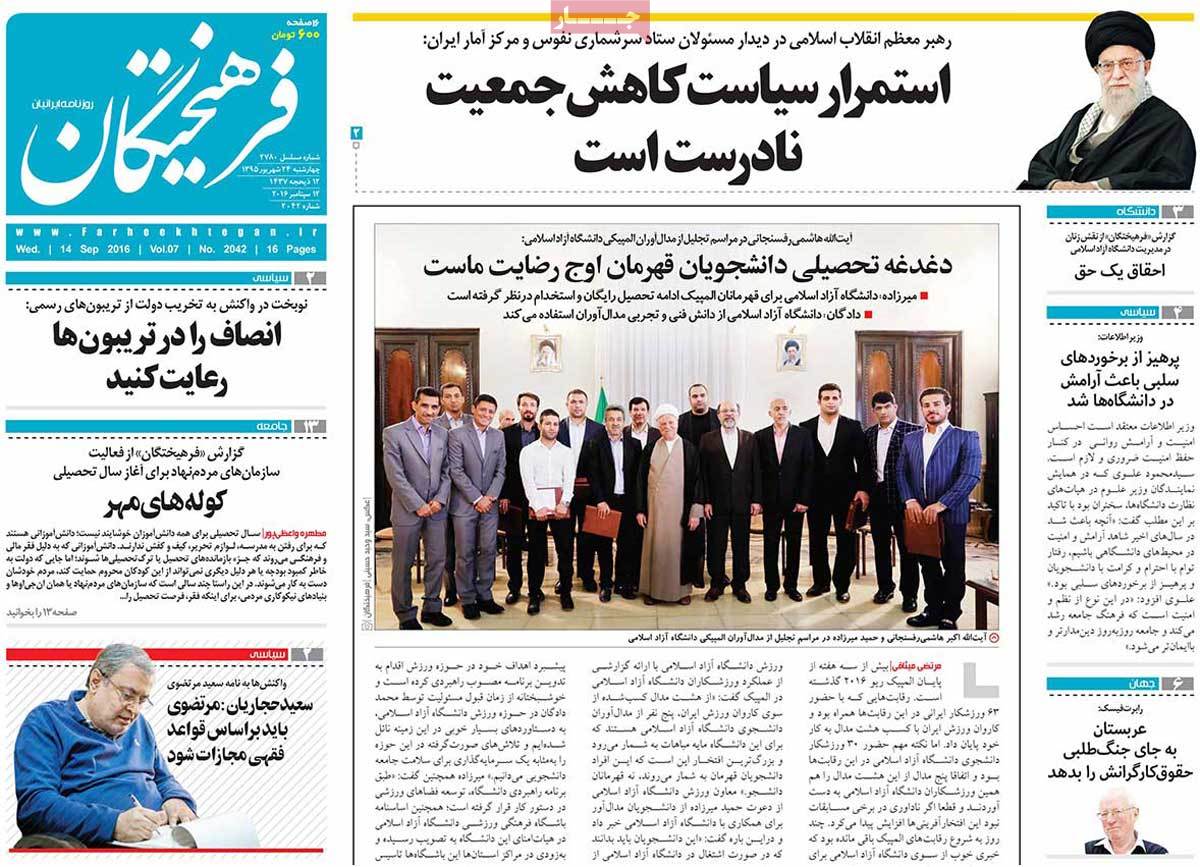 ---
Iran:
1- Leader Underlines Need for People's Serious Participation in Census
2- CBI Governor: Iran Now Has Direct Trade with Foreign Companies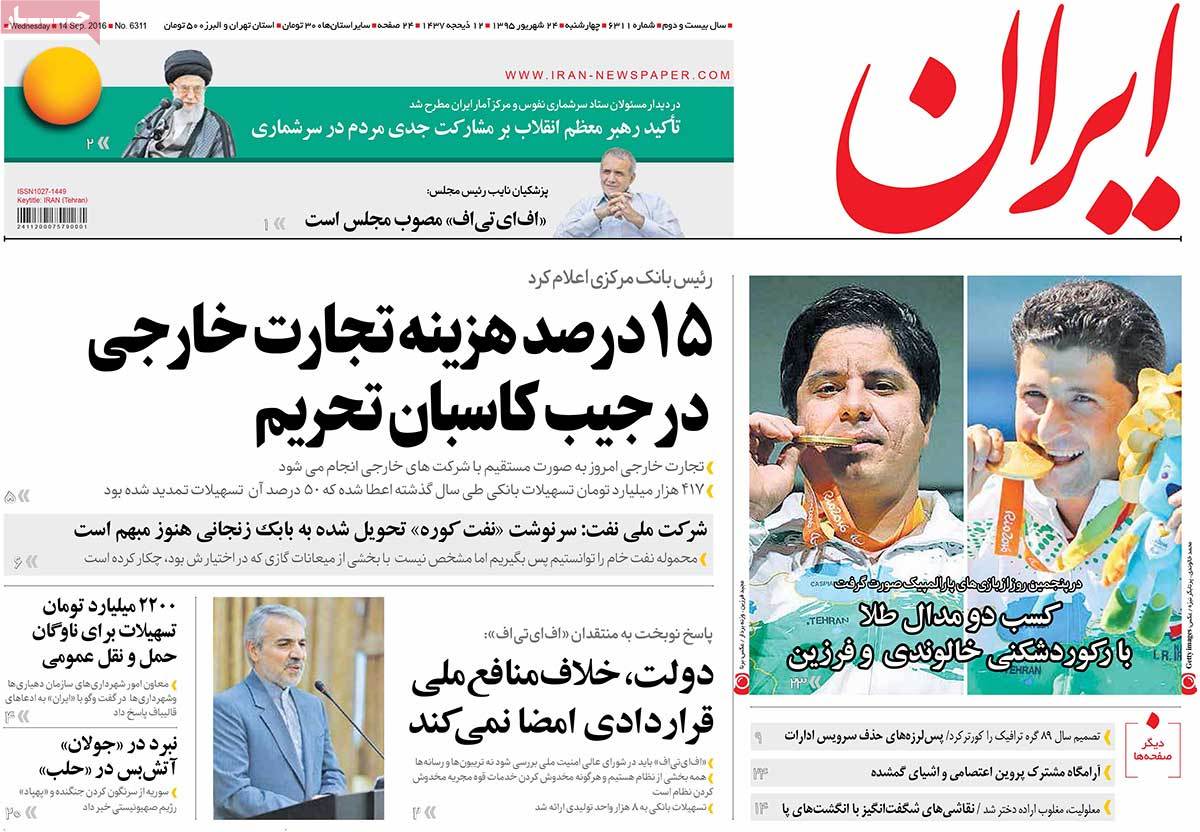 ---
Jame Jam:
1- Leader: Statistical Differences Are a Big Scourge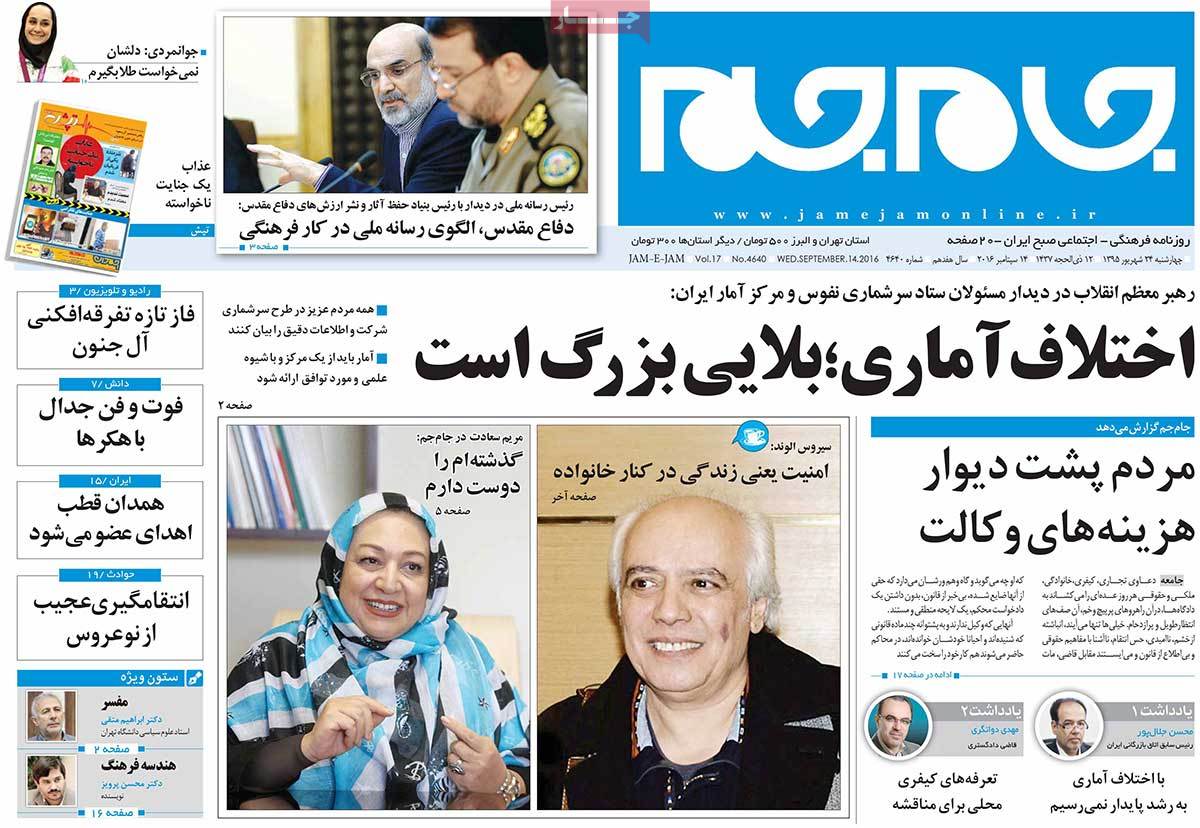 ---
Javan:
1- Differences in Statistics Announced for Unemployment, Inflation, and Economic Growth Rates Leads to People's Mistrust: Leader
2- Subcontinent Expert: US Will Stay in Afghanistan to Control Iran, Russia, and China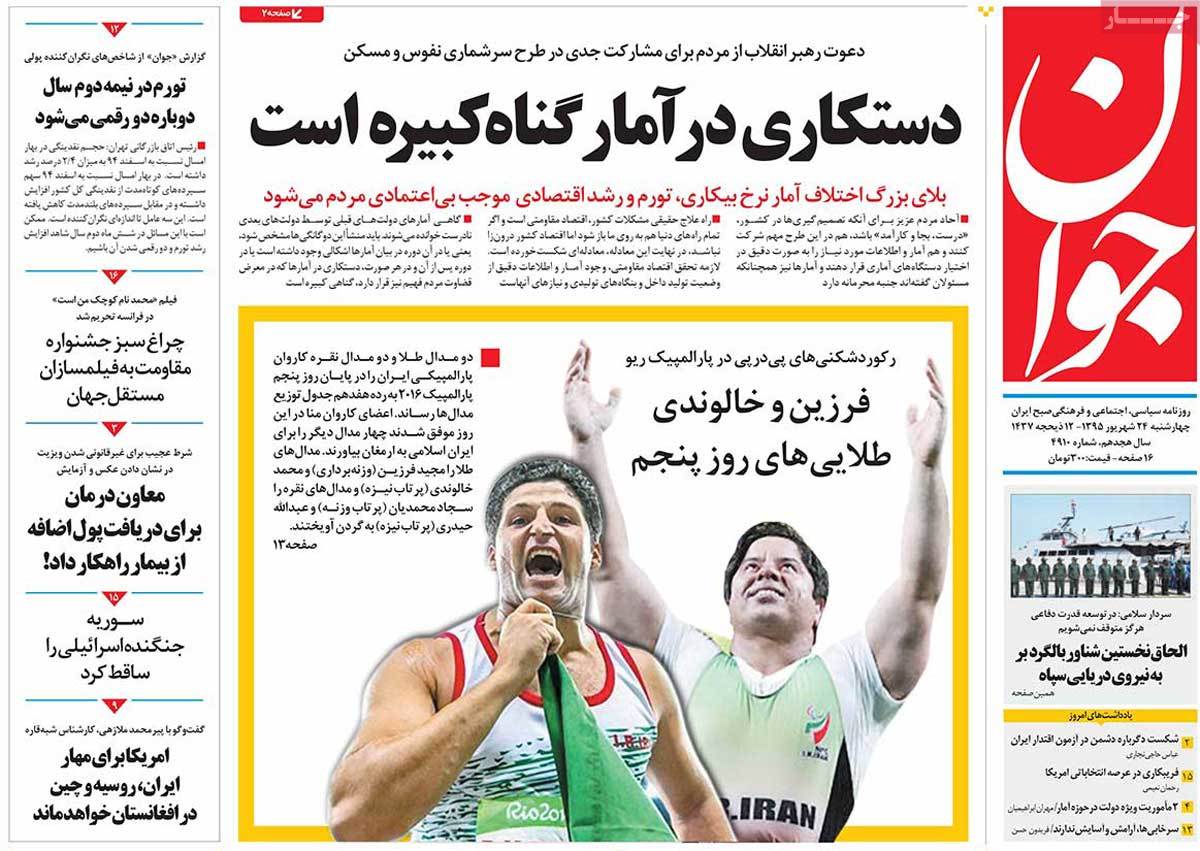 ---
Jomhouri Eslami:
1- Mine Projects Worth more than $8bn Restarted
2- Global Human Right Organizations Call for Cessation of Oppression in Bahrain
---
Kayhan:
1- Leader: Resistance Economy Is Real Cure for Iran's Problems
2- Clinton Lacks Required Physical and Brain Conditions for Being a President: US Medical Association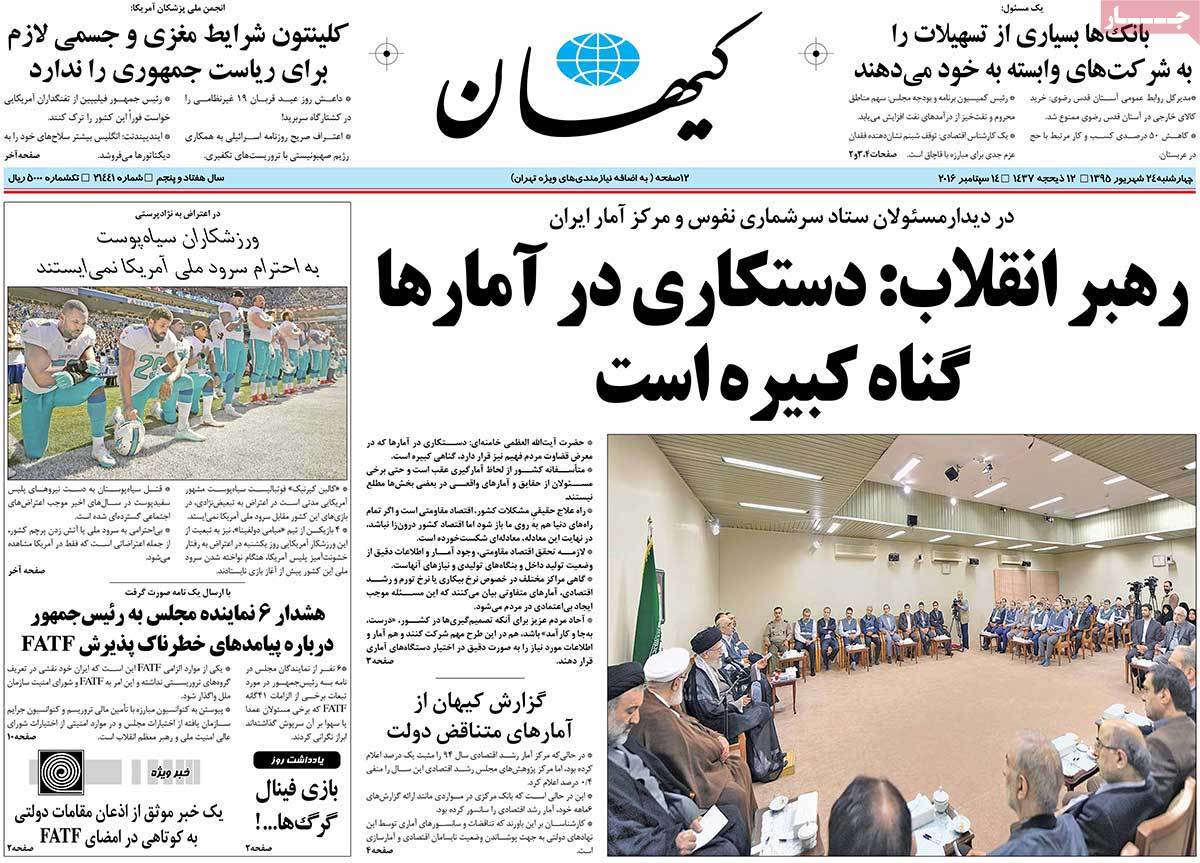 ---
Khorasan:
1- Manipulation of Statistics Is a Deadly Sin: Leader
2- Kerry: Transfer of MKO Elements to Europe Was a Major Diplomatic Achievement for US
3- IRGC Navy Commander: We Negotiate with US in Gulf of Mexico
---
Resalat:
1- Leader: Knowledge-Based Economy Is the Way of Iran's Progress
2- Trump: Afghanistan Is Safer than Some US States
3- IRGC General Salami: We Never Stop Developing Our Power
4- Zionist Regime [Israel]'s Support for Nusra Front Revealed: Lieberman Is Committed to Supporting Nusra Front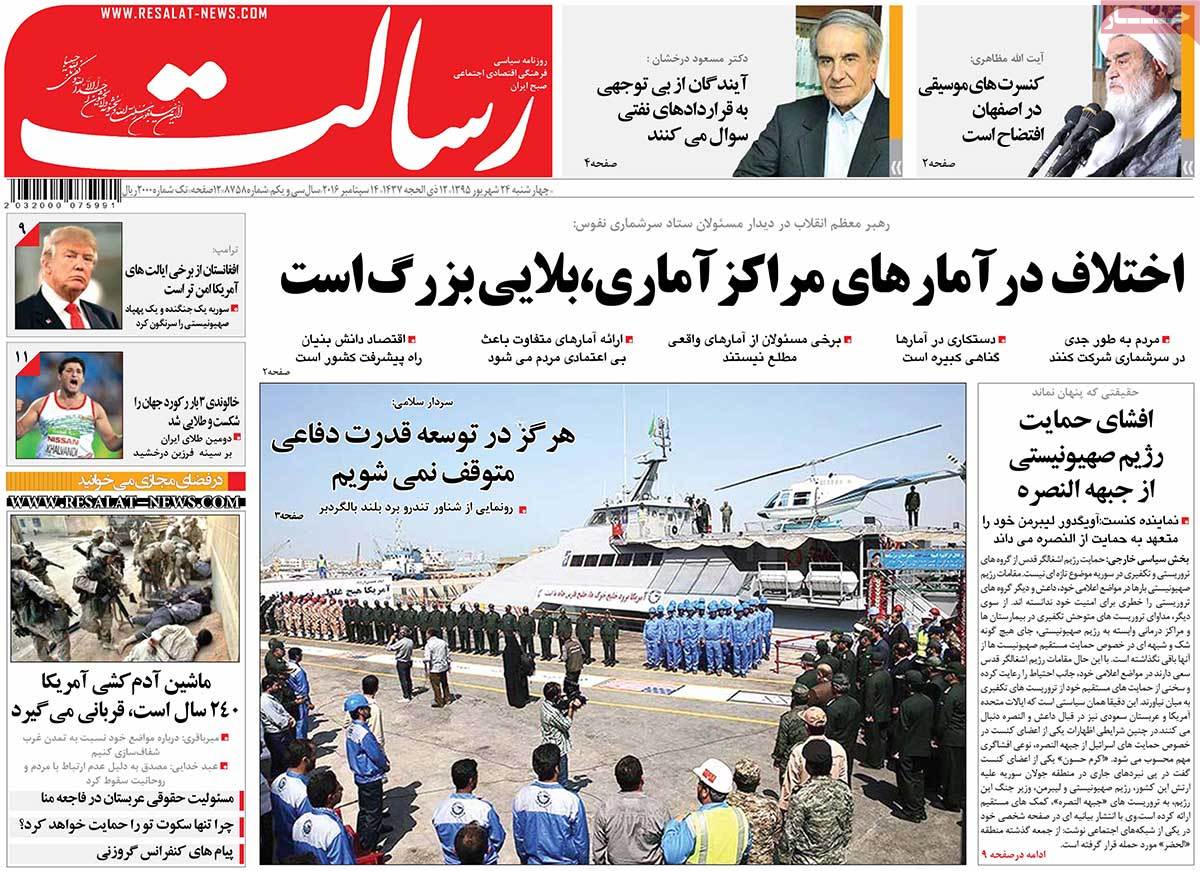 ---
Setareh Sobh:
1- Vice-Speaker: Before JCPOA, We Couldn't Import Medicine for Our Patients
2- Inflation Rate to Be Increased to More than 10%: Chamber of Commerce
3- Italy's Most Well-Known Music Organization La Scala in Iran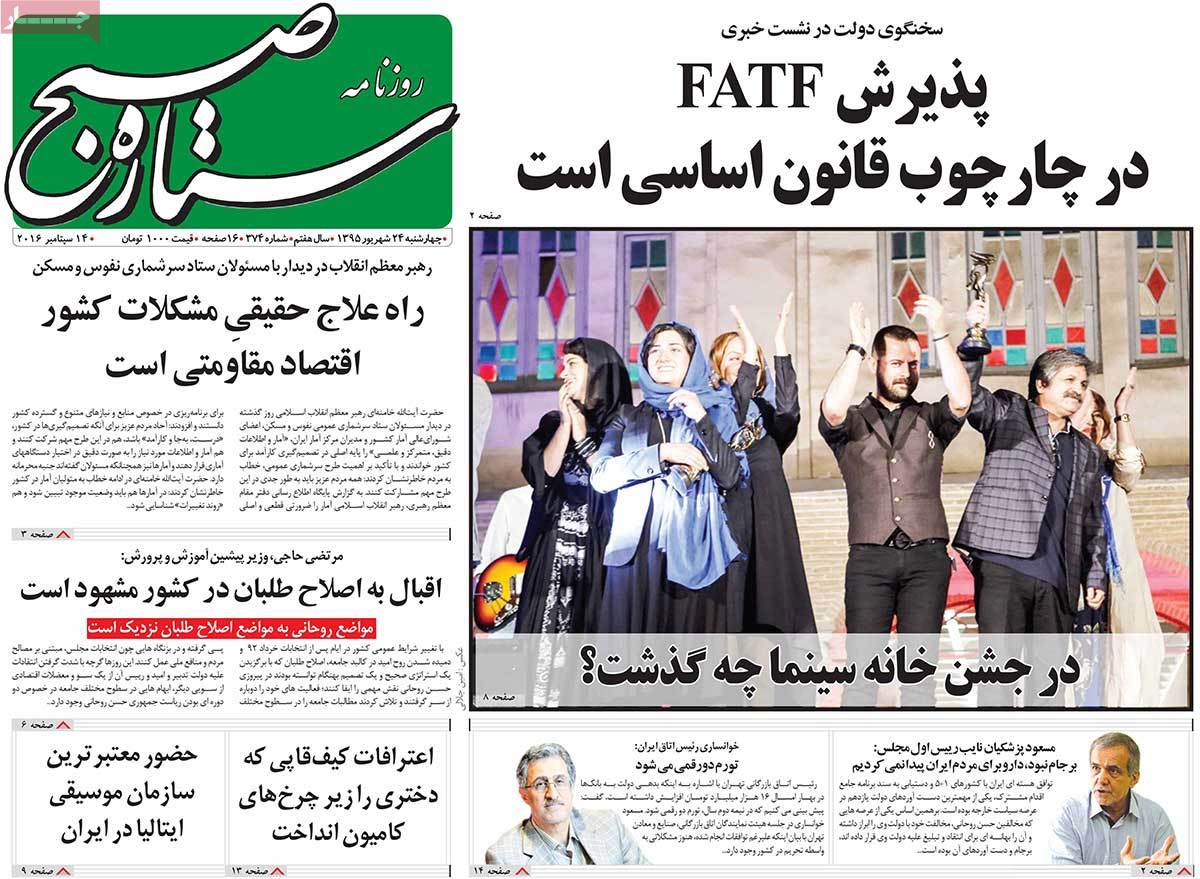 ---
Shahrvand:
1- Rio Champions: Iran's Paralympics Team Has Won 2 Gold, 2 Silver, and 1 Bronze Medals in Past 2 Days
2- Megamalls Swallowing Tehran: Councillor Warns about Tehran's Fate in Next 10 Years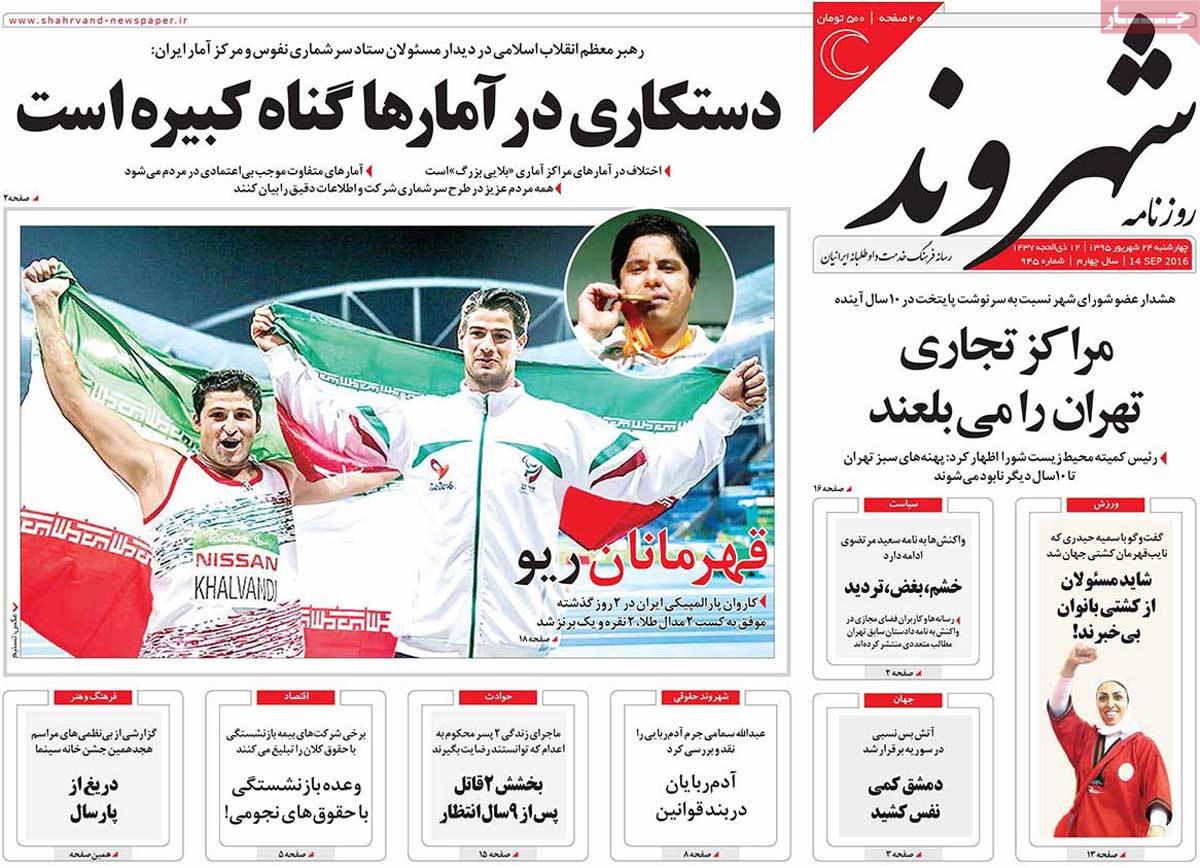 ---
Shargh:
1- IRGC General's Recommendation for Managing Regional Condition: We Should Tolerate Saudis
2- Reactions to Mortazavi's Letter of Apology: We Won't Forgive
Jomhouri Eslami Newspaper Calls for Prosecution of Ahmadinejad over 2009 Post-Election Crimes
Kahrizak Issue Can't Be Resolved with an Apology: MP
Mortazavi Should Be Executed: Cleric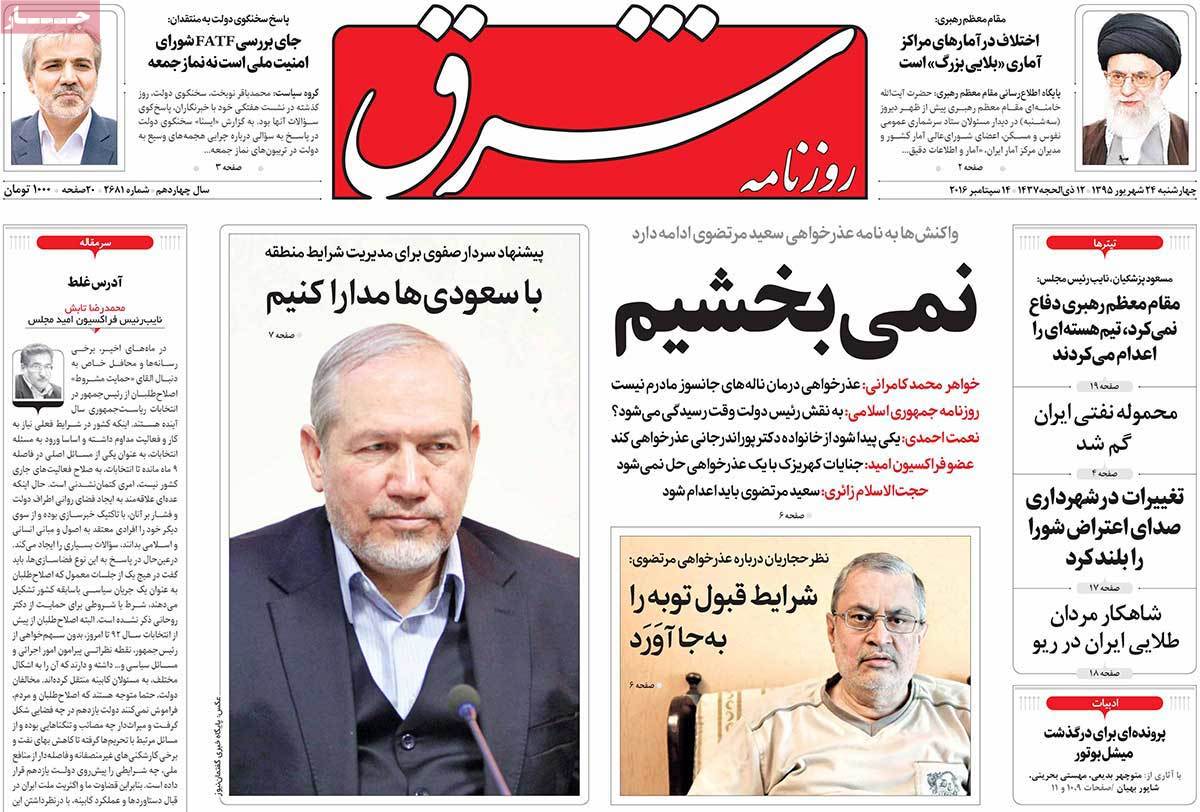 ---
Vatan-e Emrooz:
1- Leader: Kerry Worried about Lives of MKO Terrorists: US Transfers Terrorists from Iraq
2- Philippines' President Calls for Deportation of Americans: Ultimatum to US Military